Kuala Lumpur has to be at the very top of your Malaysia itinerary: it's a city of sleek skyscrapers and lush gardens, the perfect combination of technology and nature! There's a cosmopolitan atmosphere with multiple religions and cultures from around Asia coexisting peacefully in the city.
And your trip to KL (as the locals call it) will be just as much about this atmosphere as about any one landmark: few places in the world are such successful melting pots of culture and background!
Our Kuala Lumpur itinerary is jam-packed with wonderful places to visit in Kuala Lumpur in 3 days! From the soaring towers that have come to define the city's skyline to the verdant gardens and parks that offer a respite from it all, you're in for an amazing time! Keep your Kuala Lumpur itinerary with you on this incredible experience to ensure your trip is unforgettable!
The weather doesn't change much throughout the year in Kuala Lumpur. If you want to know when to visit Kuala Lumpur, remember that it's near the equator and that means the climate is hot, humid and tropical. The city also experiences monsoons, the heaviest of which fall during March and April.
The best time to visit Kuala Lumpur is either during summer or winter. Summer, from May to July, brings the lowest level of rainfall and the weather stays warm. Prices also stay on the high end, though, as tourists flock to enjoy the city during its finest weather. Remember, though, that summer does still mean rainfall: it's a tropical climate so pack your rain jacket and have it ready to go at any moment!
During winter, from December to February, rainfall does decrease but the temperature is quite chilly. February, however, is also the best time to visit Kuala Lumpur if you want to save money. Chinese New Year falls around January/February: it's a wonderful cultural experience but prices will rise accordingly.
If you're planning a trip to Kuala Lumpur, you need to decide on where to stay from its many, many neighborhoods. Kuala Lumpur is an expansive city but thanks to the excellent public transport, you'll never be too far from the action. That said, there are some neighborhoods that really do stand out.
The best place to stay in Kuala Lumpur is the city center, particularly if this is your first trip to the city. The city center may be the business heart of Malaysia but it's also bursting with the best Kuala Lumpur points of interest. The iconic Petronas Tower and Kuala Lumpur Tower will be right around the corner, as will the galleries, fountains and parks that the city has become famous for! You also won't be far from some amazing nightlife as there are some world-class bars and late-night clubs along Jalan P Ramlee.
However, if you're more of an off-the-beaten-track kind of traveler, then the best place to stay in Kuala Lumpur has to be Bangsar. It's an effortlessly cool neighborhood of hipster coffee shops, trendy art galleries and boutique clothing stores. It's a bit far from the top Kuala Lumpur attractions but don't let that stop you: public transport is effortless in KL!
Best hostel in Kuala Lumpur – Dorms KL
We've tried out many fantastic hostels in Kuala Lumpur and the winner is clear: Dorms KL! Dorms KL ticks every box you could ever want. Location? There's easy access to all the Kuala Lumpur landmarks! Atmosphere? Dorms KL has a sociable vibe, with a terrace bar! Facilities? Free WiFi, 24/7 reception, Netflix…you name it, it's all available!
Also, check out our reviews of the top hostels in Kuala Lumpur.
Amethyst Love Guesthouse is as perfect a combination of budget and comfort as you'll ever find! It's centrally located with attractions like the KLCC Park within walking distance and easy access to public transport. The rooms are comfortable, the facilities are top-notch and the staff are very friendly! And all this comes on a shoestring budget!
We can promise that the Grand Hyatt will take your breath away! Most rooms come with floor to ceiling views of the cityscape (some even have views of the iconic Petronas Towers). Best of all, many of those beautiful Kuala Lumpur landmarks are within 10 minutes' walk! Did we mention marbled bathrooms and an in-house spa?
What to do in Kuala Lumpur? Well, the city is just bursting with awesome things to do, and there are heaps of noteworthy places to visit Kuala Lumpur! Fortunately, it's not difficult to get around the main attractions. The distances between itinerary stops are generally very reasonable; the only concern you may have is the traffic. Pedestrian signals often don't work correctly and drivers pay little attention to pedestrians. We advise you to cross roads in big groups to gain their attention!
If you're not up to the walk, hop onto the efficient trains! It's a good way of getting around the incessant traffic in the capital.
If you're short on time and only have one day in Kuala Lumpur, then our flexible itinerary means you will get through the most iconic sights and perhaps be able to pick one or two more! If you can spend a weekend in Kuala Lumpur during your trip, that's also fine! So really, it doesn't matter too much how many days you spend in KL. Follow our handy itinerary and you'll still get to see most of the vibrant city!
Petronas Twin Towers | Kuala Lumpur Tower | KL Forest EcoPark | KLCC Park | Sunset Drinks
Your first day in Kuala Lumpur will get you up close to all the iconic sights, both natural and man-made. You'll spend the day in the heart of Kuala Lumpur, the city center (KLCC).
Day 1/ Stop 1 – Petronas Twin Towers
Why it's awesome: This is the Kuala Lumpur landmark that dominates the city's skyline and lingers on in visitors' memory long after they've left!
Cost: $19 USD covers a 45-minute visit to the Observatory Deck, the Skybridge and the gift shop.
Food nearby: Located inside the shopping center, Little Penang Cafe serves the most wonderful curries and noodles! Another good choice is TAPAK Urban Street Dining which hosts various food trucks. It's a lovely atmosphere with live music and there's a great variety of Malaysian food.
Petronas Twin Towers was once the tallest building in the world until 2004 when it was surpassed by the Taipei 101 Building. It remains the world's tallest twin towers at a height of 1483 feet! There are 88 stories and the two towers are connected by the Skybridge on the 41st and 42nd floors. Begin your 2 day itinerary Kuala Lumpur with this phenomenal attraction!
Most of the space is used for offices but the first floors host a sleek shopping mall and the Petronas Philharmonic Concert Hall. You should definitely take the trip up to the Skybridge and the Observation Deck on the 86th floor.
The building mimics Islamic art in that the glass and stainless steel exterior is designed in Islamic patterns. The most prominent pattern is the eight-pointed star which is created from two interlocking squares. This represents the Islamic principle of "unity within unity, harmony, stability and rationality". The interior displays traditional Malaysian handicrafts with woven tapestries and patterned hardwood carvings.
The views of the city from the tower may be fantastic but don't forget to photograph the building itself! The best spot for photographs is from the KLCC Park or the fountains on the northwest side of the building. You'll also have some stunning snaps if you head over to one of the nearby rooftop bars – SkyBar and Heli Lounge are sure bets.
Insider Tip: Only a few tickets are sold daily so get there early or book skip-the-line tickets online. The towers are closed on Mondays.
Day 1 / Stop 2 – Kuala Lumpur Tower
Why it's awesome: After the Petronas Towers, Kuala Lumpur Tower is the second most recognizable landmark!
Cost: Entrance is $12USD for the Observation Deck alone and $24 USD for the Observation Deck and the Sky Deck
Food nearby: 282 meters up from ground level is Atmosphere 360. Apart from spectacular views, it's also a revolving restaurant! It serves a wide variety of gourmet lunches and dinners.
KL Tower is a telecommunications tower that became an icon and should be on any Kuala Lumpur itinerary! It was built in the 1990s and is 421 meters tall!
There are two key attractions inside the tower. The Observation Deck is a circular room with big glass windows and binoculars to take in the awesome views! Things get even more exciting, however, up on the Sky Deck! If you really want to feel just how far above the ground you are (300 m), then you must come up here! Apart from the railings, there aren't any walls so you will be exposed to the elements in all their glory as well as the dazzling, panoramic views!
Also, make sure to pause in the lobby to admire the splendid domed ceiling. The glass is arranged in an Islamic pattern, the Muqarnas, that symbolizes the 7 layers of the sky.
Day 1 / Stop 3 – KL Forest EcoPark
Why it's awesome: Few cities can boast a forest in the heart of the urban landscape. Here, the man-made and the natural go side-by-side.
Cost: Free!
Food nearby: Naturally, the park is ideal for a picnic but you will need to bring your own food as there are no stores inside the grounds. If you prefer a sit-down meal, though, head to Trishna at the nearby Hotel Istana for some delicious Indian fare.
After the dizzying heights of KL Tower, it's time to come down to ground. Not just any ground, though: the lush oasis of KL Forest EcoPark! KL Tower is actually located within the Bukit Forest so it's only natural that you progress to this lovely forest in the heart of the city!
The canopy walkway offers amazing aerial views of the forest and of the city outside. You can also go on one of the 3 nature trails which vary from 300 m to 500 m. The herbal garden is also a highlight. If you're lucky, you may spot a monkey or even a bat! To make the most of your visit, make sure you have a QR reader on your phone so that you can scan the codes on the information boards that will tell you more about the diverse flora.
Day 1 / Stop 4 – KLCC Park
Why it's awesome: No Kuala Lumpur itinerary would be complete without a walk around this incredible landscaped park!
Cost: Free!
Food nearby: The Suria KLCC shopping mall hosts numerous restaurants which should cater to all tastes. If you're ready for dinner, we recommend Tao's Chinese Cuisine at the Intercontinental Hotel KL.
As your afternoon winds down, stroll over to KLCC Park which is near the Suria KLCC shopping center. This 50-acre park is a classic Kuala Lumpur attraction that cannot be missed!
At the centrepiece of the park lies the 10000 sq ft man-made Lake Symphony! Do a photo shoot on the 43 m bridge that crosses the lake and then admire the water fountains that gush to heights of 42 m!
You'll be able to admire the park's many sculptures, reflective pools and fountains on the 1 km walking and running trail. There are over 1900 trees, making the park verdant and refreshing in the heart of the city center.
Insider Tip: Try to get here in time for sunset as there's a sublime light show across the artificial lake. The iconic Petronas Towers get lit up as well. This will be the postcard photograph to send to all your friends and post to Instagram! The show is particularly special at 20:00, 21:00 and 22:00!
Day 1 / Stop 5 – Sunset Drinks
Why it's awesome: Skyscrapers have come to define the Kuala Lumpur skyline, and they're prettiest come dusk!
Cost: Drinks are around $7 USD each: remember that it's the views you're paying for!
Food nearby: We particularly love the Heli Lounge Bar and Sky Bar (which we also recommended for views of the Petronas Towers).
As the sky darkens and the skyscrapers light up, you want to be far up on a terrace to admire the city views. This is the perfect way to celebrate one day in Kuala Lumpur. Cheers!
Merdeka Square | Perdana Botanical Gardens | National Museum | Chinatown | Jalan Alor Street
If you're lucky enough to spend 2 days in Kuala Lumpur before heading off backpacking elsewhere in Malaysia, you'll be able to experience more of the city's rich culture and history. Spending time in the abundant natural attractions is also on Day 2's Kuala Lumpur itinerary!
Day2 / Stop 1 – Merdeka Square
Why it's awesome: This is where Malaysia proclaimed its independence from the British in 1957.
Cost: Free!
Food nearby: If you missed breakfast, hurry over to Cafe Old Market Square. The 80-year old, newly restored eatery specializes in hearty breakfasts of Hainanese coffee, soft-boiled eggs and coconut-cream jam. Yum!
This square was the heart of the old city during the colonial period. There are plenty of important buildings around the square. To the east, the Sultan Abdul Samad Building was once the state secretariat building. Situated to the north, St Mary's Church is one of the oldest Anglican churches in Malaysia.
The reason your trip to Kuala Lumpur must include Merdeka Square comes from its name: 'merdeka' means 'freedom' and it was here that Malaysians raised their flag to proclaim independence!
Insider Tip: There are free walking tours available at 9:00 on Mondays, Wednesdays and Saturdays. These take visitors around the square and the surrounding landmarks.
Day 2 / Stop 2 – Perdana Botanical Gardens
Why it's awesome: Kuala Lumpur's first large-scale recreational park!
Cost: Free! Some of the attractions within the park have entrance fees.
Food nearby: Iketeru Restaurant at the nearby Hilton Hotel is a great stop for lunch! They specialize in Asian fare, with some guests claiming their lobster teppanyaki, a Japanese meat dish, is the best in town!
Perdana is in walking distance of the KL Sentral Station but you can also take a KTM train to the Kuala Lumpur Station stop. However you get there, just make sure that you do arrive at this stunning garden! The gardens were first designed in the 1880s, making them the oldest in Kuala Lumpur. The 250-acres space is now a public park with many attractions to put on your Kuala Lumpur Itinerary!
There are many different subsections of the garden. The Hibiscus Garden is dedicated to Malaysia's national flower. The Sunken Garden is also a popular destination due to the symmetrical design and sunken location.
Make sure to stop at the National Monument and pay tribute to the heroes of Malaysia's independence struggle. The bronze sculpture of soldiers represents national values of leadership, unity, vigilance, strength, courage, suffering and unity.
Next up is the ASEAN Sculpture Park. The peaceful corner hosts various artworks by ASEAN (Association of Southeast Asian Nations) artists. Detailed descriptions in English are provided.
Finally, head over to the Butterfly Park, the largest of its kind in the world! This area is home to over 5000 butterflies which flutter happily around in an area designed to reflect their natural habitat. There is an entrance charge of $6 USD.
Day 2 / Stop 3 – National Museum
Why it's awesome: Malaysia's rich past is brought to life with state-of-the-art exhibitions, helping foreigners to understand the origin of this cosmopolitan nation.
Cost: $1 USD
Food nearby: Within walking distance of the museum, you'll find Latest Recipe. The neat restaurant cooks local and Asian dishes, particularly seafood. The buffets are generous and the staff is very friendly!
Exploring the culture and history of Malaysia is just one of the many epic reasons to visit, and there's nowhere better to do so than at the National Museum! This beautiful, modern museum covers Malaysia's history from prehistoric times to the present day. There are four galleries:
The Prehistoric Gallery displays numerous fascinating archaeological finds that will make any trip to Kuala Lumpur worthwhile! Some of the attractions are stone tools that are over 200 000 years old, Neolithic pottery and a 1000-year-old statue. The highlight, though, is the replica of the Perak Man Skeleton. The original dates back 10 000 to 11 000 years.
The Malay Kingdoms Gallery focuses on early settlements in the region, the formation of kingdoms, the arrival of Islam and the trading center of Malacca.
The Colonial Era Gallery starts with 1511 and the arrival of direct trade with Europe. It goes through to the Japanese occupation of the country during World War II.
Finally, the Malaysia Today Gallery contextualizes contemporary Malaysia. There are exhibits on the Malayan Emergency, the independence struggle and the formation of modern Malaysia.
Insider Tip: There are free guided tours in English on Tuesdays, Thursdays and Saturdays at 11:00.
Day 2 / Stop 4 – Chinatown
Why it's awesome: Lively Chinatown is one of the most popular areas in KL: you'll see why!
Cost: Free!
Food nearby: Chinatown isn't short on food stalls and you'll benefit from plenty of options if you get peckish. Try out traditional Chinese favorites like dry duck, beef ball soup or tofu noodles for vegetarians!
Make sure you add Chinatown on your Kuala Lumpur itinerary! Come later afternoon to enjoy the neighbourhood's abundant markets, shops and temples!
First up is Petaling Street which hosts a flea market every day. In the central market, there is a plethora of souvenirs and handmade goods. The indoor market also offers beautiful artisan products.
Also, make a visit to the Sri Maha Sakthi Mohambigai Amman Temple which is considered to be the holiest Hindu temple in Malaysia! The building is elaborately decorated with detailed depictions of Hindu gods and goddesses, particularly of the goddess Mohambigai, to whom the temple is dedicated. If you're lucky, you may spot a Hindu wedding!
Insider Tip: Petaling Street is home to some of the world's best negotiators and it's not the tourists! Being down in the art of haggling is a must for coming to Petaling Street.
Day 2 / Stop 5 – Jalan Alor Street
Why it's awesome: Dive into Kuala Lumpur's cosmopolitan atmosphere with diverse dishes at the city's most epic food market!
Cost: Individual dishes are not expensive but you can easily spend around $25 USD in total.
Food nearby: Food stalls line Jalan Alor but if you want a more formal take on the food market, try Wong Ah Wah at the end of the street which serves up tasty satay sticks and BBQ chicken wings!
You'll smell Jalan Alor before you enter the street! The specialties here are traditional Malaysian and Chinese food. There are many different stalls with various delicacies so make sure that you don't just stick to one! Some of the stalls have seats, while others offer on-the-go snacks. Don't be afraid to share tables; this is perfectly normal! If you're unsure which stall to go to, just follow the crowds!
If you're not ready to leave after dinner, don't worry: the center of Kuala Lumpur's vibrant nightlife scene, Changkat, is just a few minutes' walk away! Chowing down on some of the world's best street food is the perfect way to end your 2 day itinerary Kuala Lumpur!
Insider Tip: Make sure you go after 17:00; go any earlier and you'll miss out on the electric atmosphere!
Islamic Arts Museum Malaysia | National Mosque of Malaysia | Guan di Temple | Brickfields | Jamek Mosque
Our 3 day itinerary for Kuala Lumpur includes attractions that will expose you to the roots of the city's cosmopolitan atmosphere: the coexistence of so many cultures and religions!
Islamic Arts Museum Malaysia
This is the largest gallery of Islamic art in Southeast Asia, with over 7000 items!
Entrance is $14 USD.
For a light meal, try the in-house Museum Restaurant. The eatery is situated in a beautiful corner that's decorated with traditional Islamic patterns but that remains thoroughly contemporary. Food-wise, try the scrumptious roast lamb!
Part gallery and part museum, the Islamic Arts Museum Malaysia is simply a breathtaking experience! There are numerous galleries that are hosted in an open space which encourages movement and the Islamic spirit of continuity.
On the first level is the Architecture Gallery. Architecture is considered the first Islamic art and is particularly concerned with mosque building. Here, you'll be able to experience the grandest mosques of the world through intricate models.
Another highlight on the first floor is the Malay World Gallery. The Malay world stretches from southern Thailand to the southern Philippines. This region has a vibrant trading past which some say surpassed that of the Silk Road! This rich history and culture finds expression in textiles, Qur'anic manuscripts, weaponry and wooden prayer screens.
On the second floor, you'll be dazzled by the Jewelry Gallery. Most jewelry in the Islamic world is worked in gold, with diamonds, emeralds and rubies being the favorite gems!
For more about the political history of the region, head to the Coin & Seal Gallery. These pretty artifacts date back hundreds of years and are inscribed with Qur'anic verses.
Finish your visit off with a stop at the Museum Shop for some unbelievable replicas and souvenirs inspired by the collection!
National Mosque of Malaysia
With a capacity for 15 000 worshipers and a 73-meter minaret, size really matters here! It's also a breathtaking, elegant building that reveals the aspirations of modern Malaysia!
Entrance is free.
Although Malaysia is a diverse country, Islam is the official religion. To make the most of touring Kuala Lumpur, you should definitely put a mosque on your itinerary!
Amongst 13 acres of lush, landscaped gardens sits the National Mosque of Malaysia! Construction began in 1963, shortly after independence. It's built of reinforced concrete in a striking and modern design. The star attraction is the 16-pointed star roof which also resembles an open umbrella, a necessity for life in a tropical country like Malaysia!
You're not allowed to enter the prayer room but you can have a look at the lovely blue stained-glass features from a distance.
Another area worth visiting is Heroes' Mausoleum where prominent politicians are buried.
There are usually volunteers from the congregation who are at the mosque to answer any questions visitors may have. Make the most of this opportunity to ask informed questions about Islam or the design of the mosque.
Insider Tip: If you want to skip the queue, make sure to dress conservatively with loose-fitted clothing. If your attire is considered inappropriate, you'll have to wait in line to borrow a robe.
Guan di Temple
This Taoist temple is a colorful structure that bustles all-day long in a vibrant area.
It's dedicated to Guandi, a Chinese general who was later deified as the god of war and literature. He's now also worshiped as the patron of martial arts, with his devotees including the police force and triads (members of a Hong Kong-based criminal syndicates).
Entrance is free; purchase some incense in the courtyard to honor the god.
You'll find Guan di Temple in the heart of Chinatown, a perfect place to explore the Chinese influence on contemporary Malaysia! It was established in 1886 and remains a popular place of worship for locals.
As you enter the temple, admire the two stone Chinese lions that guard the temple and ward off negative energy. There are also two colorful Door Guards and two golden dragons draped around the pillars.
The god dons out blessings to those who touch or lift his 59 kg copper guan dao, a copper sword, three times!
Finally, meet the god this is all about at the Statue of Guandi at the back of the temple.
Brickfields
Also known as Little India, this is the ideal place to explore the Indian culture in Kuala Lumpur!
There aren't many landmark sights in Brickfields but you should put it on your Kuala Lumpur trip itinerary just for the atmosphere!
Think of this visit as a self-guided Kuala Lumpur walking tour: no specific attractions but a whole experience on its own!
This amazing neighborhood is a thrilling, sensory experience. You're sure to get lost in the beat of Bollywood tunes that blare out of tucked-away shops or photograph the endless array of brightly colored flowers on the pavement!
Make sure to visit the bazaar at the end of Jalan Tun Sambanthan Street which has three stories. You'll be blown away by the sheer volume of saris, bangles and spices on sale! This is the place to be, so it's no wonder it has landed a spot on our 3 day itinerary Kuala Lumpur!
Stop for a bite to eat at an Indian restaurant to complete this immersive experience. We recommend Taj Garden on Jalan Tun Sambanthan which specializes in North Indian cuisine but also has Western and Oriental dishes. Another sure bet is Indian Economy Rice at @ Lawanya Food Corner on Jalan Scott Street. It's a no-frills eatery that serves mouth-watering curries. Vegetarians will be spoiled for choice!
Jamek Mosque
Having been built in 1909, Jamek is the oldest mosque in Kuala Lumpur.
It may have been replaced by the new National Mosque but it remains an important place of worship in the heart of the city.
A combination of romantic Mughal, Moorish and Islamic styles make this is a perfect photo-opp location, especially at dusk!
The mosque is composed of 3 main domes and 2 tall minarets, giving it a palatial, yet distinctly Islamic look. The palm-fringed gardens on the banks of the Gombak and Klang Rivers are also stunning.
To understand more about Islam, the excellent Islamic Experience Center is worth a visit. It hosts various displays on the history and beliefs of Islam with descriptions in English.
Insider Tip: Like at the National Mosque, dress conservatively to skip the queues for robes.
We've compiled a comprehensive guide to travel safety in Malaysia and we're happy to conclude that Malaysia is very safe for tourists! Of course, as with any other destination, there are things to watch out for but just follow our easy tips to staying safe and you'll return home safe, sound and smiling from ear to ear!
You may have heard a bit about the political conflicts in Sabah, a province in the north of the country which has witnessed militant activity. It is possible to travel to Sabah but you need to do so with a local tour company. Don't worry if you travel to Kuala Lumpur itself as it is generally quite safe, though you should always guard your belongings carefully!
There are certain things you don't want to do in Malaysia because they are illegal and the Malaysian government means business! Do not join any political protests as they are for locals only. Stay far away from drugs (there's a death sentence for those guilty of trafficking). Avoid any form of same-sex PDA (homosexuality is illegal).
Make sure that you're up-to-date with all your vaccines, especially if you plan to head to the jungle on a day trip from Kuala Lumpur. And, as always, take out a fully-inclusive insurance policy for Malaysia in case of any illness or unforeseen disaster.
Don't Forget Your Travel Insurance for Kuala Lumpur
World Nomads' mission is to support and encourage travellers to explore their boundaries. They offer simple & flexible travel insurance, and safety advice to help you travel confidently.
They've been doing it since 2002 – protecting, connecting, and inspiring independent travellers just like you.
Get a quote below or read our in-depth review!
World Nomads provides travel insurance for travelers in over 100 countries. As an affiliate, we receive a fee when you get a quote from World Nomads using this link. We do not represent World Nomads. This is information only and not a recommendation to buy travel insurance.
After 2 or 3 days in Kuala Lumpur, it's definitely time to explore the surrounding areas of Malaysia! These amazing day trips from Kuala Lumpur reveal more about the spiritual, cultural, natural and historical aspects of Malaysia!
From Kuala Lumpur: Genting Highlands and Batu Caves Day Trip
The stunning mountains and jungle landscape that you'll experience on this tour are highlights of any Kuala Lumpur itinerary! In fact, some people actually make the trip to Kuala Lumpur just for this!
Batu Caves is a shrine dedicated to Lord Murugan, a Hindu deity. The dramatic landscape comprises a towering gilded statue and 272 colorful steps to the mouth of the temple cave! There are other smaller caves, including a museum.
This day trip also includes a visit to Malaysia's only casino resort, a theme park and a strawberry farm! The resort is situated on the edge of lush tropical jungle and amidst towering mountains.
Full-Day Trip to Historical Malacca from Kuala Lumpur
Malacca, the "historical state" of Malaysia, is a two-hour day trip from Kuala Lumpur. The city still has legacies of its rich trading past with Dutch, Portuguese and British influences dotted all around.
First, you'll visit St Peter's Church and Dutch Square in the heart of Malacca. Next is a tour of the remains of a Portuguese fortress. This little site has UNESCO World Heritage Status as it's the oldest surviving remains of European architecture in Asia!
After a delicious local lunch, it's on to Portuguese Square or "Mini Lisbon". Round off your trip by browsing beautiful souvenirs at the Jonker Walk market. You'll definitely want to remember this day with a memento or two!
Kuala Lumpur: Putrajaya Tour with Traditional Boat Cruise
This day trip from Kuala Lumpur will take you to majestic Putrajaya, the administrative capital of Malaysia.
Once you arrive by air-conditioned bus, you'll stop at Putra Mosque which is renowned for its elegant architecture and interior.
Perdana Putra, the prime minister's office, is also on your itinerary. Here, you will enjoy magnificent views of the city. See more government building with a trip to the imposing Palace of Justice. You'll also stop at the Millennium Monument, an enormous bronze and gold structure inspired by the hibiscus, Malaysia's national flower.
Finally, you'll enjoy a serene traditional boat cruise on Putrajaya Lake which will give you a unique perspective on this charming city!
From Kuala Lumpur: Private Fireflies Tour and Seafood Dinner
It's perhaps better described as a night trip but this day trip from Kuala Lumpur will take you to Kuala Selangor. The tiny village on the Selangor River is just an hour and a half out of town, and is renowned for the presence of millions of fireflies!
This trip also includes a visit to Fort Altingsburg and a seafood dinner is a small fishing village. After dinner, you'll board a boat on the River Selangor where the fireflies will be congregating, resembling strings of twinkling lights. It's likely that you'll also spot a few monkeys, birds and macaques! It's an unmissable experience during your vacation in Kuala Lumpur!
From Kuala Lumpur: Cameron Highlands Private Full Day Tour
This day trip from Kuala Lumpur is such an immersive, surreal experience that you'll totally forget about the metropolis at the first sight of the verdant Cameron hills!
Cameron Highlands is the largest highland resort in Malaysia. It's known for its tea plantations and a jungle walks, which you'll get to experience on this day trip! You'll visit the Bharat Tea Plantation and taste the delicious local blends, as well as pick your own strawberries!
If you're up to the adventure, head out into the jungle to the Lata Iskandar waterfall where there's a lovely little rock pool!
Find out what people want to know when planning their Kuala Lumpur itinerary.
Conclusion
As you reach the end of your Kuala Lumpur itinerary, you're sure to agree with us that Kuala Lumpur is one incredible destination! You can experience art, culture, history, design and nature all in this one city. It's impossible to be bored in the city when there are so many fascinating landmarks, as well as immersive day trips from Kuala Lumpur!
Whether you're interested in the diversity of modern-day KL or the sophisticated architecture that's come to define the city, there's something for everyone on a trip to Kuala Lumpur!
Taking our itinerary for Kuala Lumpur with you is the first step towards a trip that we can promise you will be just absolutely epic!
---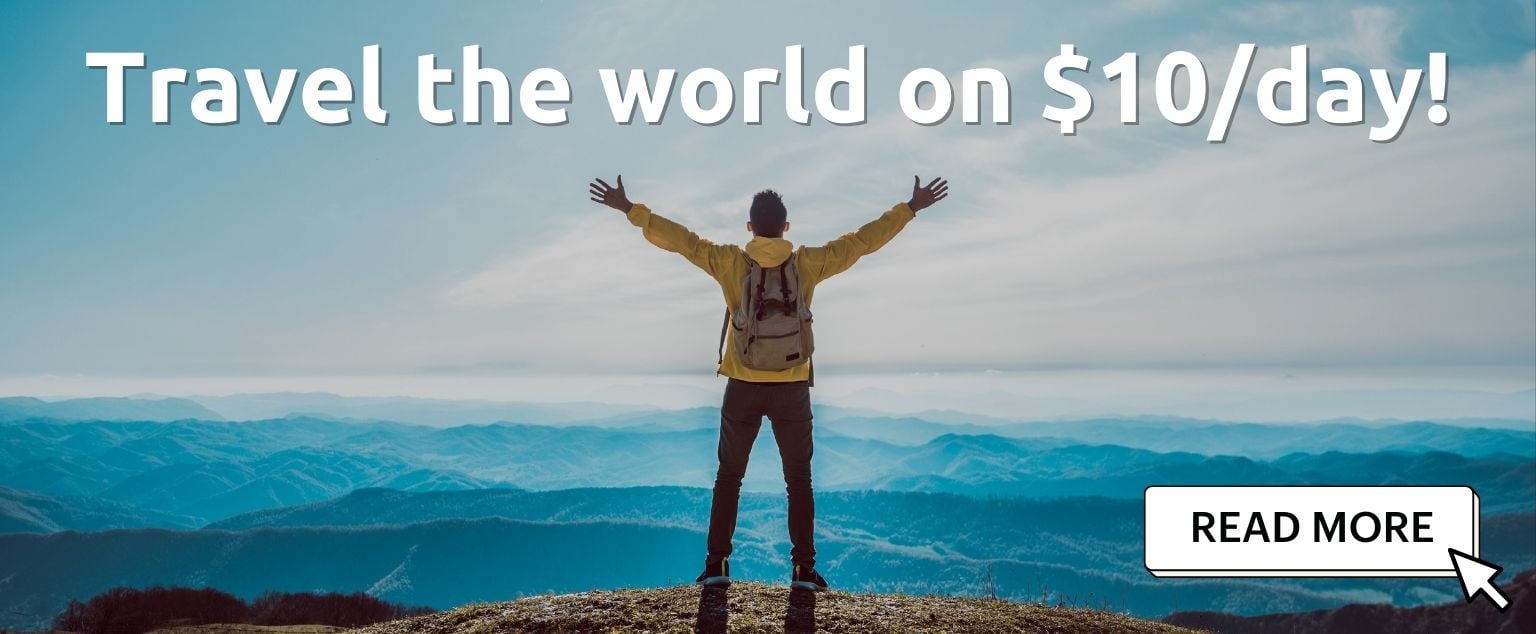 And for transparency's sake, please know that some of the links in our content are affiliate links. That means that if you book your accommodation, buy your gear, or sort your insurance through our link, we earn a small commission (at no extra cost to you). That said, we only link to the gear we trust and never recommend services we don't believe are up to scratch. Again, thank you!