Travelers flock to Thailand for the stunning tropical beaches, bustling cities, and serene mountains. It's not surprising that millions of people visit each year, the country is stunning! But it's not just the landscape that draws travelers to Thailand – the food is PHENOMENAL, and world-renowned.
Thai food is notoriously tasty, spiced to perfection, and actually quite healthy. The dishes are unique and varied, ranging from light and fresh salads to dense and hot curries. A foodie heaven!
There are countless fine dining spots across the country, but the real cuisine gems are found in roadside restaurants, and sold off street vendors' carts. The best part? Thai food is super cheap!

Unlock Our GREATEST Travel Secrets!
Sign up for our newsletter and get the best travel tips delivered right to your inbox.
What is Food in Thailand Like?
Thai food is as diverse and colorful as Thailand itself. The dishes vary from region to region, and you'll soon discover that the best places to eat are not the fancy restaurants. Thailand has a spectacular street food culture. There are vendors everywhere, selling just about every kind of meal and snack, at costs so low you'll be stocking up.
When you are backpacking through Thailand, the first thing you need to do is find out where the local market is. That's where you'll find the cheapest, most scrumptious, and authentic Thai dishes.
Some of the best food markets are the Hua Hin Night Market – where the smell of grilling skewers is heavy in the air, and the Phuket Weekend Market where there's always something weird and wonderful to sample.
If you don't like spicy food, you might struggle a bit. A top tip is to ask for extra rice to help distribute the a little, or go for creamier, coconut milk based curries instead of hot curries like gaeng keow wan gai (green curry).
Vegetarians and vegans will need to work a little harder. Thais love to use beef, pork, and chicken in their meals. They also use condiments like oyster sauce in their stir-fries, marinades, and as a dipping sauce. Be sure to ask if you are worried.
Eating in Thailand is a budget travelers dream. Everything is affordable outside of the big restaurants. You can get a huge meal for mere dollars! Many things around Thailand may be expensive, but food is where you can really save the bucks.
Thai Food Culture Across the Country
What you eat will depend on where you are staying in Thailand. Each region has its own local delicacies, and celebrated dishes. For those in a particularly touristy spot, you might not be getting the most authentic Thai food. Restaurants tend to tone down their recipes to make them more appealing to foreigners, especially if they're spicy!
Real foodies should visit Bangkok. This is where you will find all the best Thai dishes, there's also more choice of places to eat. The city is buzzing with cooking classes to try out, too! Plus, Bangkok is home to the most acclaimed Thai restaurant in the world, Nahm.
In northern Thailand you'll discover delicacies like khao soi (cut rice). Wander night markets and find northern Thai dishes to sample. Fresh seafood dishes are the best in beach destinations like Hua Hin, or islands like Ko Bulon Lee. They are seafood heavens!
Like most places, Thailand's culture and cuisine has been heavily influenced by its neighboring countries. Thailand borders Cambodia, Laos, Malaysia, and Myanmar – and all of them have left a touch of their own flavors. Chinese immigrants in particular have heavily influenced Thai food. Dishes like kha moo (stewed pork leg) were brought by Chinese visitors and added to Thailand's vast food repertoire. Go further afield, and you will find that even Europe has played its part in Thai food.
A cool example is green chillies. A fundamental ingredient in a Thai green curry, they were introduced by Portuguese explorers around the 16th century – who would have thought it!
Thai Food Festivals
Thailand is all about celebrating and festivals. They have a spectacular array of festivals that take place each year, and commemorate the country's traditions, history, and food. Festival season is the best time to visit Thailand to really get an insight into the country's culture.
One of the most unique and curious is the Tesagan Gin Je – Jae Festival for short, and the Nine Emperor Gods Festival to foreigners. This traditional food festival has Taoist roots, lasting 9 days, and is also celebrated in Singapore, Malaysia, and Vietnam.
What's it all about? Well, it's basically a vegan and vegetarian food festival! Although it's more complex than just being vegan for nine days. The celebration (if taken seriously) involves giving up meat and animal products, as well as any vegetables with a strong smell! Garlic and onions are off the menu. Kinda like the Christian celebration of lent.
The dates of Jae Festival vary from year to year following the lunar calendar. It tends to fall between the 8th and 17th of October.
Shops and food stalls use a flag system to let you know what you can and can't eat during the Jae Festival. If there's a little yellow and red flag by the item, then it's Jae safe, munch away!
The best places to be for the festival period are Bangkok, Phuket, Pattaya, and Samut Sakhon – although it is celebrated across the country, wherever you are you won't miss out.
Of course, the festivities will change what you'll be eating. There's still hearty and tasty food allowed, like popular noodle dishes phad mee jae, phad see ew, and phad mama. tHEN there's the jab chai soup that is made in big pots everywhere during Jae.
Another fascinating Thai FOOD festival is the Lopburi Monkey Banquet Festival. It's only celebrated in the town of Lopburi, in central Thailand, and it's unlike anything you'll have come across before..
For a start, the food isn't for you – it's for the town monkeys! The tradition began back in the 1980s as a way of thanking the town's macaque residents. Platters of fruit and vegetables are laid out around town, left for the monkeys to snack on.
It takes place on the last Sunday of November, and it's not something you wanna miss! Of course, there'll be a feast for non-monkeys, too. The festival brings out the best street vendors.
The Best Thai Dishes
Get ready to take some notes. If you are heading to Thailand, these are the must-try dishes that will blow your mind!
1. Pad Thai
Pad Thai is probably the most famous Thai dish. It is a stir-fried noodle meal, that is rumored to have been introduced to the country by Chinese immigrants. It is the best start for baby-mouthed tourists as it isn't too spicy.
Pad Thai has a fantastic blend of contrasting flavours, balancing salty, sweet, and sour in a single dish.
The main ingredients are flat rice noodles, some sort of meat (usually seafood, pork, or chicken) or tofu for the veggies, bean sprouts, eggs, shallots, tamarind, and a few more additions.
This is a must-eat for any Thailand visit.
2. Kaeng Lueang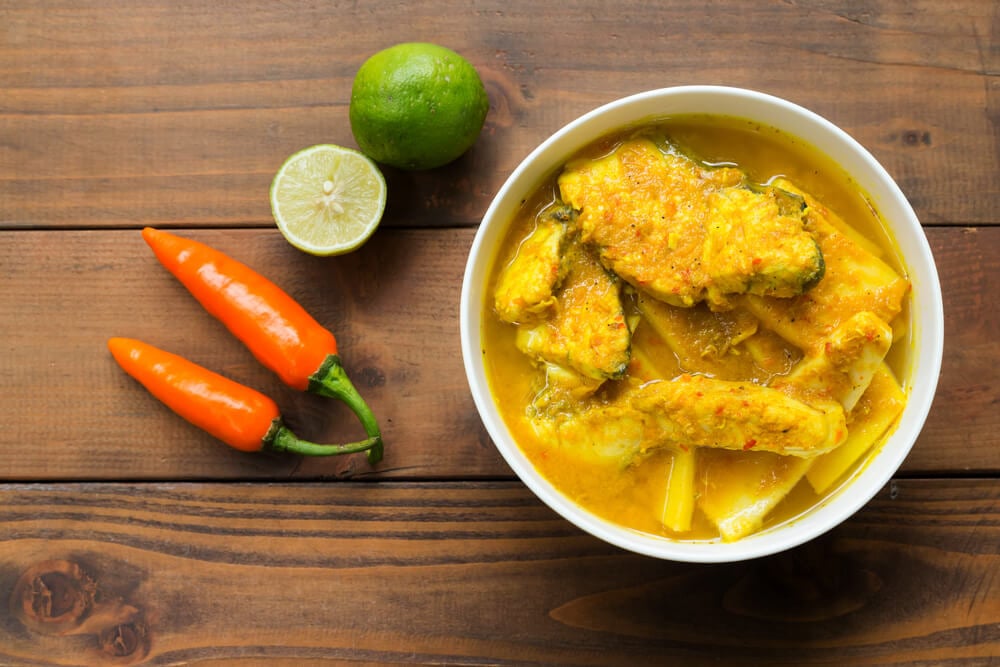 Thai curries are world-renowned as some of the best. They are fresh, light, and always delicious – and kaeng lueang (yellow curry) is the perfect show of that.
The dish gets its name from its yellow colour, created by one of the key ingredients, turmeric. The ingredients you find in your yellow curry will vary regionally. But the key ingredients are yellow thai curry paste, an assortment of vegetables, some kind of protein, cumin, turmeric, lemongrass, and coconut milk.
The dish is creamy, light, and oozing with flavour. It's not as spicy as Thailand's other famous curries, so even little ones will enjoy it!
3. Gaeng Keow Wan Gai
Of all the thai curries, gaeng keow wan gai (or simply green curry) is the spiciest. It's not one for the faint hearted. It gets its name from its most notable ingredient – green chillies.
The chillies are spicy enough to blow your head off! They are simmered in coconut milk first to take some of the heat away. Funnily enough, green chillies aren't native to Thailand, and this dish was only curated after Portuguese missionaries introduced them in the 16th century.
Green curry was originally made in Central Thailand, and combines a blend of green curries, coconut milk, vegetables, lots of spices, and essential curry ingredients like lemongrass, kaffir lime, galangal, shallots, and many more!
But seriously, if you don't like spicy foods then don't touch Thai green curry – not everything needs to be tried.
4. Laab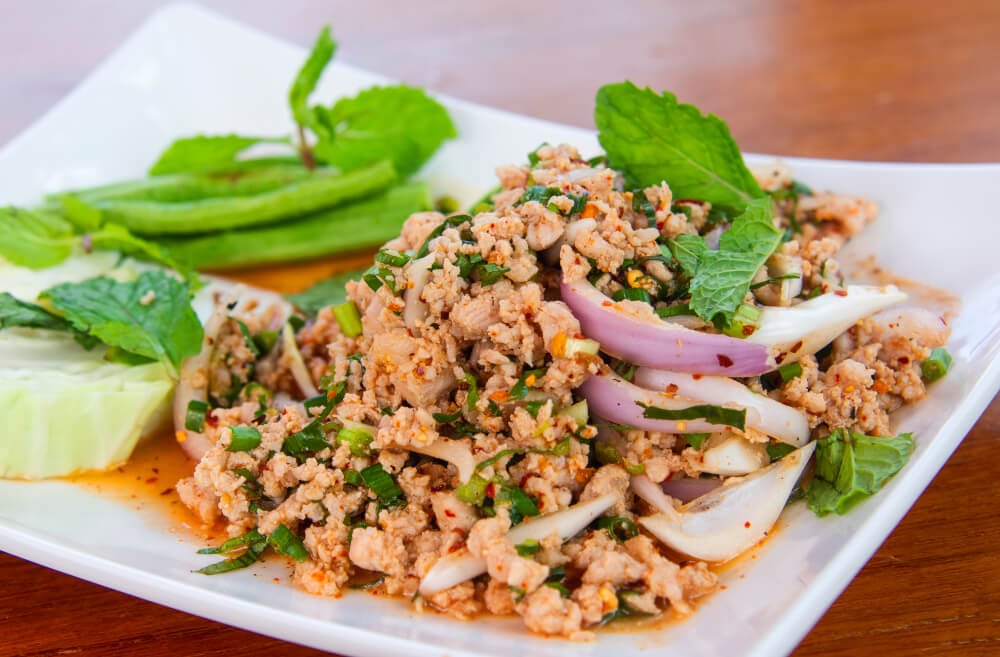 Laab is a signature salad in many parts of north-eastern Asia. It is thought to originate from Laos, but is now one of Thailand's most popular dishes.
But don't be fooled into thinking that this salad will leave you hungry, it's hearty and filling! The mix of minced meat, mint leaves, coriander, mushrooms, and a dressing very similar to that used for som tam will fill you up.
As the salad is a bit greasy and spicy (chillies are a staple in pretty much every Thai dish), it is accompanied by a side of chopped raw vegetables that you can nibble on to clean your palate in-between mouthfuls.
5. Pad-Se-Ew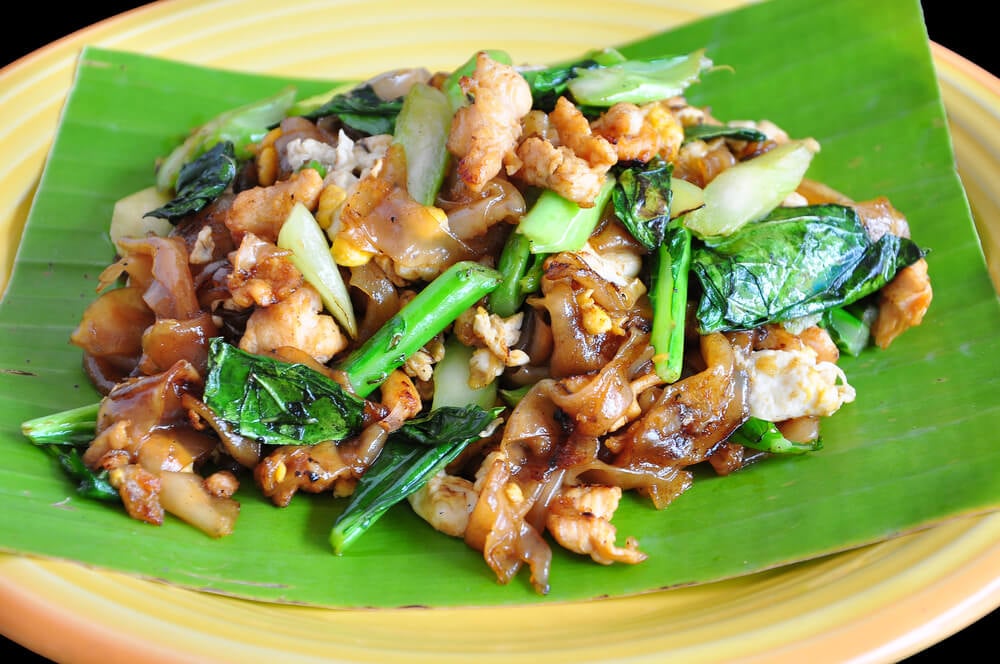 Noodles are to Thais what pasta is to Italians – a staple food that is snuck into as many dishes as possible. Lucky for you, they're absolutely delicious! Pad-Se-Ew is one of the most filling noodle dishes around.
When you've got a long day ahead, find a street stall and get yourself a plate of thick rice noodles, vegetables, pork or chicken, and a generous dashing of dark soy sauce. It'll fuel you up to keep going all day.
Savory and filling, Pad-Se-Ew can be topped with some chilli flakes, lime, vinegar, or (curiously) a little sprinkling of sugar – that's how the locals like it. Try out the most authentic noodle dishes in local markets on a friendly tour.
6. Massaman Curry
Massaman curry is originally from Southern Thailand. It's thick, flavoursome, and filling.
The main ingredients are potato and meat, cooked in a sauce of coconut milk, roasted peanuts, spices, and a few secret ingredients.
Make sure you are super hungry if you're ordering Massaman curry! It is served with a bowl of rice and a few side toppings like chilli flakes, and extra roasted peanuts.
7. Moo Satay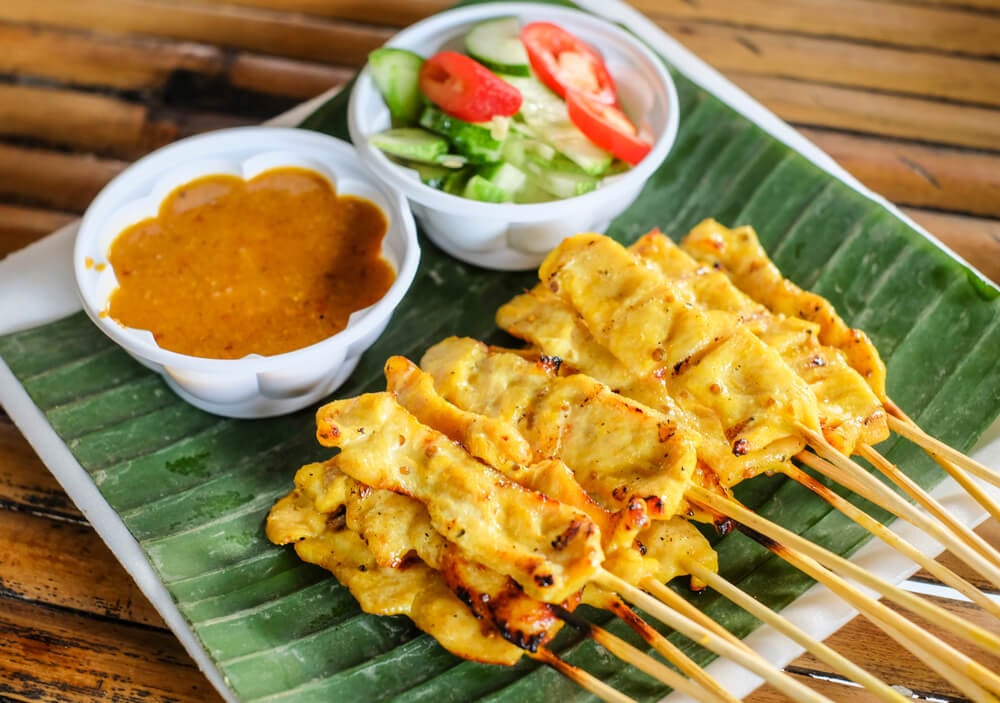 Pork is delicious, and so is peanut satay sauce – combine the two and you get something heaven-sent. Skewers with thin slices of pork are covered in silky coconut milk and turmeric, and cooked over a charcoal BBQ.
The meat is juicy and tender, and a creamy peanut satay sauce is served on the side for dipping. It also comes with a little side of vinegar and cucumber salad, a great palette cleaner that brings out a sour taste which is very popular in Thai food.
In fact, Moo satay is so tasty and easy to find, you can be forgiven for not trying any of the other Thai dishes on the list.
8. Yam Pla Duk Foo
Each country has a dish you'll probably never come across again, Yam Pla Duk Foo is that dish in Thailand. It's not often you find a catfish salad on a menu elsewhere.
The catfish is deep fried to a crisp, and mixed with chunks of sour mango, peanuts, red onion, some fresh coriander, and of course chillies. The salad mix is covered in sweet and sour yam sauce.
It's the perfect dish for a light lunch or brunch, and goes down nicely with a glass of Thai beer!
9. Khao Soi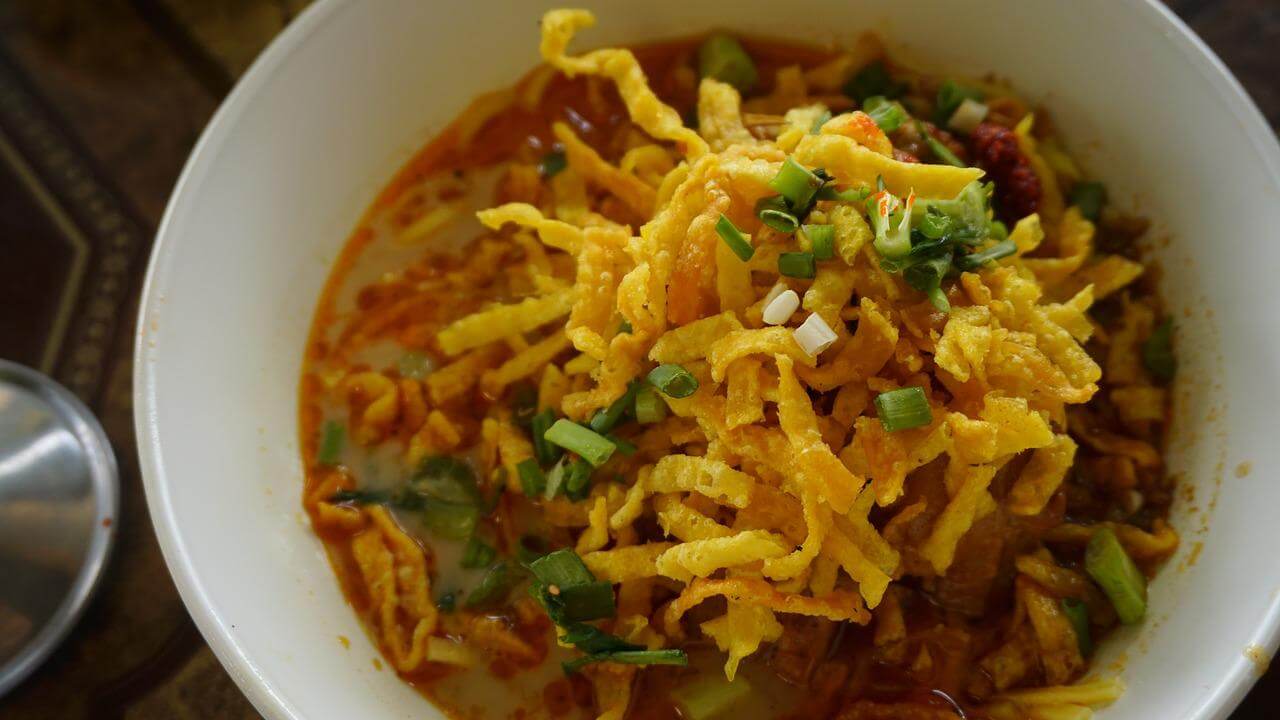 Khao soi is a soup dish that is found around Thailand at local eateries and small food stands. It's particularly popular in Chiang Mai, where you can get a bowl of khao soi at all hours.
Soups are a staple part of Thai food, but as Khao soi is Burmese-inspired, there's a slight twist to the flavors and ingredients. If you're after something comforting and restorative, this is the dish!
One of the main ingredients is coconut milk, which gives it a rich and creamy consistency, and a slightly sweet taste. You can expect curry broth, soft egg noodles, beef (can be substituted by chicken or tofu), and a sprinkling of toppings like pickled vegetables or crisp, deep-fried egg noodles.
Is This the Best Travel Pack EVER???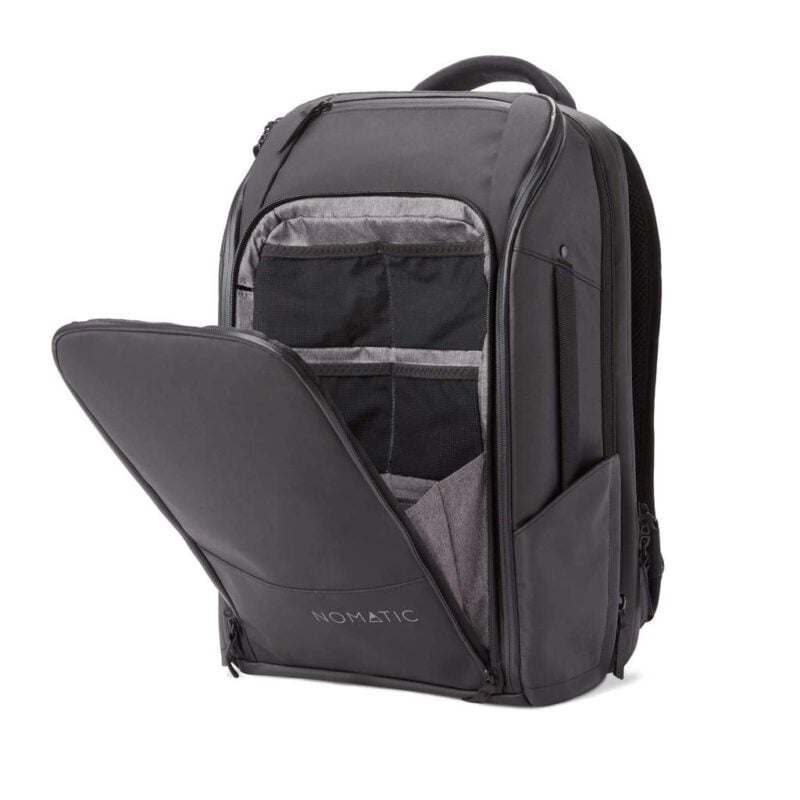 Veggie and Vegan Dishes in Thailand
Now let's look at some dishes suitable for vegetarians and vegans. One of the best parts about traveling is discovering new flavors and cultures through food. It can be a bit disappointing, and at times disheartening, when all you can see on the menu is meat and fish.
Fear not, Thailand has plenty of scrumptious meat-free dishes that even meat eaters will totally love. Most of these Thai dishes are easy to make too, so you can add them to your homemade Thai food repertoire!
10. Laab Jay
We've talked about laab, and this is just the veggie version. The meat is replaced with hearty chunks of tofu, mixed in with green lettuce, onions, a few other vegetables, and some spices.
Be careful though, as this dish is on the spicier side – if you're not a fan of foods that leave a slight burning sensation in your mouth, then laab jay is best avoided.
You can get the dish served with pumpkin and onion to fill it out, and add some sweetness. It may be a salad, but it's filling enough for a meal anytime of the day.
11. Pad Phuk Tong
This heavenly Thai dish puts other pumpkin recipes to shame. The pumpkins are fried up in sauce, garlic, and sometimes tofu. Check that the recipe was made with vegetarian oyster sauce if you want to be extra careful.
Pad phuk tong isn't as easy to find as other dishes. Keep an eye out for it because it's absolutely delicious! You can even make it at home when you get back from your holiday.
12. Veggie Pad Thai
Pad Thai is a classic. Swap out the meat for tofu or egg (or both), and you've got yourself a simple and tasty veggie meal.
The noodles are mixed with an assortment of vegetables, like broccoli and bamboo shoots. You get a large variation on how the dish tastes depending on the season and region.
It's not particularly spicy, and mixes a blend of sweet and salty nicely. If you are vegetarian or vegan, ask the chef if they've used fish sauce or dried shrimp to prepare their sauce.

Our GREATEST Travel Secrets…
Pop your email here & get the original Broke Backpacker Bible for FREE.
Desserts in Thailand
Now something for the sweet tooths, dessert! When you've filled up on the many delicious Thai mains, you're going to want something fresh, light, and sweet to finish off. Here are the best ones!
13. Khanom Tom
Coconuty and sweet, these little treats are a dessert version of a dumpling. They're made with rice flour and stuffed with a blend of melted plam sugar, coconut milk, and shredded coconut.
They're often colorful as butterfly pea extract or pandan leaves are added to the dough, making them a vibrant green or light orange colour. These little delights were named after a national figure, Khanom Tom, in honor of his legendary bravery.
They're small and packed with flavour, a favourite amongst kids. If you've just had a heavy meal this is the perfect dessert to finish off with – yum!
14. Grass Jelly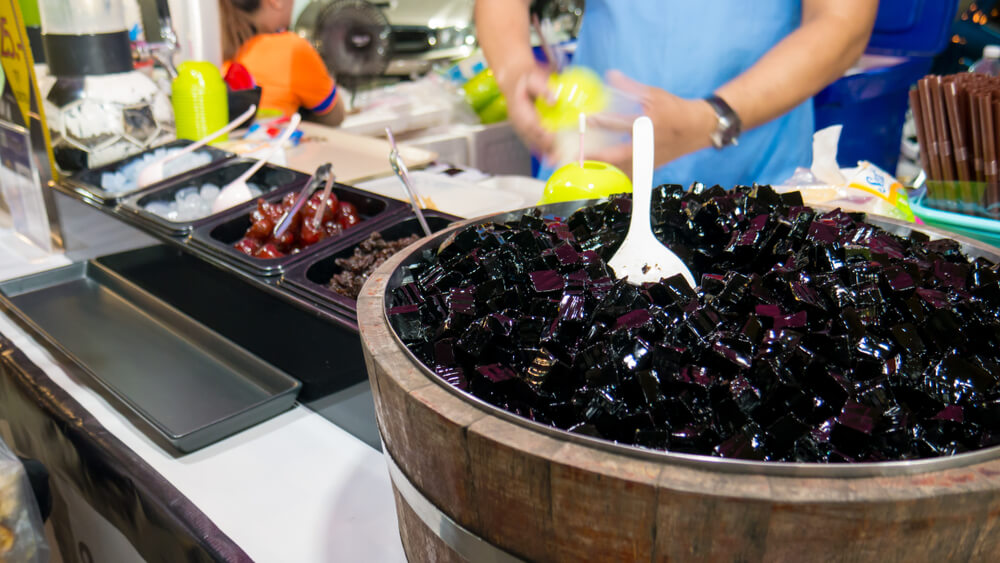 Grass jelly alone isn't very tasty, but mix it with a sweet sauce and some tropical fruits, and it's to die for! As you might have guessed, a lot of the sweet sauces added to grass jelly are coconut based.
You can even eat grass jelly with a rich ice cream. Despite its sweet taste, it's actually very healthy. Grass jelly is good for detoxifying, helping your kidneys, lowering blood pressure, helping with weight loss, and alleviating arthritis.
15. Khao Lam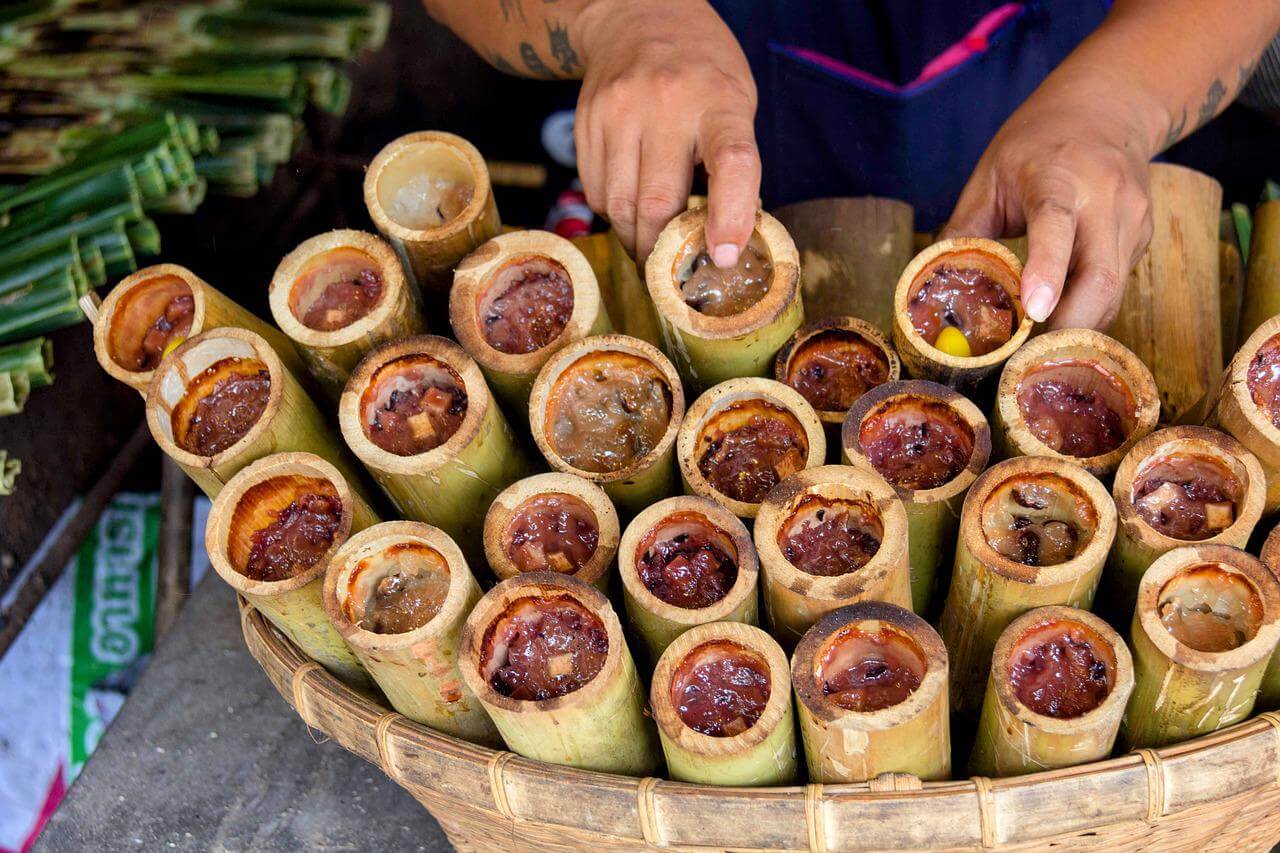 Khao lam is a traditional Thai food that is the equivalent of rice pudding. The mix is stuffed into bamboo sticks, and left over hot coals to slow cook, making it gooey and much more fun to eat.
Most khao lam recipes are made up of white or black sticky rice with sugar, coconut milk (of course), and sweet red beans. As it's cooked in bamboo sticks, it has a cylindrical shape, and is often topped with some sugar and sesame seeds.
The way the dish is slow-cooked makes it especially rich. You can get it from street vendors across Thailand, even at temples!
Final Thoughts
Whether you think of yourself as a foodie or not, we can all admit that a nutritious and delicious meal never goes amiss. Thailand promises exquisite plates of food across the country, and for next to nothing.
Thailand is the kind of place that nourishes the mind, soul, and most importantly, the belly. See how many of these dishes you can try and tick off your list as you travel around!
---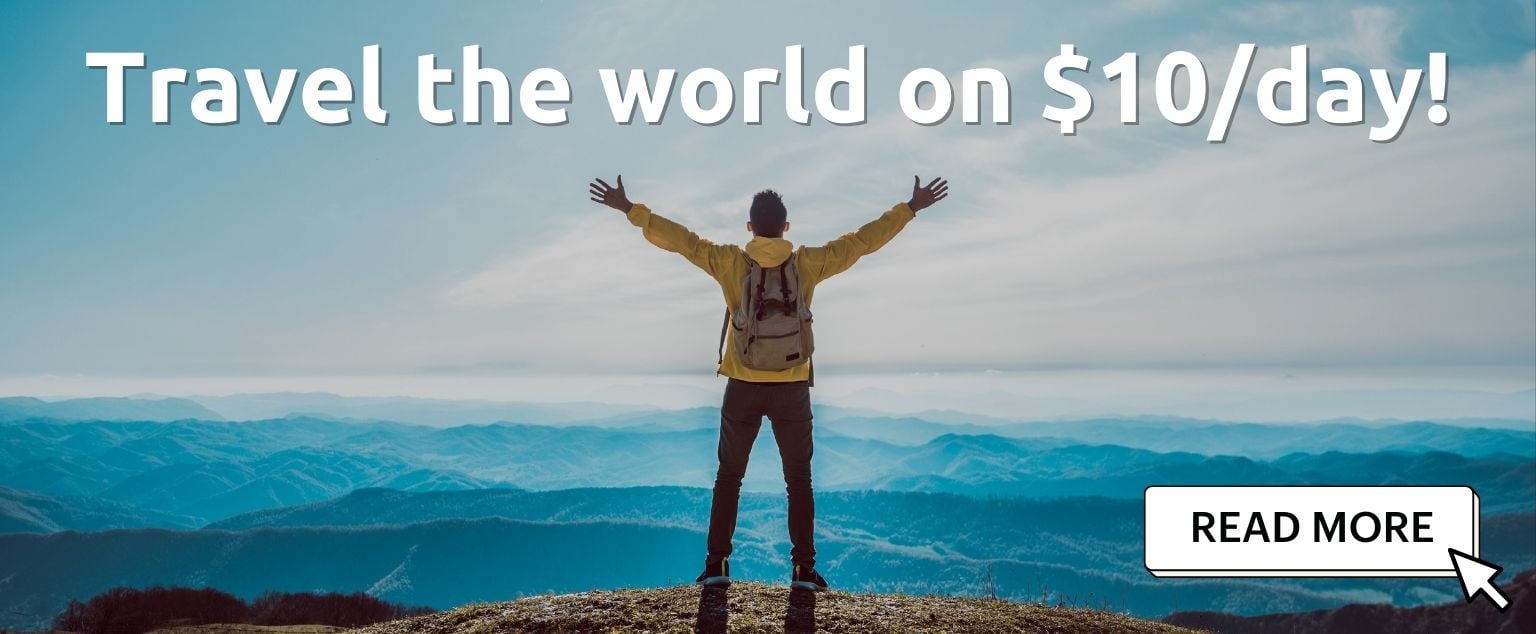 And for transparency's sake, please know that some of the links in our content are affiliate links. That means that if you book your accommodation, buy your gear, or sort your insurance through our link, we earn a small commission (at no extra cost to you). That said, we only link to the gear we trust and never recommend services we don't believe are up to scratch. Again, thank you!