Idyllic beaches, fascinating culture, and sublime cuisine come together to provide one of the world's most popular tourist destinations – Thailand. Once you've narrowed down your options of what you'd like to see and do, you're left with choosing the best time to visit Thailand.
From exploring the many ornate temples and monuments to lazing on a sandy, palm-fringed beach with a festive cocktail, there's no shortage of experiences to be had. Water sports enthusiasts have a wide range of aquatic activities to choose from, including surfing, fishing, snorkelling, and whale and dolphin watching.
The bustling capital of Bangkok is a kaleidoscope of sights and sounds where the modern and the traditional coexist. Whilst the various islands and beach destinations provide a simpler, slower pace of life in stark contrast to the buzzing cities.
Thailand is a great year-round destination, but because of its geographical location, the country can experience climate extremes that may influence your decision. It all comes down to finding the best time to go to Thailand for the experience you're wishing to have.
Finding the sweet spot in terms of costs, crowds and climate is the ultimate juggling act, but it's one we hope to simplify with this guide.
Best Time To Visit Thailand – January to April
Best Time To Go To Bangkok – November to March
Best Time To Go To Koh Phangan – January to May
Best Time To Go To Chiang Mai – November to February
Best Time For Sightseeing – November to February
Cheapest Time To Visit Thailand – May to September
When is the Best Time to Go to Thailand?
Choosing the best time to visit Thailand will depend largely on the kind of experience you're wishing to have.
Perhaps you're planning a trip for a specific season or event, or even if you have a small window for travel and want to decide on where to go for that season, we've gathered all the facts.
The busiest season for travel in Thailand is the cooler season between November and March. While technically this is the winter, don't let that fool you. Temperatures are still in the high 20s (Celsius) with blue skies and lower humidity than at other times of the year.
Because the weather is so good, this is a popular time with other tourists too. So expect crowds at attractions and inflated pricing on flights and accommodation across Thailand. If you wish to travel at this time, it's best to book well in advance as hotels fill up fast.
February is the driest month, particularly in the south, so if avoiding rainfall is important to you, then this is the best time to travel.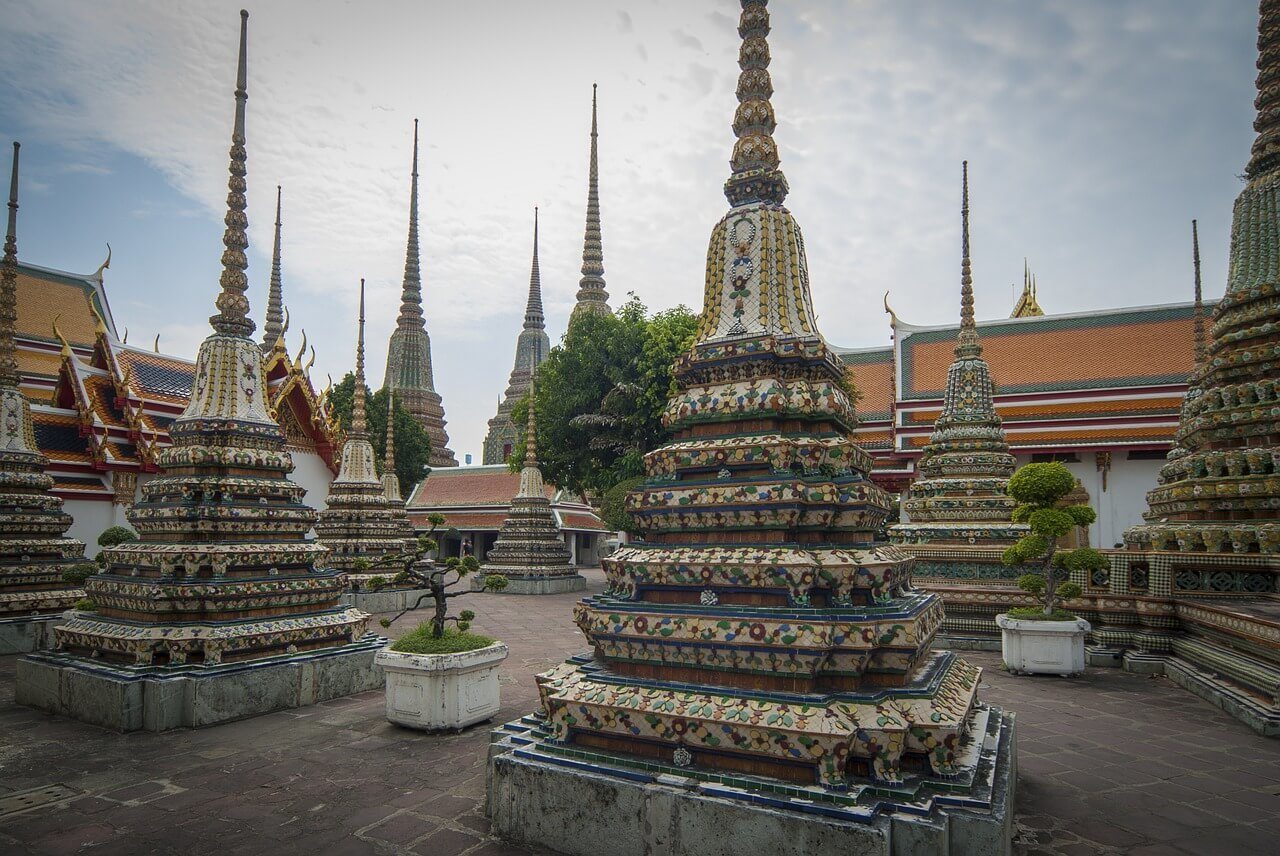 April and May, and September and October are good times to travel if you're looking for lower prices and smaller crowds. The weather at this time is still good, but not too hot. Rains can be expected but these are usually in the form of a sudden, heavy shower which passes quickly.
August can get busier in Thailand as a result of the influx of visitors from Europe taking their summer holidays along the west coast.
The summer months in Thailand are humid, making the already high temperatures feel even hotter. It's the rainy season which means rain is expected almost every day, causing potential travel delays and changes to plans. Because of the weather, there are far fewer tourists and prices are pleasingly lower. This is the cheapest time to visit Thailand – whatever your Thai itinerary.
While this is not the best time to visit for water sports, hiking or lazing on beaches, if you're up for a cultural experience of visiting temples, Thai cooking classes, and other indoor pursuits, it's worth it.

Unlock Our GREATEST Travel Secrets!
Sign up for our newsletter and get the best travel tips delivered right to your inbox.
Best Time to Go to Bangkok
The thriving capital of Thailand is a busy destination year-round, with distinct peaks of increased tourist numbers at certain times.
Ironically, the winter months (November to March) are the busiest times to visit the city. While it is technically winter, the temperatures reach into the high 20s and early 30s, so it's still hot, but not unbearably so.
This is when tourists flock to the city to make the most of the milder temperatures, low humidity, and rainfall. As a result, expect larger crowds of tourists and elevated pricing when visiting at this time. Still, there are plenty of affordable Bangkok hostels so shop around.
By April, the humidity begins to rise and rainfall is becoming more common. Between the heat (average temperatures rarely drop below 30ºC) and the humidity, things can get uncomfortable. Between April and October, visitor numbers are lower and you're more likely to pick up some good deals on accommodation and flights.
Thai festivals such as Songkran (Thai New Year) tend to attract many tourists and cause brief spikes in pricing and tourist numbers in this otherwise off-peak season.
Monsoon rains fall between July and August in Bangkok. While you'll experience frequent bursts of heavy rain, you'll also enjoy the benefits of the low season – fewer tourists and cheaper prices. Bangkok offers a wide variety of indoor attractions, temples, and shopping. There are lots of things to do in Bangkok even if it is raining.
Best Time to Go to Koh Phangan
Koh Phangan is a small island in the Gulf of Thailand, offering powdery beaches, clear coastal waters, and a laid-back island atmosphere.
As one would expect from a tropical destination, the climate is hot and humid. January to April are the best months for a visit as the temperatures are milder, as is the humidity. This is peak season, so expect higher prices and lots of other tourists.
October and November (and sometimes into December) are the rainiest months on the island and not a good time to travel. Aside from making it difficult to even reach the island, flooding is common.
The rest of the year can also experience rainfall, however, this is usually in the form of short and heavy downpours. February is the only month of the year that doesn't see much rainfall.
April to June can be extremely hot and humid, although it's still less humid than Phuket. July and August are good times to travel from a weather perspective as it's lovely and hot – perfect for lazing on the beach. You can expect frequent downpours but these are usually short and clear quickly.
The island gets really busy around Full Moon so book your Koh Phangan accommodation in advance.
Best Time to Go to Chiang Mai
Chiang Mai's elevated location in northern Thailand means it has a very seasonal climate, with cooler temperatures and lower humidity than the rest of the country.
The best time to go to Chiang Mai would be during the cooler months between November and February. Temperatures at this time peak in the high 20s (Celsius) and can drop to a cool 10°C. There's also much less humidity and rainfall at this time.
That said, you'll be in the company of many other tourists at this time and likely have to pay slightly more for things like accommodation and activities. Locals also flock to Chiang Mai during this time to enjoy the cooler weather, so expect lots of the famous Thai traffic, and crowded restaurants and transport.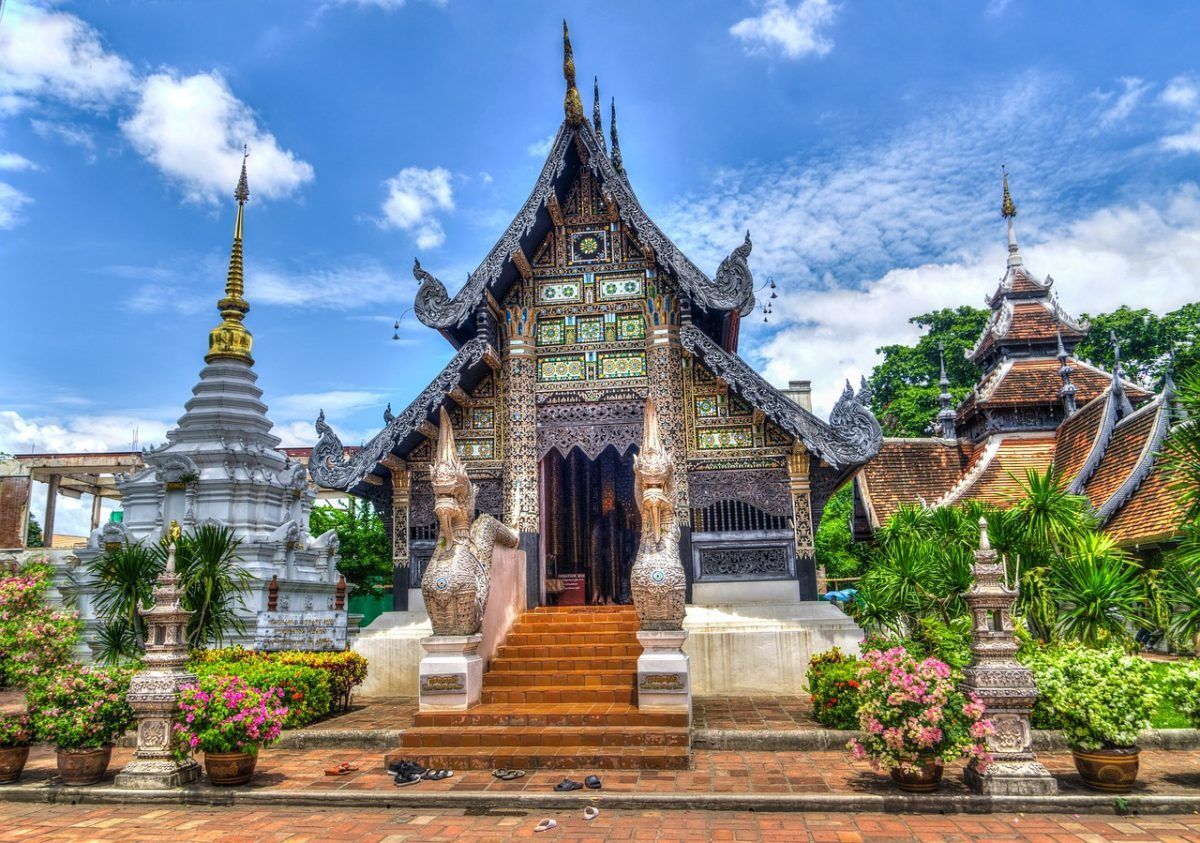 By April, the weather is hot, averaging around 40°C, and dry. The landscape is less lush and photogenic, and occasional wildfires choke the air with smoke.
Chiang Mai is a great place to experience Songkran (Thai New Year) – they have one of the largest celebrations in Thailand next to Bangkok and Khon Kaen. As a result, there's a spike in tourism at this time.
The rainy season in Chiang Mai is between June and October. Conditions are humid and rain falls mostly in the late afternoons or evenings. After a short downpour, it usually clears up again. Towards August and September, you may experience longer rains which linger for a day or two.
The rainy season is considered low season, so you're likely to snatch up some good bargains on accommodation, and enjoy a much quieter experience.
Lovely Chiang Mai Airbnb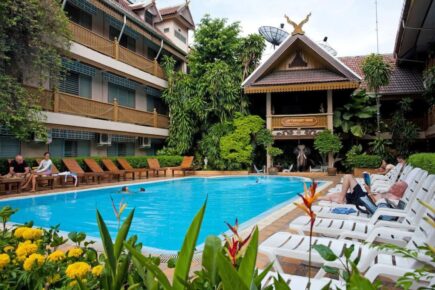 Lovely Chiang Mai Airbnb
This private apartment Airbnb is a one bedroom and one bathroom studio apartment. With traditional Thai bamboo mats, silk patterned pillows, and lots of thoughtful Thai touches you'll love snuggling up in your comfy Chiang Mai Airbnb.
Best Time for Sightseeing in Thailand
The months between November and February are the best time to visit Thailand for sightseeing. This is technically the winter period, but temperatures are still hot, reaching the high 20s (Celsius).
This is the most popular time to visit, so be prepared for crowds of other tourists and long queues at attractions and restaurants. If you wish to travel at this time, you'd do well to book well in advance to avoid disappointment.
If you're wishing to avoid the crowds and snag a bargain on accommodation, the months between September and November are ideal. This is the rainy season when showers are frequent, but usually, only last an hour or two in the late afternoon and evening.
This is both the cheapest and least crowded time in Thailand, but it can mean some travel delays in the case of dirt roads turning to mud during this time.
Small Pack Problems? 😉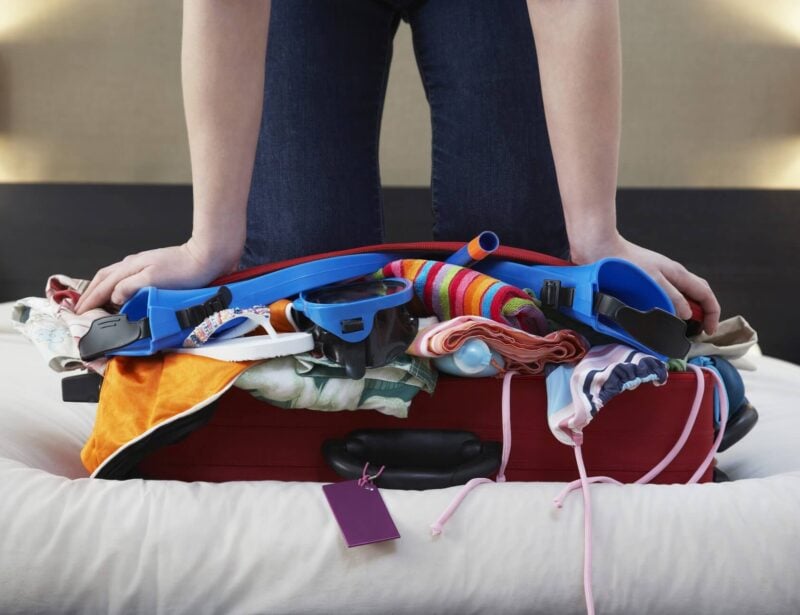 My missus travels with all her clothes in ziplock bags: don't be like my missus. UP YOUR PACKING GAME!
Packing cubes for the globetrotters and compression sacks for the real adventurers – these babies are a traveller's best kept secret. They organise yo' packing and minimise its volume too so you can pack MORE.
Or, y'know… you can stick to ziplock bags.
View Our Fave Cubes
Or Check Out the Sacks!
Best Time for Visiting Koh Phangan
The islands in the Gulf of Thailand offer an incredible tropical retreat that's great to visit at most times of the year. The islands generally experience less rain than the rest of the country throughout the year. The monsoon rains arrive later here and are over in less time.
A tropical holiday on the island of Koh Phangan is best enjoyed between January and April when the temperatures are cooler and less humid. However, this time of year also comes with larger crowds of tourists and higher prices. Beaches will be packed, and there may be a wait at restaurants and water sports centres.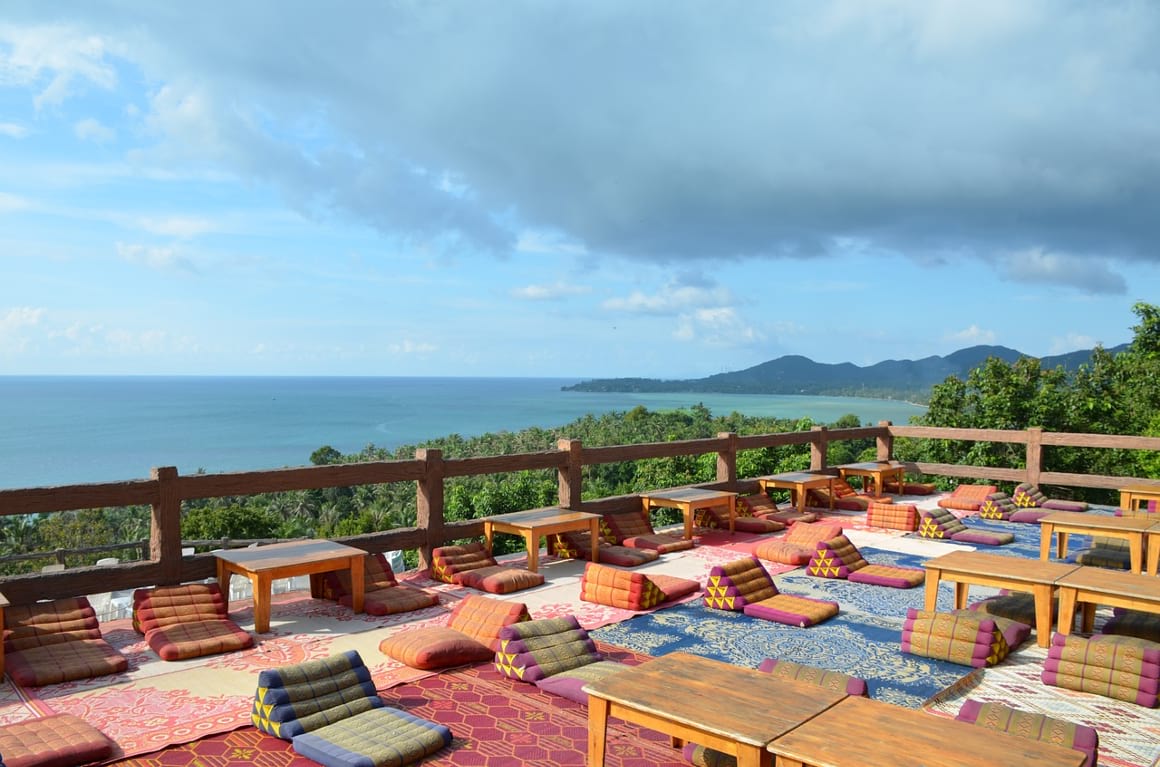 Increased heat and rainfall are more common from April until August, so you'll enjoy much more affordable prices, but short, late-afternoon downpours are frequent. July and August offer great weather but see a peak in summer tourist numbers from Europe and prices can rise in anticipation of this.
The best time to visit Koh Phangan for a beach holiday that offers a balance between the climate and the crowds is between September and October.
Divers visiting the island can head out at most times of the year outside of the heavy rains. Good visibility and an incredible variety of species make Koh Phanang a popular spot to explore the world under the waves.
Cheapest Time to Go to Thailand
Cheapest Time To Go To Thailand

| Expense | Oct – Feb | Mar – Jun | Jul – Sep |
| --- | --- | --- | --- |
| Hostel | $11 | $10 | $11 |
| One way flight to Bangkok from Sydney | $571 | $553 | $482 |
| Private hotel room | $304 | $155 | $235 |
| Grand Palace admission | $16 | $16 | $16 |
In general, Thailand is an affordable destination with a variety of accommodation options to suit all budgets. It's possible to experience all that this incredible country has to offer at a reasonable cost, but if you're feeling flush, you can add the bells and whistles to take it up a notch or two.
Thorough planning is essential if you're hoping to visit during the peak season. But if you're very price conscious, then the cheapest time to visit Thailand is during the rainy high summer between May and September.
Busiest Time to Visit Thailand
Thailand is a popular destination that sees tourists pretty much throughout the year. Because most visitors are seeking an idyllic beach holiday in this tropical paradise, certain times of year see more tourist traffic than others.
Peak season in Thailand falls over the cooler months of November to April. The weather is less stifling, with temperatures hovering in the high 20s (Celsius) and the humidity is much less. This is the best time to visit Thailand for a beach holiday as well as snorkelling and swimming, but it will come at an increased rate. Beaches will be crowded as will transport routes and restaurants.
In April, the Thai New Year festival of Songkran attracts large numbers of tourists who come to join in the celebratory water fights in the streets throughout Thailand.
If you're planning to visit Thailand in the peak season, it's best to plan and book your travels as far in advance as possible. There are more options in terms of accommodation, and costs can sometimes be lower by booking long in advance. Be aware that booking for high season will also come with stricter booking and cancellation terms.
August sees another spike in tourist numbers when European travelers head to Thailand on their summer holidays.
Weather in Thailand
Thailand offers a warm tropical climate all year long. The weather in Thailand comprises three main seasons – rainy (May to October), cool (November to February), and hot (March to May). The high summer temperatures can feel even hotter as the humidity rises.
The cool season falls between November and February and is considered the peak travel season. The weather in Thailand at this time is pleasant and hot (between the high 20s to low 30s), humidity is low, and rainfall infrequent. The cool season attracts significantly more travelers and you'll likely need to book well in advance to avoid disappointment. Prepare yourself to be among loads of other travelers at this time.
In the north of the country, you can expect less humidity and overall cooler temperatures. Between November and February, the more mountainous regions can see some chilly weather, with temperatures dipping to the single digits (Celsius).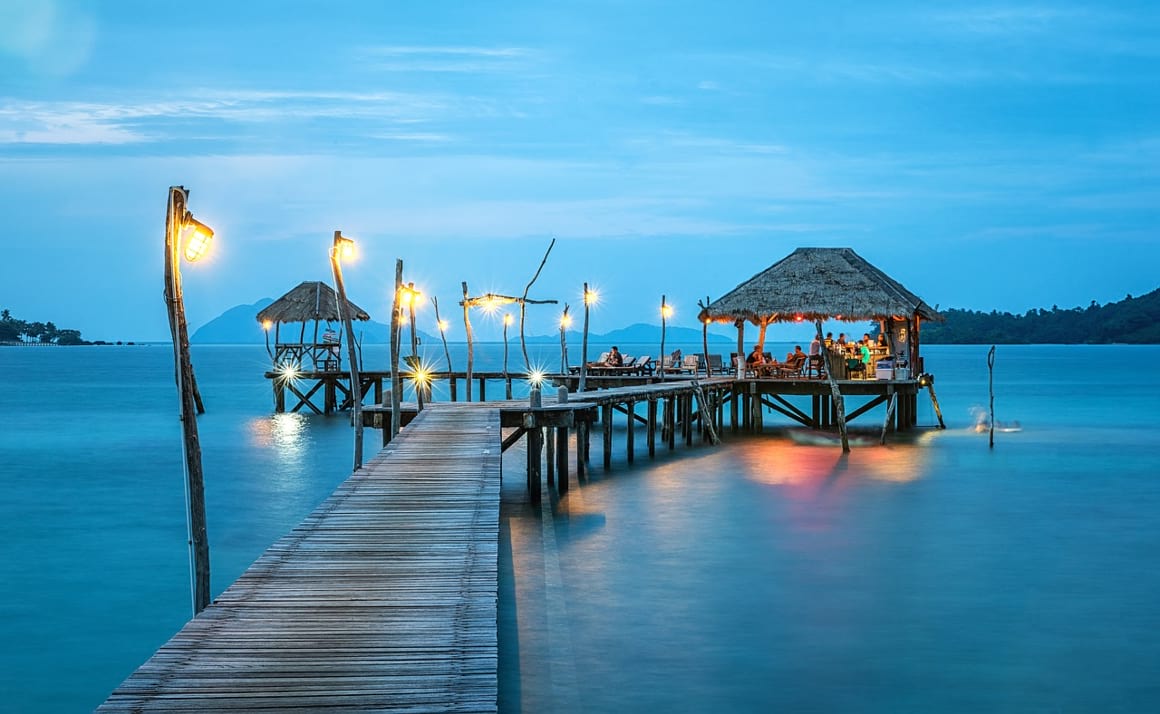 The rainy season also differs from place to place. In the northeast, rain is common between November and April, while the southwestern regions get their downpours between May and October.
Overall, the southern reaches of Thailand experience the most rainfall in the country, usually in the form of short, dramatic downpours which clear up quickly. The central regions of the country experience the greatest heat. This includes cities like Bangkok which feels even hotter as a result of the high humidity.
The rainy season is a great time to visit Bangkok for good shopping – the Amazing Grand Sale takes place from Mid-June to mid-August.
Where is the Best Weather in Thailand?
It's always warm in most of Thailand. The mountains in the north can get pretty chilly during the cool season, but for the rest of the year, the mercury hovers in the pleasant high 20s (Celsius).
The best weather for a beach holiday is between November and March when it's not too hot or humid, and there's less rainfall. This does mean sharing those powdery beaches with other tourists though, and perhaps having to wait in lines at attractions.
The rainy season between May and September is a great time to hit the cities and visit the many temples and palaces, do some shopping, and explore the more cultural side of Thailand.
Don't be fooled into thinking that the rainy season is cooler. High temperatures and humidity combine to make things stiflingly hot. You'll be saving on accommodation by traveling at this time, so we recommend springing for air conditioning if you can. If you can handle the heat and the afternoon downpours, you'll be rewarded with blissfully empty beaches and a more laid-back experience with no queues.
April to May and September to October offer somewhat of a balance between climate, crowds, and costs. The weather is still hot but not stifling and there is the occasional downpour. But usually, these are brief, and there aren't too many other travelers about. Prices aren't at their peak season high, but not quite as cheap as the rainy season.
Festivals in Thailand
Most celebrations in Thailand have a religious root or are national holidays. Religious festivities don't usually have fixed dates, so you'll need to plan carefully and do your research before booking.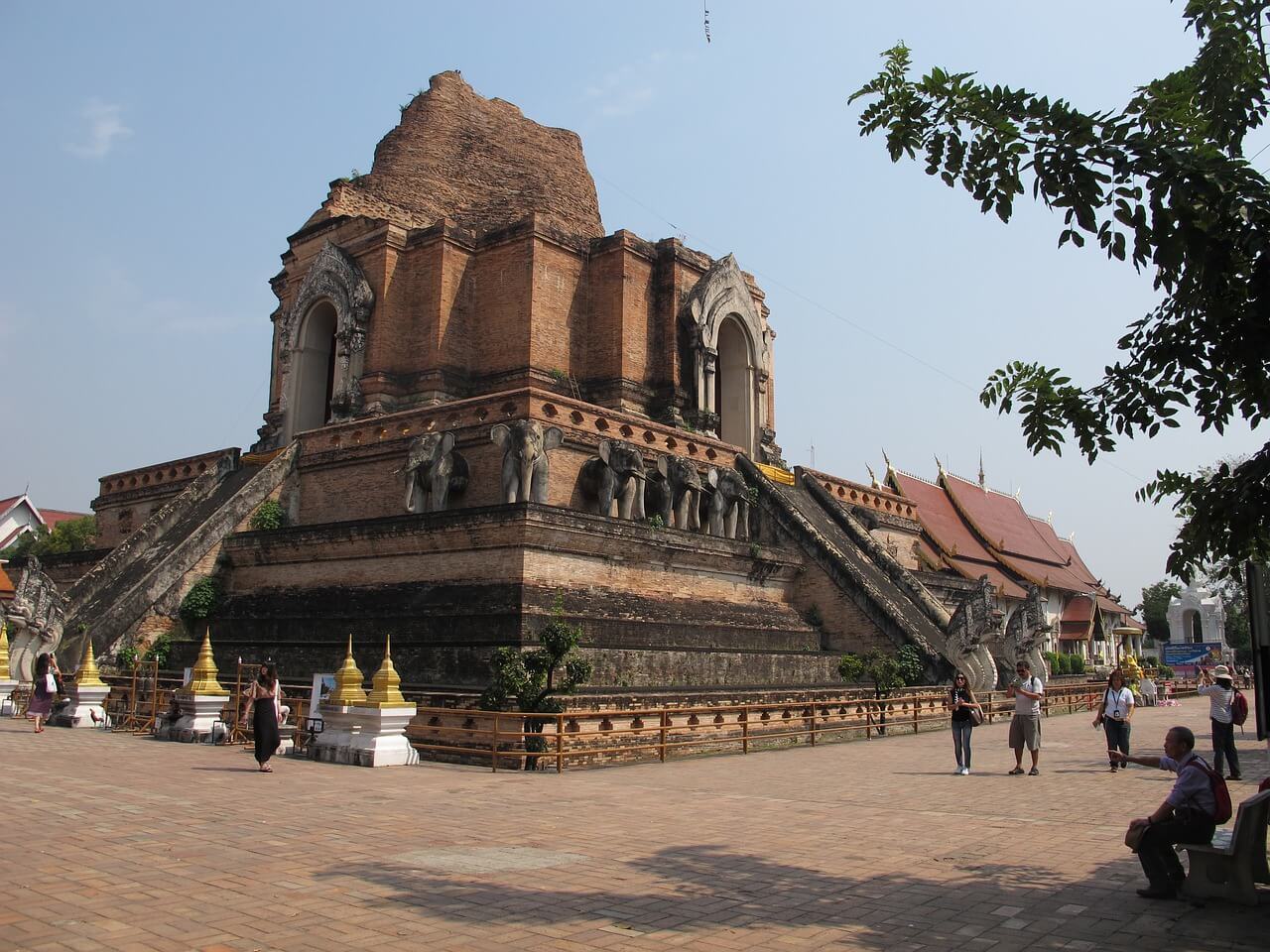 From the popular Songkran Thai New Year celebration to spectacular sights such as the Loy Krathong Festival, and even the Kin Jay Vegetarian Festival, there's something for everyone.
Once a month, Phangan Island hosts a popular Full Moon beach party in celebration of the full moon. Dance music throbs throughout the night as partygoers dance into a new day on the sandy beach. These parties are very popular with tourists, and attract top EDM DJs to supply the beats.
The Thai New Year celebration is a popular event with tourists. The Thai people pour scented water on each other to symbolically wash away the sins and bad luck of the previous year. This turns into a spirited water fight in the streets with people using buckets, water pistols, and hoses. The festival is best enjoyed in the bigger cities–so plan to stay in Bangkok or Chiang Mai.
Amazing Thailand Grand Sale:
Mid-June to mid-August draws shoppers to Thailand for a nationwide shopping extravaganza. Bangkok is arguably the best place to take advantage of these incredible sales, but other places like Phuket and Chiang Mai are still worth checking out.
Shoppers can grab some incredible discounts on everything from clothes to jewellery and electronics. If you're searching for a bargain, you're likely to find one here with up to 80% discounts being offered by retailers.
If you're in Bangkok in October, why not try something a little different and head out to Chonburi (about an hour away) for this unique 140-year-old festival? In addition to the main event, buffalo racing, there are also some other fun side attractions like the buffalo beauty pageants and other contests.
This is arguably the prettiest festival in Thailand. Locals release thousands of boats made from banana leaves bearing flickering candles and flowers into ponds, lakes, and rivers throughout Thailand to symbolically wash away sins. The spectacle is a feast for the eyes as these glittering offerings float along in the night.
Also known as the Ghost Festival, this three-day celebration replicates the legend of a party that both the living and the dead wish they could attend. On the first day, it's traditional for everyone to dress up as a ghost. The second day features pageants and shows, and on the last day, Buddhist ceremonies are held.
Kin Jay Vegetarian Festival:
This annual festival is celebrated between late September and mid-October and is centered on cleansing the body by not consuming meat, fish, or alcohol. Any vendor who wears a yellow apron, or hangs a yellow flag in their establishment will provide only completely vegan food during this time.
When to Visit Thailand – A Month by Month Breakdown
If you're still trying to pinpoint the exact time to go to Thailand that ticks all of your boxes, we've broken down each month of the year and detailed the experience you're likely to have. If you have a very narrow window to travel and need help deciding what's good at that time, this breakdown will make that easier.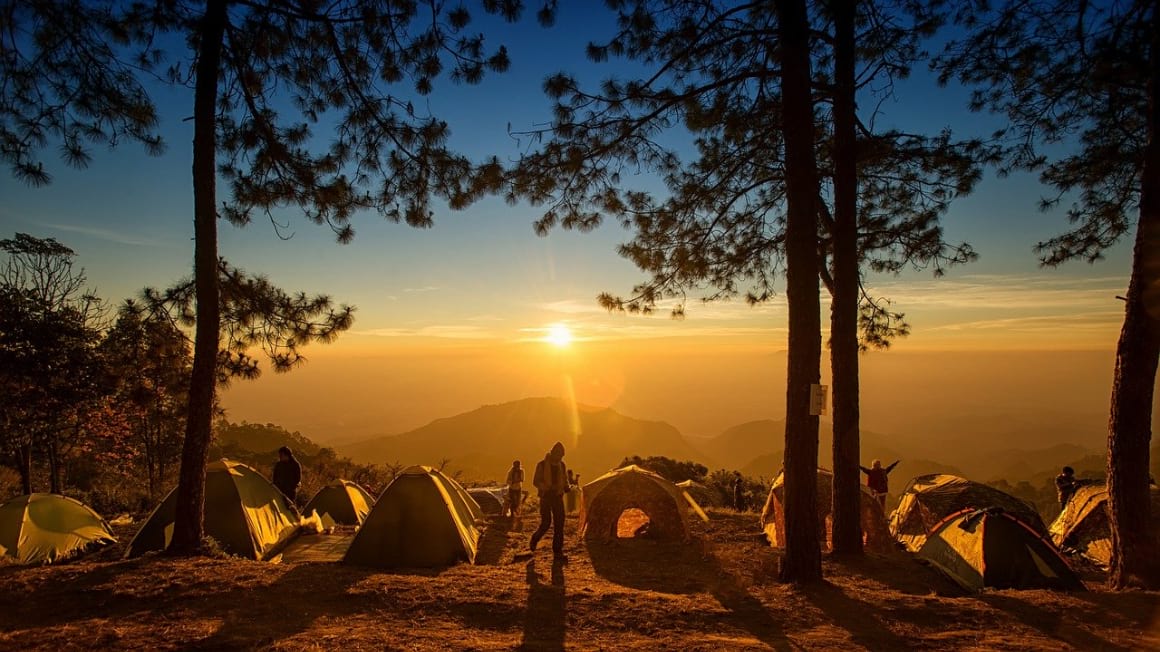 January in Thailand
January offers great weather throughout the country with cooler temperatures and a lower chance of showers. Chiang Mai is the coolest in January, dropping to around 10-15ºC. Tourist season is kicking in throughout the country, so things are likely to be busy (roads, restaurants, beaches) and more expensive.
February in Thailand
Warm weather in the high 20s and low 30s can be expected. Further north, you're likely to experience more rainfall, as well as occasionally along the east coast. Rain generally comes down in short showers that cool things down a bit.
In other parts of the country, February offers perfect beach holiday weather – hot, sunny weather, and minimal rain. This also means it's a popular time to travel, so you're advised to book well in advance for a visit during peak season. Crowds of tourists and higher pricing may deter some.
March in Thailand
On the whole, March is lovely and hot. As the summer season approaches, temperatures can head into the mid-30s, and rainfall is minimal. Water sports along the west coast are great at this time, especially scuba. The crowds of tourists start to lessen as the offseason approaches, so prices can start to ease.
April in Thailand
April sees temperatures rise and rise, and the addition of increasing humidity before the monsoon can make the heat quite oppressive. There's a spike in tourism over April with people coming to join in the Songkran New Year festivities. While this is a great experience, it comes with those higher prices and much larger crowds.
May in Thailand
Temperatures drop off a bit from April, but it's still stifling. Humidity increases significantly as a result of more frequent downpours. Despite the approaching rainy season, there are still plenty of sunny days to be enjoyed. This is a good time to travel if you're wanting to miss the crowds and high costs, but still enjoy lovely weather that isn't too hot or too rainy.
June in Thailand
June is still considered shoulder season, so you're likely to enjoy some lovely sunny days with some afternoon showers that pass as quickly as they arrive. The west coast gets somewhat more rain than other places at this time.
June features several food and music festivals, making it a really fun and fascinating time to visit. Overall, you'll enjoy the shoulder season benefits in June – fewer crowds and some really good bargains on accommodation.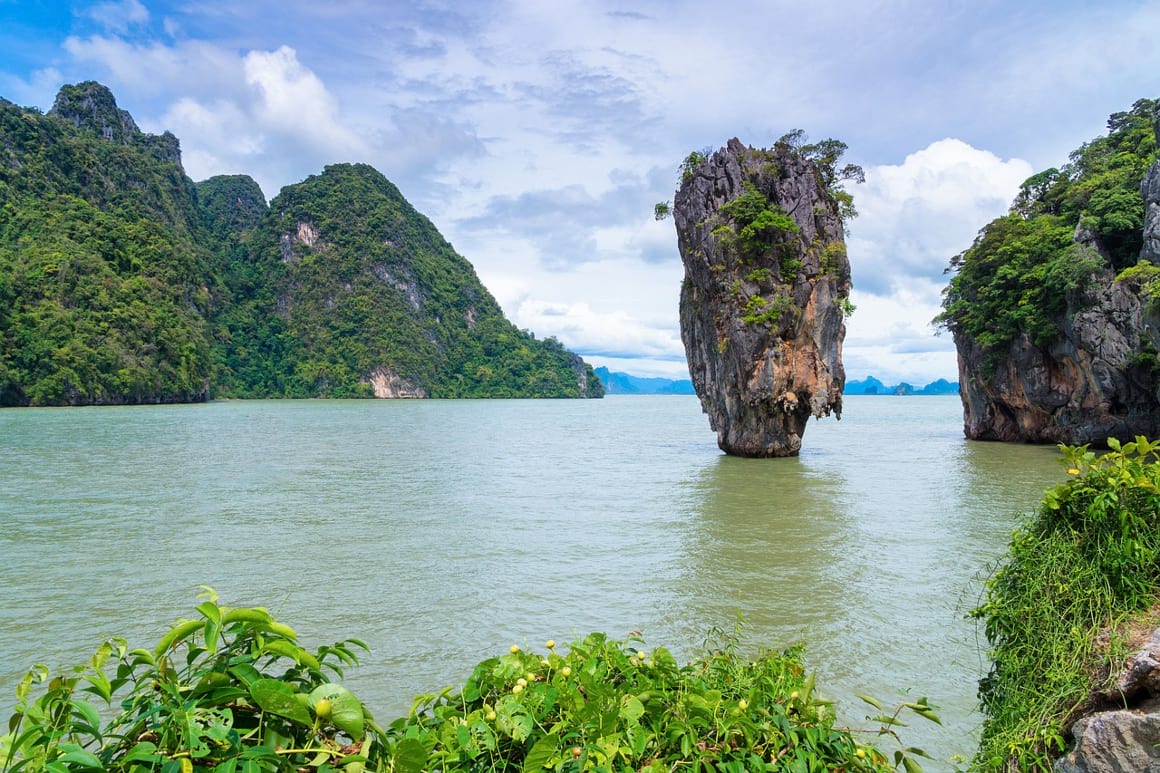 July in Thailand
Heavier rainfall is expected in July, especially along the coast, but temperatures remain in the low 30s. There's an increase in tourist numbers related to the start of the summer holidays, and so accommodation costs are likely to increase at this time.
There are a few important celebrations in July, namely the King's birthday and the Buddhist period of Lent.
August in Thailand
Rainfall is at its highest in the north and west Thailand, making travel here much less appealing. You're likely to find some good deals on travel at this time as a result.
The east coast is still reasonably rain-free, making it a popular spot with European travelers on their summer holidays.
September in Thailand
Heavy rains and stormy seas make escaping to the islands difficult. In the rest of the country, the heavy rains bring muddy roads and humid conditions that make the 32ºC average temperature feel much hotter.
On the upside, there won't be many other tourists around resulting in some really good bargains to be had.
October in Thailand
The major rains start to taper off in most of the country, taking much of the humidity with them, especially in the north. Temperatures are easing too as we head into the winter months.
This milder climate brings an increase in travelers coming to enjoy the pleasant weather. As tourism picks up again, so the prices begin their steady climb to the peak season.
The end of the rainy season and the end of Lent bring many religious celebrations.
November in Thailand
The west coast is blessed with mild temperatures and sunny skies, and visitors begin to flock here for beach vacations, kicking off the peak season. You can still pick up a deal on accommodation at this time, especially if you book in advance.
In the north of the country and the high-lying regions, the cool weather arrives, with temperatures getting decidedly chilly in the early mornings and evenings. The east coast and islands in the gulf are only now getting the peak of their rainfall.
December in Thailand
December offers some of Thailand's best weather – it's sunny and pleasant with minimal rain. With the peak season crowds, you can expect peak season pricing, so if you plan to visit at this time, make sure you book well in advance.
The Christmas and New Year period bring high rates as well, as well as stricter booking conditions and cancellations.
If you're traveling to the north, make sure to pack in some warm clothing to beat the evening chill, while visitors to the south-east should not forget to bring a light rain jacket as rainfall is still expected.
The Future of the SIM Card is HERE!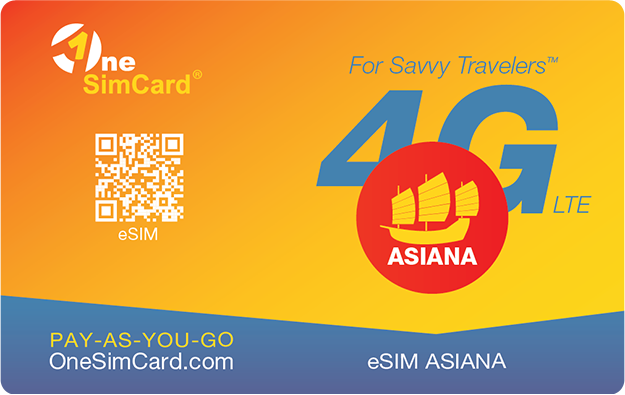 A new country, a new contract, a new piece of plastic – booooring. Instead, buy an eSIM!
An eSIM works just like an app: you buy it, you download it, and BOOM! You're connected. It's just that easy.
Is your phone eSIM ready? Read about how e-Sims work or click below to see one of the top eSIM providers on the market and ditch the plastic.
Buy an eSIM!
FAQ About the Best Time to Visit Thailand
Don't Forget your Thailand Travel Insurance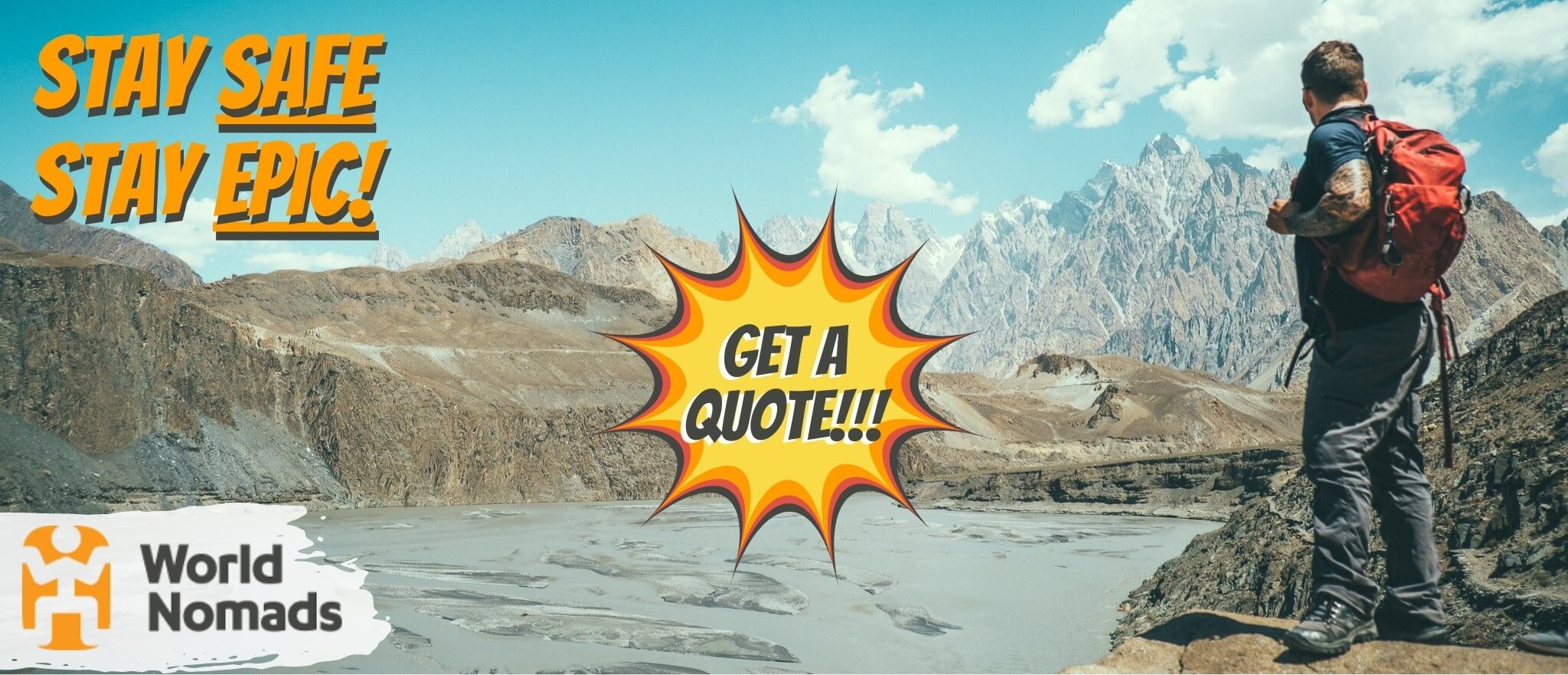 World Nomads' mission is to support and encourage travellers to explore their boundaries. They offer simple & flexible travel insurance, and safety advice to help you travel confidently.
They've been doing it since 2002 – protecting, connecting, and inspiring independent travellers just like you.
Get a quote below or read our in-depth review!
World Nomads provides travel insurance for travelers in over 100 countries. As an affiliate, we receive a fee when you get a quote from World Nomads using this link. We do not represent World Nomads. This is information only and not a recommendation to buy travel insurance.
Final Thoughts on the Best Time to Visit Thailand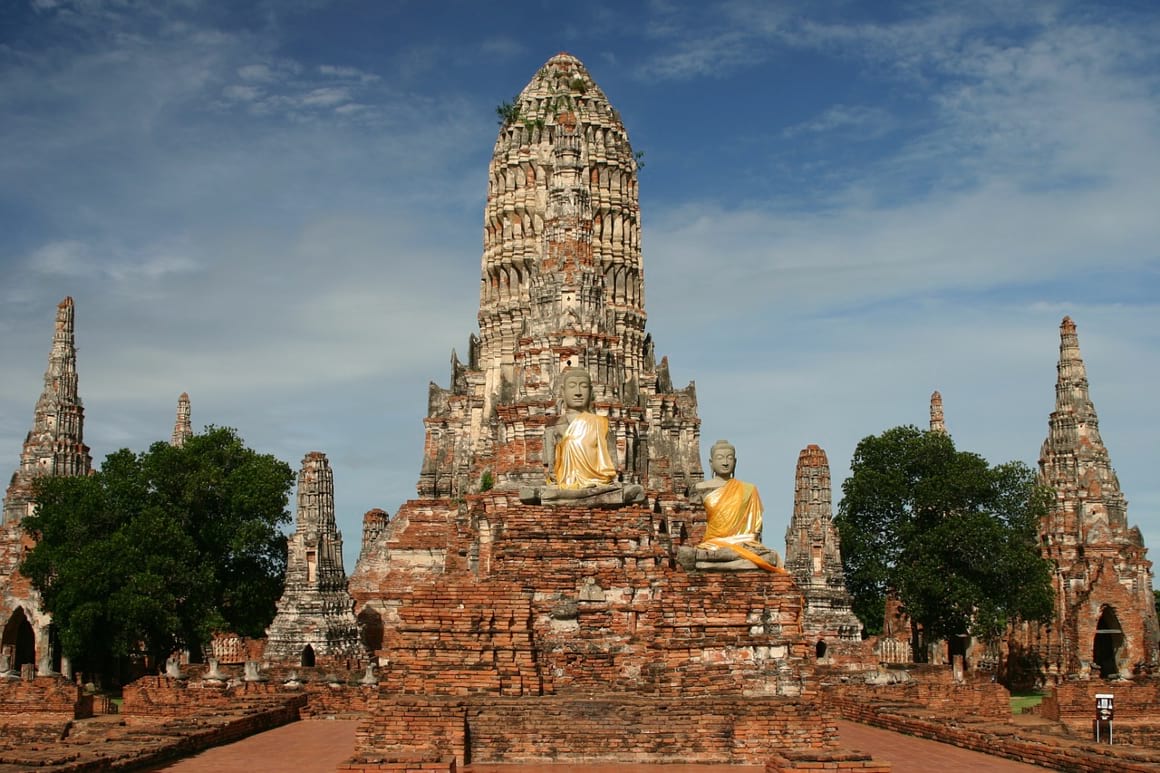 By now, you've probably settled on the best time to visit Thailand that will offer you the experience you've been dreaming of.
If you're planning a tropical beach break in high season, make sure to book well in advance to mitigate some of the high-season inflation, and to ensure you have more accommodation options. Last-minute deals are a great way to save even more for low season travel, but it will leave you frustrated and out of pocket if you try it over the high season.
Whenever you choose to visit, a trip to Thailand is guaranteed to leave you with incredible memories of a colorful country, amazing nature, sandy beaches, palm trees, and vibrant culture.
---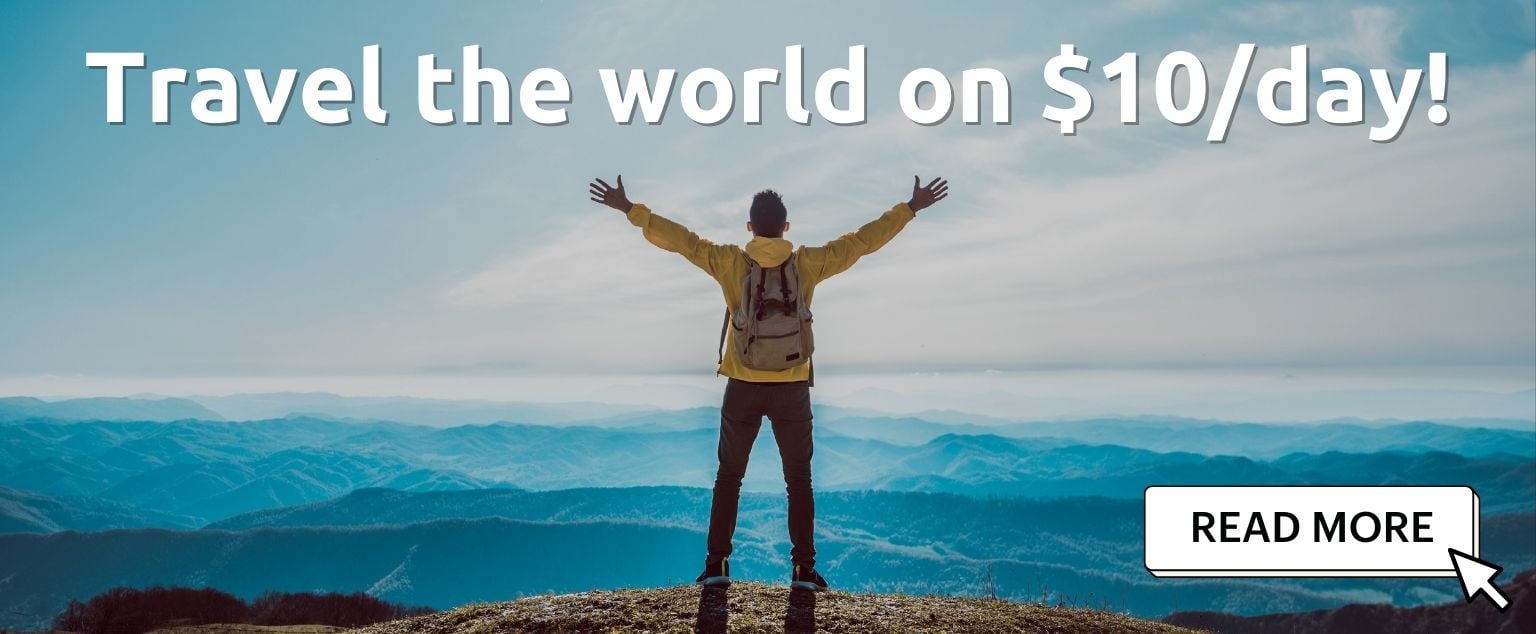 And for transparency's sake, please know that some of the links in our content are affiliate links. That means that if you book your accommodation, buy your gear, or sort your insurance through our link, we earn a small commission (at no extra cost to you). That said, we only link to the gear we trust and never recommend services we don't believe are up to scratch. Again, thank you!