If you haven't heard the jokes about Bangkok or Phuket, where have you been hiding? Lewd wordplay aside, Thailand is legendary as a holiday destination and for good reason. With delicious thai food, banging beaches, insane nightlife, and awe-inspiring temples, this country is unrivaled when it comes to fun and thrills.
With so much to see and do, you might wonder how much money you would need to put down to really experience all that this incredible country has to offer.
There may be some scammers intending to lighten tourists' wallets and it could get expensive if you're not careful, but don't stress too much about it. This guide will help you save! You don't need to worry if you travel safely, smartly and with a well thought out Thailand budget.
The answer to "is Thailand expensive?" is simple. No, not at all! It is the perfect destination for budget travelers. Follow this comprehensive expenses guide and you won't need to break the bank to get the most out of your trip.
Affordability Rating: Cheap
The good news is that Yes, Thailand is absolutely and correctly regarded as a low cost travel destination. While perhaps not as "all you can eat for a dollar"-dirt cheap as it used to be, most western travellers with powerful currencies will find the exchange rate very favourable.
Delicious street meals can be found for a $1, there are still plenty of $6 hostels available and even (basic) private rooms for 2 in Bangkok can be booked for $10. While there are plenty of well laid Thai-money traps waiting to ensnare the reckless, the travellers who do manage to blow their budget in Thailand usually do so by getting carried away searching for one too many happy endings…
Naturally, if you want to flash the cash then higher end options are available. Still, even a Michelin star restaurant in BK will set you back a fraction of what it costs in the States and if you are happy to drop a few hundred per night on your digs, then you may even bag a villa of Bond villain opulence.
How Much Does a Trip to Thailand Cost on Average?
First things first. Let's look at the average Thailand trip cost. Here, I'll look at some main costs including:
How much it costs to get there
Food prices
Thailand travel cost
Prices of things to do and see
Cost of sleeping arrangements
With that said, please note that everything laid down in this guide is based on my own research and personal experience. Thanks to the interesting economic climate we're in, prices are subject to change. You may also decide to inflate your Thailand trip costs if you're feeling rich so keep in mind that these are guidelines – not gospel.
All prices in this guide are given in USD. Thailand's currency is the Thai Baht (THB). As of April 2022, 1 USD = 35.03 Thai Baht.
I've created a handy table for you below that outlines the cost of a trip to Thailand day-to-day, and over a two-week period. You'll see that 2 weeks in Thailand cost very little!
2 Weeks in Thailand Travel Costs
ESTIMATED EXPENSE: US $113 – $550 for a round trip ticket
Usually, when looking at the costs of any international trip, the flights end up being the larger of the blows to the budget. But how large? How much does the average flight cost to Thailand?
Most of us are aware that the costs of flights differ across airlines. The main airports in the larger cities also have times of year that end up being the cheapest time to fly. This can be helpful when planning your Thailand travel budget.
The list below gives you an idea of what to expect to pay for a one-way flight ticket from some major cities during their cheapest month:
New York to Suvarnabhumi Airport: $460-900 USD
London to Suvarnabhumi Airport: £236-440 GBP
Sydney to Suvarnabhumi Airport: $233- 493 AUD
Vancouver to Suvarnabhumi Airport: $645-1341 CAN
If you don't mind a bit of research, you can save money by looking for error fares and special deals.
It's also worthwhile to know that Bangkok's international airport, Suvarnabhumi is the cheapest one to fly into the country.
ESTIMATED EXPENSE: US $6 – $120/day
Now I've put your mind at ease about flights, it's time to investigate cheap places to stay in Thailand. This country, compared to other holiday destinations, has incredibly reasonable rates, whether you're a backpacker, hostel hanger, or avid Airbnb enthusiast!
If this is your one big trip of the year, you may want to put some more money towards accommodation by staying in hotels. If you want to keep your Thailand budget tighter, hostels, beach bungalows, and Airbnbs are the way to go. Regardless, the actual location will have a big impact on price. Staying in Phuket is going to be a lot more expensive overall than staying in Koh Phangan.
Let's take a look at a breakdown of each of these types of accommodation.
Hostels in Thailand
You're a social animal. You'd prefer to put more money towards your Thailand experiences, food and booze than towards the bed you sleep in. That is if you even sleep! In this case, hopping hostels is the best fit for you.
Thailand is dotted with hostels across its thriving cities. You can expect to pay anywhere from $6 per night for a bed to $80 for a private 2-sleeper room.
I've made things easy by listing a few of my top hostels below.
Diff Hostel, Bangkok: Small and modern hostel in the heart of Bangkok. Literally 60 seconds away from everything you could need.
Stamps Backpackers, Chiang Mai: Their focus is on enhancing the social elements in your Thai adventure with great evening group activities.
Baan Baan Hostel, Phuket: Great value for money and feels like a home away from home. Located near restaurants, vendors, cafes, and an awesome local market.
So, how much would two weeks spend backpacking in Thailand cost? Somewhere between $84 and $1120, depending on your need for privacy and taste for Thai-massages…
Airbnbs in Thailand
If you're more of a lone wolf than a social creature, then Airbnb is more your groove. Some people are also just the self-catering type, which means a flat is where it's at.
Airbnb gives you a selection of epic places to stay, from busy city centers to quieter city outskirts. They are also reasonable and serve as the midrange cost between hostels and hotels.
That said, Airbnb prices can also vary depending on the scale of comfort you are looking for and the location. You could expect to spend between $30 and $110 per night. I have listed some affordable Airbnb choices below.
Standard Room Rawai, Phuket: Best Airbnb apartment for those keeping to a strict budget and wanting quality accommodation. It has a great view and is close to many restaurants.
Riverfront Tiny House: Right on Bangkok Yai canal, this stunning apartment offers a different and authentic side of Bangkok.
Hipster Townhome, Chiang Mai: This Airbnb is ideal for those looking for a quieter experience but with the upside of seeing Thailand's Old City up close and personal.
Hotels in Thailand
Hotels are the crown jewels of expense when it comes to accommodation. But, just because they are more expensive than hostels and Airbnbs doesn't mean they are super expensive in general.
In fact, for those who are looking for all the bells and whistles of accommodation, hotels could be first choice. Think hotels with private pools, refreshing designer cocktails, room service, and fresh towels (and ice!). A night's stay in a Thailand hotel can range from $60 to $500 or higher.
Some top picks from my side include the following:
Nordwind Hotel, Chiang Mai: Just 15 minutes from Chiang Mai airport. It offers a world-class Thai restaurant and is just 10 minutes away from the popular night market.
Rambuttri Village Plaza, Bangkok: Located in a cultural hot-spot and close to famous temples, like Wat Phra Kaew and Wat Pho. Great value for money with two rooftop pools.
Kata White Villas, Phuket: A two-minute walk from renowned Kata Beach with the atmosphere of an island paradise. The area is great for snorkeling and close to Phuket International.
Beach Bungalows in Thailand
So, you've decided you want the real Thailand experience, and that includes your accommodation.
Beach bungalows offer you a tranquil space of your own. Imagine stepping outside your private room to be faced with the endless ocean. Sand softly caresses your feet and the sound of the waves.
Beach bungalows also vary in price depending on size and location. The good news is that you can book a bungalow for as little as US $22 a night. This puts it in the same league as hostels and apartments, making it a viable option for doing Thailand on a budget.
Here are a few choices that you can take a look at:
ESTIMATED EXPENSE: US $1 – $60/day
I've discussed the prices of accommodation, but now I need to look at travel costs to help you budget your trip. After all, we have to look at all the potentially costly elements of a trip to answer the question: how expensive is Thailand?
Luckily, this country is affordable in terms of travel prices. Many different modes of local transportation are available for tourists; even the three-wheeled Tuk Tuk!
Next up, I'm going to take a look at transport costs of the train, bus, intercity transport like taxis, as well as car rental options.
Train Travel in Thailand
The train system, the State Railways of Thailand, has extensive coverage of the country, connecting nearly all of its cities and tourist destinations. The train offers a comfortable and scenic way to travel for tourists, but it is rather slow.
Train seating is divided into different classes: first class, second class, and third class. First-class provides the most luxury while third-class gets you where you need to go (without the fancy, soft seats).
Traveling by train is affordable and pretty easy to do. A train ticket from Bangkok to Chiang Mai could cost you roughly US $20 – 60 (first class), which isn't much considering the distance. The train is wonderful if you want to take in the Thai landscape over long distances, but for shorter distances, the bus or taxi is a more convenient option.
If you are visiting Thailand during peak tourist season, you may want to book your train tickets in advance. This is especially true if you are traveling routes between popular tourist destinations (like the trip between Chiang Mai and Bangkok).
Since the train is already such a cheap way to travel in Thailand, there aren't many other ways to cut costs here.
Bus Travel in Thailand
Thailand's bus system is highly developed. A number of the smaller cities have bus schedules that allow for long-distance travel to other cities and attractions within the country.
Traveling Bangkok is easy – it boasts the largest number of buses in Thailand. These buses are full of character and come in varying shapes and colors. Budget travelers can also choose between public and private buses, with the latter offering more comfort and better service. Most of these vehicles are in good condition – so there's no need to stress about breakdowns or, you know, spontaneous combustion.
In terms of the cost of a long-distance ticket, when traveling from Bangkok to Chiang Mai you can expect to pay between $19 and $30. This makes it a cheaper alternative to train and domestic flights.
Getting Around Cities in Thailand
Unfortunately, this country has a terrible reputation for traffic. Navigating its streets isn't the easiest of tasks, especially if you're a newbie. This is why it's probably best to leave the driving to those who are familiar with Thailand's routes.
As mentioned before, Thailand has local transportation like buses and taxis. Your daily travel budget in Bangkok is going to be fine; bus prices are extremely cheap. You can expect to pay around $0.25 for bus fare.
This country's cities also have their own unique methods for getting around. Most of these are really reasonably priced. So you won't have to cough up too much cash to explore and experience more of the country.
Modes of intercity travel include:
Buses
Trains
Tuk Tuks (sheltered three-wheeled bikes – a must-try!)
Bangkok BTS Skytrain
Songthaews (picture a pick-up truck with a passenger hold on the back)
Taxis
Motorcycle taxis
Renting a Car in Thailand
Honestly, if you really want to experience this country and its identity, I would suggest using public transport systems. Tuk Tuks and songthaews will give you a real feel for Thailand while keeping your budget intact. Also, the heavy traffic in Thailand calls for someone with a more experience at hand to do the driving. Driving in Thailand isn't known for being super safe at the best of times.
But, if you are certain you want to go the rental route. Here are some things you need to know.
Rental rates: Start from roughly $22 per day
Insurance: $13 per day
Gas: Roughly 1$ per liter
The best way to save money on costs when renting a car is to do your homework on the rental options available. I suggest opting for a smaller, economical car rather than a luxury car (it's not about the size, remember).
Want to save some cash and explore Thailand by rental car? Use rentalcar.com to find the best deal possible. There are some great prices on the site and they aren't difficult to find.
ESTIMATED EXPENSE: US $4 – $25/day
Now for the part that all the foodies have been waiting for! How much is a trip to Thailand with regards to food?!
Thailand has an interesting, diverse, and acclectic array of food. There so much delicious food, it will most likely become your new favourite cuisine. The beverages are not to be sniffed at either! From refreshing iced coffees and Thai rolled ice cream to basil chicken and Panang (peanut) curry, you'll soon be part of the Thai munch bunch. And begging for more!
Fortunately, food in Thailand is cheap. But keep in mind that if you dine out frequently, the costs will add up. Here's a list of some of the most popular food in Thailand and their costs:
Pad Thai noodles with chicken: around $1
One of the famous Thai curries: $1 – $3.50
Meal at a restaurant: $3 – $5
One of the best tips I can give you is to eat local. Western food costs more than local fare. When in Thailand, eat like the Thai! Also, selecting the seafood option for anything will ramp up the price. Stick to chicken, beef, and pork to play it safe.
Just an FYI, you don't want to be drinking tap water in Thailand. Drink bottled water – it's about $0.50.
Where to Eat Cheaply in Thailand
There is definitely a difference in prices when it comes to where you eat! I won't keep it a secret from you. Here are some tips in terms of where to go.
Eat street food. Street food is the way forward. It might sound unsavory but the truth is you can find the most delicious food at the vibey street stalls dotted along the city streets. In addition, you'll bask in the sounds and smells of the city. You can literally pay about 1$ for cheap street food in Thailand. For this, you can enjoy coconut pancakes and mango rice dishes! And, don't worry about getting sick. The food is fresh.
Open-air restaurants are also significantly cheaper than traditional sit-down restaurants.
Food courts might sound Western, but Thailand is full of them. These are usually found in shopping centers (big and small). Food courts sell traditional Thai food like chicken satays, roasted pumpkin, pad thai and vegetarian meals. They also have the huge benefit of being air-conditioned – a welcome change to Thailand's sometimes oppressive heat. You won't spend more than $5 for a meal, dessert, and drink for two people.
ESTIMATED EXPENSE: US $1.5 – $50/day
So, how much is beer in Thailand? Where booze is concerned, the tables turn. A night on the town ends up being a helluva lot more expensive than a quieter evening spent at a restaurant or cruising the night markets.
Here's a helpful hint to keep Thailand costs down if you're set on indulging. The cost of beer in Thailand is far affordable when you stick to local brew. Buying alcohol from the local 7- Eleven works out cheaper than buying drinks at bars. Imported alcohol is expensive so treat alcohol like you would food and stay local.
Just because it's local doesn't mean it's lesser-than. Thailand has some great booze on offer. Here are two examples.
Thai beers (Singha, Chang and Leo): $1.5 – $2.5 depending on where you get it
Sangsom (popular rum): roughly $9 a bottle
A few nights out in Thailand would be an unforgettable experience, especially if you witness talented fire dancers and try the sweet but "dangerous" bucket drinks available at the bars.
You can still make your pocket happy by having drinks at your accommodation before your night out. You can also take advantage of happy hours at some of the local watering holes to get your buzz. And, avoid craft beer for your wallet's sake.
ESTIMATED EXPENSE: US $1.50 – $65/day
Thailand has earned the nickname, "The Land of Smiles" for good reason. The chances of you not having a smile on your face after a few days in this quirky country are slim. There are tons of cool temples to visit (some a bit weird, some downright spiritual), and colorful and extravagant markets. You also have to hit a Full Moon party – it's a howl!
Here's a list of my cost estimates for some awesome Thailand activities:
The Full Moon party: $50-$60 (including transport and money for booze!)
White Temple of Northern Thailand: $1.50
Museum of Death: $6.50
The Grand Palace: $15
Don't feel limited by the above items. There are hundreds of awesome activities in Thailand you can try, and many are well priced.
If you're smart, there are a couple of ways to cut costs.
Museum fan? Instead of buying tickets for each museum in Bangkok, see what combo tickets are available.
Really, to risk sounding like a wet blanket, the best way to save money is to not drink. I'd recommend planning one or two blowouts during your trip. Then, stick to being a sober cobra for the rest of your Thai adventure.
As much as I've given you a general idea about the cost of a trip to Thailand, there will always be unforeseen costs. Especially if you're that clumsy person who stubs your toe or gets cut open on the regular, you know what I mean.
Do you like to buy souvenirs in each country you visit? Well, you will want to factor that in. Need a little book with common Thai phrases in it? Then you need to plan that little extra to fork up.
I suggest setting some money aside for these types of additional expenses. A decent amount to set aside would be 10% of the total expenditures.
Tipping in Thailand
Good news on this note. Tipping is not common in Thailand so you won't need to worry about too many forlorn faces when you put your wallet away after paying. However, it is appreciated in some situations. When buying street food, you don't need to pay anything extra.
Restaurants, however, play to a different tune. Keep in mind that staff at restaurants can work long shifts with low pay. If you're buying a snack and a coffee at a cafe, leaving $0.5 is acceptable. If you're heading out to fancier places, then you can look at leaving higher tips, more in the region of 10%.
Get Travel Insurance for Thailand
World Nomads' mission is to support and encourage travellers to explore their boundaries. They offer simple & flexible travel insurance, and safety advice to help you travel confidently.
They've been doing it since 2002 – protecting, connecting, and inspiring independent travellers just like you.
Get a quote below or read our in-depth review!
World Nomads provides travel insurance for travelers in over 100 countries. As an affiliate, we receive a fee when you get a quote from World Nomads using this link. We do not represent World Nomads. This is information only and not a recommendation to buy travel insurance.
Well young Padawan, I have come this far. It's time for us to impart some final tips for saving money in this exciting country.
Keep an eye on how much spending money you use each day and set a daily budget for yourself: If you blow the budget on a Full Moon party one day, try and do some activities in the following days that keep you under budget.
Travel as a local would: Use Songthaews and buses. If your destination is close enough, use your God-given feet.
Eat and drink local: I can't stress this enough. Become one with the Thai!
Haggle: Don't treat the first price you receive as the final price. Practice those haggling skills.
Don't be naive: There are scammers out there so leave your gullibility at home.
Watch the locals when it comes to food and purchases: Take a look and see what they are paying for certain items and then follow suit.
Bring the essentials to Thailand: Nothing is worse than having to spend money on something you could've just brought from home.
Have a water bottle: Don't waste money on plastic, bottled waters; carry your own and refill it in the fountains and the tap. If you're worried about potable water, get a filtered bottle, like the GRAYL, which filters out 99% of viruses and bacteria.
Earn money while you travel: Teaching English while traveling is a great way to make ends meet! If you find a sweet gig, you may even end up living in Thailand.
Become a volunteer with Worldpackers: Give back to the local community and, in exchange, you're room and board will often be covered. It's not always free, but it's still a cheap way to travel in Thailand.
SIM cards for Thailand can be cheap if you shop around.
After taking a long, hard look at vacation in Thailand costs, I've come to the conclusion that…No, Thailand is not expensive and is actually a great and affordable holiday destination. If you go for the more savvy choices in terms of transport and accommodation, you will have an absolute blast without destroying your piggy bank.
The best ways to save cash are pretty practical and easy to remember.
Keep it local – for everything: food, drink, transport…If you do that, sticking to a budget will be a breeze. Track your expenses and try to stick to a daily budget. Remind yourself that the daily budget isn't a target, it's a limit!
Lastly, the best thing you can do for yourself is moderate your drinking. Not for your liver's health but for your wallet's health. Alcohol (and partying with it) is one of the largest holiday expenses you'll encounter in Thailand. I suggest planning one or two big nights and braving the rest of your trip sober (you'll remember it better that way anyway).
So, how much money to bring to Thailand?
What I think an average daily budget for Thailand should be: $50
---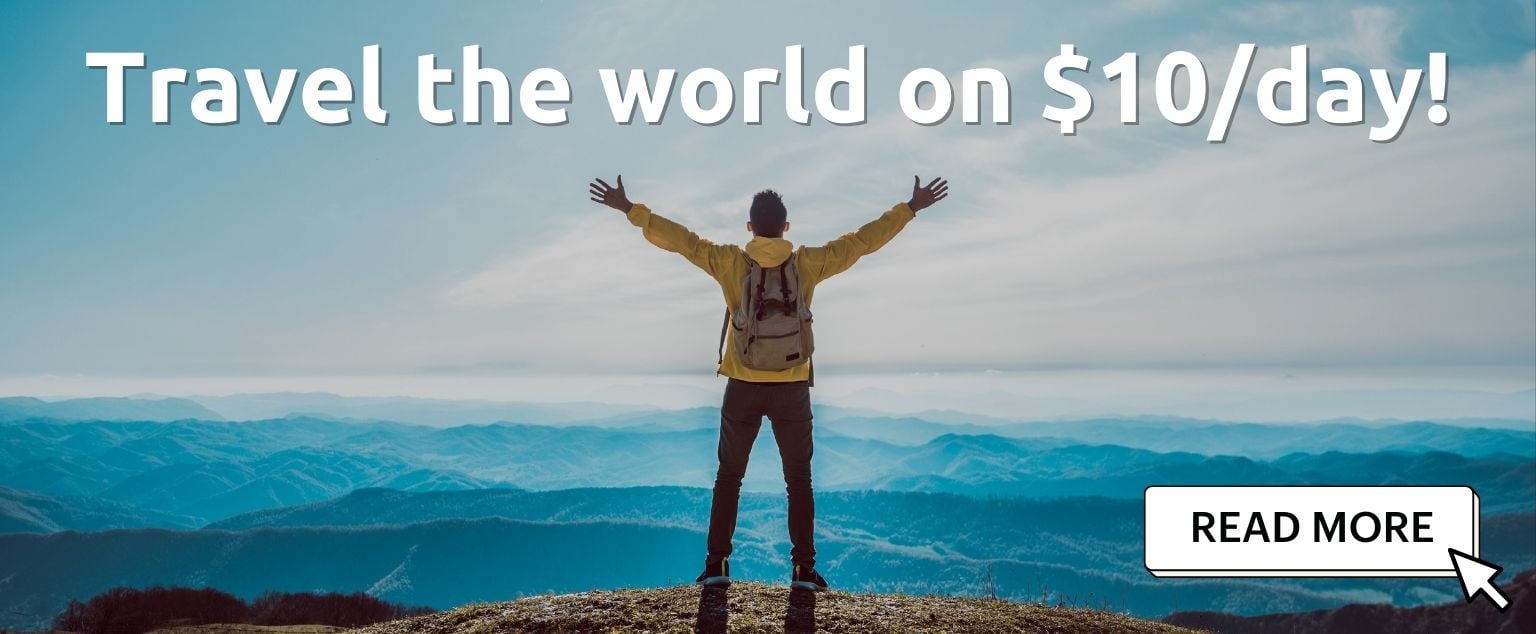 And for transparency's sake, please know that some of the links in our content are affiliate links. That means that if you book your accommodation, buy your gear, or sort your insurance through our link, we earn a small commission (at no extra cost to you). That said, we only link to the gear we trust and never recommend services we don't believe are up to scratch. Again, thank you!