Bangkok is a thriving, buzzing and heaving chaos of a city. It's awesome. Exotic street food, vibey backpacker streets, epic nightlife, and exquisite temples are just some of the highlights. It is a strange and enticing city and deserves more time than a stopover to the beaches and jungles.
But is Bangkok expensive?
Thailand, in general, is probably the most popular country for backpackers on a budget. You can go quite far with only little money. However, being a capital city, you can expect Bangkok's prices to be a bit higher but it's still very affordable.
You can definitely lose a coin or two if you're recklessly going around, not having set up a rough Bangkok travel budget. Spending money left and right will end up on a very expensive trip.
It doesn't have to be like that though. Practice your bargaining skills, avoid dreaded tourist traps and stay local. Bangkok is a great city to immerse yourself in without going broke.
This extensive guide is here to help you navigate Bangkok trip costs.
We're talking you through everything you need for three days in Bangkok.
Flight costs
Somewhere to rest your head
Food and Beverages
Getting around and seeing the sights
Keep in mind that these Bangkok travel costs are subject to change. You can look at it as a rough guideline.
Throughout this guide, all costs will be given in USD. As of March 2020, the exchange rate is 1 USD = 32,32 Thai Baht.
Here's the thing, traveling Thailand on a budget is absolutely possible – but you have to know how to do it and you have to plan ahead. Scan through the table in the next section to see what three days in Bangkok would cost you. Of course, you may choose to indulge a bit more than we've set out.
3 Days in Bangkok Travel Costs
ESTIMATED EXPENSE: US $210 – $1450 for a round trip ticket
This is always the scary bit. If you're anything like us, you may be used to inserting 'everywhere' in the Skyscanner destination bar. And picking the destination with the cheapest results.
The flight will be the biggest cost in your travel Bangkok budget and the amount depends on where you're coming from and which month you're traveling in.
For example, December is the cheapest month to fly from New York to Bangkok.
We've compiled a list of the average flight cost to Bangkok from major global cities in the cheapest month of travel. Remember that these are the average costs and subject to change:
New York to Suvarnabhumi Airport: $480 – 700 USD
London to Suvarnabhumi Airport: £340 – 480 GBP
Sydney to Suvarnabhumi Airport: $443 – 800 AUD
Vancouver to Suvarnabhumi Airport: $710 – 2000 CAN
These prices are higher than usual due to the current uncertainty. But keeping an eye out for good deals, error fares and cheap dates can save you a lot of money.
BKK handles the majority of international flights. It is the most affordable airport to travel to Bangkok.
ESTIMATED EXPENSE: US $6 – $80 per night.
Bangkok has slightly higher accommodation costs in relation to the rest of Thailand. But prices are still very fair. Whether you're a 12-bed hostel kind of traveler or a room service person. The city has something for everyone, at low costs which will keep your wallet happy.
Since the city is pretty big, it can be a bit confusing to find out where the best place to stay in Bangkok is. Staying centrally is always a great idea, especially if you're not too fussed about spending a lot of time on public transport.
You know the drill. Hotels are pretty pricey everywhere in the world. Hostels are always your cheapest option. We'll give you a breakdown of accommodation types and costs. You can decide which suits your needs and your maximum Bangkok travel costs best.
Hostels in Bangkok
If you like to socialize and save money then you're probably looking for a hostel to rest your head.
Bangkok has just under 500 hostels listed on Hostelworld. Everything from hippy havens run by eccentric ladyboys to upper class, pool on a rooftop style hostels. You can find dorms for $3 or splash out on fancy privates up to a maximum of $125 per night.
Choosing amongst the numerous fantastic Bangkok hostels for backpackers can be tough. We've suggested three of our favorite hostels to suit your personal style.
Diff Hostel – Comfy, clean and chilled. It's also a couple of steps away from the BTS station, making it easier to get around.
The Yard Hostel – With rooms made from recycled shipping containers and a beautiful garden, this eco-friendly hostel is a relaxing haven in the center of Bangkok.
Playground Hostel – No guide to Bangkok is complete without one party hostel. Expect to spend your nights losing drinking games and your days nursing hangovers with beer pong.
Airbnbs in Bangkok
If you're traveling with friends or family, an Airbnb rental is a great option to rest your head in Bangkok. Travelers can enjoy the privacy, kitted out kitchens and unique experiences that Bangkok's top Airbnb apartments have to offer. Find a villa for you and your friends or a private room in a local house that provides the chance to make local friends.
It's quite easy to find affordable places on Airbnb too. You can get entire apartments for $12 per night. That being said, this might be your one opportunity to splash out and live luxuriously – and Bangkok has you covered!
We've listed 3 unique and amazing Airbnbs in Bangkok.
River Front Tiny House – An eclectic little house with river views surrounded by vibrant neighborhoods. Within walking distance of famous sights.
Original shophouse, Hua Lamphong station – In the heart of bustling China Town is this quirky spot. Perfect for a group of friends who love novelty and authenticity.
Canal View Studio near Khao San road – If you throw affordability, good location, privacy and facilities into a pot, this is what you get. Close enough to Khao San road to stumble home but far enough to have a quiet sleep.
Hotels in Bangkok
If you're a 'sip my cocktail in infinity pools after a massage' kind of person (no judgment here – we are too when we can afford it) then Bangkoks hotels are your go-to. Hotels are always the most expensive accommodation and can leave a huge gap in your travel budget. Bangkok hotel prices can range from $60 to more than $500 a night and they can come with great luxury.
A fresh towel and sheets every day, glossy hotel bars and staff waiting on your every need, an escape from the noise and chaos. Not to mention the views and distinctly Thai luxury!
Here are three of our top hotel picks.
Vera Nidhra – A tastefully decorated bed and breakfast. Conveniently located close to the Iconsiam where you can catch boats to a number of attractions.
Casa Nithra – An affordable 4-star hotel with all the bells and whistles. Throw in a swimming pool, delicious food and friendly staff. And it is excellent value for money
Buddy Lodge – Close enough to Khao San road to party. But far enough to completely relax. Modern Thai-style hotel with a fitness center and rooftop pool.
Homestays in Bangkok
Homestays are essentially part of someone's home turned into accommodation. Picture couch surfing meets Airbnb meets bed and breakfast.
Staying in a homestay is more affordable than a hotel but can be slightly pricier than a hostel. Prices range from around $12 to $30 per night.
If you're looking for an authentic experience, the chance to meet locals and live like a Bangkok resident, a homestay is a great option. They offer the opportunity to learn local crafts and culture while enjoying a fully authentic experience.
Fahsai Homestay – Wooden Thai style architecture, homemade coffee and honey and interaction with local visiting monks. Does it get more authentic? Includes first-hand experience in DIY coffee!
LoogChoob Homestay – Authenticity meets luxury in this central homestay. Renovated from shophouses, it is modern and with a comforting atmosphere. Within walking distance to major attractions.
Sweetheart Tree Homestay – An oasis in the middle of Bangkok. This homestay is good for solo travelers and has a friendly welcoming vibe and a tranquil garden.
ESTIMATED EXPENSE: $0.46 – $40 per day
Bangkok is huge and has a super interesting history. Trust us, there is a lot to explore throughout the giant city. Fortunately, there are also a lot of cheap ways to get around. It is one of the most well-connected cities in the world! The most you'll pay for a single trip on public transport is around $2.75.
From busses to ferries to sky trains and tuk-tuks, Bangkok has got you covered.
Train Travel in Bangkok
Bangkok has an underground train (the metro) and a sky train. Which, contrary to popular belief, is not actually that high up.
The Bangkok Skytrain runs two lines covering 35 stops throughout Bangkok. It's convenient, quick and modern and it's definitely the best way to get around Bangkok. Fares range from $0.46 to $1.38 for a single trip. Which is ridiculously cheap for such efficiency. During peak hour the elevated train route cruises above traffic and isn't as rammed as the metro.
The underground service, Bangkok MRT, only has one line but stops at quite a few tourist hotspots. There are a couple of intersecting stations where you can change between the MRT and the BTS. Fares are almost the same for both.
Save money with a one-day BTS pass. This gives you unlimited travel within the duration of a single day for 140 baht ($4.28). The pass is perfect for the days where you plan to do a lot of sightseeing around the city.
Bus Travel in Bangkok
Bangkok's train systems are the most convenient and commonly used mode of transport by travelers. But the city has a lesser-used bus line, the BRT (bus rapid transit) which could come in handy for a few popular sights.
There is only one bus route, around 16km long, running from Sathorn to Ratchapruek. The route avoids the ever-present traffic with its own bus lane most of the way. Much like the trains, the busses are modern and comfortable. And they display information in English and Thai.
Bus travel is definitely the cheapest way to travel in the city. The fares are a flat rate of 15 baht – just $0.46 – regardless of distance traveled.
We're not sure if you'll find yourself on a bus in Bangkok, with so many other more far-reaching transport options available. But you might be feeling lazy while plodding through the city, so a bus is always an option.
Renting a Scooter or Bicycle in Bangkok
Renting a scooter is definitely a great way to get around the city – it's fast, you can be spontaneous and it's super affordable. However, it does come with some regulations, safety issues and should require a certain bike experience (for your own good).
You can also swing yourself on a bicycle and take in all of Bangkok's sights and smells. Scooters are definitely more prevalent and quicker to get around, but there are a few bicycle rental places too. Exploring a smaller area by bicycle is often a better option.
Renting a scooter will cost you anywhere between $6 to $42 depending on how snazzy a scooter you want. Most travelers end up on rickety machines from businesses with relaxed laws.
Bicycle rental ranges from $1.50 per hour to $9 for a full day. Choosing an old or beautiful neighborhood to rent a bicycle from is a great way to explore Bangkok's heart.
We've listed some local rental spots for bicycles and scooters:
Tokyo Bike (bicycles)
Go Bangkok Bicycle Rental
BSR Bike Shop
Speedy Scooter Rental
ESTIMATED EXPENSE: US $4 – $25 per day
Thai food prices are reasonable throughout the country, for pretty epic food. The capital, as most capitals, has slightly higher food costs. But vibrant street stalls are always close by for a cheap Pad Thai. And it'll taste better than any you can get at home.
To put it into simple words: Thai cuisine is fragrant, flavourful and downright delicious. Pad Thai street food stalls are always buzzing with backpackers enticed by the $1.84 cost and familiarity.
Stepping out into the Bangkok food experience doesn't have to break your budget. Try some of these popular local dishes.
Thai curry (yellow, green, red, masaman – the works!) – $1.84 – $6
Traditional sweet rice cake – $0.50 – $1 for a dozen
Thai duck rice – $2.15 – $6
Boat noodles – $0.30 – $1
Eating like a local is the best way to keep costs down and to experience the best food that Bangkok has to offer. Stay away from western restaurants serving steak and chips. These restaurants will shamelessly extort you for what is often a subpar meal. Stick to Thai places with Thai prices. Find the street restaurants that are bustling with locals, point to the pictures on the menu and enjoy!
Where to Eat Cheaply in Bangkok
Bangkok has a ton of food options which range pretty drastically in price. We're here to help you navigate the food scene and save your pennies! Here is a breakdown of cheap food spots.
Street food is always the best choice to grab cheap and authentic Thai food. Fresh ingredients are whipped up right in front of you, enveloping you in spiced, mouthwatering smells. The animated conversations of locals, the buzz of customers and the authentic vibe make every meal an immersive experience. Almost every Thai dish can be found on the street for as little as $1.
Local markets are a favorite spot for visitors to Bangkok and they often offer so much interesting, delicious and cheap food. From simply snacking while you haggle with sellers, to feasting on full meals. The markets have whatever you desire and your wallet won't be complaining.
Food courts evoke images of fast food at the mall before watching a movie. Well, it's not far off. Big malls and shopping centers in Bangkok are home to pretty impressive food courts with local food. While the atmosphere is a bit stale, the cheap prices make up for it.
ESTIMATED EXPENSE: US $1.50 – $50 per day
Let's assume that you plan on partying your way through Bangkok. We have a few tips to make sure that the amount of money you spend is not part of your list of regrets after a night out.
Much like the rest of the world, beer is the cheapest option. Stick to local beer as anything imported is extortion. Buying from supermarkets will keep alcohol costs down. Pre drinking at your accommodation is a good way to get buzzed without going broke too.
Imported alcohol is heavily taxed and a shot of your favorite spirit could set you back $4. Apply the same food rule to alcohol. Stay local with these drinks:
Thai beer (Singha, Leo and Chang) – $1.38 – $2.50 (supermarket vs bar)
Sagsom rum (or whiskey, depending on who you ask) – $9 at the supermarket
Whether you spend three days indulging in Bangkok's party scene or just have one crazy night, start your night off with supermarket beers, search for backpacker bars with happy hours and specials – there are lots.
ESTIMATED EXPENSE: US $1 – $60 per day
It's not all about Go-Go bars and massive markets. The city has some pretty spectacular sights. It's a fascinating place with odes to its origins as a small trading center.
Exquisite temples, magnificent palaces, and floating markets are just a few of our favorite spots in Bangkok. Since there are so many things to do here, having a rough Bangkok itinerary and travel guide can help you not to get overwhelmed and enjoy your trip to the fullest.
We've listed our top Bangkok attraction picks and estimated prices.
Wat Pho and the reclining Buddha – $3
Grand Palace and Wat Prakeaw – $15
Boat Trip along the Chao Phraya River – $0.30 – $1 for local transport line. Up to $40 for a dinner cruise
Damnoen Saduak floating market – $25 per person or $45 per boat
China Town – free
Chatuchak Market – free to visit but dangerous for shopaholics
If you're paying attention, you'll see two of our favorite attractions are free. Add a stroll around Lumpini Park and a visit to the Thailand Arts and Culture Centre and you have a free day of sightseeing in Bangkok. Otherwise, nerd out at museums all day with combo museum passes. There is always a way to travel in Bangkok cheap.
Regardless of how well you budget for a trip, there will always be unexpected expenses. Hopefully, these are due to weak resolve when souvenir shopping, and not an infected 'Bangkok Burn' (the nasty burn you get from getting off the wrong side of your scooter).
Perhaps a Thai massage wasn't previously on the agenda, but your body has begun to feel the effects of carrying all your luggage. Or if you like collecting mementos from each city, you'll need some cash for that.
It's always a good idea to put aside at least 10% of your total budget for unforeseen costs. It will provide comfort in times of small emergencies and pleasure when you stumble upon gems.
Tipping in Bangkok
There are no cut and dry rules for tipping in Bangkok. Thailand doesn't have a strong tipping culture. But just because you're not expected to tip, doesn't mean you shouldn't tip.
Most locals in the service industry are working hard for very low wages so a small tip is always appreciated. The best way to go about it is to give a tip directly to the person and in cash.
Get Travel Insurance for Bangkok
ALWAYS sort out your backpacker insurance before your trip. There's plenty to choose from in that department, but a good place to start is Safety Wing.
They offer month-to-month payments, no lock-in contracts, and require absolutely no itineraries: that's the exact kind of insurance long-term travellers and digital nomads need.
SafetyWing is cheap, easy, and admin-free: just sign up lickety-split so you can get back to it!
Click the button below to learn more about SafetyWing's setup or read our insider review for the full tasty scoop.
I bet you're feeling like a boss-budget-backpacker right now! You've been armed with comprehensive information and expert insider secrets. It's up to you to put what you've learned to practice and make us proud.
We'll leave you with some fast final reminders and tips before we send you on your way.
Allocate a realistic daily budget and do your best to stick to it. Be frugal during day, do free activities and buy beer from supermarkets.
Pack the Thailand essentials – forgetting sunscreen, comfortable shoes or even a charger can lead to unnecessary expenses that can easily be avoided.
Carry some supermarket-bought snacks around during the day. This will help you avoid spending too much money on snacking and shopping.
Bargain – whatever price a market seller gives you, expect that it's been tripled. Don't be afraid to haggle your way through the markets.
Don't become a student in the school of hard knocks. Keep sharp as there are a lot of scammers in Bangkok just waiting for an easy target.
Have a water bottle: Don't waste money on plastic, bottled waters; carry your own and refill it in the fountains and the tap. If you're worried about potable water, get a filtered bottle, like the GRAYL, which filters out 99% of viruses and bacteria.
Earn money while you travel: Teaching English while traveling is a great way to make ends meet! If you find a sweet gig, you may even end up living in Bangkok.
Become a volunteer with Worldpackers: Give back to the local community and, in exchange, you're room and board will often be covered. It's not always free, but it's still a cheap way to travel in Bangkok.
We've done the work and we've mapped it out, so drumroll, please…… No, Bangkok is not what we'd consider expensive. In fact, a three-day visit is pretty affordable. Obviously, the cost of a trip to Bangkok is slightly higher than in other areas of Thailand. This is the capital city curse. But with our nifty tips and reasonable city prices, you're looking at a banging budget Bangkok trip.
Depending on the size of your budget, you may not even have to use every and all suggestion in this guide. Bangkok prices are friendly like that! But if you're backpacking on a tight budget, there are lots of practical ways to save money.
Remember to take advantage of all the free activities. Don't get seduced by tourist traps and your favorite alcoholic drink from back home. Embrace your inner Thai and eat, drink, live local.
So, how much should you budget for Bangkok travel costs?
What we think an average daily budget for Bangkok should be: $90
---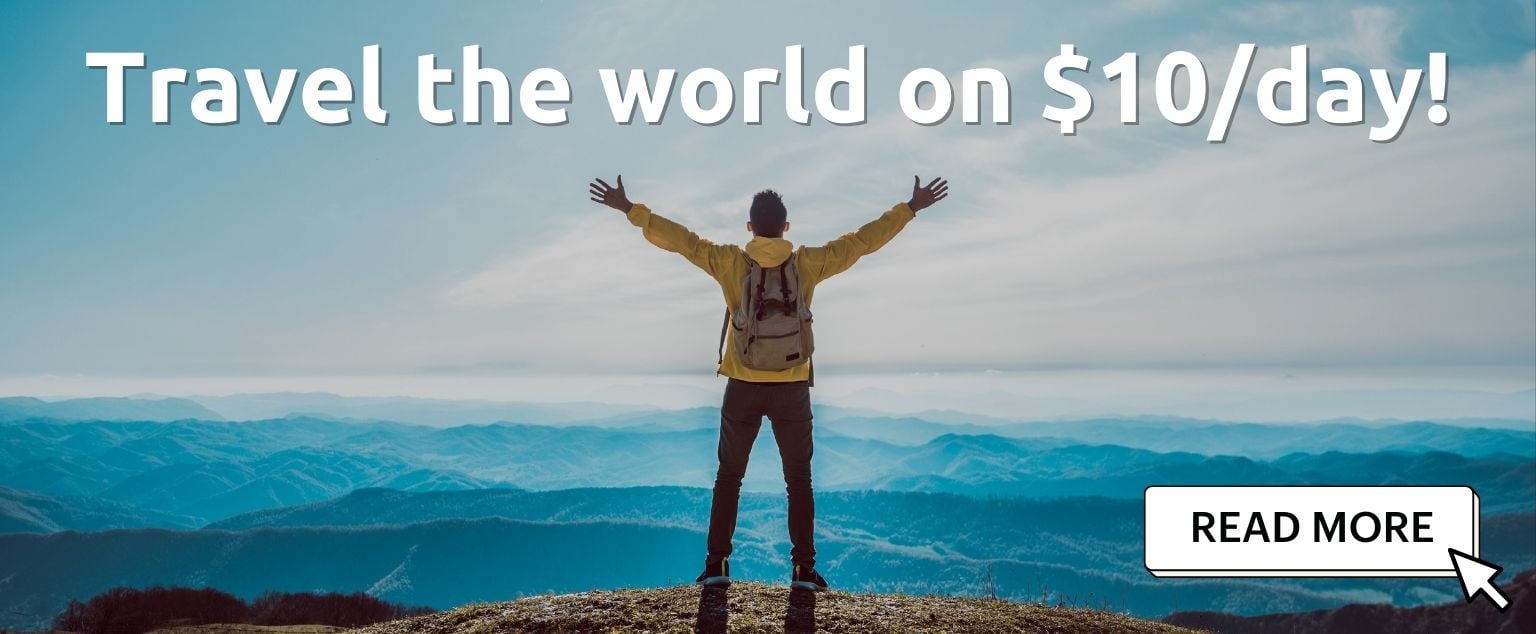 And for transparency's sake, please know that some of the links in our content are affiliate links. That means that if you book your accommodation, buy your gear, or sort your insurance through our link, we earn a small commission (at no extra cost to you). That said, we only link to the gear we trust and never recommend services we don't believe are up to scratch. Again, thank you!