Bangkok is renowned among backpackers for its crowded streets, cheap souvenirs, wild nightlife, and insane traffic. Many backpackers travelling Southeast Asia will visit Bangkok and are somewhat overwhelmed due to the pollution and crowds, however, compared to many big Asian cities, Bangkok is actually quite beautiful.
Give the city time and you will definitely come to love it. I've spent over three months backpacking in Bangkok, across a dozen visits over ten years, and it's a city I still love to visit… While the initial chaos and, at times, admitted seediness can initially throw newcomers off, there is a lot to fall in love with should you give Bangkok the chance.
So, today, I'm going to breakdown beautiful and bombastic Bangkok! We're going to talk about where to stay amongst Bangkok's eclectic neighbourhoods, and what to do amongst it's hidden bars and steaming hole-in-the-walls eatery. Most of all, we'll talk about how to backpack Bangkok on a budget.
After all, this is Thailand, and Thailand is baby's first budget backpacking Asia adventure. I'm bringing you the best travel tips as it all starts in Bangkok.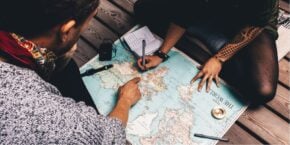 Heading Off-Grid? • Download This Guide as a PDF!
Sign up to The Broke Backpacker's EXCLUSIVE VIP AREA below and download our top backpacking guides as PDFs – go offline with peace of mind!
It all depends on your style of travelling. If you're staying at fancy hotels and not eating locally, it will add to your travel costs in Bangkok very fast. Plan ahead, don't spend money left and right and you'll have an enjoyable and affordable trip. Whether you decide to just spend a weekend in Bangkok or you're here for a few weeks, you've still got to be careful despite this being a famously budget place to visit!
Dorm rooms start at around $3 but you can get a cheap double room for just $4 if you look around. Dorm rooms in prime locations will set you back at least $10. Private rooms near Khao San start at around $10 but if you walk ten minutes outside of Khao San the price will drop by a few dollars. Chana Songkram is a good road to find cheap accommodation, it is just a five minute walk from Khao San and has loads of budget hostels, the Merry V Guesthouse is one of the cheapest.
In Bangkok, you can eat street food for under a dollar! The food is delicious, nutritious and great value. A meal in a restaurant will see you back a fair bit more, perhaps $10 a person including a couple of drinks.
City buses tend to be very crowded and can be quite confusing but they cost as little as $0.25 a journey. The Skytrain and Metro usually cost under a dollar a trip and are a great way to get around. Taxis throughout the city usually cost between $3 and $5 but make sure your driver puts the meter on. If you are travelling by yourself and don't want to use public transport try out the famous motorcycle taxis, these are good value, especially during rush hour.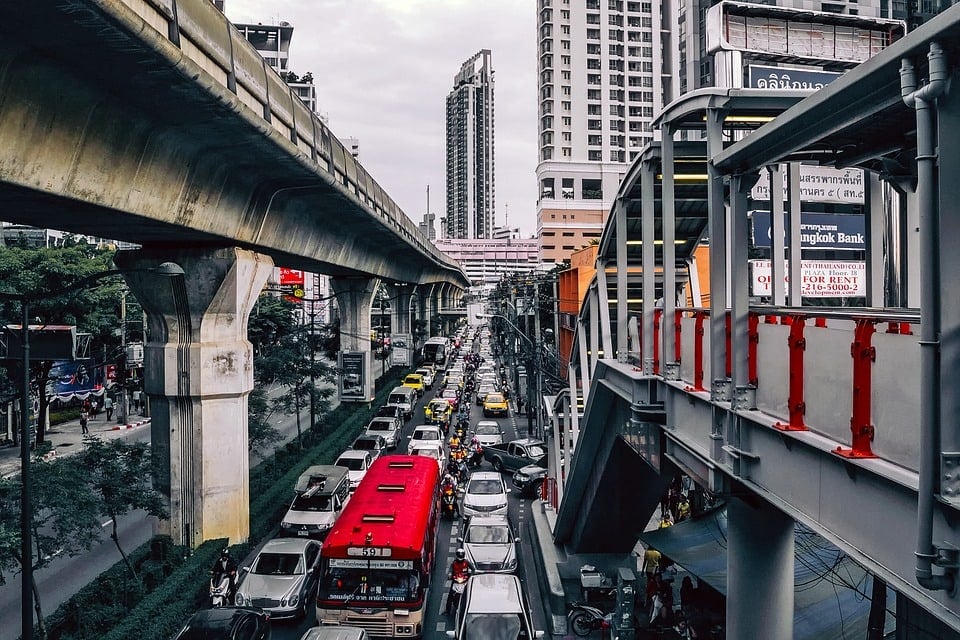 Daily Travel Budget in Bangkok Breakdown
Dorm bed in a hostel: $3-$6
Small basic room for two: $7-$14
Nice accommodation (Airbnb, hotel, etc.): $15+
Street eat: $1-$3
Sit-down meal: $7-$14
Bus ride: <$1
Metro/Skytrain ride: <$1
Taxi fare: $3-$6
Bangkok Budget Backpacking Tips
Travelling to Thailand is relatively cheap, but there are some tips you can use to keep your daily spending budget lower. To keep your spending to an absolute minimum whilst travelling in Bangkok I recommend sticking to these basic budget backpacking tips…
Use Public Transport – Bangkok has an extensive system of buses and metro lines (not to mention the countless taxis, moto-taxis, and tuk-tuks that line the streets). So make use of this and save up to do better things!
Couchsurf: Couchsurfing is an excellent idea while backpacking Bangkok.
Cook your own food: Get together with your amigos at the hostel and cook up a meal. You can save some pennies doing this.
Haggle: Know how to haggle, and do it as much as you can. You can always get a better price for things especially while in local markets in Bangkok.
Pack a travel water bottle: Save money – and the planet – every day!
Why You Should Travel to Bangkok with a Water Bottle
Plastic washes up on even the most pristine beaches… so do your part and keep the Big Blue beautiful
You aren't going to save the world overnight, but you might as well be part of the solution and not the problem. When you travel to some of the world's most remote places, you come to realise the full extent of the plastic problem. And I hope you become more inspired to continue being a responsible traveller.
STOP USING SINGLE-USE PLASTIC! If you'd like some more tips on how to save the world, be sure to watch the video below.
Plus, now you won't be buying overpriced bottles of water from the supermarkets either! Travel with a filtered water bottle instead and never waste a cent nor a turtle's life again.
Save $$$ • Save the Planet • Save Your Stomach!
Drink water from ANYWHERE. The Grayl Geopress is the worlds leading filtered water bottle protecting you from all manner of waterborne nasties.
Single-use plastic bottles are a MASSIVE threat to marine life. Be a part of the solution and travel with a filter water bottle. Save money and the environment!
We've tested the Geopress rigorously from the icy heights of Pakistan to the tropical jungles of Bali, and can confirm: it's the best water bottle you'll ever buy!
View on REI
Read the Review
For me, one of the most exciting things about being on the road is meeting new people and staying in new places. Bangkok is the starting point for many backpacking adventures, and there are some fantastic hostels to check out. These backpacker meccas are great for meeting fellow travellers, exchanging travel stories, tapping into the backpacking grapevine and just chilling the fuck out.
Hostels may be your best entry point for meeting fellow travellers, however, there are way more accommodation options! Swanky Airbnb apartments, family guesthouses, and authentic homestays secreted away amongst the vibrant neighbourhoods of Bangkok. Whether you're looking for the insanity of nights trawling the city, or just a new home to live your digital nomad dream, you'll find a place to stay in Bangkok to suit your needs.
Best Backpacker Hostel in Bangkok – Diff Hostel
This one's definitely a great catch (though maybe on the higher end of your budget). Diff Hostel is located in the heart of Bangkok and its location lets you get around quite easily. The staff are great and the hostel itself is pretty cozy.
In particular, the design of the hostel is gorgeous, and with free breakfast and free towels. Diff Hostel gives you a lot of bang for your buck and is clearly one of the best hostels in Bangkok. Defo one of the best hostels Bangkok has to offer.
Best Hostel for Solo Travellers in Bangkok – Mad Monkey Bangkok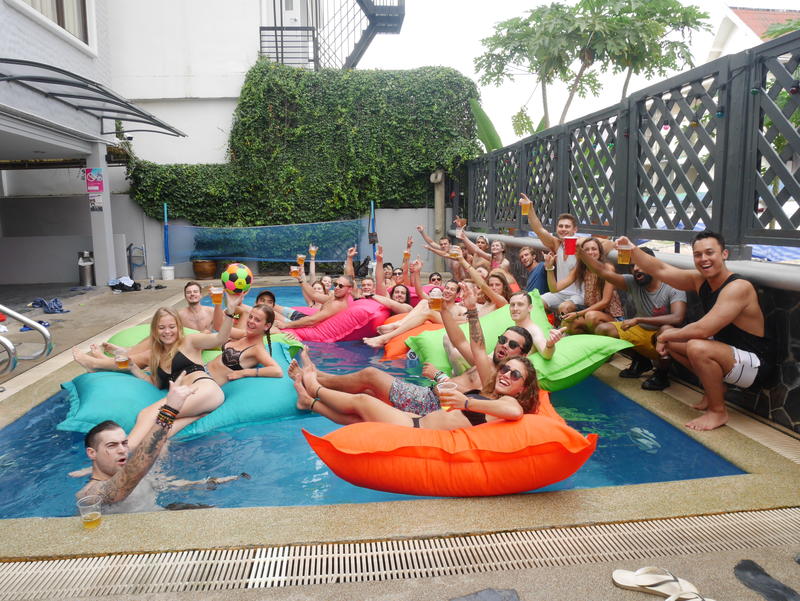 Located on Koh San road, No matter if you are traveling solo, with a partner, with friends, as a digital nomad, or just in search of the craziest parties in town, Mad Monkey Bangkok is one of the best Bangkok hostels.
Just a few minutes from Khao San, Mad Monkey is among the best party hostels in Bangkok – it's cheap, it's fun, and it has a great swimming pool! There are plenty of hostels near Khao San Road but this one is amongst the best for meeting fellow travellers (and it helps that this is such an infamous hostel).
Best Party Hostel in Bangkok – Playground Hostel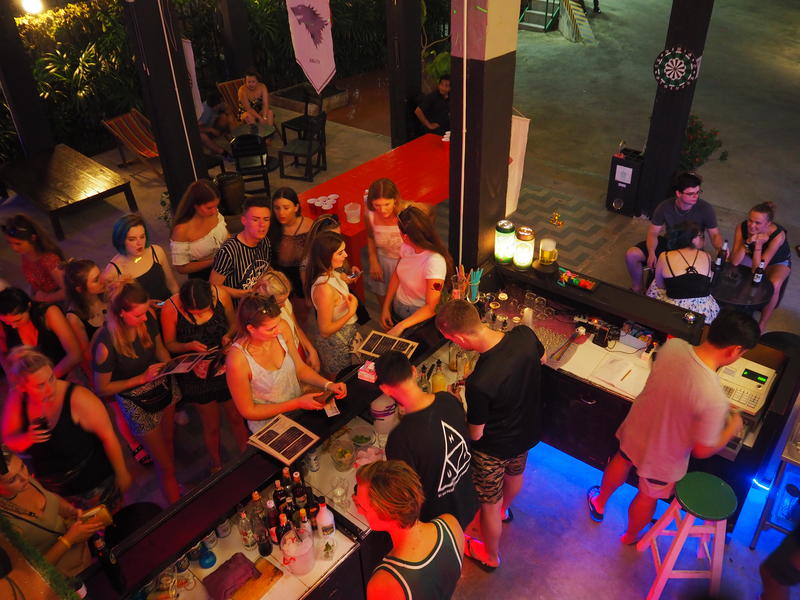 What do you say about spending a night (or three) at the coolest party hostel in Bangkok? Apart from their extremely budgeted rooms and solid deals, Playground has a fully-stocked bar and an amazing party vibe. Think beer pong, flip-cup, drinking Jenga.
Chances are you'll be partying like crazy no matter where you go in Bangkok. However, if you want to start every night with the vibes dialled up to eleven, stay at the Playground.
Playground Hostel is one of our favourites in Bangkok but they're not taking guests right now. We're not sure if they're closed for good but we hope they'll come back soon.
Book your accommodation before your trip to Bangkok!
There is loads to do in Bangkok is absolutely stacked with awesome activities and attractions. Don't miss out! Infact, with so much to do you might just want to plan out a proper Bangkok Itinerary!
1. Receive the Sacred Sak Yant Tattoo
Many travelers visiting Thailand express an interest in learning about the fascinating practise of holy Sak Yant tattoos, find out more about these amazing works of art and get your own tattoo from a monk – I strongly recommend reading up on what the Sak Yant tattoo is to find out if it's is right for you…
2. Learn About Thai Elephants Before You Buy "The Pants"
Open from 8:30 to 4:30, the Royal Elephant Museum is well worth a visit to learn more about elephants in Thai culture.
3. Try Some Authentic Market Shopping
You can buy almost anything in Bangkok's huge markets, the best is probably the huge Jatujak Weekend Market. Tour a night market with a local in Bangkok and really discover the hidden gems of the city.
4. Or Some Less Authentic Modern Shopping
There are tons of shopping malls in Bangkok and if you have the cash these are great places to find relatively cheap clothes, electronics and designer knockoffs.
5. Visit the Grand Palace and Wat Po
Wat Po is home to the fantastic reclining golden Buddha and is definitely worth visiting. When you get to the temple touts may tell you it is closed, ignore them and go straight inside. Better yet, pre-purchase your ticket for Wat Po!
6. Explore the Infamous Khao San Road
The epicenter of Bangkok's backpacking scene, Khao San is definitely worth checking out. This is a fantastic place enjoy a few beers or get your first taste of a Thai bucket! Beware that a night out on Khao San will empty your wallet.
7. Relax a Day in Lumpini Park
If you end up staying a while, one of the best places to see in Bangkok is this fantastic park with jogging trails, free weights and rowboats.
8. The Underbelly of Bangkok
A lot of travellers are keen to explore Bangkok's famous sex scene; Soi Cowboy is supposed to be the more high-market place to hang.
9. Learn How to Cook a Proper Thai Feast
Booking a cooking class in Bangkok is an excellent way to get to know the legendary Thai cuisine flavors. Plus, you get to take some pretty awesome skills home with you.
10. Sample the Street Eats
The street food in Bangkok is some of the best street food in the world. It is cheap, plentiful and super tasty. It is also very safe and unlikely to make you sick. If in doubt, buy food from a stall frequented by local Thai people, that way you can be sure the fare is of good quality.
Is This the Best Daypack EVER???
Best Time of Year to Visit Bangkok
The peak tourist season in Thailand is November to February when the weather is beautiful across the country but there's a high chance you'll run into a ton of tourists in Bangkok. The really popular guest-houses fill up fast so this is a country where it can definitely be worth making reservations. This way you can find cheaper accommodation which is difficult to find during peak season.
The local people are a really friendly bunch and keen to help so if you have any problems don't be afraid to ask for directions from the locals. And Bangkok is a wonderful city to get lost in, there is SO much to explore.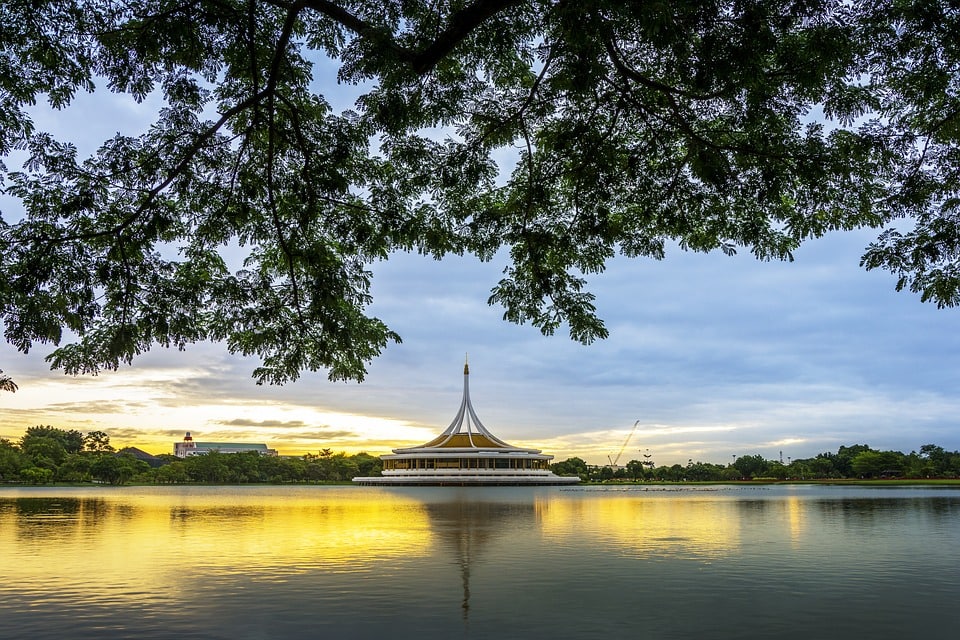 If you want to give the other tourists a miss, head over there in the non-touristy season. You can still do most things your planning for your trip to Bangkok even at the quiet times. It is just as much fun, maybe more!
Need help deciding between Bangkok and Chiang Mai? Check out our helpful guide.
Getting In and Out of Bangkok
Bangkok is the beating heart of the backpacking scene in South East Asia and most travellers end up starting their Southeast Asia backpacking trip by flying into Bangkok. You can, of course, also arrive via road or rail from:
Laos
Malaysia
Or Cambodia.
Many nationalities can receive a thirty day, free, visa waiver on arrival (if arriving by air, it's currently 15 days if you arrive overland). You can generally extend the waiver once, to receive an additional thirty days, for a fee. If your nationality requires a pre arranged visa or you want to sort out a Thai visa in advance, particularly for a longer stay, it is fairly simple to receive one a Thai embassy at home or abroad.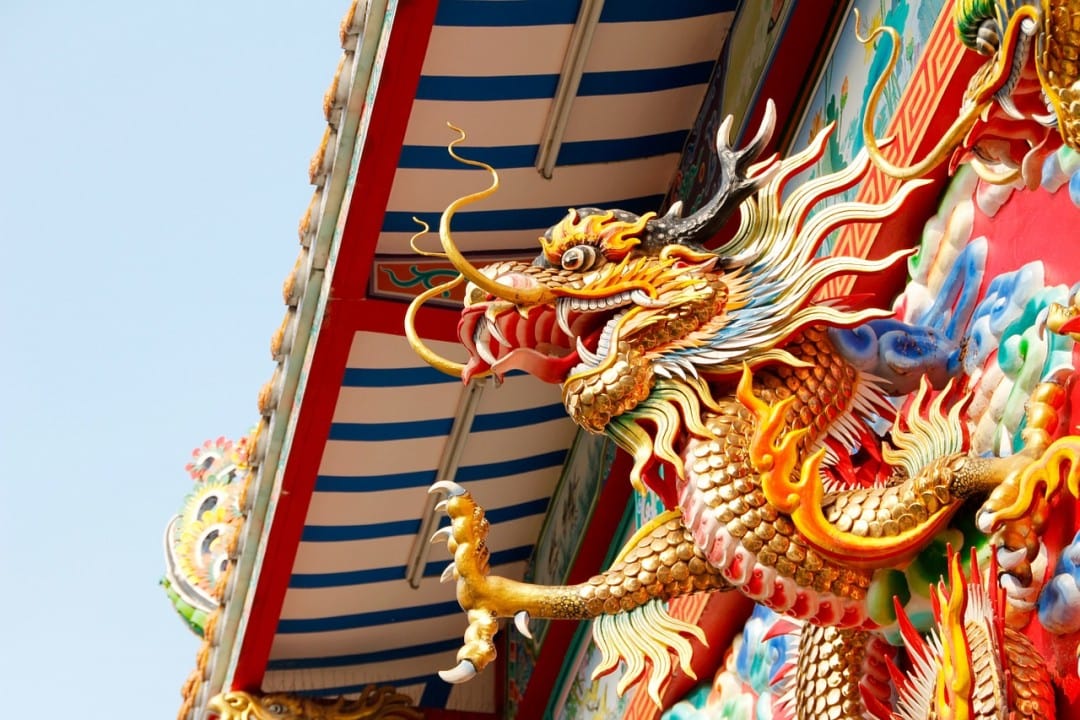 From Bangkok, you can travel to a ton of really beautiful islands and some cool cities as well. Some islands are very crowded and others only have just a few bungalows on them. Some of the best (well… best-known) are:
Koh Samet
Koh Tao
Koh Phangan
Koh Samui
Joh Lanta
The Similan Islands
Chiang Mai is one of my favourites destinations in Thailand and is popular with the digital nomad crowd (according to new digital nomad statistics). If you're unsure where the heck to go after Bangkok, check out this epic 3-week Thailand itinerary from my amigo Dave.
Yo! Travelling elsewhere in Thailand after Bangkok?
How to Get Around Bangkok
If you are super stoked by the prospect of riding in a tuk tuk, go for it but be sure to negotiate a price before you get in Keep an eye on your shit when in a tuk tuk. The local bus system is another great way to get around Bangkok and I also frequently use the Skytrain for longer distances. To get into the city from the airport, catch the Skytrain and then catch a Grab or a taxi from Thonburi or Bearing.
Grab (similar to Uber) is now readily available in several countries in the region including Thailand! Grab a great way to find taxis and the price is locked in on the app. However, Grab can often prove to be more expensive than regular taxi's.
Use Bookaway to find the best deals on transport – buses, planes, trains, and ferries. It'll save you a load of time when organising transport and you'll probably nab an EPIC DISCOUNT too!
Book your transport on Bookaway NOW. Get the best price for the best ride… then use those savings to buy the best feed in town!
Book Your Transport Here!
Best Nightlife and Parties in Bangkok
The best party streets in Bangkok are:
Royal City Avenue
Khao San Road
Thonglor
Soi 10
Sukhumvit Soi 11
Silom Road
Khao San Road's reputation as the ultimate backpacker party hub is known across Southeast Asia, and has been for decades. Internet cafes, bars, restaurants, massage parlours, tattoo shops and hawkers line the 1km stretch of absolute mayhem. You'll see people eating, drinking and dancing on the streets.
I would definitely not advise staying on Khao San road even though the cheap prices might be tempting as it's damn noisy and you won't catch any sleep. If you want to party stay nearby, just not on the actual road.
Safety in Bangkok
While having earned a reputation for its wild nightlife, tuk-tuk scams, and incorrigible ladyboys, Bangkok is safe – or at last a fairly safe destination to visit. You definitely stil need to keep your wits about you – especially if youre new to this part of the world – but you're still looking at a safe trip to Bangkok. The main thing to stay aware of is knowing how to get loose safely and, crucially, not getting too loose.
Even though drugs are free flowing in the half moon and full moon parties, Thailand has very very strict laws against possession of drugs including imprisonment and the death penalty. My advice is to be extra cautious when it comes to drugs.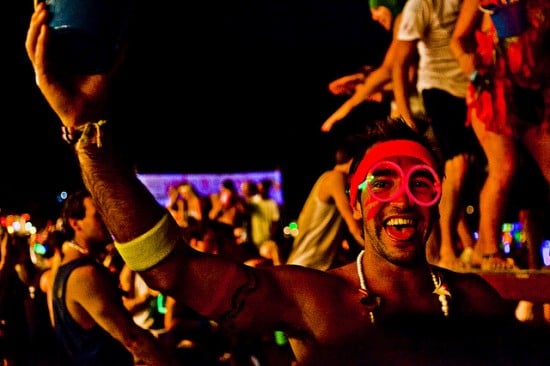 A lot of the time, the weed is low-quality brick weed. Every now and again, unfortunate backpackers do get roofied so be careful with your drinks and don't accept random shit from strangers. Read Blazed Backpackers 101 for tips on how to stay safe whilst partying in Bangkok.
Tinder is awfully common in Bangkok but more as a hookup app than a dating app. You can still give it a spin though, just before you take all the necessary precautions as Thailand makes it easy to get too wrapped in love and sex on the road.
Travel Insurance for Bangkok
Traveling without insurance would be risky so do consider getting good backpacker insurance sorted before you head off on an adventure.
I have been using World Nomads for some time now and made a few claims over the years. They're easy to use, professional and relatively affordable. They may also let you buy or extend a policy once you've started your trip and are already abroad which is super handy.
If there's one insurance company I trust, it's World Nomads.
ALWAYS sort out your backpacker insurance before your trip. There's plenty to choose from in that department, but a good place to start is Safety Wing.
They offer month-to-month payments, no lock-in contracts, and require absolutely no itineraries: that's the exact kind of insurance long-term travellers and digital nomads need.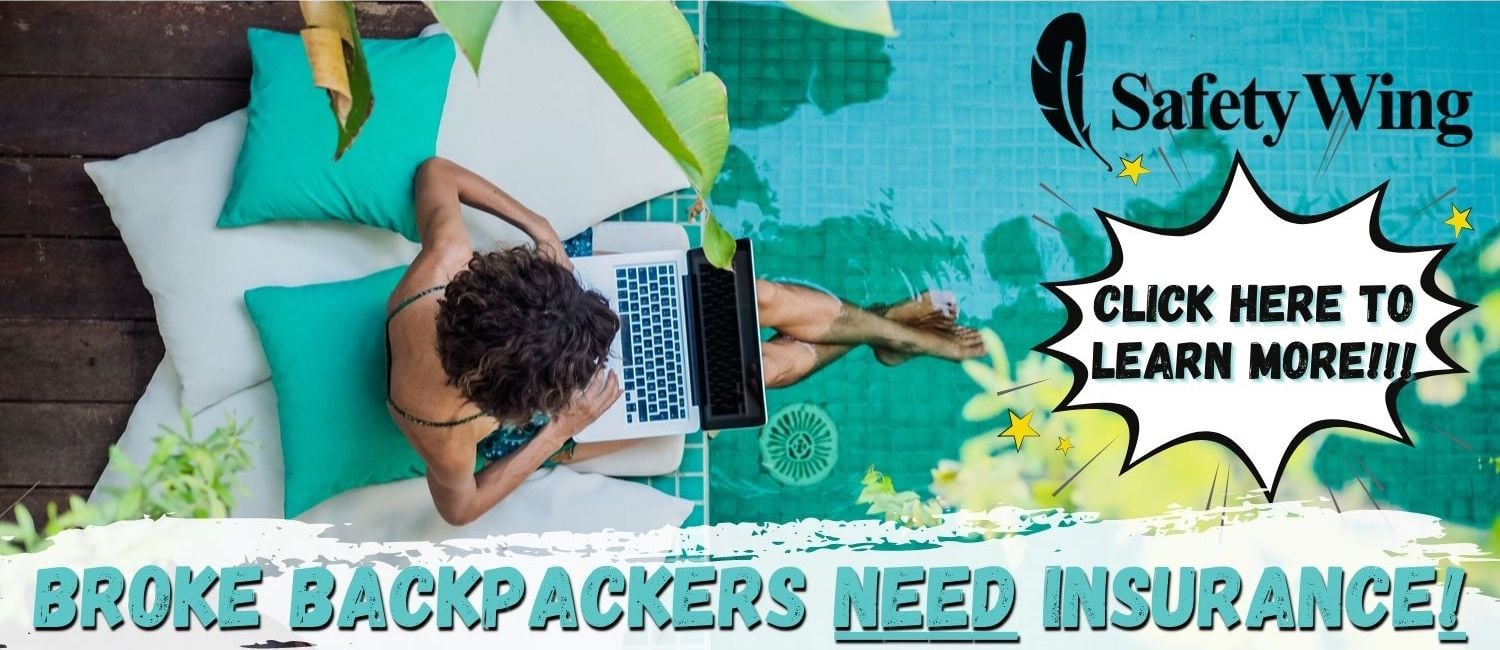 SafetyWing is cheap, easy, and admin-free: just sign up lickety-split so you can get back to it!
Click the button below to learn more about SafetyWing's setup or read our insider review for the full tasty scoop.
Books to Read on Bangkok
Final Thoughts from this Bangkok Travel Guide
Make Money Online Whilst Backpacking Bangkok
Traveling in Bangkok long-term? Keen to make some cash when you are not exploring the city?
Teaching English online is a great way to earn a consistent income—from anywhere in the world with a good internet connection. Depending on your qualifications (or your motivation to obtain qualifications like a TEFL certificate) you can teach English remotely from your laptop, save some cash for your next adventure, and make a positive impact on the world by improving another person's language skills! It's a win-win! Check out this detailed article for everything you need to know to start teaching English online.
In addition to giving you the qualifications to teach English online, TEFL courses open up a huge range of opportunities and you can find teaching work all over the world. To find out more about TEFL courses and how you can teach English around the world, read my in-depth report on teaching English abroad.
Broke Backpacker readers get a 35% discount on TEFL courses with MyTEFL (simply enter the code BACKPKR), to find out more, please read my in-depth report on teaching English abroad.
Whether you are keen to teach English online or looking to take your teaching game a step further by finding a job teaching English in a foreign country, getting your TEFL certificate is absolutely a step in the right direction.
Volunteering in Bangkok
Long term travel is awesome. Giving back is awesome too. For backpackers looking to travel long-term on a budget in Florence whilst making a real impact on local communities look no further than Worldpackers. Worldpackers is an excellent platform connecting travelers with meaningful volunteer positions throughout the world.
In exchange for a few hours of work each day, your room and board are covered.
Backpackers can spend long periods of time volunteering in an awesome place without spending any money. Meaningful life and travel experiences are rooted in stepping out of your comfort zone and into the world of a purposeful project.
Worldpackers opens the doors for work opportunities in hostels, homestays, NGOs, and eco-projects around the world. We've tried and approved them ourselves – check out our Worldpackers in-depth review.
If you're ready to create a life-changing travel experience and give back to the community, join the Worldpacker community now. As a Broke Backpacker reader, you'll get a special discount of $10. Just use the discount code BROKEBACKPACKER and your membership is discounted from $49 a year to only $39.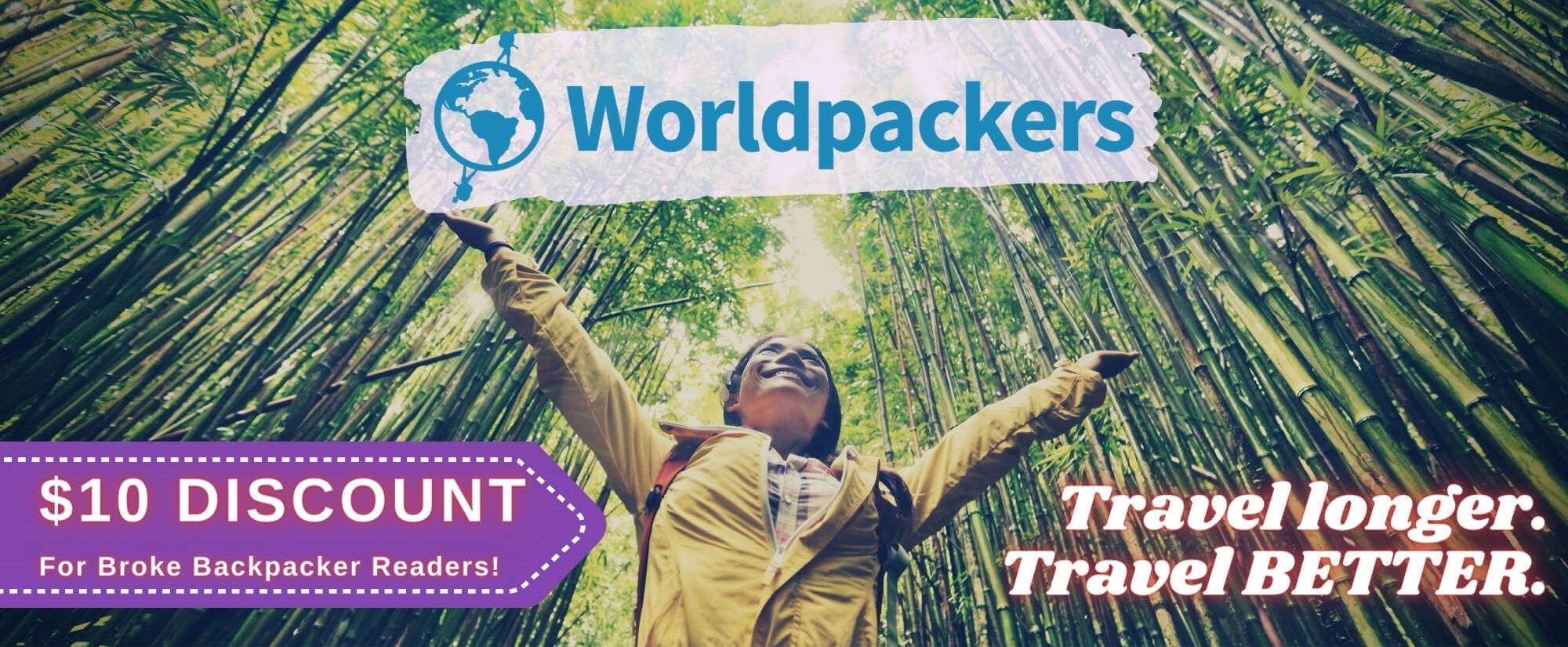 Worldpackers: connecting travellers with meaningful travel experiences.
Being a Responsible Backpacker in Bangkok
Backpacking in Bangkok will bring you ample opportunities to participate in debauchery, and it is very important to have fun, let loose, and get a bit wild at times. Most backpacking trips I have been on across the world have included at least a few mornings where I wake up knowing I went too far.
There are some things that will put you in the category of a straight up jackass if you do them. Being super loud and obnoxious in a tiny hostel at 3 AM is a classic rookie backpacker mistake.
Everyone in the hostel will hate you when you wake them up. Show your fellow travelers respect whilst backpacking in X and anywhere else for that matter!
Check out our post on how to be a responsible backpacker.
---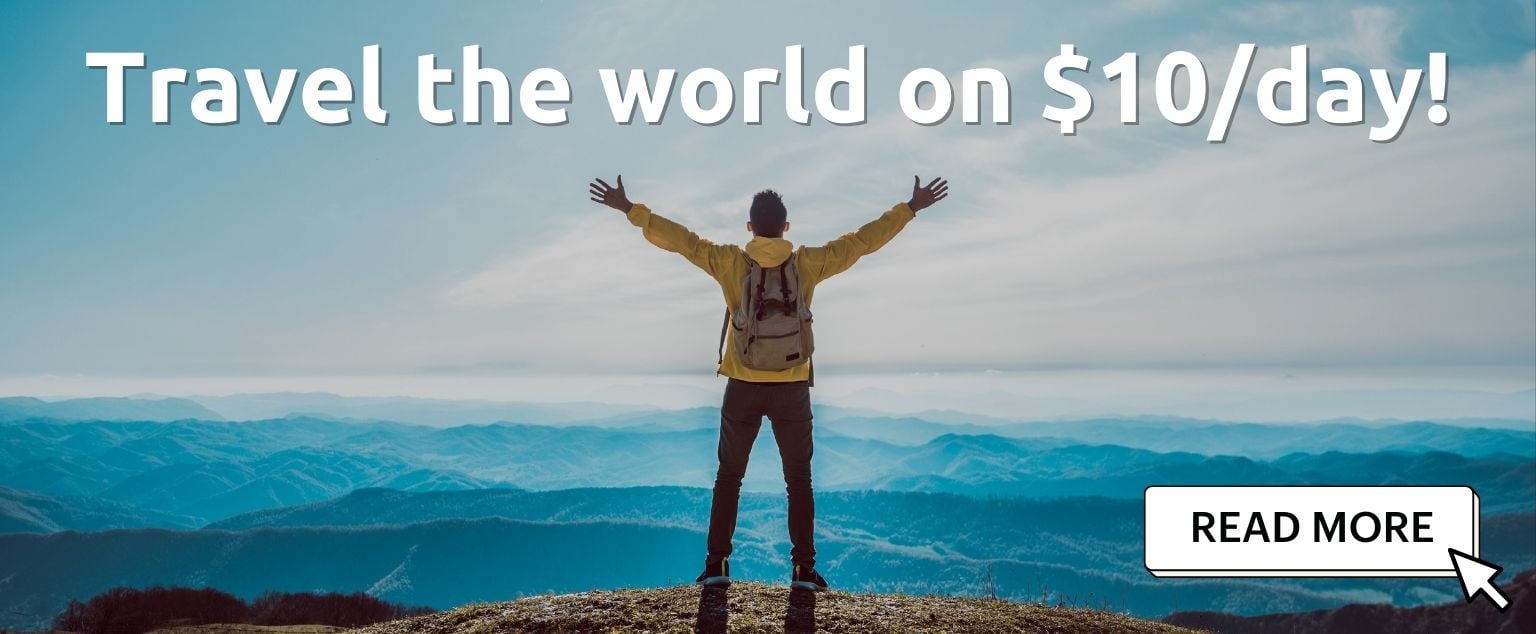 And for transparency's sake, please know that some of the links in our content are affiliate links. That means that if you book your accommodation, buy your gear, or sort your insurance through our link, we earn a small commission (at no extra cost to you). That said, we only link to the gear we trust and never recommend services we don't believe are up to scratch. Again, thank you!