Bangkok is becoming more and more popular as a backpacker destination in Thailand. And that's for a good reason: the city is one of the cheapest cultural destinations in the world, and a busy, vibrant metropolis.
There is something for everyone – an amazing variety of Wats (ornate Buddhist temples) studding the modern landscape of the city, a busy and exciting nightlife, immense street markets and small, charming ones, flower gardens and exotic shows!
The food is delicious, varied and affordable, and accommodation is well-priced and easy to find! Check out the best times to go, the best activities and tours, and a detailed itinerary to plan your perfect stay in this BKK guide!
Worried you might not be able to see enough of Bangkok? Don't worry, we've put up the best Bangkok itinerary you could wish for. Don't miss out on anything!

Unlock Our GREATEST Travel Secrets!
Sign up for our newsletter and get the best travel tips delivered right to your inbox.
| | Average Temperatures | Chance of Rain | Crowds | Overall Grade |
| --- | --- | --- | --- | --- |
| January | 26°C / 79°F | Low | Busy | 🙂 |
| February | 28°C / 82°F | Low | Busy | 🙂 |
| March | 29°C / 84°F | Low | Medium | 😀 |
| April | 30°C / 86°F | Average | Calm | 🙂 |
| May | 30°C / 86°F | Average | Calm | 🙂 |
| June | 29°C / 84°F | High | Calm | 😐 |
| July | 29°C / 84°F | High | Calm | 😐 |
| August | 28°C / 83°F | High | Calm | 😐 |
| September | 28°C / 82°F | Very High | Calm | 🙁 |
| October | 28°C / 82°F | Average | Calm | 😀 |
| November | 27°C / 80°F | Low | Medium | 😀 |
| December | 26°C / 78°F | Low | Busy/King's birthday | 🙂 |
A Little Bit about this 3-Day Bangkok Itinerary
There are so many awesome places to go in Bangkok and heaps of cool stuff to do too. However, if you plan ahead you can fit all the important places into 3 days in Bangkok. To give you a rough guideline, you can find some inspiration in the BKK itinerary down below. Travel by tuk-tuk, taxi, Skytrain, ferry and foot – the whole city is easily accessible. Particularly in the case of Tuk-Tuks and river ferries, the travel is very much part of the experience!
Follow our Bangkok itinerary, and see how you can visit the city in 3 days, without having to miss out on the must-sees and amazing hotspots! No need to do anything in order, just go with whatever is the most appealing to you! Whether you're backpacking in Thailand and just passing through the capital or if you're on a short break, there's a lot to pack in!
3 Day Bangokok Itinerary Overview
Where to stay in Bangkok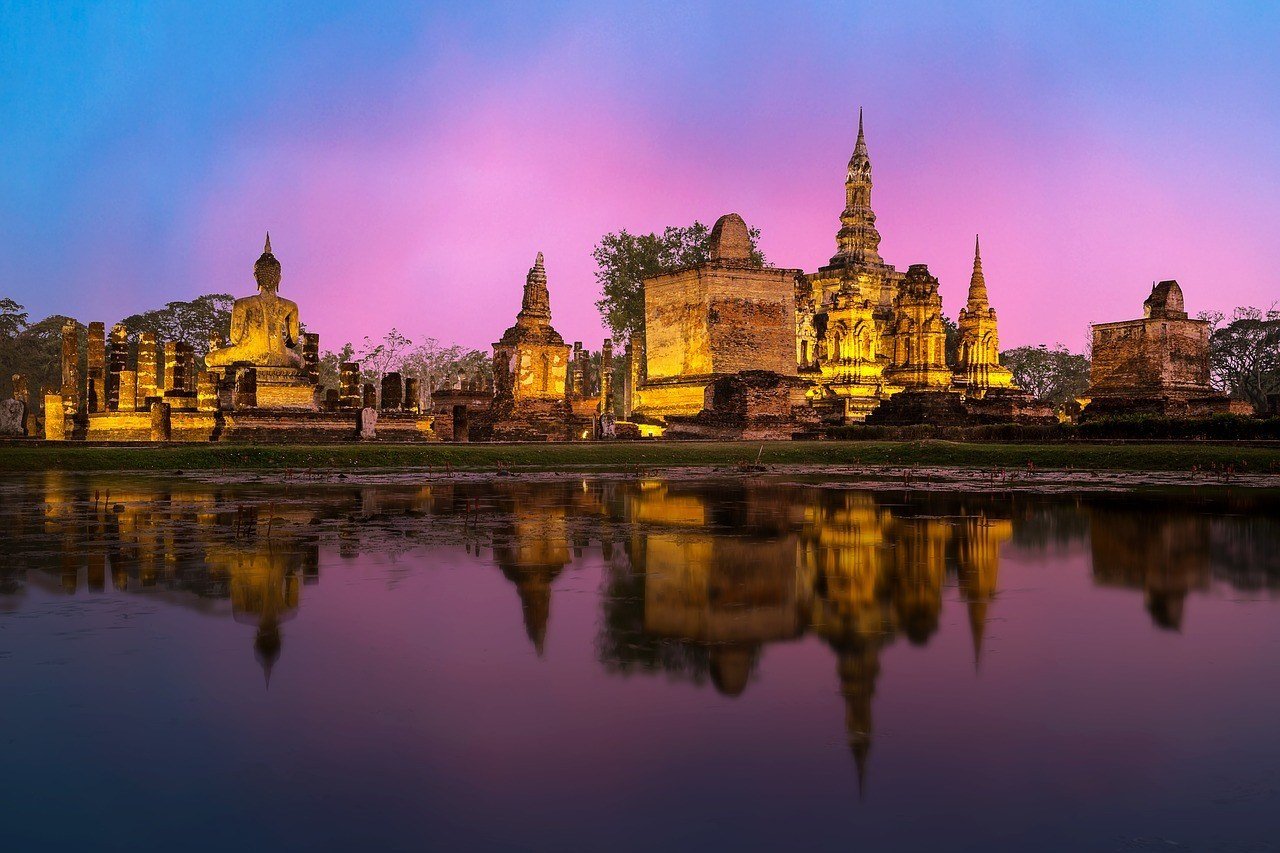 Bangkok has a lot of really great accommodation on offer for all budgets and interests. Some of the best hostels in Bangkok are cheap and others are pricey. If you're spending more than 2 days in Bangkok you can even try out different places – this is a great way to meet new people!
If you're looking to be immersed in the ancient culture of the city, there are hostels and hotels situated in the centre of the old city, a short walk away from some of the major temples and sites. There are now plenty of amazing Airbnbs in Bangkok to choose from too.
If you're more interested in experiencing the modern attractions and nightlife of this impressive and cosmopolitan city, you can find a place right on Khao San Road, the ultimate backpacker's hub, or even a party hostel in the middle of the city. There are many neighbourhoods to choose from and choosing where to stay in Bangkok is important.
Check our in-depth neighbourhood guide for Bangkok to learn about where to stay in the city!
The Vivit Hostel is a cute, relaxed and comfortable hostel at a great price. Free breakfast and all essential amenities are provided! The staff is friendly and knowledgeable, happy to help you map out your day plan. It's within walking distance from many of Bangkok's cultural sights and its vibrant nightlife scene – everything you could want.
Best budget hotel in Bangkok – Thanabhumi
Thanabhumi is a great value budget hotel, with lovely rooms, a large common area, and a great location – it's a short 1km walk from Bangkok's Khao San Road, and close to other tourist destinations. There's air-conditioning (thank goodness), a terrace with a great view of the city, and free snacks!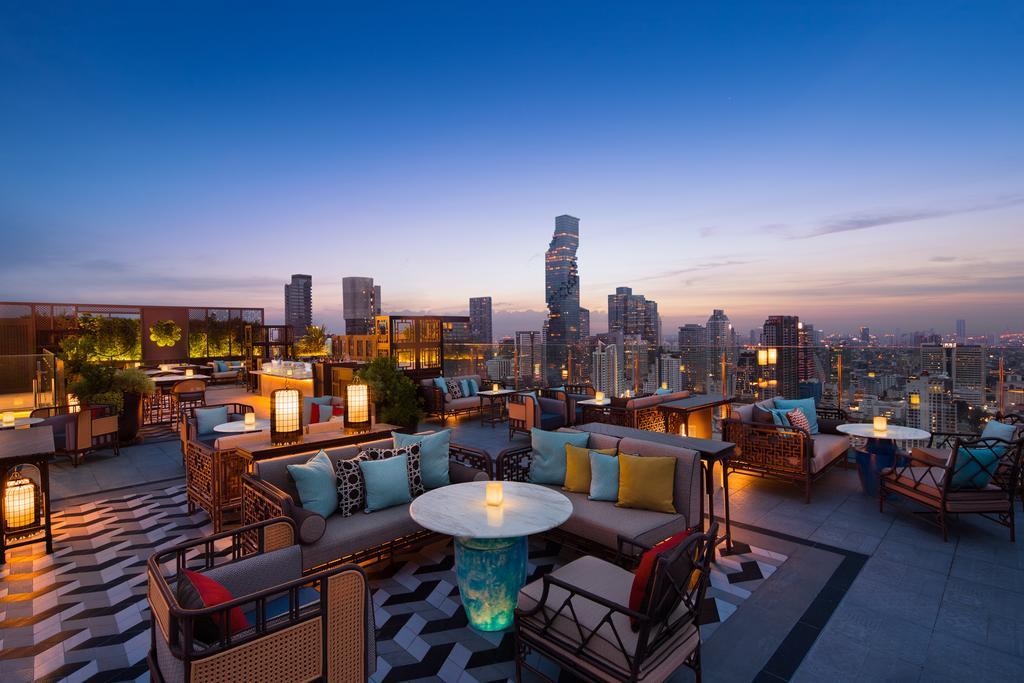 The Surawongse is a gorgeous, conveniently-located five-star hotel, with spacious and luxurious rooms. Top-quality local and foreign cuisine at the in-house restaurant, an infinity pool and bar on the roof with a gorgeous view of the city, and a wellness centre and spa means you'll never want to leave!
Bangkok Itinerary Day 1
Here it is folks, day one and we're ready to go head-on in and get a taste of Bangkok from a few different perspectives! We'll start off exploring a chaotic local market before wandering around some of the most spectacular and important temples in Thailand.
9:00 AM – Stroll through Chatuchak Weekend Market
This, of course, only works as your first destination if you're visiting Bangkok for the weekend, but if you aren't, be sure to fit it in somewhere! With 15, 000 stalls over 35 acres, the Chatuchak Weekend Market has everything – food, fashion, art, and antiques. It's good to put away a few hours to spend here, as there is just so much that will interest you.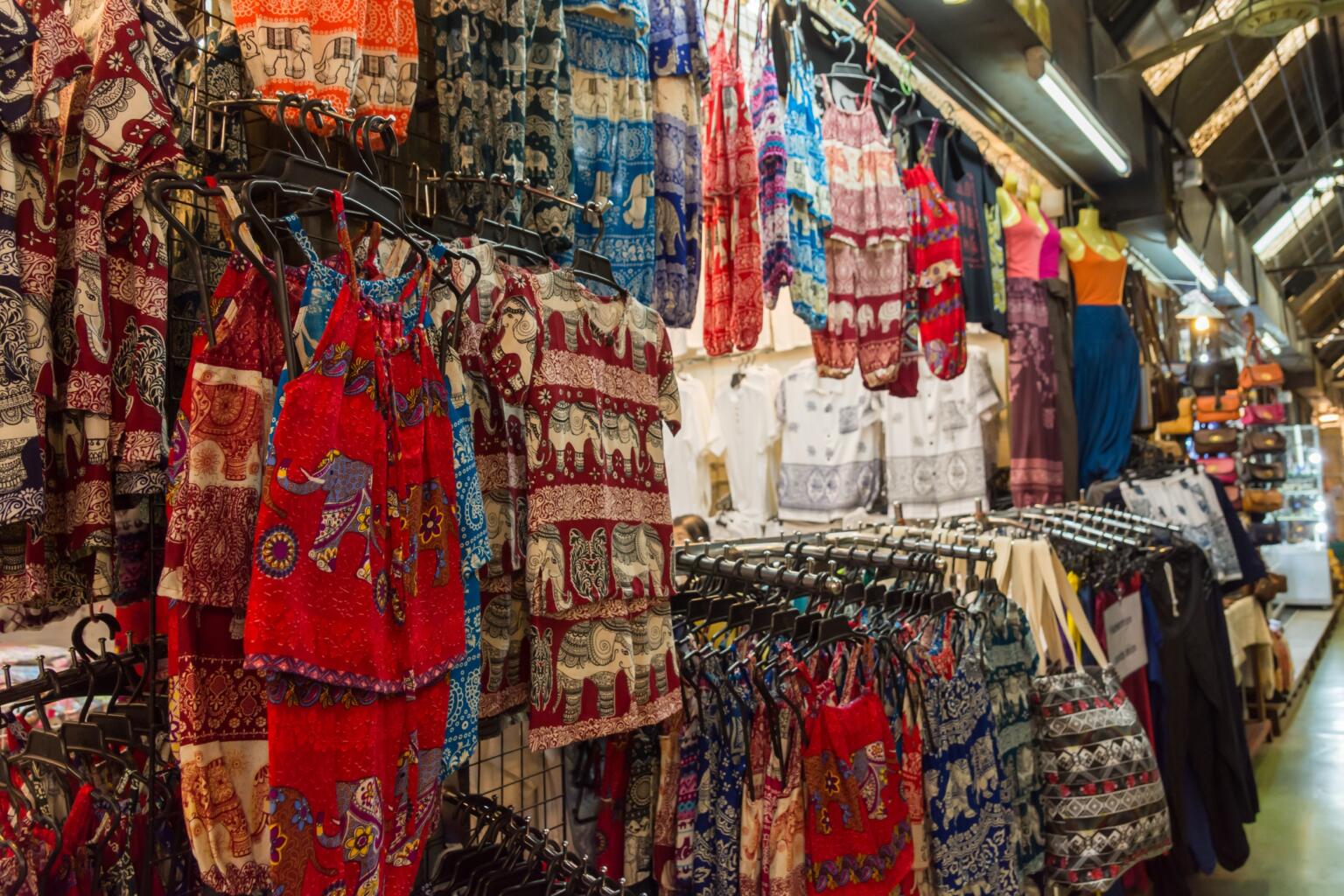 The stalls are stacked close together, and the sound of haggling fills the air – if you need a breather, escape to the outer stalls and grab a coconut ice cream or some pineapple on a stick.
The prices are low, but sometimes hiked up to catch unsuspecting tourists, so don't be afraid to haggle! Many take pleasure in the back-and-forth and consider it an insult if you don't haggle. If you have never done it before, then our How To Haggle guide will be useful.
The market is a brilliant cultural experience, and therefore deserves a spot on our Bangkok itinerary. You're bound to come away with a good few trinkets for the family and a new appreciation for Thai street food. If you're looking for a more detailed insight, why not look at taking a guided tour with a local.
Cost – The market is free, and the wares are sold primarily at local prices.
Getting there – Skytrain (BTS) to Mo Chit station
How long should you stay – 2 hrs
11:30 AM – Wat Pho
This temple complex is extensive and ornate, with Thailand's largest collection of Buddha images across its four chapels. Buddhist visitors leave gifts at the feet of the statues, and you'll often find trinkets, candy, or a soda with a straw in it, for when the gods are thirsty!
The temple compound, Thailand's earliest centre for public education, is now the national headquarters for the preservation and education of traditional Thai medicine. The golden Reclining Buddha is 15 meters high and 46 meters long, and fills up the room it occupies! It's quite the sight!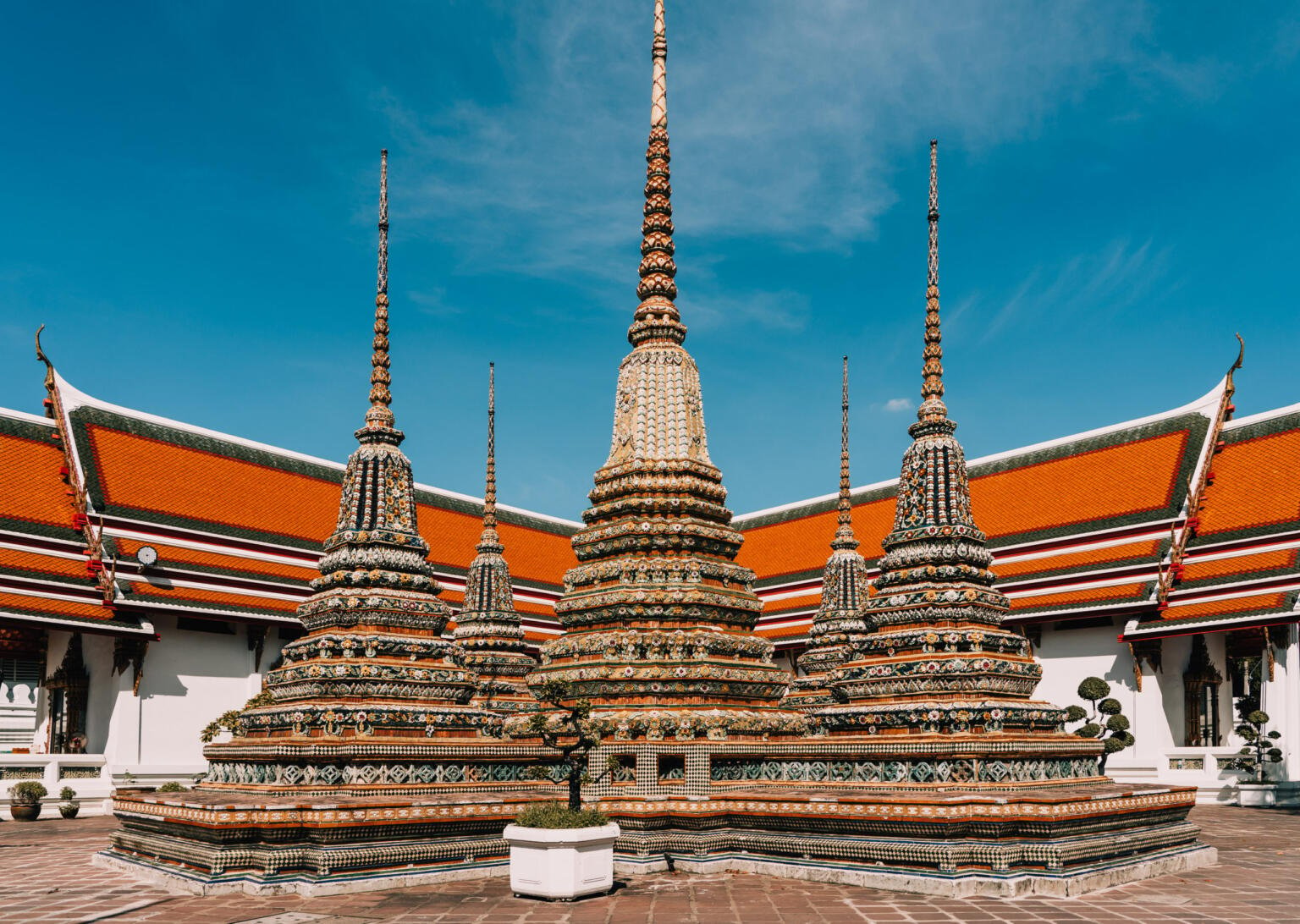 For the first day of our BKK itinerary you should wear shoes you can easily take off – you'll have to if you want to enter the temples. Also, wear clothing (even a scarf) that covers the shoulders and knees! You'll likely be denied entry to the Wats if they feel your attire is not respectful.
Insider Tip: You can walk between these destinations, or you can take a ~40 Baht ($1.26) ferry, passing many temples and stopping at the best.
Cost – 200 Baht/person ($6.30)
Getting there – The temple is a 5-10 min walk from Sanam Chai MRT Station.
How long should you stay – 1 hr
1:00 PM – The Grand Palace
An easy 10-minute walk from Wat Pho, this is the next destination and it's one of the most impressive! It's easily one of the most incredible to do in Bangkok and it won't disappoint. The Grand Palace is not something you should miss. Take a walk through its extensive manicured gardens and admire the picturesque grounds, home to some of the most spectacular architecture, sculptures and art in the whole of Thailand. This isn't entirely surprising given that it is the home of the Thai Royal Family!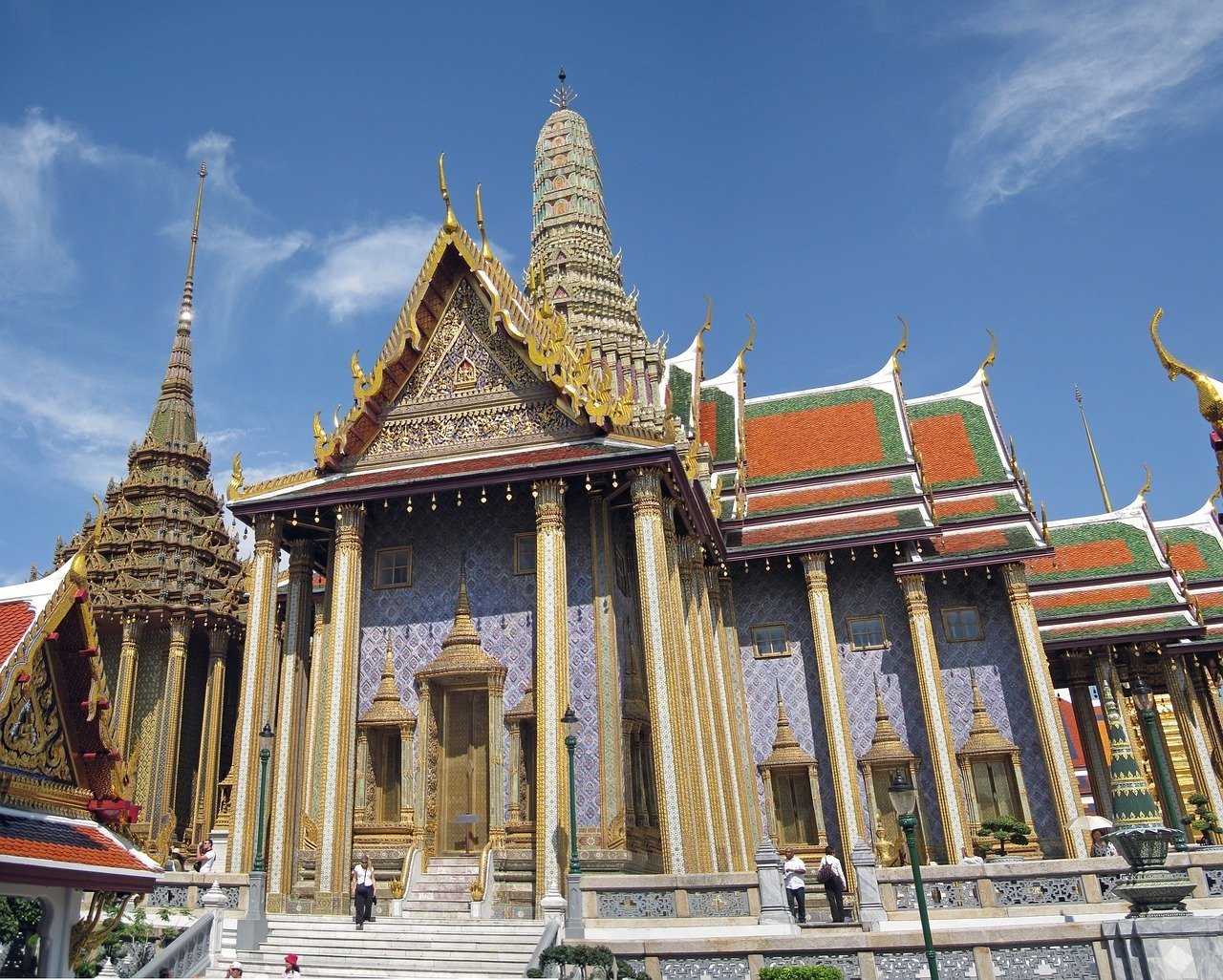 Not everything in the Grand Palace is open to tourists, but it's still one of the must-see places in the city give both its beauty and importance.
Included in the compound is the Temple of the Emerald Buddha, which houses Thailand's most sacred Buddhist sculpture. It's actually carved from Jade but it doesn't distract from its elegance. Other highlights are the Royal Pantheon, the Image Hall, a miniature Angkor Wat, and the Bell Tower.
The Grand Palace is definitely one of the places included in our itinerary for Bangkok that you can't miss.
Cost – 500 Baht/person ($15.73)
Getting there – The Grand Palance is a 5-10 min walk from Wat Pho.
How long should you stay – 2 hrs
3:30 PM – Temple of Dawn
Just a short walk and ferry ride from the Grand Palace, Wat Arun (also called the Temple of Dawn) is a must in every Bangkok itinerary. Its main staggered prang is a towering 70 meters high and is intricately decorated with tiny pieces of coloured glass and Chinese porcelain.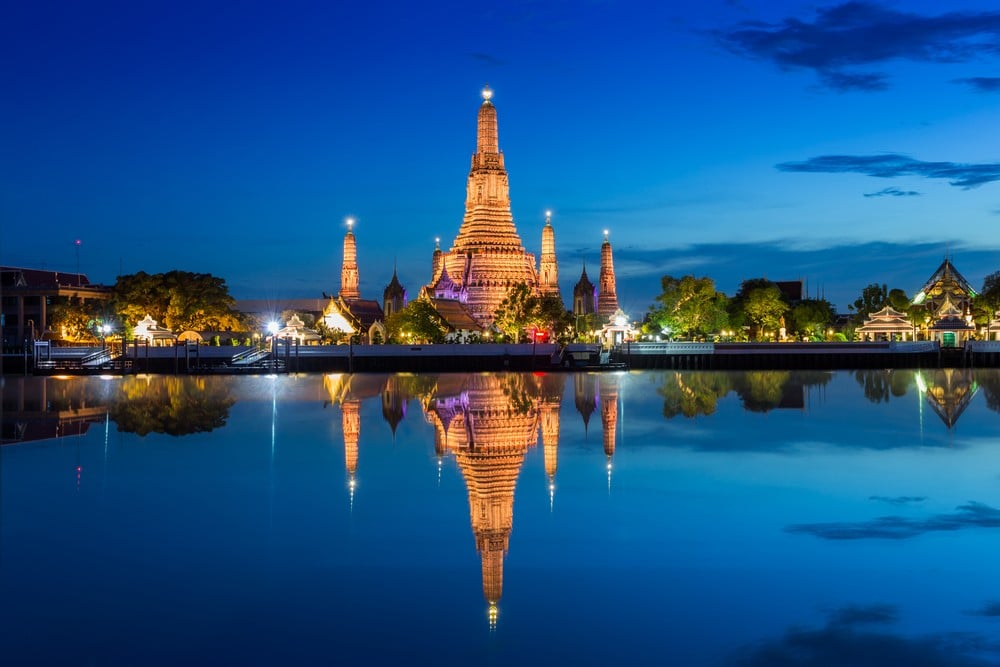 It is truly something to behold, and much like the other stops on this day, you should bring your camera and get ready to snap away! It is something you won't forget in a hurry!
The steps are steep so if you want to see the whole of Wat Arun, gather your energy beforehand, pack water, and be prepared to dedicate two-three hours to it. If you don't feel the need to scale the sides of this massive temple, then don't worry, the grounds provided impressive views of the prang itself and house other smaller temples and detailed statues.
The ride over the river to get here is in itself a special one and the view of the temple is arguably better from the other side, especially if you stick around for sunset!
Cost – 50 Baht ($1.57)
Getting there – Walk down to the Chao Phraya River and take the small boat across for 3 Baht.
How long should you stay – 2-3 hrs
Small Pack Problems? 😉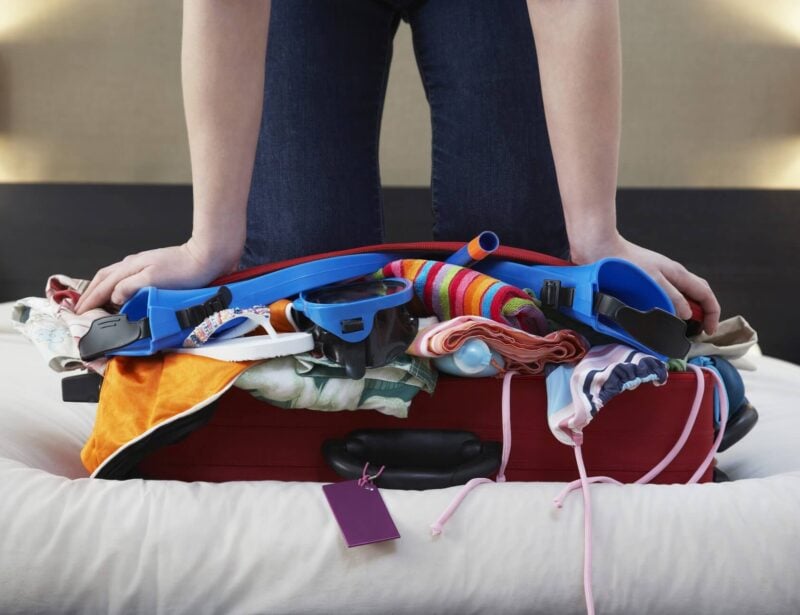 My missus travels with all her clothes in ziplock bags: don't be like my missus. UP YOUR PACKING GAME!
Packing cubes for the globetrotters and compression sacks for the real adventurers – these babies are a traveller's best kept secret. They organise yo' packing and minimise its volume too so you can pack MORE.
Or, y'know… you can stick to ziplock bags.
View Our Fave Cubes
Or Check Out the Sacks!
Bangkok Itinerary Day 2
9:00 AM – The Marble Temple, Wat Banchamabophit
The Marble Temple sits on the edge of the Prem Prachakon river and is a serine and striking temple all at the same time.
By arriving in the morning, it is relatively quiet and calm. It is less of a tourist location than many of the other temples so it rarely gets overrun. It's very peaceful, and the perfect opportunity to take some photos without dozens of other people in them!
The courtyard exhibits 52 local and foreign Buddha images from the period of its construction, around 1900, each one in a different style and pose. The temple itself is incredibly ornate. The impeccably crafted white marble structure contrasts strikingly with the dark red roof and gold leaf details.
Insider Tip: If you're a morning person, get up early and go at dawn! The white marble turns a gorgeous shade of pink, and you'll be the only one there with the monks in prayer.
Cost – 20 Baht ($0.63)
Getting there – Take the BTS to Phaya Thai and then either walk or take a tuk-tuk the rest of the way.
How long should you stay – 2 hrs
12:00 PM – Jim Thompson House
The Jim Thompson House Museum, an estate of the late American who started the Thai silk industry after WW2, houses a unique and extensive collection of Asian art. The tropical gardens are beautiful and exotic, and there is much to see and learn.
An unusually tranquil experience in the middle of the Bangkok bustle, the tours are interesting and provide a much broader history of Thailand and the silk trade than you ever thought you'd want to know. The fascinating artefacts, and the guides' energy, will keep you engaged.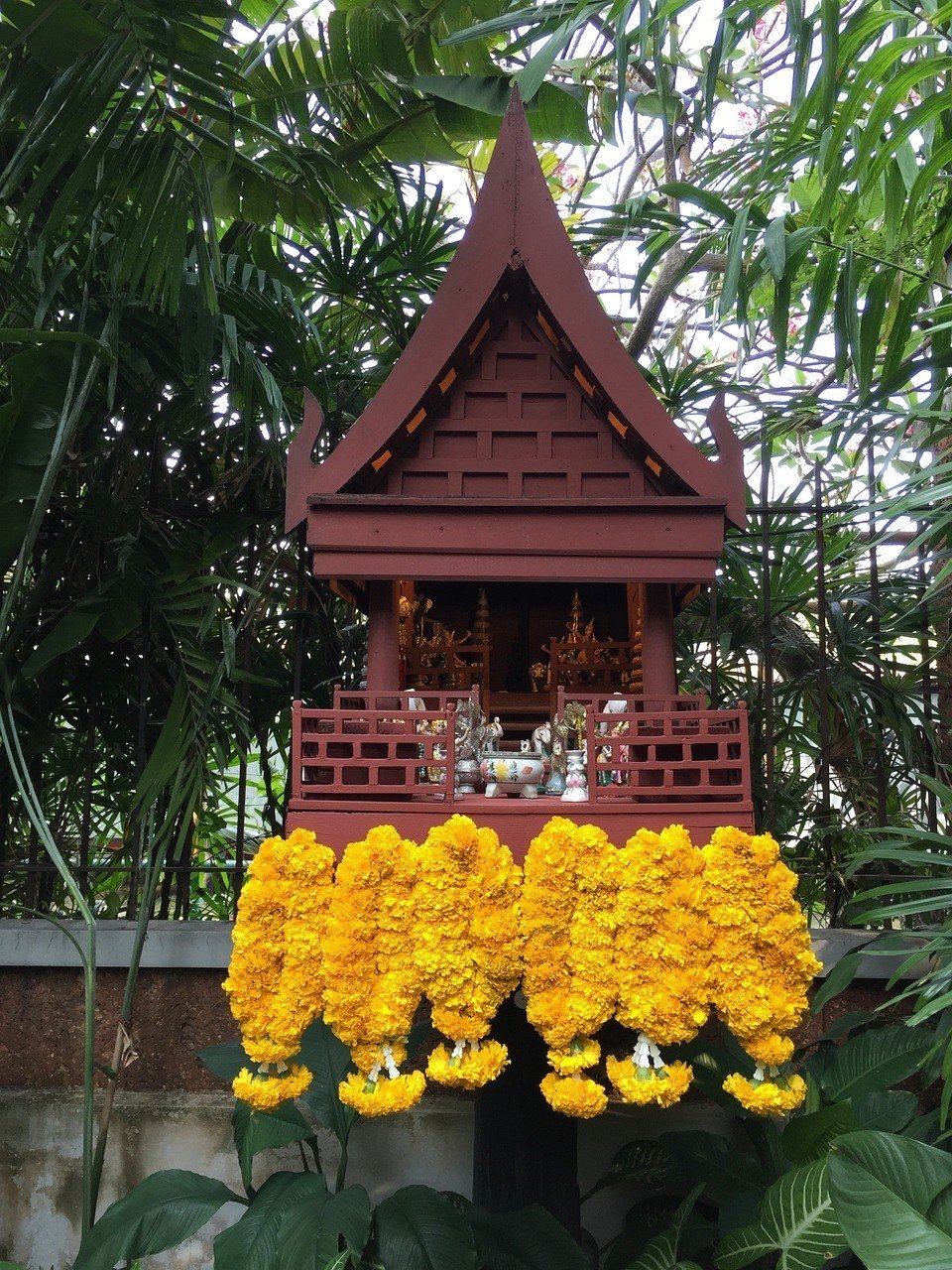 Guided tours are provided between 9:00 a.m. to 6:00 p.m. every day. Tours are offered in Thai, English, French, Chinese, and Japanese.
Spend about an hour inside the museum, and you'll come away with a far greater understanding and appreciation of Thai silk, history and art.
Insider Tip: No photos are permitted inside the house.
Cost – 200 Baht ($6.29), Students: 100 Baht ($3.15), Children: Free
Getting there – It's a 20-min walk from Siam BTS station, or you can take a taxi/ tuk-tuk.
How long should you stay – 1 hr
3:30 PM – The Golden Mount (Wat Saket)
Watch the sun go down over Bangkok from the top of Wat Saket, The Golden Mount. The temple on a hill offers 360-degree views of the city, after a pleasant walk up the slow-incline stairs. The walk requires some energy, but you can take it at your pace, and trees shade the path.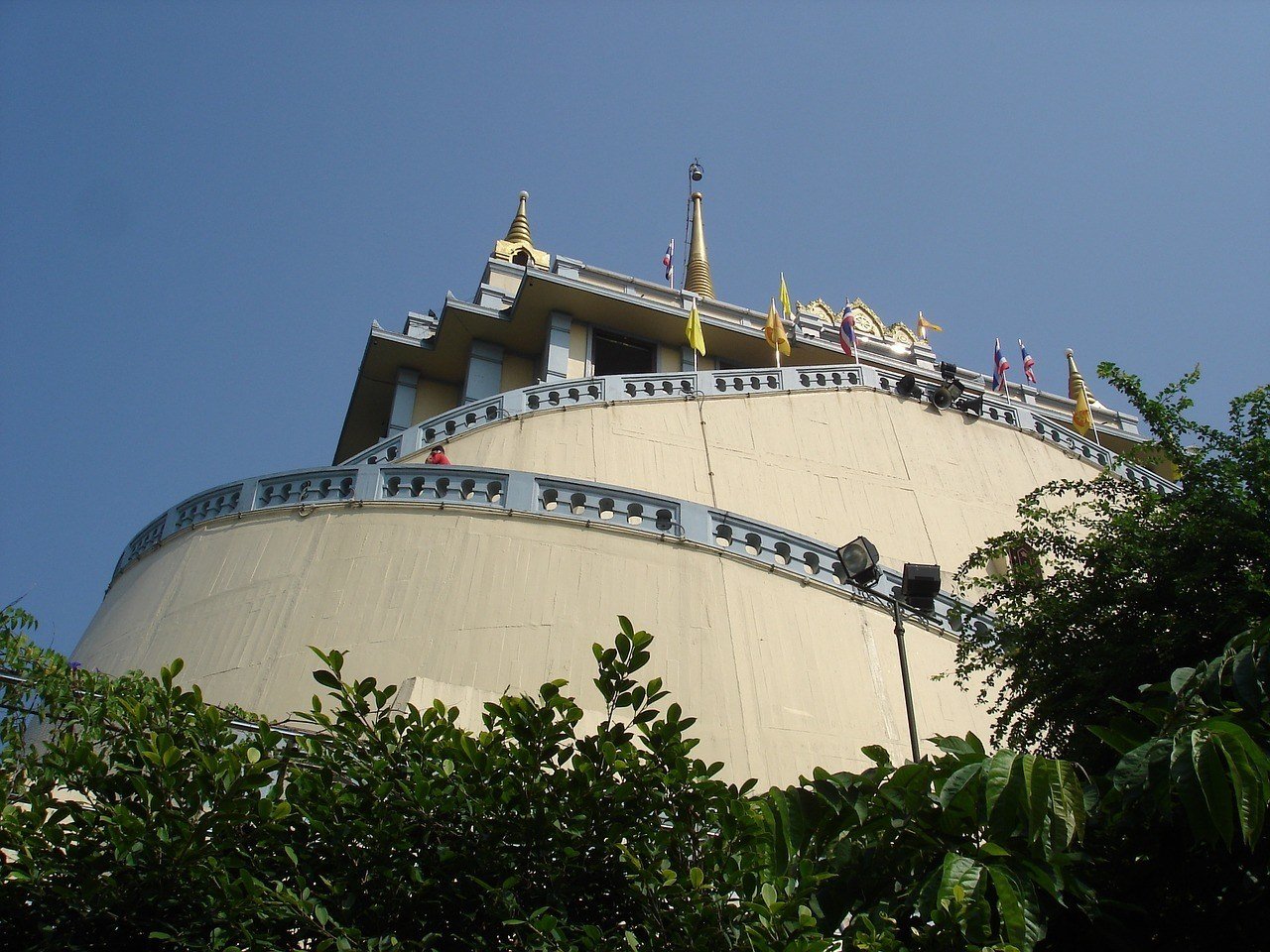 When the wind blows the votive bells ring, and the prayers of monks are ever-present over the speakers. There are statues and golden buddhas in every corner, making the walk up as brilliant as the final destination.
From the top, you can marvel at the way Bangkok's modern landscape incorporates the ancient Wats and structures to display a wholly unique cityscape. This stop is a tranquil, spiritual oasis in the busy metropolis.
Cost – 50 Baht ($1.57)
Getting there – Take bus number 8 from the victory monument.
How long should you stay – 2 hrs
7:00 PM – Stroll and Shop on Khao San Road
Khao San Road is Bangkok's most popular tourist hub and is far and above more fun than any old high street. Stroll down the long road and stop at anything that delights you and barter with the salesmen (always barter – they make the price high with the expectation of cutting down).
Chat to tourists and locals, and make sure your money is in a safe, close place, preferably an inner pocket or bum bag. Most market-goers are friendly and helpful, but in a place as packed as this, there's bound to be pickpockets taking a chance.
Stalls are lit up in bright colours to make their wares seen, and there's lots of noise and chaos. Make sure you wear comfortable shoes when checking out this hotspot. The road is longer than you expect but it definitely deserves a spot on Bangkok's itinerary due to its notoriety and infamy!!
Not only is it a popular spot to shop for some souvenirs, but it's the backpacker hub of Bangkok too and it's filled with several raucous bars and clubs. Walking down here in an evening is definitely an experience… a good or. a bad one, well that's up to you but you've got to do it at least once or have you even been to BKK??
With so much amazing stuff to do in Bangkok to do, don't go too hard at the beers tonight! Instead, watch the lively scenes from afar and enjoy a pad Thai and a beer from a plastic stool!
Cost – Free (if you're lucky!)
Getting there – You can walk here from the golden mount if you're coming from elsewhere take a canal boat to Phra Arthit Pier.
How long should you stay – As long as you want!
IN A RUSH? THIS IS OUR FAVORITE HOSTEL IN BANGKOK!
9:00 AM – Bike and Canal Tour
Wake up early and take a guided tour around some of the lesser-visited areas of the city. An English-speaking guide leads you on through the streets of Bangkok, telling the group about local everyday Thai culture and Buddhism, and pointing out the sights and sounds along the way.
This is a great opportunity to get off the beaten track and explore parts of Bangkok that are thronging with locals rather than tourists. The guide is patient, engaged and responsible, and they know what they're talking about.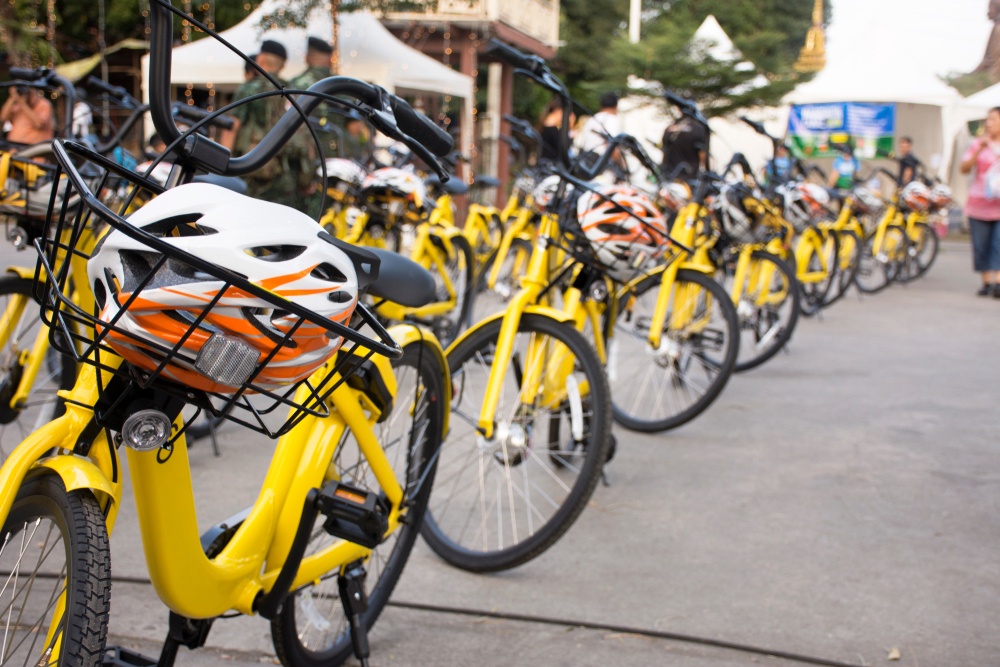 Whether you go with friends or alone you're bound to have a great time, meeting new people and exploring. Groups are between 2 and 8 people, so you can choose to join a group or make your own! Bring your camera if you want to capture those seldom-seen sights, or come without one and enjoy the undocumented moment of it.
Lunch at a canal-side restaurant is included in the cost, where you can take a break from pedalling and enjoy the local food. When the tour is complete, and your legs are aching, the group boards a long-tail speedboat and returns to the starting point.
While you don't have to be too fit for this activity, it's important to be healthy and able to cycle. Most people who take part are young backpackers looking for something a little different – children may not be keen to ride for a half-day, and older folk may struggle with the exercise and heat. But that doesn't rule you out! You know your own abilities.
Cost – 1,350 – 13,500 Baht ($42.48 – $424.79)
Getting there – MRT to Itsaraphap MRT station.
How long should you stay – 5 hrs
2:00 PM – Sompong Thai Cooking Class
If you're spending more than two days in Bangkok, take a cooking class! The class is designed for everyone and is very 'hands on' – you prepare your ingredients, learn to cook the meal with continuous instructions and help, and then eat each meal before starting with the next one.
Come hungry, enthusiastic and ready to learn! And pace yourself while eating – all these delicious meals may be a bit too much to take in, so unless you're a competitive eater, save some of each dish so you can keep trying the new ones. You can always eat it later, and marvel at how well you did!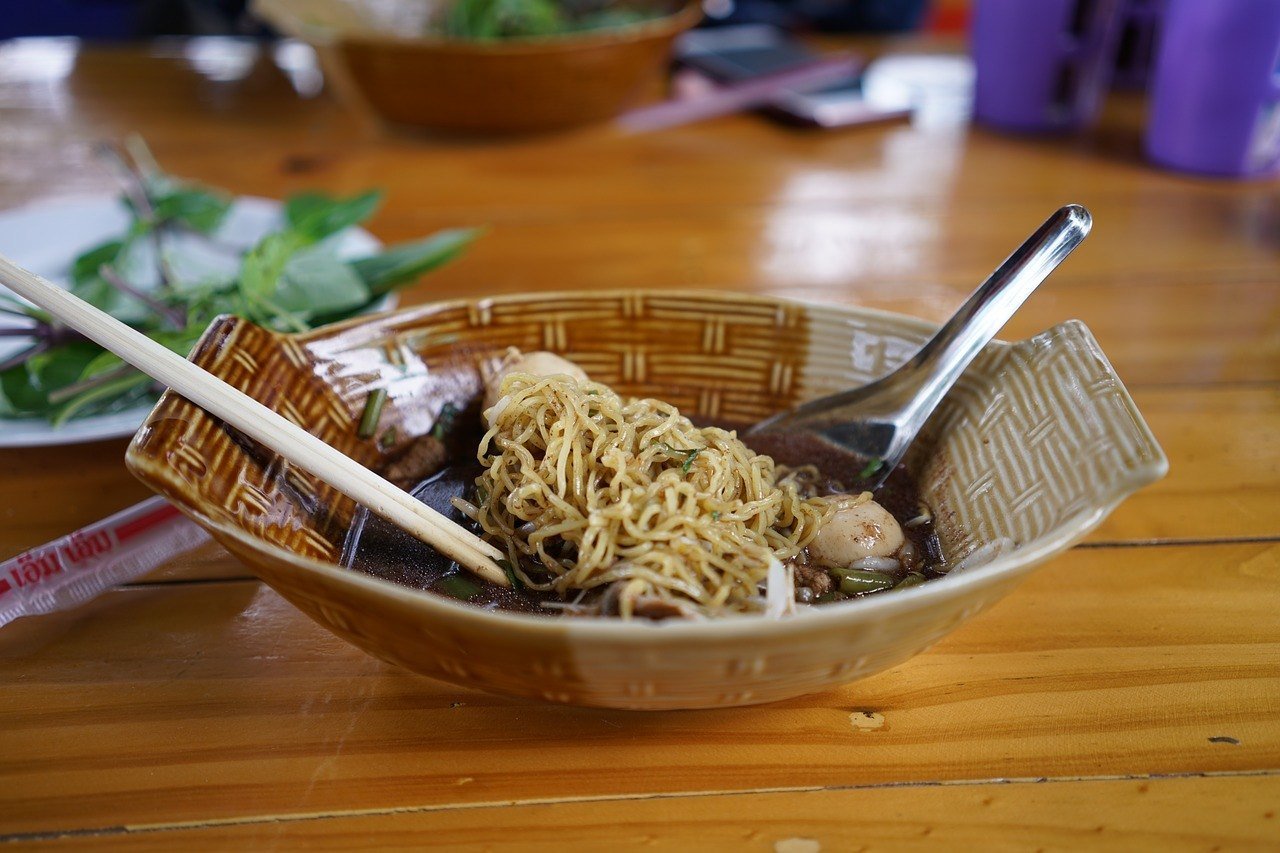 Classes run from in the morning and in the afternoon. Book in advance, perhaps before you even reach Bangkok, if you want to fit into Bangkok's best Thai cooking class. It's a really fun experience to share, so bring a friend or come alone and share it with the whole group.
When you've got time for it, a cooking lesson in Thailand is definitely up there with the top things to do. You'll come away with a greater understanding of Thai culture and cuisine, and stuffed to the brim. And you won't have to miss having proper Thai food because you'll just whip some up whenever you're craving!
Cost – $115
Getting there – Take the BTS to Sukhumvit.
How long should you stay – 2 hrs
5:00 PM – Catch Some Muay Thai
If you're looking for something different, and want to see another side to the land of smiles, then check out some Muay Thai!
The martial arts style has been around since the mid-18th century! Referred to as 'the art of 8 limbs, the style is characterised by the combined use of fists, elbows, knees, and shins.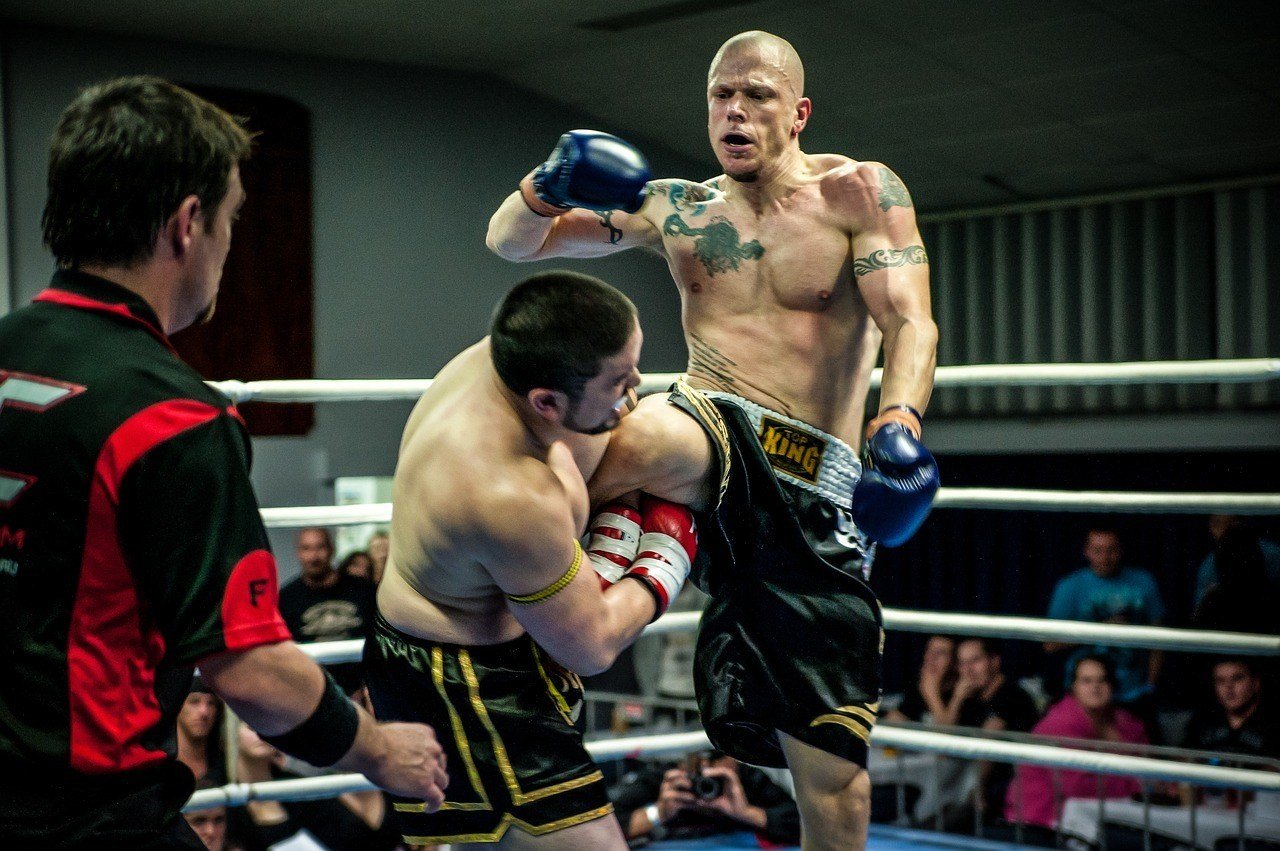 A visit to the hot, sweaty, loud and intimate Muay Thai arena is not to be missed when visiting Thailand and wraps up this 3 day itinerary in and intense and unforgettable way. Forget heavyweight boxers hugging each other for rediculous payouts in Las Vegas, here it's raw and it's real! There's no holds barred and you'll get to see a contest fought with a grit and determination you've never seen before. Even some brave foreginers come to fight in Thailand, showing the growing reach of this sport.
The Rajadamnern Boxing Stadium is the city's most famous arena, though there are literally hundreds of other smaller venues where you could catch other bouts. Here though you get to see the best take on the best in an electric atmosphere that will finish your trip in Bangkok off with a real bang!!
Cost – $65 for VIP tickets.
Getting there – It's a 7 min walk from Khao San Road.
How long should you stay – 2-4 hrs
Is This the Best Daypack EVER???
Bangkok is hot all year round so whenever you visit there's no need to pack your winter woollies!!
However, one of the big concerns is the wet season here, first-time visitors to the region are often caught out and their summer holidays end up a bit of a washout! Now, Bangkok is somewhere that is great to visit no matter the weather, but no one likes being soaked!
Bangkok actually only has two seasons. Wet and dry!
The rainy season runs from March to June and is characterised by monsoon weather and humid conditions. This time of year is often cheaper and less crowded and it actually doesn't rain the whole time… but you will get wet!
The dry season runs from July to October. This time is year is slightly cooler, less humid and it hardly rains! This time of year is pretty popular and it can be slightly more pricy and busier.
Don't Forget Your Travel Insurance for Bangkok
If you're still concerned about staying safe, then you should read our travel safety guide for Bangkok – it is much more comprehensive and filled with tips and in-depth information.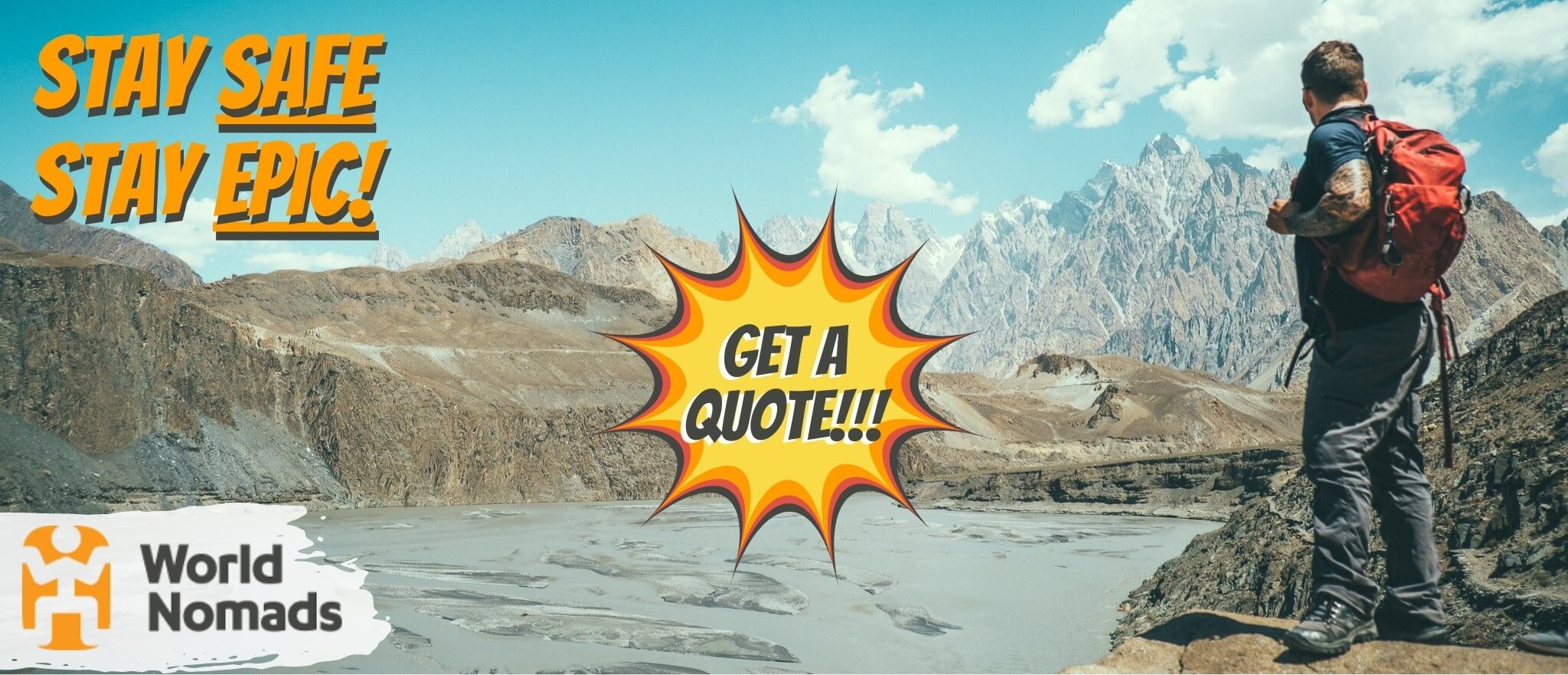 World Nomads' mission is to support and encourage travellers to explore their boundaries. They offer simple & flexible travel insurance, and safety advice to help you travel confidently.
They've been doing it since 2002 – protecting, connecting, and inspiring independent travellers just like you.
Get a quote below or read our in-depth review!
World Nomads provides travel insurance for travelers in over 100 countries. As an affiliate, we receive a fee when you get a quote from World Nomads using this link. We do not represent World Nomads. This is information only and not a recommendation to buy travel insurance.
Getting Around in Bangkok
One of the cheapest and most effective ways to get around the city is by Skytrain. This train travels along an elevated track that runs through the central business district of Bangkok. The only downside to this way of travel is that it can only take you from station to station. You may still need a tuk-tuk to take you to a specific place or travel the rest of the way by foot.
Taxis are quite a cheap way to travel, and fairs start at about USD $1. These taxis are metered, so make sure when the taxi driver starts the car it's showing 35 baht (USD $1) so that you won't get ripped off.
Chao Phraya River Express Boat is a very scenic way to get around! For just 25 baht, you can travel down the river for about an hour. These boats leave in both directions every 25 minutes and during rush hour they run every 5 minutes.
You can't go to Bangkok without travelling on a tuk-tuk. This is a three-wheeled motorbike with an enclosed passenger seat. These don't have meters so it's important to negotiate the price before taking the ride.
Travel with peace of mind. Travel WITH a security belt.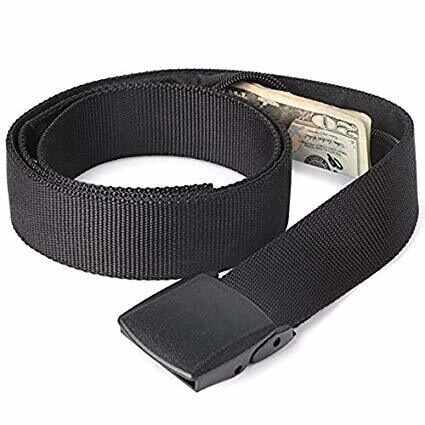 Get your cash stashed with this awesome Pacsafe money belt. It will keep your valuables safe no matter where you go.
It looks exactly like a normal belt except for a SECRET interior pocket perfectly designed to hide a wad of cash or a passport copy. Never get caught with your pants down again! (Unless you want to.)
Hide Yo' Money!
FAQ on Bangkok Itinerary
Find out what people want to know when planning their itinerary for Bangkok.
Conclusion
Now that you know just what to do and where to go to make the absolute best of your Bangkok holiday, no matter how short it is, all there is left to do is book those tickets!
Bangkok can be intense, and a lot of first-time travellers find themselves overwhelmed by the number of things to do and the people happy to take your money (check out our post on travel costs in Thailand). So, whether you use this Bangkok itinerary as a soft guideline or a set plan, be sure to use the resources and information provided – it'll benefit you when you get there! And this way, you won't miss out on the best Bangkok has to offer.
---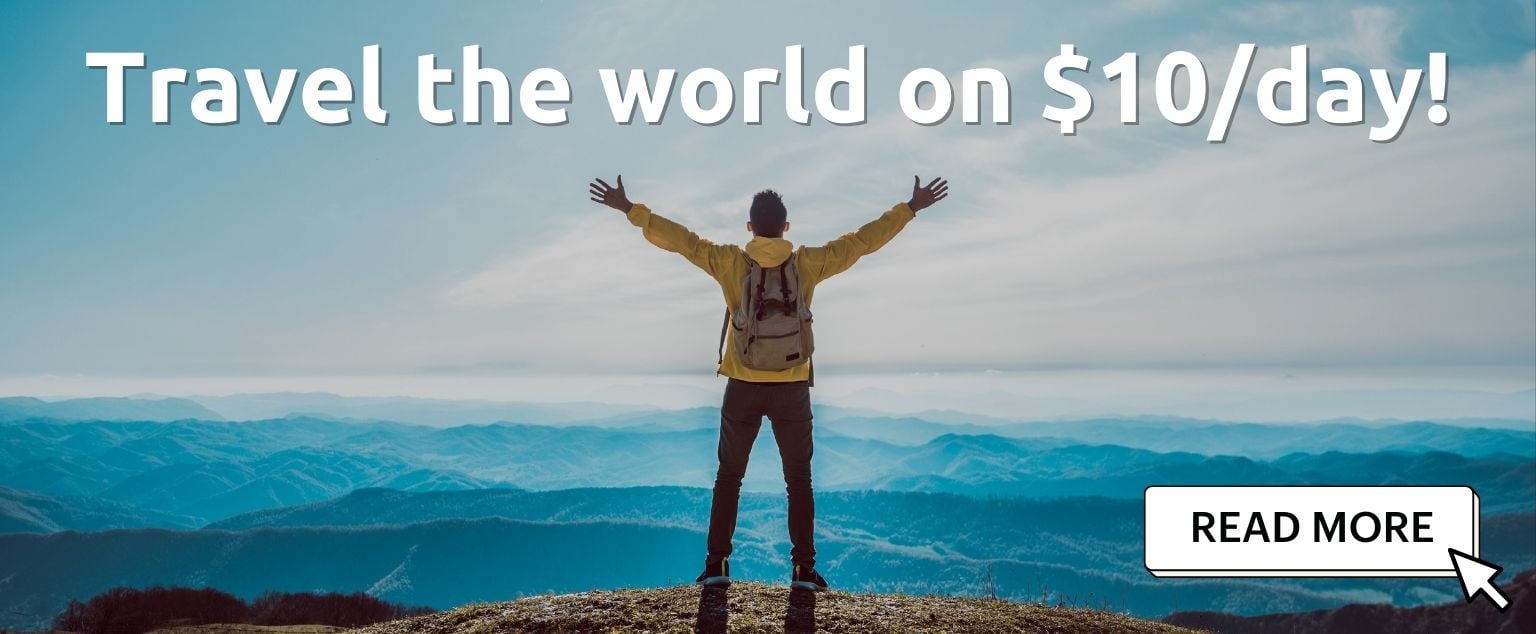 And for transparency's sake, please know that some of the links in our content are affiliate links. That means that if you book your accommodation, buy your gear, or sort your insurance through our link, we earn a small commission (at no extra cost to you). That said, we only link to the gear we trust and never recommend services we don't believe are up to scratch. Again, thank you!