Bangkok is a lively city that is sure to appeal to your senses and stir your soul. You'll find historical sites next to vibrant nightlife areas, bustling markets near modern shopping malls, and street food vendors close to world-class restaurants. Bangkok, with all its top places, is definitely a city that will enthral, entice, and excite.
Bangkok is a large and sprawling city. Deciding where to visit can be tough, particularly if your time in the Thai capital is limited.
There's no need to stress though; our expert team of travel writers have compiled this fantastic list of the best places to visit in Bangkok so that you don't miss any of the city's top spots.
With something to appeal to all tastes and budgets, some of these best places to visit in Bangkok are sure to amaze you! From the magnificent Royal Palace to Chatuchak Market, Wat Arun or a boat down the Chao Phraya River, there's heaps of amazing tourist attractions to explore.
NEED A PLACE QUICK? Here's the Best Neighbourhood in Bangkok:
Not satisfied? Then check out our neighbourhood breakdown of Bangkok and find the right place to stay for your trip!
BEST AREA IN BANGKOK
Sukhumvit
Sukhumvit is a centrally located neighbourhood with easy access to other districts throughout Bangkok. Ideal for first-time visitors, this neighbourhood boasts a number of historic and cultural attractions as well as great bars, restaurants and shopping.
Places to visit:
Take a stroll through Benjakitti Park, a calm oasis at the centre of Bangkok.
Visit the intricate and incredible Wat Pasee temple.
Experience the lively and colourful Thai markets that can be found along Sukhumvit Road.
These are the BEST Places to Visit in Bangkok!
There are so many things to do in Bangkok you'd be forgiven for feeling a bit overwhelmed when it comes to planning your trip. But that's where we come in, we've done the leg work for you so all you need to do is give this list a read and get planning your Bangkok itinerary! There's good reason Bangkok is the starting point for most people backpacking in Thailand, it's a buzzing metropolis with some stunning architecture, amazing food and mesmerising culture. It's a fantastic introduction to Thailand!

Unlock Our GREATEST Travel Secrets!
Sign up for our newsletter and get the best travel tips delivered right to your inbox.
#1 – The Grand Palace and Temple of the Emerald Buddha

Official home of the Thai monarch (King Rama X)
The Grand Palace is a historical and cultural site
Beautiful architecture built by King Rama I
The Grand Palace is home to Thailand's most sacred temple
Why it's awesome: The Grand Palace is definitely a top place to visit in Bangkok. Built-in the 1780s by King Rama I, it has long been the official home of the Thai monarch. Made up of a number of halls, buildings, and pavilions, the complex has beautiful courtyards, gardens, and lawns too. The revered Temple of the Emerald Buddha (Wat Phra Kaew) is also within the extensive grounds. It's one of the top tourist attractions in the city for a reason.
You'll notice that there are many different styles, largely thanks to the various monarchs that made their marks on the Grand Palace over the years. It's still a working palace and, while several parts of the site are closed to the public, visitors can admire many of the glorious buildings, absorb a strong sense of history and culture, and get a feeling of how Thai royalty lives.
What to do there: Marvel at the majesty of the Grand Palace complex, many fine architectural details and the playful sunlight that shimmers through the roof. Large mythical giants, known as yants, guard gateways and the mythical bird-like garudas perch on many ledges. Admire the various statues throughout the well-tended grounds, the smaller but fascinating details, and take many awesome pictures.
You'll notice that there are Buddha statues in all postures—find out which Buddha correlates to your day of birth and make merit. Watch as Buddhists give offerings and pray and see the small but impressive Emerald Buddha statue. Actually made from jade, the green statue is Thailand's most sacred Buddha statue.
Be sure to dress conservatively when planning to visit the Grand Palace and Temple of the Emerald Buddha—the dress code is very strict and you'll be refused admission if you're dressed inappropriately. Make sure that your legs are covered to at least the knees (men should wear long trousers) and your arms to at least the elbows. Closed shoes are also a must when you visit the Grand Palace.
Insider Tip: Come early as it gets busy and queues can be long as the day goes on
#2 – Chatuchak Weekend Market – A great place in Bangkok if you love to shop!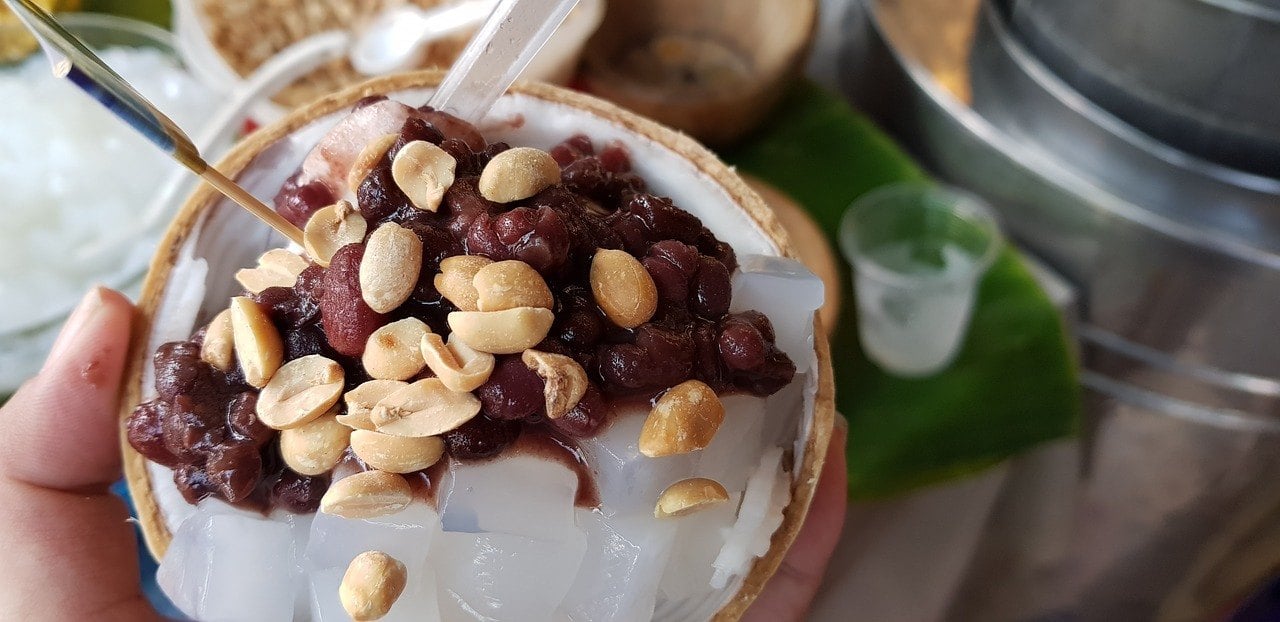 Biggest market in Thailand and the world's biggest outdoor weekend market
Great chance to practice haggling skills
Chatuchak Market has a huge array of goods
Great variety of street food stalls
Why it's awesome: One of the biggest markets in the world (and therefore one of the coolest places to visit in Bangkok), the Chatuchak Weekend Market in Bangkok (also known as JJ Market) has around 15,000 stalls spread between almost 30 sections. Huge, but fairly easy to navigate, there are sections dedicated to art and crafts, clothes and accessories, ceramics, plants and gardening, books, antiques and World War II memorabilia, home décor, and more. It's often said that if you can't find what you're looking for at Chatuchak Market then it's not worth having!
Around 200,000 people visit the enormous market every weekend making it one of the most popular places in Bangkok. Open since the early 1940s, the market has grown into the mammoth that it is today, with places to rest, eat, and drink if you need to take a break from all the retail therapy.
What to do there: Wear comfortable shoes and shop, shop, and shop! Whether you're looking for exquisite Thai silks, cheap t-shirts, handmade soaps, typical souvenirs, carved wood, amulets and religious memorabilia, kitchenware, or something else, you're sure to find it at Chatuchak Market.
Although prices are generally reasonable, the weekend market is the perfect place in Bangkok to improve your haggling skills for even greater pocket-friendly prices. Sample an array of street food and chill in a bar with a cool beer or fresh fruit juice. Don't miss seeing the clock tower, built-in 2007 to commemorate the late King Bhumibol Adulyadej's 60th birthday.
#3 – Wat Pho – One of the most religious places to see in Bangkok
Wat Pho is the birthplace of traditional Thai massage.
See one of Thailand's biggest reclining Buddha statues.
One of Bangkok's oldest temples dating to the King Rama I era.
Wat Pho is a first-class royal temple.
Why it's awesome: Wat Pho, commonly referred to as the Temple of the Reclining Buddha, is among the six most revered temples in all of Thailand. Famous for its stretching 46-metre-long (151-feet-long) lying Buddha statue, the temple also boasts the biggest collection of Buddha statues in the country. Many of the statues were brought here from the ancient capital of Ayutthaya when the city fell to the Burmese, and there are also statues from the former capital of Sukhothai and other places around Thailand. Wat Pho is one of the oldest temples in Bangkok, older in fact than the capital and a major tourist attraction you just can't miss.
The original temple is thought to date back to the late 1600s or early 1700s, although the temple underwent large renovations and restorations in the 1780s. There's a Thai medicine school within the grounds and the temple is where traditional Thai massage originated. It's the perfect place to experience Thai culture.
What to do there: Walk around the complex's outer walls and see the large statues of giants that keep watch over the site. Brought to Thailand from China, some of the interesting statues have European features. Khmer-style statues stand at the pagodas at the corners of each courtyard; their job is to guard north, south, east, and west. You'll see chedis and pagodas in all shapes, sizes, and colours; there are four large chedis plus almost 100 smaller chedis.
Marvel at the huge golden reclining Buddha statue inside Wat Pho. Enjoy a Thai massage in one of the pavilions or, if you have longer in the capital, you could also consider enrolling in a course to learn the ancient massage technique yourself in the very place where it was born.
#4 – Wat Arun – One of Bangkok's coolest historical places!
Colourful Buddhist temple with links to Hindu cosmology
Wat Arun has an air of peaceful spirituality
Lovely river views
Wat Arun has a long and fascinating history
Why it's awesome: Wat Arun (also sometimes known as Wat Chaeng) is a stunning temple on the Thonburi side of the Chao Phraya River and a great place to visit in Bangkok for history fans. Nicknamed the Temple of the Dawn, Wat Arun is rather unique in its designs and not like other temples around the Thai capital. A temple has stood at the same site since the Ayutthaya period – which is a pretty long time!
The main prang of Wat Arun is in a Khmer style and bedecked with broken pieces of porcelain and shells for a whimsical and colourful appearance. Statues of animals and Chinese figures stand around the base. Chinese-style pavilions sit next to the river and there's a large Buddha statue within the giant-guarded Ordination Hall.
What to do there: Admire the glorious temple from across the Chao Phraya River before taking the ferry to get up close. Climb up the central prang (built by King Rama II), admiring the views as you pass up the three symbolic levels. Feel small as you stand in front of the fearsome statues at the entrance to the Ordination Hall and see the main Buddha housed from within. Relax in one of the salas (pavilions) and soak up the river views. Try and visit Wat Arun at night time too when it is illuminated against the inky sky, the reflections shimmering on the water in a beautifully captivating way.
Why not book an Airbnb in the area and make the banks of the Chao Phraya River your base for a while?
Insider Tip: Come back at sunset and watch from across the river as the sky lights up behind the temple
#5 – Wat Yannawa – Quite the quirky place in Bangkok!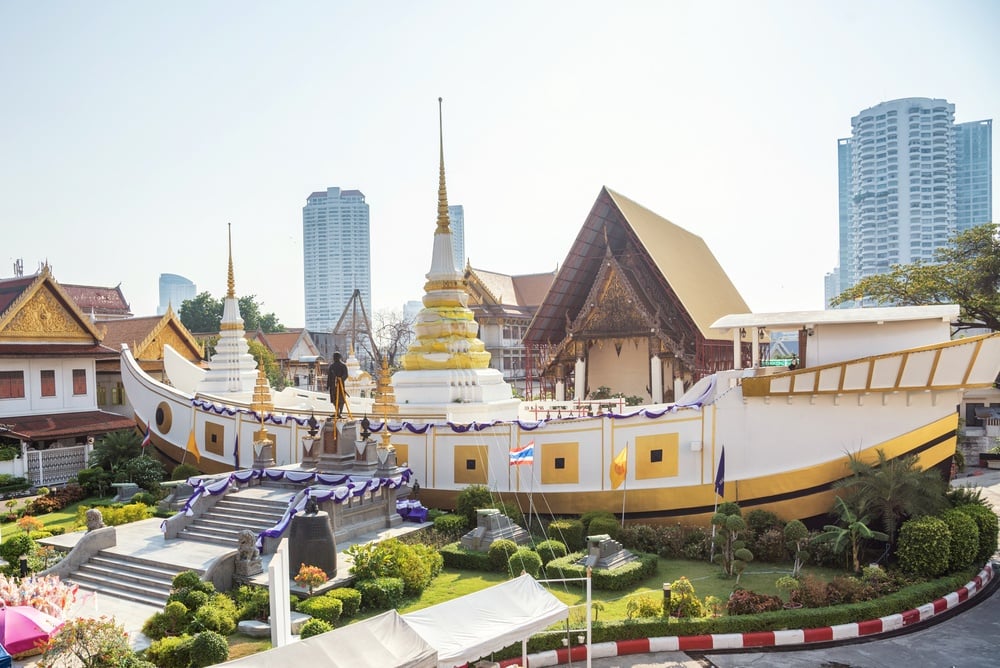 Interesting temple designed like a boat
Chinese heritage
Off the beaten track
Quiet and peaceful
Why it's awesome: Wat Yannawa is an ancient temple that can trace its roots back to the Ayutthaya period and before the founding of Bangkok as the Thai capital. Located close to the Chao Phraya River, the temple was built on the orders of King Rama III. It was designed to resemble a traditional Chinese junk (sailing vessel), helping to preserve maritime heritage.
This "temple" is definitely not what you'd expect, so it's a really interesting place in Bangkok. There are several other impressive buildings throughout the complex, including an ancient wooden structure and an air-conditioned room with a dazzling array of Buddha images and other religious ornaments and memorabilia.
What to do there: Pass through the large entrance gate and stroll along the wide pavement up to the boat-shaped structure. Buy a floral offering before stooping to pass through the low passageways and climb the steps inside the boat to reach the upper small shrine. Light incense and pay your respects at the shrine and make merit by placing flowers in the Buddha footprint.
Insider Tip: You can get here easily by taking a ferry down the Chao Phraya River and getting off the boat right outside the temple.
#6 – Lumpini Park – One of the most beautiful outdoor places in Bangkok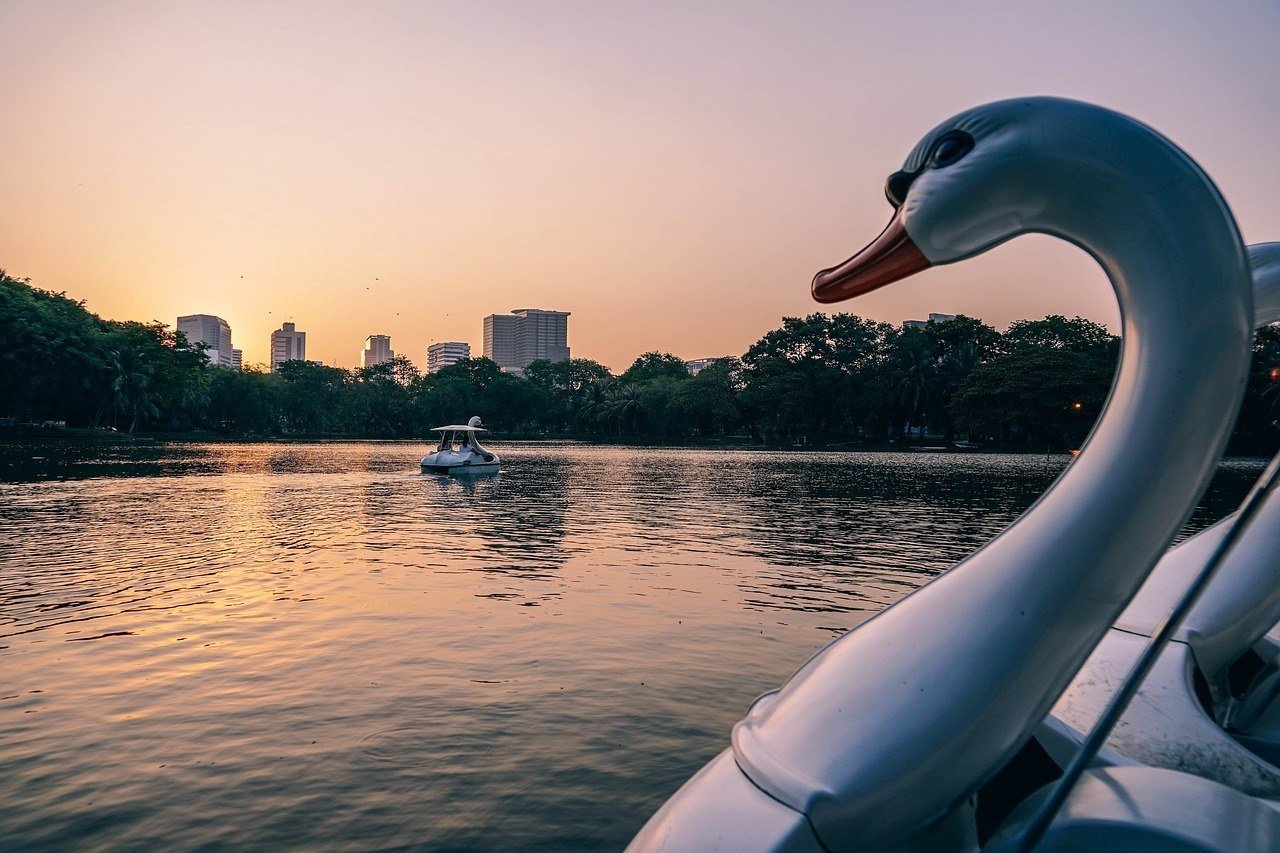 Popular place for leisure, sports, and relaxation
Great for families
See large monitor lizards
Enjoy nature in the heart of the city
Why it's awesome: Lumpini Park covers 142 acres (57.6 hectares) and it's located in the city centre close to several BTS and MRT stations. Statues stand proudly outside the smoke-free park and inside you'll find walking trails, pavilions, and artificial lakes. The park was established in the 1920s on ground that was once royal property. Named after the birthplace of the Lord Buddha, the large green park has various activities and attractions for visitors to enjoy. Concerts are sometimes hosted here and you'll find all amenities (including bathrooms and street food stalls) for a comfortable visit.
What to do there: Follow the walking trails around the park and look out for gigantic monitor lizards swimming through the lakes, skulking across the grass, and lazing in the tree branches. Birds twitter in the trees too, and the park is home to some 30 types of birds. You can rent a boat for a scenic ride on the water, admiring the reflections cast on the surface by the nearby skyscrapers.
#7 – Wat Saket – A great place to see in Bangkok if you love architecture
Hill-top temple
Great city views
Annual procession by candlelight
The Golden Mount is beautifully illuminated at night
Why it's awesome: Wat Sakat, also known as the Golden Mount, is one of Bangkok's many beautiful temples. Sitting on an artificial hill, it is located at the highest ground point in Bangkok. The temple dates back to the Ayutthaya era and it contains a sacred Buddhist relic brought to Thailand from Sri Lanka. The present temple building was built from marble in the 20th century. Each November the temple is the scene of a spectacular candlelit procession where devotees wind their way up the hill with their candles twinkling in the darkness.
What to do there: Admire the golden chedi from the base of the small hill before following the shaded pathway up to the top. There are many interesting statues alongside the path, with trees and plants adding to the attractiveness. As you're near the top you'll come to a wall of bells—ring these bells for good luck.
You can climb even higher for more terrific vistas and see various statues and murals. When you descend the mountain pay a visit to the ancient cemetery at the bottom, the final resting place for many victims of the plague.
Is This the Best Daypack EVER???
#8 – Erawan Museum – An awesome place in Bangkok for half a day!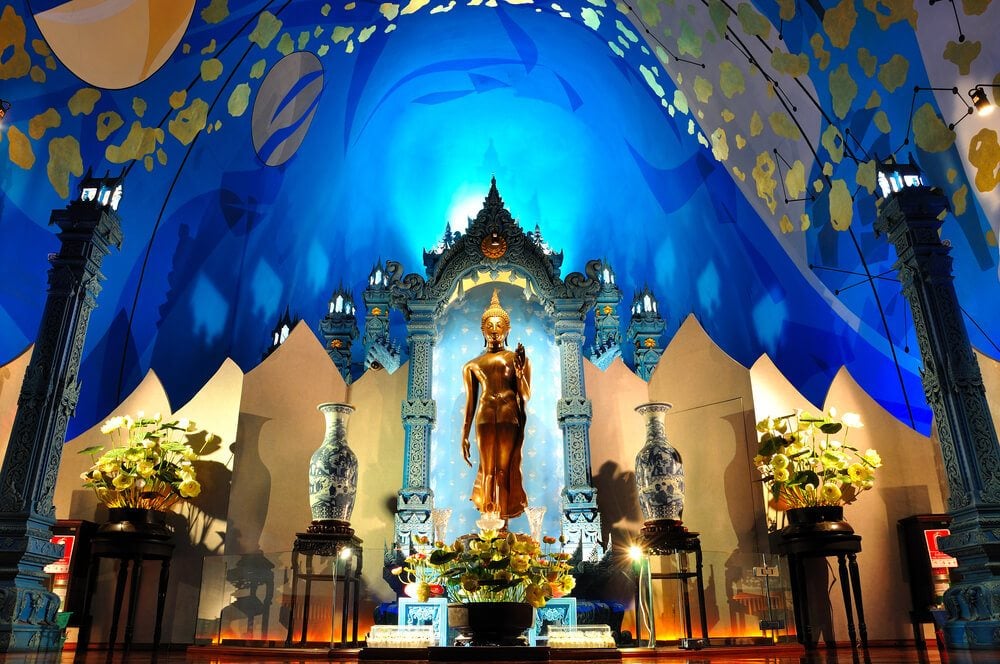 Striking architecture;
Beautiful grounds;
Huge art collection;
Thought-provoking place.
Why it's awesome: The Erawan Museum, located in nearby Samut Prakan, is one of Thailand's masterpieces by Mr Lek Viriyaphant. Built to be visually appealing, showcase art, and encourage people to question spirituality and their beliefs of the world and creation, it is definitely one of Bangkok's most whimsical and amazing attractions. The centrepiece is a circular pink three-storey building that is topped with a huge three-headed elephant. Based on Hindu ideas of cosmology, the three levels represent the underworld, earth, and heaven.
What to do there: Feast your eyes on the fascinating building with its three-headed bronze elephant and stand at the base of the wooden staircase, admiring the encrusted stucco balustrade. Wander around the ground level where you'll find carved wooden pillars that depict various scenes from several major world religions. The overall level of craftsmanship is incredible.
Climb the steps, and be blown away by the huge colourful skylight. Peek out of a small window for views across the site and continue skywards to reach the level that represents heaven. You can also see a large Buddha footprint and a grand historic wooden chair. In the lower level, there are many more statues and art pieces, along with diverse collections of rocks from around the nation.
#9 – Sky Bar @ Lebua – Great place in Bangkok for couples!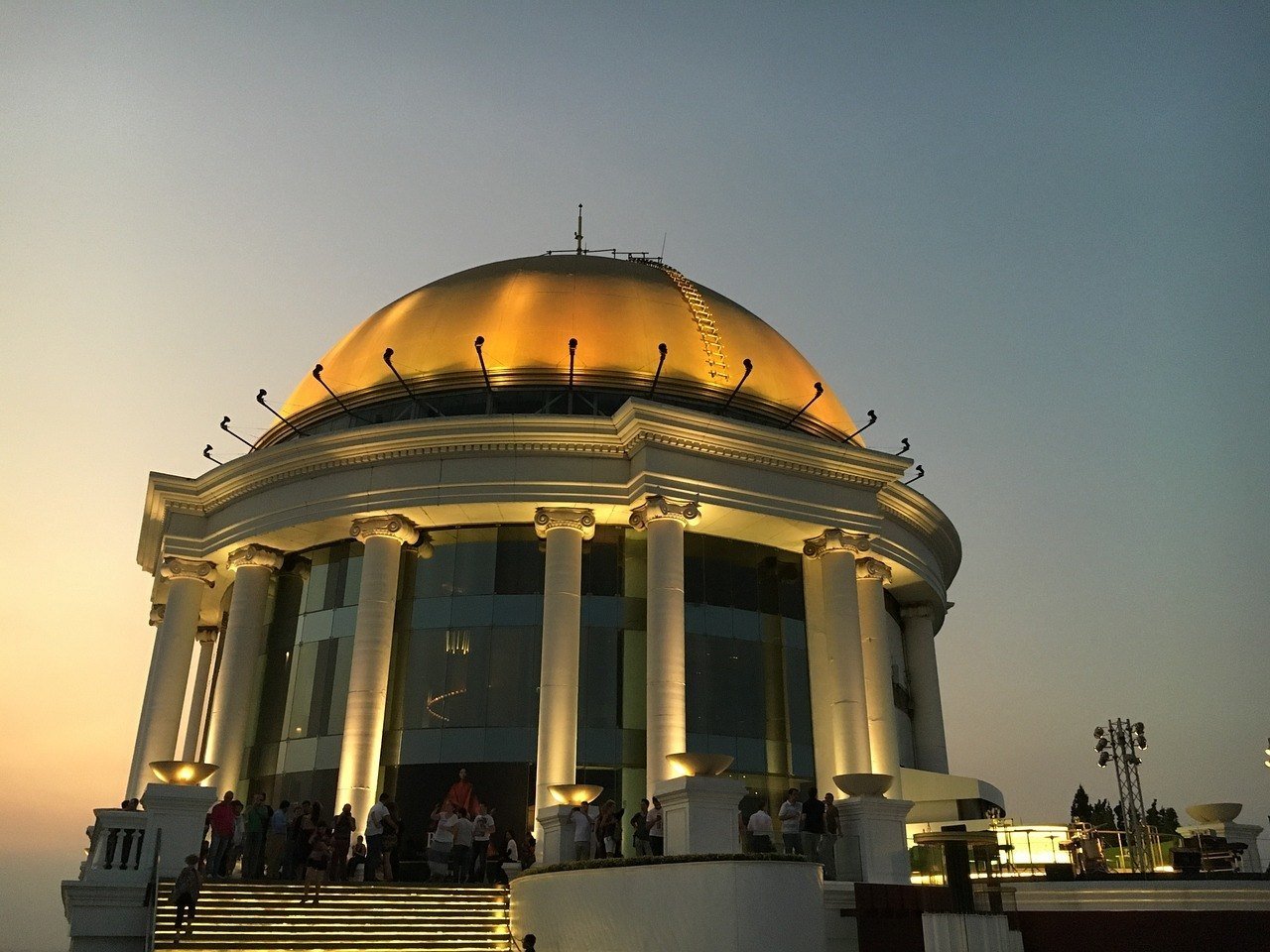 One of the highest rooftop bars across the world
Sophisticated and elegant vibe
Fabulous views across Bangkok
Delicious signature drinks and cocktails
Why it's awesome: The Sky Bar at Lebua is one of the world's highest sky bars. Swanky, stylish, and sophisticated, it's an ideal place for lovers to enjoy a romantic night out. The views take in many of Bangkok's highlights, with the Chao Phraya River snaking in the distance. Soft music fills the air, and there's often a live pianist. There are indoor and outdoor seating areas and you can enjoy a wide assortment of drinks with imported items on the menu. The famous bar appeared in the popular movie Hangover II.
What to do there: Dress up glamorous (there's a strict dress code) and ride the elevators up to the 64th floor for a romantic drink with awesome vistas. Try the signature Hangovertini, a cocktail inspired by the famous film. Alternatively, you'll also find a range of global beers and wines and other popular cocktails on the exclusive menu. Try and time your visit just before dusk—that way you can admire the daytime views of Bangkok and watch as the sun sets over the Thai capital and then enjoy views of the city in the dark.
#10 – Bangkok National Museum – A fascinating educational place in Bangkok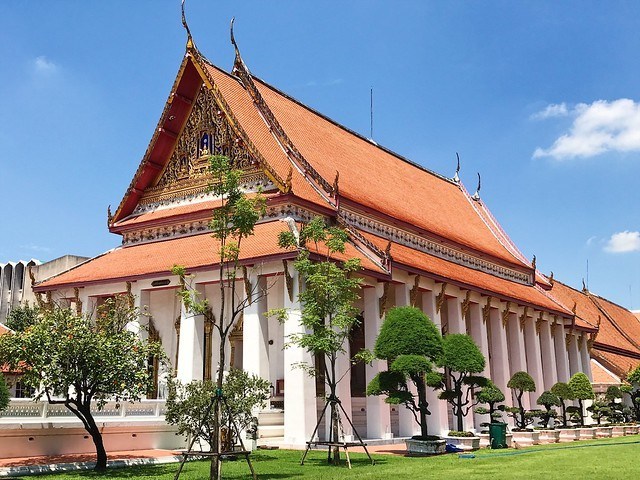 One of the biggest museums in Southeast Asia
Home to a large collection of art and artefacts
Great place to learn more about Thai history
Connection to Thai royalty
Why it's awesome: Housed in an old Royal Palace, Bangkok National Museum is one of the most stunning places in Thailand. There are three main buildings: Buddhaisawan Chapel, The Red House, and Siwamokhaphiman Hall. Home to the biggest collection of Thai art and historical objects in all of Thailand, the museum also contains striking art from other places around Southeast Asia. Displays are well ordered and there are good explanations and descriptions in English. One of the biggest museums in the region, it dates back to the 1870s having been established by King Rama V to display gifts and memorabilia from his late father.
What to do there: Plan to spend a few hours discovering the various displays across the museum's three main areas. Learn more about Thailand's past in Siwamokhaphiman Hall, with items that go from the Sukhothai era right up to the Rattanakosin period, and see beautiful murals and a large Buddha statue in Buddhaisawan Chapel. Visit the chariot hall to see carriages that used to be used in royal ceremonies, see masks used in traditional Thai puppetry, admire ornate ceramics, view old clothes, and more.
Small Pack Problems? 😉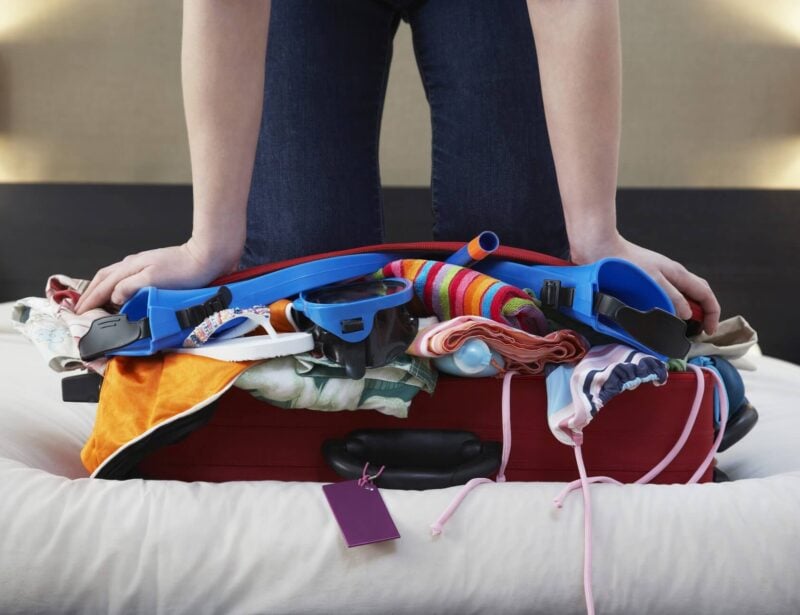 Wanna know how to pack like a pro? Well for a start you need the right gear….
These are packing cubes for the globetrotters and compression sacks for the real adventurers – these babies are a traveller's best kept secret. They organise yo' packing and minimise volume too so you can pack MORE.
Or, y'know… you can stick to just chucking it all in your backpack…
Get Yours Here
Read Our Review
#11 – Khao San Road – A must visit place in Bangkok on the weekend!
Bangkok's famous backpacker area
A major place for nightlife
Affordable prices
Large selection of bars, eateries, and cheap accommodations
Why it's awesome: Khao San Road is the city's most famous nightlife area and definitely one of the liveliest places in Bangkok. Located fairly close to the city's historical heart, it's a preferred area in Bangkok for budget backpackers, since there are also many must-see places nearby. In addition to that, there are plentiful restaurants that serve traditional Thai dishes and international favourites, an assortment of bars and clubs, as well as budget accommodations. I recommend Here Hostel, which is a 10-minute walk from the Khao San Road madness.
The street is pretty lively by day, but it really comes into its own come nighttime when music blares from the bars, people drink and dance in the streets, street performers try to get tips from the crowds, and vendors try to tempt people with street eats and cheap drinks.
What to do there: Although busy on all nights of the week, Khao San Road is especially lively at the weekends, with tourists, ex-pats, and locals coming together for nights of fun and revelry. Stroll along the street and browse the souvenirs and clothes, perhaps sipping on a cool beer or famous whisky bucket as you decide where to go first. Hop between the different bars, each with its own vibe; whether you want to chill or go wild, Khao San Road has a bar for all tastes and it's a pretty safe area to go for a night out. Listen to live music and dance the night away in one of the clubs. The atmosphere is laid back and there's no need to dress up fancy—unless you want to!
#12 – Wat Puet Udom – One of the most incredible free places in Bangkok
Fascinating insights into Thai Buddhist beliefs
Hell temple
No admission charge
Off-the-beaten-track attraction
Why it's awesome: Wat Puet Udom can be found in Pathom Thani, just a short way from central Bangkok. The temple offers something a bit different to the norm and is sure to be different to other temples that you've seen around the Thai capital. The grounds are filled with large and colourful statues, but the real highlight is exploring the section dedicated to Buddhist hell. Learn about Thai beliefs connected to the underworld, and see what people will believe the punishments in the afterlife for various earthly transgressions. Descriptions are provided in English for the avoidance of any doubt! Animatronic displays add to the eerie feeling and it's definitely one of the most unusual places to visit around Bangkok. Plus, as an added bonus, it's completely free!
What to do there: It's an amazing place in Bangkok that simply needs to be explored. See the large glittery temple building at the heart of the temple complex and stroll through the grounds to see large and unusual statues. There's a guardian of the underworld riding on the back of a gigantic rooster, human forms with animal heads, mermaids and other mythical creatures, and even a large plane. Buy a bag of food to feed the fish in the river to gain merit and admire the river views.
#13 – Siam Niramit – One of the best places to visit in Bangkok at night
Large and colourful cultural show
Opportunities to learn more about rural Thai life and regional traditions
Delicious cuisine
Fantastic place to spend a fun evening
Why it's awesome: Siam Niramit in Bangkok is one of the biggest stage productions in the world. The enlightening and captivating show features stunning sets and beautiful costumes and takes people on an exciting journey through Thai history, culture, and traditions. The show also highlights different parts of the country, providing insights into Thailand's different regions. There are three acts: Journey Back into History, Journey Beyond Imagination, and Journey Through Joyous Festivals. Special effects, lighting, and music create an electric atmosphere. There's plenty to enjoy before the show too, with a mini Thai village, places to eat and shop, small performances, and other varied attractions.
What to do there: Book the package that includes dinner and arrive early (and hungry!) to enjoy a tasty Thai feast. Walk around the miniature Thai village, complete with wooden buildings on stilts, to see a variety of crafts, lifestyles, and costumes. Actors and actresses bring the scenes to life and demonstrate different skills of old. Feed the elephants, take a boat ride, watch as traditional snacks are prepared, listen to musicians, and watch dance shows.
#14 – Thonburi Canals – A nice quiet place in Bangkok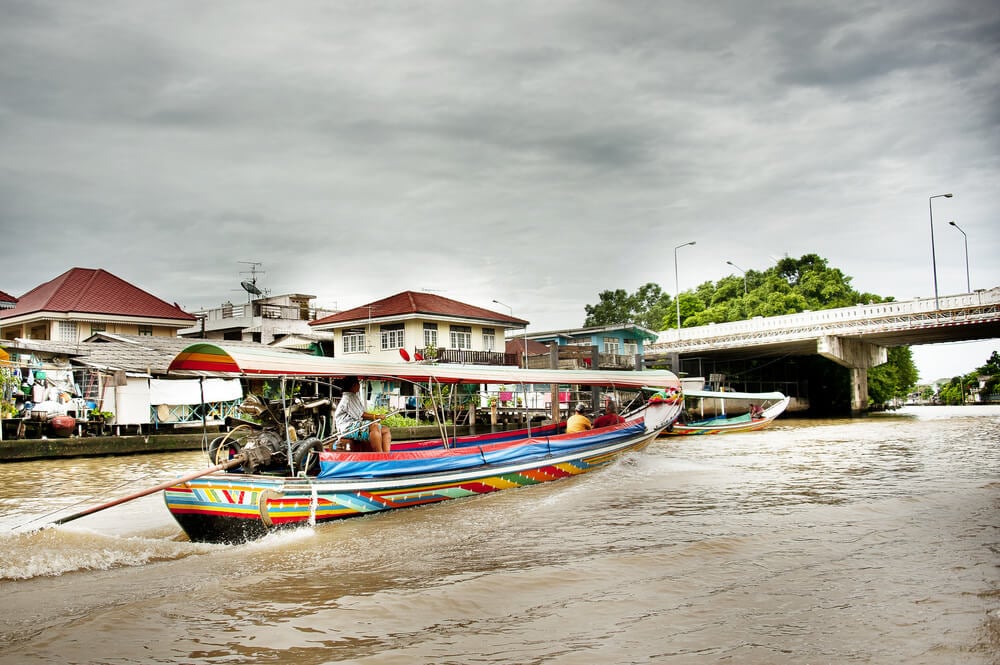 Take a relaxing boat ride along the floating markets
See a different side of this hectic city
Experience Thai life of old
Get up close to everyday Thai culture at the floating markets
Why it's awesome: Once upon a time, Bangkok was crisscrossed by canals and waterways, essential for trade and transportation. Over time, many canals were filled in and more roads were built. The Khlongs (canals) of Thonburi, however, still offer a pleasant glimpse into the old Bangkok. Peaceful waterways run through the area, lined with homes, temples, and gardens. The Bangkok floating markets still operate on certain days of the week too, and vendors seek to sell their wares by boat at all times, paddling from house to house with an assortment of goods. Life is quiet around the Thonburi canals and it offers a completely different perspective of the otherwise bustling city – definitely one of the more interesting places in Bangkok.
What to do there: Several operators run boat trips around Thonburi's canals, though you can also charter your own long-tail boat for a more intimate and personalised exploration of the floating markets. Sit back and relax as you soak up the waterside scenes; drift past local homes, see the small rowing boats that people use to get around, and wave to excitable children on the water's edge. The Royal Barge Museum, another cool place in Bangkok, is well worth a quick stop, filled with impressive vessels, and you can watch a traditional puppet show at the Artist's House.

Our GREATEST Travel Secrets…
Pop your email here & get the original Broke Backpacker Bible for FREE.
#15 – Chinatown – A perfect place in Bangkok if you are on a budget!
Authentic Chinese fare
Interesting architecture
Cultural experiences
One of the world's biggest Chinatowns
Why it's awesome: Established in the 1780s, Bangkok's Chinatown is one of the biggest Chinatowns across the globe. Once a major trading area, Chinatown is now a thriving hub of Chinese culture and traditions. A great place in Bangkok for foodies! There are many restaurants and stalls selling a huge selection of authentic Chinese dishes. There's plenty of cool architecture too, including old movie theatres, temples, and a ceremonial archway. Shophouses line the streets and the pavements are crowded with pedestrians and stalls. The vibe is energetic and you'll find shops selling everything from affordable electronics and cheap clothing to traditional Chinese herbal remedies and gold. It's a fantastic area to explore on foot, and many of the sights are free!
What to do there: Walk along the busy Yaowarat Road, immersing yourself in the hustle and bustle. You'll likely be tempted by all the food offerings; come in the evening for a huge array of mouth-watering treats! Visit Wat Traimit, home to the biggest solid gold Buddha statue in the world, take pictures of the colourful and ornate Chinatown Gate, and hunt for bargains along the narrow Sampeng Lanes and its overflowing market stalls.
Don't miss visiting Wat Mangkon Kamalawat, Bangkok's most important Chinese temple. It has elements from Buddhist, Taoist, and Confucian practices and you'll see people lighting incense, making merit, and praying to various deities. Watch a traditional dance show at the historic Sala Chalermkrung theatre and unwind in the pleasant fountain-filled and leafy Romaneenart Park.
If budget travel is your game, some of Bangkok's best hostels are calling your name! Check them out and find one that suits you best!
#16 – Patpong – A wild place to see in Bangkok!
Bangkok's original red light district
Large market
Busy nightlife area
Adult entertainment
Why it's awesome: It might not be everyone's cup of tea, but Patpong is one of the best places to experience Bangkok's famous adult side. One of the city's major red-light districts, it is also a fun place for a night out. The bars welcome groups of friends and couples and, while it's certainly there if you're seeking it, there's no need to feel obliged to indulge in any of the adult-centred fun that Patpong is known for. There's a large night market too, which helps to draw tourists from all walks of life to the area.
What to do there: Peruse the large selection of goods at Patpong Night Market, where you'll find everything from novelty gadgets and slogan t-shirts to crafts from the hill tribes of Northern Thailand and typical souvenirs. Be sure to haggle if you want to buy anything, as prices are often over-inflated. Experience Bangkok's adult-focused night scene in one of the beer bars or go-go bars, and watch as people shimmy against poles and perform erotic dances on the stages. Be cautious of scams, however, and always check prices beforehand.
#17 – Jim Thompson House Museum – One of the most underrated places to see in Bangkok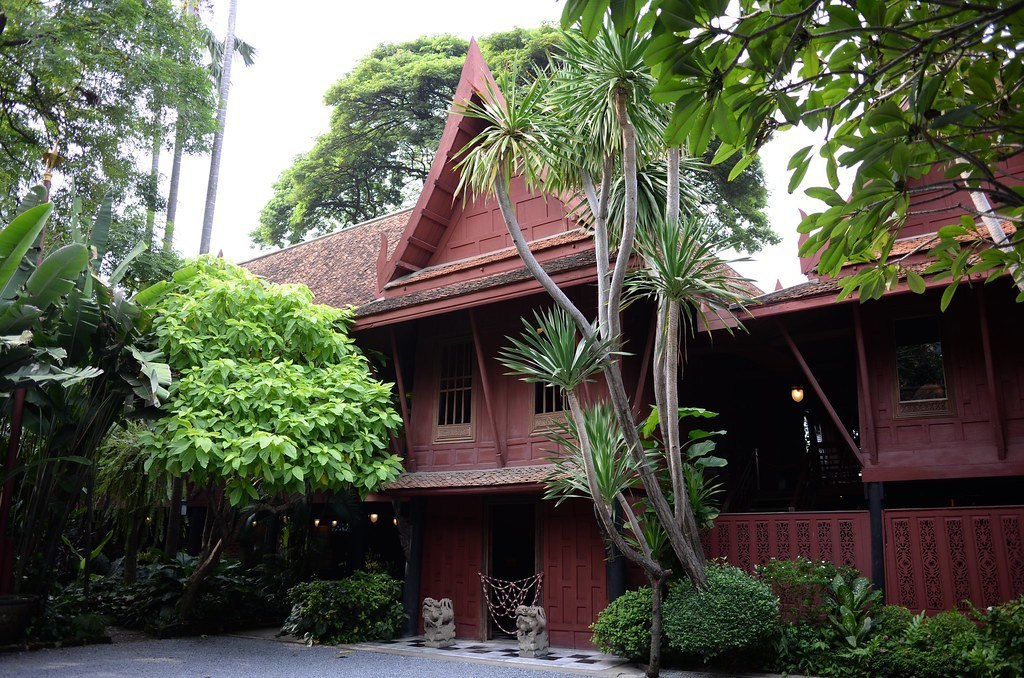 Peaceful museum
Former home of the Thai Silk King
Traditional architecture
Learn about the Thai silk industry
Why it's awesome: Jim Thompson House Museum is the former home of the mystery-surrounded silk magnate often referred to as the Thai Silk King. American-born Jim Thompson helped to revolutionise the Thai silk industry, bringing the gorgeous silk products to the world while providing much-needed work for rural Thai families. The house was built in the 1950s in a traditional Thai style using old teak buildings from various parts of the country. The old wooden buildings were reassembled and repurposed in their present Bangkok site. Surrounded by lush garden and alongside a canal, the charming buildings contain Thompson's extensive art collection and Buddhist statues.
What to do there: Step into a green oasis in the heart of Bangkok, feeling as though you've been transported to a small jungle far from the city crowds. Wander through the verdant gardens and enjoy the calm and tranquil atmosphere. Watch as people demonstrate traditional silk weaving techniques and learn more about the silk production process, and see people performing graceful Thai dancing. View the large collection of art and religious memorabilia, with items from all across Thailand and the wider Southeast Asian region.
#18 – Giant Swing – One of the more unique places to visit in Bangkok!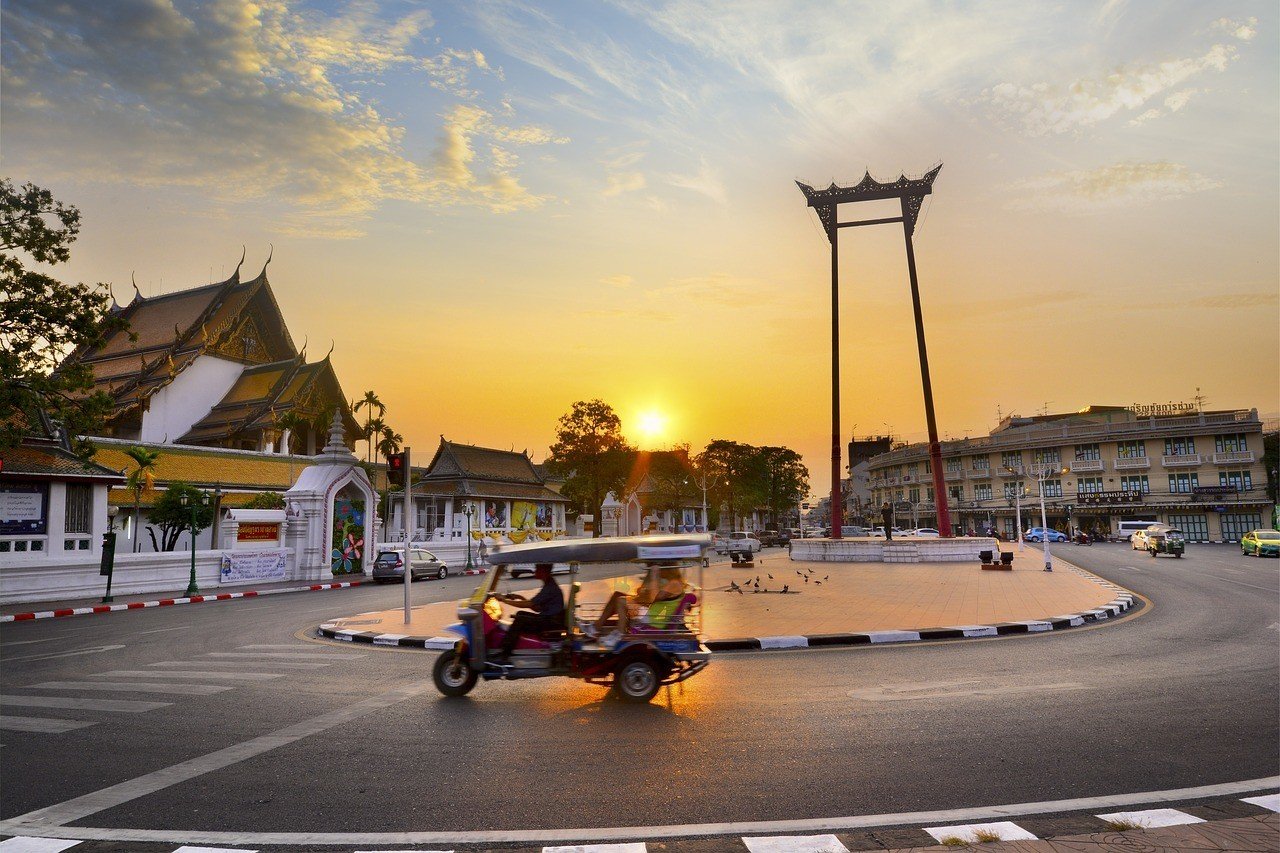 Once used in ancient ceremonies
Unusual attraction
Free to see
Gorgeous quiet temple
Why it's awesome: The Giant Swing is a towering red frame in front of the sparkling Wat Suthat and one of the lesser-visited places in Bangkok. The swing was once used in ancient Brahmin religious ceremonies and there are old pictures showing the swing in action. Built-in the 1780s, the swing was moved to its current location in 1920. It was used for religious rituals until the 1930s. Made from teak wood, the frame stands at more than 30 metres (98 feet) high. Wat Suthat is an impressive temple, though it sees fewer visitors than Bangkok's major temples so still retains a peaceful and spiritual air. It has beautiful wooden carvings, striking murals, and large Buddha statues.
What to do there: Gaze up at the Giant Swing and let your imagination take you back to the times when it played a vital role in religious ceremonies. See black and white photographs showing the swing in use. Explore the handsome Wat Suthat, which is among Bangkok's oldest temples, and admire the glorious murals that show scenes from the Ramakien. See the large golden seated Buddha statue in the main hall and more than 150 statues of the Lord Buddha around the walls of the cloister. Absorb the spiritual feeling and sit for a while in quiet contemplation.
Save $$$ • Save the Planet • Save Your Stomach!
Drink water from ANYWHERE. The Grayl Geopress is the worlds leading filtered water bottle protecting you from all manner of waterborne nasties.
Single-use plastic bottles are a MASSIVE threat to marine life. Be a part of the solution and travel with a filter water bottle. Save money and the environment!
We've tested the Geopress rigorously from the icy heights of Pakistan to the tropical jungles of Bali, and can confirm: it's the best water bottle you'll ever buy!
View on REI
Read the Review
#19 – Koh Kret – One of the nicer places in Bangkok to sightsee!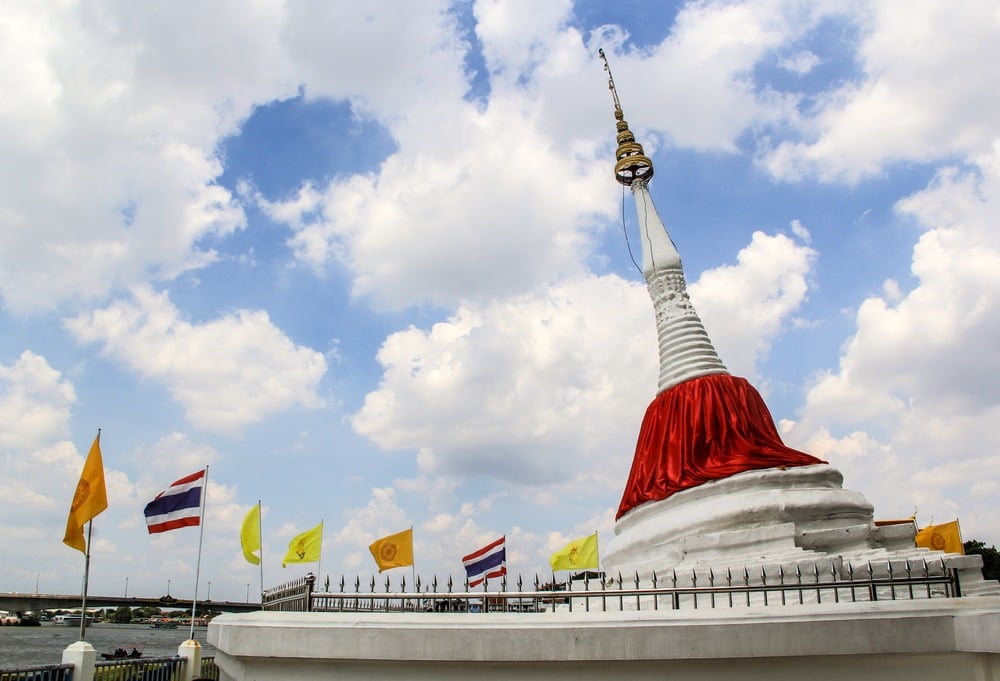 Scenic river island
Home to a Mon ethnic community
Known for pottery making
Historic attractions and markets
Why it's awesome: Koh Kret is a small river island, created in the early 1720s when a canal was constructed and cut off the land completely. Historically home to people from the Mon ethnic group, the island is famous for its long pottery heritage. There are active pottery-making workshops on the island still, complete with large kilns and showrooms where you can buy the delicate pieces. The island has a rustic vibe and offers a glimpse into a way of life that is hard to find elsewhere in the hectic city. There are museums and temples to explore too, and you'll find peaceful places to eat alongside the river.
What to do there: Catch a boat to Koh Kret island and explore by foot or rented bicycle. Follow the circular track around the island, pausing to visit several places of interest along the route. See stunning ceramics in the Kwan Aman Pottery Museum and watch all stages of the pottery-making process in one of the small workshops around the island. Purchase locally made terracotta items in the market or at one of the many shops. The market also sells a selection of trinkets, handicrafts, and souvenirs, and you'll find several snacks and food products here that can be difficult to source elsewhere.
#20 – Condom Museum – One of Bangkok's most unique attractions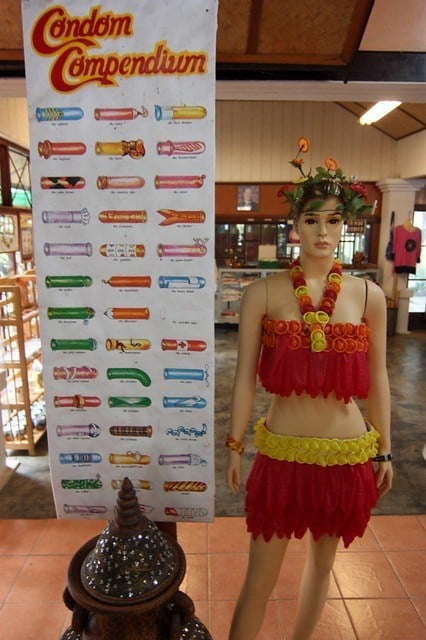 Quirky museum
Aims to raise awareness of sexual health
Educational experience
Off the beaten track
Why it's awesome: Open since 2010, the Condom Museum is one of the more unusual attractions and definitely a unique place to visit in Bangkok. Located in Nonthaburi, the museum seeks to shed light on sexual health matters, encourage condom use, and promote safe sex. The museum is free to visit. The museum contains a fascinating collection of condoms from all over the world, with those that have been made in recent times and those that seem archaic compared to today's products. There are also informative displays related to the history, manufacture, and marketing of condoms. Fun fact: did you know that Thailand is one of the world's biggest makers of condoms?!
What to do there: Step into the world of sexual health and see a mind-blowing assortment of condoms in various colours and sizes. Learn more about the condom and why its use is important for good sexual health. Posters adorn the walls and displays also include other sex-related items, such as lubricant and penis pumps. You're sure to be amazed in the testing room, where people demonstrate just how tough condoms actually are!
#21 – Queen Sirikit Park – A beautiful and scenic place to visit in Bangkok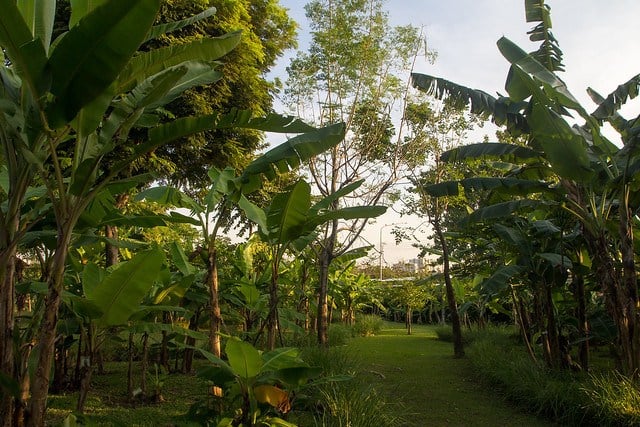 Large green park with diverse plants and flowers
Offers respite from the city's hustle and bustle
Home to pools, fountains, and other water features
Royal connections
Why it's awesome: Sitting on a former golf course, Queen Sirikit Park opened in 1992 and was named to celebrate Queen Sirikit's 60th birthday. The beautiful botanical garden boasts several hundred species of plants and flowers, with an abundance of water plants in the ponds. Waterlilies, lotuses, hibiscus, palms, roses, bamboo, and banana trees are just a few plants within the park, and the rich variety helps to attract many birds, butterflies, and insects. A lovely place to enjoy nature, the park has formal gardens, walking trails, fountains, statues, and areas dedicated to leisure pursuits.
What to do there: Enjoy a leisurely stroll around the large Queen Sirikit Park, admiring the various plants and flowers, pausing to appreciate the bright colours and fragrant scents. You can also learn more about Thailand's native flora and how certain plants are important to the nation. Sit and relax next to the sparkling lotus- and lilly-filled ponds and take kids to the fun and hands-on Children's Museum. There are plenty of food vendors close to hand if you're in need of an energy boost.
Get insured for your trip to Bangkok!
ALWAYS sort out your backpacker insurance before your trip. There's plenty to choose from in that department, but a good place to start is Safety Wing.
They offer month-to-month payments, no lock-in contracts, and require absolutely no itineraries: that's the exact kind of insurance long-term travellers and digital nomads need.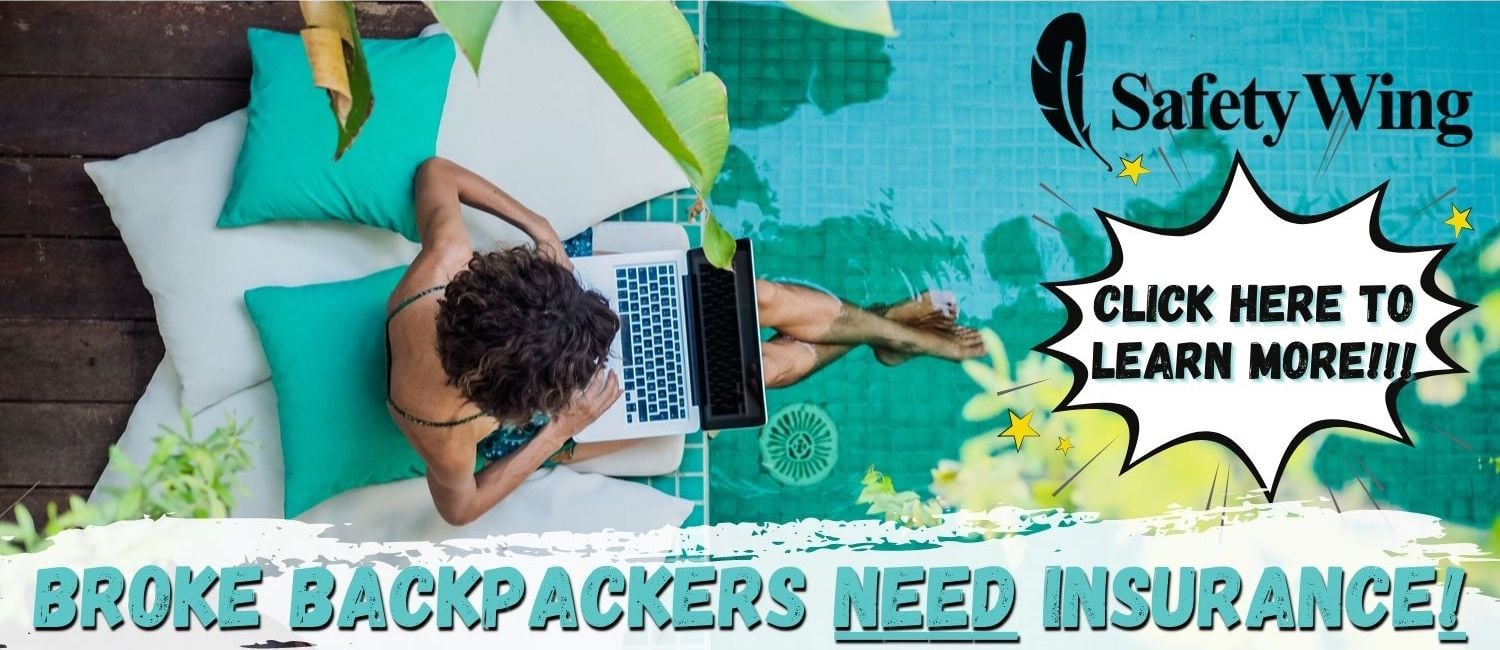 SafetyWing is cheap, easy, and admin-free: just sign up lickety-split so you can get back to it!
Click the button below to learn more about SafetyWing's setup or read our insider review for the full tasty scoop.
FAQ on the Best Places to Visit in Bangkok
Find out what people want to know about the best places to visit in Bangkok
Conclusion
Bangkok is an exciting city with something going on at almost all times of the day and night. A top city for foodies, shopaholics, culture seekers, history lovers, urban explorers, and party animals – there's no shortage of amazing places to visit in Bangkok. Families, friends, couples, and solos will all find more than enough to keep them enthralled in the City of Angels.
Since there is so much to see and explore, make sure you come up with a rough itinerary before you start your travels, so you won't miss out on anything. Tick off these best places to visit in Bangkok for a diverse, fun-filled, and action-packed stay!
---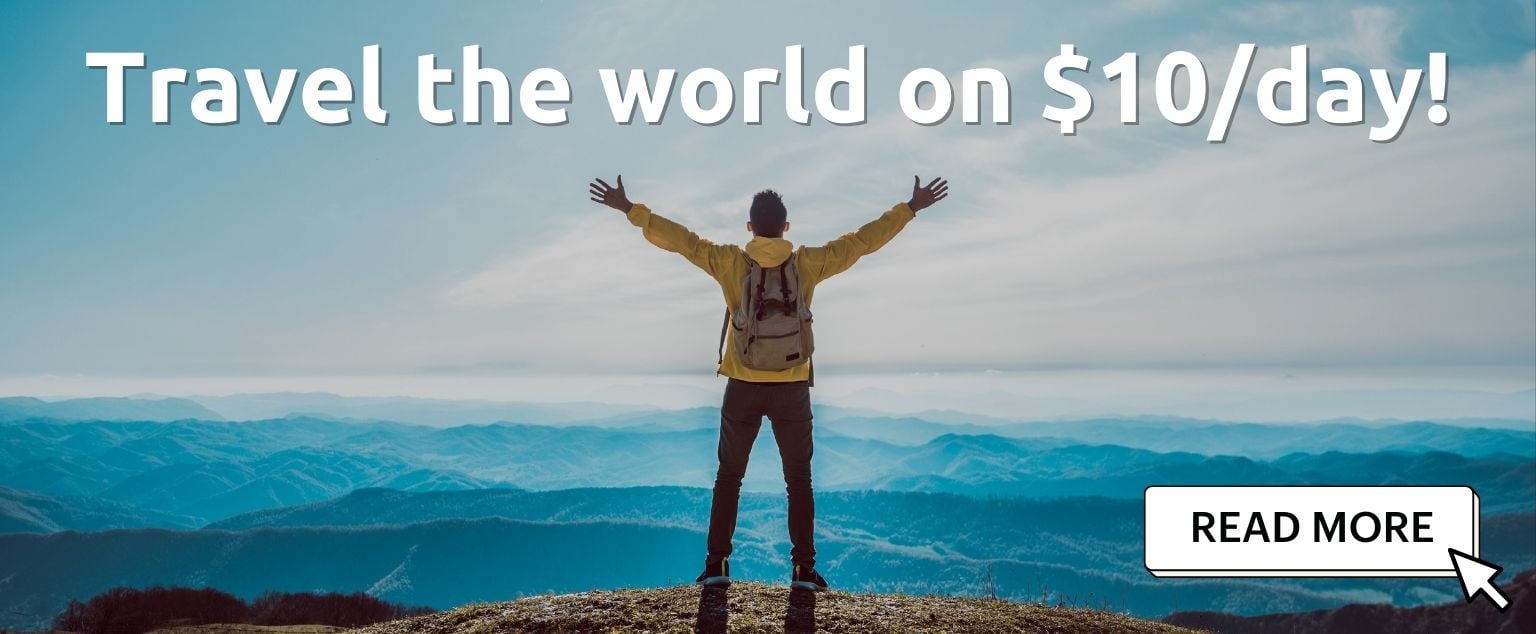 And for transparency's sake, please know that some of the links in our content are affiliate links. That means that if you book your accommodation, buy your gear, or sort your insurance through our link, we earn a small commission (at no extra cost to you). That said, we only link to the gear we trust and never recommend services we don't believe are up to scratch. Again, thank you!