Thailand is the travel hub of Southeast Asia and the center of the universe for many first-time backpackers. With its lush jungles, famed beaches, world-class diving, delicious food, and crazy parties, Thailand attracts visitors from all over the world.
Thailand caters for most budgets; you can find dirt cheap guesthouses and hotel suites costing thousands of dollars a night right next to each other.
I myself have been to Thailand dozens of times and even lived in Chiang Mai for over 1 year; I absolutely adore Thailand, and in my opinion, this is one of the best countries in the world for first-time backpackers or digital nomads.
In this epic backpacking Thailand travel guide I will share my top insider tips with you dear readers.
Where to Go Backpacking in Thailand
Possibly the most popular backpacking destination in Southeast Asia, there are so many weird and wonderful places to visit in Thailand. Thailand is home to some of the most beautiful beaches and islands in the world in the south, and beautiful jungles and temples in the north.
Whatever you want to do, you can do it in Thailand. Grab a motorbike and explore Thailand's countryside far away from the tourist masses, or eat and drink your way through the pulsating capital Bangkok. Join a silent Buddhist meditation retreat, or dive among world-class reef!
You can just chill out in a hammock with a Chiang beer, check out the big golden buddhas, do a Yoga Retreat or party all night under the full moon on Koh Phangan. There is no limit to what you can do in Thailand!
Best Itineraries for Backpacking Thailand
Below we have written two travel itineraries for Thailand. You can easily combine both with a month or more. Check out our entry requirement section for more information on extending your visa to stay longer than 30 days.
Backpacking Thailand 3 Week Itinerary #1: Thailand's Islands
3 Weeks: Exploring Thailand's Islands
Starting in Bangkok, Thailand's capital, make your way south to Phuket. If you go overland, make a side trip to Kanchanaburi, a beautiful national park, though it makes more sense to fly for not that much more money. Check domestic flights beforehand.
Phuket is the gateway to the Andaman Sea in Southern Thailand. While touristy, Phuket has things to do for everybody: amazing beaches, boozy nights, one of the best Crossfit boxes in SEA, and Buddhist temples galore.
From Phuket, your next step is to travel Koh Phi Phi, also touristy, but known for its beautiful beaches, epic nightlife, and awesome places to stay.
Head to Koh Lanta next to take a break from all the partying – book ahead to ensure a bed at the best Koh Lanta hostels. With 2 weeks dedicated to the Andaman Sea you can make it to Koh Lipe. Finally, end your trip staying in the Krabi area. Here you can also extend a couple of days in Railay if you're big into rock climbing!
Next, it's time to explore the famous Gulf of Thailand, which includes Koh Samui, Koh Phangan, and Koh Tao. The infamous full-moon party is on Koh Phangan, though there are some chilled-out areas to stay in Koh Phangan instead as well as lots more to do on the island then just party! Koh Tao is known for the laidback diver vibe and incredibly affordable diving schools. Koh Samui is the most unpopular of the three.
Backpacking Thailand 2 Week Itinerary #2: The Central and North of Thailand
If you are flying internationally, you may fly to Bangkok. It's easy to get a domestic flight up to Chiang Mai, but if you want to take the slow route, head to Khao Yai first.
Just three hours north of Bangkok, this park is a great place to find wild elephants as well as hike and swim. It also has some crazy beautiful waterfalls that you need to trek a bit to reach - totally worth it!
You can also head to Umphang for some trekking. Here you can reach the 200m-high Tee Lor Su Falls by rafting and hiking your way through the jungle on a three-day trip.
Next, head to Chiang Mai, Thailand's capital with plenty to do! The digital nomad capital of Thailand, Chiang Mai mixes local and backpacker vibes like a perfect Cha Yen.
Spend 2 days in Chiang Rai checking out the temples, and allocate some solid time to staying in the hippy village of Pai high in the mountains. People get stuck in Pai; it's one of those places.
Places to Visit in Thailand
This is the hectic heart of the backpacker scene in Southeast Asia. Many travellers, myself included, hate it when they first arrive, but dig a little deeper and you will come to love it. There are plenty of temples, palaces, markets, and other things to do in Bangkok PLUS the nightlife in Bangkok is fantastic!
A great day trip option is Bangkok to Ayutthaya where you can get your first glimpse of jungle temples reclaimed by nature. Whilst not as impressive as Bagan or Ankgor Wat, Ayutthaya is still very cool.
During my first time backpacking in Bangkok, the city ate me alive and emptied my wallet in under 24 hours. Having become a regular visitor since, I now love the city and am much more aware of how to stay safe in Bangkok and avoid potential scams, such as the long-running Bangkok Tuk Tuk scam, which often aim to target visitors in their first few days of arrival.
Keep your wits about you in this city of saints and sinners!
Backpacking Khao Yai National Park
Just three hours north of Bangkok, this park is a great place to find wild elephants as well as hike and swim. It also has some crazy beautiful waterfalls that you need to trek a bit to reach- totally worth it!
Bring your camping hammock with you and sleep the night in this beautiful national park for free!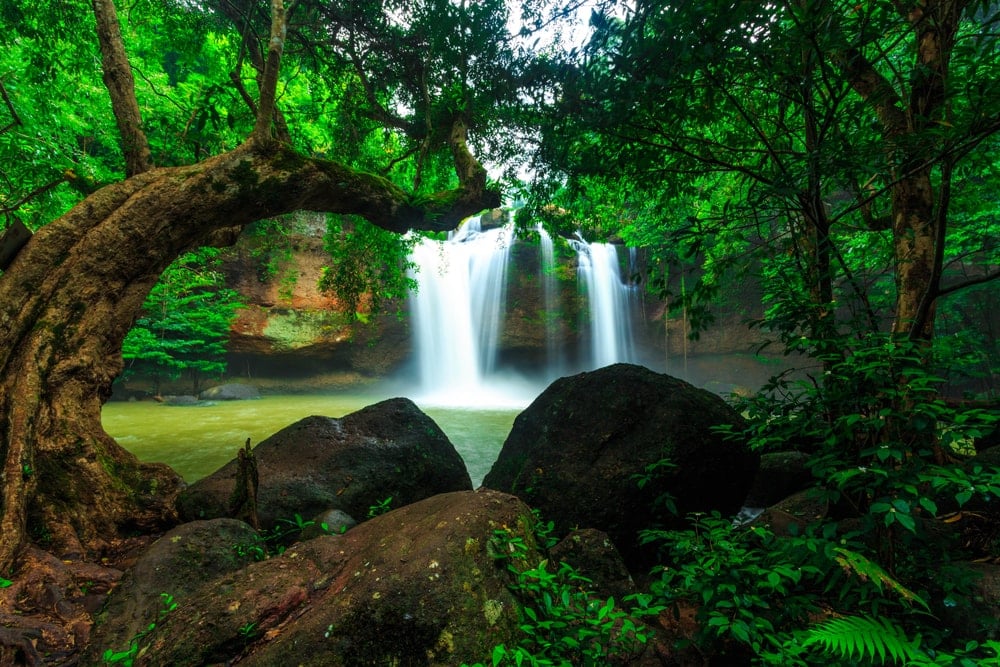 Backpacking Khao Sok National Park
Probably the best national park in Thailand, Khao Sok offers caves, jungles, rivers, and gorgeous limestone scenery. You can explore the park by using its hiking trail, or raft, canoe or kayak through Sok river. If you're lucky you may spot an elusive gibbon or two.
Backpacking the Thai Islands
Thailand has an absolute ton of beautiful tropical islands. For the adventurous, it is possible to find small islands all over Southeast Asia that are pretty much uninhabited.
After staying in Phuket, head to Koh Yao Noi for an isolated treehouse experience. A fairly chilled out island, it's a short boat trip to Koh Yao Noi where I spent a week living in an incredible treehouse in the forest. If you want to disconnect from technology (there is no electricity) or have a romantic weekend away, I highly recommend checking out The Island Hideout (this is not sponsored, I paid my way there and loved it).
Some islands are very crowded and others only have just a few bungalows on them; some of the best (well, best known..) are:
Koh Samet
Koh Phi Phi
Koh Tarutao
Koh Chang
Koh Tao
Koh Phangan
Koh Samui
Koh Lanta
The Similan Islands.
To discover something a little bit different, head on over to Koh Lipe.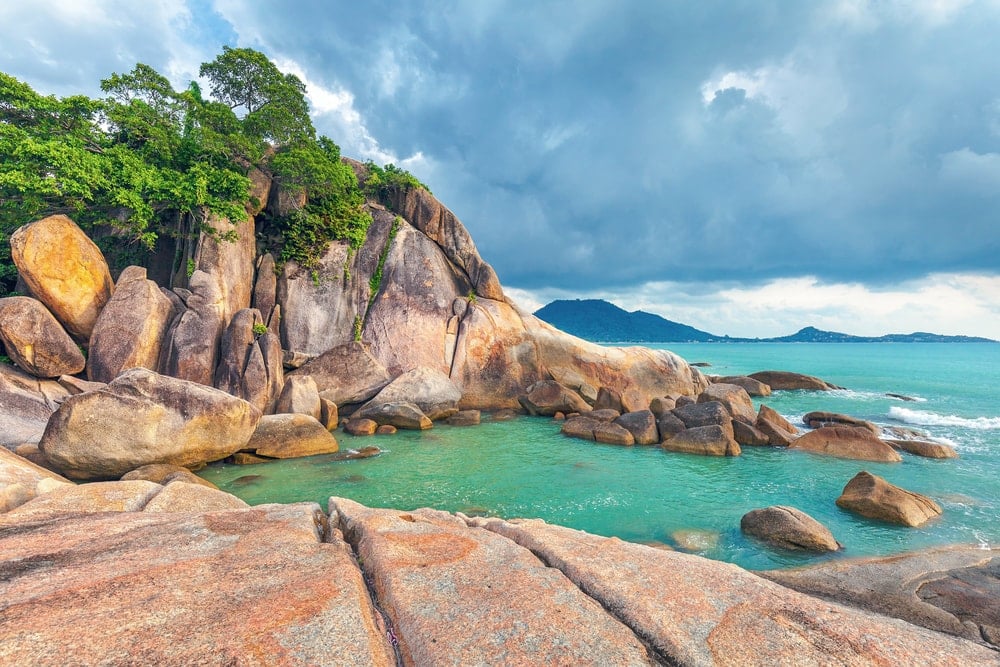 Backpacking Kanchanaburi
In 1942 Kanchanaburi was under Japanese control and it was here that Asian forced labourers and Allied POWs were made to build the infamous 'Bridge on the River Kwai' as part of the 'Death Railway'.
Although a sobering experience the bridge is surrounded by some gorgeous waterfalls that are well worth a visit once you have been to the 'Jeath War Museum'. If you want to stay overnight or even longer, there are a couple of backpacker hostels in Kanchanaburi too, making it an ideal destination for travellers on a budget that don't want to rush from one hotspot to the next.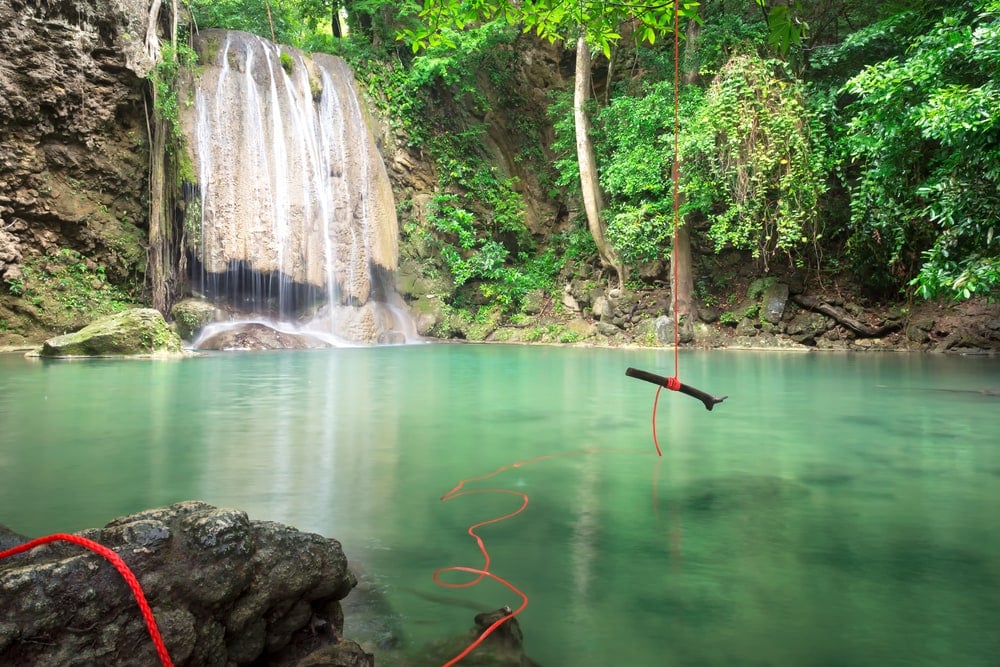 Most backpackers end up in this leafy laid back city at some point and with good reason. The historical, yet surprising cosmopolitan, walled city is surrounded by jungle and amazing hillside landscape starting just a short ride from the city centre. The area has become well known for homestay and hill-tribe trekking in Thailand. One downside, however, is that the treks here can sometimes feel unfortunately commercialised.
I suggest either trekking elsewhere such as a national park or heading out on a longer trek to discover some more untouched areas. The city itself is well worth visiting if not only for the vast array of temples, then for the quaint coffee shops that seem to match them in numbers, often serving locally grown coffee bean and free WiFi.
Chiang Mai has some of the most incredible street food out there so don't miss trying it out!
Prices for Thai massage are some of the cheapest I've come across and the massive night market is one of the best places to pick up souvenirs in the country. There are some great trekking opportunities from Chiang Mai around the Myanmar border area and it's worth packing a tent.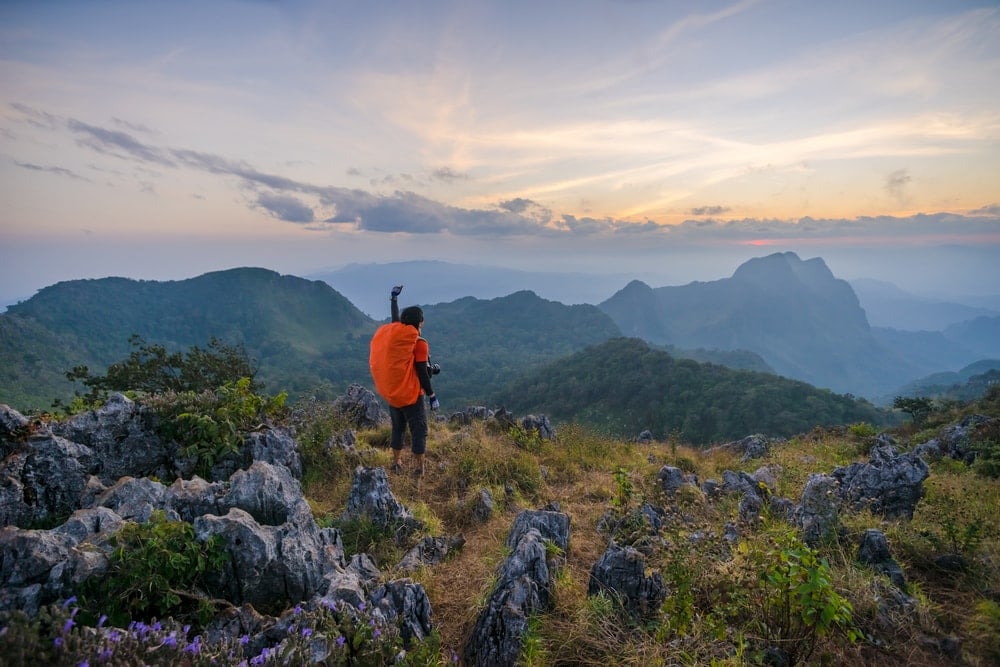 There is a huge amount to do in Chiang Mai and it's largely considered the digital nomad centre of the universe (for better or worse). I've spent about seven or eight months living in Chiang Mai over the last few years and have truly enjoyed it. Chiang Mai is not only one of the best places in Thailand to visit, but also to live.
There is a cinema, a Crossfit box, Salad Concept (my favourite damn restaurant in the world), tons of meetups and events and it's very easy to slot into working life in Chiang Mai so if you are thinking of pausing anywhere on your travels and need access to good WiFi, Chiang Mai is a good bet.
I've done more than my fair share of eating my way across Thailand; check out some of my favourite places to eat in Chiang Mai:
Tsunami Sushi
Salad Concept
Beast Burger
Le Brunch
Hideout
Smoothie Blues
Rustic and Blue
There are also dozens of incredible street food stalls, vans and booths.
Volunteer on an organic farm when backpacking Thailand
Recently, a fellow backpacker reached out to tell me all about Mindful farm - an organic farm volunteering opportunity just three hours outside of Chiang Mai.
Mindful Farm is an organic farm founded by a Buddhist Monk who studied in a nearby temple for about 20 years. Determined to teach a more mindful living and retreat from any touristic hustle, Pinam the Monk uses a volunteering system to keep the farm running and provide good value for travelers.
You can volunteer here for a minimal fee and learn a ton about organic farming, your volunteer fee covers housing and food (200 bhat a day).
The daily activities focus on putting your hands on the ground and caring for the farm, which is totally fun and insightful because the Monk has a lifelong farming experience since childhood. You will learn things like making compost, digging and designing new farm areas, house building, fermenting self-made fertilizer and lots of other skills useful to the organic farmer within you!
If you are more on the chillout side, you can just enjoy the calmness, go for a bath in the nearby lake or do yoga and meditation. With an average of 20 people staying there per day, boredom doesn't exist, and the community offers great travel experience exchange from likeminded people.
To get there, you take the bus from Waroros Market in Chiang Mai which leaves everyday around 11:15am and takes 3 hours to get you there.
Backpacking Pai
A small town in the north of Thailand near Myanmar's border, Pai has only recently made it onto the backpacker circuit but is super popular already. I fucking love Pai and the drive from Chiang Mai to Pai is epic if you do it by motorbike.
It is well worth a visit as it is located in a beautiful area of rolling hills and mysterious peaks, there's parties, hippies and weed galore. If you have time I strongly recommend getting closer to the Myanmar border and visiting some of the Karen villages in the area. There are loads and loads of cool things to do in Pai.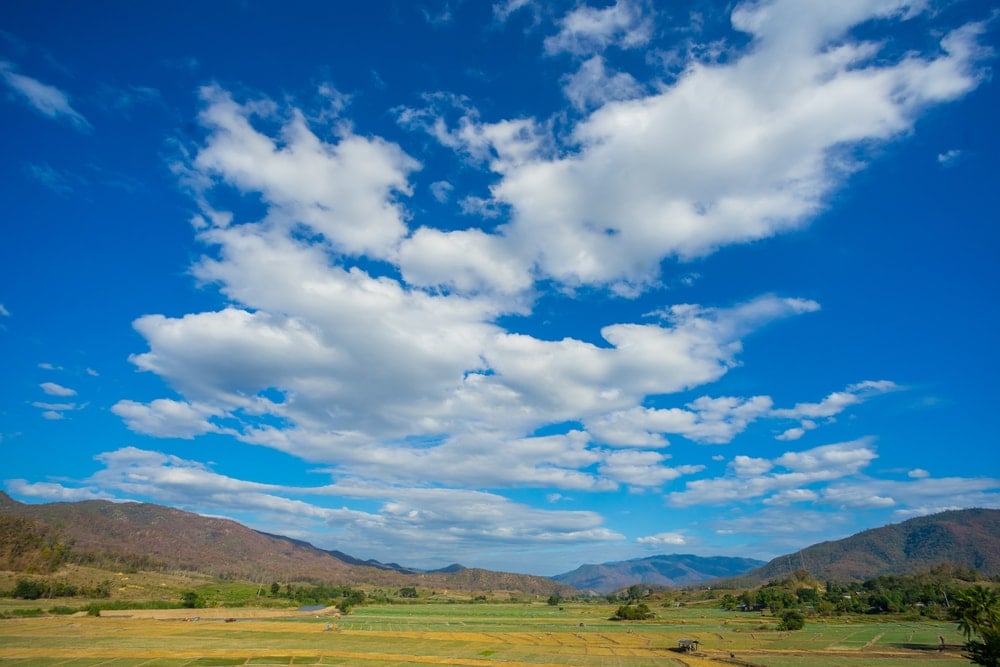 Backpacker Accommodation in Thailand
For me, one of the most exciting things about being on the road is meeting new people and staying in new places. And what better place than Thailand to really jump into backpacker culture by staying in some of the most kickass hostels in Southeast Asia. The hostels in Thailand are backpacker meccas and great for meeting fellow travellers, exchanging exciting travel stories, and just chilling out.
There is an insane amount of accommodation options all around Thailand ranging from the squalid to the regal. It is usually possible to arrange accommodation as you go, on the day, by turning up and asking around. The notable exception is Koh Phangan at Full Moon which does fill up with annoying kids so we advise booking ahead.
If you are backpacking Thailand on a budget, you could also try Couchsurfing. This is another great way of meeting locals and exploring the local culture. You can save a few bucks since CouchSurfing is free.
Where to Stay in Thailand
| Location | Accommodation | Why Stay Here?! |
| --- | --- | --- |
| Bangkok | Smile Society hostel, Bodega, Bed Station Hostel | My favourite hostel here was the Smile Society hostel - a cozy little place, conveniently located to explore nearby spots. |
| Chiang Mai | S*Trips - The Poshtel, Thai Thai | S*Trips - The Poshtel is a kickass hostel and just a walk away from the Night Bazaar where you can try some amazing local food. They have reliable wifi too. |
| Pak Chong | Hello Hostel Pakchong |  Located right next to the pak chong train station and within walking distance to the bus terminals. The staff are friendly & can arrange your day tours. |
| Khao Sok National Park | Khaosok Treehouse Resort, Coco Khao Sok | Compared to Khao Yai, there are some pretty great accommodation options here which are pretty easy on the pocket. Check out the Khaosok Treehouse Resort if you want to stay somewhere really special. |
| Koh Samui | Kingston Jamaica hostel, Lotus Hotel, Samui Backpacker | My top choice here would be the Kingston Jamaica hostel. It has a pretty chilled backpacker vibe going. |
| Kanchanaburi | Sky Resort Kanchanaburi, Sam's House | You'll find some pretty great resort properties for cheap here. Check out Sam's House |
| Pai | Tribal Pai Backpackers, Purple Monkey | Tribal Pai is a great up & coming hostel. Its backpacker friendly, has chilled vibes & i can assure you that you'll extend your stay "one more night". Purple monkey is cool too, the pool is a little run down but they make delicious caesars! |
Top Things to Do in Thailand
There are literally too many awesome things to do in Thailand and you won't fit them in to a single trip/single lifetime. Here are some of the best things to do in Thailand.
1. Party Like a Machine!
Probably the most popular backpacker party in the world is the Full Moon Party in Koh Phangan. 20,000 people partying until sunrise on Haat Rin beach, Koh Phangan. It is extremely touristy, boozy, and the music is shit, but it is still worth a look.
I personally prefer the half-moon and Shiva Moon parties as there are not quite so many people and so prices do not skyrocket as much. Suffice to say, you'll find plenty of parties and nightlife in Koh Phangan that you dig, but you may just need to look outside the standards.
Option three is just getting fucked up partying in Bangkok...
2. Get a Sak Yant Tattoo
Learn about these magical, spiritual tattoos and get inked by a monk for a truly unique experience. This is an adventure that will stick with you for the rest of your life.
3. Go Jungle Trekking
There is some great jungle trekking in Northern Thailand. If you choose to go trekking make sure to go on a multi-day hike. The most popular places to go jungle trekking are Chiang Mai and Chiang Rai (Chiang Rai is totally worth a visit too).
All that said, personally, I prefer the trekking in Myanmar or Laos.
4. Go Scuba Diving
Many backpackers fall in love with scuba diving whilst in Thailand. The country offers incredible diving opportunities in crystal clear waters with abundant marine life and plenty of wrecks for the underwater adventurer. The best islands for diving are the Similan Islands and Koh Tao, but no doubt the cheapest place to learn is the island of Kao Tao. Check out this article from Diving Squad for the ultimate guide to Scuba Diving in Thailand.
5. Learn to cook
No Thailand travel guide could be complete without a mention of the tantalising food that pops up on every corner, at every hour. Thai food probably ranks as my favourite food in the whole world and many tourist areas offer Thai cooking class. Learn how to cook up amazing flavorful dishes, so that you can take your skills back home with you and keep the Thai food train rolling. It's a memorable experience to try out on the backpacking route in Thailand.
6. Stretch your booty!
It may not be India, but that doesn't mean there isn't plenty of yoga retreats in Thailand. My ex did her yoga teacher training in Thailand and let me tell you... I was extremely grateful for that!
Speaking of teachers you can't sleep with at the end of class, check out Freedom Yoga in Chiang Mai. It's run by my amigo Adam. Adam knows his shit, is impressively flexible, and manages to be an excellent yoga instructor without being a douchebag or preachy - a rare feat indeed 😛
If you are new to yoga, this is a great place to learn.
7. Climbing at Tonsai and Railay
You've also got some wicked rock climbing in Thailand's south, particularly close to Krabi. It's a chill life: wake up with a climb, down a mushie shake for brunch, hit the walls again before a lunchtime joint... Check out Tonsai and Railay Beach if you're keen to get stuck in the climber's bubble for a couple of weeks (or more).
8. See some Elephants Ethically
Look, we all adore elephants, but the sad truth is that not everywhere you go backpacking in Thailand will have the most upstanding treatment of the adorable fellows. If you want to see elephants in Thailand, do your research and find an ethical elephant sanctuary.
I've heard good things about Elephant Hills though haven't personally visited myself. Also, the Elephant Jungle Sanctuary (with several locations in Thailand) is an amazing organisation doing good work.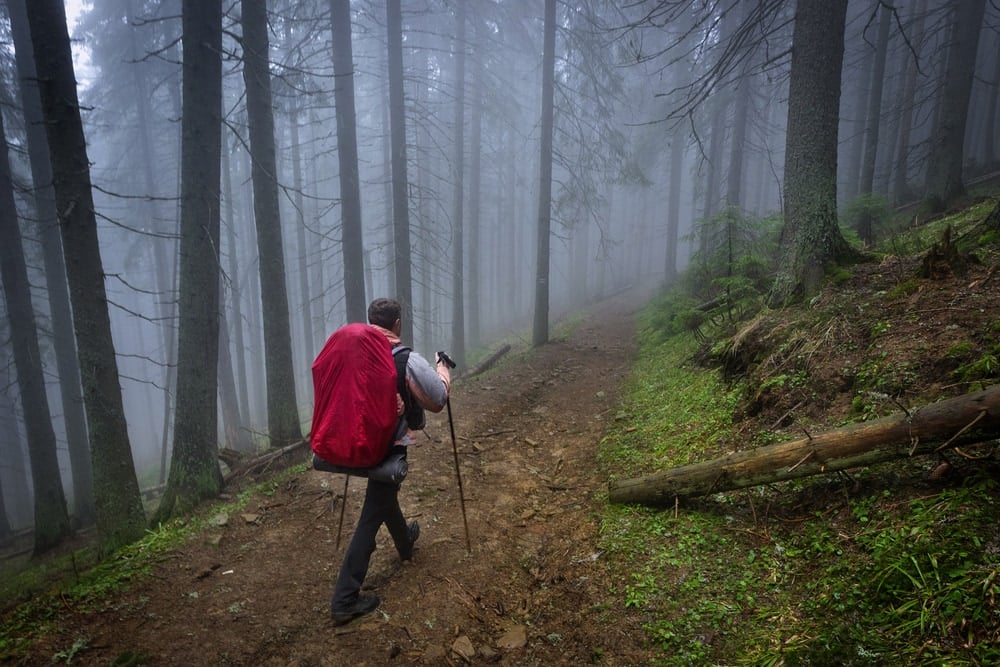 Thailand Travel Tips
Below I have covered everything you need to know before backpacking Thailand, including information on Thailand's culture and food, estimates on what things cost in Thailand, and an entire guide on how to travel in Thailand cheaply!
Best time to Travel to Thailand
The peak tourist season in Thailand is November to February when the weather is beautiful across the country but there's a high chance you'll run into a ton of tourists.
The really popular guesthouses fill up fast so this is a country where it can definitely be worth making reservations. It is difficult to find cheaper accommodation during peak season. The local people are a really friendly bunch and keen to help so if you have any problems don't be afraid to ask for directions from the locals.
It is best to avoid northern areas of Thailand during February to April as the burning season starts and mountains will slowly be covered in smoke.
Monsoon season is in the summer for most Thai islands, but make sure to check.
What to Pack for Thailand
Wondering what to pack for Thailand? On every adventure, there are six things I never go traveling without:
1. Security Belt with Hidden Pocket: I never hit the road without my security belt. This is a regular looking belt with a concealed pocket on the inside – you can hide up to twenty notes inside and wear it through airport scanners without it setting them off. This is hands down the best way to hide your cash.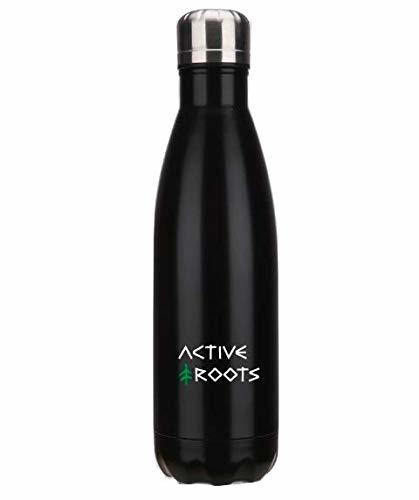 2.Travel Water Bottle: Always travel with a water bottle – it'll save you money and reduce your plastic footprint on our planet. AR bottle are tough, lightweight and maintain the temperature of your beverage – so you can enjoy a cold red bull, or a hot coffee, no matter where you are. For every AR bottle sold, we donate 10% to PlasticOceans.org – an initiative to reduce plastic in our oceans!
3. Microfibre Towel: It's always worth packing a proper towel. Hostel towels are scummy and take forever to dry. Microfibre towels dry quickly, are compact, lightweight and can be used as a blanket or yoga mat if need be.

4. Headtorch: Every backpacker should have a head torch! A decent head torch could save your life. If you want to explore caves, unlit temples, or simply find your way to the bathroom during a blackout, a headtorch is a must. Currently, I'm using the Petzl Actik Core rechargeable headlamp - an awesome piece of kit! Because it's USB chargeable I never have to buy earth polluting batteries.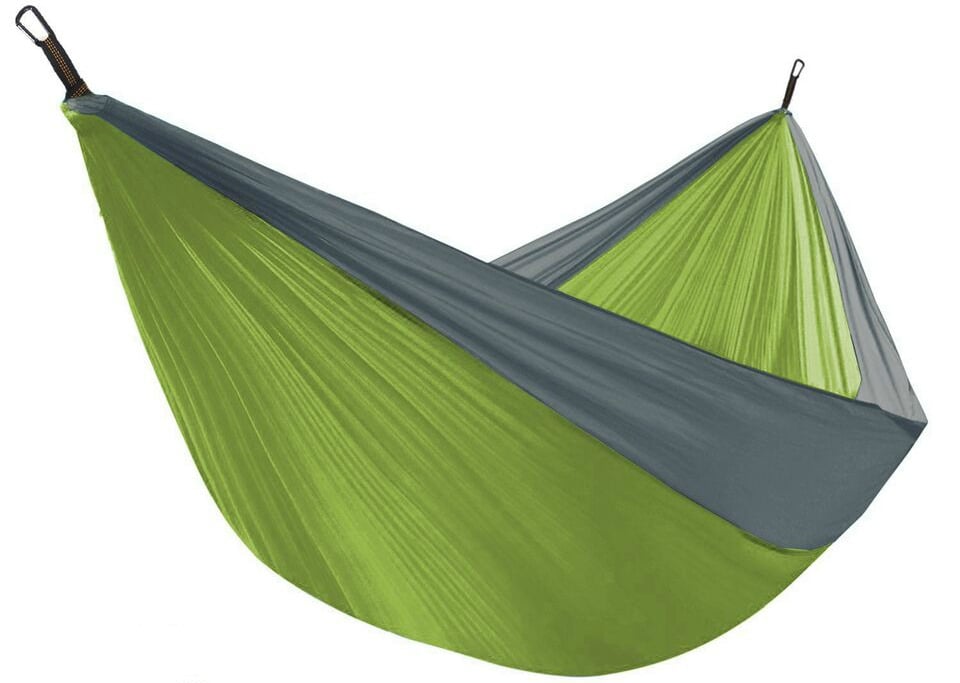 5.Hammock: Taking a tent backpacking is not always practical but hammocks are lightweight, cheap, strong, sexy (chicks dig hammocks) and allow you to pitch up for the night pretty much anywhere. Right now, I'm rocking an Active Roots parachute hammock – it's light, colourful and tough.
6. Toiletry Bag: I always travel with a hanging toiletry bag as it's a super efficient way to organise your bathroom stuff. Well worth having, whether you are hanging it from a tree whilst camping, or a hook in a wall, it helps to have quick access to all your stuff.
If you're continuing on the grand backpacking Asian adventure, check out our epic post on what to pack for Southeast Asia travels.
Books to read About Thailand
Having a good book for backpacking is a must! Grab a book for those lazy days staying in the hostel:
The Backpacker Bible – Get it for free! Learn how to ditch your desk and travel the world on just $10 a day whilst building a life of long-term travel with an online income. To inspire and help the next generation of Broke Backpackers, you can now grab 'How to Travel the World on $10 a Day' for free! Get your copy here.
Lonely Planet Thailand Travel Guide - It's always worth having a Lonely Planet packed away, plenty of useful info on bus routes and where to go.
A Thailand's Best Street Food: The Complete Guide to Streetside Dining - Thailand is known all over the world for its brilliantly spicy and whacked out cuisine. Carry this guide along to find the most bizarre and the yummiest food Thai street markets have to offer.
A History of Thailand - A great insight into Thailand's rich cultural and political history.
The King Never Smiles - This is the Biography of Thailand's Bhumibol Adulyadej, a Western born king who deftly shaped Thailand's political history.
Private Dancer - A thriller revolving around the popular private and pole dancing culture of Bangkok.
Bangkok Babylon - Inspired by Orwell and Hemingway, Jerry Hopkins recalls his first decade as a Bangkok expatriate by profiling twenty-five of the city's most unforgettable characters.
Useful Travel Phrases for Thailand
While many Thais speak English in the touristy areas, once you get off the beaten path, you'll find almost no one speaks English. Even in popular cities, only basic English is spoken. Knowing Thai travel phrases will not only help you get around Thailand, but it'll also help you connect with the culture!
Apps to Download before Backpacking Thailand
Staying Safe in Thailand
Honestly, Thailand is quite safe to visit, and the people are keen on helping you out! Thailand has some pretty wild parties though, and it's important to be aware of your surroundings, and careful with drugs and alcohol when you're out partying.
Sex, Drugs and Rock 'n' Roll in Thailand
Even though drugs are free-flowing in the half moon and full moon parties, Thailand has very very strict laws against the possession of drugs including imprisonment and the death penalty. Yup! They take drugs very seriously. So my advice would be to be extra cautious when it comes to drugs.
If you do fall foul of the Thai authorities, you should seek immediate legal advice and also contact your consul. There are English speaking lawyers and dedicated law firms in Thailand who specialise in helping tourists with legal problems in Thailand.
Pai is a well-known stoner hangout and it's easy to pick up weed on the Thai islands, but finding something in the cities can prove trickier. A lot of the time, the weed is low-quality brick weed. Shrooms are also easily available in both Pai and the islands and it is possible to pick up LSD and MDMA but the quality varies enormously and the price is usually high.
Every now and again, unfortunate backpackers do get roofied so be careful with your drinks and don't accept random shit from strangers.
Tinder is awfully common in Thailand but more as a hookup app than a dating app. If you are a white lad rocking up into Southeast Asia for the first time, you're in for a treat as you will suddenly be about ten times more attractive to the local girls than you are back home.
Don't be surprised if the girl you've been chatting up turns out to be a ladyboy... it happens. Prostitution in Thailand is very common indeed, but always be respectful no matter what your views are!
For tips on how to stay safe whilst getting fucked up, check out Blazed Backpackers 101!
Tips for Staying Safe in Thailand
Be smart, trust your gut, and stay safe in Thailand. Thailand is pretty chill but there are definitely things you need to keep your wits about you for:
Travel Insurance for Thailand
A wise man once said that if you can't afford travel insurance, you can't really afford to travel – so do consider backpacker insurance sorted before you head off on an adventure! Traveling without insurance would be risky. I highly recommend World Nomads.
I have been using World Nomads for some time now and made a few claims over the years. They're easy to use, offer the widest coverage, and are affordable. Also, this is the only company I know of that lets you buy travel insurance after leaving on a trip.
If there's one insurance company I trust, it's World Nomads. Find out why I recommend World Nomads, check out my World Nomads Insurance review.
Getting an estimate from World Nomads is simple - just click the button or image below, fill out the necessary info, and you're on your way!

Thailand Travel Guide - Getting In and Around
Arriving in Thailand
The best place to fly into is Bangkok. International airports are also located at Krabi, Koh Samui and Chiang Mai, but it's easier to fly into these from other Southeast Asian countries.
You can enter Thailand by border crossing from Malaysia, Cambodia, Myanmar and Laos. You can also take a boat from Indonesia or even a slow boat from Laos to Thailand on the mighty Mekong River.
Entry requirements for Thailand
Many nationalities can receive a thirty-day free visa waiver on arrival (if arriving by air; it's currently 15 days if you arrive overland). You can generally extend the waiver once, to receive an additional thirty days, for a fee of around $60.
If your nationality requires a pre-arranged visa or you want to sort out a Thai visa in advance, particularly for a longer stay, it is fairly simple to receive one a Thai embassy at home or abroad.
How to Travel in Thailand
Thailand is a pretty big country, and if you are short on time, you may want to consider taking the odd internal flight while backpacking in Thailand. AirAsia is a great low-cost airline but you need to book your tickets in advance before it fills up or the prices go up. You can also get around by train but this is often not as fast or punctual as travelling by bus.
Thailand is a relatively easy country to drive around, compared to many of the countries I've driven in any way, and many backpackers explore the country by motorbike. Most roads are marked in Thai and English so it is pretty straightforward to find your way around. If you bring a tent with your motorbike, you can sleep just about anywhere as well.
Night buses and overnight trains in Southeast Asia are a great way to save on a night's accommodation and get from A to B. As a whole, Southeast Asia is generally pretty well connected by trains.
Luckily, Grab (similar to Uber) is now readily available in Thailand! Grab is hand's down the best way to get around cities; the price is locked in on the app so you can't get ripped off and you can skip the haggling. Follow the link to grab yourself some free booking credit.
Hitchhiking in Thailand
Thailand is a great country to hitchhike in! As far as hitching goes, Thailand is a great place in Asia for the beginner hitchhiker earning their stripes. But you have to be persistent and make sure the locals understand where you need to go or you will end up getting dropped at a bus station.
Hitchhiking in Thailand is pretty safe and easy; just find a good spot where the traffic is nice and slow and stick out your thumb. If you are backpacking Thailand on your own, there is a good chance you can hitch a ride with motorbike riders.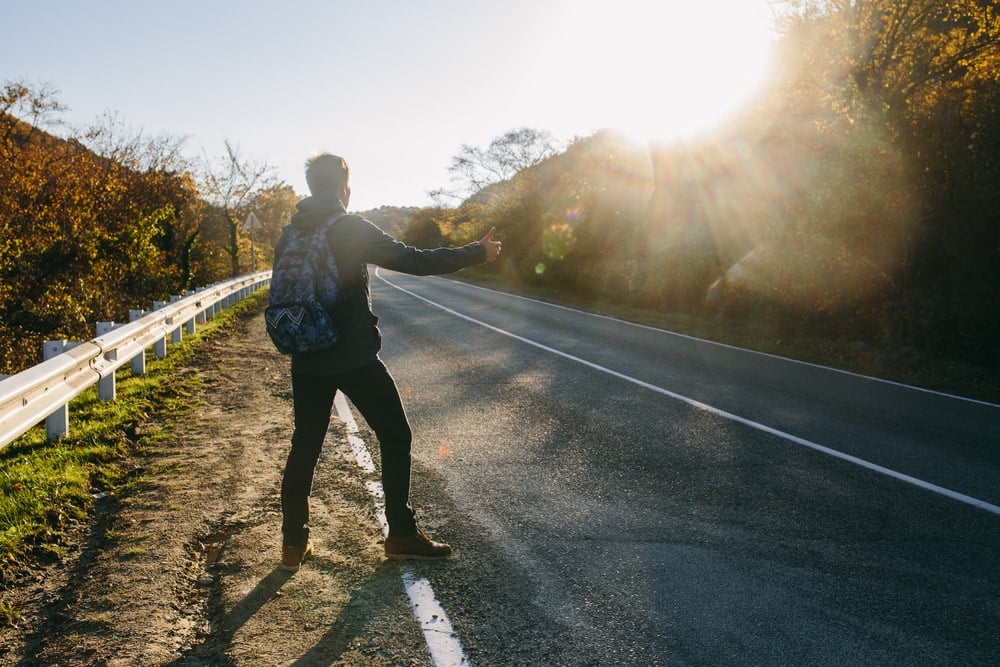 Onwards Travel from Thailand
There are four countries that share a border with Thailand:
Cambodia
Laos
Malaysia
Myanmar
Although neither China nor Vietnam border Thailand, their territories lie within 100 km of Thai territory and are easily accessible from Thailand. You can enter Thailand from any of these countries by flight, road, or boat.
Overall, unless you're heading home or to Australia to restock your travel budget, chances are you'll be heading somewhere else in Southeast Asia. Haven't decided where yet? Maybe our Backpacking Southeast Asia Regional Travel Guide can give you a little nudge.
Thailand Backpacking Costs
Although certainly still cheap in the global sense, comparative to other countries in Southeast Asia, visiting Thailand is more expensive. Below I have highlighted what things cost in Thailand in sections:
When you're ready to travel around Thailand, forgo buying tickets at the station and book them online instead! You can now book transport in advance for most of Asia using Bookaway and doing so can really save you some stress (and maybe money, too).
Money in Thailand
There are lots of international ATMs but many of these, charge pretty insane withdrawal fees, so it's advisable to avoid small ATM transactions and get out a bunch of cash at once. Just make sure you hide it well!
Top Tips for Visiting Thailand on a Budget
Make Money Online Whilst Backpacking in Thailand
Let's take teaching English one step further. Keen to live the digital nomad dream while travelling the world? Damn right you are!
Teaching English online is a great way to earn a consistent income from anywhere in the world with a good internet connection. TEFL certificate in-hand, you can teach English remotely from your laptop, save some cash for your next adventure, and make a positive impact on the world by improving another person's language skills! It's a win-win!
Check out this detailed article for everything you need to know to start teaching English online.
Whether you are keen to teach English online or in a foreign country, a TEFL certificate is absolutely a step in the right direction.
Internet in Thailand
As with much of the world, the internet in Thailand has become increasingly more reliable and fast. You can get free wi-fi at most hostels, hotels, cafes, etc. In the cities, you'll see that Thai people are always connected and on their phone.
You can also get a SIM card for data pretty cheaply.
Must-Try Experiences in Thailand
There is so damned much to see and do it Thailand. However, these are our quintessential must-try Thai experiences.
People in Thailand
The people in Thailand are some of the kindest and warmest people I have come across. The friendly aura of the Thai people is immediately noticed stepping off the plane, and despite Thailand being famous for its beaches and jungles, it's the people I come back for.
Thais are friendly, unpretentious, and generous. I feel like as a traveler it's still easy to make connections with Thais, whether it's at the market or at a bar.
Moreover, Thais are pretty accepting of different sexualities. While backpacking Thailand you'll hear about "ladyboys" a lot. Thais widely accept transgender people, as well as same-sex couples.
What to Eat in Thailand
Thai food is honestly amazing. Their noodles and curries are full of flavor without being too heavy.
Tom Yung Goong: A soup blended with fragrant lemongrass, chilli, lime leaves, shallots, and lime juice with fresh prawns and straw mushrooms.
Red Curry: Red curry paste made with coconut milk and meat, as well as kaffir lime leaves.
Pad Thai: A delicious noodle dish with a fish and peanut based sauce, as well as chili powder. This is probably the most internationally recognized dish in Thailand.
Khao Soi: This soup-like rice noodle curry dish is the most popular dish in the North of Thailand. It's made with deep fried and boiled egg noodles, pickled mustard greens, shallots, lime, ground chilies, and meat in coconut milk curry.
Check out this article on 40 Thai dishes for more inspiration!
Festivals in Thailand
Thailand has a lot of great festivals, but the two best are Songkran and the Festival of Light:
Songkran: Held in mid-April this is Thailand's traditional New Year. The entire country takes to the streets in the most epic water fights imaginable. I'm talking, water guns and buckets, people driving by in trucks spraying everyone in their path, etc. Everyone is having a good time, people are drinking, but not stupidly so, and it's a great way to have fun with Thais and experience their culture. The biggest celebrations are in Bangkok and Chiang Mai.
Loy Krathong (The Festival of Light): On the day itself, thousands of people will gather along canals and rivers, to set their Krathongs (made with banana leaves and beautiful flowers) free into the waters to float away.
In Chiang Mai, Khom Loy are also added to the celebration, which are 'floating lanterns' released the night of the festival.
Scuba Diving in Thailand on a Liveaboard Trip
Thailand has some of the world's best scuba diving venues (psst - the Similan Islands are sublime). The problem is, the word is out. Millions of tourists flock to Thailand every year to enjoy the wonderful diving the country has to offer.
Sadly, many of the ultra-popular Thai Islands' coral reef systems have been damaged by high human traffic volume.
If you love Scuba Diving there is still a great way to go diving minus the tourist hordes and further environmental impact.
Considering joining a Liveaboard trip. Most Liveaboard boats go to remote regions the average dive shop will not take you.
Eat, sleep, dive, repeat. That is the name of the game. Sounds pretty sweet, right?
Check out the awesome Liveaboard scuba diving trips here.
A Brief History of Thailand
Like much of South East Asia, Thailand was once roamed by gatherers and indigenous kingdoms. Unlike most of South East Asia, Thailand evaded European colonisation, and had their own colonies. However, in 1893 Thailand was forced to cede Laos to France. Later they also ceded Cambodia to France and Malaya to Britain.
In May 1946 Thailand formed a new constitution for Thailand was published, but there were still power struggles between kings.
In 1947 Field-Marshal Phibul staged a coup, and Thailand then became a military dictatorship. Over the decades people protested for a civilian government, and in 1992 after many student demonstrations the king stopped eventually returned Thailand to civilian government, and a new constitution was introduced in 1997.
There was another military coup in Thailand in 2006, but in December 2007 democratic elections were held again.
Final Thoughts on Backpacking Thailand
Being a Responsible Backpacker in Thailand
Reduce your plastic footprint: Perhaps the best thing you can do for our planet is to make sure you do NOT add to the plastic problem all over the world. Don't buy one-use water bottles, the plastic ends up in landfill or in the ocean. Instead, pack a tough travel water bottle.
Go and watch A Plastic Ocean on Netflix - it'll change how you view the plastic problem in the world; you need to understand what we are up against. If you think it doesn't matter, get off my fucking site.
Don't pick up single use plastic bags, you're a backpacker - take your daypack if you need to go to the shop or run errands.
Bear in mind, that many animal products in countries you travel through will not be ethically farmed and won't be of the highest quality. I'm a carnivore but when I'm on the road, I only eat chicken. Mass-farming of cows etc leads to the rainforest being cut down - which is obviously a huge problem.
Recently, my gear-venture, Active Roots has started to sell water bottles. For every Active Roots water bottle sold, we donate 10% to PlasticOceans.org – an awesome initiative aimed at educating people on the risk of single use plastic and helping to clean up our oceans. Help save the planet, whether you take an Active Roots bottle or not - TAKE RESPONSIBILITY for your plastic footprint, don't be a dick.
Need more guidance? - Check out our post on how to be a responsible backpacker.
Be Good to Thailand
Alright, now let's talk about getting wasted abroad. It's fun, I do it - quite a lot. But being wasted doesn't give you the right to be a twat. Writing your name in black marker on temples, chugging Chang beer while shirtless, swearing loudly and visiting unethical animal tourist attractions? You, Sir, are a twat. Luckily, most backpackers don't fall into this category but, when you're out and about and have had a few too many drinks, it can be easy to embarrass yourself.
It's easy to get carried away in South East Asia, everything is so damn cheap and so much fun. I'm in no way the perfect traveller; I've been the drunken idiot on the street. I know first hand just how hard it is to be the one person in a group to say no when somebody comes up with a stupid idea that, for some reason, everybody is down for.
By no means am I telling you not to drink, smoke and party. Do it and love it. Just don't get so drunk you turn into an imbecile your mum would be ashamed of. If you can't handle drinking buckets, then stick to beer. If you want to see Elephants, then go and see them but do your research first.
Look up ethical animal sanctuaries who treat and care for animals properly. Don't ride elephants. If you're not into seeing the temples, no worries but don't be disrespectful, inappropriate or deface them – certainly, do not try to wander in shirtless.
Wear a helmet when you hop on a motorbike in Asia. Despite being an experienced driver, I've had a total of three crashes in South East Asia over the last ten years. On the one occasion, I wasn't wearing a helmet, I split my head open and had to go to the hospital. It was an expensive mistake. The local people are sick of scraping foreigners off the road and, trust me, you don't look cool for not wearing a helmet.
Humans are humans; treat people you meet along the way with the same respect you would show your friends and family back home. You are not superior to anyone including the girls/guys walking the streets. Sex workers in South East Asia are people like you and me; they may enjoy what they do, or they may be on the darker side of it.
Regardless of your beliefs and thoughts on prostitution, remember this is another person with thoughts, feelings and a life outside of the sex industry too. You are not superior to these people, you just happen to be from a more privileged background.
Go to Asia and have the time of your life, do the things you've dreamed of but be respectful along the way. Travelling the world makes you an ambassador for your country, which is awesome.
We can make a positive impact on people when we travel and get rid of any ugly stereotypes that may be associated with your country…
Now You're Ready to Go to Thailand
Our Thailand Travel Guide was written so you can have everything you need to know to go on an incredible backpacking adventure across Thailand.
Thailand is a hell of a country: the people truly are lovely and the beaches truly are pristine; head on over now whilst you have the chance. Peace and love amigos 🙂
Yay for transparency! Some of the links in this post are affiliate links. This means that if you book your accommodation, buy a book or sort your insurance, I'll earn a small commission at no extra cost to you. I only link to stuff I've actually used and never endorse crap. Your support helps me keep the site going.
---
Need More Inspiration?
Like this post? PIN ME!!