When I say backpacking your first thought was probably of some young kids partying on the beach in Thailand. The fact of the matter is, backpacking Thailand is something of a rite of passage for first time backpackers.
With its lush jungles, famed beaches, world-class diving, delicious food, and crazy parties, you can see why! Plus, it's so easy to backpack on a budget in Thailand.
But beyond baby backpackers and full moon parties, there's a whole allure to this country that is rarely appreciated in its entirety. Thailand is truly a fascinating and beautiful country that deserves to be explored beyond its tourist hotspots. If you want to get the most out of your Thailand backpacking adventure, you should read this guide and then make up your own plan!
Try all the incredible street food. Wander off the beaten path and into the luscious northern stretches of the country or through the side alleys of Bangkok. Backpacking Thailand will be what you make of it.
So let's jump in! Let's get inspired to rediscover why backpacking Thailand is freaking amazing!
Why Go Backpacking in Thailand?
Possibly the most popular destination for backpacking in Southeast Asia, there are so many weird and wonderful places to visit in Thailand. Southern Thailand is home to some of the most beautiful beaches and islands in the world; the north of Thailand offers mysterious jungles and epic motorbike riding.
You could come and go backpacking just for the Thai food. Honestly, this country offers so much more than pad Thai – it has some of the best street food in the world! And, the street food is so cheap and such a cornerstone of life in cities that you can try some of everything! For me, it was the simple treats like chilli and watermelon that got me excited about eating out in Thailand.
There is a feeling that anything is possible in Thailand – and I do mean anything. You'll meet a lot of people (mostly a certain kind of ex-pat) who are living out their "dream" in Thailand and they fall into the seedier side of the country pretty quickly. You just don't face the same moral consequences here as you do back in the West.
Now, you could spend a month (or many months) going to full moon parties and blasting your way through Bangkok's finest (read: grungiest) establishments. Or you could join a silent meditation retreat, learn about yoga, motorbike through Northern Thailand, and explore the national parks.
Thailand also has some legendary SCUBA diving. In fact, many people learn how to dive in Thailand or become diving instructors here.
There's even some pretty legendary sailing around these parts! Maybe you try out boat life and are sold on a life on the ocean…
Whatever you choose to do when you go backpacking Thailand, know that you chose to do it. This is the country that many cut their backpacking teeth on – or even level up their digital nomad game. Either way, you write your own manifesto and create one hell of a journey for yourself.
And it's sure to be beautiful.
Generally, backpacking trips to Thailand, are split into the southern legs and the northern legs. Some backpackers only have two or three weeks in the country. In this case, I'd recommend sticking to one half of the country. It's always better to travel slowly!
But if you have a month or more in the country, then it's well worth combining the two backpacking Thailand itineraries I've outlined below. Neither half of the country is better than the other – just extremely different. And to truly get to know Thailand, you need to see the country from all angles.
Figuring out where to stay in Thailand is made a little easier once you know which half of the country you're travelling to. So before we get into travelling off the beaten path, let's dive into the highlights of travelling Thailand!
Backpacking Thailand 3 Week Itinerary pt 1: Thailand's Islands
Starting in Bangkok, Thailand's capital, make your way south to Phuket. If you go overland, make a side trip to Kanchanaburi, one of the beautiful national parks, though it makes more sense to fly for not that much more money. Check domestic flights beforehand.
Phuket is the gateway to the Andaman Sea in Southern Thailand. While touristy, Phuket has things to do for everybody: amazing beaches, boozy nights, one of the best Crossfit boxes in Southeast Asia, and Buddhist temples galore.
From Phuket, your next step is to travel Koh Phi Phi, also touristy, but known for its beautiful beaches, epic nightlife, and awesome places to stay.
Head to Koh Lanta next to take a break from all the partying – book ahead to ensure a bed at the best Koh Lanta hostels. With 2 weeks dedicated to the Andaman Sea, you can make it to Koh Lipe. Finally, end your trip by staying in the Krabi area. Here you can also extend a couple of days in Railay if you're big into rock climbing!
Next, it's time to explore the famous Gulf of Thailand, which includes Koh Samui, Koh Phangan, and Koh Tao. The infamous full-moon party is on Koh Phangan, though there are some chilled-out areas to stay in Koh Phangan instead as well as lots more to do on the island than just party! Koh Tao is known for its laidback diver vibe and incredibly affordable diving schools. Koh Samui is the most unpopular of the three; you really only come here to party.
Backpacking Thailand 3 Week Itinerary pt 2: The Central and North of Thailand
If you are flying internationally, you may fly to Bangkok. It's easy to get a domestic flight up to Chiang Mai, but if you want to take the slow route, head to Khao Yai first.
Just three hours north of Bangkok, this park is a great place to find wild elephants as well as hike and swim. It also has some crazy beautiful waterfalls that you need to trek a bit to reach – totally worth it!
You can also head to Umphang for some trekking. Here you can reach the 200m-high Tee Lor Su Falls by rafting and hiking your way through the jungle on a three-day trip.
Next, head to Chiang Mai, Thailand's capital with plenty to do! The digital nomad capital of Thailand, Chiang Mai mixes local and backpacker vibes like a perfect Cha Yen.
Need help deciding between Bangkok and Chiang Mai? Check out our helpful guide.
Spend 2 days in Chiang Rai checking out the temples, and allocate some solid time to staying in the hippy village of Pai high in the mountains. People get stuck in Pai; it's one of those places. Or maybe it's the mushrooms? 😉
Thailand has many layers to it. Even the most touristy places hide surprises and delights. It's obvious why they're some of the best places to visit in Thailand.
I loved exploring Bangkok as it only took a little bit of walking to discover local neighbourhoods and hidden markets that made you feel a world away from the tourists on the main streets. There are just so many places to visit in Bangkok you could spend an entire month here! Plus, Bangkok has a Skytrain! As a small-town girl, this REALLY impressed me!
Beyond the big cities are islands and coral reefs; jungles and mountains. The deeper you explore the country while backpacking Thailand, you too, will peel back this country's layers and find your own hidden gems.
Always, there will be life.
Backpacking Bangkok
This is the hectic heart of the backpacker scene in Southeast Asia. At first, backpacking Bangkok can be a hard sell. Parts of the city are gritty, claustrophobic, and full of people with ill intentions. Plus, the aesthetic of the city can feel like you've washed up in some dystopian tech future full of skyscrapers and slums, but no flying cars.
But once you lean into the city, it rewards you a hundredfold. Lumpini Park is Bangkok's answer to New York's Central Park. It's a great place to have your morning coffee while watching local life happen. You can soak up some nature while at the heart of the metropolis.
Breakfast, lunch, and dinner should all be from the innumerable street food carts. There is a cornucopia of fruits available (the dragonfruit in Thailand… oh man, it's good) as well as a huge range of curries, soups, and noodles. Beware though, if you ask for something to be spicy, the Thais will make sure you are pooping fire for the next four days. They seem to take spice as a personal challenge, so get ready to sweat!
When I travel to big cities I often enjoy what is considered "mundane". Taking Bangkok's sky train throughout the city and people watching was something I found genuinely fascinating. You have no idea just how diverse this city is until you ride through each of its districts.
Then there are the floating markets – an absolute must-do! Truth be told, there are plenty of temples, palaces, markets, and other things to do in Bangkok. PLUS the nightlife in Bangkok is fantastic!
A great day trip option is Bangkok to Ayutthaya where you can get your first glimpse of jungle temples reclaimed by nature. Whilst not as impressive as Bagan or Angkor Wat, Ayutthaya is still very cool.
All I'd say is: keep your wits about you in this city of saints and sinners!
Backpacking Kanchanaburi
Travelling is about going to places that are difficult as much as it is going to places that are beautiful or fun. And Kanchanaburi, while undoubtedly one of Thailand's most stunning places, also presents its own set of unique challenges.
In 1942 Kanchanaburi was under Japanese control and it was here that Asian forced labourers and Allied POWs were made to build the infamous 'Bridge on the River Kwai' as part of the 'Death Railway'. You should also take a look at the JEATH Museum. It does a really good job of putting the war in perspective even all these years on.
This sobering experience and point of reflection is an important reason to take the trip out here. But, it's also located near to some truly stunning waterfalls. Such is the poetry of life: it goes on. Where there once was so much suffering is now a town like any other.
While you're in town, you can also check out the Khmer ruins on the edge of town. It's a nice contrast of history to see the distant with the more recent.
Backpacking Khao Yai National Park
Just three hours north of Bangkok, this park is a great place to find wild elephants as well as hike and swim. It also has some crazy beautiful waterfalls that you need to trek a bit to reach- totally worth it.
You didn't just come to Thailand to swan around on beaches or drink alcohol out of a bucket. You came to explore the wilderness of a new country! And out here in Khao Yai, elephants occasionally squash cars and you're likely to see barking deer as well as hundreds of bird species.
Now, tigers have been seen by camera but are rarely seen by people. Still, the national park feels a world away from the bustling metropolis of Bangkok. Once upon a time, all of Southeast Asia was as wild as this so it's definitely worth a moment of reflection to think about the impact we humans have on the planet.
Bring your camping hammock with you and sleep the night in this beautiful national park for free! Camping is my favourite way to get right back in touch with the wilderness that is found in a place like Khao Yai.
Backpacking Chiang Mai
Most backpackers end up in this leafy laid back city at some point and with good reason. The historical, yet surprising cosmopolitan, walled city is surrounded by jungle and amazing hillside landscape. The area has become well known for homestay and hill-tribe trekking in Thailand. One downside, however, is that the treks here can sometimes feel commercialized, verging on a bit exploitive of the hill-tribe people.
I suggest either trekking elsewhere such as a national park or heading out on a longer trek to discover some more untouched areas, around the Myanmar border area. This way you're actually trekking and taking on the responsibility of a hike instead of being lead around some vaguely forested areas by a guide.
Chiang Mai itself is well worth visiting if not only for the vast array of temples, then for the quaint coffee shops that seem to match them in numbers, often serving locally grown coffee beans and free WiFi.
Chiang Mai has some of the most incredible street food out there so don't miss trying it out!
Prices for Thai massage are some of the cheapest I've come across and the massive night market is one of the best places to pick up souvenirs in the country.
There is a huge amount to do in Chiang Mai and it's largely considered the digital nomad centre of the world (for better or worse). Chiang Mai has become not only one of the best places in Thailand to visit but also to live.
There is a cinema, a Crossfit box, tons of meetups and events and it's very easy to slot into working life in Chiang Mai. So if you are thinking of pausing anywhere on your travels and need access to good WiFi, Chiang Mai is a good bet.
Backpacking Pai
A small town in the north of Thailand near Myanmar's border, Pai has recently made it onto the backpacker circuit and is super popular. I fucking love Pai. It's one of those special sticky spots that draws travellers in and somehow 4 weeks has passed! The drive from Chiang Mai to Pai is also especially epic if you do it by motorbike.
Pai is worth a visit in and of itself. There are incredible street food stalls, rolling hills, circus hostels, jazz bars (yes, jazz bars!) and parties that seem to roll well past dawn. Hippies and freaks are drawn here like moths to a flame partly because the weed and magic mushrooms are rather delectable. 😉
Now, if you have time, I strongly recommend getting closer to the Myanmar border and visiting some of the Karen villages in the area. The easiest way to do this is by motorbike.
When exploring these parts, you realise how many more layers there are to Thailand beyond the tourist bubbles. There are whole communities and tensions and beauty strewn throughout the far-flung corners.
There are also some cool and unique eco-resorts in Pai where your contributions help support local communities as well as lower your carbon footprint. Pai is such a special little getaway for any type of traveller – but especially for those digital nomads that end up living in Chiang Mai.
Backpacking Koh Samet and Koh Chang
Koh Samet and Koh Chang are good island alternatives to those in the south of Thailand. They're a bit closer to Bangkok, a bit less developed, and a bit less hectic than some places in the south. They're also conveniently close to Cambodia in case you were visiting there next!
To get to Koh Chang, you'll need to take a bus from Bangkok – there's one that departs near Khaosan Road – until you reach Trat, at which point you'll take a boat. Most companies include the connection in a single ticket.
Once you're on Koh Chang, it's just a matter of finding a place to stay and renting a bike. Most of the guesthouses are near the port and they can help you rent a scooter.
Avoid the elephant sanctuaries on Koh Chang. They reportedly are an unethical business of exploitive animal tourism.
Koh Samet is located before Koh Chang and a bit closer to Bangkok. You'll need to arrive in Rayong before taking a ferry to the island.
Koh Samet will be a similar experience to Koh Chang; maybe a bit more local as lots of Thais living in Bangkok like to escape here when they have the chance.
Island life promises an escape to anyone living in a city as chaotic and Bangkok. I quite enjoyed these islands as a way to make some Thai friends as much as to kick back with a beer and other travellers.
Backpacking Phuket
Phuket is the largest city in the south and the centre for things sleazy and debaucherous. In all honesty, staying in Phuket kinda sucks. I would only stay there for a night or two if I was on a layover or had the intention of making day trips. There are much better things to do around Phuket instead.
Head to Koh Yao Noi for an isolated treehouse experience. A fairly chilled-out place, it's a short boat trip from Phuket where I spent a week living in an incredible treehouse in the forest. If you want to disconnect from technology (there is no electricity) or have a romantic weekend away, I highly recommend checking out The Island Hideout!
Arguably the best national park in Thailand, Khao Sok, is also a 3-hour drive from Phuket. This palace offers caves, jungles, rivers, and gorgeous limestone scenery. You can explore the park by using its hiking trail, raft, canoe, or kayak through the Sok river. If you're lucky you may spot an elusive gibbon or two.
Ao Phang-nga National Park is also very close by. This place is famous for its surreal limestone towers and caves. Kayaking around the towers and through the caves is a really cool experience and definitely worth doing.
If you go with a tour operator, they will likely take you to Khao Phing Kan AKA James Bond Island, where scenes from The Man with the Golden Gun were filmed.
So basically, yes, there are some cool things to do AROUND Phuket, but not really in Phuket. Although, maybe it's a little wrong of me to say, but people-watching in Phuket is disgustingly delightful. 😉
Need help deciding between Phuket and Krabi? We've got you covered.
Backpacking Railay and Krabi
Railay and Krabi are ground-zero for all things climbing in Thailand. Here will find some of the most epic and exhilarating routes in all of Asia. If you've never climbed before, this is a great place to start!
Krabi is the main hub of the region. It's not on the coast proper, rather further inland. Most people catch the first boat they can find to Railay, Tonsai, or one of the other nearby beaches. There are a couple of hostels in town if you need to crash.
Tonsai and Railay are the most popular places to stay near Krabi. Railay is slightly more developed and a bit more refined. Tonsai is like a scene out of Lord of the Flies, complete with feral children. Stay in Tonsai if you want to party, or Railay if you want something a bit calmer.
From either Tonsai or Railay, you ca organize lots of different day trips. I absolutely recommend going deep water soloing, which involves climbing (without gear!) directly over the ocean. It's a bit nerve-wracking but totally worth it.
You can also arrange tours to the surrounding islands of Koh Poda, Tup, and Po Da Nak. There are quite a lot of places around Krabi worth seeing in fact.
Lots of people organize overnight trips to the legendary Koh Phi Phi islands from Krabi. These are among the most famous islands in Thailand – thanks to the film The Beach – and are justifiably gorgeous.
The problem is that the islands are pretty overrun these days and the scenery is at risk of being destroyed. There has been talk of limiting access recently – and they've done so at Maya Bay – but nothing has really changed yet.
Backpacking Koh Tao, Koh Samui, and Koh Phangan
Located on Thailand's eastern coast, these 3 islands, which are quite close to one another, all offer something unique.
Koh Phangan is where you'll find the (in)famous Full Moon Parties. They became so popular in recent years, that they started organizing one for each phase of the moon: there's a New Moon Party, Quarter Moon, and so and so forth. Locals put a stop to this because things got out of hand though.
The parties aren't really that great – just a bunch of sloppy tourists drinking horrible liquor from a bucket and burning themselves on flaming jump ropes. In fact, there are much better parties on the island.
Some of the parties last for several days. If you want to be present for all of them, stay somewhere on Koh Phangan (preferably on the east coast). Otherwise, stay on either Koh Samui or Koh Tao and make the trip over for one night.
Need help deciding between Phuket or Koh Phangan? Check out our helpful guide.
Koh Tao is the best place to dive in the area. It is probably the cheapest place to get your diver's license in Thailand and thus attracts a lot of aspiring dive masters. I preferred this island as you can still go over to Koh Samui
Even if you don't dive, Koh Tao is a very chill place and worth spending a day on still. There are some nice beaches around and nothing is too far away.
Koh Samui is the "resort island," mostly inhabited by older couples and Russians on holiday. It's much bigger than either Koh Tao or Koh Phangan, which means there is a bit more to do on Samui. It is definitely more expensive, but luckily there are some hostels dotted around the island still.
Off the Beaten Path Travel in Thailand
Thailand is definitely well on the beaten track as far as destinations go. Everyone loves to come here and everyone wants to keep coming back.
The thing is, people really love to come to the same destinations within the country. So, it doesn't take a lot to step off the tourist trail and see another side of Thailand.
Even as far as tropical islands go, you can find small islands that are totally uninhabited. If you're exploring Southeast Asia by boat then you can truly go Robinson Crusoe and live off coconuts away from any people. Some of the better diving spots are pretty offbeat as well – the Similan Islands come to mind.
Koh Tarutao and Koh Phayam are two of the other islands that are more laid back and will deliver some seriously good vibes.
If you want to get off the beaten path but meet people while you're at it, you need to head to Thailand's borders. Whether you're in the north near Myanmar, or down south near Malaysia borders are where things get interesting. I'm hesitant to recommend that everyone go exploring here, as there is sometimes tensions that flare up. However, the cultures are very interesting and the people are welcoming, too.
The jungles are unmatched and you certainly don't feel like you're in Thailand anymore. If you want to travel off the beaten path you simply have to avoid the tourists. 😉
There are literally too many awesome things to do in Thailand and you won't fit them into a single trip! Now, a best-of list will inevitably ruffle some feathers, but this is a good start if you're looking for some of the best things to do in Thailand.
1. Go Scuba Diving
Many backpackers fall in love with scuba diving whilst in Thailand. The country offers incredible diving opportunities in crystal clear waters with abundant marine life and plenty of wrecks for the underwater adventurer. The best islands for diving are the Similan Islands and Koh Tao, but no doubt the cheapest place to learn is Kao Tao.
2. Party Like a Machine!
Probably the most popular backpacker party in the world is the Full Moon Party in Koh Phangan. 20,000 people partying until sunrise on Haat Rin Beach, Koh Phangan. It is extremely touristy, boozy, and the music is shit, but it is still worth a look.
I personally prefer the half-moon and Shiva Moon parties as there are not quite so many people and so prices do not skyrocket as much. Suffice to say, you'll find plenty of parties and nightlife in Koh Phangan that you dig, but you may just need to look outside the standards.
Option 3 is just getting fucked up partying in Bangkok… Now that I can get behind.
Looking for something a bit different? There are a bunch of other festivals in Thailand to consider.
3. Go Jungle Trekking
There is some great jungle trekking in Northern Thailand. If you choose to go trekking make sure to go on a multi-day hike. The most popular places to go jungle trekking are Chiang Mai and Chiang Rai (Chiang Rai has some great hostels and the city centre is totally worth a visit too).
All that said, personally, I prefer trekking in Laos.
4. Chow Down on Amazing Street Food
Dude. Duuuuuuuuuuude, Thai food probably ranks as my favourite food in the whole world. It's spicy in a way that kind of knocks you on your ass but goddamn it's so flavoursome. There's a huge variety of types of food too, but all of it focuses on fresh ingredients.
So not only are papaya salads and tom yum soups delicious, but they're also available from every street cart. The street food in Thailand is cheap and off the charts delectable. Eat your way through this country's pure goodness.
5. Learn to Cook Said Epic Food
Now that you've eaten your way through a city or two, it's time to upskill. Learn how to cook up amazing flavorful dishes, so that you can take your skills back home with you and keep the Thai food train rolling. It's a memorable experience to try out on the backpacking route in Thailand. Plus, you don't want to go home with only the memory of this incredible food – you need to be able to recreate it for yourself!
6. See Some Elephants ETHICALLY
Look, we all adore elephants, but the sad truth is that not everywhere you go backpacking in Thailand will have the most upstanding treatment of the adorable fellows. If you want to see elephants in Thailand, do your research and find an ethical elephant sanctuary.
At the end of the day, I really don't think that riding elephants can ever be ethical but that doesn't mean you can't try and spot them in the wild. You can even go to the national parks and simply watch them in their natural habitat.
7. Climbing at Tonsai and Railay
You've also got some wicked rock climbing in Thailand's south, particularly close to Krabi. It's a chill life: wake up with a climb, down a mushie shake for brunch, hit the walls again before a lunchtime joint…
Check out Tonsai and Railay Beach if you're keen to get stuck in the climber's bubble for a couple of weeks (or more).
8. Stretch Your Booty!
If you are new to yoga, this is a great place to learn. It's no India when it comes to the scale of yoga retreats, but there are certainly a lot around. You can also embark on fitness retreats in Thailand if you want to tone up or lose weight.
I think it can be such a great skill set to incorporate into your travels. You get to keep fit on the road while also focusing your attention on your mental health.
The yoga classes in Thailand tend to be more chill than in India, too. It's definitely a nice introduction to yoga practice.
9. Explore Northern Thailand by Motorbike
Travelling by motorbike is (in my humble opinion) one of the best ways to travel a country – and Thailand is no exception! Backpacking Northern Thailand is already going to be a bit of an adventure because it takes you rather off the beaten path and into the epic jungles.
Being able to control your own itinerary and camp alongside your bike is an awesome way to see Thailand up close and it's way easier to do this when you travel by bike. Plus, the locals are always pretty curious about your bike and your adventure!
No Motorbike? Go with Global Work and Travel
Northern Thailand can also be explored by those who'd prefer an itinerary with Global Work and Travel, an online platform with opportunities to volunteer, teach English, go on tours and more. They've got broke backpackers in mind, as they offer the chance to pay in interest-free instalments that you get to choose. The Northern Thailand: Hilltribes & Villages Tour is just one of the choices available for those wanting to explore Northern Thailand and beyond. Bring your appetite, there's a lot of street food involved.
10. Go Island Hopping
Look, whether you live the boat life or whether you jump on the rickety ferries that run between the islands, you've got to see some of these paradises up close.
If you want to party then you're going to want to hit up some of these islands. But in my opinion, you should head for the more low key islands. Not only is the diving better but you get to actually relax and destress on island time.
For me, one of the most exciting things about being on the road is meeting new people and staying in new places. And what better place than Thailand to really jump into backpacker culture by staying in some of the most kickass hostels in Southeast Asia.
The hostels in Thailand are backpacker Meccas. They and great for meeting fellow travellers, exchanging exciting travel stories, and just chilling out.
There is an insane amount of accommodation options all around Thailand ranging from the squalid to the regal. It is usually possible to arrange accommodation as you go, on the day, by turning up and asking around.
The notable exception is Koh Phangan at Full Moon which does fill up with annoying kids so we advise booking ahead. Hostel life is one of the highlights of people's backpacking years – even if it can be a bit of love/hate!
If you need a break from the hostel life or don't think it really sounds like your thing, you can always try out one of Thailand's premier Airbnbs. As with most things in Thailand, they aren't super expensive but they are top-notch quality. Staying in an Airbnb can be a lovely break – even for the broke backpacker.
Another way you can keep the cost of your accommodation down is by camping in Thailand. All it takes is a good tent a little bit of discretion and the backcountry is your oyster.
Best Places to Stay in Thailand
Although certainly still cheap in the global sense, compared to other countries in Southeast Asia, visiting Thailand is more expensive. A beer costs around $3 and a bed in a hostel will set you back between $5 and $10.
A lot of attractions in Thailand are cheap or even free, and transport is not too expensive either. Some of the bigger activities like SCUBA diving or trekking will be more expensive, for obvious reasons. Without too much effort, you can keep your daily costs in Thailand under $20.
Below I have highlighted what things cost in Thailand in sections:
When you're ready to travel around Thailand, forgo buying tickets at the station and book them online instead! You can now book transport in advance for most of Asia and doing so can really save you some stress (and maybe money, too).
Money in Thailand
There are lots of international ATMs and credit and Debit cards are widely accepted in the more built-up areas such as Bangkok. But many of these, charge pretty insane withdrawal fees. So it's advisable to avoid small ATM transactions and get out a bunch of cash at once. Just make sure you hide it well!
For all matters of finance and accounting on the road, The Broke Backpacker strongly recommends Wise – The Artist Formerly Known as Transferwise! Our favourite online platform for holding funds, transferring money, and even paying for goods, Wise is a 100% FREE platform with considerably lower fees than Paypal or traditional banks.
And yes, it's even better than Western Union!
Top Tips for Visiting Thailand on a Budget
To keep your spending to an absolute minimum whilst travelling in Thailand, I recommend sticking to the basic rules of budget backpacking…
Camp: With plenty of gorgeous natural places to camp, Thailand is an excellent place to take a tent. Check out this post for a breakdown of the best tents to take backpacking.
Cook your own food: I took a backpacking gas cooker with me to Thailand and cooked a lot of my own meals whilst hitching and camping. I saved a fortune.
Couchsurf: Couchsurfing is a brilliant way to save some dollars in your Thailand backpacking budget AND connect with locals – boom!
Haggle: Haggle your holy heart out! A room, a trinket, a few g's of mushies – doesn't matter!
Hitchhike: In Thailand, it is so, so easy to thumb a ride and it is an ace way to keep your transport costs down and instead spend it on smashing experiences. So hitchhike as much as you can when backpacking Thailand.
Keep it Local: Where possible drink the local beer, eat the local delicacies, and for day trips, try to use local companies. By using local companies you can haggle a bargain price that larger, international tour operators won't offer. Plus supporting local businesses thrive is awesome!
Why Should You Travel to Thailand with a Water Bottle?
There's nothing worse than showing up to a picture-perfect beach, only to discover plastic bottles littering the sand. Whilst there's a lot that we can do when it comes to travelling responsibly, reducing your plastic consumption is one of the easiest and most impactful things you can do.
Don't buy one-use water bottles, don't take plastic shopping bags, and forget straws. All of this just ends up in landfills or in the ocean.
One way to get around this is by investing in a premium filtered travel bottle like the Grayl Georpress. You can filter any kind of water, save money on buying endless plastic bottles – and sleep easy knowing you're not contributing to the plastic bottles lining our beautiful beaches.
So when is the best time to travel to Thailand? The peak tourist season in Thailand is November to February when the weather is beautiful across the country but there's a high chance you'll run into a ton of tourists.
The really popular guesthouses fill up fast so this is a country where it can definitely be worth making reservations. It is difficult to find cheaper accommodation during peak season. The local people are a really friendly bunch and keen to help so if you have any problems don't be afraid to ask for directions from the locals.
It is best to avoid northern areas of Thailand from February to April as the burning season starts and mountains will slowly be covered in smoke.
Monsoon season is in the summer for most Thai islands, so you can chill on the beach and enjoy yourself!
What to Pack for Thailand
Wondering what to pack for Thailand? On every adventure, there are six things I never go travelling without:
Honestly, Thailand is quite safe to visit, and the people are keen on helping you out! Thailand has some pretty wild parties though, and it's important to be aware of your surroundings, and be careful with drugs and alcohol when you're out partying.
Being smart and trusting your gut are the keys to staying safe in Thailand. Look, if you follow standard backpacking safety tips, you should be fine.
I'd watch your drink when you're out and keep an eye out for taxi scams. But honestly, most people don't mean you any harm so as long as you keep your head down and have a good time – you'll be more than ok.
Sex, Drugs, and Rock 'n' Roll in Thailand
Even though drugs are free-flowing in the half-moon and full moon parties, Thailand has very very strict laws against the possession of drugs including imprisonment and the death penalty. Yup! They take drugs very seriously. So my advice would be to be extra cautious when it comes to drugs.
If you do fall foul of the Thai authorities, you should seek immediate legal advice and also contact your consul. There are English speaking lawyers and dedicated law firms in Thailand that specialise in helping tourists with legal problems in Thailand.
But drugs on the road are almost inevitable, so let's talk about 'em! Pai is a well-known stoner hangout and it's easy to pick up weed on the Thai islands, but finding something in the cities can prove trickier. A lot of the time, the weed is low-quality brick weed. Shrooms are also easily available in both Pai and the islands and it is possible to pick up LSD and MDMA but the quality varies enormously and the price is usually high.
Every now and again, unfortunate backpackers do get roofied so be careful with your drinks and don't accept random shit from strangers.
Tinder is awfully common in Thailand but more as a hookup app than a dating app. If you are a foreigner rocking up into Southeast Asia for the first time, you're in for a treat as you will suddenly be about ten times more attractive to the local girls than you are back home.
And, I'd be avoiding the elephant in the room if I didn't talk about the sex industry in Thailand. Everything is cheap in Asia, including the services of sex workers. This has led to an industry in Southeast Asia that can be very ethically murky.
Regardless of your opinion on sex working in general – and whether or not you engage with sex working services – there is no reason for you to not have respect for another human being.There are enough people in this world with bad intentions and rotten hearts.
But you know that. While love and sex on the road are bound to happen, you can still be a good human about it. 🙂
Travel Insurance for Thailand
Travelling without insurance would be risky so do consider getting good backpacker insurance sorted before you head off on an adventure.
I have been using World Nomads for some time now and made a few claims over the years. They're easy to use, professional, and relatively affordable. They may also let you buy or extend a policy once you've started your trip and are already abroad which is super handy.
ALWAYS sort out your backpacker insurance before your trip. There's plenty to choose from in that department, but a good place to start is Safety Wing.
They offer month-to-month payments, no lock-in contracts, and require absolutely no itineraries: that's the exact kind of insurance long-term travellers and digital nomads need.
SafetyWing is cheap, easy, and admin-free: just sign up lickety-split so you can get back to it!
Click the button below to learn more about SafetyWing's setup or read our insider review for the full tasty scoop.
The best place to fly into is Bangkok. International airports are also located at Krabi, Koh Samui, and Chiang Mai, but it's easier to fly into these from other Southeast Asian countries.
You can enter Thailand by border crossing from Malaysia, Cambodia, Myanmar, and Laos. You can also take a boat from Indonesia or even a slow boat from Laos to Thailand on the mighty Mekong River.
Entry Requirements for Thailand
Many nationalities can receive a 30-day free visa waiver on arrival (if arriving by air; it's currently 15 days if you arrive overland). You can generally extend the waiver once, to receive an additional 30 days, for a fee of around $60.
COVID has changed the visa situation a little bit. Select countries are not required to have a visa for tourism purposes for up to 30 days, but those wishing to stay longer will still have to apply for an appropriate visa.
If your nationality requires a pre-arranged visa or you want to sort out a Thai visa in advance, particularly for a longer stay, it is fairly simple to receive one at a Thai embassy at home or abroad.
Thailand is a pretty big country, and if you are short on time, you may want to consider taking the odd internal flight while backpacking in Thailand. AirAsia is a great low-cost airline but you need to book your tickets in advance before it fills up or the prices go up. You can also get around by train but this is often not as fast or punctual as travelling by bus.
Thailand is a relatively easy country to drive around, compared to many of the countries I've driven in any way, and many backpackers explore the country by motorbike. Most roads are marked in Thai and English so it is pretty straightforward to find your way around. If you bring a tent, you can sleep just about anywhere as well.
Night buses and overnight trains in Southeast Asia are a great way to save on a night's accommodation and get from A to B. As a whole, Southeast Asia is generally pretty well connected by trains.
Luckily, Grab (similar to Uber) is now readily available in Thailand! Grab is hand's down the best way to get around cities; the price is locked in on the app so you can't get ripped off and you can skip the haggling.
Hitchhiking in Thailand
Thailand is a great country to hitchhike in! As far as hitching goes, Thailand is a great place in Asia for beginner hitchhikers earning their stripes. But you have to be persistent and make sure the locals understand where you need to go or you will end up getting dropped at a bus station.
Hitchhiking in Thailand is pretty safe and easy; just find a good spot where the traffic is nice and slow and stick out your thumb. If you are backpacking Thailand on your own, there is a good chance you can hitch a ride with motorbike riders.
Onwards Travel from Thailand
There are 4 countries that share a border with Thailand. Although neither China nor Vietnam border Thailand, their territories lie within 100 km of Thai territory and are easily accessible from Thailand. You can enter Thailand from any of these countries by flight, road, or boat.
Overall, unless you're heading home or to backpack Australia to restock your travel budget, chances are you'll be heading somewhere else in Southeast Asia.
While Thailand is relatively easy to backpack under your own volition, it remains a very popular country to explore by way of joining an organised tour. Organised tours are particularly valuable to those who are maybe inexperienced travelers, are short on time, or solo travelers in Thailand who would prefer to join a ready made friendly group of like minded folk.
If you are looking to backpacking around Thailand but don't have the time to plan things yourself, then maybe take a look at Feel Free Travel who are among the best providers of organised Thailand tours. Their flexible payment options, with deposits starting at under $2, make them every broke backpackers dream. Their South to North: 15 day Thailand Group Tour is very like much a 'best of Thailand' in a well thought out 2 week itinerary. You get experience a perfect balance of culture, adventure, chill time and nightlife.
Lots of digital nomads have based themselves in Thailand and there are sizeable communities spread throughout the country (according to recent digital nomad stats). You can thank Thailand's low cost of living combined with a relatively high standard of living for this.
Chiang Mai is an extremely popular place and is not only of the best places in Thailand for digital nomads but arguably all of Asia. Gatherings, like Chiang Mai SEO Conference, happen every year and these are great opportunities to network.
Others prefer to work out of Bangkok or one of the more well-connected islands in the south, like Koh Samui. Honestly, though just about any major city in Thailand is a good place to base yourself if you're a digital nomad.
The internet in Thailand has become increasingly more reliable and fast. You can get free wi-fi at most hostels, hotels, cafes, etc. In the cities, you'll see that Thai people are always connected and on their phones. You can get a SIM card for data pretty cheaply.
Teaching English in Thailand
Teaching English in Thailand is an extremely popular way to extend your travels here! Most people signup for some sort of organized placement. In this case, most of their living expenses and teaching fees will be covered. These placements are predictably quite expensive.
It is possible to just start backpacking in Thailand and then find a job on the ground. If you had a TEFL license before, your odds of landing a gig while abroad would be much higher. That being said, they aren't always mandatory.
If you wanted to become accredited, use MyTEFL. Broke Backpacker readers get a 35% discount on TEFL courses with MyTEFL (simply enter the code BACKPKR).
Volunteering in Thailand
Volunteering abroad is an amazing way to experience a culture whilst giving something back. There are loads of different volunteer projects in Thailand ranging from teaching, to animal care, to agriculture to pretty much everything!
Thailand is an incredible destination, but the low-income wages mean backpacker volunteers are greatly appreciated. There are loads of opportunities to make a difference, including farming, childcare, and English teaching.
There is also an increasing number of technical jobs available, such as web design and SEO. You won't need a special visa if you're staying for less than 30 days, but you'll need a 60-day visa if you're staying for longer.
If you want to find volunteering opportunities in Thailand, then we recommend that you signup for Worldpackers – a volunteer platform that connects local hosts directly with travelling volunteers. As a Broke Backpacker reader, you'll also get a special discount of $10 when you sign up. Just use the discount code BROKEBACKPACKER and your membership is discounted from $49 a year to only $39.
Volunteer programs run through reputable work exchange programs like Worldpackers are usually very well-managed and reputable. However, whenever you are volunteering, do stay vigilant especially when working with animals or children.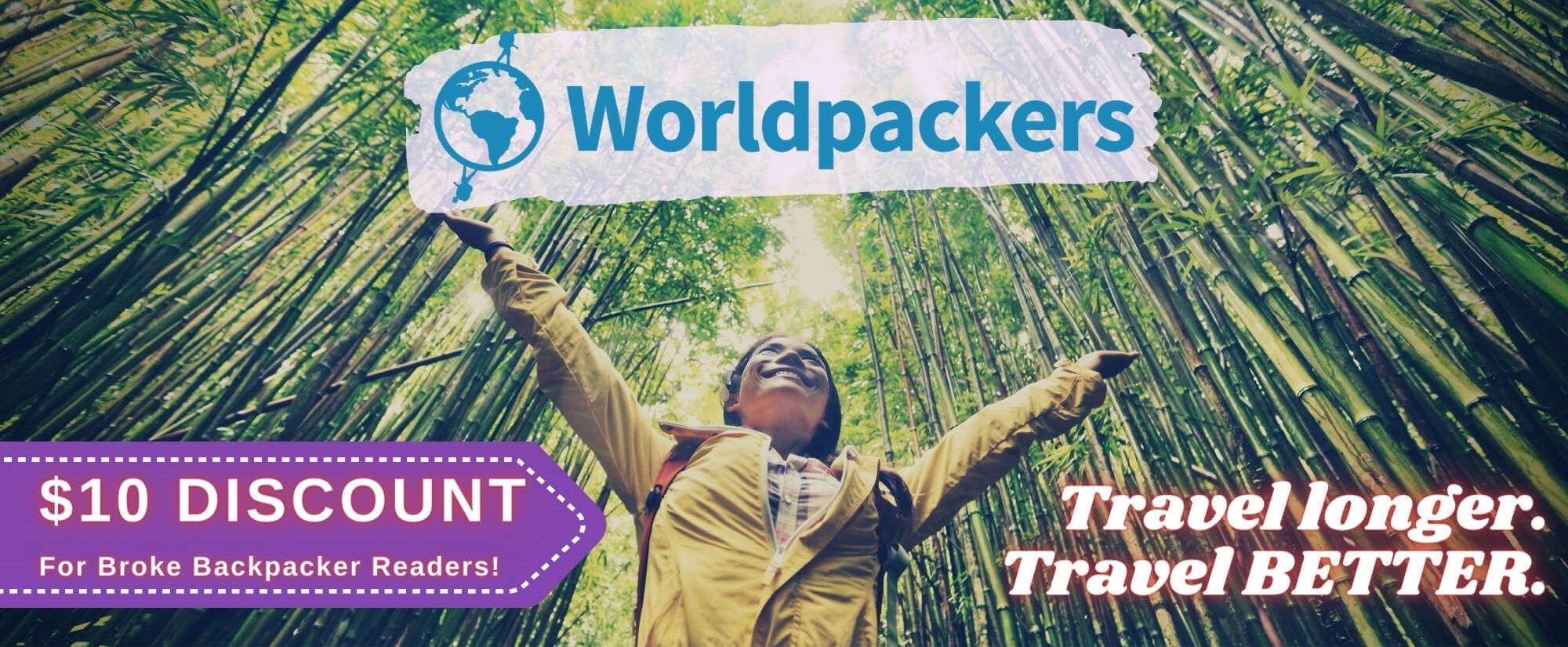 Worldpackers: connecting travellers with meaningful travel experiences.
The people in Thailand are some of the kindest and warmest people I have come across. The friendly aura of the Thai people is immediately noticed stepping off the plane, and despite Thailand being famous for its beaches and jungles, it's the people I come back for.
Thais are friendly, unpretentious, and generous. I feel like as a traveller it's still easy to make connections with Thais, whether it's at the market or at a bar.
Moreover, Thais are pretty accepting of different sexualities. While backpacking Thailand you'll hear about "ladyboys" a lot. Thai people widely accept transgender people, as well as same-sex couples. You may meet transgender people from across Southeast Asia who have ended up in Thailand precisely because it is so welcoming of LGBT travellers and people.
The Buddhist culture in Thailand preaches non-violence and acceptance, so most of the time it's extremely difficult to get Thai people visibly angry or upset. But don't mistake this for them not being upset.
Also, it's frowned upon to get into loud disputes so keep that in mind when you're drinking. You don't want to get carried away if you're trying to start a life in Thailand.
Useful Travel Phrases for Thailand
While many Thais speak English in touristy areas, once you get off the beaten path, you'll find almost no one speaks English. Even in popular cities, only basic English is spoken. Knowing Thai travel phrases will not only help you get around Thailand, but it'll also help you connect with the culture!
What to Eat in Thailand
Thai food is honestly amazing. Their noodles and curries are full of flavour without being too heavy. They know how to cook something mouthwatering out of thin air.
As well as tasting absolutely wonderful, Thai food is one of the healthiest foods in the world.
Prepared with fresh ingredients, vegetables, herbs, and either rice or noodles, each dish is different but delicious! emember eating a particularly fabulous papaya salad on the beach and thinking, damn how is this so simple but so good?
The other amazing thing about eating in Thailand is that it's all done on the street. Everything you can possibly want to eat can all be found cheaply and accessibly from street carts. This is such a communal and special way of eating out and I'd highly recommend getting as many meals as possible from the best street food in the world!
Plus, the streets just always smell good… Oh, Thailand I miss you.
A Brief History of Thailand
Like much of Southeast Asia, Thailand was once roamed by hunter-gatherers before a series of kingdoms came to rise and fall. The first of these kingdoms were heavily influenced by India; some of the later by China and Malaysia. The Thai kingdom that the first European explorers came to know was in conflict with both the Burmese kingdoms and the Khmer kingdoms.
Unlike most of Southeast Asia, Thailand evaded European colonisation and had its own colonies. However, in 1893 Thailand was forced to cede Laos to France. Later they also ceded Cambodia to France and Malaysia to Britain. This obviously fostered some anti-imperial sentiments.
Thailand tried to remain neutral during World War II but eventually chose to ally with Japan who promised Thailand that their former colonies would be returned to them from Western Imperial powers. Japan invaded and there was always a lot of support for the Free Thailand movement due to atrocities like the Burma-Thailand railway, and constant bombing by the allies.
In May 1946, Thailand formed a new constitution for Thailand was published, but there were still power struggles between kings and the military. In 1947 Field-Marshal Phibul staged a coup, and Thailand then became a military dictatorship. The reason that Thailand remained close to the USA during the 20th century is that they were also anti-communist and were allied with the US against their Southeast Asian neighbours like Vietnam and Laos.
There was no unified support for the US, with many students wanting a more democratic and egalitarian society – not one led by kings and generals.
Over the decades, people protested for a civilian government, and in 1992 after many student demonstrations the king stopped eventually returned Thailand to civilian government, and a new constitution was introduced in 1997.
There was another military coup in Thailand in 2006, but in December 2007 democratic elections were held again. Yet, the royal family remain an important – if very controversial – staple in Thai life.
There is an increasingly large generation gap with many young people pushing for further democratic reforms and the older generation being content with the monarchy. However, in a lot of ways, this is a continuation of the tensions of the last century of the military vs the royalty vs democracy.
Thai people have put up with a lot and they are very proud of their country and willing to fight and make it a better place.
There is so damned much to see and do it Thailand! It's a storied country with incredible scenery, a rich culture, and delicious food to enjoy.
However, if there's one activity that stands out more than any other as a unique experience in Thailand… it's SCUBA diving. Truly, the diving here is off the charts incredible but it's also affordable to get your certification. This is where many people dive for the first time and become HOOKED.
Scuba Diving in Thailand
Thailand has some of the world's best scuba diving venues (psst – the Similan Islands are sublime). The problem is, the word is out. Millions of tourists flock to Thailand every year to enjoy the wonderful diving the country has to offer.
You can get your certification in Koh Tao or Koh Samui but it's other islands that take the cake when it comes to the best diving. Anywhere in the Andaman Sea is going to put on a delightful show for you. The soft corals are glorious here, as are the multitude of sea life they attract.
Koh Lanta and Koh Phi Phi islands give you a good chance of swimming with manta rays, while the more offbeat Surin Islands give you a better opportunity for swimming with whale sharks. The more offbeat islands like the Surins or Similans are best explored by liveaboard. Because unless you have your own boat being on a liveaboard is the only way to get out here.
Luckily some of the best liveaboard experiences are right here in Thailand! Eat, sleep, dive, repeat. That is the name of the game. Sounds pretty sweet, right?
You've got questions about backpacking in Thailand and we've got answers! Before you head off, ask your questions and do your research to have a more enjoyable trip once you arrive.
Thailand is a country that too many people barely scratch the surface of. It's easy to get caught up in the party going, drunken blur and forget to actually visit Thailand. But it's also easy to get caught up in the cynicism and avoid Thailand altogether.
Both would be a mistake.
This country has so much to offer in terms of natural beauty and rich cultural history. I ended up making some really close friendships with some of the Thai people I met while living here – and this was truly special for me.
Thailand can become a home away from home loaded with all the imperfections and joys of your motherland. Buuuttttt, the food is better here. 😉
So be good to Thailand. Enjoy what is sure to be an epic adventure in the land of blessed coral reefs, jungle mountains, and pad Thai. And make sure you leave the campsite cleaner than you found it, so to speak. We want to make sure that those who come after us are able to have an epic adventure in Thailand too.
Hopefully, I'll see you somewhere in the north of Thailand one day as we both go on an epic Southeast Asian backpacking Thailand adventure. Until then, peace out!
---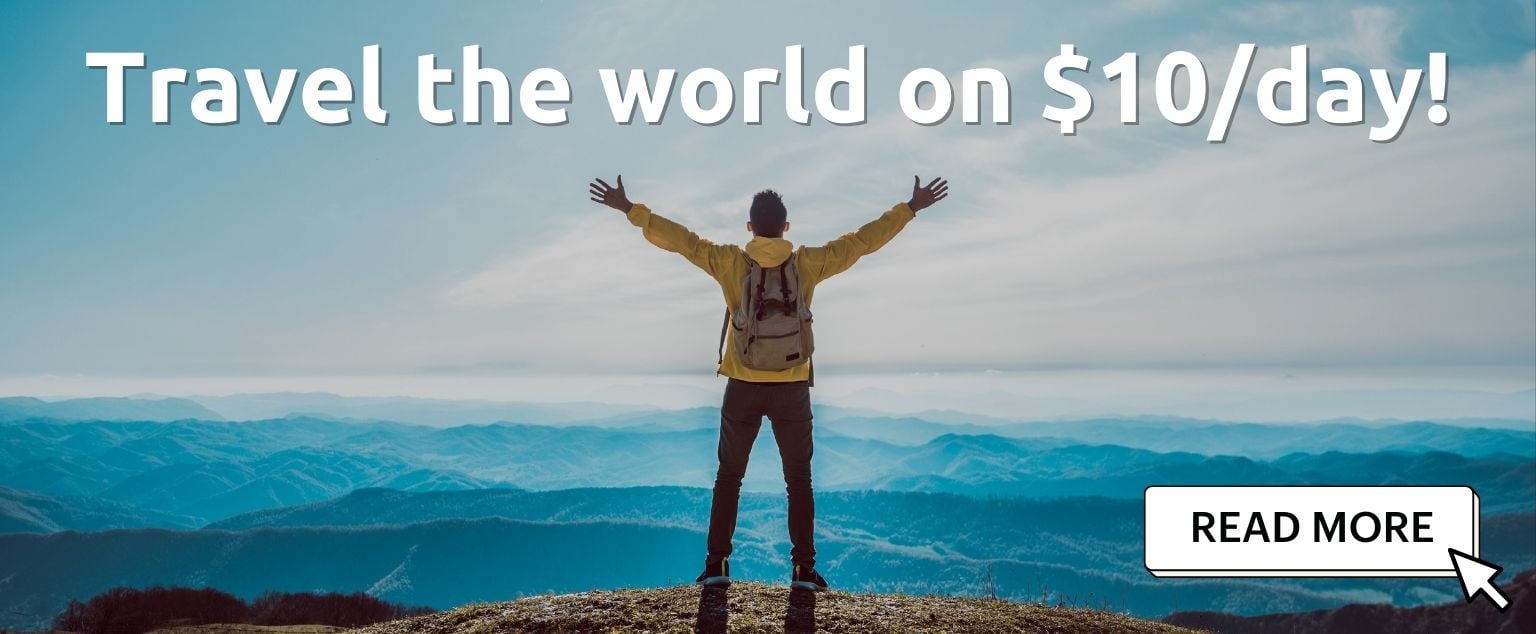 And for transparency's sake, please know that some of the links in our content are affiliate links. That means that if you book your accommodation, buy your gear, or sort your insurance through our link, we earn a small commission (at no extra cost to you). That said, we only link to the gear we trust and never recommend services we don't believe are up to scratch. Again, thank you!