Koh Samui is honestly a slice of Thai paradise that you REALLY need in your life. No matter what anyone says, this place is still one of the most stunning spots in the country.
And it's not just beaches: there are a million things to do in Koh Samui. Exploring nature, going snorkelling, checking out the night markets – there's a lot to discover. But when you want to get off the tourist trail, what then, huh? What then?
Don't worry though: we've gathered together some of the most off the beaten track things to do on Koh Samui so that you can properly get stuck into this awesome island. Our epic guide has you sorted when it comes to finding the weirdest, coolest, most romantic (and even cheapest) things to do in this slice of paradise!

Unlock Our GREATEST Travel Secrets!
Sign up for our newsletter and get the best travel tips delivered right to your inbox.
Where To Stay In Koh Samui
Before we get into the Things To Do, let's take a look at where to stay in Koh Samui.
The Chill Inn Beach Cafe and Hostel is located close to Lamai beach in Koh Samui. It boasts a friendly atmosphere while offering single bunk beds in mixed dormitory rooms. Each guest gets access to a private locker and a shared bathroom with hot showers. A free wifi connection is also available in the hostel. Our top pick of the best hostels in Koh Samui.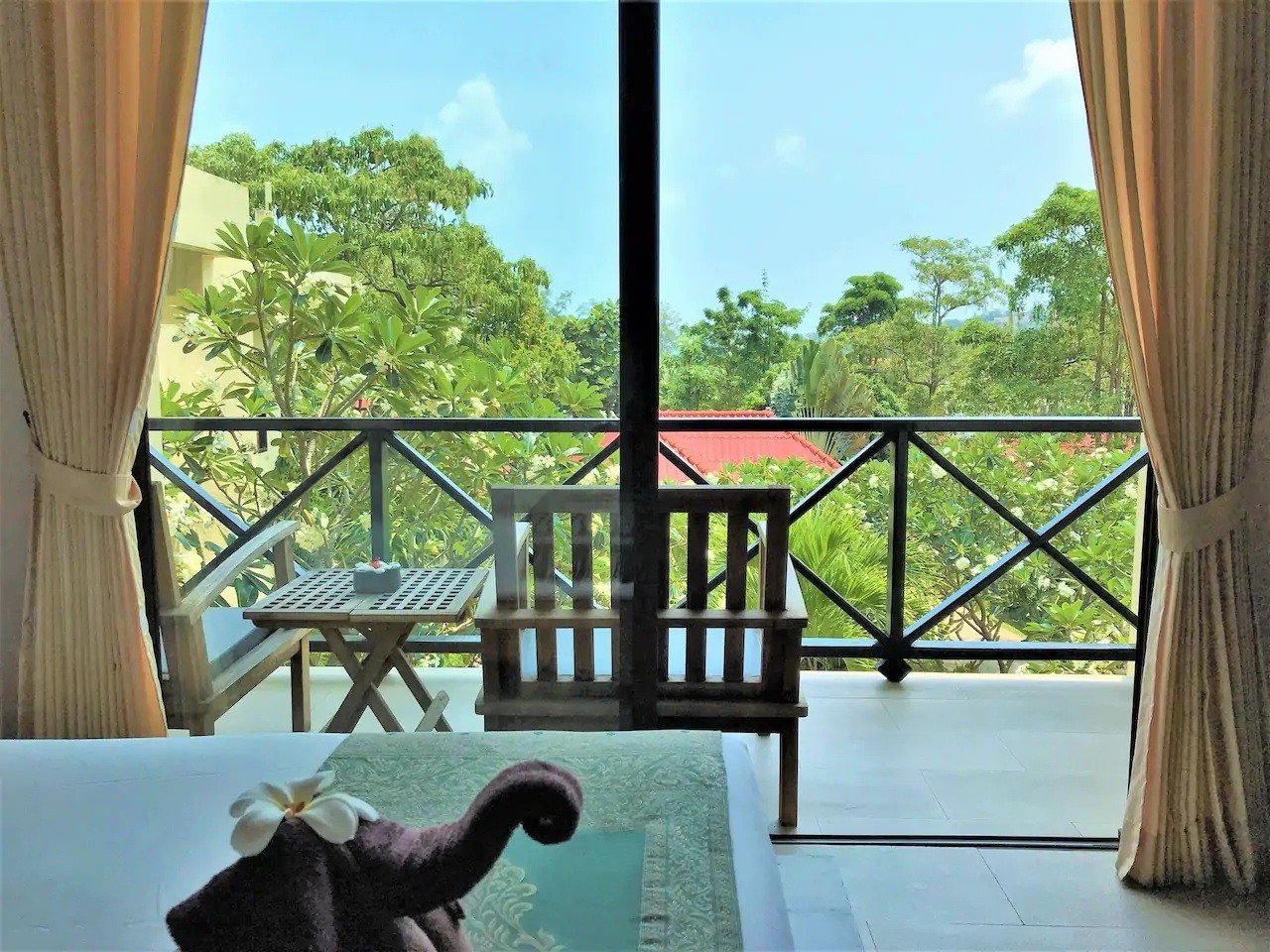 Located only 300m away from the beach and walking distance from all the shops, restaurants and massage parlours, this highly rated boutique resort is an excellent choice for a stay in Koh Samui for your first time. This full size air conditioned room includes a king bed, a wardrobe, a flat screen TV, a private balcony and fast WifFi. Guests also have access to a shared swimming pool, a pool table, a restaurant, a bar and a library.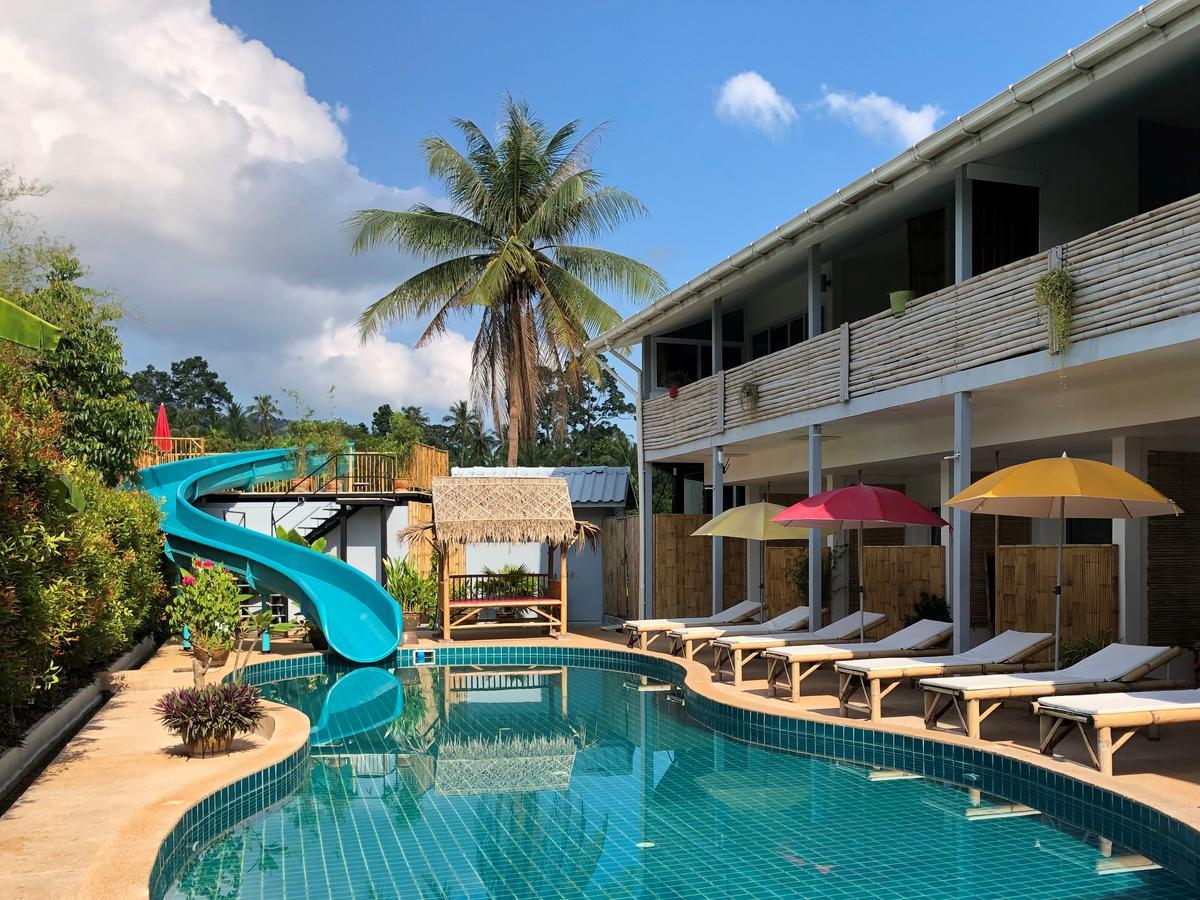 The Samui Zenity Hotel is located close to Mae Nam beach, with a free shuttle available from the hotel to the beach. The hotel also offers scooter rentals for those who wish to be more independent. The rooms are spacious and have a terrace with access to the common swimming pool.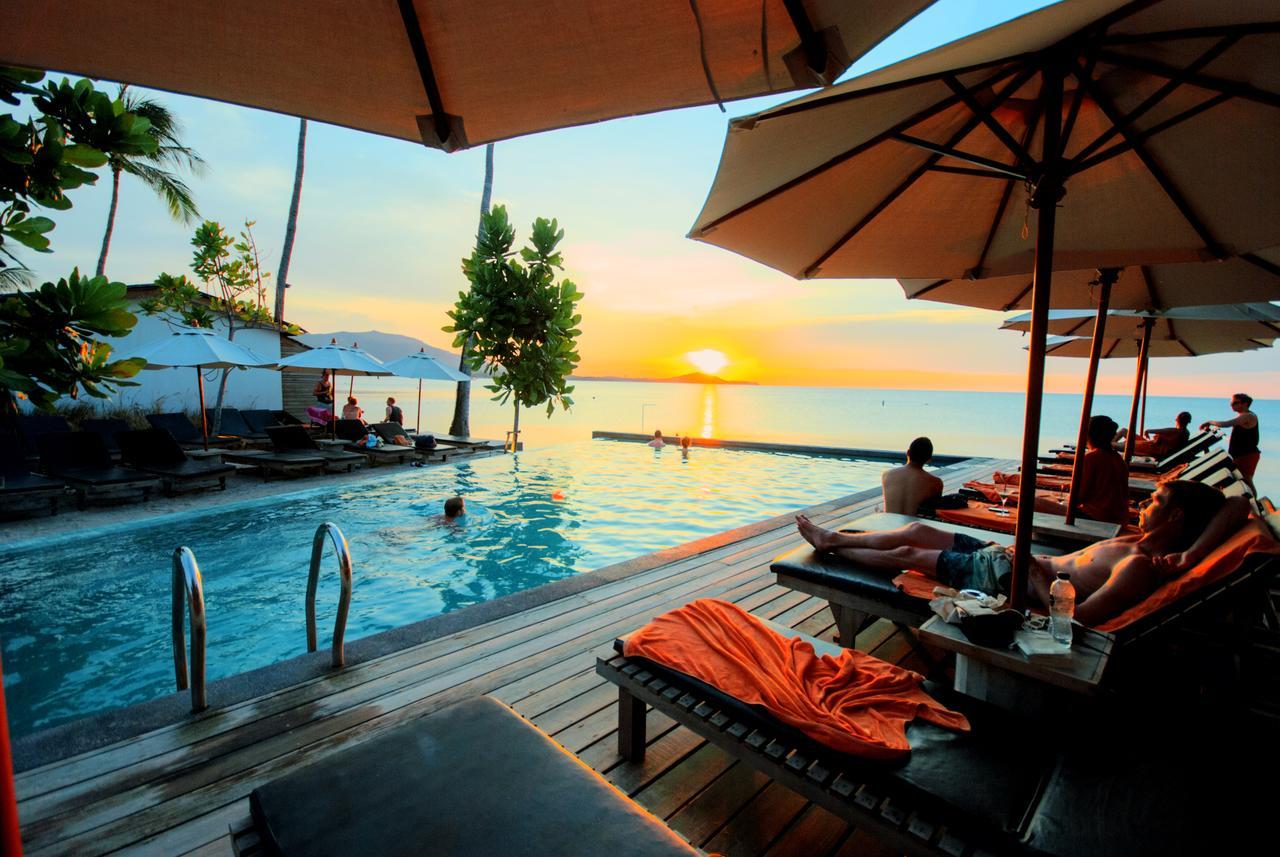 The Escape Beach Resort is located right on the beachfront in Mae Nam, in Koh Samui. The resort has an outdoor swimming pool with a bar overlooking the sea, as well as a restaurant serving Thai and international dishes. The rooms are located both on the main building and in private bungalows and have a private bathroom and air conditioning.
And if you really want a memorable stay, consider staying in an Eco-resort in Koh Samui where your contributions will help lower your carbon footprint as well as support the local community.
Top Things to Do in Koh Samui
1. Discover life under the ocean
Koh Samui being Koh Samui, there's a LOT of sea going on here. And what's more, a lot of stuff going on beneath the sea. So for a quintessential thing to do in Koh Samui, get yourself to the beach, don your snorkel and away you go! There's plenty of marine to be seen in the colourful reefs in some just offshore. For the best experience, however, we'd recommend getting yourself on a day trip from Koh Samui to the blissful Koh Taen. There's some prime white sand beaches here too!
2. Soak up the views from Lamai Viewpoint
This Thai island is known for its nature and the best place to visit in Koh Samui to take it all in is the Lamai Viewpoint. Set on the side of a jungle-clad cliff, you can sit at this epic spot with a few drinks and simply appreciate the panoramic views from atop the mountain, all the way out to sea. It's not 100% off the beaten track since it's been made into an "official" viewpoint, but it's still one of the coolest things to do in Koh Samui. Who wouldn't like whiling away a few hours in a chilled bar with such an awesome view going on?
FIRST TIME IN KOH SAMUI
Choeng Mon
Choeng Mon is a stretch of beach located on the northeastern tip of Koh Samui. It is close enough to the airport to be convenient, but far enough from it to not be disturbed by the planes coming in and out.
Places to visit:
Get some quiet time at the beach
Enjoy some fine Thai food with your feet in the sand
Watch a stunning sunset over the Gulf of Thailand
3. Eat your way around the island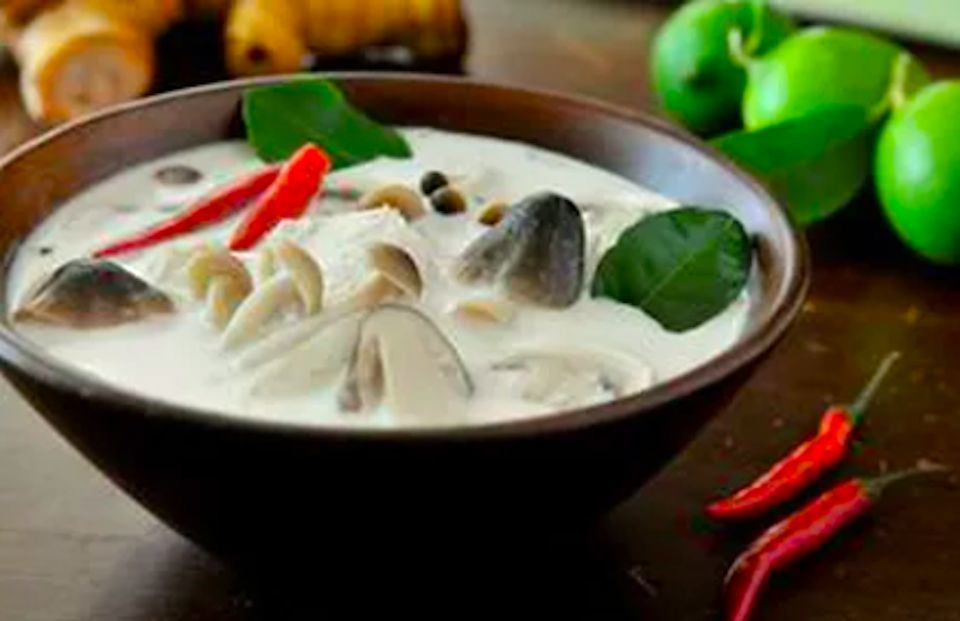 Thai food is famous for being, well, AMAZING and the food on Koh Samui is no different.
There's a ton of different markets, roadside stalls, local eateries, and other restaurants to get involved with. But for one of the more un-touristy things to do, we'd recommend heading away from the night markets and heading to the more local-oriented markets to see where the amazing food starts off as a sea of ingredients. Heck, we'd even say go one step further and take a few cooking classes to impress the folks back home!
4. Zipline through the jungle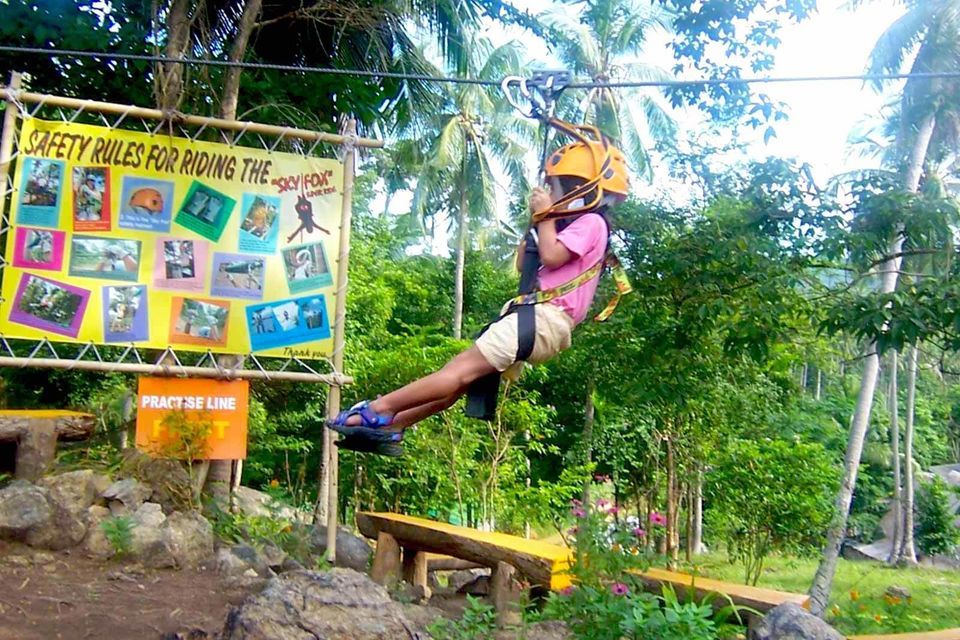 One of the most adventurous things to do in Koh Samui, ziplining through the jungle is honestly super cool. Koh Samui may be known for its beaches, but there's a WHOLE lot of jungle going on here. So for a real adrenaline-pumping adventure, get yourself in the thick of the jungle and find a reputable company who's going to let you fly through the jungle. We'd recommend Sky Fox, which has a bunch of different zip lines connecting platforms. A very fun way to see the jungle – especially if a sweaty trek through it ain't your jam.
5. Explore the Buddhist temples on the island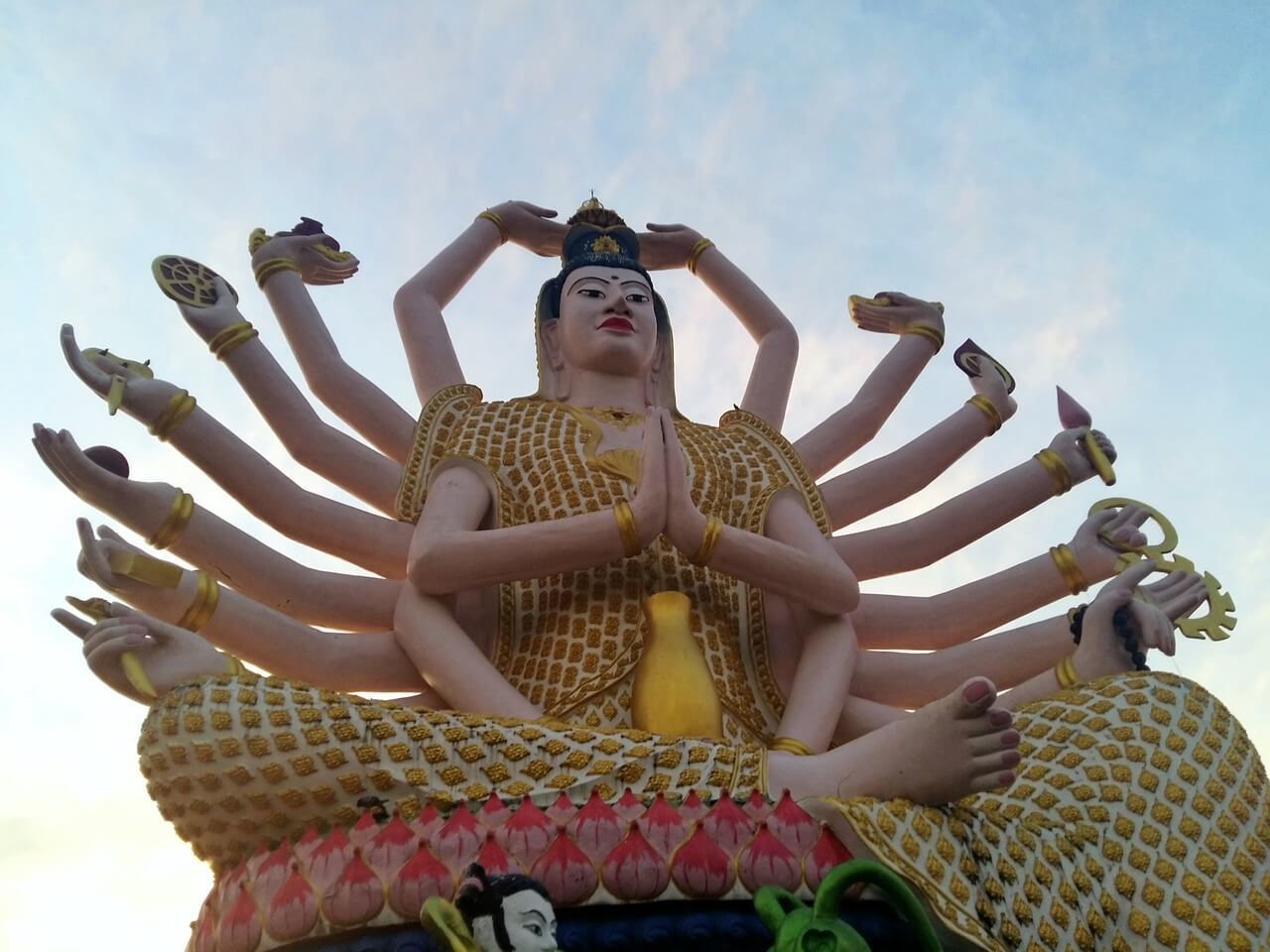 Like a lot of Thailand, this island has its fair share of Buddha statues and temples and some of them are actually super impressive. We're talking Wat Plai Laem, a lakeside temple with a HUGE statue of Guanyin (18-armed statue that will get you snapping Instagram pics) as well as the "laughing Buddha" (aka Budai). Then there's Wat Phra Yai and its' 12-metre-high gold Buddha statue. There's definitely enough around the island to get your Insta full of sometimes pretty bizarre pics. One of the more unique things to do in Koh Samui. The temples are amongst my favourite places to visit in Koh Samui.
6. Taste the local rum at the Magic Alambic Rum Distillery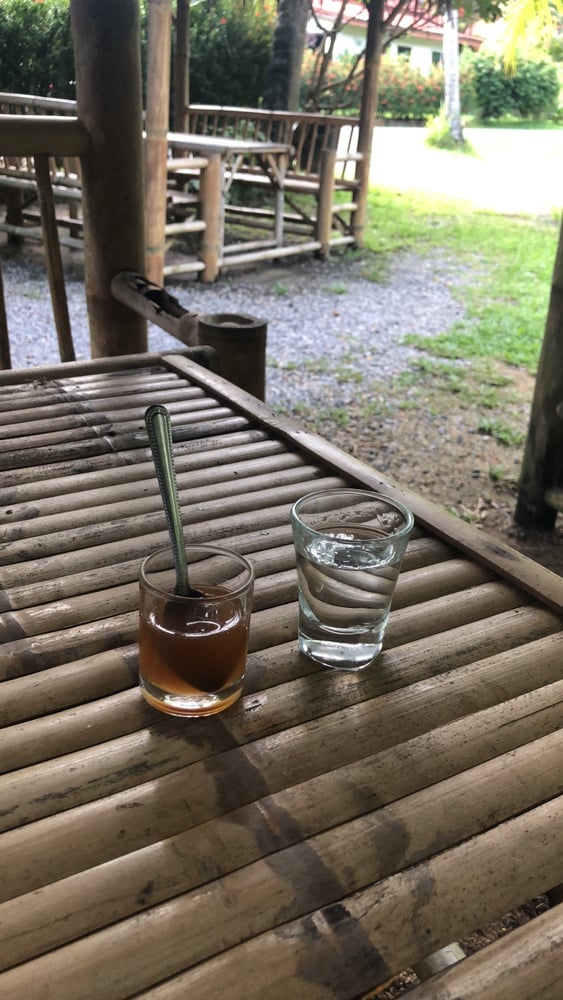 Who knew that Koh Samui had its own rum? Definitely one of the boozier best things to do in Koh Samui, the Magic Alambic Rum Distillery is free to tour around but offers up shots of their finest rum for just 60 Baht a glass. You can also purchase bottles. If you've arrived via motorbike, please do not drink and instead get some rum to go!
Small Pack Problems? 😉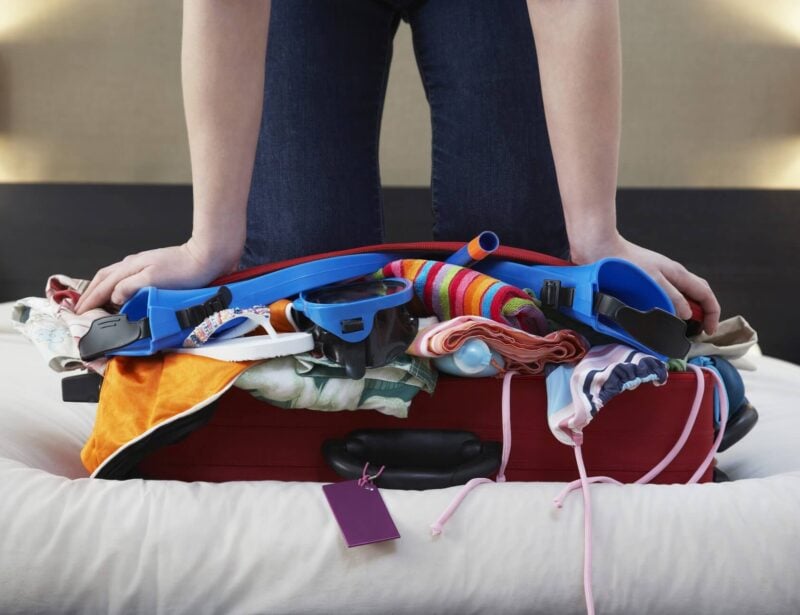 Wanna know how to pack like a pro? Well for a start you need the right gear….
These are packing cubes for the globetrotters and compression sacks for the real adventurers – these babies are a traveller's best kept secret. They organise yo' packing and minimise volume too so you can pack MORE.
Or, y'know… you can stick to just chucking it all in your backpack…
Get Yours Here
Read Our Review
Unusual Things to Do in Koh Samui
7. Go and visit the mummified monk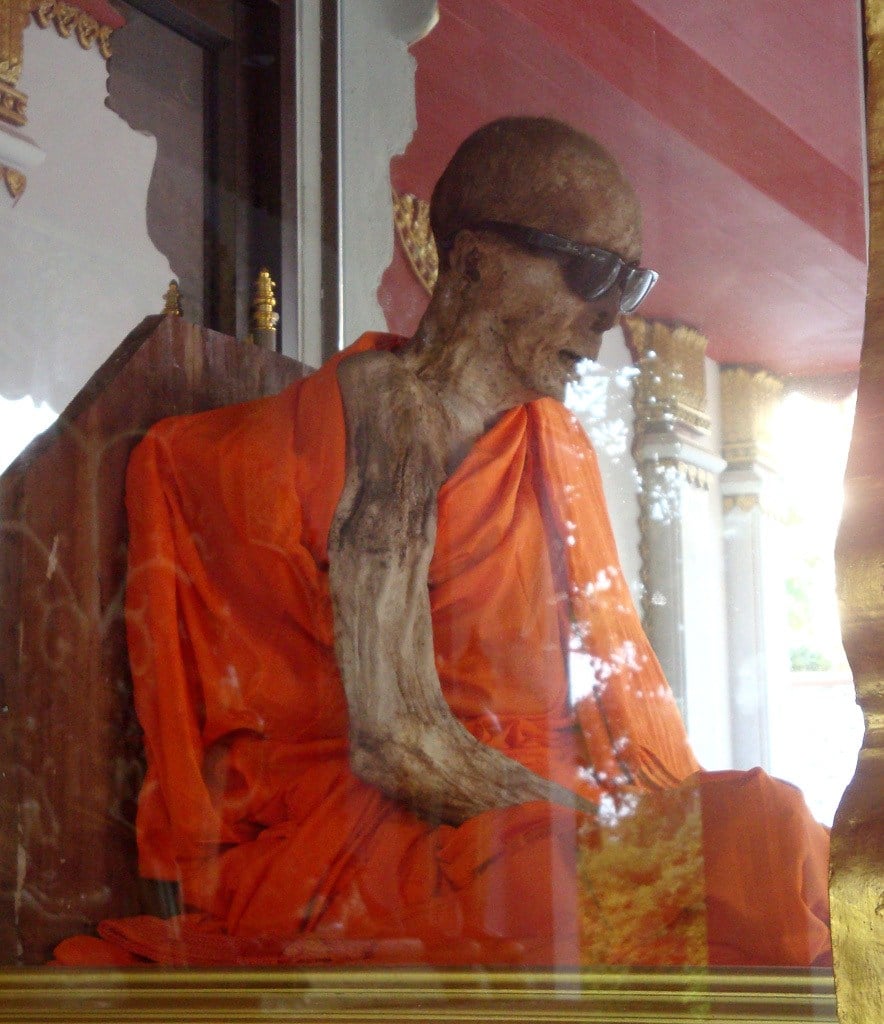 Not only is this one of the most unusual, weirdest things to do on Koh Samui, it's also pretty… gross. Luang Pho Daeng was a monk who died at age 79 whilst meditating on the island's Wat Khunaram. People thought this was pretty amazing, so they left him in a little glass box in the corner of the temple, where he sits pretty amazingly intact and still in the lotus position.
Geckos have figured out that his body is a pretty good place to lay eggs. Ultra gross. Also, he wears Raybans, because his eyes were getting a bit… yuck. Honestly so weird.
8. Find Koh Samui's Chinese culture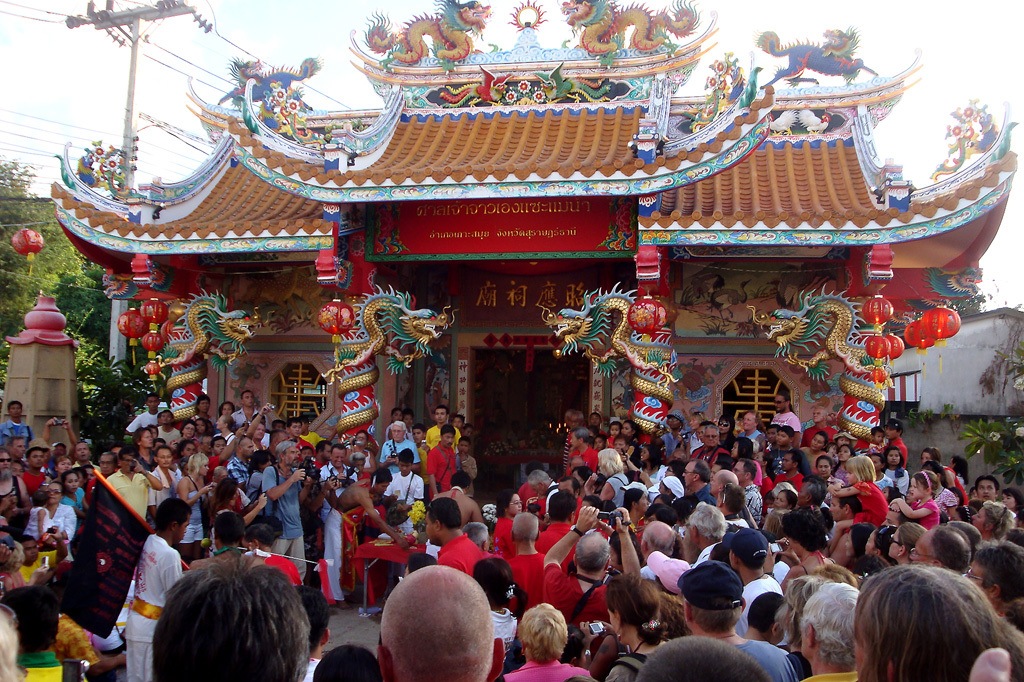 It isn't just about the Wats (Thailand's Theravada Buddhist temples) in Koh Samui. Thanks to the fairly sizeable Chinese community on the island dating back hundreds of years, there are a handful of Chinese temples – or Taoist shrines, to be precise – dotted around. One of the nicest has got to be Chao Eng Sae Shrine, in Mae Nam. There's also a 200-year-old Chinese merchant's house open to the public. If you ever feel like you've had enough of beaches (how?) and Theravada Buddhism here, this is one of the more unique, non-touristy things to do.
9. Quad bike around the jungle
Temples not doing it for you? Feel like finding something adventurous to do in Koh Samui that isn't sea-based? Then you would probably love quad biking around the dense jungle of Koh Samui. Find yourself a reputable company (very important, people), get yourself a quad bike – or a tour – and before you know it you'll be on dir t roads, speeding through the jungle, coming across waterfalls and seeing the wild nature of the island in a super fun way.
It's an amazing way to see parts of the island you wouldn't be able to see otherwise; good luck hiking to where you can easily get to on a quad bike in just a few minutes!
Safety in Koh Samui
Koh Samui is a pretty safe island, folks. You shouldn't come into contact with any trouble at all. In fact, the most dangerous thing here… is probably yourself!
Roads in Koh Samui aren't always the best, and if you've never ridden a motorbike before, maybe now isn't the best place to try (and if you can't even drive, we wouldn't recommend it). Road accidents are common here.
Drinking and doing anything from swimming in the sea, to driving, to going trekking, is not smart at all. Being drunk and trying to do anything remotely adventurous never ends well. So don't do it.
Other than that: know your limits, use mosquito repellent, don't roast in the sun ALL DAY, keep hydrated, and you'll be fine! Most of all, always get travel insurance before you fly. Check out our roundup of the best travel insurance.
Travel with peace of mind. Travel WITH a security belt.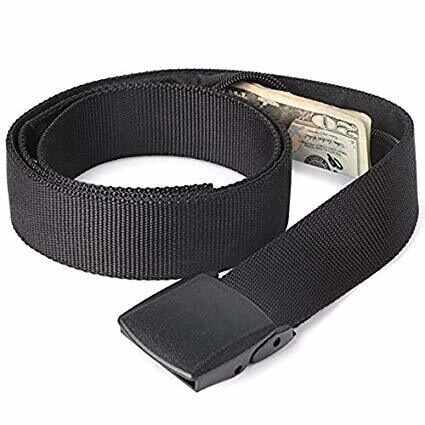 Stash your cash safely with this money belt. It will keep your valuables safely concealed, no matter where you go.
It looks exactly like a normal belt except for a SECRET interior pocket perfectly designed to hide a wad of cash, a passport photocopy or anything else you may wish to hide. Never get caught with your pants down again! (Unless you want to…)
Hide Yo' Money!
Things to Do in Koh Samui at Night
10. Hit up the night market for some tasty treats
Though they can get a little busy with tourists, night markets are still 100% a very Thai way to spend the night. Once the sun goes down, the temperature is a little more bearable. We very much recommend doing this at places such as at Chaweng Night Market, Nathan Walking Street (a mix of locals and tourists; every Saturday), and for some clothing, head to Chaweng Walking Street. For us, it's all about the snacks: yes, this is definitely one of the best things to do in Koh Samui for foodies.
11. Go for drinks by the sea in the Fisherman's Village
Fisherman's Village is a bit of a misnomer. This area was once very much a fisherman's village, and you can still see some old wooden houses and charming streets to prove it, but today it's all about its upscale resorts and beachside bars. Whatever way you look at it, these places still make for very nice spots to chill out and soak up the scenery. Without doubt Fisherman's Village is an awesome spot to find things to do at night in Koh Samui.
12. Sit ringside for a spot of Muay Thai boxing match
Every Thursday and Saturday night at Chaweng Boxing Stadium, from 9pm onwards, you'll find the VERY real sport of Muay Thai boxing being played out. We say sit ringside, but only if you can handle it as this is a pretty violent sport! There's even an option to get yourself a VIP ticket with a sofa and bar service (further from the ring if you're a bit squeamish). Easily one of the best things to do at night in Koh Samui, seeing a Muay Thai boxing match is a very authentic, if pretty brutal, way to spend an evening.
Romantic Things to Do in Koh Samui
13. Try out some SUP Yoga at Sunrise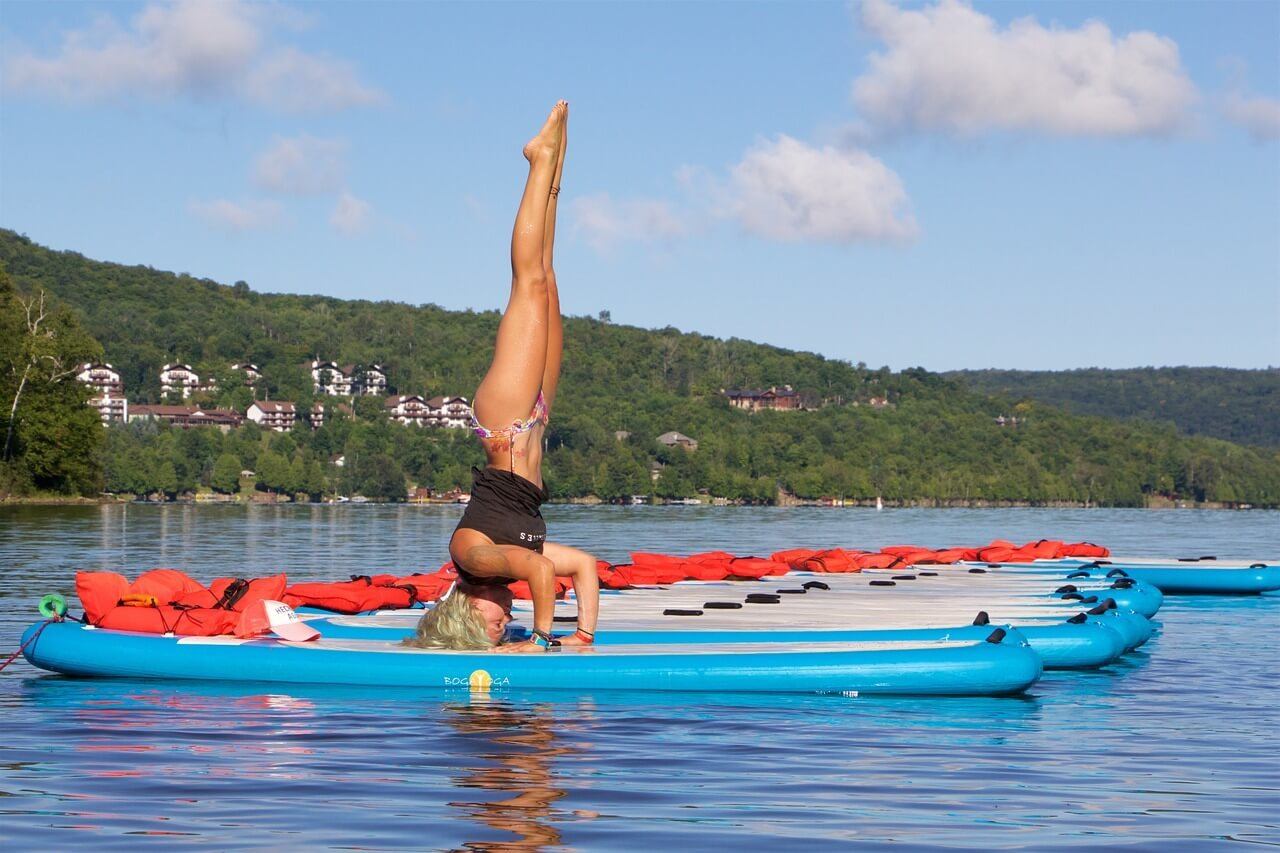 Spending the morning with your partner in the Gulf of Thailand as the sun appears out of the sea for an epic sunrise doesn't sound bad, right? So doing a spot of SUP Yoga (yes, that's a thing) is going to get you properly relaxed for the day ahead and get you appreciating each other and the awesome nature surrounding you. It certainly sounds like one of the most romantic things you could do in Koh Samui. And if you fall off whilst trying to salute the sun, well, the water will help wake you up.
You will need to hire an instructor for this because yes, it is as hard as it sounds.
14. Watch the sunset from your very own private boat
And at the other end of the day, there's the sunset. It's possible to bag you and your partner your VERY OWN sailboat for a very romantic thing to do in Koh Samui. We mean, it's a sunset cruise, how can it get any better? For starters, you can add food – that always makes for extra romance. A bit of sunset dinner of fresh seafood on an old-school sailboat floating around the sea. One of the best things to do in Koh Samui for couples, hiring your own boat is a special memory.
Is This the Best Daypack EVER???
Best Free Things to Do in Koh Samui
15. Beat the crowds at the Choeng Mon Beach
The beaches on Koh Samui are definitely popular places to be. For a lot of people, this Thai island is ALL about beaches – and not much else. But if you want to get away from people for a day, finding a quiet beach that's also stunning isn't easy. We're recommending Choeng Mon Beach (on the northeast coast) as one of the best free things to do in Koh Samui, however, because it IS relatively quiet, very beautiful and free. It's a great spot to chill out for the day and basically just… do nothing!
16. Hit up the islands many, many waterfalls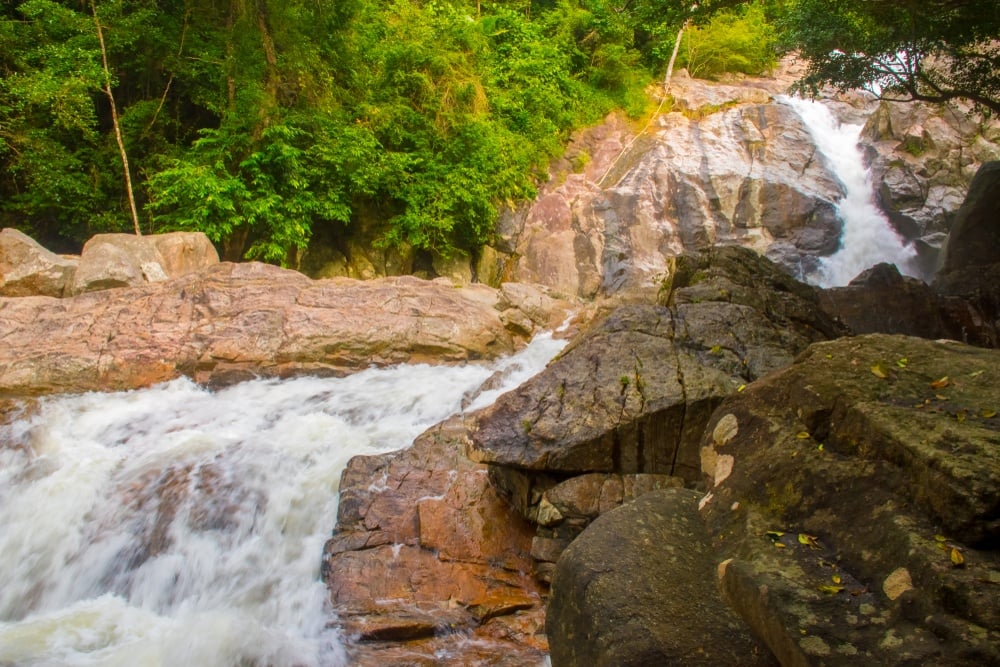 There are literally so many waterfalls on Koh Samui that you can make a real day of discovering as many of them as you can. Made up of two different waterfalls, the Nam Yuang Waterfall (translating to "Purple Falls") is close to Nathan; there's the Tang Rua Waterfall, a bit of an off the beaten track waterfall that's tricky to get to (the island's 3rd largest, complete with natural pool to swim in); and there's Hin Lat Waterfall, surrounded by jungle and with a nearby Buddha to have a look at, too.
There's LOADS more and trying to find them all is honestly one of funnest free things to do on Koh Samui. Make sure you wear hiking shoes or sandals.
17. Snap pictures of the erotic rocks
Called Hin Ta and Hin Yai, or Grandmother and Grandfather Rocks, these really are some pretty… erotic rocks. The first thing you're going to see is the, um, Grandfather Rock (for obvious reasons), and as you get closer you'll be able to see why the Grandmother Rock is called what it is, being a slit in the rock…
Anyway, go stand with these icons for a few pics or just marvel at them with your eyes. Either way, it's one of our top picks for free things to do in Koh Samui. Definitely one of the more unusually shaped rocks on the island, that's for sure.
Books to Read while Visiting Koh Samui
Here are some of my favorite books books to read in Thailand:
The King Never Smiles – This is the Biography of Thailand's Bhumibol Adulyadej, a Western born king who deftly shaped Thailand's political history.
Private Dancer – A thriller revolving around the popular private and pole dancing culture of Bangkok.
Bangkok Babylon – Inspired by Orwell and Hemingway, Jerry Hopkins recalls his first decade as a Bangkok expatriate by profiling twenty-five of the city's most unforgettable characters.

Our GREATEST Travel Secrets…
Pop your email here & get the original Broke Backpacker Bible for FREE.
Best Things to Do in Koh Samui with Kids
18. Have an amazing day on the jungle waterslides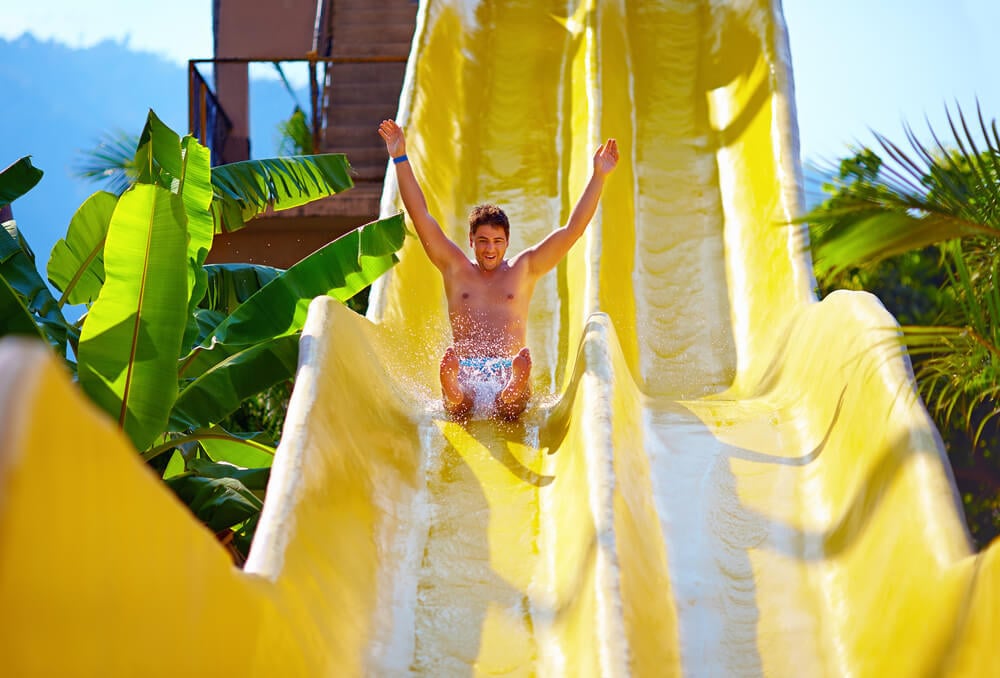 If you've come to this awesome Thai island with your children and they happen to be 5 to 11 years old, then they're going to be able to ride some of the most amazing waterslides we've ever seen. Specifically, this is a 70-metre-long twin slide into a pool that winds through the jungle. Basically, it's super fun to slip and slide down these (in the JUNGLE!) with your family. Afterwards, you can hang around next to waterfalls and explore the nearby temples.
How's that sound for an amazing thing to do in Koh Samui with kids?
19. Play Mario Kart in real life
Why let the adults have all the fun with their quad bikes and motorbike rentals zipping around on Koh Samui's roads? Exactly. Not fair! Luckily for children aged 7 and over, they're going to get to have a whole lot of fun with some real-life Mario Kart (minus the shells and bananas) at Easykart.
Go head to head with your family and see who's the fastest! Worried about safety? There's daily maintenance on the track and the karts, and there's a viewing platform so you can see how it's all done first. Definitely one of the best things to do in Koh Samui with kids!
Other Unmissable Things to Do in Koh Samui
20. Get to grips with local life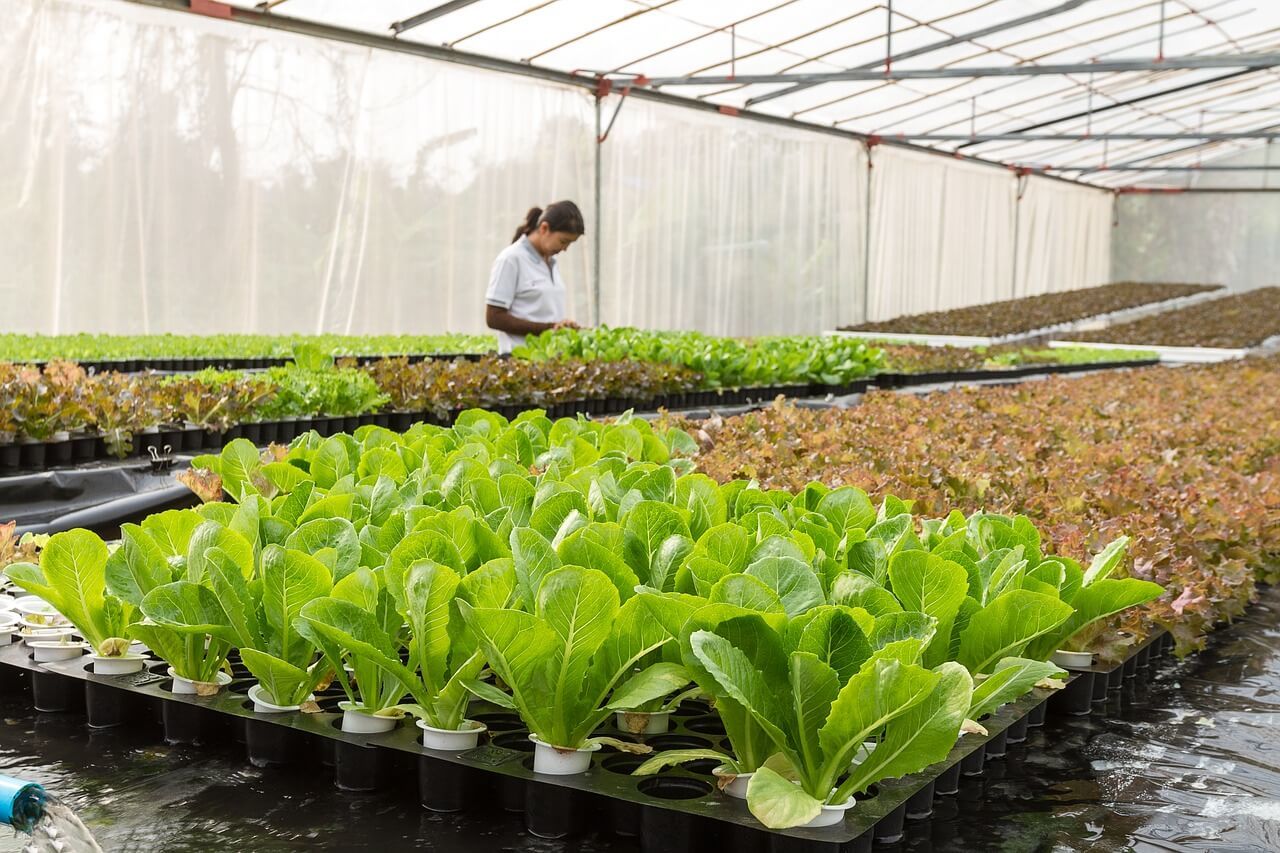 Away from all the crazy tourist hotspots and busy beaches, this unusual thing to do on Koh Samui is a great way to explore the authentic side of the island. WeGreen Farm is a great spot to learn all about how actual local people produce their food, what they grow, how they make noodles – all SORTS of stuff – and then you'll be able to sample some of their delicious cooking, too. For foodies who like the idea of an eco-friendly day-out, this one of the better nature-y things to do in Koh Samui.
21. Go for sunset cocktails Woo Bar
A trip to Woo Bar has to be one of the hippest things you could do on Koh Samui. This trendy bar, part of the 5-star W Hotel her, is an Instagrammers' dream. There's circle sofas to lounge around on, set pretty much IN the infinity pool, and amazing, unobstructed views of the sea. Naturally, it's an awesome spot for sunsets, making it a great thing to do in Koh Samui for couples.
There's even a deal here where you can get UNLIMITED mojitos for three hours (around $60). Paradise, anyone? This might be it.
22. Unwind with a Thai massage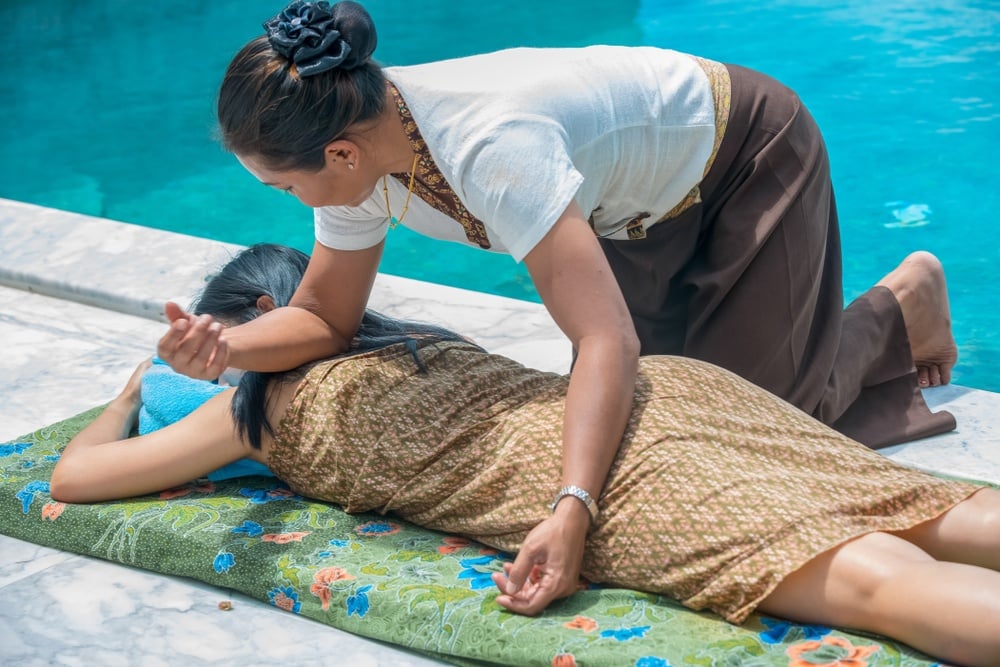 There's nothing more classically 'Thai vacation' than a Thai massage. And the best part is, you won't even have to move from the sand. Masseuses wander the beaches regularly, so all you have to do is agree on a price and get ready to relax – with a view of the sea, of course. It almost doesn't even matter whether the massage you get is great, or just average: getting this level of de-stress going on in such postcard-perfect setting is going to wonders for your brain. You could even just get a foot massage. Either way, it's one of those quintessential things to do in Koh Samui. Don't leave without a massage!
23. Walk among Buddhas in the Secret Buddha Garden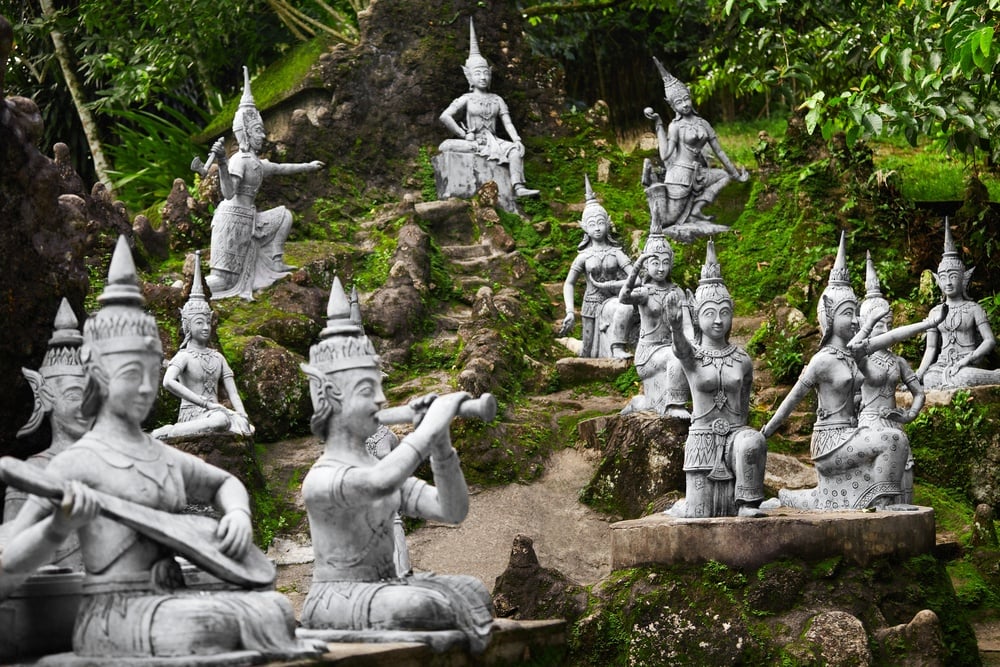 Tucked away in the lush hills of central Koh Samui is the not so secret Secret Buddha Garden. It's not totally touristy, which makes it one of the more off the beaten track things to do in Koh Samui. It's a super serene space made by a fruit farmer in 1976 when he retired, and in it you'll find (if you haven't already guessed) a lot of statues of Buddha. With different tales and folklore attached to each statue, some of them are over 100 years old. There's even a statue of the owner sitting under a tree (not that he's a Buddha).
Day Trips from Koh Samui
As a paradise-like as Koh Samui, if you've got the effort to be able to tear yourself away from this subtropical wonderland for a while, you'll find that there's even more paradise islands sitting in the surrounding seas. Accordingly there are some pretty awesome day trips from Koh Samui to be had, but here are just two we think are definitely worth your while.
Hang out on Koh Phangan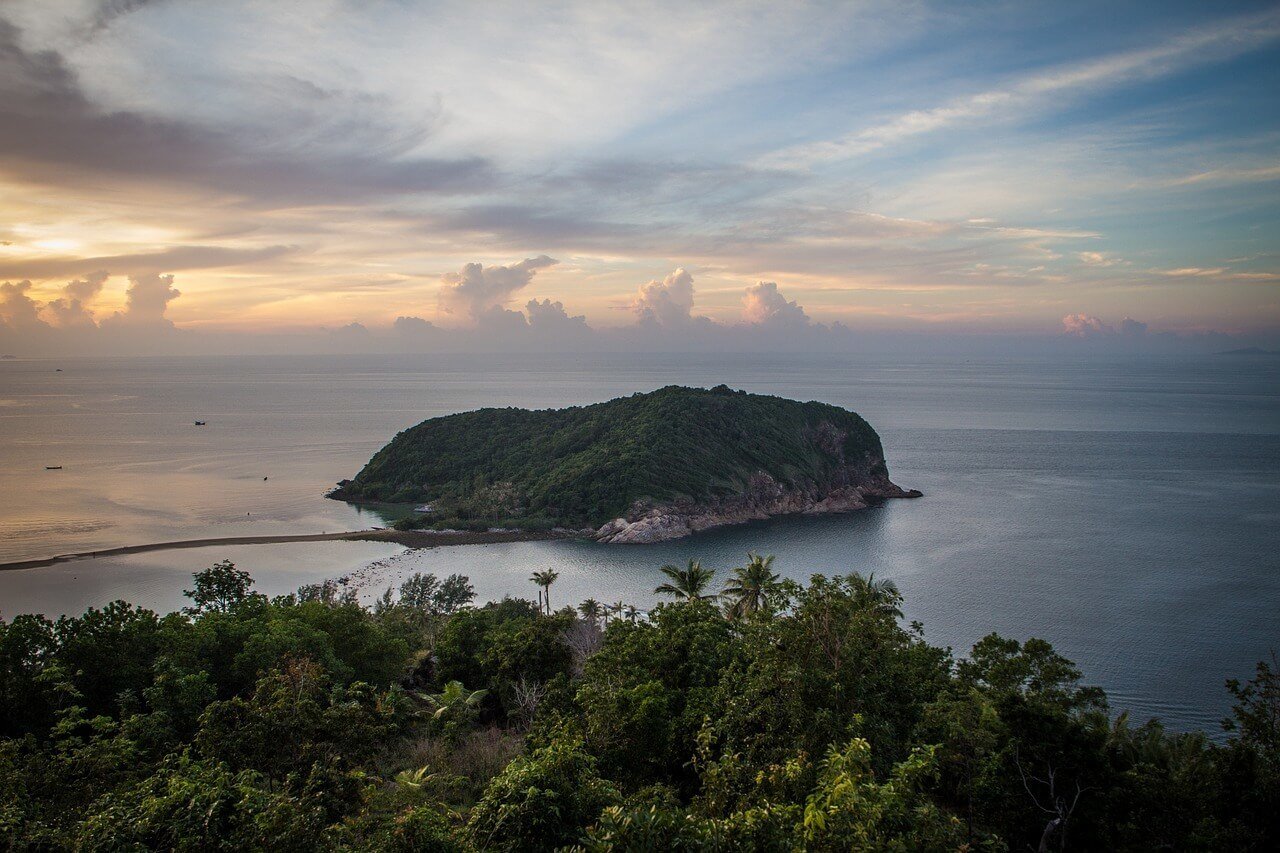 Koh Samui and Koh Phangan are sort of like siblings. One is more sensible, one is less so – that'll be Phangan. This island is known for its mental Full Moon Parties, all night affairs that originated, and very much still take place every month, on Hat Rin beach. You can catch a boat over for the party alone if you're in the area during a full moon (or even half nowadays). More like a night trip though!
For those less inclined to partying and going crazy on the beach all night, Koh Phangan is a little gem in itself. Hillier and more rugged than its next-door neighbour, renting a scooter to explore the island for a day is very doable. There are tons of beaches to discover, some more hidden than others. You could even take a junk boat tour around the island, which drops anchor at (almost) every beach.
Make tracks to Koh Tao
Koh Tao is basically known as a diver's paradise and is an easy day trip from Koh Samui. There's so much beautiful sea life living in the water here that if submarine adventures are your favourite kind of adventure, then you should definitely make this part of your itinerary when you find yourself in the area. Colourful coral reefs in bays like Mango Bay or Ao Leuk are pretty much breathtaking.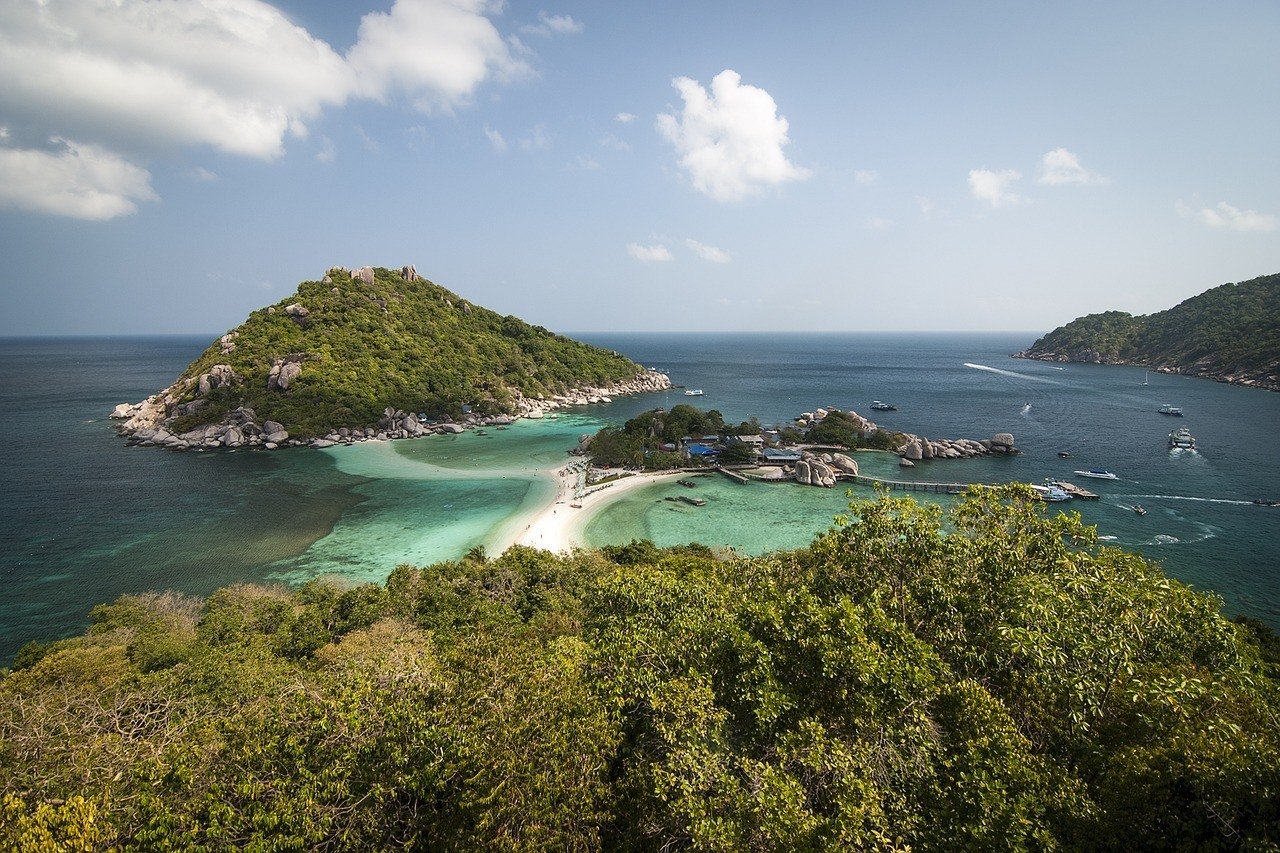 Snorkel, or dive if that's your thing; chill out on the white sand beaches; or if you just like the idea of exploring yet another island, hike up to the famous Nang Yuan viewpoint. All of this can be yours just an hour and a half catamaran ride from Koh Samui – the speedboat is quicker, obviously, but it is also more costly. Depends if you've got the money to burn.
Save $$$ • Save the Planet • Save Your Stomach!
Drink water from ANYWHERE. The Grayl Geopress is the worlds leading filtered water bottle protecting you from all manner of waterborne nasties.
Single-use plastic bottles are a MASSIVE threat to marine life. Be a part of the solution and travel with a filter water bottle. Save money and the environment!
We've tested the Geopress rigorously from the icy heights of Pakistan to the tropical jungles of Bali, and can confirm: it's the best water bottle you'll ever buy!
View on REI
Read the Review
3 Day Koh Samui Itinerary
You may think that visiting this Thai island is only about, you know, not doing much of anything, but there's actually a ton of things to do that you can pack into your Koh Samui itinerary. If you're worrying about how to fit it all in (and how it's going to fit in with your plans of doing absolutely nothing) – don't worry. We've figured it out for you.
Day 1
A good way to kick off your time in Koh Samui is to see what the Thai Buddhist culture is all about on the island. First of all, hit up the pretty crazy Wat Plai Laem. This somewhat gaudy and pretty mental temple complex is all about its giant statues. There's Guanyin, with 18 arms, and the classic "Laughing Buddha". Makes for some great Insta shots.
After that, stroll just 15 minutes and you'll find Wat Phra Yai. Situated on a little island out to sea, this one features another (very large) depiction of Buddha, but this time it's all gold. Snap a few pics of this complex and then head to the nearby Restaurant stop@stopa for some classic Thai fare. Now it's time to see Koh Samui looks like from above. You'll need your own wheels; it's a 37 minute coastal drive.
Stop by for a post-lunch dip at Lamai Beach on the way and check out the, um, "erotic" Grandmother and Grandfather Rocks. Then hike up to Lamai Viewpoint. It's pretty well established and has its own bar with a terrace. Snack, drink, enjoy a sunset. It's beautiful. Finish up your day by heading to Fisherman's Village for food and drink a half hour drive through the island's interior.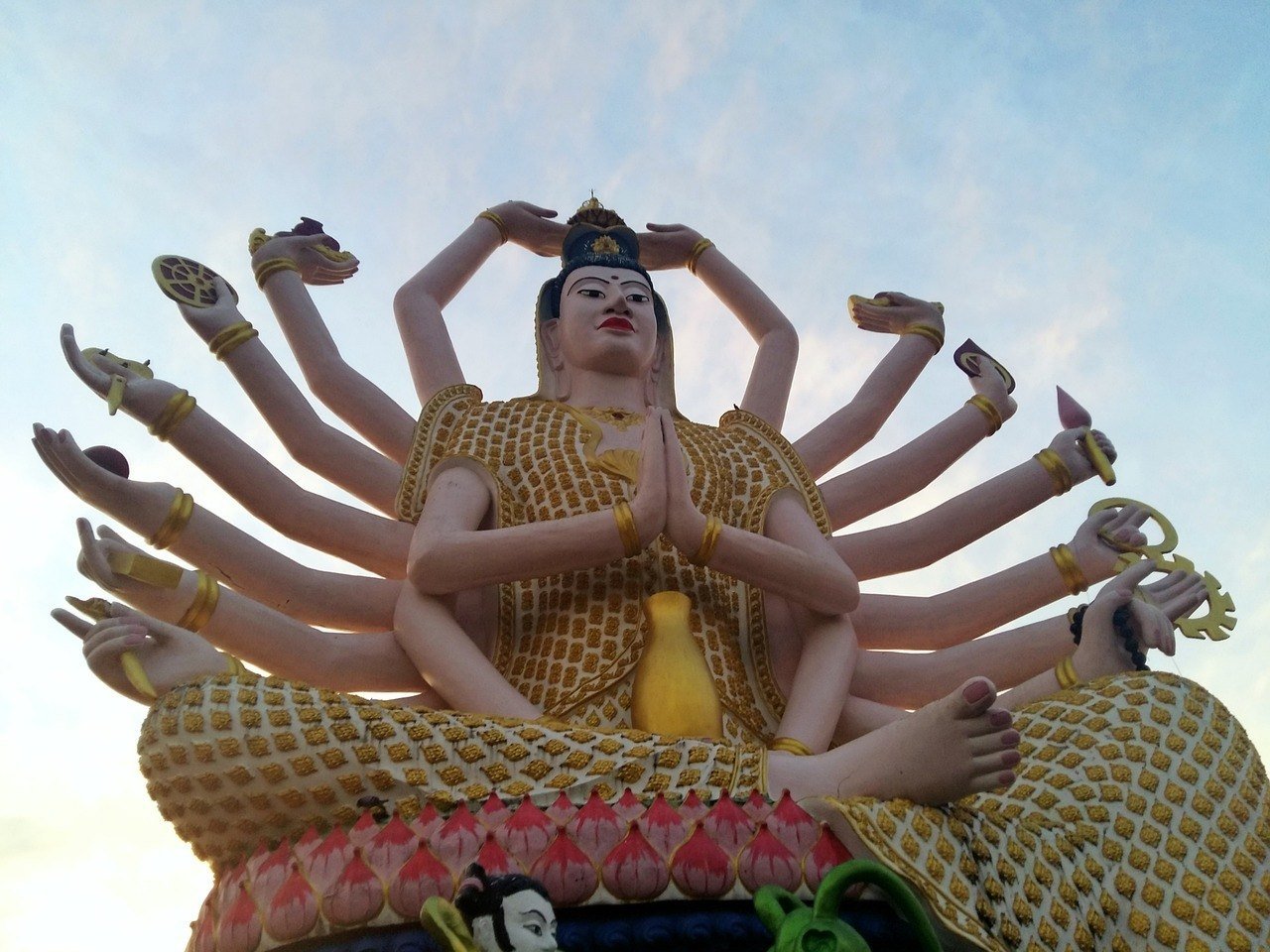 Day 2
Start your second day with an adrenaline pumping zipline through the jungle at Sky Fox. It's a fun way to experience the jungle without having to actually trek through it – but if you do feel like a hike, there's the Khao Yai Waterfall not too far from here. Finish up your morning activities with some lunch at a nearby cafe with a view, B Valley Samui.
If you don't like the idea of the cafe, drive around 10 minutes and you'll find Sweet Sisters Cafe Organic. Stop for tasty organic food (obviously) and then your next destination is just down the road. That'll be the Magic Alambic Rum Distillery. The tours around Samui's only rum distillery are free, but you can pay an albeit small price for samples of the rum itself. Purchase a bottle if you feel like it.
Siesta and freshen up back at your accommodation, then you have two options. If it's a Sunday, you should definitely head out to the Sunday Lamai Night Market. There's a ton of food stalls, souvenirs to buy, and even loads of bars to have a few drinks. If it's not Sunday, head to Chaweng Night Market for good food and cheap alcoholic beverages. Either way, night markets are awesome.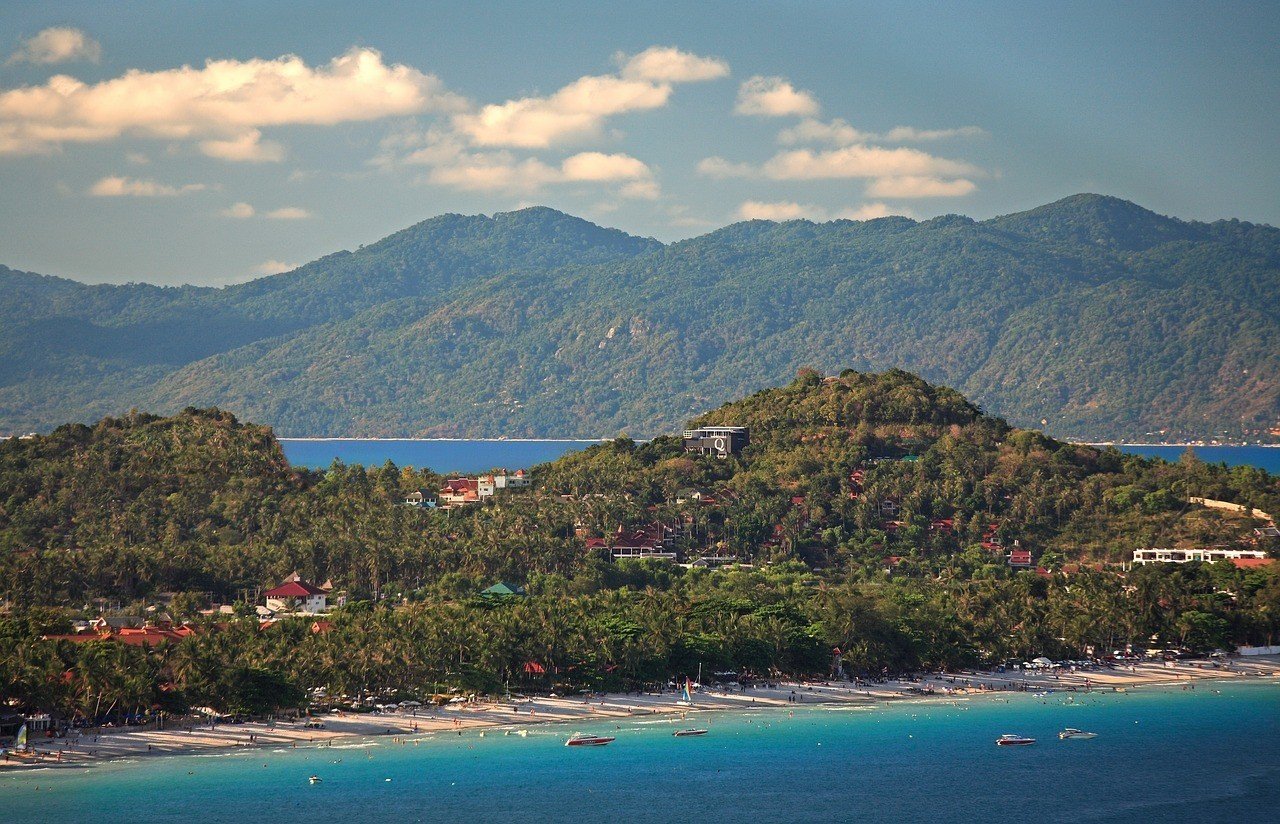 Day 3
Of course you wouldn't be on a Thai island without exploring its beautiful beaches. A snorkel tour is a great way to see just what the heck is going on beneath the waves. These tours will be run by local experts who will know the best snorkelling spots going. You may even get whisked away to Koh Taen, an island just 5 kilometres south of Samui.
Now you've explored what's going on underwater, you might be pretty exhausted from all that swimming, so it's time to spend the rest of the day doing what so many come to Samui to do: chill out on a beach. For the purposes of extra chill-ment, we'd say make your way to Choeng Mon Beach, stake out your space, and do nothing but read a book, snooze in the sun, cool off in the sea, repeat.
Since you're already at an amazing spot, there's no point moving, right? So when the time comes, there are plenty of places to sit and have dinner when you get hungry. Take your pick and enjoy. But if you want your last night to go with a bang, drive 20 minutes to Woo Bar in Mae Nam. It's the perfect spot for sunset – and that all-you-can-drink for $60 is a good option if you have the money!
Don't forget your travel insurance for Koh Samui
ALWAYS sort out your backpacker insurance before your trip. There's plenty to choose from in that department, but a good place to start is Safety Wing.
They offer month-to-month payments, no lock-in contracts, and require absolutely no itineraries: that's the exact kind of insurance long-term travellers and digital nomads need.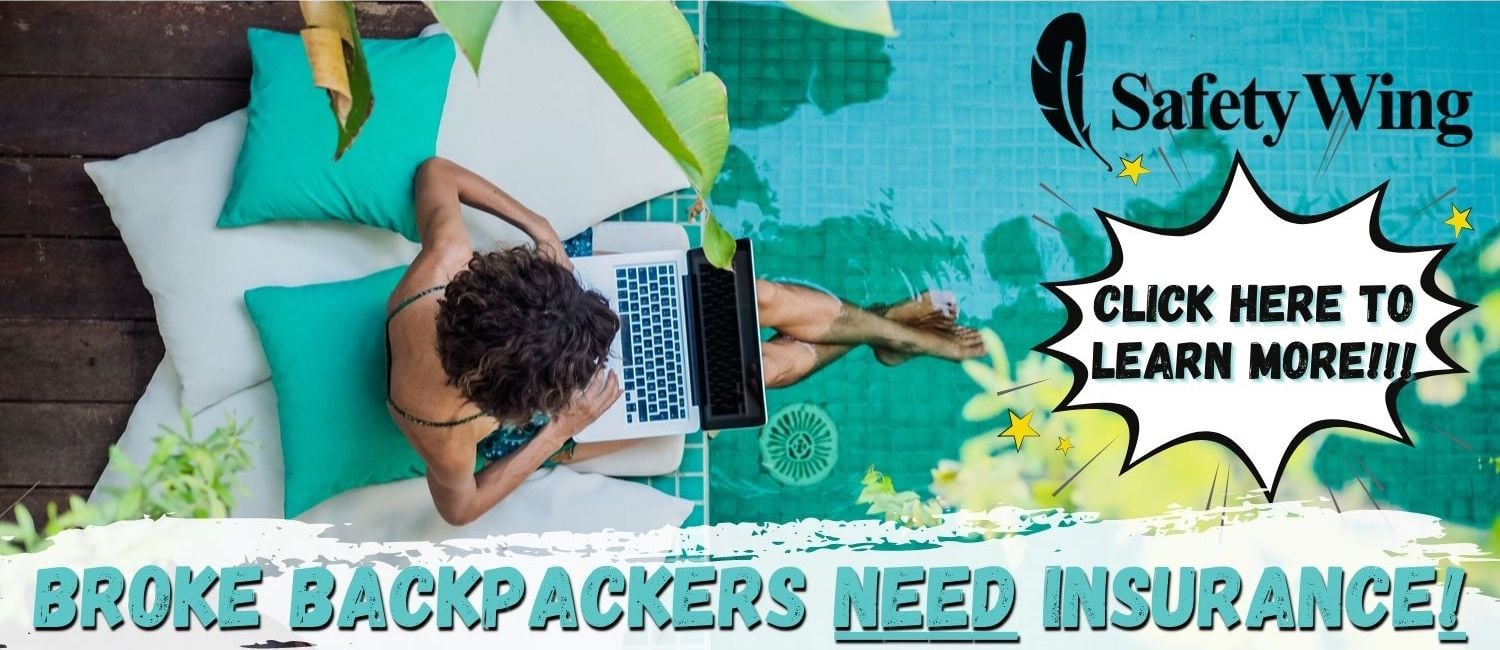 SafetyWing is cheap, easy, and admin-free: just sign up lickety-split so you can get back to it!
Click the button below to learn more about SafetyWing's setup or read our insider review for the full tasty scoop.
FAQ on Things to Do in Koh Samui
Here are some quick answers to common questions about what to do and see in Koh Samui.
Conclusion
Koh Samui isn't exactly a hidden secret but there are loads of unique, unusual and off the beaten track, un-touristy things to do there are on Koh Samui. Seriously, there's so much to do here that you can almost forget lazing around on the beach – there's stuff to see, stuff to eat, and stuff do pretty much everywhere you go! Whether you're looking for something to do that's easy on the budget, you want some beautiful place to soak up a sunset, or if you want to get to grips with the religious culture here, our guide has you covered. Plan, rent some wheels, and explore this idyllic island.
---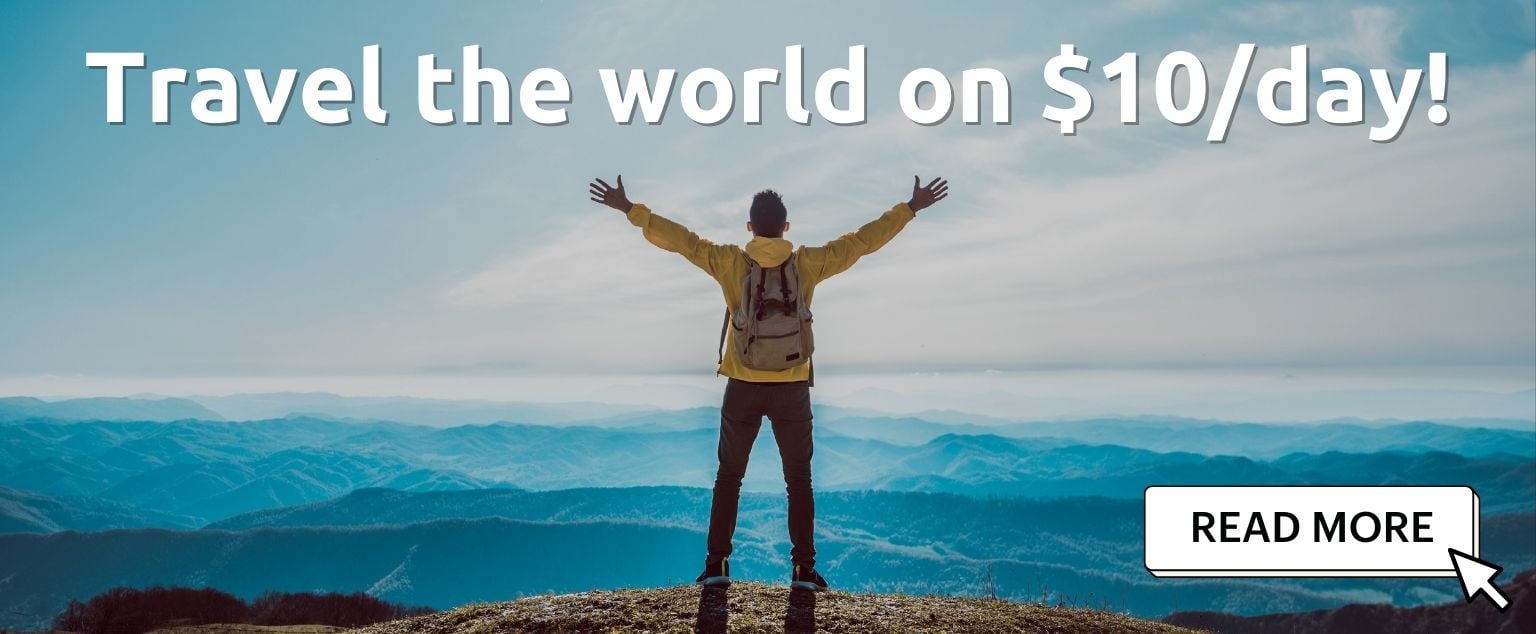 And for transparency's sake, please know that some of the links in our content are affiliate links. That means that if you book your accommodation, buy your gear, or sort your insurance through our link, we earn a small commission (at no extra cost to you). That said, we only link to the gear we trust and never recommend services we don't believe are up to scratch. Again, thank you!