Thailand is a top travel destination for many reasons. The country offers a rich and colourful culture with fascinating traditions and spirituality.
From the mountainous North to the beach resort towns of the south, and of course its tropical islands offshore, Thailand is also blessed with an abundance of magnificent natural beauty.
Thailand offers accommodation for all levels of comfort and styles. Whether you're a budget backpacker staying in hostels or a luxury-loving holidaymaker looking for a five-star villa, or perhaps you want to stay somewhere more unique like a rustic beach bungalow. Well, you can find all that in Thailand.
But there's more. For those aiming to travel more sustainably, you can also find some of the best eco-resorts in Thailand, which have a lower impact on the environment than traditional hotels and villas.
We could all do with traveling a little more sustainably sometimes, which is why we have put together this guide on the best eco-resorts in Thailand.
All the resorts on our list will offer a comfortable stay while striving to minimize their impact on the environment while uplifting and supporting local communities as much as possible.
In a Hurry? Here's Where to Stay in Thailand for One Night
FIRST TIME IN THAILAND
Thai Tropical Bungalow
Located in a quiet coconut grove on the tropical island of Koh Samui, the Thai Tropical Bungalow offers a genuine Thai experience in traditional bungalows with authentic cuisine. Just minutes from the beach, this is the perfect place to relax.
Places to visit:
ARKbar beach resort
Big Buddha
Wat Plai Laem
Is this amazing Thailand Eco-resort booked for your dates? We've got your back with our other favorite properties below!

Unlock Our GREATEST Travel Secrets!
Sign up for our newsletter and get the best travel tips delivered right to your inbox.
Why Stay in an Eco-resort in Thailand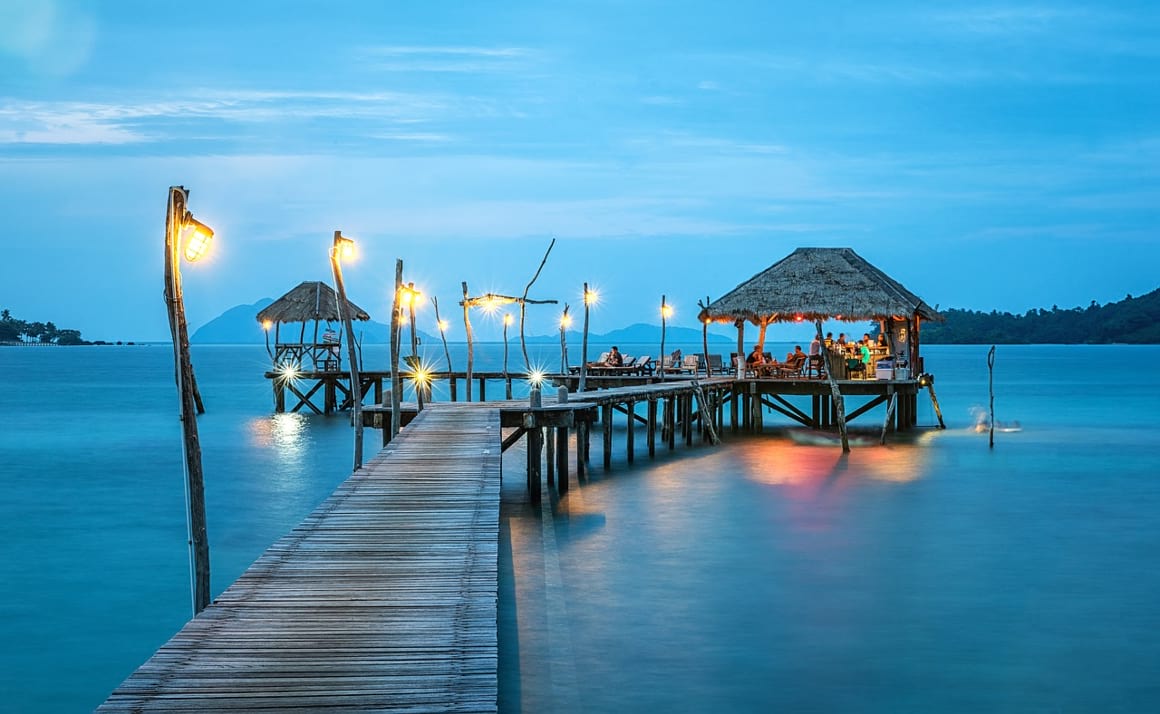 Choosing an eco-resort in Thailand will offer you the unique chance to get close to nature, as well as even conserving it, while still enjoying a memorable and comfortable holiday. Not only will you have your pick of some of the most unique accommodation in Thailand, but you'll also play a role in supporting an environmentally friendly stay.
Whether you choose a stay close to the cities or deep in the lush jungles, or along the coast, you can rest safe in the knowledge that your chosen accommodation that shares your concern for the impact we have on the planet.
What is an Eco-resort?
The term eco-resort is used to refer to an accommodation option, usually unique and close to nature, that is committed to reducing the impact of its operations on the environment. This can be achieved in a number of ways, but most commonly, it includes using renewable or green energy, water-saving initiatives, and natural building materials.
Supporting local communities is also part of being an eco-resort, and many are committed to supporting local businesses and promoting local artisans as much as possible. Sharing fascinating insights into local culture and history with guests forms part of this as well.
Overall Best Value Eco-resort in Thailand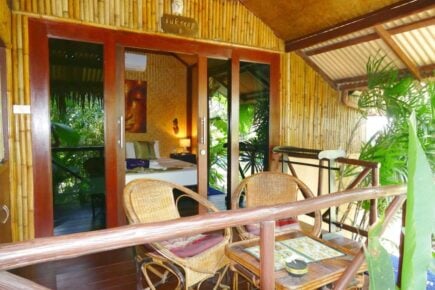 Overall Best Value Eco-resort in Thailand
Thai Tropical Bungalow
> $
> 2 Guests
> Traditional bamboo bungalow
> Tucked in a tropical jungle setting
Best Budget Eco-resort in Thailand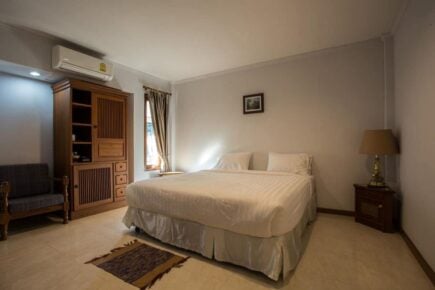 Best Budget Eco-resort in Thailand
The Cottage Resort, Nakhon Sawan
> $
> 2 Guests
> Saline swimming pool
> Intimate and personal stay
Best Eco-resort for Couples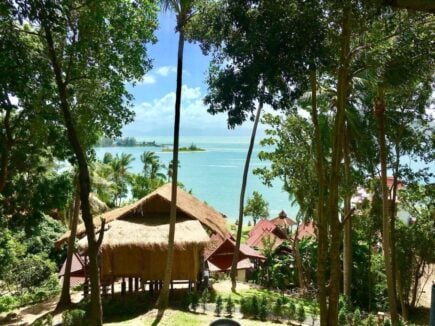 Best Eco-resort for Couples
Kalulushi Eco Lodge
> $
> 2 Guests
> Heat-insulated bamboo bungalows
> Beautiful wild beaches
Most Ecological Eco-resort in Thailand
Most Ecological Eco-resort in Thailand
Eco Bungalows
> $
> 2 Guests
> Bali-style all-natural bungalow
> Tropical garden with sea views
Best Eco-resort for Families in Visiting Thailand
Best Eco-resort for Families in Visiting Thailand
Mook Lanta
> $
> 4 Guests
> Recycling programme and beach clean-ups
> Quiet secluded gardens
Best Eco-resort for Backpackers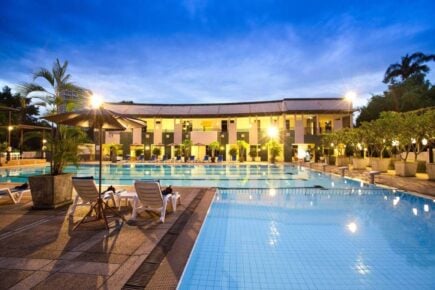 Best Eco-resort for Backpackers
Eco Resort Chiang Mai
> $
> 4 Guests
> Historic refurbished house
> Tranquil location outside of town
Amazing Luxury Eco-resort in Thailand
Amazing Luxury Eco-resort in Thailand
Jaiyen Eco Resort
> $$
> 16 Guests
> Plant-based menu
> Unique bamboo cocoons
The Top 15 Eco-resorts in Thailand
Finding the best eco-resort in Thailand doesn't have to be expensive. In this guide, you'll find a list of unique accommodations in Thailand for your budget and needs, as well as get you closer to nature.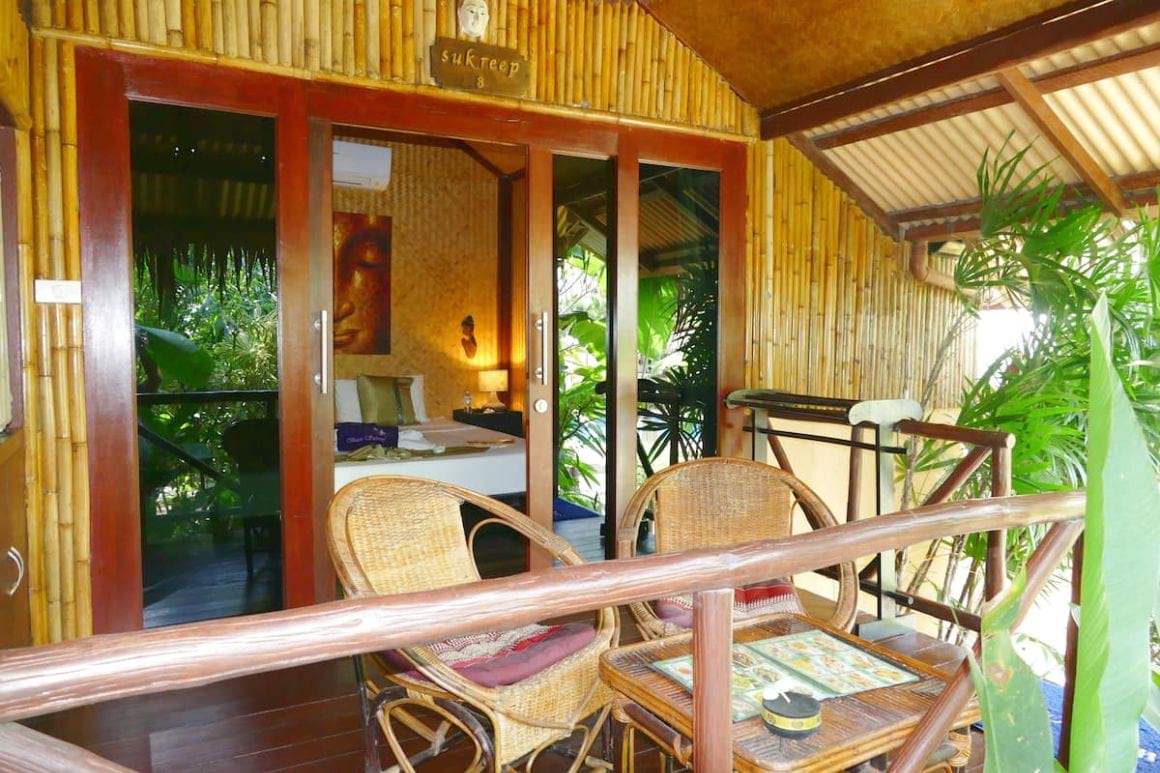 $
2 Guests
Traditional bamboo bungalow
Tucked in a tropical jungle setting
In a quiet coconut grove on the east coast of Koh Samui, Thai Tropical Bungalow is an authentic island retreat. The resort is close to some of the island's best beaches and top attractions.
Set in a lush tropical setting with a traditional design made from bamboo, you can enjoy an authentically immersive experience of the island while enjoying some authentic Thai food at nearby restaurants.
From the resort, guests can relax on the idyllic beaches, kick back on their private terrace, or hire a motorbike and head out to explore all that this popular island has to offer, from restaurants, shopping, nightclubs, and ornate temples.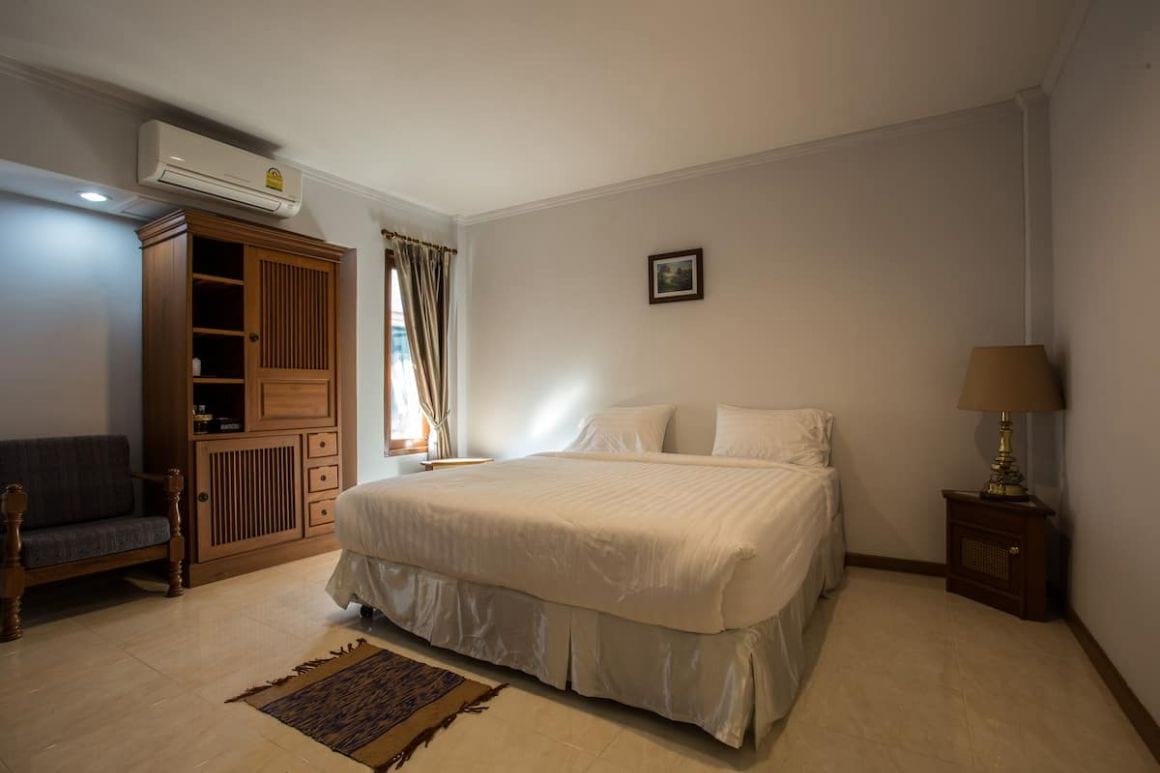 $
2 Guests
Saline swimming pool
Intimate and personal stay
The Cottage Resort is an intimate eco-resort in a peaceful setting in Nakhon Sawan, the 'Heavenly City'. Surrounded by rice fields and lush greenery, the resort is run by a husband-and-wife, who offer their guests a personalized stay.
The cottages are surrounded by lush greenery and are powered entirely by solar energy. The swimming pool at the resort is saline, so it doesn't contain any harsh chemicals.
When not basking in the sun beside the swimming pool, guests can visit the nearby market for some shopping or drive into the city to explore the vibrant streets.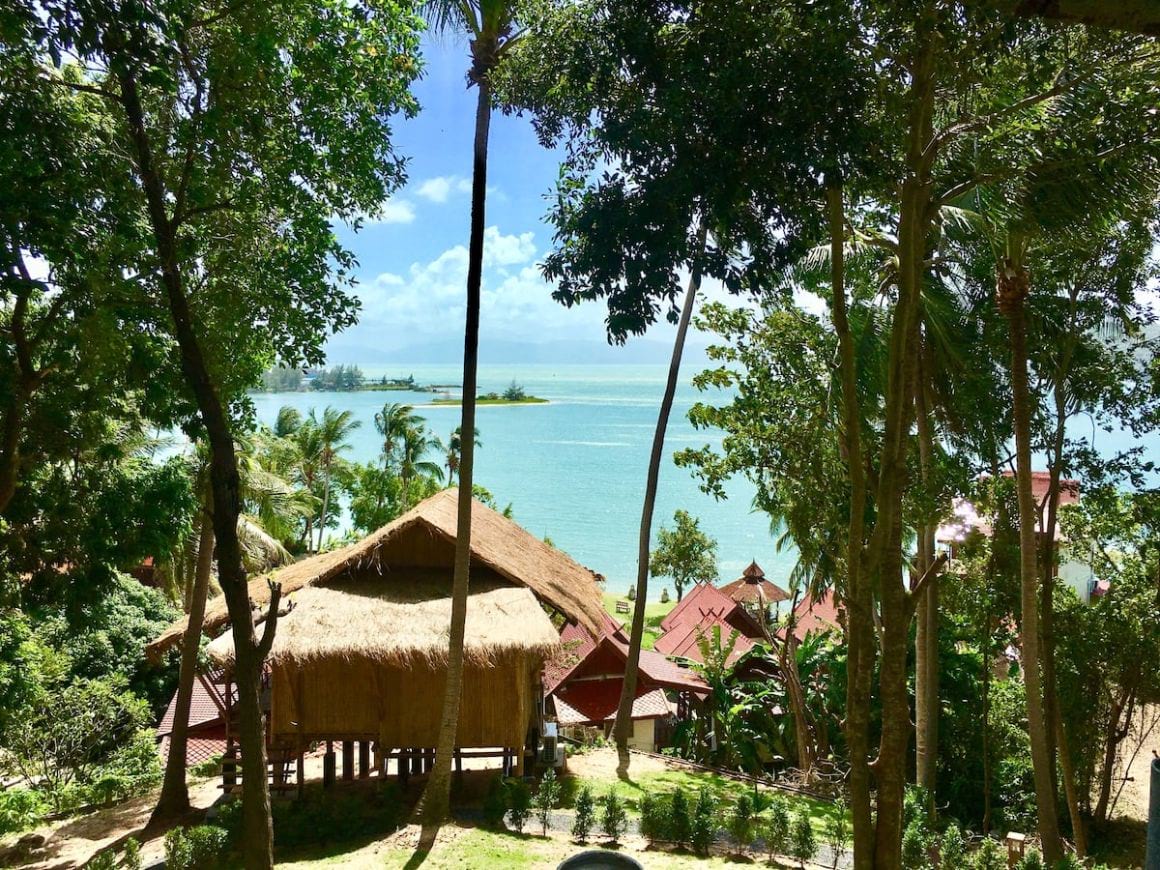 $
2 Guests
Heat-insulated bamboo bungalows
Beautiful wild beaches
Located just north of Thong Sala in Koh Phangan, Kalulushi Eco Lodge lies on a hillside overlooking the ocean, with direct access to the beach. The town center, with its night market and local attractions, is within walking distance.
The bamboo bungalows are sound and heat insulated, so there's little need to use the air conditioning. The resort is essentially a working farm, where they grow their own vegetables using hydroponics and soil, making this one of the best eco-resorts in Thailand.
Beautiful beaches are within easy reach of the resort just down the hillside – it isn't too steep but moderate fitness is required. You can also rent a scooter or a car to explore the rest of the island's sights.
Most Ecological Eco-resort in Thailand – Eco Bungalows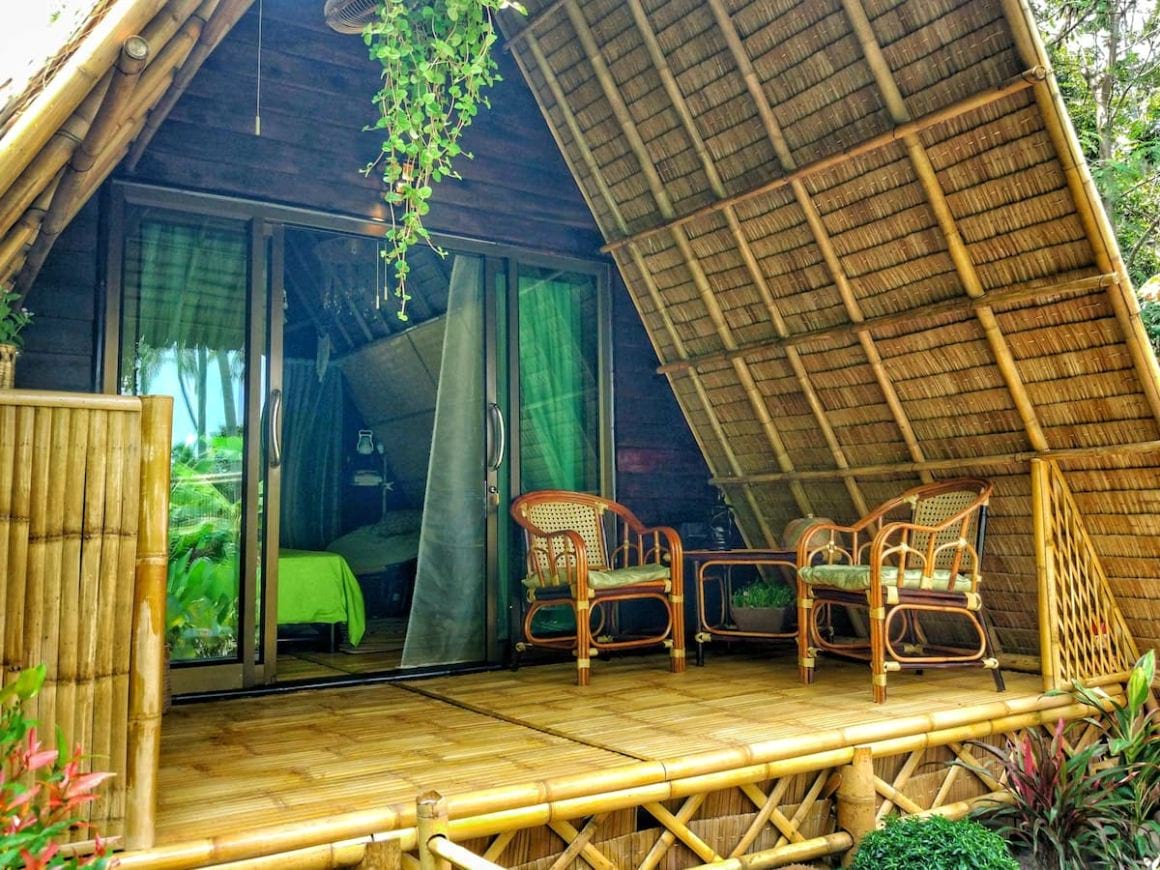 $
2 Guests
All-natural bungalow
Tropical garden with sea views
Located 5-minutes from Seeatanu village on Koh Phangan, these Eco Bungalows are hidden in a tropical garden of banana and coconut trees. The resort is a five-minute walk from the public beach, as well as various traditional restaurants, and yoga centers.
The A-frame Bali-inspired bungalows are made almost entirely from bamboo and are as close to nature as you can get. The orientation of the bungalow is purposeful to maximize the cooling sea breezes.
In addition to casual yoga sessions and spending days on the beach, you can explore the night food market, or stop in for a drink at one of the many bars.
An Eco-Friendly Traveller NEEDS an Eco-Friendly Backpack!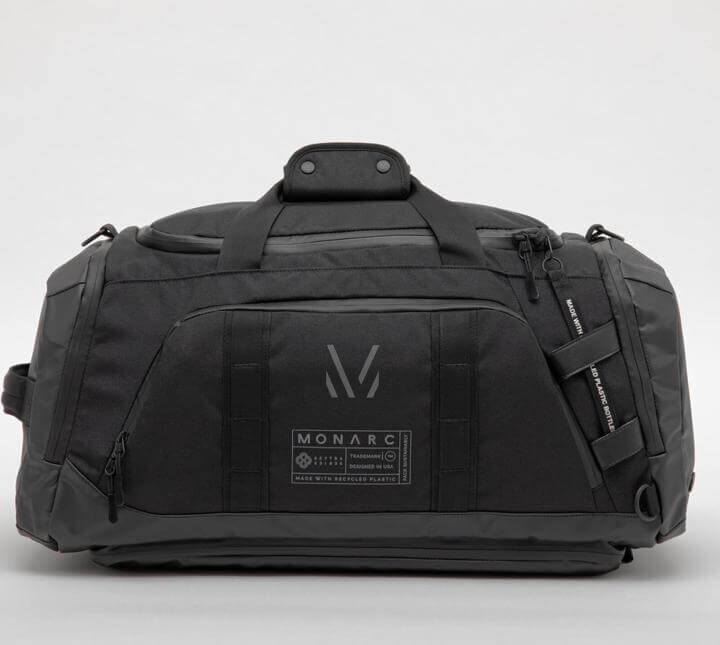 50 recycled plastic bottles – that's what goes into every Monarc Settra: the world's MOST SUSTAINABLE backpack.
Whether you're rocking duffel mode or backpack mode, if you're a traveller that gives a flying hoot about their environmental impact, then there's only one backpack you should consider – the plastic-negative Monarc Settra.
Learn More Now!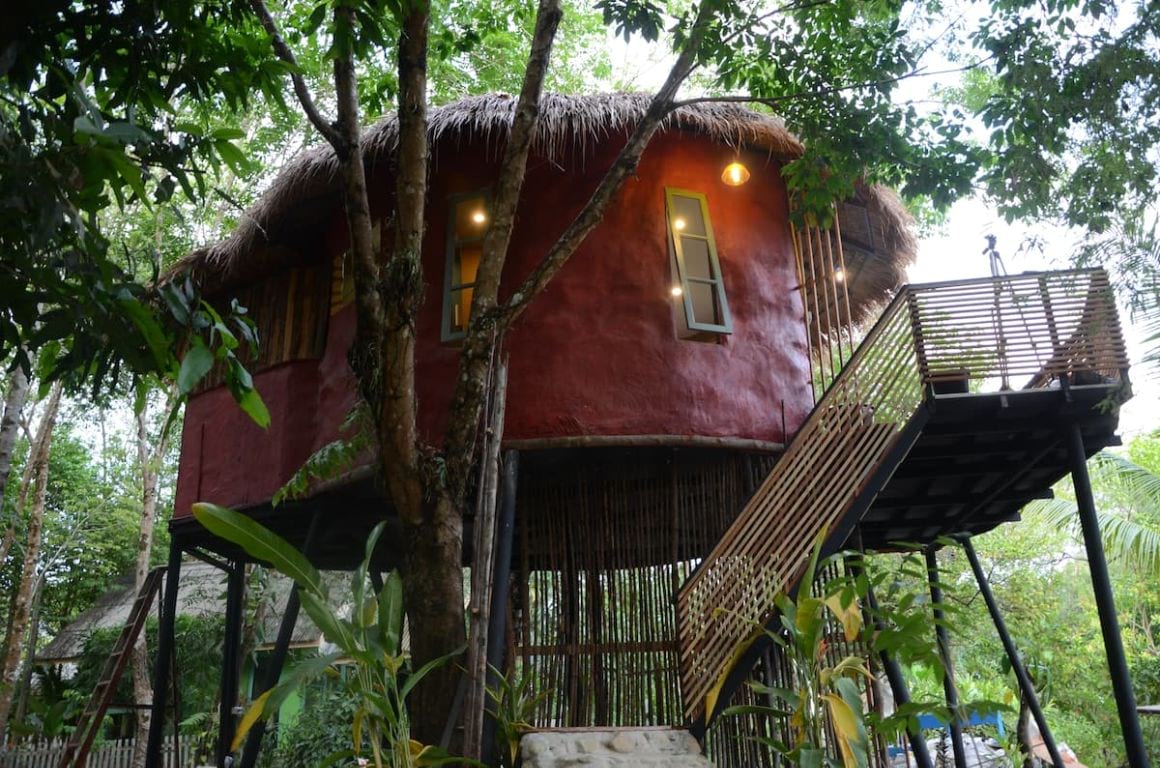 $
2 Guests
Permaculture garden
Unique artist-designed treehouse
Located 200m from the beach, overlooking a small pond, lagoon, and permaculture garden, the "flying" Little Eco-House is a unique construction five meters above the ground. Designed and built by a local artist, the house is a quirky and cozy retreat.
The house is constructed from reeds, elephant dung, and some metal for strength, so it's almost all-natural. Guests can help out in the permaculture garden or learn how to make their own soap, shampoo, and insect repellant from natural materials.
From the property, you can enjoy idyllic beach days or take part in one of the many island activities including snorkeling, scuba diving, fishing, and boating. There are plenty of restaurants and bars nearby for a night out.
Best Eco-resort for Families in Visiting Thailand – Mook Lanta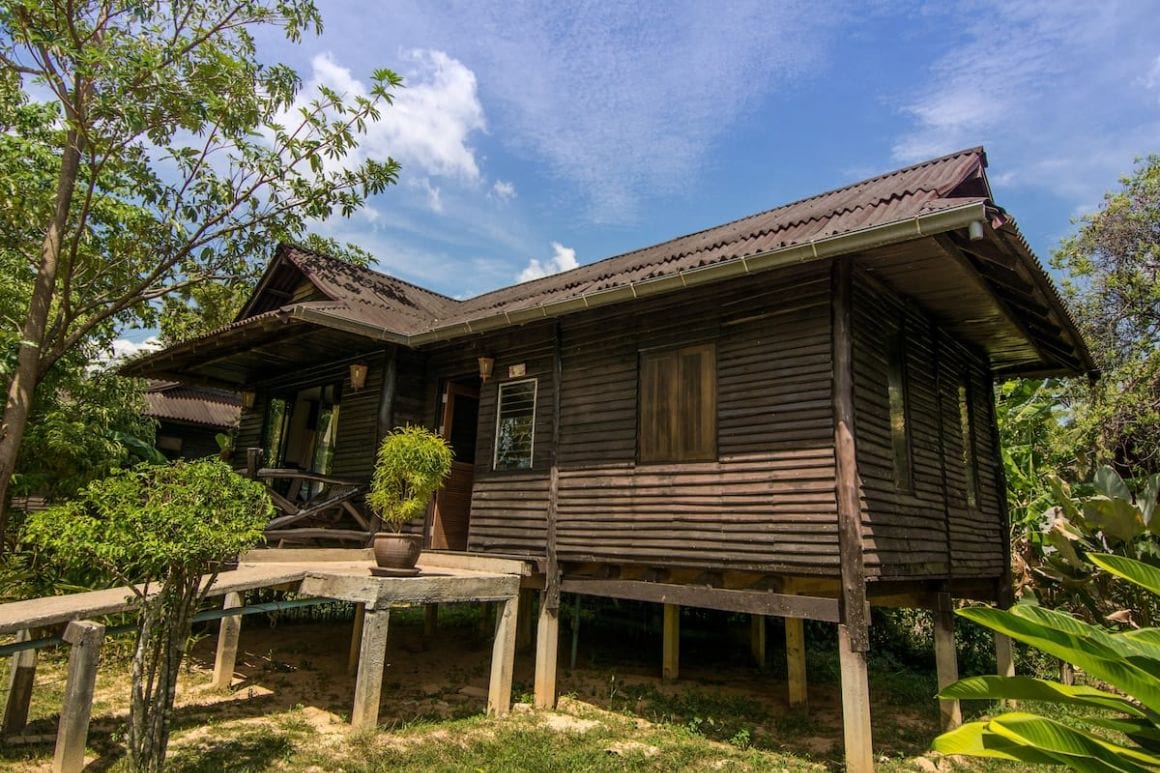 $
4 Guests
Recycling programme and beach clean-ups
Quiet secluded gardens
Mook Lanta is a traditional eco-resort located a short distance from the beach within a tropical garden. Plenty of beaches, bars, restaurants, and shops are conveniently located within easy reach of this unique accommodation in Thailand.
The traditional Thai-style wooden bungalows are raised on stilts above tropical gardens. Guests are encouraged to conserve electricity and water and keep their plastic usage to a minimum throughout their stay. The resort has regular beach clean-ups that guests can participate in.
The resort supports the Lanta Animal Welfare and guests are encouraged to visit and see the good work being done here. From the resort, you can set out on an island tour, go snorkeling, or try a Thai cooking class.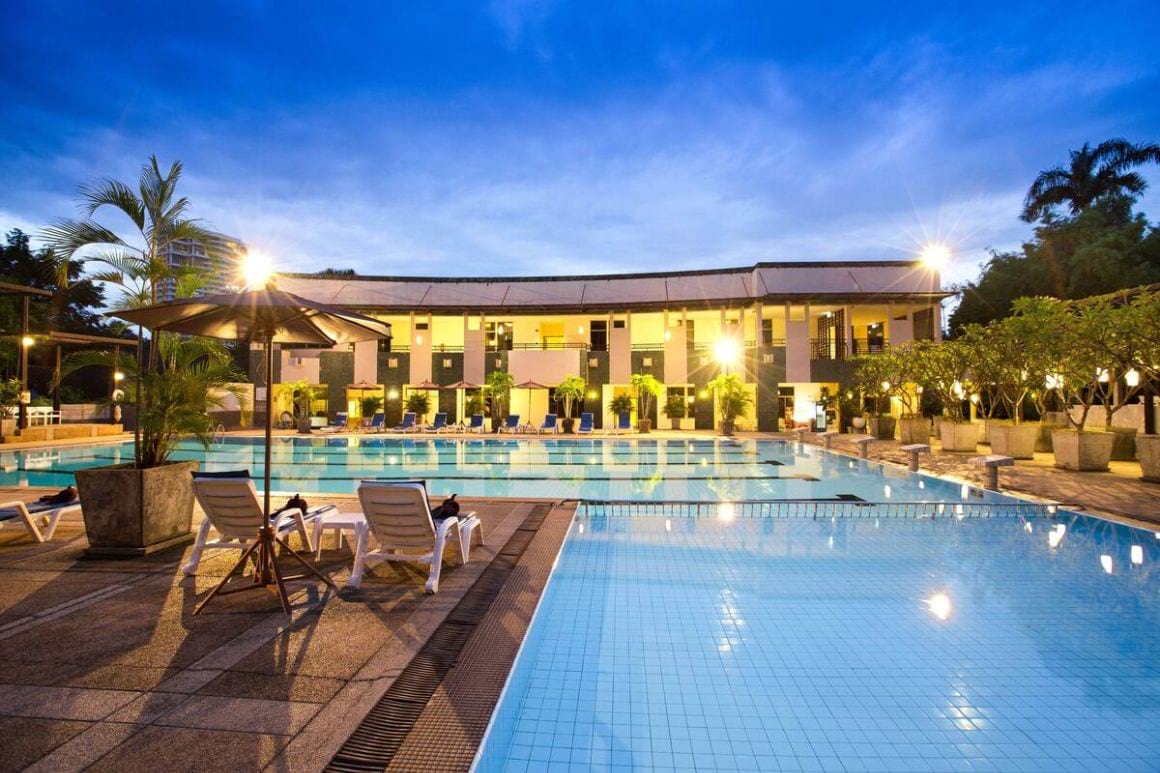 $
4 Guests
Historic refurbished house
Tranquil location outside of town
Dating back to 1935, Eco Resort Chiang Mai was originally a farm and later a kindergarten. The main building retains its original splendour, surrounded by an impressive variety of lush trees and gardens.
The resort has been lovingly upgraded over the years, preserving historic elements and reusing materials where possible. Guests can also enjoy breakfast made from locally sourced produce.
From the resort, you can rent a bicycle to head into town and explore Chiang Mai, or choose to relax beside the large swimming pool that was once used to train the Thai national swimming teams. You can also choose a book from the library or take a traditional cooking class. For those backpacking Chiang Mai, this is the ideal place to stay.
Amazing Luxury Eco-resort in Thailand – Jaiyen Eco Resort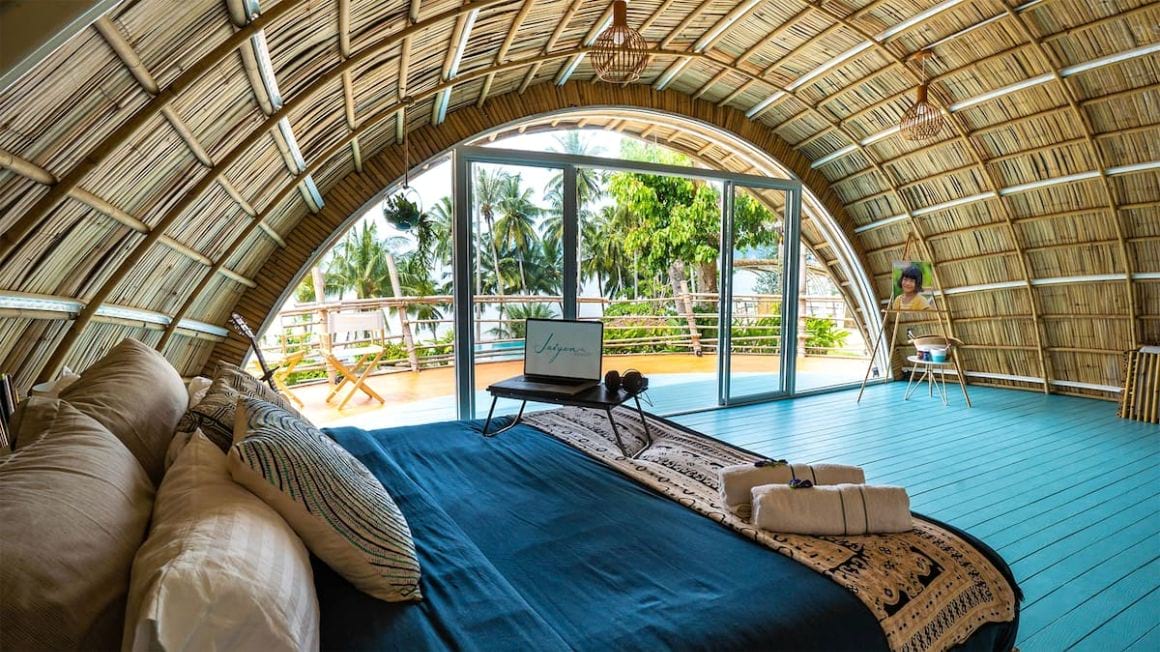 $$
16 Guests
Plant-based menu
Unique bamboo cocoons
Situated on the North-Western side of Phang Nga, facing the picturesque Limestone Karsks of Phang Nga Bay. The island is blessed with fantastic natural beauty, from quaint fishing villages to amazing national parks. The world-renowned Big Tree, coconut plantations and rice paddies are also great features.
The resort can be used exclusively for groups seeking a tranquil space for reflection and reconnection. It also functions like a co-living/co-working space and every guest forms part of the greater ecosystem.
From here, you can head to the other side of the island for a variety of bars and restaurants, as well as Muay Thai camps, and even visit a local women's community that sells and teaches local handicrafts.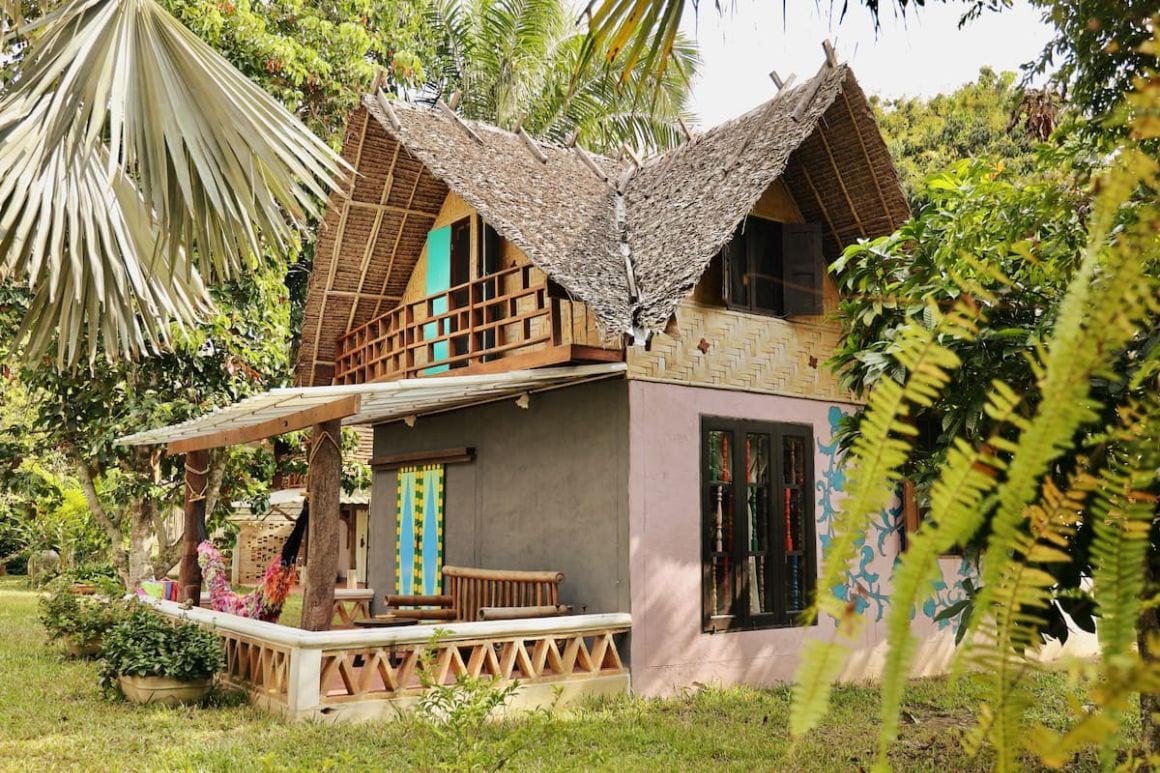 $
4 Guests
Traditional local architecture
Authenticity and simplicity
Chiang Rai Private Bungalow is one of the best eco-resorts in Thailand, situated in the quieter region of Chiang Rai in Northern Thailand, away from the more touristy areas. The resort is located on a hill, adjacent to a small lake in a lush tropical garden.
The bungalows are inspired by traditional local architecture for a truly authentic experience. All meals and products are organic and homemade.
From the resort, you can relax beside the large swimming pool, take a casual stroll through the garden, or head to the small lake nearby with some restaurants and coffee shops. You can also explore the nearby hot springs or visit the inspiring BaanDam museum.
Great Eco-resort for a Short-Stays in Thailand – Aonang Eco Villas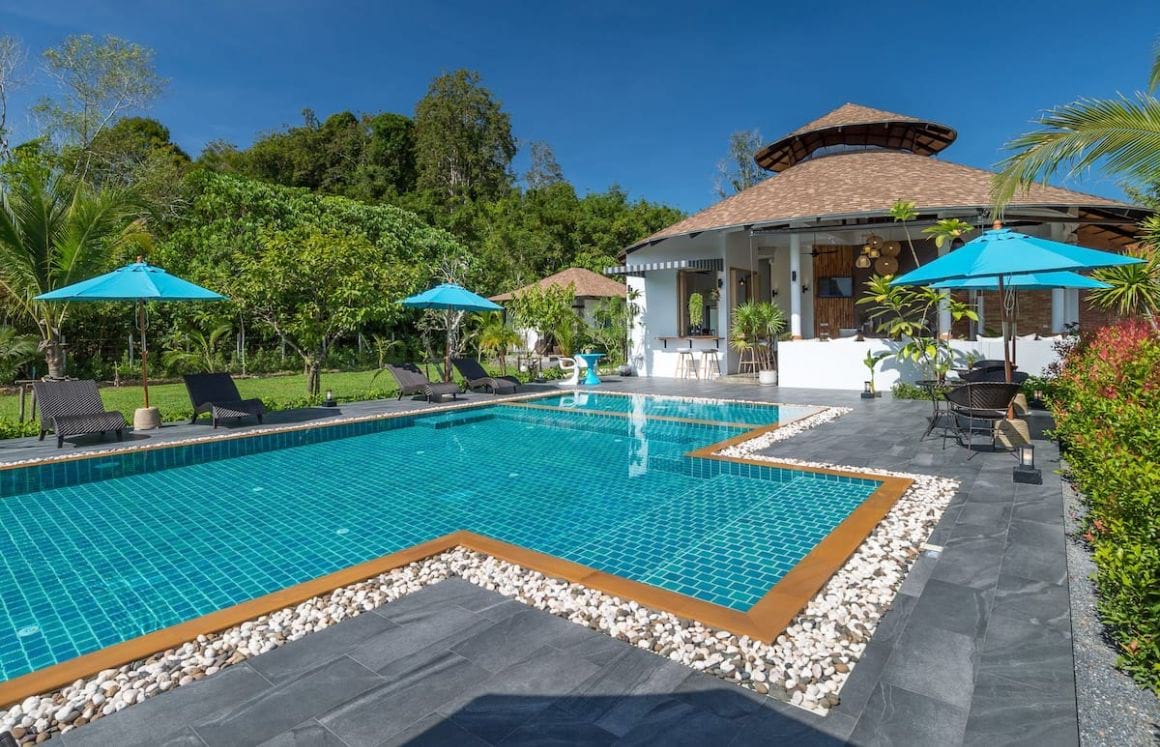 $
2 Guests
On-site organic fruit farm
Lush resort gardens and pool
Aonang Eco Villas are located just 10-minutes from one of the most popular beaches in Krabi, in a green area alongside a small canal. Surrounded by resort gardens, the villas offer a serene setting to return to after a day of exploring.
An organic fruit farm on-site provides plenty of fresh produce for guests to enjoy, as well as an opportunity to learn more about farming methods. The swimming pool at the resort is free of chlorine and is instead purified instead with salt.
There are numerous tours to embark on that take you around the surrounding sights, including tours of the city and jungle and even nearby Phi Phi Island and Hong Island. Activities on offer here range from snorkeling and diving to kayaking and rock climbing.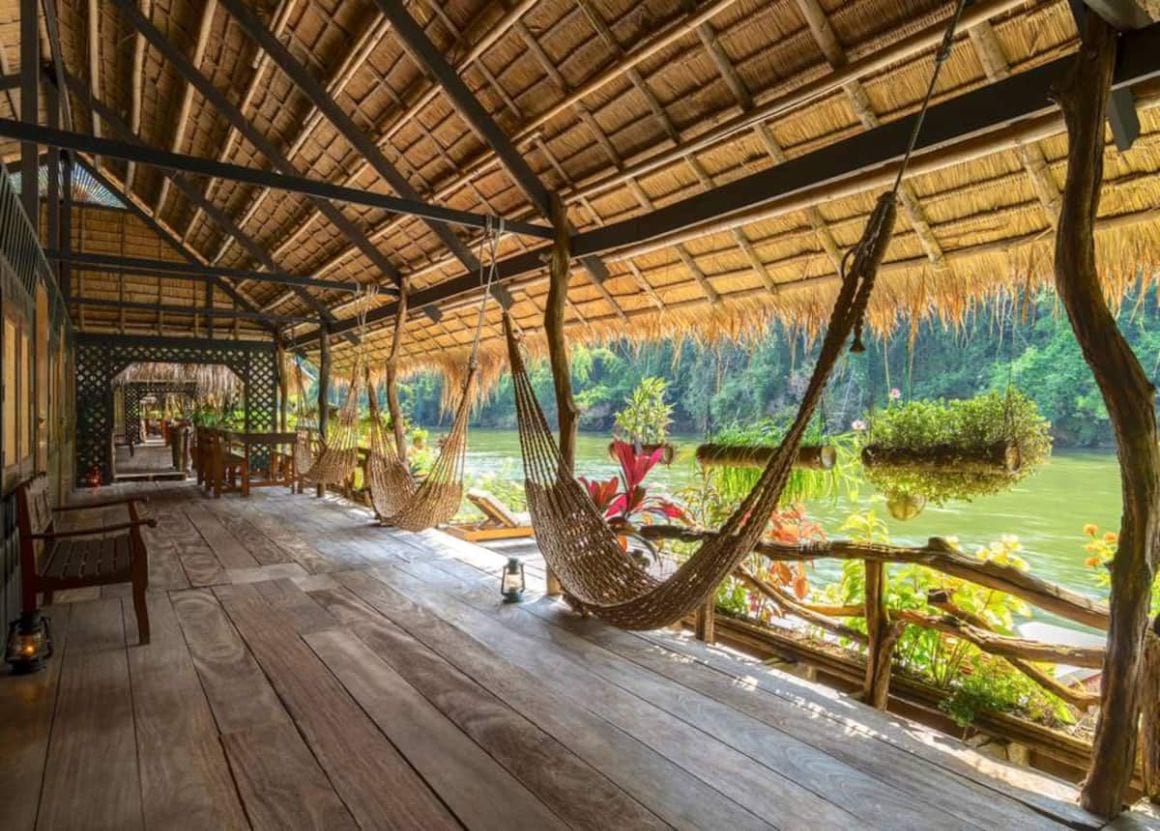 $
3 Guests
Electricity-free stay
Floating bamboo lodge
River Kwai Jungle Rafts is a floating hotel – a floatel – on the historic River Kwai Noi. The resort is moored in an idyllic setting of lush mountains and thick jungles.
The bamboo floatel is well decorated using furniture designed and made by local villagers. There's no electricity, but rather lighting is provided by romantic kerosene lamps. Guests can visit a traditional Mon village, and experience the traditional Mon dance theatre.
Days here can be spent relaxing and sunbathing, swimming, and boating on the river in this idyllic setting or enjoying an indulgent massage. You can also head out to nearby temples and truly explore the local culture.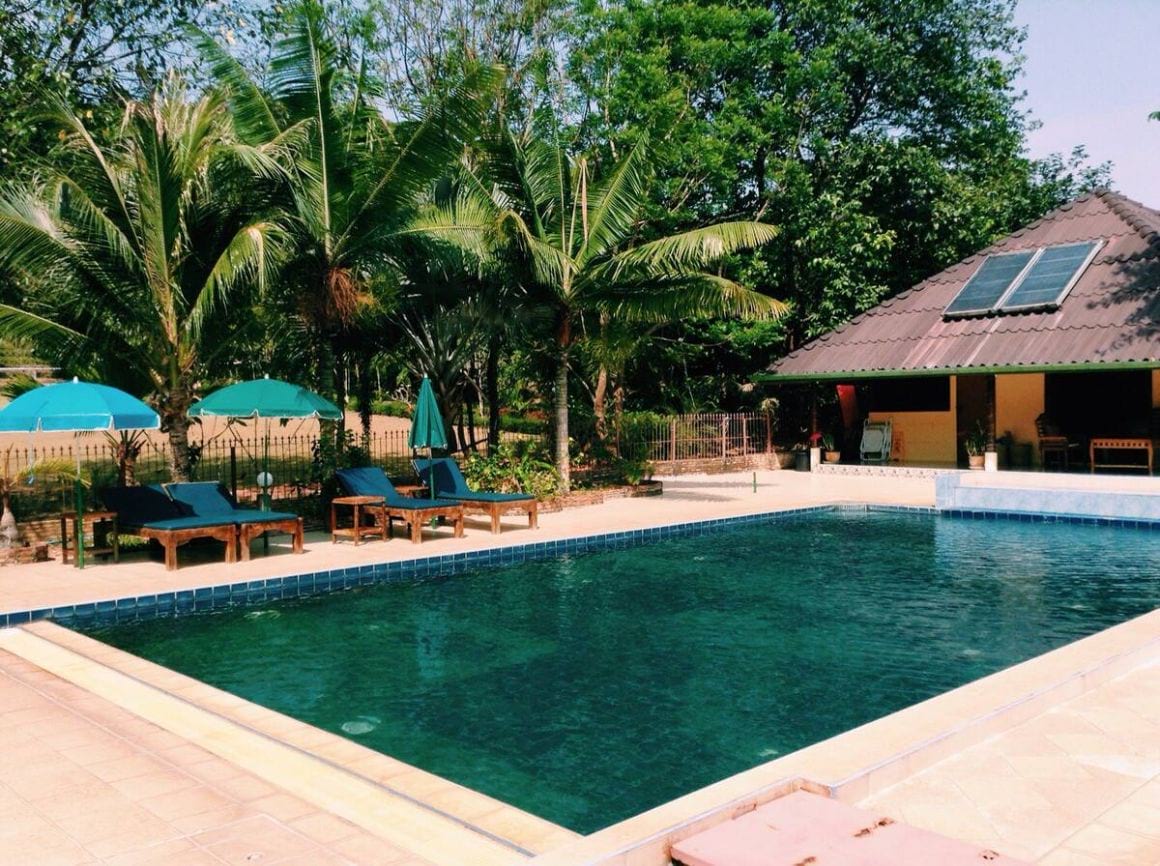 $
3 Guests
White Water Lake Nature Sanctuary
Traditional cultural immersion
Faasai Resort Agarwood Villa is a classical villa made with locally made bricks. Tucked in an idyllic hillside in the South Eastern region of Tambon Sanamchai, where the forest meets the sea, this unique accommodation in Thailand is a tranquil paradise just 10 minutes from the beach.
As part of the resort's commitment to the environment, they've developed the White Water Lake Nature Sanctuary which protects freshwater springs, wetlands, and an area of local flora and fauna.
Visit this sanctuary to see the birdlife, go boating, and even learn about local farming techniques. You can also visit the local markets, take a Thai cooking class or head out on a bicycle to explore the surrounding area.
$
3 Guests
Family-run eco-resort in a rare rainforest
In a picturesque, sheltered cove
Poseidon Bungalows are located within a small, family-run eco-resort in a sheltered cove by the river mouth. This stunning nature retreat offers seclusion and incredible nature and biodiversity.
The rustic wooden beach hut is hidden in a lush forest setting and overlooks the private beach. Whether you choose to appreciate the setting from your balcony or head out into nature to fully appreciate the area's rich biodiversity.
From the resort, you can go birdwatching, diving, and snorkeling, or go hiking in the park and swimming at a nearby waterfall. If you're keen to head out on a longer day trip to Phang-Nha, hire a scooter and head off along the coastline.
Best Eco-resort for Long Term Travellers – Fern Resort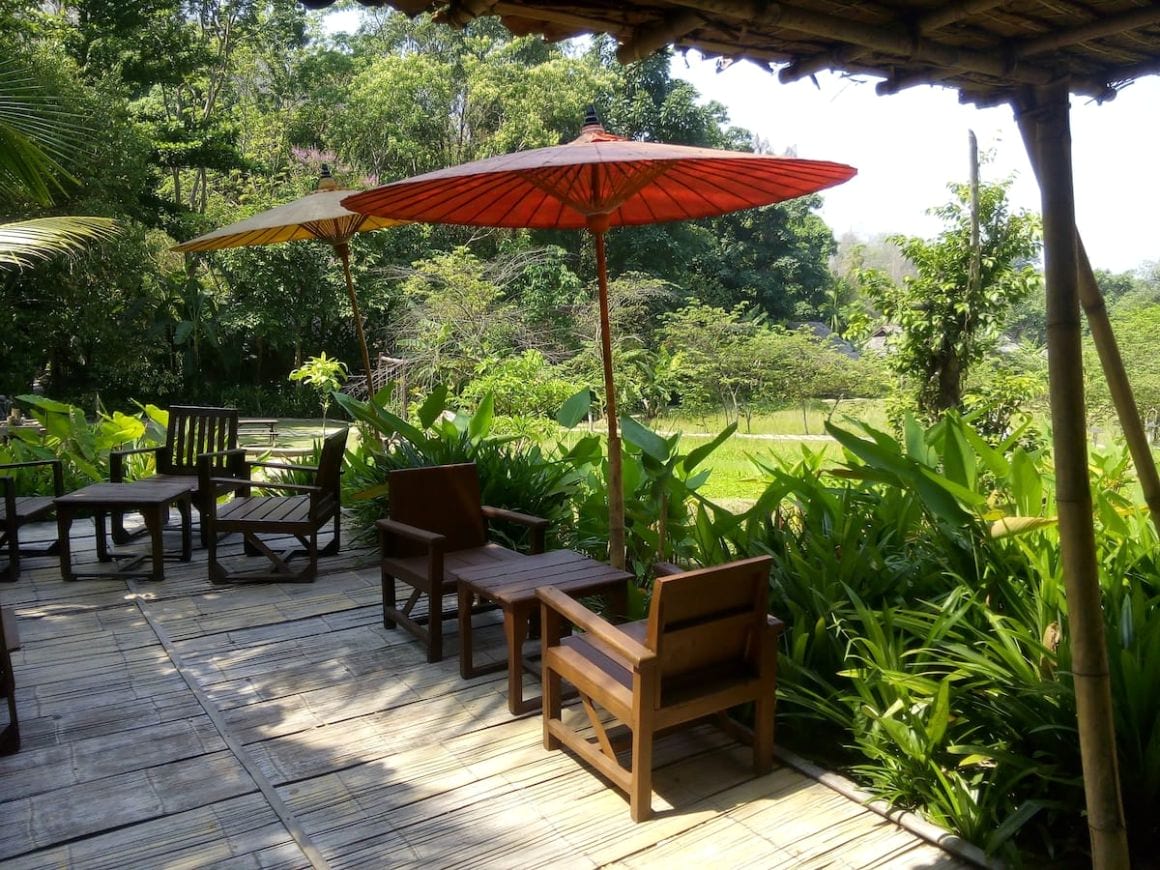 $
2 Guests
All employees from the local village
Peaceful jungle setting
Tucked in a lush valley in Northern Thailand outside the town of Mae Hong Son, Fern Resort offers a peaceful hideaway in the jungle. Surrounded by idyllic rice fields and running rivers, this is a beautiful setting to relax and unwind.
The resort is committed to supporting and partnering with surrounding local communities, providing employment to locals, partnering with other local businesses, and purchasing goods and ingredients from the local market.
Explore the pristine natural surroundings on walks along the nature trails, bird watching, biking, and participating in local agriculture in the rice fields. After a fun day exploring, return to the resort for a swim in the pool or a traditional meal in the restaurant.
Most Beautiful Eco-resort in Thailand – Our Jungle Resort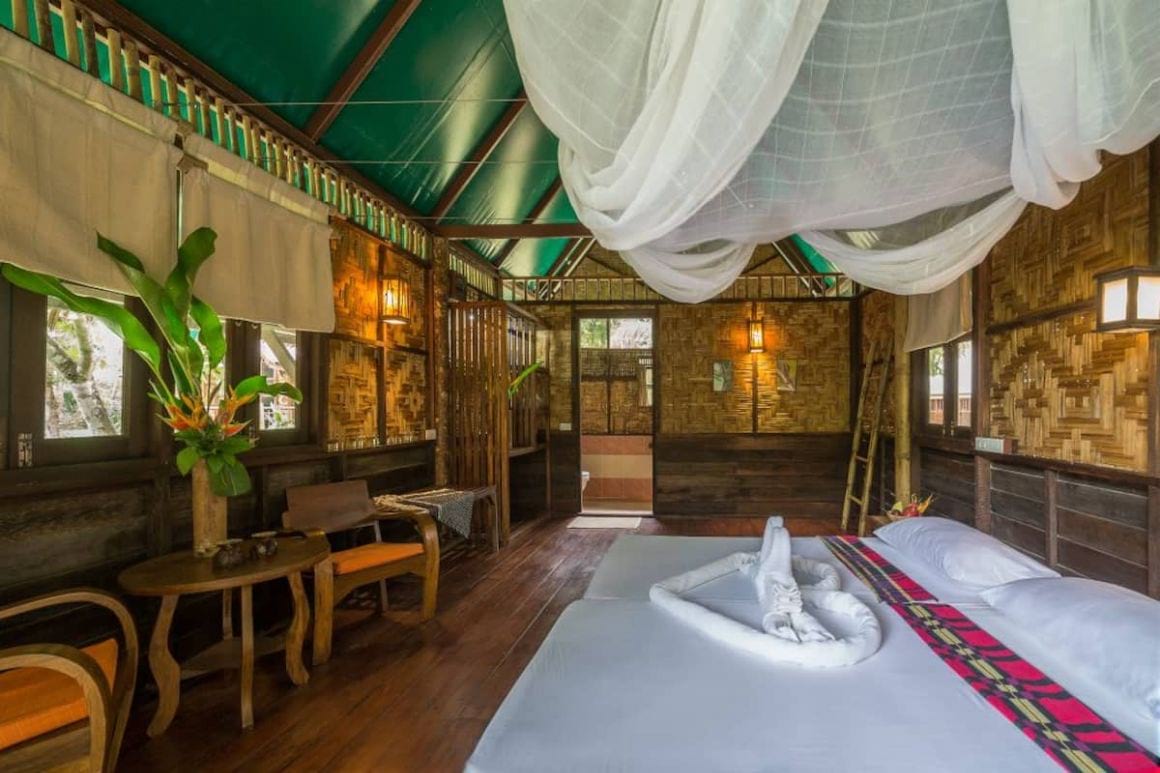 $
4 Guests
Built from bamboo and renewable materials
Overlooking the price fields and mountains
Located in an area of carefully preserved natural beauty, Our Jungle Resort is located in Khao Sok – an oasis for those seeking an authentic experience close to nature.
The resort is committed to sustainability by using bamboo and renewable materials in the construction of the resort as well as minimizing electricity, water and plastic usage. The resort also runs an educational organic farm. Your stay here assists in subsidizing an on-site nature camp for Thai children.
Activities at the resort include hiking excursions into the national park, cooking classes, boating on the lake, jungle yoga, birdwatching, and camping, among many others.
Don't Forget Your Thailand Travel Insurance
ALWAYS sort out your backpacker insurance before your trip. There's plenty to choose from in that department, but a good place to start is Safety Wing.
They offer month-to-month payments, no lock-in contracts, and require absolutely no itineraries: that's the exact kind of insurance long-term travellers and digital nomads need.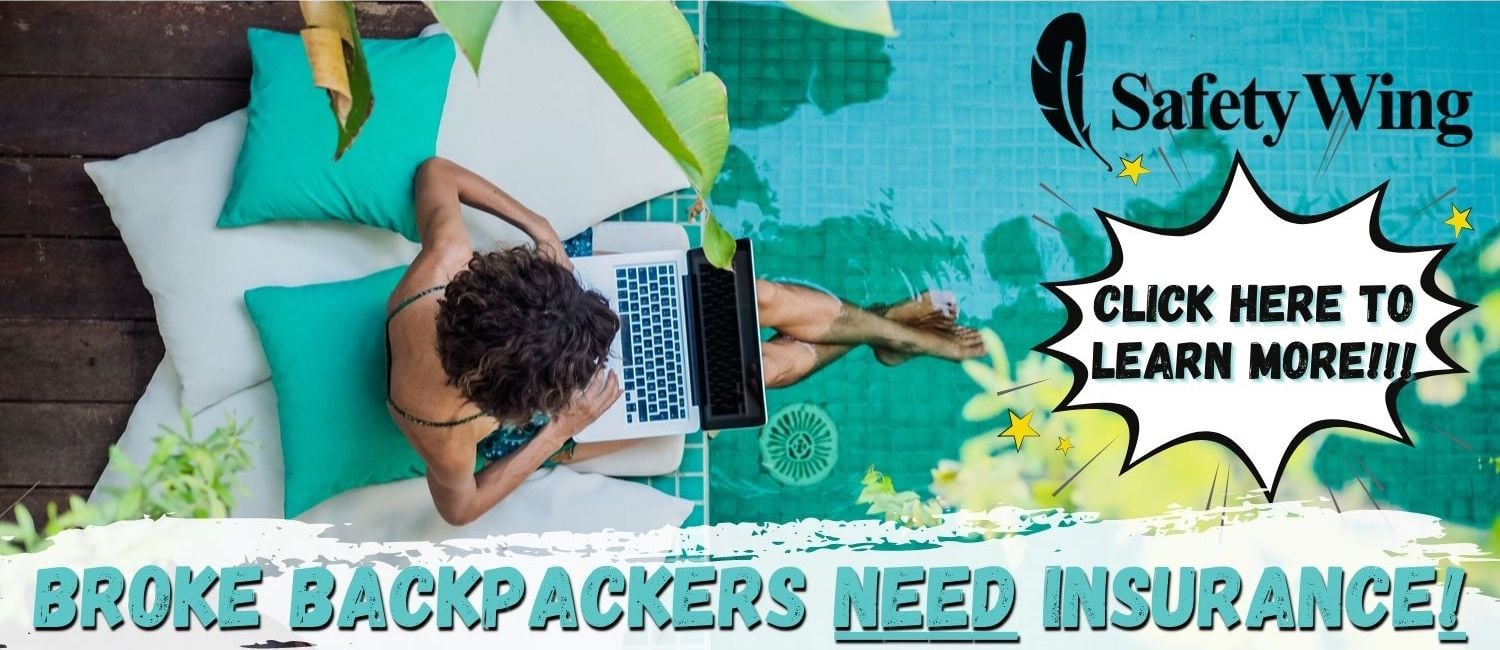 SafetyWing is cheap, easy, and admin-free: just sign up lickety-split so you can get back to it!
Click the button below to learn more about SafetyWing's setup or read our insider review for the full tasty scoop.
Final Thoughts on Thailand's Eco-resorts
Thailand's rich cultural heritage, deep spirituality, and incredible natural beauty make it the kind of destination that people return to time and again to explore more. From traditional Thai cuisine, bustling markets, and idyllic tropical beaches to lush jungles and mountains, Thailand is a varied destination with many places to visit.
And for those looking to travel sustainably, there are plenty of options for you among the best eco-resorts in Thailand. Whatever your budget or travel style, there is an eco-friendly resort for you.
---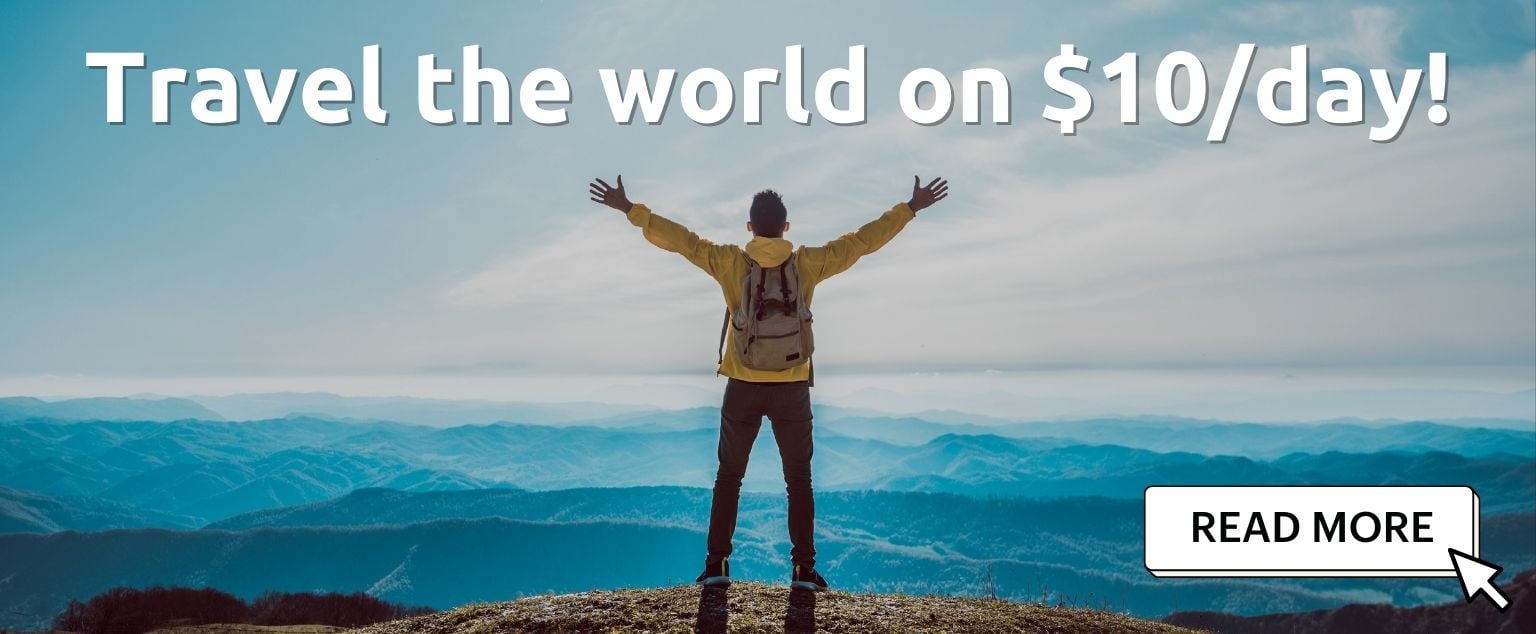 And for transparency's sake, please know that some of the links in our content are affiliate links. That means that if you book your accommodation, buy your gear, or sort your insurance through our link, we earn a small commission (at no extra cost to you). That said, we only link to the gear we trust and never recommend services we don't believe are up to scratch. Again, thank you!