Surrounded by mountains, waterfalls, and jungle, Chiang Mai is an adventure lover's paradise. I first visited Chiang Mai in 2014 and have since spent over twelve months living here in-between my adventures. Chiang Mai is my 'work base' and I absolutely love it here…
Popular with digital nomads and backpackers alike, Chiang Mai has a ton to offer! Head into the hills and go rafting, mountain biking or zip lining. Hike through the jungle and spend time with hill-tribe villages or explore on your own with a motorbike… Definitely, the best way to get around!
In the historic walled city, there are dozens of sparkling golden temples which you can explore to learn about the importance of Buddhism in Thai culture. Visit bustling night markets and snack on delicious street food or set up in a co-working space with other digital nomads and grind out a hard day's work.
Chiang Mai is one of the most liveable places in all of South East Asia, this is a friendly city that truly has everything you need and the cost of living here is cheap.
Thailand's northern capital is also one of the best destinations out there for broke backpackers. With an abundance of local markets full of delicious Thai food, free things to do, and excellent hostels and backpacker pads, you can have a great trip to Chiang Mai here without burning through a ton of cash.
This travel guide is a little different to some of the others out there, I've spent a ton of time in Chiang Mai – at the time of writing I am just about to wrap up a five-month stretch living and working here – and I know this city well, probably better than any of the other cities I've covered in the past.
I'll cover the best places to stay in Chiang Mai, where to eat, drink and party on down but also will reveal plenty of hidden gems that you might miss in this awesome city… Plus I'll throw in plenty of tips for digital nomads or long-stayers who want to know where to live, work and hit the gym in Chiang Mai.
Alright amigos, let's dive in…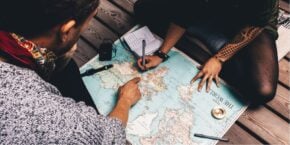 Heading Off-Grid? • Download This Guide as a PDF!
Sign up to The Broke Backpacker's EXCLUSIVE VIP AREA below and download our top backpacking guides as PDFs – go offline with peace of mind!
Few destinations in the world offer you as much bang for your buck as Chiang Mai. It truly is amazing just how far your money goes here. Much like the affordability of traveling Thailand, the low cost of travel to Chiang Mai attracts backpackers, digital nomads, and ex-pats alike to northern Thailand. All of the essentials here can be super cheap – accommodation, transportation, dining, shopping, entertainment, and yes even nightlife are all very budget-friendly here. In this section, we'll take a look at how much you can expect to spend traveling in Chiang Mai.
If you're on a shoestring, the good news is that you can get by with as little as $20-25 a day. This would mean staying in a dorm in a cheap hostel or Couchsurfing, using only the local red trucks, eating street food, and doing mostly free activities. You didn't come all the way to Thailand to just sit around one of Chiang Mai's hostels, though. A daily budget of $45-50 will get you better digs, a rented scooter, and some extra cash for adventures…
Chiang Mai Daily Budget Breakdown
Here's a breakdown of a Chiang Mai daily budget:
Dorm bed in a hostel: $5-15
Small basic room for two: $10-25
Airbnb room in a shared/entire apartment: $25-75
Songthaew (local bus) ride in the city: $1
Taxi from the airport: $5
Combination ticket for three museums: $6
Bowl of khao soi noodles: $1.25
Meal in a local restaurant: $3-$10
Big Leo beer from 7-11: $1.25
Beer in a bar: $2-3
Chiang Mai Budget Backpacking Tips
For us broke backpackers out there, Chiang Mai is a dream come true. It's not only possible but actually quite easy to visit Chiang Mai on a budget. Unless you stay in luxury hotels, you won't break the bank here. That being said, there are definitely some ways you can stretch your Baht further.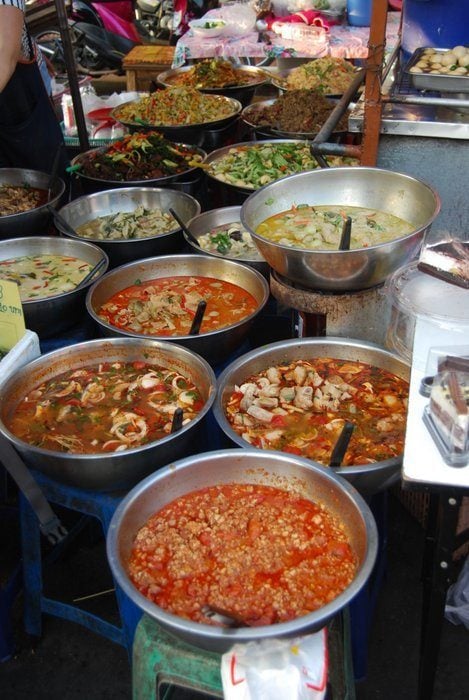 Here are some of our best Chiang Mai budget tips:
Stay a while: Staying in the city for one week or even a month allows you to get great discounts on accommodation and a rented scooter. You'll also get to know the city much better and find all the good (and cheap) places to eat and drink.
Rent a scooter: Even if you only stay a few days, life is much better with your own wheels in Chiang Mai. For long-term scooter rentals, I recommend Chloe's Motorbike rentals.
Go temple hopping: Buddhism plays a huge role in Thai culture, and there are literally hundreds of temples in Chiang Mai. They're pretty much all free to visit and you'll gain a deeper insight into the local culture. Just be sure to dress appropriately, unlike these two…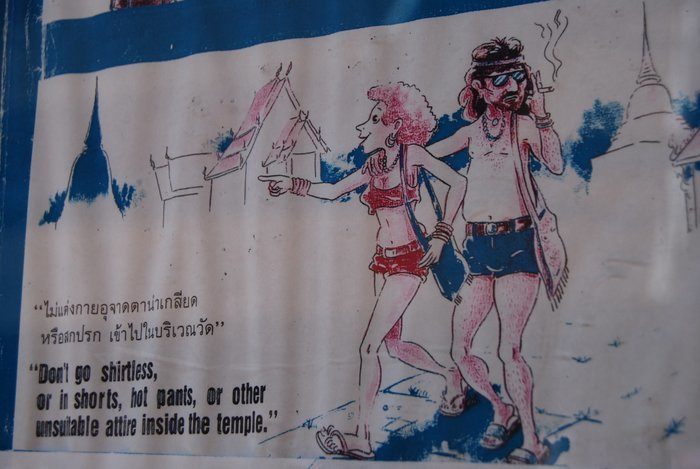 Buy the combo ticket: For just $6, you can get a ticket that's valid for three different museums. This is a great way to beat the mid-afternoon heat and learn a bit more about Thailand on your visit. At $2 each, these are well worth the price of admission!
Eat street food or in local markets: It really is amazing how much you can get for so little when it comes to eating here. By having breakfast at the hostel and a cheap local meal for lunch, you'll have a lot more money to play with.
Be a Happy Hour Hero: Chiang Mai is a big city with a large expat population. That means tons of bars, and that means plenty of choices for Happy Hour. Get your buzz on when drinks are 2-for-1 and you'll have a big night out without burning through your cash.
Pack a travel water bottle: save money (and the planet) every day! Stop buying bottled water!
As you can see, it's very easy to visit Chiang Mai on the cheap. It's not exactly like you'll be slumming it, either! You'll be crashing in a decent hostel, riding your scooter around town, feasting on mouth-watering Thai food, and learning all about the country and its culture. Chances are you'll start comparing the cost of living here to home and wonder why you don't just move here.
Why You Should Travel to Chiang Mai with a Water Bottle
Plastic washes up on even the most pristine beaches… so do your part and keep the Big Blue beautiful
You aren't going to save the world overnight, but you might as well be part of the solution and not the problem. When you travel to some of the world's most remote places, you come to realise the full extent of the plastic problem. And I hope you become more inspired to continue being a responsible traveller.
Plus, now you won't be buying overpriced bottles of water from the supermarkets either! Travel with a filtered water bottle instead and never waste a cent nor a turtle's life again.
Save $$$ • Save the Planet • Save Your Stomach!
Drink water from ANYWHERE. The Grayl Geopress is the worlds leading filtered water bottle protecting you from all manner of waterborne nasties.
Single-use plastic bottles are a MASSIVE threat to marine life. Be a part of the solution and travel with a filter water bottle. Save money and the environment!
We've tested the Geopress rigorously from the icy heights of Pakistan to the tropical jungles of Bali, and can confirm: it's the best water bottle you'll ever buy!
View on REI
Read the Review
When backpacking Chiang Mai, most people choose to stay in the Old City. Surrounded by a crumbling fortress wall and a moat, this is the heart of Chiang Mai. Staying here ensures easy access to transportation and plenty of options for where to stay, eat, and party. You can find lots of Chiang Mai's awesome Airbnbs in this area, which are overall very affordable.
But the Old City area is always a bit too hectic for my liking and if you're a digital nomad, rather than a party-focussed backpacker, you may want to stay elsewhere in Chiang Mai.
Another area that's popular with backpackers is the Night Bazaar. Of course, there's the huge night market here where you can eat, drink, and shop for super cheap. It's a lively area with lots of bars and Go Go girls.
If you are on an extended backpacking trip, be sure to check out our in-depth accommodation guide on the best hostels in Thailand – there are some real gems in there!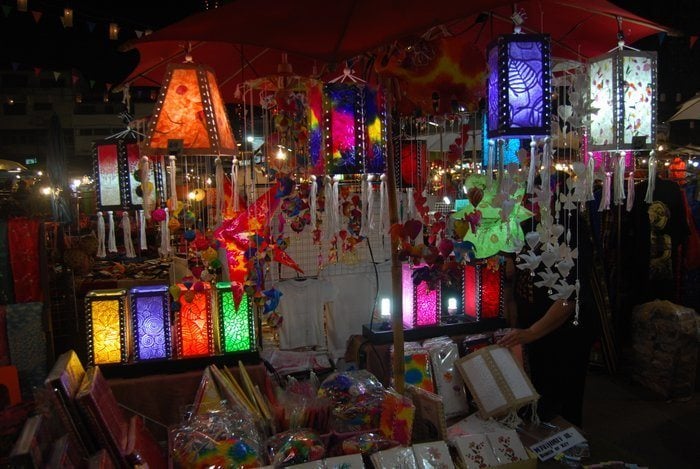 Those seeking a bit of peace and quiet may want to seek accommodation in the Nimman area. This is the heart of the digital nomad scene in Chiang Mai and there are lots of great restaurants, co-working spaces and chill cages.
You've got more options here than you can count when it comes to hostels in Chiang Mai. Here are some of my favourites…
Best Hostel for Solo Travelers in Chiang Mai – Stamps Backpackers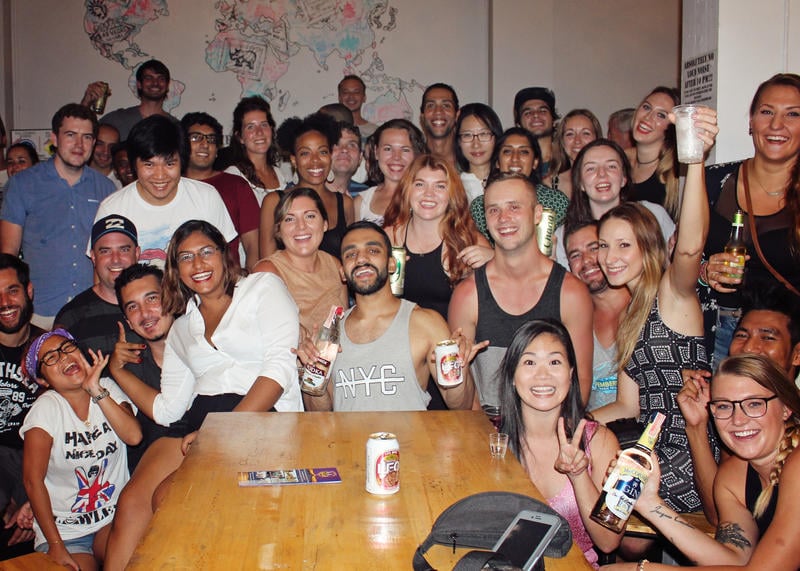 If you're flying solo in Thailand, the place to be is definitely Stamps Backpackers. Their goal here is to create a family-like vibe, which they do through nightly group activities. It's a fun and relaxed way to meet fellow travelers from day one. You can also hang out with your new hostel meets at their bar. They have a chalkboard that guests can use to plan adventures together, and they'll even give you a takeaway breakfast for those mornings where you have to get out early.
Highlights Include: Nightly social activities. Cool bar to hang out in. Takeaway breakfasts. Blackboard for planning adventures.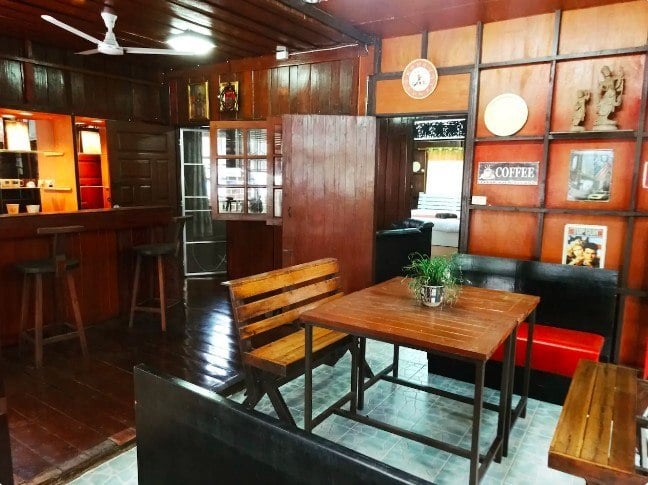 A gorgeous traditional wooden house with all modern comforts and conveniences, this house is situated near the moat. There's one king-sized bedroom, another bedroom with bunk beds and a single bed, and an air bed in the living room if required. Bedrooms have air conditioning. The bathroom is new and there's an open-air kitchen, living room, and dining area. The home has Wi-Fi. There's secure parking.
Best Overall Backpacker Hostel in Chiang Mai – S*Trips The Poshtel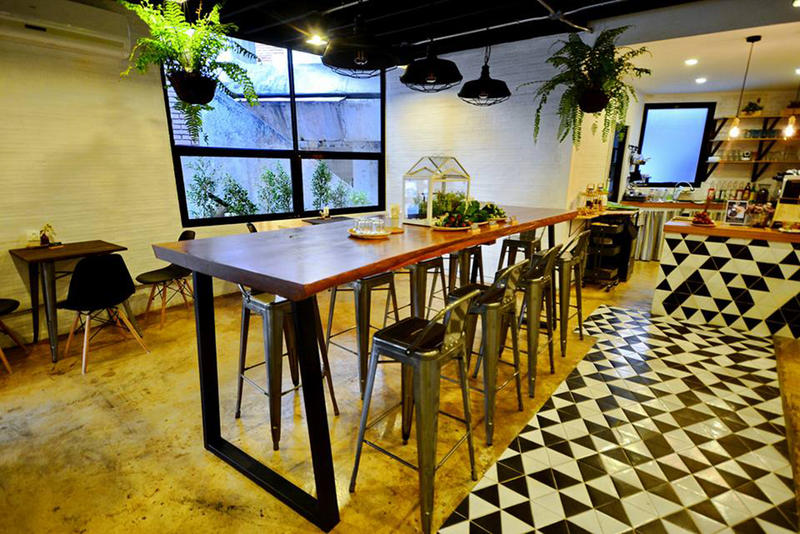 There are so many great hostels in Chiang Mai that it's really hard to choose just one. S*Trips The Poshtel is a favorite amongst backpackers and whilst it isn't as cheap as some other hostels in town, it's great value with a free breakfast, steller WiFi and a great location. It's in the perfect base in the city for exploring Chiang Mai and checking off your itinerary.
Highlights Include: Awesome free breakfast. 5-minute walk to Night Bazaar. Super fast wifi. Motorcycle rentals available. Delicious sticky rice.
S*Trips The Poshtel is one of our favourites in Chiang Mai but they're not taking guests right now. We're not sure if they're closed for good but we hope they'll come back soon.
Best Party Hostel in Chiang Mai – Bodega Chiang Mai Party Hostel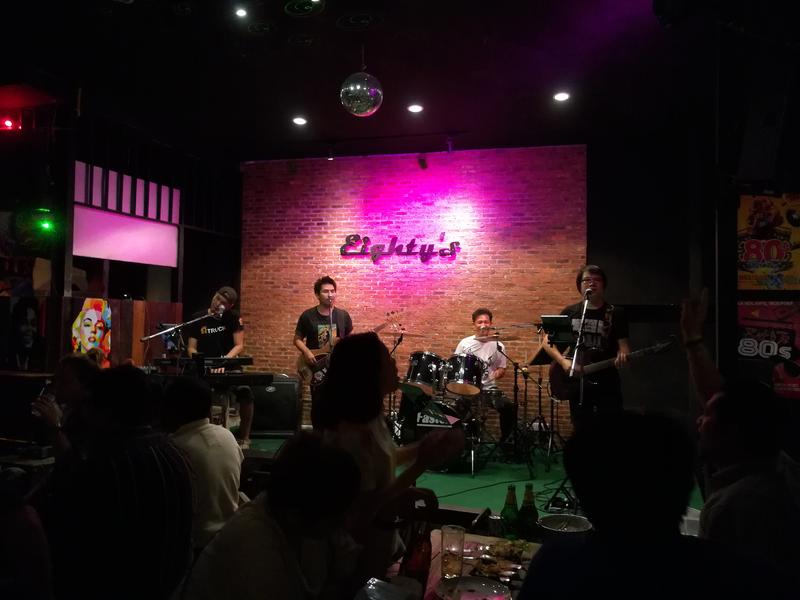 This hostel's favorite hashtag is #AdventureHardPartyHarder. That says a lot about the Bodega Chiang Mai Party Hostel and should give you an idea of what they're all about here. From their nightly beer pong tournaments to their famous "shotgun challenge," the party is always raging here. They even have a warning on their listing that says "you need to be prepared to see people who are occasionally loud, drunk and naked."
Highlights Include: Fun drinking games every night. Staff often walk around pouring free shots. Walking distance to night markets. Dorms of only 4 beds available.
Bodega Chiang Mai Party Hostel is one of our favourites in Chiang Mai but they're not taking guests right now. We're not sure if they're closed for good but we hope they'll come back soon.
It's pretty impossible to get bored in Chiang Mai. In the Old City alone, you've got tons of temples, museums, parks, and markets to keep you busy. This is also an adventure lover's paradise, as you've got trekking, cycling, rafting, and more at your fingertips. You'll have no problem filling your days when backpacking Chiang Mai.
With a few days in the city, it's possible to do a little bit of everything. Here are our top 10 things to do in Chiang Mai to give you some ideas:
1. Visit a Mountaintop Temple
While there are hundreds of temples in Chiang Mai, none compare to Doi Sutthep. When backpacking Chiang Mai, you'll definitely want to make the trek out here to check out the gold-plated chedi and take in the views of the city.
2. Take Part in the Songkran Festivities
Songkran (Thai New Year) happens from April 13-15 every year. Chiang Mai is perhaps the most fun place to celebrate the holiday, as the entire city turns into a massive water fight. It is WELL WORTH planning your entire trip around being in Chiang Mai for Songkran!
3. Get Up Close with Elephants
There are countless elephant-related tours available, but it should be known that most of them treat the animals poorly. It's best to avoid any experience where you ride the elephants. The Elephant Nature Park has the best reputation of all the operators.
4. Ride the Mae Hong Son Loop
Thrill-seekers and adventure junkies will love this trip. Rent a motorbike in the city and head out to ride the 1,864 curves of the famed Mae Hong Son Loop.
5. Go Temple Hopping
With hundreds to choose from, you're never that far away from a temple in Chiang Mai. Just be sure to dress appropriately – leave the singlets and board shorts in the hostel, bro.
It's easy to sign up for 1-3 day trekking trips in the jungle outside of Chiang Mai. Sleep in remote villages, have cookouts, and do a bit of cliff jumping.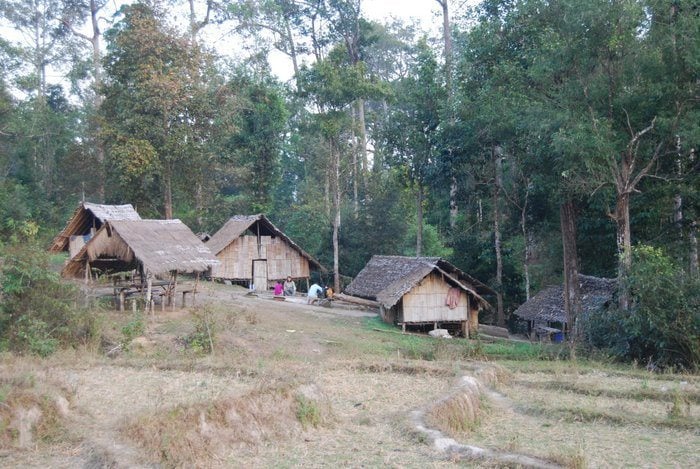 7. Learn Muay Thai
There are several Muay Thai training centers located in Chiang Mai. If you're not looking to do it yourself, you can still catch fights several times a week.
8. Eat Khao Soi
When it comes to the cuisine of northern Thailand, khao soi is probably the most famous dish. This coconut curry noodle soup is amazing and nowhere does it better than Chiang Mai.
9. Do Go Chasing Waterfalls
There are a few waterfalls that are an easy daytrip out of Chiang Mai. Take an afternoon to go cool off and chill out in nature.
10. Fly Through the Trees
Chiang Mai is home to several excellent zipline tours. Spend a day flying through the trees out in the Thai jungle.
Need help deciding between Bangkok and Chiang Mai? Check out our helpful guide.
Is This the Best Daypack EVER???
Restaurants and cafes in Chiang Mai
Chiang Mai is absolutely full of incredible cafes, restaurants and bars, here are a few of my favourites…
Feast Society: My absolute favourite restaurant in Chiang Mai – simply incredible food! Go!
Cafe de JJ: Awesome food in a really cool hole in the wall style eatery, cheap and tasty!
Smoothie Blues: Cheap, filling and plenty to choose from – smoothies and omelettes!
Overstand: Has the best damn pizza in Chiang Mai… even if it is a breakfast pizza.
Gallery Seescape and SS1254372 Cafe: Cool vibes, decent bagels, stupid name.
Ristro8: Probably has the best coffee in all of Thailand…
Le Brunch: Best Western Breakfast in town.
Rustic and Blue: Overpriced but admittedly delicious.
Beast Burger: The best burgers I've found anywhere in Asia.
Tsunami Sushi: Incredible and affordable sushi.
Srifaa's: My favourite local Thai restaurant, delicious and cheap Thai food.
Salad Concept: A digital nomad favourite, design your own mega salad from scratch.
Pure Vegan: Hippy dippy bullshit… but if you're into no meat on your plate, this is the place to go.
Khao Say Nimman: The best Khao Say in Chiang Mai!
Clay Studio Coffee in the Garden: A really cool cafe with clay statues and tasty teas…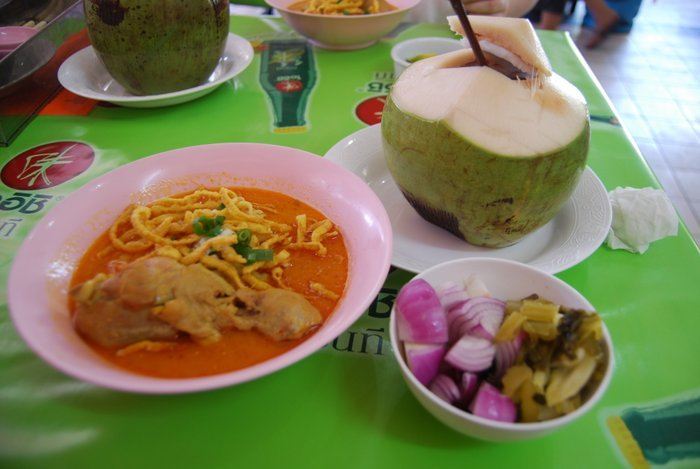 As far as drinking goes, you can find juice bars, cafes, and bars everywhere. You can get a delicious smoothie in the market for $1 or less and a strong espresso for $1-2. When it's time for something stronger, you can pick up a big beer from a 7:11 for $2. If you're looking to party on a budget, grab a bottle of Sangsom rum or whiskey. It's not great, but it's cheap and it gets the job done.
For Thai cooking classes, check out this site for awesome deals.
Nightlife in Chiang Mai
Chiang Mai is a great city if you enjoy having an adult beverage or two. There are bars of all shapes and sizes in the city, ranging from dingy dive bars to high-class cocktail joints. One of the best places to go for nightlife in Chiang Mai is Loi Kroh Road. At the end of the road is the CMEC (Chiang Mai Entertainment Complex). Here you'll find sports bars and ladyboy bars around a ring that has Muay Thai fights. For more authentic muay thai fights, head further out of town. Zoe's in Yellow is where most backpacker groups end up and is a good place to meet locals and other travelers.
If you're looking for some live music, Charoenrat Road along the east bank of the river is a great place to go. On any given night, you might find rock, blues, jazz, or pop bands. While many bands cover well-known English songs, you'll also be able to find local bands playing actual Thai music as well.
This is definitely an easy city to stay out all night in. A typical big night out in Chiang Mai goes something like this: pre-game in the hostel, hit a Happy Hour or nightly deal somewhere, check out some live music, play some pool and see where the night takes you.
There are nightclubs in Chiang Mai, but I don't do nightclubs so I have nothing to report.
If you're looking for some Bob Marley tunes, head down to Marlboro Bar – a chill spot for some pool and one of my favourite hangouts once the clock hits 4:20. Momma knows where it's at.
Chiang Mai is an excellent location if you'd like to experience one of many Thai festivals, so it's worth considering these when looking for things to do.
Chiang Mai for Long Stayers
If you're just passing through Chiang Mai, you can skip this section and head straight to the Chiang Mai suggested itineraries…
Chiang Mai is an awesome place to spend some real time and I've been lucky enough to call this magical city my home for the last few months. If you plan on staying long-term, here's some tips…
Where to live in Chiang Mai
Most long stayers tend to stay around Nimman area, if you're on a budget have a look at staying in Ban Thai just off Nimman. It's possible to find an apartment for as low as 5000 bhat a month, you can also spend up to 18,000 bhat a month – it depends what you want.
You can find a TON of information by joining the Chiang Mai digital nomad group on Facebook.
The best gyms in Chiang Mai
Chiang Mai is blessed with quite a lot of gyms and if you wanna stay fit, you have plenty of options. I've tried out several gyms in Chiang Mai – here are the best gyms in Chiang Mai, according to me!
Moo Bah Strong Man Gym: Definitely the best value gym, all the equipment is brand new and owner Eric really knows what he is talking about. For olympic lifters, this is one of the best gyms in Chiang Mai and if you're interested in strongman training this is probably the best strongman gym in all of Thailand. Moo Bah is a five minute drive from Nimman area.
Eric offers 1:1 coaching and can also put together custom training programs based on your requirements. I trained with him for 2 months and hit new all time highs on all of my big lifts…
Price: From 1500 Bhat a month.
Crossfit Chiang Mai: A large, well-equipped box with daily Crossfit classes. I trained here on and off for over six months. If you're new to Crossfit, this is a great box. If you're more experienced and looking for well thought out programming that will really push you and coaches that will make the effort to help you improve, you may want to look elsewhere.
Price: From 3000 Bhat a month.
Virgin Active: A world-class gym that offers up to 200 classes every week – everything from HIT training and Crossfit style classes – plus next-level equipment and a sauna. This place is pretty fucking awesome but it's far out of town, at the Central Festival mall, which is the major downside.
Price: From 2700 Bhat a month.
Yoga in Chiang Mai
Chiang Mai is famed for its many yoga studios and there are a ton of places you can get stretchy here… Here are some of my favourites…
Freedom Yoga: Run by the charismatic Adam, this is my favourite yoga place in town and has a great cafe.
Yoga Ananda: Just off Nimman, you will definitely sweat in these classes – intermediate is pretty hardcore, according to Esme.
Wild Rose Yoga Studio: In the Old City, very cool yoga studio.
Mahasiddha: South of the old city. Focuses on meditation and spirituality as well as yoga.
Long-term scooter rental
Look no further… Chloe is the person you want to rent your motorcycle or scooter from. She is super nice, bikes are in great condition and reasonably priced. Get in touch with her here.
Now that you've learned a bit about the cost of travel, where to stay, and some of the best things to do, it's time to make a kickass itinerary for 3 days in Chiang Mai.
Day 1 in Chiang Mai: Temples and Markets
Once you've settled into your hostel, it's time to explore all that the Old City has to offer. With a few hours, you can easily hit a few of the best temples in the area. Don't miss Wat Chedi Luang – the "Temple of the Big Stupa." The famous Emerald Buddha that now resides in Bangkok was once held here and it's still a very active place of worship. Of the free things to do in Chiang Mai, bouncing around the temples is one of the best.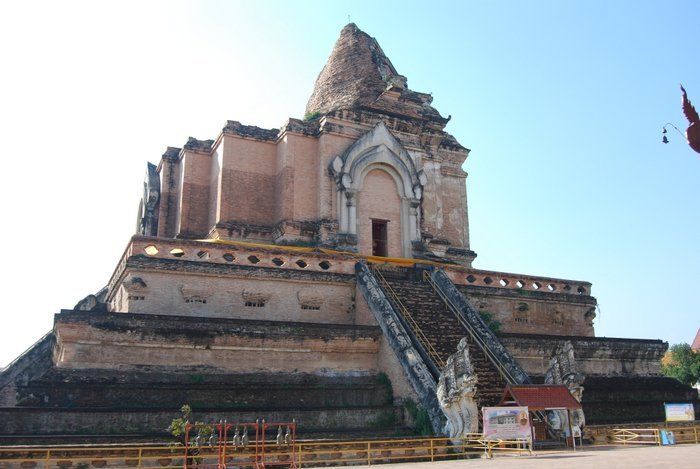 If you've got time and the interest, you can grab a combination ticket to three of the city's museums. For just $6, you can visit the Arts & Cultural Center, Lanna Folklife Museum, and the History Museum. You don't need to visit them all on the same day, either, so you can even hit one a day if you like. They're not the best museums in the world, but they do have some good exhibits and it's a great way to get out of that searing Chiang Mai heat.
In between all those temples and museums, you'll want to tuck into local markets or hole-in-the-wall restaurants to try northern Thai specialities like khao soi and chili dips like nam prik. Wherever you see a bunch of Thais sitting on plastic stools, that's where you should eat. A willingness to try anything and/or a few Thai words and phrases are necessary for such culinary adventures.
In the evening, there are plenty of night markets you can check out. Even if you're like me and absolutely loathe shopping, the Chiang Mai markets are fun places to wander around. Plus, you can always grab a cold beer along the way to make it more enjoyable. If you're still hungry, there are tons of food vendors as well. You may even catch a dance performance or some live music, especially on the weekends.
If you're looking for backpacker bars in Chiang Mai, they're not hard to find. This city is firmly on the Banana Pancake Trail and is well equipped for thirsty backpackers. The nightlife in Chiang Mai is pretty epic, so you may be tempted to go out and party all night. Those looking to maximize their three days in the city will want to call it an early night. Take that money you save from not buying a few more drinks and get a cheap massage or an ice cream instead!
Day 2 in Chiang Mai: Adventures Outside the City
While there's enough to do in the city to keep you busy the whole time, you'll want to get out and see a bit of the surrounding area. The best way to do this is with your own two wheels. Rent a scooter in town and make sure you and the owner clearly note any scratches, dents, or faulty equipment. Also, don't be an idiot – put your helmet on and get one for anyone riding with you.
With your new chariot, head out of the city and up the hill to visit Doi Sutthep. This is the granddaddy of them all as far as Chiang Mai temples go. If you're not familiar with Buddhism in Thailand, this is a great place to get acquainted. There are also stunning views off to the side. When you factor in the time it takes to get out there and climb the stairs, you'll need to dedicate half of day two in Chiang Mai to your visit.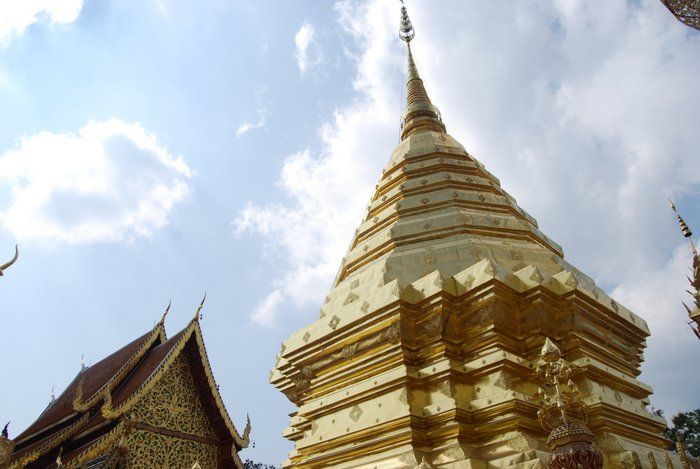 In the afternoon, you've got several options for where to head next. A great choice is Huay Tung Tao, a manmade lake that's a great place to chill out. There are several little huts around the lake and a handful of restaurants. Kick back and order up a meal and a cold one and just enjoy this tranquil setting.
Other options in the area include the Queen Sirikit Botanical Gardens, the Mae Sa Waterfall, or the Phu Ping Palace. If you're motivated, good on the bike, and have a working phone with GPS, you can even try to visit most of these places in just one day. Of course, you could also just linger at one or two and take it easy.
Back in the city, take your pick of the countless restaurants and bars to enjoy a casual night out. Check the schedule and see if there are Muay Thai fights going on if you're interested in that. There are also plenty of bars that have live music, including the Boy Blues Bar and The Edge. If you're going to party in Chiang Mai, you might as well go and get your ya-yas out tonight. Tomorrow morning you'll just have to drag your hungover ass out of bed and into a minivan.
Day 3 in Chiang Mai: Meet the Elephants
Elephants are incredibly important in Thai culture. The giant pachyderm is actually the official symbol of the country. There was even an elephant on the Siamese flag up until the early 1900s. Elephants are revered in Thai culture for their strength and endurance, and they are a symbol of prosperity.
Over the years, elephants helped the Thai people defend their kingdom and assisted them in logging. Since that industry was banned, the massive animals have moved into the realm of tourism. There are now countless elephant-related tours in Chiang Mai and other parts of Thailand. You should be warned, though, that not all of these tours are created equal and you should not ride an elephant.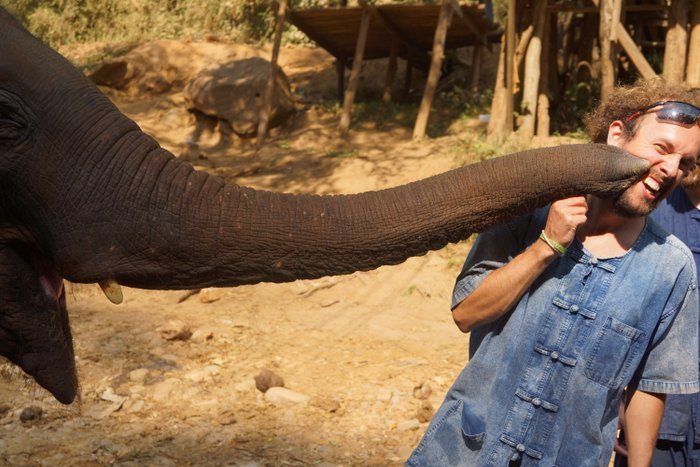 When shopping around for an elephant experience, it's important to keep in mind a few things. For one, elephants are not meant to be ridden. It really is a dick move to go and ride an elephant, to be honest. I've done it before when I was ignorant on the subject, but I'd never do it again. I'd also recommend you to skip out on that elephant ride.
Of all the elephant tour operators in Chiang Mai, none has a better reputation than the Elephant Nature Park. If you want to get up close with the elephants and do so in an ethical way, these guys are your best bet. Their single day visit takes all day and costs around $80, including transportation and lunch.
Day 3: Alternatives for things to do in Chiang Mai
Not everyone will be interested in spending the time and money on visiting the elephants, and that's fine. Thankfully there are plenty of other options for how you spend the last of your 3 days in Chiang Mai. Since Thai food is so delicious, why not just learn how to make it yourself?
There are lots of great cooking schools here for you to choose from. Visit a market and then cook up a traditional Thai dish, then impress your friends at home with your newfound culinary prowess.
If you're looking for a bit of adrenaline on your trip, you can choose from rafting, mountain biking, ATV riding, and zip lining adventures. Many operators offer combo tours where you'll get a bit of a discount for booking a few. Most of these tours include transportation and a meal and will cost anywhere from $50-100. Check here for a list of operators and daily activities.
Of course, if you're backpacking Chiang Mai on a budget you may not want to fork over the Baht for these more expensive tours. Never fear, as there are several other temples, parks, and markets for you to explore in the city. You can also just kick back and chill out at your hostel, as it's been a pretty busy 3 days in Chiang Mai.
Chiang Mai Off the Beaten Track
When staying in the Old City, it can start to feel like there are more farang than Thais. It's true that the city is a very popular destination for backpackers, digital nomads, and expats alike (based on recent digital nomad trends). When visiting places like Doi Sutthep and the Night Bazaar, you'll definitely be surrounded by other travelers.
Those looking to get off the beaten path in Chiang Mai may want to consider staying outside of the Old City walls. There are plenty of other awesome hostels out there that don't throw a huge party every night. You can even find some pretty incredible rooms or entire apartments on Airbnb. As long as you have a scooter, you'll still be able to get around.
Best Walks in Chiang Mai
While the traffic of Chiang Mai can be a bit intense, it's still possible to enjoy a nice leisurely stroll around the city. The best time to walk around is early in the morning or later in the day when it's not too hot. Here are some of the best walks in Chiang Mai for you to check out:
Temple Tour: There are so many temples in Chiang Mai. It almost seems like there's one on every street in the Old City. Thanks to this abundance in temples, it's very easy to do a self-guided walking tour to visit a handful of them in just a few hours.
Art Gallery Tour: There's a vibrant arts scene in Chiang Mai, meaning plenty of art galleries and shops for you to browse. Spend half a day bouncing around different galleries, stopping at cafes and restaurants along the way.
South of Chiang Mai: This rather long (7.5 km) walk takes you to a beautiful Catholic cathedral, a Chinese dragon temple, and ancient ruins.
You can download these and several other walking tour maps here.
Monk's Trail to Doi Suthep: While you can just catch a ride all the way to the base of Doi Suthep, you can also hike along the Monk's Trail. This is best done early in the morning and will take a few hours. Check out this excellent guide to the Monk's Trail for more information.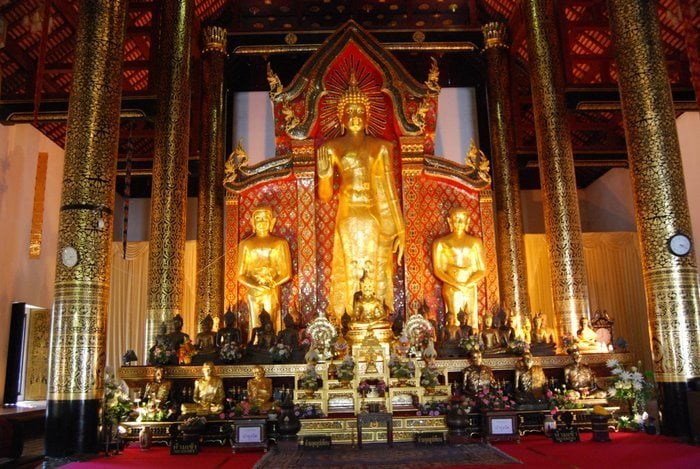 Best time of year to visit Chiang Mai
Generally speaking, the best time to visit Chiang Mai is between October and April. The weather is cool and pleasant, especially from November to February — a prime time if you're coming for a hike. Of course, this nice weather correlates with Chiang Mai's high season. Especially if traveling during Christmas and Chinese New Year, it's important to book accommodation and things like train tickets in advance in the high season.
The rainy season lasts from May to October. While the rain cools it down a bit, the humidity can be pretty bad at this time of year. As such, this is definitely considered the low season in Chiang Mai. While that means less than ideal weather, it also means smaller crowds and better deals. Perfect for those trying to do Chiang Mai on a budget.
Even though it's super hot, many would say that the middle of April is the best time to visit Chiang Mai. That's because this is when you'll get to experience Songkran (the Thai New Year). The whole city turns into the biggest water fight you've ever seen and it's just a ton of fun.
Getting in and out of Chiang Mai
Chiang Mai International Airport (CNX) has both domestic and international flights. There are direct flights here from several places in Thailand and also from cities in China, Malaysia, Laos, and Singapore.
The airport is located just a few kilometers southwest of the city center. Legal taxis charge an official rate of 160 Baht ($5) for a ride to the city center. If saving a couple bucks is a high priority, you can try to navigate the complex system of local buses and songthaew, but for the added stress it's probably not worth it.
If you really want a backpacking adventure and you're planning to travel to Laos after Chiang Mai, the slow boat journey to Luang Prabang is excellent fun. It's easily one of the coolest ways to cross the border into Laos!
When you're ready to travel to Chiang Mai, forgo buying tickets at the station and book them online instead! You can now book transport in advance for most of Asia using Bookway and doing so can really save you some stress (and maybe money, too).
Powered by Bookway system
Use Bookaway to find the best deals on transport – buses, planes, trains, and ferries. It'll save you a load of time when organising transport and you'll probably nab an EPIC DISCOUNT too!
Book your transport on Bookaway NOW. Get the best price for the best ride… then use those savings to buy the best feed in town!
Book Your Transport Here!
How to get around Chiang Mai
I've said it before and I'll say it again – nothing beats having a motorbike when backpacking Chiang Mai. As long as you're comfortable on a bike and can handle the slightly intense Thai driving style, having a scooter will make your life much easier. There are rental shops on every corner in Chiang Mai, with most offering daily, weekly, and monthly rates.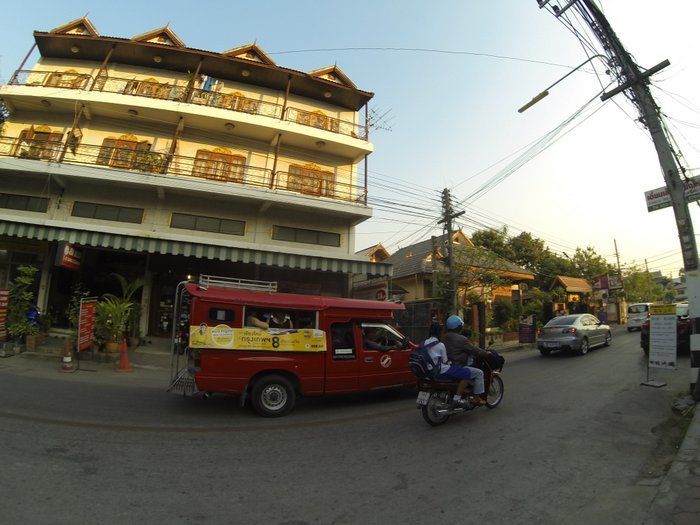 Those not comfortable on a bike will have to get by on public transportation. There's no metro system in Chiang Mai, but there are a ton of bus routes and the ubiquitous songthaew. These color-coded pickup trucks go just about everywhere in the city but can be a bit confusing. I highly recommend checking out this great guide for how to ride a songthaew in Chiang Mai. If you're looking to do Chiang Mai on the cheap, the songthaew are definitely the way to go.
I STRONGLY recommend that you don't bother with taxis and tuk tuks and instead use Grab – it's cheaper, friendlier and faster.
Long Distance Trains from Chiang Mai
A classic Thailand travel experience is taking to train from Bangkok to Chiang Mai, or vice versa. You have the option of getting a bed on an overnight sleeper train for $25 or taking a seat on the express train during the day for $18. If possible, see if you can get a bunk on car #9 or 10 as they are the newest and best options. Even on the sleeper train, you'll get to enjoy some amazing scenery.
Those looking to explore other destinations in Thailand can also get off the train in Phitsanulok to visit Sukhothai, get off in Lopburi to see the city of monkeys, or explore the ruins in Ayutthaya.
Safety in Chiang Mai
Overall, Chiang Mai is an incredibly safe place to visit. Just like any big city, though, there are of course some risks here. Be aware of your surroundings when walking around at night, and don't go flashing cash or valuables.
The tap water definitely is a no-go here. Travel with a water bottle that you can easily and cheaply refill at stations all over the city. This ensures you don't get sick and cuts down on plastic waste.
One of the biggest scams you need to worry about in Chiang Mai is tuk-tuk drivers taking you on a forced shopping tour. Should you get stuck on one of these, you'll surely be introduced to the famous gem scam here where a shopkeeper tries to sell you worthless plastic for exorbitant prices. Best to cut your loses and call a Grab or hop on the songthaew to get out of there.
Keep an eye out for the police – if they catch you riding a scooter without an international or a Thai license, it's a 300 bhat fine. The police can be avoided fairly easily, if you're quick 😉
Pick yourself up a backpacker security belt to keep your cash safe on the road, and check out our Thailand Safety Guide for tips and tricks to stay safe whilst backpacking Chiang Mai. This post for plenty of ideas on ingenious ways to hide your money when traveling.
Travel Insurance for Chiang Mai
Traveling without insurance would be risky so do consider getting good backpacker insurance sorted before you head off on an adventure.
I have been using World Nomads for some time now and made a few claims over the years. They're easy to use, professional and relatively affordable. They may also let you buy or extend a policy once you've started your trip and are already abroad which is super handy.
If there's one insurance company I trust, it's World Nomads.
ALWAYS sort out your backpacker insurance before your trip. There's plenty to choose from in that department, but a good place to start is Safety Wing.
They offer month-to-month payments, no lock-in contracts, and require absolutely no itineraries: that's the exact kind of insurance long-term travellers and digital nomads need.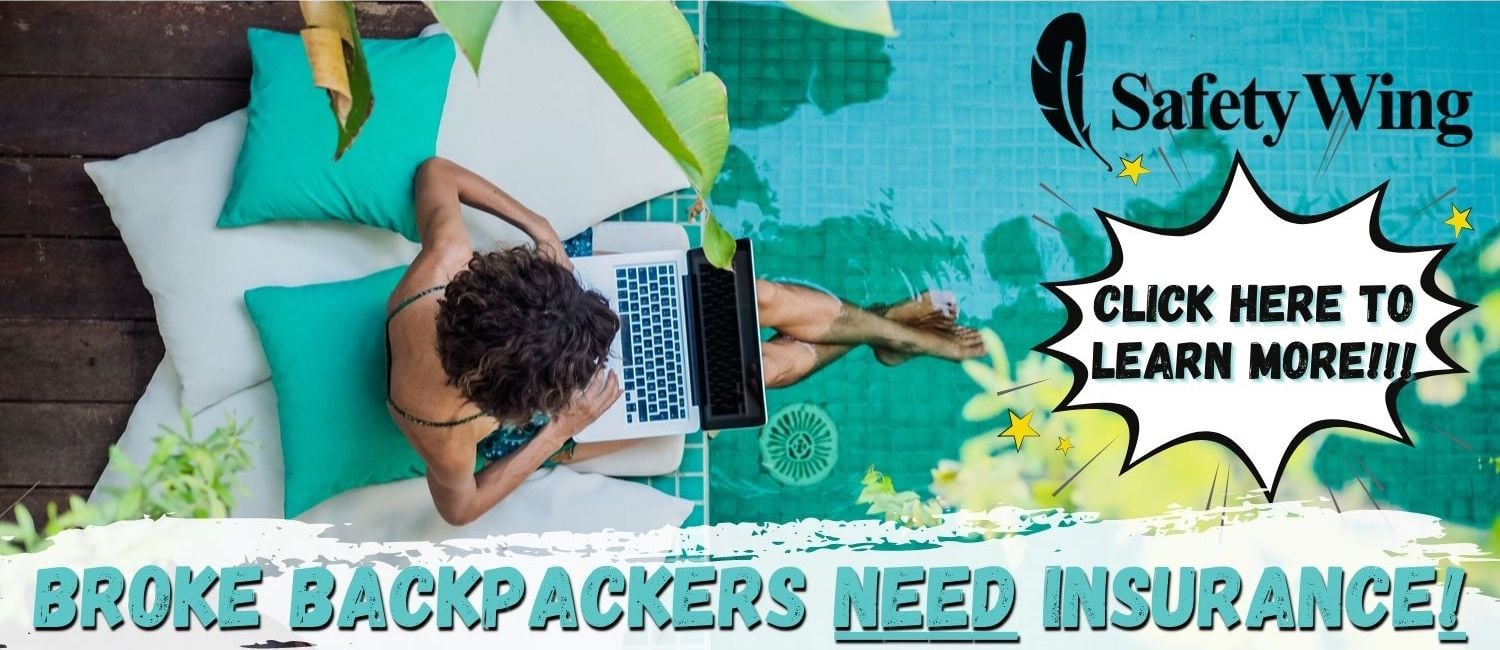 SafetyWing is cheap, easy, and admin-free: just sign up lickety-split so you can get back to it!
Click the button below to learn more about SafetyWing's setup or read our insider review for the full tasty scoop.
Chiang Mai Accommodation Travel Hacks
The great news for budget travelers is that Chiang Mai has tons of excellent hostels at very reasonable prices. It's easy to find a bed in a dorm for under $10 a night. If you're a couple or a group, you can even get your own room for around $20.
Those who are backpacking Chiang Mai on the cheap can search for a host on Couchsurfing. There are plenty of locals and expats on there who will offer up space for you to crash. Even if you don't use it to find a host, you can check out some of the meet-ups that are organized on there.
Books to read while traveling in Chiang Mai
Lonely Planet Thailand Travel Guide – The OG of guidebooks, Lonely Planet has an excellent guide on Thailand. As one of the most popular destinations in the country, there's a ton of content on Chiang Mai.
Chiang Mai – An Insider's Guide to the Best of Thailand – If you don't feel like lugging a heavy Thailand guidebook around, this Chiang Mai specific guide is a great call. Written by an expat who has been visiting the city for 30 years, it's full of useful info.
Thailand's Best Street Food – If you're planning on eating a lot of street food in Thailand, this is the perfect book to grab. Read up on the street food scene in Bangkok, Chiang Mai, and Phuket so you know what you're eating!
Volunteering in Chiang Mai
Long term travel is awesome. Giving back is awesome too!
Worldpackers
For backpackers looking to travel long-term on a budget in Chiang Mai whilst making a real impact on local communities, look no further than World Packers. World Packers is an excellent platform connecting travelers with meaningful volunteer positions throughout the world.
In exchange for a few hours of work each day, your room and board are covered.
Backpackers can spend long periods of time volunteering in an awesome place without spending any money. Meaningful life and travel experiences are rooted in stepping out of your comfort zone and into the world of a purposeful project.
Worldpackers opens the doors for work opportunities in hostels, homestays, NGOs, and eco-projects around the world. We've tried and approved them ourselves – check out our Worldpackers in-depth review here.
If you're ready to create a life-changing travel experience and give back to the community, join the Worldpacker community now. As a Broke Backpacker reader, you'll get a special discount of $10. Just use the discount code BROKEBACKPACKER and your membership is discounted from $49 a year to only $39.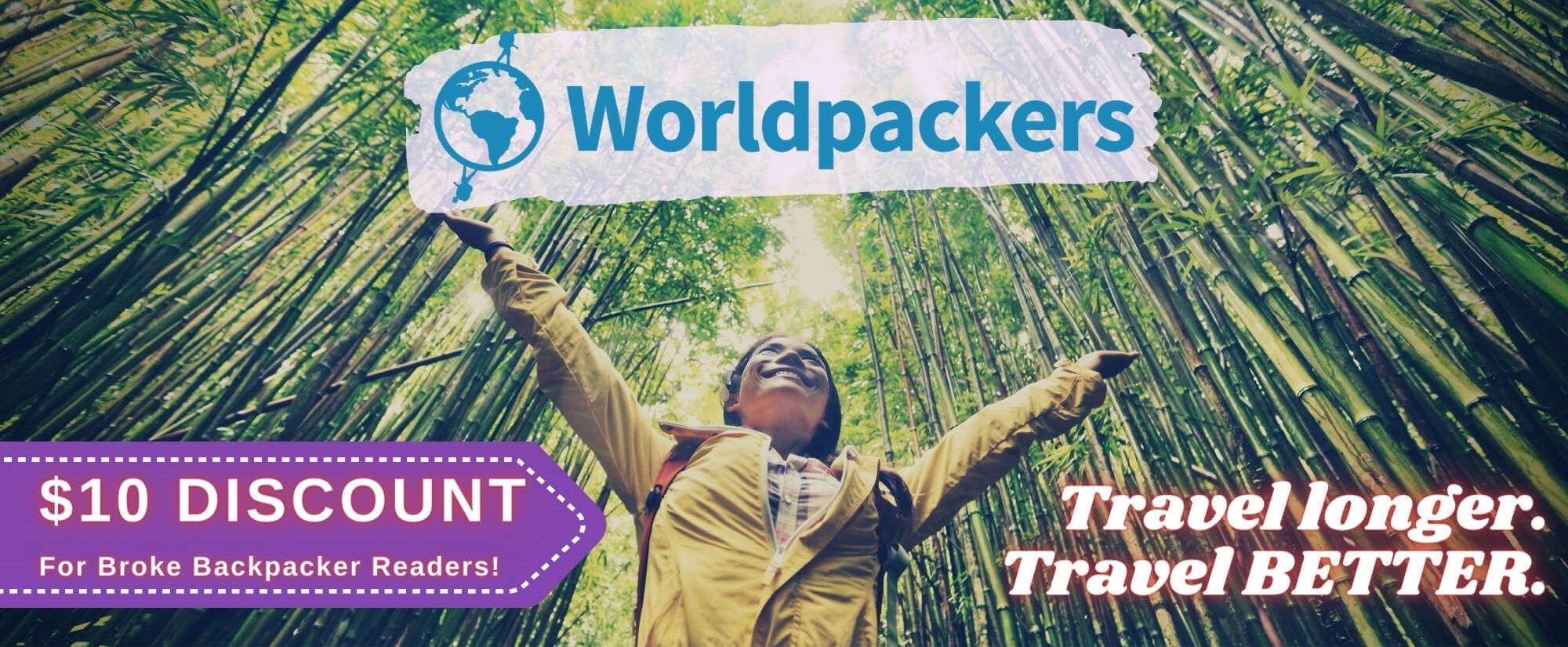 Worldpackers: connecting travellers with meaningful travel experiences.
Workaway
Alternatively, Workaway is another excellent common platform used by travellers searching for volunteering opportunities. Workaway is pretty massive, with over 40,000 hosts registered (that's 40,000 opportunities) and over 350,000 reviews on the site. With a database base that big, odds are you'll be able to find something that strikes your fancy. You can read our review of Workaway for more info on using this terrific platform.
Volunteer programs run through reputable work exchange programs like Worldpackers and platforms like Workaway are usually very well-managed. However, whenever you are volunteering do stay vigilant, especially when working with animals or children.
Global Work and Travel
Last, but not certainly not least, Global Work and Travel is another viable option for finding volunteer opportunities in Chiang Mai. What sets Global Work and Travel apart from other volunteering platforms is the amount of assistance they give, from a 24/7 global help-line, help with VISA processing to airport transfers and continued support once you are in Chiang Mai. It may be a smaller platform, but the projects you'll find are high quality and immaculately organised. There are new programs and opportunities listed constantly as Global Work and Travel continues to grow its reach.
For those interested in volunteer work in Chiang Mai, Global Work and Travel offer an Elephant Rescue & Rehabilitation Project with the option to stay anywhere from 2 to 4 weeks. Just imagine yourself cleaning up elephant dung and helping with conservation efforts! You'll be exploring mountains and jungles in your free time too. As with all volunteer abroad programs, there's a cost, but you'll be able to pay it off in interest-free instalments. Don't forget to bring your camera and make sure you are between the ages of 18-85 to qualify!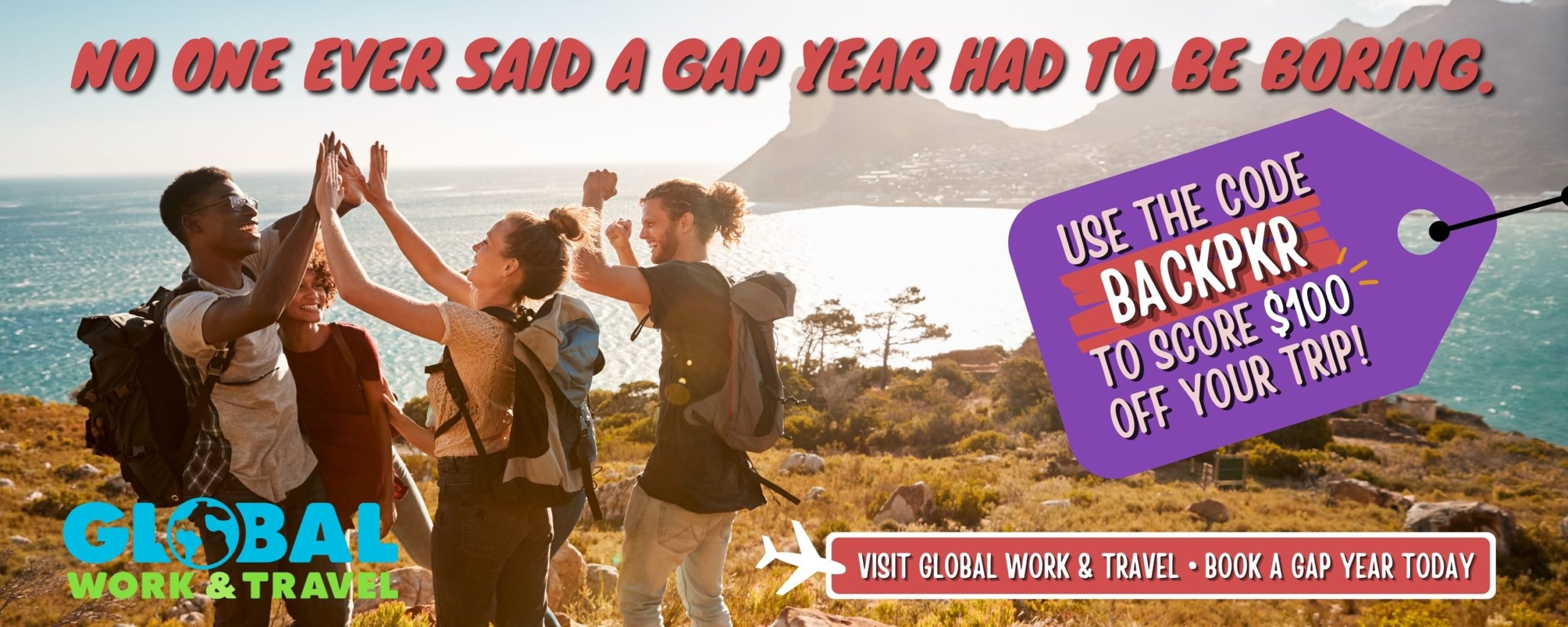 Make Money Online Whilst Backpacking Chiang Mai
Traveling in Chiang Mai long-term? Keen to make some cash when you are not exploring the city?
Teaching English online is a great way to earn a consistent income—from anywhere in the world with a good internet connection. Depending on your qualifications (or your motivation to obtain qualifications like a TEFL certificate) you can teach English remotely from your laptop, save some cash for your next adventure, and make a positive impact on the world by improving another person's language skills! It's a win-win! Check out this detailed article for everything you need to know to start teaching English online.
In addition to giving you the qualifications to teach English online, TEFL courses open up a huge range of opportunities and you can find teaching work all over the world. To find out more about TEFL courses and how you can teach English around the world, read my in-depth report on teaching English abroad.
Broke Backpacker readers get a 35% discount on TEFL courses with MyTEFL (simply enter the code BACKPKR), to find out more, please read my in-depth report on teaching English abroad.
Whether you are keen to teach English online or looking to take your teaching game a step further by finding a job teaching English in a foreign country, getting your TEFL certificate is absolutely a step in the right direction.
Being a Responsible Backpacker in Chiang Mai
Reduce your plastic footprint: Perhaps the best thing you can do for our planet is to make sure you do NOT add to the plastic problem all over the world. Don't buy one-use water bottles, the plastic ends up in landfill or in the ocean. Instead, pack a tough travel water bottle.
Go and watch A Plastic Ocean on Netflix – it'll change how you view the plastic problem in the world; you need to understand what we are up against. If you think it doesn't matter, get off my fucking site.
Don't pick up single use plastic bags, you're a backpacker – take your daypack if you need to go to the shop or run errands.
Bear in mind, that many animal products in countries you travel through will not be ethically farmed and won't be of the highest quality. I'm a carnivore but when I'm on the road, I only eat chicken. Mass-farming of cows etc leads to the rainforest being cut down – which is obviously a huge problem.
Need more guidance? – Check out our post on how to be a responsible backpacker.
Backpacking Chiang Mai can be one hell of a crazy party at times. Take it from me, it can be easy to get carried away. It is important to keep in mind that you are an ambassador for your country, which is awesome. We can make a positive impact on people when we travel and get rid of any ugly stereotypes that may be associated with your country.
If you visit indigenous villages or small communities in the rural areas always ask before taking photos. The people who live in these villages are not exhibits in a museum. They are normal folks just living their lives. Always show them the complete respect that they deserve.
When buying a local craft, do not haggle so low that the price is unfair to the person who spent countless hours crafting it. Pay people what they are worth and contribute to the local economies as much as possible.
I know it can be hard, but do your best to use the least amount of plastic water bottles that you can. Refill the ones that you do buy! Use a Grayl Geopress. Refill at your hostel! There are plenty of ways to reduce plastic!!!
Backpacking in Thailand or any region for that matter often illuminates some of the great socio-economic inequalities of the world. Never take it for granted that you are healthy and financially able to go traveling. Show the world around you some gratitude and help to make a positive impact on it. Most of all have the time of your life and spread the love!
---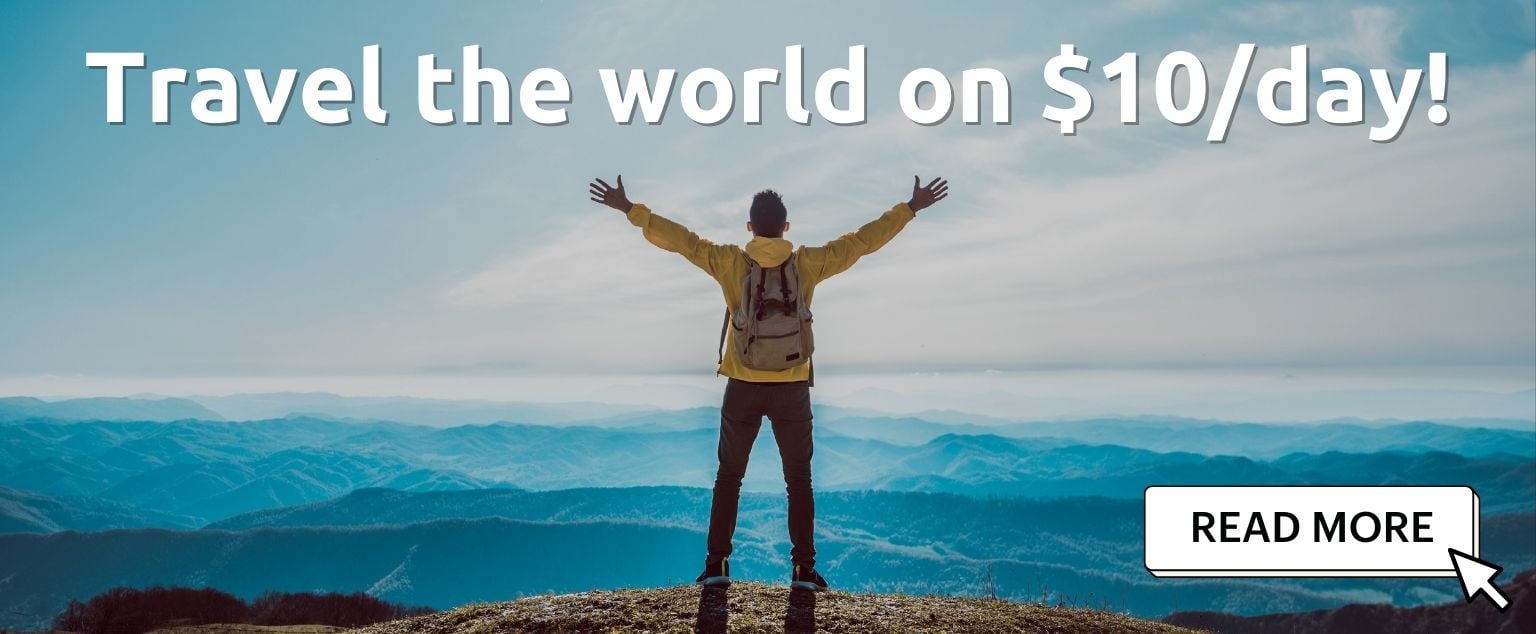 And for transparency's sake, please know that some of the links in our content are affiliate links. That means that if you book your accommodation, buy your gear, or sort your insurance through our link, we earn a small commission (at no extra cost to you). That said, we only link to the gear we trust and never recommend services we don't believe are up to scratch. Again, thank you!