Chiang Mai is a city rich in culture, history, food and spirit. It is fast-paced and exciting while simultaneously being easy going and relaxed, depending on where you go. So it caters to every taste.
Walking through the markets to try delicious Thai street foods is an ever-interesting aspect of Chiang Mai vacations. Or you can explore the many temples. Or dive into the bustle of the Night Markets. We hope that you will do all of it and more. And after you're done with your day's adventures, having a happy home base to return to is ideal.
Having comfortable and home-like accomodation will allow you to try new things every time you step out of the house, knowing that you'll return to your comfort zone once you get back. And if you're wanting to immerse yourself fully in Thai culture – Airbnb has that too!
Because looking for the perfect accommodation can be one of the hardest parts of planning a vacation, and also the most important to get right – we've done the research for you. Continue reading to find the best Airbnb in Chiang Mai for your specific needs.
Quick Answer: These are the Top 5 Airbnbs in Chiang Mai
OVERALL BEST VALUE AIRBNB IN CHIANG MAI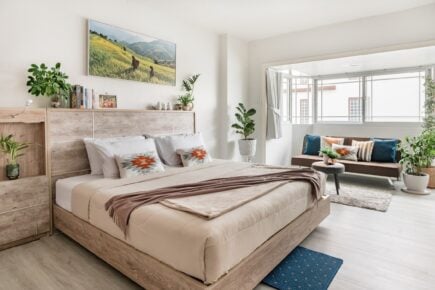 OVERALL BEST VALUE AIRBNB IN CHIANG MAI
Fresh Inviting Studio Apartment
> $
> 2 Guests
> Air Conditioning
> Gorgeous light-filled apartment
BEST BUDGET AIRBNB IN CHIANG MAI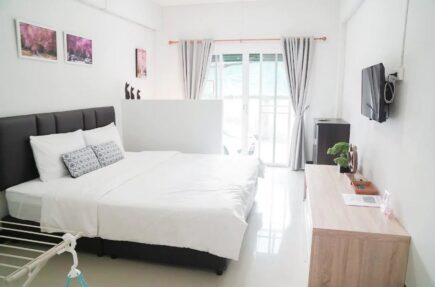 BEST BUDGET AIRBNB IN CHIANG MAI
Private Room in Old Town
> $
> 2 Guests
> Private bathroom
> Lovely room in good location
BEST AIRBNB FOR COUPLES IN CHIANG MAI
BEST AIRBNB FOR COUPLES IN CHIANG MAI
Elegant Executive Suite
> $$$
> 2 Guests
> Rainfall shower and bath
> Very stylish condo apartment
BEST AIRBNB FOR FAMILIES IN CHIANG MAI
BEST AIRBNB FOR FAMILIES IN CHIANG MAI
Lanna Style Home
> $$
> 5 Guests
> Crib and great safety features
> Includes free home-cooked breakfast
OVER-THE-TOP LUXURY AIRBNB IN CHIANG MAI
OVER-THE-TOP LUXURY AIRBNB IN CHIANG MAI
Royally Luxurious Golden Teak Villa (Private Pool)
> $$$$
> 8 Guests
> Free breakfast
> Pool and Hot Tub

Unlock Our GREATEST Travel Secrets!
Sign up for our newsletter and get the best travel tips delivered right to your inbox.
What to Expect from Airbnbs in Chiang Mai
Chiang Mai is such an interesting mix of old and new. You can find authentic houses that were built in the 1950s, or brand new apartments with every amenity imaginable. If you're looking for absolute luxury there are also upscale, hidden villas.
The wide variation of Airbnb vacation rentals in Chiang Mai allows everyone to find their perfect place. Whether you're a low budget Chiang Mai backpacker, a party-goer, a family, or a spiritual soul, there will be a place to make you feel at home and enjoy exploring places like the Saturday walking street and the beautiful Old Town.
Most of the Airbnbs in Chiang Mai are very well furnished and comfortable. You're also sure to find a place with air conditioning, which you will definitely appreciate during your stay. There is an authentic feeling in all of the listings too, as they're set up by locals.
Some are unique and traditional from top to bottom and just add to your experience when you visit Chiang Mai. This variety is why we choose Airbnb over Chiang Mai's hostels and hotels. Though solo travellers might want to look into the private room options if they opt for a Chiang Mai Airbnb. Here you can often stay with local families or other travellers.
So let's explore some of these options with the best Airbnbs in Chiang Mai.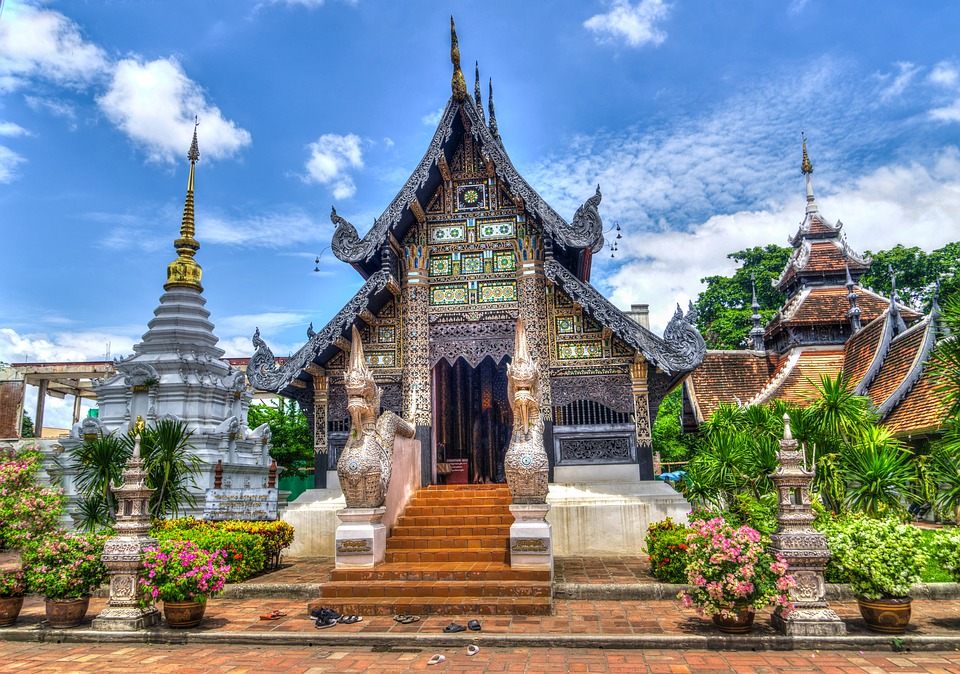 Comfortable Apartment or Condo
Chiang Mai's apartments and condos are well-priced and well-situated. They also allow for the best access to amenities like a pool or a gym (or both), which can be really great if you're staying for a while. You'll find it easy to find a stylish apartment in a central location within walking distance to heaps of coffee shops, Sunday walking street and the Old Town.
It's very easy to feel right at home in these spaces because they are modern and well-furnished. Many have full kitchens to cook in, and air conditioning to keep you cool while you do it.
Most Airbnbs in Chiang Mai are for two people, but you can find bigger ones, and many have sofa beds in the living room. So they're definitely ideal for a solo traveller or a couple, but can often fit a family, or a group of friends.
Wonderful apartments can be found throughout the city. Our favourite Chiang Mai airbnbs are on, or just off of, Nimman Road. This neighbourhood is the tourist centre for good reason. It is always alive and busy. The night bazaar is world-renowned and super exciting to explore when you visit Chiang Mai.
It's also easy to get around to other parts of the city from here. Tuk-tuks are cheap and fun, and taxis are also easy to get if tuk-tuks make you nervous in Thailand's busy streets.
Authentic House With a Garden
If you're looking to be out of the bustle and excitement of the city, but close enough to jump in whenever you feel like it, then a garden-surrounded house is the place for you.
Chiang Mai has the most beautiful authentic houses, nestled in lush greenery. You'll happily find large wooden houses dating back decades, that have been refurbished to suit modern needs.
Chiang Mai's houses are generally for bigger groups, of family or friends. They sleep over four people comfortably and often have two or more bathrooms. However, you can also find one or two really gorgeous, spacious houses for just two people, if you're looking for the authenticity of a local house for just the two of you.
Because the houses are large, they also have wonderful common areas for everyone to hang out in. So whether it's in the dining room to share meals, in the lounge to play games or watch TV, or in the garden to read or swim in. You can spend lots of time with your family or friends.
You can find a Thai Airbnb house throughout the city, but the best ones are near the Old City. Which is perfect, because that's just where you'll want to be.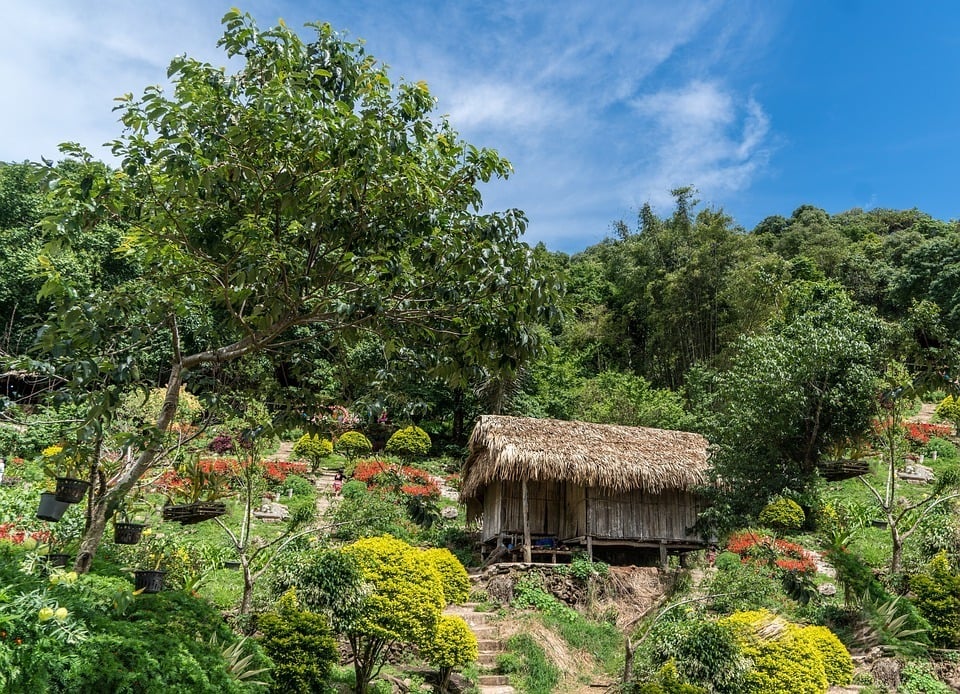 Large Luxury Villa
Thinking of a vacation where you float in the pool while sipping your Thai Chang beer or cocktail, basking in how glorious life can be? Then a villa is what we recommend.
Heaven on earth is a Chiang Mai villa. Perhaps you're looking for something extremely luxurious, where staff come to cook your meals, and perhaps float them over to you in the pool. Or maybe you want a hidden villa tucked away next to a river, amongst the verdant greenery.
Whatever it is you're looking for, if you can afford it, and maybe if you have the people to fill up the rooms, Airbnb will have it. They're also often in upscale gated communities, so you can feel totally secure.
These spaces are generally for larger groups because they are so big. But what a perfect place to bring your family or friends (or both) for an unforgettable vacation. There are also smaller villas for couples looking for a romantic retreat.
Villas are generally outside the bustling centre, but only by a few minutes. Which you will appreciate because it ensures peace and quiet during the night times when Chiang Mai really kicks off. Transport is also very easy to get, wherever you are, so there's really no downside.
Why Stay in an Airbnb
There are so many reasons to stay in an Airbnb in Chiang Mai. It might even end up being your favourite part of your trip. Let's look at why.
Local Experience: Your host will be a local and can give you very valuable recommendations. So you can find the best Thai food restaurant or local bar in your area! Also, the properties are created by locals with their own tastes, which we love.
Unique Properties: There is a wonderful variation in Airbnb properties. Interesting Thai houses, villas, apartments and even tiny houses can be found on Airbnb. Your options are endless, and you can find something that suits what you're looking for perfectly!
Privacy: If you're looking for privacy, Airbnb is the way to go. You can choose to filter properties through self-check in and never see another person during your stay.
Affordability: Airbnbs are usually cheaper than hotels of the same quality. You can also filter the properties according to your specific budget. You can more easily stay in local areas for an affordable price, and immerse yourself in local experiences, which are cheaper than common tourist traps.
Staying Long-Term: Airbnb hosts are able to set up long-stay discounts. So if you decide that Chiang Mai is where you want to stay for a while, you'll easily be able to do so. Also, since you can easily find accommodation with all the comforts of a home, you'll be living very comfortably.
Airbnb Experiences: Chiang Mai has amazing Airbnb experiences that allow you to see and participate in the best of Chiang Mai. Created and led by locals with all the insider knowledge, these experiences are as unique as the stays.
The 15 Top Airbnbs in Chiang Mai
We've looked through all of the best Airbnb options in Chiang Mai (of which there are many). So your vacation can be easy and stress-free because we're sure that you will find what you're looking for below!
2 Guests
Gorgeous light-filled apartment
This light-filled entire apartment is the perfect retreat just off of the busyness of Nimman Road. With the huge windows, blond wood and wicker furnishings, it is a light-hearted space for two.
The location is ideal, as this studio is set on the ever-popular Nimman Road. Lined with hip bars and eateries, like Myst Rooftop and Beast Burgers. You won't have to go further than your doorstep for the best that Chiang Mai has to offer.
We also love that it has room-darkening shades, a comfortable bed, and air-conditioning so that if you get into Thailand's infamous nightlife, you'll be comfortable for the aftermath.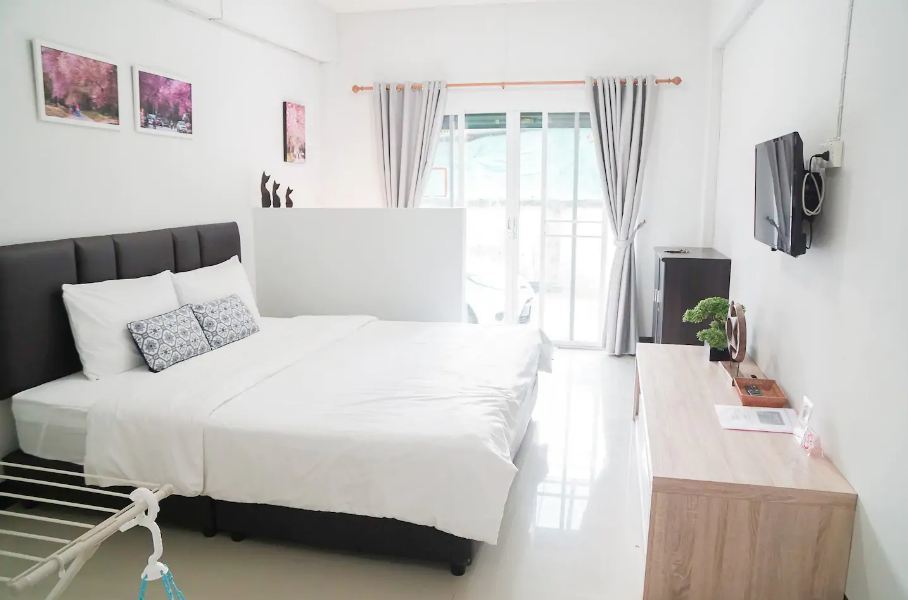 2 Guests
Lovely room in good location
This pretty, well-sized room is great value for money. It is situated in Chiang Mai's Old Town, 7 minutes from the airport. Transport is easily accessed, and it's very close to restaurants and the supermarket.
If you're aiming to further your budget, even more, there's a little kitchen in your room where you can make your own meals, or keep takeaways.
The king-sized bed and TV will make sure that you're always comfortable and can make yourself right at home. There is even a work desk and WiFi so that if you're working while on vacation, you're sorted.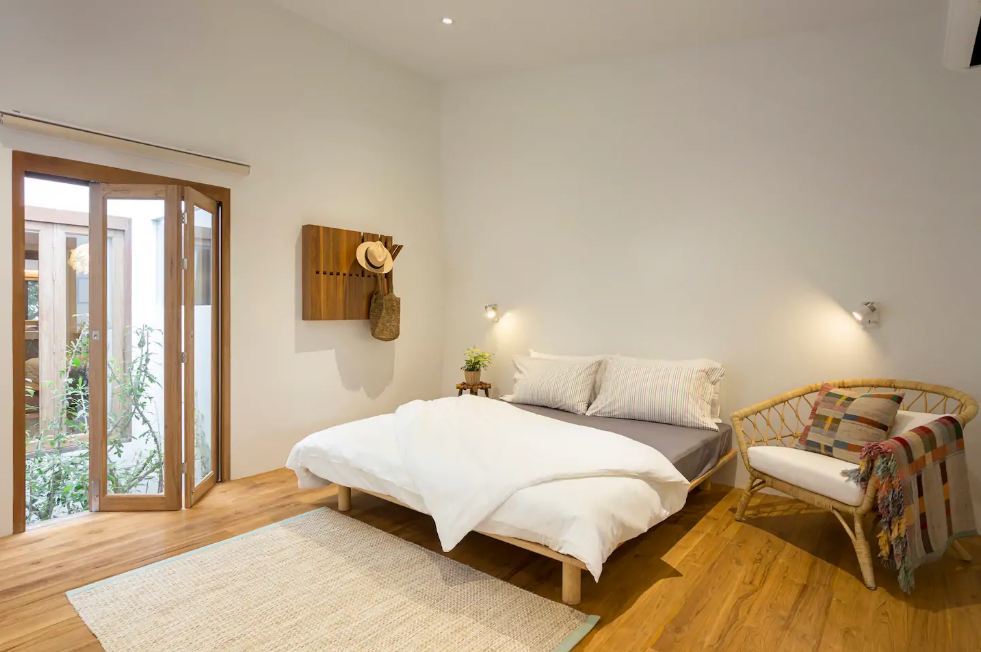 2 Guests
Beautiful, spacious apartment
This welcoming apartment is right in the centre of it all but tucked away in a quiet spot. So you can set forth into the best places to visit Chiang Mai and come home to a peaceful night's sleep.
It is adjacent to the famous Sunday Walking Street, and near to the Tha Pae Gate. So if you're not keen to venture far and wide, you can happily stay in this area.
There is a full kitchen, so if Thai food doesn't appeal to you for your entire stay, you can make your own meals. There is also a range of safety features and a first-aid kit, so you're sure to feel safe.
Is This the Best Travel Pack EVER???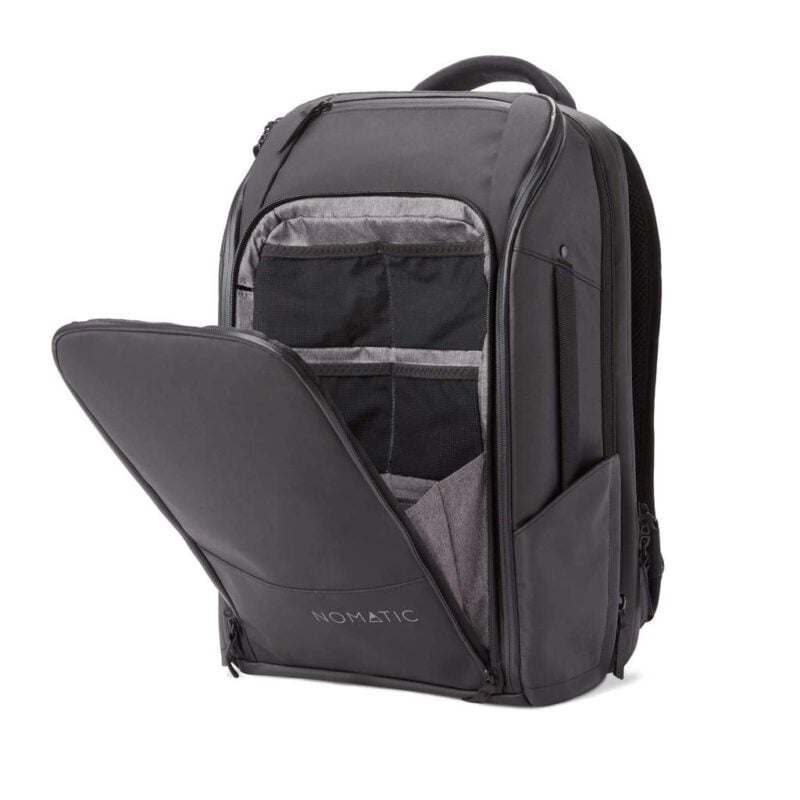 2 Guests
Very stylish condo apartment
This gorgeous condo apartment has every comfort you could want for a short or long stay. There's a rooftop pool to cool off in and tan by, and a gym in the building, so that you can work off the delicious Thai food.
Spend the morning lounging in bed with a strong cup of coffee in the air conditioning. The lounge, with smart TV and Netflix is a great place to chill out after a day of exploring. If you're looking for romantic moments with your loved one, then there's nothing better than a rainfall shower or bath in this stylish apartment.
This chic apartment is just a short stroll to the night bazaar and the Old Town. It's also the perfect location if you have a full Chiang Mai itinerary.
Best Airbnb in Chiang Mai for Families | Lanna Style Home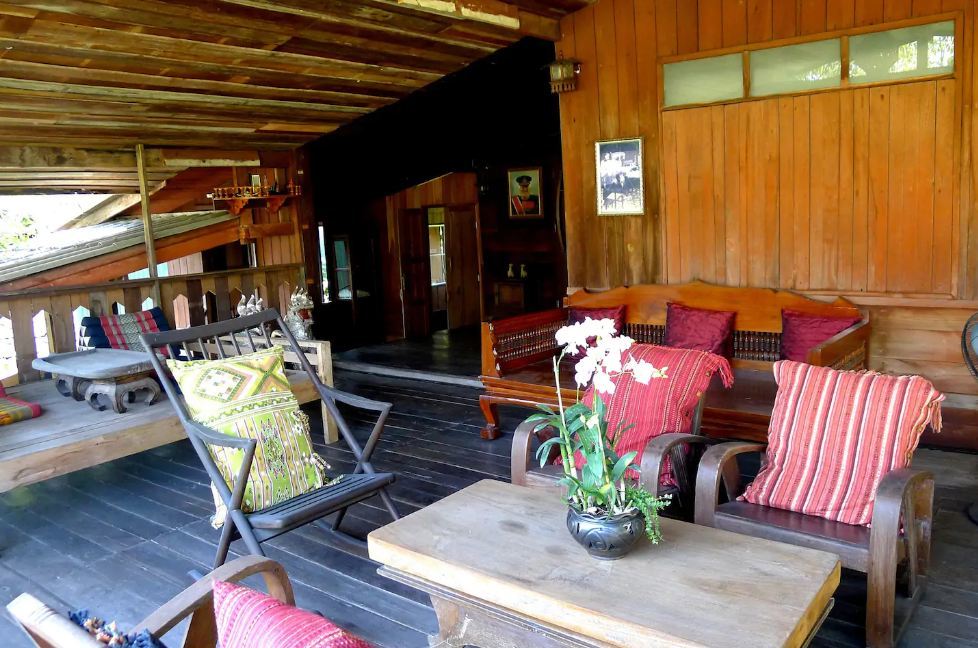 $$
Crib and great safety features
5 Guests
Includes free home-cooked breakfast
This beautiful, semi-wooden house is perfect for any family or friend group wanting an authentic stay in Thailand. There is a beautiful large garden, where you can relax and even take a free yoga lesson.
There are three bathrooms and three bedrooms, and the beds are all covered by mosquito nets. There is also a fire extinguisher and first aid kit so that you can be stress-free, knowing that emergencies are prepared for.
You'll be in a perfect location a short walk from the Chiang Mai Gate and Saturday walking street. They also offer complimentary airport pick up, so you don't need to stuff your family into separate taxis!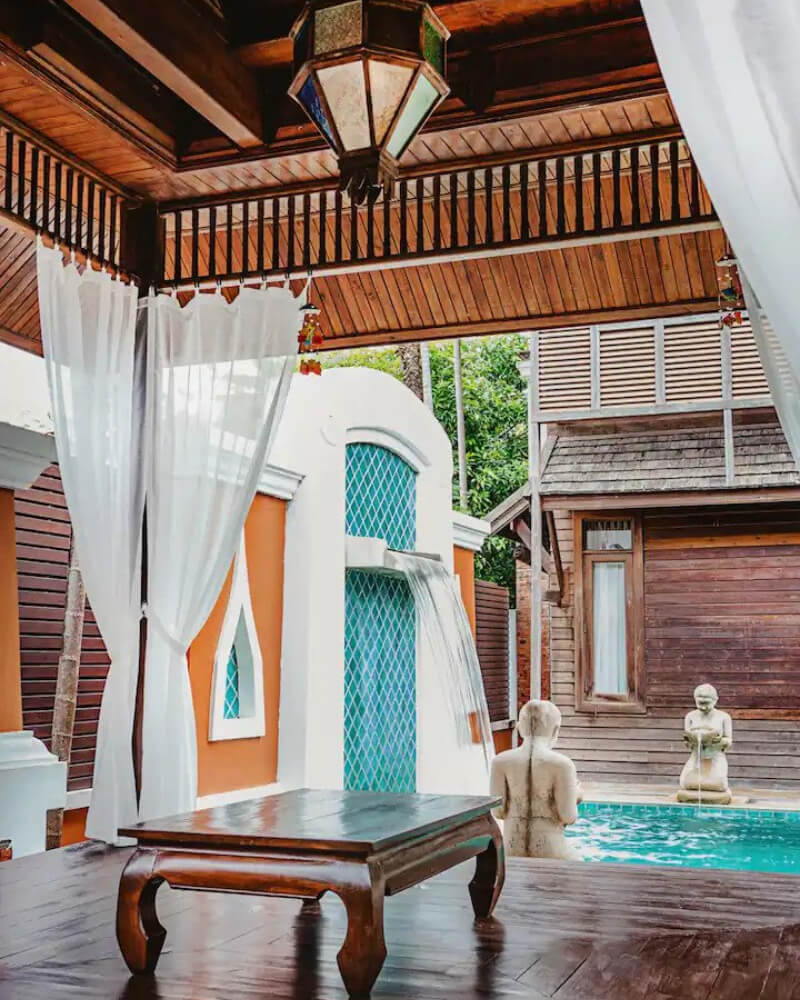 This Villa is like out of a dream. The incredible traditional teak design is well complemented with the modern facilities spread across the spacious 400 square meters.
As Thailand is warm all year long, you can luxuriate in the stunning pool all day. In fact, you've got an entire landscaped garden to soak in the sun or lounge in one of the pergolas.
The villa will leave you lost for words when you step into the luxurious all teak villa. The wooden house combines traditional Thai architectural and interior designs with a sleek and timeless vibe. It's the perfect Chiang Mai Airbnb for experiencing Thai culture.
The quiet residential neighbourhood where this traditional Thai house is within walking distance of the heart of Chiang Mai Old Town, so it's easy to head to the Sunday walking street from here.
6 Guests
Great for family or friend group
This absolutely unique, beautiful house is an experience on its own. The restored traditional house is situated in a quiet neighbourhood a few km from the Sunday walking street
The large saltwater pool will keep you refreshed even during the hottest days. The house is also equipped with children's toys and everything else that a family with children could want, including air conditioning!
You won't be located directly in the bustle, but this Chiang Mai airbnb is just a short drive from the old city and Nimman Road. And the wonderful garden, wooden living spaces and delicious pool will keep you happily at home whenever you don't want to sightsee.
$$
Washer/dryer and dishwasher
2 Guests
Quiet, near the heart of the city
We love how sleek and inviting this apartment is, it's even got a mango tree too. The comfortable living room is sure to entice you to lounge around after a tiring day pounding the pavement.
The bathroom has a tub and a shower. There is also a full kitchen so that if you're feeling like staying in one night, you can make your own meals and have a chilled evening in. Enjoy the air conditioning as you sink into your comfy queen size bed, it's got to be one of the most elegant and relaxing Chiang Mai airbnbs on offer!
It's central but in a quiet neighbourhood. The Chiang Mai night bazaar and Old Town are within walking distance and there are some great cafes and coffee shops too.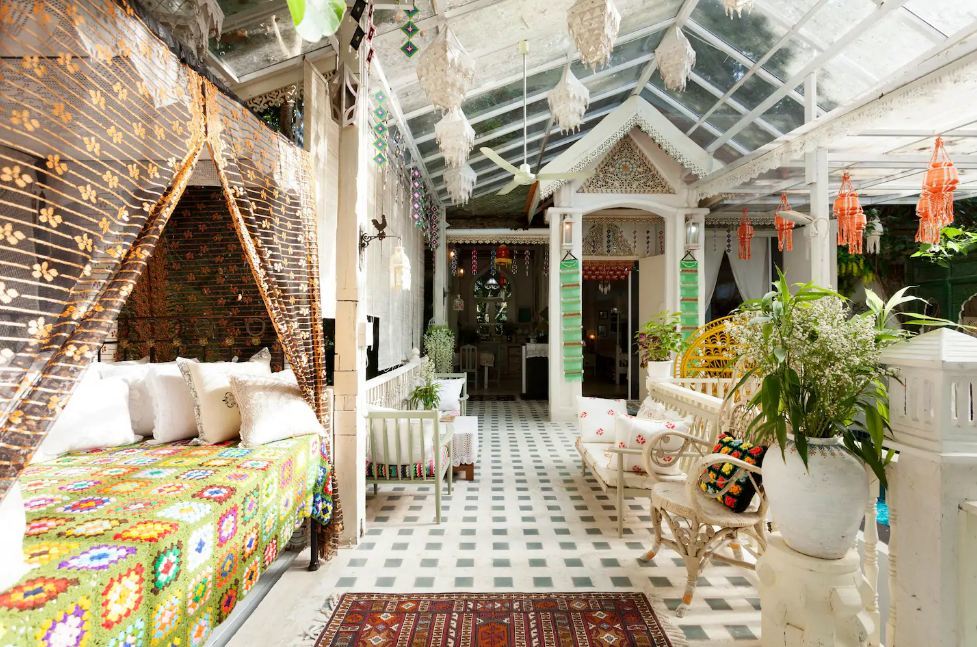 4 Guests
Wonderful complimentary breakfast
There cannot be a doubt about it, this villa is the coolest, most unique Airbnb in Chiang Mai. With an indoor pool, which is probably the only truly cold pool you'll ever find in Thailand, you'll be fully ready to relax and revel in your surroundings.
The exquisite details are endlessly unique. You would need a year just to point out every intricacy. The space is Victorian but eccentric at the same time.
This villa is situated on the Ping river, surrounded by lush greenery. But in just a few minutes you can be at Thapae Gate, Nimman Road and the Maya shopping mall.
$$
Great workspace, with WiFi
2 Guests
Light-filled apartment
We know that, if your stay turns into more than just a vacation, you want to find a home. This comfortable, spacious studio apartment has everything you need and is ideal for spending a month or more in Chiang Mai.
The workspace is great, and the huge windows by the desk will make you happy to work. We also love the wooden floors with touches of greenery that make the space so inviting.
The position is ideal, in the heart of the Nimman area. Everything you need is within a minute's walk! There's even a massage parlour and 7/11 in the lobby.
2 Guests
Walking distance to everything
This beautiful apartment is the perfect home base to explore Chiang Mai from. After your sightseeing, you can come home to a stylish, comfortable space that has everything you need.
The popular tourist neighbourhood has so much going for it. Be sure to check out the night markets and popular restaurants and clubs, like Rock Me Burger, or Rustic and Blue.
And we love that you can safely walk home afterwards, take the elevator up (we know that steps are the enemy after a great night) and sink into the bed. This apartment has a sofa bed, so it can host four.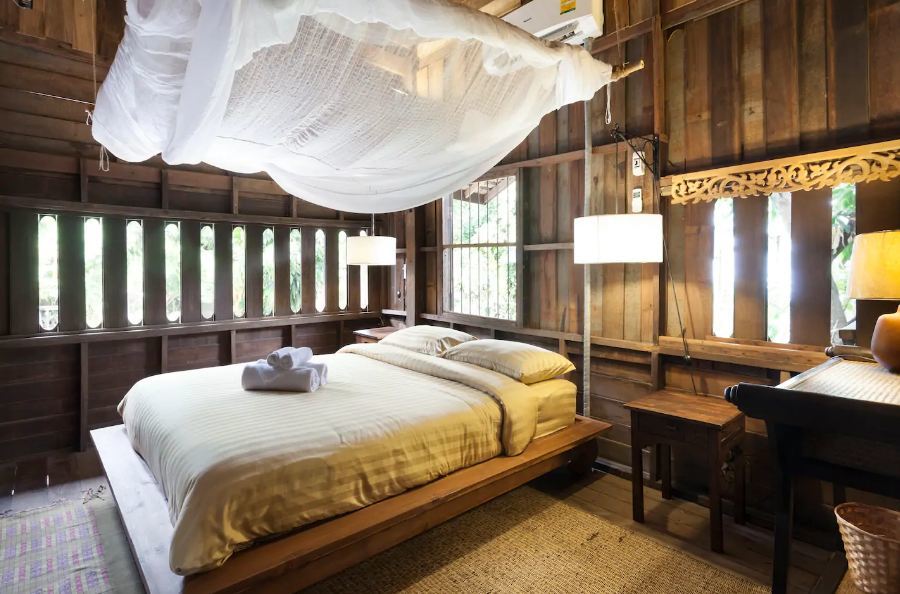 6 Guests
Free delicious breakfast
This unique wooden house is fully equipped for a friends vacation. The common spaces are big and comfortable, including a large garden.
And you don't have to argue about who makes the breakfast each morning, because your stay comes with a home-cooked breakfast! If you're keen to cook dinners together, there's a full outdoor kitchen.
While it is in a peaceful area, surrounded by greenery, it's still just a short walk from the Old City and Srisuphan temple.
This memorable, authentic stay is also suitable for families.
2 Guests
Free Instant Noodles
This serene traditional Thai house has floor to ceiling windows that look out into a gorgeous green garden. With free instant noodles and herbal tea waiting for you at this beautiful house, you will feel right at home when you visit Chiang Mai.
That is if your home was an artistic wood and exposed brick space set in a fairytale garden. So, the home of your dreams. They'll even do your laundry for you… for free!
You can spend your days reading in the garden gazebo, or eating in the dining room with a full view of the gardens. But if you can pull yourself away, Wat Ram Poeng Buddhist monastery and Baan Kang Wat Artist Village are minutes away.
3 Guests
Pool is right outside your door
This small, comfortable apartment is a great place to explore Chiang Mai from. It's just a few minutes walk from Nimman Road and the Maya shopping centre, but it's quiet, sleek and modern.
When you're finished with your day's adventures, you can come home, take a dip in the pool or cool down under the rainfall shower. Maybe pop into the gym, then get in bed or lounge on the sofa, and connect your device to the TV to watch movies or work. It's an ideal relaxing setup.
It's also perfect if you're getting around by car, as it has free safe parking.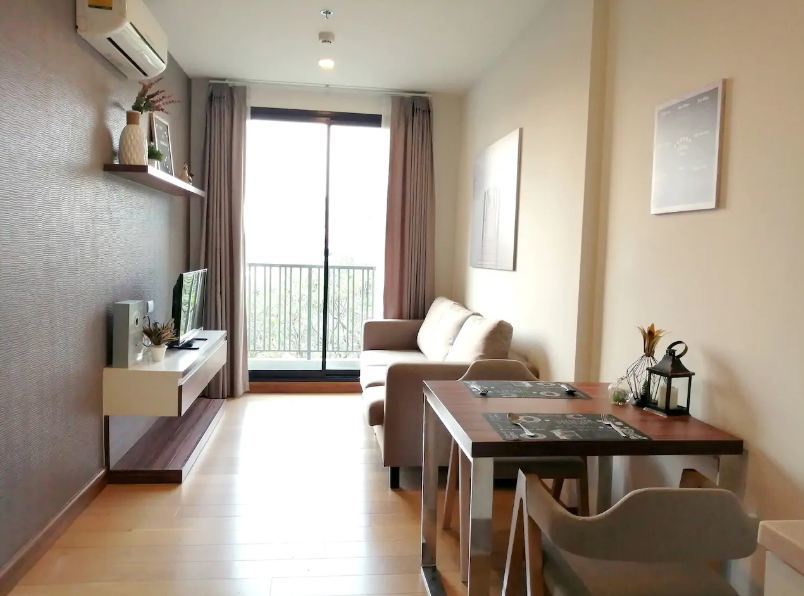 $$
Rooftop pool and hot tub
2 Guests
Patio with a view
This lovely spacious apartment is perfect for those with specific accessibility needs who don't want to compromise on comfort or amenities when searching Chiang Mai airbnbs.
You won't have a problem getting in and around this apartment, with no stairs involved and wide spaces to move around in. There is also an elevator to get you to your floor.
The rooftop infinity pool is perfect to cool down in or just relax and look out at the beautiful view of the city. The location is ideal at just a 2-minute walk to the Night Bazaar and a 10-minute drive to the airport.
Top 5 Airbnb Experiences in Chiang Mai
Airbnb has partnered with locals to bring you some of the most authentic, exciting experiences that you can find in Chiang Mai. Because the experiences are created and led by locals with insider knowledge, you'll be able to do things like a local.
If you're interested in food, there are eating and cooking experiences where you can finally find out what all the dishes are, and then what you like. You can taste lots of different traditional cuisines, without flinching because you don't recognize them. Then learn to cook your favourites, from people who have been doing this for decades!
There are also temple tours where you can find out the historical background and cultural relevance of the temples. You can choose the perfect tour according to just what you want out of it.
Whatever you're looking for, the tours will be small and intimate and will add such a memorable, authentic aspect to your vacation.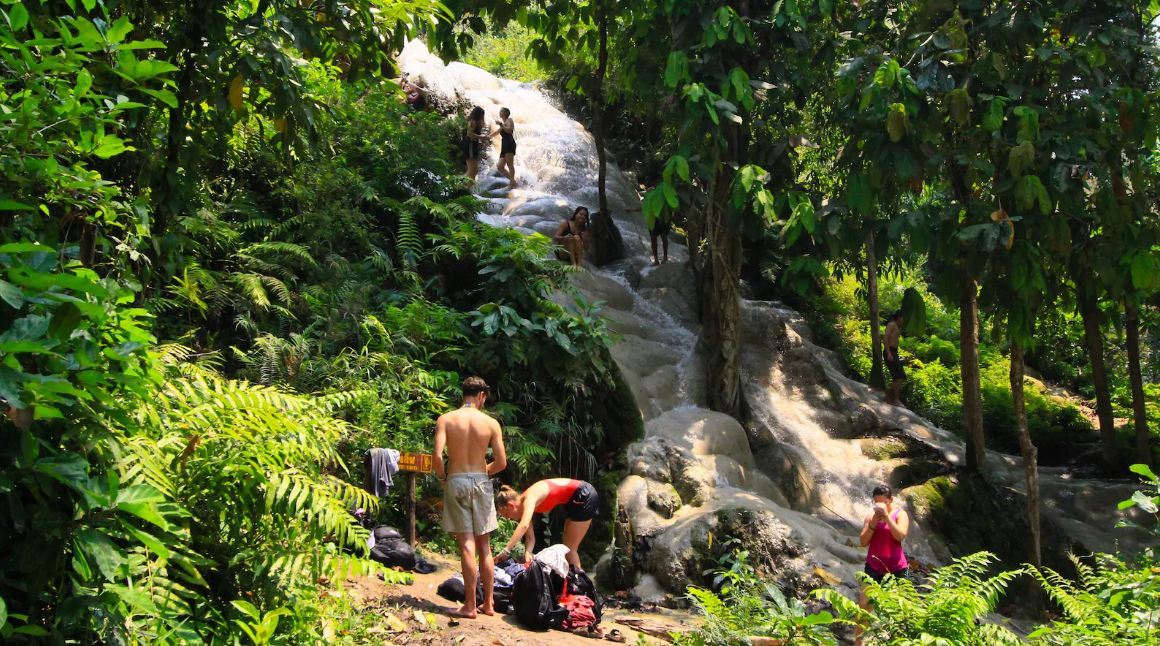 $41/person
4 hours
Up to 8 people
Experience the extremely unique Sticky Waterfalls on a fun outing. Surrounded by Thailand's famous lush greenery, this interesting little waterfall is an adventure just to look at.
You can clamber and climb up the waterfall, and take a dip at the natural pool at the bottom. And, while caution is always wise, accident insurance is provided in the tour price.
We suggest taking the morning tour, as it gets hot later in the day. But the water is cool and fresh, so it's perfect to cool down in. And then after you've spent the morning frolicking, you can join the rest of your group for a tasty local lunch before being dropped off at your Airbnb accommodation again.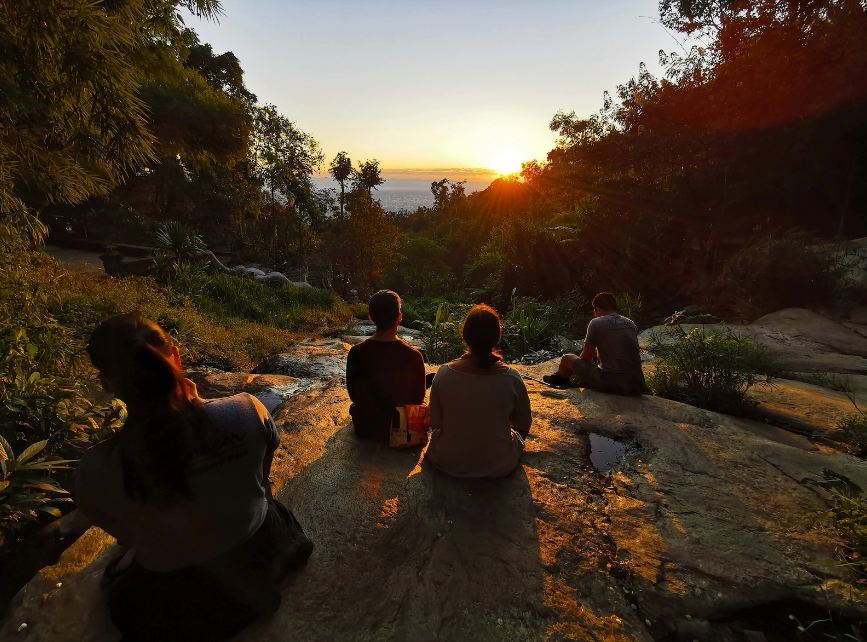 $51/person
4 hours
Up to 7 people
This is a once in a lifetime opportunity, the chance to follow the path taken by monks for decades to show their dedication. And the hike is through the dawn so that you can watch the sunrise from a temple!
After meeting with your group, you'll walk for 35 minutes in the dark, to the hidden temple in the forest, Wat Pha Lat. Here you'll take a break and learn Buddhist stories. And then up you go! The next hour is quite a challenging hike, but doable.
After passing a small waterfall and tons of greenery, you'll arrive at Wat Phrathat Doi Suthep temple. Here you can take your time to explore while the other tourists haven't yet woken up. You'll have transport back down the mountain.
While sleep is a wonderful thing, this is worth waking up for.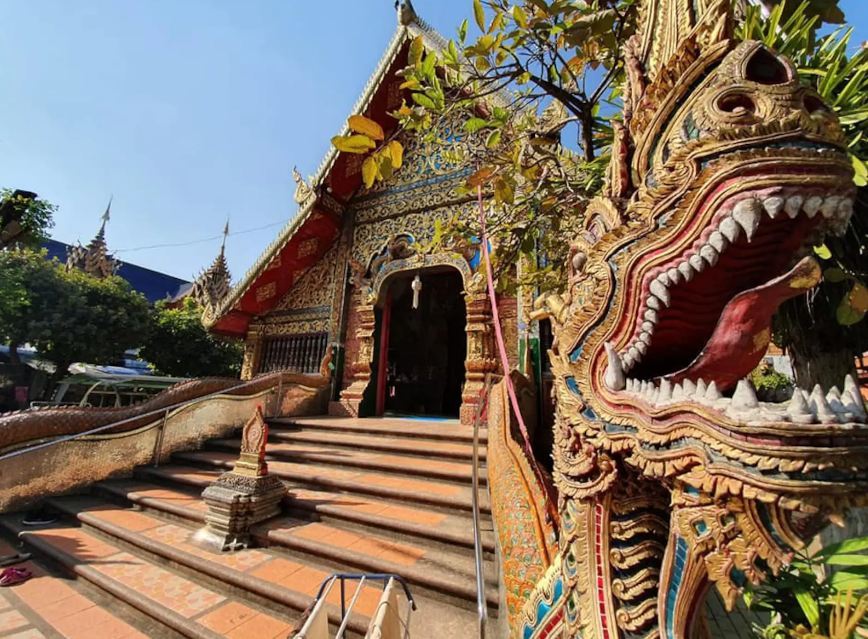 $71/person
7 hours
Up to 4 people
This small, intimate group tour allows you to experience Thailand in a new way. You will visit ancient temples and learn about the history and culture behind them. These temples are also an important part of contemporary Thai life, and with a local, you can learn how.
The guide is very flexible and open to changes in the tour if there is something specific that you want to see. Because the group size is so small, you can choose how long you want to spend at the different sights.
The guides are friendly and bubbly, as well as knowledgeable. You'll feel like you're visiting a friend who is taking you on a tour of their hometown.
Tip: If you're looking for a shorter cultural tour, check out this one.
$30/person
5 hours
Up to 6 people
One of the best things you can do when visiting a new country is learning how to cook their food! Thai food is so delicious and unique, you will definitely want to take those recipes home with you.
Your tour will start at a local market where you'll learn about local ingredients while picking up your produce, and perhaps some spices to take home with you. You'll choose the five meals you want to make, including an appetizer, soup, curry, stir-fry and dessert. So you'll be fully kitted to make a feast of your choosing.
The cooking classes are small and led by passionate locals, so you get a great feel for Thai cooking culture. It's a fun day out that will enrich your life. We particularly love that you can individually choose to learn how to make your favourite meals, instead of going with what the group wants.
$39/person
5.5 hours
Up to 10 people
We suggest a fasting day to get ready for this adventure. You will be bouncing between five or six spots in the city to try over fifteen different snacks, drinks and dishes.
We know that trying completely new foods can be daunting when you don't know what they are. This is why we love that you'll get to see the beauty of Chiang Mai, while also trying out as many different foods as you can fit into a night. This way, you can learn what you love!
A full immersion into the local eating culture is an experience you'll never forget. The intimate group setting allows you to get to know your fellow travellers. Nothing brings people together like food does, after all.
Don't Forget Your Chiang Mai Travel Insurance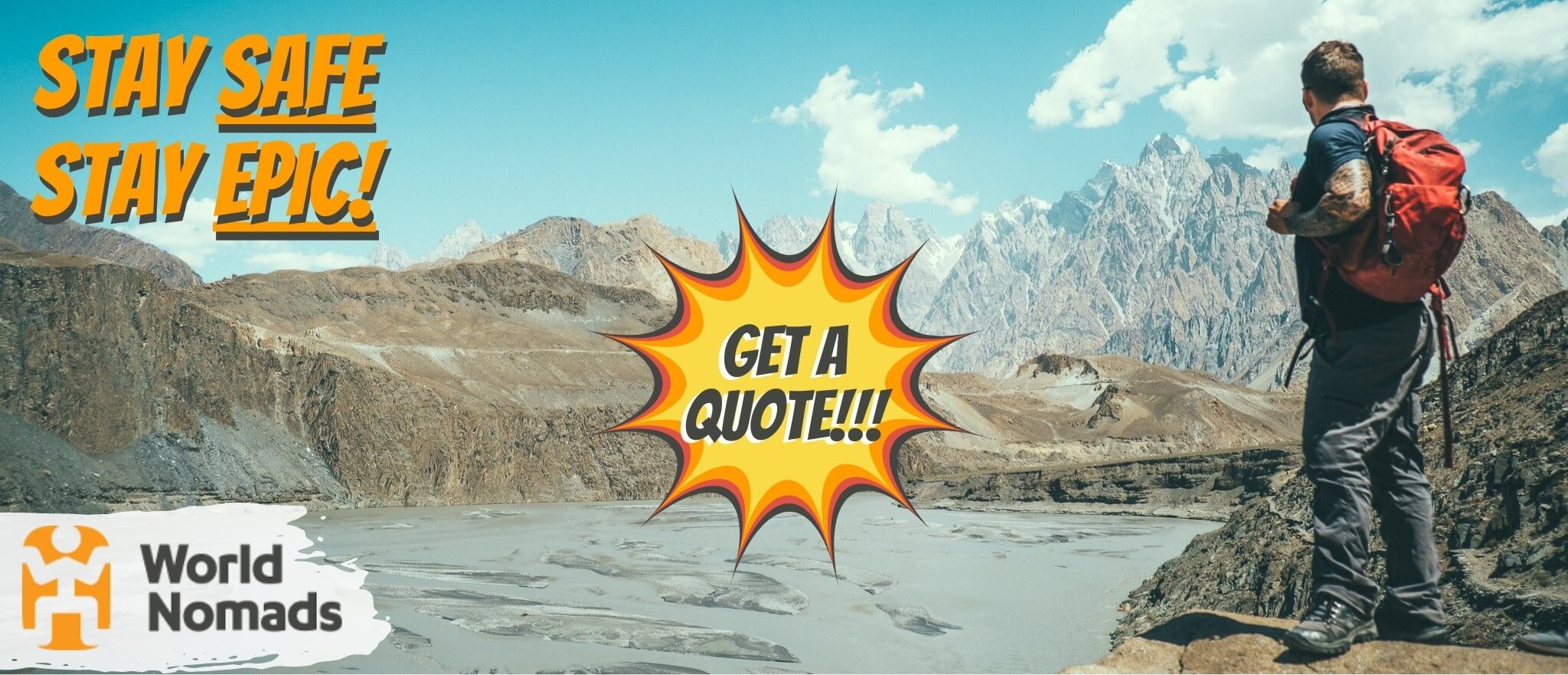 World Nomads' mission is to support and encourage travellers to explore their boundaries. They offer simple & flexible travel insurance, and safety advice to help you travel confidently.
They've been doing it since 2002 – protecting, connecting, and inspiring independent travellers just like you.
Get a quote below or read our in-depth review!
World Nomads provides travel insurance for travelers in over 100 countries. As an affiliate, we receive a fee when you get a quote from World Nomads using this link. We do not represent World Nomads. This is information only and not a recommendation to buy travel insurance.
Final Thoughts on Airbnbs in Chiang Mai
The variation and local details make Chiang Mai Airbnbs unquestionably the best places to stay. They are comfortable, unique, and made to make people feel happy and at home.
Most Airbnbs in Chiang Mai have great ratings from guests and a clear focus on providing the best experience possible for everyone that steps inside their doors. And as you've seen, they have everything you need to have a fantastic vacation in Thailand.
Everyone has their own taste, but we are sure that you will find a place that suits you perfectly, no matter what you're looking for. After all, these are the best Airbnbs in Chiang Mai, and the standard is high.
---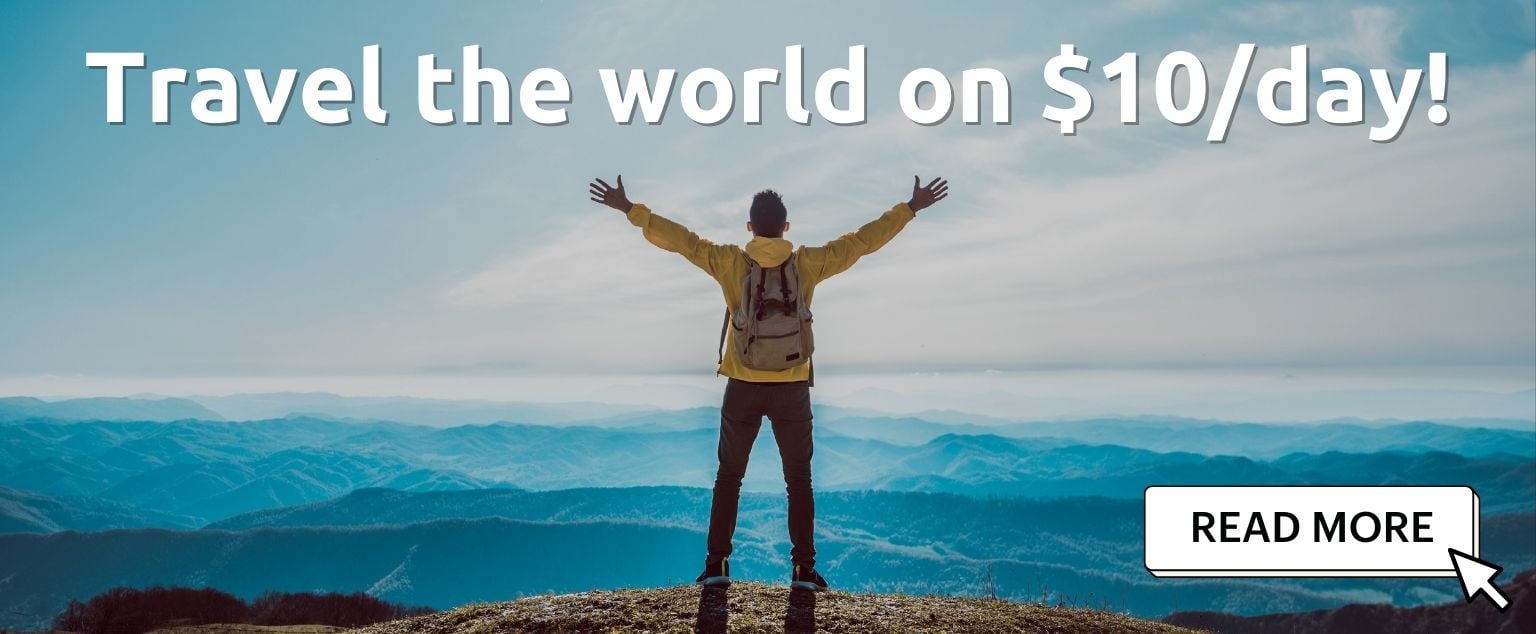 And for transparency's sake, please know that some of the links in our content are affiliate links. That means that if you book your accommodation, buy your gear, or sort your insurance through our link, we earn a small commission (at no extra cost to you). That said, we only link to the gear we trust and never recommend services we don't believe are up to scratch. Again, thank you!