Thailand is an all-around incredible place. It caters for every type of budget and it's a top priority for many many first-time backpackers.
Adding to the bustling metropolises, stunning paradisiacal islands, and and an immense wealth of culture, there is a whole lot of nature to explore.
And while the humid climate and endless party towns may try to put you away, its endless hills and jungles make Thailand a prime hiking destination.
We're talking long treks through dense forest, shorter hikes that lead into picture-perfect beaches and epic viewpoints that leave you downright breathless. You're not going to be disappointed.
Jungle trekking isn't always easy though, so coming prepared is a must if you want to have an awesome time in this country. Having the right gear and stocking up with plenty of water is a good start, but there's plenty you should know before you head out there.<
To get you started, we've created this in-depth guide to hiking in Thailand, packed full of all the tips and trail info you need. Ready when you're ready!

Do You Want to Travel FOREVER??
Pop your email in below to get a FREE copy of 'How to Travel the World on $10 a Day!'.
It's easy to overlook Thailand because of its mass tourism. Crowded beaches, red-light districts, and night markets may not be the top of your priorities, but there is so much to explore in this country other than Khaosan Road or Koh Samui.
Nature plays a big part in Thailand's DNA. There are dozens of national parks, forest parks, and wildlife sanctuaries filled with fauna and flora. In fact, the forest areas make up for over 20% of the entire kingdom — and that's a LOT of nature.
If you think it's too hot and humid to hike in Thailand, you'll be pleased to know that's not exactly true. In the mountains it can get quite chilly, and the landscape may remind you more of Europe than Southeast Asia.
Thailand's mountains offer everything from hair-raising hikes (not for the faint-hearted) to bracing but simple nature trails on easily accessible peaks that will blow your mind.
And while you can self-navigate on many of the hikes, some trails tend to not be so well marked and will require you to hire a guide before you embark on your journey. Hiking in Thailand comes with a sense of responsibility and you should always ask for information at the national park office before you hit the trail.
Thailand Trail Safety
Thailand has some truly awesome hikes; that much we've established. The problem is that the hikes here aren't always as straightforward as you might think.
Before you head out there and tackle the trail, make sure you have a plan and know what you're doing: check the weather, know when it gets dark, and do your research.
Our goal with this guide is to provide you with the top safety tips that will max out your experience rather than getting you into a sticky situation.
Thailand is a tropical wonderland, but that also means things can get pretty damn hot and humid. Make sure you carry enough water with you; dehydration is a serious business that can get you sick, and you don't want that to happen out in the middle of the jungle.
And though it may be hot, you should cover up in long sleeves and trousers when hiking in Thailand. There are insects and snakes in the forests, so you need be alert and watch where you tread.
Having the right gear for the trail is essential, and a decent pair of shoes is a must (don't worry, 'cause we're covering that later in the article).
Packing a first aid kit is also a great option, just like your mum once told you — now it's the time you listen to her! Travel insurance is the best way to stay safe in Thailand, and picking one that covers hiking will put your mind at ease when you're out in nature.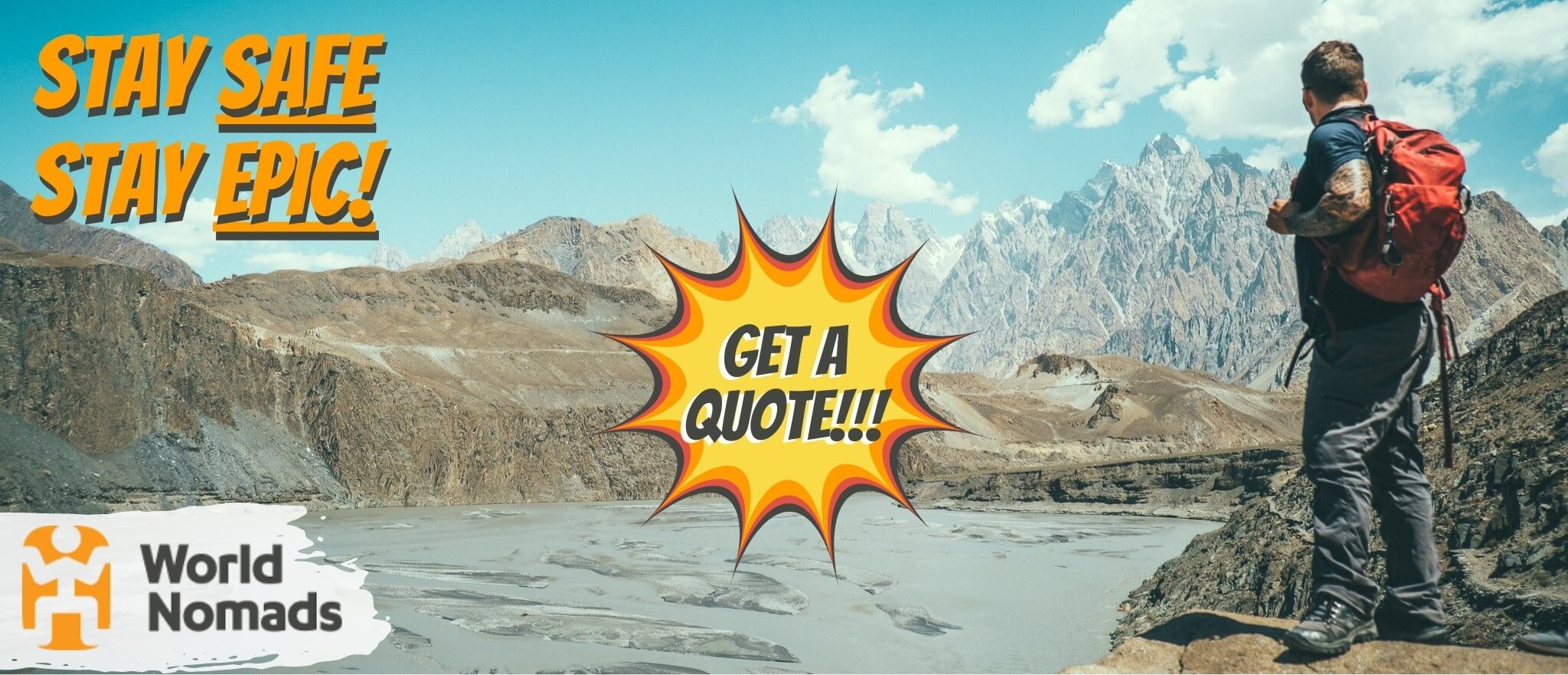 World Nomads' mission is to support and encourage travellers to explore their boundaries. They offer simple & flexible travel insurance, and safety advice to help you travel confidently.
They've been doing it since 2002 – protecting, connecting, and inspiring independent travellers just like you.
Get a quote below or read our in-depth review!
Now that we've clued you up on the important stuff, it's time to show you the best hikes in Thailand.
And here they are! They cover just about every sort of hike in Thailand, including insane mountain ridges, huge caves, and paths leading into the clouds on the country's highest peaks.
1. Doi Suthep Monk Trail – The Best Day Hike in Thailand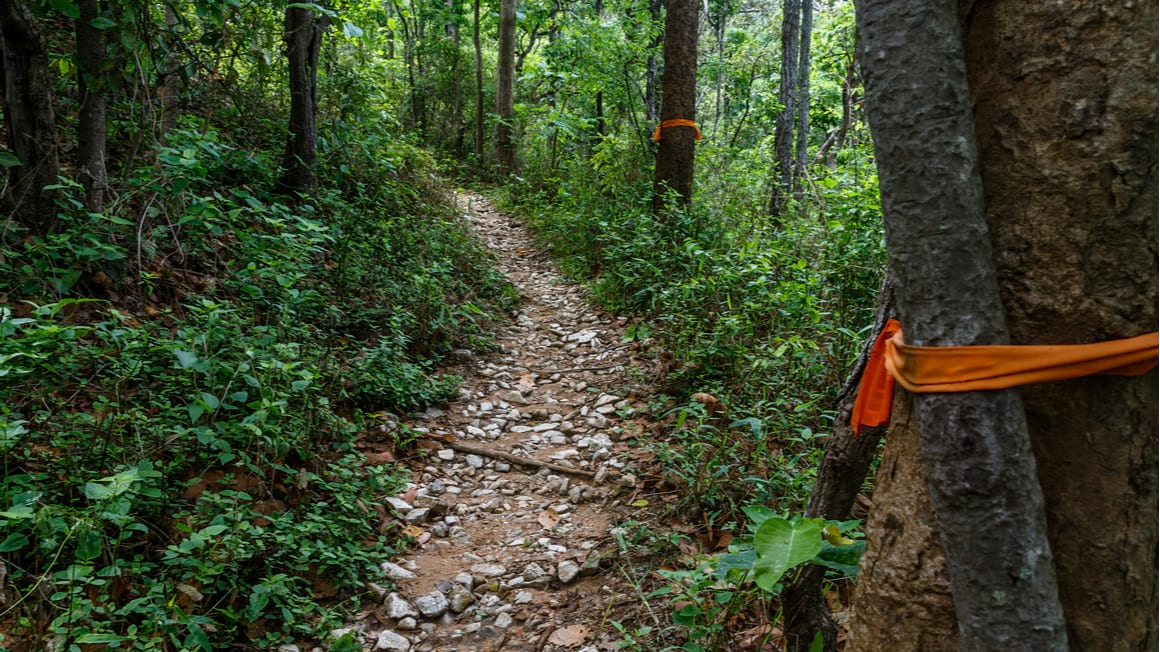 Just a stone's throw from Chiang Mai, this hike takes you through not one but two temples — Wat Pha Lat and then onwards to Wat Prathat Doi Suthep. That means you get to pack in some culture along with the nature on this epic Thai hike!
The hike itself is pretty steep, and the trail runs along some rugged paths. The route is marked by saffron cloths tied to trees (at least for the first half), further adding to its faraway, authentic feel.
Start at the trailhead near Chiang Mai Zoo. From here, it's a pretty straightforward 30-minute climb to Wat Pha Lat, a secluded and serene haven (also a popular sunrise spot). Spend some time enjoying the temple and waterfall, then move on to the second half.
Shaded by the trees, you'll work your way through steeper climbs until you reach Doi Suthep Road. Walk along the road, bear right, and you'll find the trail continues upwards. After around 40 minutes, you'll find the stairway leading up to the second temple.
Although it may get a little steep and muddy, the trail is fairly easy to follow and is an absolute must if you're staying in Chiang Mai (or anywhere near, for that matter).
Length: 6 km
Duration: 2-3 hours
Difficulty: Easy/Average
Trailhead: Suthep (18°47'51.8″N 98°56'32.3″E)
2. Doi Luang Chiang Dao – Most Beautiful Hike in Thailand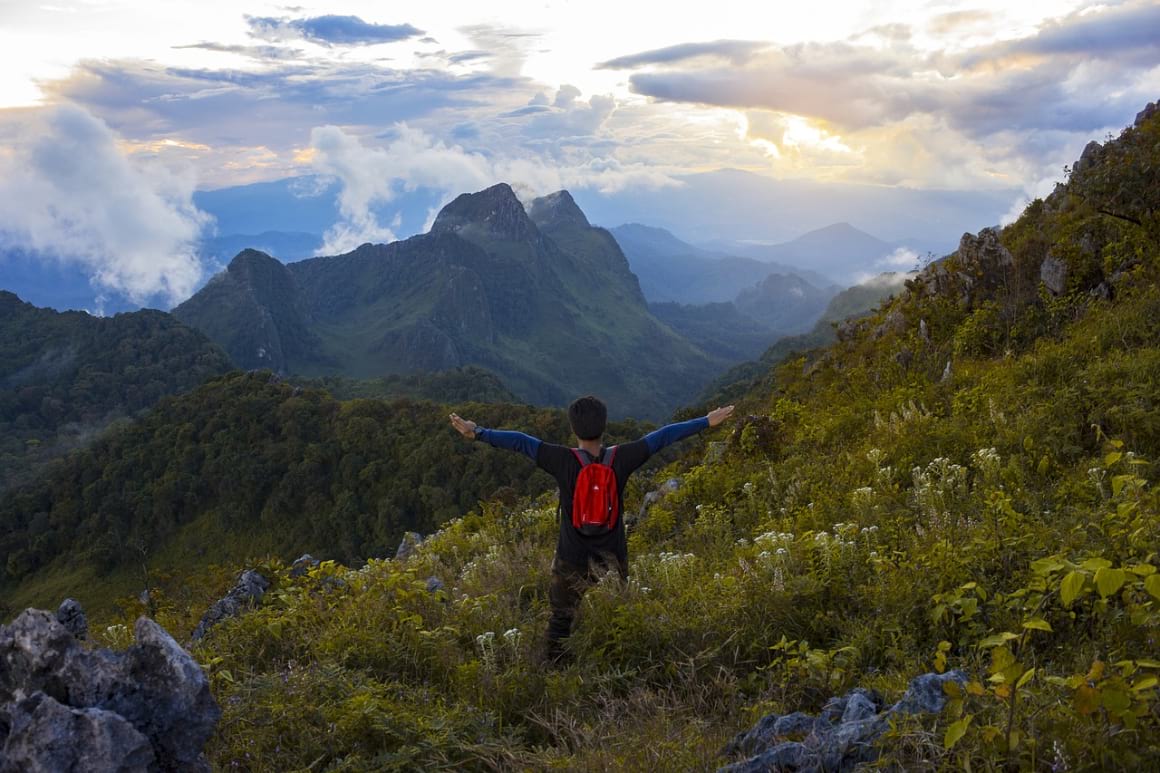 With all the nature reserves and national parks around here, it would be a shame not to explore at least one of them.
Cutting into Chiang Dao Wildlife Sanctuary, this trail will give you a glimpse of Thailand's beautiful wilderness – think mountainsides carpeted in trees and wildflowers, and birdwatching galore.
You're going to be tackling Thailand's third-highest peak, Doi Chiang Dao (2,225m), which poetically translates to "City of Stars." Do it between November and February when the path is officially open for hiking. We also have a full post dedicated to the best time to visit Thailand.
Though many attempt this hike as an overnighter, we think it's perfectly doable as a day hike if you're reasonably fit. Regardless, you should start this one early in the day.
It's required that you have a guide with you — even if you're hiking with a buddy (which you should be)… It is a government-sanctioned wildlife sanctuary, after all.
The journey starts uphill, three hours through the dense evergreen forest. Take a moment and rest over lunch, so you're fueled up to reach the summit. The jagged mountain scenery is insane, so you'll probably find yourself stopping a lot along the way.
If you want to crash nearby, you can spend the night in Chiang Dao (there are several bungalows and guesthouse options).
Length: 10.4 km
Duration: 8 hours
Difficulty: Moderate
Trailhead: Doi Chiang Dao Trail Forestry office (19°24'15.5″N 98°55'24.9″E)
Small Pack Problems? 😉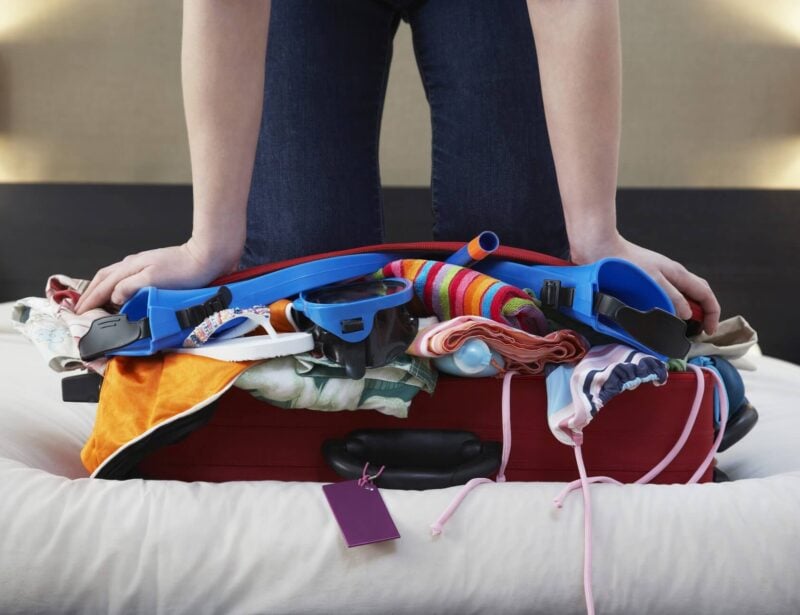 My missus travels with all her clothes in ziplock bags: don't be like my missus. UP YOUR PACKING GAME!
Packing cubes for the globetrotters and compression sacks for the real adventurers – these babies are a traveller's best kept secret. They organise yo' packing and minimise its volume too so you can pack MORE.
Or, y'know… you can stick to ziplock bags.
View Our Fave Cubes
Or Check Out the Sacks!
3. Phu Kradueng – The Best Multi-Day Hike in Thailand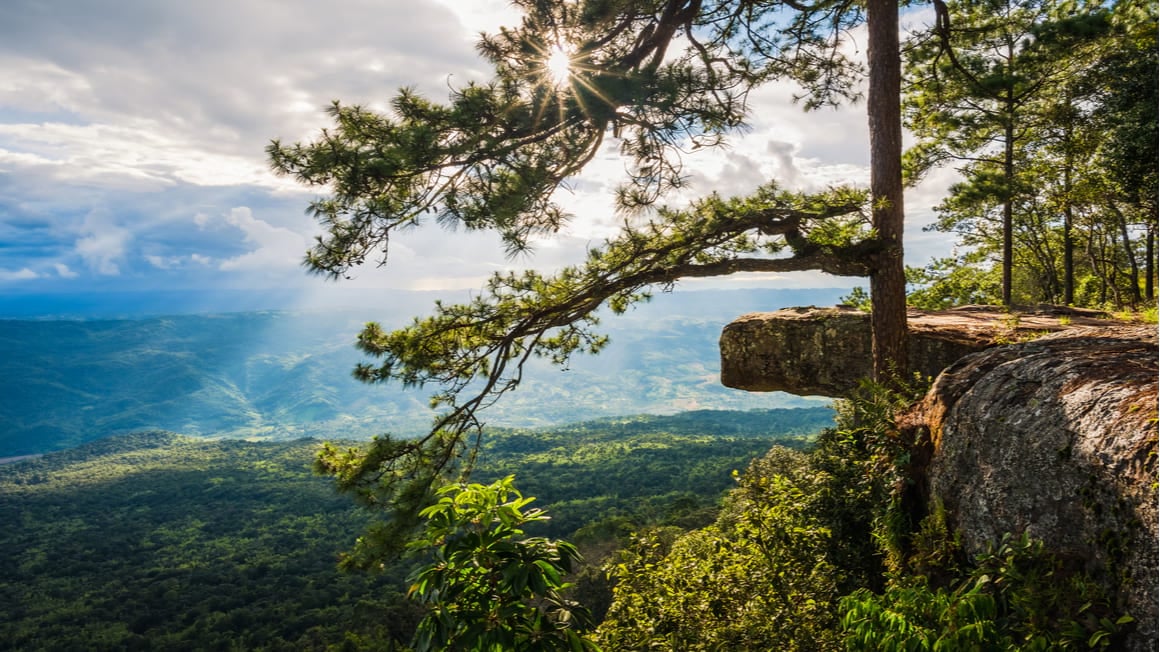 Set in Loei Province in Thailand's northeastern region of Isan, Phu Kradueng is said to be named after the shape of its summit. "Bell Mountain", it means in Thai, and it's the centerpiece of the eponymous Phu Kradueng National Park.
It's a fairly remote spot, and a popular one among locals (some may call it a hidden gem) — if you want to go off the beaten path, then this is where you go.
The beginning is quite easygoing, but it gets more challenging as you progress. There are plenty of rest stops along the way where you can chill for a moment and take in the views.
The top of Phu Kradeung is around six hours away; it's steep and requires a decent level of fitness. Make sure to grab the free wooden walking sticks available at the entrance — they will come in handy, especially when you're making the descent later.
Once you're at the top, you'll have the option of staying at a campsite overnight. There are bathrooms and places to eat up here and, if you're up early enough, the cliffs of Mak Dook and Nok Ann make for an epic sunrise mission.
And since you've made it all the way up, consider rewarding yourself with a couple of nights at the summit. You can rent bikes and explore everywhere at your own pace.
Length: 9.5km
Duration: 3.5 hours
Difficulty: Average
Trailhead: Clear Water Bay Road (22°20'03.9″N 114°12'38.9″E)
4. Kew Mae Pan Nature Trail – Must-Visit Hike in Thailand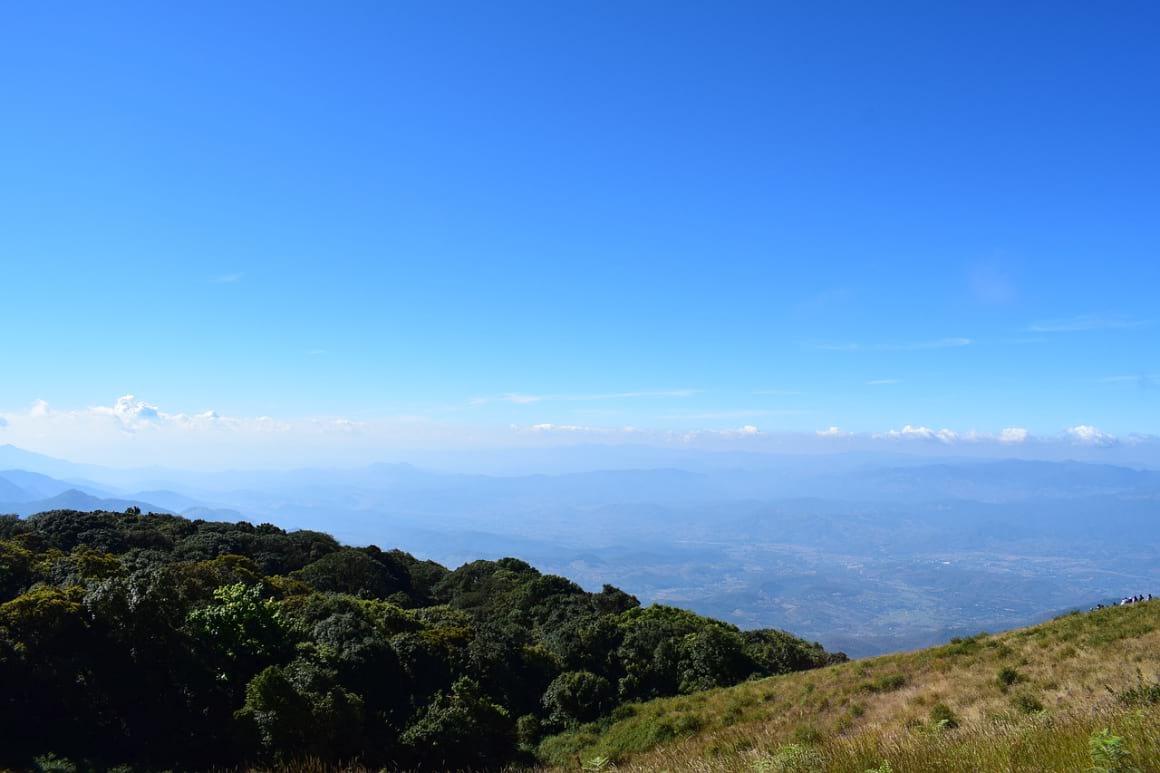 If you plan to hike in Thailand but that last one sounded a little too much for you, you'll be pleased to hear about this one.
The Kew Mae Pan Nature Trail winds around Doi Inthanon — Thailand's highest mountain (2,565m)! It's well-marked and comes with decent boardwalks and stairways that make it achievable for most fitness levels. A great option if you just want to get out of the city on a casual, simple walk.
You will need a guide (200 Baht per group) for this trail; they'll help point you in the right direction as you walk up.
The trail takes you through various ecosystems. Underneath a dreamy forest canopy with moss and ferns, you'll hike past fresh water streams and waterfalls until you end up in a green field.
This is where you get to see what makes it such a popular place to visit. Red rhododendrons are in bloom here from January to March, making it a pretty magnificent location!
If you're not there in season, don't worry: the valley beyond you is covered in a sea of cloud and fog that create an unreal setting like something you only get to see in movies.
It gets chilly up here, so we recommend packing an extra layer.
Length: 3.5 km
Duration: 2-3 hours
Difficulty: Moderate
Trailhead: Ban Luang (18°33'18.5″N 98°28'55.7″E,)
5. Bangkok Phrapradaeng Loop – Best Urban Hike in Thailand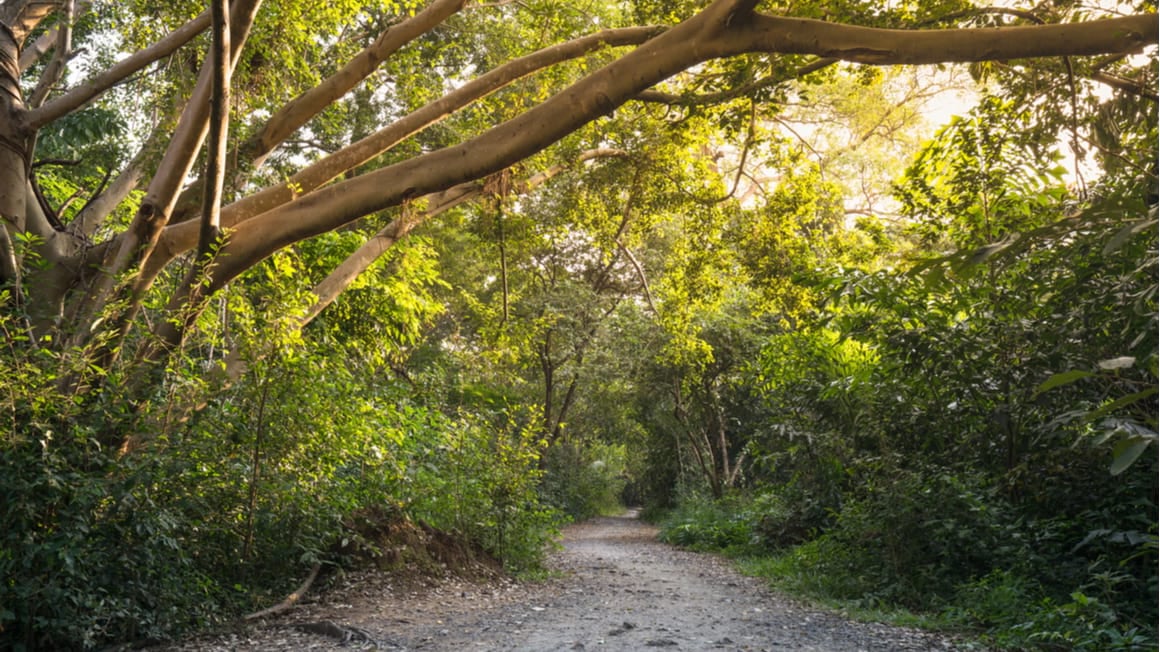 If you're in Bangkok and want to escape the concrete jungle for a minute, this is the hike for you. Prapadaeng is an oasis of green in the middle of Bangkok's urban sprawl.
The hike starts with a ferry to Bang Kachao Pier, and comprises a network of boardwalks and concrete paths connecting wooden houses. Weaving through the verdant landscape and waterways, you'll find yourself wondering how this little piece of heaven managed to survive in the megacity.
This Bangkok hike is packed full of plant life, and somehow nature found a way to keep it going!
Because it's lacking the uphill climbs and muddy trails, or is not rugged enough, some do not consider it a proper hike. Even so, we're all up for this place and you should too.
It's the best way to forget about your tuk-tuk nightmares and see a completely different side of the city.
There's the option to cycle the route (which many people do), but we think walking is your best bet: the paths are narrow, and it gives you more time to take in the unique aspect of the region.
The local cafes are your go-to pit stops for refreshments on the way.
Length: 12km
Duration: 3 hours
Difficulty: Easy
Trailhead: Bang Kachao Pier (13°42'14.2″N 100°33'45.6″E)
Save $$$ • Save the Planet • Save Your Stomach!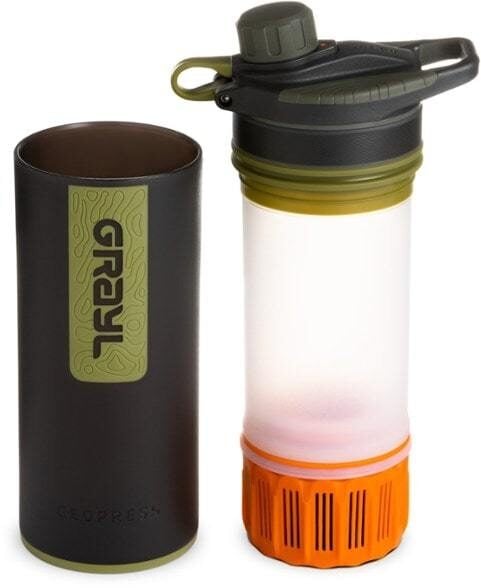 Drink water from ANYWHERE. The Grayl Geopress is the market's leading filtered water bottle protecting your tum from all the waterborne nasties. PLUS, you save money and the environment!
Single-use plastic bottles are a MASSIVE threat to marine life. Be a part of the solution and travel with a filter water bottle.
We've tested the Geopress rigorously from the icy heights of Pakistan to the tropical jungles of Cuba, and the results are in: it WORKS. Buy a Geopress: it's the last water bottle you'll ever buy.
Buy a Geopress!
Read the Review
6. Khao Chang Phueak – The Toughest Trek in Thailand
Fancy a challenge? Here's one for you.
Down in Kanchanaburi, you'll find Khao Chang Phueak (1,249m) – the tallest peak in the province. It's situated in the sizable Pha Phum National Park, a mountainous, forested area bordering Myanmar.
For the most part, you'll be walking along the knife-edge of a mountain ridge — making sense of its name that loosely translates to "Sharp Mountain Ridge." The second part is so thin that some people choose not to go up to the summit.
It's a legendary hike among the many locals who have attempted it, but not so popular among travellers. The fact that only 60 people are allowed on the route per day is also part of its mystique.
But this means you can't just rock up, expecting to tightrope it all the way to the top. You'll need to book (and plan) in advance.
The trek starts at Etong Village, situated inside the national park. From there, the only way is up. After four or five hours, expect to see rugged, grassy highlands with a camping area. This is where people choose not to go further — carry at your own risk!
No matter what you decide, your effort is pretty much paid off at this point. The currency? Unearthly views and a massive sense of accomplishment.
Length: 8 km
Duration: 5-6 hours
Difficulty: Difficult
Trailhead: Thong Pha Phum National Park (14°41'34.7″N 98°24'16.0″E)
7. Tab Kak Hang Nak Mountain Nature Trail – Best Hike for Views in Thailand
Though many of the trails we've covered so far offer fantastic sights, they'd be hard-pressed to beat the views on this one.
Tab Kak Hang Nak Mountain Nature Trail is hidden away from any sort of tourist stuff and serves up a vista of Krabi's famous karst landscape.
This place is quite remote, though it's easy to reach from both Krabi or Aonang. It's not overrun with many other hikers either, which means you'll likely be alone on the trail.
The mountain itself is moderately easy to tackle. Sitting at 498m, it's not so much the size that will get you, but rather the steepness and the humidity.
It's well-maintained and nicely signposted for the most part, but after the first few hundred meters the trail starts to get real steep. There are also a lot of exposed tree roots to watch out for.
You'll find a viewpoint after 2.5 kilometers where the world below you opens up. Here, karst peaks jut dramatically out of green, flat terrain.
After the viewpoint, the trail splits. If you take the right fork, you'll end up at a waterfall. The left one will take you the remainder of the way to the top of the Hang Nak peak.
This is where you'll really get to see the landscape in its full magnificence. It's a magical view that we think rivals Ha Long Bay, but we'll leave that up to you!
Length: About 7.2 km
Duration: 4 hours
Difficulty: Average/Difficult
Trailhead: Khao Ngon Nak National Park Office (8°05'56.0″N 98°44'54.7″E)
8. Takkatan Caves Loop – Off the Beaten Path Trek in Thailand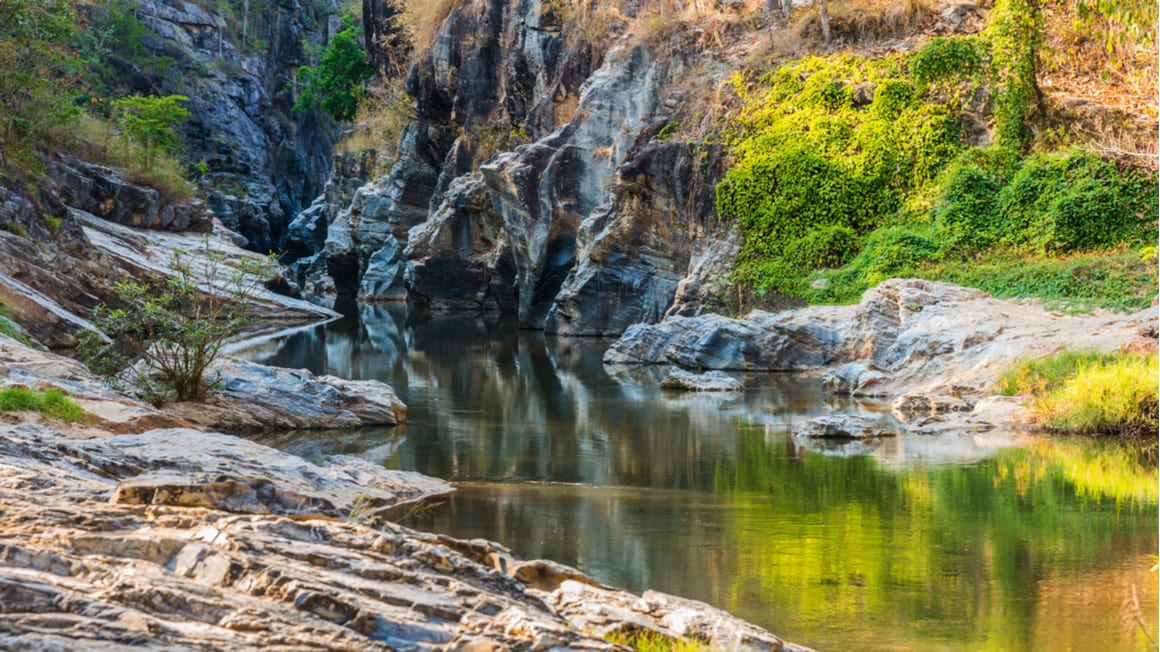 Situated in Ob Khan National Park, this is one slice of hiking in Thailand that you cannot miss.
You'll find the national park about an hour's drive south of Chiang Mai. With its limestone formations, jagged gorges, and pine forests, it's sure to bring out the adventurer in you.
Alongside rural wooded areas, this hike will take you through the fields and past huge thickets of bamboo. If you're into birds, this could be your chance for a great bird-watching expedition.
There are three major caves in the Ob Khan National Park, one of which being Takkatan Cave. It's a big-ass cave, so you'll know exactly when you've come across it.
Make sure you bring a headlamp to explore the cave! There are large halls that resemble the inside of a cathedral, and a few narrow passageways to discover.
When you're done with that, you'll have two options: come back the same way, or continue the loop along a jungle route. It's easy to lose the trail on the latter, so be cautious and leave plenty of time if you pick it — it is not recommended for inexperienced hikers.
Length: 12.5km
Duration: 3-4 hours
Difficulty: Average/Difficult
Trailhead: Ban Klang Doi Hotel (18°46'33.7″N 98°51'15.2″E)
DON'T DIE OUT THERE! …Please 🙂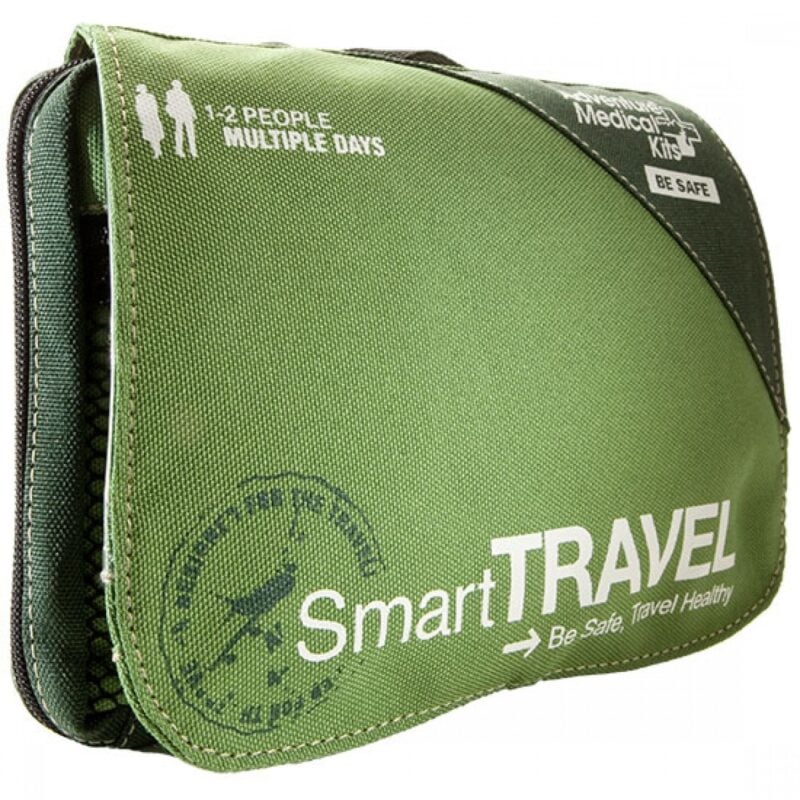 Things go wrong on the road ALL THE TIME. Be prepared for what life throws at you.
Buy an AMK Travel Medical Kit before you head out on your next adventure – don't be daft!
Buy on REI
Thailand is pretty big, but conveniently prepared with awesome places to base yourself at.
For the most part, travellers tend to pick larger cities and popular islands. Staying at this kind of places means you'll never be too far away from transportation options.
Staying in Bangkok gives you an advantage because it is the mecca for transport in Thailand. From here, you can easily jump on a bus or train and head anywhere in the country. Perfect for organizing day trips and adventures into nature!
Plus, you'll find it easy to score a great hostel or a stunning Airbnb in Bangkok for an affordable price. Nothing beats the feels of returning to a plush, comfortable room (and a powerful shower) after a day of hiking and sweating.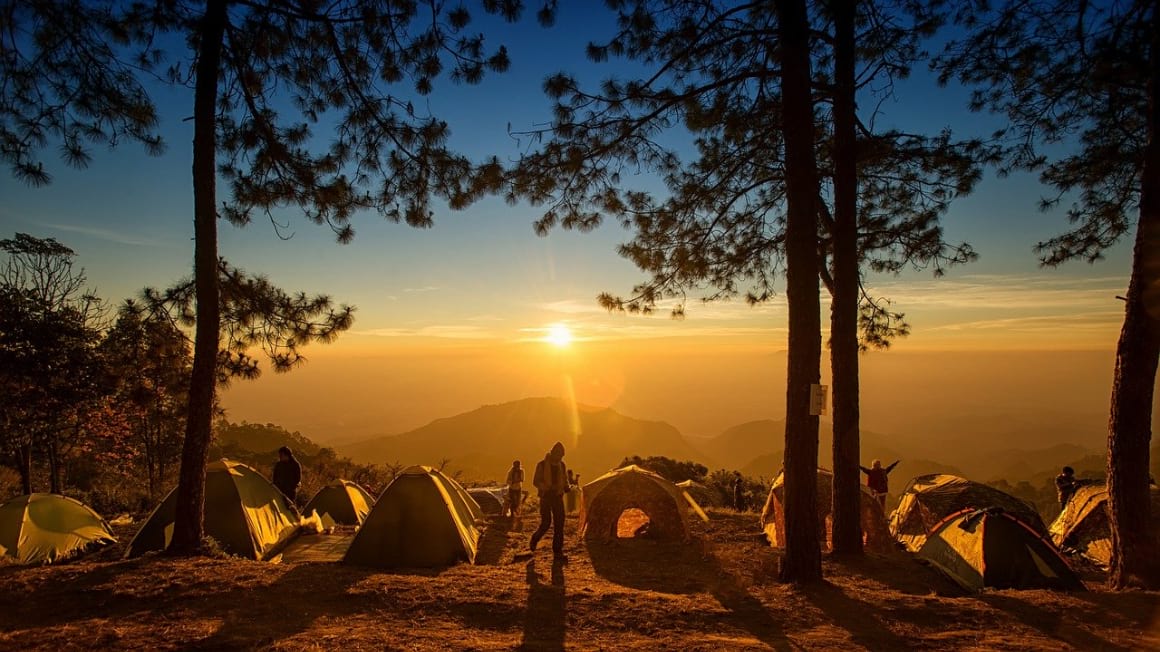 If you're looking to get out of your doorstep straight into a hike, consider exploring Chiang Mai. A more chilled option than Bangkok with access to some top-notch national parks, and a formidable transport hub in its own right.
For those multi-day treks, or the chance to turn a one-day hike into a whole excursion, we recommend camping in Thailand. Surprisingly enough, it's a common option in many of its national parks and gives you all the flexibility you need to enjoy your hikes.
Best Hostel in Thailand – Fin Hostel – Phuket
Fin Hostel sits close to Kata Beach and is a surfer styled party hostel. This hostel's facilities are truly superior. They offer a large, shared American kitchen, air conditioning, hot showers, and a large rooftop pool. Plus, the weekly BBQs and cocktail parties are a blast! This surfer hostel is one for the books.
Best Airbnb in Thailand – Oceanfront Villa – Koh Samui
This house in Koh Samui is mere steps away from the beach, and comes with a plunge pool that offers sweeping views of the oceans. This immaculate home is perfect for honeymooners or for couples looking to indulge in the finer things of life.
The Eco Lanta Hideaway Beach Resort is a truly special hotel. It's not a touristy, cut-and-dry hotel that feels like it could be located anywhere in the world… this hotel is truly special. The wooden Thai bungalows are nestled right alongside Long Beach and promise and unforgettable stay in Koh Lanta!
Is This the Best Backpack EVER???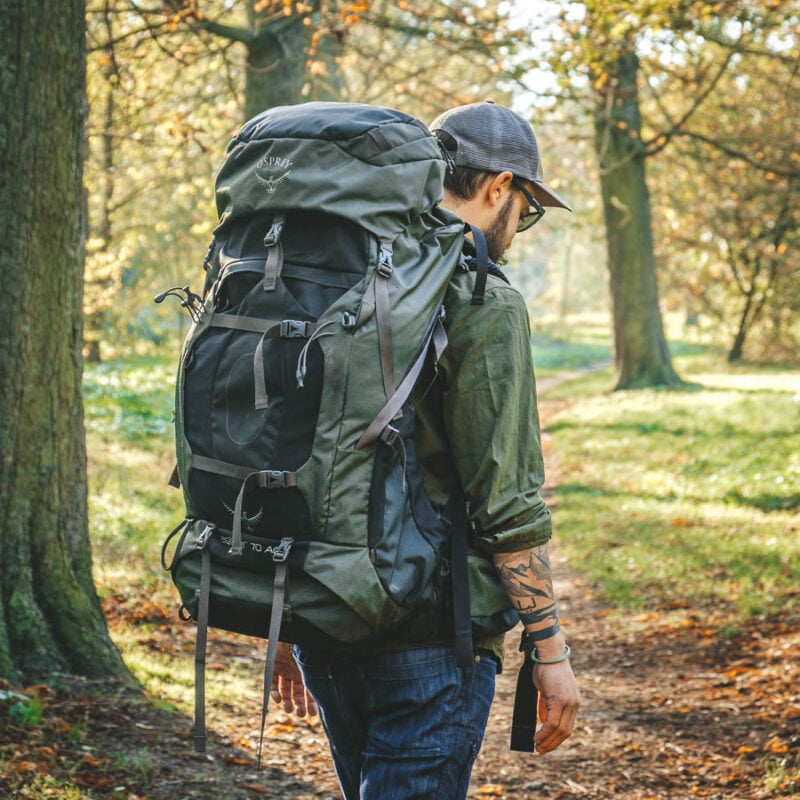 Thailand is very much well-trodden on the Southeast Asia backpacking route, but that doesn't mean you should turn up unprepared if you want to hike here.
Many of the hikes will need some sort of preparation, and some will even require you to do some booking in advance.
First things first; appropriate footwear. Ditch the flip-flops behind and stick to a good pair of walking shoes for the trail. A water bottle will also be essential — choose one with a filter so you can drink from everywhere.
The condition of the routes will vary depending on the season: rain can fill them with mud, and trekking poles will come in handy. A waterproof jacket will also be useful on these rainy days.
Some of the more in-depth, overnight treks in Thailand will require you to carry equipment with you. It's worth investing in a good backpack where you can pack all your changes of clothes and layers: the mountains get chilly at the top.
Being out in nature also means protecting yourself from it, too. Bring along insect repellent with DEET, sun cream, and a first aid kit, just in case.
We've prepared a handy packing list so you know exactly what to bring on your hike:
Trekking Poles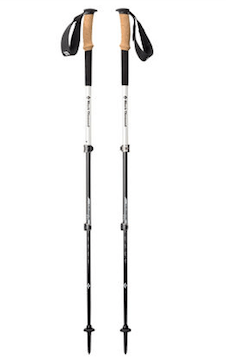 Trekking Poles
Black Diamond Alpine Carbon Cork
Price > $$$
Weight > 17 oz.
Grip > Cork
Headlamp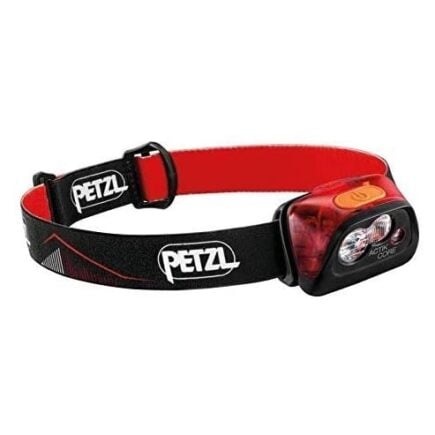 Headlamp
Petzl Actik Core Headlamp
Price > $$
Weight > 1.9 oz
Lumens > 160
Hiking Boots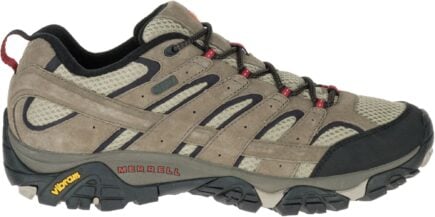 Hiking Boots
Merrell Moab 2 WP Low
Price > $$
Weight > 2 lbs 1 oz
Waterproof > Yes
Daypack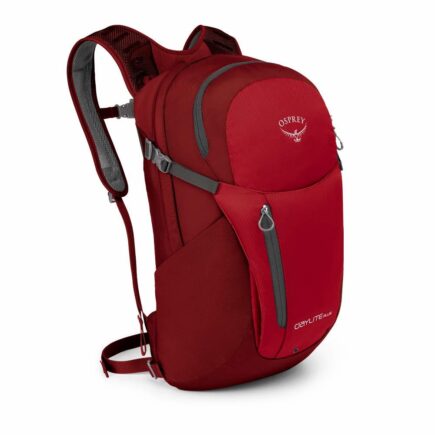 Daypack
Osprey Daylite Plus
Price > $$$
Weight > 20 oz
Capacity > 20L
Water bottle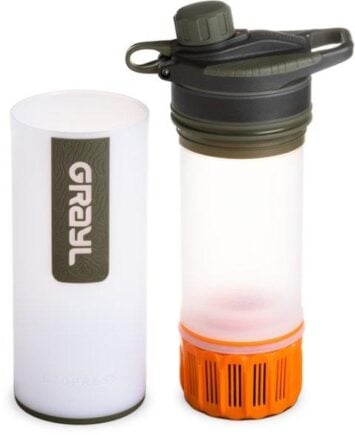 Water bottle
GRAYL Geopress
Price > $$$
Weight > 16 oz
Size > 24 oz
Backpack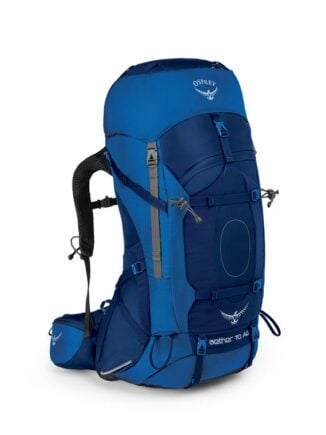 Backpack
Osprey Aether AG70
Price > $$$
Weight > 5 lbs 3 oz
Capacity > 70L
Backpacking Tent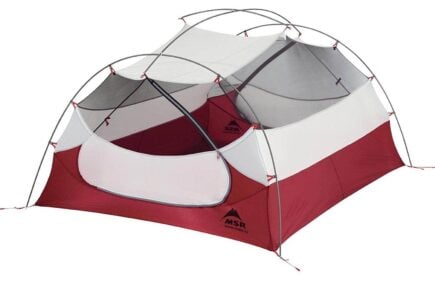 Backpacking Tent
MSR Hubba Hubba NX 2P
Price > $$$$
Weight > 3.7 lbs
Capacity > 2 person
GPS Device
GPS Device
Garmin GPSMAP 64sx Handheld GPS
Price > $$
Weight > 8.1 oz
Battery Life > 16 hours
Don't Forget Your Thailand Travel Insurance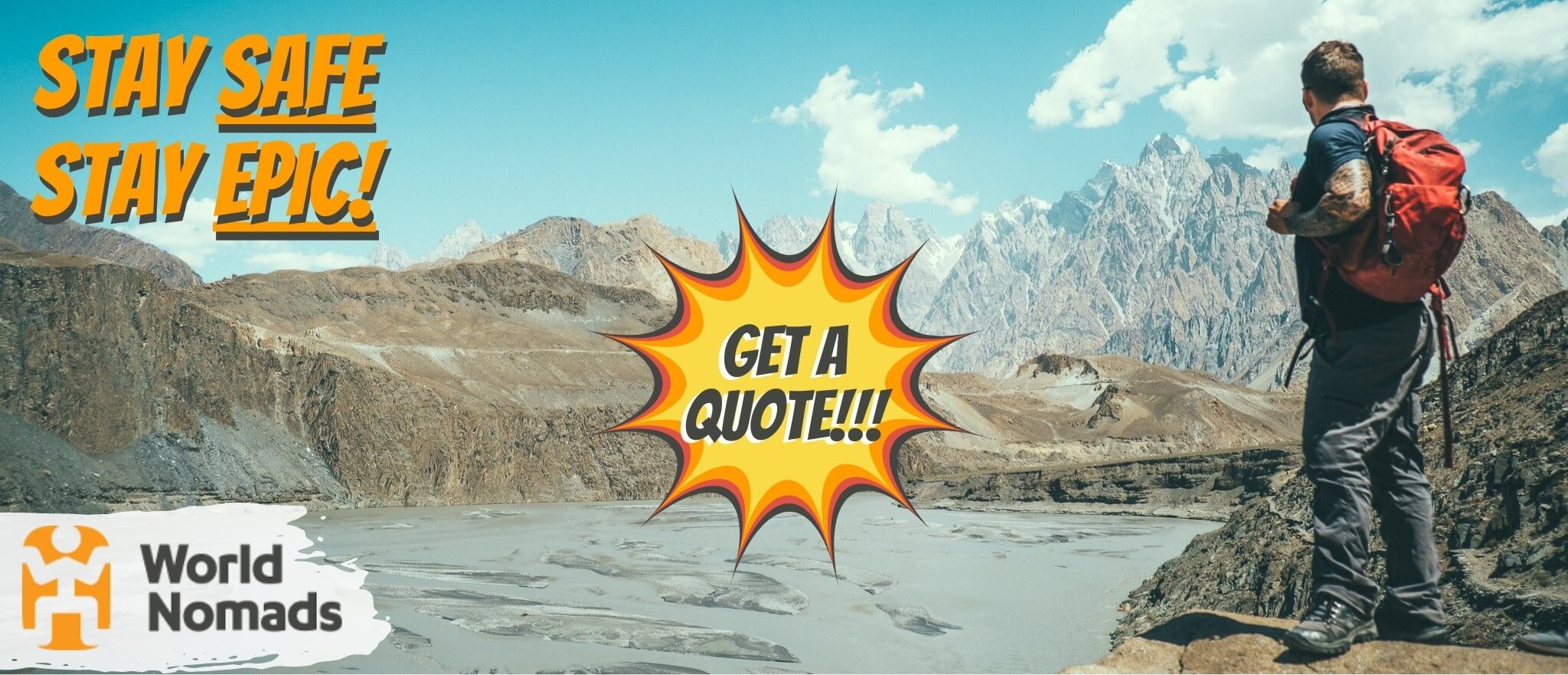 World Nomads' mission is to support and encourage travellers to explore their boundaries. They offer simple & flexible travel insurance, and safety advice to help you travel confidently.
They've been doing it since 2002 – protecting, connecting, and inspiring independent travellers just like you.
Get a quote below or read our in-depth review!
World Nomads provides travel insurance for travelers in over 100 countries. As an affiliate, we receive a fee when you get a quote from World Nomads using this link. We do not represent World Nomads. This is information only and not a recommendation to buy travel insurance.
---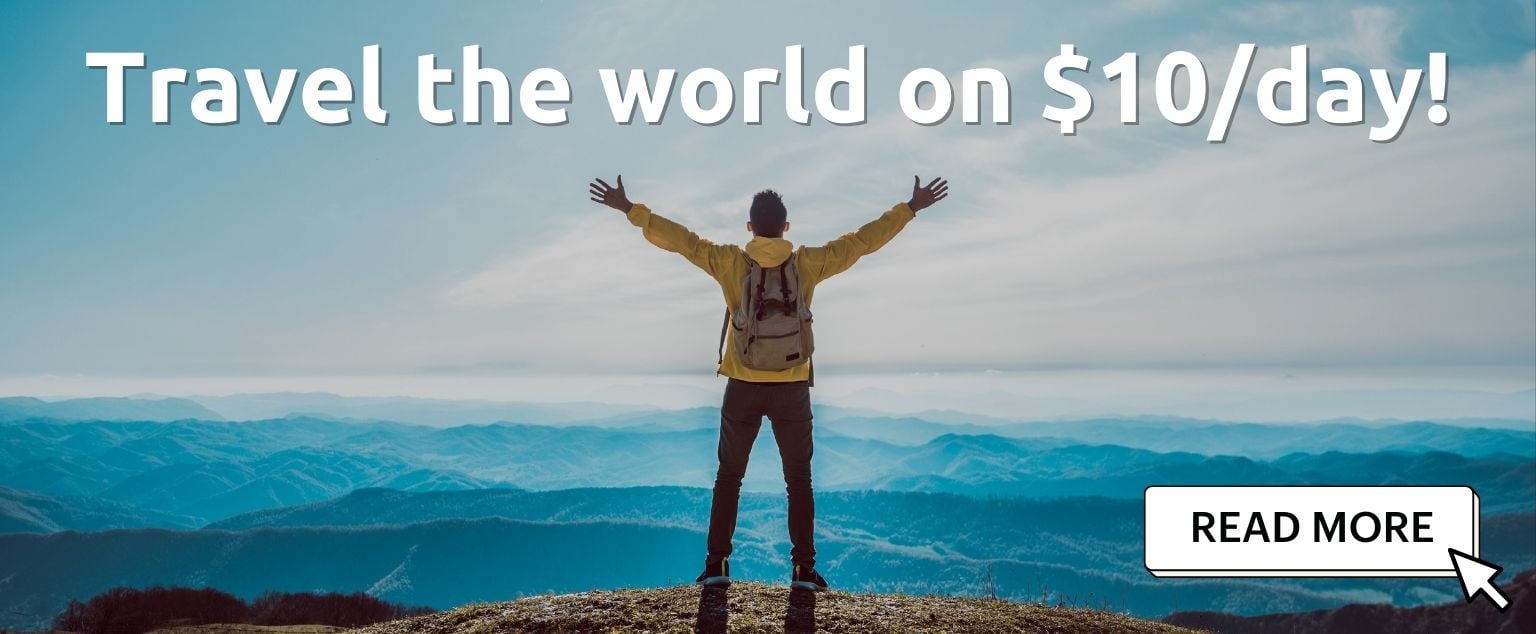 And for transparency's sake, please know that some of the links in our content are affiliate links. That means that if you book your accommodation, buy your gear, or sort your insurance through our link, we earn a small commission (at no extra cost to you). That said, we only link to the gear we trust and never recommend services we don't believe are up to scratch. Again, thank you!