Bangkok! This incredible megacity is one of the most visited cities in the world – and rightly so! From luxury shopping centres, to rooftop bars, to backstreet street food joints, it's got something for every type of traveller on any budget! But it's the Thai people who really make this city such an incredible location. Everything is done with a smile and you're sure to feel welcomed. After all, we're all the same same but different!
When it comes to staying in Bangkok, you've got a lot of choice. Even if you're travelling on a budget, there are some pretty awesome places to stay! So, instead of your standard hostel or slightly bland hotel, check out rentals in Bangkok instead. Your money can go really far and get you a truly incredible Bangkok Airbnb!
So, we've decided to help you out. Rather than letting you trawl through the site itself, we've put together this list of the 15 best Airbnbs in Bangkok. We've taken different personalities, travel styles, and most importantly – budgets into account! Now, let's take a closer look and get planning your vacation!
Quick Answer: These are the Top 5 Airbnbs in Bangkok
OVERALL BEST VALUE AIRBNB IN BANGKOK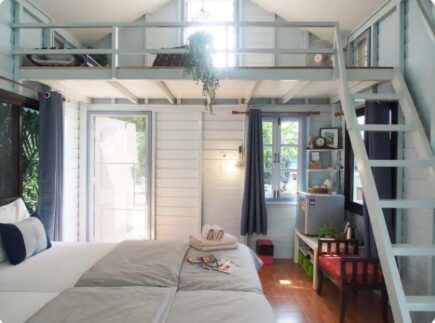 OVERALL BEST VALUE AIRBNB IN BANGKOK
Tiny House near historic spots
> $
> 2 Guests
> Incredible location
> Quiet and tranquil
BEST HOMESTAY IN BANGKOK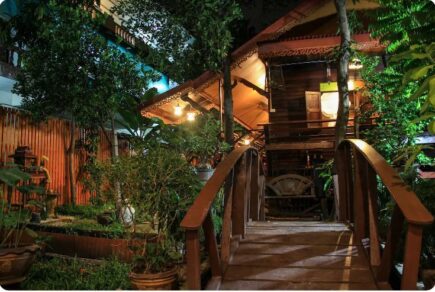 BEST HOMESTAY IN BANGKOK
Fashai Homestay Wooden Thai Style
> $
> 2 Guests
> Complimentary Breakfast
> Warm friendly and welcoming
BEST AIRBNB FOR COUPLES IN BANGKOK
BEST AIRBNB FOR COUPLES IN BANGKOK
Designer Loft Bangkok Silom
> $$$
> 2 Guests
> Super King Bed
> Artsy and modern
BEST AIRBNB FOR FAMILIES IN BANGKOK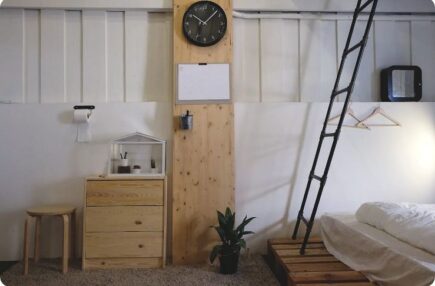 BEST AIRBNB FOR FAMILIES IN BANGKOK
Private room near BTS Sapan Taksin
> $
> 2 Guests
> Awesome location
> Coffee area and relax space
BEST LUXURY AIRBNB IN BANGKOK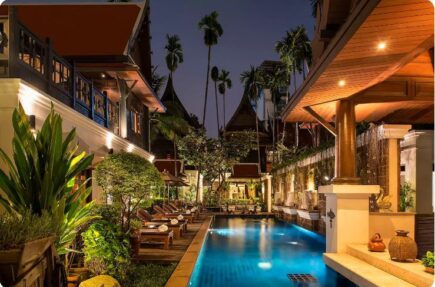 BEST LUXURY AIRBNB IN BANGKOK
Idyllic Oasis in Bangkok
> $$$$
> 6 Guests
> Swimming Pool
> Soothing and tranquil atmosphere

Unlock Our GREATEST Travel Secrets!
Sign up for our newsletter and get the best travel tips delivered right to your inbox.
Looking for other types of accommodation? Check out our Hostels in Bangkok guide with our breakdown of the coolest places to stay!
Why Stay in an Airbnb?
Local Experience
No matter where you're staying in Bangkok, a private apartment, an entire rental unit or a shared house, visitors can get in touch with their hosts through the Airbnb mobile app. Use the chat for fast and efficient communication. Any questions about your trip, what to do or where to go – your host can help.
Lots of Airbnbs provide city or neighbourhood guides with helpful suggestions for things to do in Bangkok – like a favourite coffee shop, unique temple or the most authentic Thai food. Some even include transit information, directions to amenities like grocery stores or gas stations and the availability of public transport. This is a great way for travellers to find the best local spots as hosts usually include what they've come to love about their city from years of living there!
Save some time by booking with Airbnb rather than spending years on Google to find out what's around you.
Affordability
Backpacking Bangkok doesn't have to be expensive! Forget that luxury boutique hotel, instead, look at an Airbnb apartment.
Whether you are a backpacker or a business person, Airbnb gives you the opportunity to find affordable and unique places, experiences, and recently added to the list: restaurants. From 12-bedroom villas to the basic shared-room hostel, you will be able to find the right place for your needs among the six million Airbnb vacation rentals that have been listed worldwide.
If you're on a budget, just put the price range you are willing to pay for the night into the filter and the platform only shows you rentals that match your expectations. Some of the entire rental unit properties charge per night instead of per person. This gives bigger travel groups the option of staying together at the same place while saving a lot of money. No more expensive single hotel rooms – just split the bill with your friends at the end of your trip and everyone will benefit!
In addition to that, long term guests can also enjoy weekly and monthly discounts. But no matter how long you are planning to stay, you can always be sure you'll find the right and affordable place on Airbnb.
Safety
Worried about safety? Airbnb wants every guest to be safe and secure. They require hosts to have a keyed door lock and an interior deadbolt or chain. The privacy inside the rental depends on what kind of place you are looking for but you can always find details in the booking description.
Remember that you are living in someone's home – they want to keep it safe, too. Some properties even have CCTV and a doorman so you don't have to worry about any undesired visits.
Airbnb also has a 24/7 emergency line with someone ready to assist you in case of any problem. They're even able to provide a driver, book you a hotel or send a doctor in a medical emergency.
The Top 15 Airbnbs in Bangkok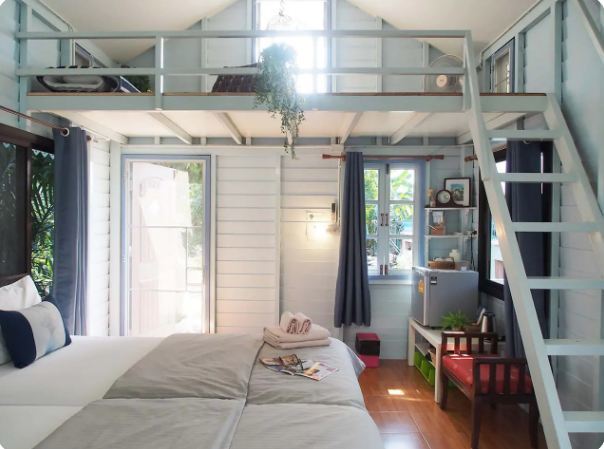 2 Guests
Quiet and tranquil
Let's kick off our list of the best Airbnbs in Bangkok with somewhere cool, quirky, and great value! This tiny house is on the banks of the Chao Phraya River, near some of the most important temples in town, so a good location to explore! The one-bedroom tiny house is inside your host's yard, so you're never far away from helpful advice or recommendations or from the complimentary breakfast which comes as standard with this cute place!
This is the perfect Bangkok Airbnb if you want something a little unusual where you can create unforgettable memories! It's also a great base for a full Bangkok itinerary thanks to its amazing location.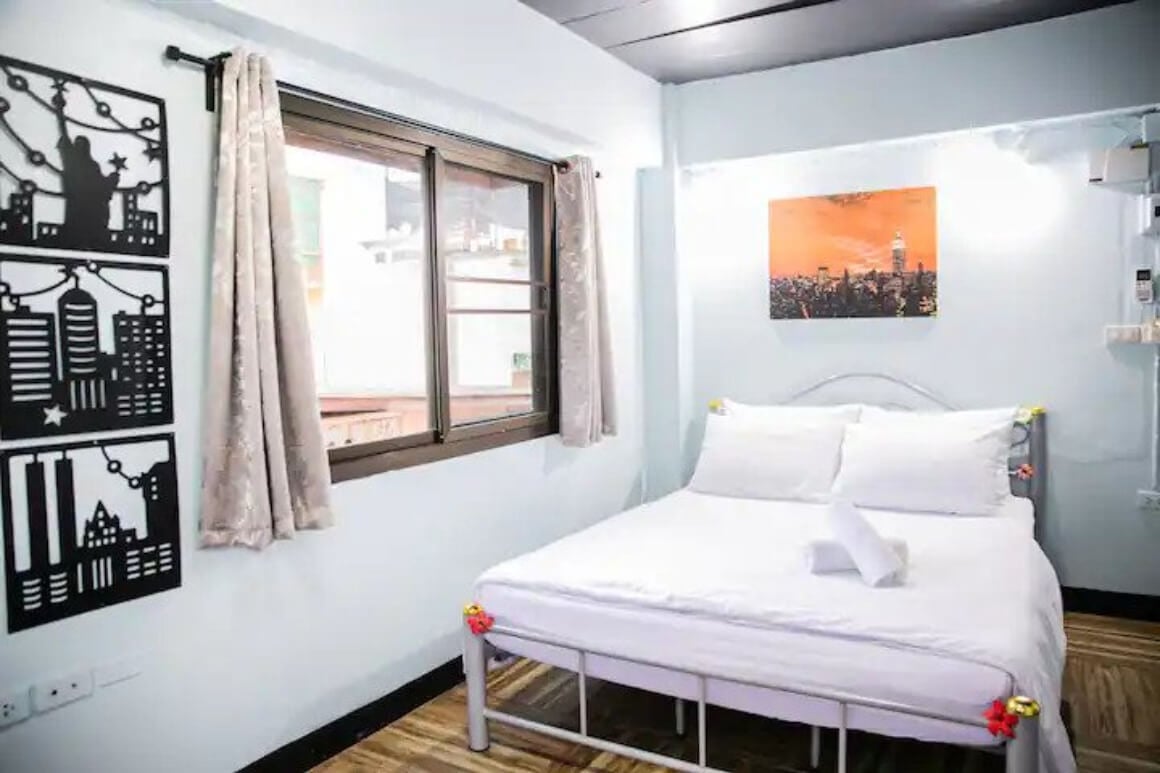 2 Guests
Close to Khaosan Road
The Thai capital can be a great place if you're travelling on a budget, and there are lots of Bangkok Airbnbs which cost just peanuts. However, how do you know which options are cheap and cheerful, and which will leave you with a sour taste? Well, we've found this great budget private apartment near Khaosan Road that will leave you with more money to fill up on pad thai and souvenirs! You can enjoy free breakfast and laundry facilities too!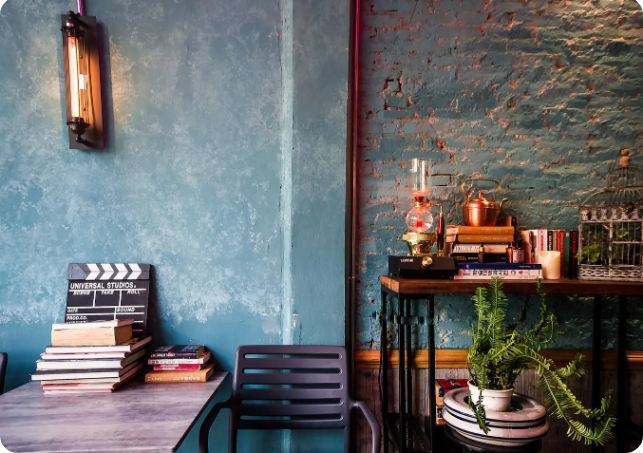 $
Laptop friendly workspace
This awesome Bangkok Airbnb is another example of how far your money can go. The classic decor is a nod towards when this beautiful home belonged to the Prince of Siam! Not only is the room comfortable, but you have a laptop-friendly workspace and rapid Wi-Fi so you can work without interruption. Another great thing here is the coffee. On the bottom floor, there's a coffee shop and your friendly host is a barista! Being right in the city centre of downtown Bangkok you've got easy access to a metro station due to the good location of this Airbnb apartment.
Is This the Best Backpack EVER???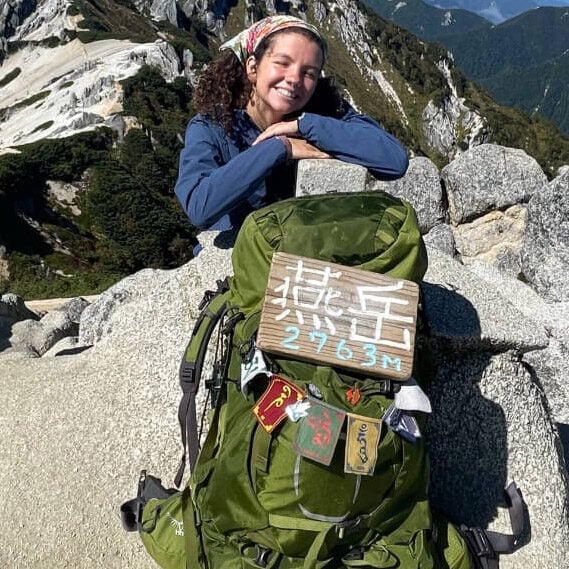 2 Guests
Free Wi-Fi and drinking water
Plenty of people recommend that solo travellers should stay in Bangkoks hostels. While that can be a lot of fun, we understand it's not for everyone.
Take a look at this cosy private room with a local host in this tropical Bangkok Airbnb. You can head up to the rooftop terrace to enjoy views of the city skyline, before heading out into the urban sprawl. It's minutes away from BTS stations so it's easy to get around the city too! When in the flat, you're welcome to use the free Wi-Fi and drinking water. It's one of the best vacation rentals for solo travellers, this one-bedroom unit in Central Bangkok is within walking distance of Lumphini Park.
Best Airbnb in Bangkok for Nightlife | The Innspire
$
Laptop-friendly workspace
2 Guests
5 minutes from Khaosan Road
Bangkok boasts some of the best nightlife in the world and there are lots of different places to try out. However, the Khaosan Road has been on every backpacker's bucket list since The Beach with Leonardo di Caprio! With this Bangkok apartment just 5 minutes away from there, it's close enough for you to have easy access to buckets and fried tarantulas, but far enough away to actually get some sleep when you're having a night off with the tranquil co-creation space.
Best Short Term Rental for Couples |co-creation space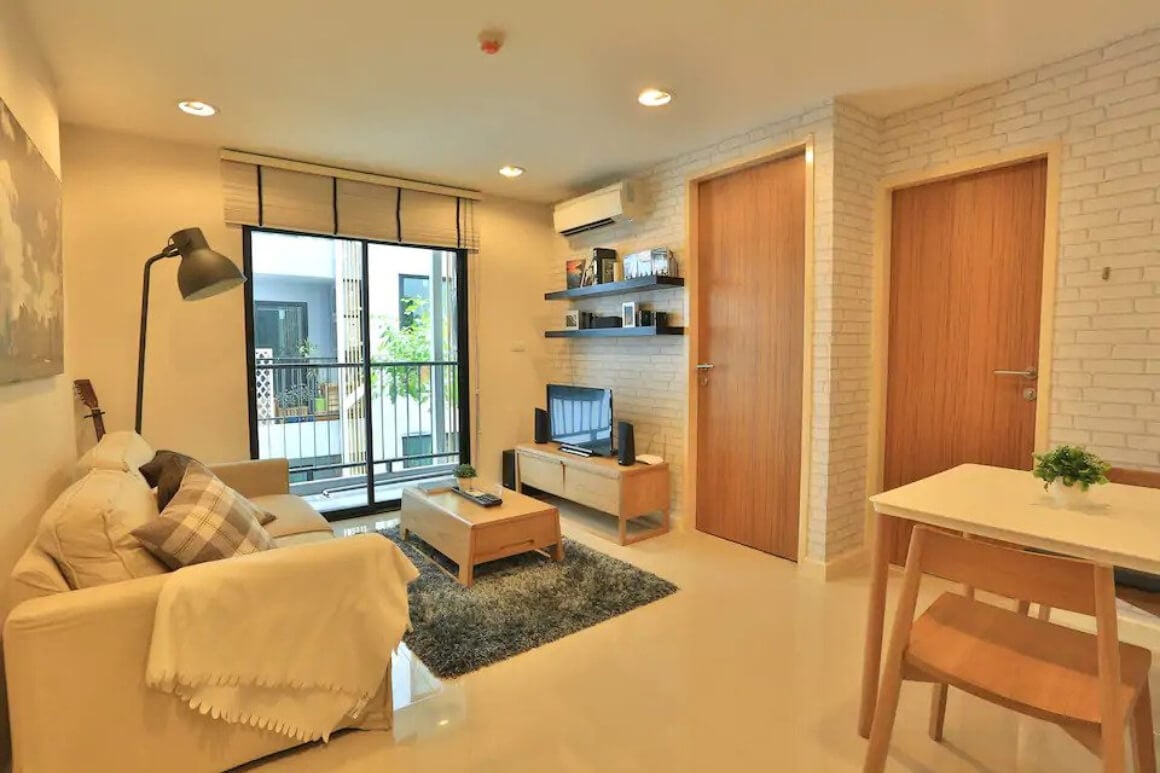 $$
Close to BTS Ekkamai Station
Want to be surrounded by action and excitement? This cool short term rental in Bangkok is the perfect place for that. For a couple, there's nothing better as this place is right inSukhumvit!As well as the room, guests have access to the kitchen and lounge area, perfect after a long day walking around the many sights in Bangkok! Your comfy apartment is also close to the BTS.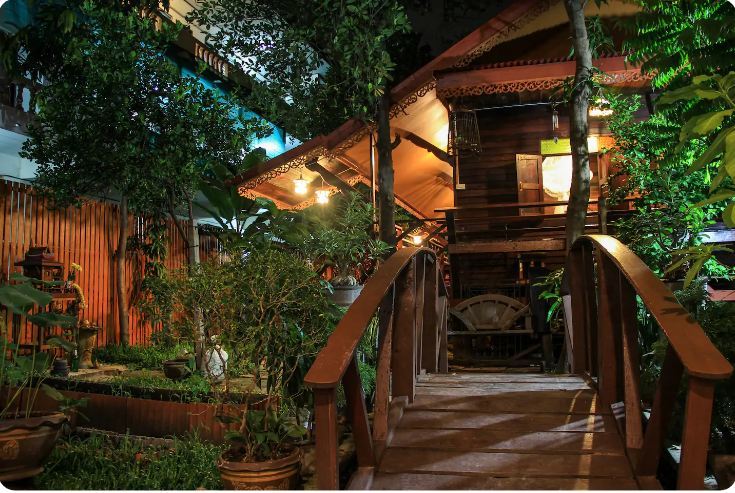 2 Guests
Warm friendly and welcoming
Are you looking to have a traditional Thai experience that is also kind on your wallet whilst exploring Southeast Asia? How about a homestay in Bangkok? Staying with locals will really show you the true Thailand while making friends in the process. It may not be in the centre of Bangkok, but it's within walking distance of a BTS station – so it's definitely worth trading a city-centre location to get up early with the local monks. You'll also be treated to DIY coffee and flower tea. This traditional wooden Thai home is one of the best vacation rentals for an authentic experience.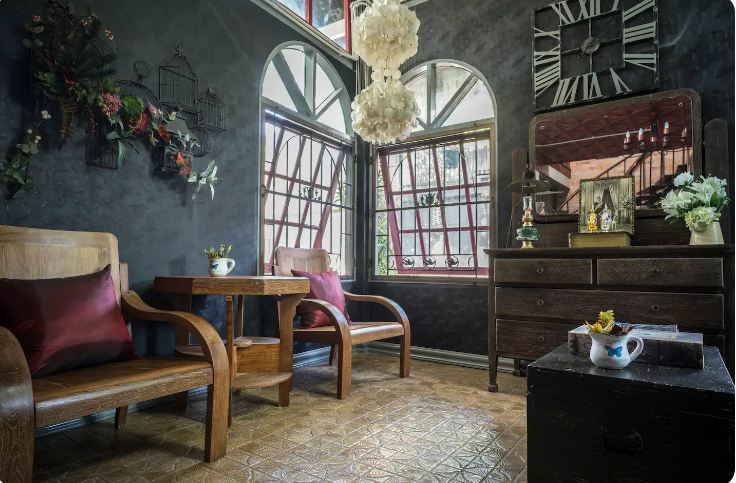 2 Guests
Complimentary breakfast
There are so many great homestays in Bangkok that we didn't want to just give you one option. Bai Pho offers you a comfortable and clean room in a family home just 20 minutes from Silom, the Grand Palace and the city centre on the BTS. To fuel up before a busy day of sightseeing, take advantage of a complimentary breakfast which is sure to be delicious! If you're a long term traveller, you'll be pleased to know at this homestay you'll be able to wash and dry your clothes! If you love local food, just ask the hosts about the nearby amazing street food.
Money usually goes quite a long way in Thailand, so for a little more than you might normally pay, you can get a truly awesome Bangkok Airbnb that's almost dripping in luxury! Near one of Bangkok's biggest and best markets, Chatuchak, this architect's home will have you fully bowled over with the incredible design of the entire apartment.
Pick up plenty of produce from the nearby market and prepare a meal in the solarium-like kitchen, before enjoying your creation on the patio outside. Sounds good, right?! Here you've got the entire rental unit so you can enjoy the amazing nightlife without disturbing anyone!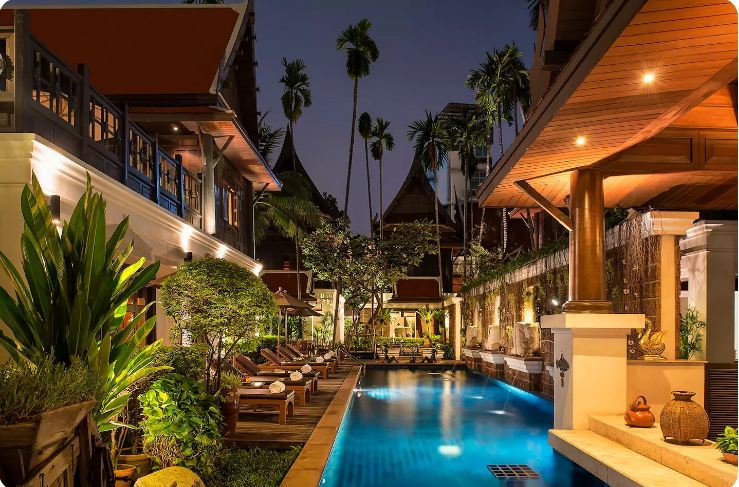 6 Guests
Soothing and tranquil atmosphere
Ever wanted to be in a traditional villa in the heart of the city, but able to forget about the surrounding hustle and bustle? That's exactly what this Airbnb in Bangkok will allow you to do. One of ten villas, you and 5 of your nearest and dearest can enjoy these beautiful spots – in addition to a complimentary breakfast and a swimming pool! There's nowhere better after a long day of exploring the city to properly switch off and feel at peace than having your own entire rental unit! It's got to be one of the best vacation rentals in Bangkok!
8 Guests
Coffee area and relax space
When travelling with the family, it can be tricky fitting a lot of people into a hotel and the costs can quickly spiral out of control. Better then to find a Bangkok apartment which will fit the whole family and leave you with plenty of change to enjoy sightseeing and filling up on tasty street food!
This entire apartment Airbnb in Thailand is just a hop, skip, and a jump from the night market too, which will be a hit with kids of any age! The proximity to a BTS station also makes it easy to get to places like the Grand Palace. It's also one of the best vacation rentals for couples too with the great nightlife nearby.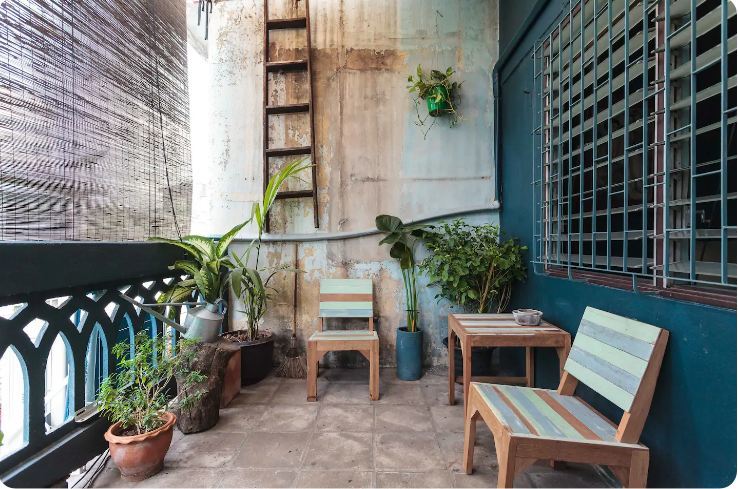 $$
Large Terrace overlooking the street
4 Guests
Original Chinese Shophouse
When staying with mates, it's important to have a comfy space where everyone can chill together and enjoy each other's company. This Airbnb in Bangkok offers not only that but the opportunity to stay in a cool and traditional shophouse.
There's an outdoor balcony and patio where you can watch the Bangkok Chinatown life from above, which is sure to provide you with some interesting observations! Last but not least, the price may seem a little expensive at first, but it's really not that much when you split it between 4! It's not far from heaps of great places to visit such as the Grand Palace and Wat Pho too.
Siam is one of the trendiest and coolest areas in the Thai capital, so it's a good idea to take a look at some awesome Bangkok Airbnbs in that area. First of all, check out this stunning top floor suite. You'll have access to a spacious living area, a terrace with jacuzzi and the building's facilities as well. The Airbnb might not be ideal if you don't have a head for heights, but it's definitely a hidden gem in the Siam Area.
5 Guests
Smart TV with Netflix
Siam has some great apartments, so let's check out one more. While the previous option had space for 4, this one might be better suited for a small family or a couple. You get a beautiful, brand-new townhouse that even won the Thai Best Guesthouse Design award in 2017. For those who are a bit more active, this Bangkok Airbnb is perfectly placed to explore the city or head out on day trips.
And if you're worried about coming or going, you'll be pleased to know there's airport pick up and drop off available for a small fee!
2 Guests
Essentials provided
Let's round off our list of the best Airbnbs in Bangkok with this great value home in the Riverside Area. An ideal place to stay for a couple, there's a double bed and all the essentials you could want for a comfy stay. The room is well equipped and you'll have access to the shared common rooms like the kitchen and dining area on the first floor. The industrial design is truly special. Enjoy the massive glass front that makes the whole loft flooded with light. It's an awesome home away from home!
What to Pack for your Bangkok Airbnb
Pants, socks, underwear, soap?! Take it from us, packing for a hostel stay is not always quite as straightforward as it seems. Working out what to bring and what to leave at home is an art we have perfected over many years.
Check out our definitive Airbnb Packing list for our top packing tips!
Don't Forget Your Bangkok Travel Insurance
ALWAYS sort out your backpacker insurance before your trip. There's plenty to choose from in that department, but a good place to start is Safety Wing.
They offer month-to-month payments, no lock-in contracts, and require absolutely no itineraries: that's the exact kind of insurance long-term travellers and digital nomads need.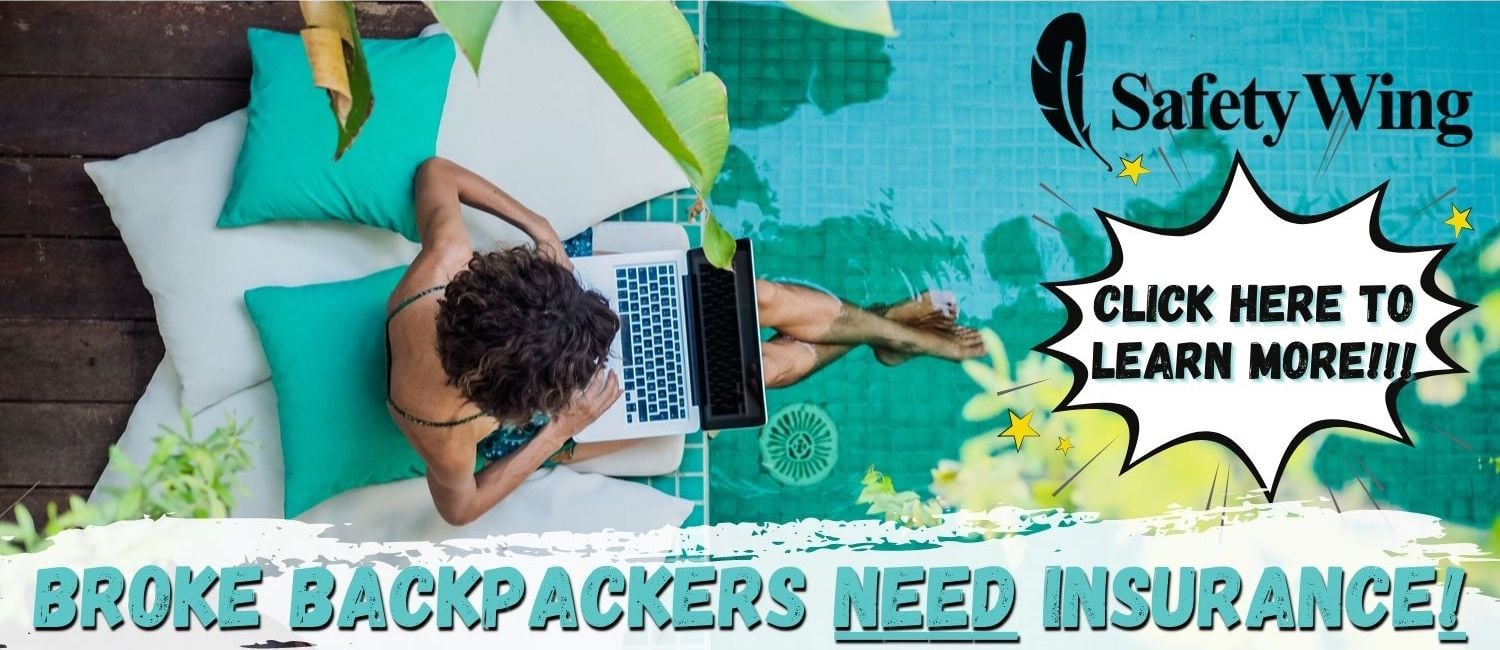 SafetyWing is cheap, easy, and admin-free: just sign up lickety-split so you can get back to it!
Click the button below to learn more about SafetyWing's setup or read our insider review for the full tasty scoop.
Final Thoughts on Bangkok Airbnbs
So, that concludes our list of the best Airbnbs in Bangkok. We hope you've found it helpful and it's given you a better idea of how to plan and make the most of your vacation in Thailand!
Whether you want to stay in a traditional Thai homestay and wake up with the monks, a luxury condo right by the Siam Centre, or in a tiny house near all the most exciting attractions, there's an Airbnb in Bangkok for you! The only thing is, we might have given you a bit too much choice!
If that's the case, take a breath and stay calm. Then, book our favourite Airbnb in Bangkok – Tiny house near Historic Spots. It's got that quirkiness that users search for when coming to Airbnb, while still offering great value and an awesome location!
Now that you've got a better idea of the best Airbnbs in Bangkok, it's time for us to bid you farewell. We hope you have an incredible vacation in the land of smiles!
---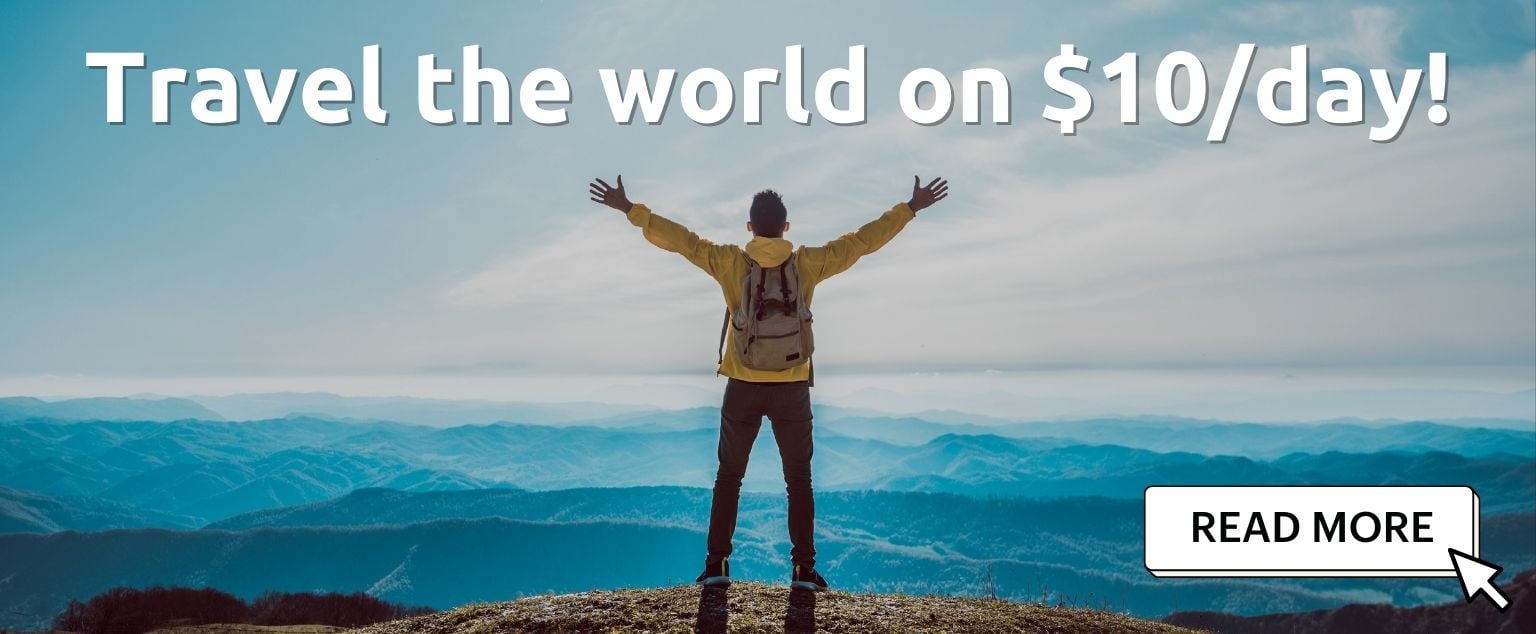 And for transparency's sake, please know that some of the links in our content are affiliate links. That means that if you book your accommodation, buy your gear, or sort your insurance through our link, we earn a small commission (at no extra cost to you). That said, we only link to the gear we trust and never recommend services we don't believe are up to scratch. Again, thank you!