Ahh Thailand. Of all the countries in Southeast Asia, Thailand is by far the most popular. And it's clear to see why!
The country has a cuisine that is known and enjoyed all over the world, it's home to the friendliest locals, boasts pleasant weather all throughout the year, and has a nightlife scene that is unlike any other. I mean, have you ever seen a full moon party?
With all the things you can do in the country and the countless attractions to visit, you are going to need a place to stay that's comfortable, within your budget, and authentic. I mean, imagine spending the day at the beach followed by a colourful meal of Pad Thai and coming back to a hotel room with plain white everywhere? Nah, there's got to be something better.
Enters Airbnb stage left.
Airbnbs in Thailand are the most logical place to stay for anyone who thinks a boring hotel room just doesn't cut the biscuit. Airbnbs allows you to stay somewhere unique, and authentic and support the local community since they are often owned by the locals themselves.
There are a plethora of Airbnbs in Thailand that cater to all kinds of travelers and budgets, so if you're not sure where to start, allow me to introduce to you the 15 best Airbnbs in Thailand. Plus, I've included a few of my favourite Airbnb Experiences to try while in the country.
Let's not waste any time and get right down to business!
Quick Answer: These are the Top 5 Airbnbs in Thailand
Overall Best Value Airbnb in Thailand
Overall Best Value Airbnb in Thailand
Centrally located condo with rooftop pool, minutes away from the night bazaar
> $
> Guests: 3
> Shared gym
> Free parking
Best Budget Airbnb in Thailand
Best Budget Airbnb in Thailand
Apartment in Nimman Road with shared pool and gym, and convenient location
> $
> Guests: 3
> Shared sauna
> Short walk to restaurants, pubs, and cafes
Best Airbnb for Couples in Thailand
Best Airbnb for Couples in Thailand
Villa situated along the Ping River with outdoor covered deck and pool
> $
> Guests: 2
> Free airport pickup
> Complimentary breakfast
Best Airbnb for Families in Thailand
Best Airbnb for Families in Thailand
Colonial style villa close to the beach with balcony
> $$
> Guests: 14
> Beach access
> Private pool
Over-the-Top Luxury Airbnb in Thailand
Over-the-Top Luxury Airbnb in Thailand
Villa overlooking the Andaman Sea with infinity pool and terrace
> $$$$
> Guests: 16
> Home theater
> Villa manager

Unlock Our GREATEST Travel Secrets!
Sign up for our newsletter and get the best travel tips delivered right to your inbox.
What to Expect from Airbnbs in Thailand?
Thailand is among the top backpacking destinations worldwide and we have all heard stories from people who have been there. "Hello Susan, have I told you about my gap y'arrr?" – feel left out that you haven't been? Then I think it's time you headed to the Kingdom of Siam.
If you're worried about finding where to stay in Thailand, you'll be happy to know that it isn't difficult to find a holiday rental.
Apartments and condos are the most common but there are also villas that offer glamour, opulence, and all the extras you never even thought you needed. What you get depends on the amount of money you're willing to spend.
Spend a little more and you'll be spoiled rotten on your vacation but this doesn't mean you won't be comfortable if you have a limited budget. For those backpacking Thailand, remember there is a reason why everyone goes backpacking in Thailand, and a big factor of that is… it's CHEAP.
Let's take a look at some of the options, shall we?
Private room
Mostly located in cities and in beach towns, private rooms can be an excellent way of traveling on a budget while staying comfortable. Contrary to what most people think, private rooms need not be boring or ugly and I'll prove you wrong if you think they are.
There are plenty of private rooms in Thailand that are stylish, where you can relax and sleep well after a day spent sightseeing or enjoying the beach and the city. To cut transportation costs, find private rooms that are all the best places to visit in Thailand.
Apartment
Apartments can be found all over the country and if you're willing to spend a little extra, you can stay in apartments that come with amazing city views, as well as extra amenities such as pools and gyms (private or shared).
Most apartments are not very big but the clever use of space ensures you have everything you need. You have comfortable spaces for sleeping, eating, and relaxing and you also get a kitchen equipped with basics for preparing simple meals. Some may even come with private balconies from where you can enjoy the views.
Villa
If you're looking for fun and relaxation during your stay in Thailand, you should consider booking a villa! Mostly large properties tucked away in quiet areas away from all the noise and the hassle of the downtown area, they are perfect for those who want to be one with nature.
Aside from offering guests plenty of space, most villas come with extra amenities such as pools, gardens, and hot tubs. Yes, they can be quite expensive but if you're traveling with a number of friends, you can split the cost.
Why Stay in an Airbnb
Say goodbye to hotels! There are plenty of reasons why you should stay in an Airbnb on your next trip to Thailand.
Safety: Airbnb hosts are rated and reviews are open for everyone to read. Plus, there's always someone 24/7 who you can talk to should you have any issues with your booking.
Airbnb Experiences: Airbnb offers you more than just a place to stay. A plethora of activities can be booked on the platform too!
Affordability: Airbnbs are cheaper than hotels so regardless of your budget, you can always find something which ticks all the boxes.
Local Experience: Hosted by locals, Airbnbs give you a chance to meet people born and raised in the area who have a wealth of information to share.
Unique properties: Airbnbs in Thailand come in all shapes and sizes and you can find some truly unique rentals such as treehouses.
Top 15 Airbnbs in Thailand
Now you know what to expect from the top Airbnbs in Thailand, it's time to get ready to explore the tropical paradise. So without further ado, here are the coolest and the most beautiful Thailand Airbnbs worth checking out.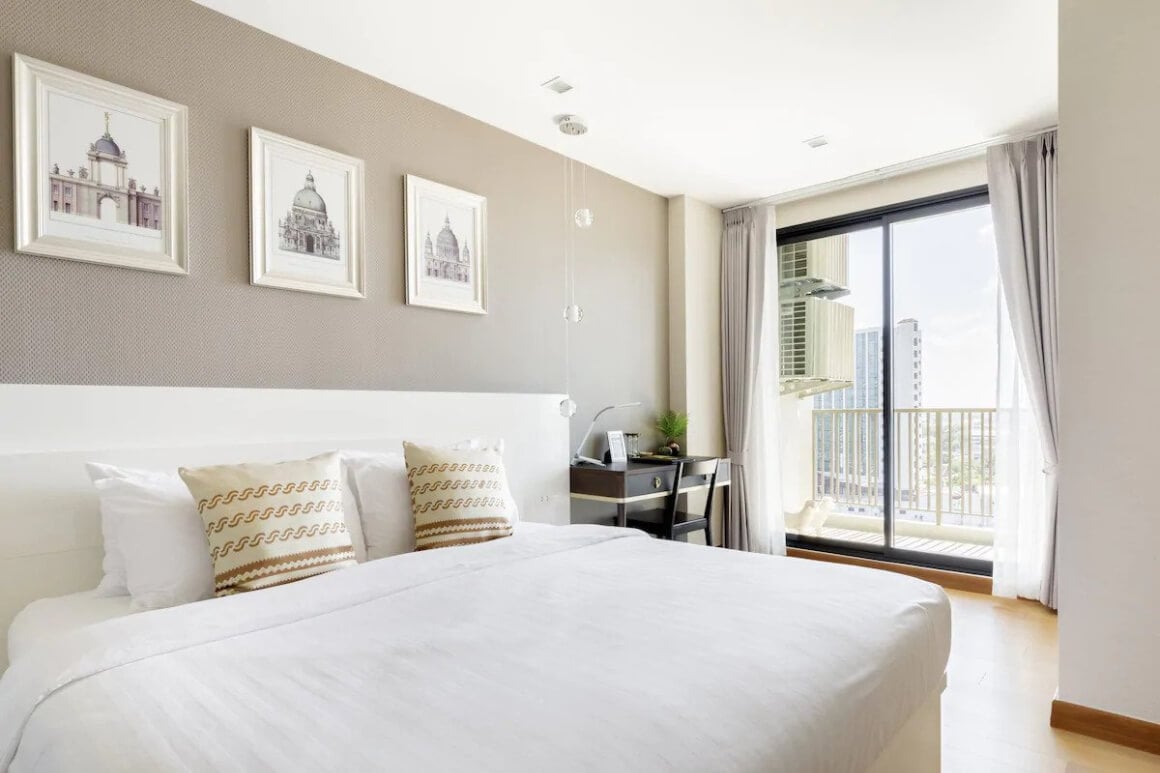 One of this condo's best features is its central location in Chiang Mai which means you are close to everything! Craving some authentic Thai food that doesn't cost a lot? Head to the night bazaar just a short stroll away and you will be amazed at the endless choices of market stalls.
The Old City is only a short distance from where you will see endless beautiful temples, as well as shops and places where you can satisfy your hunger for pad thai, tom yum, or mango sticky rice. Chiang Mai International Airport is less than 15 minutes away too.
However, one of the highlights of the property is the rooftop pool where you can get gorgeous views of the sunsets while enjoying your laps or just tanning on the sunbeds. The gym is open for guests to use and free parking is provided to guests.
Guests: 3
Short walk to restaurants, pubs, and cafes
If you're on a tight budget and are traveling with a friend or two, this Airbnb in Chiang Mai is perfect. Located in one of the most happening places in the city, Nimman Road, you are never too far away from all the action and fun.
Aside from having a balcony with spectacular city views, you have access to the shared gym, pool, and sauna for such a low price, so what more could you ask for?
Fancy a relaxing Thai massage after exploring the area? You are only five minutes away from spas, as well as the mall, restaurants, coffee shops, and pubs. The airport is only 10 minutes by car and so is the old city. You can let the hosts arrange a pick-up service or a taxi for a day tour, so you need not worry about a thing.
---
Psst…
---
Bask in the lap of luxury when you stay in this opulent villa overlooking the Andaman Sea – this is the ideal place to stay in Koh Samui. Take a dip in the relaxing hot tub with a glass of champagne in your hand while you take in the magnificent views of the surroundings. The infinity pool is waiting for you to enjoy too.
Surrounded by loungers, there is more than ample space to perfect your tan, read a book, or just relax. You need not worry about missing your fitness regimen because the villa comes with a large gym.
Other amenities included are a recreation area with a pool table, a home theater to watch your favorite shows and movies in, a bar where you can have your favorite drinks, and plenty of outdoor spaces. The tiled terrace is suitable for alfresco dining with a BBQ that overlooks the sea and the pool.
The villa manager will be present to ensure that you have a wonderful and comfortable stay. Additional services such as airport transfers, housekeeping, and chef services are available for an additional fee.
Is This the Best Travel Pack EVER???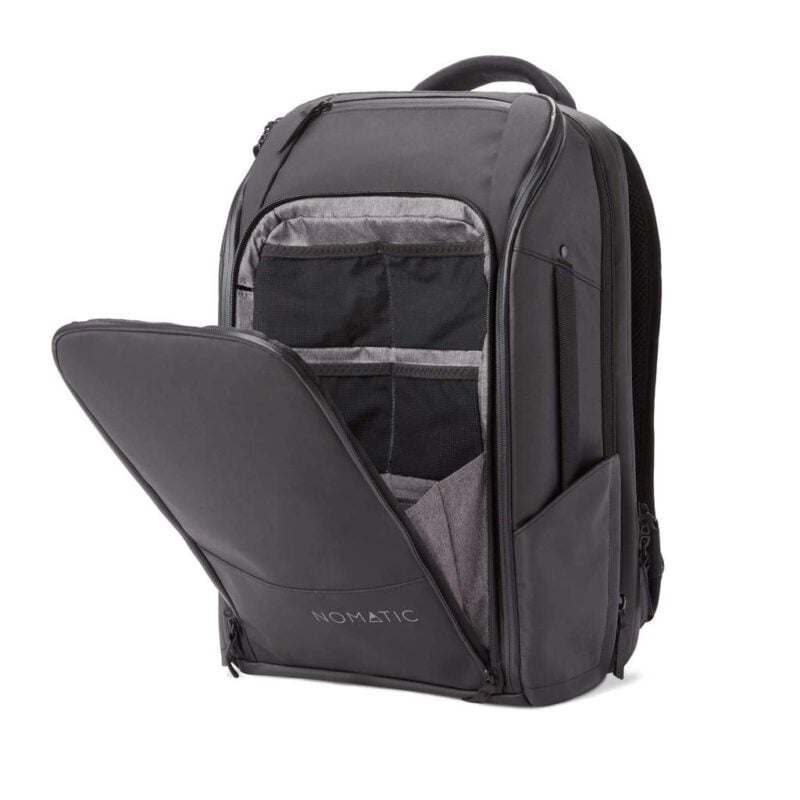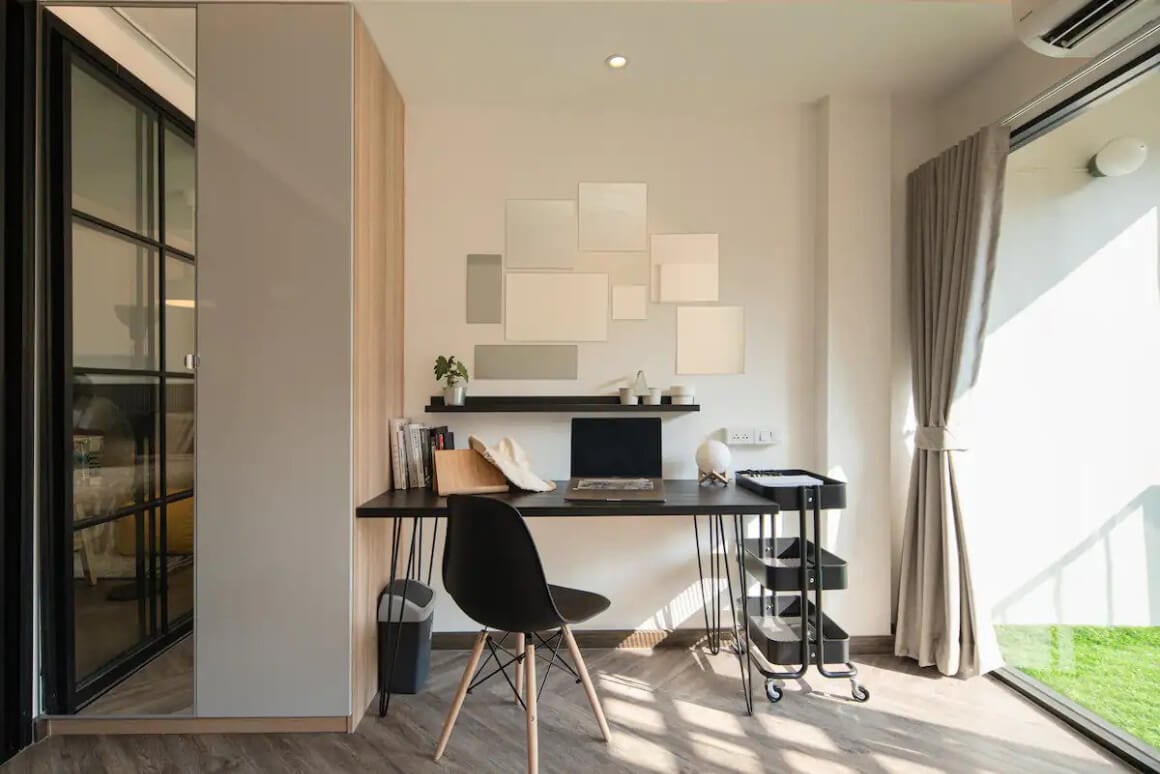 Guests: 2
Balcony and outdoor dining
Working while staying in Bangkok is easy and comfortable when you stay in this conveniently located apartment which boasts a designated relaxing work corner and fast Wi-Fi.
Take a few breaks from work, rest your eyes, and enjoy the uninterrupted city views and sunlight from the wide windows. In addition, the balcony is the perfect place to relax and read a book or enjoy some snacks.
Just a few minutes away from Asok BTS and Sukhumvit MRT, getting around the metropolis is fast and easy. The apartment is close to shopping malls, cafes, restaurants, a convenience store, and a park so you have everything you need within a short walk.
Enjoy your getaway in Koh Samui with friends in this luxurious villa equipped with modern amenities. Located in Surat Thani, Avasara Residence has all you could ever ask for, and things you didn't even know you could have, on vacation.
Overlooking tropical rainforests, as well as the tranquil Gulf of Samui, it has five suite-style bedrooms and ample living areas where you and your friends can just lounge, discuss your plans, or just indulge in dolce far niente (the sweetness of doing nothing).
The royal treatment starts when one of the staff picks you up at the airport and you're driven to the property. You have the infinity pool, swim-up bar, BBQ, and outdoor dining areas all to yourself. Choose a wide range of activities such as Thai cooking lessons, yoga session, or a rejuvenating massage.
The pool may be very inviting but we'd like to remind guests that there are gems to be discovered in the area such as Nathon Food Market, Big Buddha Temple, and Bophut Beach, but I won't fault you if you'd rather remain in the property, it's the epitome of a luxurious retreat.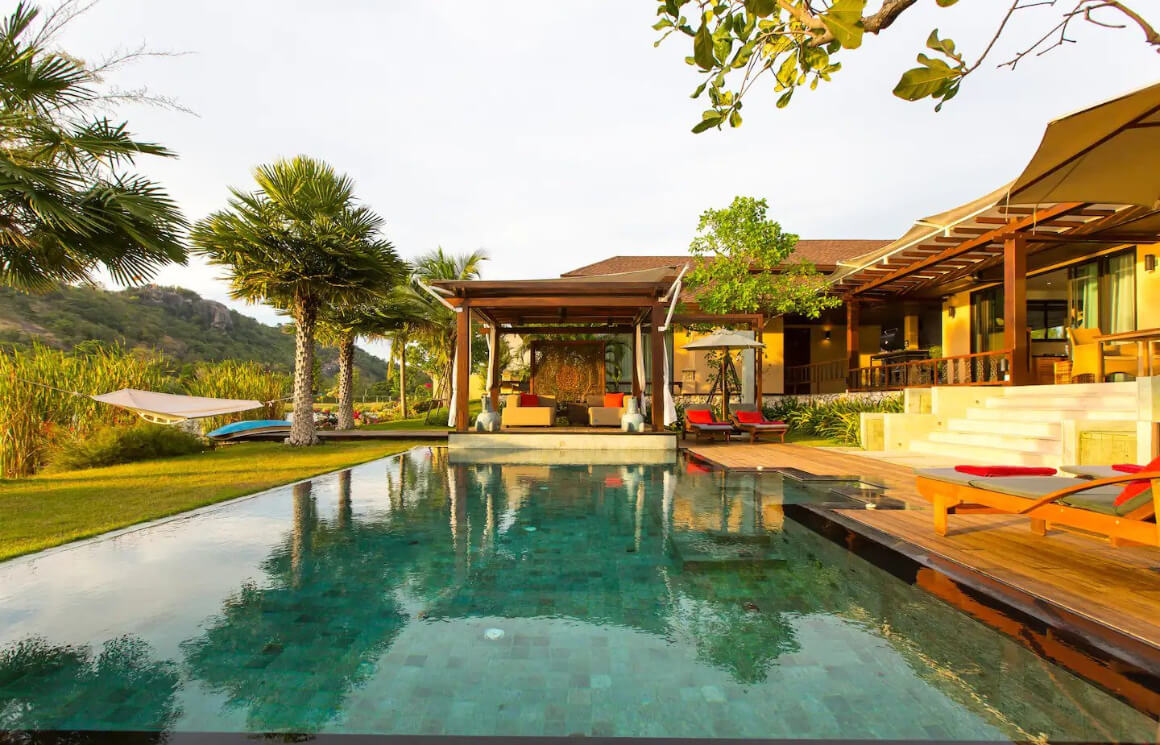 Guests: 10
Free continental breakfast
A scenic gem right on the lake, this has got to be one of the most beautiful properties in Thailand and will make your dream vacations come true!
Surrounded by more than a thousand square meters of garden and a lake, you can wake up to the serene beauty of nature every morning and have your coffee and breakfast on the terrace while looking at the pristine lake.
There's more than enough space outdoors for dining and the BBQ grill is waiting for guests to use. You can also take a dip in the pool right after your meal or just spend your day relaxing on the loungers, reading a book or with a drink in hand.
The villa has a Vespa and five bicycles that guests can use to explore the surroundings. Drinking water, beverages, and a continental breakfast are served daily and included in the price.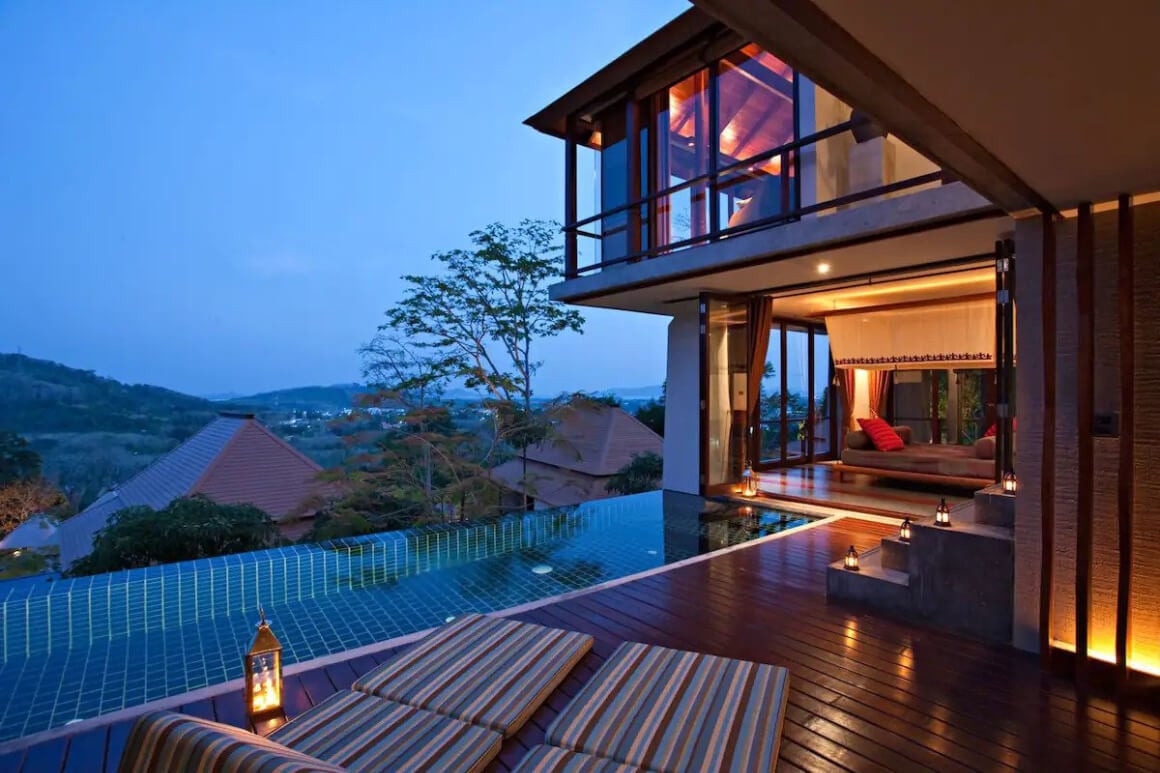 Perched on the hills of Chalong, this gorgeous, peaceful, and romantic villa is an excellent option for newlyweds looking for a place near the beach where they can spend their honeymoon.
At this Airbnb in Phuket, you'll be surrounded by nature and verdant greens, as well as fresh air and since the villa is waterfront, you will have magnificent views of Chalong Bay every single day. What can be better than that?
Well, one thing comes to mind, and that is spending a relaxing hour at the hot tub with your partner. Breakfast for two is included in the price and I recommend making it a floating breakfast because you can't that. Plus, it makes for an interesting Instagram story too.
The private pool and a waterfall area are on the bottom floor and the main bedroom is located on the second floor where you will wake up to the songs of the birds and the beautiful greens. Guests have access to the resort's spa, gym, restaurant, and reading room.
Some nearby attractions that are not to be missed are Chalong Bay Rum Distillery, Chalong Temple, and Phuket Old Town. Day trips to nearby islands can be arranged.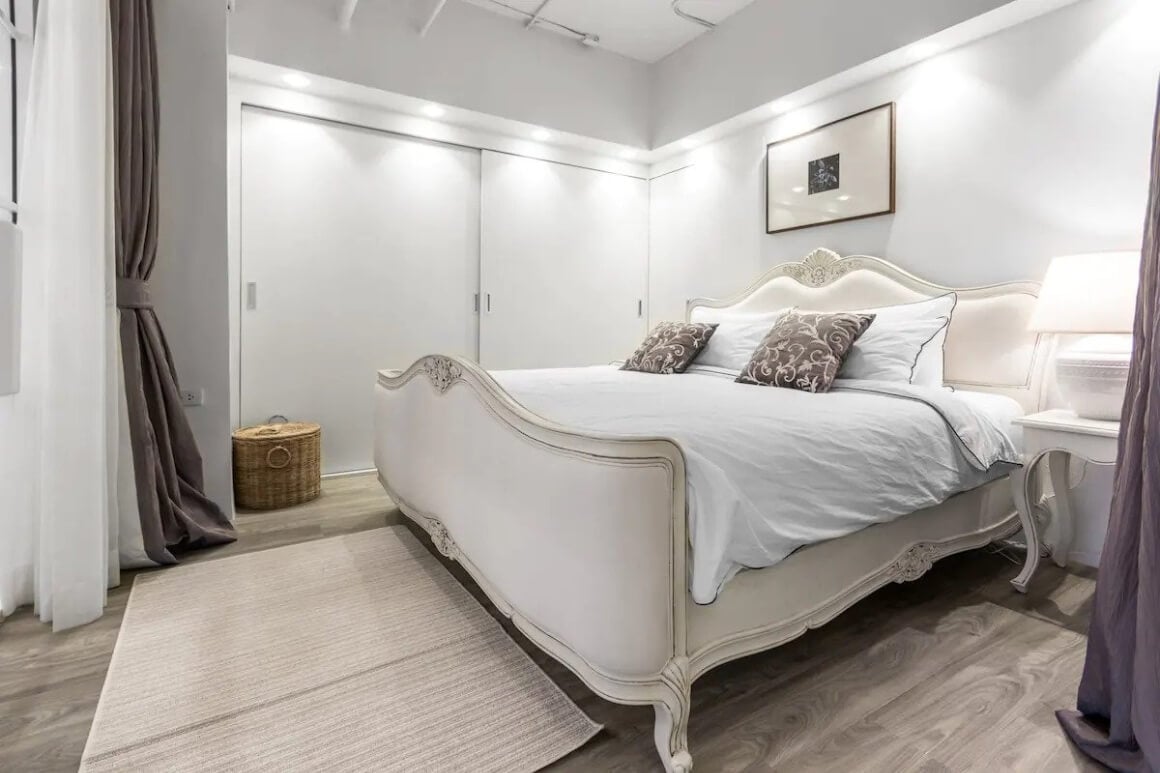 Nothing beats the magnificent views of the Bangkok River from this 50th level condo's private balcony. Celebrate special occasions on the balcony during sunsets with a glass of champagne on your hand or sip your morning coffee while watching Bangkok wake up from its nightly stupor.
If you really want to celebrate, you can head to the top floor of the building to the Famous Sky Bar, featured on the Hangover 2 movie.
A mere five minutes away from the train and pier, getting around Bangkok is easy, enjoyable, and fast. Street food abounds in the surrounding area, even those with Michelin stars, so you can indulge in Thai street food as much as you like.
Within walking distance are a plethora of temples, a church, and a mosque. In addition, an airport pickup can be arranged by the host too.
Guests: 2
Close to shopping
Bangkok's nightlife is legendary and you can never truly say you've been to the city unless you've tried it. This spacious Airbnb in Bangkok is located on the 8th floor of Mahanakorn Tower which boasts beautiful views of the city.
Public transportation, such as the Skytrain and metro, is only a few minutes' walk away and you can easily reach various shopping centers, and local attractions such as Chinatown, Chao Praya riverside, Chatuchak, and countless night markets.
Patpong Street, an area famous for its nightlife is only two bus stops away so you can party until the wee hours and get home quickly. Crash on a comfortable king bed after partying the night away. An endless array of restaurants, food stalls and bars are in the surrounding area too, so you can have your fill of delicious Thai food. Airport transfers can be arranged by the host for an additional fee.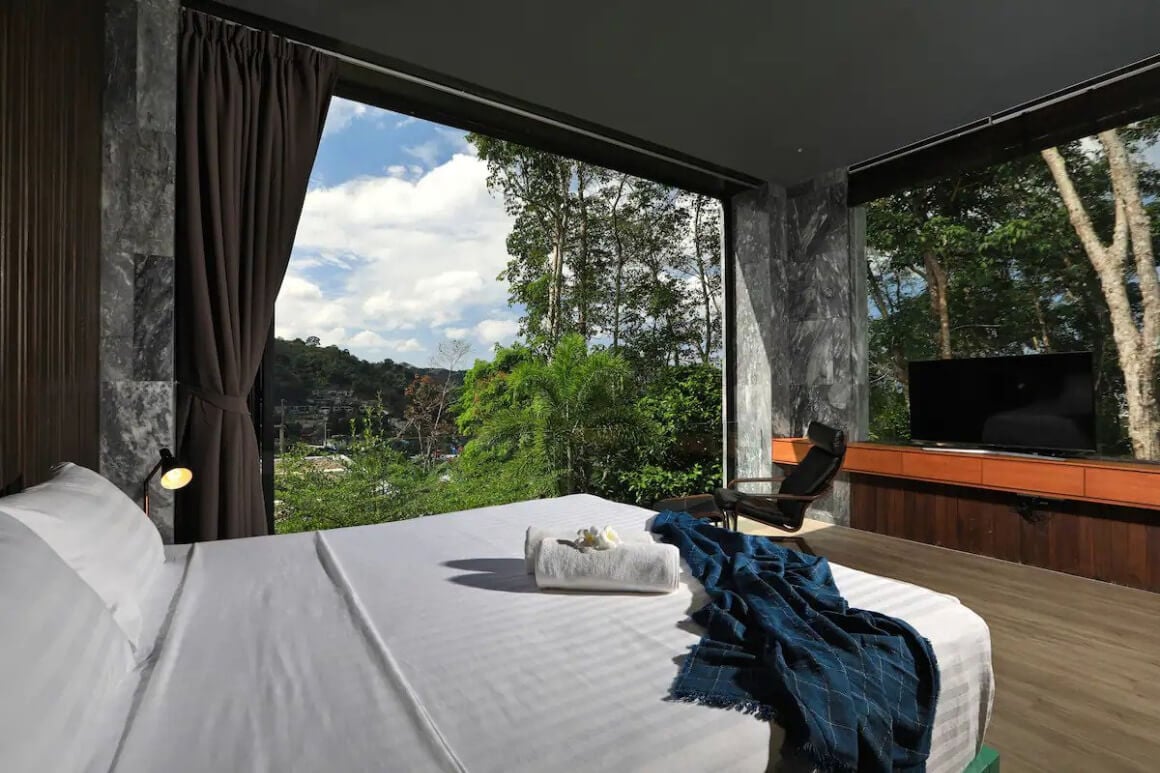 Guests: 5
Restaurants, cafes, and clubs nearby
Located in the mountainside of Kamala, this unique villa is roomy enough for five people to enjoy and staying there is like having your very own little universe of fun and relaxation. The villa is only a stone's throw away from the beach in the bay of the Andaman Sea, so you can wake up in the morning and be on the beach within five minutes.
The spacious living room is perfect for just lounging and all rooms have breathtaking views of the lush vegetation and the surrounding nature. You might even see a few wildlife while in the confines of the villa. The private pool is rejuvenating and, if you're up for some exercise, you can always make good use of the recreation area and have a game of badminton or volleyball.
Meals can easily be prepared in the fully-equipped kitchen and produce can be bought from the market that is within a short walk but if you'd rather not tire yourself, there's a picturesque restaurant located nearby. This is the ideal place to stay in Phuket for its location.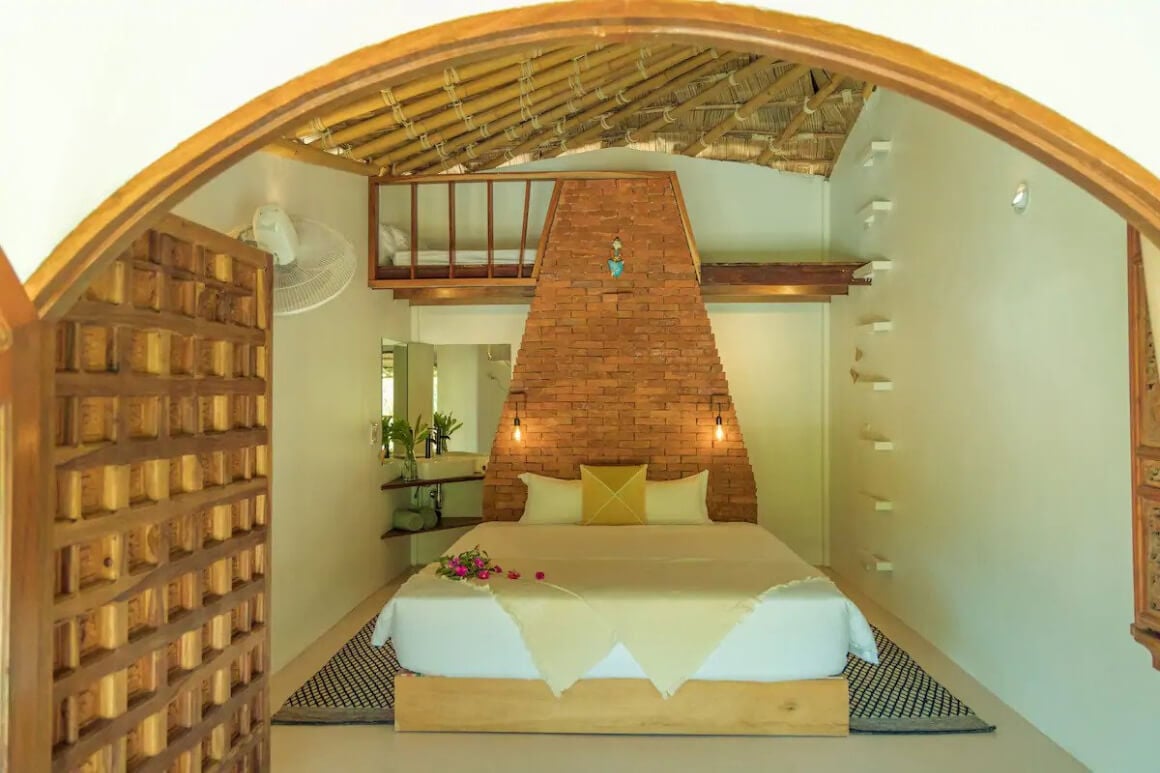 Guests: 12
Tropical garden
This gorgeous eco villa is designed with the environment in mind but comes with all the modern comforts you will ever need. It is surrounded by not just one but eight beaches, as well as verdant greens and karstic mountains. Only 800 meters away from the closest beach, it is the perfect place to stay in Krabi for any sun worshipper to call home.
Enjoy tranquility and rejuvenation as you spend hours in the private pool which has separate spaces for children and adults, or just take a walk in the tropical garden.
Wi-Fi is available throughout the property, a covered and secured parking area, as well as daily housekeeping service. Guests who stay in the villa for at least seven days get to enjoy free transport from the villa to Krabi Airport. Optional services, such as traditional Thai breakfast, can be delivered daily to your villa for an additional fee.
The property is only a few minutes away from Ao Nammao Harbor with boats that can take you easily and quickly to PhraNang Cave. Several boats travel to various surrounding islands too.
Guests: 5
Close to Bangla Road
Although we wouldn't recommend going to Phuket for only a weekend, this is the best accommodation if you're there for only a limited time. Near to everything, visiting all the local attractions is easy and quick.
Patong Beach and Bangla Road, the epicenter of Phuket's party and nightlife, are both less than a kilometer away from the apartment. Phuket Old Town, as well as Phuket Fantasea Show, are about 10 kilometers away too. In addition, a variety of shops, spas, travel agencies, and restaurants are close by.
The building has two shared pools located on the ground and top floors, a gym, as well as free parking. The fully-equipped kitchen is waiting for you to peruse and the large private balcony boasts city skyline and garden views. Driving in Phuket? Don't worry as free parking is available for guests.
Ideal for families or a group of friends, this beautiful villa in Ao Nang can accommodate up to nine people. Conveniently located, everything is only about five to six minutes drive away from the property.
Need to shop for essentials? Marko is only two km away and you can get around quickly and easily by tuk-tuk or by taxi. The property is only 21 kilometers away from Krabi International Airport too.
Located a few hundred meters away are restaurants and coffee places if you'd rather eat out. Quiet and peaceful, this villa has a private pool where you can enjoy endless laps in. You can play a game of pool with friends or work out in the gym. Several tourist attractions are nearby such as Ao Nang Beach and Krabi Town.
Travel with the family in style and comfort in this beautiful colonial-style home that is only 50 meters away from the beach! How can you beat that? It's hidden and peaceful yet still near enough to the town center!
It's close to the supermarket where you can get fresh produce that can be prepared in the full kitchen, and the night market where you will find an endless array of unique finds to take home.
Wake up in the morning and go to the large balcony to enjoy views of the beach while sipping your coffee or juice. The long dining table is perfect for sharing Thai food with the family with a night view of the sea and the moon.
Children will enjoy the indoor pool, as well as the beautiful bunk beds and there's even a separate pool for adults! Guests driving will be happy to know that the parking space can accommodate up to five cars.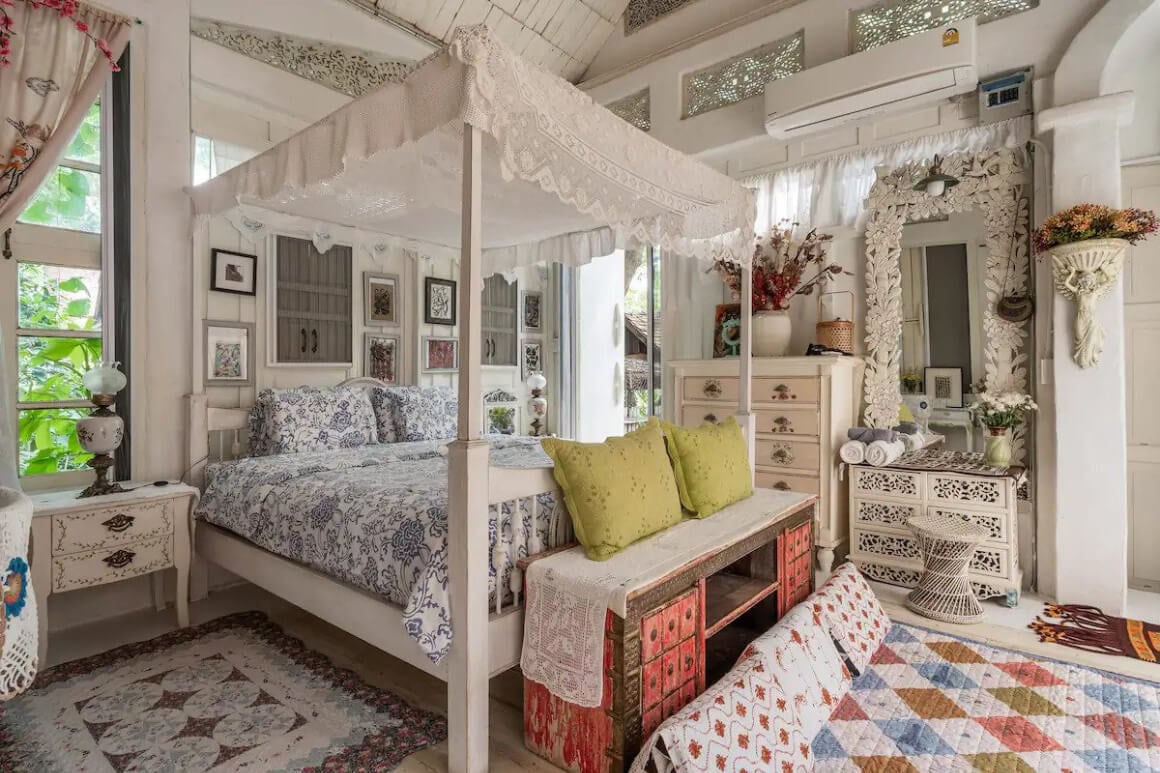 Guests: 2
Complimentary breakfast
Romance is the only that's going to be in your head when you stay in this gorgeous villa situated along the Ping River in Chiang Mai. Conveniently close to malls, you can easily get the things you need should you miss packing anything on your trip.
Decorated in the Bohemian and Lanna styles, the villa is owned by a family of interior designers and artists so it's no surprise that every corner of the home is Instagram-worthy.
You and your partner will have your very own swimming pool, enjoy a view of the river, and have access to a kayak, should you feel adventurous. Lounge in the outdoor covered deck while sipping a glass of cold beverage or enjoy a cup of coffee.
A complimentary breakfast and free airport pickup and included in the rental price. You can request a vehicle with a driver, as well as laundry service for a fee.
Top 5 Airbnb Experiences
Now that you have laid eyes on the some of the most gorgeous and coolest Thailand Airbnbs, it's time to talk about the things you can enjoy in the country. Fortunately for you, there's no shortage of activities for every type of traveler.
You'll find everything from Thai food cooking classes, to snorkeling in secluded islands with pristine waters, and learning the Thai martial art, Muay Thai.
However, we are aware that not everyone has the luxury of time to enjoy all of them so we have narrowed them down to the five which we think will be of the most interest to you. It was not an easy task for us but here they are.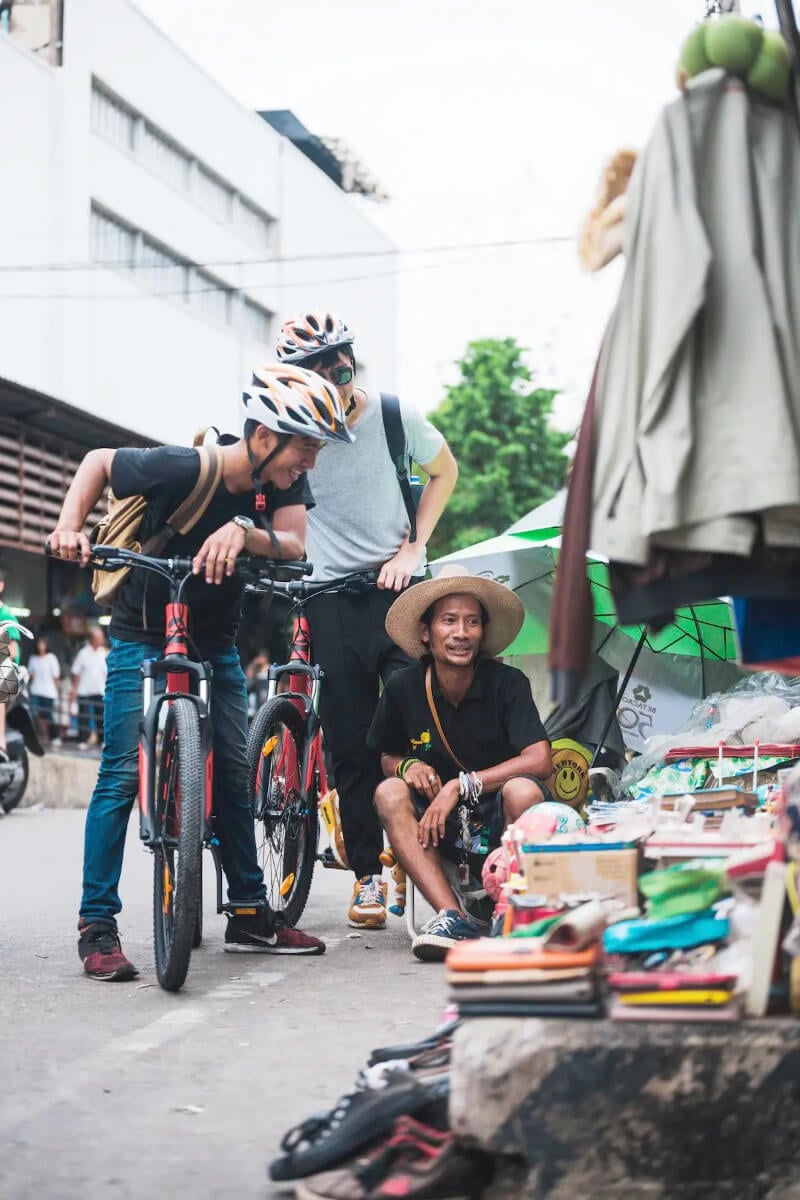 If you're a fan of Thai food and want to taste authentic Thai food in Bangkok while discovering a thing or two about the city, this highly-rated food tour is perfect for you! This tour starts at Chao Praya River and will take you to locations in the capital city which locals only know about.
Along the route, you will be feasting on at least five delicious Thai street foods, such as yellow curry noodle, tum yum soup, Thai omelet, and a variety of fresh fruits.
Aside from indulging your love for Thai food, you will be visiting at least 10 off the beaten places that include temples and local neighborhoods. Immerse in the local culture so you will discover the true Thailand. Inform the host if you have any food allergies or would prefer vegetarian food.
The fee includes bike and helmet rental, drinks, and food. Sunscreen and luggage service are provided too.
Thailand is a country gifted with a diverse landscape and what better way to discover Chiang Mai than by joining this adventure trek. This will take you through the magnificent rainforest of Doi Suthep – Pui National Park which includes the mountains around Chiang Mai.
The trek will begin at Wat Phra That Doi Suthep, the Buddha overlooking the city. You will then make your way up Khun Chang Kian, a Hmong village where you will take a break and enjoy a satisfying lunch.
After the break, the trek will continue to the view point at Doi Hua Moo where your eyes will be treated to the breathtaking views of the countryside and the mountains. To cap off the hike, you will be wandering along a bird trail too!
The fee includes food, drinks, transportation and entrance fee to Doi Suthep Temple. Remember to bring raincoats, mosquito repellent, and sunscreen.
Sometimes called Thai boxing, Muay Thai is a martial art that uses a variety of clinching and striking techniques. If you're up for a challenge while in Bangkok, this Muay Thai class taught by an ex-champion who was a fighter for more than two decades, might just be what you're looking for.
Suitable for beginners and those who have a little experience with Muay Thai, the class starts with warm-up and lessons on the basic striking and defense practices.
Guests will be taught important skills that they can build up over time with practice and hear a few lessons on the sport's history. The price includes pick-up and drop-off in a tuk-tuk for those in the Aonang area, as well as the martial art equipment. Guests are reminded to make sure they have their meals at least an hour before the start of the class.
Phuket is a paradise waiting to be discovered and enjoyed and this is the best way to do so. The tour to the Phi Phi Islands starts with the hotel pickup early in the morning and then you will head to the pier and travel by speedboat to Maya Bay for about an hour or so.
Maya Bay is famous for being featured in the movie The Beach with Leonardo DiCaprio. After Maya Bay, you will head to Pileh Lagoon which has been featured countless times on postcards.
You are free to go snorkeling or swimming in the pristine waters and partake of a delicious lunch at the same time. If the water level is suitable, you can make a stop at Monkey Beach. Included in the price are park fees, insurance, lunch, drinks, and transfers. Pickup is free everywhere in Phuket too.
Guests are welcome to bring their own snorkeling equipment if they wish to do so and are reminded to bring sunscreen.
$35/person
3 hours
Up to 8 guests
If you love Thai food, then you are going to love this experience! Take a trip over to the House of Taste Thai Cooking School, where you will learn to cook four authentic Thai dishes with an experienced chef.
No worries about breaking a sweat, as the cooking class will be conducted in an air-conditioned kitchen where you'll learn about all the exotic Thai ingredients.
You'll learn to cook an appetizer, starter, main course, and dessert. Choose from; Spicy Lemongrass Salad, Spicy Shrimp Salad, Green Papaya Salad, Deep Fried Spring Rolls, Tom Yum Goong (Spicy and sour soup with shrimp), or Tom Kha Gai (Spicy coconut soup with chicken).
For the main course, you'll be making a traditional Pad Thai Goong (Stir-fried Rice Noodle with shrimp) and another traditional Thai curry. For dessert, you'll make the classic mango sticky rice. Yum!
Come hungry! As there will be a lot of food to eat afterward!
Don't Forget Your Thailand Travel Insurance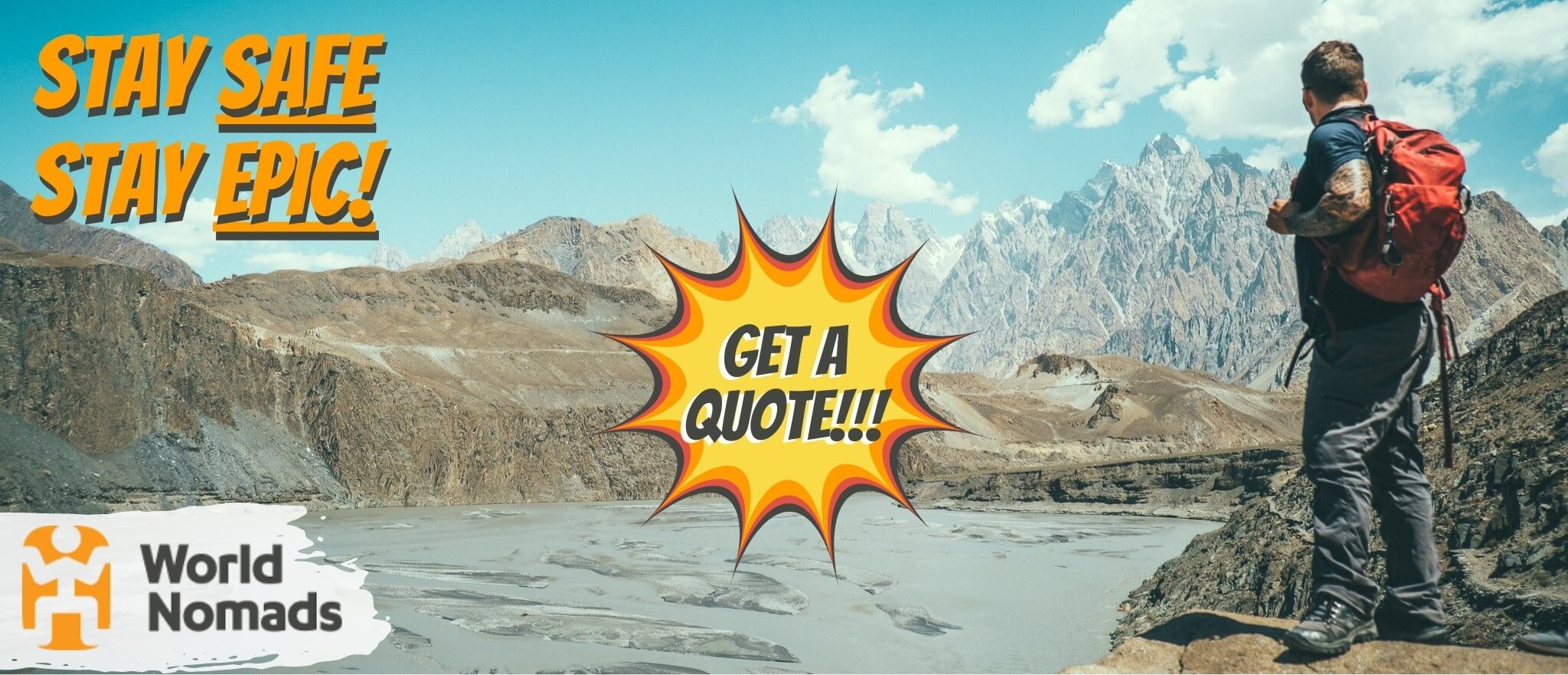 World Nomads' mission is to support and encourage travellers to explore their boundaries. They offer simple & flexible travel insurance, and safety advice to help you travel confidently.
They've been doing it since 2002 – protecting, connecting, and inspiring independent travellers just like you.
Get a quote below or read our in-depth review!
World Nomads provides travel insurance for travelers in over 100 countries. As an affiliate, we receive a fee when you get a quote from World Nomads using this link. We do not represent World Nomads. This is information only and not a recommendation to buy travel insurance.
Final Thoughts on Thailand Airbnbs
Thailand has become one of the most visited tourist destinations in the world. The exotic destination has endless wonders to delight anyone.
Luckily for travelers, Airbnbs in Thailand come in all shapes and sizes and I have just given you the most amazing accommodations in the country, as well as awesome and interesting experiences.
If you're still having a hard time making up your mind, you should consider the Condo with Rooftop Pool in Chiang Mai. It is certainly one of the best Airbnbs in Thailand and it's a sure winner. Don't you think so?
And of course, I can't let you go yet without one handy tip. There's one thing you should never forget and that's travel insurance. Now, go on and continue packing your bags for your Thailand trip!
---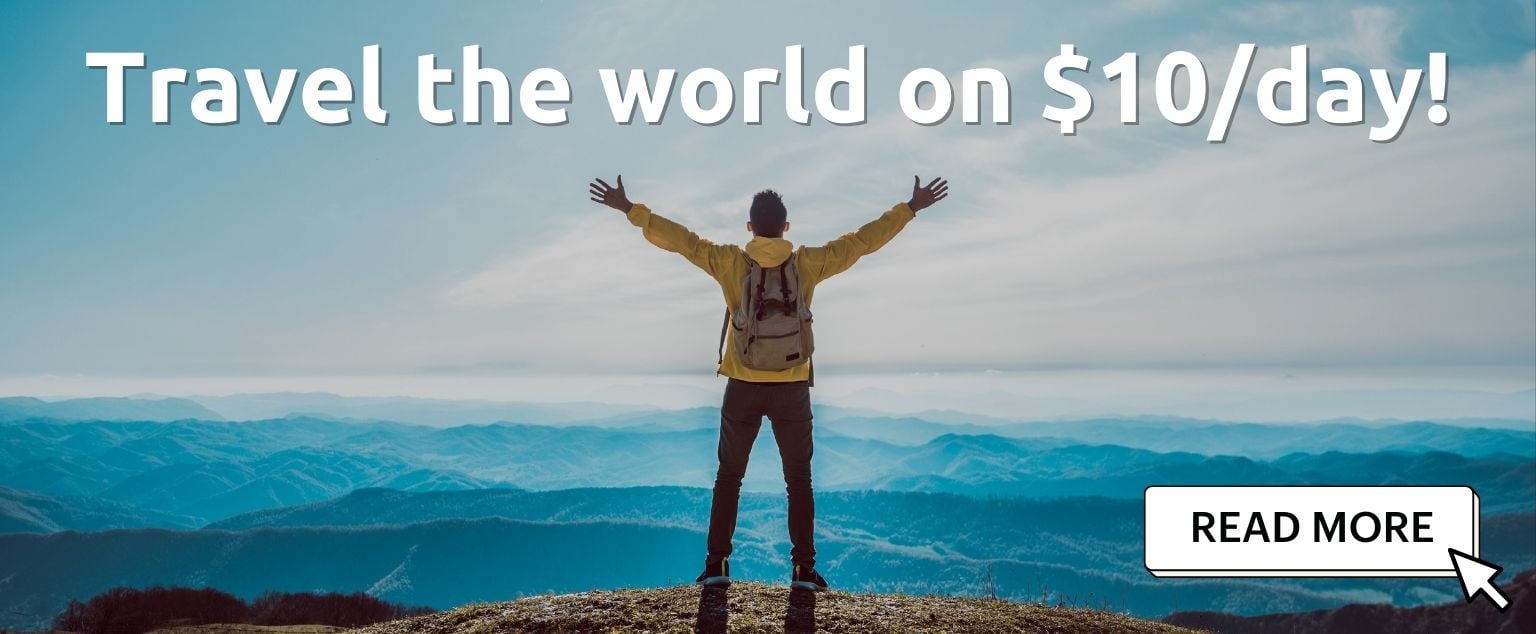 And for transparency's sake, please know that some of the links in our content are affiliate links. That means that if you book your accommodation, buy your gear, or sort your insurance through our link, we earn a small commission (at no extra cost to you). That said, we only link to the gear we trust and never recommend services we don't believe are up to scratch. Again, thank you!