"Krabi is a bucket list destination", sounds nice and all, but I must confess my personal prejudice in favour of  "before you can it, go to Krabi". I'd say it has more presence.
In either case, the underlining sub-text remains; Krabi is an elite destination.
The provincial bounds of Krabi cover more than 130 islands and a significant mainland area. With such a littered and far-reaching archipelago, deciding where to stay in Krabi can be intimidating. However, with this guide at your side, choosing your perfect Krabi stay will not only be simple, but fun!
Whatever your budget, taste, and holidaying preferences are, there are accommodations that will not only fill those niches, but supersede them. Just watch out, because Krabi sometimes tends to have some daytime power issues. Ah the curse of staying rural. BUT THE BEACHES.
Anyway, let's dive right in. Here my guide on where to stay in Krabi.
From kitsch Thai Airbnbs to swanky resorts and bouncing backpacker hostels, Krabi is loaded with fantastic places to stay! Just gotta pick the right one…
Our recommendation for the top Airbnb in Krabi is located in the Ao Nang area. With stunning mountain and lakeside views, this stay will blow you away with its awesomeness. Air conditioning, wifi, and pool access are included with a booking.
The Pop In Hostel is located a convenient 10-minute walk away from the Ao Nang beach. It offers private rooms with either a shared or ensuite bathroom, as well as bunk beds in mixed or female-only dormitory rooms. Activities are organised every day and parties are organised super regularly in the evening. There are many amazing hostels in Krabi, but this is our top pick.
The Arawan Krabi Beach Resort is located close to Ao Nang, on a private beach. It offers well-fitted rooms with air conditioning, a flat-screen TV with international channels, and a private terrace. Some of the rooms have a view over the outdoor swimming pool or the sea.
The Dust Thani Krabi Beach Resort is located on Klong Muang Beach, a short drive away from Ao Nang beach. It offers luxury accommodation in lush tropical gardens, with multiple classy swimming pools facing the sea. Each room is fitted with air conditioning and a private bathroom with a bathtub, and some rooms also offer a sea view and a private swimming pool.
Krabi is a large province located in the southern part of Thailand. Comprising continental land and more than 130 islands, it is a top pick amongst holiday goers, and those looking to backpack Thailand. If the region seems really big at a first glance, don't fret, as visitors are typically concentrated within just a few spots of interest.
Krabi Town is the capital of the province and is, as such, the largest city around. If you compare it with other Southeast Asian cities, the capital seems a relatively small town, and comes with an authentic feel. Krabi town is one of the greatest places to stay in Thailand for families, as it provides loads of entertainment (including night markets, restaurants and parks). While there is no beach in Krabi Town itself, the closest is located only a short drive away.
There are buckets of fantastic places to visit around Krabi. Railay Beach is the nicest beach strip close to Krabi Town, but is surrounded by high cliffs and can only be accessed by boat (but this is relatively straightforward). A brace of cheap accommodation options can be found around Railay Beach, making it a popular spot for backpackers.
Expensive resorts and luxury hotels are generally a feature of this area in Thailand, and if you're looking for class and relaxation, these are great options. The Centara Grand Beach Resort on the Ao Nang beachfront offers a spectacular pool, spa, and activities centre. It has unbelievable views and is located right on the beachfront. A pool bar hosting regular live music takes this place to a top spot on any list of where to stay in Krabi.
The Phi Phi Islands are probably the most famous among the provincial islands, and are a great destination to consider when planning a trip to Krabi. A piece of paradise with a vibrant nightlife, these islands are spectacular, and only a short hop on the journey to Phuket. If you don't want to stay on the Phi Phi islands, opting for mainland accommodation and planning a day trip will work out well.
Let's take a more detailed look at the 5 best neighbourhoods to stay in Krabi. There is something for every taste and budget!
#1 Ao Nang- Where to Stay in Krabi your First Time
Ao Nang is the main tourist centre in the Krabi province and boasts the most popular beach on the mainland. As a consequence, there are plenty of accommodation options to be found here. Ao Nang is an ideal location as it is well connected to other points of interest in the region.
Most of the Ao Nang attractions are located around the beach. Being in southern Thailand, Ao Nang has amazingly clear waters, which are fantastic for snorkelling. If you are feeling a bit more adventurous, several diving schools are based in Ao Nang, and being here could be a great occasion to get your PADI certification!
Renting a kayak is a cheap, fun way to explore the coast from an alternative perspective, and appreciate the diversity of its landscapes. You can even go as far as Railay Beach or Ton Sai if you feel like it. Expect lush jungles and rugged cliffs along the way, as well as postcard-ready vistas.
This Airbnb is for the nature lovers. With magical lakeside views from your balcony, expect this stay to be cosy, fun, and idyllic. The property is part of a complex that comes with pool access and free parking. As Ao Nang tends to be quite busy, this stay will fill the need for a little peace and quiet. A TV, free wifi, and air conditioning are included.
The Pop In Hostel is just a ten-minute walk from Ao Nang beach. With activities on offer almost every day and wild, loquacious parties organised most nights, this hostel is fun. Private rooms are available, with either a shared or ensuite bathroom, as well as bunk beds in mixed or female-only dormitory rooms.
The Arawan Krabi Beach Resort is located close to Ao Nang, on a private beach. Most rooms are accompanied by sea or pool views, and there are great green spaces to enjoy too. It offers ensuite rooms with a flat-screen TV and a private terrace.
The Sugar Marina Resort Cliffhanger is located just a 15-minute walk away from Ao Nang Beach. It offers modern and comfortable rooms fitted with air conditioning, a private bathroom and a balcony. During the day, guests can relax at the outdoor swimming pool or stay in shape at the fitness centre. This hotel gets high ratings from solo travellers.
Top Things to do in Ao Nang
Rent a kayak and explore the coast, populated by cliffs and jungle. Find private beaches, and have a picnic maybe?
Push the boat out by joining a four islands one-day tour. Visit Koh Gai, aka the Chicken Island, Koh Poda and its magic scenery, and 2 other really pretty islands. The snorkelling on this outing is next level.
Go for a trek in the jungle.
Explore the underwater world, snorkelling or scuba diving. There are lots of places willing to teach you how to dive, so investigating this could be a great way to learn a new skill.
Experience a Muay Thai fight on a Friday night
Take a speedboat to Koh Phi Phi, and spend the day exploring the island's tropical secrets.
Klong Muang beach isn't too far up the coast, so taking a taxi up there will yield a great time on 4km of pristine beachfront.
#2 Ton Sai – Where to Stay in Krabi on a Budget
Ton Sai is a beautiful white-sand and clear-water beach located between the Ao Nang and Railay beaches. It is only accessible by boat, and a little less popular than its two neighbours. As a consequence, it has a more authentic and rustic feel, as well as cheaper accommodation that will suit backpackers perfectly.
Most people love coming to Ton Sai for its rock climbing opportunities, which are some of the best in the country. You will find many schools around providing equipment and lessons, which is fantastic if you want to augment your climbing skills. Places like Base Camp offer rock climbing day tours around the area.
During your downtime, head to the beach to relax in the sun, and swim in the sea. High tide is a much preferred time, as the low tide can leave rocks slippery and muddy. Getting cut by coral is also a real danger!
The name of this place makes me love it even more. Located just a few minutes from Ton Sai beach, this set of family-run bungalows has a great beach vibe and offers authentic cold Thai showers. Every bungalow is equipped with its own balcony, and both private and dorm rooms are available. Towels are included, and there is free wifi.
The Tonsai Bay Resort is a comfortable establishment offering main building rooms or private villas. Each room is fitted with air conditioning, a private bathroom and a balcony or a terrace. The hotel is located 2 minutes away from the beach and features in-house rock climbing facilities.
The Dream Valley Resort is located a 10-minute walk away from the main Tonsai pier. It offers modern and comfortable rooms with a seating area and a view over the garden. The hotel has an outdoor swimming pool and a restaurant serving Thai and European dishes.
Top Things to do in Ton Sai
Try rock climbing in the stunning scenery. There are a number of different schools available for lessons, or you are able to set off on your own.
Give in to the beach life, and sack off any serious plans to grab a drink beachfront. The good thing about Krabi; there are always interesting people to talk to.
Walk through the jungle to Railay Beach. This technically defeats the purpose of doing something at Ton Sai, but is still a lot of fun, and a great experience!
Try your hand at slacklining, and test your balance skills to the maximum.
Watch a fire show on the beach. If you are interested in giving it a go, these guys will even let you test it out!
Hire a kayak on the beach. You can plan a day trip because there are tons of secluded and private beaches you can get to from Ton Sai.
#3 Koh Phi Phi – Where to Stay in Krabi for Nightlife
Koh Phi Phi is actually a group of six islands, reached from the mainland in around one hour by speedboat, or two hours by regular boat. Only one of these islands is inhabited. The islands are a true Thai paradise, boasting white sand beaches, dramatic limestone cliffs and crystal clear waters.
While tourism in Koh Phi Phi developed during the 1980s, the islands had a surge in popularity after the release of the movie The Beach, in which Leonardo di Caprio hangs out exactly here.
Koh Phi Phi is also a popular nightlife destination and tends to attract a younger crowd. In the evening, locals and overnighters gather at the beach bars to drink cocktails straight out of plastic buckets, watch fire shows and dance to the latest tunes. Usually, drinks are more expensive on the Island than on the mainland, however, so watch out for price inflation. Check out our guide on the cost of living in Thailand for more money-saving tips!
Offering drop-dead gorgeous views of Phi Phi, this small rustic bungalow is perfect for nature lovers, or couples looking for a romantic getaway. Standing a notable margin above the waterline, the sunrises from your private bungalow are sensational. Watching wildlife is a top activity from this hidden perch, and there are several different species of wild animals endemic to the area. The hosts offer a free shuttle boat service to take you from the pier to the property.
The Phi Phi Sunset Bay Resort is a budget hotel located on the beachfront in Koh Phi Phi. A free long-tail boat shuttle can take you to the main area of the island and the pier during the daytime. The rooms are located in individual chalets and are fitted with a terrace, a bathroom and a fan.
Best Budget Hotel in Koh Phi Phi – U Rip Resort
The U Rip Resort offers modern rooms in the hills of Tonsai, near the main island hub of Tonsai Bay. Each room is fitted with a private bathroom, air conditioning and a flat-screen TV with international channels. The hotel features a glittering swimming pool as well as a kid's wading pool.
The Holiday Inn Resort Phi Phi Island offers a true paradise experience. Located on a pristine beach, the resort provides modern rooms with rustic wooden floors. With private terraces, air conditioning, TV, and an outdoor pool, this stay offers a slice of the luxury hotel life!
Top Things to do in Koh Phi Phi
Party with a bucket of something on the beach.
Explore underwater wildlife in a scuba suit, snorkelling, or just gliding around in goggles.
See the best the Phi Phi islands have to offer on a full-day boat tour.
Walk up to the viewpoint to get a view over the twin bay.
Explore Koh Phi Phi Don, the only inhabited island. You can get up to the Phi Phi 'viewpoint', taking around half an hour to climb the steps.
Visit the Ton Sai market, and eat like a local.
#4 Railay Beach – Coolest Place to Stay in Krabi
Railay Beach is one of the best places to visit in Krabi for both relaxation and adventure activities. It's a secluded but popular beach located on the mainland of the Krabi province. As it is surrounded by limestone mountains and cliffs, the beach is only accessible by boat. Thankfully, it's easy to catch a long-tail boat from Krabi Town, Ao Nang or Ton Sai.
As a consequence, Railay Beach has a true island appeal. It is probably one of the most beautiful beaches in the Krabi province. The atmosphere is very laid back, and it feels cool. Unfortunately, the beach can get very crowded, especially when adding the people coming for a day trip.
The main attraction here is the beach, but there are plenty of other activities to get involved with too. The more experienced climbers can try deep water soloing, where you free climb giant limestones emerging out of the sea, and let yourself plunge back into the water if you fall. It is quite the thrill!
This traditional Thai bungalow is located on the edge of Railay east beach. Part of the Rapala rock wood resort, this amazing beach stay comes with swimming pool access, rooftop views, and a large chill-out area. The structure of each bungalow is super picturesque, and the staff are very friendly. If you are looking for a stay that ticks all the boxes, you're going to love this place!
The Railay Garden View Resort offers rustic, traditional accommodation, completely surrounded by nature. The simple but comfortable rooms are fitted with a private bathroom, a fan and a balcony. Free wifi is available everywhere around the property.
The Railay Princess Resort and Spa is located in East Railay and boasts two stunning outdoor swimming pools and a good fitness centre. Each room is fitted with air conditioning, a private bathroom, and a flat-screen TV. It is within walking distance of the Phranang cave beach, has free wifi, and boasts a fit spa too!
The Bhu Nga Thani Resort and Spa offers modern ensuite rooms fitted with air conditioning, free wifi, and a balcony. The resort features an elegant outdoor swimming pool, a massage centre and a well-equipped fitness room. This is a sensational resort with top-class design and facilities. The resort opens up onto the beachfront too, and that's what makes it our pick for the best hotel near Railay.
Top Things to do in Railay Beach
Book a rock climbing course, and develop your skills!
Spend the day relaxing on the beach, enjoying views of the Andaman Sea.
If experienced, go free climbing on the limestone rocks in the sea. There are climbs suitable for beginners too, so ask around!
Spend a full day on a four islands tour, and follow it up with a night snorkel amongst bioluminescent plankton.
Take a look at the viewpoint that sits on the southside at the top of a limestone cliff. This gives fantastic photo-taking opportunities.
Go searching for Phranang cave, with its stalagmites and local history.
Find the hidden lagoon, Sa Phra Nang. This is a bizarre tidal feature that requires some scrambling to get to. One for the energetic for sure.
#5 Krabi Town – Best Neighbourhood in Krabi for Families
Krabi Town is the capital of the Krabi province and also its largest city. While it does not have a beach to itself, nearby beaches like Railay and Ao Nang are easily accessible by boat or taxi. As Krabi Town was a city in itself long before tourists came flocking to the area, it boasts a more traditional and local atmosphere than other spots in the Krabi province.
The night market along the riverside walk is not to be missed. There, you will find gadgets for the kids, as well as local arts and crafts. During the day, the riverside walk makes for a nice stroll, if you can survive the hot sun!
Located mountain top, and host to an intriguing array of caves, the Tiger Cave Temple offers a stunning panorama over the surrounding region. The temple is a real reward, as you have to climb 1,272 steps to reach the top!
Yoga is growing in popularity within the Krabi province. Within Krabi town, there are some fantastic Thai Yoga retreats that are definitely worth a peek. Hot Yoga is especially popular, where (with similar principles to a sauna treatment) you sweat intensely to purify the body. Ashtanga Yoga is another popular form of the artform in the area, requiring fast performance of a sequence of positions.
Located in the heart of Krabi Town, this spacious and fully furnished living space is an excellent choice for families staying in Krabi Town. With two well-appointed bedrooms, it can accommodate up to 7 guests. There's a living room, a small kitchen, a bathroom and a large window with views of Krabi City and the "Kaew -Wa -Ra- Ram " Temple.
Best Hostel in Krabi Town – Pak Up Hostel
The Pak Up Hostel is a place with a great vibe in the heart of Krabi Town. It offers private double rooms with a shared bathroom as well as single beds in mixed and female-only dormitory rooms. A social event is organised every night by the team. This hostel wins awards.
The Family Tree Hotel features modern rooms with wooden furniture you will love staying in! Each room is fitted with air conditioning, a private bathroom and a flat-screen TV (and free wifi). In the morning, a sensational buffet breakfast is served.
The Riverfront Krabi Hotel is located near the river, in a quiet location. An outdoor swimming pool is available for guests to use, and it is quite a pool. This retreat is perfectly suited for guests seeking a more relaxed Thailand experience.
Top Things to do in Krabi Town
Go Island hopping near the famous Phang Nga Bay, stopping at the famous 'James Bond' Island, Koh Yao Noi, and at amazing snorkelling spots.
Climb the 1,272 steps up to the Tiger Cave Temple
Get adventurous at the Thai'd up zipline course, and explore the Thai jungle while you're at it. If you want to take it even further, try some ATV offroading!
Take a long tail boat to see the Khao Khanab Nam mountains
Wander in the night market on the Krabi Riverside Walk
Combine multiple attractions with an all-day Krabi jungle tour, featuring hot springs, the Emerald Pool, and the Tiger Cave Temple. Transport and fees are all sorted, so you can have a full day exploring some awesome areas!
Find one of Krabi's amazing beach bars, and settle down for a cocktail (or 4).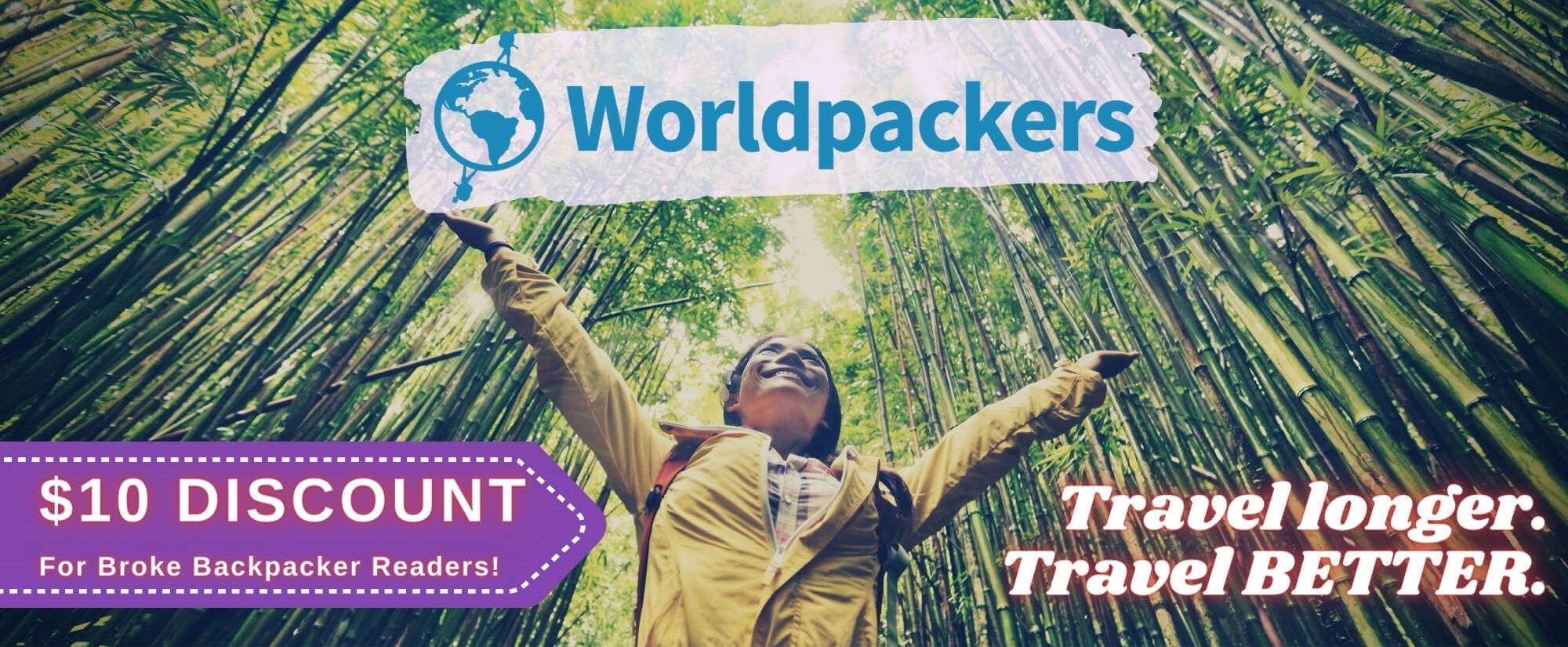 Worldpackers: connecting travellers with meaningful travel experiences.
Here's what people usually ask us about the areas of Krabi and where to stay.
World Nomads' mission is to support and encourage travellers to explore their boundaries. They offer simple & flexible travel insurance, and safety advice to help you travel confidently.
They've been doing it since 2002 – protecting, connecting, and inspiring independent travellers just like you.
Get a quote below or read our in-depth review!
World Nomads provides travel insurance for travelers in over 100 countries. As an affiliate, we receive a fee when you get a quote from World Nomads using this link. We do not represent World Nomads. This is information only and not a recommendation to buy travel insurance.
The Krabi province in Thailand has it all: stunning beaches, crystal clear waters and dramatic limestone cliffs. As tourism develops in the region, the range of hotels available also grows and becomes better every year.
My favourite area to stay in Krabi is probably Railay Beach, as it feels like you are tucked away from the outside world in some sort of paradise.
However, my top hotel recommendation goes out to the Dusit Thani Krabi Beach Resort, offering a truly tropical experience close to the popular beach of Ao Nang.
If you are travelling on a budget, I can recommend the Pop In Hostel Ao Nang, offering clean rooms in a friendly atmosphere.
Have I forgotten your favourite spot? Let me know in the comments and I'll add it to the list!
Do you own an awesome hostel, hotel or apartment? Want to be featured in our list? Email [email protected] to find out how.
---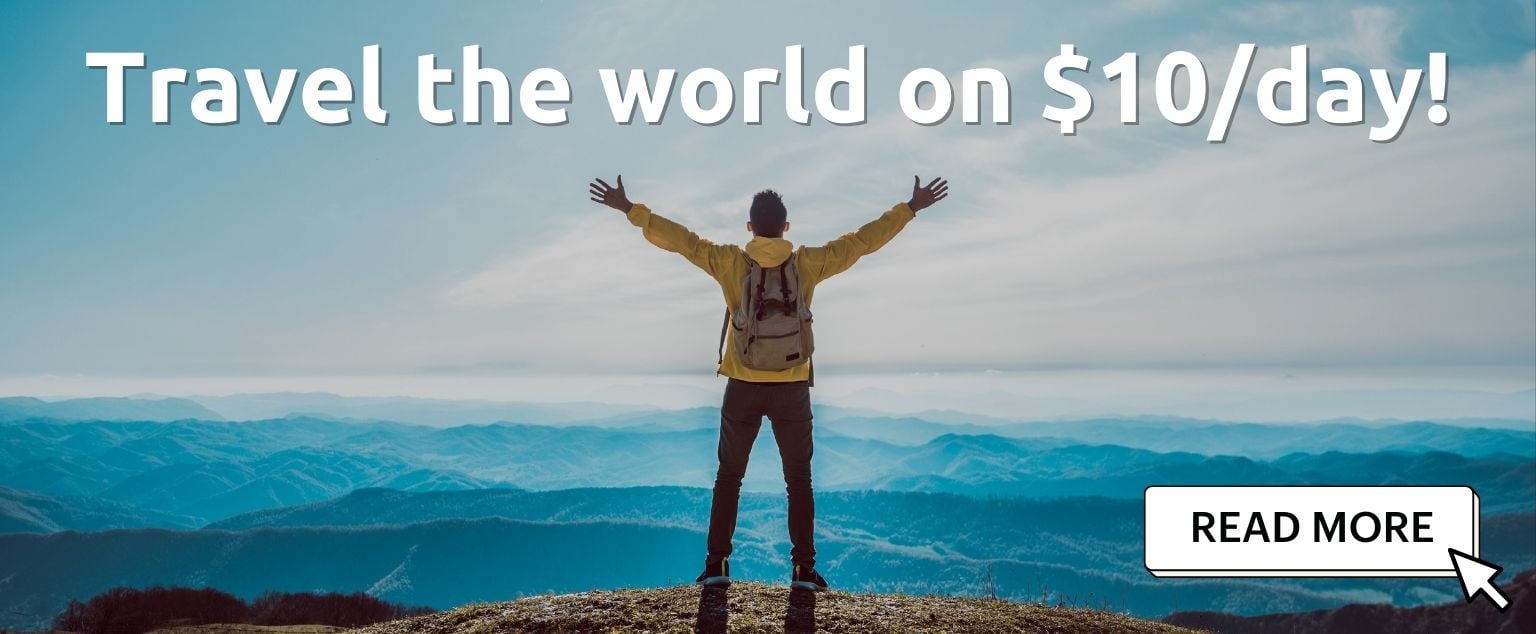 And for transparency's sake, please know that some of the links in our content are affiliate links. That means that if you book your accommodation, buy your gear, or sort your insurance through our link, we earn a small commission (at no extra cost to you). That said, we only link to the gear we trust and never recommend services we don't believe are up to scratch. Again, thank you!