Krabi is a small city located upriver from the coast and not many people spend time there. However, Krabi province is a huge draw for travelers. This is where you'll find some of the best beaches in the world and some of the most amazing places to visit in Krabi. So, grab your swimsuit and your suntan lotion, and hit the beach in Thailand.
If you haven't spent a lot of time in Thailand, then the idea of going outside the major cities can be intimidating. However, Thailand is a friendly, welcoming place wherever you go, and you'll find that same attitude in Krabi as well. To help you find your way around, we've created this easy guide to all the best activities, hotels, and things to do while you're in this part of the world.
Need a place quick? Here's the best neighbourhood in Krabi:
BEST AREA IN KRABI
Ao Nang
Ao Nang is the main tourist centre in the Krabi province and the most popular beach on the mainland. As a consequence, there is plenty of accommodation options to be found there.
Places to visit:
Rent a kayak and explore the coast filled with cliffs and jungle
Go for a trek in the jungle
Explore the underwater world while snorkelling or diving
These are the BEST Places to Visit in Krabi!
If Ao Nang isn't your vibe, we've got you covered. Be sure to check out where to stay in Krabi and find the right area for you!

Unlock Our GREATEST Travel Secrets!
Sign up for our newsletter and get the best travel tips delivered right to your inbox.
#1 – Koh Lanta – One of the most underrated places to see in Krabi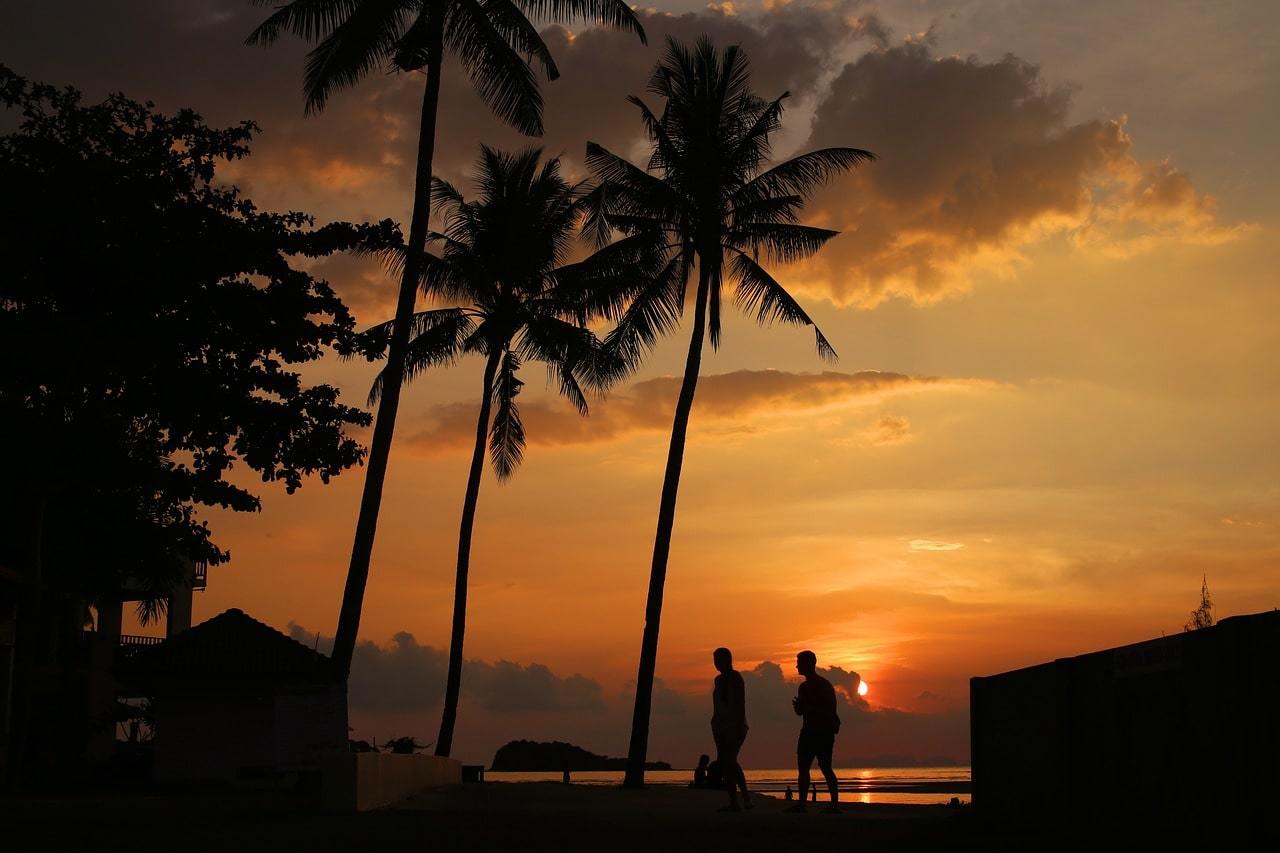 This is one of the best and pristine islands in Krabi.
The vibe on this island is relaxed and laidback, so prepare for some relaxation.
Why it's so awesome: One of the downsides with traveling in Thailand is that a lot of the beaches are heavily touristed. This part of Thailand is famous for its beach scene, which means lots of tourists and lots of their debris. But Koh Lanta island has managed to resist over-development, which means that it offers amazing beaches with a cool vibe.
What to do there: Koh Lanta is easily accessible by van and ferry, so you shouldn't have any trouble heading there for a day or even for longer. Once you're there, obviously you can just spend your time at the beach. But there's a lot of other things to do as well. This island is famous for its yoga sessions, its bar scene, and for its old-style shops. So, no matter what you enjoy doing, this is a Krabi must-see.
#2 – Railay Beach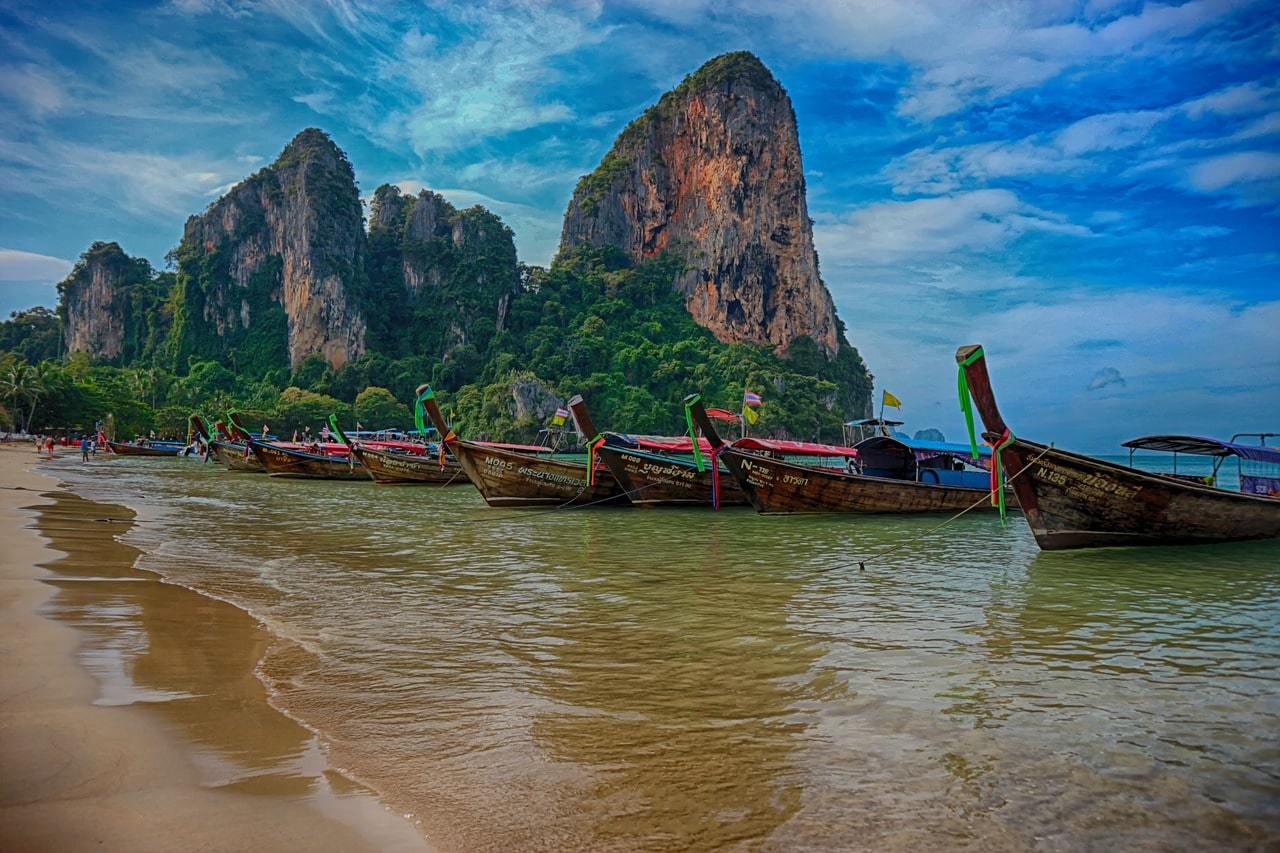 An amazing white sand beach that's a Krabi must-see.
But the real attraction of this beach are the limestone caves set into the cliffs.
Why it's so awesome: This is the type of beach that you usually only see in magazines. It has pristine white sand, warm blue-green water, and towering cliffs overhead. There isn't much to this area apart from the beach, only a few boats and some bars. However, the real appeal isn't actually the beach itself. What makes this one of the most interesting attractions in Krabi are the limestone caves set into the cliffs.
What to do there: This beach is only accessible by boat because it's surrounded on both sides by steep cliffs. But once you're there, spend some time enjoying the white sand, transparent water, and warm tropical climate. If you're a little more adventurous, you can explore the caves on foot as well.
#3 – Ao Nang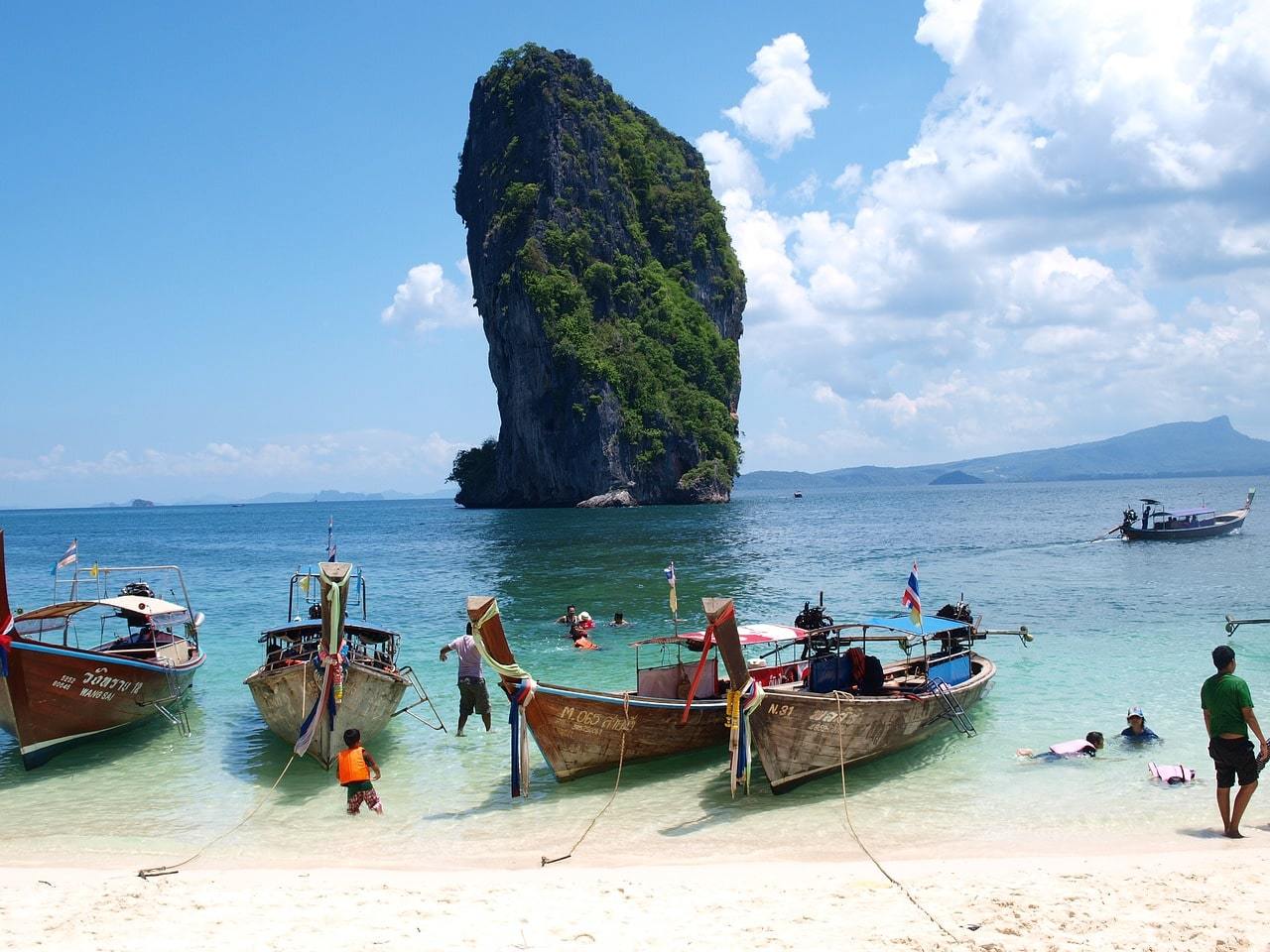 There is one of the most popular places to visit in Krabi, and for good reasons.
If you love the beach, then Ao Nang is one of the best you'll ever see.
Why it's so awesome: Ao Nang is a popular beach, so you can expect to find a lot of people there soaking up the rays and enjoy the restaurants and shops. There are also lots of accommodation options in this area, at every budget, which makes it a great place to base yourself while you're exploring Krabi.
What to do there: Obviously you should spend some time on the beach, but make sure you explore further as well. This area is crammed full of great little shops, restaurants and some of Krabi's best hostels, so you could spend your whole trip there and never get bored. The shopping is simply amazing, so make sure you take the time to pick up some great souvenirs as well as Thai fashion items.
#4 – Thung Teao Forest National Park – A beautiful and scenic place to check out in Krabi
This national park is like a fairy tale, with deep green trees and pure, emerald waters.
If you're looking to take some amazing photos of nature, this is the place to do it.
Why it's so awesome: There aren't many pristine forests around anymore, but Thailand has some amazing examples of them and Thung Teo Forest is one of the best. It contains the purest kind of natural beauty, with an abundance of dark green trees, wildlife, and water features. This is one of the best hotspots in Krabi if you want to really get back to nature.
What to do there: Grab your camera and go exploring in this area. Look out for the Emerald Pool and take a dip in the clear water and then settle down with a picnic and enjoy your food with the best backdrop that nature can provide.
#5 – Krabi Town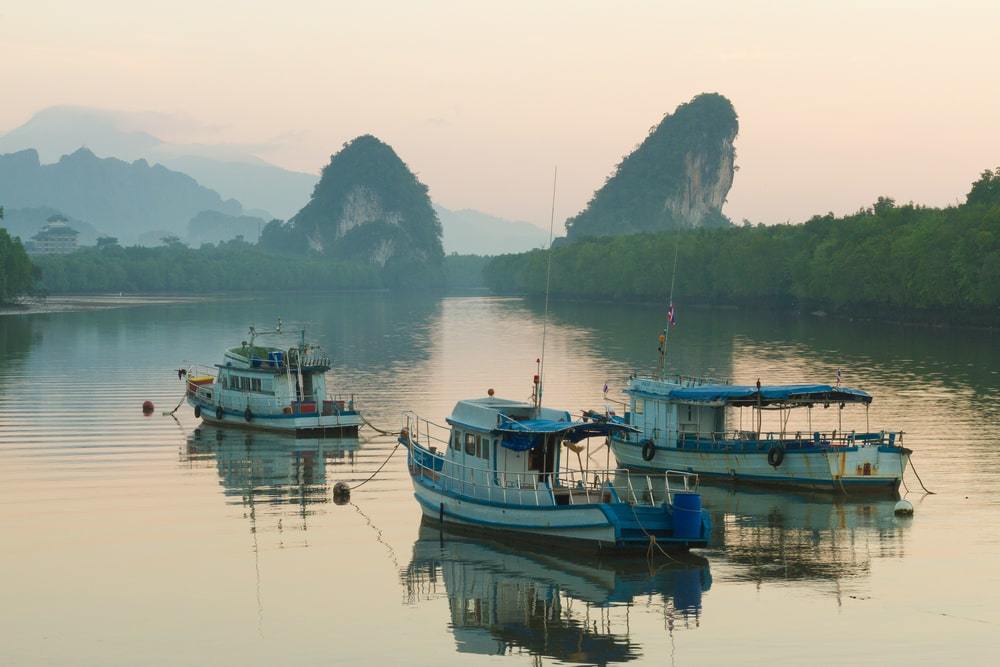 A small town that has managed to keep its own world feel despite the deluge of tourists that it collects.
If you want to see real-life when you're visiting Krabi, this is the place to do it.
Why it's so awesome: Krabi Town is small and yet it's become one of the most popular attractions in Krabi. It's a homely area where people go about their normal lives in a place that just reeks of old-world charm. Visiting this area is like stepping back in time to when tourists never visited, and the locals lived amongst quaint cafes and shops.
What to do there: You'll need at least half a day to explore the best parts of this town. Wander along the docks and watch the fishing boats, walk into cafes for breakfast or lunch, or take a picnic lunch to one of the many parks. There are also several great bars where you can enjoy the local music scene. Whatever you decide to do, just soak in the tranquil, everyday atmosphere that's such a contrast to other parts of Thailand.
#6 – Koh Phi Phi – A great place to visit in Krabi at night
One of the most famous places in Krabi for beaches, parties, and nightclubs.
On this island, you'll make lots of new friends and great memories!
Why it's so awesome: When most people think of Krabi, this island is what they're thinking about. Phi Phi has become known for its vibrant nightlife as well as its amazing beaches over the years. If you're looking for beach parties or bars where you can let your hair down and enjoy yourself, then this is one of the best places to visit in Krabi.
What to do there: The beaches on Phi Phi island are simply spectacular. So, spend some time enjoy the clear water, white sand, and the famous beach parties. But if you're looking for nightlife, you'll need to stay overnight on the island. This is when it really comes alive with music and parties.
#7 – Ao Thalane
If you're not a big fan of the beach, then this is a great area to visit if you want to experience Krabi's natural spaces.
Why it's so awesome: Ao Thalane is for people who love nature but get tired of baking on the beach. It's a bay where you can hire a kayak or take a tour and explore the natural landscape from the water. This area is incredibly peaceful and exploring it might be the best part of your trip when you travel to Krabi.
What to do there: Grab a kayak and a guide and spend a day exploring. The area is filled with mangroves, complete with lots of wildlife, and some truly incredible limestone caves. Make sure you take your camera along with you and be prepared to take some unusual but beautiful pictures of the natural spaces around you.
#8 – Wat Tham Sua – Possibly one of the most important places to visit in Krabi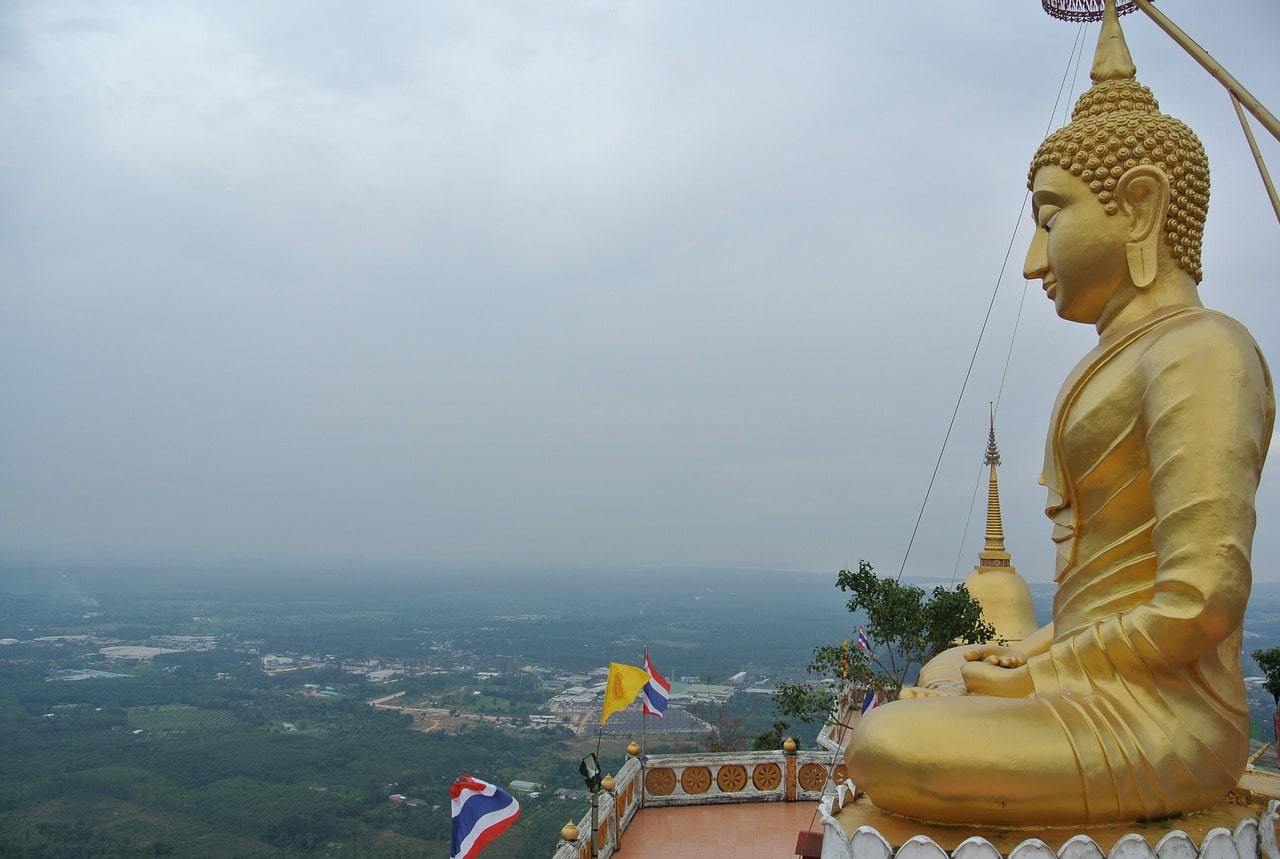 A labyrinth of stone caves located near Krabi Town.
Set high in the jungle, these caves are filled with temples and pilgrims looking to pray for fortune, success, and love.
Why it's so awesome: This cave is often known as Tiger Cave, and the temples within are still important places to the local people. While you're there, you'll probably see praying monks, who are hoping to move one step closer to divinity for their efforts. Some of those monks stay in the temples for years, so be quiet and respectful when you visit.
What to do there: Getting to Wat Tham Sua isn't all that easy. There are 1,237 steps to reach the top of the caves, where you can see the Footprints of the Buddha. If you make it that far, you'll also be treated to stunning, panoramic views of the ocean and the islands. This view alone makes the hike worthwhile. You should also spend some time exploring the caves, which are filled with relics and icons of the Buddhist religion.
#9 – Klong Thom Hot Springs – Cool place to see in Krabi with friends!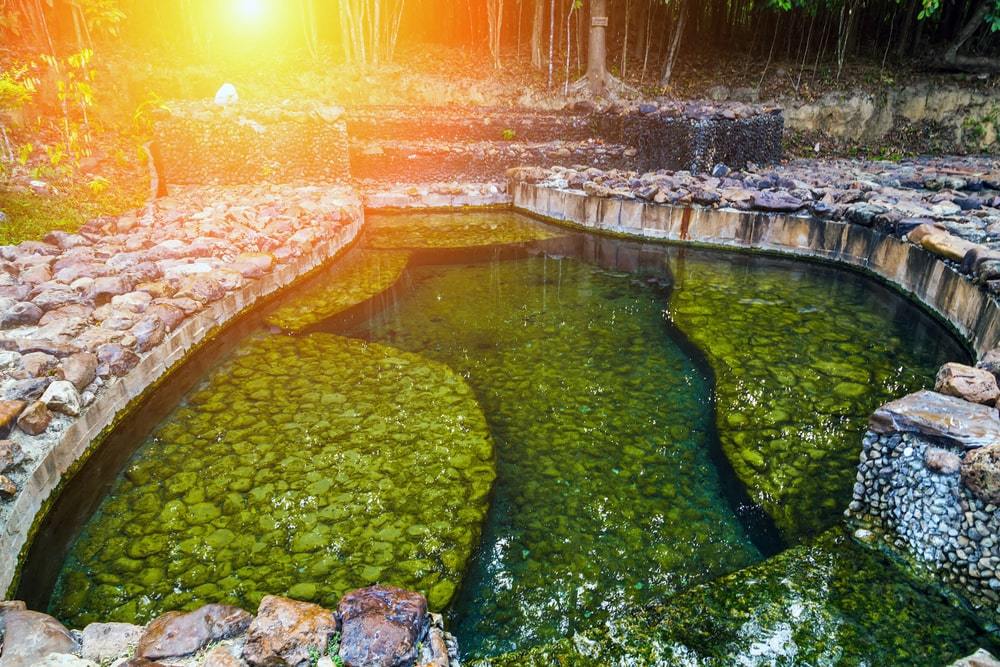 A relaxing natural hot spring set against a stunning natural backdrop.
This hot spring is said to have healing properties, so if you're feeling tired after all the activities in Krabi, take a soak and see how you feel.
Why it's so awesome: Thailand can be busy, crowded and frenetic, which is why it's good to visit a place where it's quiet and tranquil. The Klong Thom Hot Springs offer water that's warmed inside the volcanic chambers of Klong Thom. Set against the lush greenery, it's a haven for anyone who needs a rejuvenation.
What to do there: The water is fairly warm at these springs, so be prepared to get overheated. If you do, you can take a dip in the cool stream that runs alongside, get your body temperature down, and then try again in the hot springs. The springs are said to possess healing properties that can improve skin diseases and heal the body. And take a picnic basket along with you, so you can head into the surrounding woods and eat your meal out in nature when you get hungry.
Is This the Best Daypack EVER???
#10 – The Khao Khanab Nam Mountains
One of the most famous places in Krabi.
These mountains are a natural wonder and instantly recognizable from magazines and television shows about Thailand.
Why it's so awesome: These mountains sit on either side of the river and are absolutely stunning to look at. They also have a series of caves at the bottom that are filled with stalagmites and stalactites as well as human skeletons. The stories behind these skeletons are contradictory and varied, some say they belonged to people who were trapped by rising water. Still, others say they were the victims of pirates. Whatever their story, they add a slightly creepy edge to this otherwise stunning location.
What to do there: You'll need to hire a boat or travel by ferry to this Krabi must-see, but it's a short trip and worth the price. Once you're there you can go swimming or explore the caves. You can also climb one of the mountains and enjoy the stunning views or get your adrenalin pumping by diving from the cliffs.
#11 – Susan Hoi – One of Krabi's coolest historical sites!
The geological wonders at this site are rare, slightly creepy, and well worth seeing.
There's also a beach, a Chinese Temple, and a mangrove forest to explore nearby.
Why it's so awesome: This area of Krabi dates back around 40 million years. It's a fossilized fish cemetery that was created when limestone deposits covered millions of fish shells and fossilized them. This sounds a little dry and academic, but the end result is 200 meters of shiny, beautiful remains left by long ago creatures set against pristine natural surroundings.
What to do there: This is one of the more unusual things to do in Krabi and it's popular among geology buffs and treasure hunters. There are only three cemeteries like this in the world, so it's worth exploring just for the story! When you're done with the cemetery, spend some time on the beautiful, pristine beach at Susan Hoi, explore the Chinese temple, or take a hike through the mangroves.
#12 – The Krabi Town Night Market – A must-see for foodies!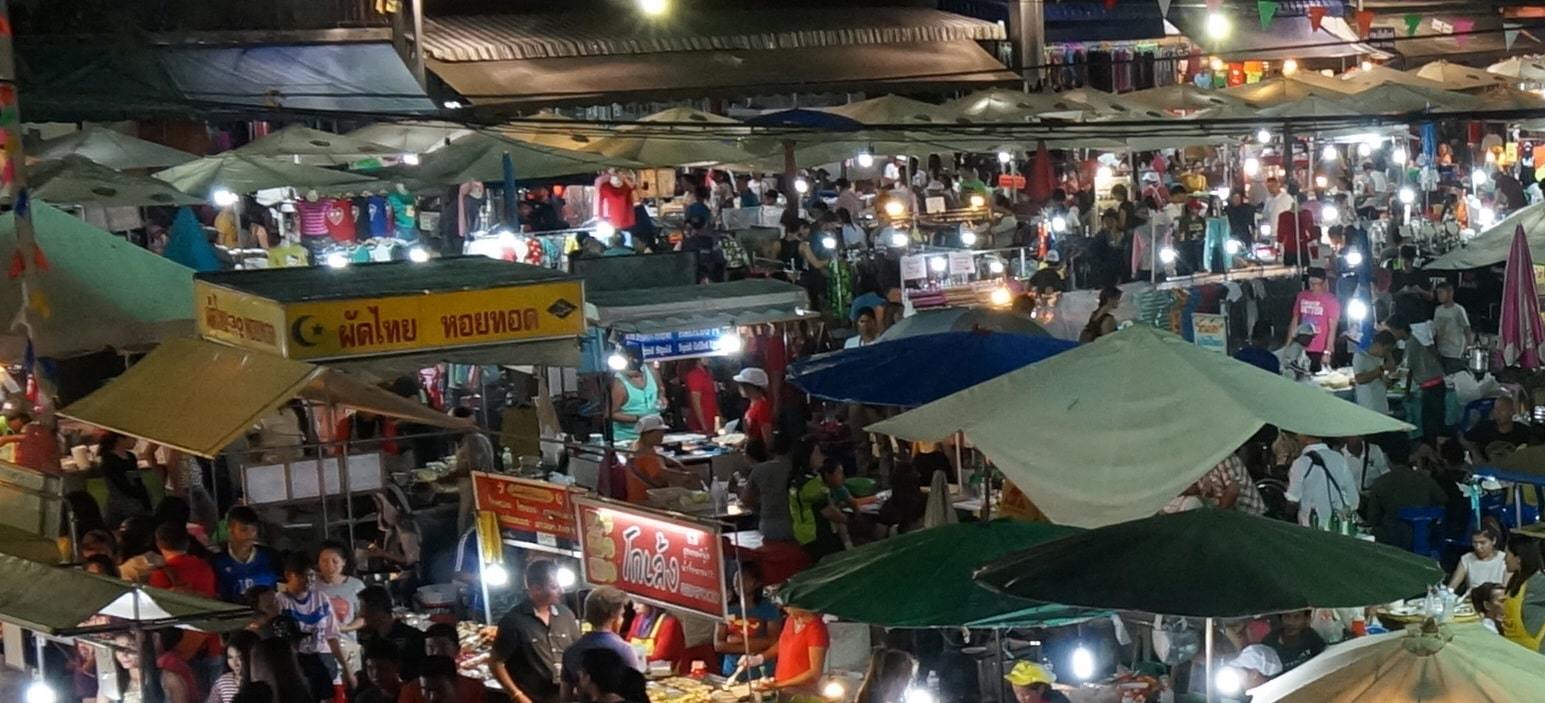 A great place to eat and enjoy the community vibe.
If you're looking for souvenirs when you're visiting Krabi, you'll find them at this market.
Just remember to haggle to get the best prices!
Why it's so awesome: Night markets are everywhere across Thailand and the one in Krabi Town is really worth experiencing. It includes more than 70 food stores as well as stores that carry every type of souvenir you could want to buy. Sometimes, the local school children put on shows to collect money, and this just adds to the friendly, community atmosphere of the attraction.
What to do there: The market is open Friday to Sunday in the evenings and is one of the best places to eat in Krabi. Wander the stalls and try the snacks, shop for souvenirs, and make sure you stop at the coconut ice cream stall. This is a favorite snack throughout Thailand, but the store at the Krabi night market is famous for the quality of its ice cream.
If you need help figuring out what to see and do in Krabi, then use our epic Krabi travel itinerary planner to gain some insider tips and knowledge!
Small Pack Problems? 😉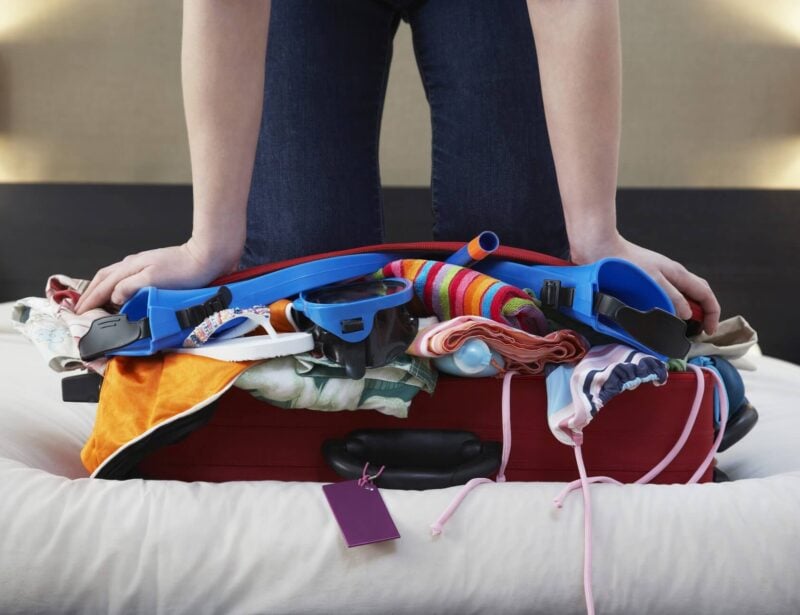 Wanna know how to pack like a pro? Well for a start you need the right gear….
These are packing cubes for the globetrotters and compression sacks for the real adventurers – these babies are a traveller's best kept secret. They organise yo' packing and minimise volume too so you can pack MORE.
Or, y'know… you can stick to just chucking it all in your backpack…
Get Yours Here
Read Our Review
#13 – Phra Nang Beach – One of the most amazing places in Krabi!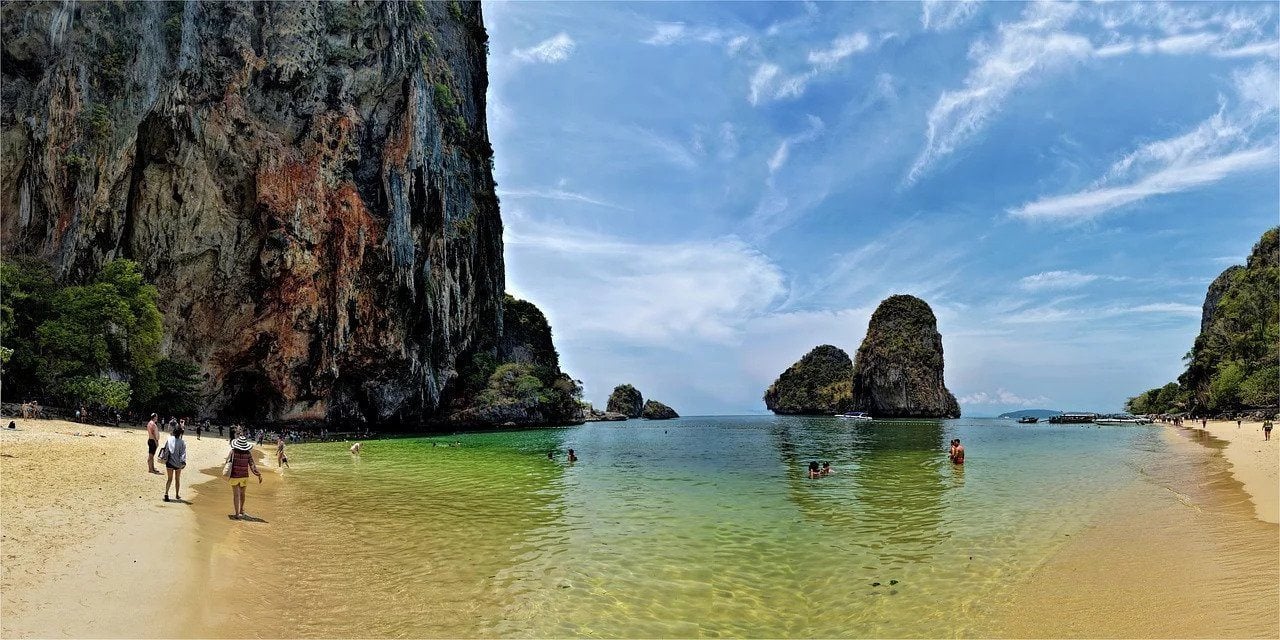 Voted one of the ten most beautiful beaches in the world, which makes this a Krabi must-see.
You'll need to hire a longboat to get to this beach, which is located around twenty minutes from Ao Nang.
Why it's so awesome: This is the kind of beach that people dream about. It has the pristine white sand surrounded by huge cliffs and the clear, warm water that beach lovers rave over. And as an added bonus, it's relatively untouristed. You won't find jet skis or other water sports at this beach. It's all about swimming and relaxing in nature.
What to do there: Take a boat from Ao Nang and enjoy the atmosphere. The swimming is great at this beach as the water is relatively calm, so even the most nervous swimmer will enjoy it. Aside from the swimming, just sit back and relax and take in the jaw-dropping scenery without the crowds at other beaches.
#14 – Wat Kaew Korawaram
This is a large Buddhist Temple overlooking Krabi Town.
There are numerous steps leading up to the temple, so you will need to be reasonably fit to get up there.
Why it's so awesome: The staircase leading up to this temple is gold lined and the temple itself is slightly unusual. Instead of the usual reds and golds of most temple, this one has white walls and blue tile roof. It's also decorated with beautiful wall paintings and contains relics that are sacred to the Buddhist religion.
What to do there: Try not to choose a really hot day to visit this temple, as it will make the hike up feel like a death march. If you're looking for Krabi vacation ideas, then exploring this temple will help you understand and appreciate the local culture on a deeper level. When you're done, there are several food and souvenir stalls outside the temple where you can buy some water or a snack to reward yourself for the exercise.
#15 – The Frog and Catfish – Great place to visit in Krabi for couples!
One of the best places to visit in Krabi for amazing Thai food.
The produce is sourced from local farms, so you know it must be good!
Why it's so awesome: If you're looking to try some Thai dishes in a relaxed, comfortable atmosphere, then try the Frog and Catfish. It's located a little bit outside of the busiest part of Krabi Town and is set inside a tropical garden. The atmosphere at this restaurant is welcoming and relaxing, perfect for a nice night out with a loved one.
What to do there: Take your partner out for a night of great food. Everything is good at this restaurant, though the seafood dishes are the real standouts. They offer a range of curries, soups, stir fries, spicy salads, and whole fish dishes. So, no matter what type of food you like, you'll find something delicious to eat at this Krabi must do. And while you're there, check out the on-site library, which contains more than 2,000 books for you to enjoy.
#16 – The Outlet Mall
One of the cheapest and most interesting places to shop in Krabi.
You're bound to find a bargain at this mall, which makes it a Krabi must do.
Why it's so awesome: Not everyone knows about this mall, which is a shame because it offers some of the best shopping in Krabi. It contains retail stores that sell brands at hugely discounted prices. So, if you're looking for some cheap and cheerful souvenirs or fashion items, this is the place to visit.
What to do there: The Outlet Mall opens at 10 am, so get there early so you don't have to fight the crowds. And then, just wander around and see what's on offer. You'll find more than 100 brands in this store, all of them cheaper than you would get back home.

Our GREATEST Travel Secrets…
Pop your email here & get the original Broke Backpacker Bible for FREE.
#17 – Ao Nang Walking Street – A great place to visit in Krabi if you are alone/traveling solo
If you're visiting Ao Nang beach, then make a stop at this shopping paradise!
This is a lively, popular street, perfect for a night out with friends or when you're traveling on your own.
When you're looking for souvenirs of your trip, this is one of the best places to visit in Krabi.
Why it's so awesome: Catalunya Walking Street is located fairly close to Ao Nang Beach and is lined with shops of all descriptions. You'll find everything from souvenir shops to banks, so if you're looking for something during your trip, chances are that you'll find it in this area.
What to do there: If you have a night free, then think about spending it at this shopping street. It's a great way to explore Krabi with friends or on your own. Enjoy the friendly atmosphere and maybe snap up some bargains while you're there as well. As is usual for Thailand, there are also lots of places to eat around this area, so you definitely won't go hungry while you're there.
#18 – Khao Phanom Bencha National Park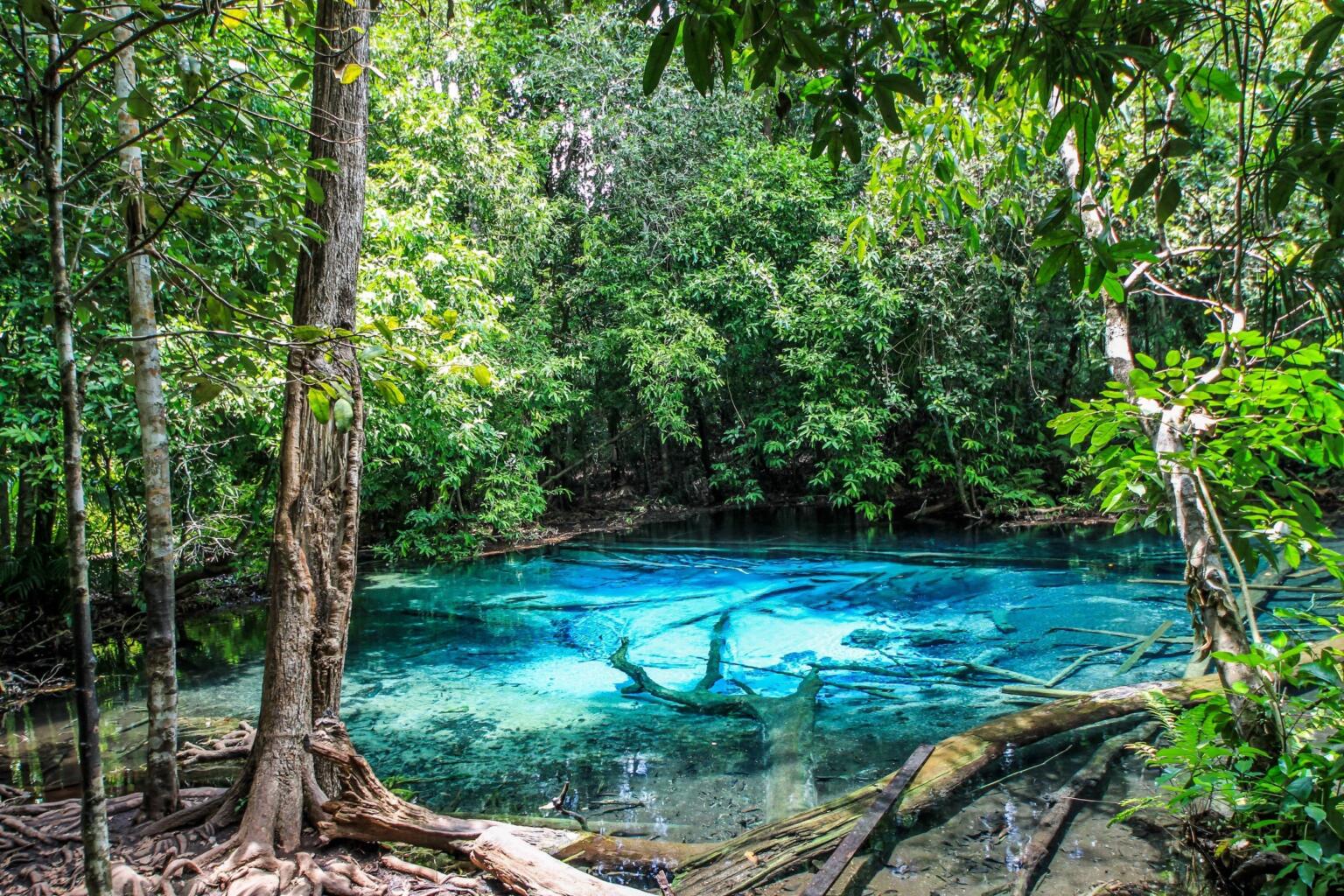 A densely forested park that contains some of the most beautiful waterfalls and caves you'll ever see.
The hiking in this park is awesome, so strap on your shoes and work off all that Thai food!
Why it's so awesome: If you're looking for some peace away from the streets of Krabi, then spend some time in this park. It's one of the best places in Krabi for hiking and also contains some of the best waterfalls in the area. Located about 20 kms north of Krabi town, it's easy to reach and is home to lots of fascinating animals and birds.
What to do there: Hiking is probably the most popular activity in this park, which is why it's one of the most interesting and active hotspots in Krabi. Make sure you take the time to see the stalactites and stalagmites at Tham Khao Ping cave and the waterfalls and Nam Tok Huay Toh and Nam Tok Klong Hang if you want to take some remarkable pictures of these watery marvels.
#19 – Tonsai – An unknown (but awesome!) place to see in Krabi!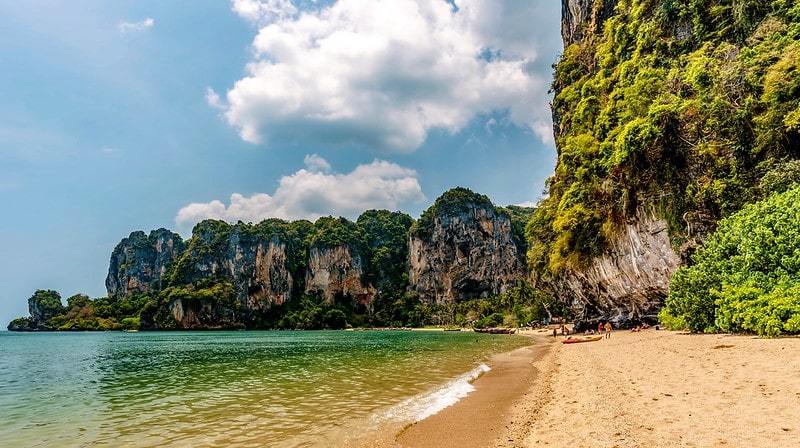 One of the best places to visit in Krabi for rock climbing.
There are a few bars and shops in the jungle, but you'll probably need to take some food with you to this beach to ensure that you don't starve.
This is a favorite backpacker stop, mostly because of the relaxed jungle vibe.
Why it's so awesome: A lot of the beaches in Krabi are heavily developed. They're still beautiful, but sometimes you just want one that's surrounded by nature rather than by cement. Although there are plans to build resorts on Tonsai beach, the work is slow going. As a result, this beach is still secluded and there are only a few bars and shops around it, all of them nestled in the jungle.
What to do there: This is the perfect beach to relax and take in some rays. It has that laidback vibe that so many travelers look for in a beach, so just soak it up. Tonsai beach is also a popular spot for rock climbing if you aren't afraid of heights. You can hike from Railay beach to Tonsaid, it's only a short trip, or take a water taxi. The beach is fairly isolated, so there isn't really any other way to get there or to get back to your hotel afterwards.
Get insured for your trip to Krabi!
ALWAYS sort out your backpacker insurance before your trip. There's plenty to choose from in that department, but a good place to start is Safety Wing.
They offer month-to-month payments, no lock-in contracts, and require absolutely no itineraries: that's the exact kind of insurance long-term travellers and digital nomads need.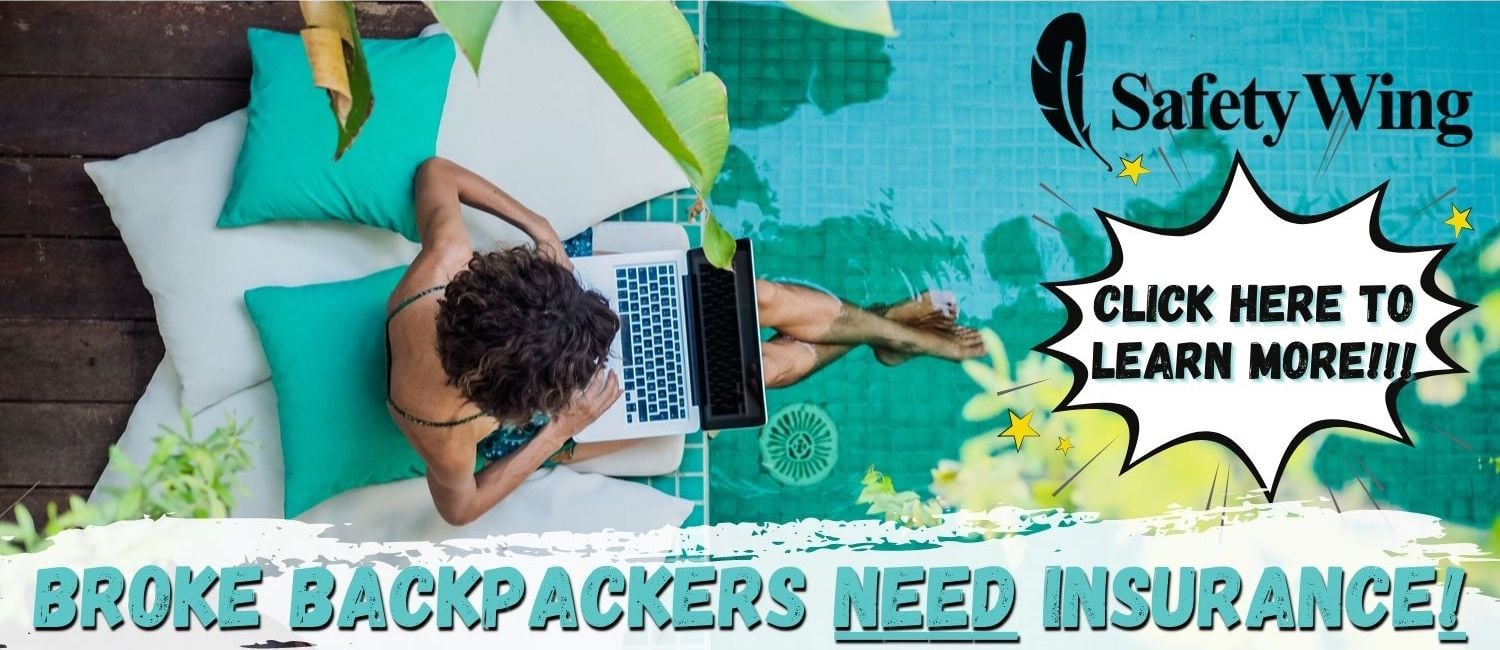 SafetyWing is cheap, easy, and admin-free: just sign up lickety-split so you can get back to it!
Click the button below to learn more about SafetyWing's setup or read our insider review for the full tasty scoop.
FAQ on the Best Places to Visit in Krabi
Find out what people want to know about the best places to visit in Krabi
Final Thoughts on the Coolest Places to Visit in Krabi
If you need a vacation where you don't have to do anything more than relax on the back and enjoy nature, then Krabi is a great choice. You could even stay in an Eco-resort to make your holiday all the more environmentally sustainable while you relax! This part of Thailand is known for its beach culture as well as its lush tropical surroundings. When you're looking for amazing places to visit in Krabi, you'll find lots of attractions that will allow you to get out and enjoy the natural world. If you struggle to work out what attractions you want to see, let this list guide you to the best vacation of your life.
---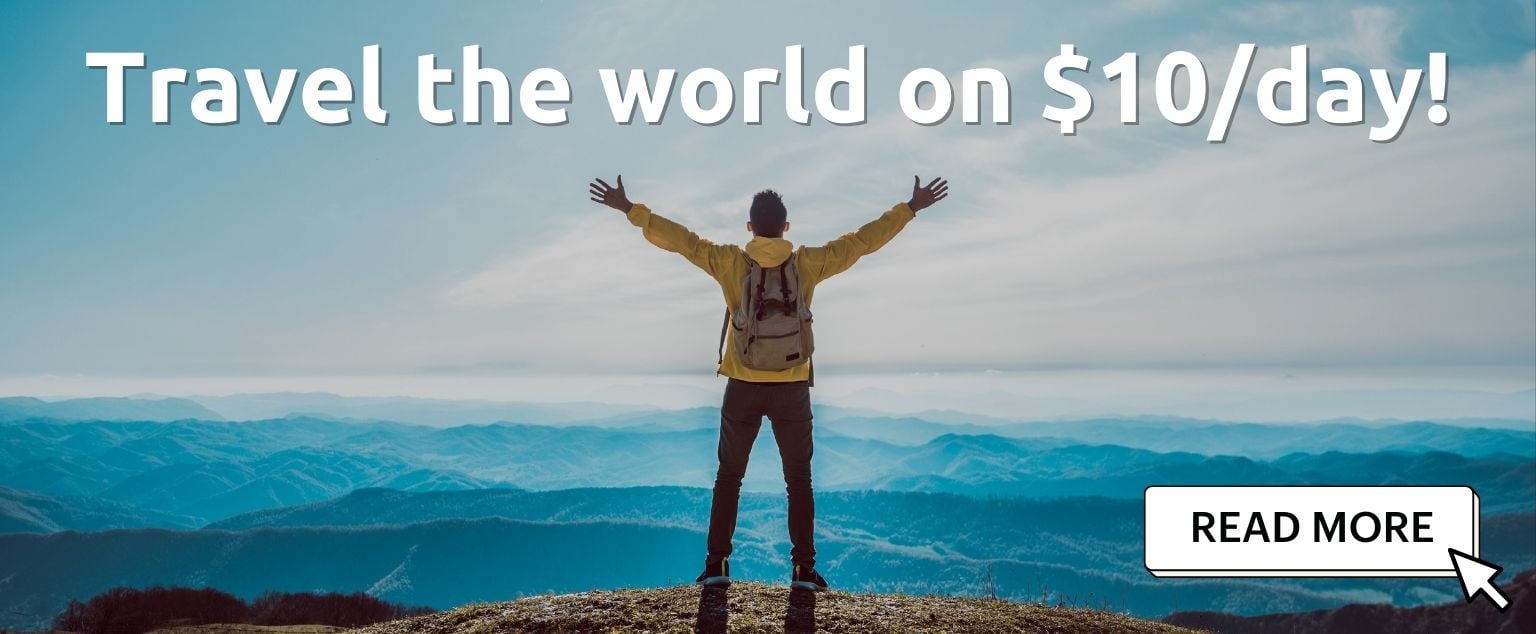 And for transparency's sake, please know that some of the links in our content are affiliate links. That means that if you book your accommodation, buy your gear, or sort your insurance through our link, we earn a small commission (at no extra cost to you). That said, we only link to the gear we trust and never recommend services we don't believe are up to scratch. Again, thank you!