As one of the most visited countries in Southeast Asia, Thailand is overflowing with incredible things to do and see. From tropical beaches, opulent palaces and giant buddhas to crazy Bangkok streets…
…there is something for everyone in Thailand.
The places you stay are the backbone of any great travel trip. I tend to look back fondly on geriatric b-days and underwhelming hospitality, but we all have stories of divebomb hotels that aren't fun. Hence, the importance of tackling this travel chore well!
In general, figuring out where to stay can be intimidating. However, local accommodation in Thailand is often pure magic (some saucy swimming pools are out there). There are so many friendly hosts and unique hotels that working out where to stay in Thailand is fun too.
I am thrilled to share with you some of the best cities and top lodging that you can find. Ready to be dazzled? Let's get to it!
Quick Answers: Where is the Best Place to Stay in Thailand?
This awesome Airbnb in Koh Samui gets my top pick. Just look at it. It is incredible. And the price is great for what you get! Great location, infinity pool, hot tub, and awesome spaces to use. This place is perfect for couples, or groups of mates wanting a place to base themselves.
Slumber Party Surf sits close to Kata Beach and is a surfer-styled party hostel. This hostel's facilities are truly superior. The rooftop pool and barception party area are complemented by the Hangover Cafe and Koho Surf School, making this a top destination. This surfer hostel is one for the books.
The Eco Lanta Hideaway Beach Resort is a truly special hotel. It's not a touristy, cut-and-dry hotel that feels like it could be located anywhere in the world… this hotel is truly special. The wooden Thai bungalows are nestled right alongside Long Beach and promise an unforgettable stay in Koh Lanta!
Chiang Mai – Overall Best Place to Stay in Thailand
Chiang Mai is the Avignon of Thailand, and as such is overwhelmed by extraordinary history, impressive architecture, and elite temples. Chaing Mai used to be the bustling capital city of the Lanna Kingdom (from 1296 to 1558), so there are plenty of elaborate historical buildings, structures, and relics left for the pleasure of viewing. Aside from its impressive historical side, it boasts fantastic cuisine, fun nightlife, and a great vibe.
Both a solid ex-pat destination and a fantastic choice for people backpacking in Thailand, Chiang Mai has got something for everybody. You can spend a whole day wandering from temple to temple, being dazzled by the gold, stones, statues, and artwork. There are also heaps of co-working spaces and cool cafes, making it a solid destination for digital nomads.
What makes Chiang Mai one of the best areas in Thailand is the combination of densely packed temples, proximity to Thailand's top national parks, and relatively calm atmosphere (Bangkok makes anyone who has ever organised anything cry). There's plenty to do and see inside the city's own fortified walls, but, if you're feeling more adventurous, there are several attractions outside this juicy centre too.
Since Chiang Mai is in the mountainous northern part of Thailand, it's the perfect mix of nature access and city life!
Best Places to Stay in Chiang Mai
Chiang Mai accommodation offers loads of options both inside and outside of the fortified walls that outline the city centre. Even if you stay outside of the city walls, you'll usually be just a few minutes' walk to the walls themselves. Everything is pretty compact in Chiang Mai, which makes staying there convenient and easy.
Located in a fantastic city area, this cosy Airbnb is both classy and comfortable. This comes alongside a relaxing garden space and shared outdoor swimming pool, so your stay can be as rejuvenating and refreshing as you fancy. A washing machine, kitchen, wifi, and free parking are available at your own convenience.
Located southeast of the old town, Thai Thai hostel is a super friendly place with great views of the Doi Suthep mountain. The hostel is a ten-minute walk from almost all the top attractions, has fantastic hanging-out spaces, and owns a kitten! This is well–worked location, that will give you great opportunities to meet new people and help you explore the best side of Chiang Mai.
Nordwind Hotel is just a 15-minute walk away from the Tha Pae Gate, or a quick ten-minute walk to the night market. This hotel even offers a free shuttle service on the weekend to the Tha Pae Gate, too! We love the delectable Thai restaurant right inside, and the complimentary breakfast is a thoughtful thing to offer.
Top Things to Do in Chiang Mai
Make sure you don't miss out on visiting Wat Phra Singh and Wat Chedi Luang ("Wat" is simply the Thai word for temple). Dress appropriately, or travel with a scarf, so you can wrap it around exposed shoulders or knees. Don't forget cash!
Take a trip to the Chiang Mai riverside and explore the night bazaar. You're almost guaranteed to find something that you like, and going for a drink afterwards will consolidate the day's successes.
Cycle around the city on a bicycle tour, exploring medieval streets, ancient history and Buddhist culture.
Learn to cook Thai cuisine at a local farm.
Sample the unbelievable street food, which is cheap, quick, and mega tasty. 99 times out of 100, you're going to love the food and feel great, but there is always the slight chance that you absolutely won't (if you catch my drift), so watch out!
Take a day out to visit one of Thailand's amazing national parks. Booking a trip to Doi Inthanon is a great way to spend a day!
Organise a day trip to Chiang Rai and the white temple, which are both AMAZING.
For adrenaline junkies, hiring a motorbike and riding the Mae Hong Son loop is an excellent option for getting out and seeing a bit more of Northern Thailand.
Make the most of white water rafting day trips near Chiang Mai
Chiang Mai – Best Place to Stay in Thailand For Families
Travelling Thailand with kids is certainly possible and Chiang Mai is arguably the best city to visit when travelling as a family. The amazing city of Chiang Mai lacks the insane hustle and bustle of Bangkok and the college party vibes of some islands. Chiang Mai is the perfect mix of culture, history, and nature, coming in at a size that feels big enough to explore, yet small enough to not be worried about kids getting super lost.
Your kids will love exploring Chiang Mai's intriguing streets, raiding the temples (respectfully) and unleashing their inner Indiana Jones. Plus, there are tons of kid-friendly activities, like the Chiang Mai Night Safari, the Flight of the Gibbon zipline course, and the Art in Paradise museum (with interactive murals, wow). There is also the X-Centre, which has everything from ATVs and paintball to giant Zorb balls!
Best Places to Stay in Chiang Mai
Chiang Mai has some beautiful hotels, guest houses, and Airbnbs that will make you and your family feel right at home. With Western standards being upheld at these three choices below, you won't be sacrificing any comfort or convenience.
Featuring four traditional wooden villas and a gorgeous garden, this Airbnb gets great reviews for its excellent location. If you're looking to stay in the old town, with easy access to the religious, cultural, and tourist aspects of the city, this is a good pick. There is a kitchen, washing machine, and dryer available for use. This place leaks rustic charm!
This spacious hostel, located in the heart of the old city, is a perfect place to meet other travellers and take part in wholesome tourism. Free breakfast, lockers, and a washing machine are available, so this is a great place to slow down after (or before) some messier travelling. Whilst definitely not a party hostel (with no alcohol allowed onsite) it has a great atmosphere and runs daily yoga, meditation and boxing classes.
The Thapae Gate Lodge has a beautiful family room with a private bathroom and three beds. With strong air conditioning, a flat-screen TV, and an on-site restaurant, you'll love cosying up with your family in this beautiful hotel. You'll be close to all the main points of interest, so it will help keep achy feet and whining down to a minimum!
Koh Lanta – Where to Stay in Thailand for Couples
Koh Lanta is a 131-square-mile island in the Krabi province area, off the coast of Thailand. The island is renowned as one of the most romantic places in the country. With coral-filled beaches and an enormous rainforest, you and your SO won't be lacking those romantic vibes! Koh Lanta is one of the most popular island destinations, with gorgeous white sand beaches, a surplus of swimming pools, and a number of five-star hotels.
There are plenty of cute things to do for couples and tons of cool Koh Lanta areas to stay in. If you want to help with a beach clean up or volunteer to walk rescued street dogs, you can go ahead and do that too.
Best Places to Stay in Koh Lanta
We want to make sure we keep the romantic factor turned on high when staying in Koh Lanta. That's why I chose the crème de la crème of Koh Lanta accommodation options for y'all! Enjoy!
Ever wanted to sit in a pool, with a chilled one, on a balcony, at 27 degrees, in Thailand? This villa makes good holiday snaps real easy. Built on stilts in the Koh Lanta old town, this home combines a taste of traditional Thai life with modern standards and amenities. Stunning ocean views, comfortable living spaces, and the host can order a Thai masseuse house call. Awesome.
Best Stay Hostel at Lanta is a modern hostel close to Long Beach. It's only a 300-meter walk away! There are backpacker dorms as well as private rooms, so you don't have to fret about sharing a room with six other people if you can swing it! The complimentary breakfast is awesome, too!
Okay, while there are certainly beautiful resorts in Koh Lanta, I am simply in love with this Eco Resort. I didn't want to stay at another tourist-filled mega-hotel and instead wanted something a little more intimate and personal. This is the spot! It's right along Long Beach in Koh Lanta, and these wooden Thai-style bungalows are adorable.
Top Things to Do in Koh Lanta
Island snorkelling is a must-do on Koh Lanta, because of the insane marine life, and clear seas.
Hiring a kayak and going sea kayaking makes for a fantastic day trip. There are lots of nearby islands that it is possible to reach, as well as hidden bays and beaches.
Exploring the caves of Koh Lanta is awesome. Khao Mai Kaew is full of bats and crazy rock formations. The tiger cave is another awesome option, with a suitably Indiana Jones jungle temple vibe.
Make sure you stop by the Atalanta Organic Teahouse close to the Khao Mai Kaew cave. Expect delicious smoothies and plenty of vegan and vegetarian options.
Delve into Koh Lanta's Mangrove swamps by kayak.
If you feel like a little hike, go ahead and hike to the Mu Ko Lanta National Park's lighthouse.
Relax on one of Koh Lanta's best beaches. Long Beach is a popular choice, with long strips of golden sand and a quiet atmosphere. Lanta Klong Nin is a great option if you're looking for beach bars and a bit of chilled nightlife.
Get yourself on a scuba diving mission, for a deeper look into Koh Lanta wildlife.
Seeing the Khlong Jark waterfall via a jungle hike is an awesome way to spend a day!
Booking onto a boat to the Emerald Cave is a very popular choice. It has some super interesting Marine wildlife!
Pai – Coolest Place to Stay in Thailand
Be careful when you're visiting Pai because you just might get stuck there. I ended up visiting Pai two different times within two months because I simply couldn't stay away! Pai has that wonderful, magical, sticky quality that so many traveller hubs do: the one that sends the itineraries of backpackers out the window.
Pai is a small mountain village in northern Thailand. If you're wondering where to stay in Thailand for relaxation, refreshment and rejuvenation, skip the beaches and head to the mountains of Pai! You can find unique eco-resorts in Pai, where your stay contributes to the conservation of the area and supports the local community. Okay, don't skip the beaches, but definitely don't skip Pai either!
Pai has my absolute favourite night market each and every night of the week! The Pai night market has the best food and local products to purchase. You could often find me at the empanada stand, or chowing down handfuls of gyoza for dinner each night.
Best Places to Stay in Pai
While a lot of people like to stay close to the walking street in town, for proximity to all the eateries and late-night action, I love choosing somewhere to stay in Pai that's a little further out of the city— a 10-minute scooter ride away. You can stay on either side of the Pai River, nestled in the hills outside of town. That way, you'll enjoy more privacy, and being surrounded by beautiful natural scenery.
Deejai Pai Backpackers Hostel is an absolutely gorgeous hostel, situated on the edge of beautiful rice fields, offering panoramic sunset views! I loved all the fun activities Deejai Pai planned for their guests, from fire shows to free daily yoga classes. There's also a slackline set up, a ping pong table, and a basketball court to take advantage of!
The Pai Village Farm Homestay is less than a mile away from the city centre, and the bus station. We love this homestay that is packed with cuteness! There's a shared garden to enjoy, as well as animals on the farm to make friends with. These cute bamboo bungalows are nice and quiet. It is a lovely place all around.
Top Things to Do in Pai
Rent a scooter and go exploring. There is plenty of class scenery, and wherever you go there promises to be enough street food to keep you going.
There's also a great yoga scene if you're looking to nama-stay (not sure I got away with that) in Pai!
Get some tasty views with a sunset at the impressive Pai canyon. There are great viewpoints, but prepare to get a little mucky, because it will require all four limbs to get up!
Sai Ngam hot spring is a much-preferred option to the super touristy Thai Pai hot springs and has much cheaper entry. Get yourself a face full of mineral-rich mud for that clean spa look.
Mo Paeng waterfall has some slippery rocks that slide into deep pools. This can be a fun way to spend the afternoon, but it can get quite touristy.
The Mae Yen waterfall is a three-hour jungle hike from the nearest civilisation, so it's worth planning to stay in the jungle, or leaving early.
Visit the Tham Lod cave, which offers bamboo rafting in the wet season, and guided tours of its 1.5km interior.
As a top hippy destination, there are some questionable (and illegal) things available, such as the magic mushroom shake (shhhhh, you didn't hear it from me).
Bangkok – Where to Stay in Thailand on a Budget
If you're looking to pinch pennies, then where you need to stay in Thailand is Bangkok. You can find tons of cheap flights to fly in and out of the main international airport, or if you're travelling around Southeast Asia by bus, most countries will route you through Bangkok too.
Bangkok doesn't have to be expensive – it's the home of cheap street food, backpacker hostels, and a great public transportation system. Plus, it's packed with amazing things to do. The vibrant city has a great transport system to take you around the country, including a (mostly) reliable rail service, and a more reliable set of tourist buses. Khao Yai national park is not too far from Bangkok and has frankly unbelievable views. Make sure to get your entry ticket before you go!
Wondering what your Thailand travel budget should look like? We've got the right tips and tricks to make your Thailand trip affordable AND enjoyable. No need to dive deep into your pockets!
Best Places to Stay in Bangkok
Bangkok is a huge, sprawling city and it can feel extremely overwhelming. With over 8 million people and 1600 square kilometres, Bangkok has countless neighbourhoods and places to stay!
If you're staying for a short visit, Khao San Road in the Banglamphu area is a fine choice, as it will put you closest to the nightlife and action. If you have a little more time to enjoy soaking up the vibrant city energy, I recommend staying in the Riverside area. It's more scenic and is filled with unique hotels and traditional houses, and you'll be closer to the Grand Palace and Wat Pho!
All in all, some of the cheapest and best hostels in Thailand are located in Bangkok. Not only is it budget-friendly, but the backpacking scene is huge! Meeting a fellow companion to travel Thailand with after staying in Bangkok will be a breeze.
This super modern apartment is equipped with fast wifi, a dedicated work area, a TV (with Netflix capabilities) and a washing machine. With a spectacular view and superb location, this property will be an immense retreat in the heart of city life. Check out the sky pool!
This hostel has been winning awards for over a decade. Situated close to some of the best tourist attractions in the city, this friendly hostel cultivates the perfect chilled atmosphere. Fortunately, you won't miss out on typically loose Bangkok shenanigans, as the people who go here are always awesome too!
Rambuttri Village Plaza is just a quick five-minute walk from Khao San Road and is home to two beautiful rooftop pools. This budget hotel offers so much bang for its buck! With fully air-conditioned rooms and hot shower facilities, you won't be sacrificing any comforts to pinch your pennies here!
Top Things to Do in Bangkok
Tour the Grand Palace, and Wat Phra Kaew, which make up the regal district of Bangkok.
Visit Wat Pho (home to the enormous reclining Buddha). The monastery is also the spiritual home of Thai massage and offers participation in massage school (as well as one-time massages).
Go and hike the Golden Mount Wat Saket.
Explore Chinatown, walk down the Khao San Road, and wander through the Chatuchak Weekend Market. Lumpini Park is another great free option.
Take a look at one of Bangkok's night markets, offering fantastic, spicy, and cheap street food, and God knows what else. Should be fun! Talat Rot Fai Srinakharin market is a top choice here.
Take a peak at the Jim Thompson house. The American silk mogul amassed quite a significant collection of rare artefacts in his Bangkok residence, and it's worth a peak for sure.
Get stuck in at a Muay Thai boxing match. These are unbelievable contests of strength, resilience and skill, and it is very fun to turn up a little drunk. Or a lot.
Go afloat at the boat markets, which are like normal markets, but more wobbly. If you take the Muay Thai boxing approach, things can get more fun.
Order a mango smoothie on the street. Top tip; ask them not to put milk in it (game changer).
Disrupt those eating rhythms and go for a midnight street food tour.
Chiang Rai – One of the Most Unique Places to Stay in Thailand
Chiang Rai is in the north of Thailand, near the borders with Laos and Myanmar. Chiang Rai is sometimes referred to as the "mini Chiang Mai," as it's a smaller and somewhat sleepier version of its sister city. What Chiang Rai has, that no other city in the world has, is the infamous White Temple, Wat Rong Kuhn. This bizarre, entirely white temple makes for an incredibly unique visit.
Besides the White Temple, there are still tons of other temples to wander around in Chiang Rai. My second favourite Chiang Rai temple is the Blue Temple, called Wat Rong Suea Ten. It's a beautiful, royal blue temple that feels almost psychedelic inside!
Best Places To Stay in Chiang Rai
Since Chiang Rai is much smaller than its sister city of Chiang Mai, there aren't a ton of neighbourhoods to choose from. Staying close to the city centre is the way to go to make your stay more budget-friendly and overall just plain ol' easier!
Baanbua Guest House is a bed and breakfast that operates through Airbnb that is positively delightful. Tucked away in a beautiful garden area, whilst still being centrally located, Baanbua is a real treat. You'll be within walking distance of everything and will love your simple, clean, and affordable stay!
The Blue Lagoon Hotel is right in the centre of town. It's a beautiful and modern hotel that's filled with windows, hanging plants, and stylish furniture. It also had a sizable outdoor swimming pool that is perfect for relaxing next too. There's also a complimentary breakfast buffet to enjoy!
Top Things to Do in Chiang Rai
The White Temple is a MUST. Incredible cleanliness, decorations, and garden. This cannot be missed, even if it does get a little touristy.
Equally, Wat Rong Suea Ten, the Blue Temple, should own a high spot on any Chiang Rai itinerary.
Tour the Chiang Rai Black Museum, Baan Dam. This museum/ art gallery is known for its artwork from animal skin and bone. How about that for unique?
The Mae Sai Market, on the border with Myanmar, has an edginess and history that makes it worth visiting.
If you want to see a little agriculture, Singha park is a massive area that produces an amazing amount of fruit, rice, barley and vegetables. This is a great addition to a Chiang Rai trip and takes about an hour.
Another temple that promises to be an intriguing visit is Wat Huai Pla Kang. With majestic steps leading up to the temple's entrance, this multi-tiered venue is a bizarre spectacle with a semi-theme-park look.
For heavy trekkers, Phu Chi Fa is a must-visit. With unbelievable cloud-topping views, this mountain has a contested ownership history. Visitors aren't permitted to stay the night on the peak due to border disputes between Thailand and Laos.
Tour the so-called Golden Triangle and Royal Villa.
If you're looking to experience some of Buddhism's appeal, the Rai Chuen Tawan Meditation Centre has a host of great sessions to join.
Koh Samui – Where to Stay in Thailand for Adventure
Koh Samui is packed with things to do! How does stand-up paddle-boarding at sunset sound? How about swimming in the Namuang Waterfall? Or hiking around the untouched jungle? You can also do an ATV Tour around the island if you're not in the mood to trek through the jungles on foot! Koh Samui won't disappoint your adrenaline needs!
Now let's talk about beaches. When it's finally time to sit down and relax for a while, we want to make sure you know where to go! Close to the airport on the Northeast side of the island is the seductive Chaweng beach. Golden sands, stunning waves, and perfect sun make this beach one of the best in the whole of Southeast Asia. The second largest beach is Lamai which is known for being quite a bit more chill.
Koh Samui has a reputation for being very exclusive and catering only to resort lovers and package holiday goers. More recently, however, a backpacker/ local atmosphere is beginning to bloom, so budget accommodation, cheap food, and live music are all on the up.
Best Places to Stay in Koh Samui
Since you're staying on a beautiful island, you're not going to want to be far from the beach. I selected only the best waterfront accommodation options to make sure you get your dose of Thai island beachside heaven! There are plenty of other great areas to base yourself, but when it comes to where to stay in Koh Samui, it's gotta be the beach.
Showcasing the top tier of luxury Thai accommodation, Villa the spot cleans up on our list. This stay boasts obscene architecture, an overdose of infinity pools, and a collection of wide panoramic views. A fantastic garden, clean, modern kitchens, and awesome spaces make this a holiday you will certainly want to repeat. Located in the exclusive Chaweng district, you won't be bored by a lack of things to do!
This hostel is located almost dead centre on Chaweng Beach. Plus, it has an infinity pool that overlooks the Gulf of Thailand. Yeah, you got that right! It's a social hostel that has luxury vibes. You're sure to love the high-end comfort plus the sweeping ocean views!
Coco Palm Beach Resort is located right on Maenam Beach. It's beautifully landscaped, and is a little slice of paradise inside of Thai paradise! The bungalows are set right in the middle of tropical greenery and offer beautiful seaside views. There's also a delicious onsite restaurant and a poolside bar.
Top Things to Do in Koh Samui
Koh Samui is a perfect place to try scuba diving or get scuba certified.
Go to the beach! Beach days are class, and there is no shortage of great beaches in Koh Samui. Chaweng, Coral Cove, and Lamai beaches are all exceptional choices. Instagram fame? Easy.
Make sure you visit one of the most popular landmarks on the island, the Big Buddha at Wat Phra Yai temple. It's actually situated on a teeny tiny island in the Northeast.
Wat Plai Laem, on the northeast coast, has a big statue of Guanyin, who has 18 arms.
The Na Muang waterfall pair is a great way to spend half a day. The second waterfall is a favourite amongst backpackers, requiring a bit of a trek to get there, but rewarding you well with awesome views.
Jump on a quadbike around the island to take part in some high-speed sightseeing.
Seeing the Hin Ta and Hin Yai rocks is quite special.
Get loose and watch a ladyboy cabaret. Apart from being one of the best things to do in Thailand, each one is endlessly entertaining, with unique twists you will definitely not be expecting.
Take a Thai cooking class. Slapping out Thai cuisine is a skill you will never regret acquiring, and everyone will love you for it.
Explore Koh Tan & Koh Mudsum by jet ski. Sounds fun right?
Phuket – Best Place to Stay in Thailand for Beach Life
Phuket is the largest island in Thailand, on the edge of the Andaman Sea. It's actually almost the size of Singapore! That being said, the island of Phuket is undoubtedly the best city to stay in Thailand if you're looking to experience true Thai beach life. You deserve some quality beach time and I'm here to help show you how to get it in Phuket. Phuket gets busy during Thailand's high tourist season but is far from quiet even in the low season.
First things first. When planning a trip to Phuket, take a trip to Kata Noi Beach. It's a breathtaking beach, perfect for relaxing in the sand. After taking in the magic, head to the south of the island to Nai Harn Beach.
This beach is super popular with tourists and has super soft sand and crystalline waters. If you're wanting to do some celebrity spotting, head over to "Millionaire's Row" Surin Beach. Who knows which famous people you might see!
If you're looking to take a trip to a truly magical spot, then Phang Nga Bay is a top choice. 40 small islands come right out of the Andaman sea, creating some unique vistas. The famous James bond island is part of this archipelago, so definitely take some time to go and see that too!
Deciding between Phuket and Krabi? We've got you covered!
Best Places to Stay in Phuket
While Patong is party central, there are more chill areas of Phuket to stay in like Rawai or Nai Yang or Kata Beach. Even if you choose a more relaxed option, you will still have markets and restaurants within easy walking distance! Phuket Old Town is also a great choice of where to stay when you're on a budget.
You will be in the centre of the island, a drive away from the beaches, so I'd not recommend it if you want a big dose of beach life!
A quiet getaway from full beaches and tourist districts, this couple-hosted home will provide you with a great holiday stay. Surrounded by sensational views, this is a great Airbnb to spend some well-earned 'you' time exploring. Comes with an outdoor pool, lounge area, and kitchen. The hosts are also pet-friendly (just make sure you tell them first).
This hostel is the real deal. Surfing, expeditions, and mega parties. Located 300m from the famous Kata beach, the hostel resides in the epicentre of Thai surfing culture. With a bar, rooftop pool party zone, and games area, you are guaranteed to have at least some fun (although you will most likely end up in the 'hangover cafe' looking like a battered fish after you do).
The Kata White Villas Hotel is right on the corner of Kata Beach, just a two-minute walk away. The white, airy rooms are beautiful, and the overall ambience is positively idyllic! You can hear the birds sing, the crickets chirp, and live music will rise right up to your terrace from nearby cafes.
Top Things to Do in Phuket
Scout out Phuket Town by bike. There is some fascinating Sino-Portuguese architecture, and lots of places to stop off and recharge!
Acquire a speedboat to take you to the magical Phi Phi Islands.
Go for some water sports on Banana Beach. Banana boating, parasailing, scuba diving and kayaking are all available, and the innovative "sea walking" allows you a unique perspective of the sea floor.
The Khao Phra Thaeo National Park is the island's top jungle destination. With lush undergrowth, pools to swim in, and enough shade to keep away the midday heat, this is a great way to see more of Phuket's underbelly.
Going to a Muay Thai match is an undeniably amusing way to spend your time.
Krating Cape, on the southwest of the Island, offers brilliant hiking, views, and sunsets. Bring a scramblers mentality!
Join a scuba diving expedition to get a better taste of Phuket's marine wildlife.
Get a Thai massage. An awesome way to relax after a tough day exploring, finding these is typically easy, and they are super satisfying.
Go stand-up paddle boarding. Hiring paddle boards with your mates is always amusing. If the oars don't float, you might have to hold off on gladiator battles (consistently top-notch).
Go surfing! There is a ton of great surfing in Phuket. Grab a board!
World Nomads' mission is to support and encourage travellers to explore their boundaries. They offer simple & flexible travel insurance, and safety advice to help you travel confidently.
They've been doing it since 2002 – protecting, connecting, and inspiring independent travellers just like you.
Get a quote below or read our in-depth review!
World Nomads provides travel insurance for travelers in over 100 countries. As an affiliate, we receive a fee when you get a quote from World Nomads using this link. We do not represent World Nomads. This is information only and not a recommendation to buy travel insurance.
Ah, Thailand. Writing this article makes me want to catch the next flight and head back over there! I loved my time travelling through Thailand and exploring all the best spots Thailand has to offer. I hope that my recommendations for hostels, Airbnbs, and hotels in Thailand were useful to you and make your stay in Thailand truly memorable.
Do you own or run a kick-ass hostel? Want to be featured on this list? Get in touch at [email protected]
---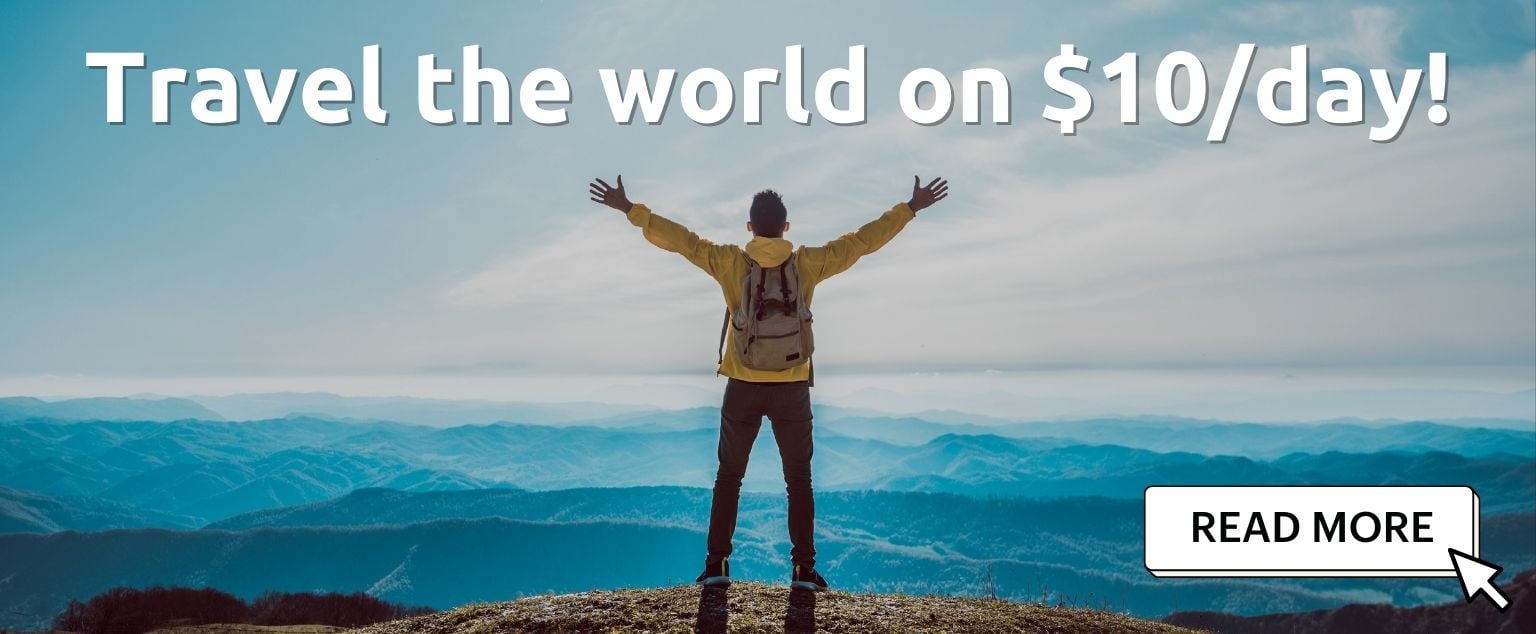 And for transparency's sake, please know that some of the links in our content are affiliate links. That means that if you book your accommodation, buy your gear, or sort your insurance through our link, we earn a small commission (at no extra cost to you). That said, we only link to the gear we trust and never recommend services we don't believe are up to scratch. Again, thank you!