It is a mark of impressive self-control to resist the urge to make a bad Phuket pun. They're not even half as funny as you initially think, and probably about a tenth as clever.
But Phuket, life is short, and it does wonders for publicity…
Beautiful beaches, night markets, big buddhas and questionable (or seriously legit) Thai cooking classes are all up for grabs. But how to fit in all this wondrousness in such a short time?
The answer is in hand with my top-tier Phuket Itinerary, written for the purposes of indulging your island hopping, street food chopping, Bang Tao Beach loving appetites. These three days may well be some of the most enjoyable of the year, decade, century… etc.
Let's see what we can do in Phuket!

Unlock Our GREATEST Travel Secrets!
Sign up for our newsletter and get the best travel tips delivered right to your inbox.
A Little Bit About this 3-Day Phuket Itinerary
Are you an edgy cool person intent on backpacking through Thailand? Do you feel existential dread from the prospect of an unscripted day?
Then come on through! I am about to uncover some of the best things to do in Phuket, from delicious local dishes and beautiful Islands to authentic Thai culture…
This 3-day Phuket itinerary is set up to be busy, so don't worry if you feel you can fit everything in! There's an unreasonable amount to do here, and just taking part in some of it will give you a real feel for the place.
Your Phuket trip is (as always) up to you, so take what you fancy, drop what you don't, and hopefully, you'll have a baseline for your perfect personalised itinerary. Taking the time to visit Phuket and its top attractions will be an unreal addition to your Thai adventure!
3-day Phuket Itinerary Overview
Where to Stay in Phuket
Before you head off on your travels, it's worth getting to grips with where to stay in Phuket. Not only will this drastically improve the odds of your SO liking you, but it will also give you a good idea of what is up in this awesome Thai playground.
Phuket City (or Phuket Town) is Phuket's capital and is the largest city for miles. If you enjoy learning about history and culture, Phuket City is the place to be. It has ok parties too.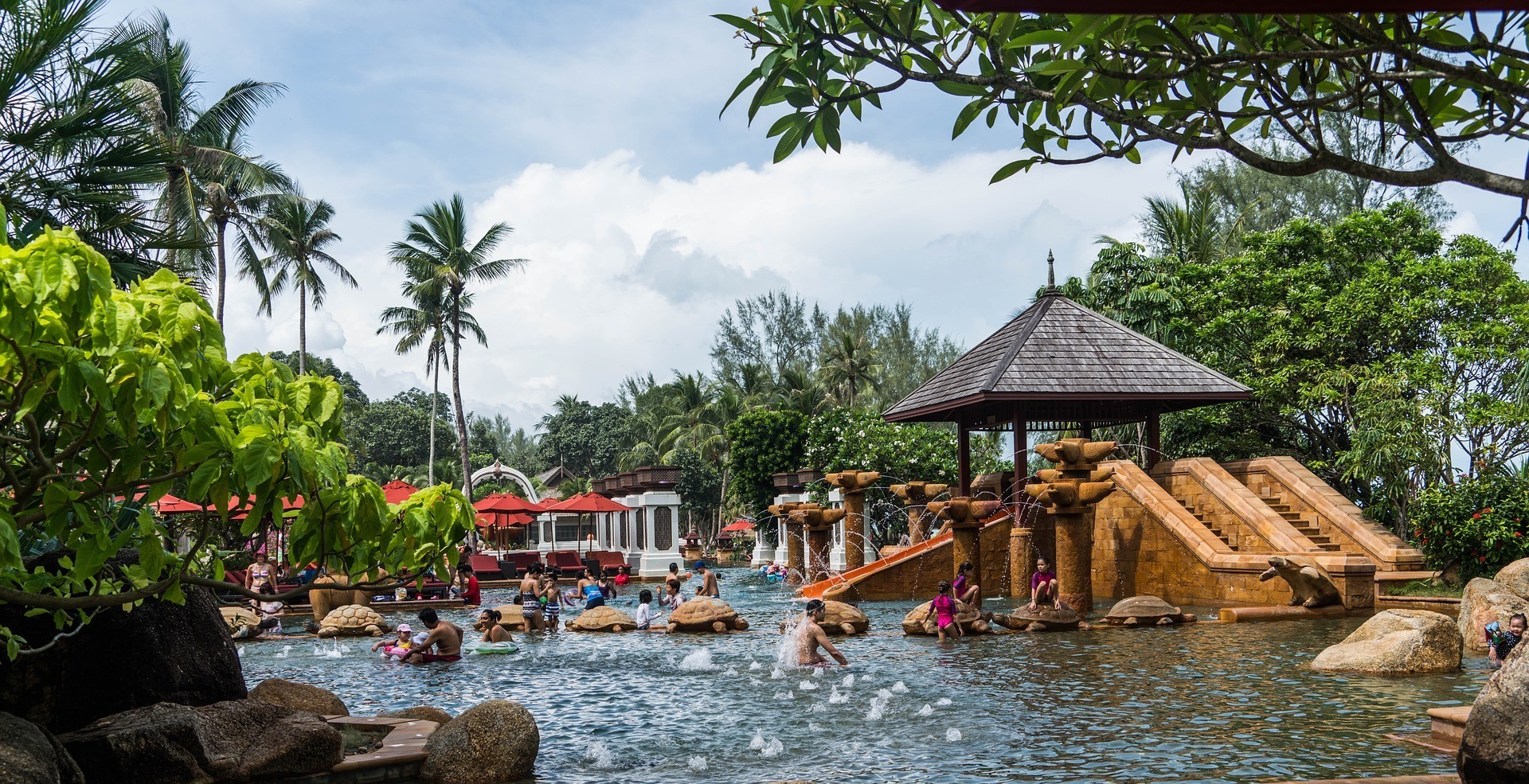 Patong is the most popular tourist destination in the province of Phuket. With picture-perfect coastal views, stunning white sand beaches, a relaxed atmosphere, and beautiful scenic surroundings, I can see why! If you're searching for Phuket nightlife, Patong is where you want to be.
Karon beach is found on the west coast of Phuket island and is the second-largest tourist beach. Karon is just the place if you're looking for out-of-this-world views, inviting turquoise waters and long stretches of white sand shores!
Staying with locals in Phuket through a homestay is another awesome (and cheap) accommodation option, and it comes with a much more authentic feeling.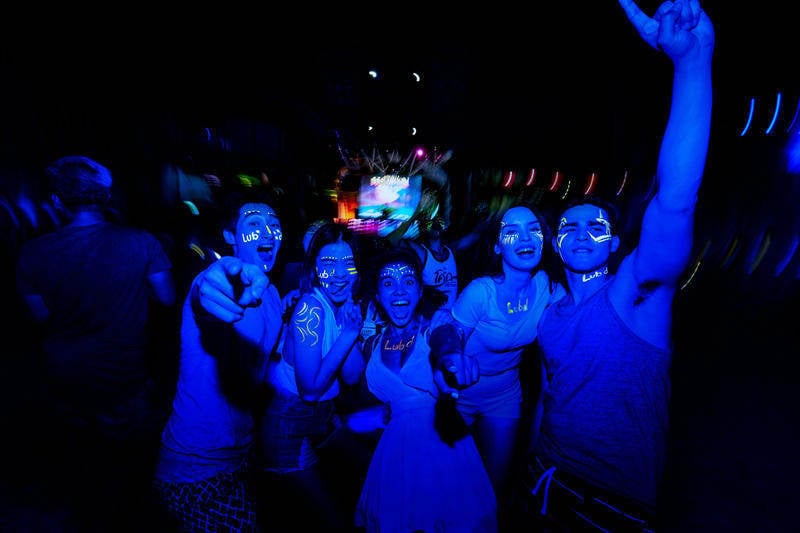 This magnificent Phuket Hostel was Voted in 2017 as the "Best New Hostel" in the world, and it must be seen to be believed. Take a dip in the see-through outdoor swimming pool, sunbathe on the huge terrace and treat yourself to a few delicious cocktails or beers. This is a place with vibe and friendliness oozing from the walls! Meet other travelers and enjoy the fun and relaxation of the space. If you're looking for the beach, then it's only 2 minutes away! If you want to hit the nightclubs & bars on Bangla road then you only have 5 minutes to walk.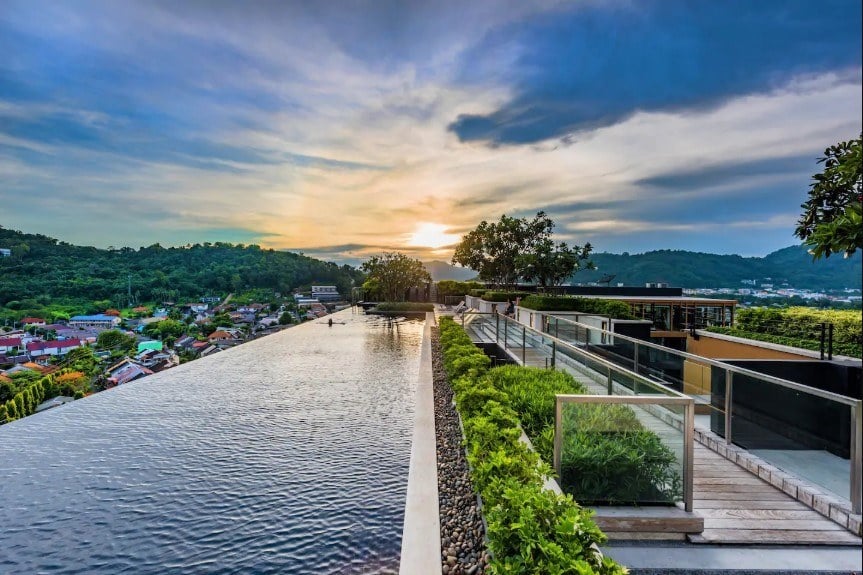 Enjoy amazing views and modern amenities in this luxury condo in Phuket Town. Located on the 11th floor, this contemporary condo offers guests a king-sized bed, colourful décor, and comfortable living space.
With free wifi, two swimming pools and a fitness centre, you won't find a better Airbnb in Phuket.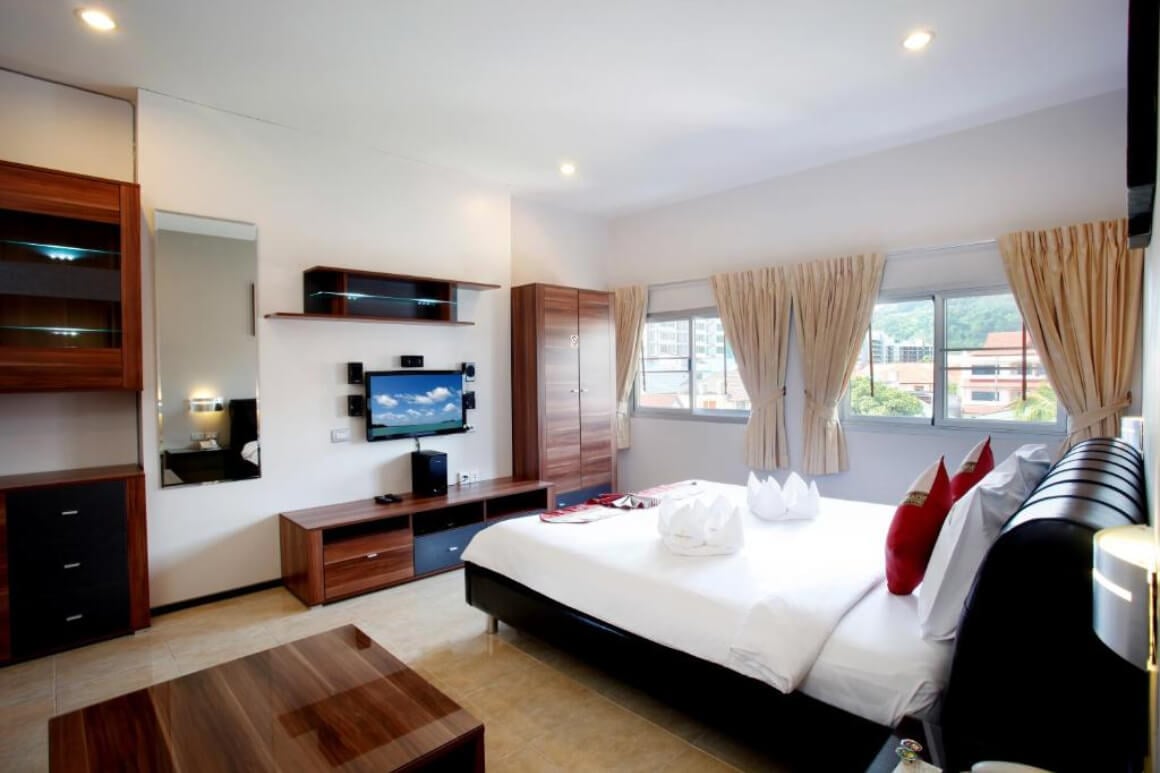 This Budget pick is constantly surprising punters with its spacious rooms, cleanliness, and great location. Phuket international airport is 40 minutes away by car, whilst the famous Patong beach is just a 15-minute walk. Traditional Thai massages are on offer, and each room has a private bathroom. Snorkelling and sightseeing tours can be arranged from the front desk, and the on-site restaurant offers a mix of great Thai and western dishes.
One of the best luxury resorts going, this family-friendly resort offers guests access to 3 swimming pools, 8 dining options and a private beach. There is a fitness centre, two whirlpool pools, and of course, a great massage centre. One of the bars even offers guests the opportunity to swim up to it. There are loads of activities for kids on offer too, which makes it super great for family vacations, as well as romantic getaways. If you're looking to be pampered, look no further.
Phuket Itinerary
Ok, without further ado, I present to you my epic, super fun, mostly well-thought-out Phuket Itinerary…
…Enjoy!
Phuket Itinerary Day 1
Phuket Old Town | Wat Chalong Temple | The Big Buddha | Kata Noi Beach | Prompthep Cape | Laem Hin Pier
In and around Phuket, day 1 is all about getting to know your immediate surroundings. Then, we move down to southern Phuket, before returning to the city for a seaside dinner. Phuket city accommodation is preferred here!
8:00 am – Phuket Old Town
Phuket Old Town is a must-see place in Phuket and provides you with different shapes and sizes of old Sino-Portuguese splendors, plenty of funky shops, and boutique cafes! Explore and find some of the most unlikely places that will surprise and delight at the same time.
Phuket Old Town is the heart of Phuket's island and also happens to be the capital. This town is far from ordinary, and offers so much more than you might think! Grab breakfast, and get ready for an awesome day.
Phuket Town displays attractive and aesthetic buildings that date back to the 1800s. There is a unique blend of colonial and Chinese architecture, joint with a tangible quaintness. This makes for a fascinating and eye-opening morning spent sauntering around Phuket's Old Town. Expect the unexpected and don't forget to take plenty of pictures!
Cost – Free
How long should I stay here? 1.5 hours
Getting there – Either you're staying nearby, or you can taxi or bus. Phuket city is the centre so it's not hard to get to!
11:00 am – Wat Chalong Temple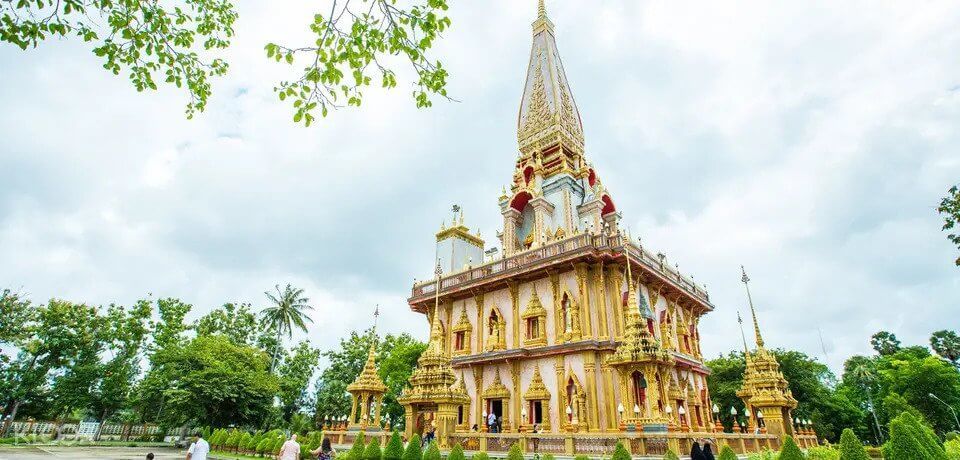 This gorgeous temple showcases the brilliance of Phuket's architectural creativity as well as the rich cultural history of religion on this island. Wat Chalong Temple is formally known as Wat Chaiyathararam and is a huge part of Phuket's heritage!
Wat Chalong is the largest, most revered and most visited Buddhist temple in the whole of Phuket island. This temple was built at the beginning of the 19th century and is definitely at the top of our must-see places in Phuket.
You will see that the tallest building on the grounds of this stunning temple is the 60-meter tall stupa that shelters a magnificent bone fragment of the Lord Buddha. The walls and ceilings of the temple are adorned with beautiful and spiritually significant paintings that retrace the story of Buddha's legendary life. Each of the three floors and also full of large donated golden statues.
Cost – Free, but donations are appreciated
How long should I stay here? 1 hour or less
Getting there – Grabbing a taxi or bus from Phuket is relatively easy. It's well-known so you shouldn't have problems getting there!
12:30 pm – Phuket Big Buddha
The Phuket Big Buddha, otherwise known as The Great Buddha of Phuket, is a nobly seated Maravijaya Buddha statue in the south of Phuket island. The formal and official name is Phra Phutta Ming Mongkol Akenakiri, shortened to Ming Mongkol Buddha. Find this marvelous statue sitting atop Nakkerd Hill.
The Big Buddha is a 45-meter-tall white statue made entirely out of marble and is visible from anywhere in the southern part of Phuket as it protrudes the skies. Visiting this outstanding landmark is at the top of most must-do-in-Phuket lists and we can easily understand why! This is a monument that pays homage to the spiritual history of Phuket and it is a sobering experience to go and see it! The views from this mountain also happen to be breathtaking.
Mostly built on people's donation in 2004, The Big Buddha Phuket is actually still under construction. If you feel like doing something to help to finish the broad base of the Buddha, you can sponsor a piece of white marble!
Make sure that you get there before it closes at 7pm!
Cost – Free
How long should I stay here? 1.5 to 2 hours (with lunch!)
Getting there – Taxi, it's about a 20-minute drive from Wat Chalong. It's a 6km walk, but up a hill and in the day might not be the best idea.
2:30 pm – Kata Noi Beach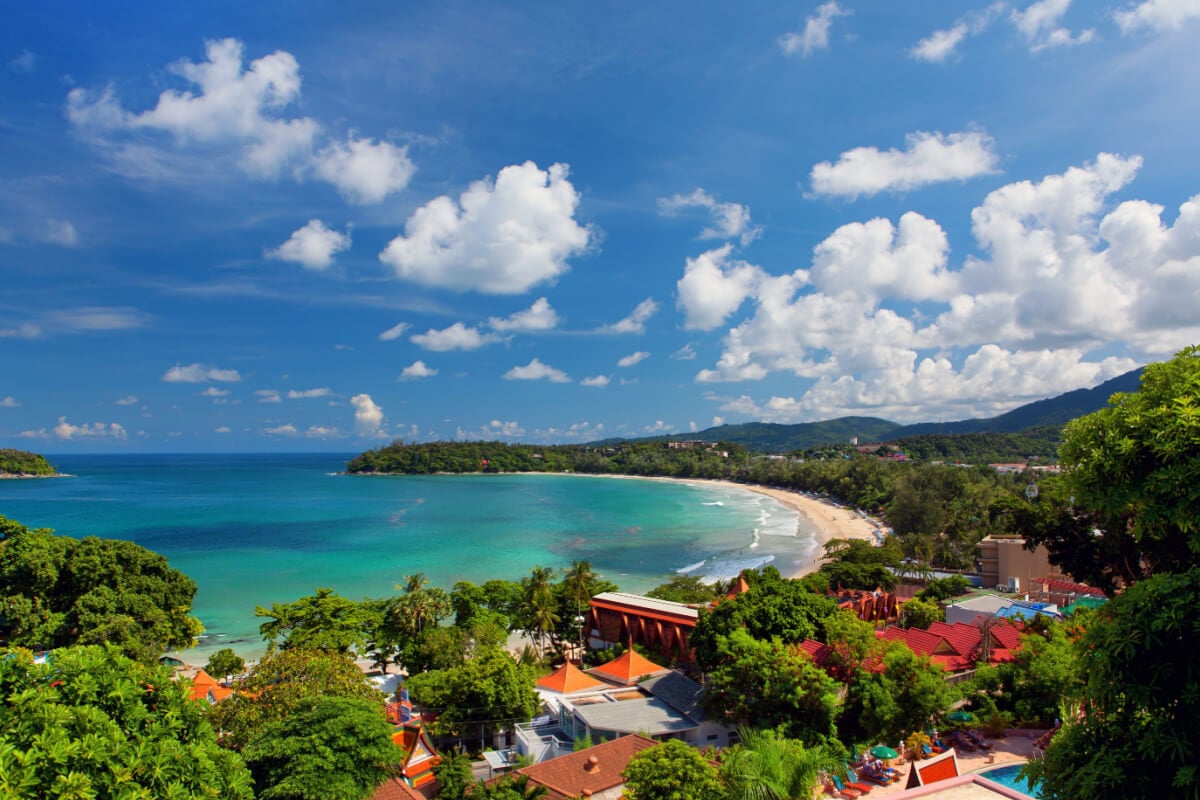 Kata Noi is without a doubt one of the best beaches in Phuket. The white sands, gorgeous watercolour, and rising cliffs make this a top place to relax for the afternoon! The area gets waves good enough for surfers between May and October and is both pet and nudist-friendly. Kata Noi Beach is perched on the West Coast of Phuket, not too far from the Big Buddha.
Kata Noi is about 700 metres long, which means that if you're looking for a bit of space, there is certainly that. There are also a load of activities to take part in; banana boating jet skiing and snorkelling are all possible past times here.
Hiking up to the nearby Karon viewpoint is a great way to put the beach into perspective. Enjoy some top-class views, and get familiar with some Thai jungle scenery!
Cost – Free (it's a beach!)
How long should I stay here? around 3 hours. Get comfy!
Getting there – It's half an hour's drive again from the Phuket Big Buddha. Grab a taxi if you can!
6 pm – Prompthep Cape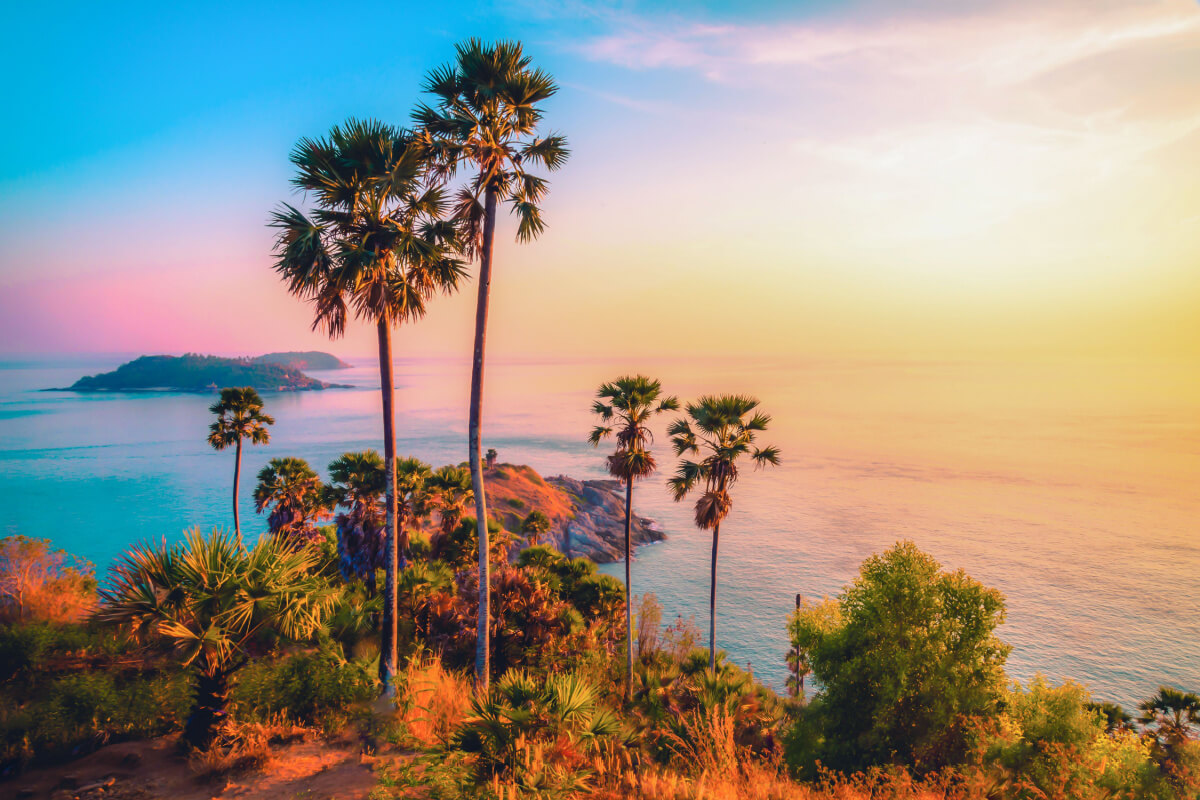 If you're looking for a gorgeous sunset to finish the day off, then I have properly nailed this itinerary. The sunsets at Prompthep Cape are spectacular, but sadly this draws a pretty formidable tourist crowd. You can get a people-free shot by walking to the end of the Cape, but this isn't an easy walk!
It's at this point in the day when I start recommending alcohol. Bukito by Promthep Restaurant can offer dinner and drinks, but I'd recommend just going for a beverage or two – I've got a great dinner spot lined up for later. The Promthep lighthouse (also a small museum) is worth taking a look at, but it's not worth staying much longer. Grab a photo, enjoy the sun setting, and get out of there!
People-watching here is excellent, since everyone is just waiting for a sunset photo.
Cost – Free
How long should I stay here? 1 hour or less
Getting there – Sorry to say it's another Taxi or drive from kata Noi beach. Takes about 20 minutes.
8 pm – Laem Hin Pier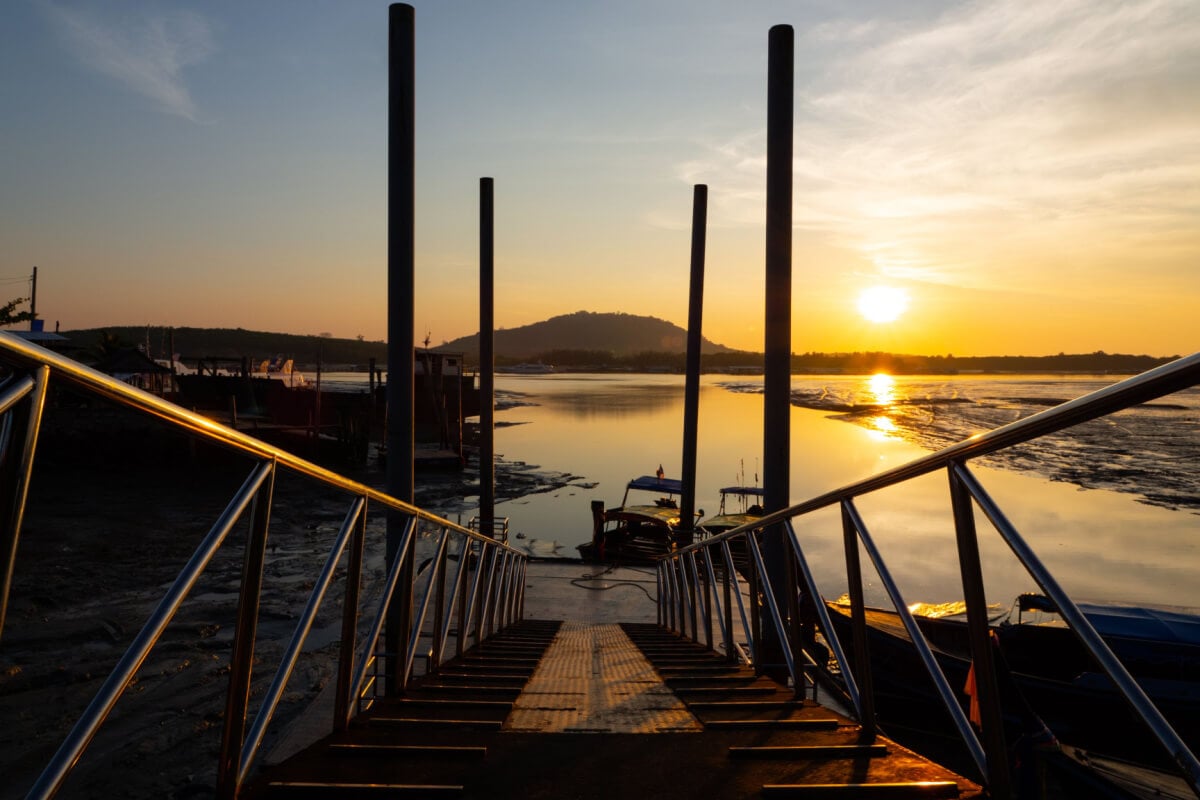 This is our evening endpoint. Located just north of Phuket City, you jump on a free shuttle boat which will take you out to a pier filled with some of the best local seafood places on the island.
Laem Hin is a vast wooden construction, but can still get reasonably busy. The seafood here is just amazing, so it's understandable. It's also cheap! So if you're here with a family you can really go for the banquet experience.
After a long day, you'll be ready to relax, so grab a beer or two, then head back to your Phuket Town accommodation for a good night's rest. You're going to need it!
Cost – Pay for what you buy (<$10)
How long should I stay here? around 2 hours
Getting there – Long drive back to Phuket town (just under an hour). Then take the ferry shuttle over to the restaurant.
Small Pack Problems? 😉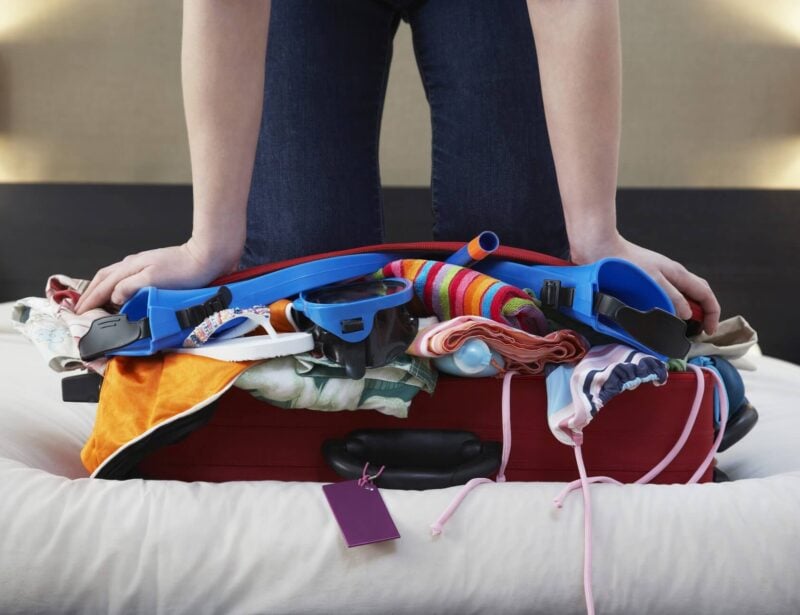 Wanna know how to pack like a pro? Well for a start you need the right gear….
These are packing cubes for the globetrotters and compression sacks for the real adventurers – these babies are a traveller's best kept secret. They organise yo' packing and minimise volume too so you can pack MORE.
Or, y'know… you can stick to just chucking it all in your backpack…
Get Yours Here
Read Our Review
Phuket Itinerary Day 2
Bang Pae Waterfall | Sirinat National Park | Bang Tao Beach | The Banzaan Market | Paradise Beach | Bangla Road
Day 2 is all about tripping, specifically day tripping, and getting out into the furthest reaches of North and Eastern Phuket. Staying near Patong beach will allow you to make the most of this day.
8:30 am – Bang Pae Waterfall
Bang Pae waterfall is one of the top three best-known waterfalls in Phuket, perhaps four if you include a tiny one in Layan Bay, but only three are significant: Bang Pae, Kathu Waterfall and Tonsai Waterfall.
This is a must-see waterfall and getting there is an absolute adventure! Travel through the dense rainforests of Phuket, and see indigenous birds in their natural habitat. The waterfall is on part of a National Park which means you will also see some of the most spectacular jungle fauna!
Bang Pae waterfall is breathtaking and remarkably easy to reach. Take a stroll and see Thai teens and families playing in the stream as you walk up the hill. Visiting a waterfall is a wonderful way to spend a day during your weekend in Phuket, as this is when it is most busy and attracts the locals.
Grab a quick hotel/ hostel breakfast before embarking on this early-morning adventure!
Cost – The entrance fee is THB 200 ($6,34) for the national park, and then you will pay either a THB 20 (63c) parking fee for a motorbike or THB 30 (95c) for a car.
How long should I stay here? 2 to 3 hours
Getting there – Worth hiring a taxi man for the day if I'm honest, but you can bike it too! It's a 40-minute journey from Phuket Town
11:30 am – Sirinat National Park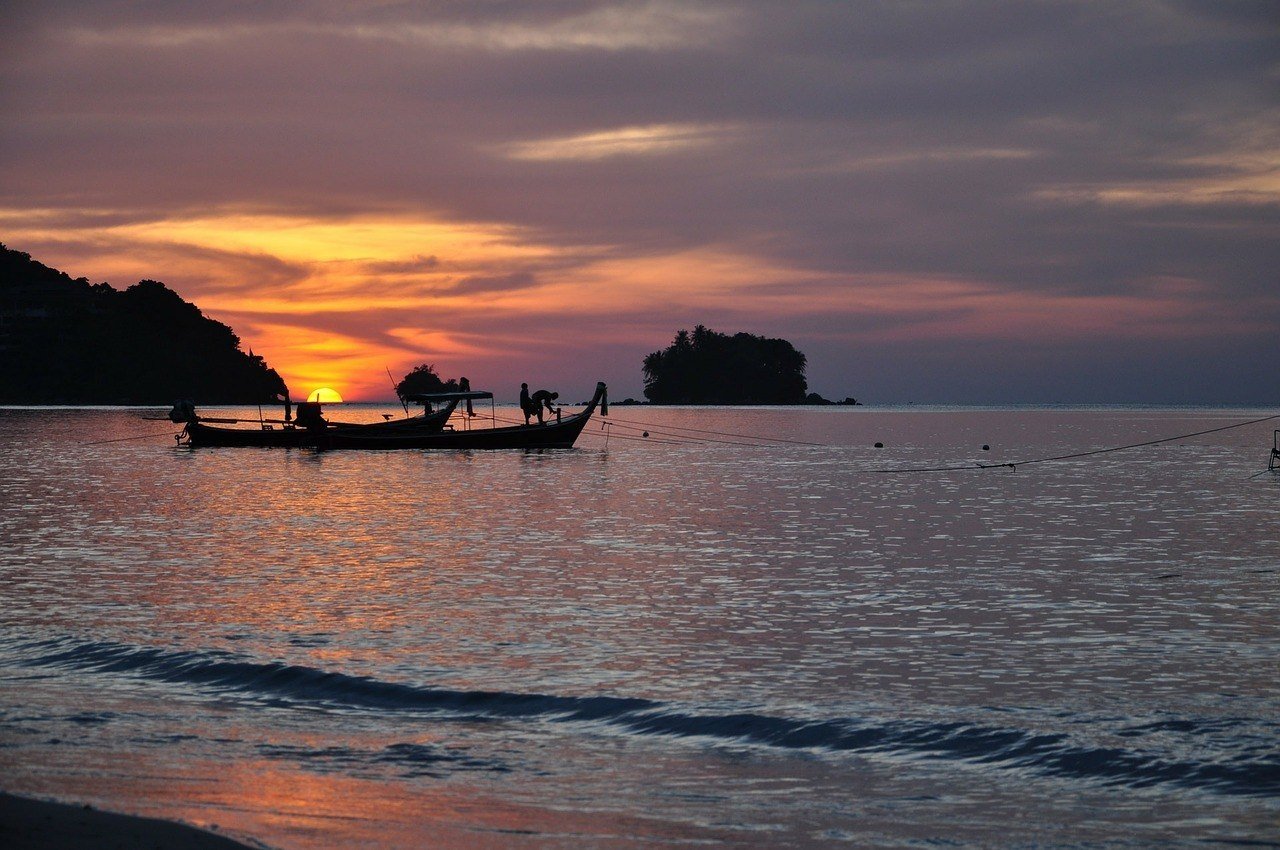 The picturesque Sirinat National Park is found on the northwestern coast of Phuket Island.
There is such an atmosphere of peacefulness and so many new types of vegetation and wildlife for you to stumble across! Sirinat National Park stretches over a large amount of pine-fringed beaches, including Nai Thon, Nai Yang, and Mai Khao Beach.
Mai Khao Beach is famous for being the exotic home of nesting sea turtles, such as the leatherbacks and hawksbills! You can also explore tropical coral reefs that are clustered in the clear waters offshore and escape into massive mangrove forests in Sai Kaew Beach.
This is a truly amazing place to be, but it is rural. Pack some snacks for your day before you arrive. Lunch isn't until later!
Cost – The entrance fee is THB 200 ($6,34) per adult and THB 100 ($3,17) per child.
How long should I stay here? 2 to 3 hours
Getting there – Sirinat National Park isn't far from the Bang Pae Waterfall. Hop in your car, you'll be there in 20 minutes!
Insider Tip: Keep an eye out for the birdlife, many famous and rare birds can be sighted within the canopies of Sirinat National Park! One of the most popular is the Kingfisher.
2 pm – Bang Tao Beach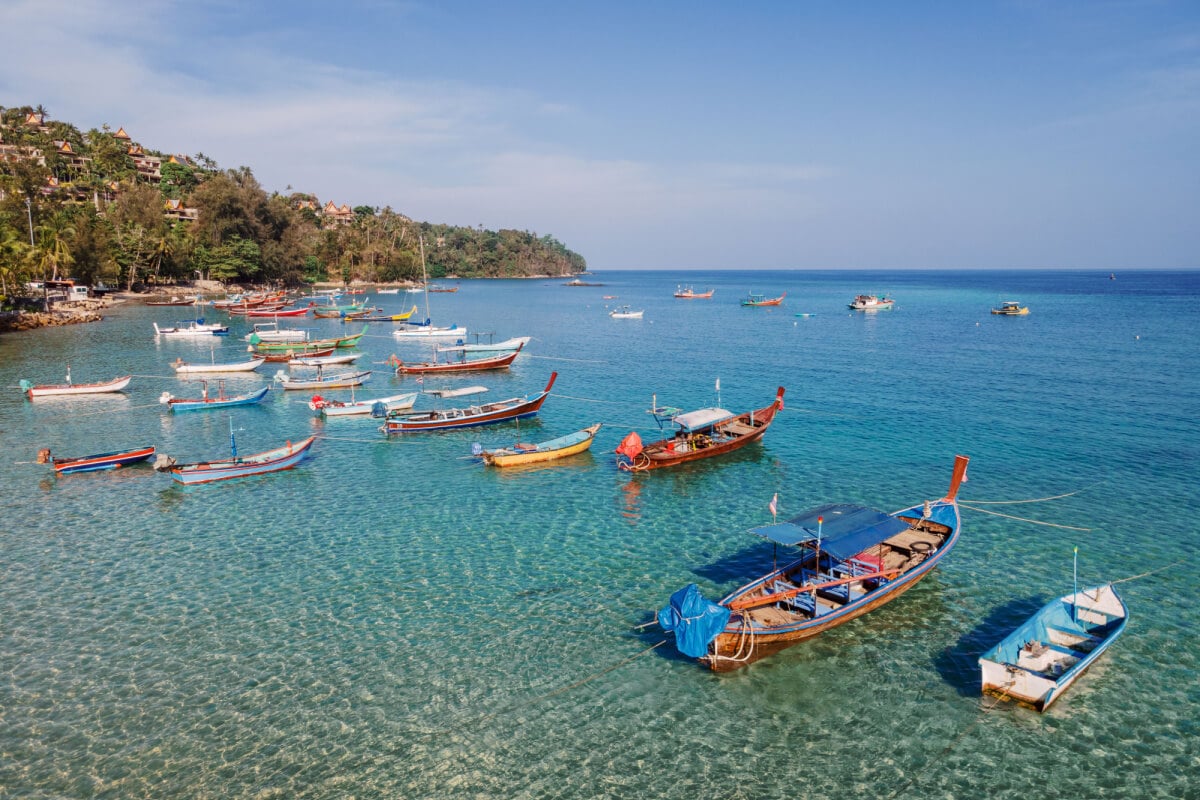 If you fancy a slice of the untouched, then Bang Tao beach is for you! An amazingly quiet, pristine beach, it is a great place to doze away the hours of the early afternoon. You'll need to – things heat up later.
Bang Tao beach is one of the longest beaches on Phuket island. It is relatively uncluttered, and much more peaceful than many of the other beaches in Phuket. There are great fancy restaurants at hotels, but there are some midrange and cheaper places too. Stop off for a relaxing lunch to rejuvenate. Since the beach is so long, I'd recommend heading for the Southern section. There are more places to eat, and it makes the next section of your journey shorter.
Sit back, relax, grab some lunch, and then spread out the beach towel for a little early afternoon sunbathing.
Cost – Free!
How long should I stay here? About 2 hours
Getting there – Just head due south down the coast, it's on the way to Patong beach. Takes around half an hour.
4:30 pm – The Banzaan Market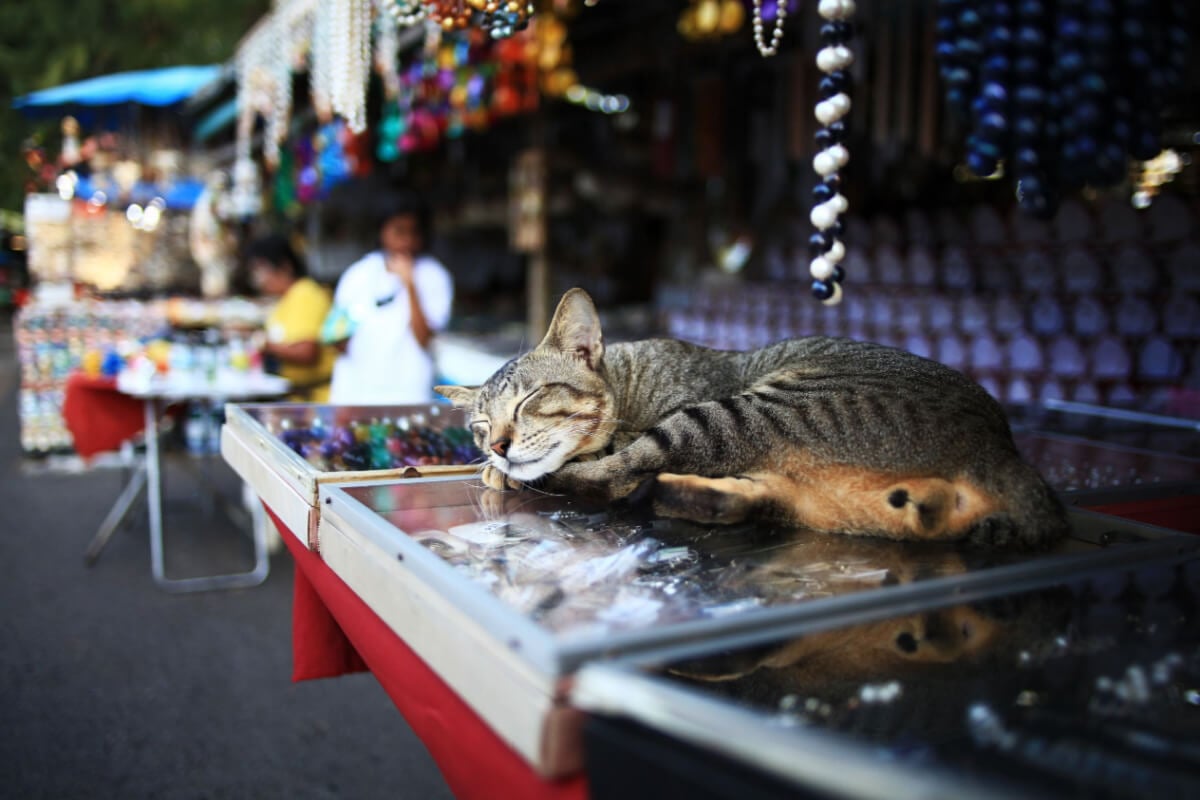 Get swept into the energetic and vibrant mass energy here and explore a new way of shopping. The Banzaan Market is a modern-looking Thai fresh market found on Sai Kor Road, behind the Jungceylon.
Take the time to check into your Patong beach accommodation, and then head back out to the Banzaan market!
You will basically come across all kinds of produce and crafts that you could expect at any other street market, but the Banzaan Market is hosted in a much more pleasant envious mentioned and is famous for being so well organized.
The locals go all out to showcase their best products, and you will be amazed at the bargains you can hunt for! This is a cultural way to end the last of your 2 days in Phuket!
Cost – Entrance is free
How long should I stay here? About 1 hour
Getting there – Short taxi (or walk), after a half-hour drive from Bang Tao beach.
6 pm – Paradise Beach
The drinks are delicious, but the food is even better. Choose from their vast range of both Indian and Thai cuisine! We suggest going wild here and trying as many different dishes as you can!
Welcome to paradise! This magnificent and rather private beach is less than 200m in length and hosts a little rocky headland that kind of makes it two beaches if you want to get technical. Paradise Beach is a cosy and tiny cove near Patong and is famous for having lush and calm waters that feature a soft seabed mostly throughout the year.
Sunbathe or stroll the pristine white sand and be shaded by nodding palm trees, you will feel as if you are part of a photo shoot for a holiday brochure! Laze and allow yourself to emerge into the peaceful, picturesque environment that Paradise Beach provides.
Being the home of Paradise Beach Club, this magical cove even has a great choice of facilities, including upbeat restaurants, bars, sea kayaks, beach chairs and so much more. You can even get your party on and join one of Phuket's only Koh Phangan-style beach parties!
I'd recommend grabbing dinner here, before heading back to Patong to experience the night life.
Cost – The entrance fee is THB 200 ($6,34) per person.
How long should I stay here? Around 2 hours
Getting there – Paradise beach is about 20 minutes from the Banzaan Market, on the West coast.
10 pm – Bangla Road
Bangla Road in Patong is notoriously named for its highly energetic and lively nightlife! Bangla Road is a must-visit while you're in Phuket and you will find the experience to be unforgettable. The nightlife is at the top of its game and offers more clubs than anywhere else in Phuket! Bangla Road is also packed with a ridiculous amount of vibrantly lit bars, go-go bars, girly bars, and relaxed ex-pat bars – think lots of drinks, bizarre spectacles and music!
As the sun goes down, Bangla road becomes closed off to traffic, making it a wonderful space for easy pub-hopping! The neon lights and bars start to come alive and the music from all the bars starts to intertwine with each other.
Have a noisy, fun and energetic night out in this famous street and have a night that will open your eyes to a whole new world! This road in itself is an experience to be had and it can feel like you're headed into a fantasy land. There are many side roads (called Soi's in Thai) that lead off from Bangla Road. Here you will find even more bars, as well as mini clubs.
Cost – Free
How long should I stay here? All night, all day who knows? Tomorrow does happen at some point though so try and get a little sleep xx
Getting there – Back to the hotel from Paradise beach (car/taxi 20 minutes), then walk out to the town from your hotel!
Insider Tip: When partying the night away, expect to be hit on by a few 'women of the night' and even 'men of the night' as Bangala Road is also the sex capital of Phuket. I would strongly recommend that you turn them down, as not all of it is hugely ethical.
IN A RUSH? THIS IS OUR FAVORITE HOSTEL IN PHUKET!
Patong Beach | Phang Nga Bay | Koh Panyi | James Bond Island
Day 3 is when we ditch the land and look seawards. Think island hopping, but better because I'm in charge…
Accommodation is up to you here, but staying near Phang Nga Bay might be easiest!
9 am – Patong Beach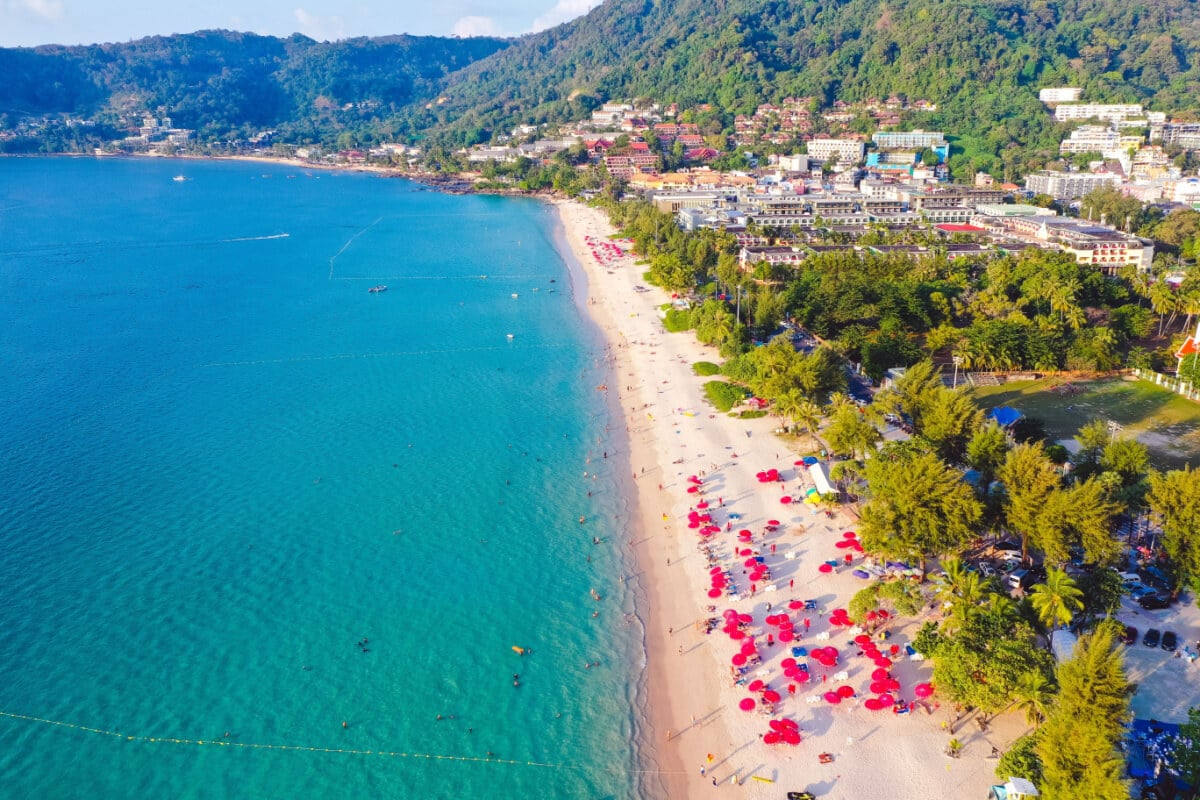 A lazy morning is probably not just desired but needed after the previous evening's revelry. Take an easy stroll down to the beach for a morning swim to wake you up. Grab some street food or breakfast too!
An army marches on its stomach, and there is still lots to do today! Rent a beach chair, drool on the sand a little, but ready yourself! If you're feeling refreshed already, there is paragliding, jet skiing, and other beachy activities to get you pumped.
Take advantage of a beach massage if you really want to get the ball rolling, and there are always people who will sell you a smoothie by the side of the road. Try one! Patong beach is very much a love-or-hate thing. It is busy but super beautiful. If you don't mind other people, then you should have a great time.
Cost – Free
How long should I stay here? 2 to 3 hours
Getting there – Short taxi, or walk from your Patong Beach accommodation.
12:00 am – Phang Nga Bay
Okay, this is where a visit to Phuket (although already brilliant) becomes truly legendary. Phang Nga Bay itself is made up of hundreds of different points of interest, and choosing which ones to do is entirely up to you!
I've included Koh Panyi and James Bond Island on the itinerary list because they are must-haves, but get exploring and you'll have an awesome time here!
The cave of the reclining Buddha is a great place to start before heading over to Koh Panyi for some lunch. After James Bond Island, think about heading to Laem Haad Beach, Koh Panak, Koh Hong, Kudu Yai or the Koh Yao Islands. Since Phang Nga Bay has so much to do, and it's relatively spaced apart, it's worth getting either a private tour boat or joining one with others. There's so much to see, and it's not worth missing out on!
Cost – 200 Baht ($6) for entrance, plus boat costs
How long should I stay here? All day, but try the reclining Buddha first (around 1 hour)
Getting there – Sadly, transfer over to Phang Nga from Patong takes around 2 hours. It is super worth it though! Hotels will often offer tours of Phang Nga bay, or you can join a private one!
1:30 pm – Koh Panyi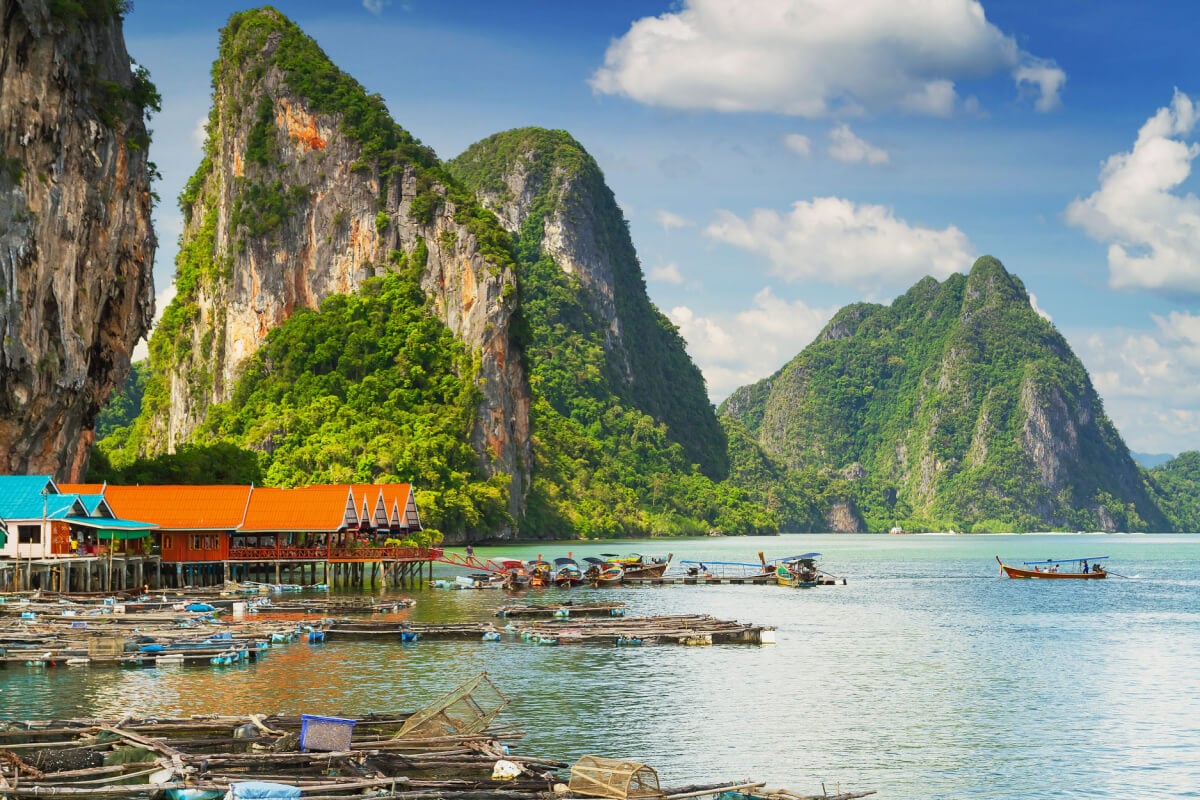 This fishing village is almost entirely built on stilts. There is brilliant seafood, which makes it a great lunchtime stop, but people know about it (so it can get crowded too). It's up to you if you want to luncheon here, but sitting down and taking an easy lunch can be a great way to ease the effects of the two-hour drive in the morning.
It's a pretty crazy village, and the natural scenery surrounding it is absolutely stunning. There is even a mosque on the island, which is worth having a look at. However, aside from walking the town and trying the seafood, there is not much else to do. Enjoy the environment and prepare for bigger and better things!
Cost – To hire a private boat to the island it's 1500 Baht (around $40). There are regular ferries which are much cheaper.
How long should I stay here? under 2 hours
Getting there – You can catch a longtail boat from Surakul pier, which takes around 20 minutes.
3:00 pm – James Bond Island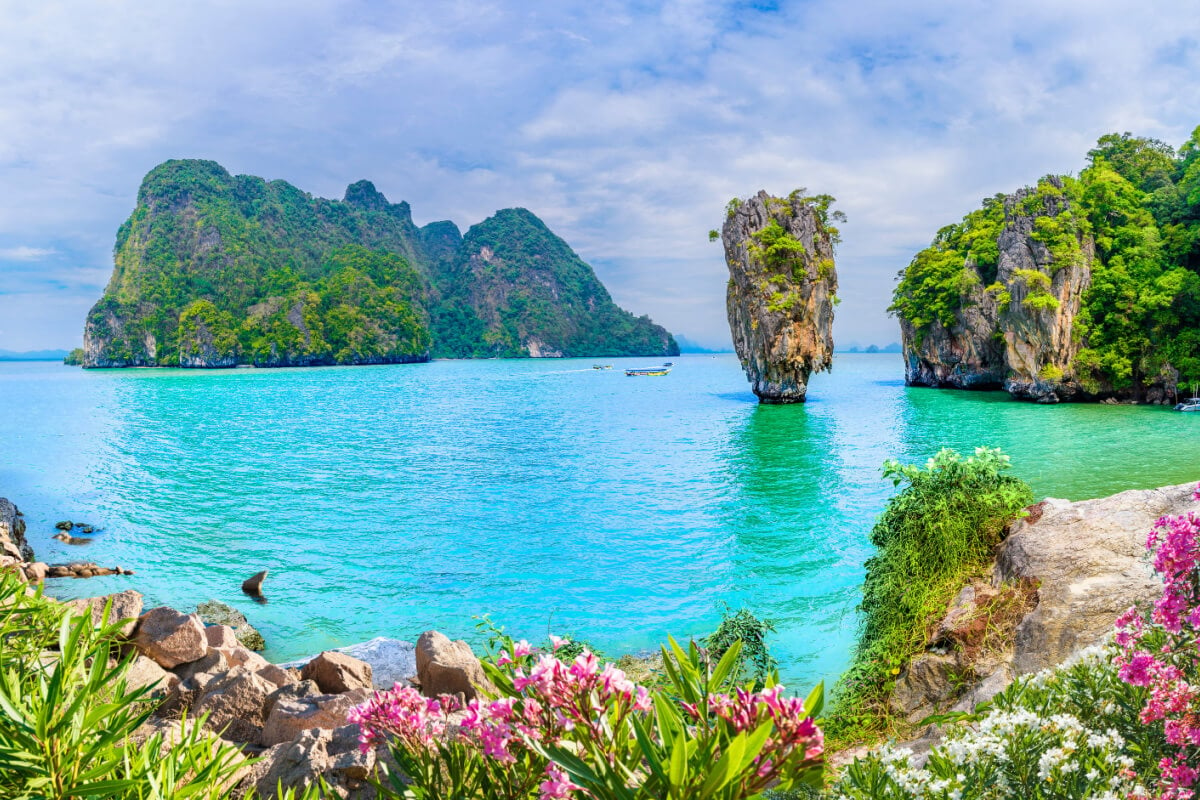 The famous James Bond Island (or Khao Phing Kan) gathered a lot of international interest, and now gets swarmed with tourists…
But that doesn't mean it isn't worth it! It is a stunning place to be, and the cute coves and beaches make a visit very enjoyable. There are some interesting things to buy too, as vendors inevitably follow the tourist crowd.
James Bond island gets mixed reviews since many people go there. Like the Colosseum or Eiffel tower, people just want a money shot before clearing off. However, it is super pretty, and it's worth going if you're in the area anyway.
After you've enjoyed this tourist trap, I'd recommend chilling at a more relaxed beach until the bay closes at six, or going back to your hotel. If you fancy something active, there is a great range of outdoorsy ways you can explore the magical environment of Phang Nga Bay!
Cost – Boats can range between 400 and 2000 Baht (for a private)
How long should I stay here? an hour or less
Getting there – Boat from Koh Panyi
What to Do with More than 3 Days in Phuket
If you have the time, here are some things that you might want to squeeze in. Alternatively, substitute (or add in) some of these amazing gems to give your trip a distinctly "you" factor…
Koh Racha
Koh Racha, AKA Raya Island, is an island about 20 km south of Phuket. There aren't any roads or cars, which makes this a haven for naturists. Lots of swimming, snorkelling and beaching is clearly on the cards.
Whilst you can certainly cover most of Raya Island in a single-day trip, if you really want to get a handle on this island, then I'd suggest staying over. There are some really really nice resorts, hotels and hostels that will have everything you need for a great stay.
The amazing Patok beach is a great place to sunbathe, and there are plenty of other things to take part in on the island. Fishing, scuba diving, snorkelling, and jet skiing could form part of a top-class day.
Cost – Free
How long should I stay here? All day?
Getting there – 30 minute speedboat from Phuket
Phi Phi Islands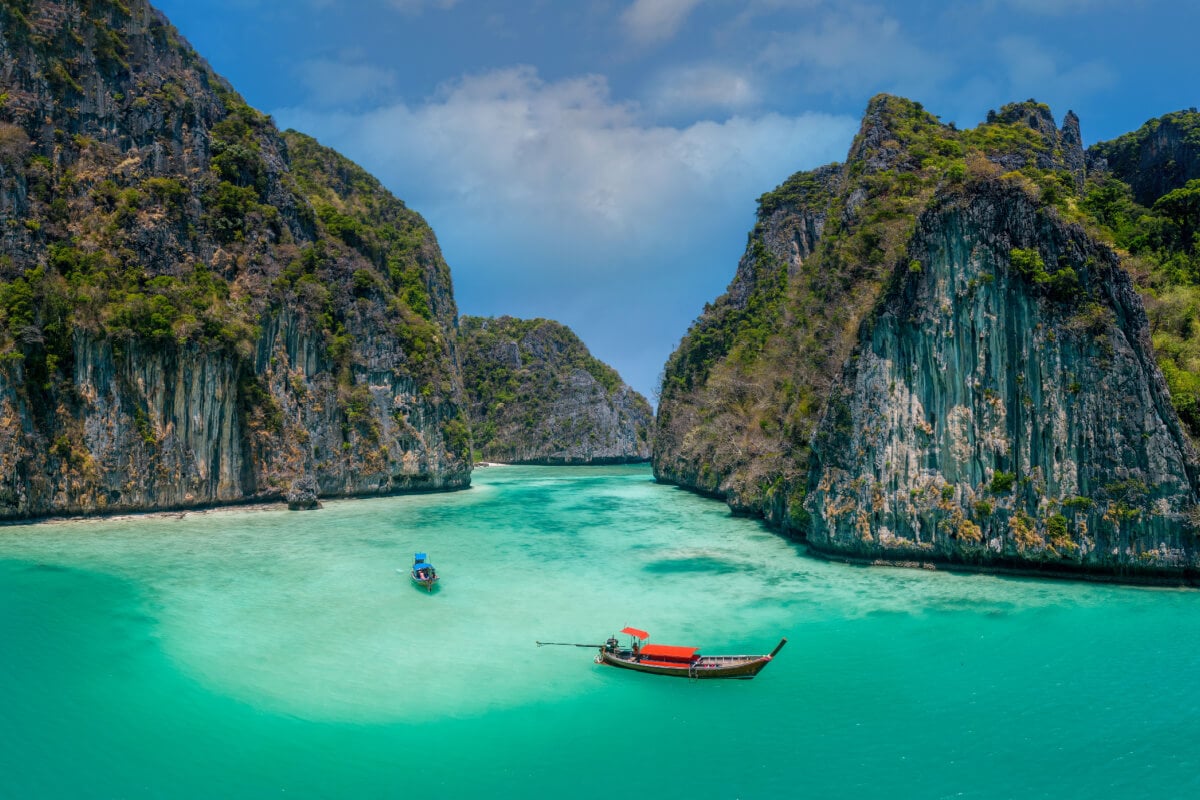 The Phi Phi Islands were popularised by Leonardo Dicaprio and his pretty face. After he had been there, suddenly everyone else wanted to be there too, and it quickly became a tourist hotspot.
There are several islands in the Phi Phi archipelago, including the main island of Phi Phi Don. Bamboo Island is known for its beautiful sandy beaches, pristine natural state, and amazing snorkelling and diving. Ko Yung (Mosquito Island) is similar but slightly larger. Both these islands are uninhabited.
If you're looking for some truly unbelievable beaches and marine life, then the Phi Phi Islands are a top destination for you.
Cost – Free
How long should I stay here? Worth spending a night here. Lots to do!
Getting there – Boat from Phuket City
Phuket Simon Cabaret
Experience something that you have never seen before with this intimate theater extravaganza! The show is a must-see attraction during your travels in Phuket! Witness an extravagant cabaret show with dancers in sparkly attire and even sparklier headdresses.
One of the oddest aspects that makes this show unusual is that it is probably the biggest "transvestite" cabaret show to be found in Phuket. This show features a spectacular musical floor show being performed by the world-famous "ladyboys" of Simon Cabaret.
See for yourself! You will be surprised how elaborate the costumes and makeup are, and how hard it becomes to tell the difference! Stunning costumes, bright lights, an excellent sound system, and expensive decorative sets are all part of this theatrical event that is not to be missed!
One of the coolest things to do in Phuket is to have a glamorous night out at the Simon Cabaret Show. See a variety of acts by dazzling men dressed as beautiful women complete with eye-catching costumes!
Cost – Tickets are THB 600 ($18,83).
How long should I stay here? 2 hours
Getting there – Taxi, or walk in Phuket City
Phuket Sunday Night Market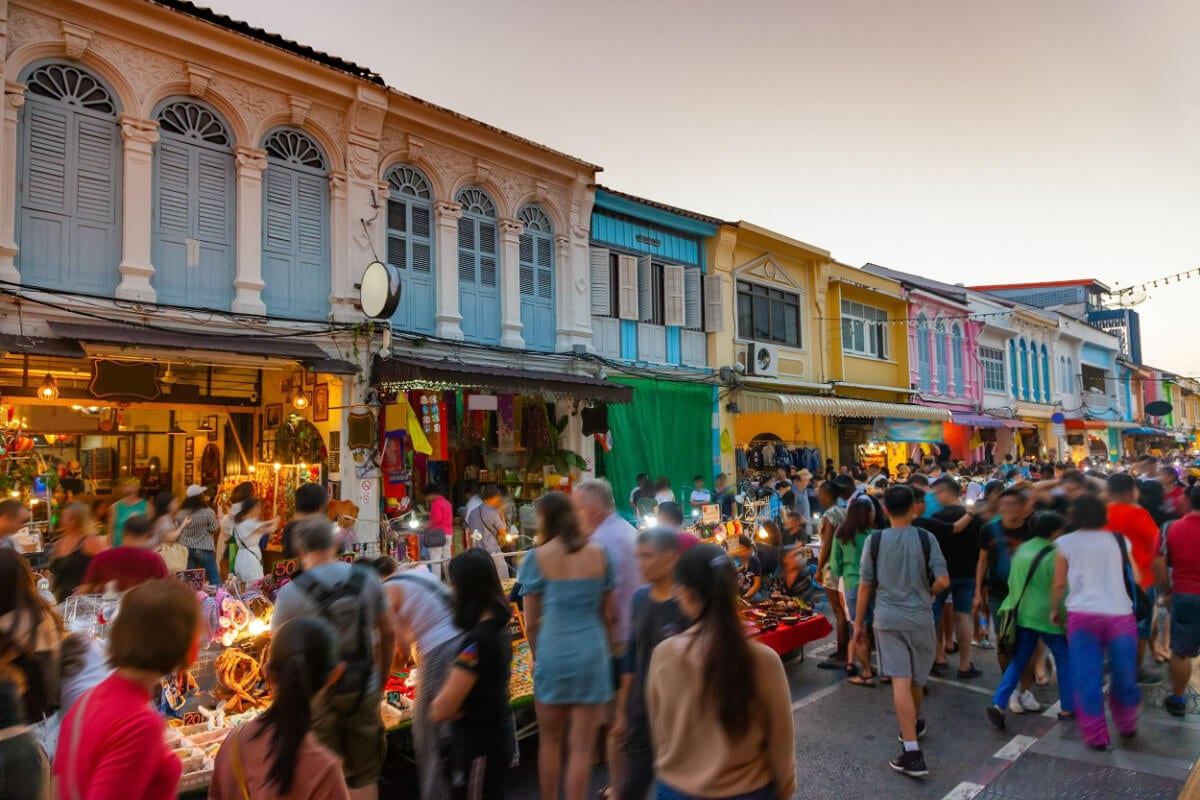 The Phuket Sunday Market is known for having a hugely varied selection of curios and secondhand items on sale in a bustling market atmosphere! This is very different from the usual local markets where you can find copied T-shirts and cheap jeans. Hosted from the starting point at Thepkasattri Road and stretching all along the streets to Phuket Road.
All of the old Sino-Portuguese houses along Thalang road are brightly lit with ever-changing colours that add an extra spark to the festive mood created by this one-of-a-kind market! This beautiful historical street is very proud to be the first road on the entire island that is completely free of any large and ugly electric cables hanging around looking like a gigantic mess.
The market is an opportunity for you to try one of the Phuket specialities and explore your boundaries with cuisine! You can find a good mix of sweets and snacks to nibble as you walk. One of the most strange things is the horseshoe crab salad, which is not for the light-hearted!
Cost – Free
How long should I stay here? No more than an hour or two. The market is open from 4 pm til 9 pm
Getting there – Taxi or walk
Best Time To Visit Phuket
Phuket has a welcoming, warm and tropical climate. The beautiful temperatures are wayyy hotter than they are cold, and even when it's cold, it's really still quite humid.
The extremely rainy Monsoon season begins mid-May and goes on till October, but don't let this deter you. This is when Phuket is quiet, so you can experience a more authentic cultural side of the places you visit. It's the perfect time to visit Phuket's museums too.
Phuket's high tourist season is from November to February. During this time, the days are sunny and you won't have a drop of rain! Making it perfect for lazy afternoons, sightseeing, hiking and water sports.
| | Average Temperatures | Chance of Rain | Crowds | Overall Grade |
| --- | --- | --- | --- | --- |
| January | 81°F/27°C | Low | Busy | 🙂 |
| February | 82°F/28°C | Low | Busy | 🙂 |
| March | 84°F/29°C | Low | Medium | 😀 |
| April | 84°F/29°C | Low | Medium | 😀 |
| May | 84°F/29°C | Average | Medium | 🙂 |
| June | 84°F/29°C | High | Calm | 😐 |
| July | 82°F/28°C | High | Calm | 😐 |
| August | 82°F/28°C | Very High | Calm | 😐 |
| September | 81°F/27°C | Very High | Calm | 😐 |
| October | 82°F/28°C | High | Calm | 🙂 |
| November | 27°F/81°C | Medium | Medium | 😀 |
| December | 27°F/81°C | Low | Busy | 🙂 |
How to Get around Phuket
When getting from place to place in Phuket, there are several options to consider. Tuk-tuks are found everywhere in Thailand, so you will easily be able to hire one at any given time to get you from A to B. Be sure your driver understands where you want to go and check for an authentic license before you accept your ride!
Hiring out a bike is an excellent option when travelling in Phuket, and is ideal for couples or solo travellers. There are many businesses that hire out bikes, and most hotels offer this service or will know a company.
Taxis are found easily, so hiring one is a good option and the prices are usually very reasonable! The locals are very used to tourists visiting Phuket, and can share some knowledge with you on the coolest places.
Walking in Phuket is beautiful, each place is pumping with vibrancy and culture! Meet the locals, find new spots and enjoy the street food. A lot of places in Phuket are easy to walk to, and it is well worth taking a stroll in some of the more culturally rich and scenic areas.
Plan a Trip to Phuket – What to Prepare
Packing for a tropical climate is the easiest packing you can do – couple of shorts and a t-shirt, and you're good to go. Packing for thailand is usually straightforward.
The vast majority of the time, Phuket is a very safe place to visit, but it is good to know a few safety tips too. Be sure to keep your wits about you when dealing with locals after a few drinks, as things can get ugly if you lose your cool and start shouting or behaving like an ass. For the ladies, don't drink alone or walk the streets at night by yourself, and watch out for drink spiking.
There are also some safety precautions to heed when swimming in the famous ocean waters of Phuket. Although Phuket's main beaches are now well-staffed with lifeguards, there are still a number of drownings that occur each year. When the beaches are lined with red flags, these are a warning of strong waves and undertow.
Other safety measures would be simple things like, wearing a helmet if you rent a motorbike in Phuket, driving cautiously and never driving drunk as Phuket has the highest rate of car accidents in Thailand.
Don't Forget Your Travel Insurance for Phuket
ALWAYS sort out your backpacker insurance before your trip. There's plenty to choose from in that department, but a good place to start is Safety Wing.
They offer month-to-month payments, no lock-in contracts, and require absolutely no itineraries: that's the exact kind of insurance long-term travellers and digital nomads need.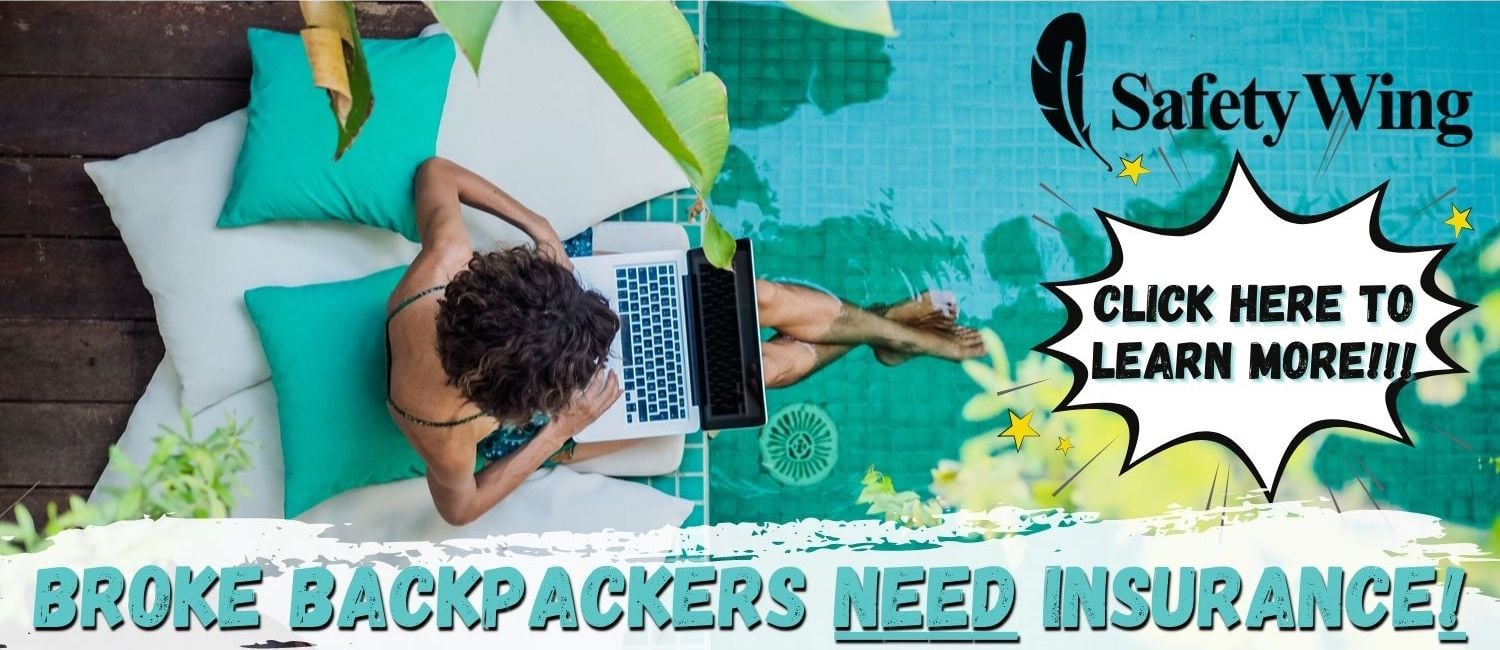 SafetyWing is cheap, easy, and admin-free: just sign up lickety-split so you can get back to it!
Click the button below to learn more about SafetyWing's setup or read our insider review for the full tasty scoop.
Here's what people usually ask us when they plan their Phuket itinerary.
Final Thoughts
Phuket is not only a beautiful paradise of long-stretching beaches but also a hub of cultural experiences and friendly locals just waiting to share their stories with you! Embark on the adventure of a lifetime and enjoy moments that take your breath away.
It doesn't matter how many days in Phuket you spend, you are bound to take something back from the experience. Laze around and allow these lifelong memories to soak in, as you will fall in love with everything about the astounding and magical island!
With our Phuket travel guide, you will have the most amazing time of your life in this mesmerizing part of Thailand as each moment will be full of new experiences and wonderment!
---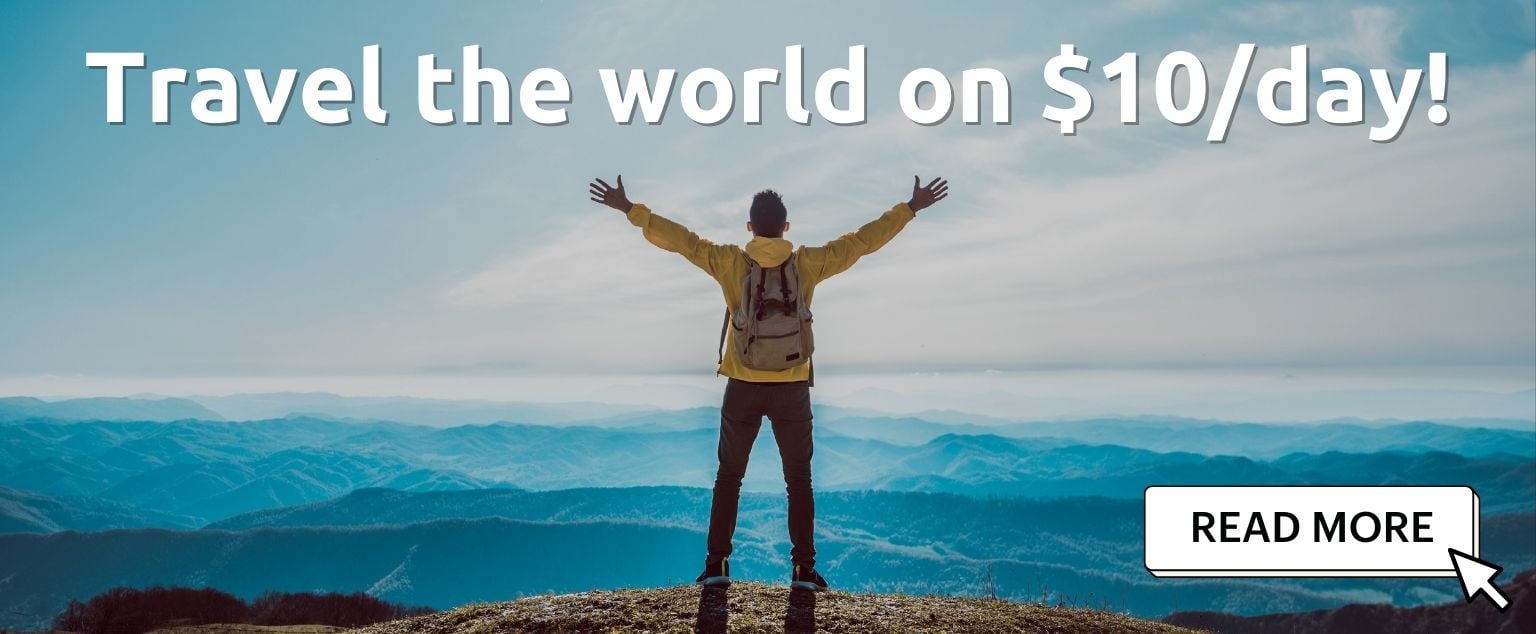 And for transparency's sake, please know that some of the links in our content are affiliate links. That means that if you book your accommodation, buy your gear, or sort your insurance through our link, we earn a small commission (at no extra cost to you). That said, we only link to the gear we trust and never recommend services we don't believe are up to scratch. Again, thank you!