Phuket in Thailand is just one of those places that has been sucking backpackers in like a magnet for decades.
Though it is quite touristy now, there is still plenty of reason to go to Phuket Island: the beaches are stunning, the parties are non-stop, and there are many beautiful Buddhist temples to enjoy.
Now let's be clear: There are LOTS of backpacker hostels in Phuket. Figuring out which hostels are worth a damn can be a challenge due to the sheer number.
That's exactly why I wrote this guide to the best hostels in Phuket for 2021!
With the help of this guide, you can sort out all of your Phuket accommodation in no time, so you can get back to preparing for your trip.
Whether you are trying to party hard, find the best hostel for couples in Phuket, sleep cheap, or you are a digital nomad, this list of the best hostels in Phuket has something for every traveler.
The goal of this hostel guide is to present you with all of the best options so that you can book the best possible spot for your own needs.
Let's do it…
Quick Answer: The Best Hostels in Phuket
Refer to the table below to see an overview of some of our favorite backpackers in town! If you'd like to learn more though, be sure to check out our guide on the coolest neighborhoods in Phuket as well!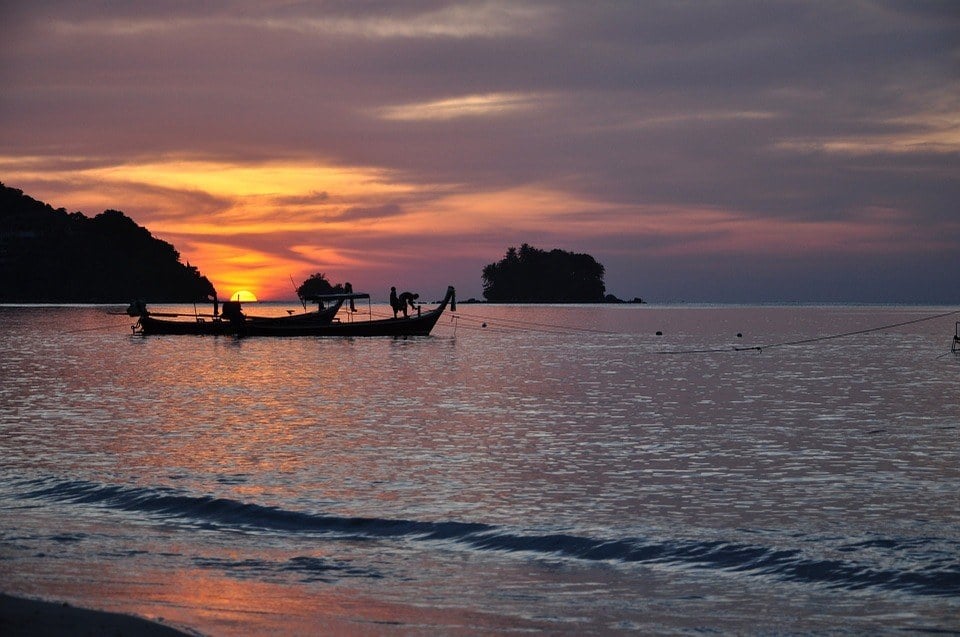 The 15 Best Hostels in Phuket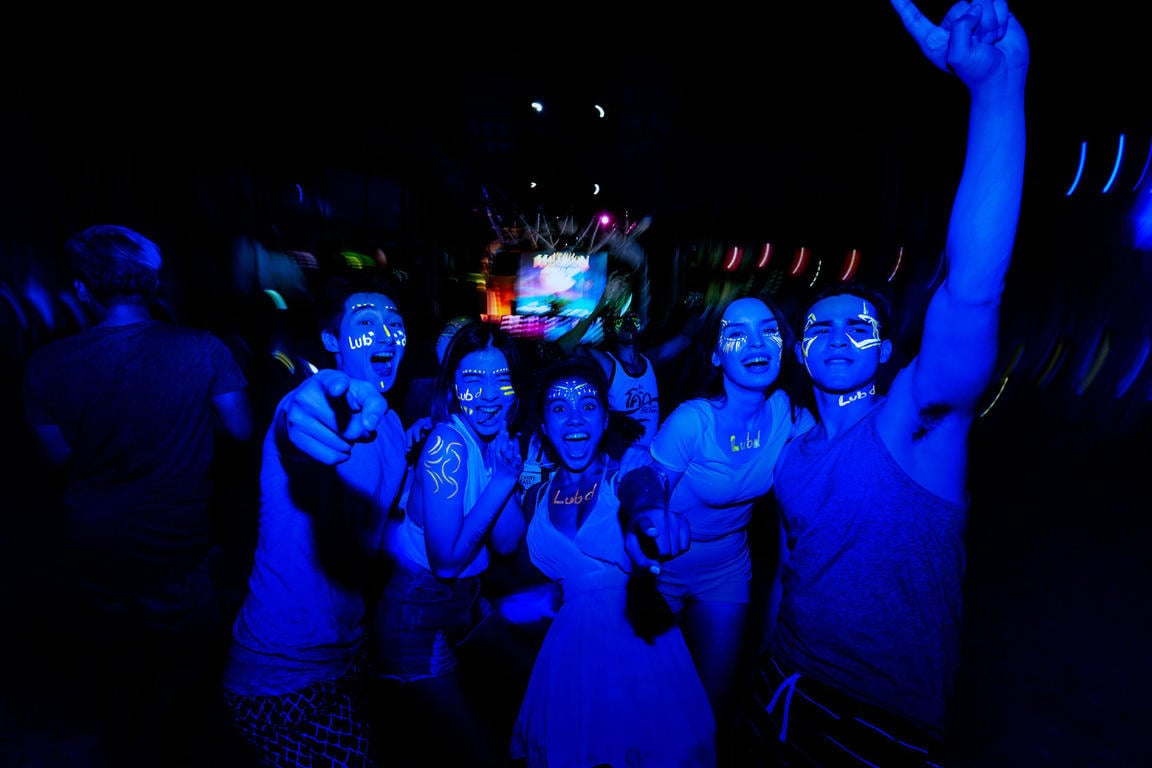 $$
Bar
Free Breakfast
Air Conditioning
Ultra modern and Instagrammable (they say that themselves but we deffo agree) and with a great location in Patong, this is our overall best hostel in Phuket. The ultra-modern part isn't just about the decor – each bunk comes with various well thought out shelves and plug sockets, ideal for all your gizmos and notepads and earplugs and stuff. Umm, there's a Muay Thai Boxing training area in the lobby, so that's great if you're into punching and kicking other people for fun. Amazing social spaces include a huge bar and swimming pool. Clean, comfortable, nice staff – best hostel in Phuket 2021, we reckon.
Best Hostel for Solo Travellers in Phuket – The Neighbors Hostel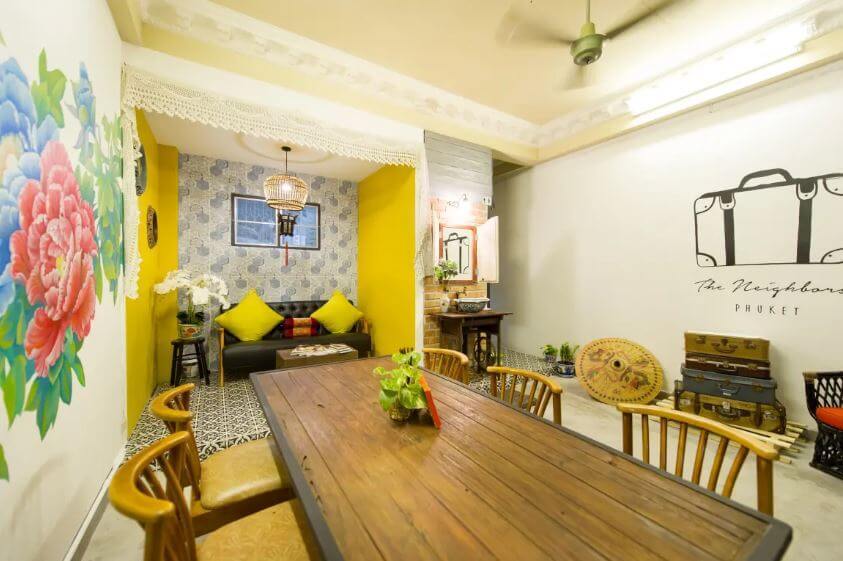 $$
Great location close to centre
Clean, spacious bedrooms
Comfy common area for socializing
When travelling solo, this hostel is a great choice for you. Be close to all of the hot spots of Downtown Phuket – everything is in walking distance, even the main Bus Terminal. The hostel gives you the option to socialize all day long in the super comfy common area that also has a cafe (free coffee and cookies in the morning) or seek some privacy in your bed, which can be closed with curtains.
The bedrooms are all air-conditioned and equipped with lockers to keep your valuable items safe. Plus, the busy streets with bars and restaurants are only a couple of minutes from your doorstep.
Best Cheap Hostel in Phuket #1 – BGW Phuket
$
Free towels
5 min. to beach
Wow, gosh, seriously, for the price and for just how flippin' NICE this place is, we cannot say anything other than this is the best cheap hostel in Phuket. Sure, we know cheaper hostels do exist (marginally so) but as we said this place is just laid out so well, the tiles, the beds, the bunks, the private room – all of it! Unfortunately they do skimp on free breakfast, but if you are trying to cut costs this is a great hostel to do so!
$
Bar & Cafe
Historic Building
Tour/Travel Desk
OOOMMMMGGG!!! SO cute. SO beautiful. If there's one thing we love about Southeast Asia it's the Chinese shophouses that spring up all over the place, and this top hostel in Phuket is IN one of them. It's literally so cool. The decor, the tiles, the way it's been kept in its traditional style but with modern renovations, the sleek stylish furniture mixing with antique stuff, the general romantic air of it – DEFFO another contender for the coolest hostel in Phuket, but in a different way to the industrial-chic style places. Killer location in Phuket's old town – so loads of restaurants to visit – YET it's chilled and quiet. And also a great pick for a top budget hostel in Phuket, too.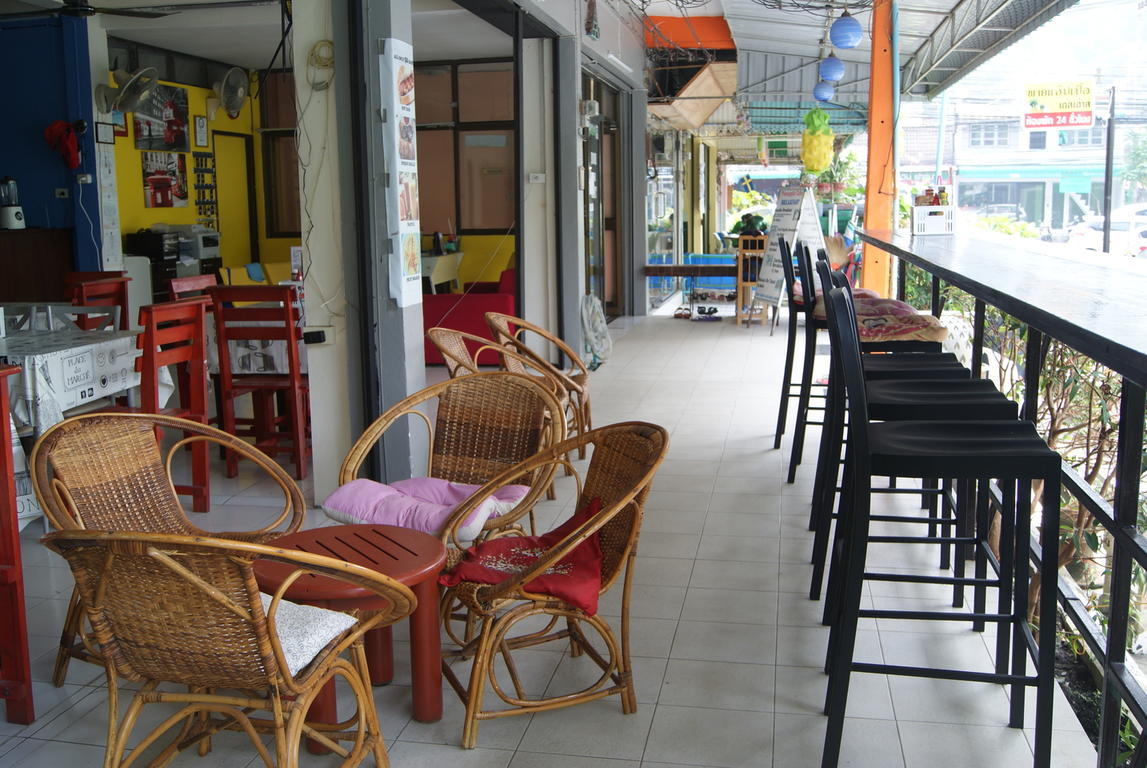 $
Bar
Air Conditioning
Travel/Tour Desk
Somewhat basic, a little bit untidy in the reception area, not an amazing social atmosphere, but on the other hand it's a pretty relaxing place to chill during the day, and if you don't crave conversations with strangers 24/7 then this is probs a good one for you. Oh, and we probably shouldn't neglect to mention that this place is super near the beach so – beach people, take heed: this is a beachside hostel. Ish, anyway. Pretty much. That's probably why it's so chill. Oh and besides the laid-back atmosphere, it's also MEGA CHEAP. Yeah.
$$$
Restaurant & Bar
Tour/Travel Desk
Very Beautiful
We didn't want to make any terrible puns, so please don't think we're doing that when we say staying at The Memory would be a super memorable experience. We'd stop short of unforgettable because, well, you might forget it one day. But for now, if you're travelling with your partner we'd deffo recommend stopping at The Memory at On On Hotel. We're not sure if it's called The Memory, or On On Hotel, but we do know that it's the oldest hotel in town, it's been recently renovated, the feel is more luxury hotel than a backpackers hostel, so we'd say this is the best hostel for couples in Phuket. For sure you'll love the affordable luxury and central location.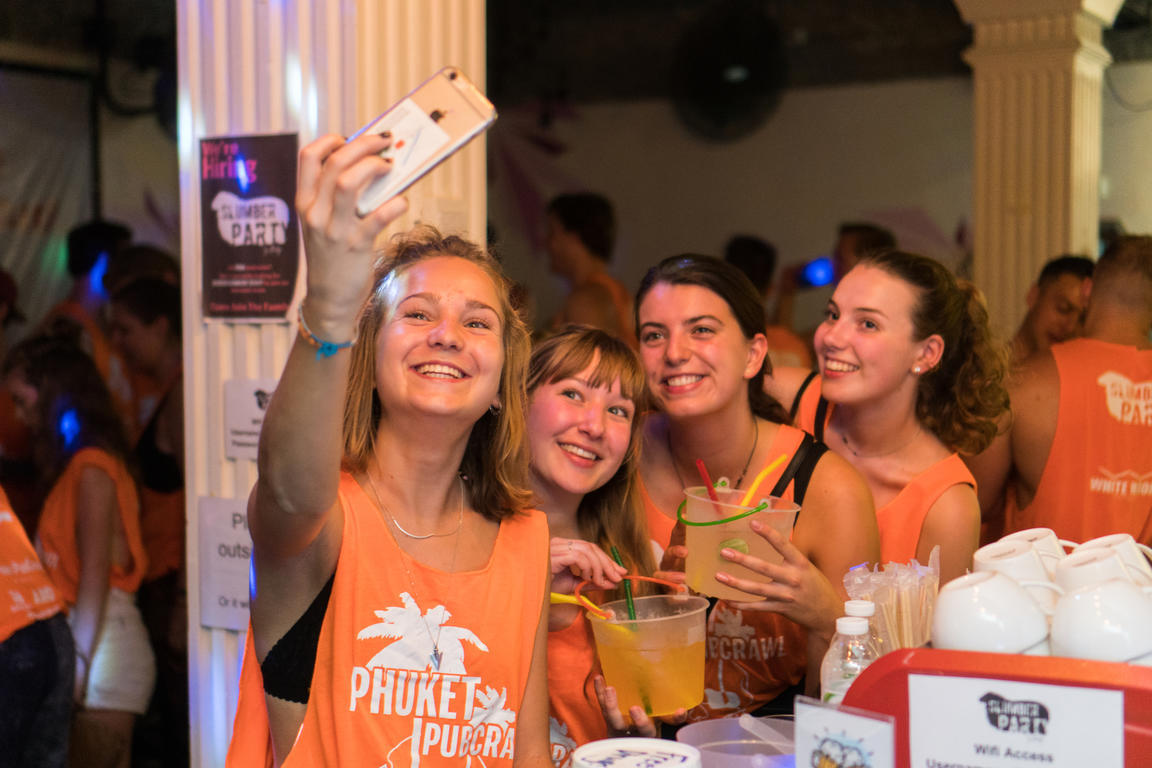 $$
Towels Included
Bar
Bicycle Hire
Wooo, well you know it's gonna be good for a laugh when the actual hostel itself is called Slumber Party. But yeah, as you may have guessed this is the best party hostel in Phuket. A lovely bit of irony is here is that even though you're probs not gonna be here to sleep, the beds are way, way comfortable. I guess going to sleep drunk has become a more luxury pursuit than it used to be. Maybe? Dunno. Other than that, expect pub crawls, nightly partying, and being close to the party scene on Bangla Road is a plus. Great selection for a fun-loving Phuket backpackers hostel.
Best Hostel for Digital Nomads in Phuket – Pause Kathu
$
Free Breakfast
Common Room
Air Conditioning
This top hostel in Phuket is ideally located 10-15 min drive from Patong and its lovely beach scene, and about 10-15 min from Phuket town. Perfect really, can't argue with that. There's also a free make-it-yourself breakfast involved here, which is always appreciated. But the star of the show is its private rooms. Seriously, like, how is it so nice? How is it so CHEAP? This matters when you're travelling around the world working. The privates also come with balconies, so you can chill/work out in the sun. Best hostel for digital nomads in Phuket, equidistant between two great destinations and a slice of chill for a (possibly) weary world traveller.
Best Hostel with a Private Room in Phuket – Borbaboom Poshtel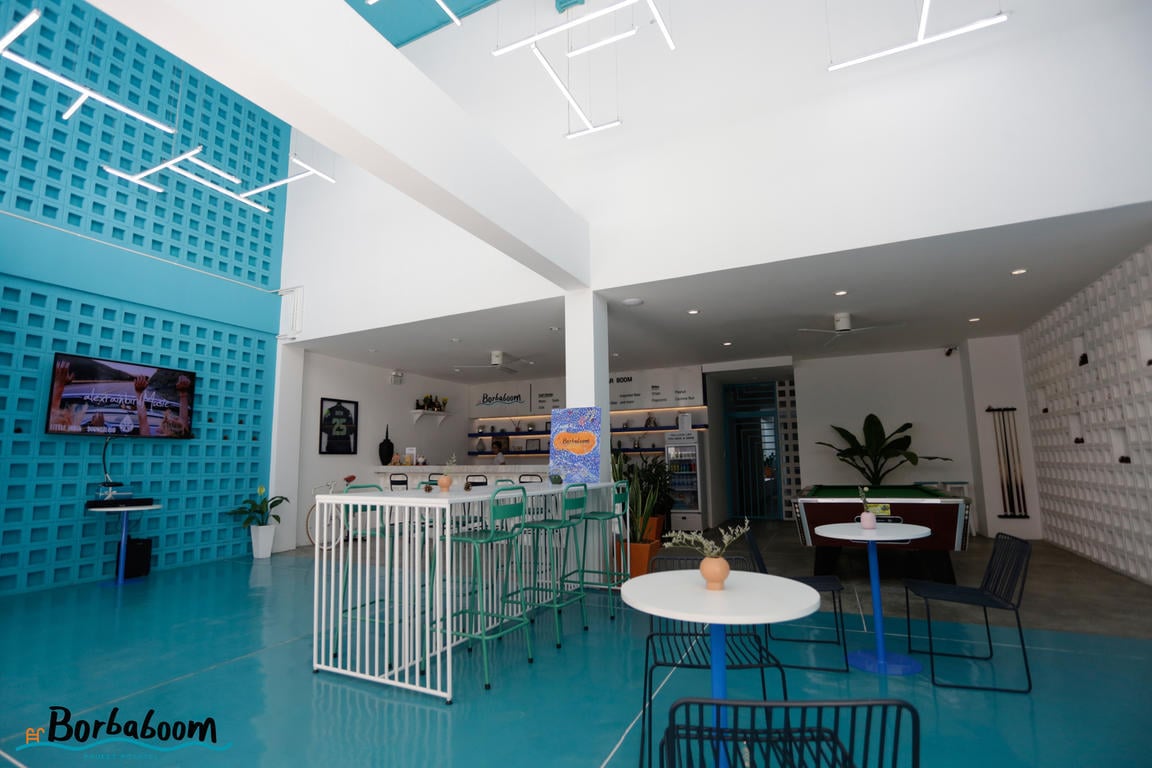 $$$
Swimming Pool
Outdoor Terrace
Air Conditioning
When you're in a hostel that calls itself a poshtel, well, you know it's gonna be posh. That's pretty much guaranteed. So, yeah, the private rooms here are pretty immense, super modern, super design-y, industrial-chic style but with more fun colour pops in the furniture and stuff. We like that a lot. It's the best hostel with a private room, but you probs feel like that was always gonna be the case with a 'poshtel'. Yep, there's a rooftop terrace complete with swimming pool, a kitchen to use, it's all really clean, and the staff are really friendly – even though they're not that well versed in English. But hey: you're in Thailand.
Things DO go missing sometimes…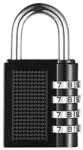 Psst! Heading to a hostel? Don't forget to pack a padlock! It's well worth having one so you can secure your locker and protect your stuff!
More Best Hostels in Phuket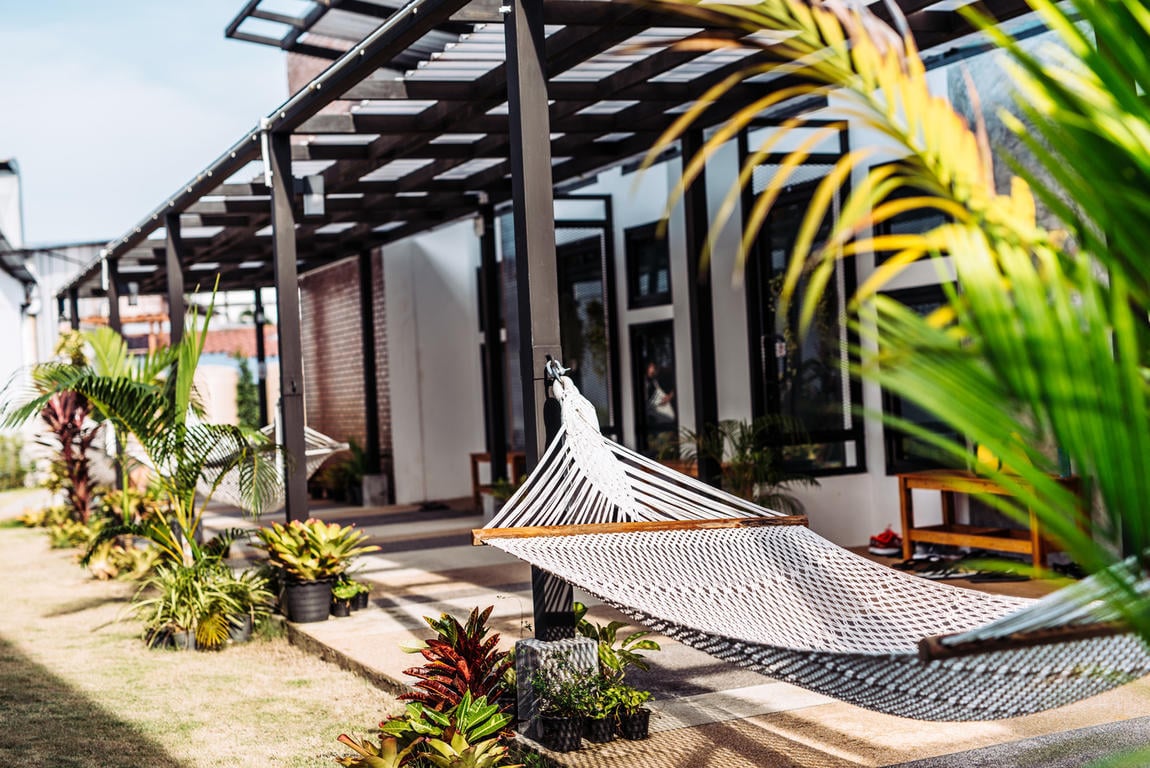 $$
(Big) Common Room
Air Conditioning
24-Hour Security
Well, damn, they got the name right with this place. Chill is the right word here. It states itself that it isn't a party hostel, and we can confirm that it's true. It's a 2 min walk to Bangtao Beach, making this – you guessed it – a beachside hostel. The beach itself is pretty chill, not exactly a buzzing location. But enough about chill: this hostel is beautiful. In a cool way, not an elegant way. Industrial cool. You know it – all brick columns and polished concrete and building-site-plywood sorta vibe going on. Contender for the coolest hostel in Phuket, but deffo not for the liveliest Phuket backpackers hostel going.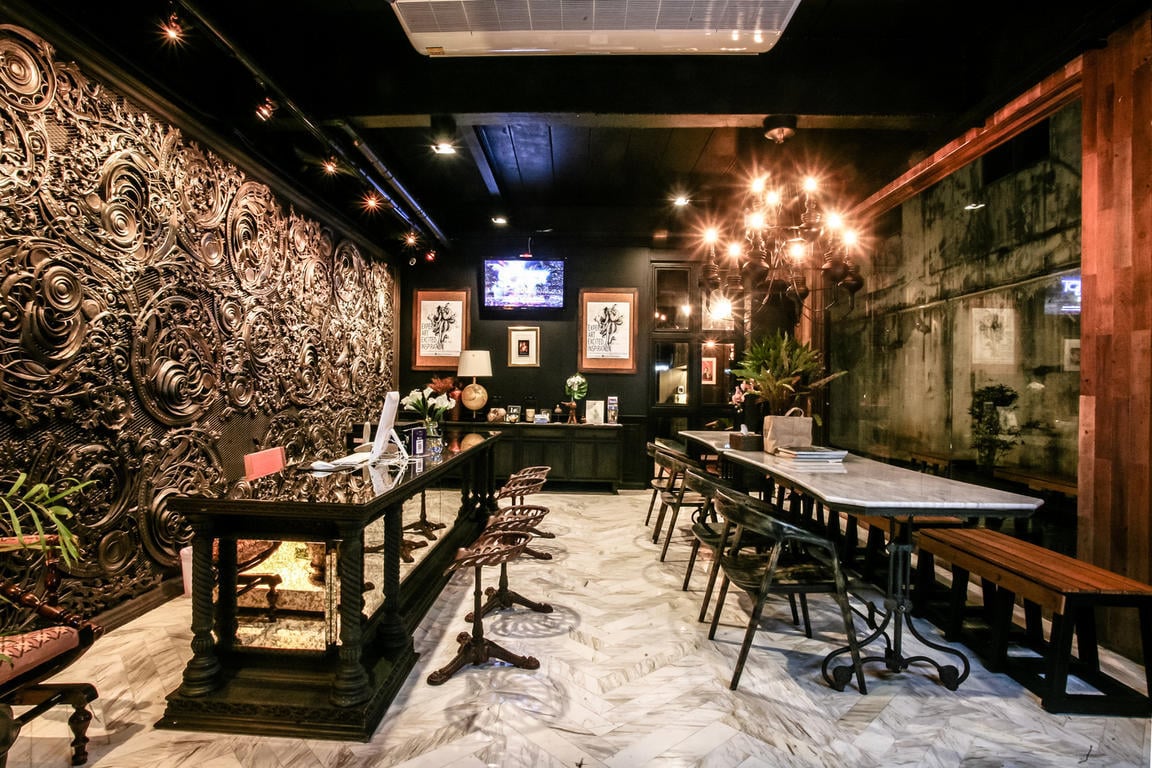 $$$
Air Conditioning
Towels Included
24-Hour Security
It's another poshtel! L'atelier must be French for super posh or something, we don't know (we actually do – it means workshop) because every place that calls itself l'atelier is ultra chic. So you combine poshtel and l'atelier and you got yourself a very decent posh stay in Phuket. Hardly a budget hostel in Phuket, but much closer to a luxury boutique sorta place, it's not the cheapest but relatively still we'd say it's quite a bargain in the grand scheme of things. The staff are amazing, it's SO so clean, the style and architecture are V nice. Extremely acceptable (and recommended) hostel in Phuket.
$
Common Room
Staff Are Incredible
Scooter Hire
Wow well here's a hostel set up for meeting, mingling and conversation. The communal areas win this place the best hostel for solo travellers in Phuket award. But! But, there's always a but, it wouldn't be possible for this place to get that accolade without its amazing owner, Pro. She is quite literally a pro. She is helpful, friendly, kind, and generally lights this place up like its the warmest welcome every time you step through the door. Like, 5-star friendliness. We're down with that. Oh, and a small word of warning: the name is funny, sure, but this place is NOT near the sea – it's (very well situated) in town. NICE AND CHEAP TOO.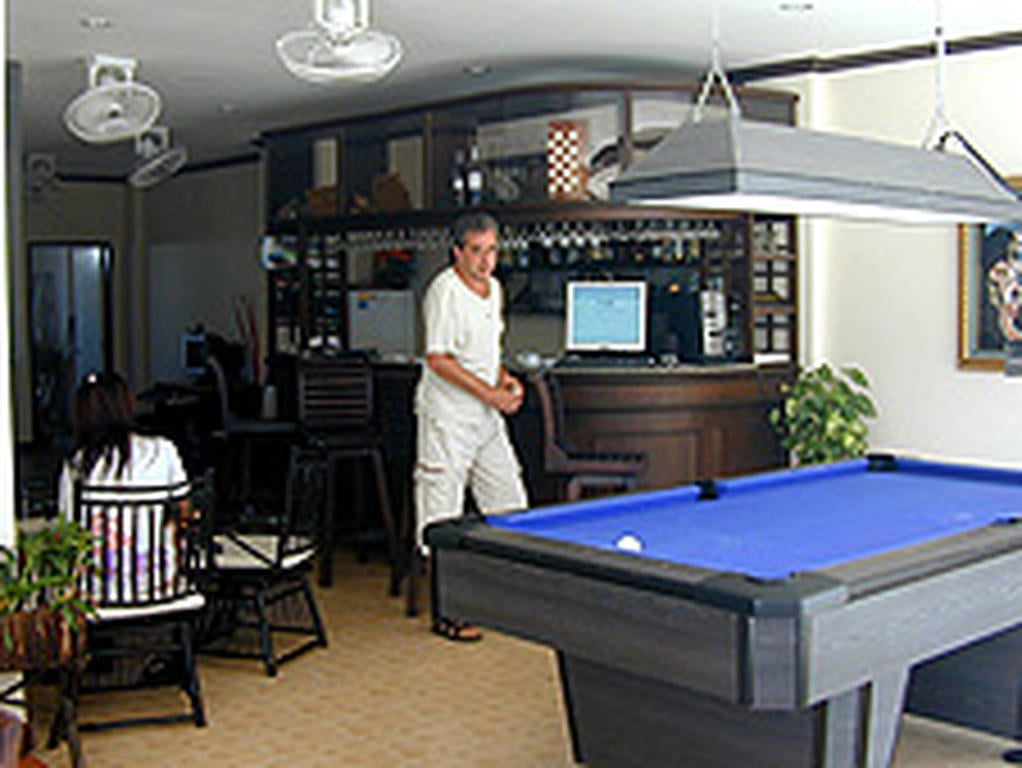 $$
Free Breakfast
Scooter Hire
24-Hour Security
Look, any top hostel in Phuket that decides to name itself after a foodstuff is our friend. As you may expect, or as may be expected, this Phuket backpackers hostel does actually serve very tasty food – presumably, there's a rice dish on the menu that is fried in some South Thailand style, but we didn't check. Other than that, what about this place makes it a recommended hostel in Phuket? Well, being literally moments from Kata Beach, for one thing, having unlimited hot water (rejoice all ye cold shower haters), being clean, having good common areas, and being cheap. Done done and done.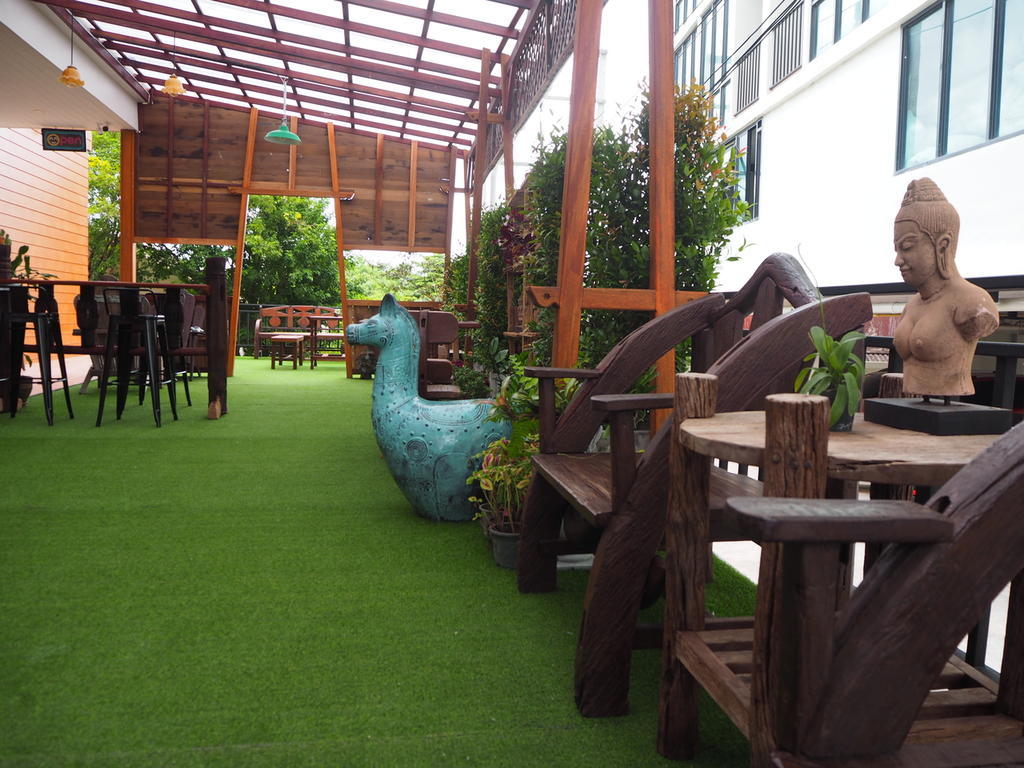 $$
Free Breakfast
LOCATION
Tour/Travel Desk
You might think that a hostel that's even near an airport, let alone advertising that fact in its name, wouldn't be a great place to stay. That's where you'd be thinking incorrectly: this budget hostel in Phuket is actually amazing. The outdoors common area they have is an amazing place to chill and chat, they've got a really fun common room, the dorm rooms are clean and comfortable, the travel connections bus-wise are incredible – and, of course, you're near the airport, which is great if you've got an early/late flight. So there you go: don't judge. Best hostel near an airport in Phuket. Maybe the only one.
$$
Free Breakfast
Air Conditioning
24-Hour Reception
Cheap(ish), modern, clean, this is a solid choice for exploring Phuket town's attractions. Well, it's more than solid – it's a top hostel in Phuket, and as such it really really looks like it. The decor is all warm and minimalist, and that's just the sort of environment we love to chill in. And more importantly, sleep in. Location-wise you'll love this place too since it's right next to a bus stop that goes to Patong so that all your beachy needs are catered for; there's not a lot on the doorstep but a 10 min walk will take you to the delights of Thalang Road and the old town.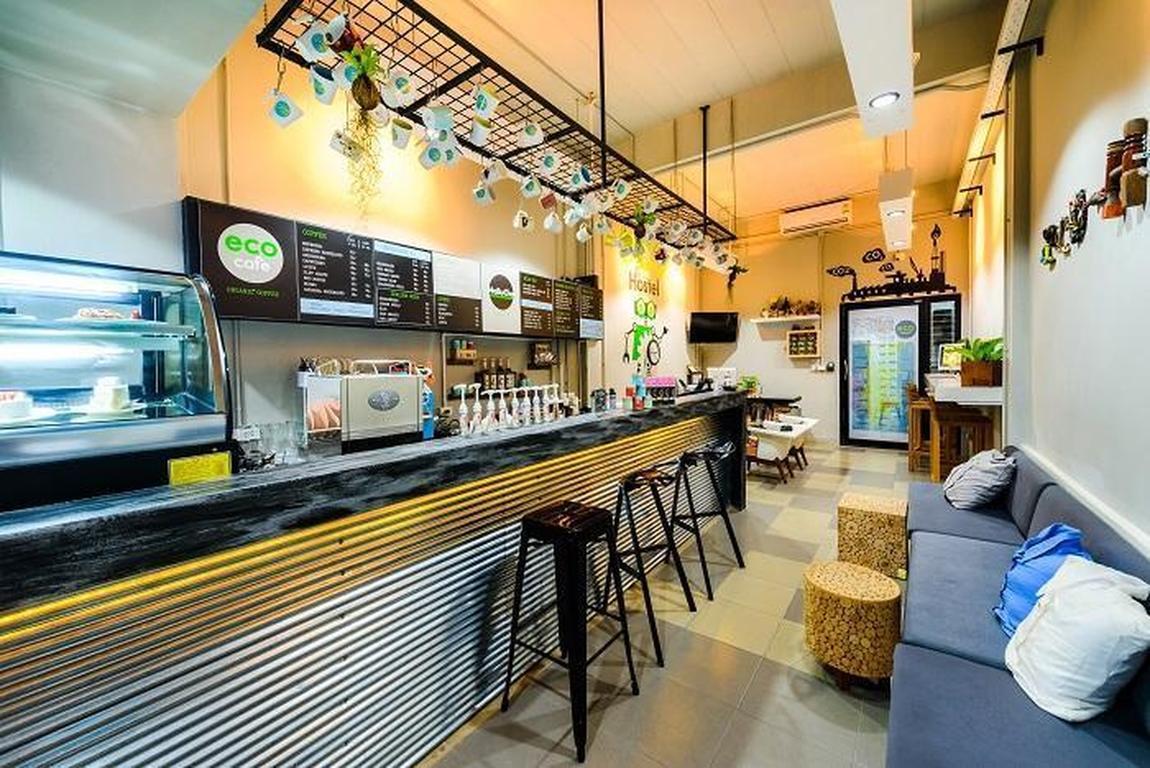 $
Cafe & Restaurant
Air Conditioning
Travel/Tour Desk
And we round up this list how we started: with another effortlessly stylish and chic Phuket backpackers hostel. Seriously, how do they do it? Eco Hostel is just lovely. There's a nice bit of space both inside and outside for a bit of work (or admin – you know how it goes on these backpacking adventures), meet fellow travellers, or just hang out doing nothing. It's really, really clean and the showers are pretty amazing, we have to say. This top hostel in Phuket also has an onsite cafe which is super cute and super tasty. Not entirely sure what's eco about it but it's cheap and lovely, so it's fine.
Is This the Best Travel Backpack EVER???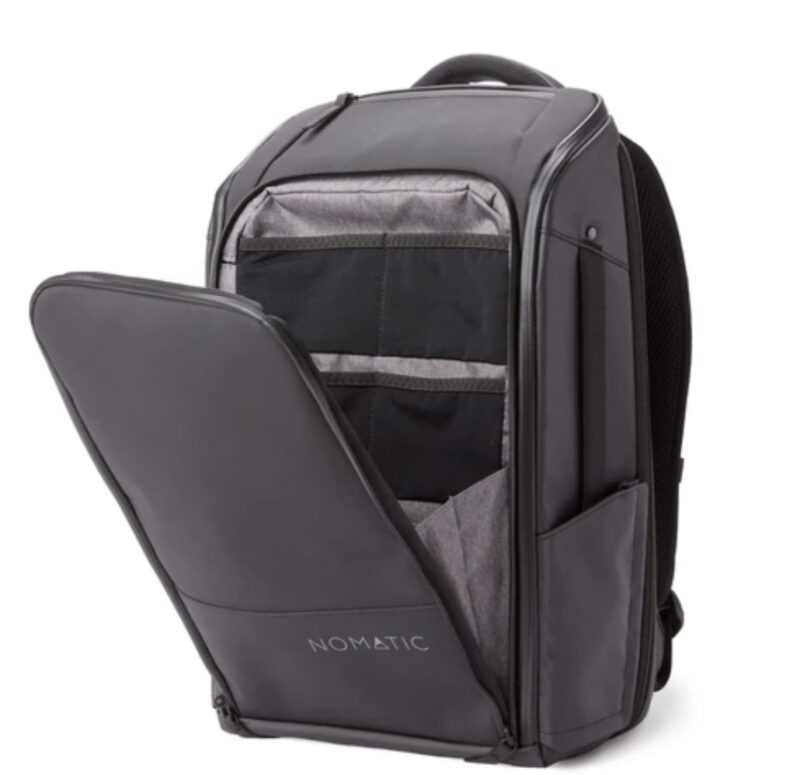 What to Pack for your Phuket Hostel
Pants, socks, underwear, soap?! Take it from us, packing for a hostel stay is not always quite as straight forward as it seems. Working out what to bring and what to leave at home is an art we have perfected over many years.
Check out our definitive Hostel Packing list for our top packing tips!
Why you should travel to Phuket
And thats all she wrote. or at least all I wrote on the subject of the best hostels in Phuket 2021.
It is no secret that Thailand and its islands are EXTREMELY popular with backpackers. There are now so many hostels in Phuket that it is a mind-boggling task sorting through all of them.
That is until now…
After reading this guide you are now fully equipped with all the insider knowledge you need to book the perfect spot for yourself in Phuket.
Don't settle for the less-than-awesome hostels! The best hostels in Phuket are truly something special to experience.
My hostel guide is the key to all of the best hostels in Phuket! All you have to do is book your own personal favorite from the list and you're all sorted.
Not sure which one to go with? Feeling conflicted about which hostel is the best hostel in Phuket?
If in doubt, I recommend that you just book my overall top pick for best hostel in Phuket: Lub d Phuket Patong. Happy travels!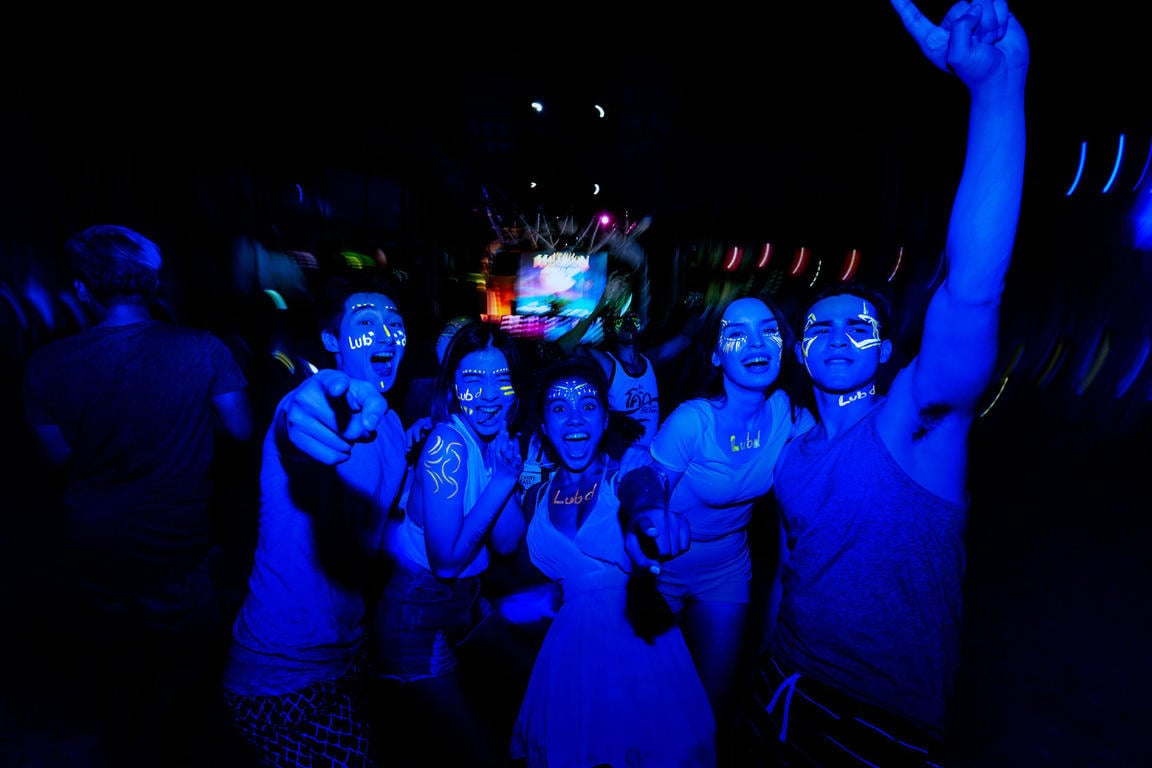 FAQ about Hostels in Phuket
Here are some questions backpackers ask about hostels in Phuket.
Travel Safety Tips for Phuket
And don't forget Travel Insurance! We've put together a roundup of Travel Insurance for backpackers – check it out here, or if you're low on time, get a quote from World Nomads, our favorite travel insurance provider.
Getting an estimate from World Nomads is simple – just click the button or image below, fill out the necessary info, and you're on your way!

If want to learn more about staying safe when visiting Phuket, check out our separate travel safety guide for tips and advice. To know more about security in Thailand as a whole, check out this in-depth travel safety report filled with tips and advice on having a safe trip there.
More Epic Hostels in Thailand and Southeast Asia
Hopefully by now you've found the perfect hostel for your upcoming trip to Phuket. In case you didn't fancy any of our hostels, then why not consider a more authentic homestay in Phuket instead?
Planning an epic trip all across Thailand or even Southeast Asia itself?
Don't worry – we've got you covered!
For more cool hostel guides around Southeast Asia, check out:
Over to you
By now I hope our epic guide to the best hostels in Phuket has helped you choose the perfect hostel for your adventure!
If you think we've missed anything or have any further thoughts, hit us up in the comments!
---
Find out how YOU can support the site.
We work hard to put out the best backpacker resources on the web for free! It's all about helping out our tribe of awesome backpacker readers (that's you!). Please visit the link to find out how you can help keep the site going 🙂
For the sake of transparency, some of the links in our content are affiliate links. This means that if you book your accommodation, buy a piece of gear, or sort your insurance through our link, we earn a small commission at no extra cost to you. We only link to stuff that members of the Broke Backpacker team has actually used and never endorse products or services that are not up to scratch. Thanks for your support!