Phuket is the largest Thai island; world-renowned for its crystalline waters, epic party scene, phenomenal archipelago seascapes and stunning beaches. It's the place for an incredible and exciting vacation for sure.
There's a huge variety of places to stay in Phuket, but private holiday rentals are the best option by far. Look no farther than our Phuket Airbnb guide for property recommendations!
I've rallied together the best Airbnbs I found while searching for a private villa on the island for a week-long Chang-cation back in October. I've included tips I learned while searching for vacation rentals in Phuket plus some lessons from getting ripped off by our host – it happened to me so that it wouldn't happen to you.
Ready to find your dreamy Phuket Airbnb in paradise (and not get scammed)?
Here's the list…
Quick Answer: These are the Top 5 Airbnbs in Phuket, Thailand
OVERALL BEST VALUE AIRBNB IN PHUKET
OVERALL BEST VALUE AIRBNB IN PHUKET
Studio room & roof top pool at Patong Beach
> $$
> 2 Guests
> Pool & Gym Access
> Entire Rental Unit
BEST HOMESTAY IN PHUKET
BEST HOMESTAY IN PHUKET
Racha Hifi Homestay
> $
> 2 Guests
> Great location
> Flatscreen TV
BEST AIRBNB FOR COUPLES IN PHUKET
BEST AIRBNB FOR COUPLES IN PHUKET
Premiere Oceanfront Suite
> $$$
> 2 Guests
> Jacuzzi Bathtub
> Surrounded by Tropical Garden
BEST AIRBNB FOR FAMILIES IN PHUKET
BEST AIRBNB FOR FAMILIES IN PHUKET
Comfortable Apt in Quiet Area
> $$$
> 5 Guests
> Crib & High Chair
> Pool & Gym Access
BEST LUXURY AIRBNB IN PHUKET
BEST LUXURY AIRBNB IN PHUKET
Contemporary Cliffside Villa
> $$$$
> 20 Guests
> Personal Chef Included
> Saltwater Infinity Pool

Unlock Our GREATEST Travel Secrets!
Sign up for our newsletter and get the best travel tips delivered right to your inbox.
What to Expect from Airbnbs in Phuket, Thailand
Let's get this out of the way: there's a "ban" on daily Airbnbs in Thailand. Is it enforced? No. Can a guest get in trouble with the law? Nope.
So is there an Airbnb scene in Phuket? You bet there is! Plus, because so many of these properties are owned and operated by locals, you'll get a unique flavour in these Phuket accommodations you won't find anywhere else.
If you want some privacy you can also opt for entire villa rentals in Phuket or maybe entire apartment holiday rentals closer to town. Either way, there's heaps of option.
Here are the types of Airbnbs you can expect in Phuket.
Private Villas – Party Central
A 2019 study found that Phuket has the most visiting tourists per year per square mile (a weird metric, granted). The island gets crowded in parts so entire villa rentals are the stand-out way to carve out some extra space for yourself.
Plus, who doesn't love a glistening swimming pool? That incredible entertainment centre! Mood lighting on a dimmer switch and some good old free parking overlooking the tropical landscape!
But hold on a sec! Yes, your villa will be the dream you expect, but do some fine-print reading to make sure you're not getting ripped off…. like we were. We booked a beautiful entire villa in the west-central part of the island in October of 2019 and really lived it up for 5 days.
No, we didn't pick the cheapest place but we had it budgeted just right so we could splurge on Singha (sorry Chang-lovers) and still get a private villa with 2 massive bedrooms and a swimming pool.
This property is not on this list because at the end of our stay they slapped us over the head with a 4.500 baht electricity bill! That's like 150 USD – on top of the cleaning fee and other fees that were listed on Airbnb. Another friend reported the same happening with other rentals in Phuket.
If you're new to Airbnb, know this isn't the norm. This is a Phuket-specific (illegal) scam but you can cover yourself by reading the entire listing on Airbnb to see if there are any special charges.
To end the story on a good note. My friends and I agree it was the right choice to rent an entire villa anyway, and are going to do the same again this year!
Homestays – Local Knowledge, Experience and (sometimes) Prices
Homestays are what most Americans think of when Airbnb comes to mind – at least, it was near the beginning. When I first used the app, I would get the cheapest accommodation possible, which inevitably meant staying in another person's spare room or, if lucky, an efficiency attached to their house.
Now, homestays are still usually the cheapest option on Airbnb, but that's not the only reason to stay in a local's house. You'll learn loads more about the area from the locals who live there and can get insider tips on how to fill your Phuket itinerary that'll probably save you more money too – remember tourist menus are a thing.
There's a takeaway with homestays though. You've gotta respect the host. We wouldn't have had our Singha parties in a local Thai home. If you're going to do your partying away from your Airbnb or are just going to have a chill vacay, homestays are still a pretty good option for you.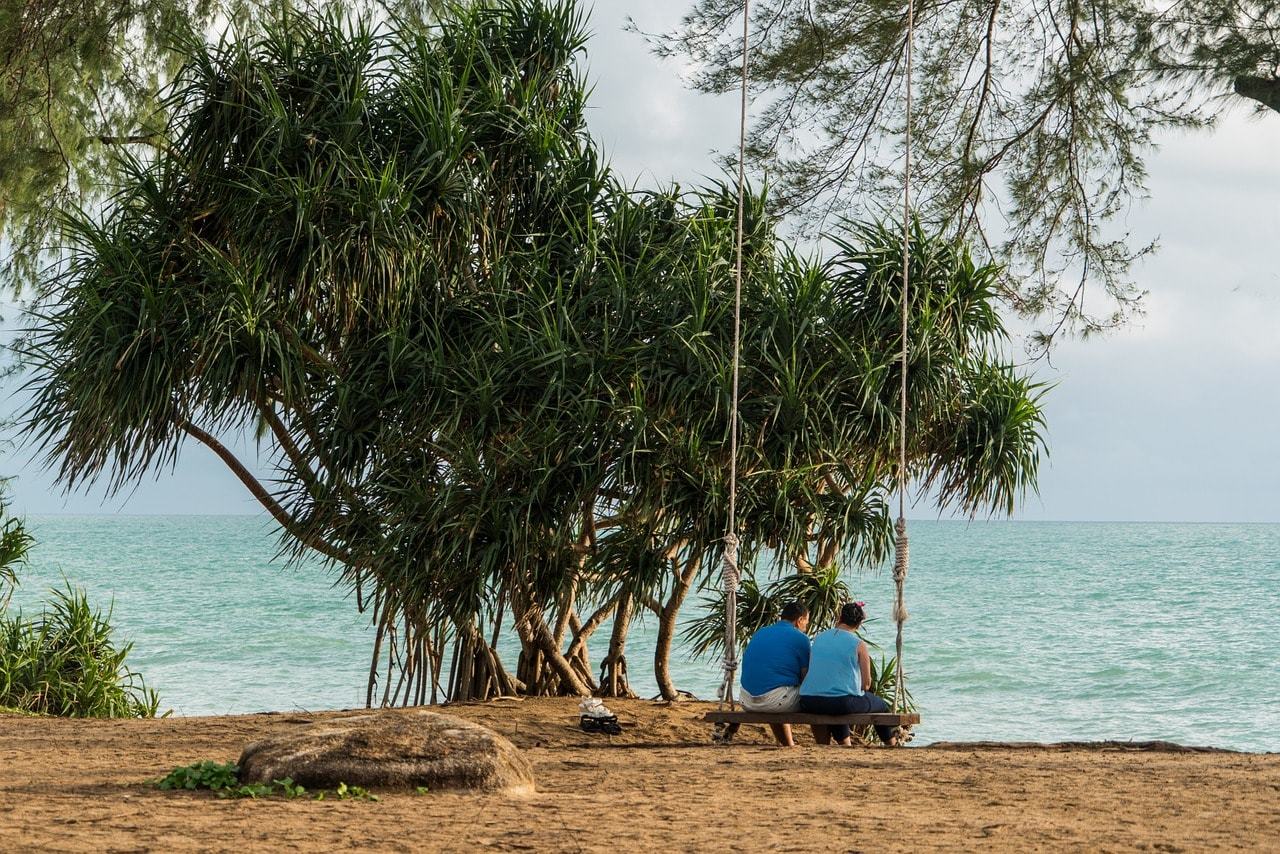 Apartments – Yes, they're in Phuket too!
Apartments are something of the "default option" for Airbnbs – a step up from a room in a shared house but a step down from a private villa. And yes, even the resort-slash-party island of Phuket has a lot of pretty standard apartment options.
If you're staying in Phuket mid-to-long-term, an apartment near Patong is your best bet. It's where the ex-pats live and it has all the necessary amenities plus the best party scene.
Why Stay in an Airbnb?
Local Experience: Having a local as a host means you can find out all the best places to visit and things to do that are off the beaten tourist track. That doesn't just go for Phuket, but for all travel destinations in the Thailand.
Unique Properties: A vacation is a break from the norm, so why not stay in a property that reflects that? Airbnb is where to find the coolest and most unusual places to stay!
Affordability: You can spend less than $100 a night on rentals in Phuket and get all the facilities you'd expect in a five-star hotel and more. Airbnb makes it easier to spend your holiday money wisely!
Safety: It might seem a little weird staying in someone's house; however, both hosts and guests are vetted by Airbnb reviews to ensure the safety of both. Phuket is overall safe, and the Airbnb booking security just adds a little extra to it.
Airbnb Experiences: Choosing Airbnb isn't just about where to stay – it's about enjoying the area like a local with curated tours, too!
The 15 Top Airbnbs in Phuket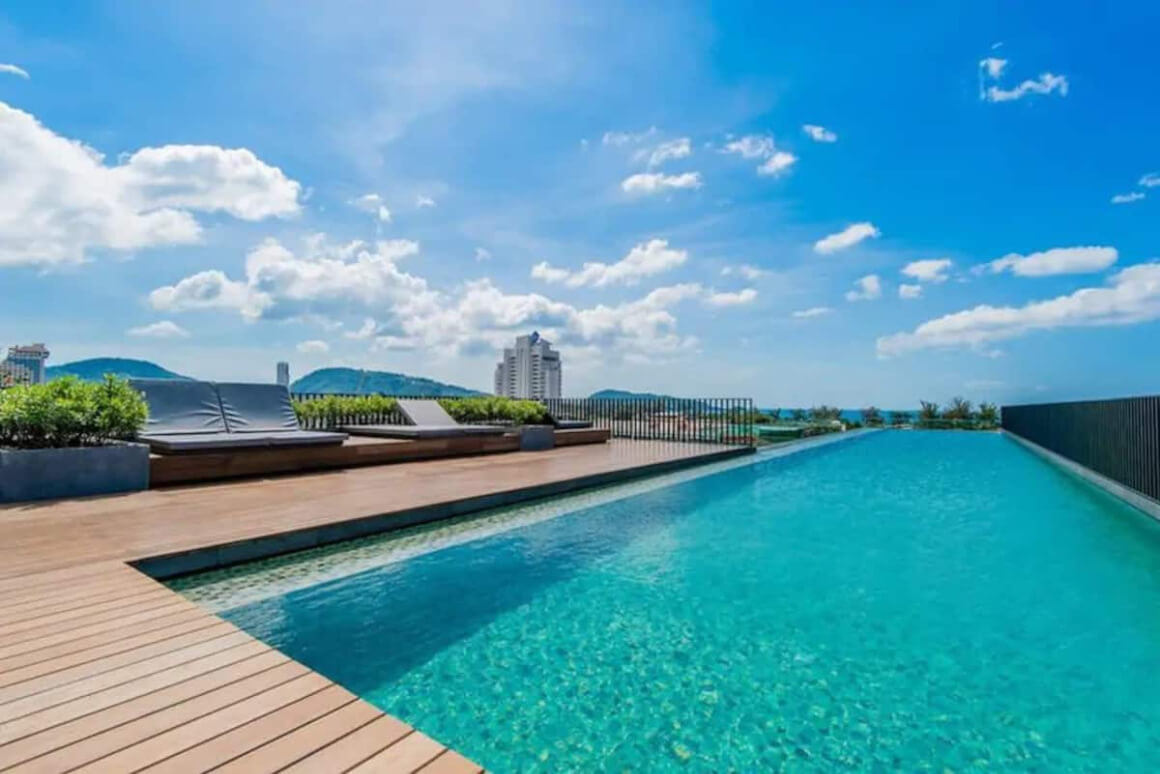 2 Guests
Entire Rental Unit
This Phuket Airbnb brings you incredible value for your money and just a quick couple minutes walk to Patong Beach. Enjoy air-conditioning, WiFi, and a beautiful one-bedroom and bathroom at this entire apartment. It's at the end of the main road, which affords guests some well-earned peace and quiet, while not being too far away from the action. It's one of the most incredible rentals in Phuket, Thailand!
The apartment complex has two swimming pools and a fitness centre that guests are welcome to use. For the location, this Phuket Airbnb gives you a lot of bang for your buck!
With a modern and spacious room, the incredible bathroom complete with a bathtub, and a fully equipped kitchen It's one of the most spectacular holiday rentals. You'll be sure to fall in love with this entire apartment!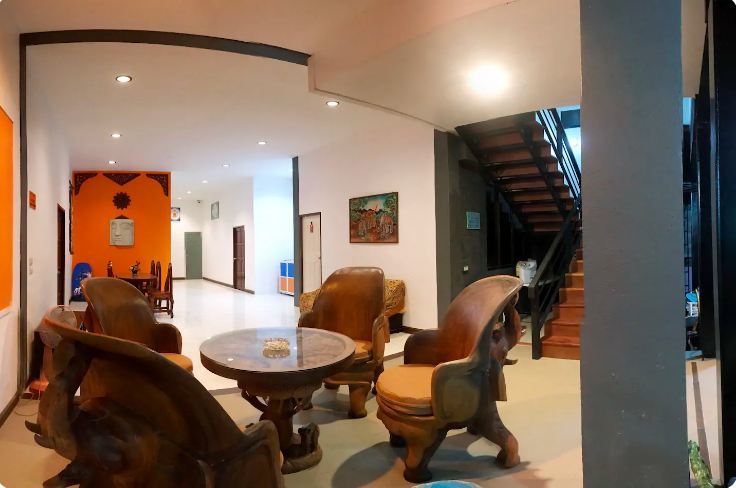 $
Swimming Pool Access & free parking
2 Guests
Great Views & Natural Surroundings
It's mind-blowing what you can find at budget prices on the Phuket Airbnb scene. This budget-friendly one-bedroom and bathroom Phuket apartment is incredible for those looking to tighten the purse strings a little. There's free parking, WiFi, and free coffee and cookies at this short-term rental!
There is a beautiful swimming pool to relax by with a good book. If you're looking for spectacular holiday rentals in Phuket then you can't go far wrong here.
We love that this apartment building is nestled within nature, there are wonderful views of the most beautiful beach from all the rooms. It's just a quick walk to Nai Harn Beach, too. In fact, it's a little bit farther out of Central Rawai Beach, which is likely why the price is nearly half the price than other accommodations around this area of Phuket, Thailand.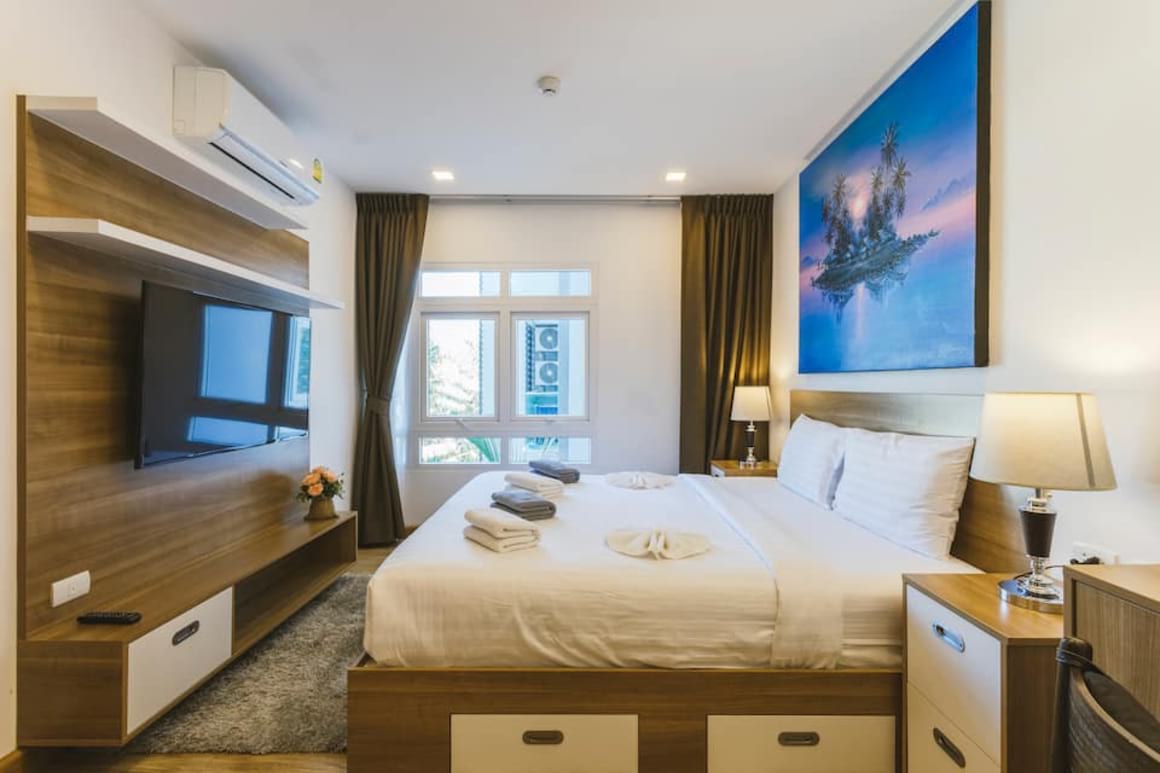 2 Guests
Balcony with desk
This one-bedroom, one-bathroom Phuket apartment is the perfect Phuket Airbnb for the digital nomads out there! With high-speed WiFi and a workspace, you'll be working in comfort and style. There is also a king-sized bed, a modern bathroom with a bathtub, and a fully-equipped kitchen with high-quality appliances. The views of the most beautiful beach from the balcony are perfect for taking a nice break from work.
This beautiful entire apartment is the best Airbnb in Phuket for you to get good work done. If you're looking for short-term rentals in Phuket you can't go wrong with this entire rental unit.
Is This the Best Backpack EVER???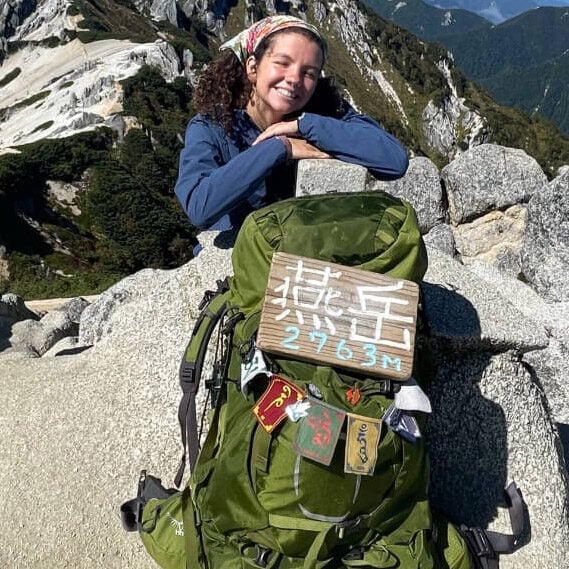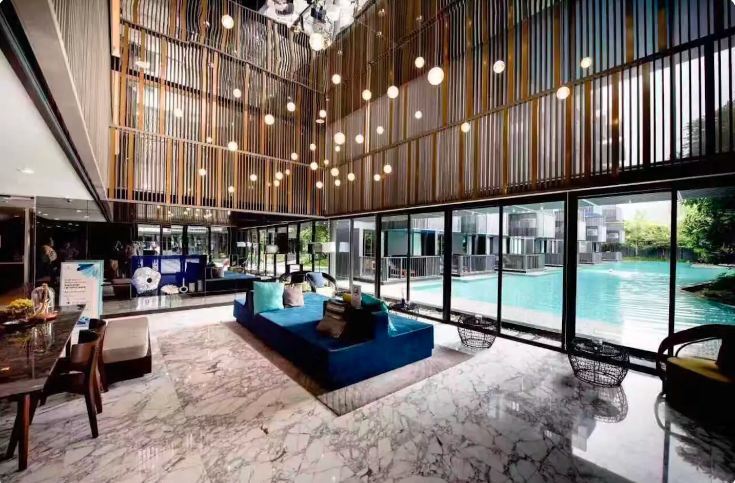 2 Guests
Rooftop Swimming Pool & Gym
Calling all solo travellers out there! You don't have to cram into a bunk-bed hostel room or stay in a sketchy hotel. This sparkling clean, well-equipped short-term rental in Phuket is close to Patong Beach.
With a fully equipped kitchen, dining area, living room area, and huge bedroom with a nice couch, you're sure to be as happy as a clam. The balcony is also pretty spacious with a nice reclining sunbathing chair, making this short-term rental a dream for solo travellers.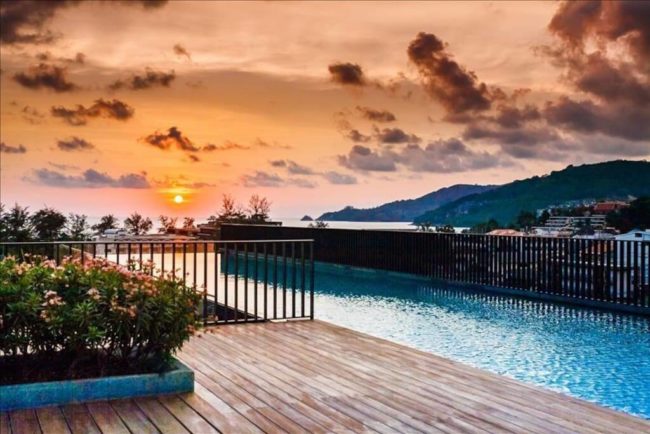 2 Guests
24-hour security on site
Patong Beach is definitely where the party is at! While the party scene is definitely happening on nearly all the Phuket beaches, the party never stops at Patong! From the lively Kangaroo Bar to the great cocktails at Heroes Bar, to the incredible live music at Monsoon Bar, you're sure to find your favourite local watering hole here in Patong.
This Phuket Airbnb is extra-walkable in the heart of all the nightlife action. You'll be just a ten-minute walk to bar street and a five-minute walk to the beach! You can't beat this location.
We love the infinity rooftop saltwater swimming pool, free parking, stocked kitchen and state-of-the-art fitness centre.
2 Guests
Surrounded by Tropical Garden
This premier oceanfront suite is a spectacular two-bedroom and two-bathroom Phuket apartment located within walking distance to Rawai Beach. It is situated at the centre of the Rawai Beach Seafront and faces the crystal clear waters of the Andaman Sea.
This Phuket Airbnb rental is for the top floor of a small four-story building (with an elevator!). It's surrounded by a tropical garden which gives a romantic, private vibe.
Enjoy a glass of wine on the balcony, or a cup of tea as the sunrises over the water. Of course, as one of the best Airbnbs in Phuket, there is air-conditioning, WiFi, free parking, a gourmet kitchen, and a Jacuzzi bathtub!
This cute little homestay offers more than just privacy. You get your own little hut, which is equipped with air con, a great bathroom and a tiny terrace. The location is ideal as well. You'll be within walking distance to the weekend market and Thalang Road. There's free high-speed Wifi in case you want to get some work done on your laptop. In case you've had enough of exploring Phuket, simply relax at home on your comfy bed in front of the massive flat-screen TV. On top of that, the price for this Airbnb is literally unbeatable!
$
Air-Conditioning & Mini-Fridge
2 Guests
Balcony with beautiful views
This Patong Beach Airbnb is for a private bedroom and bathroom in a townhouse. The room is bright, spacious and is filled with warm tangerine vibes. There is a small balcony where you can look at the verdant greenery and the mountainside.
The room also comes with a comfy couch, mini-fridge, TV, table and chairs, as well as a strong air-conditioning unit makes this Phuket Airbnb a great find.
$$$$
Yoga Room & Infinity Pool
8 Guests
Personal Chef Included
This four-bedroom, four-bathroom private villa is drool-worthy. It is situated on Millionaire's Mile near Kambala Beach, just a quick drive away from Patong beach. The layout of this villa is incredible, with a games room, a glass-walled yoga pavilion, library, and floating fire pits in a stunning infinity pool.
Relax at the water's edge and gaze out at the sea below. There are also lounge chairs by the swimming pool if you want to relax and nap in the Thai sunshine. Truly, this Phuket Airbnb is straight out of a magazine. This is the best Airbnb in Phuket if you're willing to splurge!
$$$$
Personal Chef Included
20 Guests
Saltwater Infinity Pool
This contemporary cliffside private villa sits on the cliffs near Kamala Beach and offers unparalleled seaside views. There are nine bedrooms and nine bathrooms which makes hosting a huge party of twenty possible. This luxury private villa surely is where Hollywood starlets vacation in Phuket!
There is a saltwater infinity pool, a pool room, and a retreat area under the canopy with a terrace and couches. Plus, a personal chef is included in this rental, so you can focus on nothing but relaxing and enjoying the view.
Airport transfer and daily housekeeping are also included. Hands down, this is the best Airbnb in Phuket if you are hosting a huge group and looking to break open the pocketbook to live in luxury while in Phuket!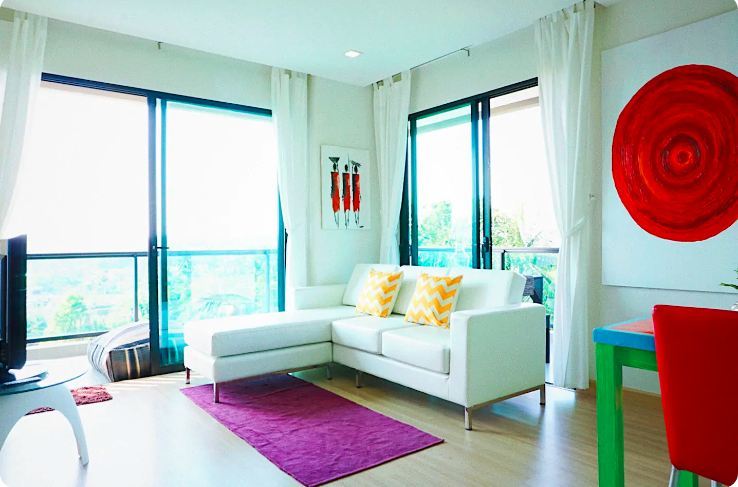 5 Guests
Pool & Gym Access
Situated in a nice, quiet neighbourhood and just a two-minute drive from Nai Yang Beach, night markets and a few minutes to Sirinat National Park, your family will love staying at this Phuket short term rental. There are plenty of jungle and forest attractions within a ten to twenty-minute drive of this entire rental unit.
This Phuket Airbnb comes with a crib and high chair, and there are also three beds which make sleeping five people possible, especially if you have a young one in the crib! Guests are welcome to use the entire apartment as well as the pool and the gym. There is a 24/7 security guard on staff, too!
This four-bedroom luxury penthouse apartment is yours for the taking! Located at Patong Beach, this enormous four-floor penthouse is the perfect place to stay with a group of friends – especially because housekeeping will show up to keep things spic and span every other day.
Throw your own private pool party (or recuperate from the night before!) on the stunning, multi-floor terrace, indoor lounge areas, and game room. Don't forget to take in the incredible view!
$$$
Access to Two Pools & Gym & Sauna
2 Guests
Gorgeous Mountain Views
This Phuket apartment is located in Patong. It's a brand new studio apartment that is in a modern high-rise building that looks like it could be a part of the Hong Kong skyline! This Phuket Airbnb sits on the seventh floor of the building and gives guests mountain views from the balcony and access to two huge pools in the complex.
This property also features a fully-stocked kitchen, fitness centre, sauna, and 24h security guard. Situated just a five-minute walk to Patong Beach and a ten-minute walk to the Jungceylon Mall, you are sure to love this location.
3 Guests
Sparkling Clean Glass Shower
You'll have the entire apartment to yourself in this Airbnb, including a stunning bathroom with a tall glass shower. Of course, there is also air-conditioning, a fitness centre and a rooftop pool.
Speaking of, the pool offers incredible views of the surrounding mountains and ocean.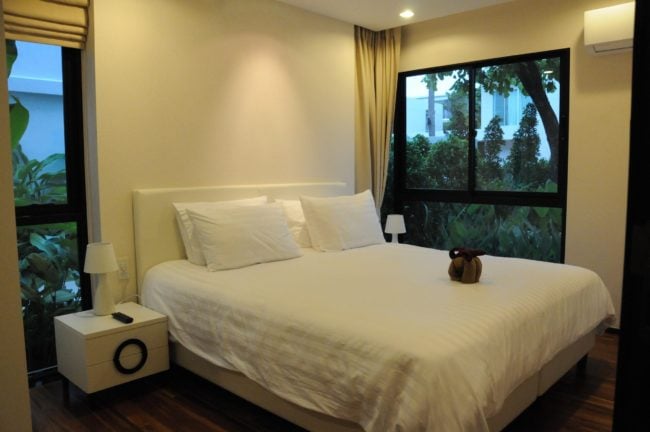 $
Access to pool, gym & sauna
3 Guests
Beautiful Terrace
Very near to Rawai Beach, this one bedroom and one bathroom Phuket apartment is a total steal! With access to the apartment complex's three swimming pools, two saunas, and the fitness centre the amenities are to die for.
There also is a wide, open terrace that has a little table and chairs and overlooks the greenery and gardens below. With a fully equipped kitchen, air-conditioning, and WiFi, you're sure to be sitting pretty in this Phuket Airbnb.
Top 5 Airbnb Experiences in Phuket
Have you booked an Airbnb experience yet? Lots of travellers still aren't taking advantage of all the high-quality, easy-to-book and fun local tours, classes and activities available on the very same platform where they book accommodations.
Even better, lots of Airbnb experiences aren't run by huge tour companies, but by locals – that means smaller and more intimate groups, passionate guides, and out-of-the-box experiences that are rooted in local knowledge.
Plus, you can manage everything right from the Airbnb app – no annoying text chains, emails, and saving tickets to your camera roll. Sweet!
$69/person
8 hours
Up to 6 guests
Did you know Phuket is a Unesco-designated City of Gastronomy? There are so many delicious things to eat here, and this comprehensive walking tour will give you a taste of the highlights and help you get a lay of the land.
Hosted by an experienced, local guide, you'll start the day at a 100-year-old Michelin-starred restaurant for the best breakfast of your life, then stroll the Phuket old town, stop at an award-winning roti shop for lunch, hit some museums and other sights, and round out your day with a Thai cooking lesson, group dinner…and a little more shopping. Is there a better way to spend a day?
Bonus: want to skip right to the cooking? Check out this lesson that'll also teach you how to shop a Thai market on Airbnb Cooking!
$40/person
4 hours
Up to 4 guests, 18+
Phuket town is legendary at night, but there are lots of sub-par bars and food stalls waiting to take tourists' money – that's why we love this nighttime experience hosted by a Phuket local!
Your first stop will be dinner at the Phuket night market for some world-class street food (and an explainer on the complicated world of Thai cuisine!). Then, onto Phuket's lively bar scene – guide Mun will show you all the must-stop bars (including a stop for glow-in-the-dark cocktails!) and live music spots.
Bonus: If you're not up for boozy shenanigans, check out this night tour sans bars instead.
Scuba diving in Thailand is unreal – if you haven't gone, this beginner-friendly tour is the place to start! With breakfast and lunch included, you'll have time to scuba, snorkel, bake on the beach and soak up all the sun you can.
$50/person
1.5 hours
Up to 4 guests
If you've ever wanted to learn to surf, Phuket's waters are a great place to do it.
This highly-rated tour takes place in the morning before the weather really starts to heat up. The experienced guides will help you catch a wave in your first session – and they'll send you home with photos of your lesson, too!
$110/person
8.5 hours
Up to 10 guests
No trip to Phuket is complete without exploring the islands, including the famous James Bond island featured in The Man With The Golden Gun.
This highly-rated tour will take you there, as well as lunch on the famous floating village, canoeing through mangrove forests and the stunning caves at Panak Island, and lots of time to swim and relax.
Don't Forget Your Phuket Travel Insurance
ALWAYS sort out your backpacker insurance before your trip. There's plenty to choose from in that department, but a good place to start is Safety Wing.
They offer month-to-month payments, no lock-in contracts, and require absolutely no itineraries: that's the exact kind of insurance long-term travellers and digital nomads need.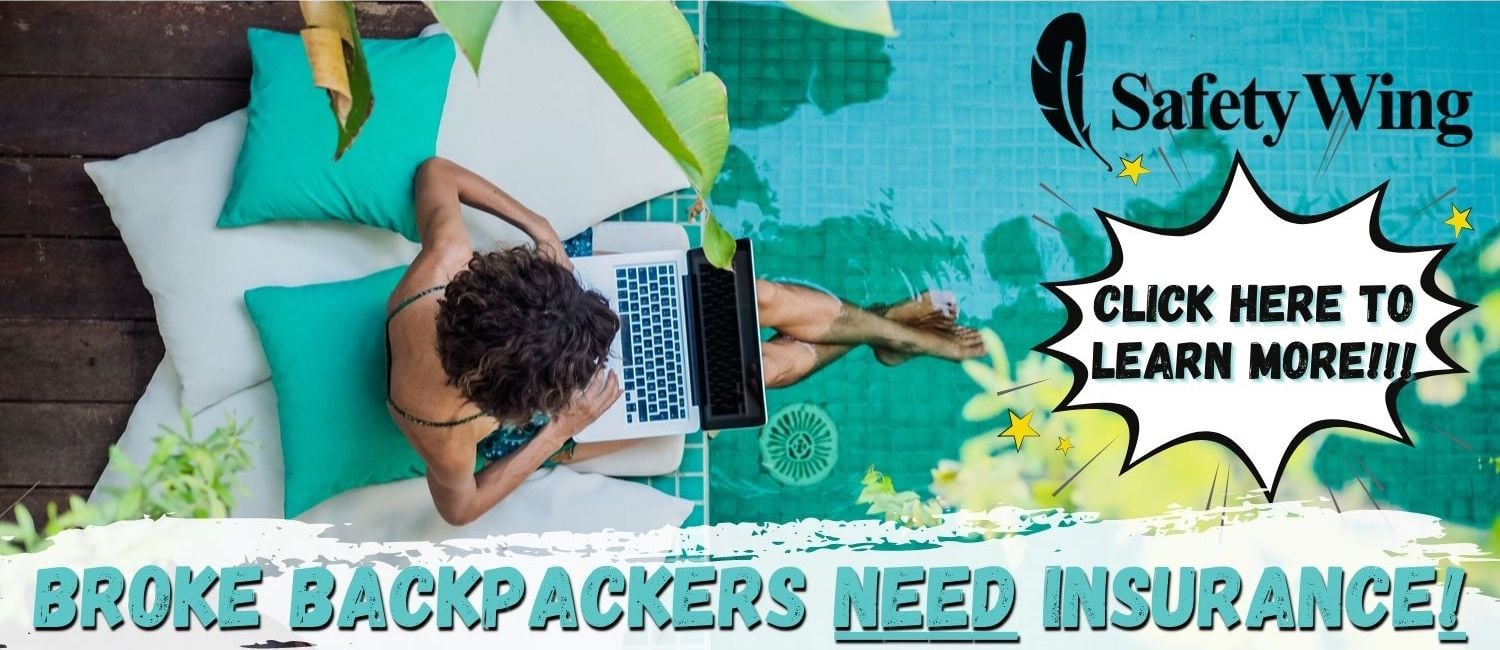 SafetyWing is cheap, easy, and admin-free: just sign up lickety-split so you can get back to it!
Click the button below to learn more about SafetyWing's setup or read our insider review for the full tasty scoop.
Final Thoughts on Phuket Airbnbs
Are you ready to head off to Phuket? Now all you have to do is hop over to Airbnb and book your accommodation and activities – there are so many awesome options in Phuket! Whether you're a solo traveller or a big bachelorette group, our property finds will help you find the perfect home base to explore this stunning region of Thailand.
If you're going to Phuket, you might want to snag some Thailand travel insurance from our highly recommended travel insurance experts and gurus over at World Nomads. From hang gliding to scuba diving to catching the flu, you never know what might in Phuket after all!
---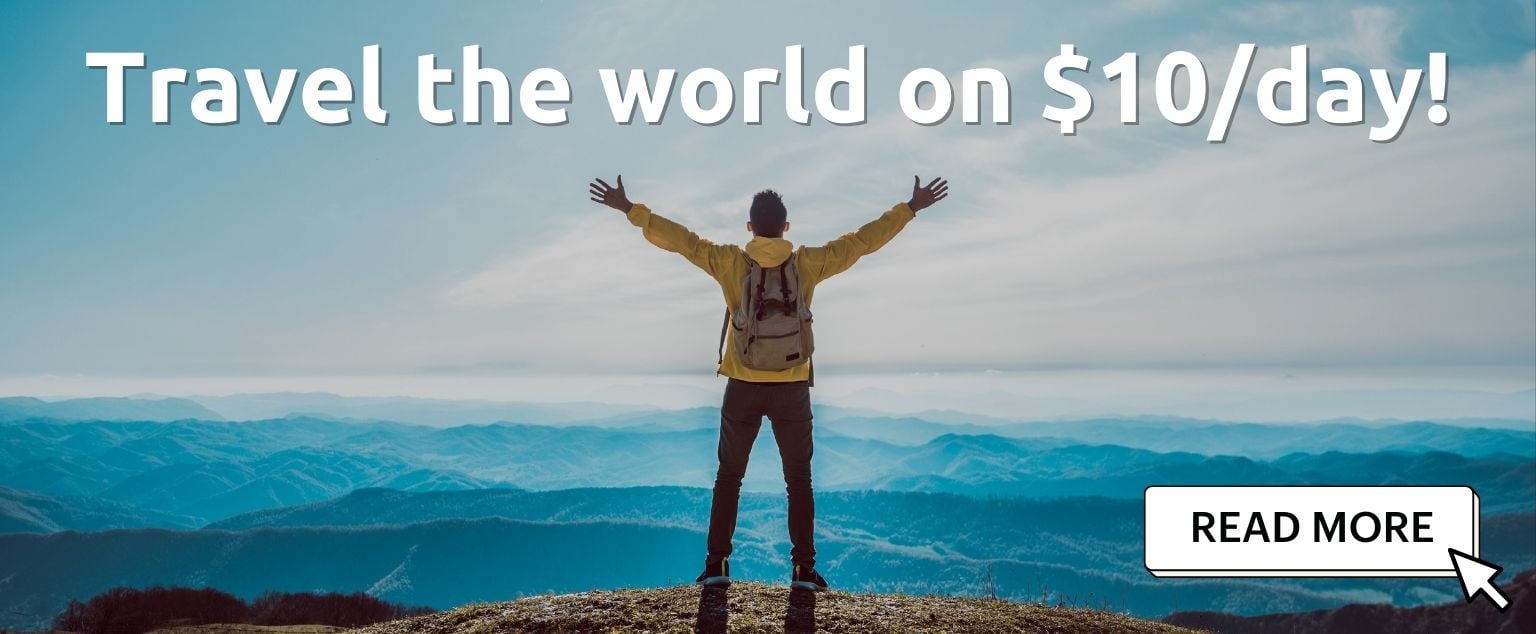 And for transparency's sake, please know that some of the links in our content are affiliate links. That means that if you book your accommodation, buy your gear, or sort your insurance through our link, we earn a small commission (at no extra cost to you). That said, we only link to the gear we trust and never recommend services we don't believe are up to scratch. Again, thank you!