Thailand is a serene country with breathtaking nature, stunning beaches and a rich Buddhist culture that offers a sense of peace and calmness no matter where you visit in the country.
Over the years, Thailand has become a popular place to visit for retreats. Retreats offer a chance to escape the daily grind and rejuvenate yourself in a peaceful and serene environment, as well as learn new practices to take home and incorporate into your daily life.
Yoga retreats in Thailand offer just that. They provide the foundation to learn from Buddhist roots, improve or learn yoga skills, and adopt ways to live a calmer and more present lifestyle.
Thailand has a wide variety of yoga retreats, and each of them has something special and unique about them. Which makes choosing the right retreat a really hard task.
So to help you alleviate some stress, I've created this guide on everything you need to know about yoga retreats in Thailand so you can make an informed decision about which is the right retreat for you.
Why Should You Consider a Yoga Retreat in Thailand
People travel to Thailand for its incredible nature, vibrant nightlife, stunning beaches, and sumptuous food. But outside the frenetic pace of its busy metropolises and the throngs of tourists, you'll find peaceful and quiet spots for a yoga retreat.
Known as the 'land of a thousand smiles', you cannot get a more idyllic setting for a yoga retreat. The backdrop alone is enough to tempt anyone. Imagine delving into a sunrise yoga session overlooking expansive green hilltops followed by an afternoon of temple-hopping and snorkeling. It can't get any better than that.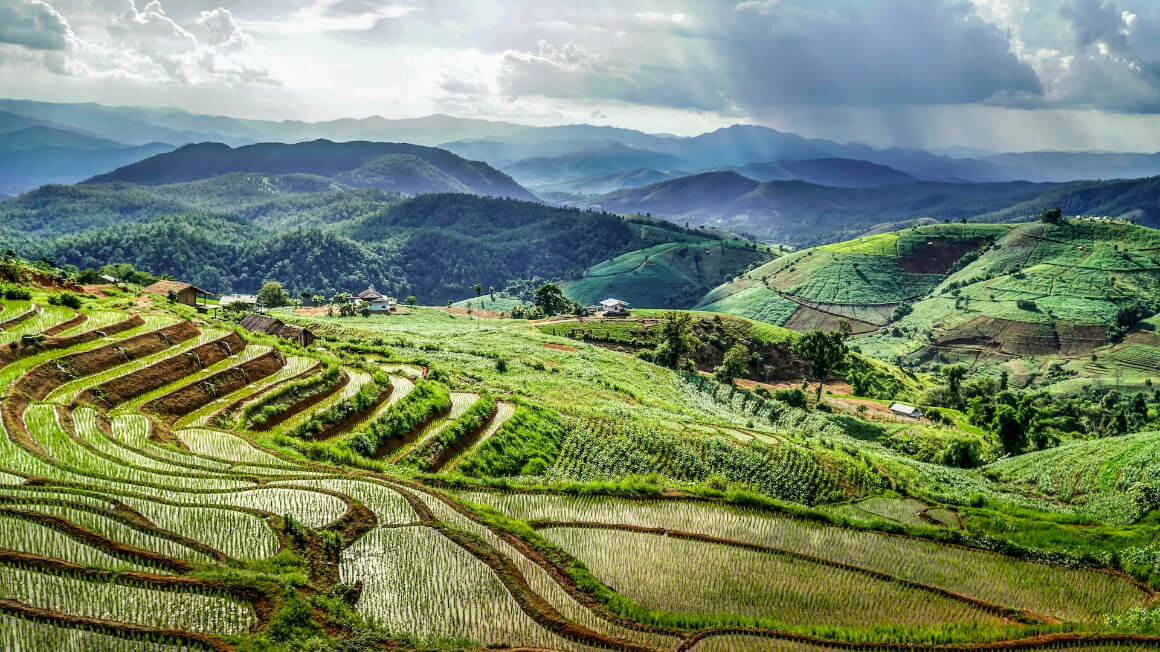 Well, actually you can get better. The point of a yoga retreat is not just to improve or learn yoga skills, but to disconnect from day to day life and get into a meditative routine. Yoga is not just about fitness, but a way to restore balance to your inner self and alleviate stress and emotional turmoil.
If you're someone whose feeling negative, stressed, emotionally drained and generally in need of a recharge. A yoga retreat will drain that negative energy and restore you with some positive, good vibes to improve your mood and mental health.
The country's traditions, stunning landscape, and peaceful culture make it the best destination for a spiritual and holistic holiday. No matter where you visit in Thailand, you'll be surrounded by positive energy influenced by Buddhist philosophies of kindness. You'll be embraced by warm-hearted locals who will give you a better appreciation for living a holistic lifestyle.
What Can You Expect from a Yoga Retreat in Thailand
There are so many places in the world that offer yoga retreats. So why Thailand? It's simple, really. The country offers something few other countries can – an immaculate combination of spiritual cultural heritage, excellent value for money, breathtaking natural scenery, and warm-hearted hospitality.
You can expect all retreats in Thailand to offer a very calming and peaceful environment. Most retreats are located in rural locations, away from the crowded and noisy cities. They are located in some of the most beautiful areas, either near the stunning beaches or in dense rainforests.
Yoga retreats cater to all skill levels, so if you're a beginner or advanced yogi, you can benefit from most retreats. It's common for yoga sessions to be group sessions, and it's also common to take the practice outside onto the beach or in the jungle, so the power of mother nature can work her way into your healing work.
To top it all off, Thai cuisine is legendary and you can expect the best food at wellness retreats in Thailand. Most meals are made with fresh, organic food, and it's also common for meals to be vegetarian or vegan.
You can eat right, meditate, expand your yoga practice with a variety of yoga classes daily, and often soothe sore muscles with Thai massage at the end. Most retreats offer other excursions that give you a deeper understanding of the people, culture, and country.

Unlock Our GREATEST Travel Secrets!
Sign up for our newsletter and get the best travel tips delivered right to your inbox.
How to Choose the Right Yoga Retreat in Thailand for You?
The first thing you need to consider when choosing a yoga retreat is what you want to get out of it. People embark on retreats for various different reasons. You might be looking for a retreat just to work on your fitness, or you might be looking to make positive improvements to your mental health.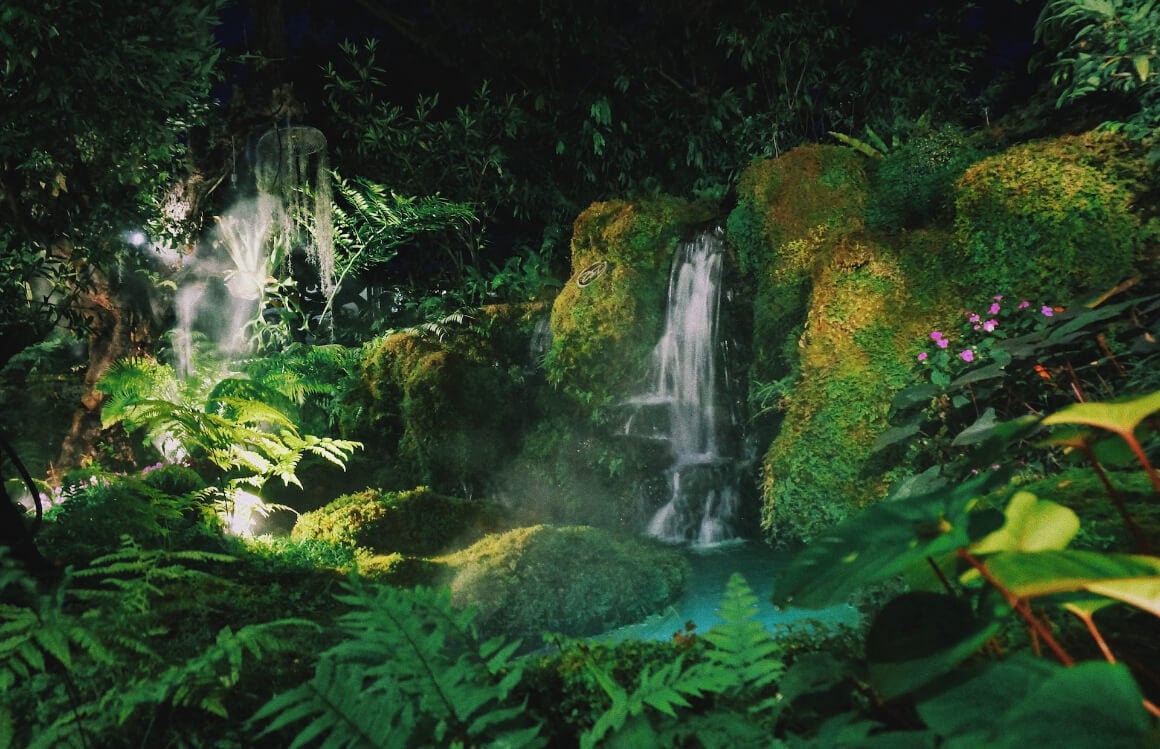 Think about your goals and what you want to achieve on the retreat, and then look for specific retreats that aim to help you achieve these goals.
Then you need to think about your current level. There are a variety of retreats in Thailand that offer sessions for experienced yogis and even non-yogis. If you're a beginner, you'll want a retreat that will lay solid foundations and if you're experienced, you'll want something that will deepen your practice quickly.
Once you have considered these factors, you can start narrowing down the list by looking at the practicalities, such as location, practices on offer, the perks that are offered, price and duration.
Location
Thailand is a huge country and has a variety of destinations that are popular for yoga retreats. Some of the most popular areas in Thailand for retreats are the islands of Phuket, Koh Samui, and Koh Phangan, as well as the northern jungles of Chiang Mai.
Most retreats are in rural locations outside of the main town or city. If you're looking to travel to Thailand for the purpose of the retreat, then you've got more options open to you. However if you're looking for a short retreat to add to your Thailand itinerary, then you'll need to consider a retreat near to the locations already on your list.
You also need to consider what type of backdrop will do the most healing for you. Some yoga retreats are located near the beaches, others are in jungles or rural mountainous areas. Think about what natural surroundings are best for you.
Practices
Yoga is of course the main practice you'll experience on a yoga retreat in Thailand. The yoga practice on offer is largely dependent on your ability. If you're new to yoga, try looking for a Hatha yoga retreat, or if you're more experienced, you might prefer a Vinyasa yoga retreat.
Some of the most popular yoga styles in Thailand are Vinyasa, Hatha, Kundalini, Nidra, Therapeutic, Restorative, and Alignment yoga. Therapeutic and Restorative yoga are excellent for healing and restoring the body's balance.
You can expect to complete yoga practices a few times a day, but you might also find retreats that offer other meditation practices in their offering too. Tantra is a common practice added to a yoga retreat.
Tantra is the Buddhist way of life that incorporates different types of meditation, yoga, massage, and tantric practices. Most retreats include things like Thai massage, meditation classes, breathing sessions, and detox and wellness programs. All are meant to restore balance, heal the body, and reflect on life.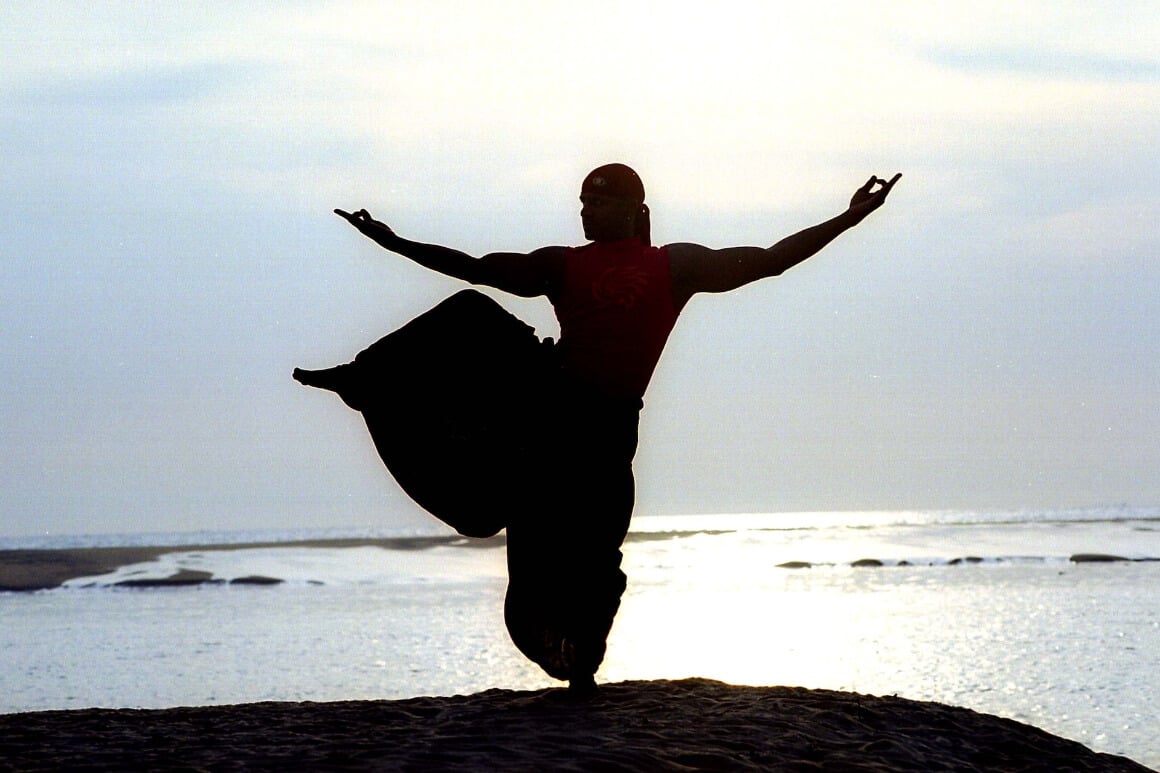 Price
Yoga retreats vary in price. You can find really affordable retreats, to really expensive retreats, but what pushes the price up is the level of luxury.
If you're looking for a budget retreat, you will find these come with shared accommodation, sometimes in huts or tents, and there's only basic practices on offer. Budget retreats tend to not include any perks or additional activities, and only offer the basic service.
If you can afford to spend a little more, you can find all-inclusive retreats with airport transfers, daily buffet meals, swanky digs, and resort amenities such as saunas, infinity pools, gyms, and a wealth of massages.
Of course, the retreat center's location and reputation matter too. Wellness centers located in popular tourist spots such as Koh Samui and Koh Pha Ngan cost significantly more than those located in less popular areas. Retreats run by more established groups tend to be costlier compared to those that are not.
Perks
Yoga retreat packages in Thailand almost always include a few extra perks aside from daily yoga classes and it's what really determines the value for money.
You'll certainly want some pampering after yoga and Thai massages are known to boost energy and lower stress. It's a common perk to have Thai massages included in the package, but not always
Wellness services such as spas and body scrubs are another perk that some retreats offer.
Of course, during your stay, you'd want to get to know the country more and explore the beaches and natural surroundings. Some retreats offer excursions, tours and hiking trips included in the package, or at least as an additional paid add-on.
Try to look for a retreat that offers trips out to some of the sites outside of the times you're working on your practice.
Duration
Yoga retreats in Thailand can be as short as two days or as long as a month. Depending on your needs and the time you can spare, will determine how long you spend at a retreat.
You should definitely figure out your time frame before booking a retreat as the times are not flexible. This is because they run several sessions throughout the year, so the time frame is set. You also cannot leave early or extend your stay.
It's a myth that the longer you stay at a retreat the more inner healing you have. You can get really transformational results from a short weekend retreat. But longer retreats do tend to dive deeper into the practice and offer more time for you to practice.
Top 10 Yoga Retreats in Thailand
Now you know what to expect from a yoga retreat and how to pick the right one for you, it's time to take a look at my top 10 favorites. From beachside retreats to mountain abodes, these are the best yoga retreats in Thailand…
Overall Best Yoga Retreat in Thailand – Vikasa Yoga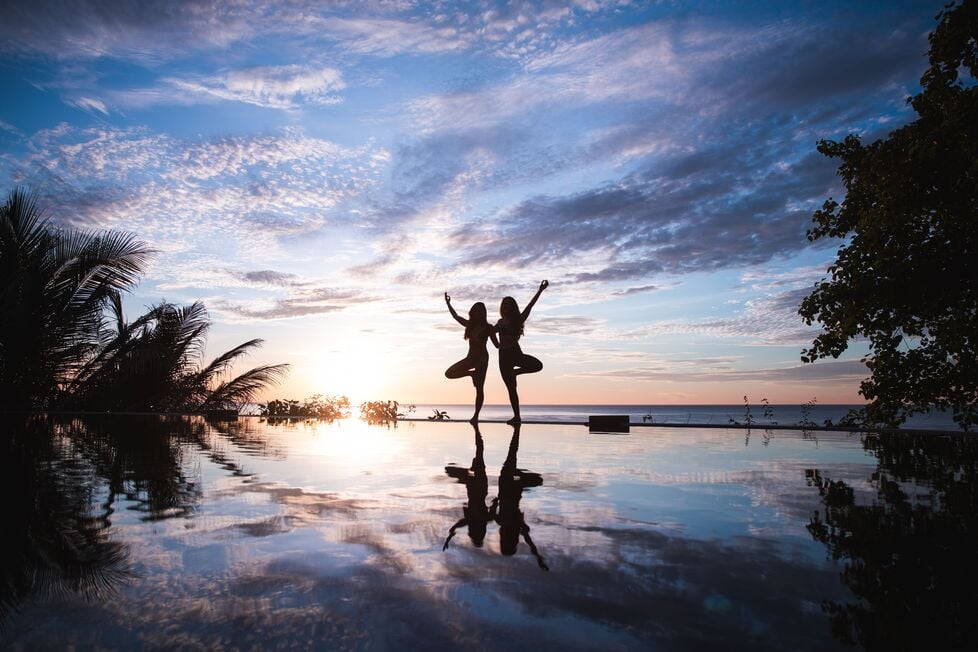 Price: From $300
Location: Ko Samui, Surat Thani, Thailand
Repeatedly recognized as Thailand's top retreat, Vikasa provides the perfect blend for a revitalizing yoga getaway. Select your preferred dates and duration for a tailor-made yoga journey promising transformative outcomes.
Dive deep into a plethora of yoga and meditation sessions in scenic oceanfront salas, guided by globally acclaimed instructors. At the heart of Vikasa's teaching is the traditional Hatha Yoga, emphasizing robust asana, pranayama, and meditation -this approach is both invigorating and inclusive for practitioners of every level.
Additional adventures around the island can easily be added to your Yoga itinerary so you can explore all that Koh Samui has to offer. Having operated as a renowned yoga retreat since 2011, everything at Vikasa has been curated to enhance your own personal evolution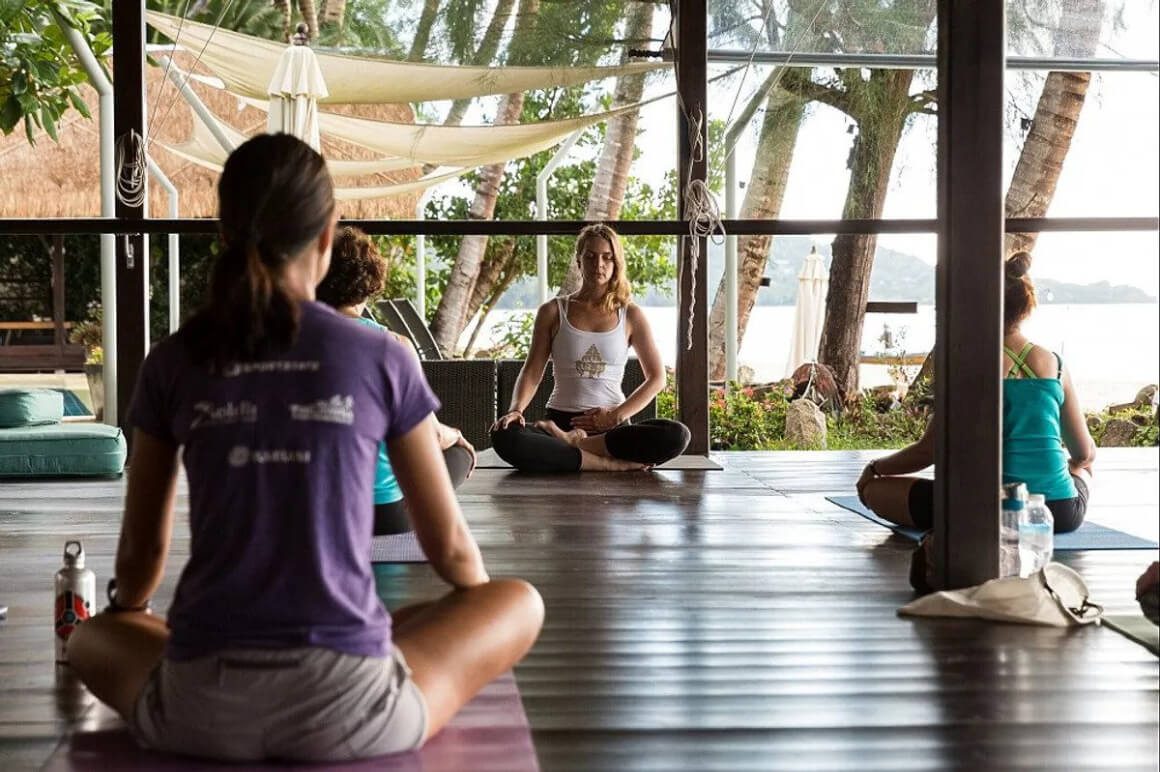 Price: $1,623
Location: Ko Samui, Surat Thani, Thailand
Picture yourself in the beautiful island paradise of Koh Samui in the company of like-minded people and under the tutelage of experienced yoga teachers.
Go to sleep with the sound of the waves, wake up to birdsong, do yoga in quiet contemplation, and feel the sand on your toes and the water on your feet within minutes of leaving your accommodation.
This 10-day yoga retreat will give you the opportunity to not only practice your asanas, but also eat healthily with buffet food served daily, connect with your inner self, meditate, and explore the island famed for its coconut groves, mountainous rainforest, and palm-fringed beaches.
Complimentary excursions await you during your stays such as boating and snorkeling to a nearby island and a trip to local night markets for some retail therapy.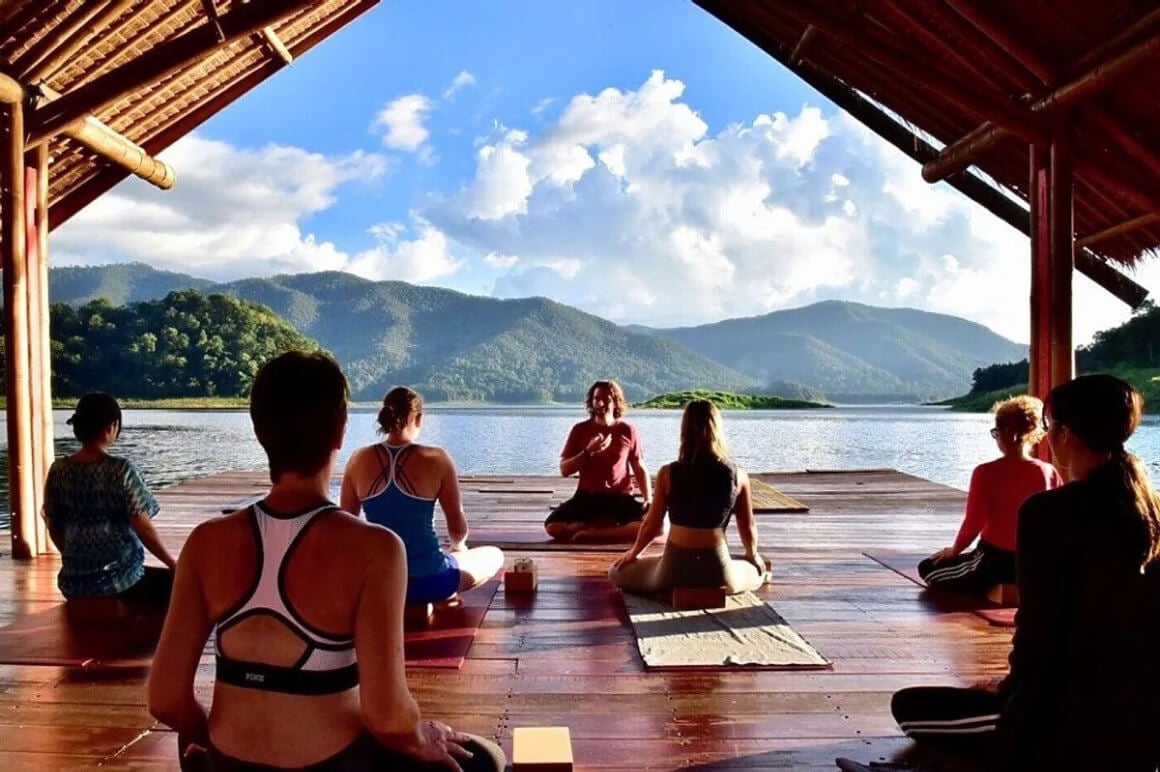 Price: From $2,985
Location: Ko Yao Noi, Thailand
Do your sun salutations by the beach each morning on the quiet secluded island of Ko Yao Noi, only an hour away from the hottest tourist spots.
Walker Wellness Retreats is an all-inclusive retreat so you can concentrate on yoga and meditation and let them take care of every detail. All you need to do is be at the airport and the rest will be taken care of.
Aside from a program that includes Ayurveda, Vinyasa, Vipannasa, Yin, Hatha, and Restorative yoga, you'll be exploring Koh Yao Noi, Koh Hong, Phang Nga, James Bond, and Phi Phi Islands.
You'll experience aromatherapy massage and wellness sessions, as well as participate in Thai food cooking classes and even explore rock formations and caves on a kayak!
Price: From $288
Location: Koh Phangan, Thailand
The world can get to you and this five-day getaway is perfect for unplugging and rejuvenating yourself in Ananda Yoga and Detox Center, on the paradise island of Koh Phangan on the Gulf of Thailand.
Participate in up to six yoga classes daily, as well as breathing and meditation sessions, and get a daily one-hour Thai massage to relax your muscles. In line with detoxifying, all meals served are vegetarian but gluten-free options are available too.
You get complimentary use of facilities that include a saltwater swimming pool and herbal steam sauna. During your free time, you can explore the variety of activities on the island such as kayaking, mountain biking, snorkeling, and Thai Boxing.
Walk away from this retreat feeling like a whole new person.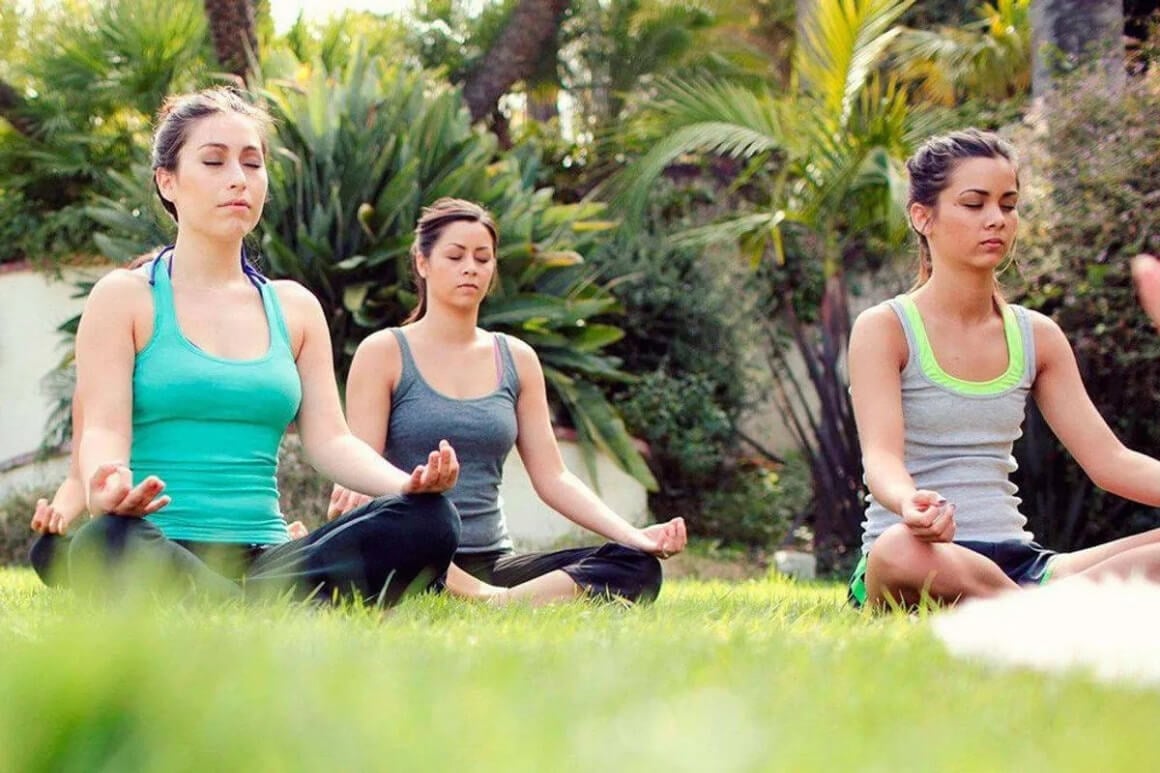 Price: From $978
Location: Koh Phangan, Surat Thani, Thailand
Live in the moment, breathe in, and let go of all your anxieties in this luxury yoga and meditation retreat at Sunset Hill Resort.
Participate in a combination of Hatha, Vipassana, Pranayama, and Vinyasa yoga, mindfulness activities throughout the day, and guided meditations in the evening. You'll have a full-day program that will restore your balance and silence your inner thoughts.
The integrated approach ensures that all people of all yoga levels will benefit from the retreat and enjoy the luxury holiday experience at the same time. In conjunction, daily healthy meals along with organic coconut and healing massage treatments are included too.
Don't forget to treat yourself to some much-needed pampering with the resort facilities. The state-of-the-art sauna complex, infinity pool, and pool bar are all waiting for you.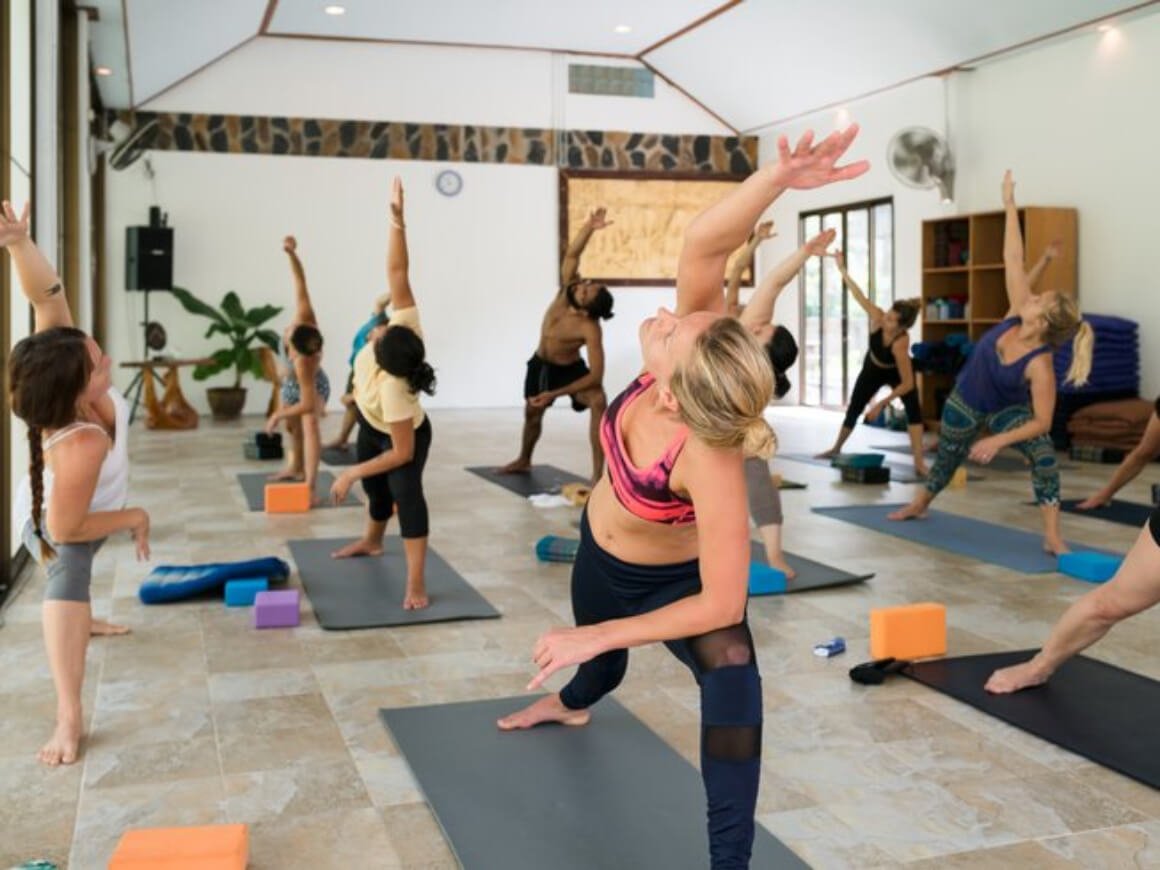 Price: From $282
Location: Koh Phangan, Thailand
With a program that's suitable for all levels of practitioners, you'll gain a deeper connection to your mind, spirit, and body by practicing Kundalini, Hatha, Nidra, Vinyasa, and Yin yoga; breath work, and meditation.
Participate in a variety of harmonizing workshops such as Reiki healing and philosophy lectures. The schedule is designed to allow participants the time to heal and empower themselves as a group.
However, those who want a personalized program will benefit from the private one-to-one yoga sessions that come with complimentary holistic treatment and personalized instructions.
Enjoy retreat amenities such as the herbal steam sauna, massage and treatment areas, as well as a private swimming pool that boasts stunning views. Vegan breakfast, lunch, and dinner buffet meals are served daily.
Have you sorted your accommodation yet?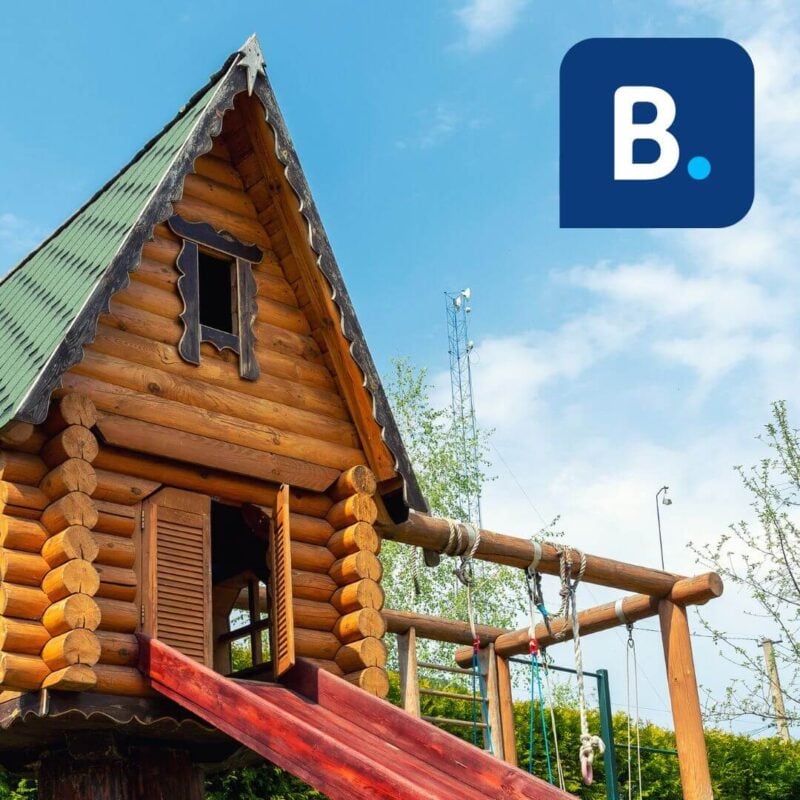 Get 15% OFF when you book through our link — and support the site you love so dearly 😉
Booking.com is quickly becoming our go-to for accommodation. From cheap hostels to stylish homestays and nice hotels, they've got it all!
View on Booking.com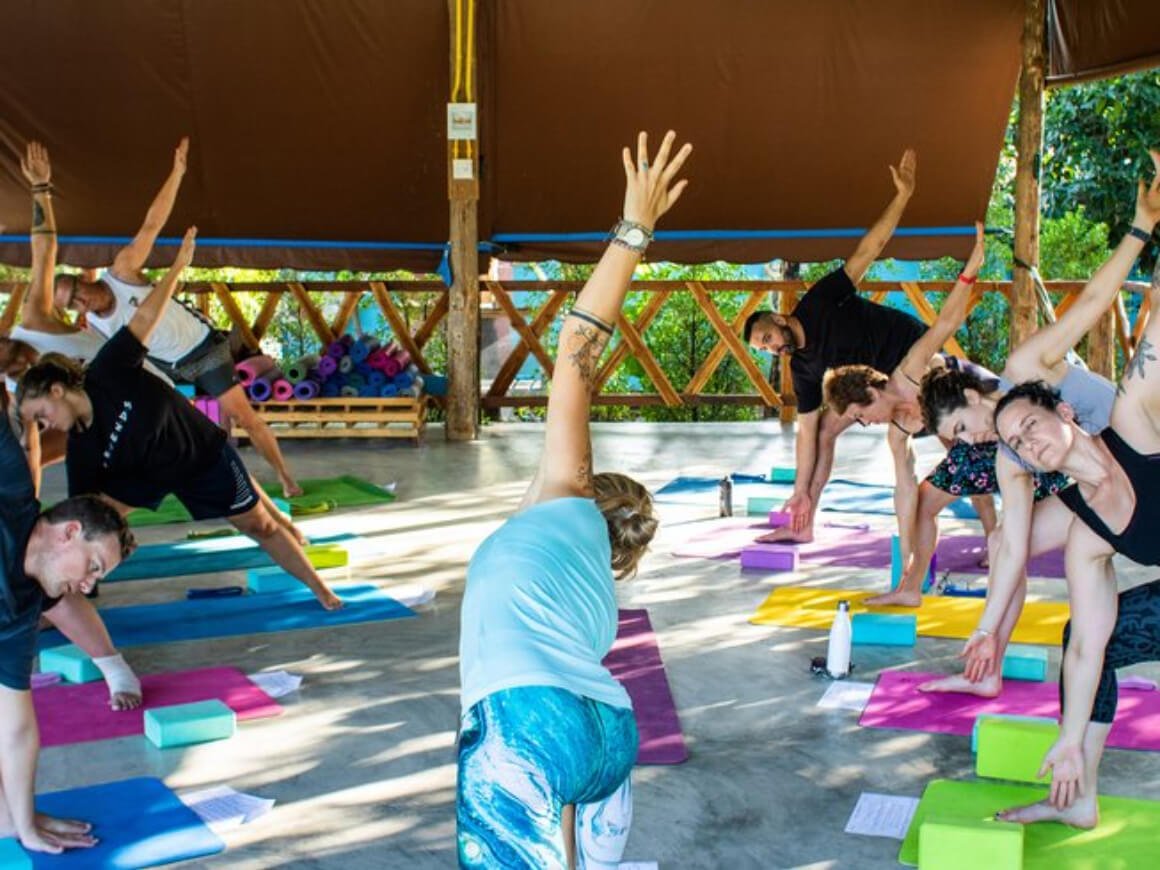 Price: From $544
Location: Phetchabun, Thailand
This yoga and fitness retreat is perfect for yoga practitioners of all levels who want to get in the best shape of their lives at the same time. Battle Conquer Gym is located in the center of miles upon miles of rice fields, the perfect place for quiet introspection and exercise.
Participate in a weight loss and detox program that not only considers physical activity, fitness, and food but also detoxifies one's life.
You'll work out, eat a clean diet, live in nature, do yoga, and meditate to improve both your physical and mental health.
But it's not all work and no play, a few excursions are included such as temple visits, going to local markets, and hikes, depending on the weather. Relax and unwind through Thai massage treatments that help boost muscle recovery.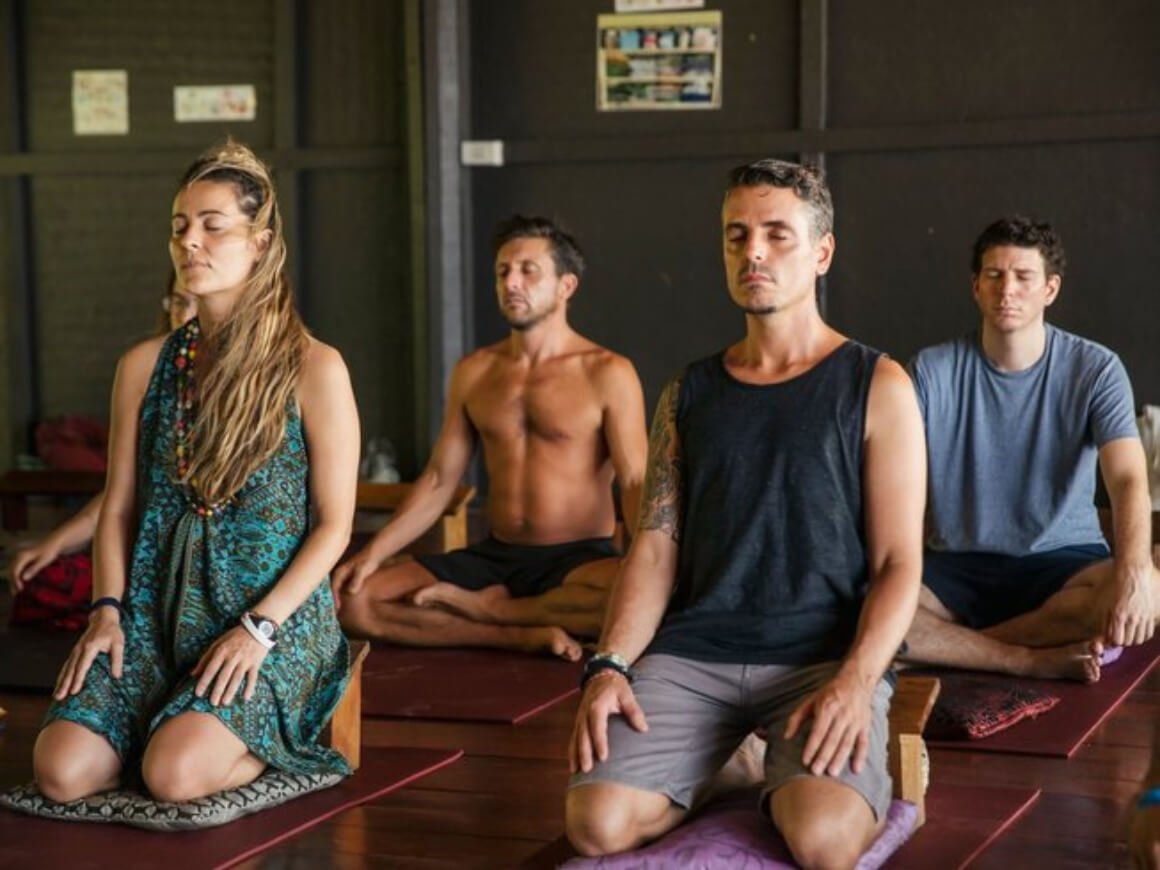 Price: From 1,752
Location: Koh Phangan, Thailand
Live a happy and more fulfilled life with this month-long immersive retreat designed to help you awaken and heal yourself.
The program includes daily yoga classes for all levels; active, social, and still meditations; Tantra; Pranayama; mindfulness practice; Cathartic techniques; and lectures on self-development. You can get pampering too with the bonus 8 sessions of Thai massage.
You will find no better place for meditation, self-development, and yoga than Samma Karuna. Right in front of the beaches of Koh Phangan, this retreat is surrounded by palm-fringed beaches and stunning views of the jungle.
During your downtime, you can explore the local supermarket, shopping villa, and aquatic center.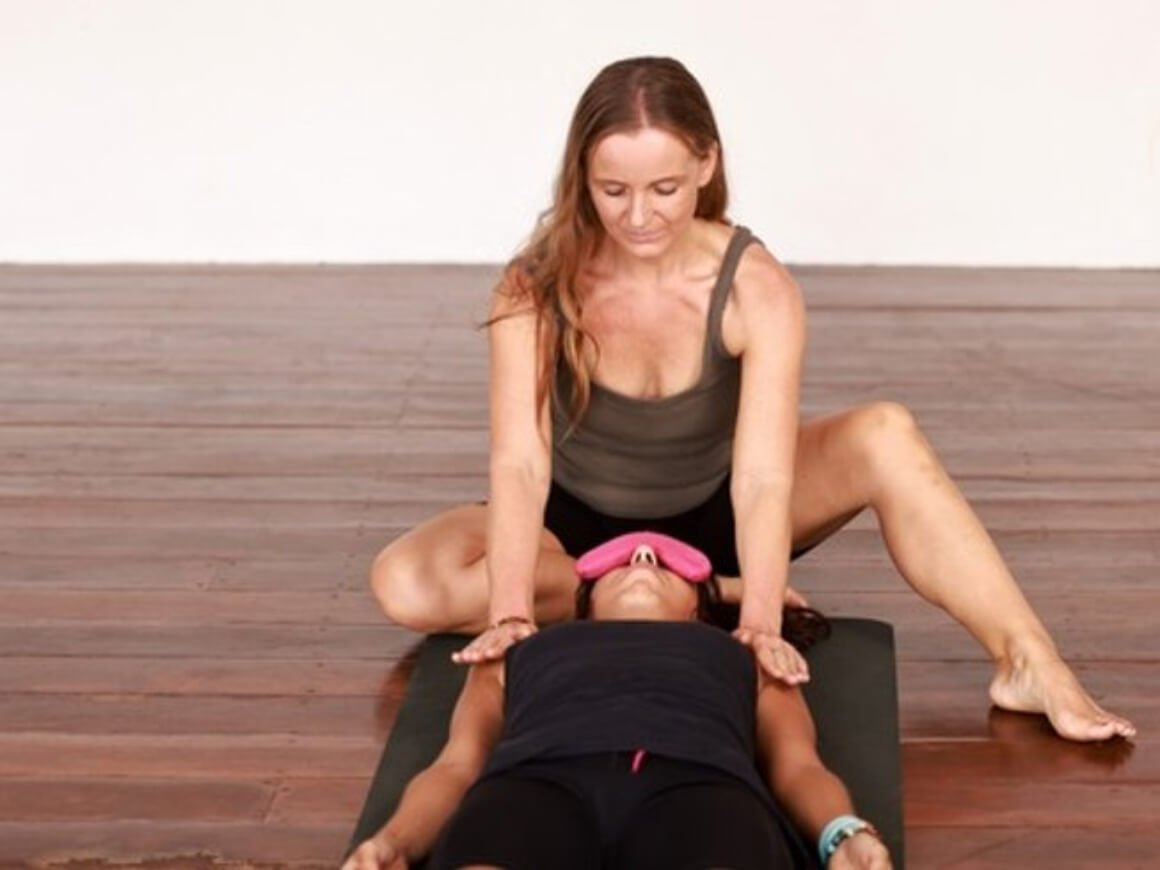 Price: From $1,012
Location: Chiang Mai, Thailand
How would you like to spend six days disconnecting from the world, relaxing and rejuvenating yourself in the north of Thailand with a small group of like-minded women?
Mala Dara is only 30 minutes away from the airport and 10 minutes away from local natural hot springs, so you're far away from the hustle and bustle of the metropolis but close enough to civilization during this retreat.
Available to women of all yoga levels, this unique program includes Hatha and Yin yoga, meditation, pranayama, and classes that will help you understand your cycle and inner seasons. Get help with low hormones and infertility issues while eating healthy, fresh, organic, and vegan food.
Treat your eyes to stunning sights of unspoiled mountains and rice fields while reconnecting with your femininity and doing your asanas. Additionally, you can go on a hiking trip, join a cooking class, and pamper yourself with the herbal steam evening that includes a body scrub.
Is This the Best Daypack EVER???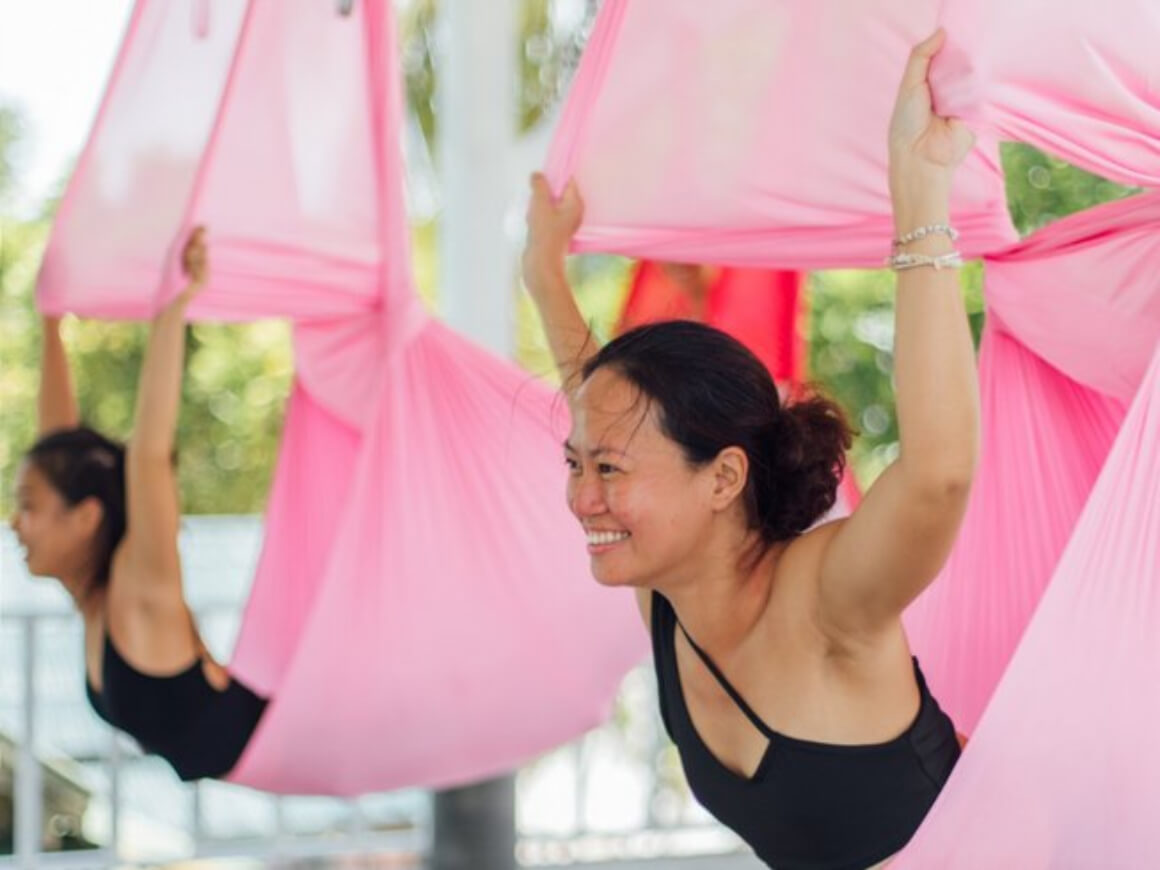 Price: From $1,499
Location: Koh Phangan, Thailand
Anahata Yoga Shala is in Haad Yao Beach, Koh Phangan, a tropical paradise popular for warm locals, delicious food, and stunning beaches.
Did we mention that the sunsets on this side of the world are amazing? Perfect for a late afternoon yoga sesh.
Designed for new yogis, this aerial yoga program includes yoga asana classes and meditation sessions that will take you to a state of nirvana. After which, you can relax your muscles and heal your body with the two 60-minute massage sessions and two 60-minute saunas inclusive of the package.
Consistent with the path to wellness, two fresh and healthy vegetarian meals are served daily.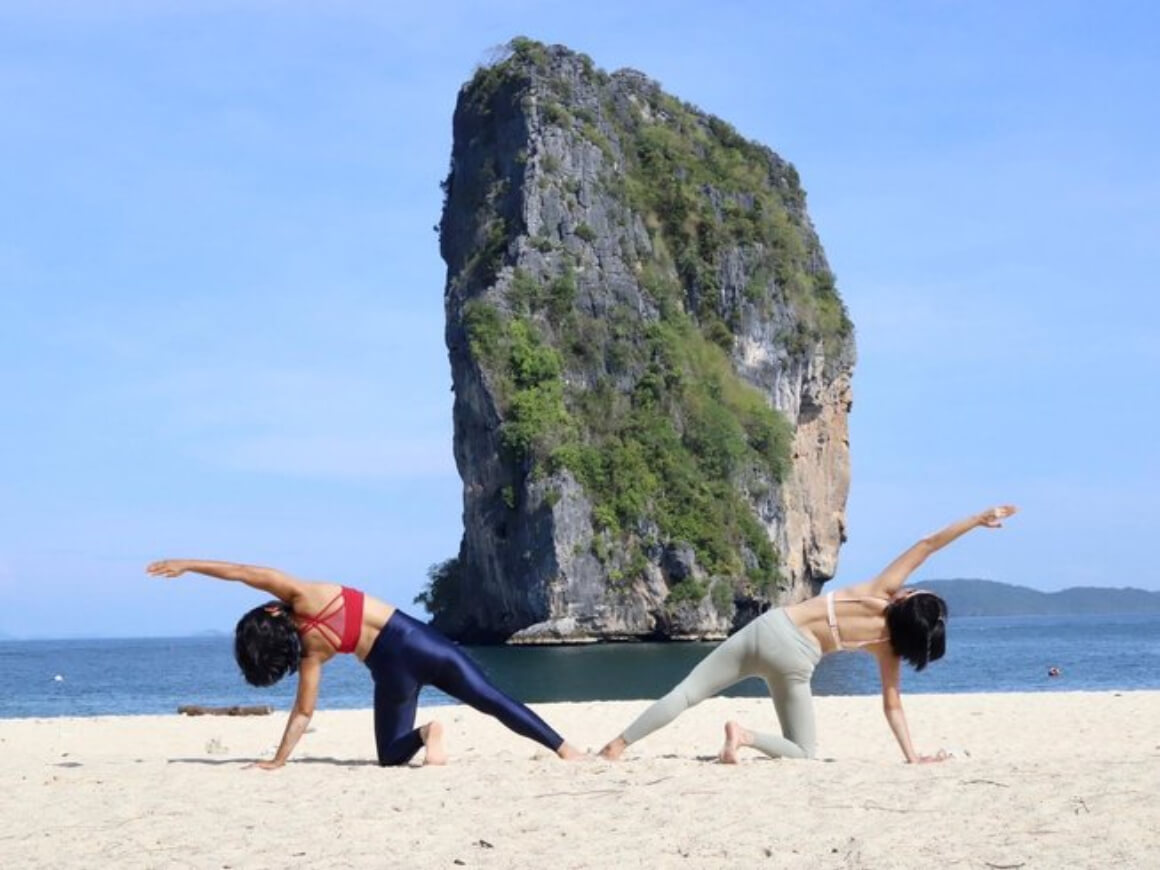 Price: From $532
Location: Krabi, Thailand
Meant for beginner and intermediate yogis and designed to rebalance, this mini-treat is the perfect getaway for you and your friend. Samadee Yoga and Retreat is set in a lush tropical jungle of Ao Nang with a cozy and unique yoga shala.
Enjoy up to three yoga classes daily in different styles including beach yoga; meditation classes that include mindfulness, as well as a variety of outdoor experiences including an excursion to nearby islands, provided the weather is suitable for the activity,
As a commitment to better living, brunch with healthy fusion food, homemade Thai dinner, and cold-pressed juice is served daily.
Don't forget insurance
ALWAYS sort out your backpacker insurance before your trip. There's plenty to choose from in that department, but a good place to start is Safety Wing.
They offer month-to-month payments, no lock-in contracts, and require absolutely no itineraries: that's the exact kind of insurance long-term travellers and digital nomads need.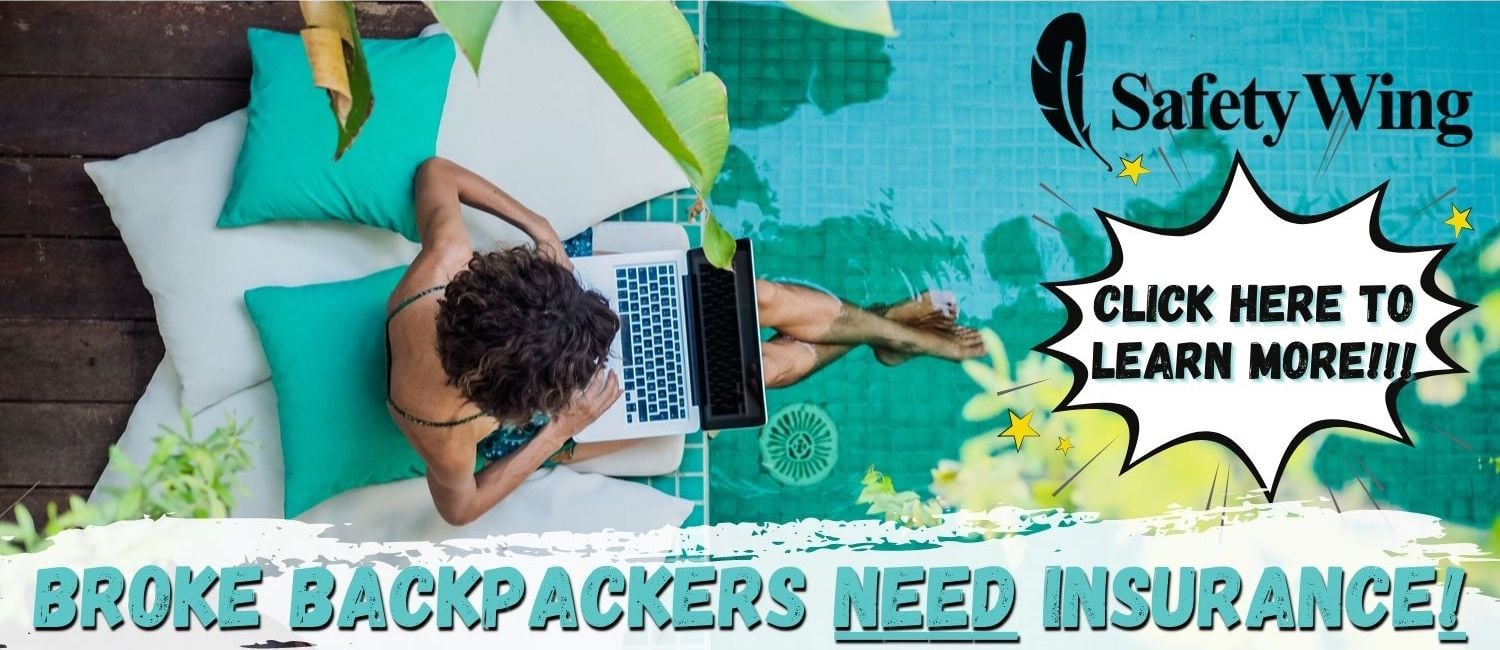 SafetyWing is cheap, easy, and admin-free: just sign up lickety-split so you can get back to it!
Click the button below to learn more about SafetyWing's setup or read our insider review for the full tasty scoop.
Final Thoughts on Yoga Retreats in Thailand
Without a doubt, Thailand remains one of the top destinations in Asia for yoga retreats. It offers the best of both worlds; modern comforts, off-the-beaten-path adventure, and once-in-a-lifetime travel experiences.
Signing up for a yoga retreat in Thailand is a chance to step out of the stress of your daily life, examine yourself, and make better decisions for your health and wellbeing.
You'll have a meaningful stay that allows you to hit the pause button so you can concentrate on you. So relax, take it slow, and allow this beautiful country to heal you.
---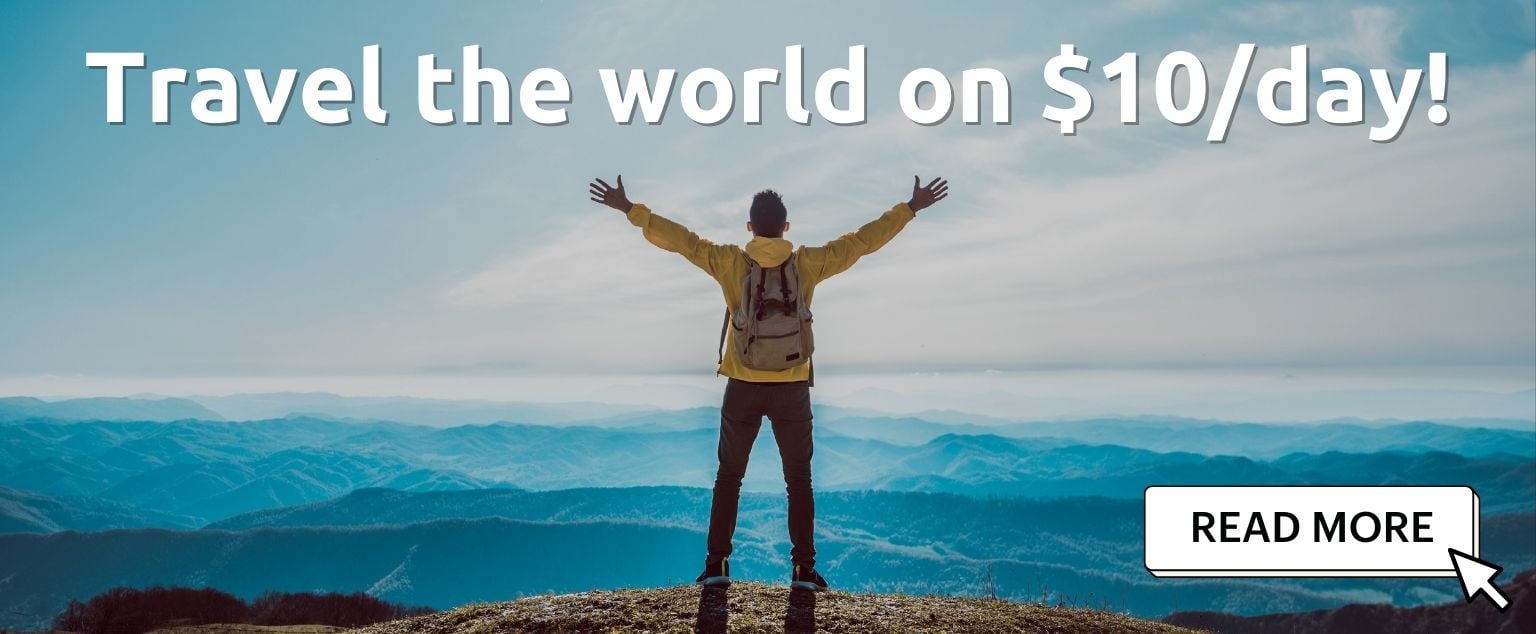 And for transparency's sake, please know that some of the links in our content are affiliate links. That means that if you book your accommodation, buy your gear, or sort your insurance through our link, we earn a small commission (at no extra cost to you). That said, we only link to the gear we trust and never recommend services we don't believe are up to scratch. Again, thank you!