With its rich and diverse cultural identities, beautifully spiritual way of life, flavorful cuisine, and incredible natural scenery, South East Asia has won the hearts of millions of travelers worldwide. It's a continent full of wonder and desire, and Thailand is no exception.
The welcoming country is a spiritual haven where Buddhist monasteries, shrines, and temples meet exquisite tropical coastlines, jungles, and dramatic cliffs. Chiang Mai is the heart and soul of the country, nestled inland between the countries of Myanmar and Laos in northern Thailand.
This mountainous region has an entirely different feel from the southern tropics that most tourists visit. Over the past few decades, the city has transformed from a quiet religious town to a bustling city surrounded by incredible nature.
Marketing itself as an easy location for ex-pats to live, the city has developed an impressive infrastructure for remote workers, with all of the amenities and facilities making it the ideal place for digital nomads in Chiang Mai.
Besides its incredible location and facilities for remote workers, Chiang Mai is well located for exploring the region, is safe and affordable, and offers a buzzing ex-pat scene.
Let's look closer at what makes Chiang Mai so digital-nomad-friendly and how you can make this zen mountainous retreat your new home.
Is Chiang Mai Good for Digital Nomads
Not only would I say that Chiang Mai is suitable for digital nomads, but I would go so far as to say that it is one of the best destinations in South East Asia. There are a few reasons for this.
Firstly, the city is teeming with incredible history, culture, and spiritual vibrancy. There are not many places where you can hike a mountain in the morning and spend your afternoons meditating at an ancient shrine surrounded by monks. The streets are bustling night and day, overflowing with incredible culinary delicacies, street food markets, and shops on every corner. With this combination of culture and religion, visiting Chiang Mai is fascinating and even more intriguing to settle into as a long-term visitor.
Second, Thailand makes a lot of its money from tourists, so the country is clued up on making it easy for foreigners to visit and stay for long periods. In fact, Chiang Mai is known as one of the digital nomad capitals of the world, offering a unique lifestyle and liberal visa policies for ex-pats that allow digital nomads to stay in the country for up to ten years (but more on that later).
Weather plays a big part in attracting digital nomads living in Chiang Mai. You can expect rainy and overcast conditions during the wet season, while the dry season calls for sunny skies and humid weather. Although in a mountainous region, temperatures sit at a balmy medium between 62 and 94 degrees Fahrenheit and rarely get as low as 55 degrees Fahrenheit in Chiang Mai.
Chiang Mai has been ranked as the safest city in South East Asia, with low crime rates making it super attractive to ex-pats. You can walk alone day and night without being nervous about predators. However, there are a few common scams to look out for, so research these before arriving to avoid frustration.
Ideally situated in the heart of South East Asia, Chiang Mai is a great spot to base yourself if you want to explore Thailand. Whether you want to spend a long weekend at the beach or jet off into Asia for a more extended vacation, you can do so affordably and easily from Chiang Mai.
Cost of Living
One of the most attractive aspects of working as a digital nomad in Chiang Mai is the low cost yet high quality of living. To put things into perspective, Chiang Mai is 63% cheaper than New York, with rent being around 90% more affordable in Chiang Mai. A single person can expect to spend around $500 on living costs per month, not including rent.
So, with an affordable cost of living, foreign currency goes far in Thailand. Not only will you be able to afford an excellent quality of life, but you will also be able to spend on exciting travels, incredible food, and experiences in the region all while saving more than you would elsewhere.
Eating out: A meal at an inexpensive restaurant costs around $2, while a three-course dinner for two at a mid-range restaurant will set you back $15. A coffee costs as little as $1.50, while a beer averages between $2 and $3.
Rent: A one-bedroom apartment in the city center costs around $350 per month, while a similar apartment outside the center costs as little as $230. A three-bedroom apartment in the city might reach $830 per month. Basic utilities (heating, cooling, water, trash) cost around $55 monthly for a one-bed apartment. Wi-Fi connection is strong, and you can expect to spend about $20 monthly on unlimited data.
Transport: a one-way ticket on local transport costs 88 cents, while a monthly pass without discounts costs $23. Taxis are more expensive than public transport but still very affordable, costing around $1.30 per mile traveled.
Activities: If you choose to join a fitness center while living in Chiang Mai, you could spend around $40 per month on membership. Renting a tennis court for an hour on the weekend might cost about $7, and a single ticket for the cinema costs around $6.
Groceries: A gallon of milk costs almost $7, while a loaf of fresh white bread costs under $1.25. A bunch of bananas costs only 60 cents, while apples cost closer to $1. A pound of potatoes costs 60 cents, and a pound of red meat goes for $5.50.
Digital Nomad Accommodation in Chiang Mai
Chiang Mai wouldn't have made it as the leading destination for digital nomads in South East Asia without having many great accommodation options. The city is an international hub home to many hotel chains, coliving and working spaces, and rental properties suitable for long-term digital nomads.
Co-living spaces offer a convenient blend between personal space and community environment, with shared facilities as part of your accommodation package. Since these are so conveniently set up for digital nomads, it's essential to research and book your spot as soon as possible to avoid missing out.
With so many ex-pats moving to the city, the top coliving spaces in Chiang Mai book out fast.
Where Should Digital Nomads Stay?
Once you've taken the plunge and decided to make Chiang Mai your temporary home, the first thing you'll want to sort out will be accommodation. Most ex-pats and digital nomads in Chiang Mai settle in the Old City, Hang Dong, Nimman, and Chang-Dong neighborhoods, which are generally safe and offer a lot in terms of ex-pat communities.
My main recommendation would be to stay in one of the city's best coliving spaces, which offers an incredible amount of shared facilities and spaces like kitchens, coworking spaces, and social lounges while still having your own private bedroom.
Coliving spaces are ideal for those looking to maximize their social, work and travel life, and are the best place to meet like-minded digital nomads.
One of the best in the city, Hub53 Coworking and Coliving Space combines the best of both worlds for digital nomads. Located a short walk from the trendy Nimman Road, each unit here is fitted with air conditioning, a private bathroom, and a well-equipped kitchen, including a dishwasher, microwave, toaster, and fridge. Select rooms even have a terrace. You can choose among different types of rooms to suit your budget and needs!
The best part of this accommodation is the common workspace, which provides shared and private desk options with ergonomic chairs, plenty of plug points, and well-working Wi-Fi.
Alt_Chiang Mai is a hotel designed for coliving and coworking and is suitable for digital nomads after a chilled-out space to work, party, and relax. The space has been refurbished with modern interiors and sleek designs, featuring tons of natural light, greenery, and a fresh air flow. The accommodation includes a spacious bed, excellent storage facilities, and your own bathroom.
Guests can also access a communal courtyard and kitchen space. Alt runs a series of events from movie nights to games and entertainment events to encourage residents to mingle and socialize with one another.
If you prefer to live in your own space entirely or are traveling with a partner or children, I advise looking into the local rental market and browsing Airbnb for an affordable lease or short-term sublease. This way, you'll have your very own home with a kitchen, living room, and private bedrooms while living in Chiang Mai.
This modern condo near Nimman has two bedrooms, two bathrooms, and a spacious living area. Best of all, it is located in a hotel-like apartment block with a massive communal pool and lobby lounges to use. Perfect for digital nomads, the space has a dedicated workspace, excellent internet connection, necessary air conditioning, and free parking.
Finally, another option would be to book a hotel room using Booking.com. There are a bunch of hotels and bed and breakfasts in Chiang Mai that offer discounts for long-term stays.
POR Thapae Gate is a three-star hotel in the city's center, offering modern air-conditioned rooms with Wi-Fi and gorgeous bathrooms. Breakfast is available each morning, with continental, American, and Asian options served.
On top of this, guests can make use of the outdoor pool, garden, and a shared kitchen, while benefiting from services like daily housekeeping, laundry facilities, and a 24-hour front desk.
Forget boring accommodation… book yourself an EPIC STAY!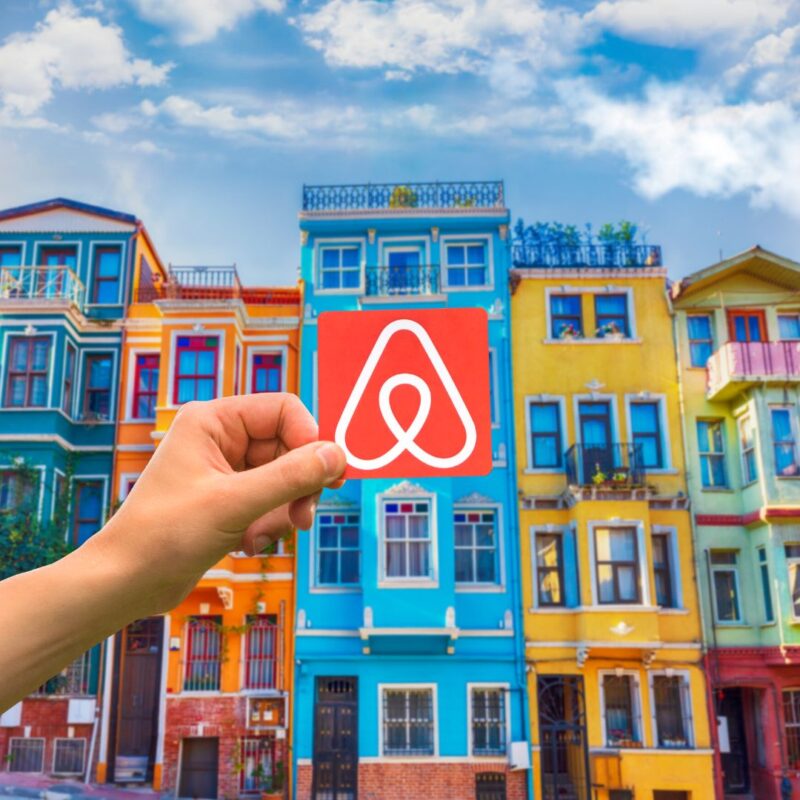 Why stay in a naff hotel when you can stay in a cosy, stylish local house instead? And for half the money too!
Stay somewhere EPIC and save your hard-earned dollars — from houses to barns to castles and caves, there is an Airbnb for every occasion!
Book an EPIC Stay
Wi-Fi in Chiang Mai
One of the reasons Chiang Mai is rated as a top destination for digital nomads is that the internet is high-speed. You can pay around $30 per month for dedicated fiber optics with a download speed of 200 Mbps and an upload speed of 50 Mbps. Simply put – Wi-Fi in Chiang Mai is FAST and affordable!
Other than purchasing your own internet, most cafes, restaurants, and shops around the city have their own connection with free wifi with decent speeds. Buying mobile data is also affordable, with 5GB of data for a month costing less than $3.
Co-working in Chiang Mai
When settling in for the work week, there are a few different ways to get your grind on. The first and most expensive option is to rent a private desk or a hot desk in a co-working space, and this is the better option for those who prefer a bit of stability in their work environment.
The second option would be to set up a mobile office space in a cafe, switching it up as you, please. This route is suitable for digital nomads who can work with a bit of noise, surrounded by other people who may not necessarily be working.
The Best Co-working Spaces in Chiang Mai
Co-working spaces usually offer great amenities like comfortable seating, plug points, good Wi-Fi, food and drink options (or at least a communal kitchen to use), and host regular networking events.
Some even include swimming pools, gyms, and meditation centers. Co-working spaces are basically digital nomads equivalent to an office, just a lot more fun.
CAMP is one of the most popular coworking spaces in Chiang Mai for a good reason. It occupies the top floor of a buzzing Maya Mall and is frequented by everyone from local students to foreign digital nomads in Chiang Mai. Entrance is free, but the internet is only accessible after a small purchase of around $2.
CAMP is a triple threat, offering a coffee shop, coworking space, and library – all in one. Since it's a good place for students, it might not be suitable for digital nomads who need absolute silence. That said, talking out loud is not allowed, and headphones are recommended to keep things as quiet as possible.
Punspace offers two locations, one in Tha Phae Gate and one in Nimman, both in the city's historical center. The beautifully designed space offers high-speed internet and is super quiet, perfect for deep concentration. From Monday to Friday, Punspace is open 24 hours a day for members, ensuring you can get your work done at any time of the day (or night).
With a friendly community vibe and regular events hosted at the premises, Punspace is a great option if you're new to the city and want to meet like-minded digital nomads in the copywriting, web developing, and designer space. The coworking initiative offers day passes or monthly memberships starting at around $130.
The Hub is one of the most desirable coworking spaces in the digital nomad community. Set in an open-concept building with classrooms, conference rooms, a library, and more, the environment here is one of calm and motivation.
The Hub is home to the International Sustainable Development Studies Institute, a Cross Fit Studio, and the RX Cafe. Open from 8 am to 7 pm daily, and you can check off exercising, eating, and working all in one space.
Cafes with Wi-Fi
If you don't rely on a formal work environment and are alright with working surrounded by people and noise, you could choose to work between home and different coffee shops or cafes.
Cafes offer a social atmosphere where you can set up a mobile work office in exchange for purchasing the odd drink or meal to secure your seat. Of course, this route risks not finding a suitable desk and is a lot more unreliable (although often cheaper).
Story 106 Cafe has super fast internet speed and serves brunch, lunch, and baked treats to keep digital nomads in Chiang Mai fueled for the day. Simple interiors with tons of natural light, airflow, and space make this a great place to set up for the day. The cafe is located over two stories; downstairs is best for socializing, while the upstairs area is reserved for coworking. There is even an outdoor balcony with a view of a nearby temple.
Artisan Cafe in Wua Lai Road is known for its delicious coffee and baked goods. But it's also a hot spot for digital nomads, who can spread out across the comfortable couch seating to get into some work. During your breaks, head to the small outdoor seating area for a bit of fresh air and sunshine.
Heartwork Cafe in Chang Khlan is one of the top places for great Wi-Fi paired with fresh coffee and baked goods. Double-height ceilings and floor-to-ceiling windows allow abundant natural light and air into the space, which is well-fitted with bar searing and plug points for charging your devices. The space also includes an office where you can print or copy documents.
W8 X Viangpha Cafe is located in the heart of the Old City and serves some of the best coffee in town for a relatively affordable price. The cafe has two stories, both boasting an airy open concept space with wooden furniture and greenery for a touch of natural beauty.
Wherever You Roam… Get Insured First
Travel mishaps can and do happen and can prove annoyingly expensive. Travel insurance is key for your own peace of mind, and The Broke Backpacker stands strong for SafetyWing.
Month to month payments, no lock-in contracts, and no itineraries required: that's the exact kind of insurance digital nomads and long-term traveller types need. Cover yo' pretty little self while you live the DREAM!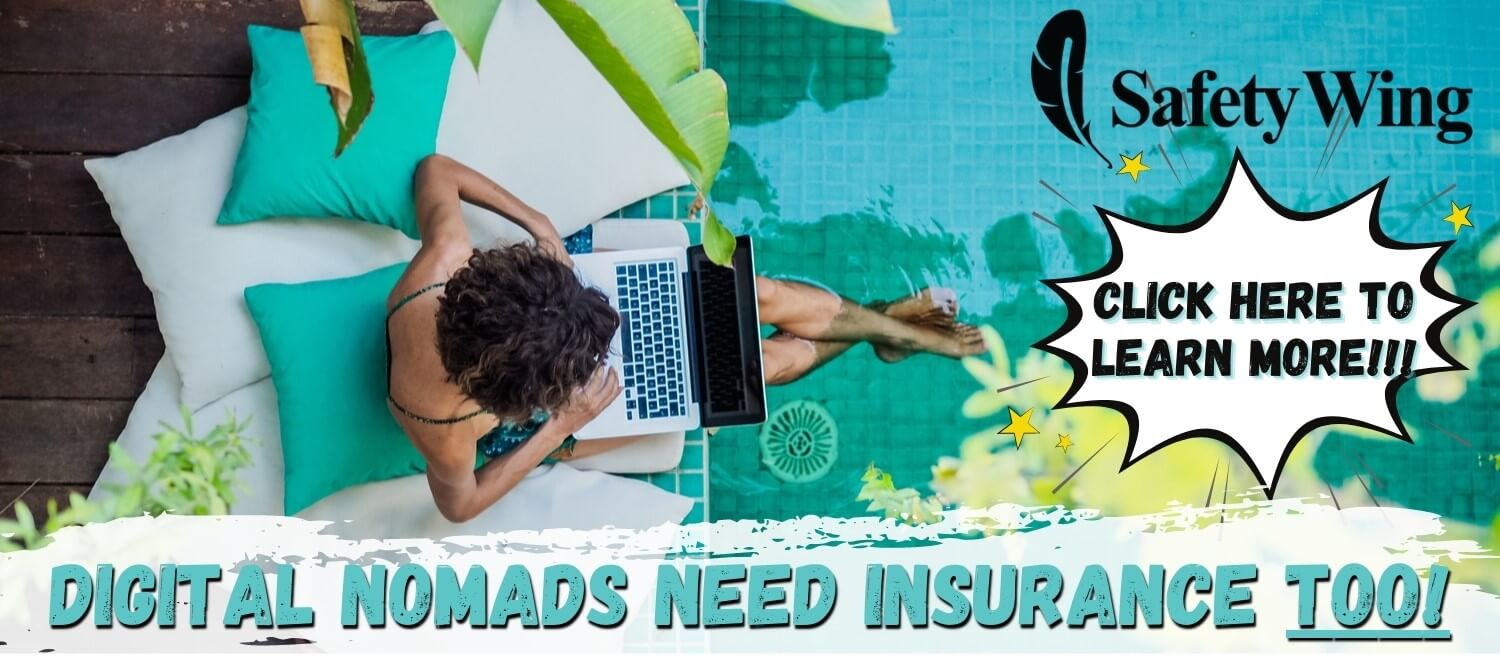 SafetyWing is cheap, easy, and admin-free: just sign up lickety-split so you can get back to work! Click the button below to learn more about SafetyWing's setup or read our insider review for the full tasty scoop.
Places to Eat in Chiang Mai
One of the main reasons Chiang Mai is so loved is because of its incredible food scene. From tasty street food prepared on mobile carts to modern fine-dining experiences, there is a culinary treat waiting for every traveler with any budget while living in Chiang Mai.
Some of the most popular dishes include Pad Thai, a noodle dish adopted by most countries across the globe. Sticky rice and mango pudding are one of my favorite desserts, with a sweet yet subtle coconut taste perfectly concluding any meal.
Chiang Mai, in particular, is well known for its egg noodle curry, known as khao soi, and a grilled spicy herb sausage called sai oua. Thai green, yellow, and red curries are a crowd favorite, all made using unique spice combinations inspired by different parts of the country.
Before we get into restaurants, I'd like to make a special mention of street food markets. Some of the best places to grab a casual bite to eat, these markets are just as popular with tourists as they are with locals – which says a lot!
Chiang Mai's top markets include the Chang Phuak Gate Night Market, the Student Market at Malin Plaza, Chiang Mai Night Bazaar, Warorot Market, and the city's Saturday and Sunday Markets (around Sun Phung Gate and Tha Phae Gate).
For the most quintessentially Chiang Mai experience, Old Chiang Mai Cultural Center is a restaurant that has been running for over 40 years, serving traditional pork curry, chilly-based dips, and central Thai dishes paired with an entertaining traditional Thai dance.
Dedicated to bringing Yunnanese Chinese culture and cuisine into Chiang Mai, Mit Mai is a unique restaurant that creates dishes with Chinese ingredients like wok-seared greens and spicy salads.
One of the most iconic eateries in the city, Midnight Chicken is a legendary casual eatery that puts the spotlight on fried chicken, beef, pork – you name it. As the name suggests, this is a spot for late-night meals, perfect for young digital nomads in Chiang Mai. Prepared in front of guests in a market-like setting, enjoy your meal on casual stools accompanied by a plate of greens and sticky rice.
There is something special about a simple noodle dish, packed with flavor but basic by nature. Khao Soi Islam Noodles serves wheat noodles in a curried broth – one of Chiang Mai's signature dishes. The creamy and surprisingly mild soup made using coconut milk is combined with the Muslim version of the dish here and has been attracting visitors for decades.
Vegans will rejoice at Reform Kafe, a casual diner in Chiang Mai's Old City that serves tasty vegan and vegetarian lunches and dinners. The menu ranges from traditional Thai dishes to Western-style plant-based burgers, complemented by your favorite fruit juices (and wines).
What it's like Living in Chiang Mai
Visa situation
As one of the most popular destinations for digital nomads worldwide, Chiang Mai has liberal visa policies that make visiting and staying in the country easy. The government has recently launched the Thailand Smart Visa, which was implemented to attract a highly skilled workforce, investors, and entrepreneurs into the country.
This visa allows ex-pats to stay for up to four years. There are five different variations of this visa (startup entrepreneurs, senior execs, investors, highly skilled talent, etc.), depending on the level of expertise you will bring into the country. However, this visa is only available for specific industries, mostly tech, medicine, and environmental management.
The Long Term Residency (LTR) Permit is another program that aims to attract educated visitors to live in the country for up to ten years. While this is more designed for those willing to invest their life and stay in the country for a decade, there are other options for digital nomads looking to spend a year or two in the country.
The most common option for a digital nomad in Chiang Mai is to enter the country on a 60-day tourist visa and extend it for an additional 30 days. This can be repeated by doing a visa run out of the country, where you can enter on another 60+30 day visa.
Expat community
As one of the world's top destinations for digital nomads, you can expect an incredible ex-pat community in Chiang Mai. More than 30 thousand foreigners call the city home at any given time.
Most ex-pats live in and around the Old City, Hang Dong, Nimman, and Chang-Dong neighborhoods, where you will find plenty of internationals walking the streets, browsing the markets, and dining at cafes and restaurants.
With so many ex-pats, active clubs have developed that hold monthly meet-ups and events. These ex-pat groups of people living in Chiang Mai act as conduits for smaller local interest groups that meet more regularly to partake in activities like hiking, book clubs, and dining out.
Language
While Thai is the country's official language, most Chiang Mai locals can speak English fluently. Some of the older residents speak different dialects of Thai and are less fluent in English, but you should typically be able to get around without knowing how to speak the language.
Transportation
Songkhaew is the most common mode of transport in Chiang Mai. These small converted pickup trucks have two rows of seats facing each other and are used by locals and tourists. They are abundant and easy to hail and will transport you directly where you need to go for a small fee.
Tuk-tuks are another common option, although slightly more expensive than Songthaew, with rates starting at $2 for a short trip in the city.
There are a few taxis in the city, but they are less easy to wave down. You'll find most taxis waiting at the airport or transport stations. It costs around $4 to $5 for a ride within the inner city, spending on where you go.
Uber and Grab are the two most common ride-share apps and are much cheaper than regular taxis. Grab is South East Asia's version of Uber, so make sure you download this app before arriving.
Although the city has a bus network, it isn't extensive and covers only two routes connecting the airport to the city. A one-way ride per person costs around $1.20
One of the main advantages of living in Chiang Mai is the international airport just a short distance from the city. Songteaw and tuk-tuks are abundant and cost around $5 for the fifteen-minute one-way trip into the city.
Things to do in Chiang Mai
When the work day comes to a close or the weekend rolls around, digital nomads in Chiang Mai are overloaded with options for things to do in and around the city.
One of the best ways to spend your time is to take in the city's cultural beauty and spiritual wonder. Scattered with ancient temples and shrines, Chiang Mai was once one of Thailand's most significant religious centers. Some famous temples include Doi Suthep, Wat Chedi Luang, Wah Phra That Doi Suthep Ratchaworawihan, and Wat Phra Sign Woramahawihan.
The city is also flanked by a gorgeous mountainous landscape that provides many outdoor adventure opportunities. In fact, Thailand's tallest mountain can be found here, along with a few exquisite national parks.
Doi Inthanon National Park offers the perfect combination of culture, outdoor beauty, and incredible views. Whether you enjoy hiking, rock climbing, or just strolling through beautiful nature, there are plenty of outdoor spaces to do so here.
Chiang Mai's mountains are also home to two famous tribal villages, including the Doi Pui Tribal Village and National Park. Make sure you visit this sanctuary space for a taste of traditional Thai life and culture surrounded by nature.
The Bo Sang Handicraft Village is a great place to browse local art and artisanal products handmade in the region. It is as beautiful as it is culturally exciting, featuring the handmade crafts that have been handed down from generation to generation.
With a blossoming ex-pat population, there are a lot of social groups that connect ex-pats to one another. If you're looking for new friends or others to share experiences with, I highly advise joining some of the ex-pat or digital nomads in Chiang Mai Facebook groups to see what's happening in your area.
Final Thoughts
It's no secret that Chiang Mai is one of the world's top destinations for digital nomads. Liberal visa regulations, an incredibly rich culture and history, a spiritual atmosphere, beautiful nature, and world-class food are just a taste of what this Northern Thai city has to offer.
It's also stacked with amenities and facilities for remote workers and digital nomads in Chiang Mai, from co-living spaces to co-working offices and cafes with great Wi-Fi connections. Not to mention, the friendly ex-pat community makes the city all the more easy to settle into.
If I were heading to the city as a digital nomad, I would pick out a co-living and working space with a vibrant social community and comfortable living quarters in one of the more popular ex-pat neighborhoods. The best thing about these spaces is that you don't have to commit to long-term leases and can see how you feel before you extend your trip.
---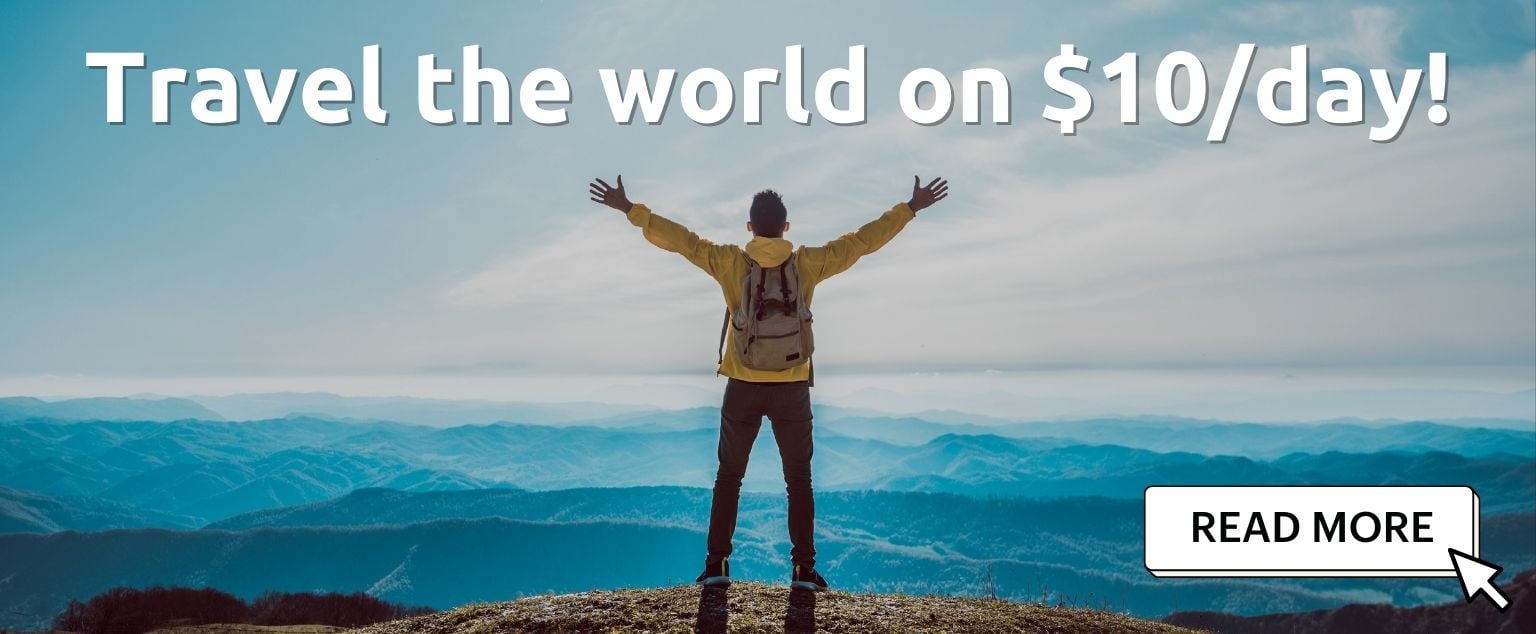 And for transparency's sake, please know that some of the links in our content are affiliate links. That means that if you book your accommodation, buy your gear, or sort your insurance through our link, we earn a small commission (at no extra cost to you). That said, we only link to the gear we trust and never recommend services we don't believe are up to scratch. Again, thank you!