While you've been traipsing trails in the Italian Dolomites or chugging beers in Thailand… have you ever wondered how many other people are doing this too?
Or what they're doing, for that matter?
Who are backpackers?
Where are they going or planning to go?
Is everyone else staying in hostels too or are you the only one slumming it?
If you've never wondered about this stuff before, I bet you are now. And I'm about to quench your thirst for knowledge with some cold hard facts and funky numbers. Presenting: the best backpacker statistics.
Backpackers come in all shapes and singlets but there are some trends that we can definitely track down. There are some places that most backpackers will visit in their lifetime, and there are attitudes that we budget adventurers share. And when it comes to planning future trips, well, I've also got some insight into that.
So, without further ado, let's dive deep into the wonderful world of numbers and percentages. We about to make statistics cool again!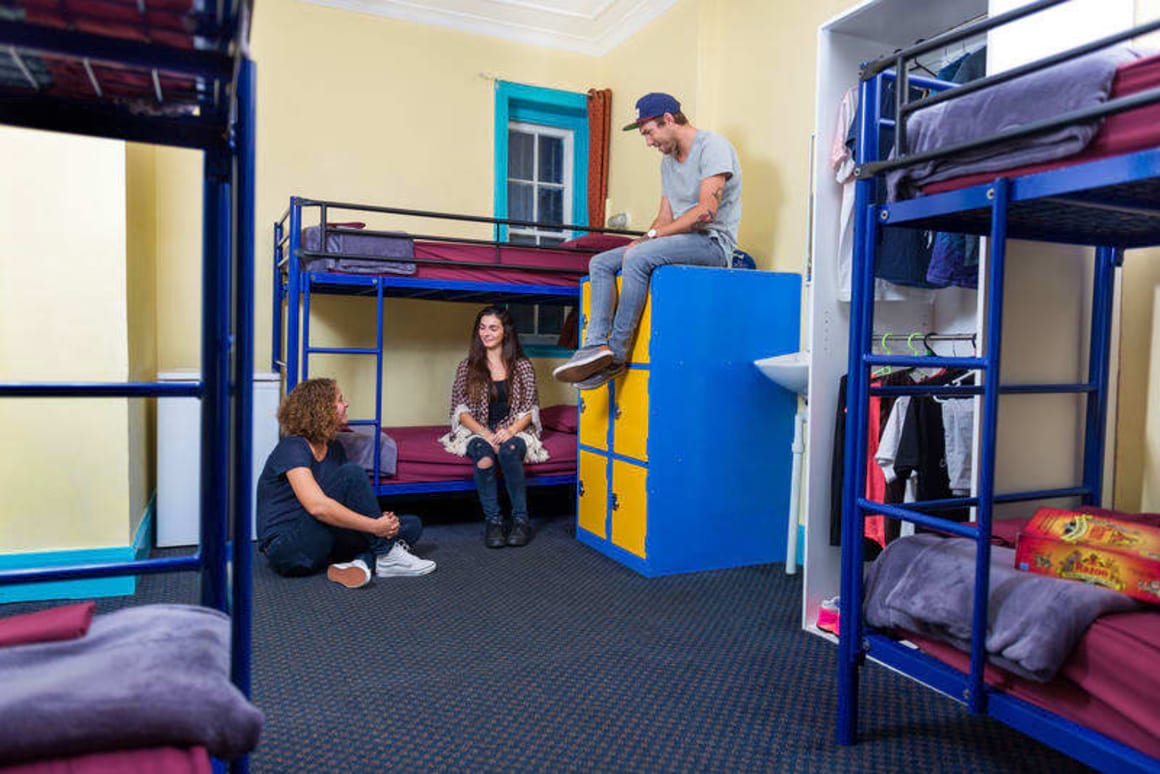 A Quick Look into the Coolest Backpacker Statistics
In a rush and prefer snacking on fun facts, rather than having a whole platter of them? Here I've highlighted some cool quick statistics on travelling to give you a lil' sampler of what's to come.
Want to learn more? Then just keep reading!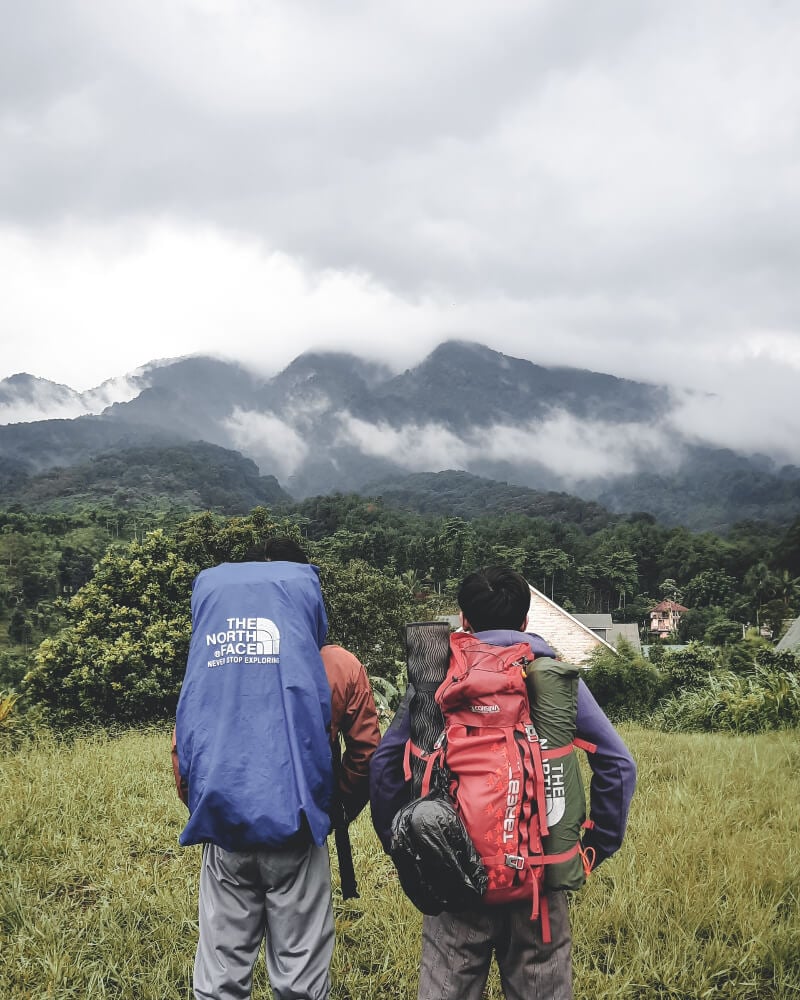 About 45 million backpacking trips are taken annually
2/3 of backpackers are 20-25 years old
Most backpackers are solo travellers; out of solo travellers, over 80% are women
More young women are interested in backpacking than young men
1/3 of backpackers rely on reviews for hostel bookings
The most popular reason to go backpacking is to experience new cultures
Over 80% of backpackers have stayed in hostels
21% of backpackers have also used Airbnb
Thailand and Vietnam have the most hostels in the world
30% of backpackers are planning to travel off the beaten path next

Unlock Our GREATEST Travel Secrets!
Sign up for our newsletter and get the best travel tips delivered right to your inbox.
Top Backpackers Statistics – Who, What, Where?
Alrighty, now we're getting down to the real meat and bones. Here are some cold hard numerical data on the questions that I'm sure you CANNOT wait to get answers to! These questions include such great hits as "who's actually backpacking?", "where is everyone going?" and "is everyone REALLY still backpacking Thailand??"
Firstly, I should mention that we're covering specifically backpackers today; travel and tourism statistics are a slightly different game. In 2002, over 30% of all travellers identified themselves as backpackers, compared with just over 14% in 2017. [3]
This doesn't mean that there are now fewer backpackers than before. It's way more likely that there are a lot of "hybrid" travellers that also spend time in private rooms, guest houses, and mid-range hotels or Airbnbs. These travellers might not feel comfortable calling themselves just backpackers anymore.
And there are still a LOT of bona fide backpackers. It's estimated that 45 million international backpacking trips were taken in 2002 – versus 44 million in 2017. [1] Not much change there!
But who are these budget travellers that sometimes refuse to label themselves?
Let's find out!
Who Are Backpackers?
Yes, who are they?
Most backpackers are 20-25 years old which has been the peak backpacking age for pretty much forever. Two-thirds of backpackers fell into this age group in 2002 and 2007, and in 2017, their proportion was still just under 60%.
This doesn't mean that folks older (or younger) than that wouldn't be hitting the road too! The proportion of 30-something backpackers has doubled since the early 2000s (5% in 2002; 10% in 2017). [1]
And there's no reason why we should only look at youth travel statistics to figure out the ways of backpackers. Gap years for adults are on the rise, and 80% of backpacker hostels don't have a maximum age restriction. You'll still likely be mingling with the younger populace: over 70% of backpackers in hostels are millennials. [10]
It's also a great time to be a solo female traveller. Bookings on Hostelworld by women travelling alone increased by 88% between 2015-2019 [2], and according to another source, 84% of solo travellers are women.[5] It's now safer and easier than ever for solo girls to hit the road, and the many stories and examples of other solo girls on social media definitely help encourage the new generation of backpackers!
Girls are definitely taking over the backpacking trails. 75% of young women (16-23 years old) have been on a backpacking trip or are planning for one. For men in the same age group, the percentage is only 67%. [2]
Backpackers' World Views
The interesting part of being a backpacker is that the backpacker identity doesn't only relate to dry digits like ages or genders. Being a backpacker also has everything to do with how they see their place in the wonderful world of travel.
Most backpackers seem to think that backpackers are a breed of their own: when asked, almost 70% of backpackers said they consider themselves different from regular ole tourists or travellers. About 57% of backpackers think that backpackers are better at interacting with local culture than regular travellers. [3]
So it's no wonder that by far the most popular reason to go backpacking is to experience new cultures – for almost 40% of backpackers, this is the first and foremost reason for their trip. [3]
This shows in the activities that backpackers like to do. The notorious stereotype is a young, drunk gap year kid puking cheap beer somewhere while travelling Southeast Asia. But actually, according to Hostelworld, young and future travellers are less interested in nightlife these days. Beautiful scenery and beautiful accommodation have become more and more important (thanks, Instagram). [2]
Backpackers are now more into learning the local language as well: in 2002, only about 12% of backpackers were interested in language learning compared to over 32% in 2017. [1]
Today's backpackers are also big planners compared to the wayfarers of yesteryear. Rocking up at the hostel on the day of used to be a favourite trick of the backpackers, and over 10 years ago 44% of backpackers used this tactic. These days, only 13% of backpackers plan to just show up. [2]
Maybe this is due to the popular areas becoming REALLY popular: if you leave planning too late, all the cheap and good hostel beds will be snatched up. On average, European backpacking trips are planned 24 days in advance. [2]
Where Do Backpackers Stay?
Most backpackers still stay in hostels – unsurprising, since most backpackers definitely think that hostel life is the thing that defines a backpacker. According to backpackers statistics, over 80% of backpackers say that they've stayed in hostels during their trip. [2]
If you're wondering which one of the countless of hostels in the world is the best, check out Tribal Bali! You can thank us later… 😉
Other affordable forms of accommodation have also become available, even for budget travellers. Most backpackers these days are probably hybrid travellers: they stay in hostels to save money and meet other travellers, then book a cool Airbnb or a quiet room in a guesthouse to de-stress for a few days.
Staying in hostels is also easier now than ever. Hostelworld says that in 10 years, they've had a 173% increase in listed properties – even in more avant-garde destinations like Cuba, Ecuador, and India. This means that even when backpackers are headed to more obscure destinations, they usually have the chance to stay in a hostel. [2]
Backpackers these days use many forms of accommodation. 44% of backpackers have also stayed in hotels, and 28% stayed over at family or friends's places. [2]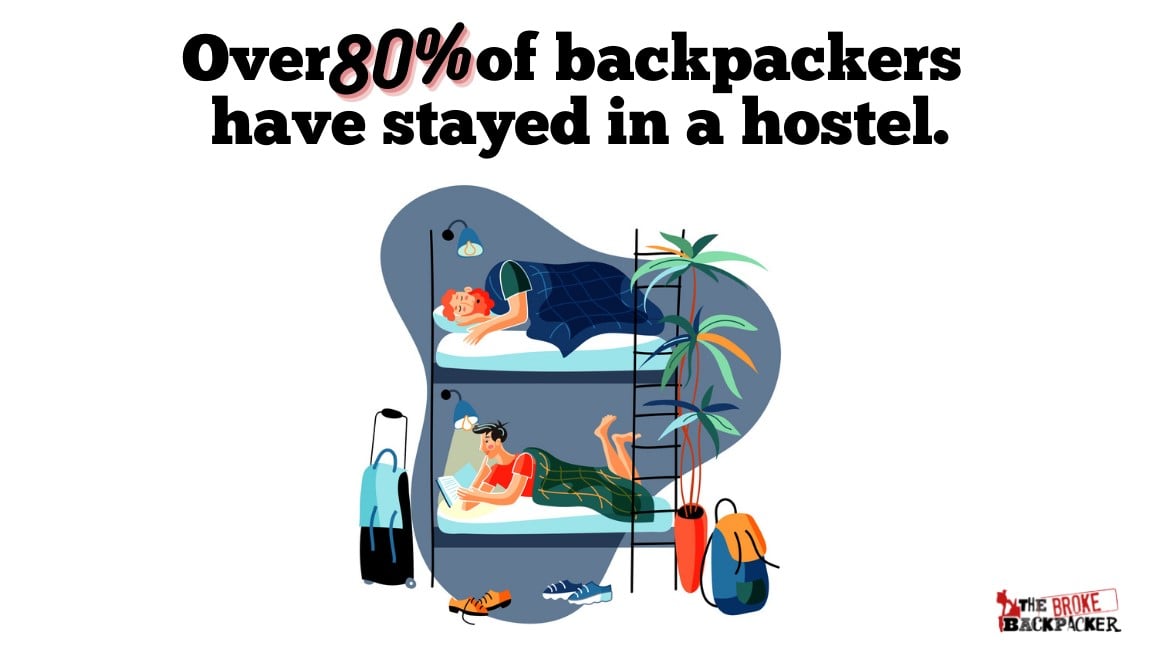 In 2017, 21% of backpackers used Airbnbs and I've got a gut feeling that this proportion is only higher now. [1]
Side note: we've got actual holiday accommodation statistics now and – who would've thought – my gut feeling was right!
When asked how backpackers choose the places they stay at, 3 main reasons clearly pop up: price (28% of respondents), backpacker recommendations (25.5%), and location (25%). [3] Other travellers' opinions are highly valued: these days 1 in 3 hostel guests pick their accommodation based on reviews – when this used to be 1 in 4 backpackers. [2]
It's not only about picking the cheapest possible option anymore! In fact, the importance of the price of accommodation has decreased by 14%. [2]
The appearance of the hostel is also becoming more important for backpackers (again, thanks, Instagram, I guess?). Only 9% of travellers from 10+ years ago said that decór was important when picking a hostel, in comparison to 15% of travellers currently planning their backpacking trip. [2]
Introducing the best hostel EVER!
Hell yeah, you heard right! There are many great places in Indonesia, but none of them can live up to Tribal Bali.
A unique coworking and co-living hostel for those that want to travel the world while working from their laptops. Make use of the massive open-air coworking spaces and sip on delicious coffee. If you need a quick screen break, just take a refreshing dip in the infinity pool or grab a drink at the bar.
Need more work inspiration? Staying at a digital nomad-friendly hostel is a really smart way to get more done whilst still enjoying the social life of travelling… Mingle, share ideas, brainstorm, make connections and find your tribe at Tribal Bali!
Where Do Backpackers Travel to?
The most popular backpacking destinations have stayed mostly the same. In 2007, the top 5 countries for backpackers were Australia, Thailand, the US, Italy, and France; in 2017, the top 5 were the same with addition to Spain and Thailand having been bumped down to place 6. [1]
No wonder Asia holds fast in backpacker dream destinations: it's cheap and has an awesome infrastructure for budget travellers. Over 42% of backpackers say they have been to Asia, and well over a third of future backpackers are planning to travel there in the next five years. [2]
Over a third of the world's hostels are in Asia – that's almost 6,000 hostels! [10] Thailand and Vietnam have more backpacker hostels than any other country: 287 hostels in 28 cities in Vietnam, and 435 hostels in 42 cities in Thailand. [2]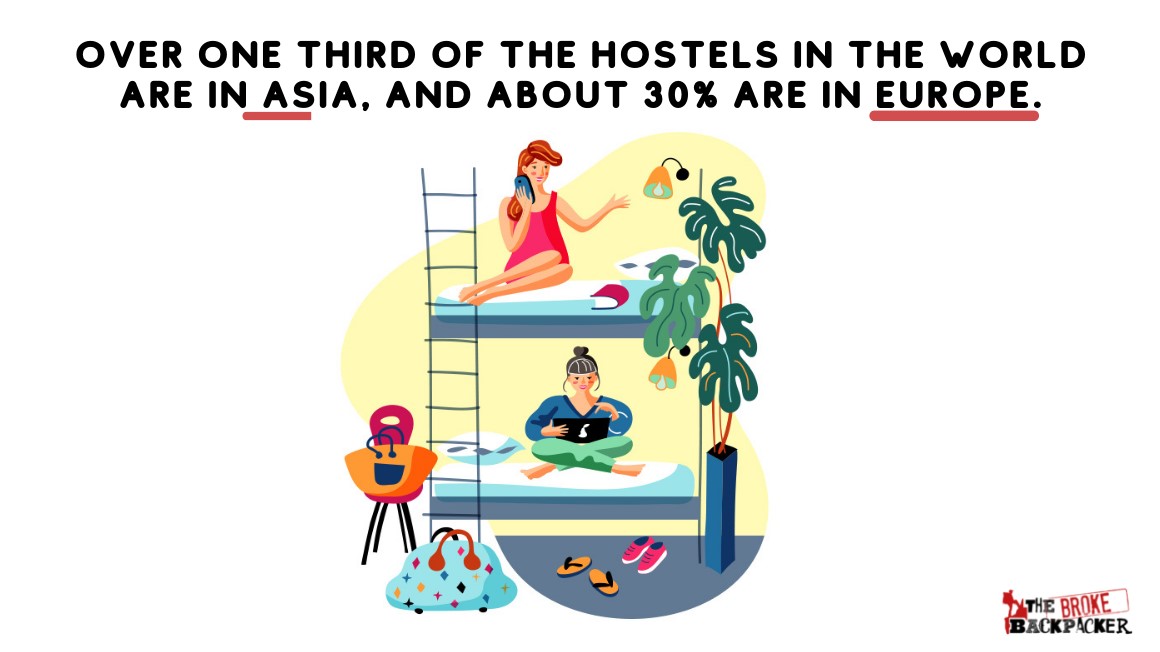 Backpacking Europe is also still super popular, and similarly, about 30% of the world's hostels are located there. In general, over half of backpackers have visited the continent. And there's more to see: two-thirds of female backpackers are planning a trip there soon. [2]
The fewest backpacker hostels are found in Africa, with around 500 hostels on the entire continent [10] – which might be a good reason why so few backpackers find their way there.
Today's and the future's young travellers might be the ones to change this since they're going to be blazing some new trails. About a third of the people planning their backpacking trip are aiming to go off the beaten path. But maybe Africa can still wait – according to Hostelworld, the biggest rise in popularity has been for travel in South America. [2]
Of course, taking the road less travelled is easier for today's travellers than those that were backpacking 10-15 years ago. Social media and Instagram have probably helped tire people of seeing the same sights over and over again. (I'm definitely guilty of this myself!) Plus, there is just heaps more information and options to travel to lesser-known places these days.
How Much Money Do Backpackers Spend?
Backpacker spending obviously depends a lot on their destination but not necessarily for the reasons you might first think. Sure, a backpacker on the Western European travel trail might drop significantly more money per day than one travelling through Thailand.
However, whenever backpackers visit more expensive destinations, they tend to either stay a shorter time or do things that help cut their budget in a major way: Couchsurfing, hitchhiking, or volunteering.
So, even if backpackers might have a stingy reputation, a budget traveller in Southeast Asia might stay longer, i.e. spend money for a long time, and be also more open to spending their money since everything is a lot cheaper.
Backpacking in 2021, backpackers are also not actually as broke as they used to be. [8] The number of student backpackers is on a decline, and there are a lot more travellers making trips on work breaks and even choosing the digital nomad lifestyle to keep travelling for longer. (When looking at the Digital Nomads Statistics, about 1 in 10 backpackers says that having co-working facilities at the hostel is important.) [2]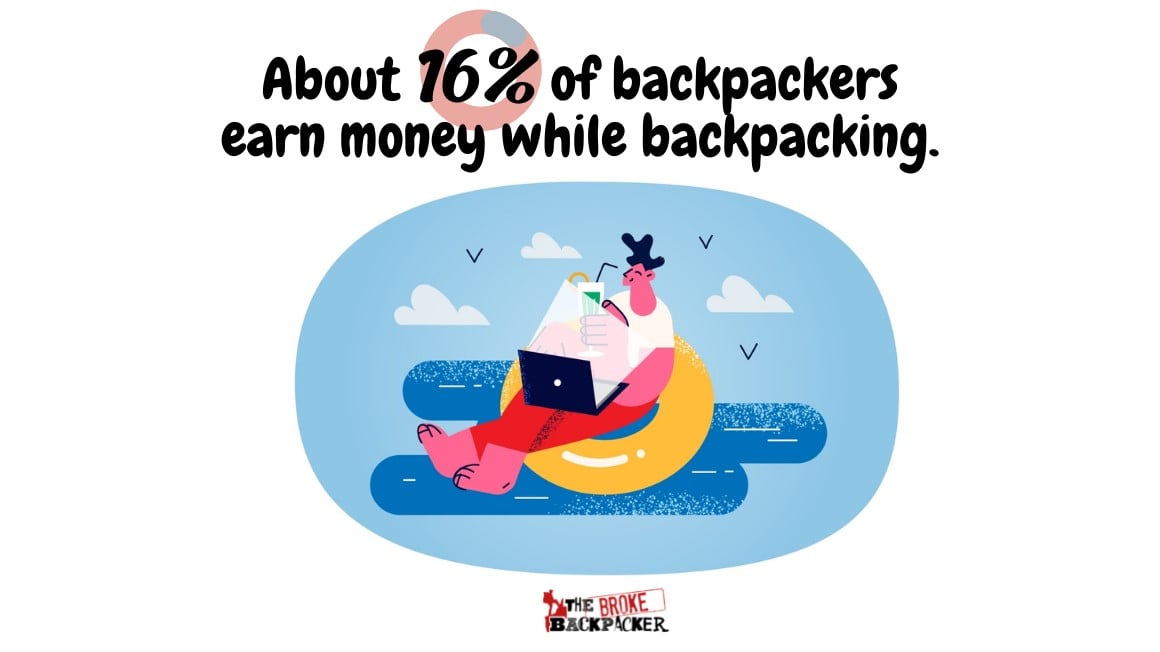 A lot more backpackers are earning money while backpacking than before. In 2002, only about 3% of backpackers did this compared to a whopping 16% in 2017. [1]
According to Forbes, backpackers in the US actually tend to spend more money on travel annually than a regular leisure traveller. A budget backpacker will drop $4,474 on travel annually, versus the spending of a regular traveller: $3,155. [4]
Maybe because backpacking holidays tend to last longer than normal holidays and often also involve international travel. (Finding cheap airfare is a skill every traveller should have!)
Maybe American travellers are just big spenders. In 2017, average European backpackers spent $3,871 on one trip. [1]
How Long Do Backpackers Backpack for?
News just in: fast travel is out, slow travel is in.
According to Hostelworld, millennial travellers are true jetsetters, popping by in 5-6 countries on one trip. This seems like a lot compared to older travellers who would've typically visited 3-4 countries on their trip. The new wave of backpackers is slowing it alllll the way down, with their plans to just visit one or two countries on one trip. [2]
Is this because backpackers are also planning on shorter trips these days? Perhaps! In 2013, the average backpacking trip length was 217 days; in 2016, the average length had dropped to 179 days. [7]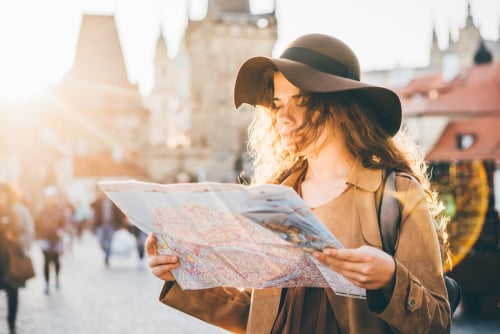 Maybe this is because of a changing demographic of travellers. In 2002, students made up about 65% of all backpackers, and in 2017, that percentage was 49%. [1] Backpackers are still very much wanting to travel but travel for them is something to fit around their normal lives.
There are fewer gap-year planners these days. Youth travel statistics show that out of the age group 16-25-year-olds, only one in eight was keen to take a full year off for backpacking.
Over a third were planning to travel during study breaks – or, for the working folks, over a break from work. This means fewer long trips. [2]
Solo Travel Extra: What You Never Knew about Solo Travel
Solo travel is often an inseparable part of the backpacking experience in the same way as staying in hostels. So I just had to include a separate section on solo travel!
The majority of hostel dwellers in the US are solo travellers (72%). [4] This figure is probably similar around the world. It isn't surprising that most backpackers are solo travellers but did you know that solo travellers make up 11% of the general travel market? [5]
All that freedom is deffo worth it since statistics on travelling show that solo globetrotters travel three times more than others.
Solo travel as a travel style is also expected to keep growing. According to Google trend data, searches for solo travel are up by 761.15%.
Solo travel is clearly interesting to young people as just over half of the searches are done by millennials. But there's space for anyone who's fearless to tackle the world alone: a Booking.com survey revealed that 40% of global baby boomers had already taken a solo trip. [6]
Solo travel is spearheaded by fearless women: Bookings on Hostelworld by women travelling alone increased by 88% between 2015-2019. Between 2015-2019, bookings by solo women grew 45% (bookings by solo men grew by 40%). [2]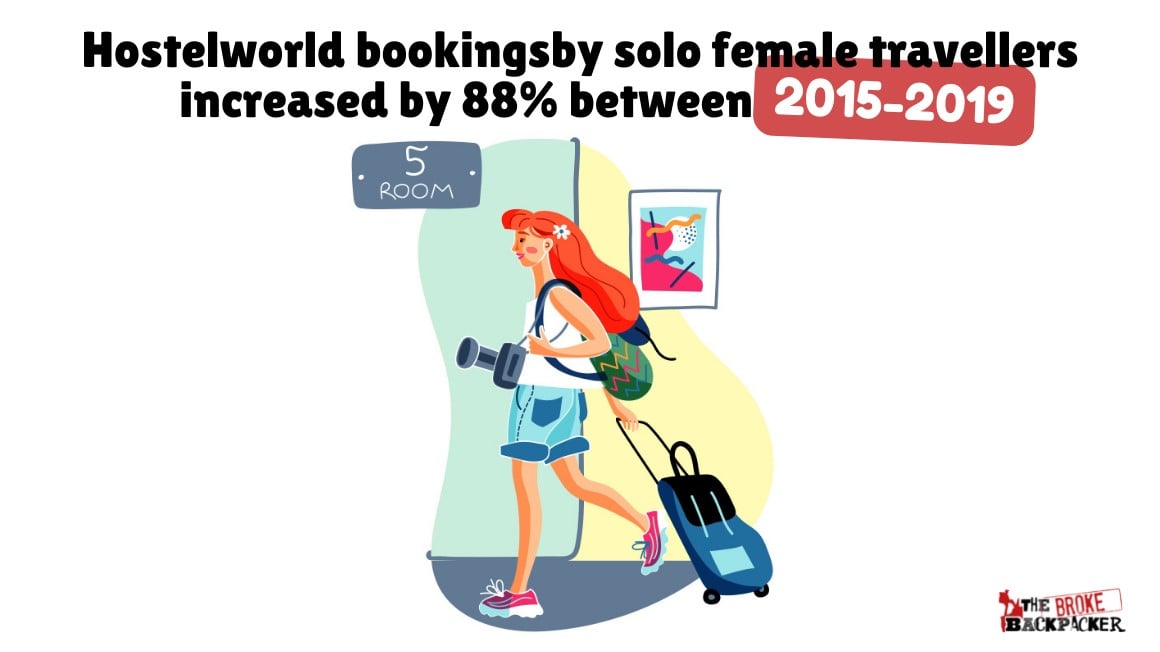 The biggest reasons people love to travel solo are similar across different surveys: they want to travel and not have to wait for anyone else, they want to do whatever they want, and they like independence and freedom. [6]
Being a solo traveller can be expensive though if you're not staying in hostels. The average cost of a one-year backpacking trip done completely solo is estimated to be $20,000.
Solo travellers are estimated to spend 50% more on accommodation than traveller duos (excluding hostel stays, of course). Those going solo might also end up paying 20% more on travel insurance. [5] That's the downside of being the only one to foot the bill on your trip.
Top Backpacker Statistics: Now You Know Things!
So, that was it, the most interesting statistics about budget backpacking.
Of course, you gotta take these stats with a pinch of salt. After all, backpackers are elusive creatures; how can you TRULY know how many are hacking through jungles and passing out on bar floors around the world, really?
Plus, in recent years, the lines between true broke backpackers and bougier budget travellers have blurred. Not everyone staying in a hostel would necessarily confess to being a backpacker, especially if it's someone staying in a private room or travelling in a group. And backpackers have spread and are not only found in hostels anymore.
It will also be interesting to see how backpacking will be different after this whole global one-that-shall-not-be-named sitch. Personally, I had already noticed a lot of new trends in backpacking in the few years before all this shit went down. There were more groups, and also more couples travelling together than I remember seeing before.
My prediction? Where many might think that people would be travelling less after the pandemic, I think the fact that people might be broke and jobless might even have the opposite effect.
Once international travel fully becomes a thing again, there are heaps of people out there waiting to go out into the world. And they'll go specifically on budget backpacking trips since they probably won't have a lot of money saved up.
On the other hand, lots of people's jobs have gone remote during the pandemic; and this might see the start of a whole new movement of baby digital nomads. If you're thinking of joining the tribe yourself, make sure you stay at the right place! Coworking hostels like Tribal Bali offer the ideal space to start your remote-worker journey.
So, who knows? But to me, it seems that no matter what happens, budget backpacking – and backpackers themselves – are not going anywhere.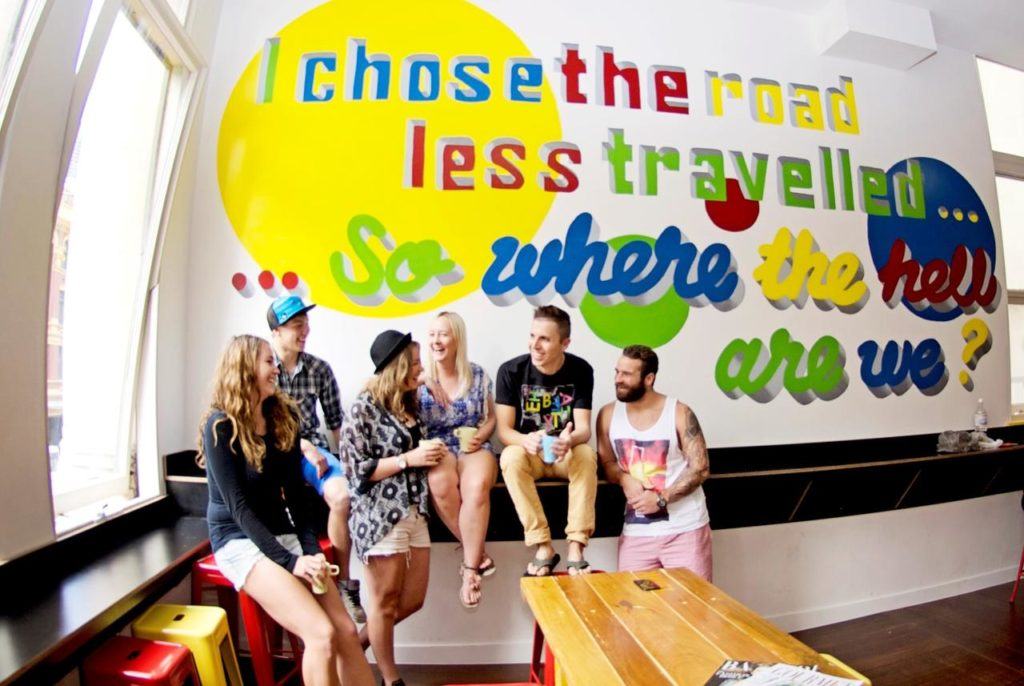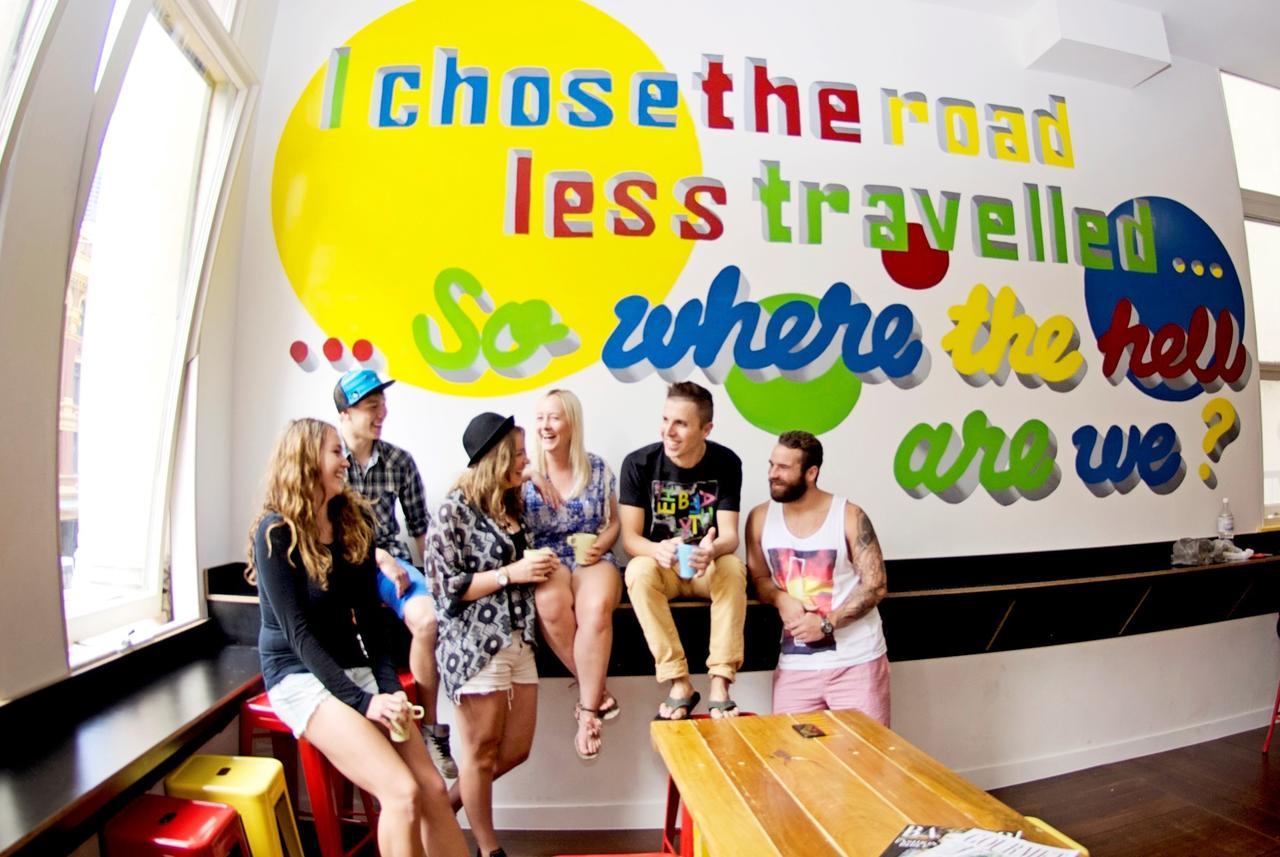 Sources:
[2] Hostelworld, 2a: 2019 and 2b: 2018
[3] Backpacker Tourism: Concepts and Profiles
[4] Forbes
[5] Condor Ferries
[7] Holidaysafe
[8] Skift
[9] Astute Analytics
[10] Hostel Helper
---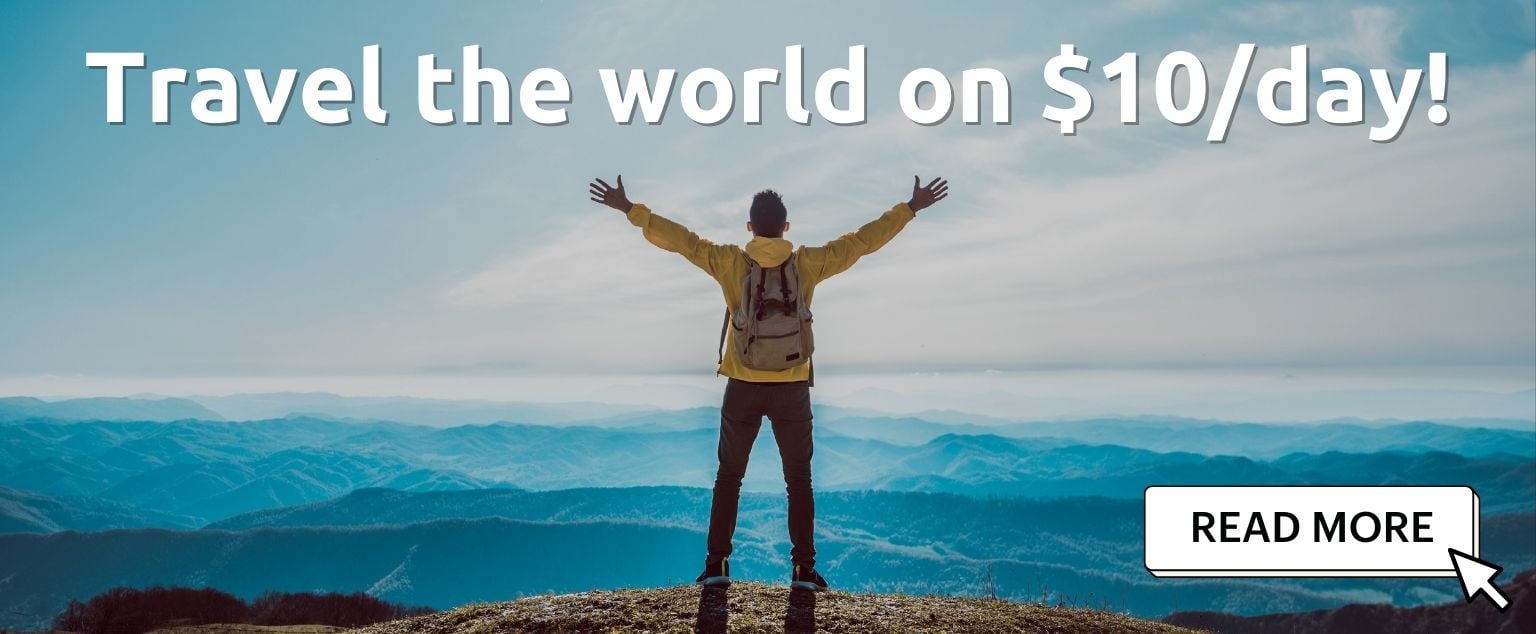 And for transparency's sake, please know that some of the links in our content are affiliate links. That means that if you book your accommodation, buy your gear, or sort your insurance through our link, we earn a small commission (at no extra cost to you). That said, we only link to the gear we trust and never recommend services we don't believe are up to scratch. Again, thank you!