Where do people stay on their holidays?
I still remember the good old days when the choice was between a hostel and a hotel… These days there are heaps of accommodation options.
To be honest, the greater selection of accommodation options has been damn great. Now there's an accommodation type for every kind of situation. The hostel market is adding boutique options alongside the basic bed-and-social-room deals, making them more hotel-like than before. And Airbnbs are making holidays feel more home-like by offering apartments instead of soulless hotel rooms for travellers.
And there are tons of other options too: Beds and breakfasts, RVs, and tents; pretty much anything you feel like doing on your holiday!
But where are travellers mostly staying at? What types of accommodation are going to be big in the future? And what trends are to be expected in the accommodation sector in the future?
Let's find out!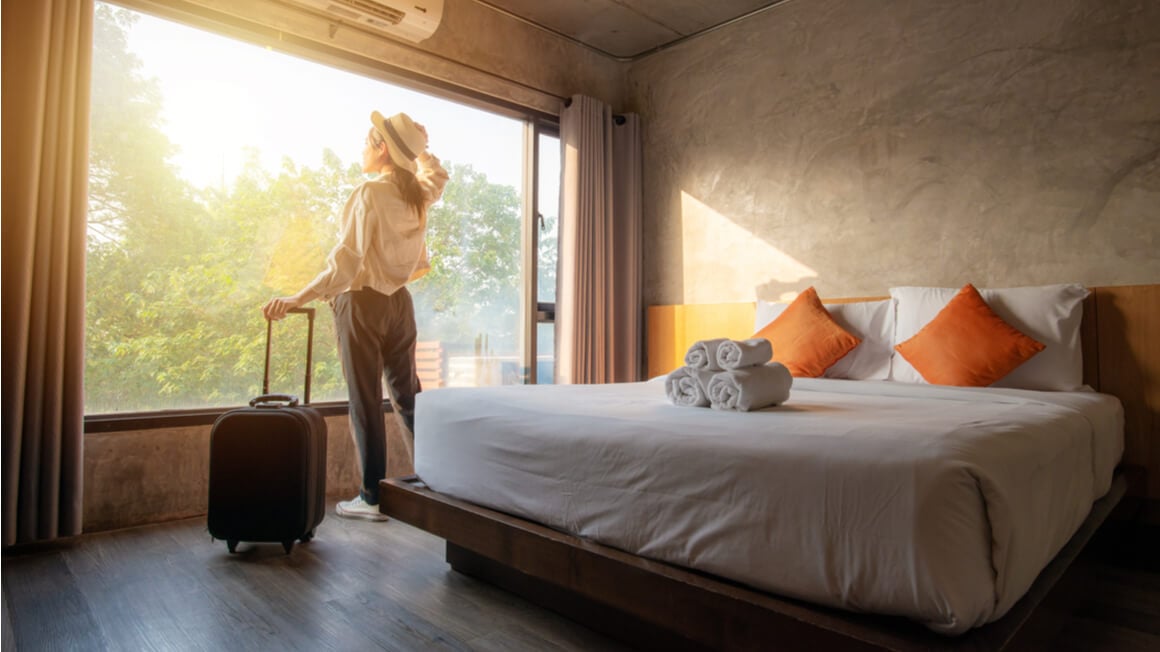 A Quick Look into the Coolest Holiday Accommodation Statistics
In a rush or not that invested in stats? No worries – for people like you, I've compiled a few key facts here so that you can take a quick look at what's happening in the world of holiday accommodation.
If you'd like to learn more, just keep right on reading and we'll do a deep dive into accommodation statistics and trends from the last few years.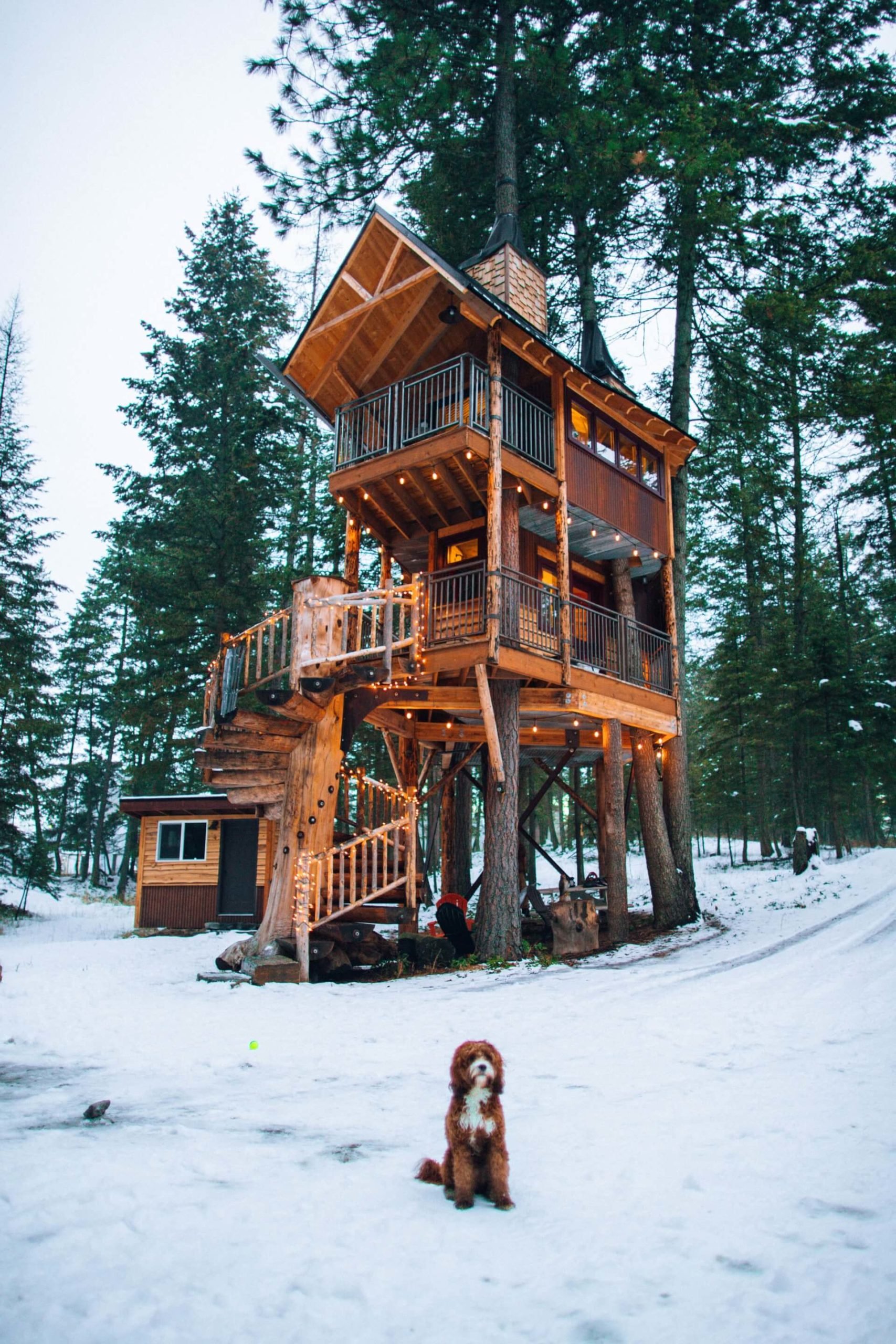 There are approximately 17,700 hostels worldwide in 179 countries
Hostel bookings are down but the market is still expected to grow in 2021-2022
There are 700,000 hotels worldwide (check out Tribal Bali for one of the best)
1 in 5 backpackers and 1 in 4 regular travellers have stayed in an Airbnb
Airbnb has over 170,000 unique listings, such as treehouses
Over 48 million households in the USA went camping in 2020
45% of vanlifers travel with 1 other person; 36% travel solo
68% of pet owners would like to travel with their pets
Technology, wifi, and mobile bookings will be more important to future travellers than before
Introducing the Best Coworking Hostel – Tribal Bali!
Come visit Tribal Bali – Bali's first specially designed, custom-built hostel… 
Bali's most special backpacker hostel is finally open…. Tribal Bali is a custom-designed, purpose-built hostel – a place to work, rest, play and stay. A place to find your tribe and hands down the best place in Bali to hustle hard and make new friends…
Holiday Accommodation Statistics – What You Never Knew You Wanted to Know
People go on holidays – duh. But how often, and where?
The European Union keeps tabs on how and where people travel, and where they stay when they travel. In 2019, they calculated that there had been nearly 3 billion nights spent at tourist accommodations all over Europe. How insane is that?
Just to be clear – the EU defines the dry AF word "tourist accommodation establishment" as a paid, short-term accommodation service which includes hotels and similar (e.g. hostels, B&Bs, motels…), holiday rentals (like Airbnb), and camping grounds (for camping and RVs). Just so you're on track with what we're talking about here.
The tourism accommodation industry was only on the rise in the EU, at least before the pandemic. Between 2015 and 2019, nights spent at holiday accommodation places rose by 44%! [3a]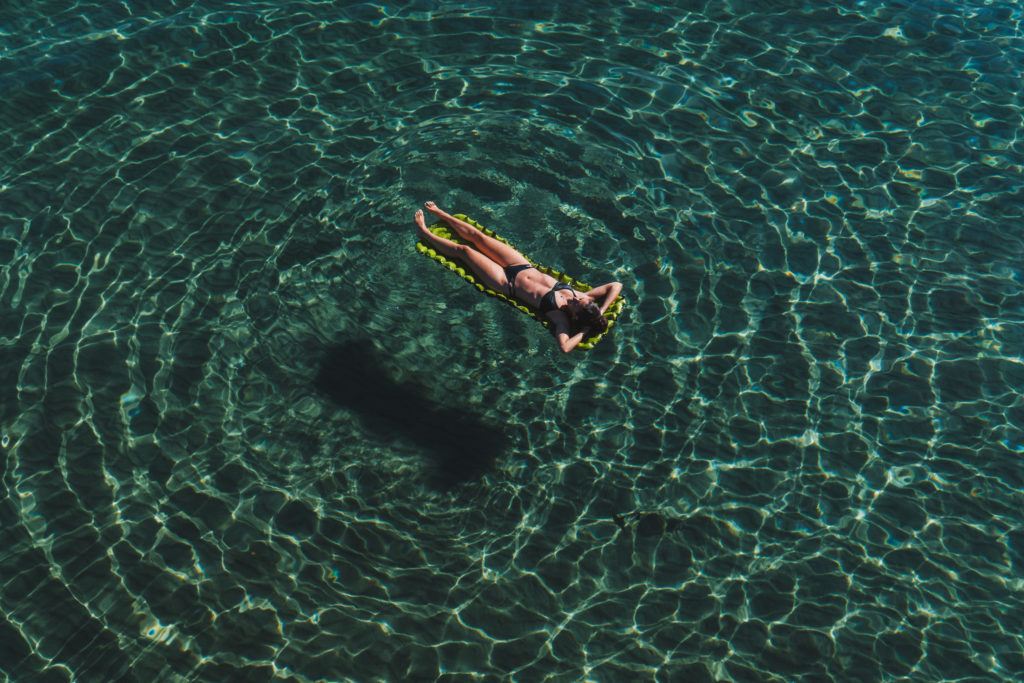 And this is not super relevant but an interesting lil' factoid anyway: out of all those tourist accommodation nights in 2019 that were NOT for domestic tourists – German and British travellers made up over one-third of the users of holiday accommodation. [3b]
According to holiday accommodation statistics from the EU, for travelling in Europe, hotels and similar are the most popular accommodation type (64%). Holiday rentals and short-stay accommodation make up 23%, and camping ground type options only make up about 13%. [3b] I mean, this is all just data from the EU, but I'd imagine the division between preferred accommodation types is probably similar elsewhere, too.
Sooo… let's take a closer look at these different types of holiday accommodation.
Hostels – Budget Traveller's Best Friend
Where do backpackers stay? Well, hostels.
Hostels are largely the preferred accommodation type for budget backpackers. It's hard to say exactly how many travellers stay in hostels and how many in hotels – like you saw before, the EU stacks hotel and hostel accommodation into one group.
But there's probably a lot of overlap as well: over 80% of backpackers have stayed in hostels, but 44% of them also say they have stayed in hotels. If you want to know a bit more about the whole backpacker topic, check out our backpacker statistic post. There you'll find even more info about accommodation, where to find fellow travellers and how the term 'backpacker' is defined.
Hostel travellers are typically young backpackers who stay in hostels to meet new people. According to Hostelworld data, 80% of their users are under 35 years old. (Not a surprise – over 70% of people in hostels are millennials.) Over 60% of these travellers are also solo travellers. [1c]
Backpackers of today are adventurous and like exploring more remote, non-touristed places. That's why the hostel offering is moving with them. According to Hostelword data, their platform has had a 173% increase in the number of properties around the world in 10 years. [1a]
And these properties are not only located in the most usual backpacker trails – Hostelworld estimated that there are 17,700 hostels worldwide in 179 countries. [1b]
Backpacking Cuba, for example, has been gaining popularity for a few years now. Between 2017 and 2018, the hostel market grew by 50% there. [1a]
The record for the most hostels in the world by continent is held by Asia at 5,829 in October 2019. (That's over 1/3 of all the world's hostels!) Europe comes a good second with about 30% of the world's hostels, at 4,738 hostels. [2a]
Hostels Post-Pandemic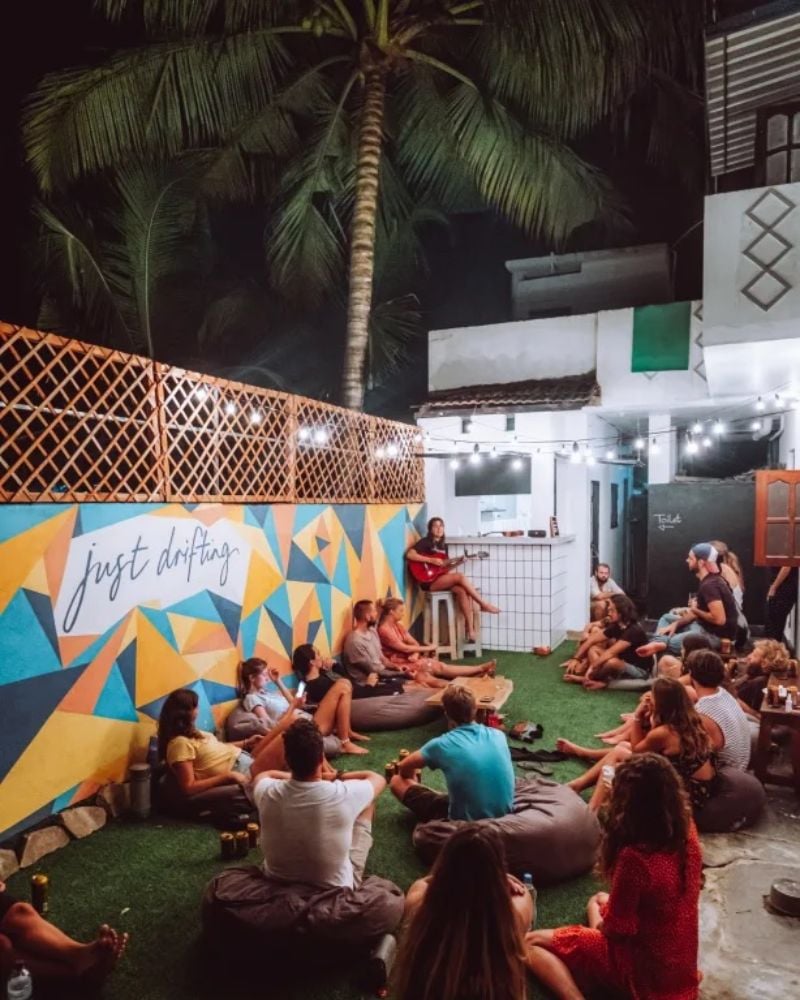 In 2019, Hostelworld had 6.78 million bookings. In 2021, this figure was only 1.5 million [6] – definitely a by-product of the pandemic.
The reasons for this are not only wide-spread travel restrictions. Many hostels ban domestic travellers from staying. Because domestic travel has been the main travel type during the pandemic, hostels haven't had many potential customers. People also value their health and safety and the possibility to keep their distance from other people which would further discourage travellers from staying in hostels.
However, no fear! Hostels are not dead yet.
It is expected that the global hostel market will grow from $364.32 billion in 2021 to $451.99 billion in 2022. [7] The growth does require for travel to continue to return to more normal ways but experts are confident this will happen.
Hybrid-type hostels (like hostels offering private rooms and other hotel-like facilities) are the key to future growth: hostel travellers have more money to spend and want more comfort than before. So it's not enough anymore to just offer a basic bed.
Hotels – The Old Favourite
The hotel business has taken a hard hit with the pandemic. More travellers opt for Airbnbs than before. Maybe because longer stays have increased and staying in an apartment is cheaper than staying in a hotel in the long term. Travellers are also looking for safety, cleanliness, and isolation from other travellers which holiday apartments offer more than hotel rooms.
Post-pandemic hotel stays might also decline because people are simply looking for new types of experiences. In a Booking.com survey, 60% of travellers were looking forward to meeting new people on their holiday and 61% were open to different types of vacations than before. [14]
Midrange hotels seem to be recovering better than luxury destinations, at least according to USA Today. Travellers don't have much money and they're looking for good deals. [11]
Before this whole situation, the hotel industry included over 700,000 hotels worldwide and contributed over $3.41 trillion to the global economy. [9a]
It might come as a surprise, but most of the time, hotels are not at their full occupancy. (Meaning: they don't have all their rooms filled.) In the US in 2019, a normal occupancy rate was at about 66%. In 2020, that rate crashed down to 40%. It's slowly making its way back up again, with the occupancy rate in US hotels at 52% in 2021 [11].
Of course, it can be a little tough to draw conclusions from this. The figure also includes business travellers, not only holidaymakers.
Airbnb – The Rise of the Rental
What once was just a novelty thing has now become a staple in travel. Booking an Airbnb and (often affordable) apartments has become an incredibly popular way of finding holiday accommodation. By May 2021, the 4 million hosts on Airbnb had hosted over 900 million guests. [4]
Even backpackers are starting to opt for Airbnbs: 21% of backpackers have stayed in an Airbnb [8]. In the EU, about 23% of travellers preferred staying in holiday rentals during their vacation. [3a] This means that 1 in 5 or even 4 travellers are choosing apartment rentals over traditional holiday accommodation options!
One reason for Airbnb's success could be that it allows travellers to choose their accommodation more flexibly than on many other platforms. In the first quarter of 2021, over 200 million searches were done on the Airbnb site using flexible dates. And in April 2021, almost half of all searches were flexible with dates, locations, or both! [4]
"Homes are the travel of our time", states Airbnb. It does indeed seem that more holidaymakers are enjoying the privacy of the home-like living, even on a vacay.
Even though Airbnb listings include rooms in shared apartments and even hotel rooms, about 95% of the trips booked on Airbnb in summer 2021 were for entire homes. (In summer 2019, this figure was still high at 80%.) This is probably much to do with the pandemic as well – travellers want to make sure they are isolated from others.
The pandemic hasn't managed to rain on Airbnb's parade either. During the pandemic, Airbnb rentals have been booked in over 94,000 destinations. There has also been at least one new booking in an entire home in over 220 countries/regions and 60,000 cities. [4]
News Just in: Unique Accommodation is Hip
Other than home-style stays, guests are now also looking for more unique experiences. What Airbnb is can vary depending on what kind of traveller you are. The number of unique accommodations listed on Airbnb has grown 31% in two years, with now over 170,000 unique listings available. [4]
Oh, just to note: a unique space on Airbnb means accommodations that are somehow unconventional or interesting, like treehouses, yurts, farm stays, glass-roof igloos or tiny houses.
In an Airbnb survey, 7 in 10 respondents (69%) said they want to be able to filter for unique stays. Compared to other types of accommodation, Airbnb has the potential to offer more unique places to stay than most other platforms. So this number of unique experiences is probably only going to go up.
Campgrounds – Campers and RV Travellers Unite
According to EU data, in 2019 about 13% of people stayed on campgrounds and RV and trailer parks on their holidays. [3a] This naturally doesn't include people who pack up for camping out in the wild. But considering wild camping is illegal in most EU countries, this figure of campers is probably pretty accurate.
Camping is also becoming an increasingly popular holiday option, thanks to the all-encompassing pandemic. In 2020, the campground sector was the one that suffered the least in the EU out of all tourist accommodation types. The use of campgrounds by domestic tourism in fact increased in 10 member states! [3c]
For people travelling in the USA, 28 million went camping in 2018 [9]. The pandemic has shaken people out to the wilderness even more, with the number of first-time campers being five times higher in 2020 than in 2019. I don't have the exact number of individual campers, but it is estimated that over 48 million households went camping in the USA in 2020. [10]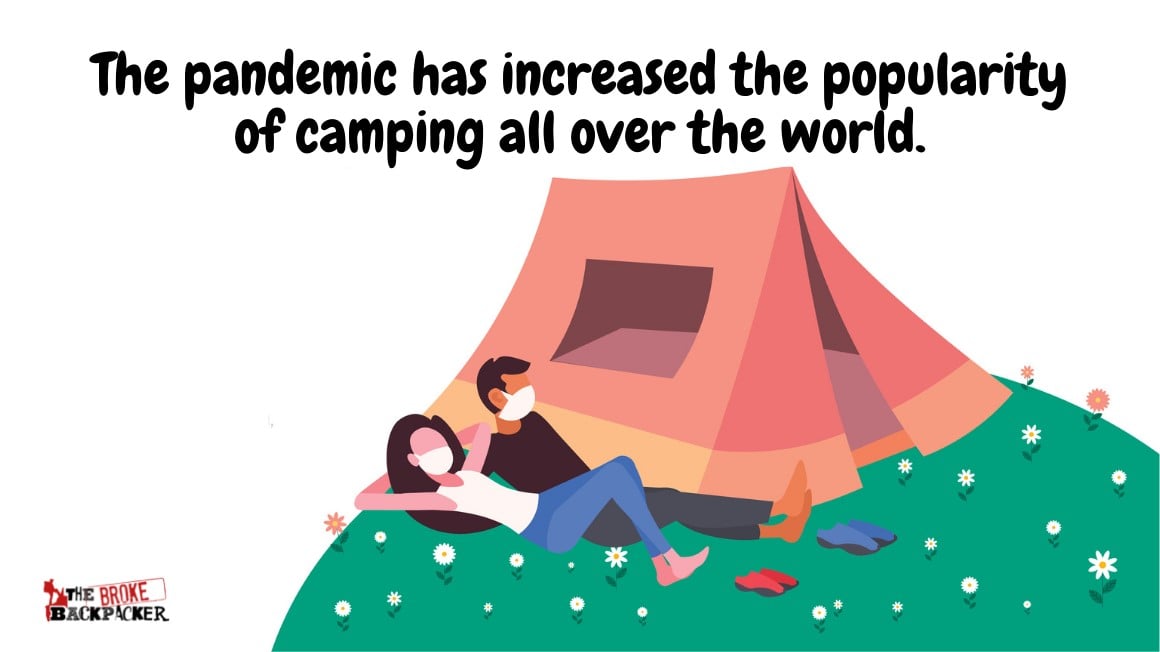 More and more campers are also wheelin' it: more and more people identify as RV campers and/or are interested in buying or upgrading their RV camper. In 2020, 25% of campers said they plan an RV trip for their preferred form of accommodation.
Cars are still no contestant to traditional tents as they were the primary option for 64% of campers. (10% would choose a cabin and 1% something else.) [10]
The popularity of camping is expected to keep growing, which will definitely be a challenge – to the campgrounds to provide enough space and services but also the nature around us to sustain the boom of travellers.
Vanlife – The Holy Grail
Sure, living the van life is not necessarily strictly something folks do on their holidays. I mean, it's in the title – it's more life than travel. However, not every #vanlifer lives in their van full-time.
For many, it's a hybrid between living and travelling. And many people are using converted vans as their weapon of choice for shorter holidays as well. Vans give greater freedom and flexibility than cars or public transportation as it's both the means of transportation and accommodation!
Note that even though van life is gaining popularity everywhere, most of these stats are from the USA. The US is, not unsurprisingly, one of the most popular destinations in the world for van lifers.
In 2020, Mercedes-Bernz's van sales in the US were up by 22.5% even though its overall sales decreased. Sure, the sharp uptick can have something to do with the fact that the increased demand for deliveries also upped the need for delivery vans. However, Rich Webber, general manager of product marketing at Mercedes-Benz USA has confirmed that the number of vans sold specifically to new-age nomads is definitely rising. [11]
At least people are more and more interested in the option. In fact, the searches for #vanlife on Instagram turned up over 7 million posts in 2020, which was a 312% increase from 2017. [12] Currently, #vanlife on Instagram has 12.2 million posts.
When people from the USA were asked about their attitudes towards van life, 52% said they were more likely to consider trying it because of COVID-19. And almost two-thirds of them are millennials: 29% of the people thinking about van life were in the age group 25-34 years, and 31% were in the age group 35–44 years. [12]
And out of the people already on the road, most are travelling with someone else. Van life statistics show that just under 45% are travelling with 1 other person, but over a third are going at it solo (36% of van lifers). Travelling with more than 1 person in the van was rarer.
Other Accommodation Types – Wait, There's More?
Holiday rentals, like alternative sites to Airbnb, are generally on the rise. If you read the Airbnb portion earlier, you'll know that folks are after more unique accommodation types now. This shows on other platforms as well.
For example, chalet rentals are up by 85% [5]. Travellers are also wanting to bring the entire family on a holiday now, and vacation rental statistics show that the demand for pet-friendly accommodations rose by 40%. In a VRBO survey, over 70% of the respondents were pet owners, and most of them (68%) had either travelled or wanted to travel with their pets. [5]
Staying with friends and family is also a popular option, in which case travelling is more like a combination of visiting friends and relatives than just pure holidaying. On a Hostelworld report, 29% of backpackers reported having stayed with friends or family during their trip. [1a]
Staying with someone you know saves you money and doubles as following family obligations. This number might also include Couchsurfers, especially in Hostelworld's demographic – young budget backpackers.
Couchsurfing, for its part, has suffered a LOT from the pandemic. Once a platform of about 12 million hosts, now only about 400,000 of them are active.
Couchsurfing had a 90% decline in activity after the pandemic hit. [13] This is why it started imposing a membership fee which drove a lot of the remaining users off the site. Couchsurfing used to be completely free, and the users were angry that now even access to their profile is behind a paywall.
But is the couchsurfing concept dead? Not necessarily!
A lot of other similar free platforms saw a surge of thousands of new users registering after the changes on Couchsurfing. [13] I guess it will be more of a question of when travellers will feel comfortable enough to let strangers stay in their houses again.
Trends in Future Holiday Accommodation
Despite everything that's been going on, tourism can't stop, won't stop! It will be interesting to see what exactly happens, but some holiday accommodation statistics and experts in the field have some ideas of a couple of future trends in tourist accommodation.
Rise of the Mobile
64% of travellers agree that technology will be more important than ever while on vacation. Mostly this is due to planning around the safety situation: travellers want to use technology to find out where it is safest to travel to, and planning is also a part of reducing travel anxiety. [14]
Technology is also the one thing that is enabling travellers to hit the road more. With steady wifi and other telecommunications, more people have the chance to travel and work at the same time.
Airbnb already knows this, but campers are also catching up: over half of people camping say that technology has a big effect on the length of their trip. With good internet access, campers are able to lengthen their trip on average by 9 days. [10]
On top of this, tech is more important for booking accommodation than before. Hostelworld reports that mobile app bookings went up by 54% in 2017-2019. In 2018, 40% of Hostelworld's customers booked their stays through the mobile app, in comparison to just 26% in 2016. Only about 13% of backpackers said that they planned to just show up without booking beforehand. [1a]
This does apply to hostel-goers, but online booking is definitely the way to go these days. That's why it's important for major accommodation platforms to be able to provide the best travel apps for their bookings!
Apps can, at best, offer more functions than just simple accommodation booking. According to Hostelworld, they have designed their mobile app to be as useful as possible by, for example, chatting with other travellers before your trip.
More Long-Term Stays than Before
The lines between travel and normal life are becoming blurred. Maybe it's the rise of people becoming digital nomads but for a lot of travelling peeps out there, using accommodation options like Airbnb isn't just something you do over a weekend, it's something you do always.
Airbnb agrees and thinks that this trend will only become stronger. They think that 'we are shifting from travelling at all the same times to all the same old places, to many of us living anywhere, at any time, for however long.'
Slow travel is on the rise! An Airbnb survey revealed that pretty much an equal number of people see travel as a "lifestyle" as people who see travel as a "series of one-off trips". [4] This becomes even more apparent when looking at the digital nomad statistics. There are more and more travellers that choose the nomad lifestyle over being stuck to one location.
The percentage of long-term stays booked through Airbnb almost doubled in two years: in 2019, 14% of bookings were long-term, and in early 2021, this figure was 24%. [4] (Note that on Airbnb, a long-term stay is 28 days or more.)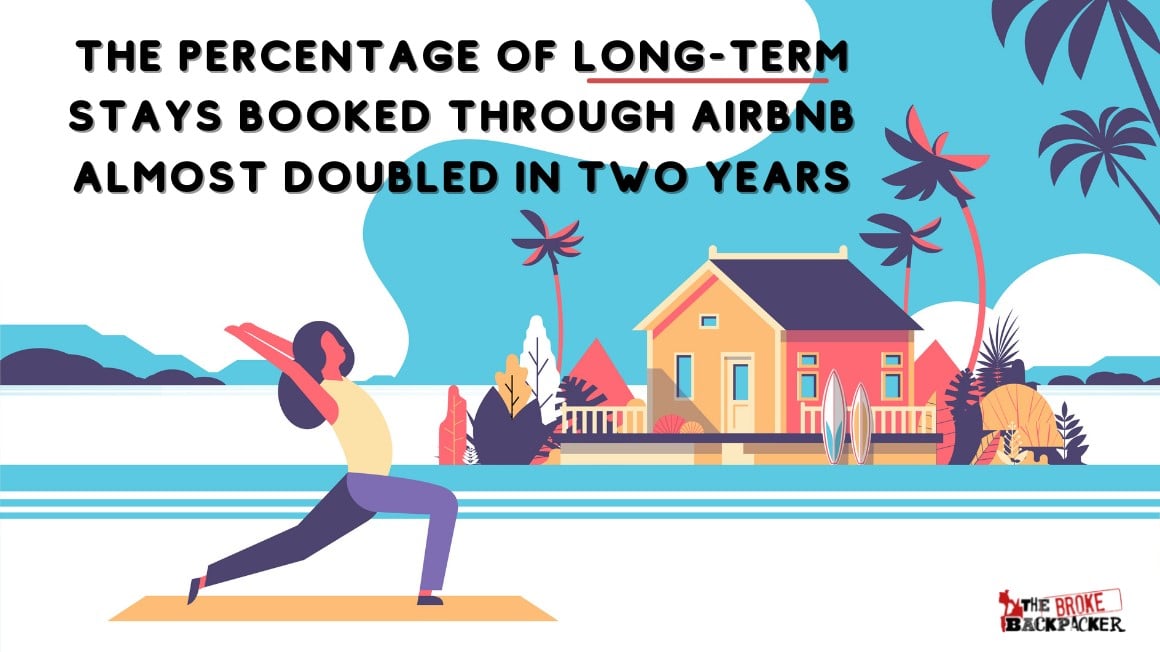 VRBO also says that families like to stay at holiday homes for longer. The platform reports a 68% increase in stays of 21-30 days. [5]
Maybe this is due to the rising digital nomad lifestyle: by working from home, people can afford to stay "on holiday" for longer. Although if you are working, does that still count as a holiday?
In the VRBO survey, 44% of families said they are more likely to work remotely from a place that's not their own home [5]. According to Airbnb, as many as 3 out of 4 people would like to try living someplace different after the pandemic. [4]
And backpackers are not spared from this trend either. In a Hostelworld survey, 1 out of 10 travellers said that having a co-working space at the hostel was important [1a].
Living and Coworking in the same spot? All possible at Tribal Bali…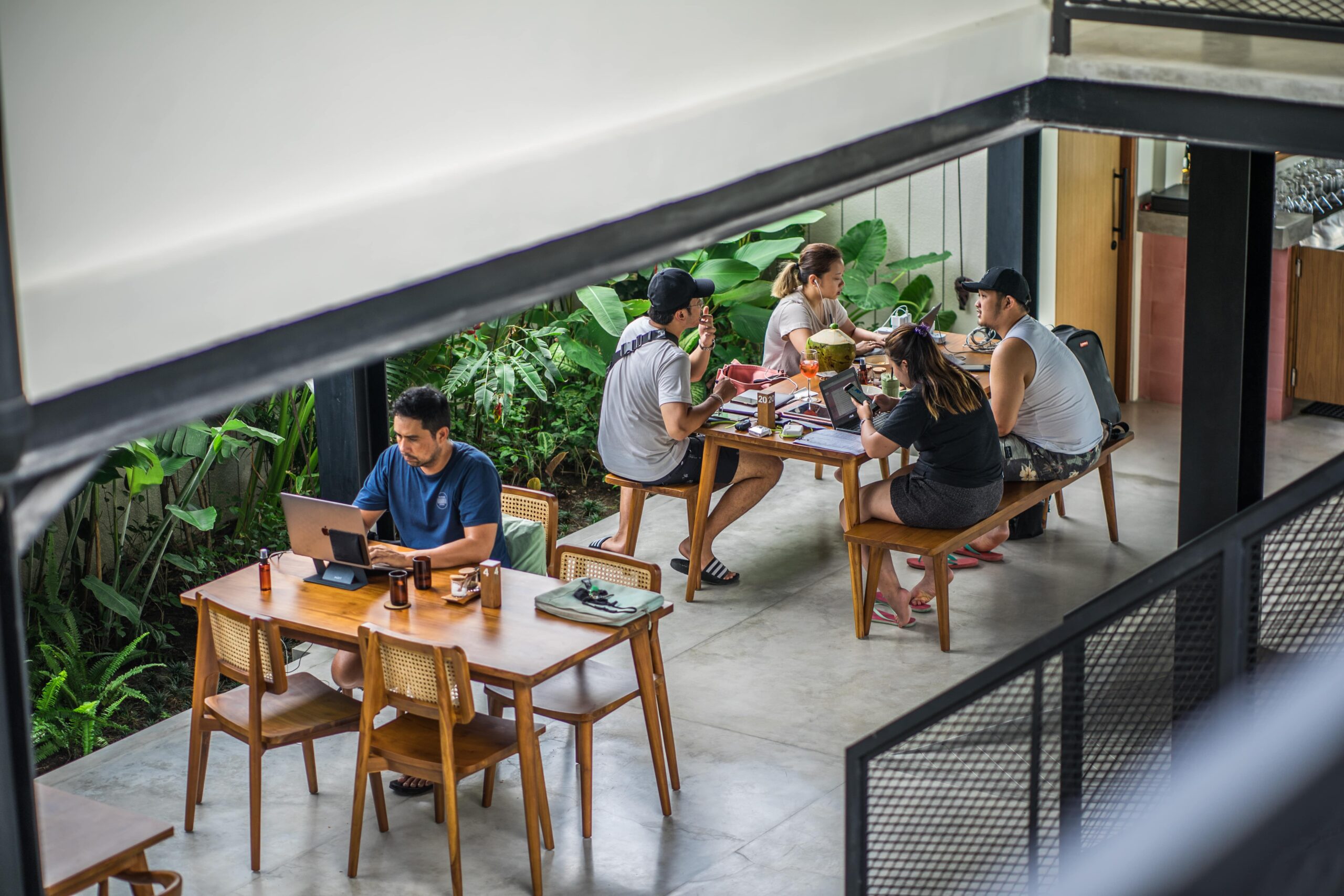 Introducing the best Coworking Hostel in the World – Tribal Bali! A unique coworking and co-living hostel for those that want to travel the world while working from their laptops. Make use of the massive open-air coworking spaces and sip on delicious coffee. If you need a quick screen break, just take a refreshing dip in the infinity pool or grab a drink at the bar.
Need more work inspiration? Mingle, share ideas, brainstorm, make connections and find your tribe at Tribal Bali!
Travel Will Go On… And On And On
So, there you have it – the bestest, baddest stats on holiday accommodation provided by our dear friend, the Internet.
It's actually a little bit hard to say exactly what is holiday accommodation and what is, well, temporary accommodation.
Long-term travel is in more than ever, and Airbnb will definitely keep thriving. They have already started figuring out ways to benefit from the blurred lines between travel and living, for example by introducing long-term accommodation options on their site. Other accommodation options have to come up with new ideas if they want to keep up!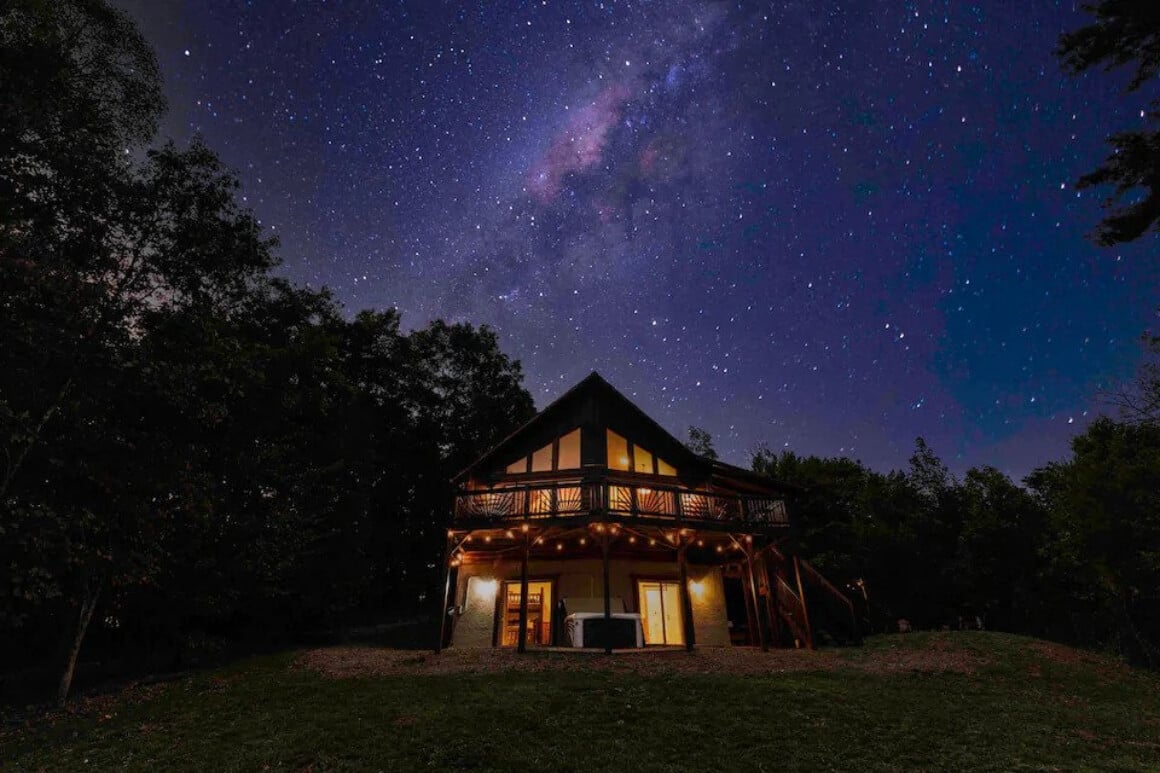 Sources:
[2] Statista
[3] European Commission; 3a, 3b, 3c
[4] Airbnb
[5] VRBO
[6] Independent
[7] The Business Research Company
[8] WYSE
[10] Koa
[11] Usa Today
[12] Move
[13] Tripsavvy
[14] Booking.com
---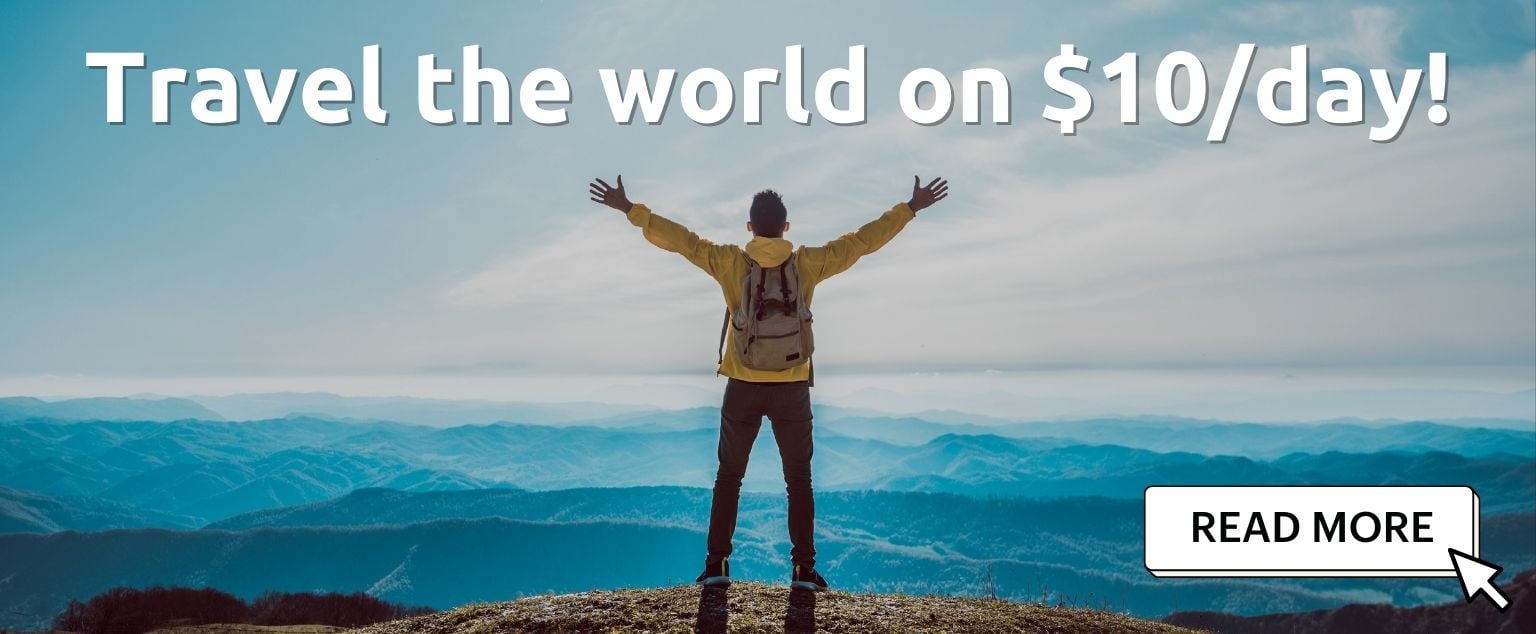 And for transparency's sake, please know that some of the links in our content are affiliate links. That means that if you book your accommodation, buy your gear, or sort your insurance through our link, we earn a small commission (at no extra cost to you). That said, we only link to the gear we trust and never recommend services we don't believe are up to scratch. Again, thank you!