Digital nomads are the new travel role models. Work wherever you like, whenever you like, and you never have to go back home where it's probably pissing down rain and they don't even have fresh smoothie bowls.
Work hard, travel harder, right?
The digital nomad lifestyle is sold as the best way to keep travelling infinitely. You're not stuck in the same cycle of going back to earn more money for future adventures when the means of money-making goes with you on the road! 
However, once you start working remotely as a digital nomad, travelling will never be quite the same.
Travelling changes for you, whether you're swinging around a laptop or not. You grow, change, and if nothing else does it, the hangovers will make sure you'll never re-live your glory days of backpacking in the same way. But taking on the lusted after mantle of a digital nomad brings a whole new style of travel.
You should go be a nomad – it's a rockin' time! But you should still know the truth.
You should still know how becoming a digital nomad changes travel.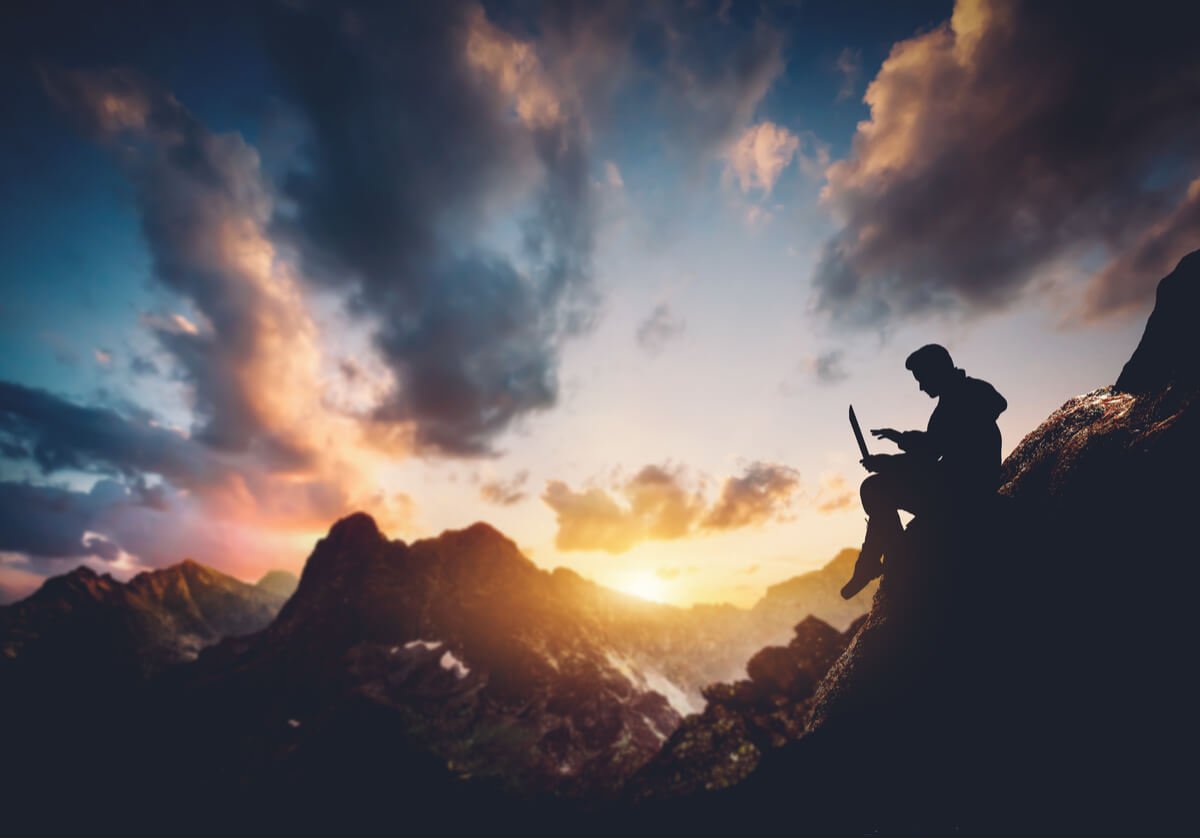 It's a Digital Nomad's Industry Now, Baby
Maybe it's time for you to pick up a cool travel job and relocate to the road? Everyone's doing it these days.
The global travel industry has to keep up with the explosion of the laptop-life nation if it wants any part of that sweet, sweet cash-money. Digital nomads roll into town, they need places to chill in cool comfort, and a cheap squat with holes in the walls that monkeys claw through isn't going to cut it anymore.
Gone are the days of the dirtbag. And so how is tourism going to change in the next few years?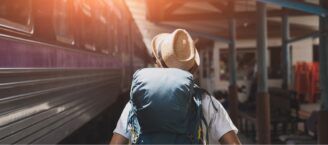 Unlock the The Broke Backpacker's GREATEST Travel Secrets
Sign up for The Broke Backpacker Newsletter to receive weekly tips on how to travel on a budget + a FREE copy of The Backpacker Bible!
Long-Term Stays Make One Happy Nomad
As a digital nomad, you usually travel at an easy pace.
Previously, staying in one place for longer as a foreigner has been a little tricky. You might have had to commit to a rental agreement for a minimum of 3-6 months to get an apartment, but hostels and guest houses usually didn't allow stays longer than a couple of weeks either.
The accommodation industry has heard our summons, and they are ready to answer! Many hotels and guest houses are starting to offer discounts on long-term stayers to serve the expected horde of digital nomads. Airbnb and several other sites like Airbnb are on top of their game by letting users filter accommodation by places that let you stay for longer than a month.
The digital nomad lifestyle is already visible all over the planet. Co-working spaces are popping up all over to give nomads a temporary office/home.
Not to mention the rising wave of countries with digital nomad visas which, for many years, was but a faraway dream. Now they have become a solid method for countries to lure precious foreign money back in by letting visitors stay longer.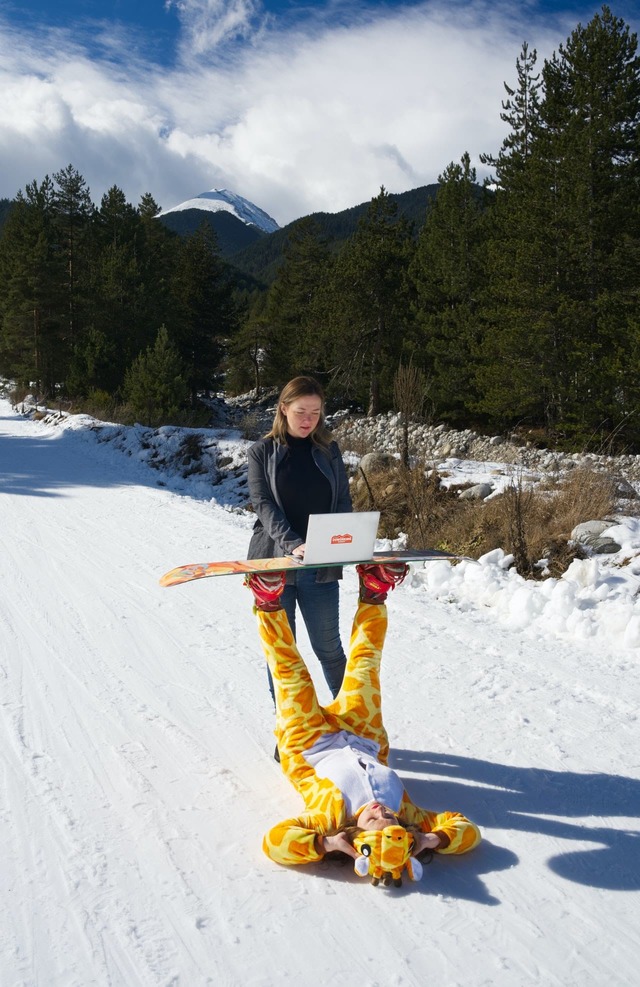 There's no denying it: the boom in remote work is changing the landscape of tourism. Some experts think that by 2035, there might be a billion digital nomads worldwide. That is not a typo. A BILLION.
Maybe in the future, travellers will take fewer short trips. No need for regular holidays when your life is already basically a holiday. Without the time pressure to go home to earn more money, more people will absolutely stay in one place for longer.
Because of this, digital nomadism is evolving to become more sustainable than traditional tourism. A grassroots endeavour.
But that also means, something must be sacrificed: no holy grail is given.
That sacrifice might be your free time and a good night's sleep if you're not ready to change your travel style.
Will's Wild Journey from Digital Nomad to Business Owner
More and more people are taking to the road and learning how to be a digital nomad which is epic! The world wide web of awesome provides ample opportunities, provided you're ready to work hard and be consistent.
I started The Broke Backpacker as a wee digital nomad hatchling with just me and my ridiculous tales of the lunacy of India. This blog has since grown into something much more, and I'm fucking PUMPED about what's coming next.
We've been building our first digital nomad and co-living space in Bali: Tribal Hostel. The doors are now open and I couldn't be more excited!
It's the hostel I dreamt about all those years on the road. A hostel where all types of travellers can find their tribe – dirtbags, daredevils, and delinquents alike – but ABOVE ALL the digital nomads can get their work done.
A piece of the hostel life primed with co-working spaces and lightning-fast WiFi right throughout. Plus, a bar with pool tables.
Where we can go a round. 🙂
Ditch Your Desk and Travel FOREVER!
Will has gone from broke backpacker to serial entrepreneur and… there are secrets he wants to share with YOU.
Over on Ditch Your Desk, you enter the mind of Will Hatton: blogs about online entrepreneurship, personal development, mastering your productivity, and an honest look at the digital nomad lifestyle.
9-5 or anytime, anywhere. The choice is yours.
[Visit] Ditch Your Desk
[Read] Online Entrepreneurship 101
How Travelling Changes for the Digital Nomad
Okay, so we've talked about how the travel industry is changing to prepare for the rise of digital nomadism. But there are even more concrete ways it affects you, my little nomadic friend.
If you've been learning how to be a budget backpacker before slipping a sleek Mac (EDITOR NOTE: Windows is better) into your travel bag, you'll notice that the way YOU travel also changes.
Destination? Comfort.
As a digital nomad, your priorities change. Half-abandoned beaches, neverending parties, and cheap booze are not at the top of the list anymore (although, still important). Suddenly you start valuing – shudder – stability.
Regular backpackers seek out places that are thick with tourist attractions, loose hostels, and big adventures. To hell with the internet – you've come to live in the moment, not update your Instagram!
For digital nomads, this is obviously not possible. Even if you invest in a fancy-schmanzy portable WiFi device or an international SIM card, it's always easier to place yourself in the vicinity of fast, stable WiFi.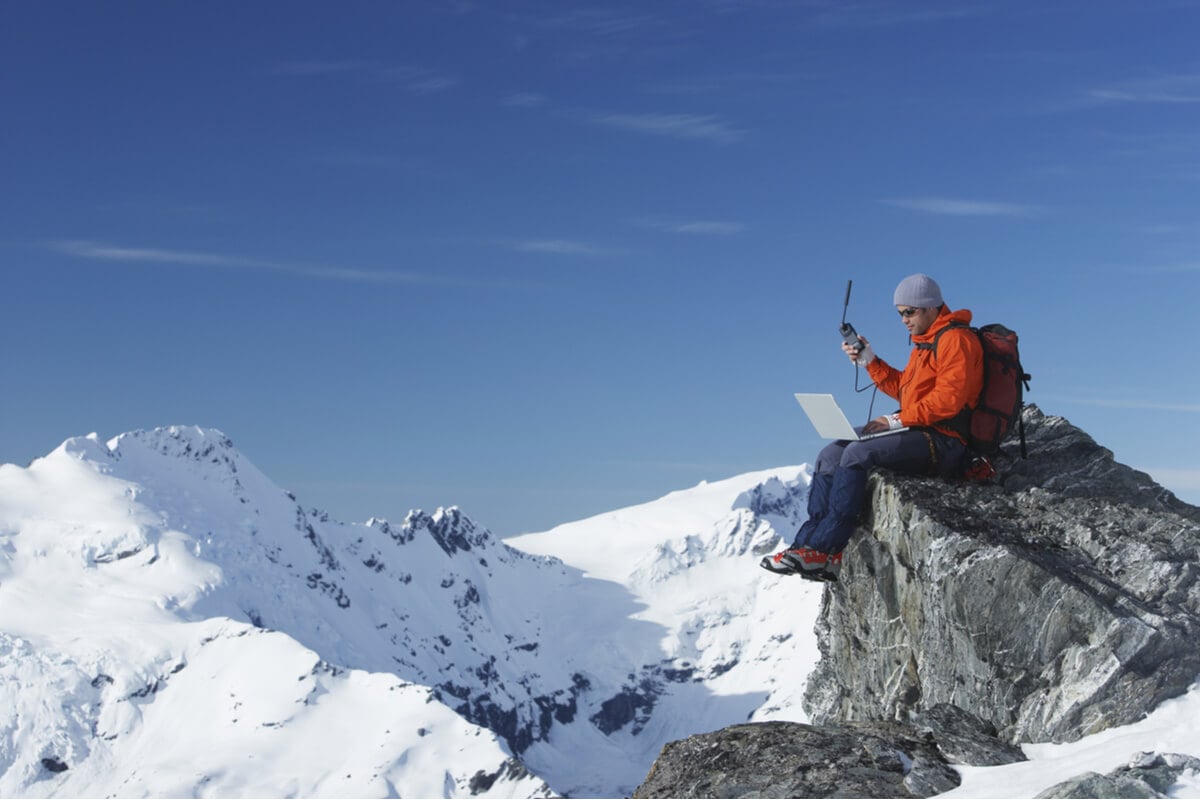 Another important thing nomads have to factor in more than backpackers are visas. You're likely to be spending a few weeks or even months in the same country, so if it's tricky to get a long-term visa there, you might find yourself crossing the country off your list of future homes.
For me, the top two non-negotiables in the life of a digital nomad (on top of WiFi – duh) are:
Community…
And a great lifestyle.
Half of the reason I left dreary old Finland was so that I could work less overall and still afford a better lifestyle than back home. Backpackers love visiting the cheapest places to travel as much as digital nomads do, but raggedy vagabonds often care less for having a consistent standard of living since they're not actually living there.
And of course, the community is EVERYTHING. When you're always on the road, your safety net of friends and general people around you changes a lot, and you want to make sure that you keep running into awesome like-minded peeps wherever you go.
Sure, I love meeting travel buddies. They're usually chill and adventurous types. Living as a nomad, though, friendships with active travellers feel way too rushed. That's why your destination picks become about the best home bases where you can meet kindred spirits.
Digital Nomadism Changes Your Relationships
Ziggy, resident dirtbag-turned-digital-nomad of The Broke Backpacker team says…
It changed the way I travel. Sure, I still keep firm friends with the ferals, but the inevitable slowdown and need to park my ass somewhere quiet and work leads to a lot of solitude. Or at least, company with similiar-minded folk.
I find myself often making more local friends than travellers these days. Older ladies and gents too – people I chill with all day and have idle spurts of political banter between the work seshes.
I've also had to sternly pull up old travel friends when they've given me shit for 'not being enough of a dirtbag anymore'. Some vagabonds have an allergic reaction to the idea of a hard day's work.
Even my homies back home – while I gallivant around the globe doing things they can't even imagine AND getting paid for it, they're back home in surburbia still counting the TGIFs. An element of disconnection is natural; I don't talk about my work too much with them anymore.
But all of that is good! Change is good, and it's good to welcome that change in. The nature of my changing relationships and the friendships I've formed reflect a growing maturity. These days, I find myself discussing local politics, economics, and philosophical concepts more than I discuss what recreational drugs I've banged under the influence of.
That said, I'm still a sucker for the feral-talk.
And Your Packing List? It's Worth Thousands of Dollars Now
Packing for backpacking is a skill that you only really pick up through years of trial and error. Just as you get good at knowing EXACTLY how many t-shirts you sweat through on one visit to Angkor Wat…
But then, you become a digital nomad, and the game changes again.
A digital nomad's packing list has to make space for all the gizmos and gadgets you need to make the lifestyle work. This isn't just your laptop and a sturdy case for it. Depending on your specific professional devotion, you'll probably also need stuff like:
A universal adapter
Extension cord
External hard drive
Camera gear, etc…
I like to carry all my digital-related stuff in a separate, smaller backpack, which makes it easier to keep it safe and sound but does add to my luggage. It's still better than my previous system that had me carry all my gear in one backpack and keep fingers crossed I wouldn't squish my precious laptop to death. After all, there are some EXCELLENT backpacks for digital nomads out there.
As you add more precious gear to your sweaty tees and worn-out socks, it's important that you have an emergency plan if anything gets nicked or destroyed. Most travel insurances are kinda dick-ish when it comes to claiming compensation for lost luggage, so I'd recommend getting separate cover for your most valuable gadgets.
Wherever You Are, Wherever You Go… Insure Ya Pretty Self
You never know the trouble and strife that the road can throw at you. Even though as a digital nomad your life might be slightly cushier than that of a daredevil backpacker, you should always consider having a good travel insurance policy in place. (After all, home is where most accidents happen!)
The best travel insurance out there for digital nomads is Safetywing. They're a go-to choice of coverage for long-term travellers, working travellers, and, particularly, long-term stayers without much of an itinerary.
Safetywing's unique gist is that they offer a hybrid of travel insurance and health insurance. Safetywing doesn't, unfortunately, cover electronics and valuables, but it's a super simple form of international health insurance, good to go from anywhere itinerary-free (except the USA), to cover yo' ass.
Plus it's CHEAP and on a month-to-month basis. Read our SafetyWing Insurance review or visit their site by clicking below, then piss them off at any time!
Or option two, read up on World Nomads Insurance: the premier choice for premier vagabonds everywhere. They WILL cover your ultra-expensive Mac (*cough Windows cough*).
What Will Packs as a Digital Nomad, and You Should Too
I never go anywhere without my favourite headtorch. You don't need it most of the time, but when you do, you NEED it.
Whether it's for rummaging haphazardly  through the backpack at the airport checkin to make sure you haven't left some hash on the bottom or finding your way to the bathroom at night when there's a power outage… And of course, it's a lifesaver on sunrise hikes.
For a more digital nomad themed piece of gear, I highly recommend getting a damn good quality power adapter. I travel with an excellent travel adapter from Skross, a Swiss brand.
You can charge multiple devices with it PLUS the adapter works all over the world! I definitely recommend getting one so you won't encounter any power woes on your travels.
Being a Nomad AND Travelling Is Tough
How about the nomad part of digital nomad? Not everyone is always settled in one place for weeks or months at a time. Previously, I've been actively working while backpacking and let me tell you – it's not ideal.
The pros and cons of the nomadic lifestyle show especially well when you try to combine it with simultaneous backpacking.
You won't be left with a lot of free time, and suddenly it comes down to choices, choices.
Do you succumb to the temptation of the Friday night bar crawl and work hungover the next morning?
Will you get your work done in the evening and a good night's sleep but stay sans friends…?
Or will you socialise in the hostel common room for the night and work till the AMs?
But the number one problem still remains the constant battle to find WiFi. Finding reliable WiFi while hanging out in more offbeat travel destinations can be tricky. Anything becomes an office.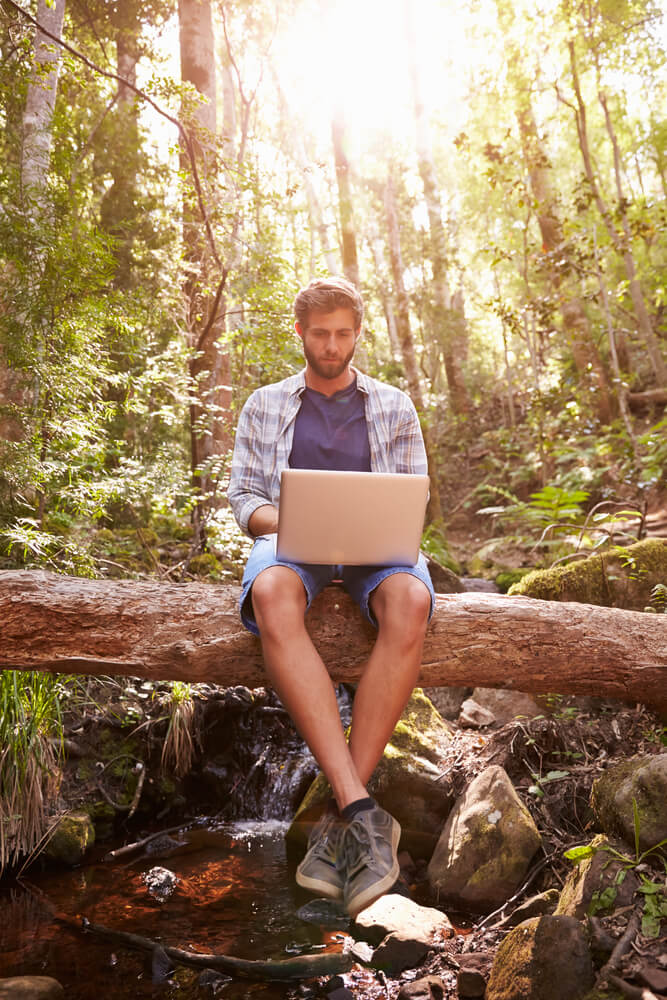 Walking 900 km across Spain on the Camino de Santiago while still actively taking work assignments meant that my lunch tapas on the roadside taverns often turned into work sessions. I had to plan my work schedule around towns and hostels that I knew wouldn't have WiFi.
But WiFi is just the start of the Pandora's Box of tricks that come with travelling while working. One of the toughest balances to strike is work-life-fun. You can feel like an outsider working in the hostel common room when the other travellers are egging you on to close the laptop and enjoy life.
Sooner than you know, you're closing your laptop at 2.32 AM just to catch 27 minutes of sleep before you have to get up to catch a morning sunrise tour. That's a surefire way to contract a case of travel burnout.
Will Agrees: Pros Split Work and Travel
I like travelling as a digital nomad but my style of travelling has now changed. I'm no longer doing crazy backpacking trips where I'm staying in party hostels. 
What I tend to do now is I like to divide my time between doing little trips when I don't even take my laptop and i just enjoy myself properly, and then being in more of a base living as a nomad. 
I have worked from my laptop in every conceivable situation from living in hostels to trundling  buses on the road and even whilst hammered… But I found that trying to get work done in party hostels was a mistake.
The work I did was really low-quality because there were so many distractions, but I wasn't enjoying these distractions either because I was trying to work. It really changed my travel experience, and then I evolved.
I get the most out of my work and my travel experience if I actually try to separate them where possible. Now I take my digital detoxes while travelling, and make sure I've got a chill, quiet, inspiring place to stay at while working!
Livin' la Vida Local – Digital Nomads Become a Part of the Scene
A changing way of travel and a travel industry changing to meet that change; it's real Wild West out there… But that's exciting!
You're paving ways as an ambassador on what is largely unchartered territory. This is YOUR chance to define digital nomadism as a better form of tourism than just vacays with sparkling champers.
The digital nomad lifestyle can be a more responsible way to travel than traditional tourism. You cut out flights and passport stamps that fast travellers collect like Pokémon cards, and from the local perspective, you get to become a part of the tapestry in a way that people just passing by never could.
Step 1: Stay. Step 2: Make Friends.
Digital nomads slow down by default – that's the game.
And by sticking to one spot, we get a chance to better assimilate into the culture we're in – befriend some cool locals and experience life like someone who lives there. The difference between what you can learn in a month vs. two days is MASSIVE.
This also gives you the chance to learn some more of the local language, maybe even beyond the compulsory "thank you", "fuck you", and "cheers, bro".
Digital nomadism turns travel into a grassroots affair; it puts your life on the local level, and in turn, you support and help the community around you.
It may not always default to that, but you should be aware that as a digital nomad, you have the power to give good juju through your travels. You can choose to spend your money in a way that contributes directly to the local economy: eating at local places, shopping in the markets, and paying rent directly to local homeowners and family-run establishments.
Since digital nomads also stay in one place for longer, you obviously also end up spending more in one locale which is a great boost to the local economy.
Not Everyone Likes Us, Though…
Listen, I've heard the arguments about "digital nomads ruining travel". The lifestyle has been blamed for allowing widespread gentrification. Often places that become popular hotspots for remote workers also turn to cater to them. Some people say that this contributes to the loss of local culture, making every place in the world look the same as every other place.
I hear this a lot living and travelling in Bali, my current home base. Bali is a dream village for a Westernised laptop worker with armies of Instagrammable cafés rising from the ground that used to be covered in rice fields.
Digital nomadism does bring development – be it sweeping or more low-key – to any place that the scene entrenches in. The difference can be especially keenly seen in places that were less developed before. With development comes a higher cost of living which pushes some locals out of areas where they've lived their whole lives.
This is true. Gentrification is the default process of development in developing nations – it's unavoidable. And that's why you do need to be mindful of your impact as a digital nomad. We can bring great positivity by striving to uphold that grassroots mentality.
As for digital nomads RUINING travel though? A splash of hogwash doused over a steaming pile of bull excrement!
Thinking that development makes a place somehow worse or less authentic is a weirdly saviour-like mindset. Development brings a plethora of good shit in its wake: better healthcare, road infrastructure, improved standard of living… All of which developing nations need.
That's why they're developing.
Of course there is a danger of traditional culture getting lost in the crossfire of foreign influence. But we as foreigners are not the guardians of the local culture, and in a world where the economic gaps between Westernized and developing countries are turning to schisms, staying on the traditional path is not sustainable for local communities in the long run either.
Maybe the D-word isn't so naughty.
Yes, Becoming a Digital Nomad Changes Travel
So welcome that change in.
Let the Deadwood Burn Off…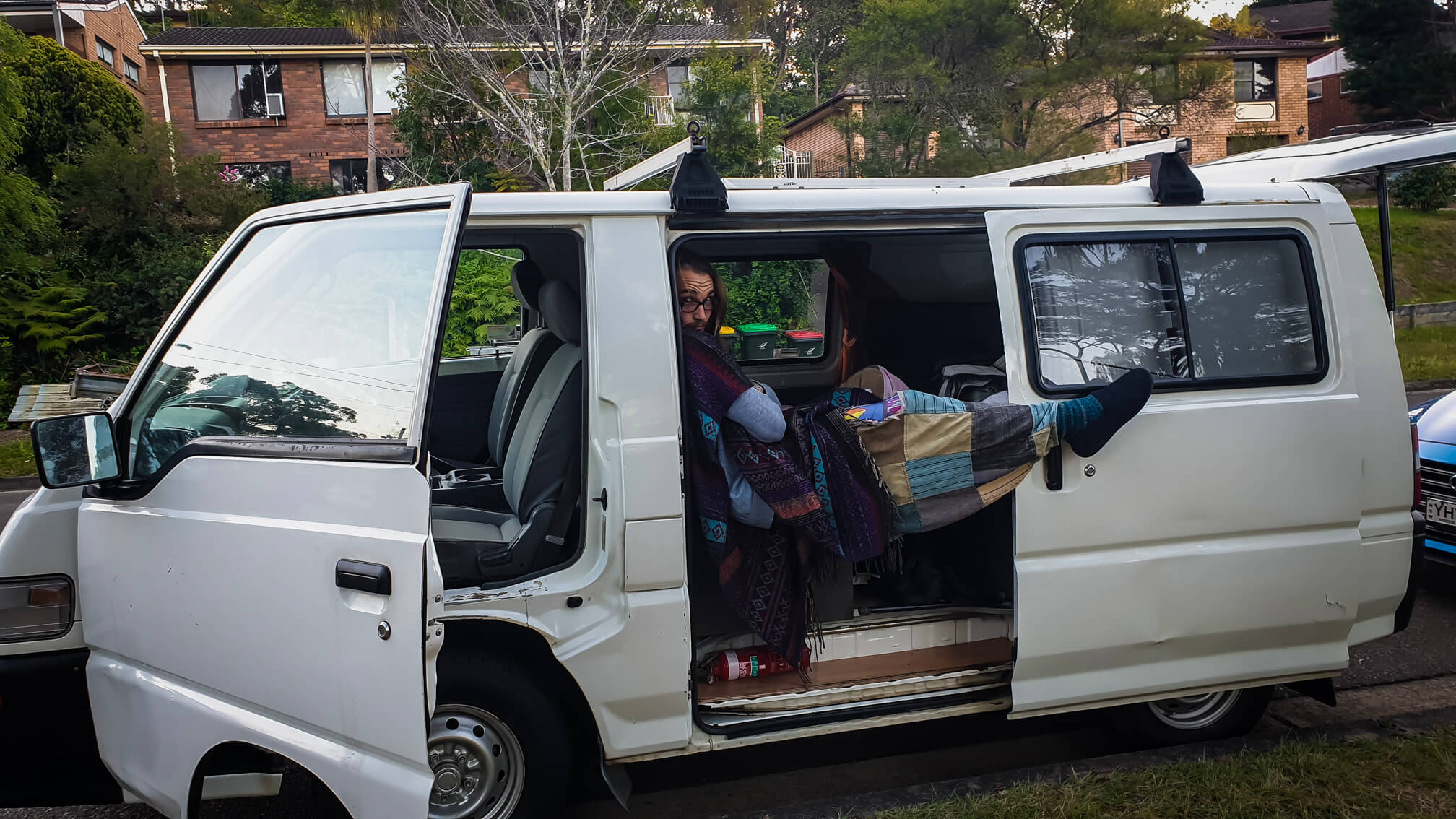 Ziggy says… it's worth it.
Yeah, look, I've burnt myself out on the work and travel combo meal too many times. And each time I get knocked down, I come back swinging harder. There's something really special to be said about the personal growth you find by persevering through the darker times. There's balance in all the 'caveats' of digital nomadism:
A smaller quantity of flash-in-the-pan travel friendships have led to more profound connections.
More time living in destinations have led to a more insightful and less tourism-centric perspective on them.
And skipping out on some travel in exchange for getting some work done is… good.
Work is good, and that is something travel and travelling professionally has taught me. Good work feeds the soul, when you're passionate about the work and people you work with.
I figure that if you're happy to aimlessly travel the world on $10/day for the rest of your life nabbing random bar and farm jobs, that's totally fine – it's a good life. 😉
But becoming a digital nomad UPS your travel game. It turns travel from a passion to a lifestyle. And nothing in life is given for free: you have to learn to sacrifice old parts of yourself to let the new ones grow.
And, well… that's exactly why I started travelling in the first fucking place.
How to Travel as a Digital Nomad and Not Lose Your Mind
SLOW DOWN.
Travelling and working full time at the same time is pretty tough. If you can make it work – well done. You'll have a kickass time!
But take the word of a veteran digital backpacker: dare to slow down.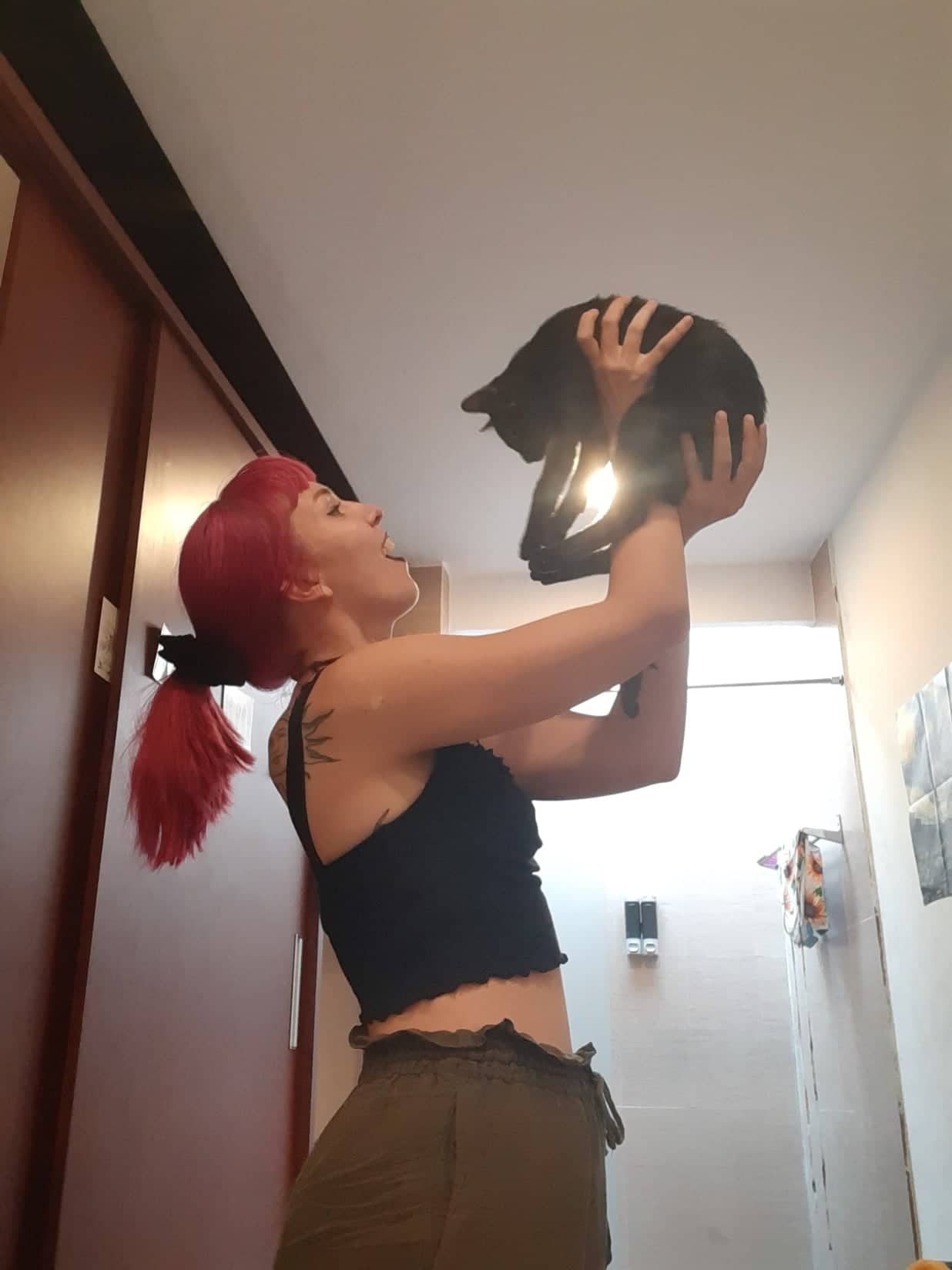 You might've heard of "slowmadism". It basically just means slowing down, both on your work and travels and learning to pace yourself.
Slow travel gives you more time to enjoy the place you're in while also working on the side. Your relationships (whether they're friendly or more boink-y) have more time to flourish and grow, and you'll also have more time to focus on your personal development.
Slow travel gets bonus points for being the more sustainable and responsible way of travelling too!
When I was still working less and barely scraping by, I managed to combine travel and work just about. However, now that I'm actually a full-time adult of the to-be-taken-very-seriously-professionally variety, it's almost impossible. This is where the importance of taking weekends and holidays off becomes crucial.
The digital nomad lifestyle allows you to have a great work-life balance but you're the one managing this balance. Too much of either is gonna result in one unhappy nomad.
So slow down, protect your electronics – and when you start getting annoyed by your boss (most likely, that's you), check off for a full month and disappear into Bulgarian wilderness.
Or, you know, whatever you do for fun.
---
Find out how YOU can support the site.
We're a big site with a big team and this job isn't always easy. But we do it because we love it – we love providing epic and free content. We love the knowledge that our content keeps you adventuring. We don't ask for money, but if you'd like to find out how you can help the site in more organic ways, click the button below.
Thank you for your support 🙂
And for transparency's sake, please know that some of the links in our content are affiliate links. That means that if you book your accommodation, buy your gear, or sort your insurance through our link, we earn a small commission (at no extra cost to you). That said, we only link to the gear we trust and never recommend services we don't believe are up to scratch. Again, thank you!