The precise definition of a nomad is a person who does not stay in the same place for long; a wanderer.
Without a permanent dwelling, nomads can only carry the essentials for life and work on the road. Everything we own must be multi-functional, durable, and of the utmost quality.
If you're a nomad – the digital or backpacking kind – then you have come to the right place.
The Broke Backpackers have been traveling for years. The way we travel has evolved from hitchhiking to tour leading to the digital nomad life and back again. Basically, we know travel, and we know exactly what makes the BEST nomad backpack.
Your nomad backpack should be roomy enough to carry the absolute essentials- the things you use daily – but small enough to keep you agile and flexible.
It should be comfortable, durable, and feature-rich, so you can organize your entire life in one backpack.
But how do you choose between the plethora of travel backpacks on the market? Well, that's where we come in.
This is a list of our favorite backpacks that have served us well as backpackers and digital nomads over the years.
So, are y'all ready to find out what the best nomad backpack is in the whole entire world, well, let's go!
Quick Answers: Best Nomad Backpacks Revealed
Best Nomad Backpack Overall
Best Nomad Backpack Runner-up
Best Nomad Backpack Runner-up
AER Travel Pack 3
Price > $$
> Shoe pocket
> Minimalist design
Runner Up for Best Nomad Backpack
Best Nomad Backpack for the Adventurer
Best Nomad Backpack for the Adventurer
REI Ruckpack
Price > $
> Affordable and high quality
> Good pocket organization
Best Nomad Backpack for the Photographer
Best Nomad Backpack for the Photographer
Lowe Pro Tactic
Price > $$
> Tons of awesome features
> Customizable
Best Nomad Backpack for Minimalist Travelers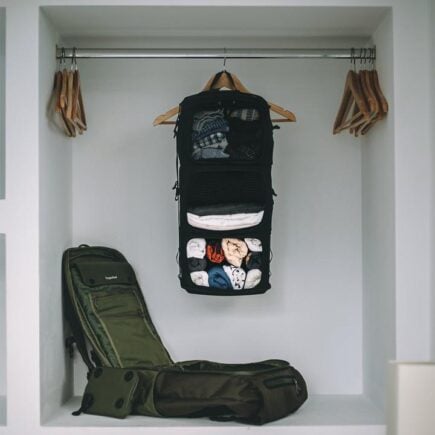 Best Nomad Backpack for Minimalist Travelers
Tropicfeel Shell
Price > $$
> Really fucking versatile
> Loads of internal compartments
How to Choose The Perfect Nomad Backpack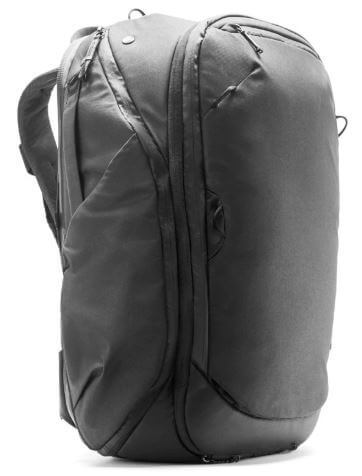 Hopefully, we've made it clear that your backpack is just as important as your passport and wallet! Before we get to our review, check out a few tips you should consider when choosing a travel backpack for your nomadic lifestyle.
Need to know more about what to put in your new shiny backpack? Check out our digital nomad packing list!
1. Your nomad backpack is carry-on compliant (unless…)
If you are going to travel through airports often, we think you should travel with a carry on backpack. Don't get us wrong. Sometimes, you have to travel with something bigger, like if you are camping, traveling with tons of photography gear, leading a tour in Pakistan, or heading north for the winter.
Not doing any of those things? Then stick to a carry on backpack! Traveling with a carry on backpack means you get to avoid check-in fees and baggage carousels at busy airports.
Although size limitations vary from airline to airline, generally, any backpack under 45-liters will be carry on compliant. Again, this varies by airline, but most international flights are more lenient (unless you're flying with Ryan Air).
Furthermore, most airlines allow between 15 to 22 pounds of carry-on luggage, so ideally your backpack's base weight will weigh less than 4 pounds.
Even if you're not flying, do you really want to lug more than 30 pounds around with you? Probably not…
Backpackers' law states if there is space in your pack it will be filled! In other words, if you're traveling with an 85-liter backpack, you WILL end up packing it full and preceding to lug it around every train, bus, and tuk-tuk that you board.
We get that being a digital nomad means carrying more electronics. Simplify your life and get a travel laptop that can do it all.
Generally, the best travel bags of somewhere between 30 and 45-liters, unless you plan to use air travel check-in. If you have a lot of electronics, camera gear, camping equipment, or clothes (we've all been there!), then a larger bag may make more sense.
2. Your nomad backpack is comfortable!
This may seem like a no-brainer, but you want to make sure your backpack is comfortable. There are a few things to look for. First, make sure your backpack is the right size. It's best to take your measurements at home before you make an online purchase.
Many packs come in XS-XL sizes based on torso length and have adjustable straps to customize the fit even further.
You should also consider the padding on the shoulder and waist straps. On that note, make sure your bag has a waist strap because it will help to distribute the weight from your shoulders to your hips.
Padded straps prevent chafing and rubbing. Look for adjustable straps as well as straps that easily tuck away when your bag is not in use. The best travel backpacks tend to have stow-away systems for the straps.
Finally, check out how the backpack carries weight. Hiking backpacks, for example, carry weight closer to your body's center of gravity. Many travel backpacks are shaped like capsules suitcases for organizational purposes, but this also means that you would NOT want to be hiking uphill with it very often.
3. Your nomad backpack is built to withstand your adventures
Maybe your idea of an adventure is an afternoon stroll to the nearest gelato shop. Maybe it's a 100-mile trek through the uncharted jungle. No matter where you plan to adventure, get a nomad backpack fit for the task.
Check for durability and water resistance. Getting a pack with weather-resistant materials that can handle the elements is just as important in a drizzling city as it is out on a hike. You want to keep your stuff safe and protected from rain, mud, and beyond.
Make sure your nomad backpack also comes with a protective rain cover to keep your bag dry during torrential downpours. A lot of the best countries for digital nomads to base themselves are tropical destinations, but that means thunderstorms and downpours are especially prominent during monsoon seasons.
Are you Hiking?
While some of the best travel bags are geared for travel – like the Nomatic below, they're often not designed for hiking. Some backpacks are designed for both travel AND hiking, but that usually means it's not the best at either.
If you want a backpack that you can take on the trails, then pay attention to how the backpack holds its weight, the suspension system (if it even has one), the shoulder straps, and waist strap comfort.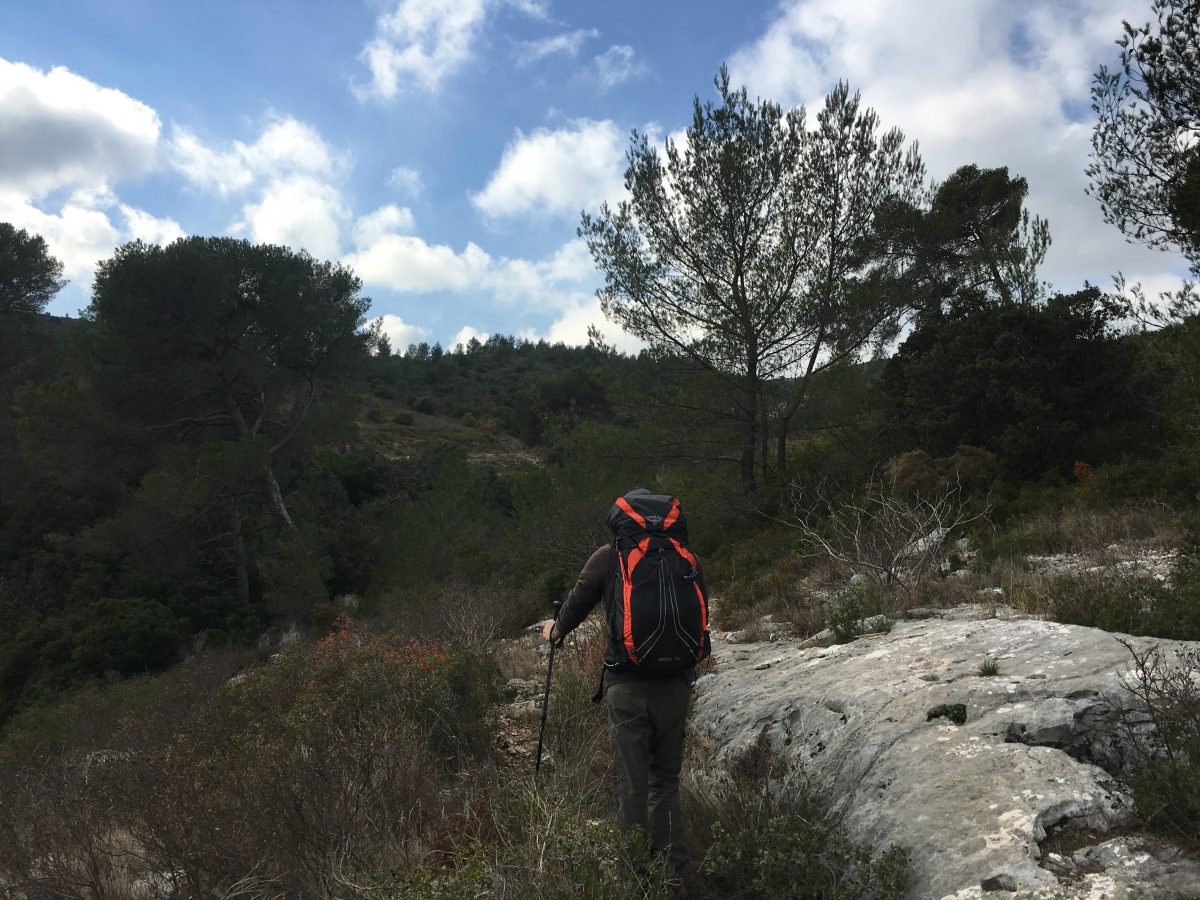 4. Your nomad backpack has a laptop compartment
Are you traveling with tech? These days you probably are, whether you're traveling for pleasure for work.
If this is the case, make sure the sleeve is large enough for your particular laptop or tablet too! While you COULD also carry a laptop bag, it can be frustrating to carry an extra bag when you're traveling indefinitely.
The most ideal scenario is a digital nomad backpack that serves as both a carry-on, laptop bag, AND a daypack. This means, at minimum, your backpack should have a laptop compartment. The exception to this rule is if you are set on traveling with a hiking backpack.

5. Your nomad backpack is lightweight
Weight is important, but it's not the only thing that matters. Most ultralight bags sacrifice ergonomics, weather resistance, and durable materials to make the lightest bag possible. It may be in your best interest to get a sturdier pack that weighs a bit more if you plan to carry a lot of heavy equipment.
If you can find a comfortable nomad backpack, built to last, and lightweight, then you have struck gold, my friend. Oftentimes there is a trade-off for durability and weight because hardy materials weigh more. You'll need to strike a balance between the two.
Weight will matter more if you plan to carry your backpack for long distances. Understand how you plan to use your bag before buying the lightest or most heavy-duty pack!
Ladies & Gents, It's Time to Step Your GEAR Game Up. 😉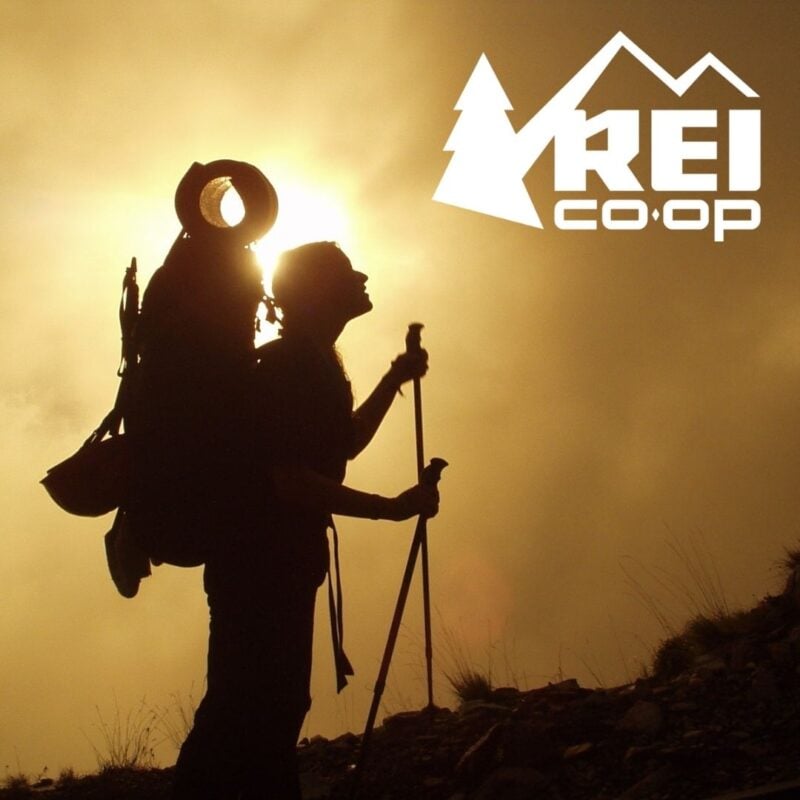 REI is one of America's biggest and most-loved outdoor gear retailers.
Now, for just $30, get a lifetime membership that entitles you to 10% OFF on most items, access to their trade-in scheme and discount rentals.
Join REI Today!
Best Nomad Backpack Overall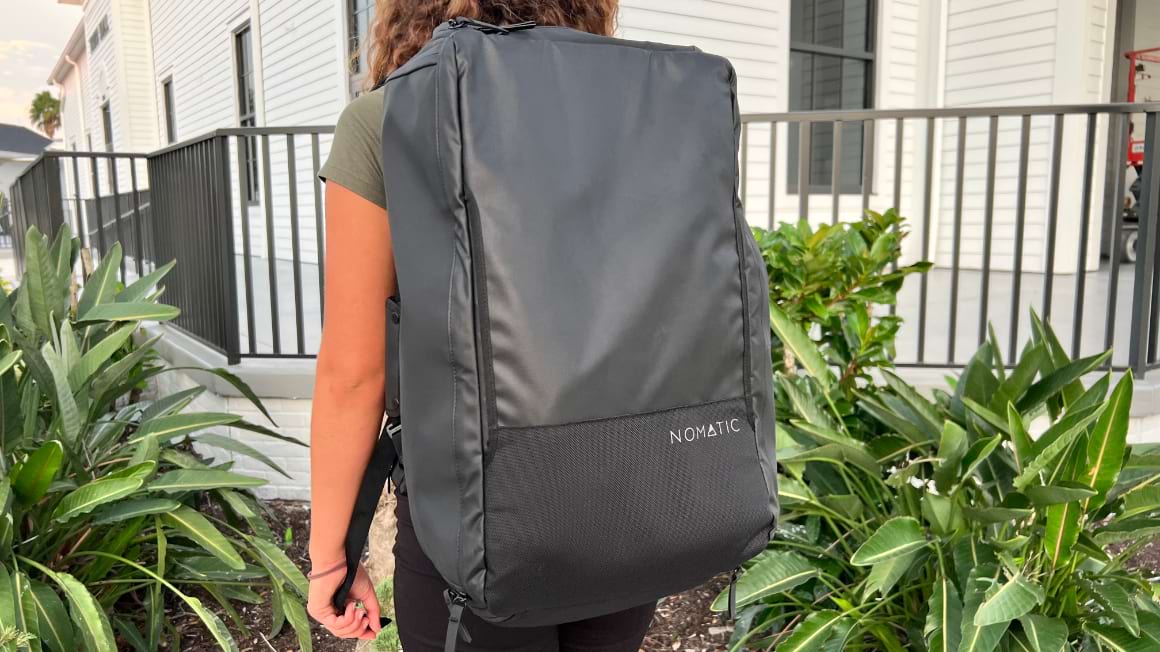 Considering the company is named Nomatic, it should come at NO surprise that they make one of the best nomad backpacks.
Nomatic Travel Bag is 40L of backpack-engineering-perfection. This is a carry on compliant backpack designed for modern, tech-savvy travelers – NOT for hikers/campers. (There is a 30-liter version of this pack as well!)
Not to be confused with the Nomatic Travel Pack (which we cover later) this brilliant piece of equipment comes with over 20 unique features including a shoe compartment, water bottle container, and a secure valuables pocket. Watch the video above to learn more about this bag's design and features.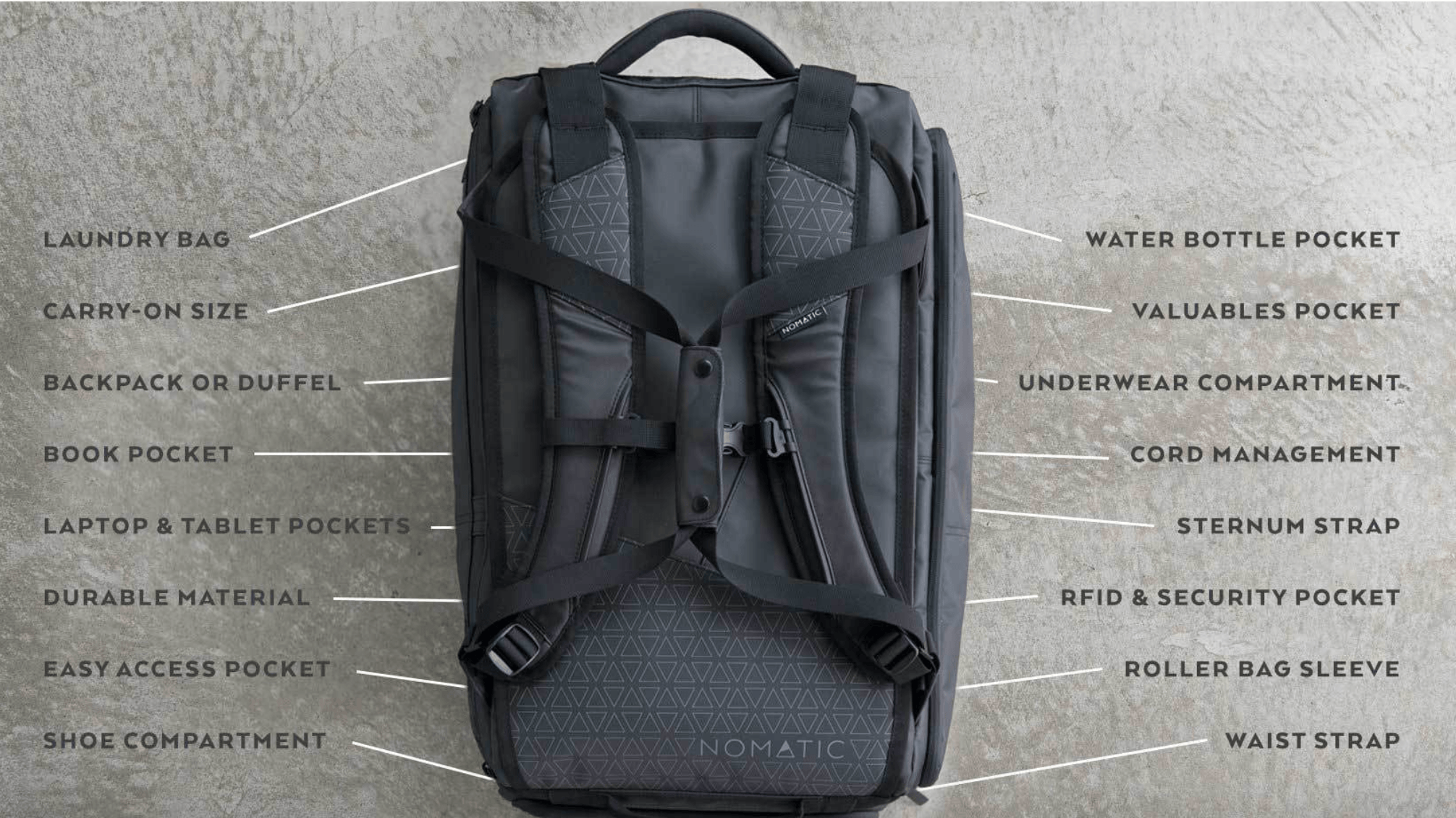 Also, read our full review of the Nomatic Travel Bag to learn why we think this is the best backpack for digital nomads.
UPDATE for 2021: Nomatic no longer sells or does business in the European Union, which is an unfortunate development. Those living in the EU should consider the next bag instead…
Pros
Modern and efficient
Perfect Size
Best organizational system
Cons
Urban environments only
Expensive
Too much organization/flash for some
Is the Nomatic Bag 40 Liters for you?
If you are a modern traveler who spends a lot of time in urban environments, the Nomatic Travel Bag is going to be one of the best travel backpacks for you. This pack was designed specifically for people who live on the road. As long as you aren't hiking or camping, it's nearly impossible to beat this bag.
Our team felt this was their best nomad bag for a number of different reasons, in fact, they felt this bag pretty much knocked it out of the park when it came to a digital nomad pack. Some of the stand-out features for them included a side pocket where they could keep all their important documents and keep their passport safe as well as a dedicated laptop sleeve. On top of that, they loved how tough, durable and weather resistant the material of the bag was and how high quality the construction felt.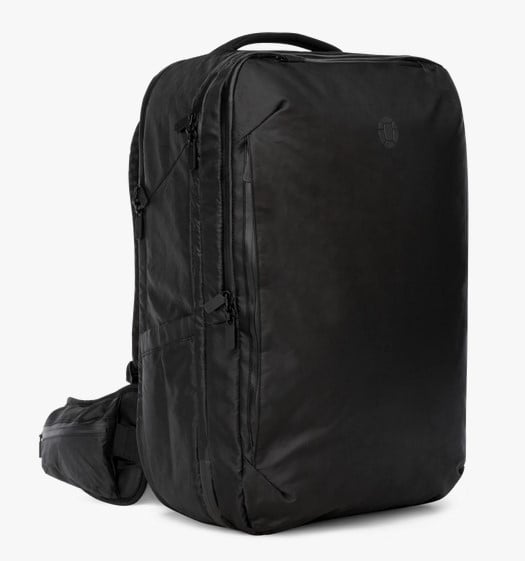 With their Travel Pack model, US-brand Tortuga promises to deliver a travel bag that has the portability and ergonomic qualities of a hiking backpack with the organizational stance and ease of packing that comes with a suitcase.
That said, we do not recommend this backpack for hiking… refer to our reviews on hiking backpacks instead.
The main compartment can carry just about anything. Both sizes (30-liters and 40-liters) of the Outbreaker carry 17" laptops, and also tablets of up to 9.7". It also includes a front organizational pocket, mesh pockets for electronic accessories, and a large main space for clothing too.
It's quality build, weather-resistant material, intuitive design, and fantastic organization make this the perfect nomad bag for anyone who wants to travel light and in style.
For more information on its features, check out our must-read Tortuga Travel Pack review.
Is the Tortuga Travel Pack for you?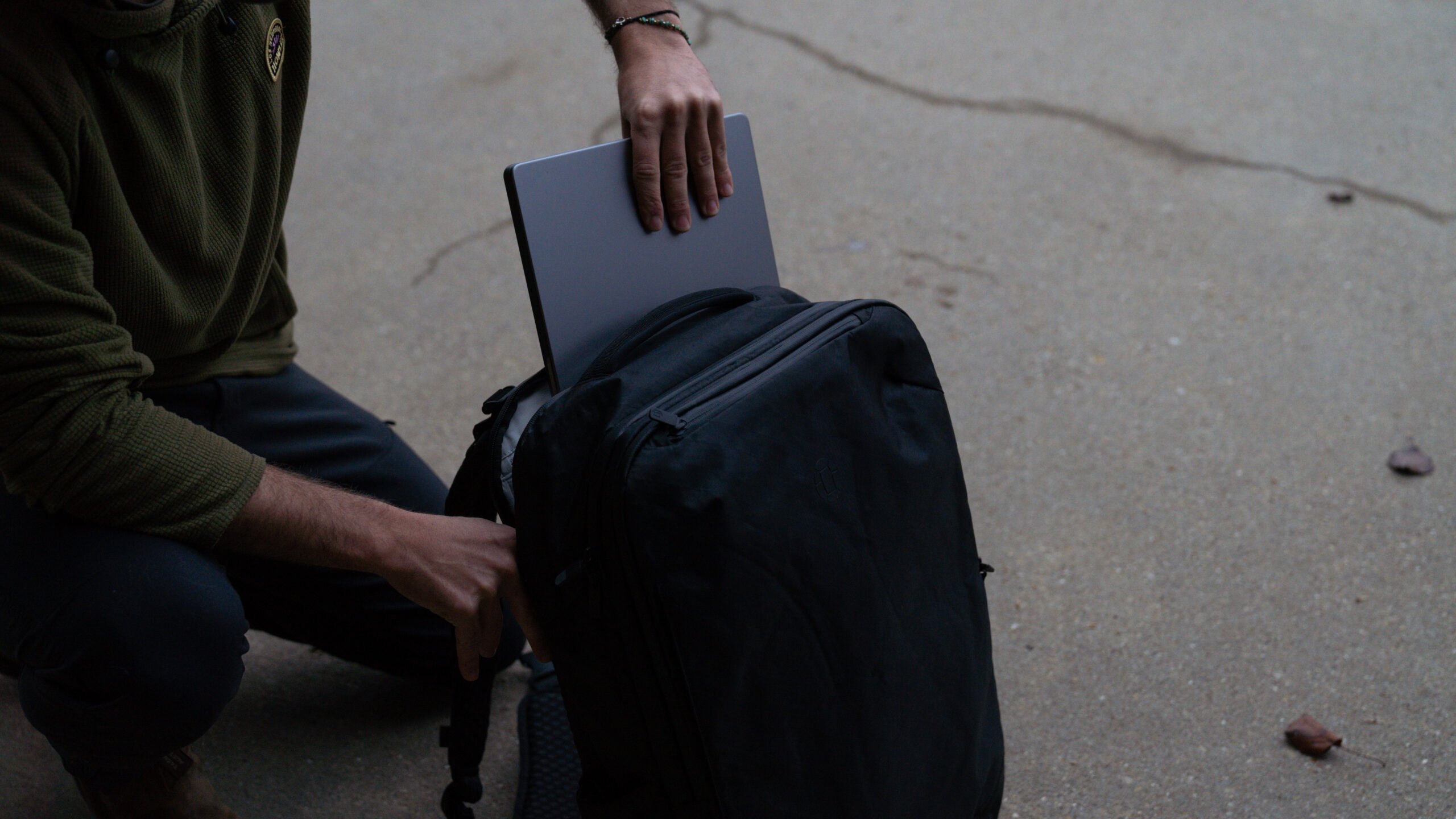 This is the perfect nomad bag to keep your things organized and secure. As long as you are not primarily hiking, this is a hard bag to beat.
Our team felt this was one of the most comfortable bags on this list with the padded shoulder straps and removable waist belts that really help to take the weight off your aching body! Another design feature they loved was the rectangular shape of the bag which allowed them to use packing and camera cubes in a more effective way. They also felt the laptop and accessories section was a genius idea for keeping their electronics separate from their clothing.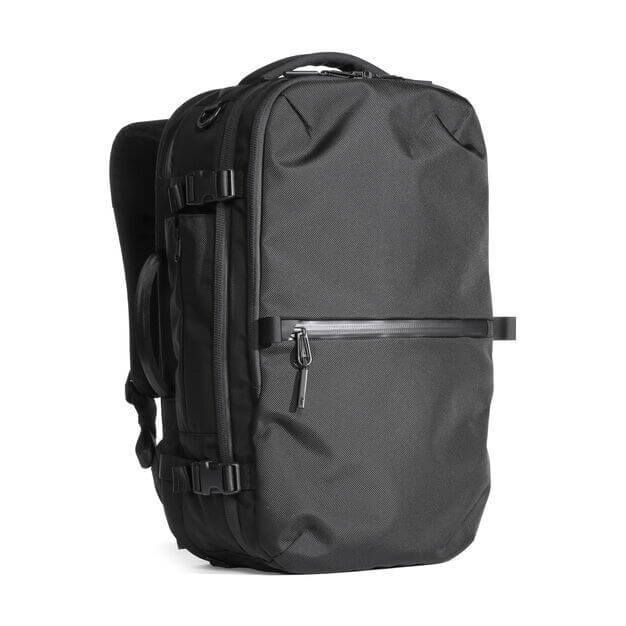 The Aer Travel Pack 3 is a well designed bag made for backpackers by backpackers. It has a dedicated laptop sleeve, many pockets of different shapes and sizes, a shoe pocket, and a handle to carry like a duffle bag. You can also slip the back through the handle of a wheeled suitcase if you are traveling with both.
With some strategic packing you can use this bag for long-term travel. It's the perfect size to use as your carry on, then use it as your daypack when at your destination. Carrying two backpacks with these seperate purposes is not longer necessary with the Aer Travel Pack 3.
You can read the full Aer Travel Pack review here.
Pros
Shoe pocket
Minimalist design
Dedicated laptop area
35 liters
Carry on approved
Cons
Small water bottle holder
No raincover
Is the Aer Travel Pack 3 for me?
The Aer Travel Pack 3 is for anyone that wants the convenience of one-bag travel done well. If you know how to pack light, the features of the backpack will keep you organized without the checked bag fees.
Our team were super impressed by this nomad travel bag and one of the features they felt put it above the rest was the dedicated laptop pocket that kept their most important bit of kit away from all their other gear. They also really loved that the pack featured 3 different lockable compartments including the laptop pocket and the large main compartment.
This bag is another awesome nomad backpack that strikes a balance between durability, comfort, and design.
This pack was also designed to accommodate photographers with camera gear, though you do not have to be a photographer to use it. The Peak Design travel backpack's main compartment can be accessed from the back, front, and both sides, though its main access point is a full zipper from the back.
There is a good amount of external and internal pockets as well as a few hidden ones to keep your things organized. The interior pockets are perfect for storing your electronics, smaller items, and books.
One of my favorite parts about this bag is the side pockets' materials. They are made from durable nylon, not mesh, which is often the first material to give out on backpacks. I am also a big fan of the easy to stow waist straps for when you are en route or storing your backpack away.
Pros
Durable in every way
Straps are easy to stow
Accessibility and pockets
Cons
Urban environments only
Expensive
Zippers are not heavy-duty
Is the Peak Design 40 Liter Backpack for you?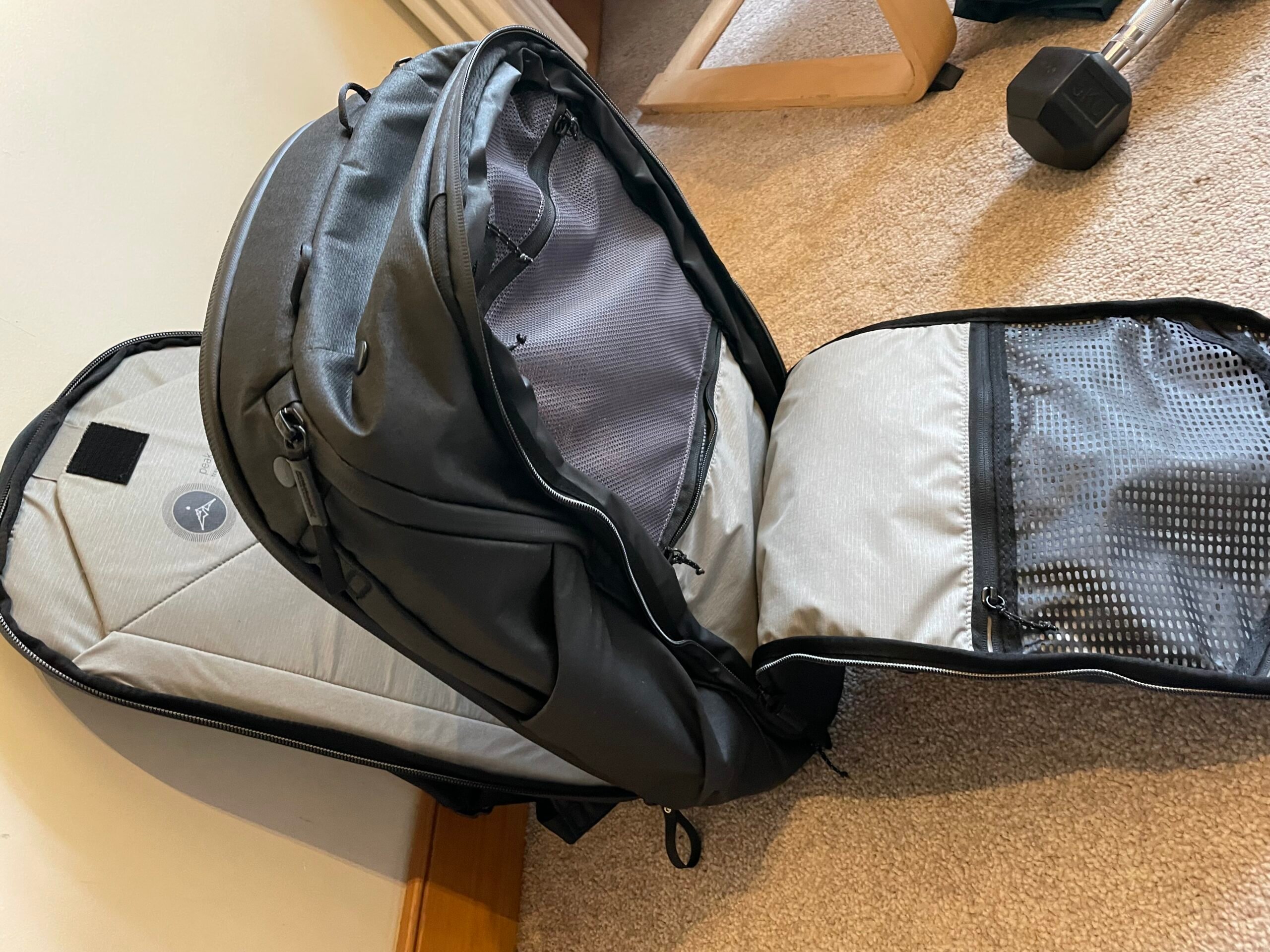 If you want an ultra-modern and sleek backpack, look no further than Peak Design's travel backpack. This is a versatile, urban-style backpack perfect for nomads.
Our team really loved how sturdy and hardwearing this pack felt, especially for long stints on the road and day-to-day abuse. On top of that our team really likes the versatility of this backpack, it means they can use it for transporting their gear when changing cities but equally they can pack in our for day trips and photography expeditions around each new stop.
The Tortuga Setout Backpack is essentially a bare-bone version of the Tortuga Outbreaker we reviewed above.
Like its sister, this pack has a book-style opening like a suitcase – and its dedicated laptop and tablet sleeves that protect your tech gear. It also has a volume of 45 liters (with a 35-liter version also available if that's a little too much), and an overall weight of less than 2 kg.
The backpack shoulder straps can be hidden away, and there's even a detachable hip belt to help with carrying!
Pros
Suitcase style opening opening
Dedicated laptop and tablet sleeves
Detachable hip belt
Cons
Fairly plain design
Not as feature-rich as the Outbreaker
Is the Tortuga Setout Backpack for me?
It's not as fully featured as the aforementioned Tortuga Outbreaker, but it's more affordable!
Our team liked that Tortuga offered a variety of different bags. Some of our team were looking for something a little simpler than the Outbreaker that kept the most important features but did away with pointless extras that cost more. Our team loved that this bag still included the large clamshell opening which really made them able to maximise the space available for all their gear.

Do You Want to Travel FOREVER??
Pop your email in below to get a FREE copy of 'How to Travel the World on $10 a Day!'.
Best Nomad Backpacks for Adventurers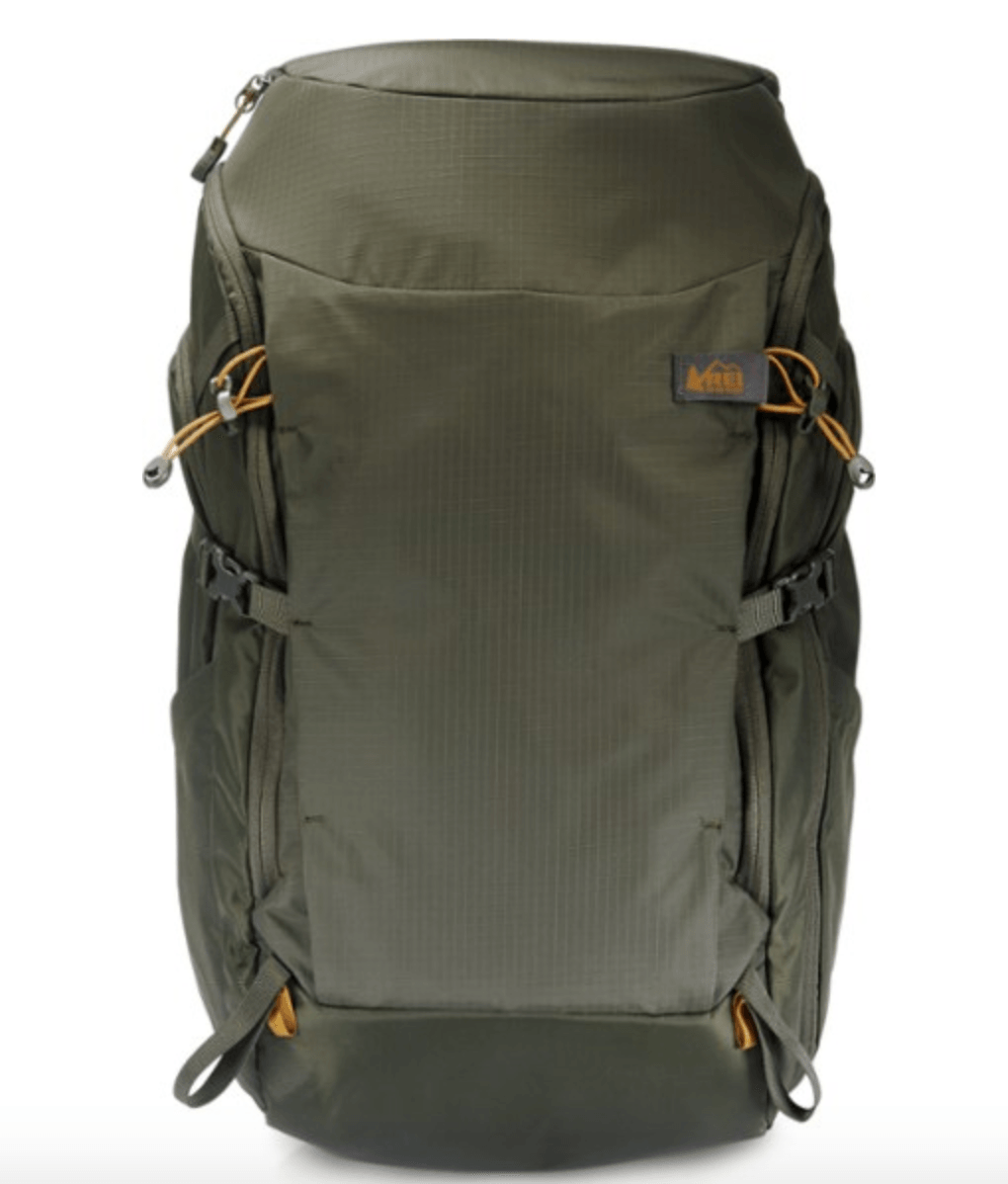 REI's updated Ruckpack 40 is one of their finest backpacks!
The Ruckpack is marketed as both a travel bag and a hiking bag – and we completely agree! While certainly a bit more on the camping-side than the travel-side, this bag has plenty of organizational compartments.
REI's bags are extremely durable, so no matter where in the world you take this bag it'll stand the test of time (while also being carry-on compliant!)
The main drawback is that there is not a laptop compartment, but we've still traveled with a computer and this backpack.
In hiking fashion, this bag has a separate version for women designed with harness straps that curve around the chest, a shortened torso length, and longer hip belt strap.
The hip belt is padded and wide enough to off real support, and the easy-to-remove top lid works great as a day pack or smaller bag to keep valuables when you're on a plane, bus, or even in a tent!
I love this backpack and think it's one of the best travel backpacks if you want a backpack that can do it all. This thing can go deep in the woods and under your hostel bunk bed. Oh, it's affordable too.
Pros
Affordable and high quality
Good pocket organization
Great back support
Cons
No laptop compartment
Preferable for hikers/campers
Too heavy for ultra-light campers
Is the REI Co-Op Ruckpack the best bag for you?
It doesn't have all the bells and whistles of the Nomatic, but if you plan to hike a lot on your travels then it's the better choice.
Our team love to hike so this bag really stood out to them as being unique amongst the other options available. They loved how durable the pack was, especially for use on the trails and in challenging weather conditions. They also felt it fit inside it a massive amount of gear whilst still easily fitting into airline overhead compartments with ease.
Best Nomad Backpack for the Minimalist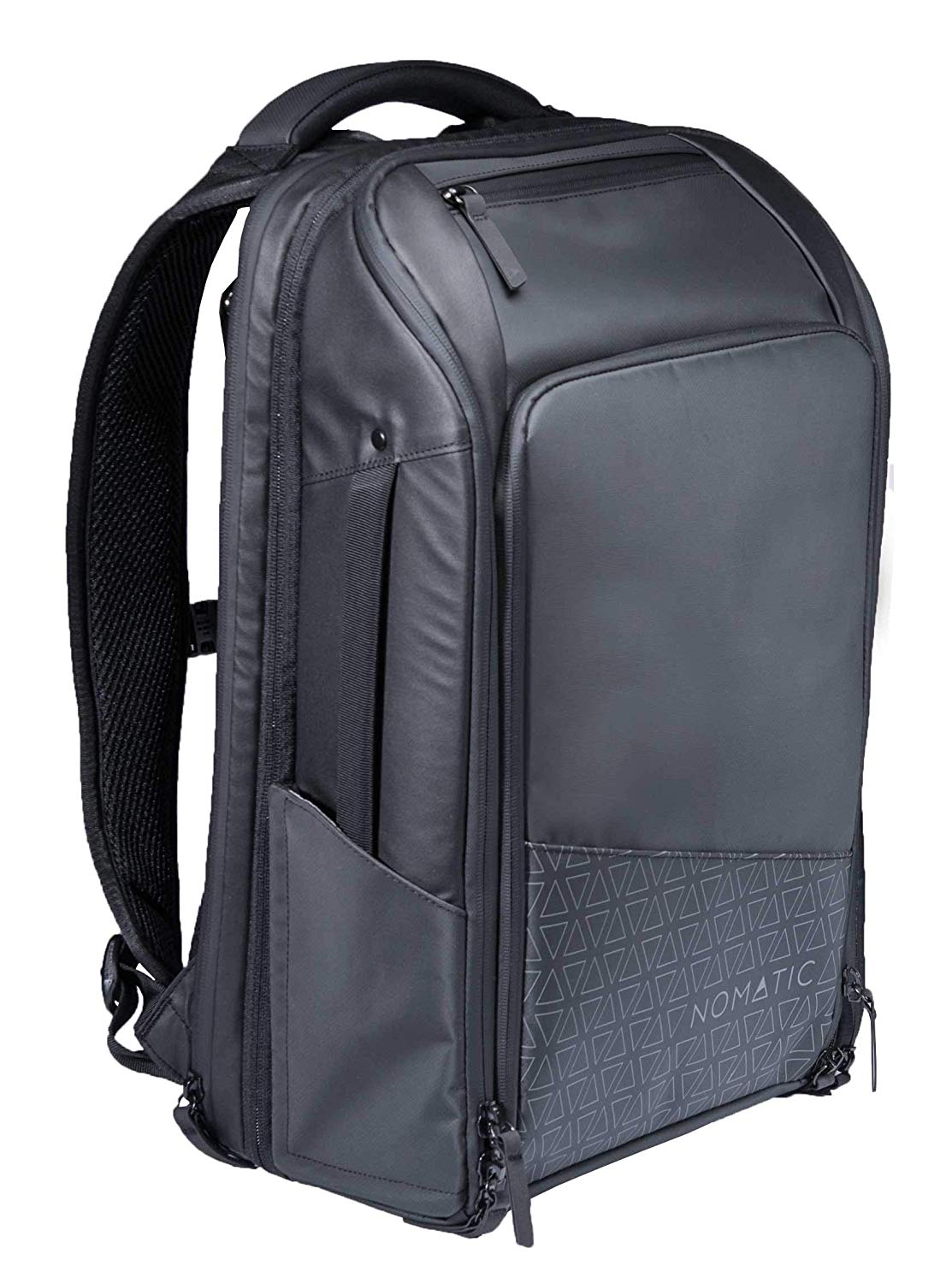 The Nomatic Travel Pack is another great offering by Nomatic! This bag is 20-liters, but it expands to 30-liters, so it's great for the minimalist. This pack still has 20+ features, like an internal divider to separate clean and dirty clothing, a shoe compartment, a compression packing cube, strap system to go from backpack to briefcase, and a few hidden pockets.
If that wasn't enough, the bag also contains a sleeve for a laptop of up to 15" and a pocket with RFID-blocking technology for the protection of your electronic data!
UPDATE for 2021: Nomatic is not available for purchase for those living in the EU.
Pros
Expandable
Internal divider
Great for minimalist
Cons
Weight of 1.9 kg
Still expensive
Is the Nomatic Travel Pack for me?
The 20+10 liter Nomatic Travel Pack is a great alternative to the 40-liter Nomatic travel bag because of its wealth of features for such a small space. If you don't need a pack much more than a few shirts and your laptop, then this is a great bag for you.
Nomatic is one of our team's favourite brands when it comes to packing up their digital nomad gear and our team particularly loved that they offer different sizes. The expandable section was a godsend for those of us who like to pack light but inevitably end up collecting various trinkets and useless crap along the way!!
The Shell by Tropicfeel is a little to medium backpack sized with a big concept. Firstly, it is a 3 in 1 extendable backpack that begins life as a 22 liter pack, rolls up to 30 litres and then with the addition of a detachable pouch goes all the way to 40 litres.
As well as being a 3-in-1 backpack (which you can easily adapt to use as day pack, overnight pack and carry-on pack), the Shell also has another awesome feature – a little, mini drop in pull out travel roll up wardrobe!
Keeping everything tidy, easily accessible and organized during your travels has never been so easy. On top of that, the recycled material is also weather and water-resistant.
Pros
Truly novel and unique

Packs up easily

Fairly priced
Cons
Not great for hiking

Not big enough for big trips

Not cheap (yet not expensive)
Is the Tropicfeel Shell the best bag for you?
If you want to keep all of your belongings organized, be flexible with the volume of your backpack and tick off the sleek-style box, the Tropicfeel Sheel is ideal for you. It's also great for minimal packers who like everything to have a place.
Our team were super impressed by the functionality of the Tropicfeel Shell and how well it expands when needed. It might not expand in the way the Nomatic does, but that's what they felt worked well here. The kangaroo pouch on the bottom and attachable packing cube on the front was a lighter solution for temporarily adding extra gear like throwing an extra pair of trainers on the bottom of your pack and gym gear on the front.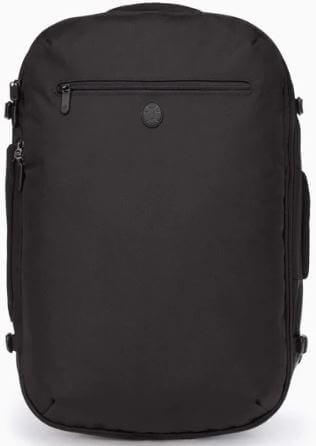 The Tortuga Setout Laptop Backpack is the smaller version of their first Setout! This bag is a 25-liter laptop bag perfect for the ultra-minimalist. It still has plenty of organizational-features and a secure area for your laptop, easy to lock zippers, and a luggage handle pass-through.
If you are pretty set on travel ultra-light, you could make this work as a nomad backpack, but ultimately, this bag was designed to be a laptop bag/day pack for air travel. Still, we applaud the nomads that travel with just 25-liters of gear.
Read our complete Tortuga Setout Laptop Backpack Review here.
Pros
Durable
Minimalist design
Dedicated Laptop and Tablet Area
25 liters
Cons
Pricey for a 25-liter bag
Too small for some
Is the Tortuga Laptop Backpack for me?
It is not as fully-featured as the aforementioned Tortuga backpacks, but it's perfect if you want to keep it ultralight. That said, most travelers will need something bigger.
Our team were pretty excited to see a smaller bag on the list as a great alternative option. A few of those are super lightweight travellers but for the others, they felt this bag was the perfect companion as a "front pack" along with a larger main backpack. They loved that for the size it still included a dedicated laptop section too.
Best Laptop Backpack for Weekend Travels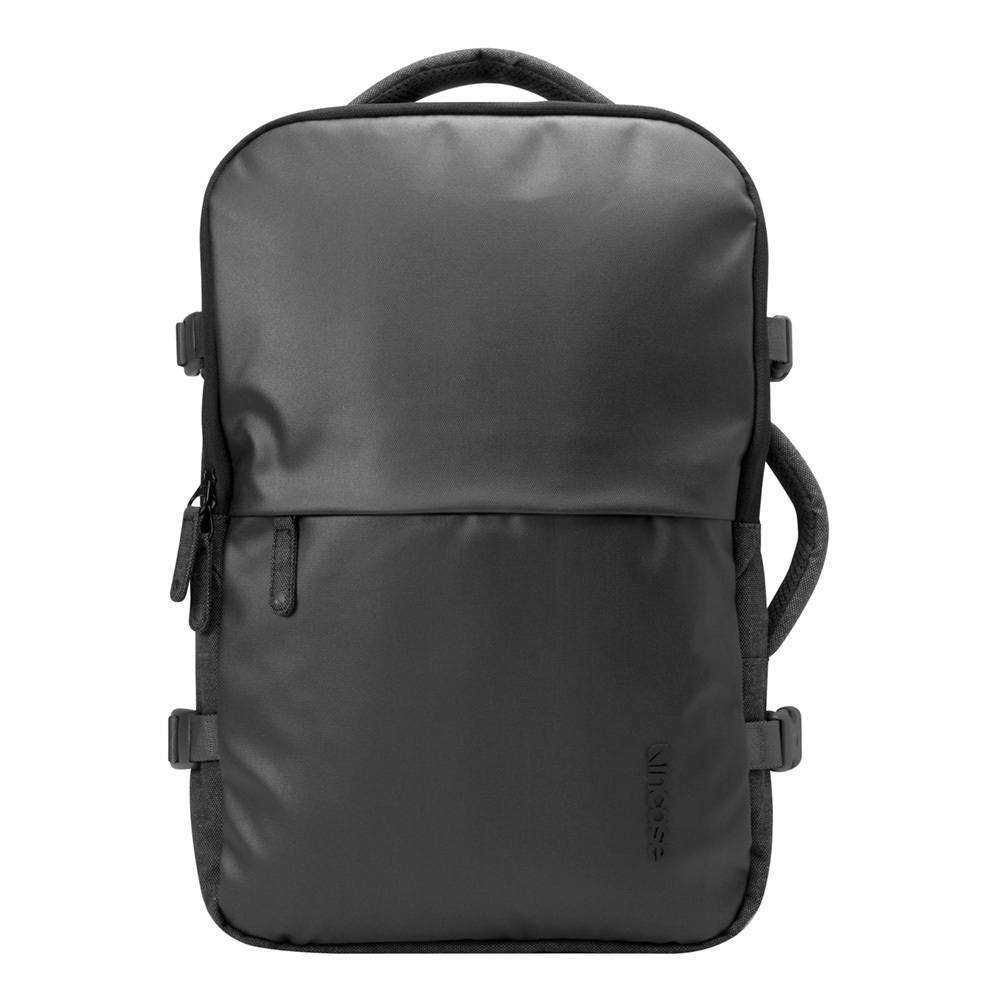 The EO travel backpack is known for making stylish business backpacks. The EO accommodates a 17-inch laptop and has tons of options for internal organization.
The main compartment has plenty of storage space, and it expands 35% to fit all of the clothes you may need. You can also maintain a slimmer profile if you are just using it for layovers and weekend trips.
Pros
Fits up to a 17-inch laptop
Padded back panels
The zippable laptop compartment makes security checks a breeze
Cons
Only for minimalists
Not as feature-rich as other bags
Is the Incase EO Carry on for me?
This is an excellent travel backpack for air travel and nomads on business. Sometimes slimmer is better, so you can travel without bulk.
For those on the team travelling with larger laptops and electronics, they felt this was the perfect solution. They told us that it allowed them to carry a decent amount of gear without becoming mega heavy or unwieldy. The expandable section also came in useful for those times when our guys needed to chuck in a few extra sets of undies!
Best Nomad Backpack for the Photographer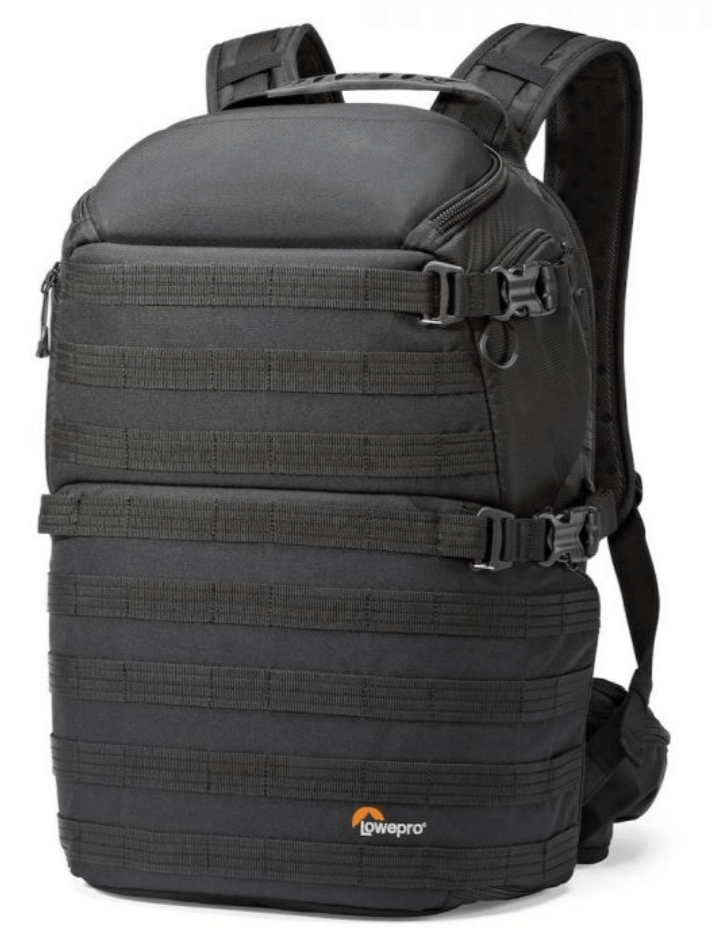 Over the years, we've looked at a ton of camera backpacks, yet we always come back to the LowePro because they are designed with professional photographers in mind. This means this bag can safely and securely fit 2 DSLR's, up to 8 lenses, and a laptop.
The bag allows for customization, so you can create compartments personalized for your photography needs. The only drawback is its weight, but that's the price you pay for ultimate durability and customization. You can guarantee the LowePro 450 AW is 100% carry on compliant.
The LowePro 450 comes at a hefty price tag, but it's worth it. Not only do you get this amazing camera bag, but it also comes with a bunch of accessories including a bottle pouch, and a rain case. If you are looking for the best camera backpack – this is it!
Pros
Tons of awesome features
Customizable
Dedicated laptop sleeve
Cons
Expensive
Only good for hardcore photographers
Heavy
Is the LowePro 450 AW the best bag for you?
While pricey, this bag has everything you'll ever need as a photographer. If you are a nomad traveling with a ton of photography gear, then this is the bag for you.
The photographers on our team felt this was their best nomad pack for their unique needs. The ability to keep all their camera gear organised and safe was of paramount importance to them and this bag did exactly that. The other important feature for them was the side opening where they could get easy access to their camera when configured correctly.
Best Nomad Backpack for the Organisation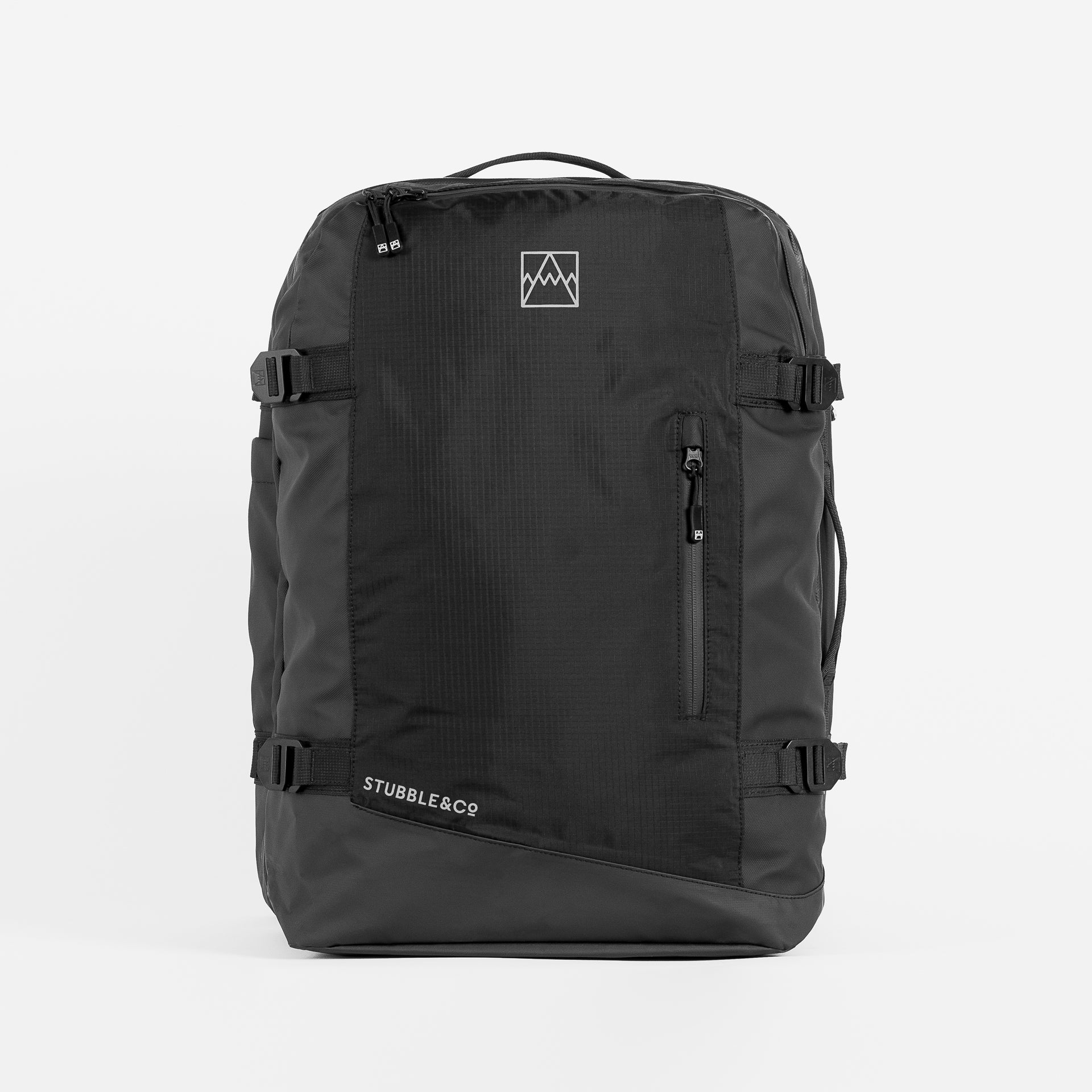 The Adventure Bag from Stubble & Co is possibly the most perfectly designed carry-on-sized travel bag we've ever had the chance of using.
This bag is awesome if you're a busy nomad with heaps of different bits of gear that need to be kept organised. Like many popular bags this one opens in a clamshell fashion, but what makes it stand apart from the rest is the format inside. Rather than being just one massive open area, this bag opens to two deep sections divided up into a series of different-sized zippered pockets.
We're massive fans of this and it helps us keep all our gear super organised and fits our packing cubes in perfectly. For us having heaps of tech gear, we use some of the compartments for things like hard drives, wires, and GoPro accessories for example and the larger ones for our clothes.
In terms of capacity, it offers a great size for both long backpacking trips, weekend breaks and short holidays. The size also means the bag is compliant for carry-on travel which is great for those of us who are moving frequently.
Pros
Separate laptop compartment
Clamshell opening
Lots of organisation
Cons
Shape is a little boxy
Have to completely open bag to access anything
Expensive
Is The Adventure Bag the best bag for you?
I love the functionality of this bag for both long and short-term trips alike. The high quality of the materials and construction also gives me confidence in the bag's ability to cope with the sort of abuse that comes with backpacking too!
Whilst the bag isn't cheap, it's also not super expensive either and it's pretty in line with other backpacks you might buy for longer trips whilst offering so much more in terms of features.
Want more options? Check out our rundown of the best Stubble & Co. bags.
The best present of all… is CONVENIENCE!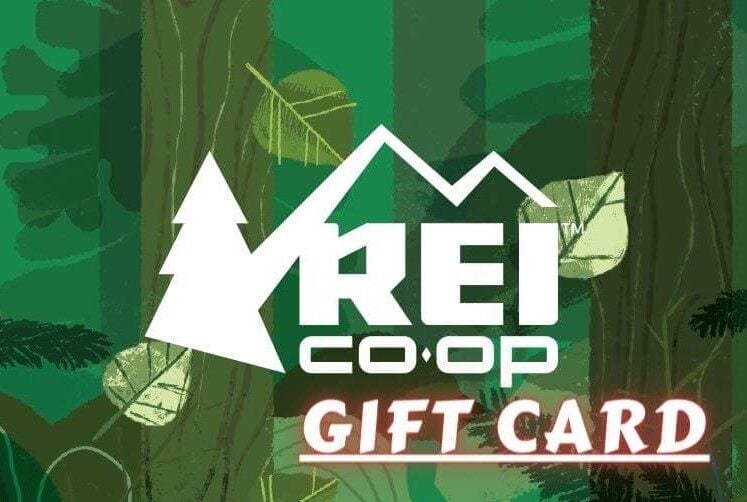 Now, you could spend a fat chunk of $$$ on the WRONG present for someone. Wrong size hiking boots, wrong fit backpack, wrong shape sleeping bag… As any adventurer will tell you, gear is a personal choice.
So give the adventurer in your life the gift of convenience: buy them an REI Co-op gift card! REI is The Broke Backpacker's retailer of choice for ALL things outdoors, and an REI gift card is the perfect present you can buy from them. And then you won't have to keep the receipt. 😉
Buy on REI!
Nomad Backpack

| Name | Capacity (litres) | Dimensions (CM) | Weight (KG) | Laptop Compartment (Y/N) | Price (USD |
| --- | --- | --- | --- | --- | --- |
| Nomatic Travel Bag | 40 | 35.56 x 53.34 x 22.86 | 1.55 | Y | 289.99 |
| Aer Travel Pack 3 | 35 | 54.5 x 33 x 21.5 | 1.87 | Y | 249 |
| Tortuga Outbreaker | 35 | 51 x 33 x 21 | 2 | Y | 299 |
| Peak Design Travel Backpack | 35 | 56 x 33 x 24 | 2.05 | Y | 299.95 |
| Tortuga Setout Backpack | 45 | 53.34 x 35.56 x 22.86 | 1.49 | Y | 199 |
| REI Co-Op Ruckpack | 40 | 63.5 x 36.83 x 22.86 | 1.29 | Y | 149 |
| Nomatic Travel Pack | 20 | 48.26 x 33.02 x 14.61 | 1.90 | Y | 279.99 |
| Tropicfeel Shell Backpack | 22 | 51 x 30 x 19 | 1.5 | Y | 249 |
| Tortuga Setout Laptop Backpack | 45 | 53.34 x 35.56 x 22.86 | 1.49 | Y | 199 |
| Incase EO Travel Backpack | | 54.61 x 38.1 x 12.7 | 0.50 | Y | – |
| LowePro ProTactic 450 AW | 45 | 43.99 x 30 x 16 | 2.69 | Y | 249 |
How and Where We Tested To Find The Best Nomad Backpack
To test these packs and find the best nomadic backpack for you, we decided to take each one for a thorough test drive and did it over the course of a few weeks. A few different team members took each bag out so on different trips so we could get some varied feedback and experiences.
Packability
A backpack is designed to carry stuff … but a digital nomad backpack is designed to carry expensive and important gear that needs to be kept organised and safe.
So when we looked at each of these packs we awards extra points for how well each facilitated effective packing, unpacking and organising. Being able to unpack and retrieve items quickly is just as important as being able to fit all your gear inside. So both of these elements were just as important when picking out the best bags.
Weight and Comfort of Carrying
If a pack is overly heavy or awkward to carry then carrying it day to day, especially from country to country, can be tiring and uncomfortable. When it comes to picking out a backpack for a digital nomad, we had to take into consideration that laptops, hard drives, wires and other accessories can get pretty heavy after a while.
So backpacks that are light, have good shoulder straps and allow good weight balance was awarded max points.
Functionality
In order to test out how well a pack fulfilled its primary purpose we used it for this purpose. For example, digital nomad backpacks usually carry laptops, hard drives, tablets, and sometimes touchpads as well as a whole load of notebooks and journals.
So organisation, comfort and safety were our primary concerns when compiling this list. You get the idea right?
Aesthetics
Some people say that travel gear doesn't need to look good as long as it functions. Well, those folks clearly aren't on the TBB team because we think you can always look sexy whether you're taking a red-eye or heading down to Canggu for another almond latte with your typewriter!
Durability and Weatherproofing
Ideally, in order to really test out how durable a backpack is we would drop it from a plane and then run over it. Unfortunately, being mostly millennials, we've blown that budget on smashed avocados!
Instead, we inspected the build quality of each bag looking in particular at areas like the traction of the zippers, seam sewing, pressure points where most bags wear down as well as the materials used.
Another important area to test was how waterproof each bag was, after all, they've got your laptop, camera and other gear that needs to be kept dry inside! So we got even more high-tech and poured a pint or two of water over each bag and checked for leaks!
FAQ about the Best Nomad Backpack
Still have some questions about the best nomad backpacks? No problem! We've listed and answered the most commonly asked questions below. Here's what people usually want to know:

Our GREATEST Travel Secrets…
Pop your email here & get the original Broke Backpacker Bible for FREE.
Final Thoughts on Our Nomad Backpack Review
We've listed our favorite backpacks, specifically designed to help nomads organize their life on the road, the top pick being the Nomatic Travel Bag 40L. While we love to hike, most of these bags are not designed for the trails, but for people who work digitally and travel frequently.
So, do you agree with our selection for the best digital nomad backpack? What would you have chosen?
---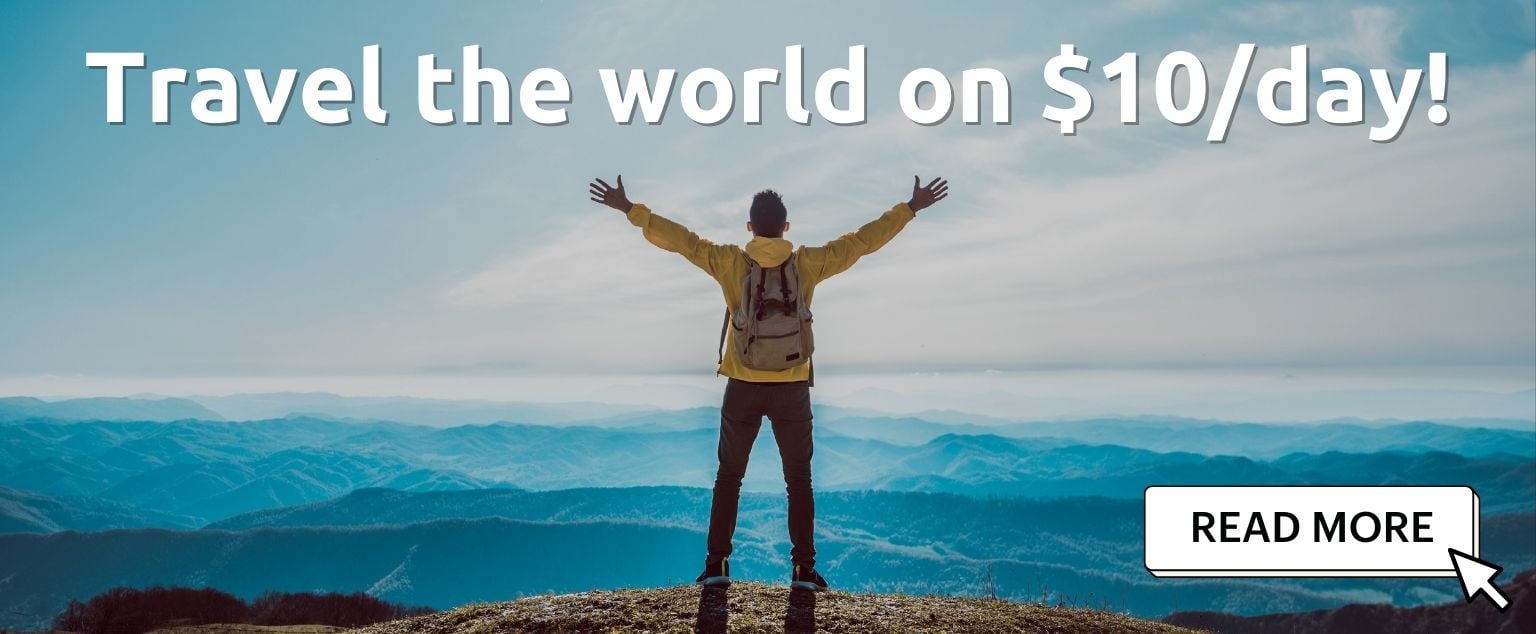 And for transparency's sake, please know that some of the links in our content are affiliate links. That means that if you book your accommodation, buy your gear, or sort your insurance through our link, we earn a small commission (at no extra cost to you). That said, we only link to the gear we trust and never recommend services we don't believe are up to scratch. Again, thank you!