Thailand is one of the world's premier budget summer vacation hotspots, packed with exquisite beaches, incredible culture, and vibrant nightlife. As far as paradise islands go, Phuket and Koh Phangan are two of the most well-known destinations in the country. While both are surrounded by pristine tropical oceans, each has an entirely different vibe and energy.
Located on the Malacca Strait just off the mainland of Thailand, Phuket is a tourism hotspot that can overwhelm any traveler with an explosion of the senses. On the other side of the mainland, Koh Phangan is an island set a short flight away in the Gulf of Siam. This sun-drenched island embodies much more of a beach vacation feel.
Phuket is known for its incredible nightlife and resort hotel scene, while Koh Phangan is loved more for its beaches and beach parties. Both are known for being two of the most affordable spots in Thailand to enjoy a tropical getaway,
While both are worth visiting in their own rights, let's take a look at which island takes the win; Phuket or Koh Phangan.

Unlock Our GREATEST Travel Secrets!
Sign up for our newsletter and get the best travel tips delivered right to your inbox.
Phuket vs Koh Phangan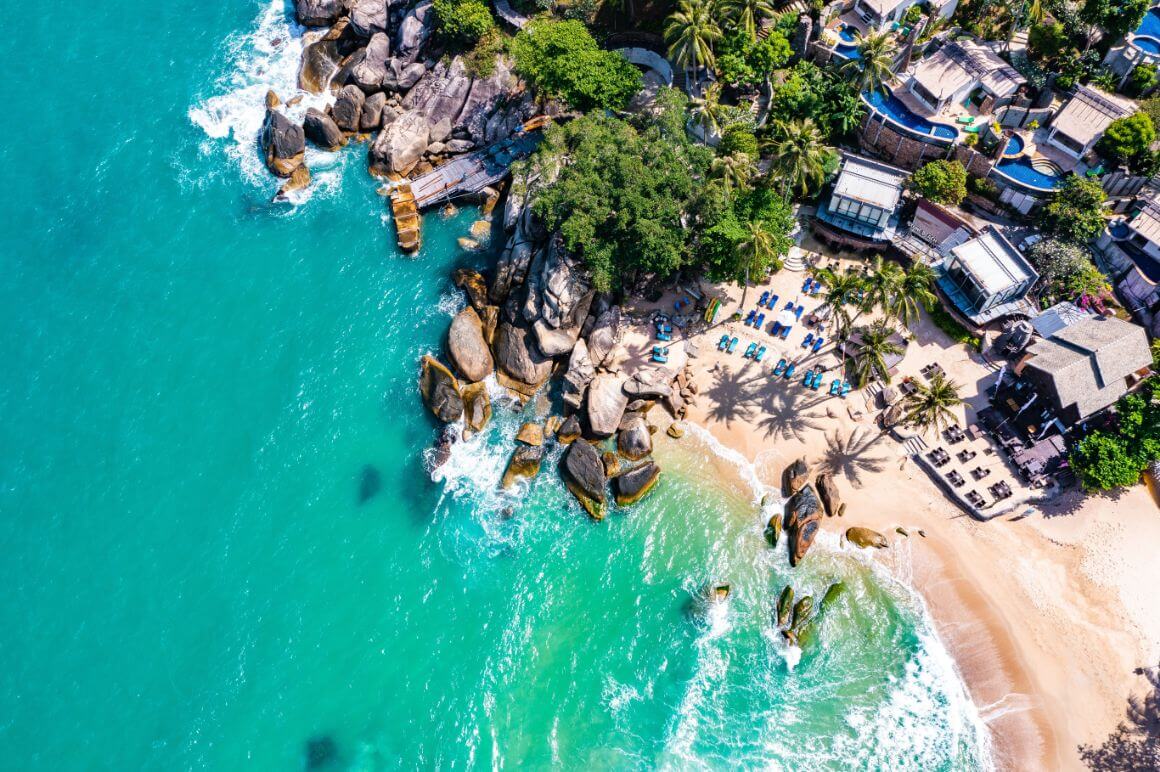 On your visit to Thailand, you'll find these islands have their similarities, but there are also a bunch of differences between Phuket and Koh Phangan:
Phuket Summary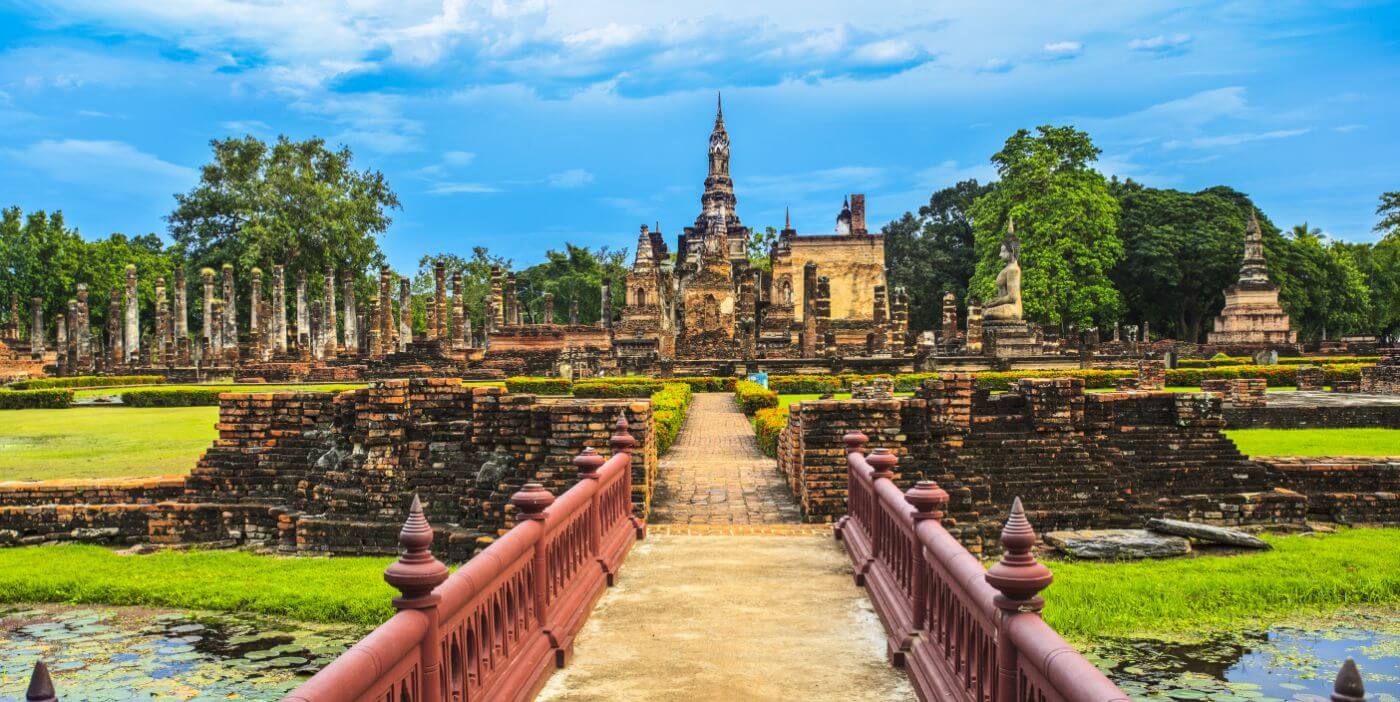 86 square miles in size.
Famous for its exotic beaches, scuba diving, seafood, vibrant night markets, and dynamic nightlife.
Easy to get to using the Phuket International Airport, which welcomes airlines and flights mainly from across Asia.
The small island is easy to get around using tuk-tuks and taxis. It's also a very walkable island.
Most accommodations are hotels and resorts with all-inclusive packages depending on your travel needs. There are also some affordable homestays, hostels, and bed and breakfasts ideal for budget travelers. Alternatively, private villas can be rented using Airbnb or Booking.com.
Koh Phangan Summary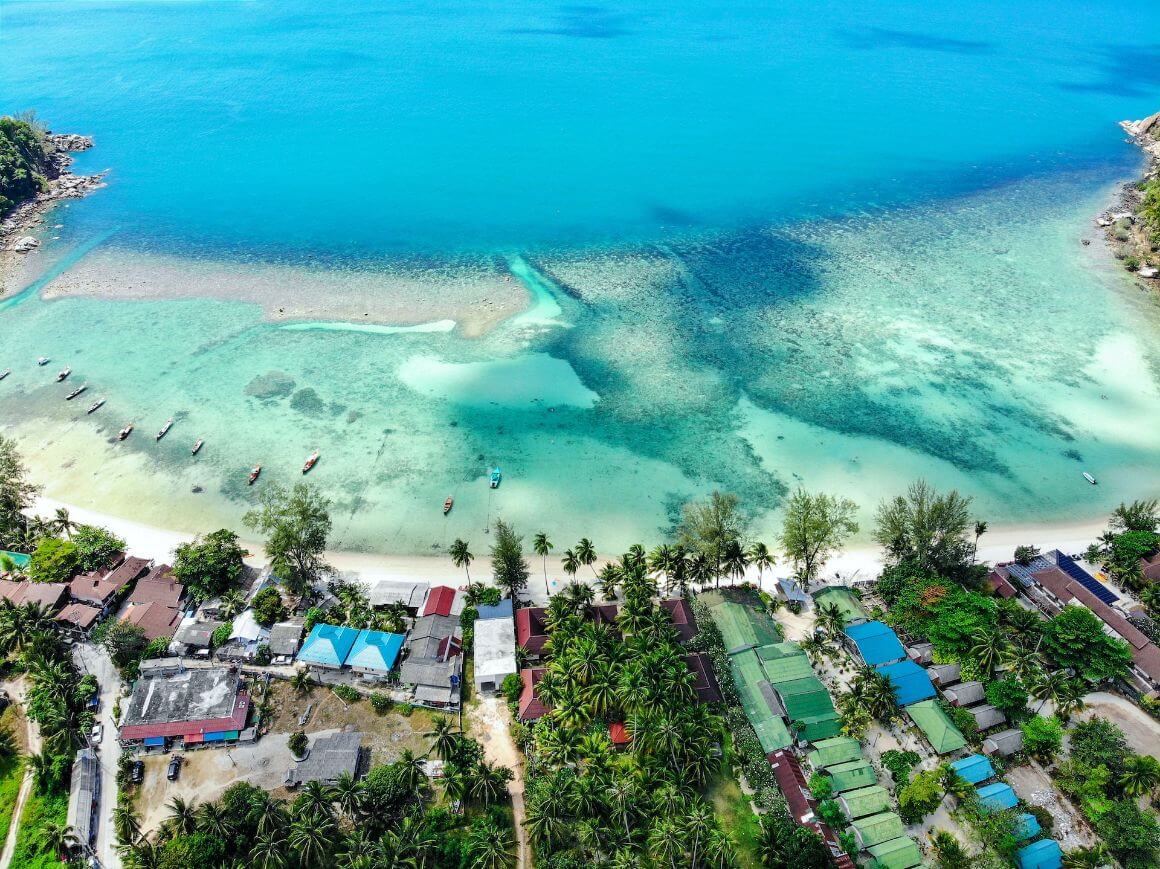 48 square miles in size with about 14 thousand permanent inhabitants
Most well known for its spectacular beaches. Famous for its Full Moon Party and sister islands, Koh Samui and Koh Tao.
The closest airport to the island is Samui Airport, a domestic airport on the island of Koh Samui. To get here, you'll need to take a ferry from Koh Samui, which takes 45 minutes, or a speed boat which takes 20 minutes.
Because of its small size, Koh Phangan is a walkable island and is easy to navigate on foot. Tourists can also catch tuk-tuks or rent motorbikes to get around.
Many of the top accommodations are hotels and resorts, which have all-inclusive packages available for different types of travelers. There are also some villas that can be rented using Airbnb or Booking.com.
Is Phuket or Koh Phangan Better
There's no easy way to say whether one island is better than the other; however, we'll give it a bash. Read on for a direct comparison to help you decide whether to visit Phuket or Koh Phangan.
For Things to Do
There are a few main reasons why people visit Thailand – the beach, the nightlife, the culture and history, and the food. Both Phuket and Koh Phangan have their own assets when it comes to things to do.
For cultural sites and historical attractions, Phuket overshadows Koh Phangan. The island is a decent-sized city which means it is home to a large local population. Because of this, you will find many religious sites, including Wat Chalong and The Big Buddha. Phuket Old Town, otherwise known as Soi Rommanee, is known for its Sino-Portuguese architecture and historical homes.
Museums are also abundant in Phuket, including the Phuket Thai Hua Museum opened to celebrate the unique architectural heritage of the island. You can also visit the Heroines Monument and the Tin Mining Phuket Museum for a glimpse into the past life on the island. This makes Phuket the ideal location for museum fanatics and culture vultures.
While stunning beaches rim both islands, Koh Phangan best suits beach lovers. Phuket's beaches are significantly busier than Koh Phangan, which has a more mellow beach vacation atmosphere.
Families traveling with young kids will love Phuket, with family-friendly hotels and resorts and activities suitable for all ages. While they offer different nightlife scenes, both islands are super exciting for young adults looking for a good party. Phuket is great for bar hopping, while Koh Phangan is famous for its Full Moon Parties.
Both Phuket and Koh Phangan are ideally suited to travelers who enjoy water activities, with an abundance of snorkeling and dive sites, swimming, and motorboat activities. Koh Phangan even has waves big enough to surf, although they don't compare to the neighboring South East Asian countries nearby. Since Phuket is located just off the mainland, busy waterways have caused many of the coral to die off. Because of this, divers and snorkelers would fare better in the Gulf of Siam at Koh Phangan.
Who doesn't love Thai food? Pad Thai, green curries, and fresh fruit juices can be found on just about every street corner on both islands. Because of its bigger size and popularity as a tourist destination, Phuket offers a much wider selection of food in comparison to Koh Phangan.
Winner: Phuket
For Budget Travelers
Generally speaking, Phuket is the more expensive option when comparing Phuket vs Koh Phangan. While both islands cater to an international clientele, Phuket is more geared toward family vacations and romantic trips. At the same time, Koh Phangan is known as Thailand's 'party island,' catering to younger crowds.
Thailand uses the Thai Baht currency, which is significantly weaker than the USD or Euro.
Most accommodation in Phuket is more urban, while Koh Phangan is a bit more rural. A high-season bed in a hostel dorm costs $15 to $20 in Koh Phangan or $15 to $25 in Phuket. If you're on an actual budget, a room with over 12 beds could cost as low as $4 per night in each location. A basic hotel could cost $27 per night in Koh Phangan or $35 in Phuket.
The primary mode of transport in Koh Phangan and Phuket is tuk-tuk, and you can expect to pay between $5 and $10 per day if you're traveling around the islands a lot.
A meal at the night market in Koh Phangan costs under $1, while it could cost as high as $15 for a western meal at a sit-down restaurant. A meal at a traditional restaurant in Phuket might cost between $7 and $9.
On both islands, you could buy a beer for under $2 and spend up to $3 at a restaurant. However, buying beer at a market or corner shop will cost just a few cents.
Winner: Koh Phangan
Small Pack Problems? 😉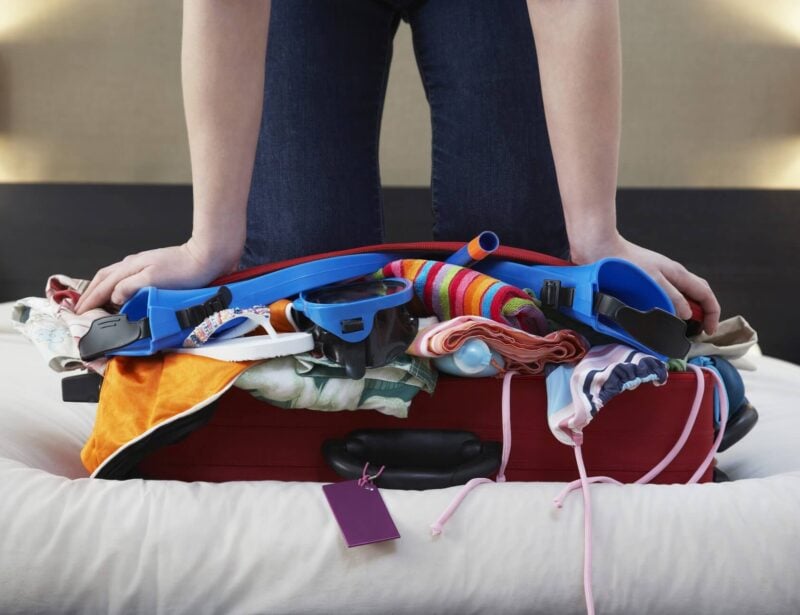 My missus travels with all her clothes in ziplock bags: don't be like my missus. UP YOUR PACKING GAME!
Packing cubes for the globetrotters and compression sacks for the real adventurers – these babies are a traveller's best kept secret. They organise yo' packing and minimise its volume too so you can pack MORE.
Or, y'know… you can stick to ziplock bags.
View Our Fave Cubes
Or Check Out the Sacks!
The Ford Sunset Beach Resort in Koh Phangan's Sub-District is an affordable basic hotel with a swimming pool. All rooms have an en suite bathroom, and most have a private seating area. They also serve a basic breakfast each morning and have an onsite bar, ideal for getting you ready for a Full Moon Party.
For Couples
If you're trying to decide between Phuket and Koh Phangan for a romantic getaway, both islands are great options for couples. Koh Phangan is suited for party-loving couples, with beautiful beaches to lounge about during the day and incredible nightlife to explore once the sun sets. However, since this island caters to a younger demographic, I wouldn't recommend Koh Phangan for older romantic couples.
That being said, younger couples will also love Phuket, which has an entirely different nightlife scene with tons of lit-up bars, discos, and exotic shows that can't be found elsewhere in the world.
Phuket, on the other hand, has a lot more to offer couples. The island is packed with stunning beaches and outdoor activities for all types of couples.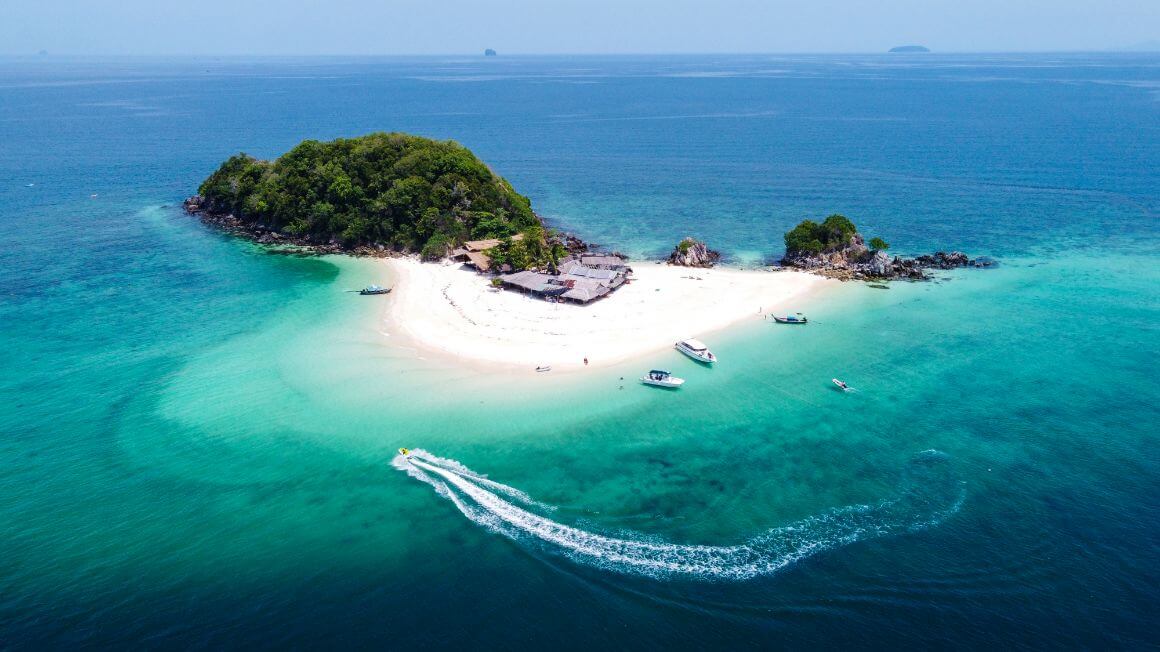 Active couples can enjoy water sports like jet skiing, water skiing, and snorkeling along the pristine coastline.
Those interested in the culture and heritage of Thailand and the island will also have more to do in Phuket, with exciting markets, local villages, and historic places of worship scattered across the island.
Phuket is also home to some of the most luxurious hotels and accommodations in Thailand, often with in-house spas and resort facilities. This makes Phuket well-suited for couples looking for a more relaxing, pampering experience.
Winner: Phuket
Where to Stay in Phuket: Noku Phuket
Set in a secluded location overlooking the city in Chalong, Noku Phuket is no doubt one of the island's most luxurious hotels. Styled with a blend of modern and authentic Thai interiors, the property oozes romance from every room.
For Getting Around
Phuket is a more accessible island to get to, with its own international airport on the island. On the other hand, Koh Phangan can only be accessed via ferry or speedboat.
Once you're on the island, Phuket is also more accessible to get around when comparing Phuket and Koh Phangan. Koh Phangan is much less developed, with less road infrastructure. It's so remote that some places, like Bottle Beach, can only be accessed by walking or taking a boat. While this makes it all the more charming, it can be time-consuming traveling from one side of the island to the other.
Cycling or walking is the healthiest and most environmentally conscious way of getting around Koh Phangan. Since the island is small, distances between beaches and main attractions aren't too far.
Getting around the main centers of Koh Phangan is best done using a motorbike. Bike rentals are cheap and easy to find; however, if safety is a concern, renting a 4X4 is advised (as some roads aren't well maintained).
Taxis are the easiest and cheapest way to get around both Koh Phangan and Phuket. Locally known as tuk-tuks, these open-air cars/bikes with ample seating areas are a convenient way to get from one part of the island to another. One tuk-tuk can hold between 8 and 10 adults. Tuk-tuks drop you off directly at your desired destination and can get pretty busy during peak hours.
Catching a tuk-tuk is easiest in Phuket, where there is an abundance of drivers on the roads.
Winner: Phuket
For a Weekend Trip
If you only have a weekend to spare, your decision between Phuket and Koh Phangan should revolve around the type of trip you wish to have. If you're after an exciting beach vacation with good food and a vibrant nightlife scene, Phuket offers many more activities to keep you busy for a weekend.
However, if you're after a more relaxing beach scene, Koh Phangan is much more off the beaten track and has a peaceful beach vacation setting. It's also the location of some great beach parties, so depending on the timing of your trip, you could be in for a busy party weekend or a lot of downtime on the beach.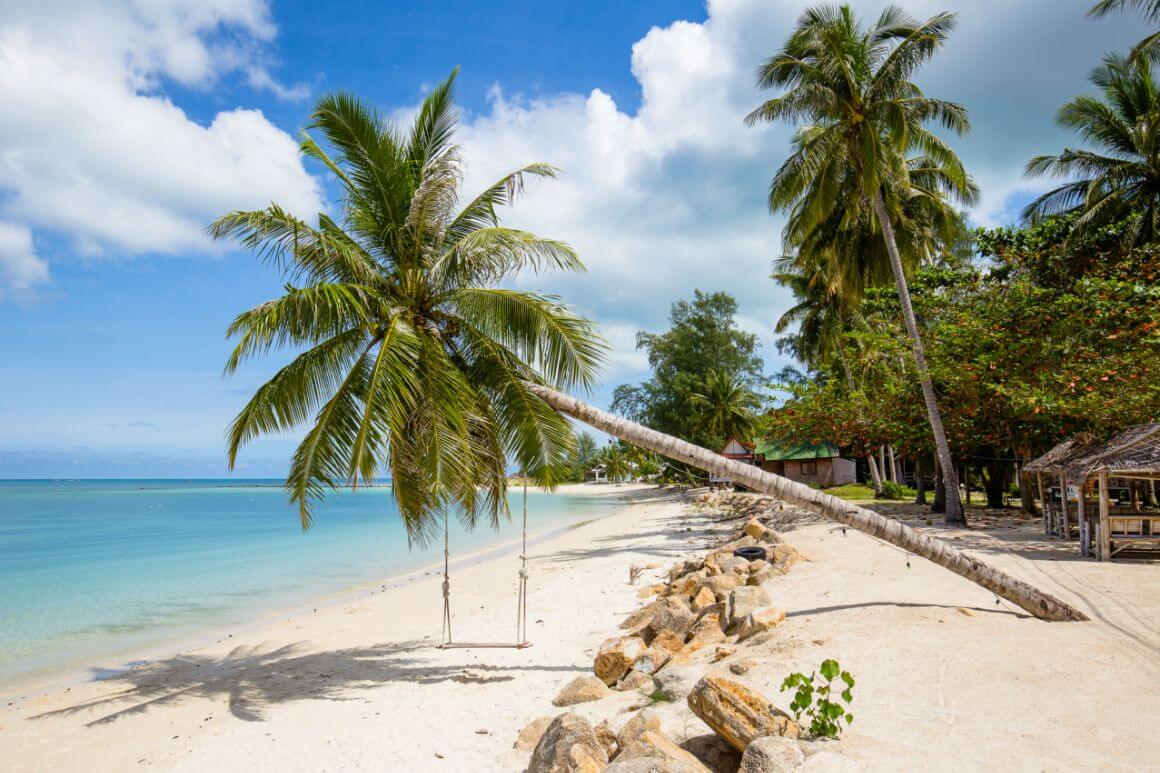 Being a much smaller island, there isn't too much to do in Koh Phangan besides beach and water activities, exploring the food scene, and enjoying a night out under the stars. The island is also super easy to navigate and get around, even if just on foot. Because of this, it's easy to see the best of Koh Phangan over one weekend trip.
On the other hand, Phuket is packed with activities, from museums to cultural sites to food markets to malls. No matter what type of traveler you are, there is so much to do in Phuket that it can be overwhelming trying to pack everything into a short weekend trip.
Winner: Koh Phangan
For a Week-Long Trip
If you have a week to spend between the islands, I would pick a week in Phuket. There is so much to do in Phuket, no matter the weather or what type of activities you most enjoy. The island has something for culture lovers, shopaholics, foodies, adventurous travelers, and even those after a leisurely spa vacation. There is enough to do here to keep anyone busy for a week.
From Phuket, you could take a day trip or two to Phi Phi Islands and Phang Nga Bay. Tons of tour companies can take you to these gorgeous destinations.
Once you've hit all the cultural hotspots, had a decent night out on the vibrant Bangla Road, and sipped on cocktails at some of the glitzy beach bars, you could charter a private longtail boat and head into the water to explore some lesser-known islands and beaches.
Winner: Phuket
Visiting Phuket and Koh Phangan
If you're lucky enough to explore both of these paradise islands, you'll be glad to know that it only takes a quick journey to get from one to the other.
Flying is your most direct option, with short one-hour-long flights connecting Ko Samui and Phuket daily. Of course, you'll have to get a ferry from Koh Phangan to Ko Samui and vice versa, which adds between 30 minutes to an hour to your journey.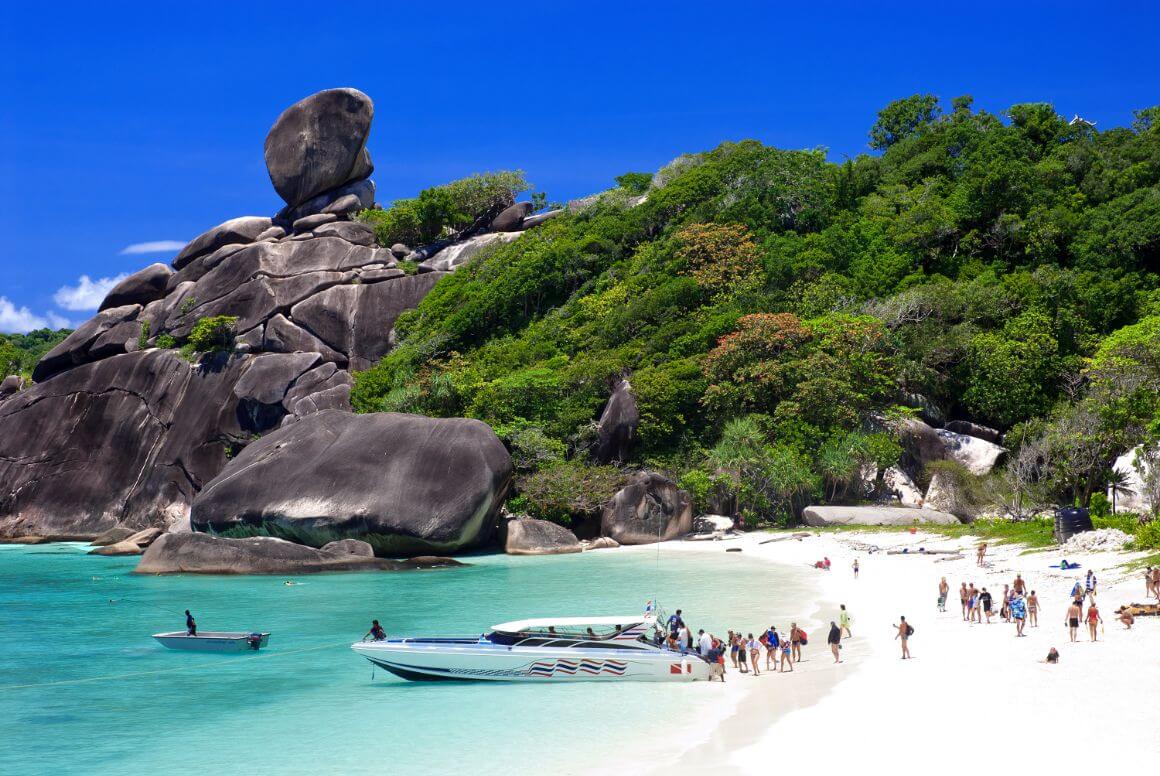 Alternatively, you could catch a bus and ferry instead of a flight and save some cash. This option takes between six and ten hours via Surat Thani and costs under $40 per person per direction.
If you have the time, I highly recommend checking out both Phuket and Koh Phangan on your Thai adventure. Although they are both popular with tourists, they each have a unique vibe and ambiance worth experiencing.
Is This the Best Travel Pack EVER???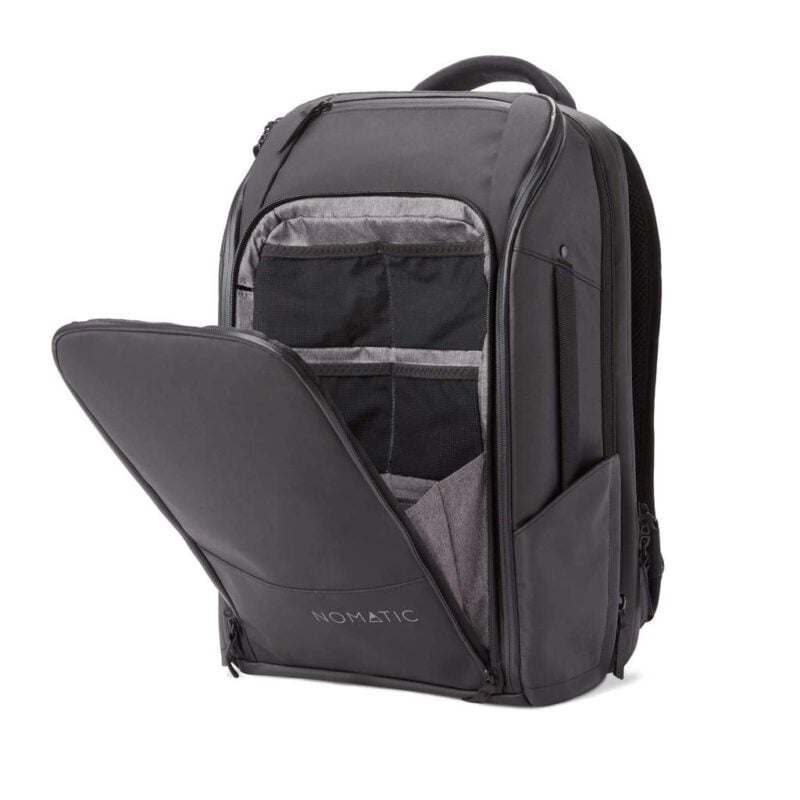 FAQs About Phuket vs Koh Phangan
Final Thoughts
Koh Phangan and Phuket might both be tropical islands off the Thai coastline, but they each have a super unique atmosphere and offer different things for different travelers. It's hard to compare Phuket and Koh Phangan as they are two totally different places. However, we gave it our best and found the following:
As a significant beach hub, Phuket is home to incredible spa resorts, family-friendly hotels, and affordable hostels. There is something for every type of traveler here, from culture lovers to foodies to water adrenaline junkies.
On the other hand, Koh Phangan offers a much more secluded and relaxing beach vibe, paired with some of the most sought-after beach parties in the world. Ideal for young travelers seeking a balance between relaxation and partying, Koh Phangan is also the more affordable option to visit.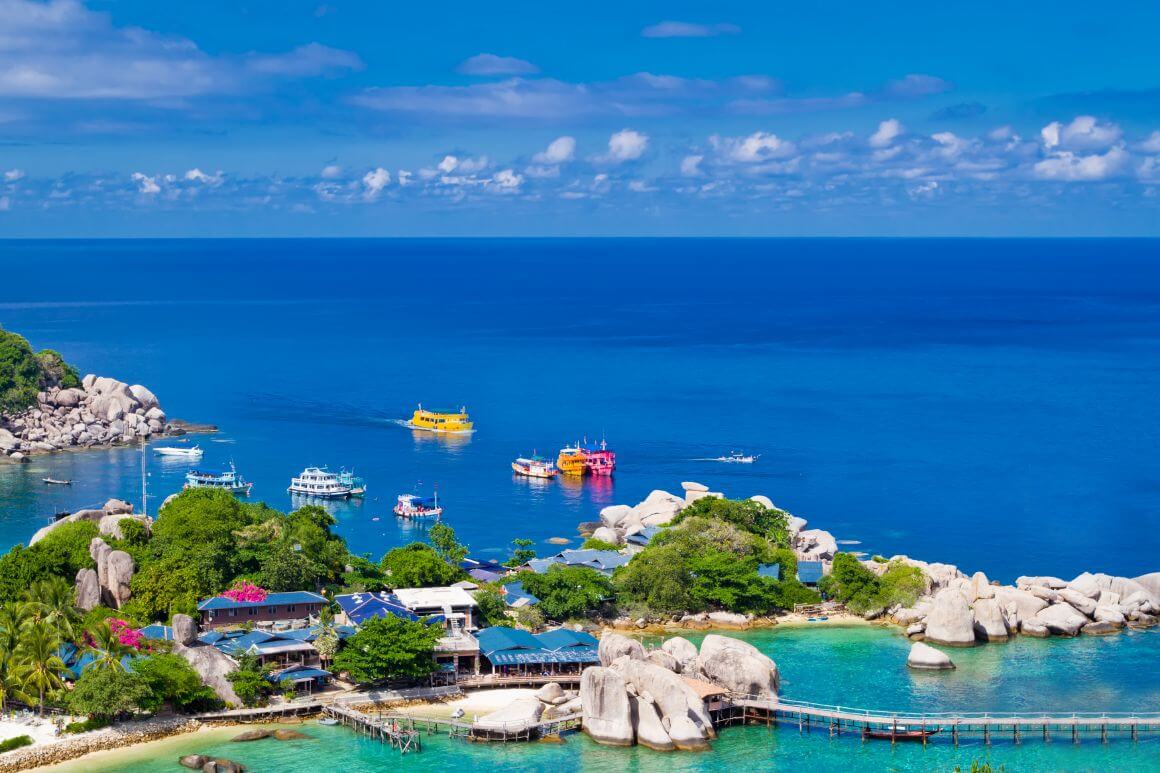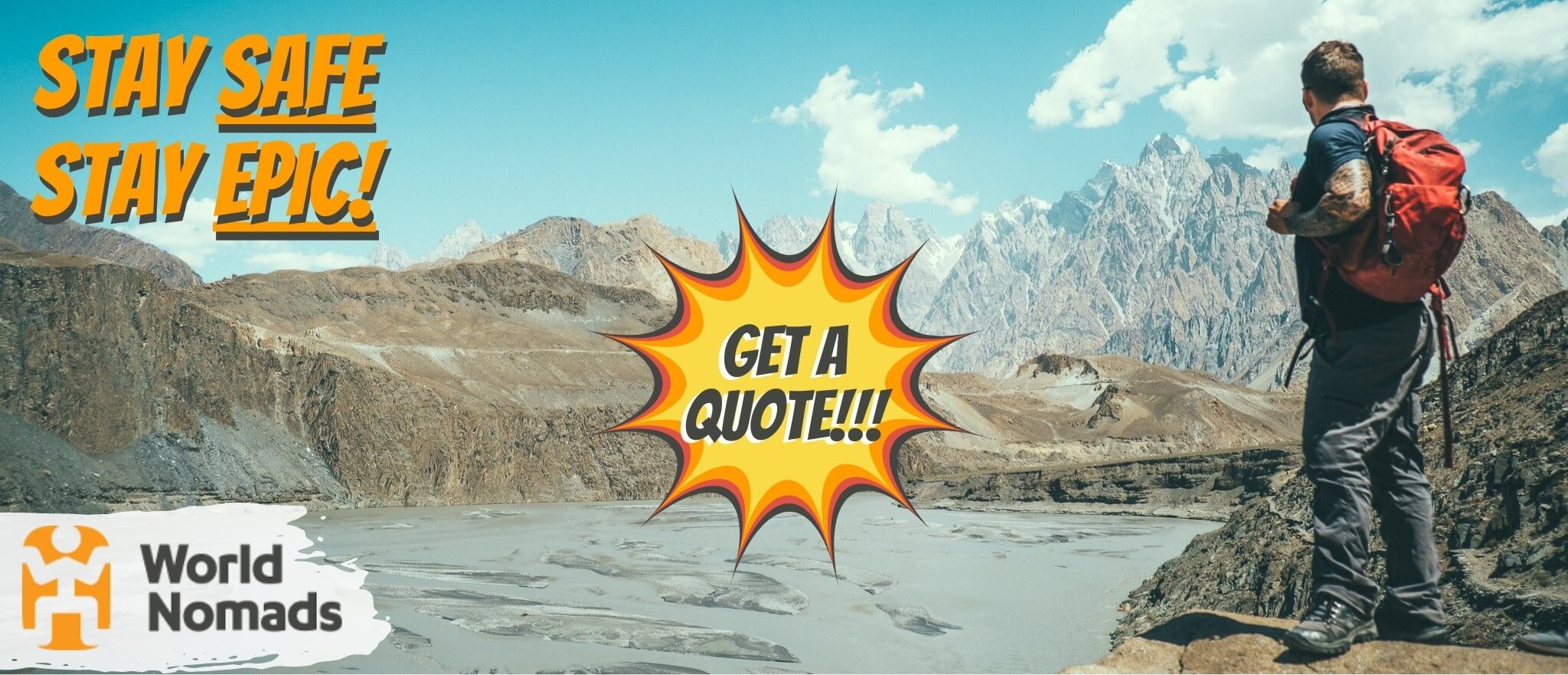 World Nomads' mission is to support and encourage travellers to explore their boundaries. They offer simple & flexible travel insurance, and safety advice to help you travel confidently.
They've been doing it since 2002 – protecting, connecting, and inspiring independent travellers just like you.
Get a quote below or read our in-depth review!
World Nomads provides travel insurance for travelers in over 100 countries. As an affiliate, we receive a fee when you get a quote from World Nomads using this link. We do not represent World Nomads. This is information only and not a recommendation to buy travel insurance.
---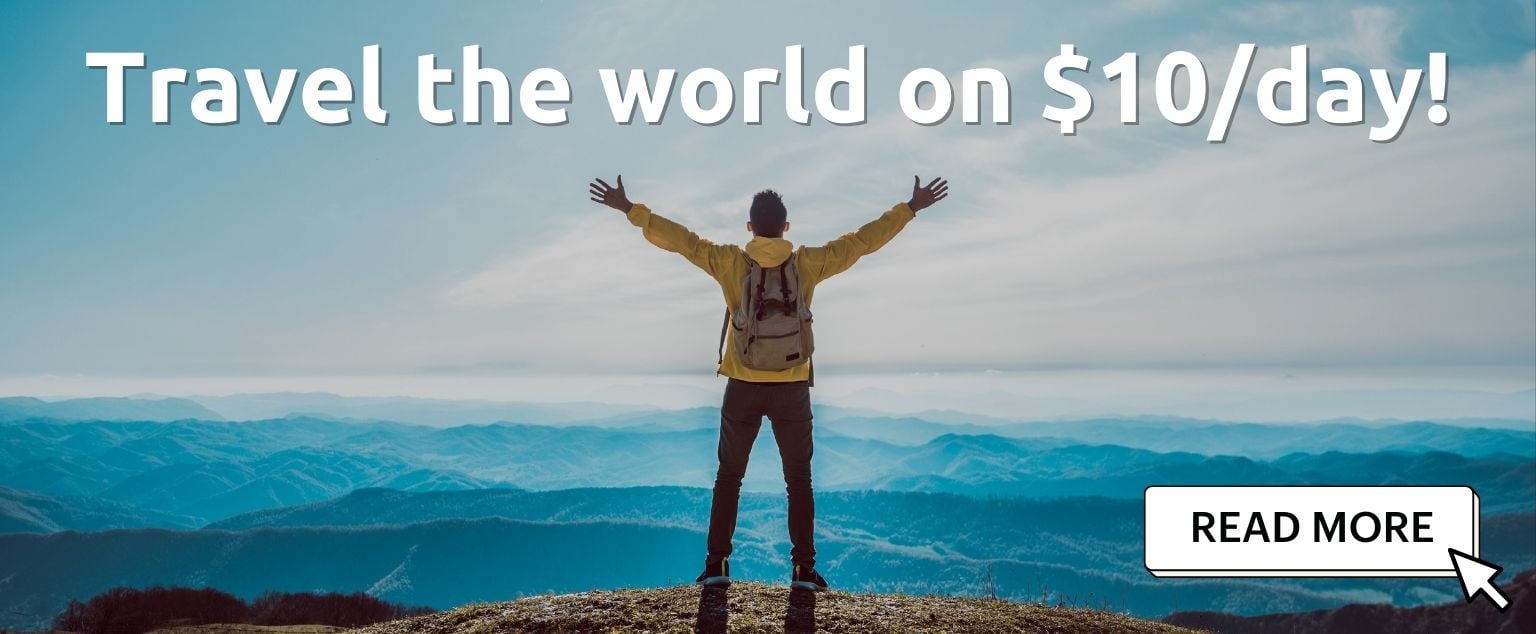 And for transparency's sake, please know that some of the links in our content are affiliate links. That means that if you book your accommodation, buy your gear, or sort your insurance through our link, we earn a small commission (at no extra cost to you). That said, we only link to the gear we trust and never recommend services we don't believe are up to scratch. Again, thank you!