Famous for it's monthly Full Moon parties – Koh Phangan is nothing short of a backpacker's paradise.
Budget travelers from around the world all come together to Koh Phangan to do one thing – party, and there's plenty of gorgeous beaches and cheap drinks to make it one hell of a party island.
But with this many backpackers comes a huge amount of hostels… and a lot of them suck, and the best one's are often booked far in advance.
So we put together this insider guide to the 20 best hostels in Koh Phangan!
This guide takes all of the highest rated hostels in Koh Phangan and puts them all into one, cohesive list, so you can easily find a hostel that fits your travel needs and travel to Thailand like a boss!
So find your hostel and book quickly – before they fill up!
Quick Answer: The Best Hostels in Koh Phangan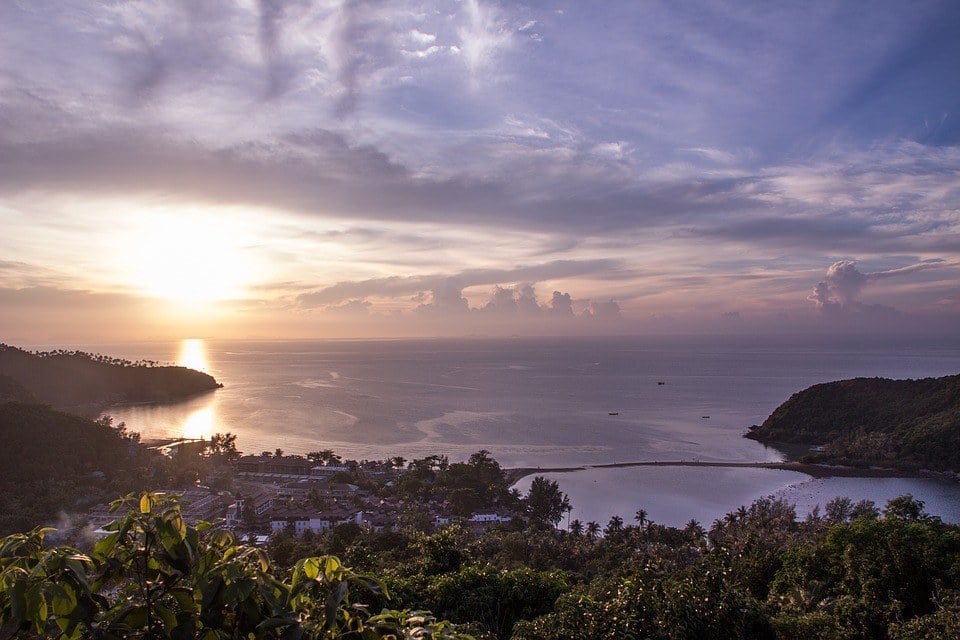 If you like to party and chill on the beach, there's a chance you'll never leave Koh Phangan.
This tiny island has made a name for itself as a backpacker's paradise, with the full moon party growing in size and popularity every year.
But with such a famous party, you need to understand that hostels get booked pretty far out in advance – especially the most awesome ones.
To help you find the best hostel for your travel style, we categorized all of the hostels. So whether you are looking for the best hostels for solo travelers, the best party hostels, or maybe just the cheapest hostel, our list of the best hostels in Koh Phangan has got you covered.
The 20 Best Hostels in Koh Phangan
Let's be honest, most Thailand backpacking trips pass through the epic full moon vomit fest at Koh Phangan. Some of the best Thai hostels are here along with some of the worst. Let's get to it…
Do You Want to Travel FOREVER??
Then pop your email address in below and we'll send you a FREE copy of 'How to Travel the World on $10 a Day!' – make travel your LIFE.
Overall Best Hostel in Koh Phangan – Slumber Party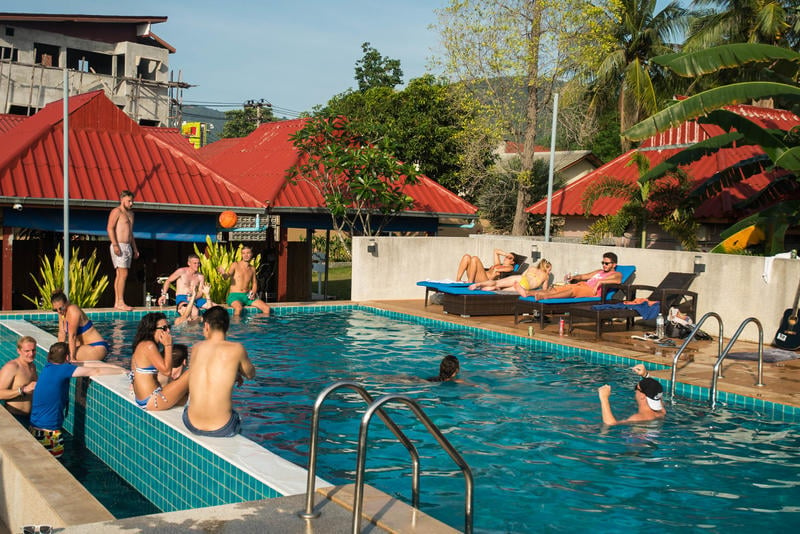 $$
Bar & Restaurant
Swimming Pool
Security Lockers
No doubt about it, the best hostel in Koh Phangan is Slumber Party! This place is lit! With its own swimming pool, hostel bar and fitness centre if you are down for a good time you better get yourself to Slumber Party. TBF, Slumber Party is the perfect name for this hostel! It really is like one massive international slumber party! As the best hostel in Koh Phangan in 2021 Slumber Party offers free cocktail shots every single night! Just steps away from Ban Tai Beach you will totally fall in love with Slumber Party. FYI, this is a 100% party hostel, it's often loud, occasionally drunk and sometimes even naked!
$$
Bar & Nightclub
Swimming Pool
Late Check-Out
Goodtime Beach Backpackers is the best hostel in Koh Phangan if you are looking for a smaller scale party hostel. There is a helluva lot to love about Goodtime Beach Backpackers, from the epic drinks deals to the amazing swimming pool, from the crazy cool staff to the kick-ass WiFi. Eugh, can we just move in right now?! A party palace it may be but what makes Goodtime Beach Backpackers a top hostel in Koh Phangan is the fact that they strike the balance right. It's impossible to party 24/7 so there is a decent amount of chill time too!
Best Hostel for Solo Travellers in Koh Phangan – Mad Monkey Hostel
$$
Bar & Cafe
Swimming Pool
Tours & Travel Desk
Mad Monkey hostels are famous throughout South East Asia for being party central and the ideal destination to meet fellow backpackers. Mad Monkey Hostel Koh Phangan might just be our favorite hostel in the Mad Monkey Fleet. What makes this awesome hostel stand out is their dedication to providing both a super fun social/party atmosphere as well as offering a ton of interesting tours (both party and non-party based). The large pool is the perfect place to cool down, socialize, and knock back a beer or two. For when you get hungry, the in-house restaurant serves up killer eats too along with plenty of cheap drink specials nightly. If you are looking for something other than the run-of-the-mill "let's get fuc*** up party hostel", Mad Monkey is without a doubt the best hostel in Koh Phangan for solo travellers.
Best Hostel for Solo Travellers in Koh Phangan #2 – Lazy House Shenanigans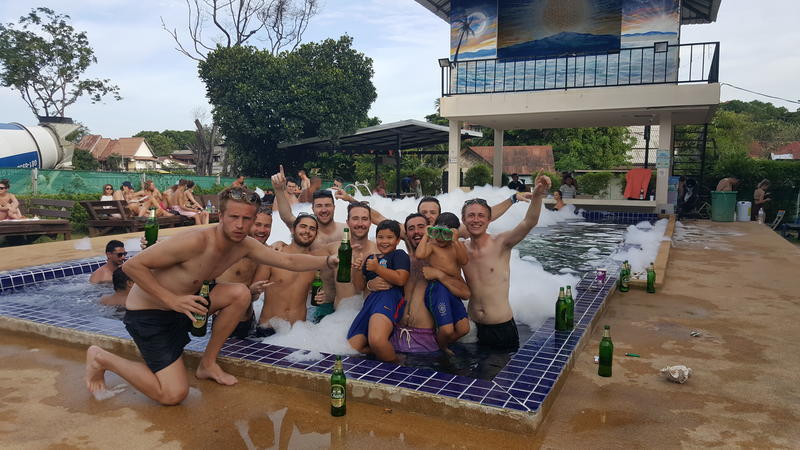 $$
Bar & Cafe
Swimming Pool
Tours & Travel Desk
Solo travelling in Thailand is a breeze! Well on the beaten path there is no shortage of solo wanderers keen to find a new party buddy in Koh Phangan. With that in mind, one of the best hostels for solo travellers in Koh Phangan is Lazy House Shenanigans. This is probably one of the most sociable and friendly hostels in the world. Everyone is greeted like an old friend and welcomed into the party, no questions asked! If you need a moment of peace you can hang out in the TV lounge or in the jacuzzi. The dorms are clean and spacious, just so you know! Doubt you'll be spending much time in there!
$
Bar
Laundry Facilities
Tours & Travel Desk
A great youth hostel for solo travellers in Koh Phangan is Echo Beach Backpackers. Super affordable and totally relaxed Echo Beach Backpackers is ideal for travellers who like a party but also appreciate a decent night's sleep! As ever, during the full moon periods, this place gets booked up fast so be sure to get ahead of the game. They offer free drinks every night and epic drinks deals too! Be sure to get on board with the hostel-fam's drinking games, if that's your thing that is! The dorms are pretty basic but for the price, you really can't complain!
Best Cheap Hostel in Koh Phangan – Phanganist Hostel
$
Free Airport Transfer
Bar & Cafe
Swimming Pool
Hands down the best cheap hostel in Koh Phagan is Phanganist Hostel. Modern, stylish and with a hostel vibe like no other Phanganist Hostel is a solid all-rounder. Even when the party kicks off the dorms are quiet and dark meaning if you're not feeling it, you don't have to! You can curl up and sleep it off! The Phanganist Hostel hosts live DJ nights, especially over the half moon and full moon periods. The swimming pools are the best place to hang out during the day, catch a tan and get plotting the night's adventures! There are plenty of sun loungers to go around and a cute yoga deck that is yours to enjoy.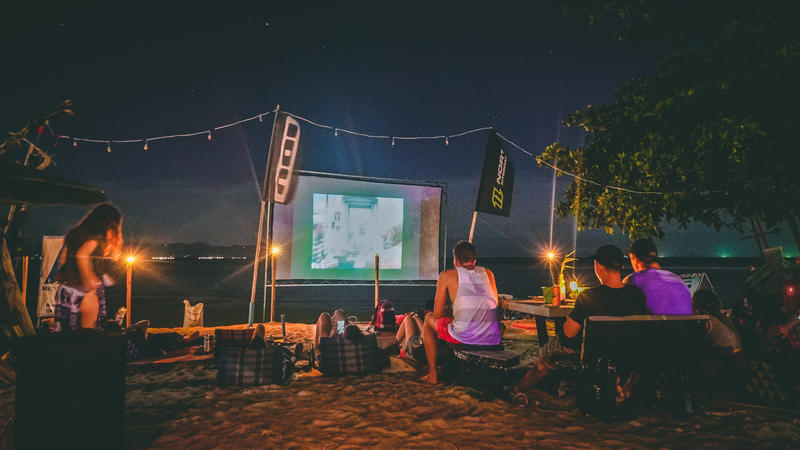 $
Bar
Tours & Travel Desk
Laundry Facilities
Just 'cus you're on a tight budget doesn't mean you can't have a good time! The best budget hostel in Koh Phangan is Dancing Elephant Beach Club. With dirt cheap rooms, brilliant hostel vibe and a bar with crazy cheap drinks you'll never want to check out. Dancing Elephant Beach Club is right on the beach, you can wake up each morning and have the sand between your toes before you've even checked your phone if you wish. This is a super chilled out youth hostel in Koh Phangan. The kinda place where you can share a few beers and have a good time but there's no pressure to get blind drunk.
Is This the Best Backpack EVER???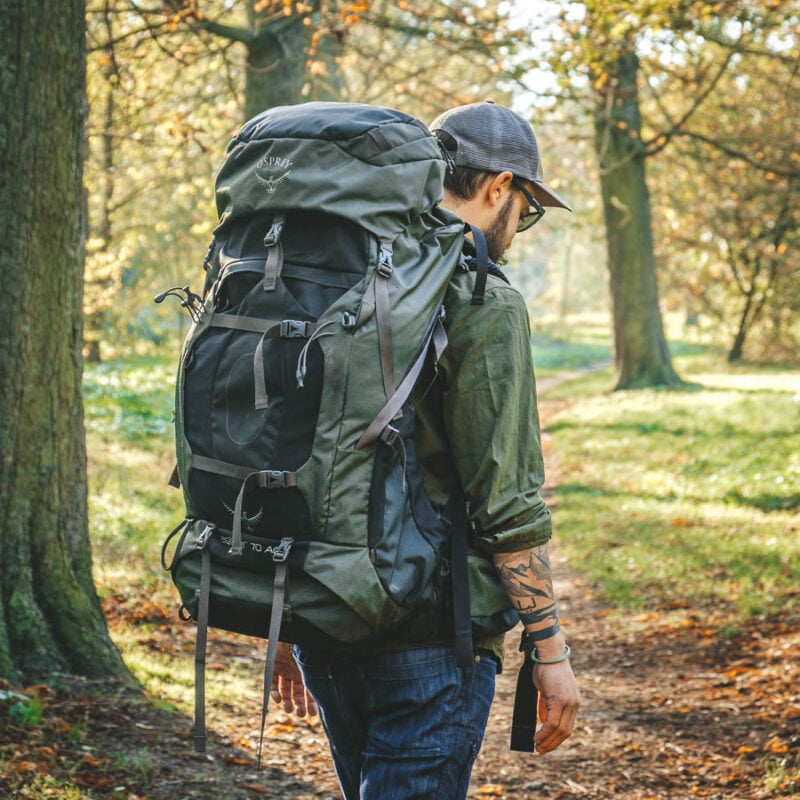 Best Hostel for Couples in Koh Phangan – Sarana Bungalows
$$$
Swimming Pool
Bar & Restaurant
Tours & Travel Desk
The best hostel for couples in Koh Phangan is Sarana Bungalows for sure. Easily the coolest hostel in Koh Phangan, Sarana Bungalows is a series of beach huts nestled within the jungle of Ban Tai Beach. If you and your lover are looking to party and take some time to retreat Sarana Bungalows is nothing shy of perfect. Sarana is a total hidden gem! The full moon parties kick off 10-minutes down the beach so you and bae can party hard but come home to some peace and quiet. FYI – you may find that your lover finds a new bae at Sarana Bungalows. Hostel dog, Dave, steals everybody's hearts!
$$$
Swimming Pool
Key Card Access
Late Check-Out
Sleek and stylish, Na-Tub Hostel is one of the coolest hostels in Koh Phangan. Built from shipping containers Na-Tub has a great selection of room types, including private rooms ideal for travelling couples. Na-Tub is set a little away from the main beach area which offers you an escape from the chaos and an opportunity to retreat! The private rooms are spacious and bright and look out on the hostel garden, If you wanna party you totally can, the half moon party hang out is just 2km away and there are always tuk tuks flying past the hostel gate. Just flag 'em down!
Best Party Hostel in Koh Phangan – Relax Corner
$
Bar
Security Lockers
Air Conditioning
The best party hostel in Koh Phangan is Relax Corner. It's a tough one to call with so many amazing party hostels in Koh Phangan it's difficult to decide which is the best. Relax Corner is the coolest hostel in Koh Phangan as they seamlessly marry party vibes with chilled out feels and it's a winning combo for sure. Free body paint for all and epic drinks deals daily makes partying at Relax Corner totally extra. Strategically placed hydration stations around the hostel help ensure that the hangover never kicks in and the good times roll on and on! Also, all the dorms have A/C which is a total blessing!
$
Bar & Cafe
Laundry Facilities
Late Check-Out
Having made a name for itself as the friendliest hostel in Thailand, Treechart Hostel is an awesome party backpackers in Koh Phangan. Attracting an easy going, super fun crowd throughout the year Treechart Hostel is located in the middle of Thong Sala. You will always find someone willing to get the party started at Treechart which is partly why it is one of the most highly recommended hostels in Koh Phangan. No doubt you will take full advantage of the late check-out service, sleep off the hangover and max out on every moment possible in your super comfy bed!
Best Hostel for Digital Nomads in Koh Phangan – Love Station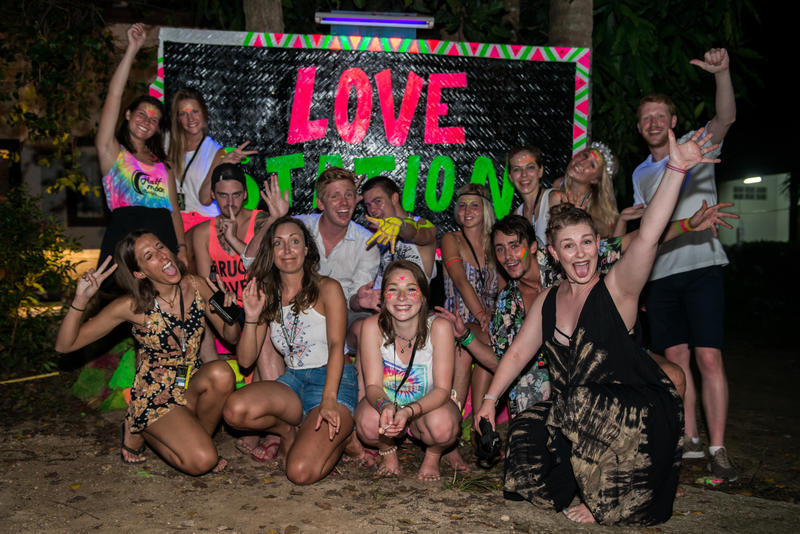 $$
Bar & Cafe
Self Catering Facilities
Garden
The best hostel for digital nomads in Koh Phangan is Love Station. This uber chilled out hostel has great WiFi and plenty of space to work in. There is the indoor common room, the garden or even the cafe to work from. The choice is yours! Although there is a drinking culture at Love Station it never gets too crazy; ideal for digital nomads who wanna have a good time but have deadlines to hit and no time to nurse a hangover! The private rooms at Love Station are really reasonably priced and come with A/C. If you need to escape the dorms, Love Station is the place.
More Best Hostels in Koh Phangan
Stay in the middle of the action (or in an off the beaten path area) using our comprehensive area Where to Stay Guide for Koh Phangan!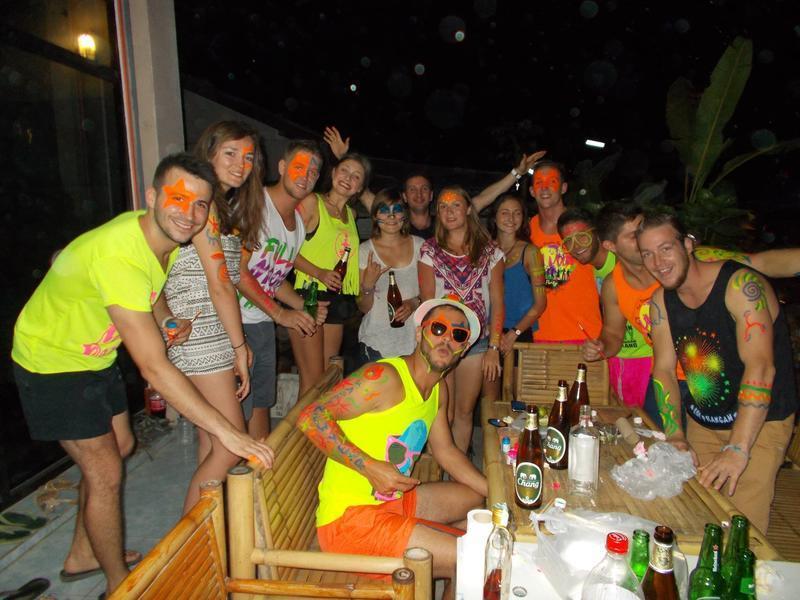 $
Self Catering Facilities
Housekeeping
Tours & Travel Desk
Baan Kai Hostel is the perfect Koh Phangan backpackers hostel for those who wanna have a good time. Now let's face it, who isn't in Koh Phangan for a good time! Baan Kai Hostel is a cheap and cheerful hostel that has all the basics covered. Guests have access to the hostel's free WiFi network, security lockers and reception is manned 24-hours a day should you need a hand. You are more than welcome to use the Baan Kai Hostel kitchen but there is a great selection of street food stalls literally on the doorstep, so why bother wasting all that energy!
$$
Security Lockers
Air Conditioning
Tours & Travel Desk
Smile Hostel is a highly recommended hostel in Koh Phangan that really does bring a smile to the face of all who stay. Hosting up to 45-people per night, there is always fun to be had at Smile Hostel! Always a new friend to be made and a new adventure to be plotted. The dorms are basic AF but we all know that no one sleeps in Koh Phangan so that's all good! Jokes, the beds are comfy, clean and catch you when you fall. The staff at Smile Hostel are super lovely and have seen it all before. They can book your bus and flight tickets, get you into the full moon parties and a whole lot more!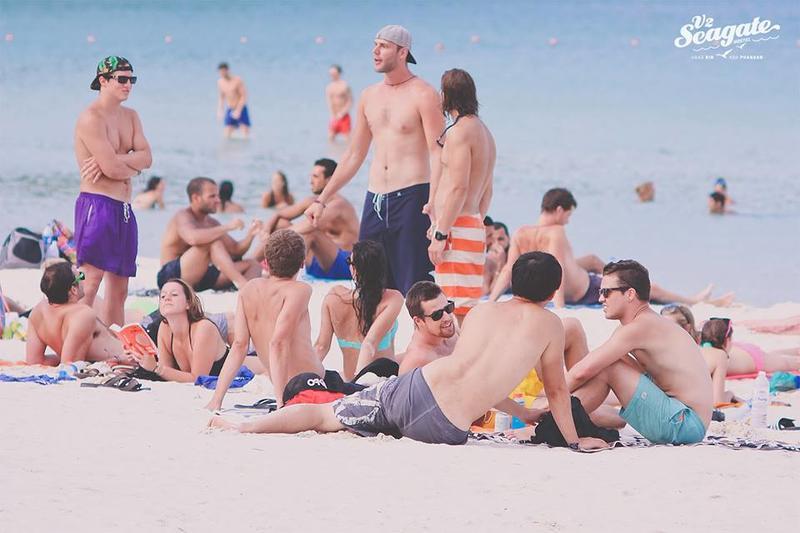 $
Air Conditioning
Late Check-Out
Housekeeping
Super cheap and super convenient V2 Seagate is right on the beach. You couldn't get closer if you tried. This is a low-key kinda hostel, ideal for travellers who appreciate their sleep. If you are on a shoestring budget V2 Seagate will be a sight for sore eyes. Incredible value for money and their prices don't spike during the full moon periods. Due to this, however, they do book up pretty damn quick. Better book ASAP! The private rooms at V2 Seagate are super cheap and a little bit of luxury. Go on, treat yourself!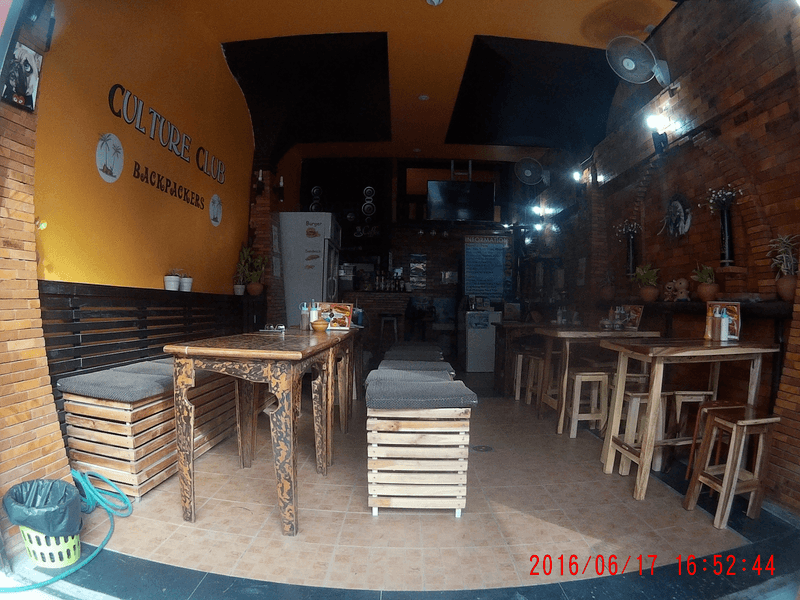 $$$
Free Breakfast
Bar & Cafe
Swimming Pool
Culture Club Backpackers is a highly recommended hostel in Koh Phangan that offers a little bit of everything! Included in your room rate is a free breakfast, free WiFi, free airport transfer, amazing drinks deals at the hostel bar and a swimming pool just a minute down the road. You'll find Culture Club Backpackers right at the heart of Haad Rin Beach. If you are heading to Koh Phangan specifically for the full moon party this is the place to stay. The place is fairly soundproof so if you head home before sunrise you'll still get a decent kip in.
$
Free Breakfast
Bar & Cafe
Swimming Pool
Fast becoming something of an institution in Koh Phangan, GoodFellas Hacienda ticks all the boxes. Just a 4-minute walk to the beach and with its own private pool, GoodFellas Hacienda is as much a resort as it is a Koh Phangan backpackers hostel. Less the resort price tag of course! You'll find new friends everywhere you look at GoodFellas Hacienda. The nightly beer pong competition is a great way to get mingling, making memories that will last a lifetime. The swim up pool bar at GoodFellas Hacienda may be a total novelty but really rather convenient!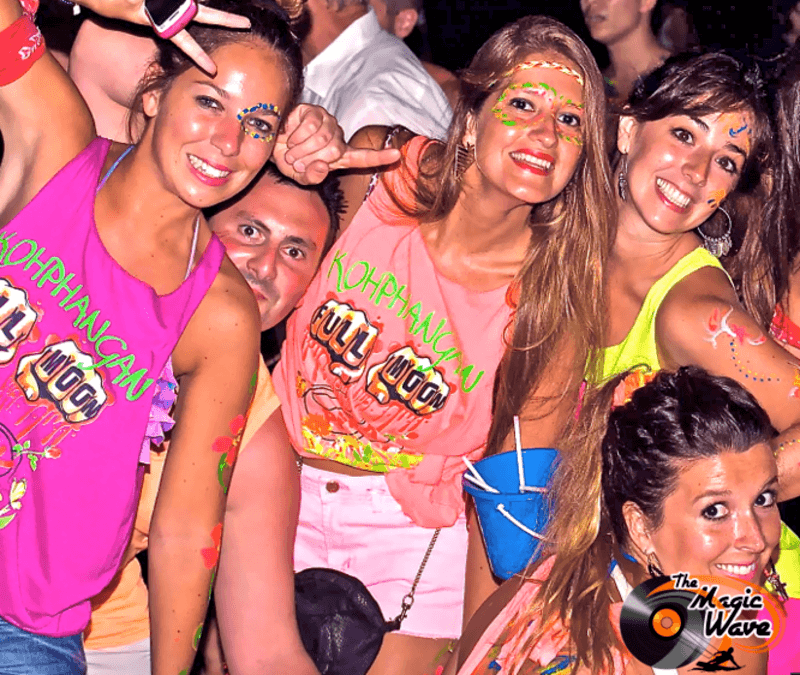 $$$
Bar & Cafe
Swimming Pool
Tours & Travel Desk
The Magic Wave is a luxury youth hostel in Koh Phangan perfect for the more esteemed party animal. From the moment you check in to the moment you leave you will be relaxing, laughing and having the time of your life. Whether you spend your days lazing by the pool or maxing out on the epic drinks deals at La Vie est Belle it matters not, The Magic Wave delivers a memorable stay time after time. Managers Alice and Florian are great hosts and will go out of their way to ensure you have a great stay. The Magic Wave is super popular and gets booked out months in advance, during the full moon periods so be sure to make your decision soon!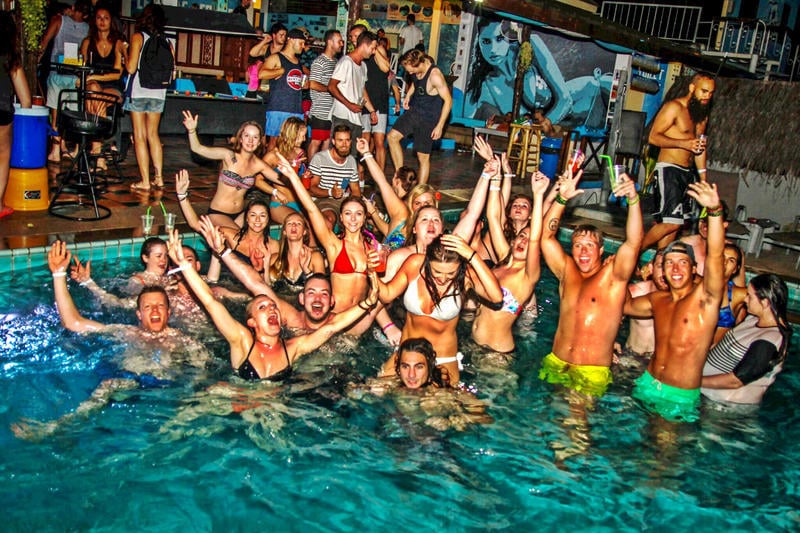 $
Bar & Cafe
Swimming Pool
Fitness Centre
Phangan Arena is a phenomenal youth hostel in Koh Phangan that offers insane value for money! Those who like to stay active on the road will already have their sights firmly set on Phangan Arena. They have their own 7-a-side football pitch and outdoor gym with machines AND free weights. Let's not forget the massive swimming pool too. After all that exercise you'll surely deserve a rest and the hostel bar is the perfect place. The nightly beer pong tournaments at Phangan Arena are the stuff of legends. Free drinks for the winners! With over 250 beds to go around this place gets pretty darn pumping!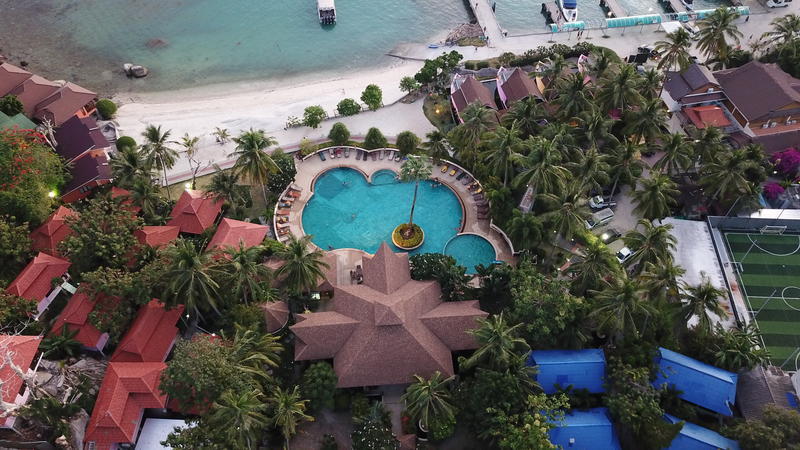 $$$
Bar & Cafe
Swimming Pool
Fitness Centre
Flashpackers listen up! Jungle Gym and Eco Lodge is the coolest hostel in Koh Phangan for you! This super stylish hostel has a luxury resort feel without the price tag and has more amenities than you can shake a stick at! Included in your room rate is unlimited access to the lodge pool and fitness centre, intimate dorms with A/C and ensuite bathroom and simply breathtaking views of Haad Rin Beach. If you are not fussed by full moon parties and the chaos that they bring you will be delighted with chilled out vibes of Jungle Gym & Eco Lodge.
$$$
Free Breakfast
Swimming Pool
Pool Table
It is the infinity pool at C Villas that really puts it apart from the rest. A top hostel in Koh Phangan looking right out over the Gulf of Thailand chances are you will spend 99% of your time at C Villas just gazing in awe of the landscape before you. Located in 15-minutes from the full moon party, C Villas gives you the best of both worlds; a super chilled out place to stay with easy access to the parties. The lack of bar and restaurant is actually a blessing in disguise, means that you can head out and explore Koh Phangan and enjoy all the amazing food this island has to offer.

Unlock the The Broke Backpacker's GREATEST Travel Secrets!
You pop your email here, and we promise to send you only travel content that's actually relevant — sounds like a pretty good deal to us!
What to Pack for your Koh Phangan Hostel
Pants, socks, underwear, soap?! Take it from us, packing for a hostel stay is not always quite as straight forward as it seems. Working out what to bring and what to leave at home is an art we have perfected over many years.
Check out our definitive Hostel Packing list for our top packing tips!
Why you should travel to Koh Phangan
Boom! These are our picks for the 20 best hostels in Koh Phangan.
We know that this is far and away the best list on the internet, and will help you find an awesome hostel for your Thailand-travels.
Which hostel are you going to book? The best hostel for couples? Or how about (one of the many) best party hostel in Koh Phangan?
If you still can't decide, remember that our top pick is Slumber Party – it's got a little something for everybody!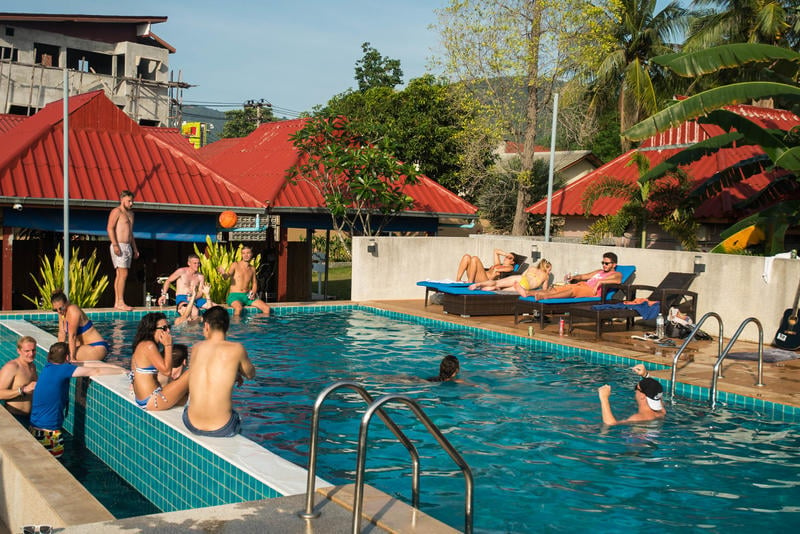 FAQ about Hostels in Koh Phangan
Here are some questions backpackers ask about hostels in Koh Phangan.
Travel Safety Tips for Koh Phangan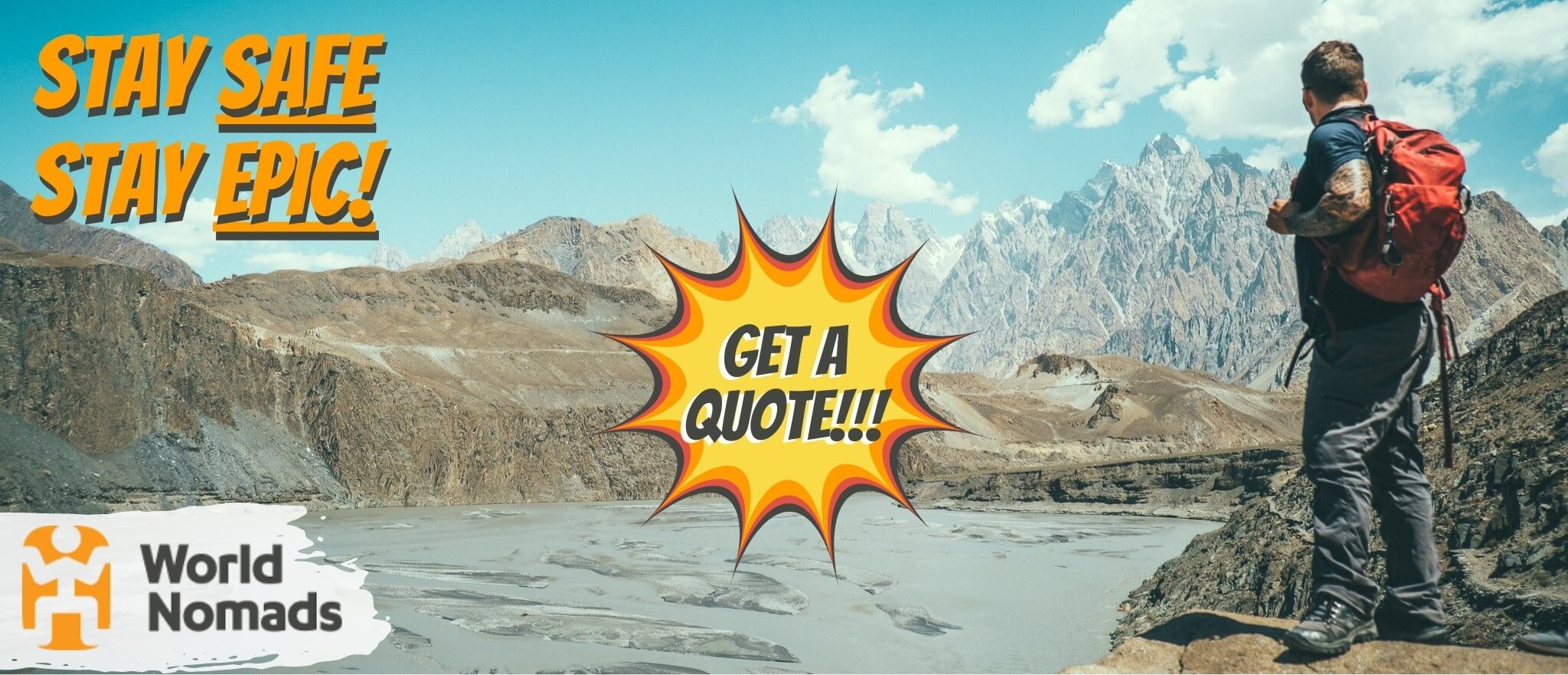 It's good to get lost sometimes, but it's also good not to get too lost. There are people that want you home in one piece.
There's one travel insurance provider The Broke Backpacker trusts for all his wildest shenanigans… World Nomads!
Click the button below to get a quote on your insurance or read our in-depth review of World Nomads' coverage. And then… let the shenanigans begin. 😉
If want to learn more about staying safe in Thailand, check out our seperate safety guide for insider travel tips and advice.
More Epic Hostels in Thailand and Southeast Asia
Hopefully by now you've found the perfect hostel for your upcoming trip to Koh Phangan.
Planning an epic trip all across Thailand or even Southeast Asia itself?
Don't worry – we've got you covered!
For more cool hostel guides around Southeast Asia, check out:
Over to you
By now I hope our epic guide to the best hostels in Koh Phangan has helped you choose the perfect hostel for your adventure!
If you think we've missed anything or have any further thoughts, hit us up in the comments!
---
Thanks for reading – that was fun! 😀
We bring you epic FREE content!
Find out how YOU can help support us.
We're a big site with a big team and this job isn't always easy. But we do it because we love it – we love providing epic and free content. We love the knowledge that our content keeps you adventuring. We don't ask for money, but if you'd like to find out how you can help the site in more organic ways, click the button below.
Thank you for your support 🙂
---
Bye for now, but not forever!
If you want MORE top-tier Broke Backpacker content like this, then sign up for our weekly newsletter below to get the latest and greatest!
And for transparency's sake, please know that some of the links in our content are affiliate links. That means that if you book your accommodation, buy your gear, or sort your insurance through our link, we earn a small commission (at no extra cost to you). That said, we only link to the gear we trust and never recommend services we don't believe are up to scratch. Again, thank you!