Located some 70km south-east of the mainland, Koh Phangan is Thailand's 5th largest island. Over the last few decades, Koh Phangan has shot to prominence amongst backpackers on account of its legendary full moon parties which now attract up to 30,000 revellers each month.
Because of the success of the full moon parties, Koh Phangan has established itself a premier nightlife destination. Getting from Bangkok to Koh Phangan is easy and many visitors now include the island on their Thai itineraries (or Thai-tineraires!) purely for a little bit of hedonism.
In this Koh Phangan nightlife guide, we will take a closer look at the very best parties in Koh Phangan including the full moon party but with some other, lesser known options too. We'll also recommend some great eating spots, cheap digs, some cool bars and will even help you in getting to Koh Phangan in the first place!
Quick Answer – What Is The Best Party in Koh Phangan?
Biggest Party in Koh Phangan – Haad Rin Full Moon Party
Best Overall Party – Eden Garden Party
Best Day Party – Bambu Huts
Best Beach Party Venue – Oxa
Best Party Venue – Jungle Experience
There Ain't No Party Like a Koh Phangan Party
Despite my rapidly advancing age (I swear my birthdays are getting closer and closer together) I am still the Broke Backpackers resident raver and in-house hedonist. So, take it from me that there is nowhere else on earth quite like Koh Phangan when it comes to having a proper good old 'mental, mental radio rental' knees up (ie, a rave party. Don't ever say 'EDM' in my presence if you want us to get along though).
But what exactly makes Koh Phangan such a partiers paradise? Well, we need a bit of a socio-histrocal context to fully answer the why, before we get into the what, so here we-a-go.
Before rising to fame as THE pit of backpacker hedonism, Koh Phangan was a sparsely populated fisherman island – think a few huts, simply living locals, and a notable lack of authoritative bodies.
These fisherman, were also incredibly tolerant (or ingeniously foresightful) and barely batted an eyelid when in the mid 1980's, increasingly larger numbers of hippies and proto-ravers began showing up around full moon each month, erecting huge sound systems and dancing to the twisted beats that these systems produced for days on end, and in strange chemical revelries.
As the Koh Phangan Full Moon parties got bigger and wilder, it would have been very easy for the locals to freak out, or for the Thai authorities to get wind of what was happening and shut the place down. But none of this really happened. Whereas the one time trance-paradise of Goa got old, boring, semi-fascistic and shut the parties down, Koh Phangan started throwing more and more of them. And whereas the European clubbing capital Ibiza sold its soul to the corporate money-machine (€20 for water anybody?), Koh Phangan clung to its authenticity.
What this all adds up is a very chilled out paradise island where the locals are 100% on board with the tripped out hippies, vomiting gap-yah-ers, and beautiful beat driven noise that does not cease. There are multiple different parties raging all night, every night of the week, a ton of bars and live music events, a rotating cast of beautiful travellers to share dance floors and sexual transmitted infections with, and of course, there are plenty of bars and vendors selling all of the fuel needed to keep the energy going.
Best Parties in Koh Phangan
In Koh Phangan, there is a party for everybody. Which one(s) you attend will probably be largely determined by precisely when you are visiting Koh Phangan and what kind of music, and vibe you are after.
There is far too much going on for us to list it here. For example, I accidentally stumbled into multiple informal, not advertised, day beach parties and pool parties at places like Bluerama. To get details about up to date listings, check out The Phangan.Events page.
Basically, our advice is to kind of go with the flow and just see what happens.
1. Full Moon Party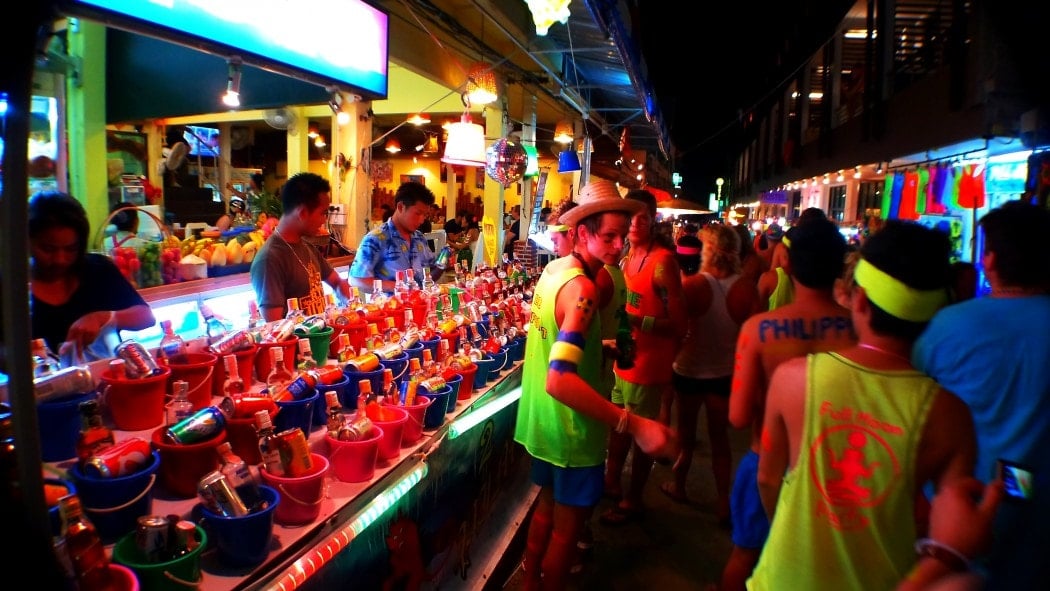 As it's considered the biggest festival in Thailand, how could we not start with this one?! The Full Moon parties in Koh Phangan first started in or around 1983 and have since put Koh Phangan firmly on the map, and right at the heart of the Southeast Asia backpacker trail.
The parties happen every month of the year on the night of a full moon around the Haad Rin beach. Basically, all the beach side bars get their sound systems out and pump out (mostly awful) modern, popular "EDM" style music. High season runs between November – March where the party attracts up to 30,000,00 revellers from across Thailand and the world – it is seriously fucking intense.
The Koh Phangan full moon parties have grown the point where they now take place right across the island. Many bars, beaches, clubs and even hostels stage their own little full moon parties and it all kind of blends into one big medley of madness.
Whilst the full moon parties are a spectacle and a right of passage, they are also my personal idea of hell. Most of the music is mainstream crap, the partiers a thoroughly mixed bunch, and cheap, nasty alcohol flows far too freely. Expect plenty of vomiting 18-year-olds and testosterone-charged Aussies fighting. Furthermore, there is serious dark side the Koh Phangan full moon party too. Many tourist are spiked with nasty drugs, robbed, and the police sometimes descend on the area looking for foreigners to search and arrest.
All of that said, the full moon parties remain popular so presumably, somebody is enjoying them. Besides that, if you haven't downed a plastic bucket full of booze and painted yourself day-glow green where you even really here? The ones outside of high season may be a little less manic.
2. Half Moon Festival
The half moon festivals were initially established to capitalise on the gargantuan success of the full moon parties when a savvy organiser realised that there are 2 half moons per month – a week after, and before half-moon. Whether you are attending the waxing or the waning half moon party, they are far less crowded and chaotic than the full moon ones.
The Half Moon festival is set in a lush, green forest on Baan Ti on the southern end of the island. It is a lot more confined than it's big brother. Unlike the Full Moon party this one is in a private area and tickets cost around $45.
The half moon parties are essentially a smaller version of the full moon parties. It's fair to say that most of the attendees are here, simply because their Thai-tinerary didn't allow then to be in Koh Phangan at full moon. That said, there is noticeably less idiocy and a more open vibe. There are 3 stages playing Psytrance, House and Hip Hop so there is something for everybody (unless you're into sea shanties – none of them here sorry).
3. Road To Dub Saturdays
At 5pm on Saturday nights, the Amora beach resort at Haad Yao reverbs itself into life with Koh Phangans freshest reggae and dub sound system. The pleasant little resort attracts a small but friendly crowd dancing to reggae, ragga, roots, dub and even some drum and bass. The DJ's (or Selektas) are decent, the sound system very impressive and drinks are reasonably priced.
The party takes place in the Amora resort (nice rooms and nice food) and to get there, head from Baan Tai towards Seratani. There are no vans specially going to the party, and taxi vans are less frequent in this area than they are going towards Haad Rin.
It's a good spot to come for sunset and as the party winds down well before midnight, a great warm up for more serious carnage.
4. Oxa Wednesday's
Oxa is a semi-swanky beach club situated just before Haad Rin beach. It hosts weekly parties (on Wednesday night, except for Full Moon weeks when they may move it) which usually host mainstream-ish Techno DJ's. There is a 500 THB entrance charge and while it may seem steep, it does act as a filter for clientele so if you want to avoid the broke backpackers – head here :). Besides, entrance also includes a drink, the place is rather plush and all in, I can't image that you will regret paying the door fee.
Oxa is located beside the beach, just before Haad Rin. To get here, either ride your scooter towards Haad Rin (or towards Baan Tai if you are staying in Haad Rin) and keep an eye out for the sign. Vans are run from Tongsala, Baan Tai and Haad Rin on Wednesday nights. If you park your scooter outside, don't leave your helmet visible unless you want to lose it.
The music may not quite satisfy some of the electronic purists out there, but even an unrepentant beat-snob such as I found it perfectly groove-able. Furthermore the clientele is a delicious mix of glam-ruskies, old ravers, young backpackers and Thai-lady boys so its a perfect micro-casm of Koh Phanganti-society.
Note that the entrance is crowded with pan-handlers purportedly selling party favours and running short change scams. Ignore them.
5. Eden Secret Saturday Garden Party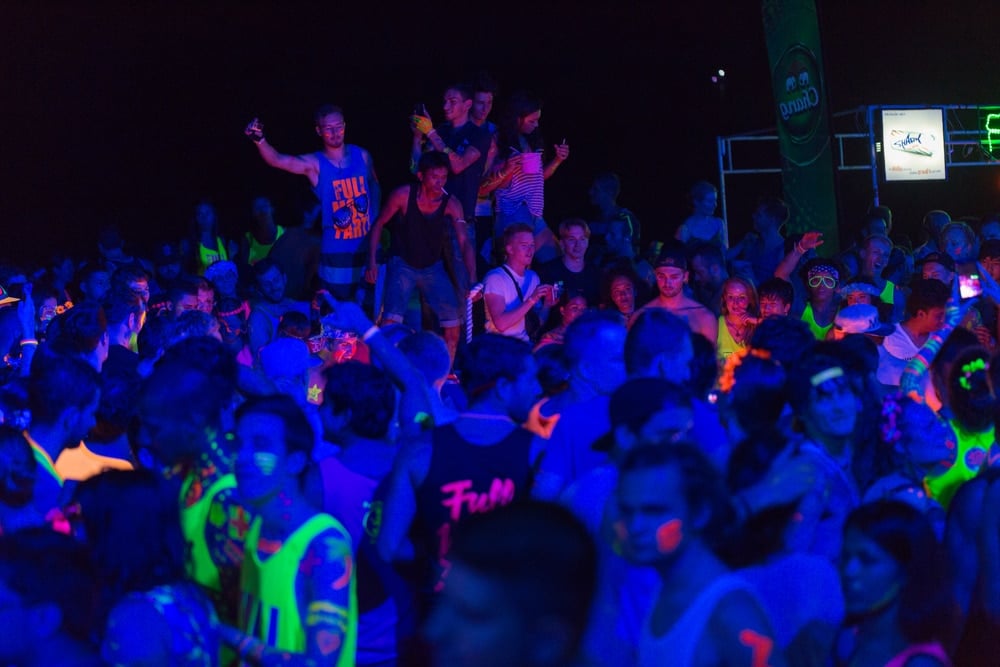 Like the name suggests, the Eden Garden Party attempts to re-create an earthly paradise. And on the right night, the legendary psychedelic party comes pretty close. Whilst the secret is out of the bag, Eden is still a lot quieter than some of the other Koh Phangan parties so it retains a very friendly vibe. Accessing Eden is not exactly easy as it entails getting a ferry to an isolated beach, walking on rocks, and then crossing a dodgy rope bridge.
Getting to the Eden Garden Party, Koh Phangan isn't exactly easy. You can only get to the Eden Garden Party by catching a boat to Haad Yuan beach from Haad Rin beach to Haad Yuan where you can expect to pay 300 THB per person each way. Ok so while there IS a path from Bann Tai, it is a 2 hour trek, goes through some dangerous. STEEP, bug infested jungle and is not safe after dark. So just forget about it unless you REALLY need to save 300 THB.
Eden is still considered THE cool party in Koh Phangan for long stayers, proper electronic music fans and Neo-hippies The music is pretty good and they usually throw out a mix of Psytrance & Techno. That said, Eden is growing in popularity and the vibe is becoming diluted especially around full moon. Historically, magic mushroom milkshakes, and strange capsules were openly on sale although the authorities may have tightened up on this in recent times. But then again, what's the garden of Eden without a bit of forbidden fruit… The Eden Garden Party is definitely one of our favourites.
Note that Eden Garden Party rages from about 8PM on a Saturday night until midday Sunday. After it finally ends, you can get your arse in a boat back to Haad Rin or you can walk over to the Bambu Huts Sunday daytime session which is bloody amazing.
6. Bambu Huts Super Sunday Session
The isolated beach at Hadd Yuan takes full advantage of its hidden location and transforms into a 2 day festival of decadence each weekend. After Eden finally winds down on a Sunday morning, Bambu Huts fires up. Located a short walk from Eden (either follow your ears or follow the crowds) its a little resort consisting of some Bambu shack and a bamboo bar that starts blasting house, disco and then techno from midday until around midnight.
Its mostly the up all night survivors from Eden although personally I think its great to head on over feeling fresh and rested after brunch on a Sunday afternoon. The vibe is absolutely gorgeous, the people friendly and the music gets really interesting (melodic techno and prog-trance) around late afternoon.
Its' pretty much next door to Eden. Get the boat from Haad Rin, wade to the beach, walk towards the rocks and then follow your ears. Note that the rocks can get slippy.
Everyone will like the Bambu Huts party. I mean, personally I found the music pretty uninspiring for the first few hours so I just chatted to some fine people until it got going. The real question however is whether Bambu Huts will like you. It attracts a more mature, chilled out crowd so if you are a douche bag, or even suspect that you may be a douche bag, stay away.
7. Jungle Experience
According to their own mission statement, Jungle Experience presents a sensory world of experience featuring live art installations. Expect some very beautiful people, OTT outfits and a shed load of UV. There are fire throwers, circle drummers and other performance artists.
As the name suggests, Jungle Experience takes part in forest clearing in Bann Ti. To find the dancefloor follow the natural mountain stream (or follow the noise).
The music is mostly a mix of various house styles ranging from deep house to progressive house and even a bit of Techno. The music is probably more agreeable to the casual listener than the trance parties.  If you're not quite a dedicated raver, but want something more authentic than the Full Moon party, this isn't a bad shout at all.
8. Cult Waterfall Party
The Cult waterfall party takes place several times each month – usually a week before and then a week after full moon.
The party takes place kind of deep in the Ban Kai jungle. As the name suggests, it takes place in a rocky clearing with a waterfall running down. The setting is very impressive. The best way to get here is by taxi as the road is not suitable for bikes. Entry is 600 BAHT and includes a free drink.
The setting is nice, the decor psychedelic and the music is a mix of Techno House, Electro & Minimal. The Waterfall party generally attracts a less boozy crowd than the Full & half moon parties, and a less trippy crowd than the dedicated Psytrance parties. Personally I find tech-house tedious and the Cult vibe a bit too Instagram but it is very popular with some very pretty looking Russians if you are into that kind of thing.
There are also plenty of bar bq's and a few stalls selling jewellery and clothing.
9. Samsara
Located just outside of Haad Rin, Samsara is a resort and beach club that throws all kind of different parties. There is no particular pattern of the parties they do in terms of dates or music style so check the posters and advertisement boards. Samsara did recently (March 2023) host the Universo Parrello launch party which was the best Psytrance line-up seen on the island for a while.
The Future of the SIM Card is HERE!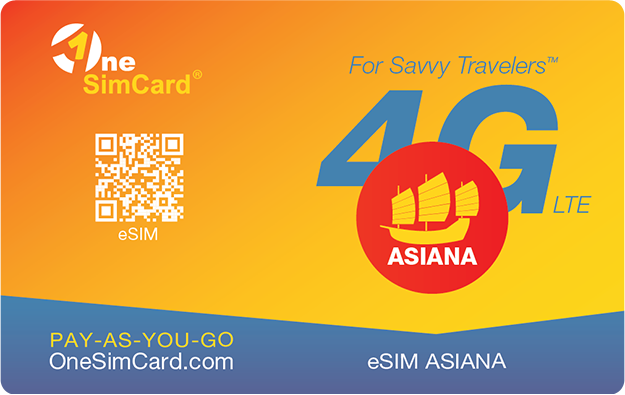 A new country, a new contract, a new piece of plastic – booooring. Instead, buy an eSIM!
An eSIM works just like an app: you buy it, you download it, and BOOM! You're connected. It's just that easy.
Is your phone eSIM ready? Read about how e-Sims work or click below to see one of the top eSIM providers on the market and ditch the plastic.
Buy an eSIM!
10. Lost Paradise Thursday Night Party
Another contender for best "real" party on Koh Phangan (no full moon isn't a real party), Lost Paradise takes place every Thursday on Haad Yao (east) beach. It kicks of after sunset and does not relent until 5pm on Friday so its a bit of a marathon session.
It attracts a good crowd of ravers and wrecks heads grinding to true-techno.
To get there you will once again need to get a boat from Haad Rin. Like with Eden, its 300 THB each way. However, if you arrive after 11pm its 300 THB in so budget 900 THB for boats plus entry.
11. Maya Sunday Night Party
Every Sunday Maya chucks a big techno party catering for those not quite ready for bed after Eden and Bambu huts. It kick off at 6pm and finishes after dawn on Monday morning (just in time for work). Entrance costs around THB and the DJs mix some serious, driving techno. The location is up a steep hill outside of Baan Tai. Drive up and down very carefully.
12. Psyday
The Payday parties are Psytance parties that tend to happen each Friday night (in which case its Psynight right?) at Chill Up. The style is mostly progressive-psy which means its kinda suitable for casual psyheads and the resident DJ's are a mix of long staying foreigners. It ends at 2pm so you can head elsewhere afterwards if you still have energy.
13. Hollystone
Each weekend, Hollystones resident DJ's serve up a mix of tech-house, progressive house and some cheeky indie dance. If you don't fancy the trip to Eden and don't mind the tech-house, then Hollystone is a good shout. Entrance is 300 THB and while the crowd can be a bit over-dressed at times, its still a nice vibe.
Party Supplies in Koh Phangan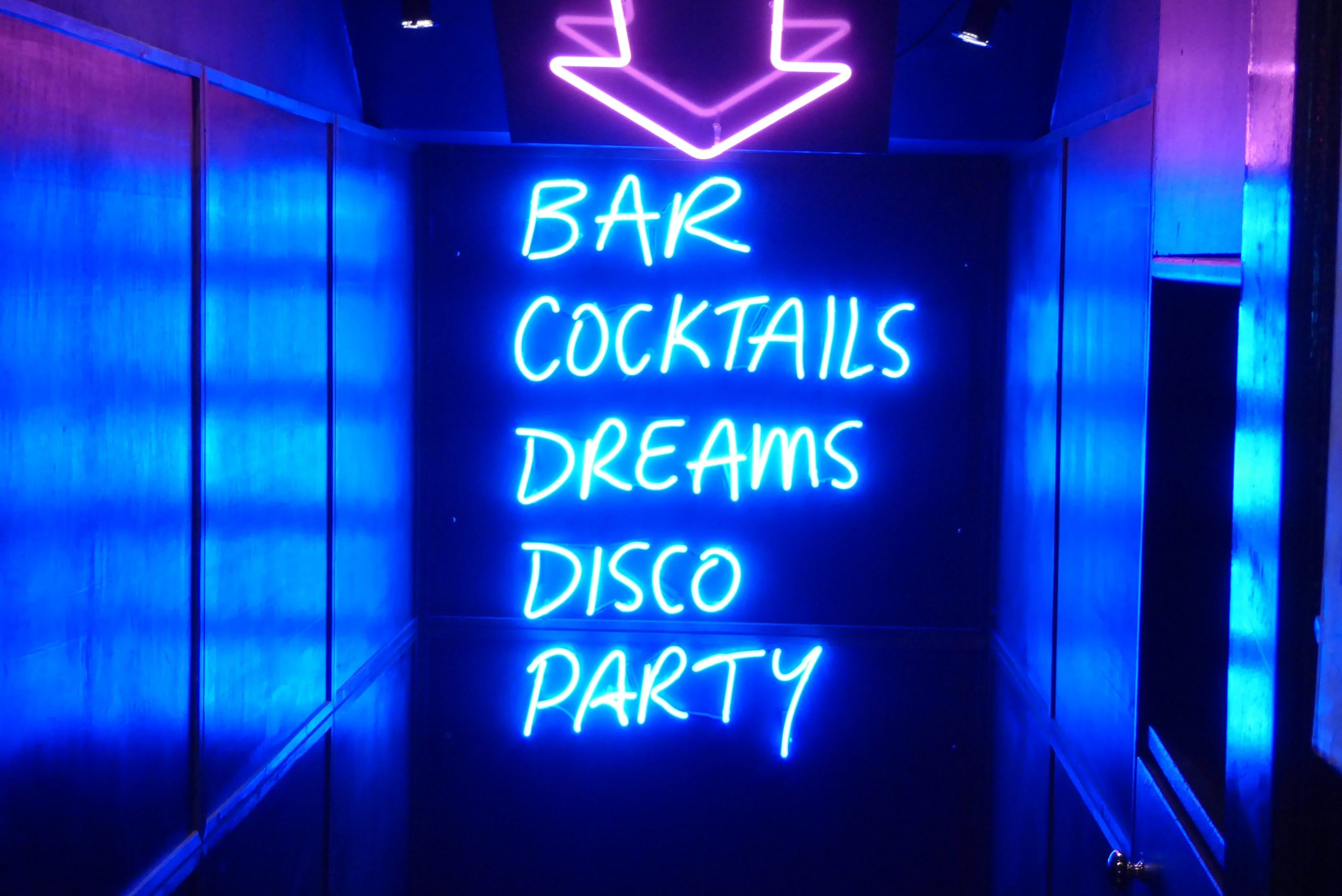 Let's not piss around, we are all adults and we all know what happens at rave parties.
Firstly, it goes without saying that alcohol is widely available and widely consumed across Thailand and Koh Phangan. The 7/11's are a good place to buy some pre-game beers but remember that drinking in the street is technically illegal (though it happens) and shops are also banned from selling alcohol between 2pm – 5pm and then from 12am – 11 am (so no buying after midnight).
At parties, beers start at around 100 THB, buckets are about 300 THB (good value but drink them at your peril) with a few high end places charging 400 THB just for a cocktail.
Thai red bull is a pretty good source of fast energy and is cheap to buy. Its stronger than the western version so do go easy. Kratom is also now legal and there are a lot of Kratom drinks and products doing the rounds. Some describe its effects as akin to a mild amphetamine although it just makes me nauseous.
Moving on, Cannabis is now legal in Thailand and there are dispensaries selling their home grown all over Koh Phangan. It is far more cost effective to buy it by the gram rather than buy pre-rolled joints and personally, I also recommend NOT simply buying the cheapest strain on offer – if you pay around 500 THB for a gram then you will usually get something decent. Try to avoid edibles unless you are experienced with them, and in a setting where you feel comfortable.
While visiting Thailand, you will most definitely find travellers breathing into balloons. These most probably contain Nitrous Oxide (laughing gas) which offers brief but pleasant euphoric effects. It is kind of illegal for bars to sell it and for customers to inhale it although it still happens. Just note that doing too much of it does cause seizures – I have witnessed a few people having them myself.
The usual rave chemicals (or the white family as we shall call them) appear to be doing the rounds on Koh Phangan. In fact the entrance, or car parks, at most major parties are often populated by shadowy characters offering to sell these dangerous and forbidden items. Just remember that despite the apparent open-ness with which these characters operate, these substances are in fact illegal in Thailand. There are also tales a-plenty of these hustlers short changing foreigners (the old "hey you gave a 100 instead of a 1000 scam!") and even more stories questioning the authenticity and quality of the items being vended at these sale points…
Magic mushrooms grow all over Thailand and you may come access some on Koh Phangan. Just note that despite being naturally abundant they are still illegal (although this seems to be under review. Wahay!). Thailand is also one of the methamphetamine addiction capitals of the world and you may be offered this at some stage. Just note that as well as being illegal, it is highly addictive and highly damaging.
Best Food in Koh Phangan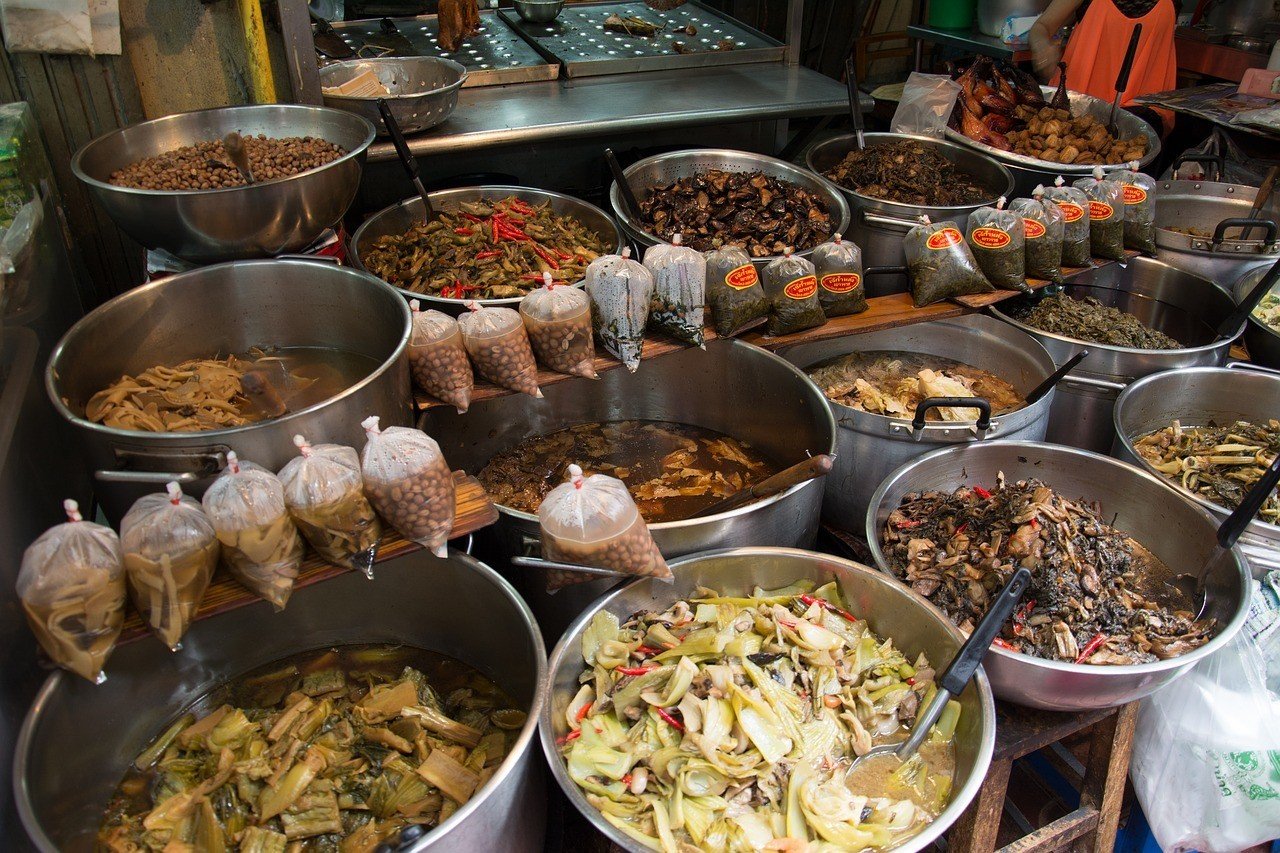 All of that partying is hard work and dancing sure works up an appetite. Besides that you should never go out on an empty stomach.
On the other hand, maybe you don't want to party at all. Maybe your idea of a good night is finding a nice restaurant and getting some food? We hear you and we have covered!!
Firstly, I have to say that the standard of food in Koh Phangan is a bit meh. While I absolutely love Thai food, the reality is that it is done better pretty much everywhere else in the country. There are also a lot of traveller oriented places doing pasta, burgers or even tapas and while the prices are very high for Thailand, the standard remains pretty decidedly average.
Thong Sala (Phangtip) Night Market
Thai street food is the stuff of legends and the best places to sample it across the country are the night markets. The night market starts at 4pm and goes on until around midnight. The food options are plentiful and cheap so you can try a multitude of dishes.
Whether you want noodle soup, fried rice or a falafel, you can find it here. There are some seats, stools and benches to port yourself on but don't expect restaurant style service – it's all about the fast, the cheap, and the plentiful here!
My favourite here is Kale with Pork cooked in soy. Try it and then wash it down with a cold Chang.
Fishermans Restaurant & Bar
As the name suggest, this Baan Ti institution is all about the sea food. Most of the food available is as fresh as fresh can get. Check out the crab curry, garlic squid and whatever prawns they have on.
The decor uses a lot of props salvaged from old fishing boats giving it a really quirky feel. The attached bar is also a decent spot to watch the sunset.
The Masons Arms
In case all of that delicious Thai food gets too much for you, get yourself on down to The Masons Arms. The Masons Arms is an English pub built in a mock Tudor building. It does decent, filling pub grub such as lasagna, pies & fish and chips.
Personally, I've had enough British food for one lifetime (well I am British) but the ambiance here makes it a great spot to hang out.
Sticky Island Cafe
This hip, new little cafe situated in Srithanu offers good AC, a modern, clean decor along with excellent breakfast and brunch options. The coffee is first rate and the build your own breakfast utterly fantastic. Its the best morning food and drink spot on the island.
Best Bars in Koh Phangan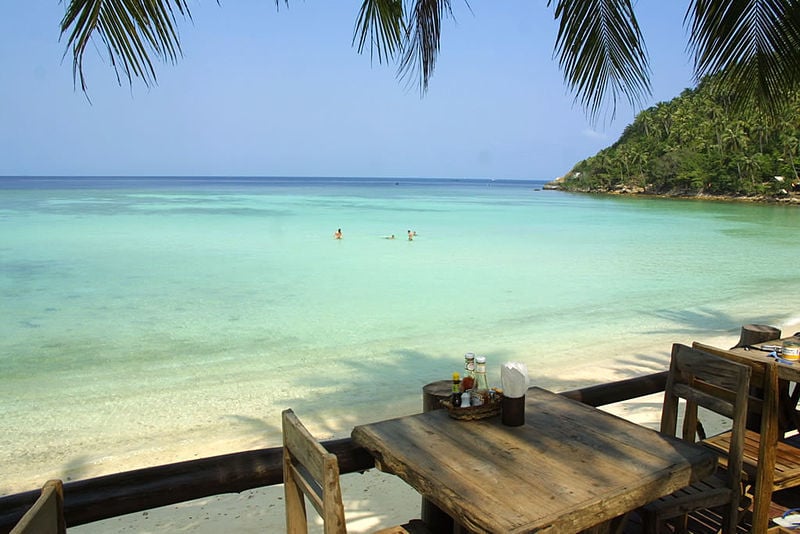 Fancy a few pre-party drinks? Or maybe you'd just prefer to spend the night hanging in a bar? Whatever your vibe and whatever your tipple, check out this list of the best bars in Koh Phangan.
SoHo
Located in Tongsala town, SoHo is a craft beer bar. They have 2 different kinds of Brewdog on tap, a fridge full of craft beer and cider (including a few from Vocation – my home towns world renowned brewery), screens showing sport and decent music playing when there is no game on.
The British Sunday roast is also very impressive. Soho is not cheap and one pint of Brew Dog will set you back the price of 4 bottles of Chang. Still, you get what you pay for.
Pirates Bar
Pirates Bar is a pirate ship on the beachfront just north of Laem Son Lake in Sri Thanu. Built over 3 levels over-handing the beach, the Pirates Bar takes its theme very seriously – there are Jolly Roger flags flapping in the breeze.
The atmosphere is relaxed and welcoming and the bar rotates between lie music and DJ's. Moon Set Parties are held here a few days before the full moon, so do not miss them if you're around. During quieter times, this place encapsulates the more chilled side of Koh Phangan.
The Jam Bar
If you like live music, then get yourself to the Jam Bar – is basically where local musicians come to jam.
It is located right on the beach of Hin Kong, just after the bridge when you come from Thong Sala. Aside from the offering some decent music and the chance to join in on a jam, food and drinks are well priced and it's a decent place for a sunset
Amsterdam Bar
If you're after a bar for a sundowner, then head to Amsterdam Bar as it offers what is quite possibly the best sunset view. It's a very popular spot amongst travellers on account of its epic view and laid back vibe.
If you are coming here for the sunset, then we suggest getting here earlish – around 4.30pm should do the trick.
Is This the Best Travel Pack EVER???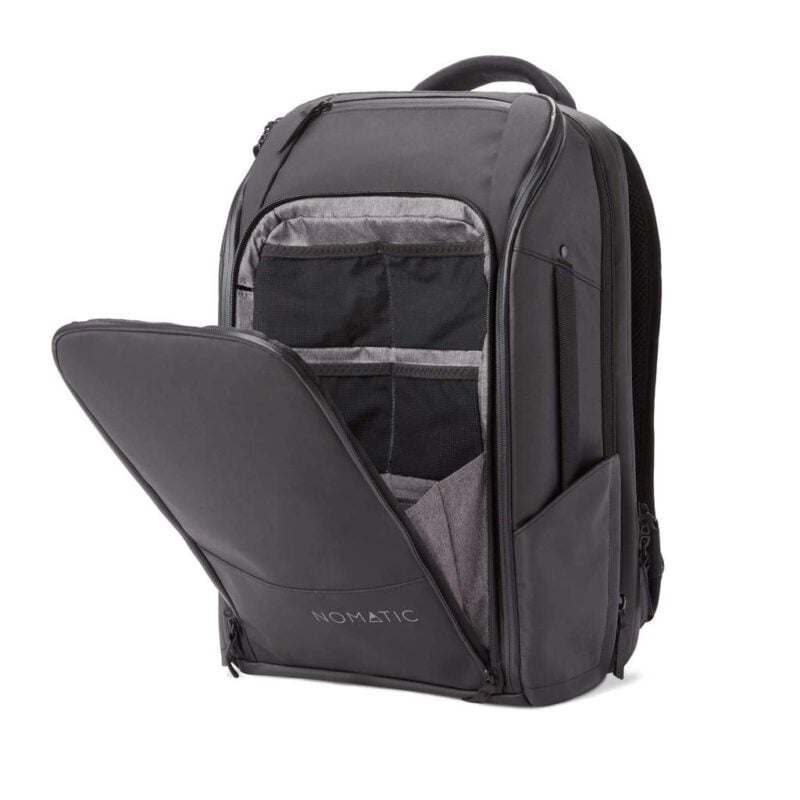 Where To Stay in Koh Phangan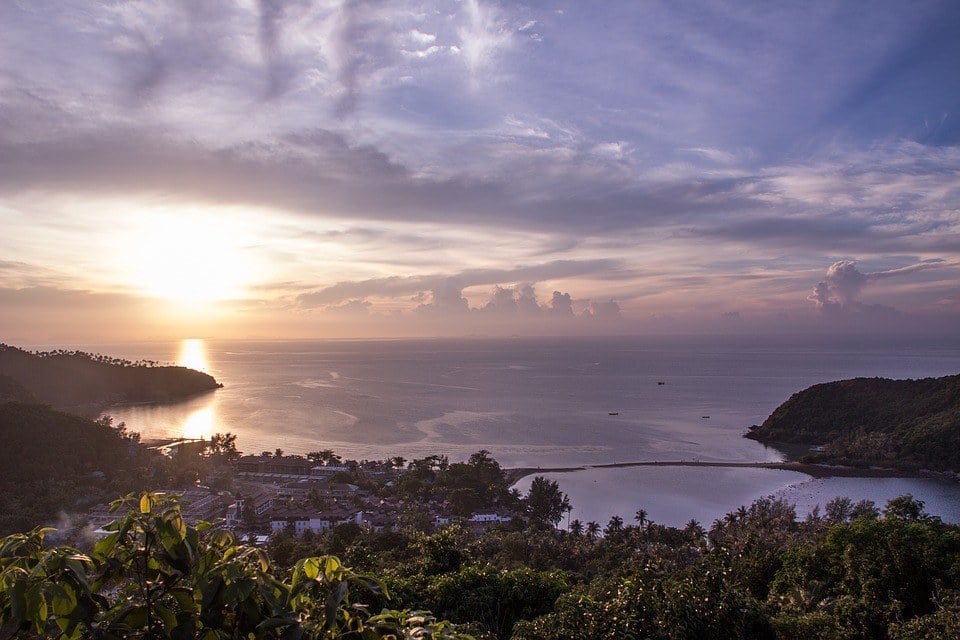 If you're hoping to make the most of Koh Phangan's legendary nightlife, you'll need to find yourself a good base. Whether you're looking for a party hostel to warm up in, or just a quiet space to sleep off a heavy night (try sleeping at the party itself), there is accommodation in Koh Phangan for everybody.
The full moon parties take place in Haad Rin. There are a lot of hostels here and plenty of reports lining the road in. Oxa and Samsara are also nearby so all in, Haad Rin is a good place to stay if you want to party a lot.
Baan Tai links Tongsala with Haad Rin. There are some nice quiet spots and accommodation is a bit cheaper around here. While there are some party spots in Baan Tai itself, you will need a scooter or to rely on vans to get to most parties – but as the main road passes through, it's still very accessible.
Tongsala is basically Koh Phangan town centre. Its where the ferries come and go and where the admin is done. There are some good shops here, some cracking bars and plenty of places to stay if you dont mind a bit of noise. There are no big parties in Tongsala but the place is well connected as all the taxi vans start and finish here.
Srithanu is the hippy centre of Koh Phangan. Its a decent place to stay as it has some really nice accommodation options and some good places to eat but expect to travel 30 – 50 minutes every time you want to go and party.
Note that accommodation across the entire island books up around full moon parties. Booking well in advance is highly recommended. Also note that the island is currently home to large numbers of Russian and Ukranian exiles who cannot go home – this has caused a lot of properties to be booked up for long periods, and accommodation prices have risen exponentially.
This is our favourite hostel in Koh Phangan. It is centrally located in Baan Kai and makes for an excellent base for exploring the island. This property has three different styles of rooms with air conditioning and balconies. There's also free wifi, lockers, a TV area, and a kitchen.
Head over to our comprehensive guide to the best hostels in Koh Phangan before starting your backpacking adventure!
When travelling somewhere for the first time, local knowledge can be a lifesaver. This is why we chose this Airbnb for you. You'll have a private bungalow in a resort (but nothing too fancy), where you can connect with other travellers, exchange experiences and helpful tips while relaxing at the beach. The host has been living on the island for a long time, so his recommendations are the best.
This beachfront resort is our number one pick for the best hotel in Koh Phangan. It is located in idyllic Thong Nai Pan and boasts a stunning pool, free wifi, and is just steps from the beach. It has 23 air-conditioned rooms that are comfortable, spacious and perfect for families.
Best Time To Visit Koh Phangan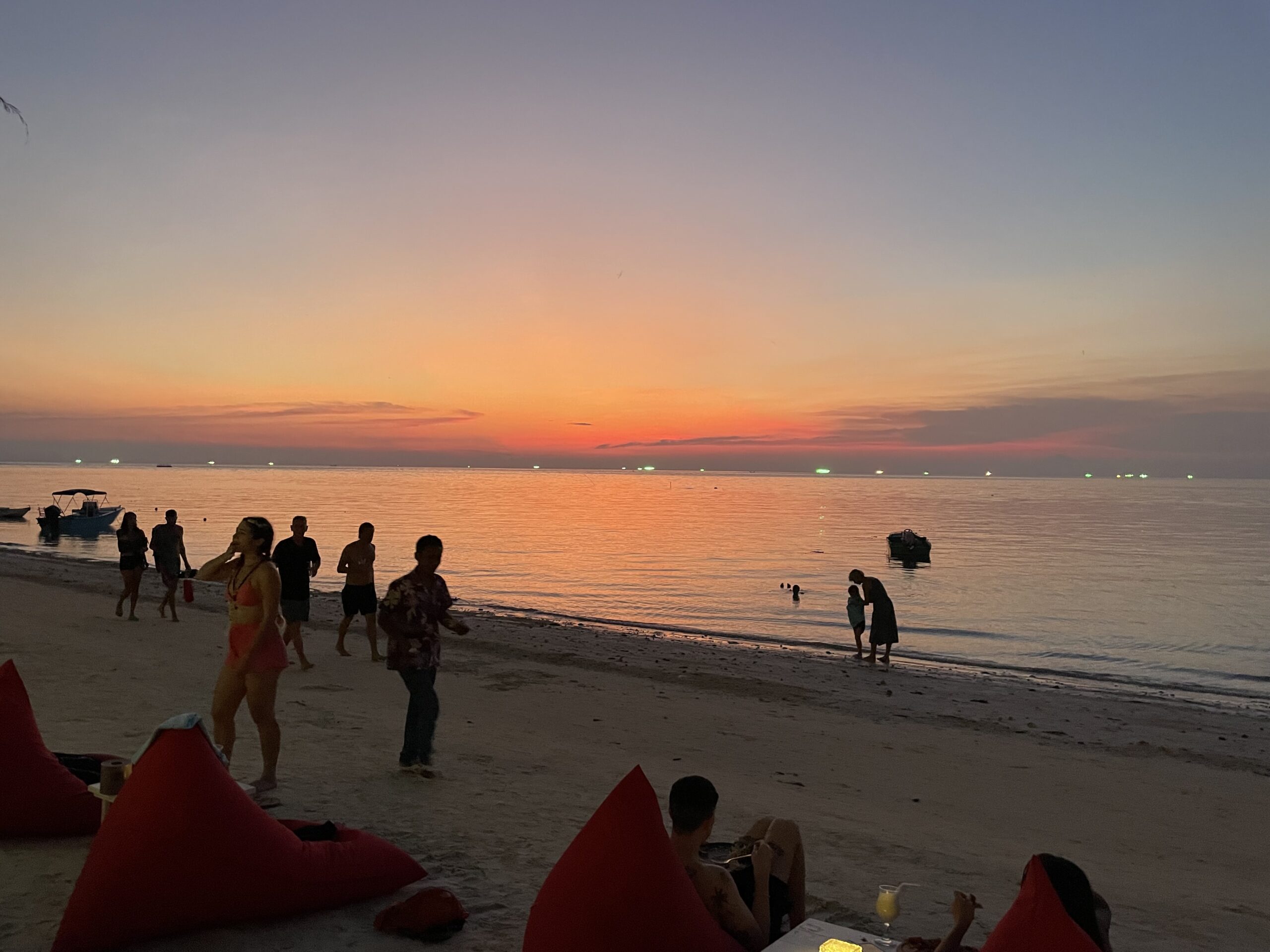 These days, Koh Phangan stays open for business all year round so whenever you visit, you will find something happening. That said, south Thailand is still best enjoyed during the winter (November – February) when the weather is at its best. This is high season in Koh Phangan and this is when you can expect to find the most parties happening, the biggest name DJ's rocking up and the largest crowd numbers. Of course, accommodation and scooter prices can also get annoyingly high.
From April to May, the weather gets very hot. There is a still plenty going on and prices start to fall but the heat (and lack of AC) may take its toll on pale-European travellers. Summer months see some rain which means that some outdoor parties are not happening yet the summer is still something of a mini-high season.
Another HUGE factor is how close you visit to full moon. At full moon the island gets jammed. Hostels sell out, you can't rent a scooter and the bars and roads are full of inebriated young travellers testing their limits. Personally I would avoid full moon (go to Koh Tao instead) unless you really need to experience the legendary full moon party.
Getting Around Koh Phangan
Koh Phangan is a small island with few roads. The easiest way to get around is by renting a scooter bike. They are available everywhere and prices start at 200 per day (if you are taking for multiple days). Riding a scooter in Koh Phangan is fairly easy and mostly safe although there are some seriously steep hills to consider. Be sensible when riding in Koh Phangan – don't drive while (too) drunk or high, don't speed and be mindful of idiotic drivers. Technically you also need a licence – if you are pulled over and found to be without one and/or drunk high then you could get into major trouble.
If you don't want to drive, then there are taxi vans that circle the island all day and most of the night. You simply have to to wait by a road until one passes and then jump in. Prices start at 100 per person depending on where you are going. You can also book a private taxi if you manage to get a few phone numbers although these can be pricy. Note that on party nights, taxi vans tend to wait at designated spots (ie, 7-11 in Bann Tai) from 8pm – 2pm+ doing runs back and forth to big events. Many of the event posters will even tell you where you can get a van from.
Note that sometimes these vans do get pulled over en route to parties by the authorities.
Getting To Koh Phangan From Bangkok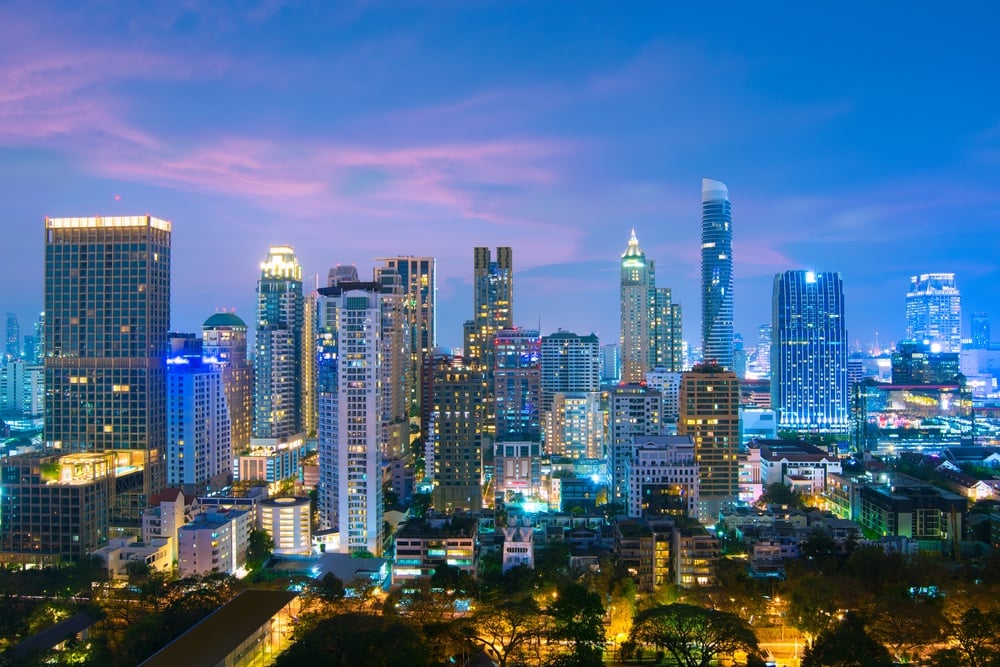 Koh Phangan is one the Thai Islands and has no airport. The gateway to Thailand is of course Bangkok and this probably where you begin your Thai adventure.
The fastest way to get from Bangkok to Koh Phangan is by flying to Koh Samui and then catch a ferry from Big Buddha pier to Tongsala on Koh Phangan. If you just say to a cab driver "Koh Phangan" he will know where to take you. The ferry from Koh Samui to Koh Phangan takes around 50 minutes.
If you do not want to fly from Bangkok to Koh Samui, there are a few other options. Firstly, there is the night bus or night train from Bangkok to Surat Thani. You then need to take another bus to Raja Pier/Dansak Pier before boarding a ferry.
Another option is government busses which run from Bangkok and take you straight onto the ferry.
The ferry times towards Tongsala are set out below.
09:30
11:40
14:30
17:30
Final Thoughts on This Koh Phangan Party Guide
Seriously now, if you love to party then you will love Koh Phangan. Whether you are into trance, techno, dub, shitty thai pop music, you will find a bar, beach or club pumping it out for you. Koh Phangan is a place where days and nights melt into one, where you will make some great friends and where you cannot fail but have some good old fashioned fun!
I am already psyched to get back to Koh Phangan and I hope to see you all there!
---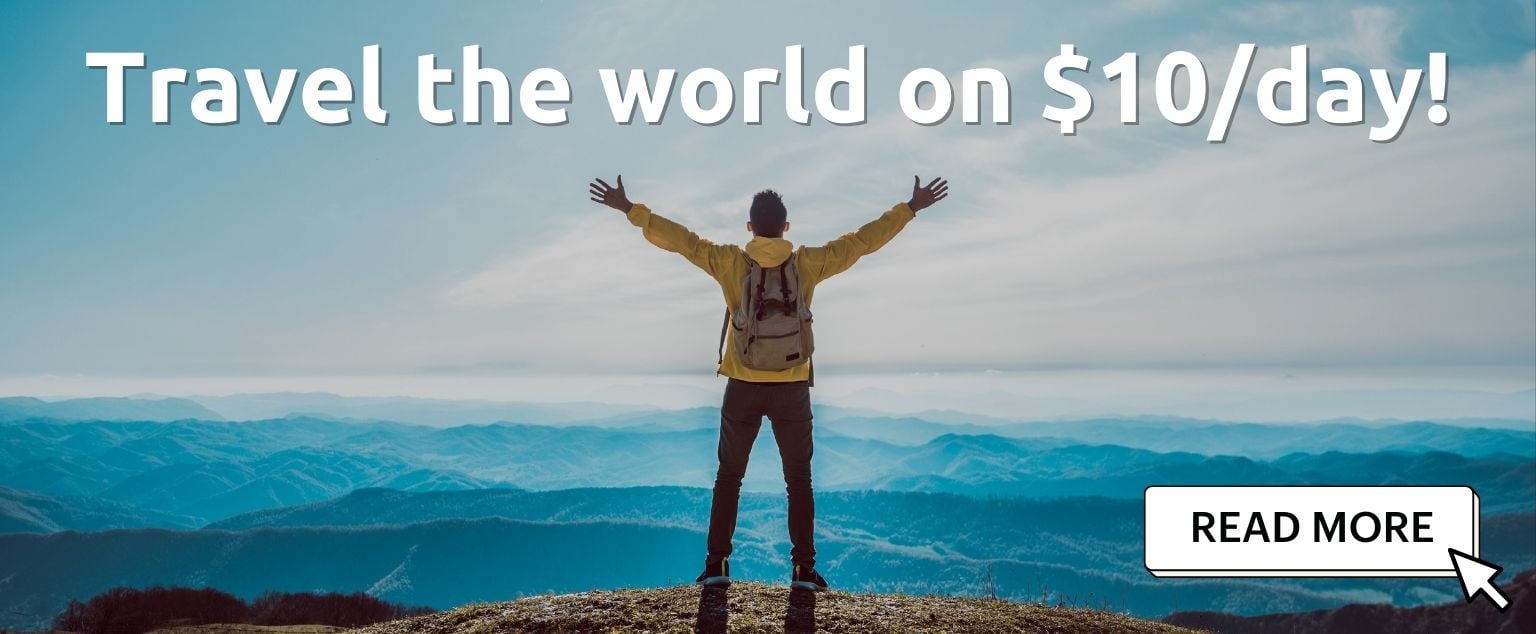 And for transparency's sake, please know that some of the links in our content are affiliate links. That means that if you book your accommodation, buy your gear, or sort your insurance through our link, we earn a small commission (at no extra cost to you). That said, we only link to the gear we trust and never recommend services we don't believe are up to scratch. Again, thank you!