Located some 70km south-east of the mainland, Koh Phangan is Thailand's 5th largest island. Over the last few decades, Koh Phangan has shot to prominence amongst backpackers on account of its legendary full moon parties which now attract up to 30,000 revellers each month.
Because of the success of the full moon parties, Koh Phangan has established itself a premier nightlife destination. Getting from Bangkok to Koh Phangan is easy and many visitors now include the island on their Thai itineraries (or Thai-tineraires!) purely for a little bit of hedonism.
In this Koh Phangan nightlife guide, we will take a closer look at the very best parties in Koh Phangan including the full moon party but with some other, lesser known options too. We'll also recommend some great eating spots, cheap digs, some cool bars and will even help you in getting to Koh Phangan in the first place!
Best Parties in Koh Phangan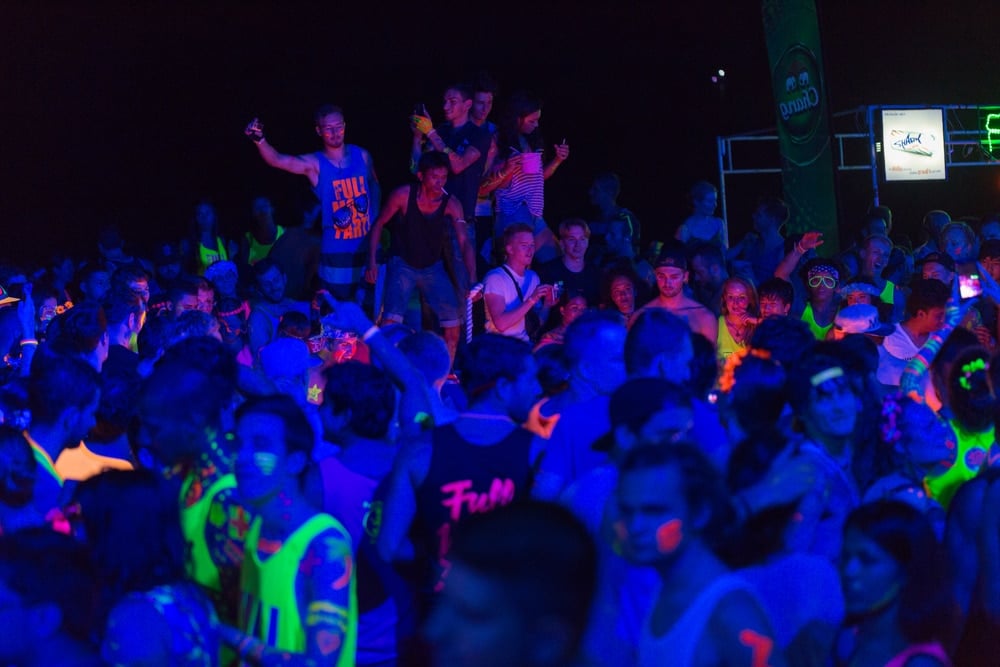 In Koh Phangan, there is a party for everybody. Which one(s) you attend will probably be largely determined by precisely when you are visiting Koh Phangan and what kind of music, and vibe you are after. 
That said, my advice is to kind of go with the flow and just see what happens.
1. Full Moon Party
As it's considered the biggest festival in Thailand, how could we not start with this one?! The Full Moon parties in Koh Phangan first started in or around 1983 and have since put Koh Phangan firmly on the map, and right at the heart of the Southeast Asia backpacker trail.
The parties happen every month of the year on the night of a full moon. High season runs between November – March where the party attracts up to 30,000,00 revellers from across Thailand and the world.
Where Is Koh Phangan Full Moon Party??
The Koh Phangan full moon parties have grown the point where they now take place right across the island. Many bars, beaches, clubs and even hostels stage their own little full moon parties and it all kind of blends into one big medley of madness.
The parties originally started on the crescent beach at Haad Rin and this area remains the focal point.
What's Koh Phangan Full Moon Party like?
Whilst the full moon parties are a spectacle and a right of passage, they are also my personal idea of hell. Most of the music is mainstream crap, the partiers a thoroughly mixed bunch, and cheap, nasty alcohol flows far too freely. Expect plenty of vomiting 18-year-olds and testosterone-charged Aussies fighting.
All of that said, the full moon parties remain popular so presumably, somebody is enjoying them. Besides that, if you haven't downed a plastic bucket full of booze and pained yourself day-glow green where you even really here?  The ones outside of high season may be a little less manic.
2. Half Moon Festival
The half moon festivals were initially established to capitalise on the gargantuan success of the full moon parties when a savvy organiser realised that there are 2 half moons per month – a week after, and before half-moon.
Whether you are attending the waxing or the waning half moon party, they are far less crowded and chaotic than the full moon ones.
Where is Half Moon Festival?
The Half Moon festival is set in a lush, green forest on Baan Ti on the southern end of the island. It is a lot more confined than it's big brother. Unlike the Full Moon party this one is in a private area and tickets cost around $45. 
Who Will Like Half Moon Festival?
The half moon parties are essentially a smaller version of the full moon parties. It's fair to say that most of the attendees are here, simply because their Thai-tinerary didn't allow then to be in Koh Phangan at full moon.
That said, there is noticeably less idiocy and a more open vibe. There are 3 stages playing Psytrance, House and Hip Hop so there is something for everybody (unless you're into sea shanties – none of them here sorry).
3. Jungle Experience
According to their own mission statement, Jungle Experience presents a sensory world of experience featuring live art installations. Expect some very beautiful people, OTT outfits and a shed load of UV. There are fire throwers, circle drummers and other performance artists.
Where is Jungle Experience?
As the name suggests, Jungle Experience takes part in forest clearing in Bann Ti. To find the dancefloor follow the natural mountain stream (or follow the noise).
Who Will Like Jungle Experience?
The music is mostly a mix of various house styles ranging from deep house to progressive house and even a bit of Techno. The music is probably more agreeable to the casual listener than the trance parties. 
If you're not quite a dedicated raver, but want something more authentic than the Full Moon party, this isn't a bad shout.
4. Black Moon Culture
About 2 weeks after the full moon, the moon is completely hidden from you giving us the black moon! The Koh Phangan black moon party takes place once a month and is kind of like the Full Moon parties evil twin.
Where is Black Moon Culture?
The party takes place in Baan Tai beach. Baan Tai beach is around about 10 minutes drive from Haad Rin. Then the Black Moon Culture dance floor area is located about 10 minutes walking distance from the Baan Tai Seven Eleven.
Who Will Like Black Moon Culture?
Now we're talking! Black Moon Culture is a proper Psytrance party which is what the full moon parties used to be before they got drunk and famous. Expect relentless Psychedelic Goa Trance and tripped out revellers. The clientele are the best people you could ever meet.
If you have never been to a real trance party, you absolutely have to try it at least once in your life – it is not a party, it is an experience. This is as good a place as any to do that other than perhaps, Anjuna in Goa.
5. Waterfall Party
The waterfall party takes place twice a month – 2 days before and after full moon party so its perfect if you slightly miscalculate your lunar cycles! 
Where is Koh Phangan Waterfall Party?
The party takes place kind of deep in the Ban Kai jungle. As the name suggests, it takes place in a rocky clearing with a waterfall running down. The setting is very impressive. 
The best way to get here is by taxi as the road is not suitable for bikes. Entry is 600 BAHT and includes a free drink.
Who Will Like Koh Phangan Waterfall Party?
The setting is nice, the decor psychedelic and the music is a mix of Techno House, Electro & Minimal. The Waterfall party generally attracts a less boozy crowd than the Full & half moon parties, and a less trippy crowd than the dedicated Psytrance parties. 
There are also plenty of bar bq's and a few stalls selling jewellery and clothing.
6. Eden Garden Party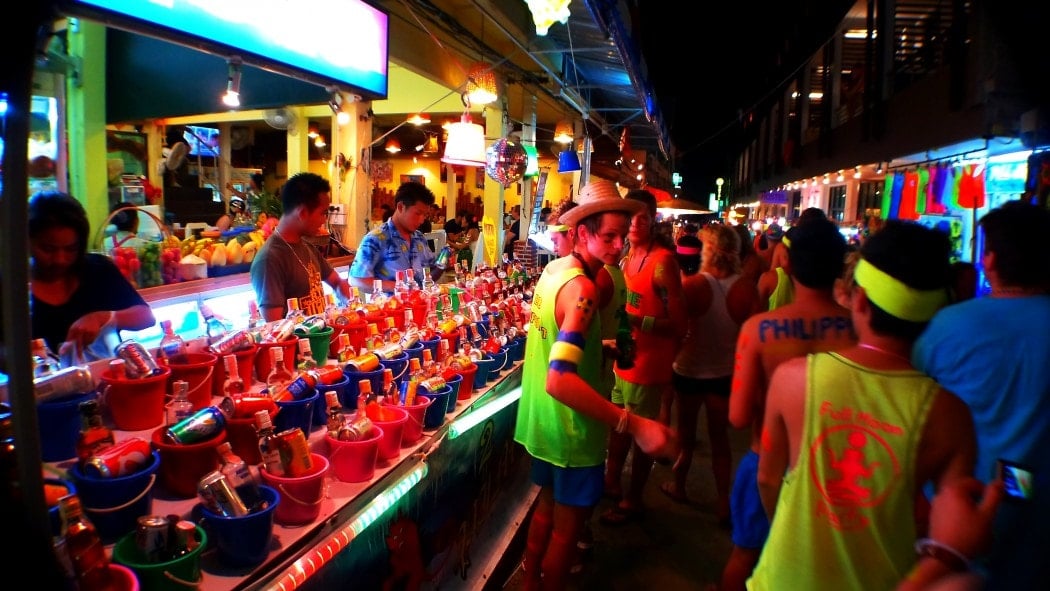 Like the name suggests, the Eden Garden Party attempts to re-create an earthly paradise. And on the right night, the legendary psychedelic party comes pretty close.
Whilst the secret is out of the bag, Eden is still a lot quieter than some of the other Koh Phangan parties so it retains a very friendly vibe. Accessing Eden is not exactly easy as it entails crossing a rope bridge – this seems to sort the wheat from the chaff and ensures only serious parties get here!
Where is Eden Garden Party?
Getting to the Eden Garden Party, Koh Phangan isn't exactly easy. You can only get to the Eden Garden Party by catching a boat from Haad Rin beach to Haad Yuan. Be careful when heading up to the Eden Bar, the walkway is extremely dangerous and there have been several accidents here in recent years.
Who Will Like Eden Garden Party?
The music is a mix of Psytrance & Techno. Historically, magic mushroom milkshakes were openly on sale although the authorities may have tightened up on this in recent times. But then again, what's the garden of Eden without a bit of forbidden fruit…
The Eden Garden Party is definitely one of our favourites.
Best Food in Koh Phangan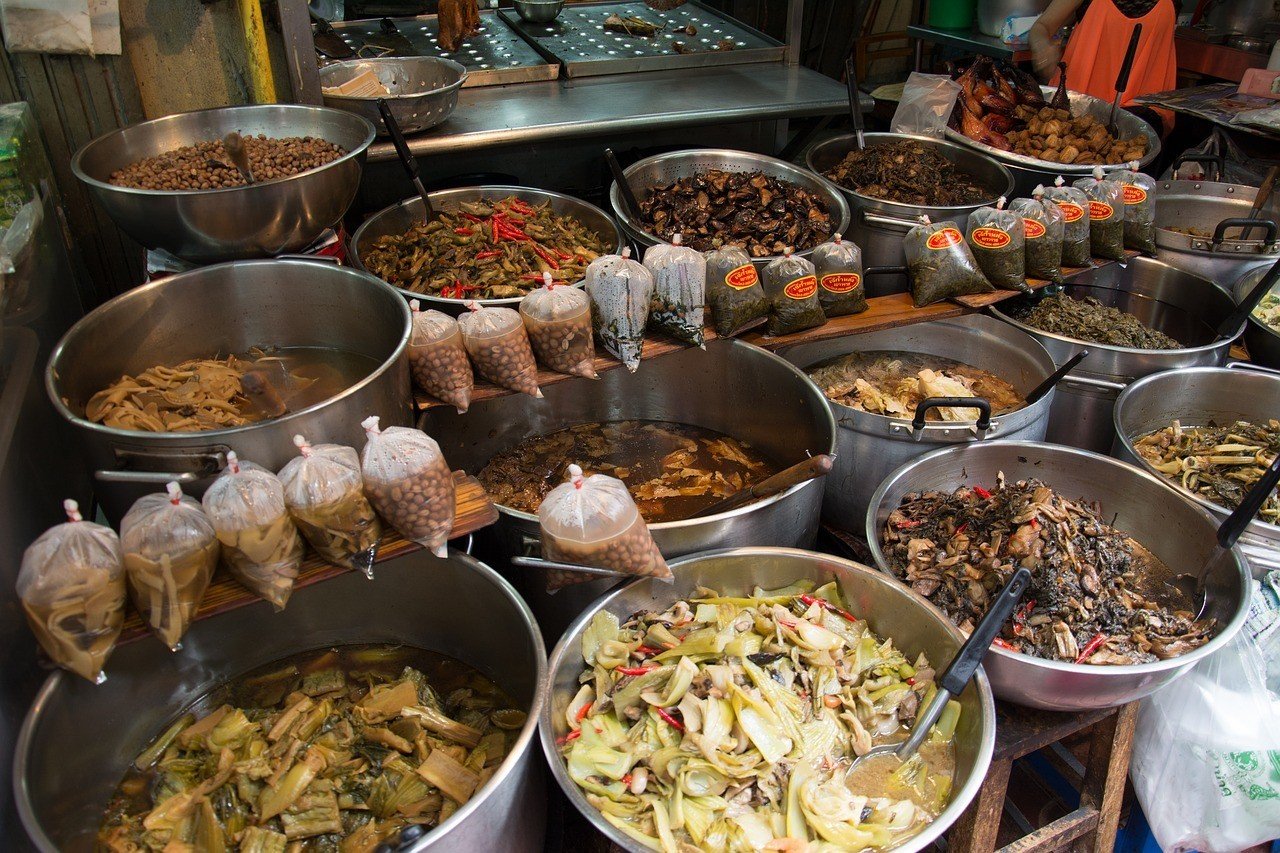 All of that partying is hard work and dancing sure works up an appetite. Besides that you should never go out on an empty stomach. 
On the other hand, maybe you don't want to party at all. Maybe your idea of a good night is finding a nice restaurant and getting some food? We hear you and we have covered!!
Thong Sala Night Market
Thai street food is the stuff of legends and the best places to sample it across the country are the night markets. The night market starts at 4pm and goes on until around midnight. The food options are plentiful and cheap so you can try a multitude of dishes.
Whether you want noodle soup, fried scorpion or just a falafel, you can find it here. There are some seats, stools and benches to port yourself on but don't expect restaurant style service – it's all about the fast, the cheap, and the plentiful here!
Fishermans Restaurant & Bar
As the name suggest, this Baan Ti institution is all about the sea food. Most of the food available is as fresh as fresh can get. Check out the crab curry, garlic squid and whatever prawns they have on.
The decor uses a lot of props salvaged from old fishing boats giving it a really quirky feel. The attached bar is also a decent spot to watch the sunset.
The Masons Arms
In case all of that delicious Thai food gets too much for you, get yourself on down to The Masons Arms. The Masons Arms is an English pub built in a mock Tudor building. It does decent, filling pub grub such as lasagna, pies & fish and chips.
Personally, I've had enough British food for one lifetime (well I am British) but the ambiance here makes it a great spot to hang out.
Best Bars in Koh Phangan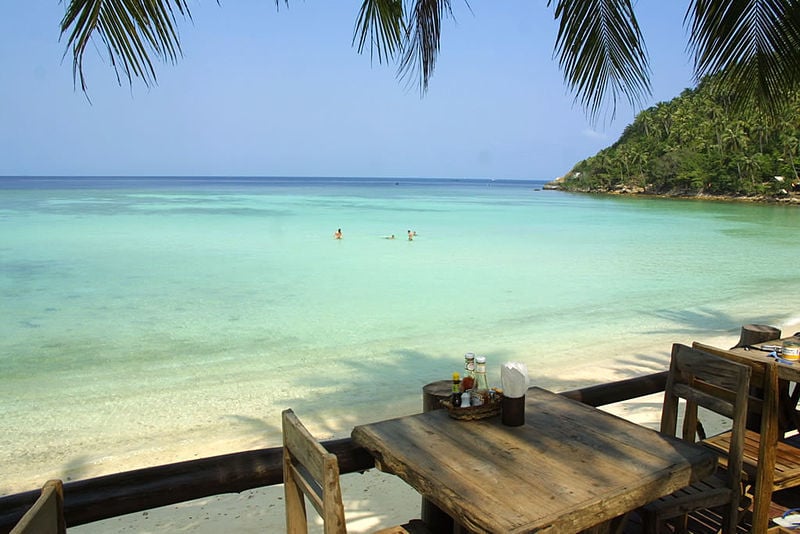 Fancy a few pre-party drinks? Or maybe you'd just prefer to spend the night hanging in a bar? Whatever your vibe and whatever your tipple, check out this list of the best bars in Koh Phangan.
Pirates Bar
Pirates Bar is a pirate ship on the beachfront just north of Laem Son Lake in Sri Thanu. Built over 3 levels over-handing the beach, the Pirates Bar takes its theme very seriously – there are Jolly Roger flags flapping in the breeze.
The atmosphere is relaxed and welcoming and the bar rotates between lie music and DJ's. Moon Set Parties are held here a few days before the full moon, so do not miss them if you're around. During quieter times, this place encapsulates the more chilled side of Koh Phangan.
The Jam Bar
If you like live music, then get yourself to the Jam Bar – is basically where local musicians come to jam.
It is located right on the beach of Hin Kong, just after the bridge when you come from Thong Sala. Aside from the offering some decent music and the chance to join in on a jam, food and drinks are well priced and it's a decent place for a sunset
Amsterdam Bar
If you're after a bar for a sundowner, then head to Amsterdam Bar as it offers what is quite possibly the best sunset view. It's a very popular spot amongst travellers on account of its epic view and laid back vibe. 
If you are coming here for the sunset, then we suggest getting here earlish – around 4.30pm should do the trick.
Is This the Best Travel Pack EVER???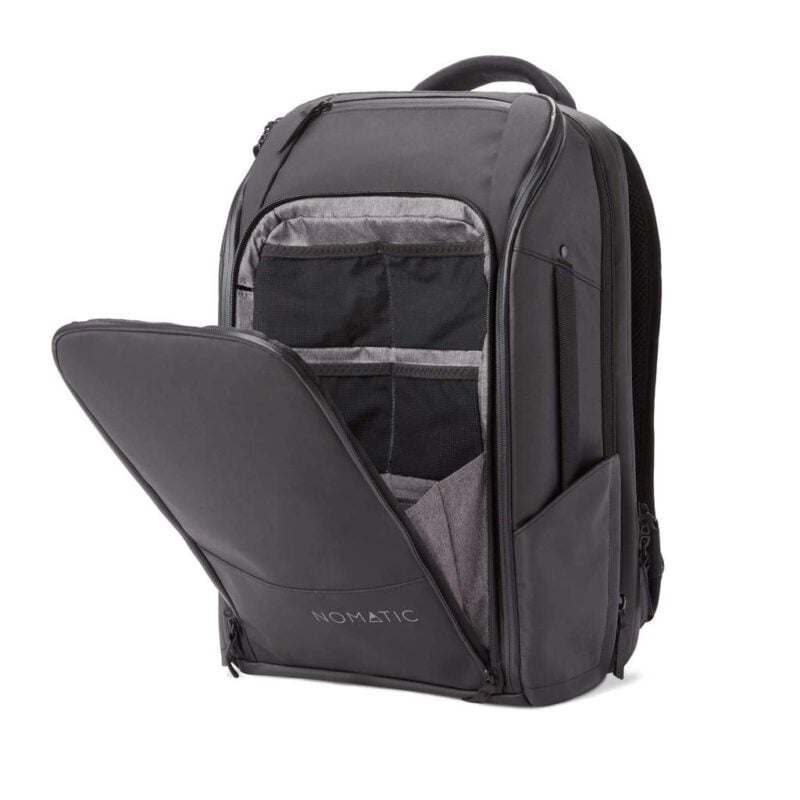 Where To Stay in Koh Phangan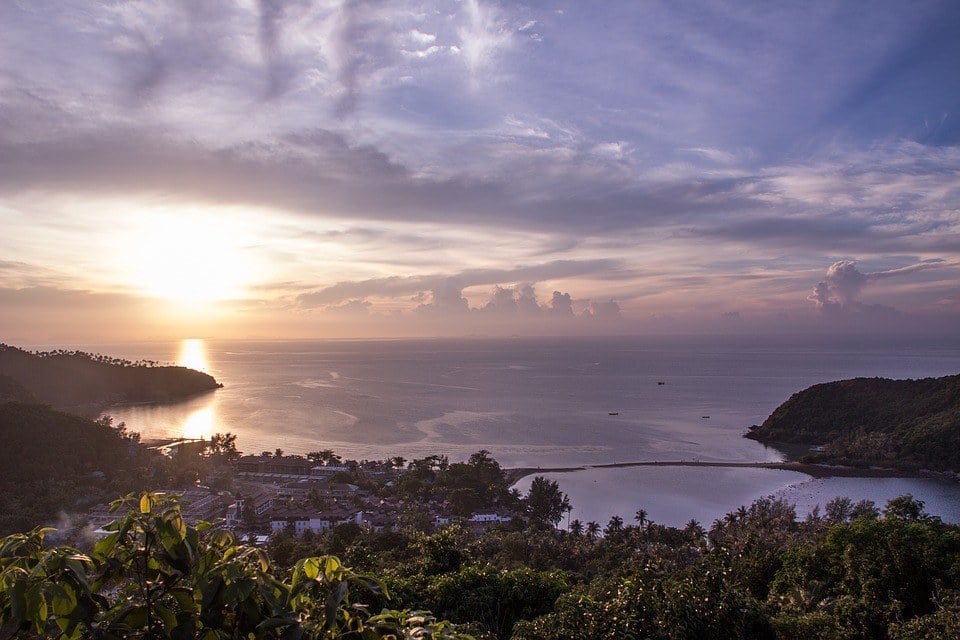 If you're hoping to make the most of Koh Phangan's legendary nightlife, you'll need to find yourself a good base. Whether you're looking for a party hostel to warm up in, or just a quiet space to sleep off a heavy night (try sleeping at the party itself), there is accommodation in Koh Phangan for everybody. 
Note that accommodation across the island books up around full moon parties. Booking well in advance is highly recommended.
This is our favourite hostel in Koh Phangan. It is centrally located in Baan Kai and makes for an excellent base for exploring the island. This property has three different styles of rooms with air conditioning and balconies. There's also free wifi, lockers, a TV area, and a kitchen.
Head over to our comprehensive guide to the best hostels in Koh Phangan before starting your backpacking adventure!
When travelling somewhere for the first time, local knowledge can be a lifesaver. This is why we chose this Airbnb for you. You'll have a private bungalow in a resort (but nothing too fancy), where you can connect with other travellers, exchange experiences and helpful tips while relaxing at the beach. The host has been living on the island for a long time, so his recommendations are the best.
This beachfront resort is our number one pick for the best hotel in Koh Phangan. It is located in idyllic Thong Nai Pan and boasts a stunning pool, free wifi, and is just steps from the beach. It has 23 air-conditioned rooms that are comfortable, spacious and perfect for families.
Getting To Koh Phangan From Bangkok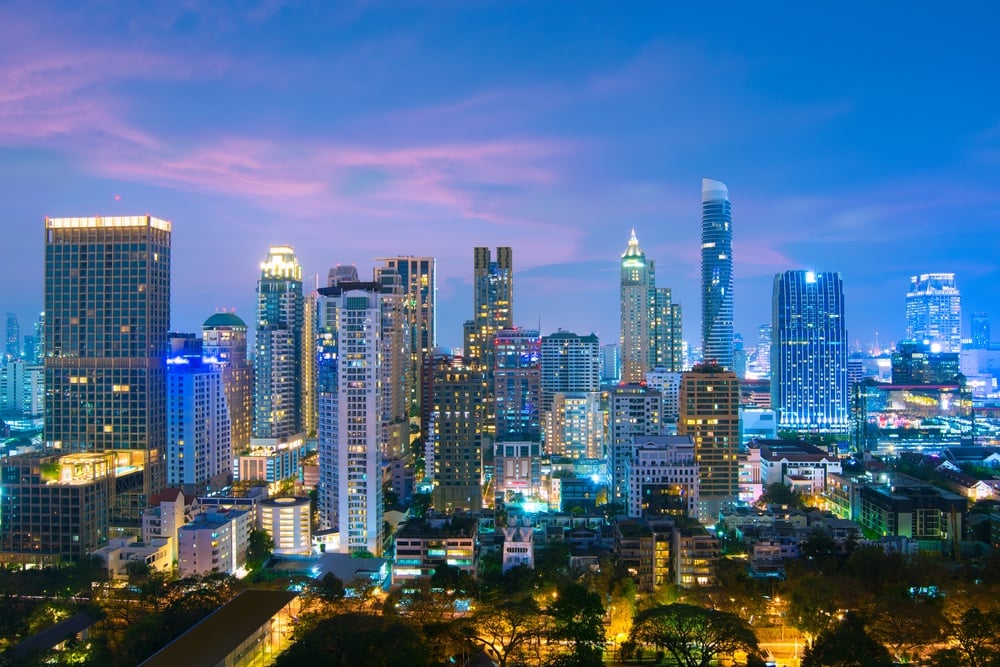 Koh Phangan is one the Thai Islands and has no airport. The gateway to Thailand is of course Bangkok and this probably where you begin your Thai adventure. 
The fastest way to get from Bangkok to Koh Phangan is by flying to Koh Samui and then catch a ferry from Big Buddha pier to Hadd Rin on Koh Phangan. If you just say to a cab driver "Koh Phangan" he will know where to take you. The ferry from Koh Samui to Koh Phangan takes around 50 minutes.
If you do not want to fly from Bangkok to Koh Samui, there are a few other options. Firstly, there is the night bus or night train from Bangkok to Surat Thani. You then need to take another bus to Raja Pier/Dansak Pier before boarding a ferry.
Another option is government busses which run from Bangkok and take you straight onto the ferry.
The ferry times towards Hadd Rin are set out below.
09:30
11:40
14:30
17:30
---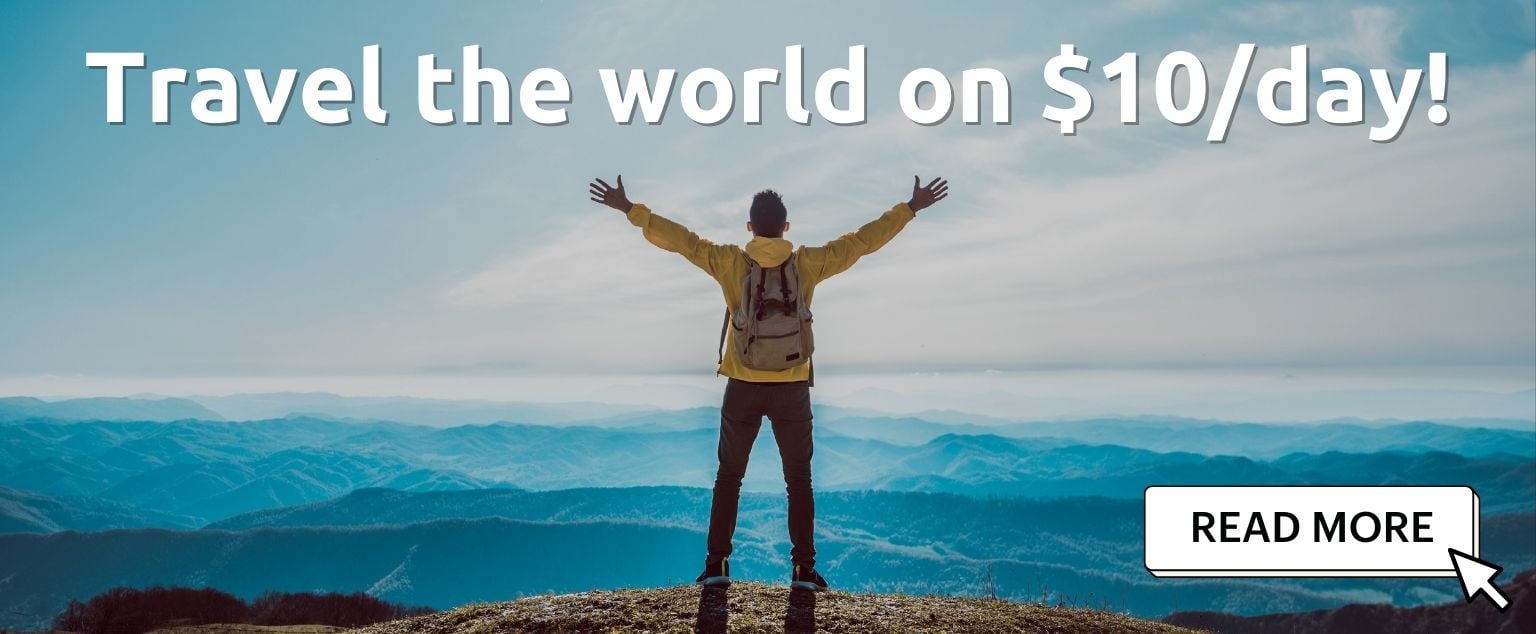 And for transparency's sake, please know that some of the links in our content are affiliate links. That means that if you book your accommodation, buy your gear, or sort your insurance through our link, we earn a small commission (at no extra cost to you). That said, we only link to the gear we trust and never recommend services we don't believe are up to scratch. Again, thank you!