Thailand is your perfect destination, with over 1,140 islands there is seriously no shortage of beachy paradise to soak up.
Two of the most popular destinations for travelers in Thailand are Phuket and Krabi. With beautiful beaches, exciting activities, and plenty of attractions, it's no wonder that these two locations are often pitted against one another. Whether you're looking for an unforgettable beach vacation or a cultural exploration, both Phuket and Krabi have so much to offer you!
Phuket is known for its stunning beaches, world-class resorts, and shopping opportunities. It's the perfect destination for those seeking to relax by the beach and enjoy some of the best seafood in Thailand.
While Krabi also has nice beaches, it's much more than just a beach destination. It boasts unique natural attractions such as the Tiger Cave Temple and the Emerald Pool. Krabi is also famed for its abundance of outdoor activities, such as rock climbing and kayaking in the stunning limestone karsts of Ao Nang.
Undoubtedly, in the past few years, you have been mesmerized by Instagram photos of these two destinations' stunning blue waters. It's difficult to decide which one should be your next vacation spot!
Don't worry, we are here to help and in this article, we will take a closer look at the differences between Phuket and Krabi so that you can choose the right destination for you.

Unlock Our GREATEST Travel Secrets!
Sign up for our newsletter and get the best travel tips delivered right to your inbox.
Phuket vs Krabi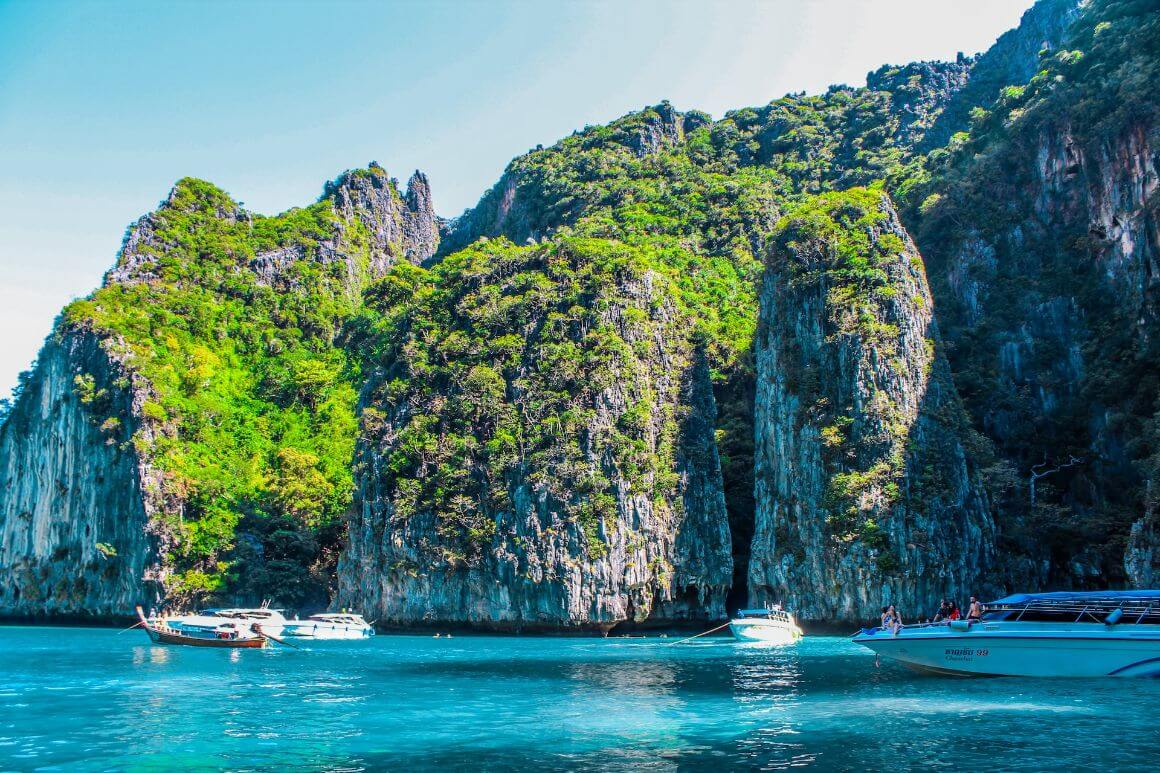 Can you make a bad decision when it comes to Phuket vs. Krabi? Both are beautiful beach destinations with plenty of activities to do and sights to see. However, there are some distinctive differences between the two that you should take into consideration before booking your holiday in Thailand.
To make sure you get the best perspective, let's compare and contrast these two cities.
Phuket Summary
Phuket spans over about 210 square miles, and over 75,000 people call Phuket home.
Phuket is known for its stunning beaches, luxurious resorts and hotels, vibrant nightlife, and beautiful scenery. The main attractions of Phuket include the Patong Beach area with lively bars and clubs, the Big Buddha at Karon Hill which offers breathtaking views across the bay, and Old Phuket Town.
Phuket is easily accessible from major cities in Thailand and the rest of the world. The Phuket International Airport receives daily flights from all over the globe, so getting to Phuket is simple and convenient.
Phuket is an island with plenty of different ways to get around. There are buses, songthaews (shared taxi vans), tuk-tuks, and even ferries to get you from place to place. Buses are the most affordable way to get around Phuket and they run regularly between most of the island's towns.
Phuket is home to a variety of different types of accommodation, perfect for any type of traveler. Whether you're looking for a luxurious resort stay, a budget-friendly hostel experience, or something in between.
Krabi Summary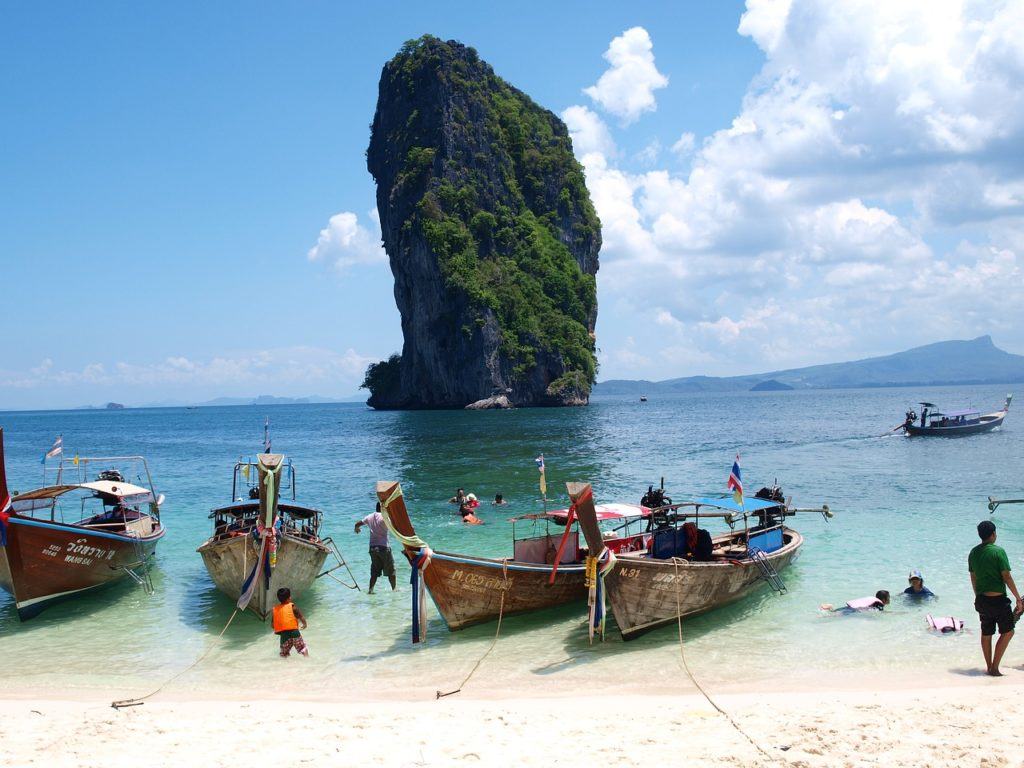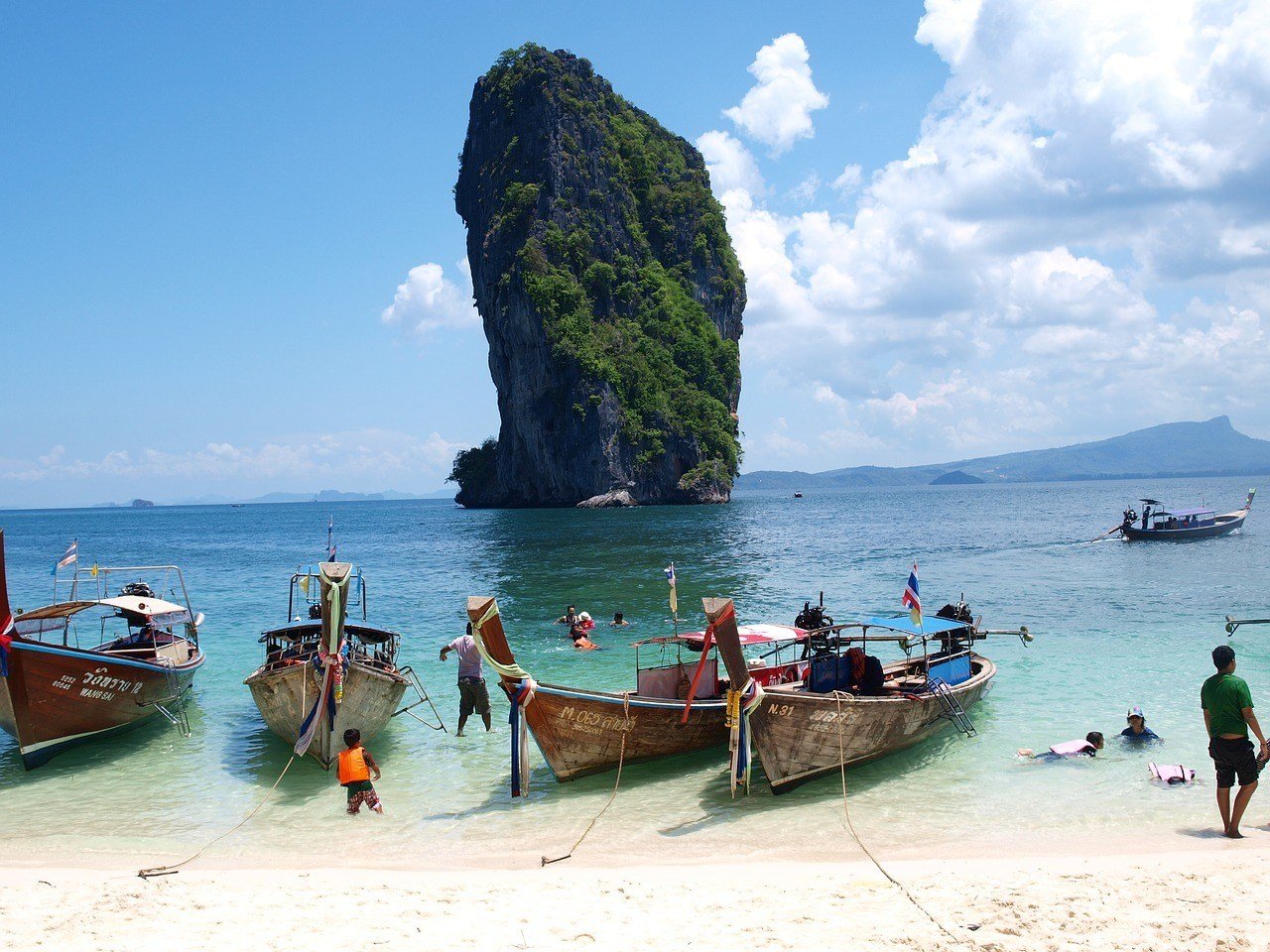 Krabi is located on the west coast of Thailand and has a population of around 20,000 people across 1,801 square miles.
Krabi is known for its stunning beaches, limestone cliffs, hot springs, and waterfalls. There are several activities available in Krabi such as kayaking, rock climbing, and trekking through rainforests.
Getting to Krabi is very easy, with daily flights leaving from Bangkok to Krabi International Airport. You can also get there by train if you have more time in the area.
Navigating the area is a breeze! Taxis, tuk tuks, and songthaews make getting around town simple. Alternatively, you can rent out motorcycles or scooters for more adventurous trips. Longtail boats are also available to transport visitors to offshore islands and beaches in Krabi that are only accessible by boat.
Krabi is home to plenty of accommodation options ranging from budget-friendly guesthouses to luxurious resorts.
Is Phuket or Krabi Better?
Despite the difficulty of conducting an entirely impartial comparison between these two cities, let's examine how they compare on key travel characteristics.
For Things to Do
Both of these islands offer visitors a lot of things to do. From beaches to national parks and from water sports to cultural attractions, both Phuket and Krabi have something for everyone.
However, visiting Krabi may be more suitable for those looking for an adventurous holiday with plenty of outdoor activities such as rock climbing, kayaking, and trekking through forests and caves in the limestone karsts of Ao Nang.
But don't count Phuket out when it comes to adventure, Phuket also features plenty of adrenaline-pumping activities such as zip-lining, horse riding, wakeboarding, and more.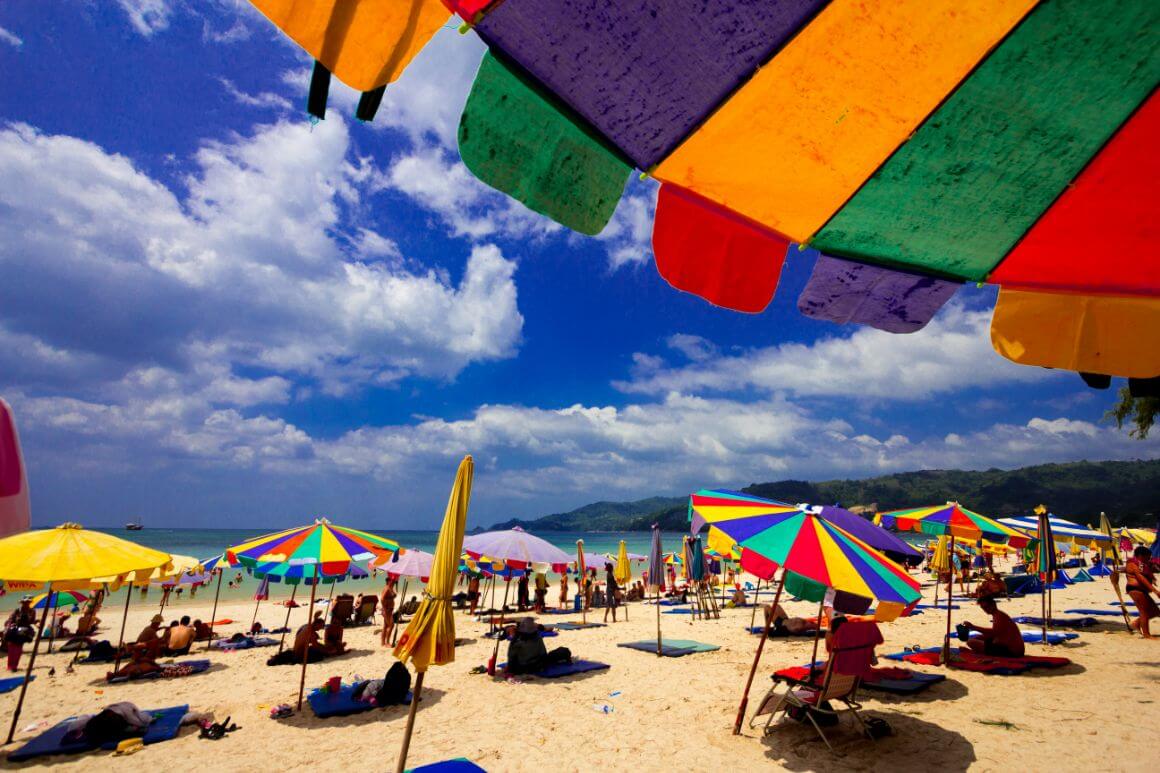 Both islands have incredible beaches but they each offer something a little different. If you are looking for pristine, soft white sands and turquoise, crystal-clear waters that look untouched by tourism, head to Krabi. You will have stretches of sand to yourself and can enjoy the beauty of nature.
Alternatively, if you are looking for something more developed with a bustling beachfront atmosphere, head to Patong Beach in Phuket. Here, you will find plenty of restaurants, bars, entertainment, and people-watching opportunities. The beaches are still beautiful but are more geared toward nightlife partying and sundowners.
For those traveling with kids, Phuket would be a better option as it is full of resorts with kids' clubs, waterparks, and other activities aimed at entertaining children.
And those who are more interested in exploring the cultural side of Thailand should check out Krabi as it is home to some of the oldest archaeological sites in Thailand, as well as colorful local markets and temples.
Winner: Phuket
For Budget Travelers
Thailand is an ideal destination for those seeking to travel while still saving money – and Phuket and Krabi are no exception! With a meal costing roughly $3-$5 per person, there are plenty of affordable eats available. Additionally, accommodation options remain budget-friendly as well – perfect for anyone looking to get the most out of their travels without breaking the bank.
These provinces are right next to each other making the cost of living relatively the same in terms of food, transportation, and activities.
For those on a budget, Krabi can tend to be the more affordable option with guesthouses and hostels that start from just $6 per night. However, during peak season prices may be slightly higher due to the limited availability of accommodations. Furthermore, because Krabi is much more spread out than Phuket, travelers will need to allot additional funds for transportation costs.
Phuket is geared towards tourism giving guests more options when it comes to budget-friendly accommodation. You will find more guesthouses and hostels in Phuket than in Krabi, making it easier to find something within your price range.
After all is said and done, both of these options are relatively similar in terms of cost.
For example, mid-range accommodation in both places only costs around $20 a night.
While maybe the distances and destinations differ the prices in grabbing a tuk-tuk range from $1.00- $3.00
Southeast Asia is famous for delicious food at a low cost. In Phuket, you can have a meal for around $4, and in Krabi for only $2.50. It's quite the steal in both places.
Surprisingly a beer in Krabi cost a little more than a beer in Phuket. In Krabi, you'll pay around $3 and in Phuket, you can indulge for $2.50
Winner: Krabi
Small Pack Problems? 😉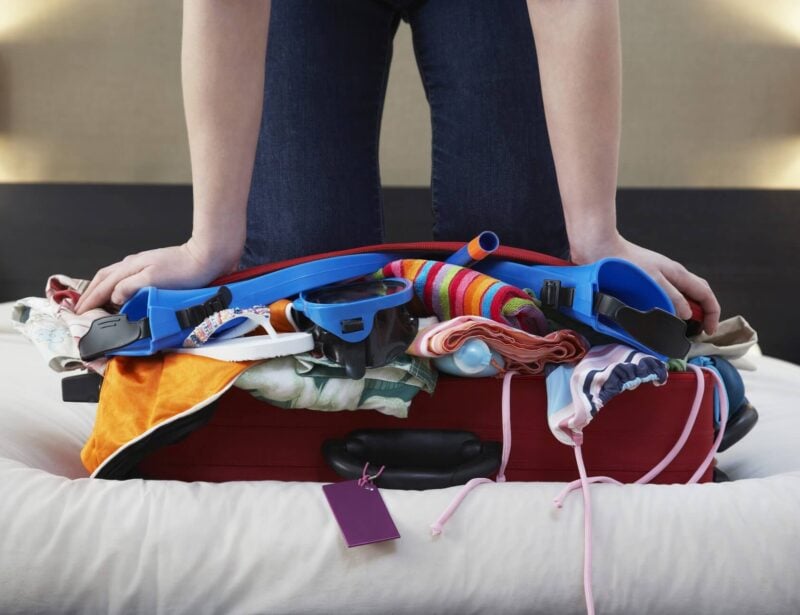 My missus travels with all her clothes in ziplock bags: don't be like my missus. UP YOUR PACKING GAME!
Packing cubes for the globetrotters and compression sacks for the real adventurers – these babies are a traveller's best kept secret. They organise yo' packing and minimise its volume too so you can pack MORE.
Or, y'know… you can stick to ziplock bags.
View Our Fave Cubes
Or Check Out the Sacks!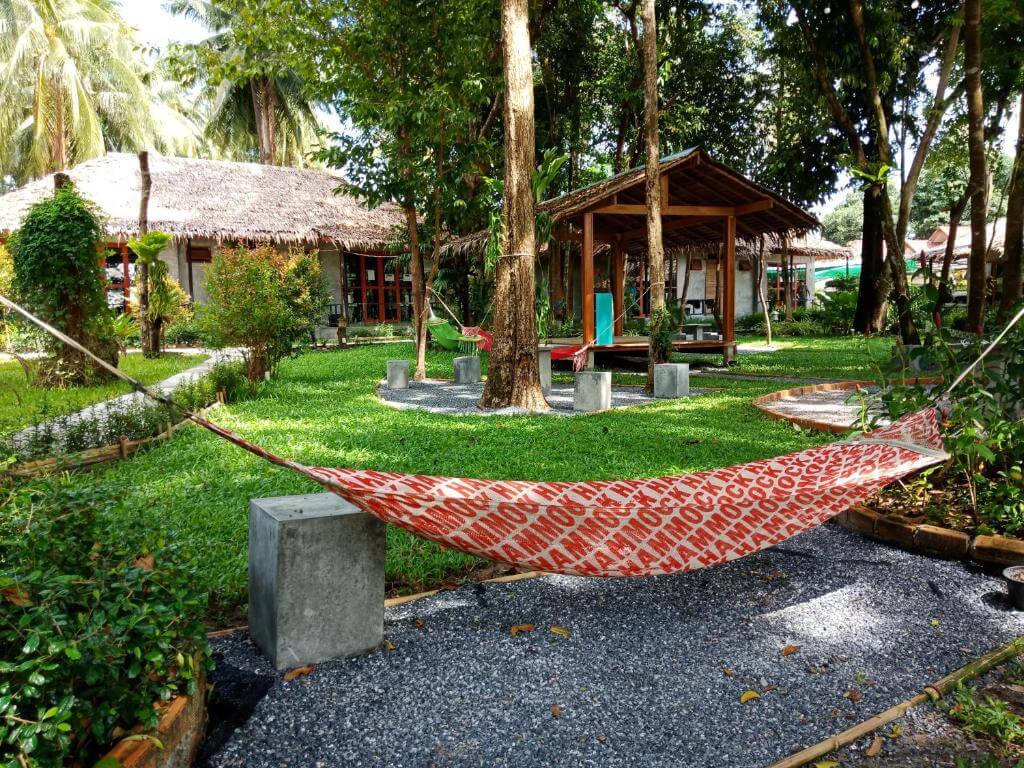 For $8 a night, this hostel is a great budget-friendly option in Koh Lanta, Thailand. It is conveniently located just steps away from the beach and features an outdoor garden, restaurant, bar, and plenty of amenities to make your stay as comfortable as possible.
For Couples
Phuket and Krabi both make great romantic getaways for couples, but you'll have to decide which destination is best for you. Phuket is known for its bustling nightlife and beachfront activities, while Krabi offers more secluded beaches and outdoor adventures.
For those looking to enjoy a bit of luxury and pampering, head to Phuket and stay in one of the many beachfront villas or resorts that line the shore.
You can enjoy a romantic dinner on the beach while admiring the beautiful sunset, and enjoy each other's company during a couples massage. Whether you are honeymooners or have been together a few years you will be able to make some amazing memories in Phuket.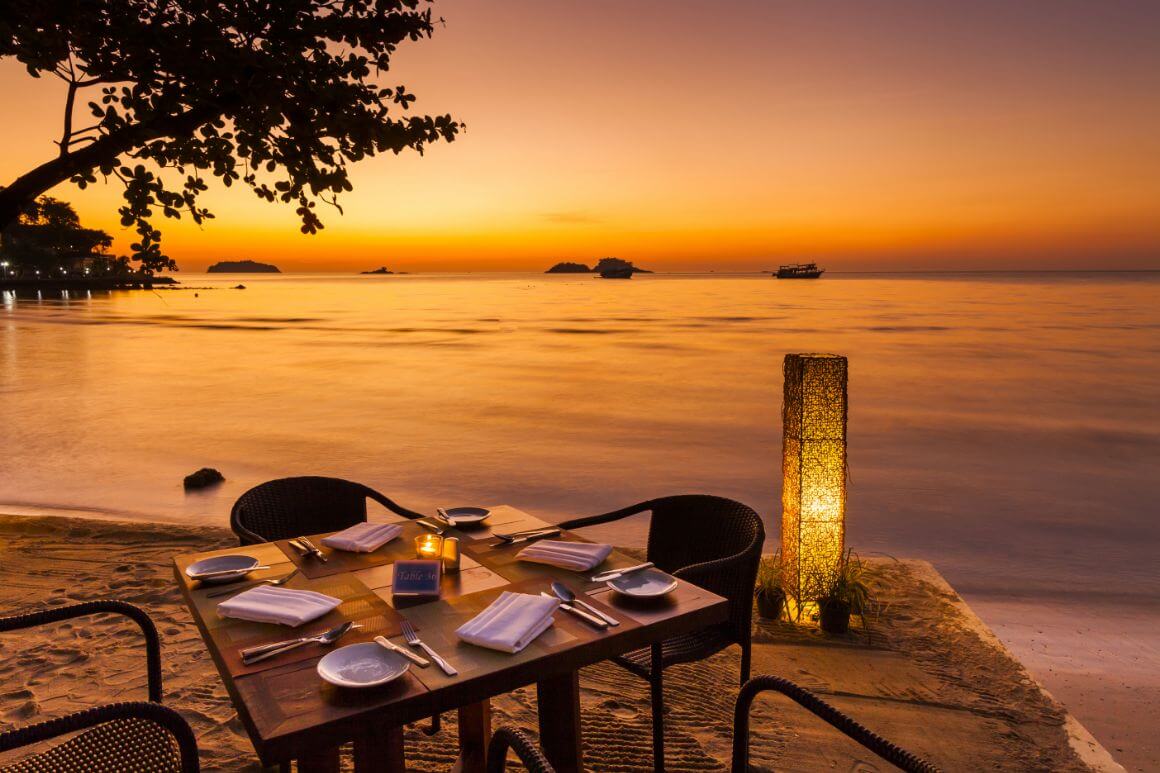 Krabi is known for its breathtaking views and adventure, so couples should consider going on an island-hopping tour or exploring some of the many rainforests and national parks in the area.
You can go on a scuba diving adventure and explore the unique marine life or take a relaxing kayaking trip to one of the many limestone caves in the area.
There are also plenty of romantic restaurants and activities to enjoy within some luxurious hotels, such as a couples massage or romantic dinner for two.
Winner: Phuket
This beach hotel in Phuket is perfect for couples looking for a romantic getaway. It features a beachfront pool and bar, spa, fitness center, and plenty of activities to enjoy together. Guests can also take advantage of the complimentary breakfast buffet that is included in every stay.
For Getting Around
In terms of getting around, both Phuket and Krabi offer plenty of options for travelers. In Phuket, the most popular mode of transportation is via tuk-tuk or taxi; these are readily available throughout the city and make it easy to get to where you need to go. Additionally, there are plenty of buses and boats that can take you to different parts of the island.
Krabi, on the other hand, is much more spread out and thus requires a bit more planning when it comes to getting around. It's recommended to rent a car or scooter for the duration of your stay to make exploring Krabi's many beaches, rainforests, and islands easier. There are also plenty of boats you can hire to take you to the nearby islands. This is something you can't miss in Krabi!
Phuket and Krabi are both walkable destinations in Thailand depending on where you want to go. In Phuket, there are plenty of sidewalks, roads, and pathways that make it easy for travelers to get around on foot. Additionally, the beaches in Phuket are easily accessible from many hotel locations, making it an ideal spot to take a stroll.
In Krabi, however, it's usually advisable to take a tuk-tuk or taxi due to the sometimes tight roads that are difficult for pedestrians.
Winner: Phuket
For a Weekend Trip
Phuket and Krabi are both great destinations for a weekend getaway in Thailand. For those looking to make the most of their time, Phuket is the ideal location for a quick getaway. It offers plenty of beaches, nightlife, restaurants, and activities to keep you occupied during your stay.
However, a lot of people arrive in Phuket and realize they never want to leave and their quick little three-day island adventure turns into an extended stay, so keep this in mind and maybe give your schedule some wiggle room!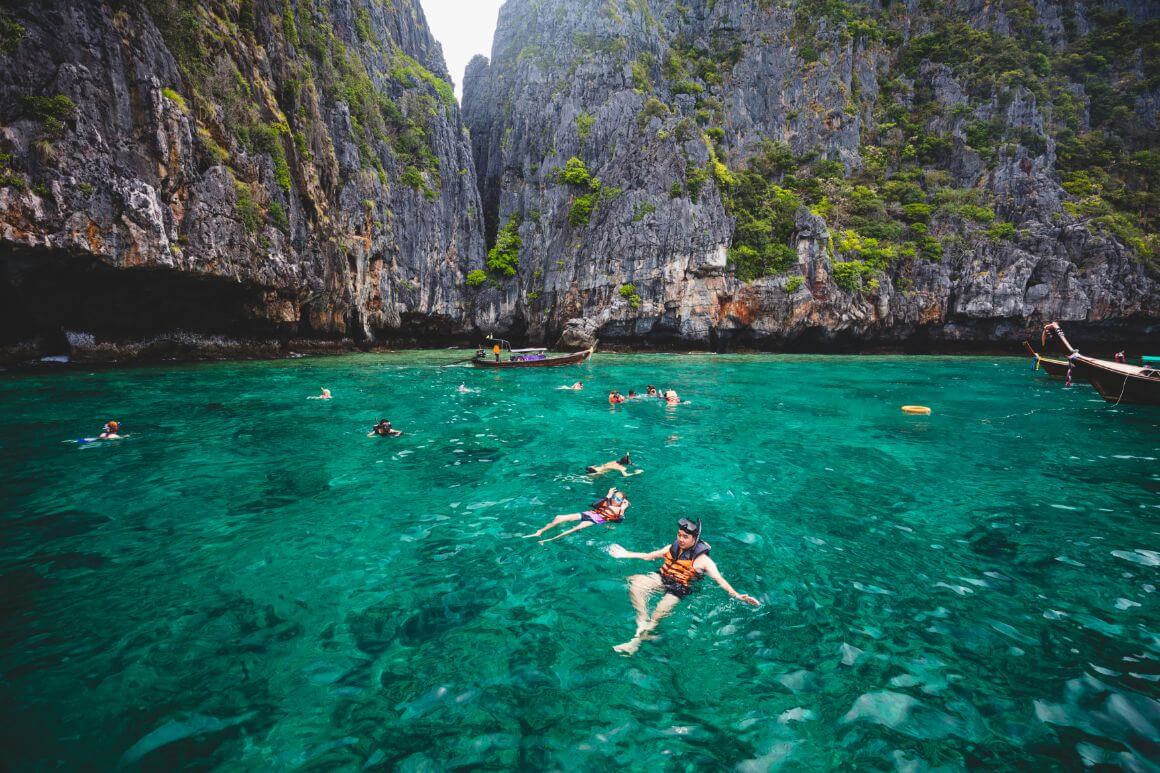 Krabi, on the other hand, can be explored in a few days and is also better suited for those looking to slow down and relax in a more secluded setting. Krabi is known for its many beaches, limestone cliffs, and national parks, making it the ideal destination for an outdoor adventure.
Even though the area of Krabi is larger than Phuket, I would recommend staying the weekend here. It's a much quieter island and spending longer than three days here might create a little boredom as it's a much slower pace than Phuket. You will be able to explore the islands, do some scuba diving and maybe get a massage, which all make for an awesome weekend in Krabi!
Winner: Krabi
For a Week-Long Trip
If you have a whole week, Phuket is the ideal destination for those looking to get out and explore. This bustling city offers plenty of activities, nightlife options, and attractions that will keep you busy during your week-long stay.
You can spend your days lounging at the beach or exploring some of Phuket's many nearby islands. At night, there are plenty of bars and clubs to keep you entertained until the wee hours of the morning. You can party hard when you aren't worried about squeezing the absolute most out of your days and can nurse a hangover with a cold coconut water in the morning.
As I mentioned, people often come to Phuket for what they believe to be a few days and quickly fall in love with the city and end up staying for weeks!
Krabi is also great for a week-long stay, although you will likely want to plan ahead so that you can make the most of your time. There are plenty of outdoor activities in Krabi, from kayaking down rivers to Island hopping around Koh Lanta. Additionally, there are plenty of secluded beaches, which are perfect for a relaxing week-long vacation.
Winner: Phuket
Visiting Phuket and Krabi
So you're already in Thailand, and I'm just gonna guess that it took you a bit of a journey to get here. So why not visit both Phuket and Krabi?
The provinces are right next door and really don't take too much effort to get from one to the other. So let's throw out all that Phuket vs. Krabi talk and see if we can make this possible.
The quickest way to get from Phuket to Krabi and vice versa is by speed boat. The journey takes a little over 2 hours and will take you from one side of the island to the other.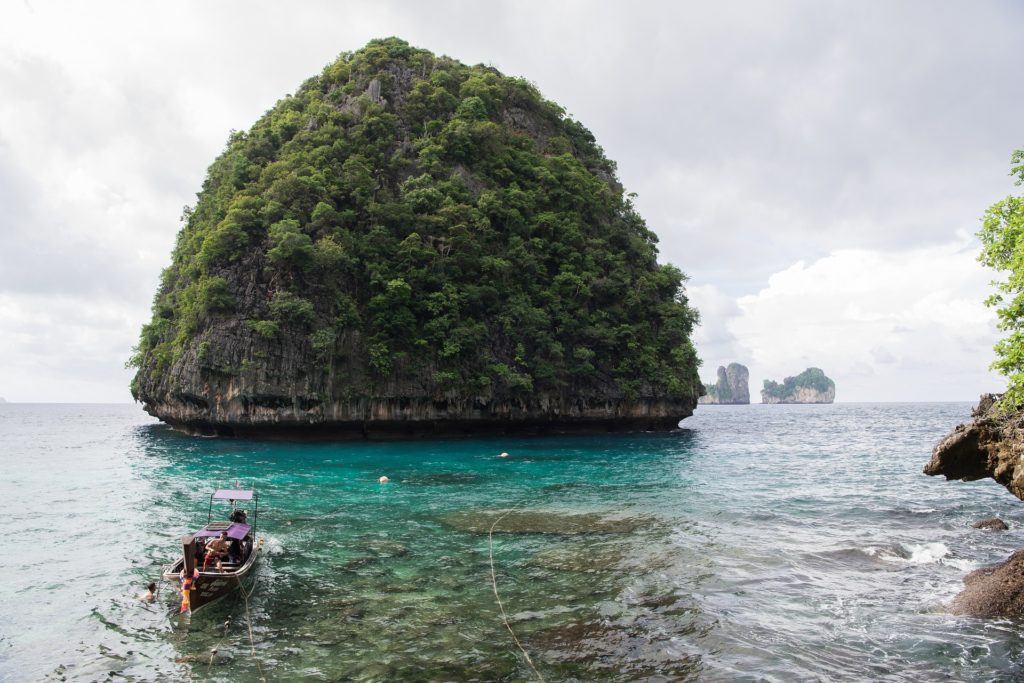 Now the boat ride can be a bit expensive as well as rocky, so for those looking for a more budget-friendly option, you can take the bus. The journey is slower and takes between three to four hours but it's a lot less expensive than taking the speedboat.
However, if you're really looking for an adventure consider renting a car or scooter and making your way from one province to the other. On this route, you will be able to visit some of the most beautiful islands and beaches that Thailand has to offer.
Is This the Best Travel Pack EVER???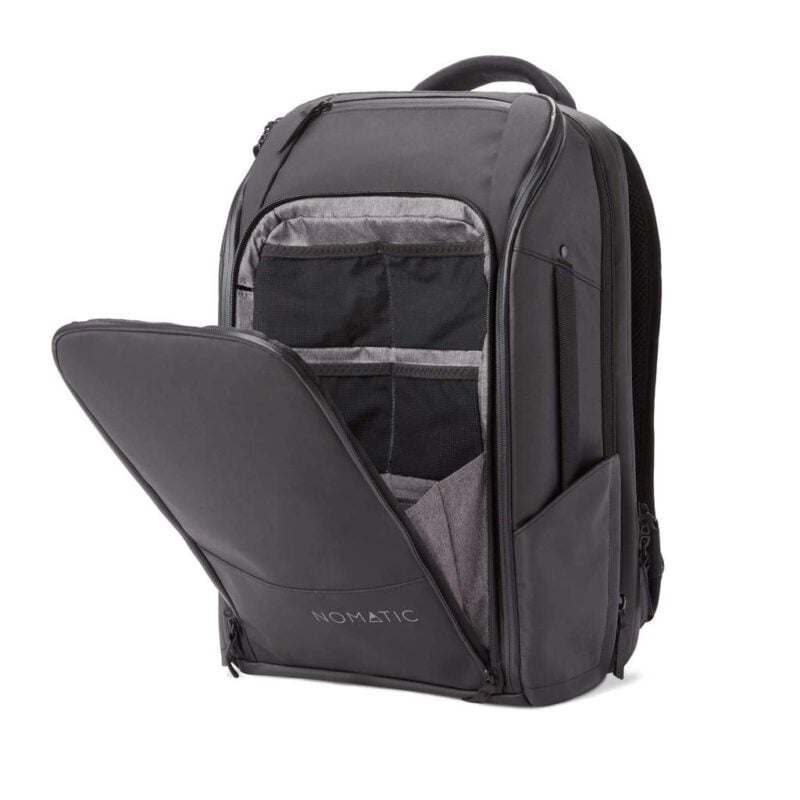 FAQs About Phuket vs Krabi
Final Thoughts
Thailand is such a beautiful country with many destinations to explore. Whether you're looking for a beach getaway or an adrenaline-fueled vacation, this country will blow your socks off!
If you're seeking the hustle and bustle of exciting attractions and lively nightlife, Phuket is your best bet; however, if it's a tranquil stay that you are looking for, Krabi should be top on your list.
I really believe you can't go wrong with either destination and if you can visit both while you're there, even better! No matter where you decide to go, make sure you take in all the beauty and culture Thailand has to offer.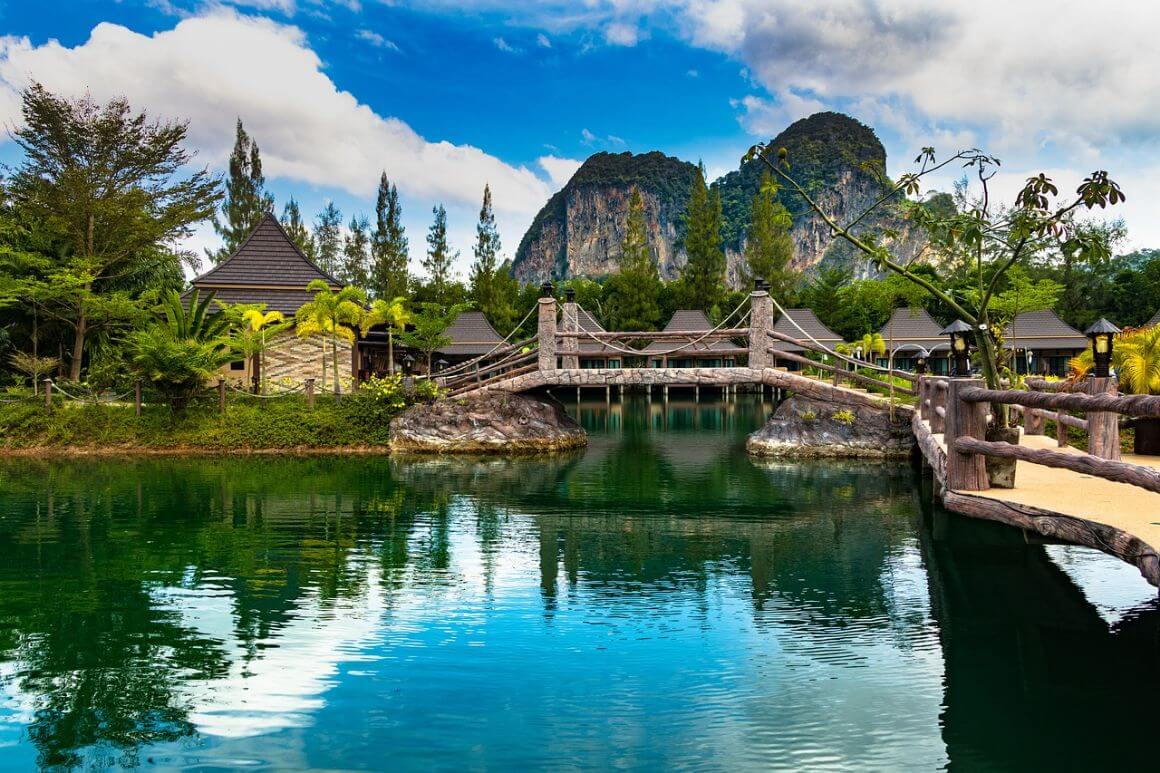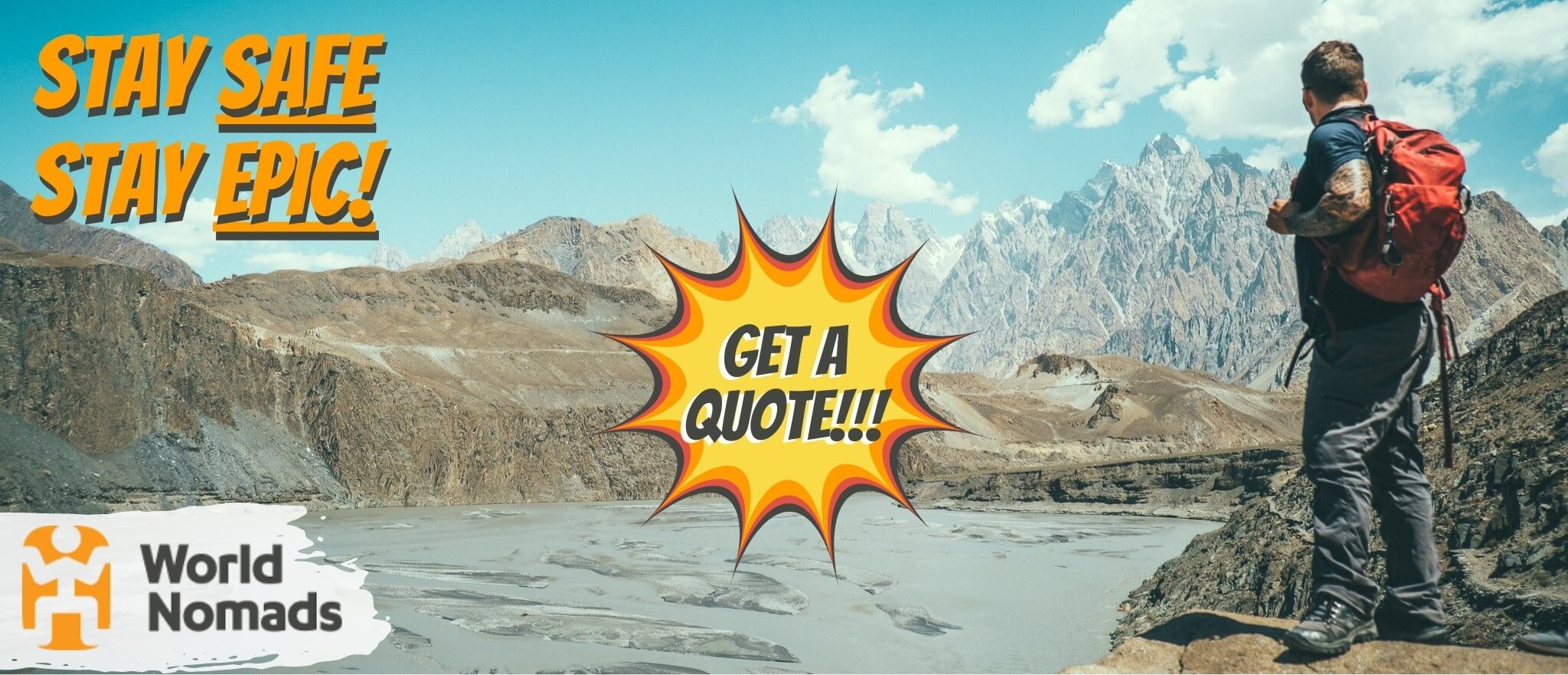 World Nomads' mission is to support and encourage travellers to explore their boundaries. They offer simple & flexible travel insurance, and safety advice to help you travel confidently.
They've been doing it since 2002 – protecting, connecting, and inspiring independent travellers just like you.
Get a quote below or read our in-depth review!
World Nomads provides travel insurance for travelers in over 100 countries. As an affiliate, we receive a fee when you get a quote from World Nomads using this link. We do not represent World Nomads. This is information only and not a recommendation to buy travel insurance.
---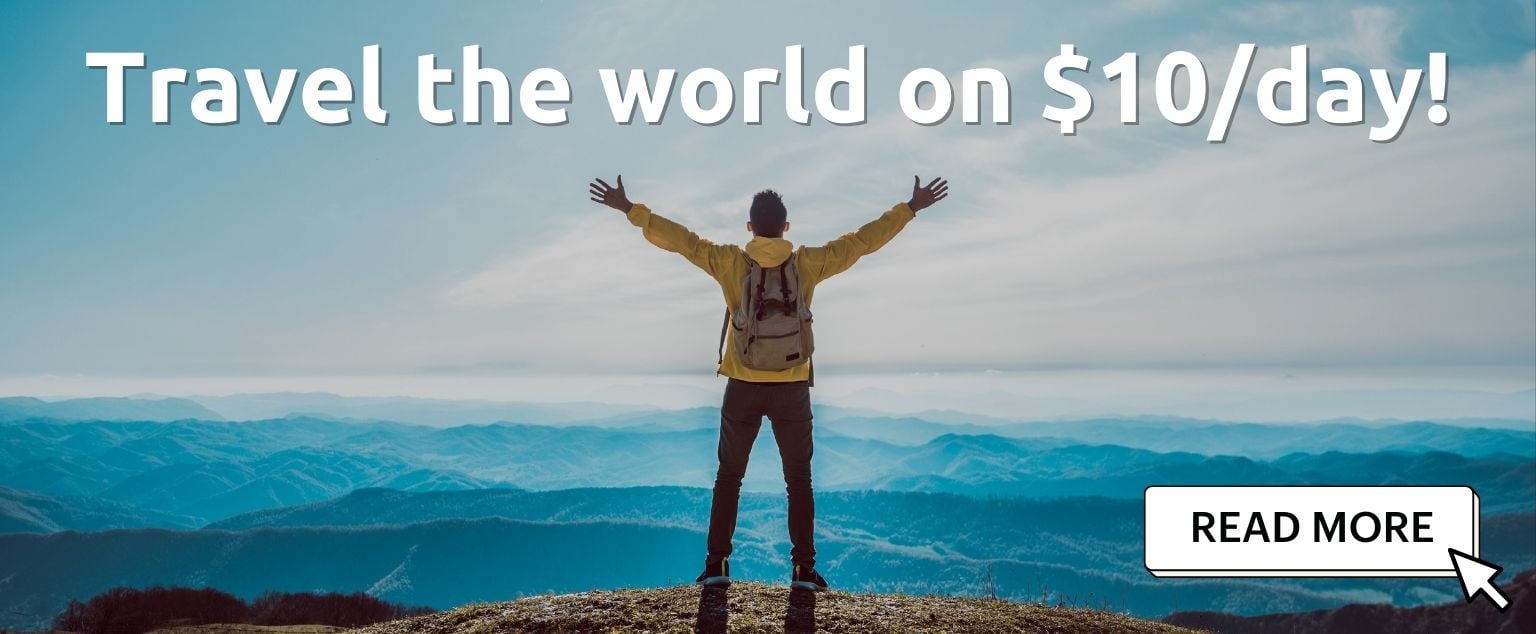 And for transparency's sake, please know that some of the links in our content are affiliate links. That means that if you book your accommodation, buy your gear, or sort your insurance through our link, we earn a small commission (at no extra cost to you). That said, we only link to the gear we trust and never recommend services we don't believe are up to scratch. Again, thank you!