Pai is nestled high up in the beautiful mountains of Northern Thailand, just a three-hour drive from Chiang Mai. This incredible town attracts everyone from backpackers to flash-packers, hippies to nature lovers, musicians, artists, adventure enthusiasts and everyone in-between.
The best things to do in Pai Thailand are off the beaten path and not your regular Thai tourist attractions. I like to call it the 'Pai hole' because once you arrive; you won't want to leave. I originally came to Pai for five days and ended up leaving six months later… It's like you're stuck on an island, just minus the beach and add mountains, jungle, waterfalls and hot springs.
Pai is the type of place you intend to stay for only a few nights and end up leaving a month later, that's the beauty of it. The best things to do in Pai are just a short motorbike ride away, so jump on that bike and explore for yourself.
Just be warned, some of the roads are pretty sketchy. It's quite normal to see travellers strolling around Pai, bandaged up like a mummy. People do crash on the roads here, so wear your helmet, don't drive drunk & use your common sense!
Follow the Broke Backpacker's Pai travel guide for insider tips on the best things to do in Pai.
There are many hostels in Pai, but what hostel is best for you? If you're looking for the best budget hostel option, check out Tribal Pai Backpackers, it's by far the cheapest hostel in Pai. Tribal has such a chilled, laid-back but social vibe with mountain views, hammocks, and a large garden.
Buzza's is a great hostel for solo travellers who are looking for their home away from home. They have regular BBQ dinners, trivia/movie nights and chef Zingh cooks the most incredible food!
If you're looking for party vibes, then definitely check out Common Grounds Hostel. They're located right in the central area of Pai town and are known for their boozy bar crawl.
If you're looking for an environmentally-friendly place to stay, consider choosing an Eco-resort in Pai where your contributions go towards conserving the environment and supporting the local community.
Valhalla is literally off a beaten path in the jungle of northern Thailand and it a bit of a hippy commune. You can sleep in a treehouse, hammock or camp far away from the craziness of town. If you're into trekking, the Mae Yen Waterfall hike starts here at Valhalla, you can always crash here for the night after your big hike.
For loads of great information, check out our guide to the best hostels in Pai for backpackers.
This beautiful cottage is located close to the river, in the Northern area of Pai. You'll have the whole cottage to yourself.
Stepping out of your front door, you can enjoy the incredible view and sunrise every morning. There's a nice common area (called clubhouse) and even an outdoor pool.
Since the Airbnb is a bit further from the main city, we'd recommend renting a scooter to get from A to B fast and easy.
Let's cut to the chase and talk about what you have to do in Pai when you visit! Here are my top fifteen suggestions…
1. Sunset at Pai Canyon
Watching the sunset at the canyon is one most famous things to do in Pai. It's dubbed the grand canyon of Thailand and although it's not comparable to the Grand Cayon itself, I've never seen anything like this before in my life. You can spend hours navigating your way through narrow paths, getting lost in nature & scrambling up the canyon walls.
It boasts an incredible 360-degree view of the surrounding mountain range & is quite an adventure in itself. There are some cool lookouts with sheer 30m drops to the ground, for all you thrill seekers out there! The hike is not for the fainthearted and will require all your limbs to climb and navigate your way through the canyon. If you plan to wear something nice and look cute, think again… You will be filthy by the end, so make sure to pack decent walking shoes.
My suggestion is to get there well before sunset, find a nice spot to sit, enjoy the sunset, smoke a joint and people watch. You'll get a good giggle out of the tour groups who flock in at sunset with their selfie sticks, taking photos of random things and people. The Canyon is one of the best things to do in Pai at sunset, see for yourself.
2. Discover Natural Hot Springs
One of the best things to do in Pai is visiting one of the many natural hot springs. The Sai Ngam hot springs (also known as the secret hot springs) are run by the local Karen hill tribe, who showed me where to find mud that's rich in minerals.
We lathered our body in mud and waited for it to completely dry before washing it off. My skin was so soft and smooth afterwards, I couldn't believe it. There are so many natural health benefits associated with hot springs thanks to the high levels of magnesium, sodium and sulphur thanks to the geological conditions.
There's a bunch of different hot springs around Pai, but the best, most natural & cheapest one is Sai Ngam. Entry is only 40 Bhat, compared to 300 Bhat at the super touristy Tha Pai Hot Springs plus the drive to Sai Ngam goes through the incredibly beautiful national park!
3. Chase Waterfalls
There's nothing more disappointing than chasing waterfalls, only to find out that it's packed with people. The best things to do in Pai are off the beaten path, so screw the tourist hot spots and go on a real adventure!
Mo Paeng Waterfall is pretty cool because you can slide down the natural, slippery rocks into the pool below. The only downside is the amount people around, as the tours all stop in here.
Pambok Waterfall is a little less touristy however, it tends to be covered in shade majority of the time. Cool off on a hot day by jumping off ledges into the depths below (always check the water depth first). If you want to find the secret 'locals only' waterfall, follow the path up the mountain behind Pambok waterfall (shhh you didn't hear it from me).
Mae Yen Waterfall is so off the beaten path that it will be a 3-hour hike through the jungle away from civilization! It begins at Valhalla, I'd suggest stopping in after your hike for a beer or even staying the night in the jungle. It's one of the best off the beaten path things to do in Pai!
4. Explore the ancient Tham Lod Cave
Tham Lod is without a doubt one of Thailand's most impressive caves and one of my favourite things to do in Pai. Tham Lod is on the road to Mae Hong Son about 45 minutes from Pai Thailand. The drive is incredible with winding roads up the mountains and an incredible viewpoint called Kiw Lom. One side of the road looks over the border of Myanmar, the other looks over the valleys and mountains of the valley of Pai Thailand.
The Tham Lod cave system is a massive 1.5km, with the Nam Lang River flowing through it. The cave is home to many limestone stalactites and stalagmite formations, bats, wall paintings and even ancient teak wood coffins, believed to have been carved thousands of years ago. Bamboo rafting is the only way to access the back part of the cave (there are 3 sections of the cave). It's quite an awesome experience as you have hundreds of huge fish swimming along side you. Tham Lod Cave is without a doubt one of the best things to do in Pai!
Tham Lod Cave Costs:
Free Entrance + local guide who carries a lantern – 150b for 3 people
Bamboo rafting (wet season only) – 300b for 4 people
Fish food – 20b
5. Climb to the White Buddha
Wat Phra That Mae Yen, more commonly known as the White Buddha is located on a hill facing the town of Pai Thailand. It's a lovely 2km walk from town with 353 steps to the top. If you're looking for things to do in Pai Thailand, the White Buddha faces west and has an epic view at sunset. Just be respectful, wear appropriate clothing (knees and shoulders covered) and take your shoes off at the top as it's a sacred religious spot.
6. Relax at Fluid Swimming Pool
Fluid Swimming Pool is one of the best things to do in Pai on a hot, hungover day. It's a huge 25m pool with sun umbrellas and cabana's, so you have the option of sun or shade. The music, food and drinks here are incredible and it's just got a great overall vibe. You can either have a chill day here reading a book or get day drunk and party with your new mates from the hostel.
7. Blow your mind with mushroom magic!
Pai is known as this hippy town with jungle raves and psychedelics galore. Most travellers try their first magic mushrooms shakes here, it's actually quite well known on the backpacker scene and one of the more common things to do in Pai.
The magic mushrooms are a crazy trip that opens your mind and connects you with nature, however, this isn't for everyone. Many people aren't mentally ready to open their mind to this (which is understandable), or they have too much & freak out.
Things to remember before taking Magic Mushrooms:
– They take about 30 minutes to kick in and creep up on you!
– It's not about how much you have, but how strong the mushrooms are as every mushroom has a different level of potency
*Disclaimer* Magic mushrooms & Marijuana are illegal in Thailand. This is purely a fabricated story, I am not in any way, shape or form condoning the use of illicit drugs.
8. Take Thai Cooking Classes
Learn to cook authentic Thai food at Pai Cookery School! You get the full Thai experience from buying the product at the local market to cooking and learning recipes in the kitchen. They put a big emphasis Thai herbs, how they're not only used for cooking but also as medicine. It's one of the things to do in Pai where you actually learn a new skill and can take it home with you, impressing your friends and family with your new chef abilities.
9. Party on bar street!
Bar street is by far the best place to party and one of the best things to in Pai Thailand. Try a local craft beer at Jiko Beer, listen to live jazz music at Mojo, play a game of pool at Yellow Sun or have a shot of Sangsom at Mountain bar while listening to some of the most talented local live musicians around.
If you're looking for the cheapest/strongest drinks in town, check out Boom Bar's happy hour, Paeng makes the most delicious cocktails. Boom is one of the few places to dance with a live DJ & beer pong competitions every night. There is usually an event happening every night in Pai, just look out for the flyers getting passed around town to see whats on.
10. Land split
If you're heading to Pam Bok Waterfall, you may as well pop this into your Pai travel guide. The land split is a crack in earth caused by earthquakes a few years back and soil erosion. When you walk in you can see some pictures of the land before and after the two earthquakes, it's crazy seeing how much it's changed.
The land split is a cool little place that the farmers have turned into a bit of a tourist attraction. You walk past the orchard on the land split loop and can even check out the gap in the earth. They offer you samples of fresh fruits, jams, Rosella juice for a donation and even sell incredible Rosella wine. Broke Backpacker tip: ask for your wine in a plastic water bottle opposed to a glass bottle it's a good 150b cheaper!
11. Chill out in a hammock
Chilling in a hammock is one of the most relaxing things to do in Pai! Read a book, take a nap, get in touch with your friends and family back home or watch a movie on your phone. Hammock chills and lazy days are the absolute best things to do in Pai. Hostels like Tribal Pai have hammocks scattered everywhere, there are some awesome places with hammocks and a wicked view perfect for sunset too!
12. ETHICALY interact with Elephants
There are so many unethical Elephant camps here in Pai, you can't miss them as you drive around town. It made me sick to my stomach seeing elephants chained down and stuck in these tiny pens all day, or even worse people riding elephants on the road. You can see Elephants without supporting these cruel and unsustainable practices at Conserve Natural Forests, it's one of the best things to do in Pai.
Conserve Natural Forests is a not for profit NGO who are dedicated to ethical elephant tourism and preserving the environment. They buy their elephants from unethical places, like elephant camps and bring them to their conservation site.
They're rather different to an Elephant sanctuary, as the sanctuaries keep the Elephants for their entire life. After the elephants have a baby and the babies ween off their mother (~3 years), Conserve Natural Forests partner with the Elephant Reintroduction Foundation to relocate them to a refuge or national park so they can live naturally in the wild, Its called Elephants Return to the Forest.
I'll end this by saying DON'T RIDE ELEPHANTS AT TOM'S ELEPHANT CAMP.
13. Take yoga or Muay Thai classes
Wisharut Muay Thai in Pai offers both Yoga and Muay Thai classes for all levels. I like this place as it's outside of town, surrounded by beautiful rice fields and nature. Hannah is an awesome yoga teacher there, who is full of knowledge and wisdom. The boys who run the Muay Thai gym compete professionally and have won some prestigious titles. If you're looking to stay active, this is one of the best things to do in Pai to keep you fit and healthy!
14. Bamboo Bridges
If you're looking for nature galore, definitely check out the rice fields and bamboo bridges in Pai Thailand. You walk over these rickety, winding bamboo bridges surrounded by lush rice patties. Follow the bamboo bridges into the foothills of the mountains to discover a Buddhist monastery. Make sure you go in wet season when the rice fields are green, lush & flowering!
15. Watch sunrise from the Chinese Village
Shandicun aka the Chinese Village definitely has one of the best views in Pai, especially at Sunrise. It overlooks the whole valley and faces east where the sun rises up above the mountains. Entrance to the viewpoint is 20b and includes unlimited free tea. If you're heading out to the Chinese Village for sunrise, you may want to go to Mo Paeng waterfall after, as it's just down the road.
Let's make sure that you know everything you need to before you visit Pai! Here are some other considerations…
What to Do for Food in Pai
If you're looking for a culinary dégustation, then you've come to the right place. One of the best things to do in Pai is stuff your face with the most delicious food at the night market on walking street. Dabble in a range of cuisines that isn't just Thai, with lasagne, bruschetta, crepes, tea leaf salads, grilled BBQs and SO much more.
If you do one thing while you're in Pai, head to Ganesh House and try their famous Khao Soi! It's a Thai coconut curry noodle soup that is only found in the North of Thailand, you can thank me later. Penn's Kitchen also has incredible reasonably priced Thai food, make sure you try her Penang Curry.
How to Get Around Pai
To travel from Chiang Mai to Pai, take the Route 1095. This road is famous for its windy roads, with approximately 762 turns through mountains, jungle, and farmland. If you suffer from motion sickness, then it's not going to be a fun ride, so pop those pills and bring your barf bag because you're in for a wild ride.
You have a couple of options for transport, either catch a minibus or rent a motorbike/scooter to get to Pai. Rather than just rocking up at the bus stop in the hope they will have space to fit you on, you can now book tickets in advance for Pai using Bookaway. The minibus is approximately 3 hours from Chiang Mai to Pai and will set you back around 150-200 Bhat.
I suggest motorbiking from Chiang Mai to Pai, you can take it at your own pace and stop to take in the breathtaking views! Although it's an amazing drive, it can be incredibly dangerous on a motorbike. Cars overtaking at blind spots, minibuses cutting corners and trucks veering ever so close to your motorbike. Don't be freaked out, it's all part of the adventure! Just wear your helmet, don't try attempt the drive at night and you'll be sweet!
If you rent your motorbike or scooter through AYA Service in Chiang Mai, you can drop it off at AYA service in Pai. The fee is 300 Bhat plus the rental cost and includes free bag transfers. Rentals start from 120 Bhat and upwards, you may choose to leave a 2,000 Bhat deposit or your passport.
I recommend booking transport well in advance if you're planning to visit Pai in high season (November-February).
Being a Responsible Backpacker in Pai
Climbing on temples, chugging Chang beer while shirtless walking down the street, swearing loudly and visiting unethical animal attractions? You're a stupid, disrespectful Farang (meaning: foreigner – pronounced: falang). Luckily, most backpackers don't fall into this category but, when you're out and about and have had a few too many drinks, it can be easy to embarrass yourself.
If you're not into seeing the temples, no worries but don't be disrespectful, inappropriate or deface them – certainly, do not try to wander in shirtless, dressed inappropriately or try to climb on-top of the White Buddha to get a "better view". Wear appropriate clothing to the temples, shoulders and knees should be covered for both males and females.
Realise that the King and all the Royal Family are held in the utmost regard by all Thai people. It is a crime to "defame, insult or threaten the king, the queen, the heir-apparent or the regent" you will be prosecuted and may end up on TV featured in 'Locked Up Abroad'. This applies to money, photographs or any object bearing the King's image. Most importantly do not put your foot on money!
Feet are considered the lowest and dirtiest part of your body, so never point your feet at anyone, don't rest your feet on a chair or table and always remove your shoes before entering into someones home. Don't touch someone's head, although the Thai kids are bloody adorable, don't pat or ruffle someones hair, as heads are considered the most sacred part of the body in Thailand.
Go to Pai Thailand and have the time of your life, do the things you've dreamed of but be respectful along the way. Travelling the world makes you an ambassador for your country, which is awesome. We can make a positive impact on people when we travel and get rid of any ugly farang stereotypes that may be associated with your country…
A Special Note on Drinking
It's quite easy to get carried away in Pai, everything is so damn cheap and so much fun. I'm in no way the perfect traveller; I've been the drunken Farang on the street and I know first hand just how hard it is to be the one person in a group to say no, when somebody comes up with a stupid idea that, for some reason, everyone else is down for.
By no means am I'm telling you not to drink, smoke and party. Do it and love it. Just don't get so drunk you turn into an imbecile your mum would be ashamed of. If you can't handle drinking buckets, then stick to beer.
Staying Safe in Pai
Wear a helmet when you hop on a motorbike & don't drive drunk! You don't want to be that person who's hobbling down walking street, mummified in bandages and unable to make the most of boom bars cheap happy hour. The local people are sick of scraping farangs off the road, so don't attempt to drag race down walking street or drive like a dick.
Although the locals are incredibly talented at fitting their whole family onto their motorbike, don't try attempt it drunk with your mates on your way back to the hostel. Chances are your balance is nowhere near as good as theirs and you'll probably crash, ruin your rented scooter and have to fork out hundreds of dollars to pay for the damage, just because you wanted to look 'cool' in front of your friends.
The water quality isn't the same as back home, so I'd avoid drinking tap water unless you're ready to be pissing out your ass. Embrace the bum gun, it's far more hygienic than wiping your ass with your hand and is way better for the environment anyway.
Don't drive your motorbike with any illegal substances on you, there are regular police checkpoints near attractions like the waterfalls and hot springs.
Be sure to check out our in-depth report of travel tips and safety advice for Thailand to stay out of trouble.
Don't forget your travel insurance for Pai
ALWAYS sort out your backpacker insurance before your trip. There's plenty to choose from in that department, but a good place to start is Safety Wing.
They offer month-to-month payments, no lock-in contracts, and require absolutely no itineraries: that's the exact kind of insurance long-term travellers and digital nomads need.
SafetyWing is cheap, easy, and admin-free: just sign up lickety-split so you can get back to it!
Click the button below to learn more about SafetyWing's setup or read our insider review for the full tasty scoop.
Here are some quick answers to common questions about what to do and see in Pai.
Everybody deserves to travel so even if you're broke, don't let that stop you. Here are some top tips for exploring Pai on a budget…
Camp: Camping is a great alternative to hostels in you're on a broke backpackers budget. Some hostels like Tribal Pai Backpackers even offer camping if you BYO tent. You can also camp near the waterfalls, hot springs or out in the jungle, it's one of the great off the beaten track things to do in Pai. Check out this post for a breakdown of the best tents to take backpacking.
Cook your own Food: Stock up on some simple basics at the local market in here Pai Thailand and cook your own feast. I have a small Gas Cooker which I take throughout my travels, it saves you a fortune!
Eat Locally: Sometimes the local food ends up being cheaper than actually cooking your own meal (depending what you eat). Check out the local street food near the undercover market, the guy in front of the post office has the best Pad Thai I've ever tasted for only 35b and the serving size is huge!
Be your own tour guide: Pai is a great place to explore by yourself, you don't need to pay a tour guide to heard you around like sheep just to experience all the best things to do in Pai. The motorbike/scooter rental places have free maps, with all the attractions & best things to do in Pai.
Hitchhike: Hitching to Pai is quite easy and common, as route 1095 goes all the way from Chiang Mai to Pai. Just stand near the gas station in Pai with a sign, preferably in Thai and English and you will get a lift easy!
---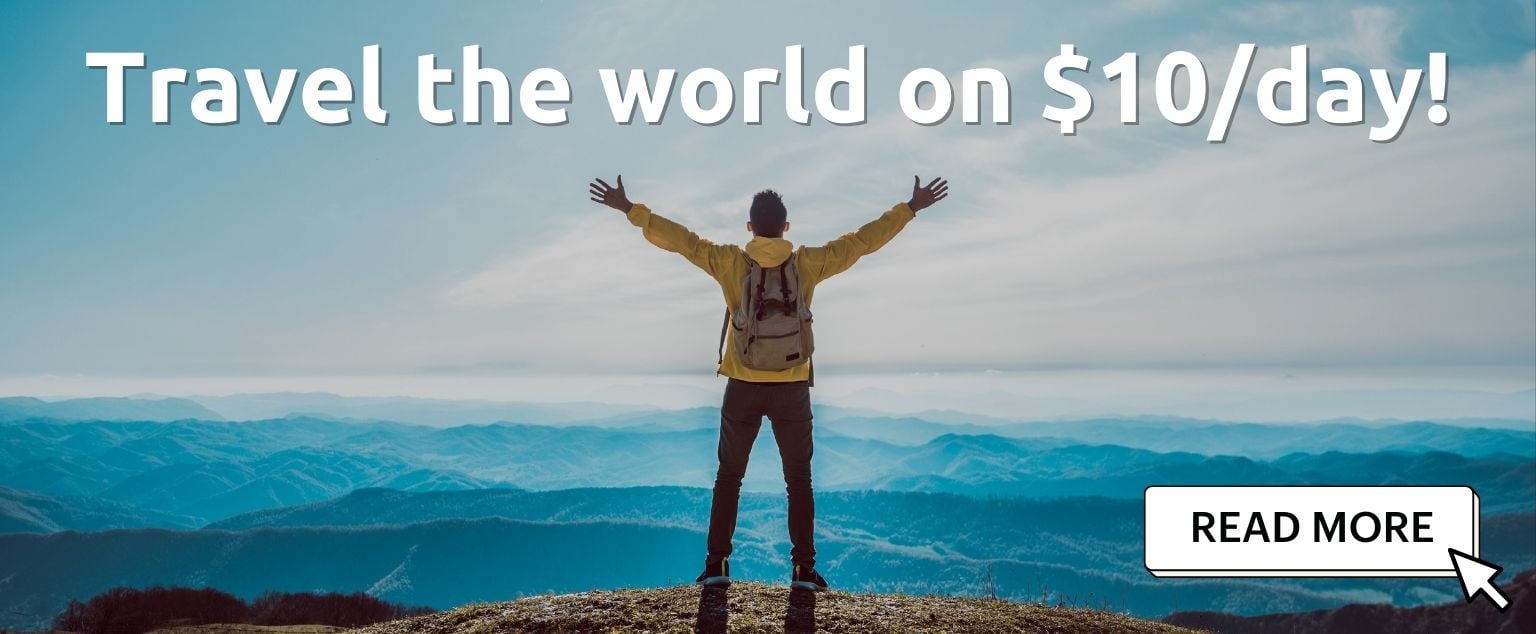 And for transparency's sake, please know that some of the links in our content are affiliate links. That means that if you book your accommodation, buy your gear, or sort your insurance through our link, we earn a small commission (at no extra cost to you). That said, we only link to the gear we trust and never recommend services we don't believe are up to scratch. Again, thank you!