Chiang Mai is a haven for expats and backpackers. This part of Thailand is filled with temples, spicy food, and a culture that's warm, welcoming, and delightfully foreign. If you're looking for places to visit in Chiang Mai during your trip, you'd better have plenty of time available for the explorations.
But Chiang Mai has its difficult side too. Unfortunately, this country has become known for the kind of travel that's exploitative and unpleasant. A small number of travelers go there for less savory activities. In fact, if you read the news, you might think that's all there is to do in this country. But that's why we've created this list, to prove that you can have a great time without being part of the unsavory scene.
Need a place quick? Here's the best neighbourhood in Chiang Mai:
BEST AREA IN CHIANG MAI
Chiang Mai's Old City
Literally, walled-in, if you are wondering where to stay in Chiang Mai -this is the most popular option. It's great for your first Chiang Mai itinerary. The Old City is often the cheapest place to stay in Chiang Mai, with a plethora of backpackers' hostels and budget guesthouses, so this is also our pick for where to stay in Chiang Mai on a budget.
Relax and feed the pigeons at Suan Buak Hat Park
Visit Chiang Mai's oldest temple: Wat Chiang Man
Shop like a local at Somboon Market
These are the BEST Places to Visit in Chiang Mai!
There's more than just Chaing Mai's old city in this bustling metropolis. If you're curious to see more, be sure to check out where to stay in Chiang Mai. And then, dive into the fun below!

Unlock Our GREATEST Travel Secrets!
Sign up for our newsletter and get the best travel tips delivered right to your inbox.
#1 – Wualai Walking Street – A great place in Chiang Mai if you love to shop!
This is one of the best hotspots in Chiang Mai if you want to shop without the crowds.
This market is held every Saturday night and is quieter than some other options in Chiang Mai.
Why it's so awesome: Markets are great, but they can get incredibly crowded. If you want a fun and lively market that isn't as packed as the rest, then show up on Wualai for the Saturday market. It opens in the later afternoon and runs until late.
What to do there: This market is a little smaller, which is why you won't have to fight your way through the crowds. This is a strolling market, where you'll find a good array of goods and food stalls without the claustrophobic crush of other markets in the city. This peaceful atmosphere is what makes this market one of the best places to visit in Chiang Mai.
#2 – Wat Phra That Doi Suthep – One of the most religious places to see in Chiang Mai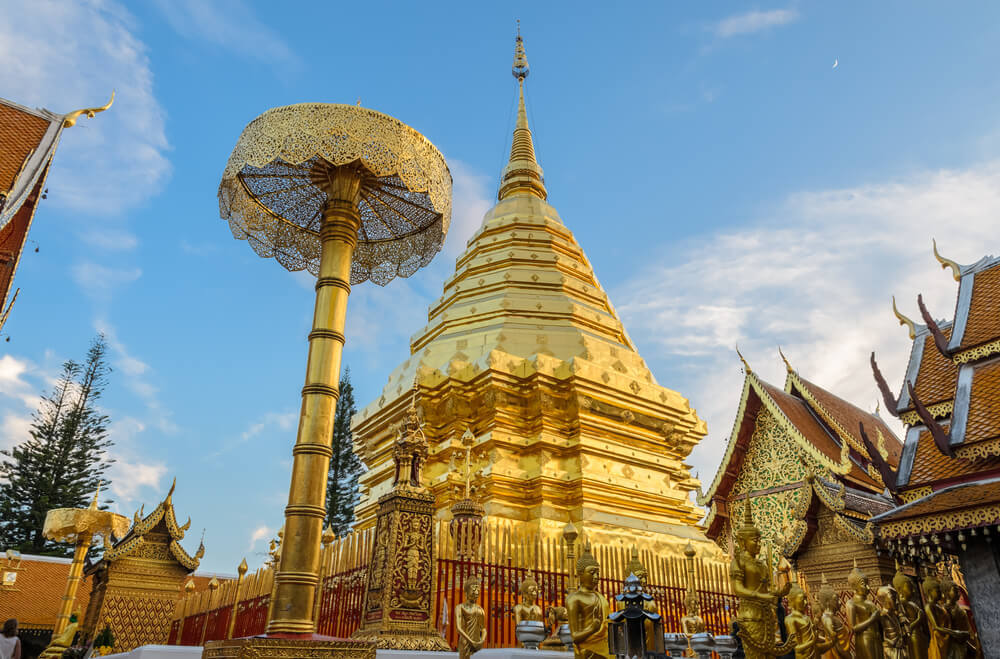 This temple is a Chiang Mai must see!
Visiting temples can get a little monotonous, so if you're only planning to see one then make it this one.
Why it's so awesome: This temple is one of the most popular tourist attractions in the city to be found on every backpacking Chiang Mai travel guide. It also contains an important seated Buddha statue as well as a myriad of statues throughout the gallery. The entire building is ornately decorated in the Chiang Mai style, and there's a museum on-site if you want to learn more about the history and religion of the area.
What to do there: It's quite a hike up the mountain to the temple, but doable as long as you have a reasonable level of physical fitness. You can also rent a motorbike or hire a songthaew, one of the red trucks that function as cabs in Chiang Mai. Once you get there, you'll have to climb the steps up to the temple so you can explore the site. There are vendors outside selling souvenirs and snacks as well, so stop by them if you get overheated and need a break.
#3 – Doi Inthanon – A beautiful and scenic place to check out in Chiang Mai
Chiang Mai is famous for its lush natural surroundings, and this area will show you why!
You can go hiking or just explore the area and take in the natural landmarks and pagodas.
Why it's so awesome: This is an awesome are to spend a day or half a day in. It's the highest peak in Thailand and is surrounded by a national park that will prove to you why Thailand is famous for its natural surroundings. But even if you don't like nature very much, there's still a lot to do and see in this area. In fact, there's too much to see on foot, so if you really want to explore this Chiang Mai must do then you will need to hire a driver or a motorbike for the day.
What to do there: There are lots of activities and things to see at this site. The hiking and trekking are great, and the paths will take you past waterfalls, pagodas, and a hill tribe village. You can also take it a little easier and hire a driver to take you round to the best spots, an option that's even more appealing on really hot days.
#4 – Chiang Mai Gate Market – A must-see for foodies!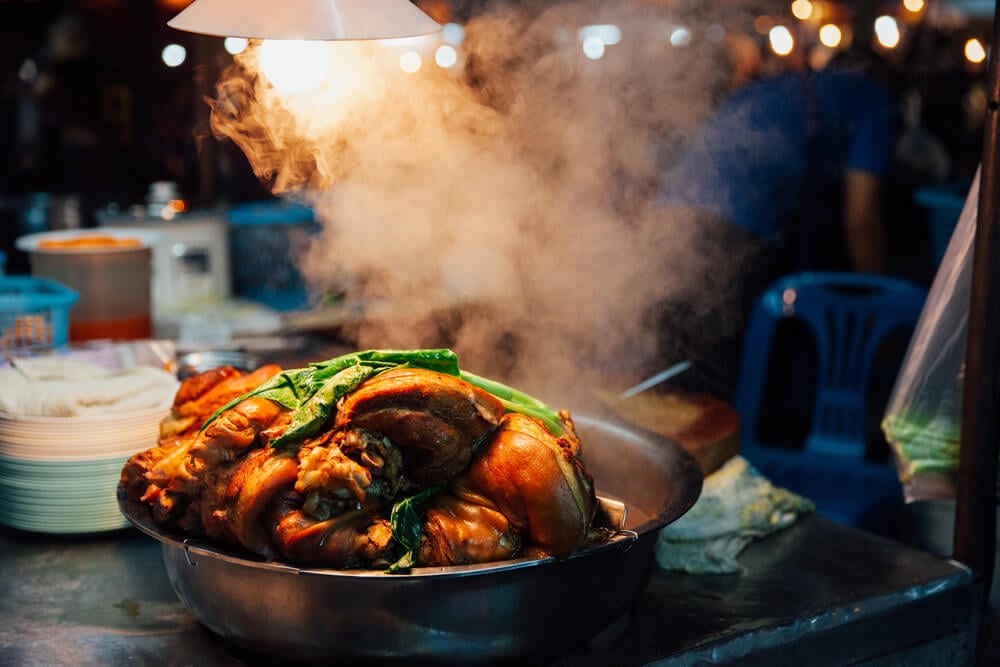 This market is absolutely iconic and one of the best places to eat in Chiang Mai.
Make sure you fast for the day before you visit this market, as you'll need the stomach room.
Why it's so awesome: This market has the most awesome food stalls in Chiang Mai and perhaps even all of Thailand. The market is held most nights of the week, but weeknights are the most popular. There are fewer vendors on weekend nights, so make sure you go when you can enjoy everything this market can offer.
What to do there: This city has some of the best food in the world, so you'll be hard-pressed not to put on weight when you're visiting Chiang Mai. But it's worth it, particularly when it comes to this market. Eat lightly throughout the day and prepare yourself for a night blowout. And once you're there, try everything that looks or smells good. Some popular offerings are the mango sticky rice, smoothies, and pad kra pow, which is a spicy meat and basil dish.
#5 – Wat Umong – One of the more unique places to visit in Chiang Mai!
A network of underground tunnels protects the seldom visited shrines in this area.
These shrines are still used by Buddhist monks, so make sure that you're quiet and respectful.
Why it's so awesome: There are a lot of temples and shrines in Chiang Mai. In fact, when you're looking for the most interesting landmarks in Chiang Mai, you'll find that most of them are temples. But these shrines are a little different because they're nestled underground, attached to a network of tunnels that were once used by a king and a Chiang Mai monk who preferred to pray underground.
What to do there: This site was first abandoned in the 15th century but fortunately it wasn't eaten by the forest. It's now open to the local Buddhist monks as well as curious travelers. The tunnels are located a few miles out of town, so you'll need to get a motorbike or arrange other transport to get there. Make sure that you book return transport too, or you might find it difficult to get back to your hotel. Once you're there, explore the tunnels and the surrounding forest as well. You'll find numerous Buddhist shrines, statues, and signs all over the area. And the hunt is partly what makes this one of the most enthralling points of interest in Chiang Mai.
#6 – Huay Tung Tao Lake – A nice non-touristy place to visit in Chiang Mai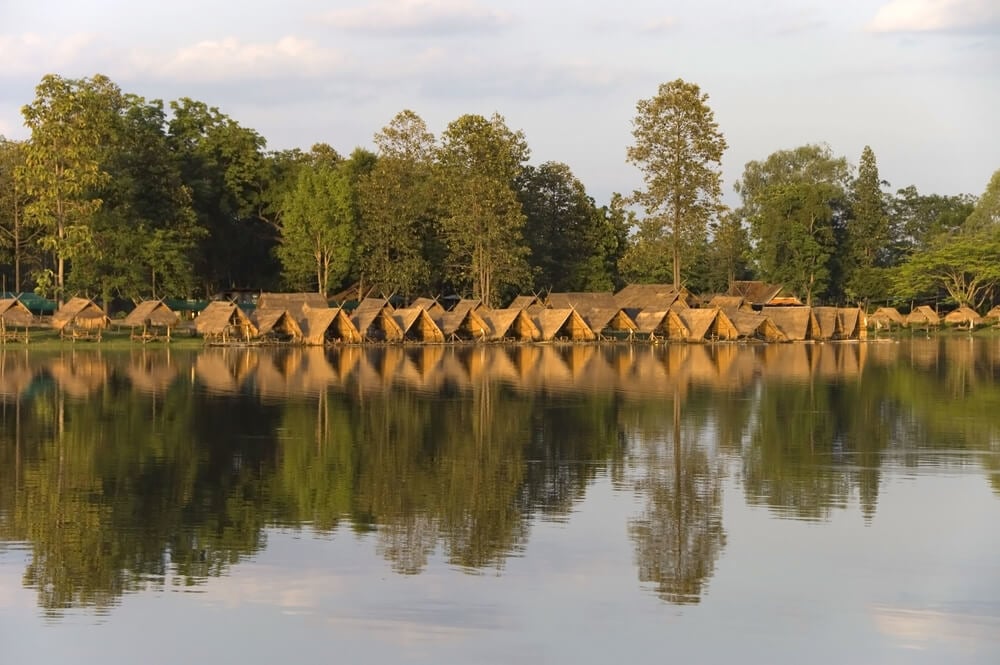 Located just outside of the city center, this is a local hangout where you'll enjoy some of the best food in the city.
The tranquil, waterside atmosphere in this area is what will really amaze you in the middle of the busy city.
Why it's so awesome: The heavily touristed areas don't usually have the best foods. If you want to try really authentic northern Thai cuisine, undiluted by the tastes of travelers, then head a few miles outside of the city center to this lake. It's where the locals gather to try some dishes, relax in the mambo huts around the water, and socialize.
What to do there: This isn't the kind of area that you want to visit with a big, loud group of intoxicated friends. The lake has a tranquil atmosphere which is what makes the locals come back night after night. So, make sure that you respect that. There are vendors offering street food dishes all around the lake. So, watch until you find one who's busy and serving something that looks delicious and eat your meal by the water. Make sure you grab a drink too because the food will probably be very spicy.
#7 – Chiang Mai Old City – One of the most amazing places in Chiang Mai!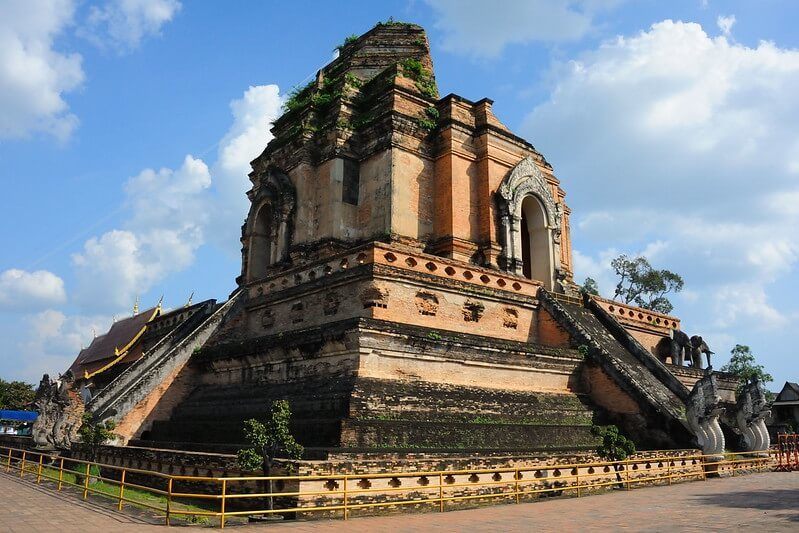 This whole area is like a living museum, and you could spend hours exploring the temples and side alleys.
You'll need a whole day to enjoy everything this area has to offer, so make sure you block out the time on your Chiang Mai itinerary.
Why it's so awesome: Chiang Mai might feel young and lively, but the truth is that it has a long and fascinating history. And much of that history still remains, cluttering the streets and looming above passersby. When you're exploring Chiang Mai, make sure you take the time to get to know the tiny slice of history that's contained in the Old City.
What to do there: This area is a maze of streets, shops, temples, historical buildings and is surrounded by some of Chiang Mai's best hostels. Fortunately, it's also a fairly small area, so you can easily explore it on foot. Set out early in the morning to avoid the crowds and the heat and enjoy the atmosphere. There are several temples in this area that are worth seeing including Wat Phra Singh, Wat Phan Tao, and Wat Chedi Luang. And there are more temples too, so just wander wherever your curiosity takes you.
#8 – Bo Sang Handicraft Village
If you like art and craft, then you need to explore where they're made in this village.
The crafts made in Bo Sang are known all over Thailand, which makes this one of the most interesting places to visit in Chiang Mai.
Why it's so awesome: Brightly colored umbrellas and parasol are found all over Thailand, and most of them come from Bo Sang Village. This is what makes this village one of the most famous places in Chiang Mai and a great idea for a day trip. You'll get to meet the local people and watch them create things you've seen all over Chiang Mai but probably never gave a second look.
What to do there: This village is located about 9 kilometers from Old City, so it's in the perfect place for a day trip. You can hire a driver or take a motorbike for the day and explore the slower pace of life in this village. You'll also see some incredible hand-painted goods and can actually tour the factory and watch them get made as well.
#9 – Lanna Folklife Museum – A fascinating educational place to visit in Chiang Mai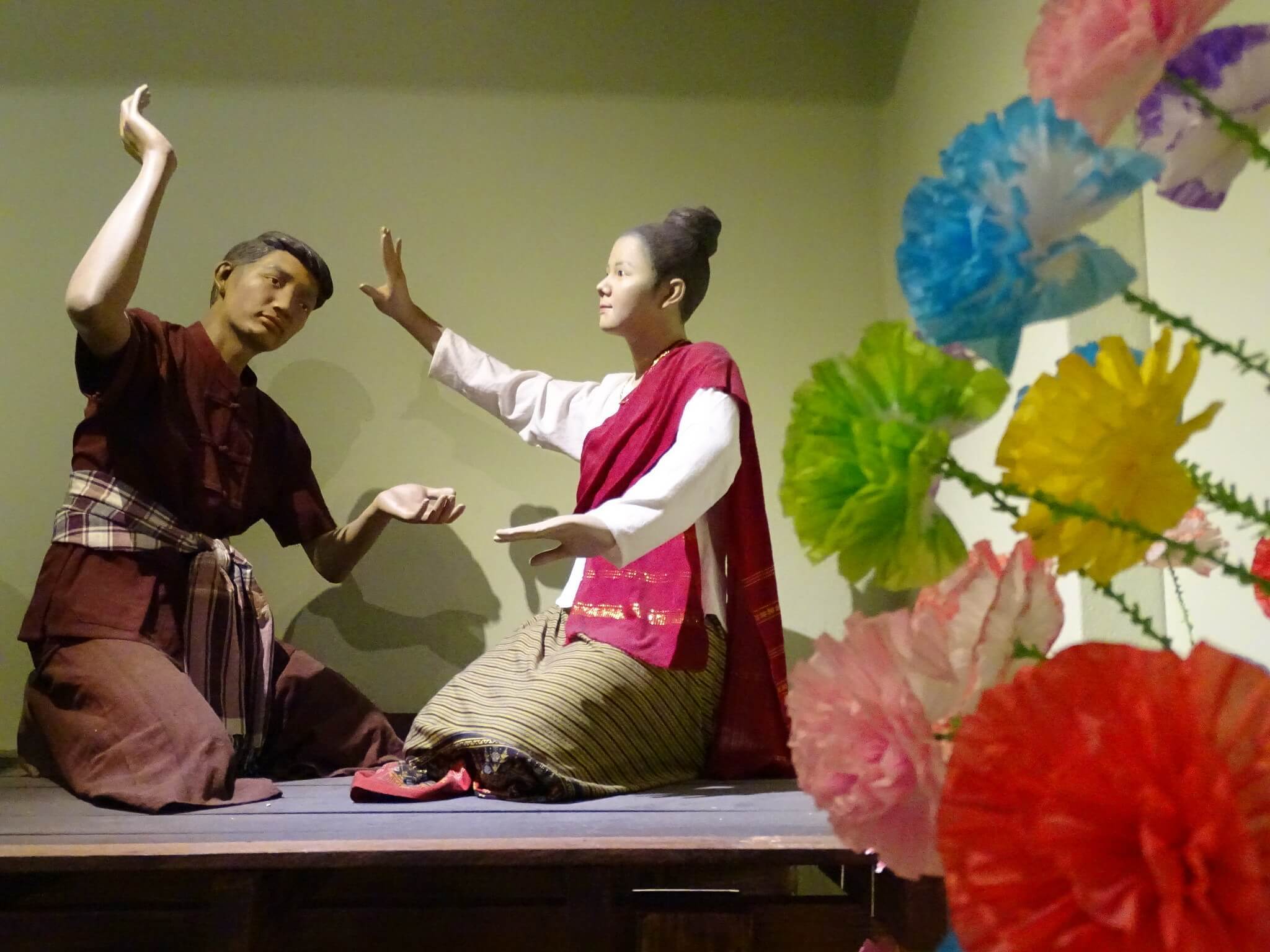 People from northern Thailand were once known as the Lanna, and this museum explores their unique history and customs.
The north of Thailand is very different to the south, and you'll learn why at this museum.
Why it's so awesome: The exterior of the museum is fairly plain. It's a white colonial building that seems unconnected to the culture around it. But once you go inside, you'll find it full of exhibits about the lives, customs, and history of the Lanna people. And the exhibits are in several languages including English.
What to do there: When you explore Chiang Mai, you want to learn about more than the bars and the temples, and this museum is your chance to do it. The building isn't large, so you won't need more than a couple of hours to see it all. And taking the time will add immeasurably to your appreciation for and understanding of the local culture.
Is This the Best Daypack EVER???
#10 – Wat Kum Kam – A great place to see in Chiang Mai if you love architecture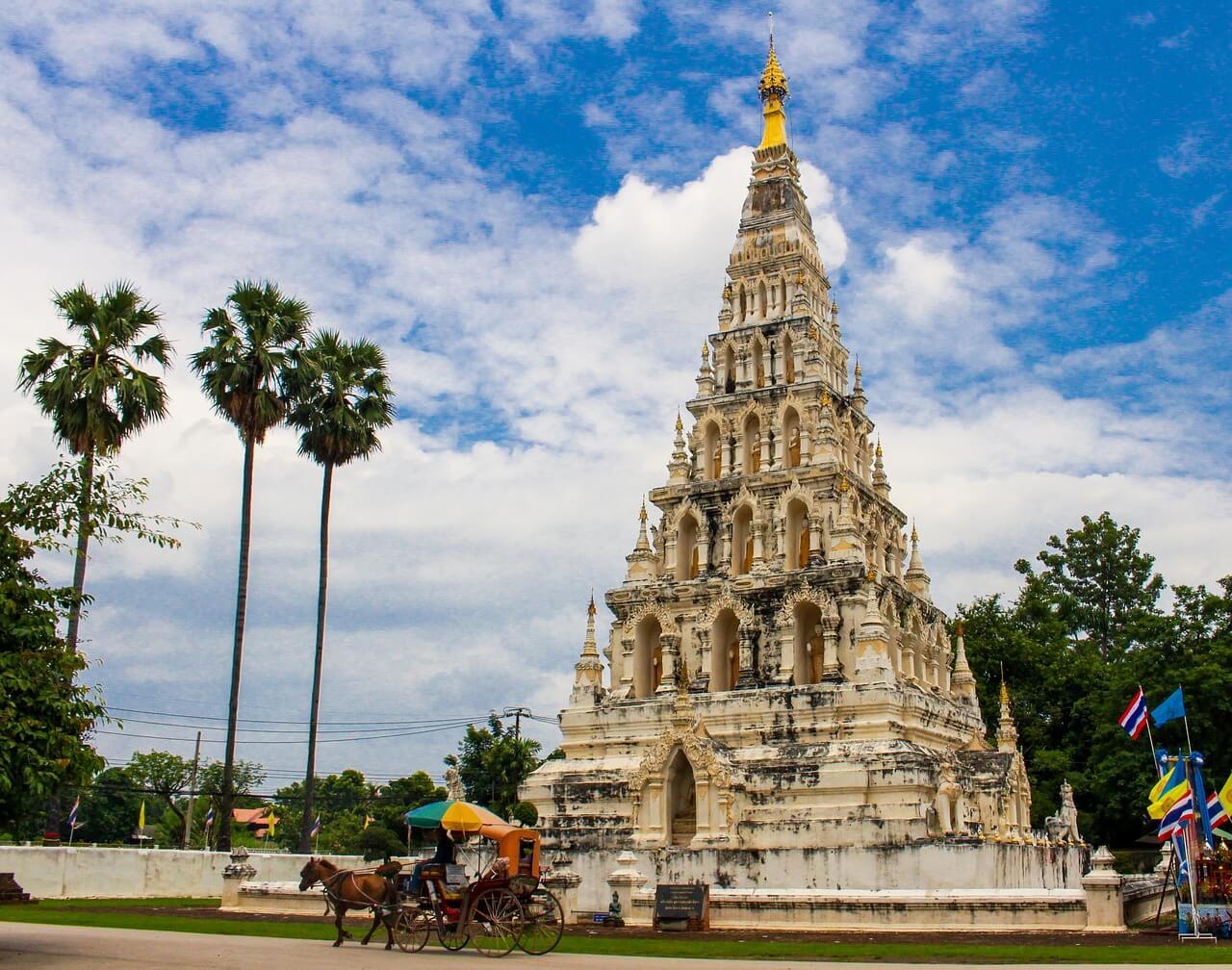 This is often known as the underground ancient city exploring the ruins is a Chiang Mai must do.
If you don't feel like walking, then take a carriage ride for a little extra spice to your visit.
Why it's so awesome: This site is located around 5 kilometers south of Chiang Mai along the Ping River. The city dates back to the 8th century and was once the capital of the Lanna Kingdom of northern Thailand. The city was long abandoned and lies in ruins now, but still contains some incredible statues, sculpture, architecture, and pottery for you to explore.
What to do there: This is a large site to explore, particularly on hot days, so you can always hire a bicycle, or have a horse-drawn carriage to take you around. But whatever form of transport you use, there's a lot to see. Wat Chedi Liam, the temple at the center of the site, is also one of the most popular landmarks in Chiang Mai. It features a Burmese style pavilion and is characteristic of the early Lanna period. You can also learn more about the Lanna people at the Cultural and Local Wisdom Center, where they have exhibits containing Lanna objects and traditional houses.
#11 – Sunday Walking Street – A great place to visit in Chiang Mai at night
This market is only held on Sundays and is the place to shop, eat, and be seen on the weekend.
If you're only in Chiang Mai for a couple of days, try to make it on a Sunday so you can experience this market.
Why it's so awesome: This market stretches for a kilometer along the main tourist area in Chiang Mai, all the way from Tha Pae Gate towards Ratchadamnoen Road in the west. From 4pm, the road's closed to traffic and fills up with stalls selling everything you could want to buy, eat, or drink.
What to do there: This market is one of the best places to visit in Chiang Mai for handicrafts of all descriptions. So, make sure you leave your Sunday evening free and head down to the market. You can shop, eat, spend some time at the makeshift bars and even get a foot massage. Also, make sure that you check out the wide range of handicrafts if you need a souvenir to take home.
#12 – Nimmanhaemin Road – Cool place to see in Chiang Mai with friends!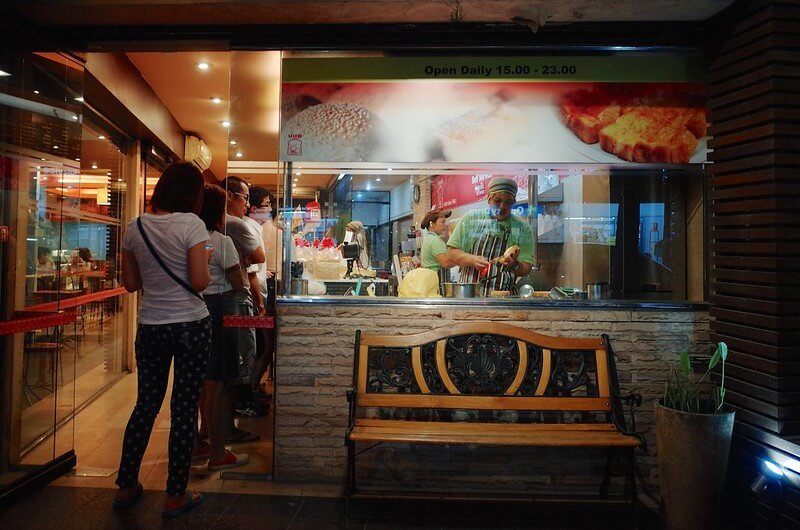 The trendiest part of Chiang Mai and the most expensive in terms of food and souvenirs.
This is the area to visit for a fun and busy night out.
Why it's so awesome: Nimmanhaemin Road is one of the most famous places in Chiang Mai for a night out. It's also incredibly trendy and surprisingly expensive compared to the rest of the city. So, be prepared to spend more on a meal. But the attractions more than make up for the expense, because you can do everything from going to the cinema to spending a night in the bars in this area.
What to do there: This is a great place to visit if you just want to wander and see what looks interesting. The street boasts a shopping mall at one end that contains designer shops, a cinema, and some famous restaurant. There are also several high-quality bars and side streets filled with interesting stores all the way along the road.
Small Pack Problems? 😉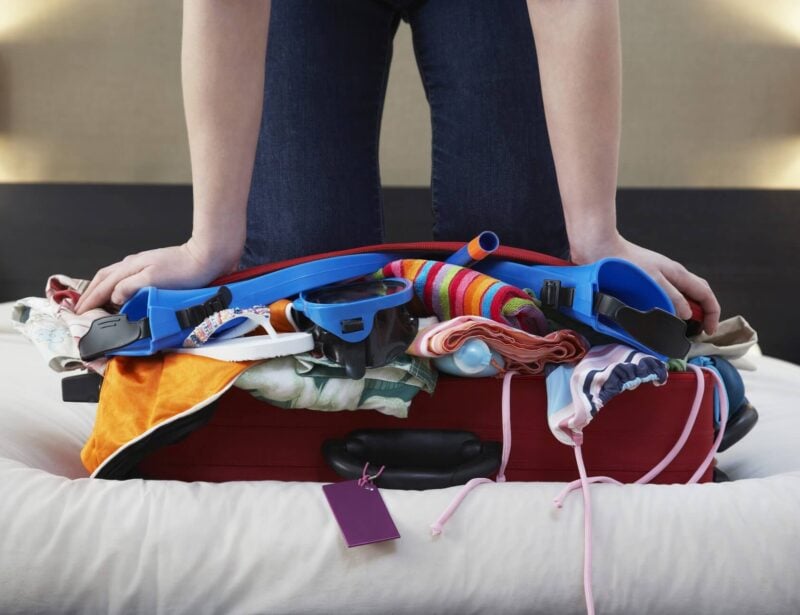 My missus travels with all her clothes in ziplock bags: don't be like my missus. UP YOUR PACKING GAME!
Packing cubes for the globetrotters and compression sacks for the real adventurers – these babies are a traveller's best kept secret. They organise yo' packing and minimise its volume too so you can pack MORE.
Or, y'know… you can stick to ziplock bags.
View Our Fave Cubes
Or Check Out the Sacks!
Get insured for your trip to Chiang Mai!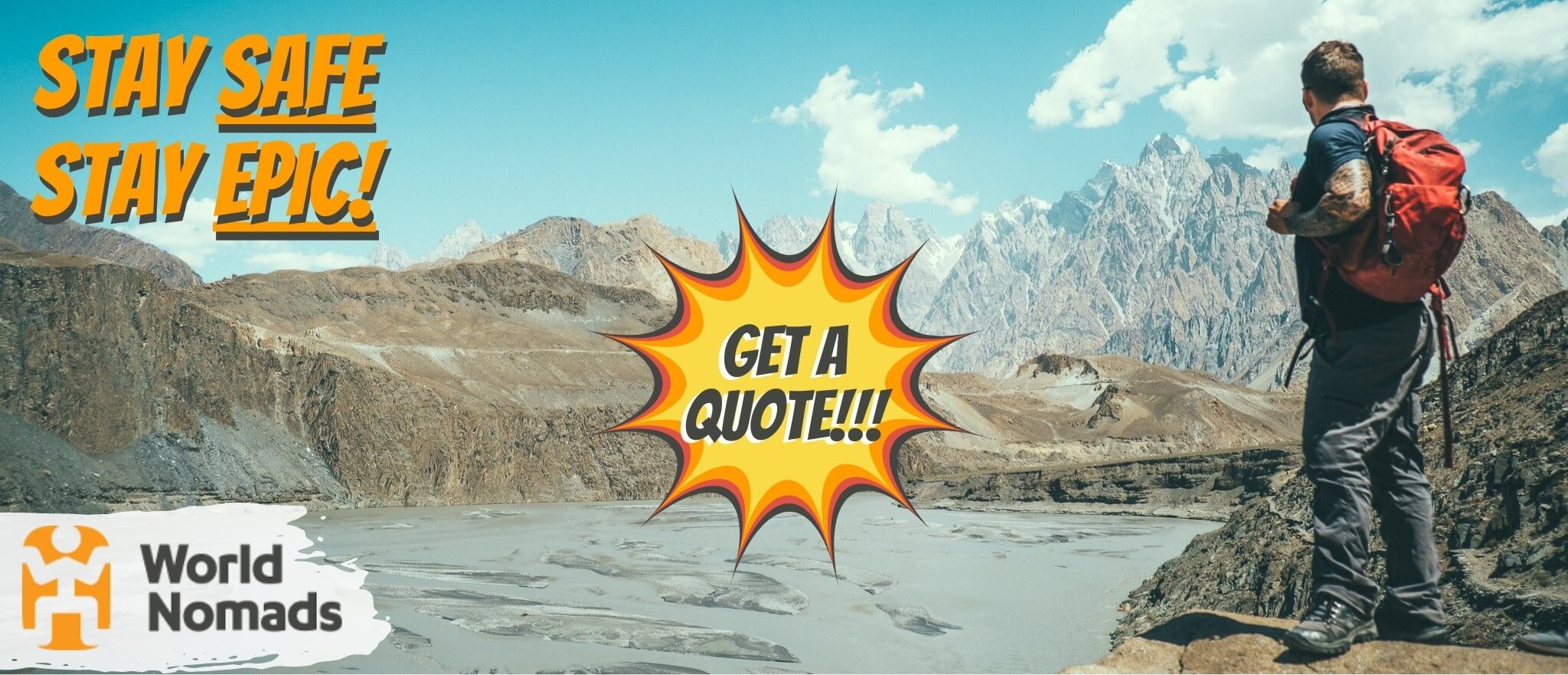 World Nomads' mission is to support and encourage travellers to explore their boundaries. They offer simple & flexible travel insurance, and safety advice to help you travel confidently.
They've been doing it since 2002 – protecting, connecting, and inspiring independent travellers just like you.
Get a quote below or read our in-depth review!
World Nomads provides travel insurance for travelers in over 100 countries. As an affiliate, we receive a fee when you get a quote from World Nomads using this link. We do not represent World Nomads. This is information only and not a recommendation to buy travel insurance.
FAQ on the Best Places to Visit in Chiang Mai
Find out what people want to know about the best places to visit in Chiang Mai
Final Thoughts on the Coolest Places to Visit in Chiang Mai
When you travel to this part of Thailand, you'll find delicious food, colorful and friendly people, and lots of amazing places to visit in Chiang Mai. And by exercising a few precautions, you'll also be able to avoid the seedier side of the city and have an active and exciting visit. If you're looking for things to do in Chiang Mai, start with this handy list and then see where your travels take you from there!
---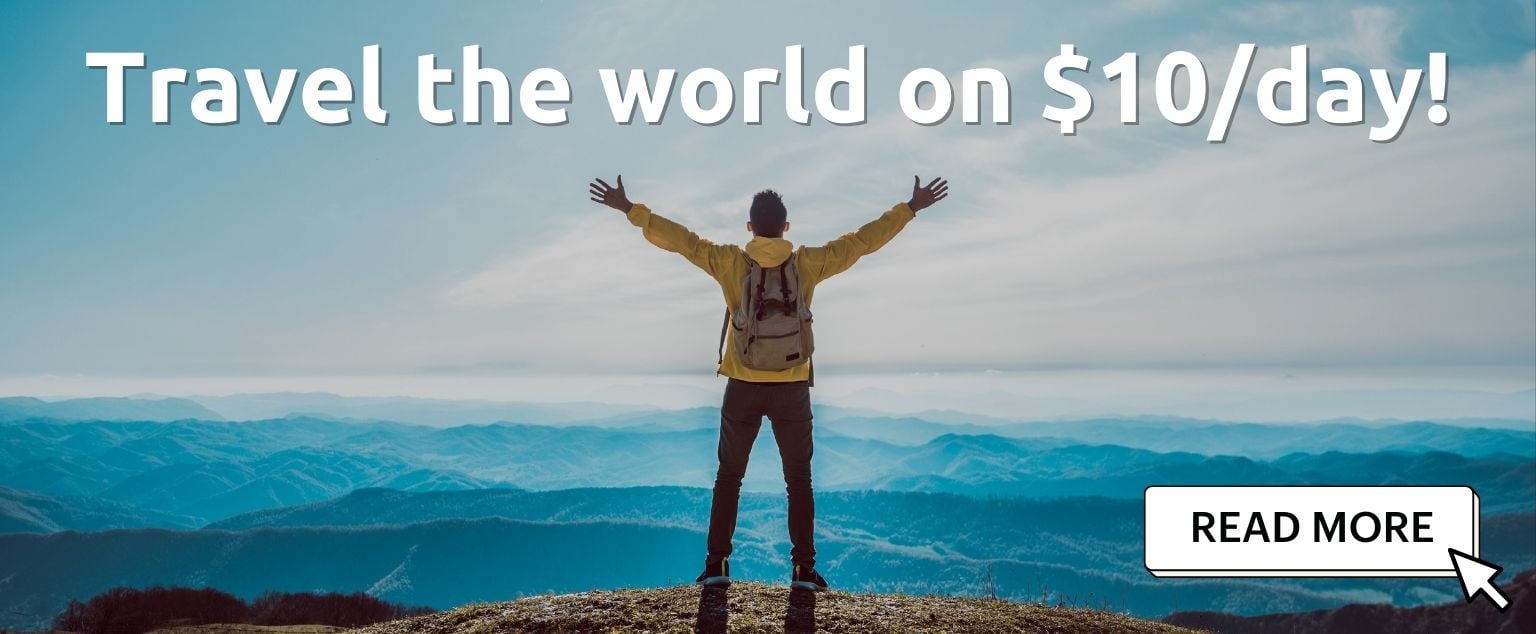 And for transparency's sake, please know that some of the links in our content are affiliate links. That means that if you book your accommodation, buy your gear, or sort your insurance through our link, we earn a small commission (at no extra cost to you). That said, we only link to the gear we trust and never recommend services we don't believe are up to scratch. Again, thank you!