Thailand is THE place to start for most first-time backpackers — especially first-timers in Southeast Asia. And because Bangkok is the capital, this is usually where it all begins… and rightly so!
What was once was a small trading post is now a city of over fifteen million people! It's an absolute mecca for backpackers and a place to experience the beautiful hustle and bustle of SEA first hand.
While the initial chaos might throw some newcomers off, this city has a lot to fall in love with. Whether you enjoy crawling cities for hours, spending time on the water, or meditating at beautiful temples, Bangkok has something great waiting for you.
Our goal with this guide is to give you all the tools for an epic trip. We're gonna show you all our favourite things to do in Bangkok: the crazy sights, the fun activities, the most delicious food you can eat, and so on…
Ready? 'Cause we are and you should be!

Unlock Our GREATEST Travel Secrets!
Sign up for our newsletter and get the best travel tips delivered right to your inbox.
Looking for accommodation for your trip? Check out our epic Bangkok Hostel Guide for the best places to stay!
Top Things to Do in Bangkok
Most people backpacking Thailand start or end their journey in Bangkok. If you're passing through, then we definitely want to show you our top picks! We bloody love this city and it has us going back time and time again. Whether you're spending a weekend in Bangkok or you get stuck here for weeks, there's plenty to keep you entertained!
Directly below, you'll find a table with our absolute favourite things to do in Bangkok, to give you inspiration — we'll get to the juice right after that, from the opulent Grand Palace to the bustling Bangkok markets and a nearby UNESCO world heritage site, there's so much to see in this incredible city.
With so many places to visit in Bangkok, you're going to need a pen and paper! Get ready to take notes!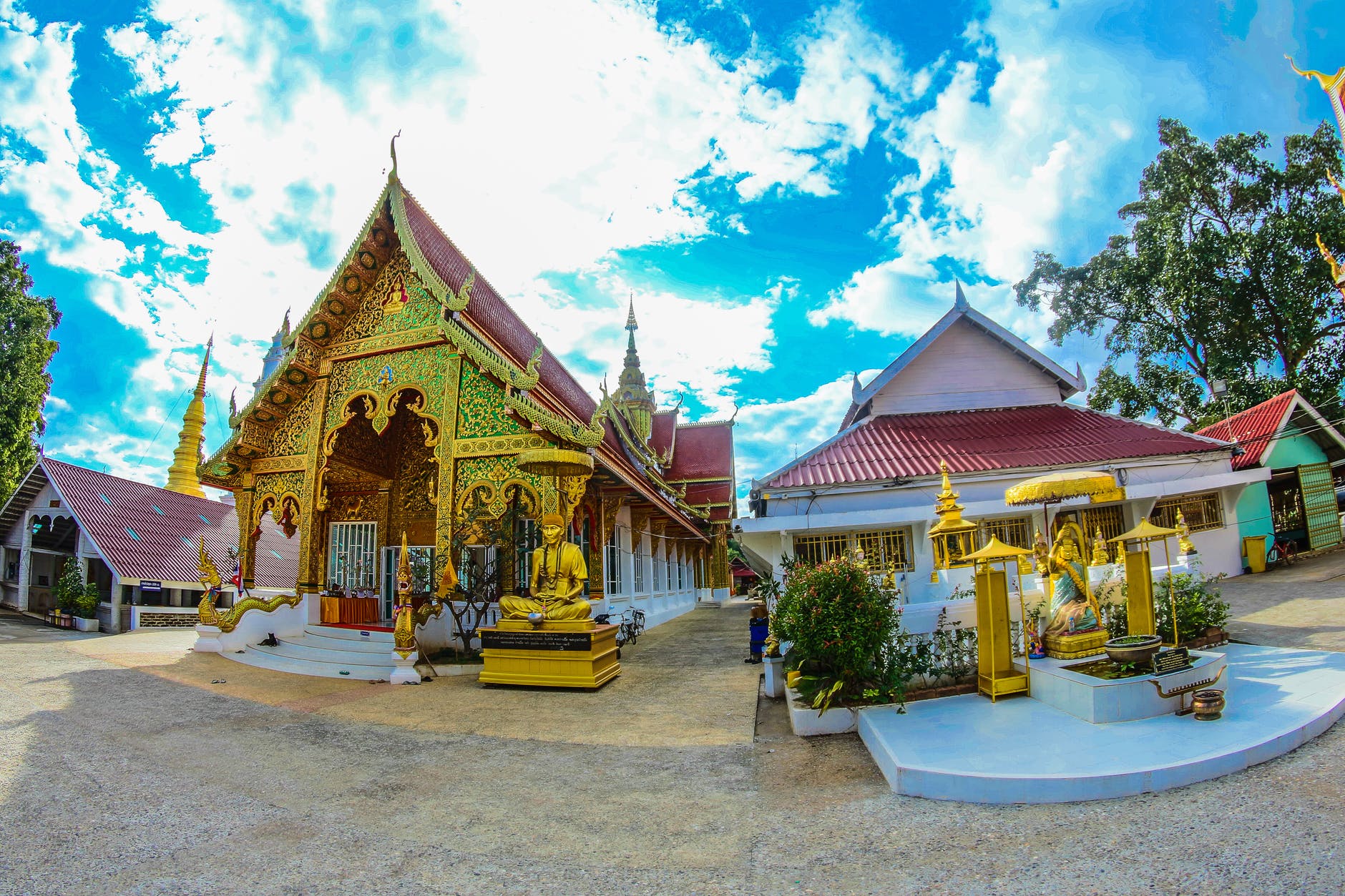 Here at Bangkok's Grand Palace, you'll find the most sacred of all Buddhist Temples across Thailand! See the beautiful blend of gold and stone as you explore the iconic Temple of the Emerald Buddha, Wat Phra Kaew. (well, the Emerald Buddha is actually made of jasper but I mean, it's green!)
Once the home of the Old Kings of Thailand, The Grand Palace now exists as a communal meeting place, complete with beautiful temples adorned with carvings and colours of the old monarchs. It's also located right in the heart of downtown Bangkok
Entrance Fee: 500 baht (15 USD)
Hours: 08:30-15:30
Address: Na Phra Lan Rd, Phra Borom Maha Ratchawang, Phranakorn District Bangkok 10200, Thailand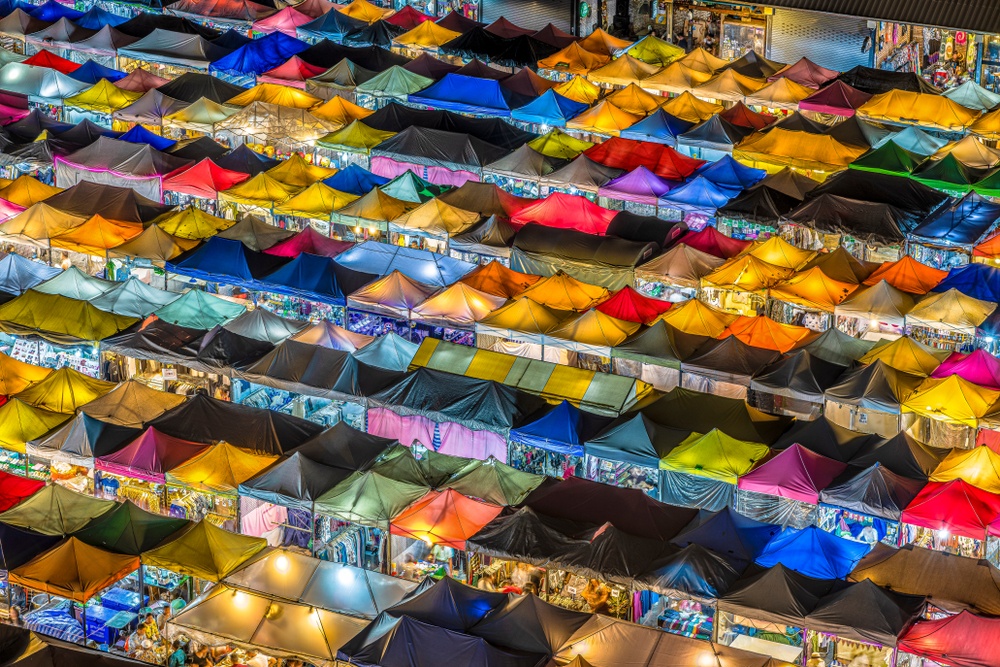 With 8000 stalls and 27 acres of fully cramped space, Chatuchak Market is the largest market in Thailand and one of the best places to visit in Bangkok. The colours, sounds, and smells make for a great experience!
With over 200,000 customers frequenting its vendors, you can imagine just how crazy it is here. There is absolutely everything you can imagine in the Chatuchak weekend market, from clothing and food to ornaments and relics
The Chatuchak weekend market is affordable, intricate, and vast. You can visit come Saturday and Sunday so be sure to plan it into your time when you visit Bangkok. Bring a map or take a tour so you don't get lost in this labyrinth of sites and sounds.
Entrance Fee: Free
Hours: 09:00-18:00 (Saturday-Tuesday), 07:00-18:00 (Wednesday-Thursday), 18:00-0:00 (Friday)
Address: Chatuchak Park, Kamphaeng Phet 2 Rd, Chatuchak, Bangkok 10900, Thailand
3. Enjoy the Lightshow at Bangkok's Chinatown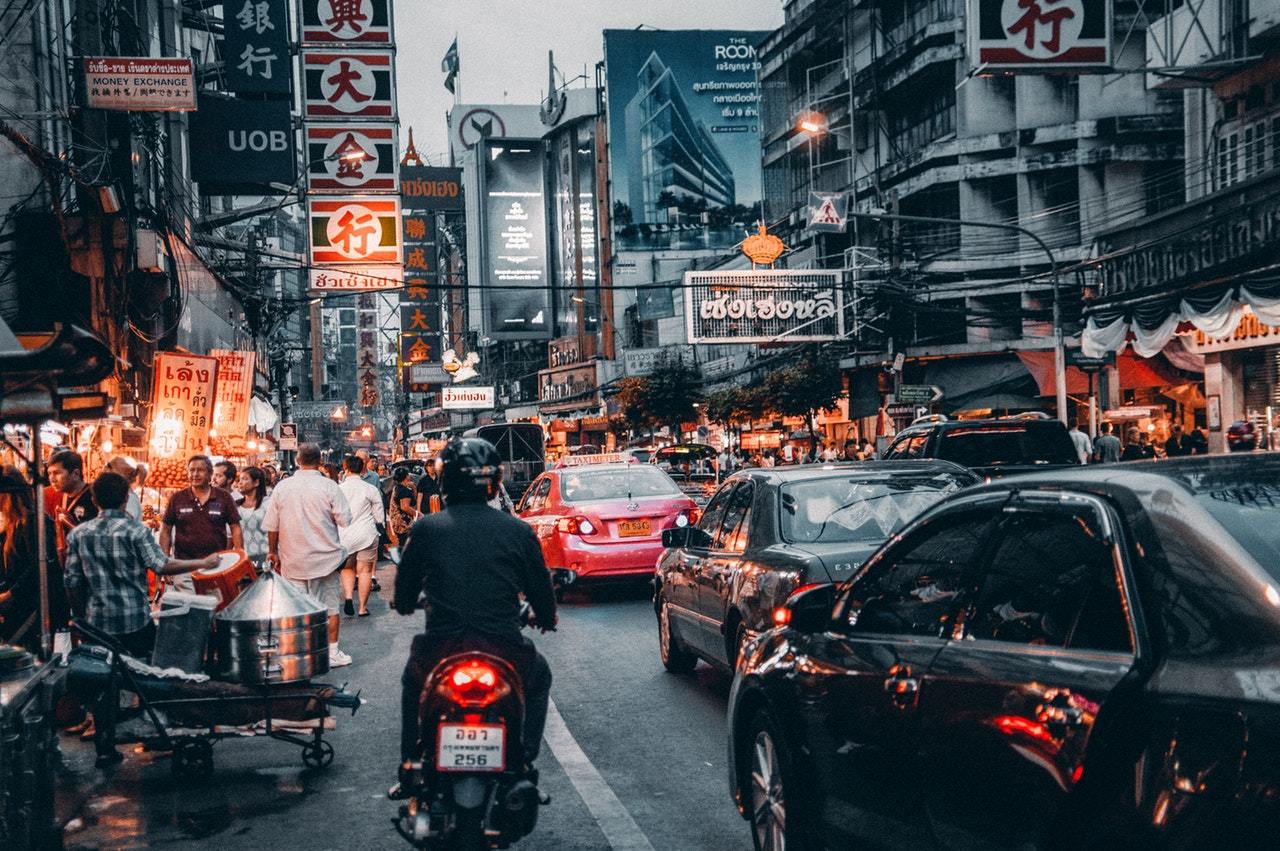 Take a trip to the near one-mile strip of pure gourmet bliss! Visiting Bangkok's Chinatown is a must for most visitors, especially at night when the area really comes to life.
Full to the brim with stalls, street food, and bartering, Chinatown is both high in quality and low in cost. There is an endless stream of stalls and vendors, so you can take in the vibe as you stroll through the streets.
From its authentic Chinese food to its hordes of shoppers creating an energised ambience, you can spend the night meeting some of the most unique characters you'll ever encounter.
Looking for a completely unique experience during your stay in Bangkok? Then you have to check this little treehouse out…
Nestled among nature and cute little animals, this house is literally built on a solid tree using wooden material. If you're a natural-born explorer and want to spice your trip with a little more adventure, you should definitely consider a stay here (even if a short one).
This is your chance to be in the middle of Bangkok, but still, experience the level of peace you can only find in nature. An extraordinary stay!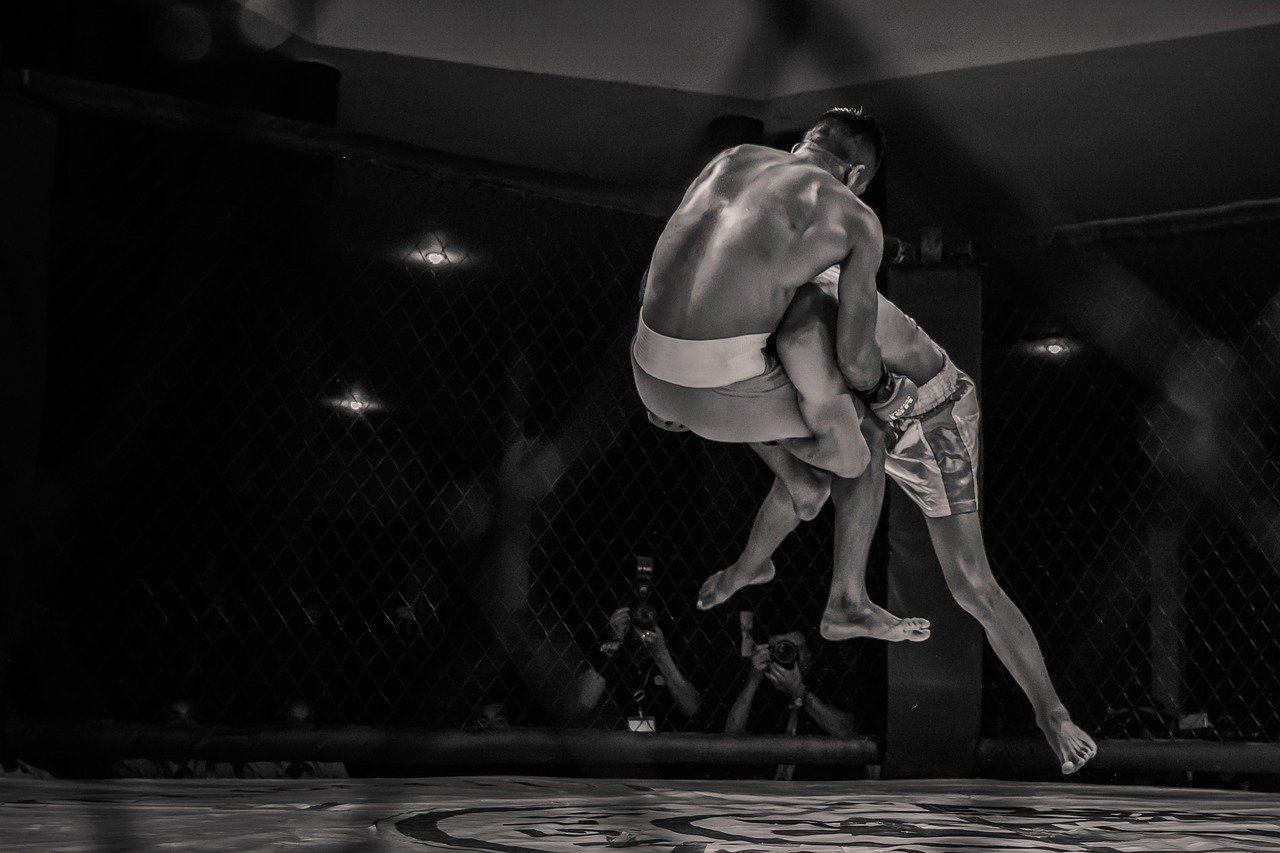 Thailand is full to the brim with Muay Thai! There are stadiums for it scattered all across the country, and Bangkok is home to some of the oldest and greatest in the whole country.
Muay Thai is a national sport in Thailand and is very popular with the locals, being constantly broadcasted across the country as well.
Try to catch one of the bouts, preferably live, and get drawn into the action-packed drama! With an electric atmosphere and high stakes, a trip to a Muay Thai arena is a very exciting thing to do in Bangkok.
6. Explore the Wild Khao San Road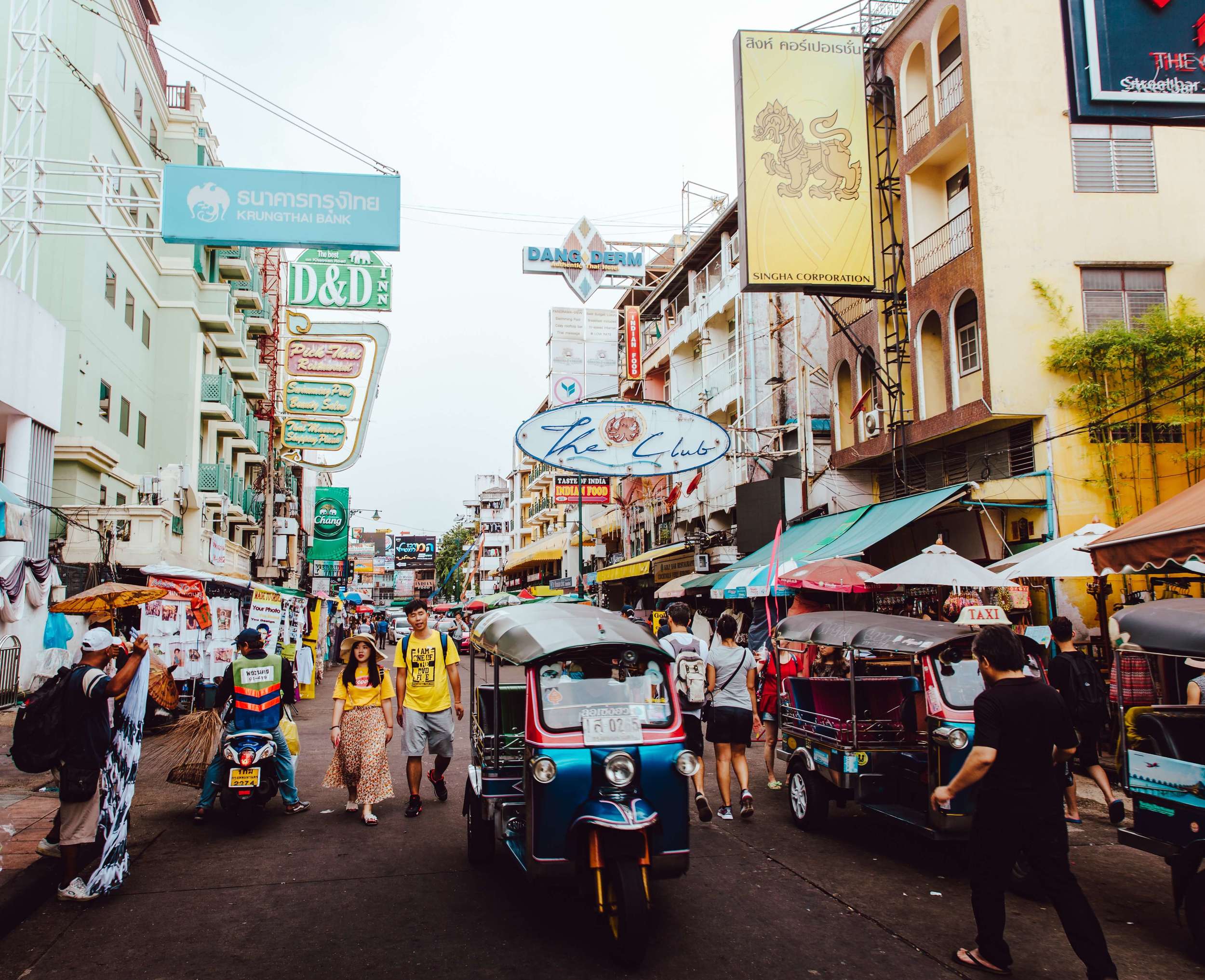 Khao San Road is one of Bangkok's most busy streets. It's almost half a mile long and is filled with local food stalls, performers, and all kinds of shops and night venues.
It's considered a "backpacker ghetto" due to the number of hostels and budget accommodation joints piling in every corner. It's a wild ride, but something every backpacker in Bangkok has to go through at least once.
Whether you go by day or by night, take some time to explore the hidden corners of Khao San Road. You never know what you're gonna find!
Small Pack Problems? 😉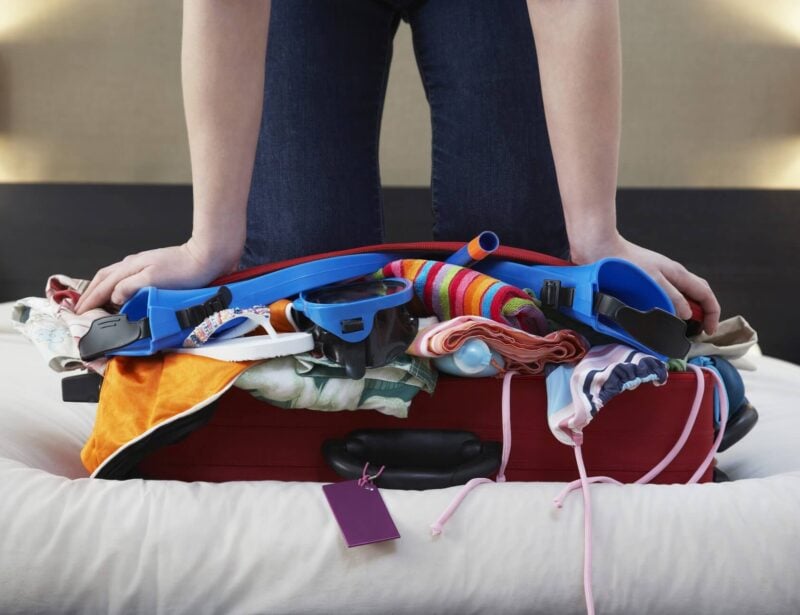 My missus travels with all her clothes in ziplock bags: don't be like my missus. UP YOUR PACKING GAME!
Packing cubes for the globetrotters and compression sacks for the real adventurers – these babies are a traveller's best kept secret. They organise yo' packing and minimise its volume too so you can pack MORE.
Or, y'know… you can stick to ziplock bags.
View Our Fave Cubes
Or Check Out the Sacks!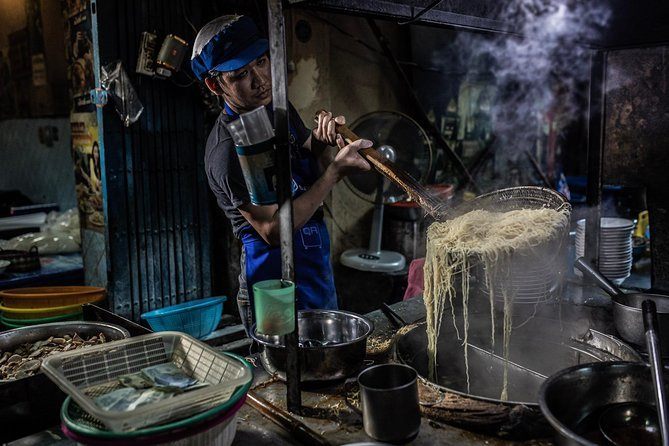 Ever heard about how good street food is in Thailand? Street food is cheap in Bangkok, but that doesn't mean it's crudely made. In fact, the street food vendors are some of the most talented cooks you'll ever see!
You'll have plenty of opportunities to try it when you visit Bangkok… and you should! As much as you can, in fact. But you can elevate your taste buds even further and follow a professional chef into his favourite finds.
You'll discover the best Thai food the streets of Bangkok have to offer: from all the different kinds of curries to their delicious salads and enchanting noodle combos!
Learn about the varying cultures that influence Thai foods, such as the Chinese and European — the Thai do not hold back when it comes to flavour and design.
8. Time Travel at Bangkok National Museum
Welcome to the home of Thai history! From historical artefacts to the largest collection of Thai art across the country, the Bangkok National Museum is catered to impress each and every visitor.
Situated on the site of the former Vice King's palace, the National Museum is the largest of its kind in Southeast Asia. Established in 1874, it houses artefacts from as far back as the neolithic times. After visiting the Grand Palace this is another must-visit spot if you're interested in Thai history.
As of 2019, the museum has been revamped and its exhibits modernised. From Thai artefacts to its fascinating art history collection, this museum is filled to the brim with interesting stories to learn.
Entrance: 200 Baht (5.19 USD)
Hours: 09:00-16:00 (Wednesday-Sunday)
Address: Na Phra That Alley, Phra Borom Maha Ratchawang, Phra Nakhon, Bangkok 10200, Thailand
9. Learn About the History of Thai Silk at the Jim Thompson House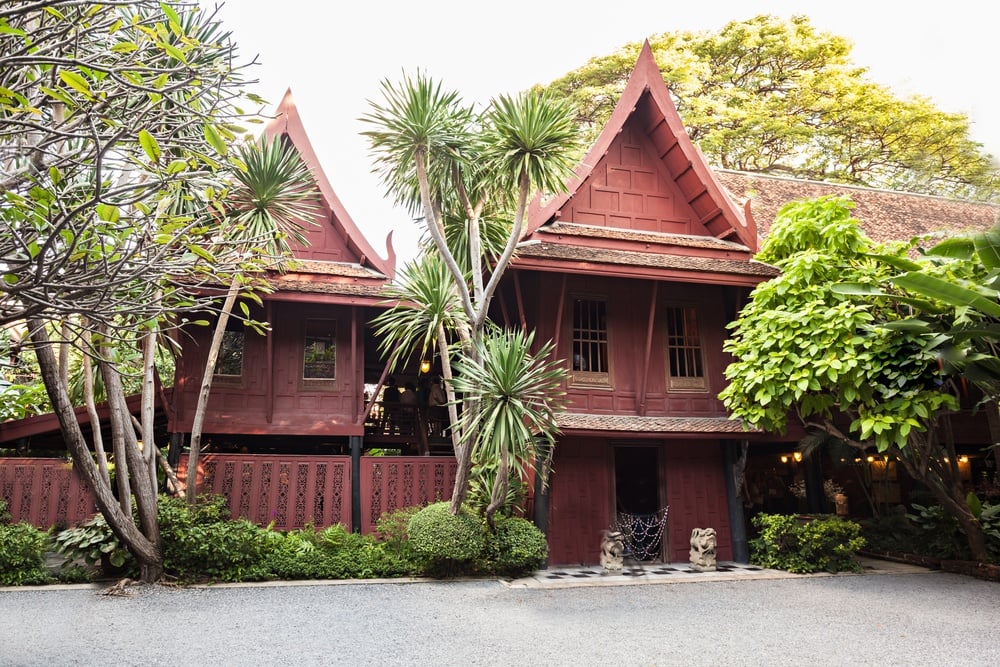 Silk is one of Thailand's biggest locally-produced exports. And much of what the world has fallen in love with started right here!
The Jim Thompson House was born in 1959 and is made up of six traditional Thai houses. It has been left remarkably untouched its completion, and the houses are now a museum for the history of silk-weaving in the country!
You'll also get to see what remains of the traditional silk-weaving communities. A very interesting place to visit in Bangkok!
Entrance: 200 Baht (6 USD)
Hours: 11:00-19:00
Address: 6 Kasem San 2 Alley, Wang Mai, Pathum Wan District, Bangkok 10330, Thailand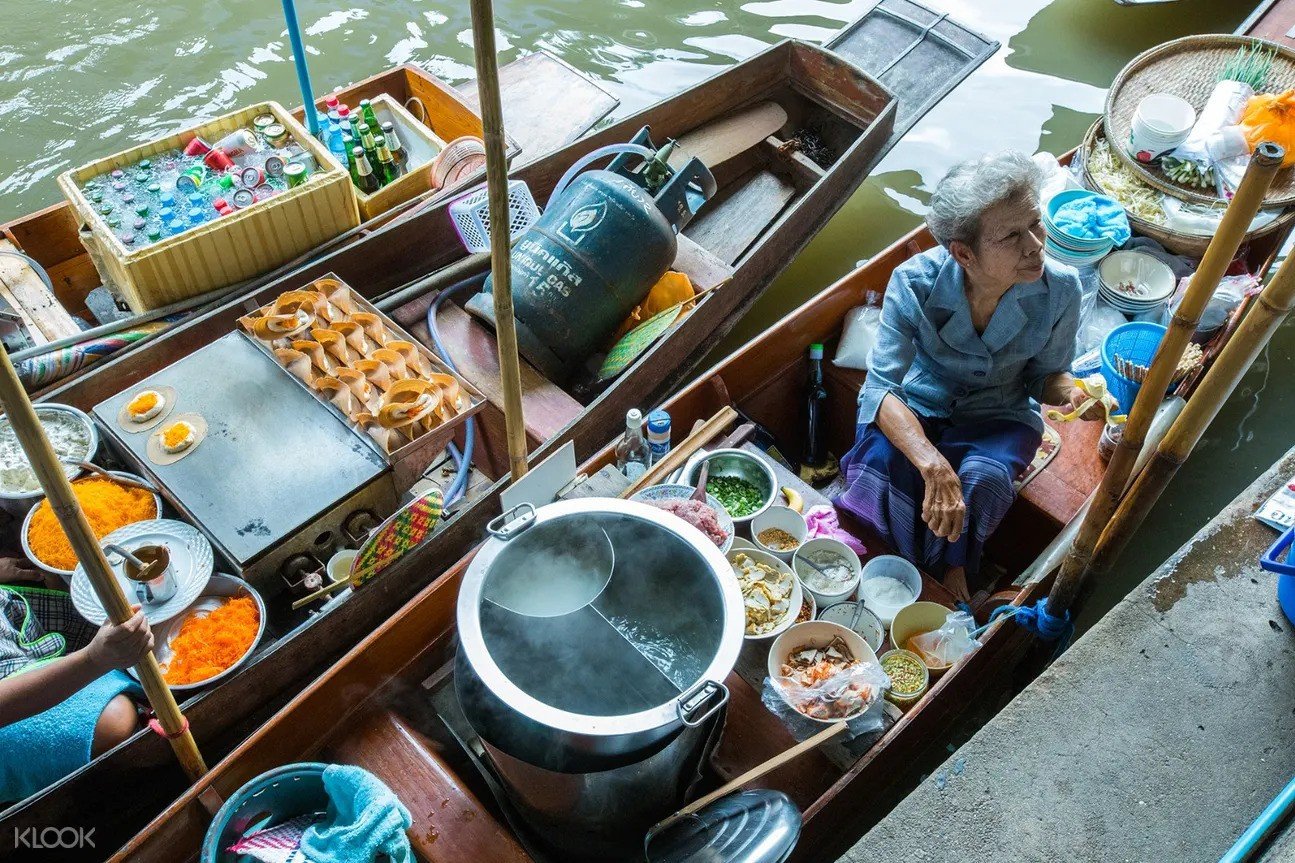 While the Chatuchak Market is one of Thailand's most modern and popular, Bangkok has a few other markets that are just as unique and lively.
You have the Maeklong Railway Market which is uniquely situated on railway tracks. A walk through it in search of a good bargain is a crazy experience, especially when the train decides to take a trip down the middle! Watch as the vendors calmly pull in their awnings in a well-rehearsed routine!
Then you have the Damnoen Saduak Floating Market, situated on the river itself just outside the city limits. It's the most popular floating market in the world, and you'll get to shop inside your own boat on an unforgettable day trip. Experiencing the floating markets, especially if it's your first time in the region, is a real treat.
Once you've visited the floating markets and theMaeklong Railway Market, you could also call by the lesser-known flower market. This colourful set-up is much more local but in many ways even more chaotic than the more well known and touristy markets.
Is This the Best Daypack EVER???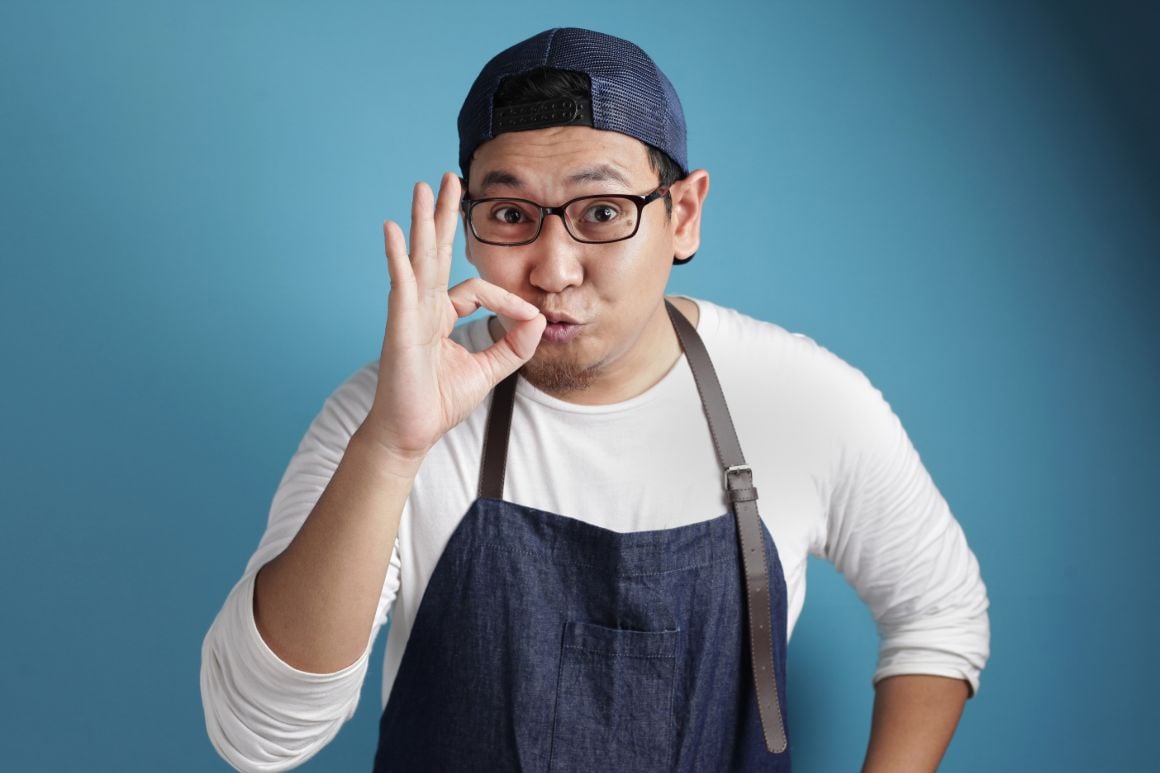 After indulging in some of the local delicacies, you can dive deeper into the wonders of Thai cuisine with your very own cooking class.
Learning the intricacies of Thailand's culinary traditions is a great way of exploring its culture. Plus, it's a pretty delicious thing to do!
With the guidance of your own personal chef, you'll be grabbing your ingredients from the nearby marketplace and putting everything together yourself: from all the Thai curries to soups and salads, you'll learn a ton!
Who said travelling was all about wandering around and doing nothing? Learn to cook delicious recipes to wow your friends back home!
The Thailand-Burma Railway has a checkered history, and has rightly earned its title as the "Death Railway" — it was used to transport war prisoners from Bangkok to Burma during World War II.
The train takes you through many of these "holding camps", where you'll be able to visit the memorials of those who have lost their lives there. You'll also see the beautiful rural countryside dotted with rice paddies and farms.
It's a tough ride, but definitely an important part of Thai and world history to learn about and experience. It's a mixed experience as the history itself is sobering and moving, yet the surroundings themselves are truly stunning.
The train takes you from Bangkok to Kanchanaburi where you can visit further sites such as Hellfire Pass and various Commonwealth war graves if you get time.
Sat across the powerful Chao Phraya River, Wat Arun is a towering temple that is one of the most popular sites to visit in Bangkok. The impressive 'prang' of the temple can be seen from far away and is designed to catch the morning light and reflect it in a golden glow.
Wat Arun dates back to 1656 and is one of the most revered and important religious sites in the country. Take the ferry across the river and wander the extensive temple grounds taking in the detailed mosaics and sculptures, you'll be spellbound for sure! The absolute pinnacle of visiting Wat Arun though is making your way up onto the terraces of the prang itself, from here you get a great view over the whole temple.
Entrance: 100 Baht (3 USD)
Hours: 08:30 to 17:30
Address: Wat Arun, 158 Thanon Wang Doem, Khet Bangkok Yai, Krung Thep Maha Nakhon 10600, Thailand
14. Relax and Get Pampered at Wat Pho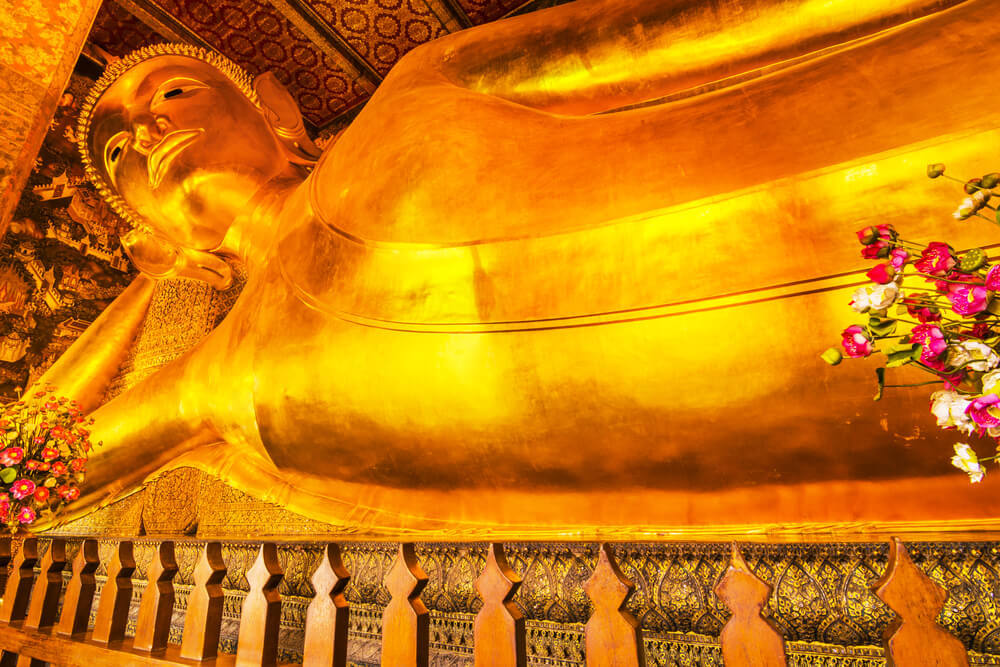 Thailand is the home of the world-famous Thai massage (duh!) — and getting one is one of THE top things you can do in Bangkok, as is making to effort to visit Wat Pho.
Although the city offers a variety of massage experiences, we would recommend making the effort to visit Wat Pho, the Temple of the Reclining Buddha, for yours. Here you will find the birthplace of Thai massage.
Other than knowing you're getting an authentic Thai massage, the scenery and environment are stunning, and the sensory experience is phenomenal with an expert masseuse! After you've fully relaxed then be sure to explore the incredibly detailed temple complex when you visit Wat Pho.
Entrance: 100 baht (3 USD)
Hours: 08:00-18:00
Address: 2 Sanam Chai Rd, Phra Borom Maha Ratchawang, Phra Nakhon, Bangkok 10200, Thailand
Travel with peace of mind. Travel WITH a security belt.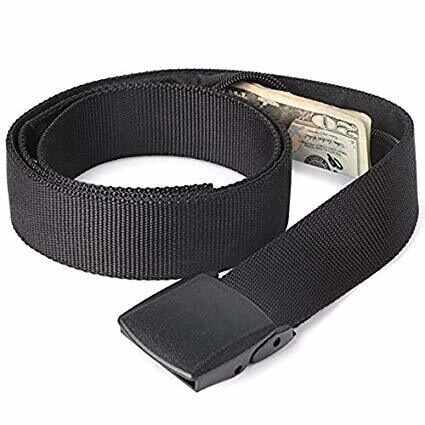 Get your cash stashed with this awesome Pacsafe money belt. It will keep your valuables safe no matter where you go.
It looks exactly like a normal belt except for a SECRET interior pocket perfectly designed to hide a wad of cash or a passport copy. Never get caught with your pants down again! (Unless you want to.)
Hide Yo' Money!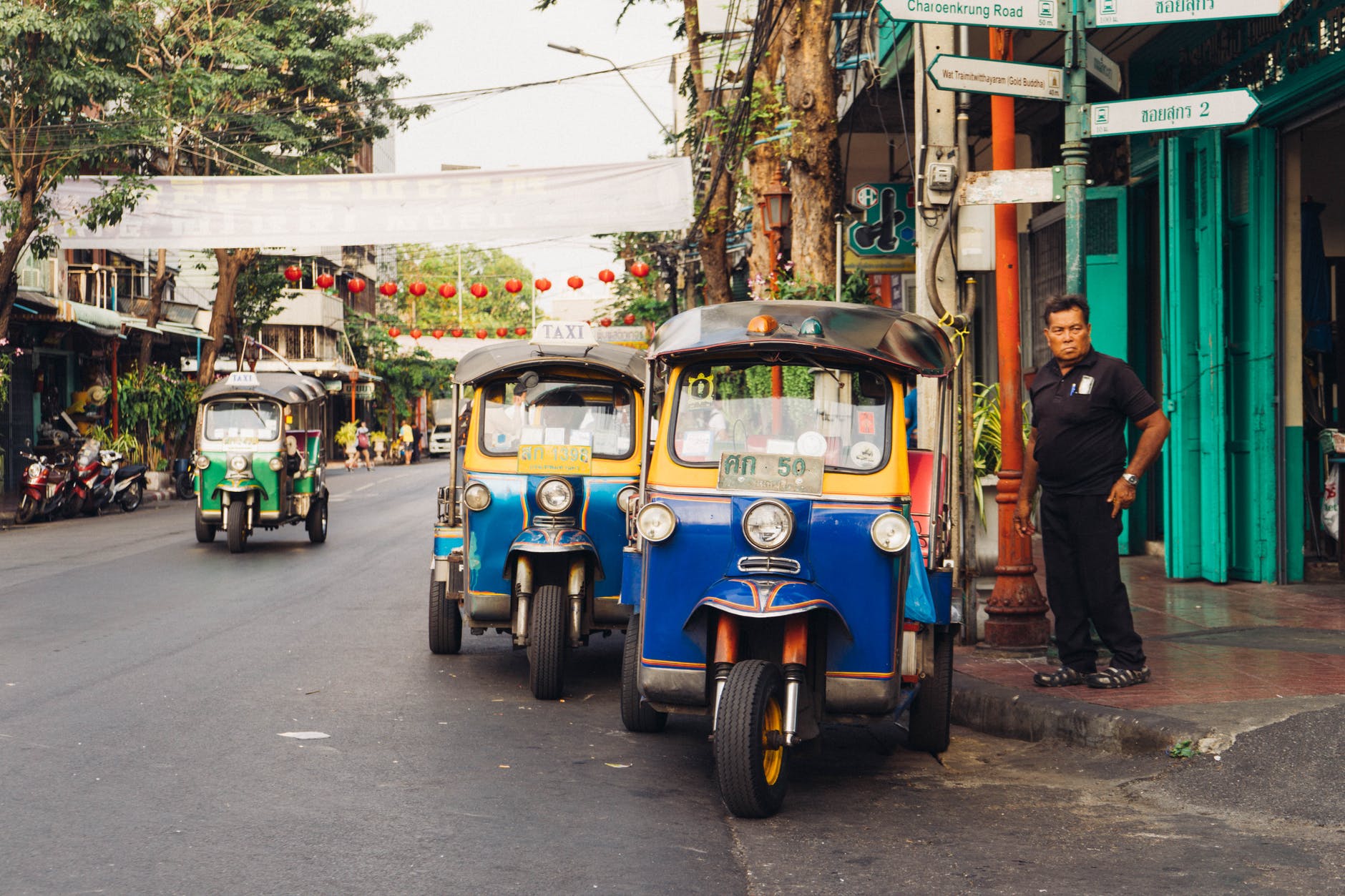 Take on one of the classic things to do in Bangkok: find a driver, hop on a colourful tuk-tuk, and prepare to see this crazy city at night! That is if you can make any of it out and you speed round the corners at breakneck speed! Yeah, this one isn't for the faint-hearted either! But it's hella fun!
They say midnight is when Bangkok truly comes alive! With your driver taking you through the busy streets, you'll see Bangkok in a new light — with more street food, more night markets, and more 'interesting' sights!
There is truly no better way to get a different perspective of Bangkok than to traverse its streets under the cover of night when the lively vibes truly begin!
16. Chill Out at the Beautiful Lumpini Park
Lumpini Park is a 143-acre natural park in the heart of town. It's a rare natural space amidst the concrete jungle that is bound to give you the peace you're looking for after a few days of Bangkok madness.
It has a beautiful assortment of trees and plants, and even playgrounds for kids! The long paths are very popular for joggers and walkers alike, with the mornings and evenings often busy with runners.
This is a great place for people to meet for yoga sessions or meditation. There's a large bird population and a damn harmonious environment! There's even wild, but pretty tame, monitor lizards that wander around the park unfazed by the human activity around them, and they're bloody huge!
Entrance: Free
Hours: 04:30-21:00
Address: Rama IV Rd, Lumphini, Pathum Wan District, Bangkok 10330, Thailand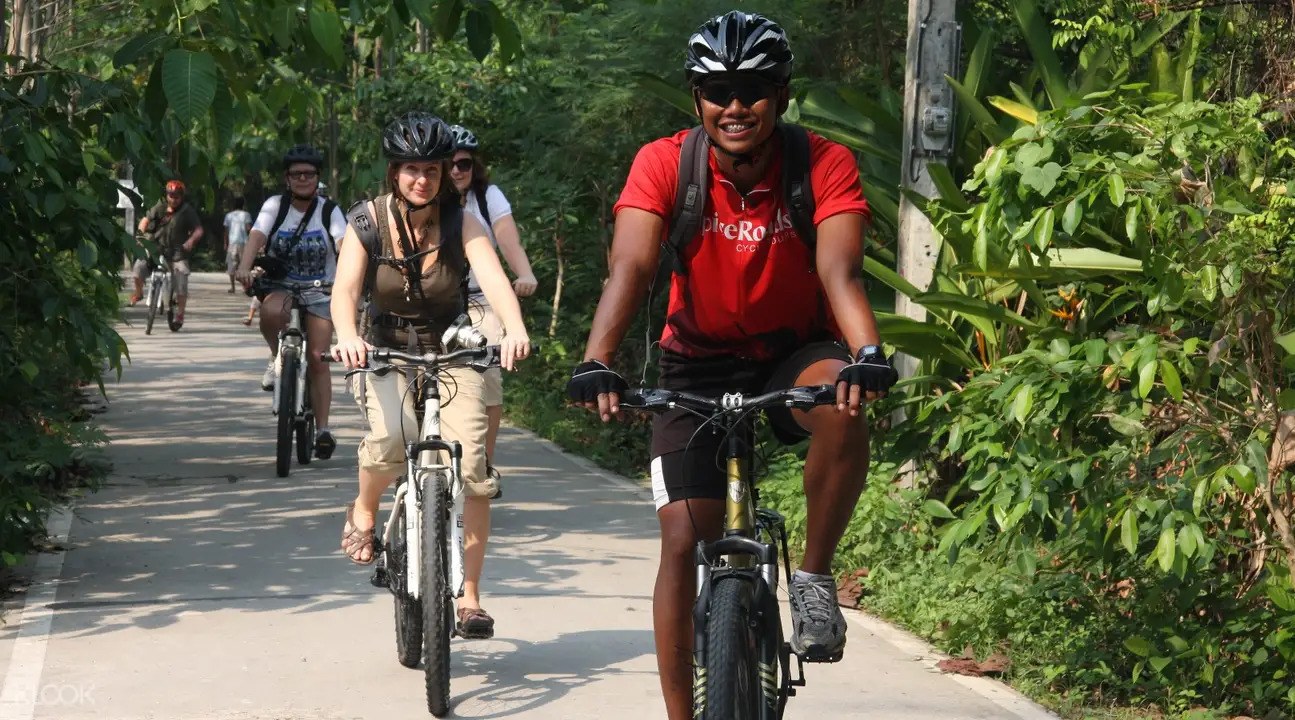 Bangkok is a city of jungles, whether that'd be the concrete one or the actual jungle — Bang Kra Jao. The walkways and paths that lead through it make for a scenic ride that will offer the ultimate antidote to the chaos of the city.
You'll see more than just shrubbery among the canals and small villages. With the Chao Phraya River alongside you and the ancient temples ahead, it's a great ride to see a different side of Bangkok.
Even though there are a few narrower walkaways, it's a very smooth ride in general — about 12.5 miles. Even in the heat that feels like nothing as you take in your beautiful surroundings. Hire a bike or join a tour and get out of the concrete jungle for the real thing!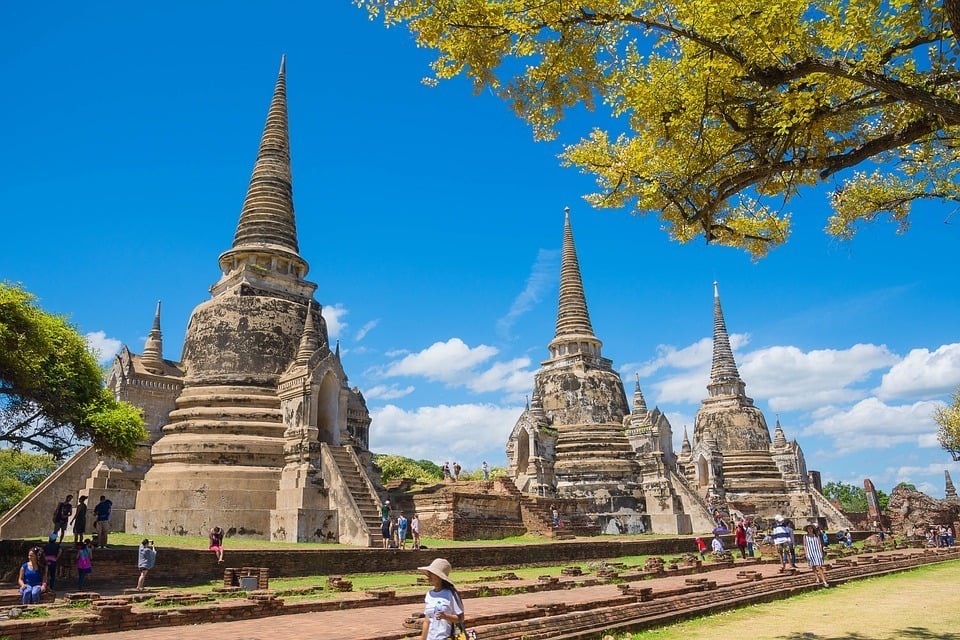 Journey to the old capital of Thailand and learn more about the Thai Kingdom's 417-year history. Ayutthaya is a dope place to explore and you can find five UNESCO-listed sites here!
You'll go from seeing places such as Wat Phra Sri Sanphet, the spiritual centre of Thailand, to Wat Mahathat Ayutthaya, the oldest and most significant temple in the area.
See the "Buddha-head in Bodhi Tree" site, the Chao Sam Phraya National Museum, and the crypts of Wat Mahathat.
It's a worthwhile journey that is full of Buddhist folklore, incredible artefacts, and unforgettable ancient sites. This is an easy day trip from Bangkok that is just a couple of hours away by train or organised tour.
Entrance: varies
Hours: 08:00-18:00
Address: Pratu Chai Sub-district, Phra Nakhon Si Ayutthaya District, Phra Nakhon Si Ayutthaya 13000, Thailand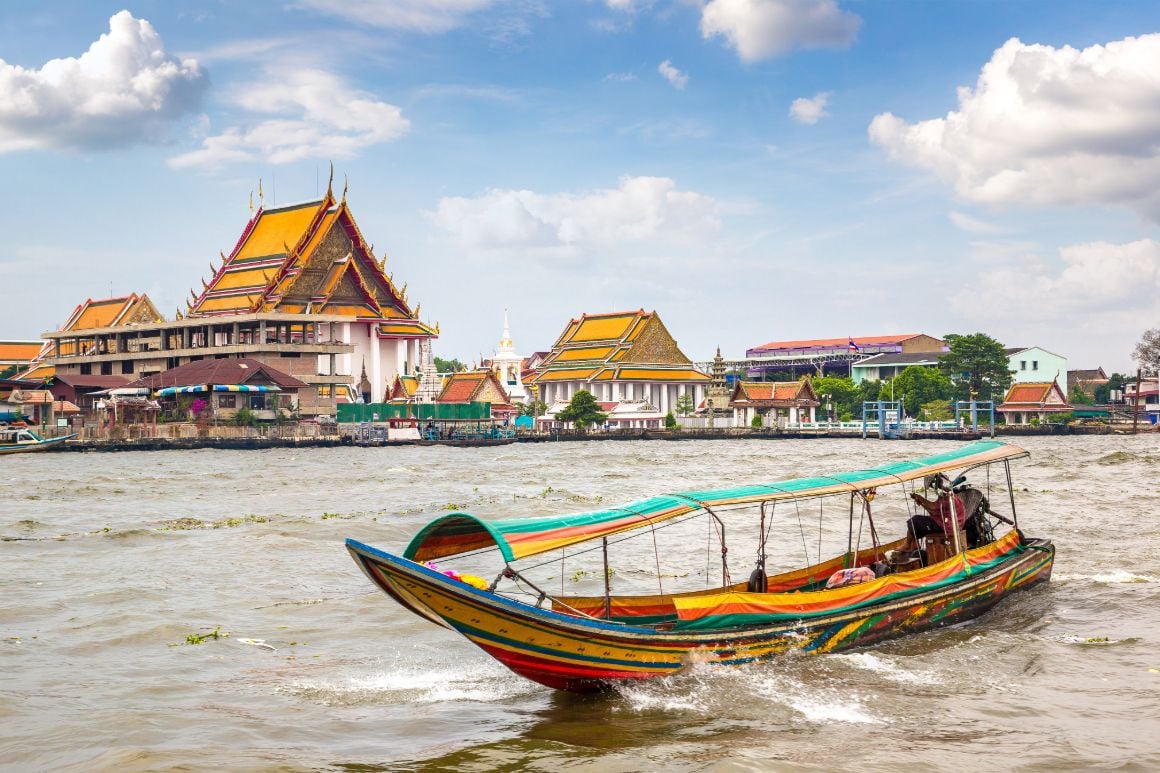 The Chao Phraya River is in many ways a lot like the Grand Canal in Venice, it's the arterial heart of the city where everything is centred around. Just like Venice, Bangkok is also filled with little canals that flow into its main river which are just as fun to explore too.
One of the more popular things to do in Bangkok is to take a trip along what the locals refer to as "the lifeblood of Bangkok." Take a ferry down the Chao Phraya, admire the scenery and see the Thai people hard at work along the banks of this famous river.
The choice is yours here, you can book an organised tour where you'll make various stops and even sometimes get food included. If you're on a budget then you can jump on one of the local ferries instead and rub shoulders with the locals.
20. Ride the Sky Train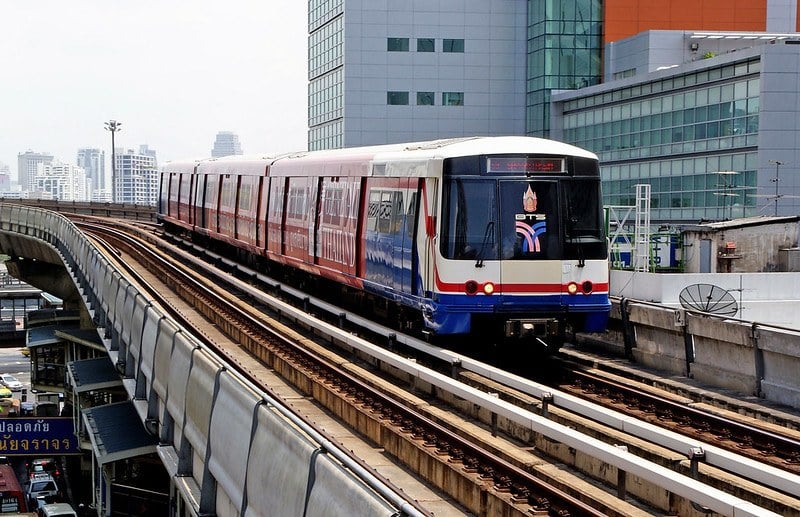 Bangkok is a large city and can often become incredibly humid and hot! So why not take a ride on the air-conditioned, state-of-the-art Bangkok Sky Train?
Rise high above the freeways and traffic as you soar with the cityscape for a view! Not only does the train stop at nearly every part of Bangkok, but the ride itself is 100% worth it for the vistas.
Entrance: 140 Baht (4.20 USD) (one day pass)
Hours: 06:00-24:00
Address: BTS Building, 1000 Phahonyothin Rd., Chomphon, Chatuchak Bangkok 10900 Thailand
21. Get a Majestic View at The Golden Mount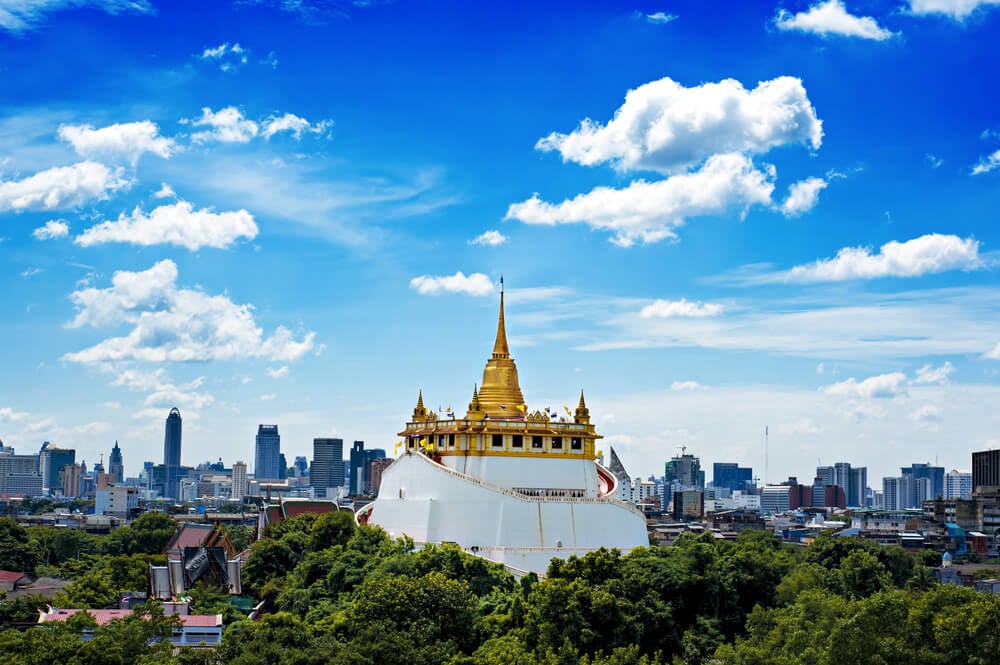 The Wat Saket Temple is situated on the northwest side of the city and is elevated atop the artificial hill inside the Wat Saket compound. With its gleaming gold tower and white walls, it stands above the city like a beacon.
Take a walk up the stairs and marvel along the way at the brilliance of its design. With a blend of gold and ivory, this temple still looks as good as new — even after 150 years!
However, the best part of this visit is clearly the view. As you turn away from the temple, marvel at the panoramic before you and take in Bangkok from above. Appreciate the city from a new vantage point!
Entrance: 50 Baht (1.50 USD)
Hours: 7am – 7pm
Address: 344 Thanon Chakkraphatdi Phong, Ban Bat, Pom Prap Sattru Phai, Bangkok 10100, Thailand
22. Take a Stroll Through the Butterfly Garden and Insectarium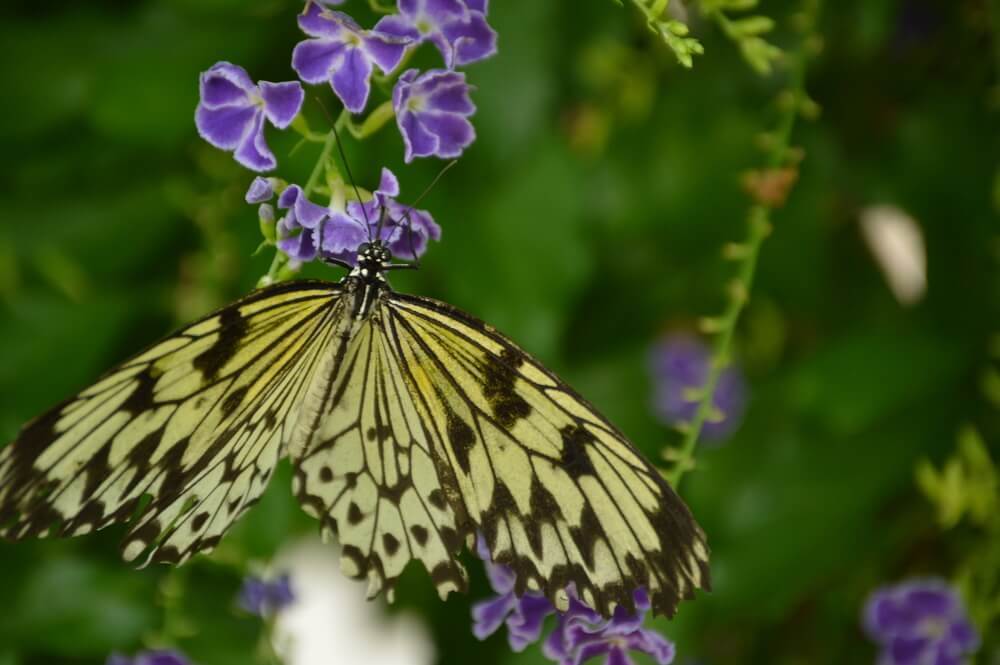 At the Bangkok Butterfly Garden and Insectarium, you'll get to see butterflies in their natural habitat as you walk the insectarium to spot them.
Situated in the Queen Sirikit Gardens, this insect haven is home to some of the most beautiful botany from across Southeast Asia.
It's a great place to check out if you're visiting Bangkok with kids. Oh, and it's free of charge!
Entrance: Free
Hours: 08:30-16:30 (Tuesday-Sunday)
Address: Wichon Benchatid Park (Kamphaeng Phet 3 Rd., Lat Yao, Chatuchak, Bangkok 10900, Thailand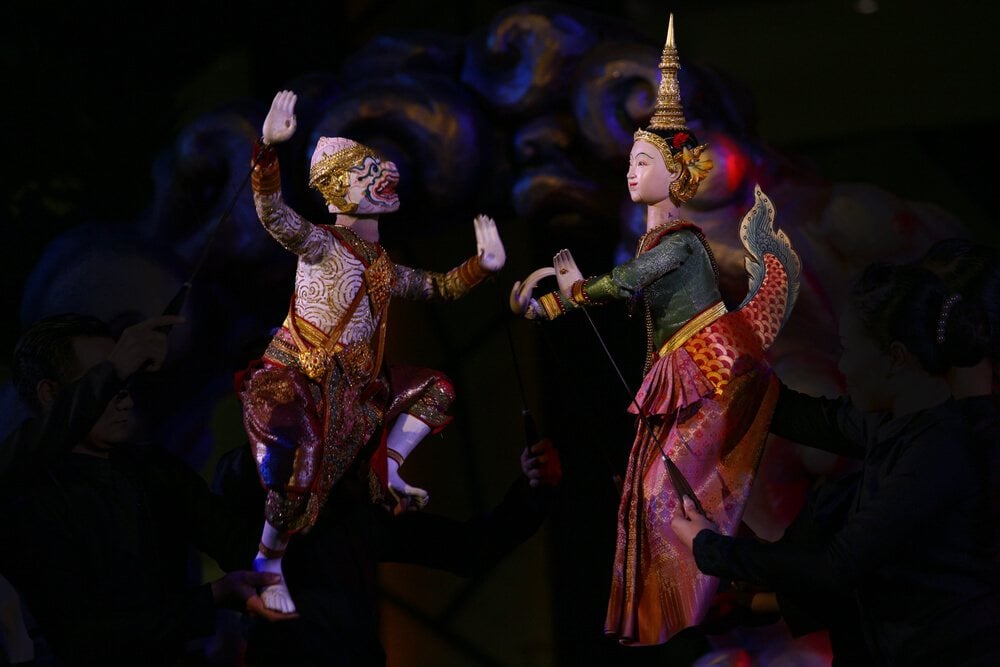 This one is a locals' favourite and many people travelling by consider it a must-see when visiting Bangkok! From its expert design to its elegant performances, this show is as professional as any live stage production.
Be captivated by the on-stage puppeteers as they make the custom-designed puppets tell the classic folk tales of the land. Watch as they entangle you into a rhythmic dance of colour and sound.
The show's music is conducted by a live orchestra, making for a much more profound performance. With such a professional approach and attention to detail, you're not likely to have ever seen a puppet show like it!
24. Take a Look into the Largest Teakwood Building in the World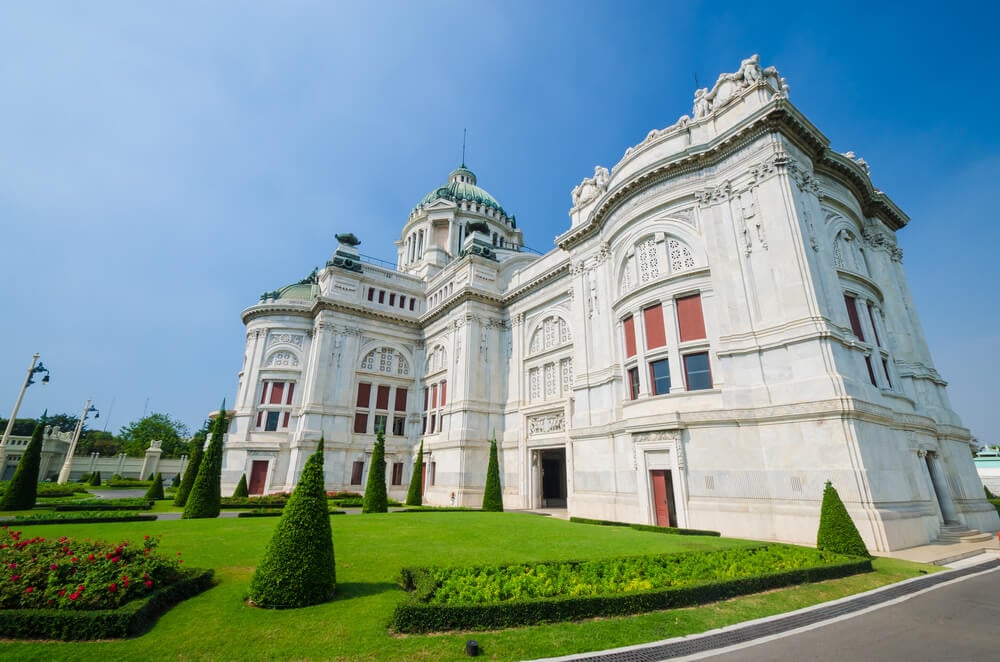 In the upper-class areas of Bangkok lies the largest teakwood building in the world. With its lavish green grounds and pristine design, the Vimanmek Mansion dominates the surrounding area.
The place was originally designed to be the residence for the King, but today it's a royal museum. Donated relics and artefacts fill its halls and photographs of old monarchs hang on the wall.
The grounds are free for roaming and photography, and are well worth the stroll! However, once inside, out of respect, visitors are not permitted to take photographs and must adhere to the dress code.
Entrance: 100 Baht (2.60 USD)
Hours: 09:30-16:30
Address: 5 1 Ratchawithi Rd, Dusit, Dusit District, Bangkok 10300, Thailand
Entrance: $38.9
Hours: Temporarily closed
Address: 19 Thiam Ruam Mit Rd, Huai Khwang, Bangkok 10310, Thailand
Where to Stay in Bangkok
Looking for tips on where to stay in Bangkok? Here is a summary of our highest recommendations for places to crash in the Thai capital.
Cool, quirky, and of great value! This tiny house is on the banks of the Chao Phraya River, near some of the most important temples in town. It's nestled inside your host's yard, so you're both secluded and never far away from helpful advice or top-notch recommendations. Free breakfast is included!
With clean rooms and a great location, this hostel is the ideal base for your stay in Bangkok. Located in Banglamphu, Jam Hostel is close to bars and shops, and its outdoor terrace overlooks the city's oldest canal. It comes with a self-service kitchen, laundry rooms, and a comfortable lounge — perfect for guests of all ages.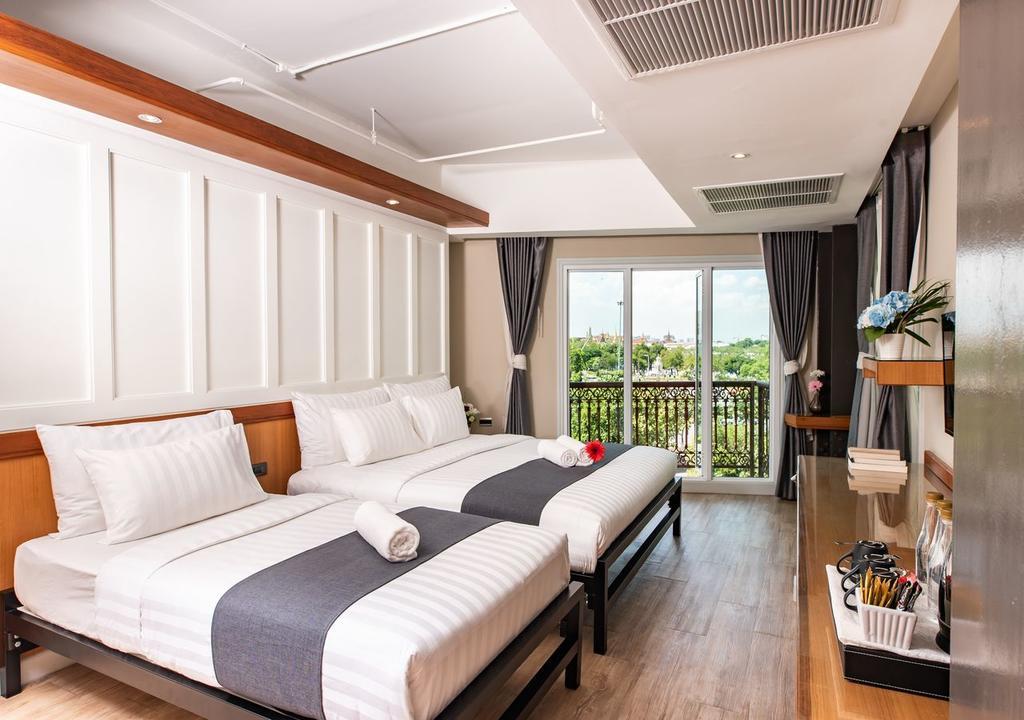 Located right on Khao San Road, this four-star hotel is at the heart of Bangkok's party district. Surrounded by bars, clubs, restaurants, and shops, you'll be within walking distance from Bangkok's hottest attractions. It comes with an on-site restaurant and a sick lounge!
Some Additional Tips for Visiting Bangkok
FAQ on Things to Do in Bangkok
Here are some quick answers to common questions about what to do and see in Bangkok.
Don't forget your travel insurance for Bangkok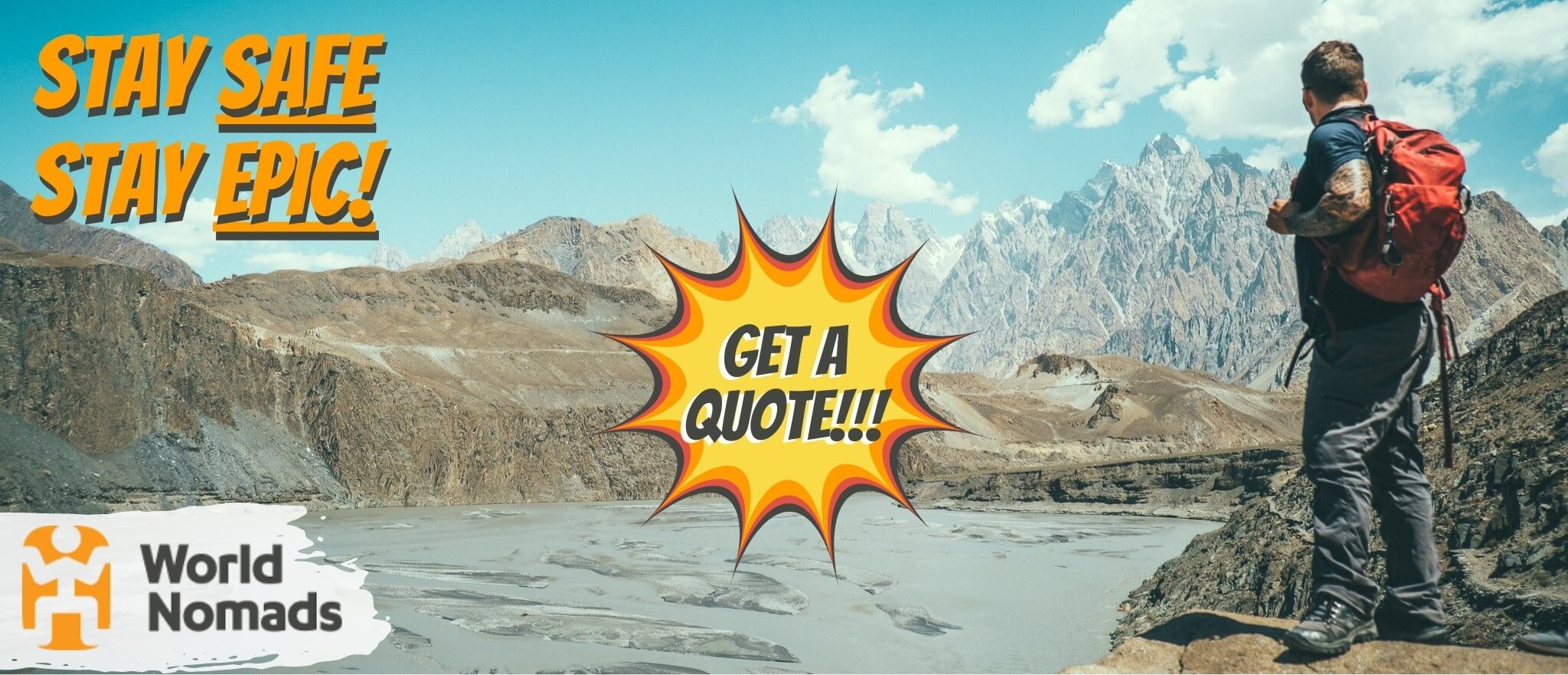 World Nomads' mission is to support and encourage travellers to explore their boundaries. They offer simple & flexible travel insurance, and safety advice to help you travel confidently.
They've been doing it since 2002 – protecting, connecting, and inspiring independent travellers just like you.
Get a quote below or read our in-depth review!
World Nomads provides travel insurance for travelers in over 100 countries. As an affiliate, we receive a fee when you get a quote from World Nomads using this link. We do not represent World Nomads. This is information only and not a recommendation to buy travel insurance.
Conclusion
Bangkok is a vibrant city full of unique little quirks. One thing is certain, it's hard to run short of things to do around here! Whether it's during the day, or at night, it's always up to something.
And whether you're looking for a historically-themed trip or one filled with culture and energy, Bangkok's got you covered. From all angles.
We hope you have a blast on your trip and get an understanding of why so many people are drawn here. From its people to its magnetic culture, Bangkok is a beautiful cocktail of chaos and good energy!
Ready to start planning your Bangkok itinerary?
---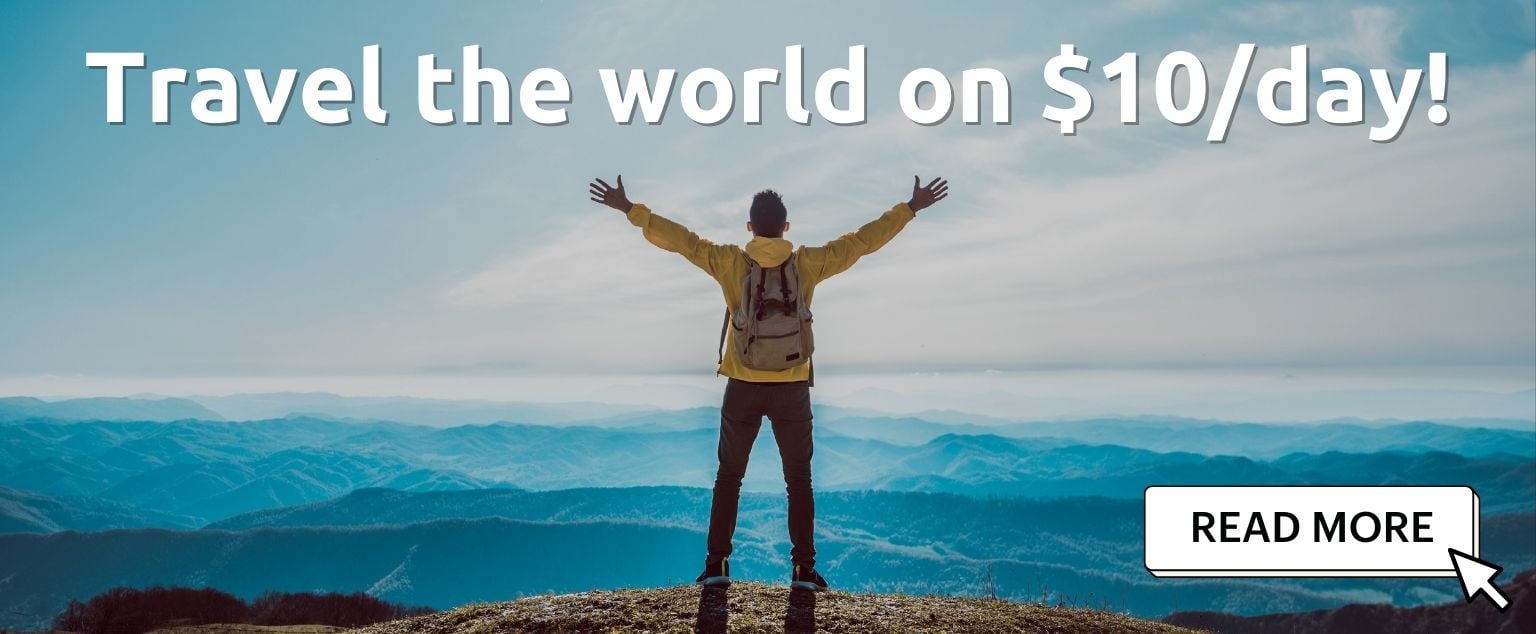 And for transparency's sake, please know that some of the links in our content are affiliate links. That means that if you book your accommodation, buy your gear, or sort your insurance through our link, we earn a small commission (at no extra cost to you). That said, we only link to the gear we trust and never recommend services we don't believe are up to scratch. Again, thank you!