Bangkok is Thailand's vibrant capital city. Well over 10% of the country's population lives in this ever-growing urban sprawl. It's all culture and history, rooftop bars and cool cafes: the perfect backpacking entrepôt.
But it's not fun and games all of the time. Bangkok has a history of deadly bombings, is notorious for its seedy nightlife, human and drug trafficking gangs, and can appear to be a political powderkeg sometimes. Make no mistake – it has an edgy side.
So it's completely natural that you should be wondering now, "is Bangkok safe?"
That is exactly the reason why we have decided to create this huge insider's guide to staying safe in Bangkok. It definitely pays to travel smart – and we want to help you do just that.
We are going to be covering a whole load of issues. From whether or not it's safe for women travelling by themselves, to whether you should be visiting Bangkok right now (with an election on the horizon) – all of that and more.
You may be quite rightly worried whether you can visit Bangkok with your family due to all the seediness that gets associated with it, or you may be worried about simply being able to eat the food in Bangkok. Whatever your concern, we're here to help.

Unlock Our GREATEST Travel Secrets!
Sign up for our newsletter and get the best travel tips delivered right to your inbox.
How Safe is Bangkok? (Our take)
Bangkok is pretty much the quintessential Southeast Asian city. Combine skyscrapers with hedonistic nightlife and local food with culture galore, and you have on your hands a must-visit place, pretty much.
Many backpackers start their Southeast Asia trail in the Thai capital. So it can't be all bad…
… Or can it?
In general, Bangkok IS a safe destination. That being said, there are times where it's easy to get a false sense of security in Bangkok. The city DEFINITELY hides a darker side.
The roads are also some of the most dangerous in the world; people are all up for scamming you; there's the threat of terrorist attacks; air pollution is pretty bad.
Like any big city, it's a mixed bag and where you'll enjoy yourself most really depends where you go.
There is no such thing as a perfect safety guide, and this article is no different. The question of "Is Bangkok Safe?" will ALWAYS have a different answer depending on the parties involved. But this article is written for savvy travellers from the perspective of savvy travellers.
The information present in this safety guide was accurate at the time of writing, however, the world is a changeable place, now more than ever. Between the pandemic, ever-worsening cultural division, and a click-hungry media, it can be hard to maintain what is truth and what is sensationalism.
Here, you will find safety knowledge and advice for travelling Bangkok. It won't be down to the wire cutting edge info on the most current events, but it is layered in the expertise of veteran travellers. If you use our guide, do your own research, and practise common sense, you will have a safe trip to Bangkok.
If you see any outdated information in this guide, we would really appreciate it if you could reach out in the comments below. We strive to provide the most relevant travel information on the web and always appreciate input from our readers (nicely, please!). Otherwise, thanks for your ear and stay safe!
It's a wild world out there. But it's pretty damn special too. 🙂
Is Bangkok Safe to Visit? (The facts.)
Bangkok IS safe to visit. The truth is it isn't QUITE as edgy as The Beach made it out to be (that hostel scene? Filmed in Phuket anyway…) In fact, it's much more accessible.
Literally, millions of tourists pass through the city every year and live to tell the tale. To put that into actual numbers, we're talking 21.5 million in 2016. That made Bangkok the world's most visited city that year.
The madness of Khaosan Road, for example, that grew thanks to American GIs in the 1960s and became mythologised by amoral backpackers after that, has largely been replaced by tourist-friendly titillation. Think scorpions on sticks and you'll be closer to the truth.
There IS still prostitution, however, and human trafficking. Bangkok has a BAD reputation for both of these things simultaneously. You can thank the local gangs for these phenomenons.
And there is the very rare threat of terrorism. Explosives HAVE been known to be planted near tourist destinations and government buildings. There was one in 2006, and a number of explosions in Bangkok in 2015, including one at Erawan Shrine – the most deadly.
Like everywhere else in the world though, the threat of terrorism is often more powerful than actual attacks so please don't let the fearmongering get to you. The chances of you being a victim of an attack are extremely low.
Is it Safe to Visit Bangkok Right Now?
You should always refrain from insulting the Thai monarchy. This is still against the law, which is thanks to the so-called lèse-majesté law allows anybody seen to be criticising the Thai royal family to be arrested. This can mean jail time or deportation for a visitor – it HAS happened.
Around March and April is also when the air quality in Bangkok goes downhill. Pollution can be AWFUL, caused by 'slash & burn' farming both domestically and by neighbouring countries.
May to October brings the rainy season. Floods can and do happen, so keep an eye on the news.
And any time of year you can be scammed so be aware.
ALWAYS sort out your backpacker insurance before your trip. There's plenty to choose from in that department, but a good place to start is Safety Wing.
They offer month-to-month payments, no lock-in contracts, and require absolutely no itineraries: that's the exact kind of insurance long-term travellers and digital nomads need.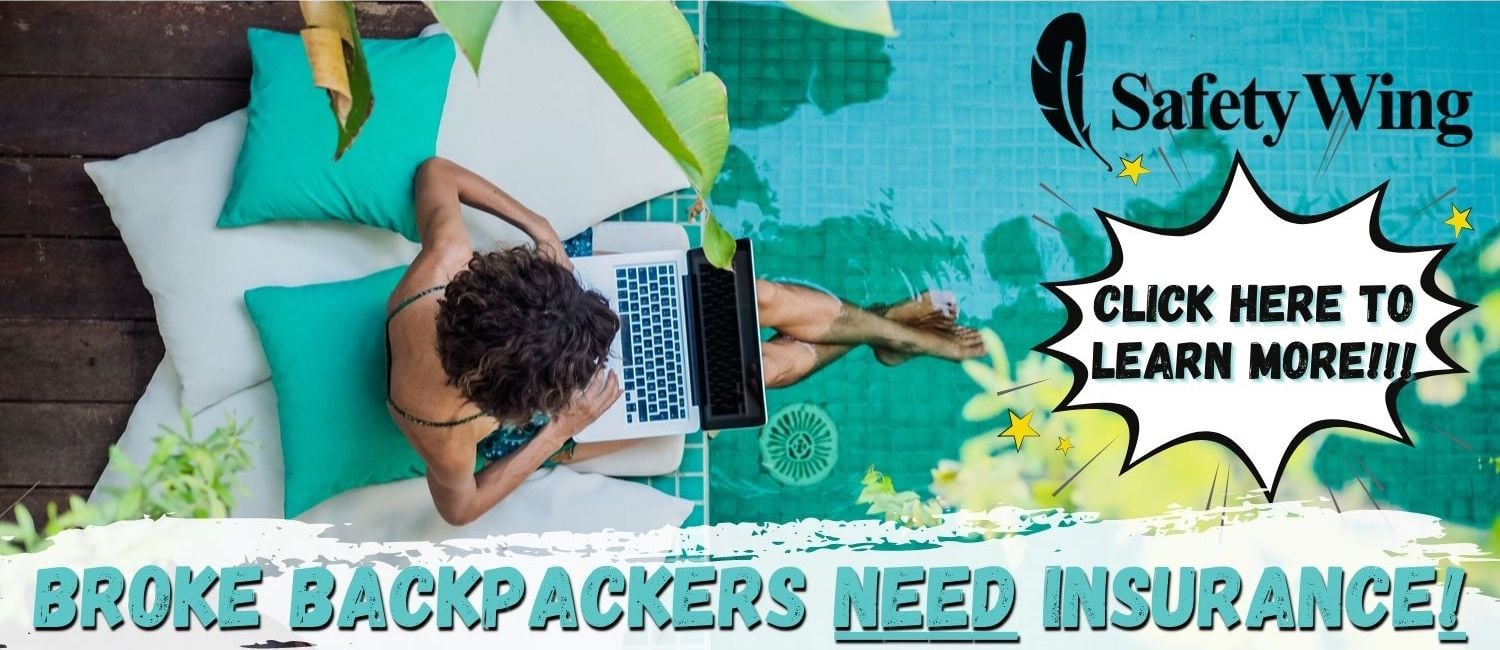 SafetyWing is cheap, easy, and admin-free: just sign up lickety-split so you can get back to it!
Click the button below to learn more about SafetyWing's setup or read our insider review for the full tasty scoop.
It may seem like a scary place of gangs, ping pong shows, and government repression, but actually, Bangkok is pretty safe; surprisingly. You'll need to stay away from the roads, and anywhere with connections to shady people. But do so Bangkok is a fun, safe, and all-round fascinating place to explore.
Here are some tips to help you travel smart through the city:
Scams happen – overfriendly people walking up to you on the street in ANY city is sketchy. Even Thai people aren't that friendly. Beware of anyone asking if you like shopping.
Pickpockets and bag snatchings also happen – relatively uncommon, but most likely to happen via a motorbike thief.
Don't flaunt your wealth – walking around looking like a blingy tourist only advertises you to would-be thieves. Keep the majority of your cash in a money belt.
Be careful when walking around the streets – vehicles can be speedy and unpredictable. The pavement can suddenly disappear. Bad combination, if you ask us.
Stay inside if the haze is thick – especially if you've got asthma or something similar. It can be dangerous.
Gun crime still exists – in sketchy, outer city areas. Especially between rival schools. Steer clear.
Learn a bit of Thai – hello, thank you, all the basics; it's easy. Know the difference between male/female pronunciation though. Even some script will help you work out numbers, place names, and foodstuffs.
Don't give your passport over as a deposit – to rental companies for a bike, etc. You may never see it again.
Keep your credit card in sight AT ALL TIMES – fraud happens. Try to use ATMs inside buildings.
Before you hop in a tuk-tuk, agree on a price first – this will avoid any embarrassing, upset, or actual full-blown arguments.
Cover up and protect against mosquitoes – dengue fever is an actual threat in the city.
Keep your wits about you – getting crazy drunk may be a favourite pastime of some foreigners in Bangkok, but you might want to go easy on it at first so you can actually make it home.
Bangkok taxis are notoriously bad – at directions, at turning the meter on, at letting you put luggage in the boot. Be wary.
Get yourself a data sim – at the airport. This will help you with everything from maps to keeping in touch with people back home.
Steer clear of street dogs and monkeys – rabies is carried by both and is not nice. Also, both can be aggressive (probably because they have rabies).
HIV is a real risk – it's the biggest killer of Thais under the age of 15. Practise safe sex and be careful with needles (for tattoos).
Don't do drugs – this is a great way to get introduced to all the wrong people. They're also SUPER ILLEGAL. Cocaine possession = death penalty.
Prostitution is illegal – unregulated, gang-run, and with many trafficked women, it's not worth contributing to human misery.
Keep a cool head – and don't get into arguments. It's generally NOT a good idea to be confrontational.
Do not get involved in political protests – we've mentioned this already, but these can get nasty.
And keep your opinions to yourself – as we said, it's against the law to talk badly about the Thai royalty.
Bangkok is, in general, pretty safe. It combines the madness that is expected of Southeast Asia with the convenience of other modern-day metropolises, which makes it an all-round cool place to explore.
But like any city, it's going to have its issues. So by following our travel tips and by generally travelling smart, you're going to be able to have an AWESOME time in Bangkok – and safely too!!
Keeping your money safe in Bangkok
One of the most common things to happen to you whilst travelling is losing your money. And let's face it: the most annoying way for this to actually occur is when it's stolen from you.
Petty crime is pretty much a problem all over the world. And even the relatively safe metropolis of Bangkok does wrestle with this issue. It's quite uncommon, but it does happen, and sometimes even the most careful traveller can be robbed.
The best solution? Get a money belt.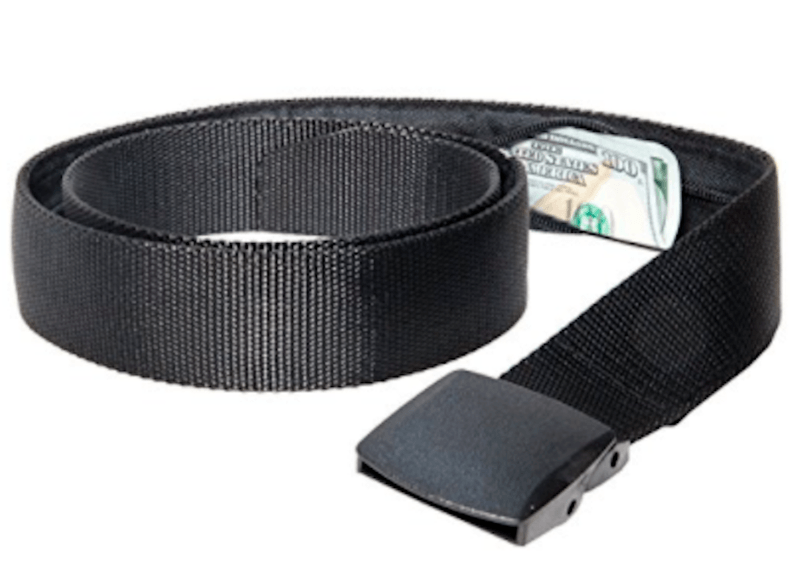 The Pacsafe Money Belt is our best bet. It's affordable, it looks and acts like a belt, and it's sturdy – what more could you ask for out of a money belt!
The Pacsafe is definitely something we recommend. Rugged – check. Affordable – check. Looks like an actual belt – check.
There's nothing about this belt we don't like. It couldn't look, and function, more like a belt if it tried. And if you're about unfussy stuff when you're travelling around, then you'll love the Pacsafe Security Belt as much as we do.
If you need a little more room for your passport and other travel valuables, have a look at a full-size money belt that tucks under your clothes instead.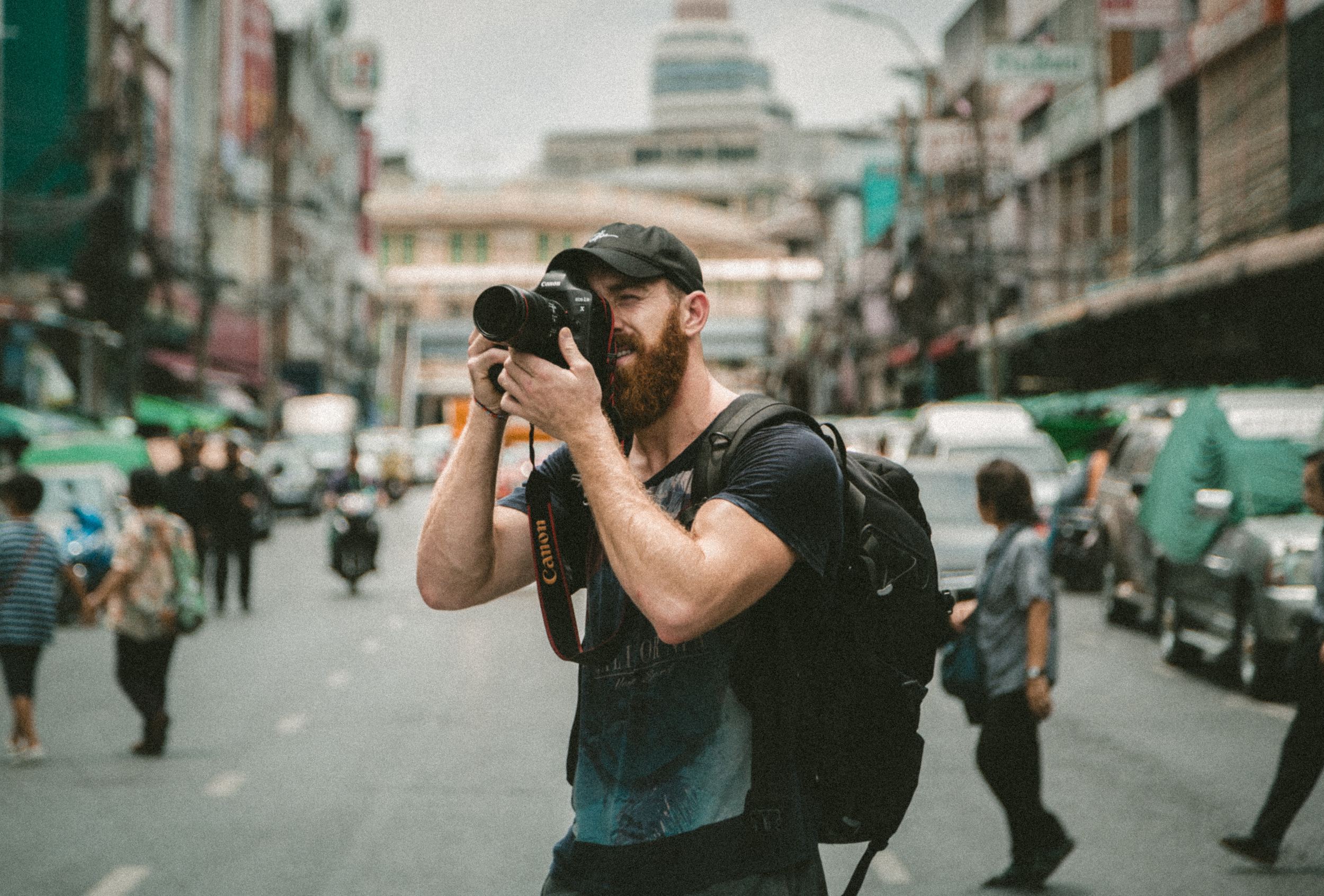 Solo travel is great – you get to do WHAT you want, WHEN you want, and WHERE you want. It's the ultimate form of challenging yourself and a great way to learn some lessons along the way. But we're not going to lie: solo travel can be tough going.
Not having people to talk to, no one to bounce ideas off, see places with. Generally, getting lonely can pretty much suck. Luckily, that's what makes Bangkok pretty cool – there are a TON of people to meet in the Thai capital, as well as a ton of things to do, as well.
We'd recommend that you stay in a well-reviewed hostel. Not JUST a highly rated one, but a hostel with a lot of reviews that SUIT YOUR PERSONALITY. No use staying in somewhere that's rated 9/10 just to turn up at a party hostel when you're not a party person.
And on a similar note: pick the right area of Bangkok for you. Want a local stay? Head to Sathon. Want rooftop bars? Stay around Bang Rak. Want to shop till you actually drop? Then Ratchathewi District might be for you. Do your research.
And once you've got the general gist of WHERE you want to stay, you might want to consider staying near an MRT or BTS station. This will make getting around the city pretty convenient and make walking distances shorter. Perfect for the mad humidity of Bangkok.
Making sure you can get back to your hostel after a night out is crucial to staying safe. Being drunk can make you do foolish things, like checking into another hostel because you can't get home to yours, or falling asleep outside. Having a clear idea of how you're going to get back to your hostel rather than doing something stupid is going to be the best bet.
So maybe don't get TOO drunk or party just like you do at home. This ISN'T home. And don't accept drinks from strangers. Drink spiking does happen and can be the precursor for a really, really bad night.
When you do go out, tell people. Your family, your friends, your hostel mates, the hostel staff, guesthouse staff – whoever. It basically just pays to have someone know where you are instead of no one.
If you don't have any hostel mates or travel buddies yet, then maybe you should head on a tour. If your hostel has a walking tour, it's a GREAT idea because you'll get to grips with the local area and meet some new people at the same time.Win-win.
Making sure you take time out is IMPORTANT. Don't push yourself and do everything the guidebook tells you to do. Take a day or two here and there to just chill the heck out. Or chat with your family. Or do whatever you want. But remember: it isn't about ticking boxes.
Finding like-minded people to hang with in Bangkok isn't going to be too hard. If you need to find yourself some travelling buddies for backpacking the rest of Thailand and Southeast Asia, or just a few people to explore the city with, you'll be in luck. As long as you don't mix up with drugs, get ultra drunk, or get yourself caught up in a protest, you'll be TOTALLY fine – Bangkok is safe to travel alone.
Is Bangkok safe for solo female travelers?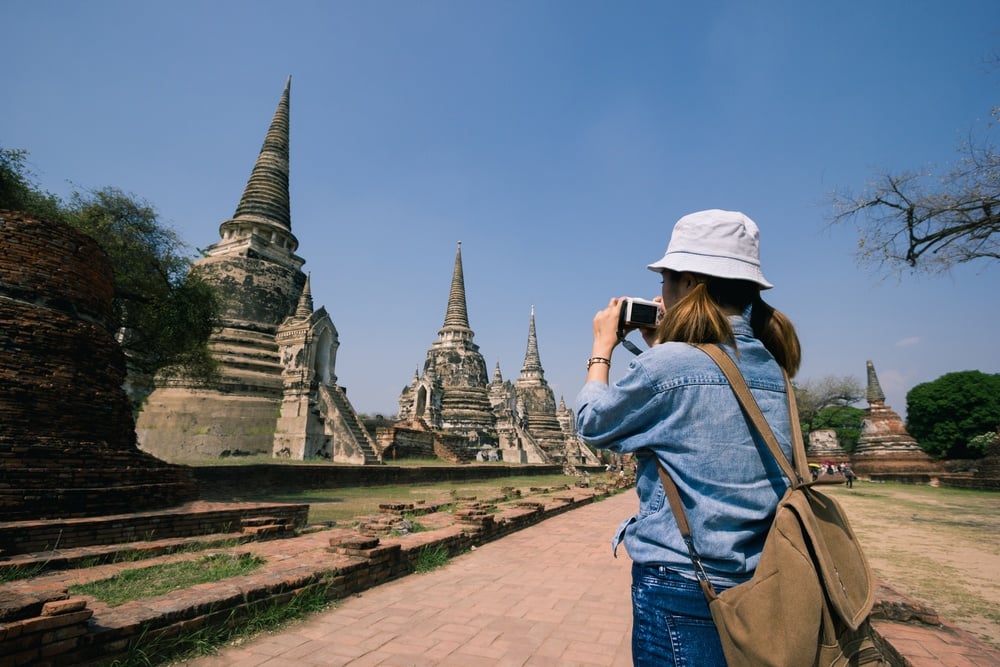 Bangkok is a safe place for solo female travellers and is pretty popular among them as well. That's because it's easy to meet other people, locals are friendly, and there's a whole lot to see and do here.
No matter where you are though, travelling solo as a woman is always going to introduce some element of risk – even in a well-trodden tourist city such as Bangkok. Yep, unfortunately, there are going to be some EXTRA things to watch out for and be aware of.
You're going to have an AWESOME time exploring Bangkok. You just have to keep your wits about you and pay attention to your surroundings – do these and you'll be safe.
To help you out even more, here are some extra tips for staying safe in Bangkok.
Hit up Facebook groups. This might not SEEM safe in itself, but groups like Bangkok Girl Gone International do meetups. Plus you can always message the group itself and ask questions.
Don't be afraid to use the MRT. This might seem like a dodgy way to get around, especially after dark, but it's actually quite safe. There are even female-only carriages to use during rush hour.
We'd recommend that you choose to stay in female-only dorms at hostels. This is a good way to meet other women in a friendly, easygoing environment. You may even make a few friends out of it, too.
It's ok to say no. If you feel uncomfortable around someone, be it a local or fellow traveller, you don't need to be polite. If you don't want to hang out with them, get a drink with them, or go anywhere with them, that's YOUR CHOICE
At the same time, don't tell everyone your life story. They don't need to know if you're married, where you're currently staying, where you're going next, or anything personal or trivial about you at all. Don't feel compelled.
A good way to stay safe is to remove yourself from dangerous situations. Any sketchy or dodgy situation could turn dangerous, so if your gut starts telling you that you should get out of there, you should probably get out of there.
As such, trust your instincts. If someone seems weird, they may well be. It's better to be safe than sorry.
Don't walk around by yourself at night time. This is a no-brainer for females anywhere in the world. Of course, down well-lit streets or busy areas, you'll probably be fine. But it's the quiet streets and alleyways you should be wary of.
If you're going out at night time, you should know how to get home. There's nothing worse than being a little drunk and trying to work out just HOW to get back to your hostel at night time. Especially when you're a solo female traveller heading home by themselves.
It's a good idea to make friends with the staff at your accommodation. You can tell them if you're heading out for the evening, ask them if you need recommendations, a driver, a taxi, or whatever else. They'll be a helpful city lifeline.
Download a maps app like Maps.me. This one gives you offline maps of Bangkok and helps you keep track of just where in the city you are.
Bangkok is backpacker gold, packed with things to do for travellers and countless neighborhoods to explore. As a solo female traveller, there will be SO much for you to get up to. Being in the city by yourself can be a little bit daunting, but with the right support this can end up becoming a very comfortable place to be.
Make yourself some friends, get acquainted with the area around your accommodation, stay somewhere that's well reviewed, stay away from weirdos and don't get involved in situations that feel sketchy. Your instincts, your gut feelings, will be INVALUABLE in this city.
At the end of the day, Bangkok is safe for solo female travellers. Of course, like every other city, it pays to watch out for your personal security, but as far as cities go, Bangkok is a pretty safe one.
Is Bangkok safe to travel for families?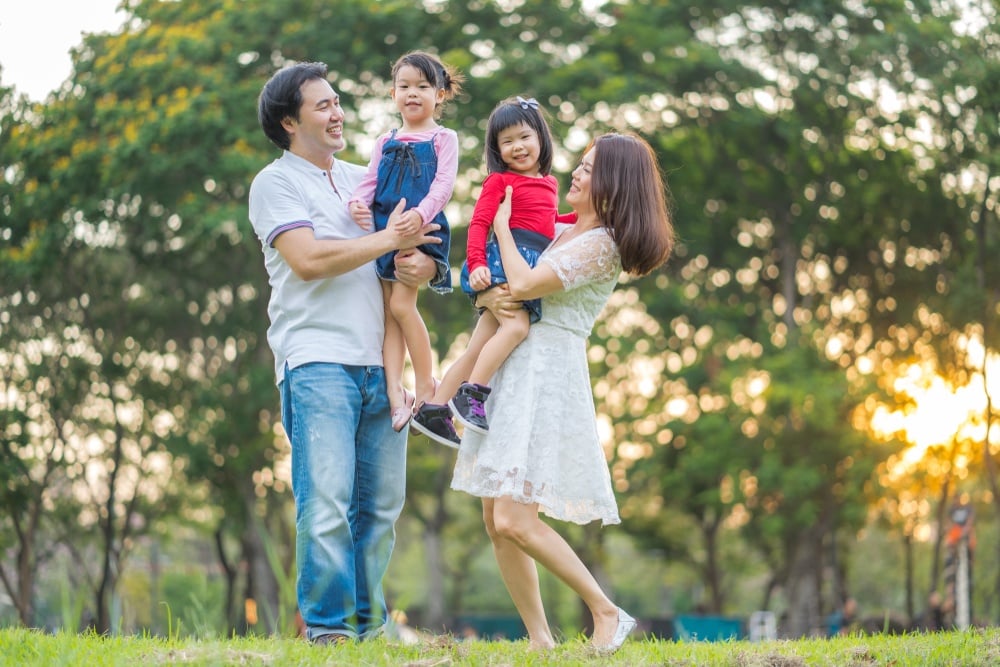 Bangkok is DEFINITELY safe to travel for families!
Millions and millions of people visit Bangkok every year. Many of them are families.
That's right, the Thai capital is a safe place to travel with children.
There are outdoor activities ranging from simply riding the ferry along the river to soaking up some culture at a temple to visiting a floating market. On top of that, there are even more activities for children just outside of Bangkok, like SEA LIFE Bangkok Ocean World and Siam Park City.
Even a tuk-tuk ride is going to be a fun thing to do.
But even though it's a well-established city, it's STILL a pretty adventurous place to visit with your kids. To help manage the young ones and ensure that everyone has a safe, good time, here are some things to consider:
Make sure that you plan well ahead and book yourself into family-friendly accommodation. There's a lot to choose from in Bangkok, so doing your research on the sort of hotel/guesthouse you want to stay in – as well as the area you want to BASE yourself in – is important.
When it comes to safety, first things first: your child should be up to date with vaccinations. That's a no-brainer.
Road safety can be an issue in Bangkok. Take care when walking along the streets, and don't expect to be able to use a pushchair; Bangkok's streets aren't exactly stroller friendly.
Be prepared for the heat. This includes staying hydrated as much as staying out of the sun. Little ones are WAY more affected by all this than adults, so suncream, water bottles, and sun-hats are a MUST.
Chemist chain Boots exists in Bangkok. This means nappies and medical supplies are never too far away.
Even picky eaters can eat in this city. A ton of different restaurants and cuisines on offer means your children won't have to put up with Thai food if they can't stand it.
In conclusion, Bangkok is safe to travel for families; better yet, you'll be well catered for wherever you go! There's nothing stopping you and your children having the trip of a lifetime in this lively city.
Is it safe to drive in Bangkok?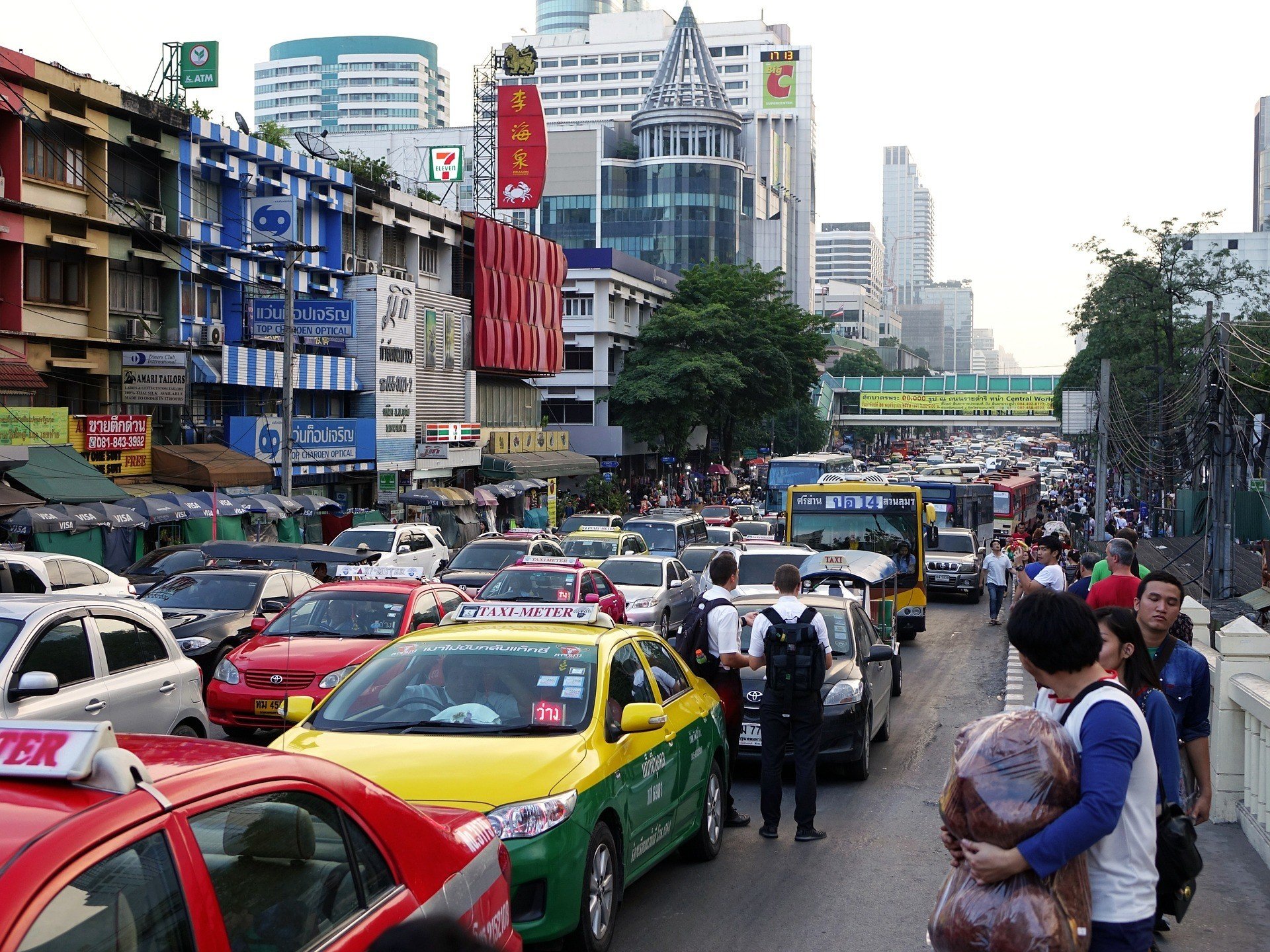 Not really, no. In fact, it's not only not worth it to drive in Bangkok, but it's also really unsafe.
Thailand as a whole has some of the WORST road traffic stats in the world. The World Health Organisation has reported that Thailand is home to the second highest road traffic fatality rate in the world.
And that's without considering the ins and outs of driving in a city.
WHY WOULD YOU?
Honestly, there are complex road networks, tiny little sois to navigate around, a weird address system to contend with, you won't know where to park, people drive mentally – and need we mention the traffic?!
The MRT or BTS are MUCH better options for getting around town.
If you REALLY must get into a car at all or want to see areas just outside of the city, then hire yourself a driver through your accommodation.
Riding a motorbike in Bangkok
Especially during peak time, Bangkoks streets can be super busy and chaotic, which tends to be overwhelming and dangerous for inexperienced motorbike drivers. But does that mean Bangkok isn't safe to drive at all?
Generally speaking, riding a motorbike in Asia is always a unique, but pretty sketchy experience. Since a lot of locals don't stick to the traffic rules, tourists often struggle with driving.
However, there are a couple of rules that you can follow to make your trip a bit safer:
Wear a helmet: We can't repeat this often enough. Always prepare for the worst-case scenario. There's absolutely no disadvantage of wearing a helmet!
Drive on the far left side: especially for inexperienced drivers, this is an important tip. You can drive a bit slower on the far left side without stopping traffic behind you.
Be aware of your surroundings: always keep your eyes on the road, stay focused and use your mirrors.
Don't take unnecessary risks: yeah, the local in front of you might be able to squeeze through the gap, but that doesn't mean you have to follow his example. Be patient and smart when driving your bike.
If you don't want to drive yourself, you can order the Asian version of Uber: GRAB. It's super affordable, and you'll get the experience of riding on the back of a bike without having to be in charge.
Renting a scooter is pretty easy in Bangkok. Find a rental on the street or check out this Online Scooter Rental. Either way, make sure your bike is in good condition, and the brakes are working.
Is Uber safe in Bangkok?
Uber WAS in operation in Bangkok but now it's merged with Grab. This new conglomerate is as safe as ever as well.
You can track your ride, know your driver, file disputes online; all the good stuff that comes with ridesharing. Grab is a great option compared to getting a taxi.
Speaking of which…
Are taxis safe in Bangkok?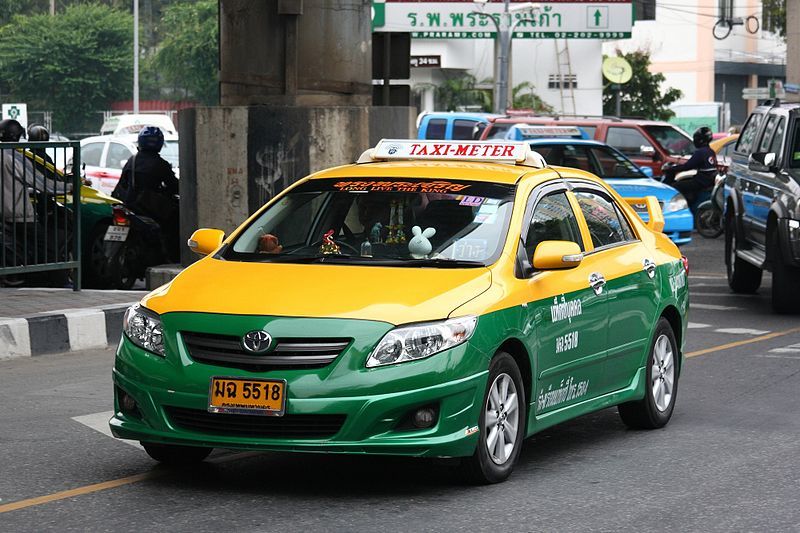 Honestly, Bangkok taxis have a bad reputation. We have first-hand experience of their awful directional skills and having to guide drivers via our own Maps app.
So first things first, don't expect them to know where they're going. To be fair, Bangkok is a huge city with a TON of tiny streets; how could ANYONE ever navigate these? Let alone to the address of some random hostel?
That being said, there are some other issues to consider:
Be aware that sometimes they may not have room in the boot for your luggage because of whatever else they might be keeping in there. It could be an uncomfortable ride.
They also SHOULD use the meter and it's illegal if they don't. If the driver just refuses to turn the meter on, get out and find another taxi. There will be one soon enough.
Only a handful of taxi drivers are actually sketchy. If they look like they might be ON something, or they try and charge you before you get in, or something else that doesn't feel right, or any of the above – then don't get in. Simple.
You'll know a taxi because it's yellow and green.
You can hail a taxi in the street, get your hostel or guesthouse to call one for you, then show them your phone with the address in Thai. This is a safe and relatively effective way of using a taxi in Bangkok.
All of that said, most taxi drivers in Bangkok are friendly, and a lot of them speak a little bit of English.
Then again – Grab is just so much more convenient.
Is public transportation in Bangkok safe?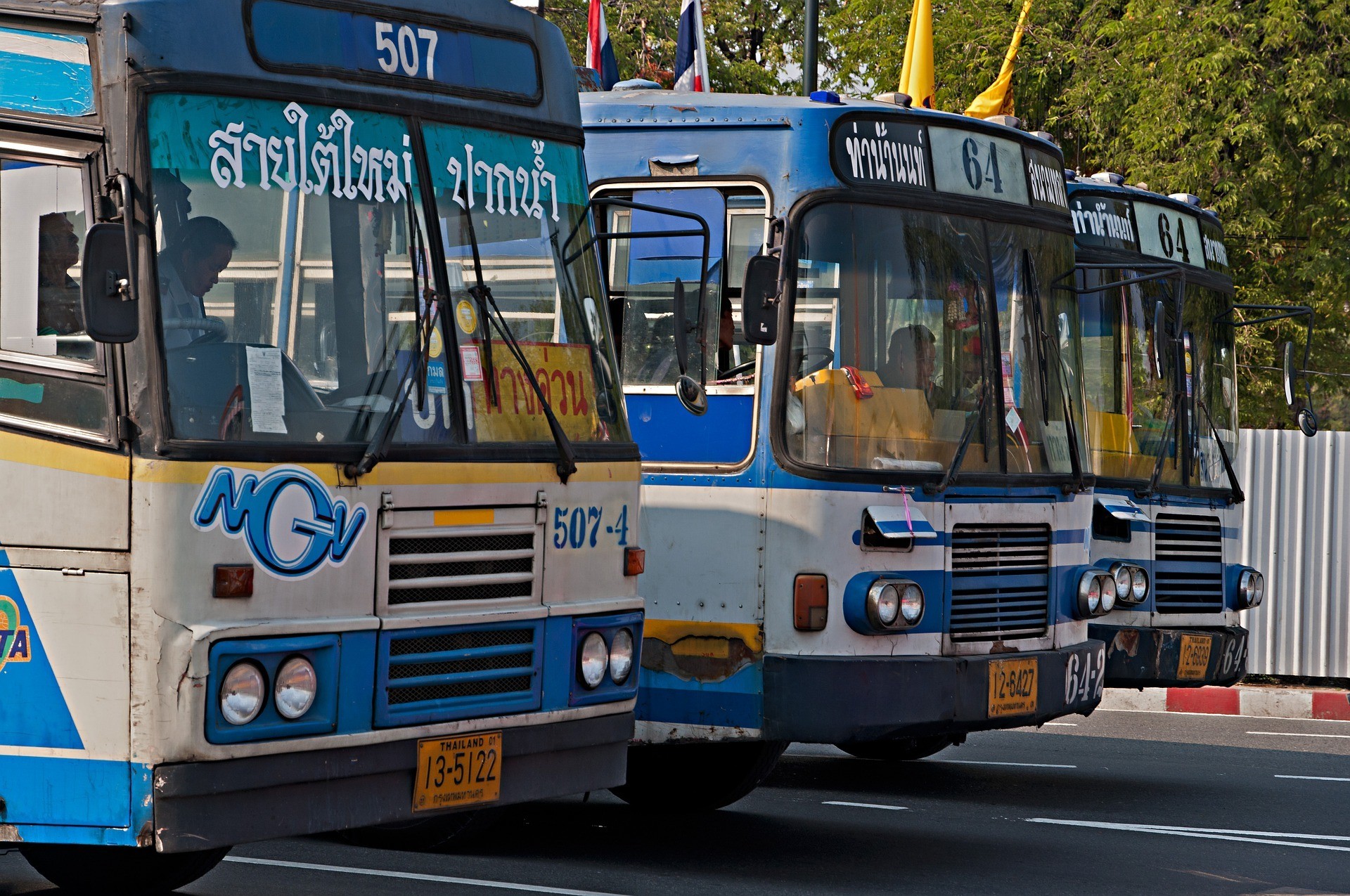 Yep, public transportation in Bangkok is totally safe. Petty crime is virtually unheard of on most public transport systems. And you can forget about violent crime.
Both the MRT and the BTS (otherwise known as the Skytrain) are pretty new and provide a clean and efficient way to get around the Thai capital. Even at night, you can hop on either one of these systems with the peace of mind that the journey is going to be a safe, trouble-free one.
Though it gets a bit rowdy during rush hour, both the MRT and BTS are nowhere near as busy as The London Tube. By comparison, both feel like a breath of fresh air.
There's even signage as well as announcements in English, making it EASY to get around. Both lines are steadily growing too, meaning Bangkok will soon have even more routes and options for commuters.
There's also the city bus system, which is not as nice as the MRT or BTS. They're often packed, hard to figure out (unless you're a local, it seems), and HOT. You're virtually guaranteed all of these conditions ALL of the time using Bangkok's buses.
But they are even cheaper than the already affordable MRT/BTS.
You'll need some Thai if you want to use the buses as well.
In summation, it's not that the buses are unsafe, they're just a lot more hassle than the trains, which already sail easily throughout the capital.
Is the food in Bangkok safe?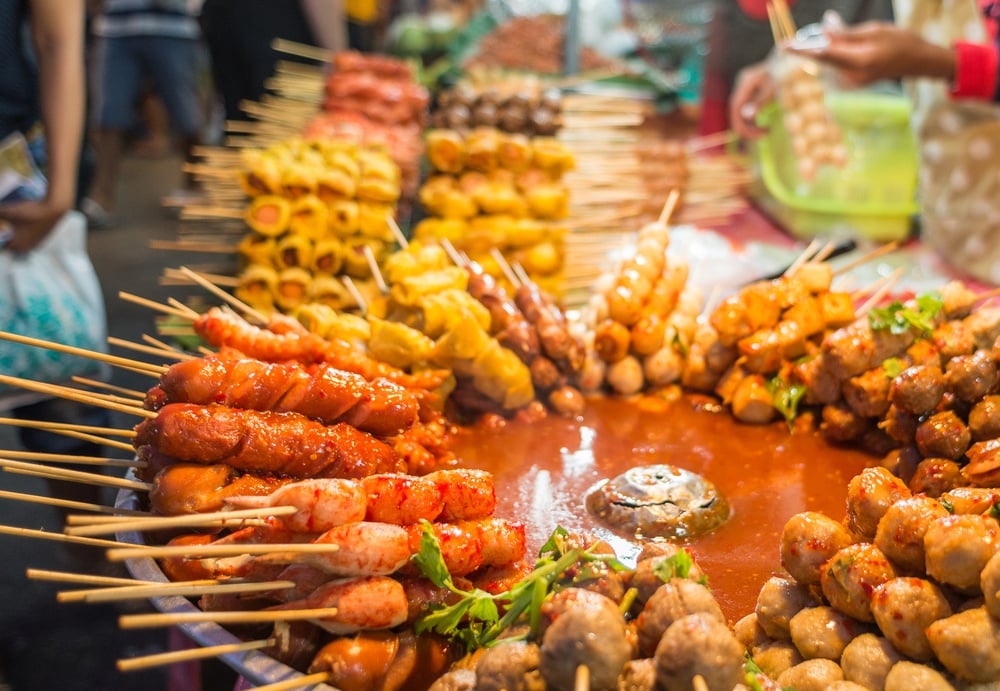 Are you JOKING? Thai food is incredible. From the local favourite pad kra pao to tourists' favourite pad thai, there's a whole lot of rice and noodles. But that's only PART of the available food. Japanese, from omu-rice speciality chains to sushi, Chinese, Western: it's all on offer.
This is a big city, don't forget, so you're bound to find somewhere safe to eat in Bangkok. However, if you're wondering whether you should be eating the food in Bangkok at all, then look no further than these pro tips on how to eat your way around this fun city.
You DEFINITELY shouldn't be afraid to try the street food. The rule of thumb when it comes to this stuff is going somewhere popular, looks busy, or that's been recommended to you from someone who's been there.
Avoid food that's been sitting around in the sun, uncovered, and on show all day. Instead, opt for meals cooked fresh in front of you. This also works wonders when it comes to street food.
Speaking of which, watch how the cook is prepping the food. If they've got some good hygiene going on, we say go for it. Not so much? It's probably not a great idea to eat their potentially contaminated food.
If you're the sort of person who's prone to a bad stomach, then you should probably be avoiding things like papaya salad or cut fruit. Even if you have an iron stomach already, you should steer clear of these sorts of food because they CAN be hit-or-miss in terms of how ill they'll make you.
Take it easy! Thai food is delicious! But don't get greedy and try to eat everything on the first day. Chances are your stomach won't be used to it, which is a great way to make yourself ill.
Speaking of which, you should be looking things up, doing your homework on what foods you can (or want to) try. This way, you'll get a good idea of the sorts of establishments you should be eating at, too.
Be careful of seafood, which can seriously make you ill. It's actually dangerous to eat seafood that's, for want of a better word, gone bad.
Often it will be restaurants themselves or the dreaded buffet that will make travellers get a bad tummy. This is due to food basically being cooked once and then just left to sit around all day. Not a good way to go. When it comes to buffets, we'd say AVOID or visit one that comes highly recommended.
Wash your hands. It's as simple as that. You never know if it's your own lack of hygiene that might be making you ill on your Bangkok trip.
Traveling with an allergy? Research ahead of time how to explain your allergy. Keep in mind that store owners and restaurant staff might not know all the foods that contain allergens, so it's helpful to know the names of some of these too. If you're gluten-free, pick up a handy Gluten-Free Translation Card with descriptions of Celiac disease, cross-contamination risk, and local Thai ingredients in Thai.
Being practically a world city nowadays, Bangkok is a foodie wonderland. Treat yourself to some noodle soup in Chinatown, grab yourself some tasty Thai street fair, or simply head out and enjoy some Western treats at any number of restaurants.
Of course, there's always the question of hygiene when it comes to eating in a foreign country. Any country that's not your home country is going to feel a little dodgy because you won't be used to the food or cooking methods, so just take it slow and be cautious. Easy.
Can you drink the water in Bangkok?
Whilst it IS clean when it leaves the treatment plant, the water in Bangkok will more than likely travel through old, dirty pipes.
So, no: you can't drink the water in Bangkok. We'd avoid it, end of story.
Is Bangkok safe to live?

A whistle stop holiday tour in Bangkok may make you fall in love with the city and want to live there. And why not?! Bangkok is actually going to be a safer city to live in than many European countries, or North America. No joke.
Walking around at night, walking around in the day, not really worrying about violence; that's normal in Bangkok.
That said, there is a little bit of danger here due to the country's political instability. Terrorism is a common conversation, but, as we mentioned before, the world is going through the same situation – often more so than Bangkok.
But Bangkok is definitely the place to be when it comes to finding a job, meeting locals, nightlife, culture, urban energy, food, making friends with expats, cheap housing options. All of these and a whole load more make Bangkok a cool place to live.
You can even own property in Bangkok. If you had the money, and you wanted to buy a place, you could.
It's definitely safe to live in Bangkok and we're all for it.
The Future of the SIM Card is HERE!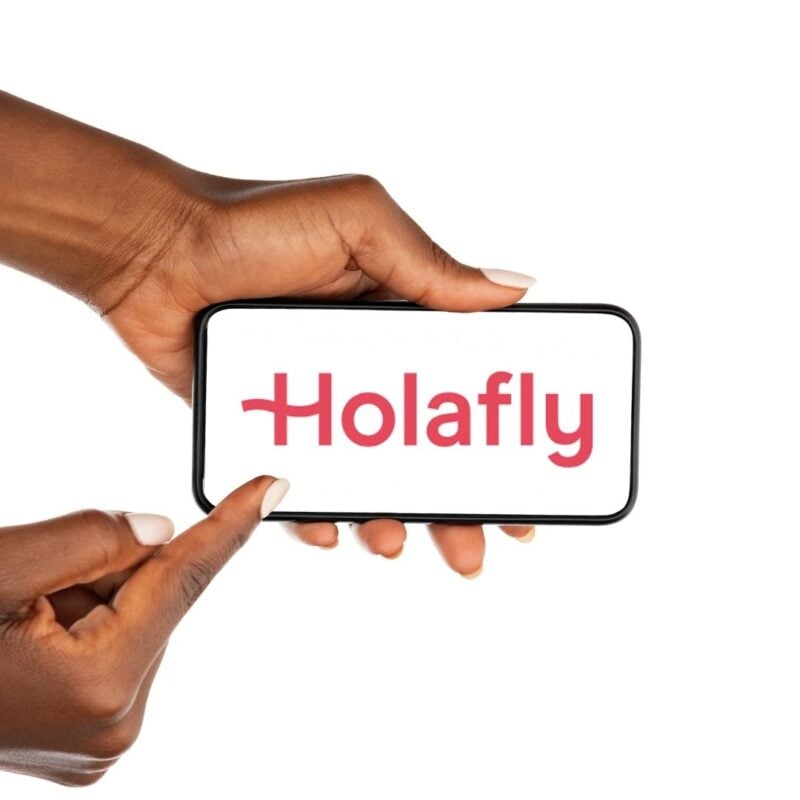 A new country, a new contract, a new piece of plastic – booooring. Instead, buy an eSIM!
An eSIM works just like an app: you buy it, you download it, and BOOM! You're connected. It's just that easy.
Is your phone eSIM ready? Read about how e-Sims work or click below to see one of the top eSIM providers on the market and ditch the plastic.
Grab an eSIM!
How is healthcare in Bangkok?
Healthcare in Bangkok is of a high standard. It's good enough that you'll be flown here from pretty much every other Southeast Asian country if you get a serious injury. Only Singapore has better healthcare in the region.
In fact, Bangkok has become a destination for medical tourism in the region. That's because the private hospitals are EXCELLENT and of a perfectly international standard. Corrective eye surgery, cosmetic surgery, dentistry; many procedures are carried out in Bangkok.
The private hospitals will feature staff who are fluent in English (maybe in other languages as well), and who have trained in various countries around the world, too. Private hospitals are expensive compared to their public cousins.
The public hospitals are often older and they'll be LESS equipped than their private counterparts – and that's not to mention longer waiting times, either. However, these have been getting better. Some may actually be of a surprisingly good quality nowadays, though, no matter what, you can't expect a high level of English.
At either one of these, you'll need evidence that you'll be able to pay your bills. This is in the form of cash up front or medical insurance papers. You definitely shouldn't visit Thailand without insurance regardless.
Pharmacies in Bangkok are pretty amazing. You can be diagnosed (for minor ailments) and be recommended some medication on the spot. You won't even have to be prescribed since you can buy A LOT of stuff over the counter.
Helpful Thai Travel Phrases
Hello – Sà-wàt-dee
How are you? – Sà-baai dee mi
Pleased to meet you– Yin dee têe dâi róo jàk
Excuse me – Kor tôht
Please – Kor …
Cheers – Chon
Crazy – Ding- dong! (Sounds adorable not offensive.)
Son of a bitch – Ai hee-ah (Now that sounds more effective!)
Ladyboy – Katoey ( Very useful to know this in Bangkok!)
No plastic bag – Mimi tihung phlastik
No straw plastic please – Mimi fang pord
Where's the toilet? – Hông náam yòo n?i (crucial if you're a lover of spicy South East Asian food)
No plastic cutlery please – Mimi mid phlastik pord
Yes – Chai
No – Ma Chai
Beer – Bia
How much – Nee Tao Rai
FAQ about Staying Safe in Bangkok
Here are some quick answers to common questions about safety in Bangkok.
Final thoughts on the safety of Bangkok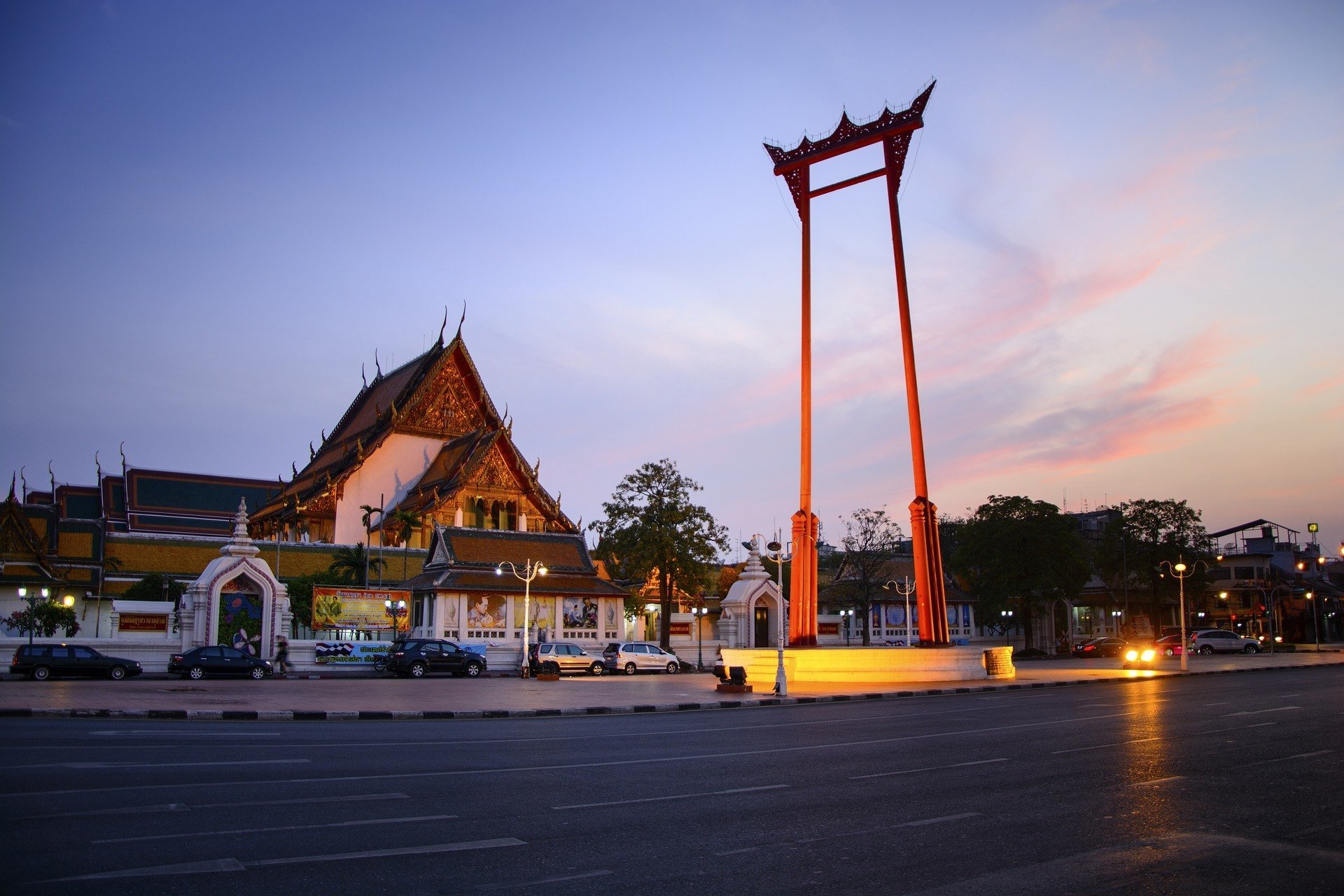 Bangkok is something of a theme park for Southeast Asia. Part incredibly sparkly malls, part hallowed golden temples; it's a place where hefty traffic, passionate politics, and the beating heart of Thailand's modern economy culminate in an exciting microcosm. From Chinatown to the hipster neighbourhood of Ekkamai, it's a buzzing place to be.
But that's not to say it doesn't come without its own unique dangers. Petty crime DOES exist – and violent crime too – but not nearly to the same extent of other cities the same size as Bangkok. Instead, the dangers in Bangkok are relatively unusual for a city that's SO TOURISTY. These are protests that turn ugly and, in extreme circumstances, bombings.
It's definitely unusual, but these things don't necessarily make Bangkok feel unsafe. You're unlikely to be affected by either one of these because motivated by politics, not tourists. And if you're worried about petty crime, drink spiking, violence, then the simple thing would be to stay away from sketchy areas. Just use your common sense.
Disclaimer: Safety conditions change all over the world on a daily basis. We do our best to advise but this info may already be out of date. Do your own research. Enjoy your travels!
---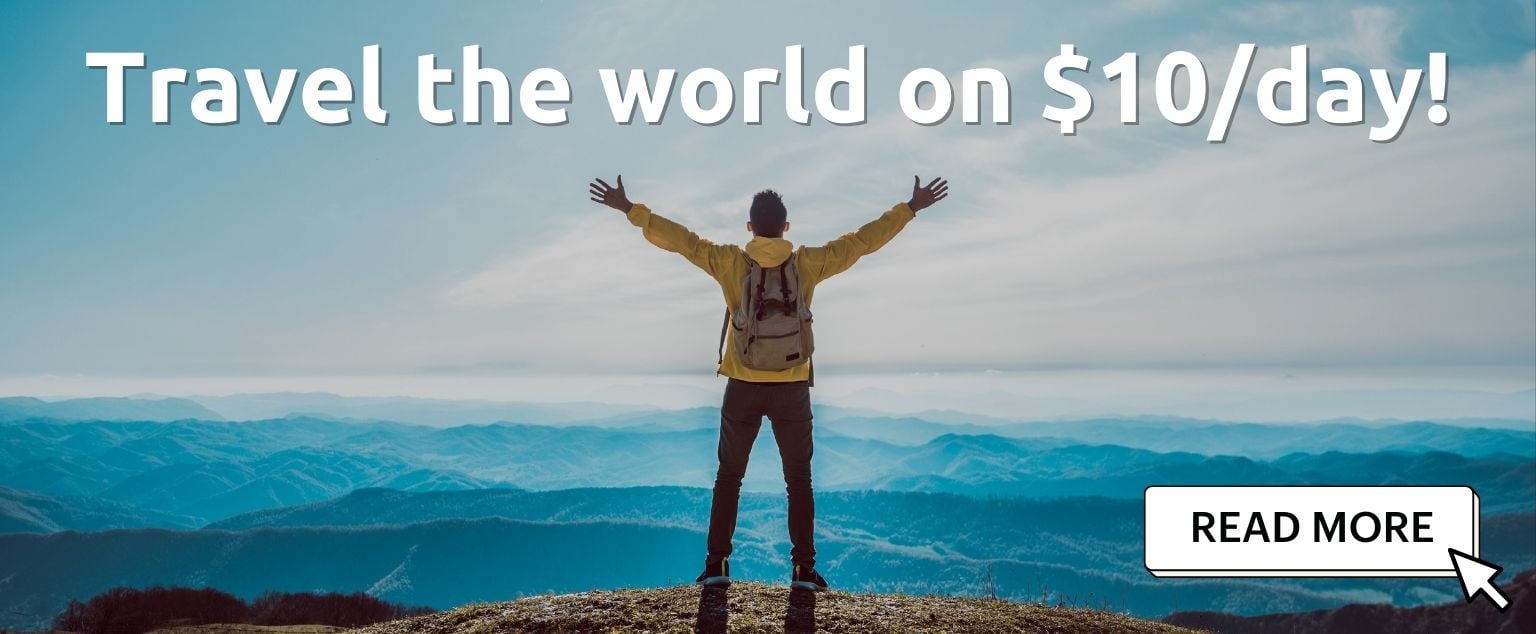 And for transparency's sake, please know that some of the links in our content are affiliate links. That means that if you book your accommodation, buy your gear, or sort your insurance through our link, we earn a small commission (at no extra cost to you). That said, we only link to the gear we trust and never recommend services we don't believe are up to scratch. Again, thank you!