Spread across a strip along the mainland peninsula and a fairly large island, Malaysia's state of Penang is famous for being one of the world's premier places for mouth-watering street food. It also boasts an abundance of beautiful architecture, plentiful historic and religious sites, places of natural interest, and beaches.
Due to the state's spread-out nature, deciding where to visit each day can be tricky. You don't want to waste time travelling between hotspots only to later discover there were other cool places close to hand.
We've done the research so that you don't miss any of Penang's highlights. Add these best places to visit in Penang to your itinerary for an epic trip to the island:
Need a place quick? Here's the best neighbourhood in Penang:
BEST AREA IN PENANG
George Town
A UNESCO World Heritage Site, George Town has an abundance of churches and temples, pre-war architecture, and a lively arts and culture scene.
Places to visit:
Admire the colonial architecture of Wisma Kastam.
Go for a stroll along Gurney Drive.
Take a graffiti spotting tour through the city.
And now, onto the good stuff … here are the best places to visit in Penang!
These are the BEST Places to Visit in Penang!
Visit Penang with peace of mind that you're seeing the very best places the state has to offer…

Unlock Our GREATEST Travel Secrets!
Sign up for our newsletter and get the best travel tips delivered right to your inbox.
#1 Monkey Beach
Great for swimming!
Not very crowded
Inside of an epic national park!
Go on either a jungle hike or boat
Why it's awesome: This is one of those tourist attractions you just can't miss when you visit Penang Island! The secluded beach is located deep inside Penang National Park, which is worth a trip on its own. The best thing about the beach is you can only reach it via hike or boat!
Relax on the sand, swim, or grab some grub at one of the on-site beach shacks. At over 1km long, it's Penang's longest stretch of sand.
What to do there: Relax on the sand, take a dip in the water, or even charter a local boat to explore the area. Spot the native Macaque monkeys, and spend the night at the beach campsite to check out sunrise and sunset! The entrance fee is RM50 for foreigners.
#2 See the Amazing Floating Mosque
A mosque built on stilts!
Free to enter
Iconic design
Gives insight into Islam in Malaysia
Why it's awesome: The Tanjung Bungah Floating mosque is a stunning architectural marvel that we'd definitely consider a must-see while you're visiting Penang. Its unique location makes it appear as if it is literally floating – you most likely have never seen another mosque like it.
What to do there: Walk around the grounds and take in the peace and beauty. It's also not a good idea to visit during prayer times out of respect.
#3 – Chulia Street Night Market
Huge assortment of street food
Affordable prices
Lively and friendly atmosphere
Terrific photo opportunities
Why it's awesome: Chulia Street Night Market is one of the best places in Penang for a wide array of delicious street food—and that's quite an achievement in a city that's world-renowned for its incredible street food scene. There are a number of small sit-down eateries as well as an abundance of hawker stalls and basic tables and chairs where you can dine on the streets. Dishes reflect the country's mixed heritage, with Malay, Chinese, Indian, and local fusion fare all available. You can expect Indian style curries, iconic Penang prawn noodles, and thousands of dishes in between. Prices are reasonable too.
What to do there: Stroll along the lively Chulia Street Night Market watching as vendors cook an assortment of dishes on the spot, the scents of cooking wafting through the air, the sizzling sounds breaking through the chatter, and the sights that are sure to tempt you.
If you're into food photography this is a terrific place to indulge in your hobby. Of course, it's also a fantastic place to get your fill of delicious street food. Be sure
#4 – Kek Lok Si Temple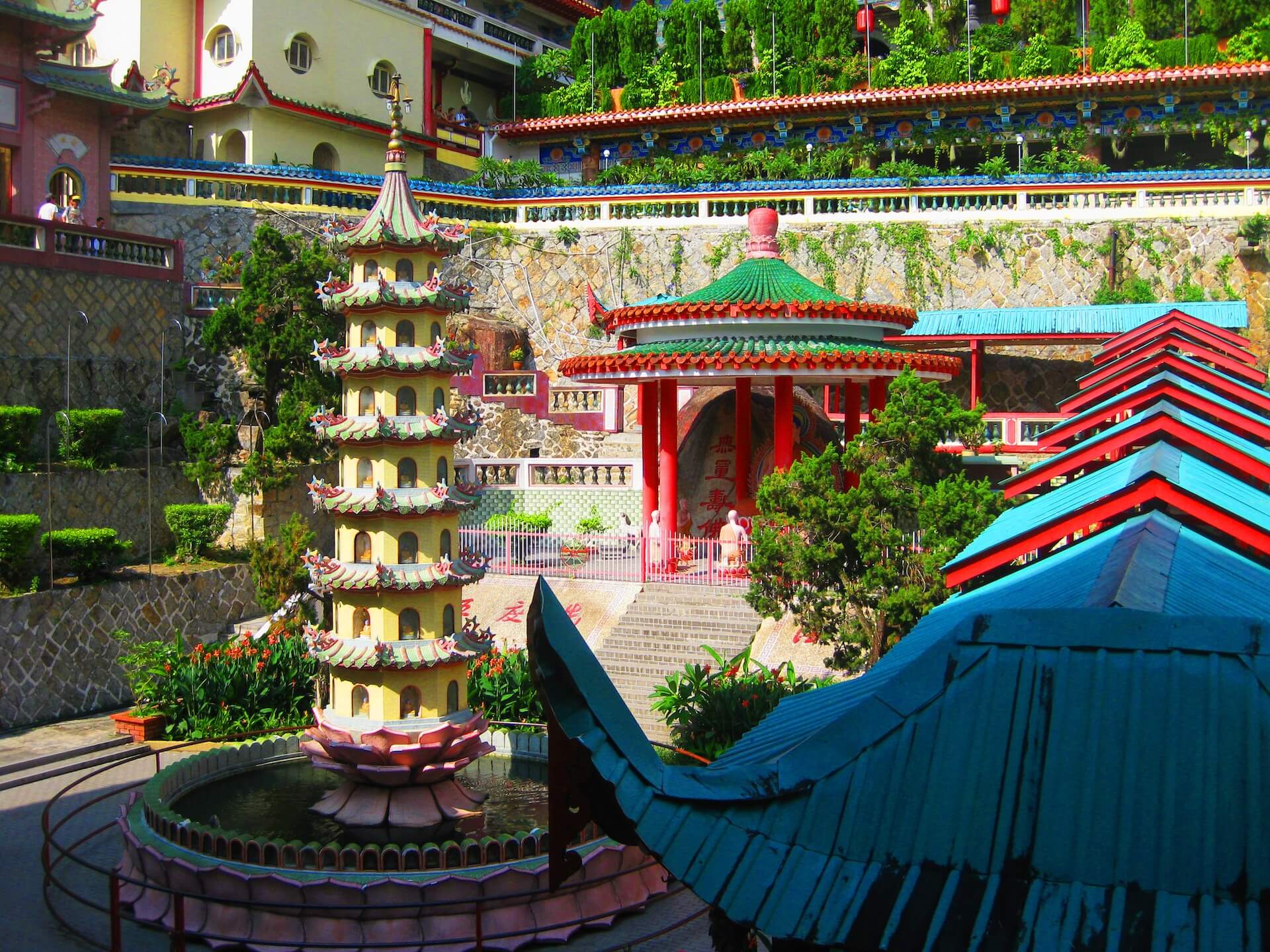 Striking hilltop temple
Biggest Buddhist temple in Malaysia
Major pilgrimage site
See various cultural practices
Why it's awesome: The large and detailed Buddhist temple of Kek Lok Si is perched on a high hill overlooking the surroundings. The extensive complex is the nation's largest Buddhist temple and it attracts mainly devout Buddhists who want to make merit, worship, and pay their respects. The architecture and religious practices reflect different branches of Buddhism.
The ornate temple dates back to the 1890s, built using donations from a number of wealthy Chinese businessmen, and there have been a number of striking additions over the years. Spread over three main zones and with beautiful architecture, fascinating statues, splendid gardens, and terrific views, there's definitely plenty to appreciate at the important temple.
What to do there: Marvel at the soaring seven-level pagoda adorned with thousands of statues of the Lord Buddha, and notice the blend of Chinese, Thai, and Burmese influences in its design. Be impressed by the towering 36-metre-tall (120-foot-tall) bronze statue of the Goddess of Mercy (Kuan Yin). Find your Chinese zodiac birth animal among the 12 statues.
Stroll through the pleasant gardens and soak up the pretty views. Watch turtles and fish swimming in the ponds, spend some time in quiet reflection in one of the prayer halls, see devotees performing various religious rituals, buy a range of souvenirs, amulets, and religious memorabilia, and call into the restaurant for a tasty and filling vegetarian meal.
#5 – Pinang Peranakan Museum
Learn more about Peranakan heritage and culture
Eye-catching artefacts
Housed in a historic mansion
One of Penang's best museums
Why it's awesome: Pinang Peranakan Mansion tells the story of the area's Peranakan (Straits Chinese) past. The building, built in the 1890s, was once the home of a wealthy Chinese businessman, and it has been restored to showcase its former splendour. Rooms are decorated and arranged so as to transport people back in time and the museum is filled with numerous antiques and items from the Peranakan community. The museum is so well curated and the collections so vast that it has received many accolades and been featured in various TV shows.
What to do there: Admire the handsome green building from the outside, noting the blend of Chinese, European, and Malaysian elements. Peranakans maintained their own customs while also adopting those from their new area (the Straits) and later from colonial influences, leading to a unique way of life and culture. Explore the museum's rooms and courtyards, filled with beautiful details and objects.
You'll see things like exquisitely carved wood, ceramic floor tiles, decorative room screens, and more than 1,000 gorgeous antiques. See the statue of the mansion's former owner standing inside the adjacent small shrine.
#6 – Cheong Fatt Tze Mansion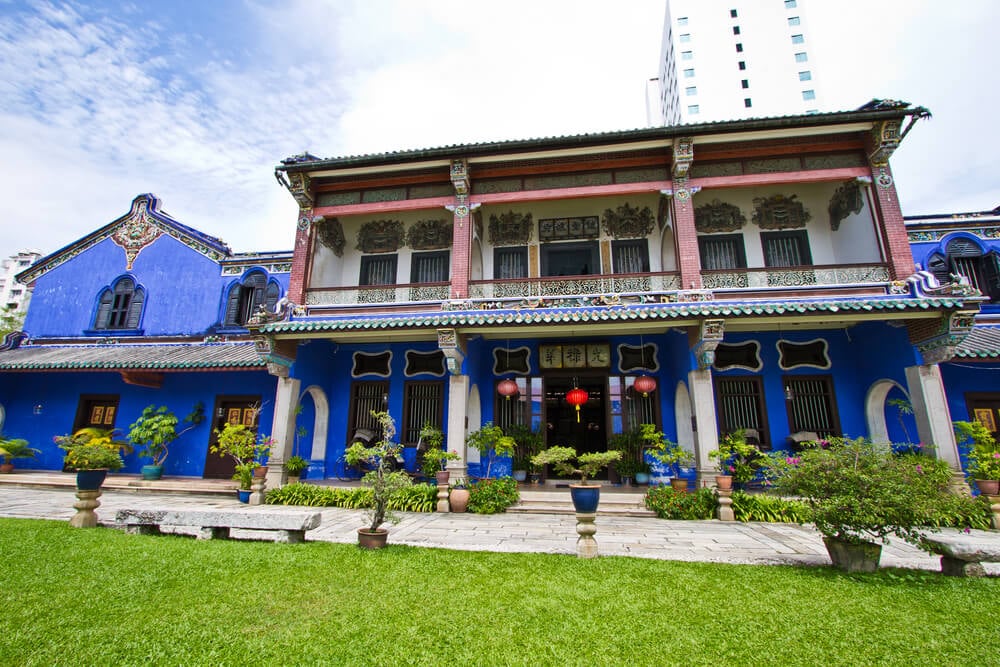 Insane design!
A UNESCO award winner
Movies have been shot here!
Bucket-list experience
Why it's awesome: The Cheong Fatt Tze Mansion is no doubt one of the coolest places to see in Malaysia. Nicknamed the Blue Mansion for obvious reasons, it's also an epic boutique hotel these days. The iconic home once belonged to a 19th Chinese tycoon of the industrialist era. The home eventually went under some major renovations that even earned it a UNESCO award. The property continues to welcome guests and has even appeared in major films, including the mega-hit Crazy Rich Asians.
What to do there: Book a tour for either 11 AM, 2 PM, or 3:30 PM. For the full experience, you can book a luxury stay in one of their rooms.
#7 – Snake Temple
Home to many snakes
Long history
Surrounded in local legends
Beautiful architecture
Why it's awesome: Penang's Snake Temple was constructed in the early 1800s to honour a Chinese Buddhist monk, Chor Soo Kong. He was known for doing many kind deeds, particularly tending to the sick and assisting snakes. Local lore says that when the temple was built, pit vipers just started to appear there. Today, lots of snakes lounge throughout the temple. Although locals believe that the incense smoke makes the snakes harmless, they have been de-venomed to be on the safe side!
What to do there: Wander around the temple complex and stare in fascination at the numerous snakes who call the religious site home. See snakes draped across the shrines, coiled around statues and columns, hanging from branches, and in almost any place you could think of! Most of the resident snakes are pit vipers, though you'll also spot a number of other species. Visit the breeding centre and learn more about the slithery and often misunderstood creatures. You can also enjoy the attractive details of the temple.
#8 – Penang National Park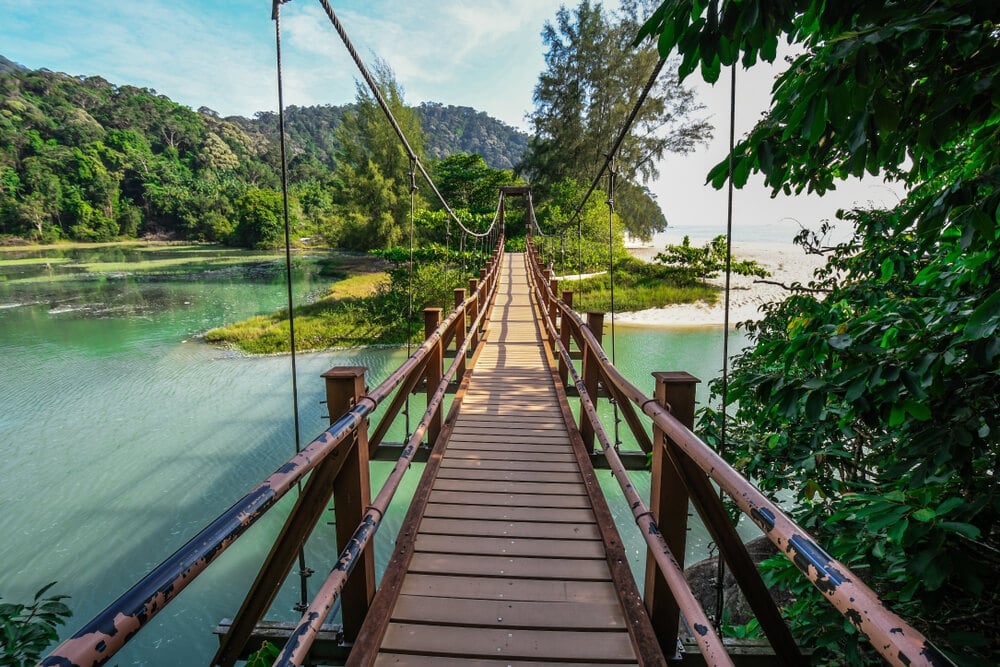 Rich array of flora and fauna
Diverse landscapes
Great outdoor activities
Youngest national park in Malaysia
Why it's awesome: Despite being fairly small, covering just 2997 acres (1,213 hectares) of land and sea, Penang National Park boasts a wide assortment of plants and animals and also has diverse terrain within its boundaries. There are several habitats in the park not found elsewhere in the country and it's one of the nation's most biodiverse parts. Furthermore, the national park also has historical and archaeological elements and great views.
There are long beaches, mangroves, and wildlife-rich forests, with creatures calling the park home including turtles, otters, dolphins, monkeys, mouse deer, wild boar, and various species of bird. Plants include the delicate orchids, the unusual pitcher plants, sea almonds, bonsai trees, and various herbs.
What to do there: Soak up the splendid vistas and bask on the sandy shores of pretty beaches like Pantai Mas, Pasir Pandak, Teluk Kerachut, Tanjung Ailing, and Teluk Bahang. See the unusual meromictic lake, a lake where the waters don't mix and the different colours can clearly be seen. Spot various creatures and plants and follow the two long nature trails. Be sure to wear sensible footwear!
Get a bird's eye view of the forests and beaches from the 15-metre-high (49-foot-high) canopy walkway. Visit other places of interest within the park, such as Muka Head Lighthouse and the old Hokkien cemetery. There are natural swimming pools where you can take a dip and cool down and you'll find plenty of nice places for a picnic. If you're feeling adventurous you can also camp within the national park.
#9 – Batu Feringghi
Popular white-sand beach
Water-based activities
Diverse places of interest close to hand
Lively nightlife
Why it's awesome: One of the most popular destinations in Penang with Malaysia backpackers, Batu Feringghi boasts a long, sandy beach and offers beautiful views. Previously a quiet village with a long history, today the area has an abundance of accommodations, restaurants, shops, and other amenities. A pleasant place to watch the sun go down, Batu Feringghi is also known for its cool laid-back night scene, with plenty of bars sitting close to the beach. While you'll find plenty of ways to spend money if you wish, visiting the beach and enjoying the vibe doesn't cost a single Ringgit.
What to do there: Sunbathe on the soft sands of Batu Feringghi beach and admire the views of the shimmering emerald waters meeting the horizon. Stay until later on in the day to witness a beautiful sunset over the ocean. Although the waters generally aren't considered great for swimming there are various water-based activities that you can enjoy, including parasailing, riding on banana boats, jet skiing, and kayaking. Kids and adults alike can have heaps of fun at Wet World Wild, with its many inflatable features. Browse a wide range of goods and feast on street food at the lively Batu Feringghi night market.
#10 – Penang Batik Factory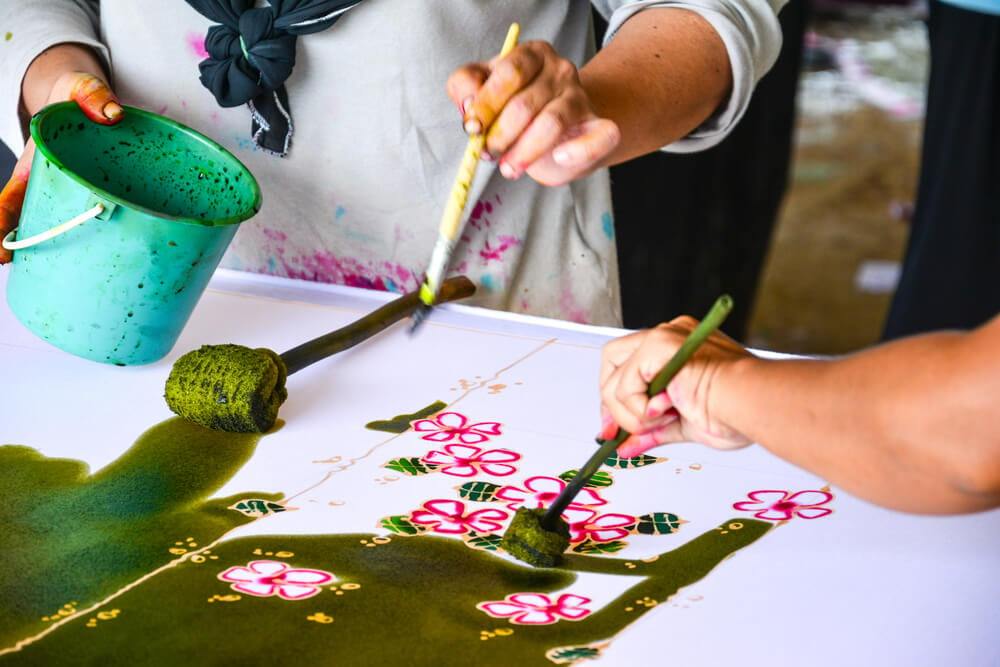 Learn more about traditional batik
Watch artists at work
Buy beautiful handmade items
Free guided tours
Why it's awesome: Penang Batik Factory was set up in 1973 and it shows the skills that go into creating stunning textile art. Artisans can make a living at the small cottage industry and tourists can see exactly how pieces are made, appreciating items a lot more than simply seeing them in a showroom. Each artist has their own specialty. The factory has three sections: a boutique, an art gallery, and a workshop. There are free tours of the facility and you aren't overly pressured to make a purchase.
What to do there: Watch artists at work in the workshop and see the precision and talent that goes into creating traditional batik designs. See artisans hand drawing patterns, colouring in designs, and using blocks to create imprints on fabrics. Items here are atypical in that they have patterns on both sides of the fabric. Visit the art gallery to admire a wide selection of batik artworks in all sizes and colours. You may even wish to make a special purchase to add something unusual to your home. If you're more interested in batik clothing call into the boutique, where you'll find various garments for men, women, and children.
#11 – Dhammikarama Burmese Temple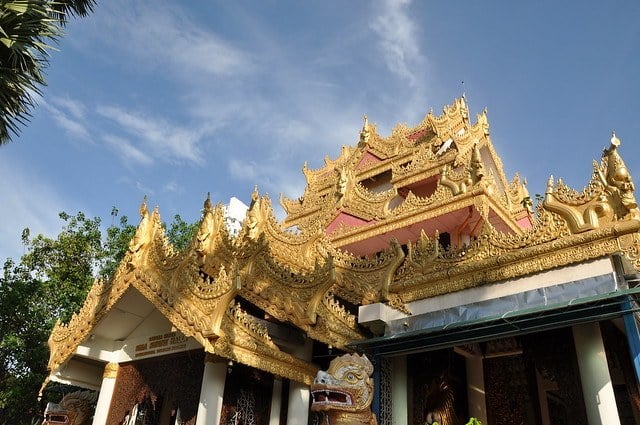 Penang's first Burmese Buddhist temple
Beautiful architecture
Retreat for Buddhist monks
Traditional details created by Burmese craftspeople
Why it's awesome: Founded in the early 1800s, Dhammikarama Burmese Temple is the oldest Burmese temple in Penang. It has strong links to women, having been established on land donated by a wealthy lady and several female trustees. Expanded and altered over the years, the temple was initially constructed from wood and later rebuilt using sturdier materials. It displays typical Burmese features throughout and skilled Burmese artisans were commissioned to ensure accuracy and authenticity. The temple also serves as a monastery, with Buddhist monks living onsite.
What to do there: Walk through the red and golden gateway, complete with large elephant statues and traditional Burmese designs and topped with the umbrella-like spire. Stand in front of the stupa, which is the oldest part of the complex, having been consecrated in the year 1805.
Rest in the shade of the sacred Boddhi tree, see the monk's living quarters (from outside), and view the large collection of Buddha statues in various postures and detailed murals. Look for interesting statues of mythical creatures too, including the garuda, chinthe, and panca rupa. Enjoy the peaceful and serene ambience and watch as local devotees come here to pray and seek blessings.
Is This the Best Daypack EVER???
#12 – Penang Jewish Cemetery – A nice non-touristy place to visit in Penang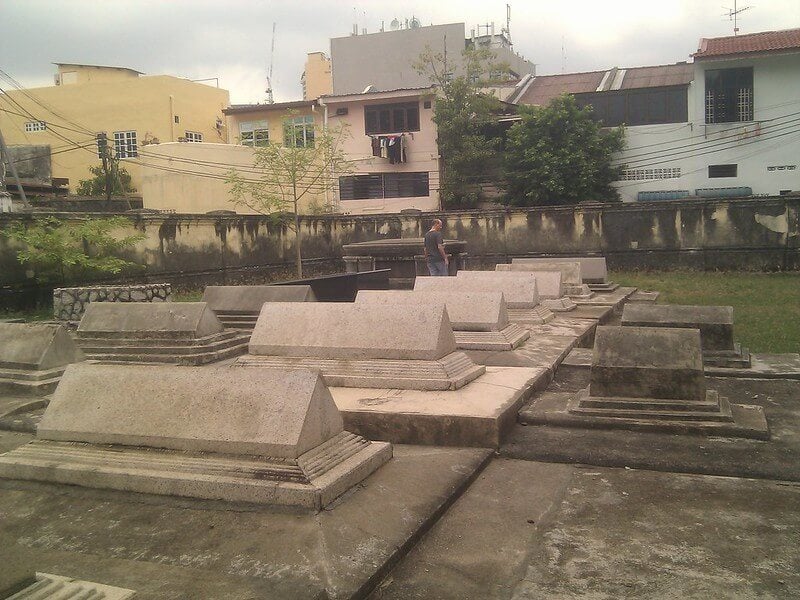 Peaceful ambience
Lesser-visited spot
One of the oldest Jewish cemeteries in Southeast Asia
Legacy of a disappearing community
Why it's awesome: Surrounded by high walls, the quiet Jewish Cemetery is one of the last traces of Penang's former Jewish community. Even the old synagogue closed down back in the 1970s. The cemetery gates are often kept locked, but people wishing to visit can knock and the custodian will come and let you in.
It is thought that the last local Jew passed away in 2011, his grave the most recent in the lonely cemetery, thus ending Penang's Jewish community. Neat rows of graves bear witness to the fact that there were once fairly substantial numbers of Jews resident in Penang. The interesting cemetery sees very few visitors.
What to do there: Chat with the cemetery keeper and learn a little bit about Penang's former Jewish community and hear whispers from yesteryear as you walk through the rows of gravestones. Pay your respects to the deceased and wonder about the now lost local community. See the oldest grave in the burial ground, which dates back to 1835, as well as the newest grave from 2011.
You'll notice that the memorials are in a typical Middle Eastern style and that most of the inscriptions are in Hebrew. You're sure to feel as though you've stepped away from the tried and tested tourist path and are discovering new insights into Penang's past.
#13 – Kapitan Keling Mosque – One of the most religious places to see in Penang
Built by Indian Muslims
Long history
Open to non-Muslims (with permission from officials)
Beautiful architecture
Why it's awesome: Kapitan Keling Mosque – set in one of George Town's central areas – is a gorgeous mosque. It was built in the early 19th century by some of the earliest Indian Muslim immigrants to Penang. Designed in an Indo-Moorish style, it also has Gothic and Roman elements. A golden dome sits atop the pale building with a high minaret alongside. There are typical Islamic details, such as calligraphy of passages from the Islamic holy book (the Quran), floral imagery, geometric patterns, and colourful stained glass.
What to do there: Listen out for the lilting call to prayer, issued five times each day from the minaret by the muezzin calling the faithful. Walk along the sweeping path to reach the main building, complete with its glorious dome, passing elegant archways alongside. Look inside the prayer hall to see ornate prayer rugs scattered across the marble floor, rich traditional designs, and a beautiful chandelier. Do note that you should dress modestly to visit the mosque and will need to get permission to look inside if you are not from the Muslim faith.
Small Pack Problems? 😉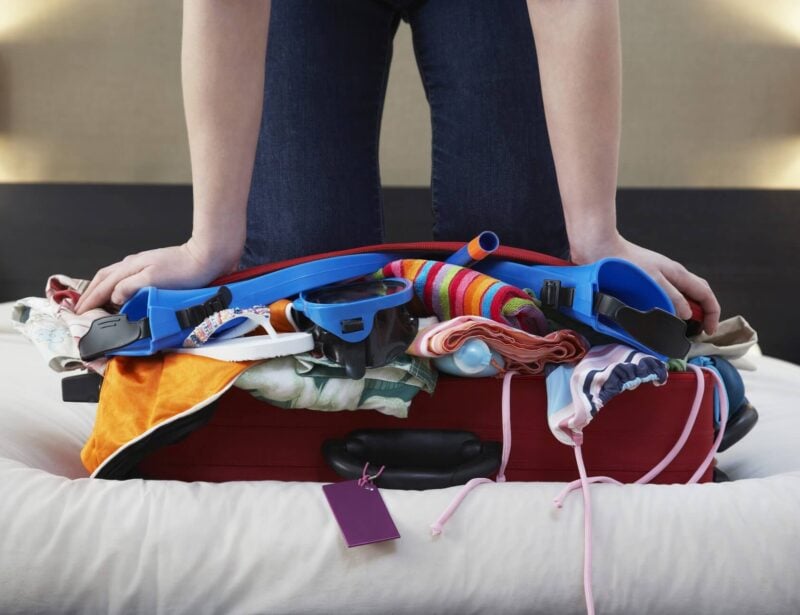 My missus travels with all her clothes in ziplock bags: don't be like my missus. UP YOUR PACKING GAME!
Packing cubes for the globetrotters and compression sacks for the real adventurers – these babies are a traveller's best kept secret. They organise yo' packing and minimise its volume too so you can pack MORE.
Or, y'know… you can stick to ziplock bags.
View Our Fave Cubes
Or Check Out the Sacks!
#14 – Butterworth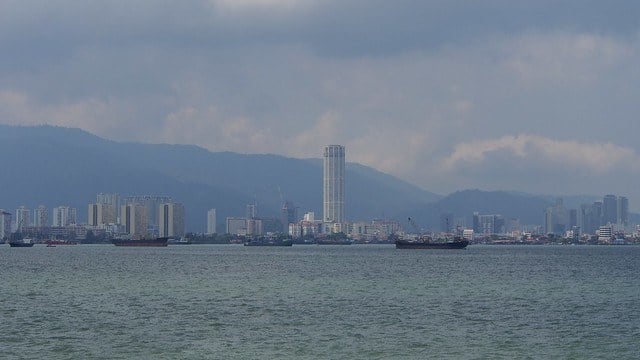 Main town on Penang's peninsula mainland
Uncrowded compared with more popular places in Penang
Local vibes
Varied attractions and activities
Why it's awesome: While most people see Penang as synonymous with George Town with its UNESCO status, there's a whole bunch more to explore in the state's mainland areas too. Butterworth is the main town in mainland Penang and it has a variety of attractions and activities to keep you busy on a day trip. If you're wondering where to stay in Malaysia to explore Penang but still avoid the tourist life, Butterworth is a fine choice with some of Penangs best Airbnb's available. Crowds are smaller than on the island and it's a great place to immerse yourself in local life. The area boasts beaches, beautiful temples, lively markets, and more.
What to do there: Take a walk along the beach or relax at the seaside at hotspots like Pantai Bersih and Bagan Ajam. Get a glimpse of local beliefs at the Taoist temple of the Nine Emperor Gods, one of the town's biggest places of worship. Snap pictures of the large pagodas, vibrant colours, statues of Chinese deities, and ornate decorative touches.
You can also experience local Indian culture at the lavish Sri Maha Mariamman Devasthanam Hindu Temple. Butterworth Bird Park is a lovely place for a family outing, home to many avian species from across the globe. Don't miss the large and lively Apollo Market for street food, fresh produce, and knickknacks.
#15 – Upside Down Museum
Fun for people of all ages
Unusual attraction
Fabulous photo opportunities
See the world from a different perspective
Why it's awesome: Penang's Upside Down Museum is a cool museum where, as the name suggests, everything is upside down. With furnishings and other common items firmly attached to the top of each room, you really can feel like your world has been turned upside down and that you're walking like Spiderman suctioned to the ceiling. You won't just find typical rooms of a house here; there's even a topsy turvy market, café, and others. There are fantastic photo opportunities and it's an unusual and fun place for both children and adults.
What to do there: Walk through the upside-down bedroom, kitchen, living room, and bathroom, posing for lots of awesome pictures that seem to defy gravity. Members of staff are happy to give you pointers as to how to achieve the coolest and most realistic-looking snaps.
Everything from the beds, cupboards, desks, oven, and kitchen sink are above you, with rooms that look incredibly lifelike … except for being the wrong way round! Discover the turned around market, pose as though you're walking down the stairs on your hands, play the piano whilst seemingly hovering above it, and have a ball!
#16 – Guar Petai – Certainly one of the most exotic places to see in Penang!
Off the beaten track
Beautiful landscapes
Former quarry
Excellent photo opportunities
Why it's awesome: Nestled in a sleepy rural village on mainland Penang, Guar Petai is an old and abandoned water-filled quarry. Ponds are filled with sparkling emerald green waters and lots of lush greenery and reddish rust-coloured and sandy rocks add to the enchanting and alluring vistas. A natural splendour, it's often pretty quiet. A great spot for photography and romantic moments, it is commonly said to resemble Jiuzhaigou in China. Even better, there's no cost to visit this picturesque place.
What to do there: Climb to the top of the former quarry and soak up the picturesque views, admiring the contrasting colours and the way that the sun glints off the striking green waters. Snap plenty of beautiful pictures of the gorgeous terrain and enjoy the peace and quiet. Walk around the area to find even more great angles for stunning photography and terrific views.

Our GREATEST Travel Secrets…
Pop your email here & get the original Broke Backpacker Bible for FREE.
#17 – Design Village Penang – A great place in Penang if you love to shop!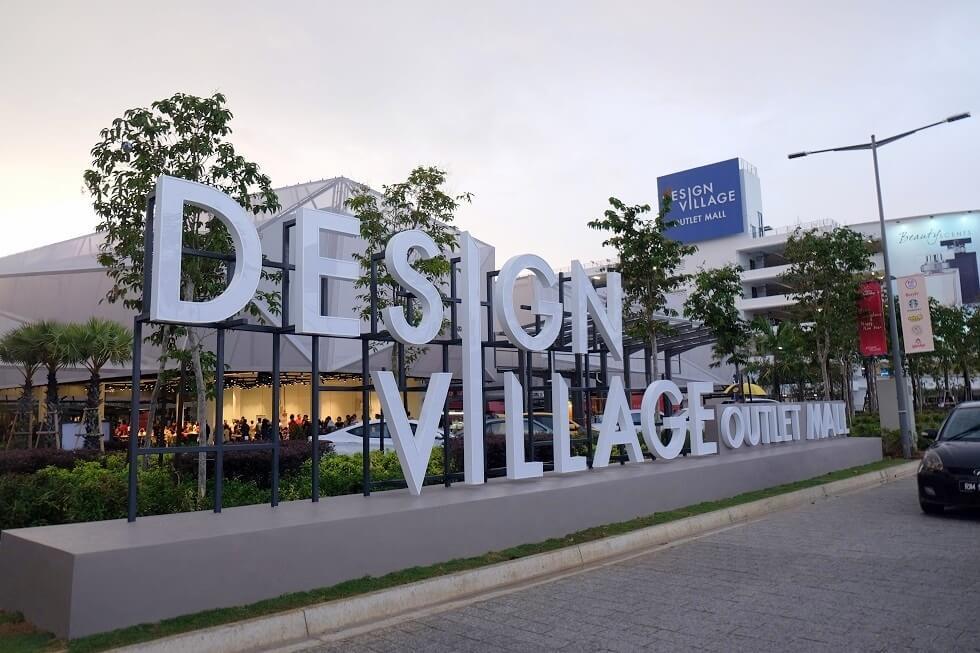 Largest mall in Penang
Beautiful tropical gardens
Wide range of goods
Diverse places to eat and drink
Why it's awesome: Not only is Design Village Penang the biggest mall in Penang but it is also among the largest outlet shopping centres in the entire country. Home to around 150 shops that sell a huge array of goods, you're almost certain to find anything that you could wish to buy here. The open-concept retail village is spread across stunning tropical gardens. There are plenty of shaded seating areas in the greenery as well as a good choice of cafes and restaurants that cater to diverse tastes.
What to do there: Naturally, the main reason to visit Design Village Penang is to indulge in a spot of retail therapy! Browse in shops like Guess, Coach, Samsonite, Timberland, Pierre Cardin, Gap, Puma, and Rip Curl, treating yourself to new outfits, footwear, home items, beauty products, sportswear, and more. Admire the balance between nature and commerce as you stroll through the lush gardens, and stop to refuel in one of the great eateries.
#18 – Clan Jetties – One of the most incredible free places to go to in Penang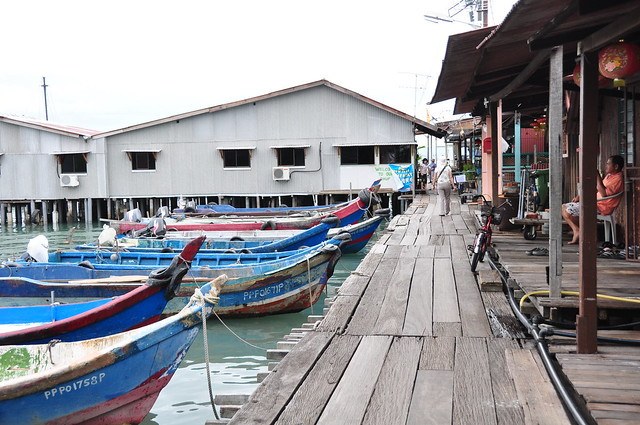 Floating villages
Traditional ways of life
Why it's awesome: The six Clan Jetties of Penang are old water villages that were built by Chinese groups. Initially a wood yard and later a place where people would load and offload boats, workers began to build small huts along the wooden jetties. More and more of these basic stilted properties were constructed, creating entire small villages of stilt houses over the water.
Each jetty was associated with a specific clan of Chinese immigrants, and several clans still call the jetties home today: the Chew, Tan, Lim, Yeoh, and Lee, plus a mixed clan jetty (Snaeh). In the past, there were even more such jetties stretching along the waterfront. People still live at the jetties today and traditional ways of life prevail.
What to do there: Start with a visit to the Chew Clan Jetty and take a walk along the sturdy planks, passing local homes and stores. Inhale the scents of incense burning at small shrines outside dwellings and call into the small temple that sits over the water. Get a glimpse of a different way of life and appreciate the wooden structures that are simple but cosy and functional.
See small boats bobbing on the waves and soak up the views; the sunset vistas are especially pretty. If you want to experience more of life in the villages, visit some of the area's other Clan Jetties too. Do remember to act respectfully, keep the noise down, and be courteous with your photography as these are still private dwellings where people live and go about their day-to-day business.
#19 – Dark Mansion
Unusual attraction
Fabulous photo opportunities
Glow-in-the-dark scenes
Interactive art
Why it's awesome: The Dark Mansion is one of Penang's quirkier museums. It's the country's only 3D glow-in-the-dark museum, open since 2016. Using technology and science to enhance an arty experience, the museum not only has cool 3D paintings that let you appear as though you're in a variety of scenes but it also has a glowing effect. Visitors can see the art in normal lighting and then in the dark, with special lighting, to appreciate how the picture changes. It's certainly lots of fun and you're sure to come away with many amazing photos.
What to do there: Immerse yourself in various scenes while your friends (or a helpful member of staff) snap plenty of pictures of you. Witness the transformation of art under different lighting conditions and play around with different props. Highlights include the magical glow-in-the-dark forest, complete with various creatures, the dazzling scenes of the night sky, and a cool radiant bridge.
Travel back in time and feel a pang of nostalgia as you pass through the time tunnel and marvel at the celebrated Edgar Muller piece called Fire and Water, which is the biggest anamorphic glow-in-the-dark image in the world.
#20 – Sri Mahamariamman Temple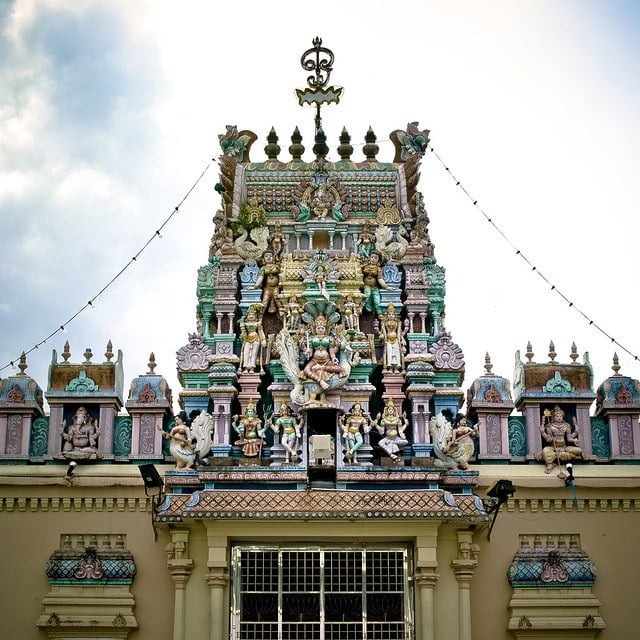 Penang's oldest Hindu temple
Eye-catching colours and details
Strong sense of spirituality
Home to many pigeons
Why it's awesome: The melting pot of culture is just one of the many good reasons to travel to Malaysia. From Islam to Buddhism to (Tamil) Hindu, bring your shoulder covering, because we're going temple hunting!
Having started life as a simple shrine back in the early 1800s, the present temple building of Penang's Sri Mahamariamman Temple was constructed in 1833. Built by early Tamil Indian migrants, it is the oldest Hindu temple in the state. Colourful with many ornate features, it's a fabulous place to admire architectural beauty and religious art. The ambience is simultaneously energetic and peaceful, with many devotees coming here to perform prayers and religious rituals each day.
What to do there: Make sure to dress modestly and remove your shoes before entering the temple grounds. Admire the vibrant gopurum (entrance tower) with its many intricate carvings of Hindu deities, animals, flowers, symbols, and other features. Standing at almost 24 metres (78 feet) tall, it has four tiers and is meant to represent Mount Meru, which is said to be the mountain that supports the heavens in Hindu mythology.
You'll notice that many pigeons have set up home in the tower too. Appreciate the many fine details within the complex and see the large statue of Lord Subramaniam inside the domed main building. Soak up the spiritual air and visit the nearby Indian stores and restaurants.
Save $$$ • Save the Planet • Save Your Stomach!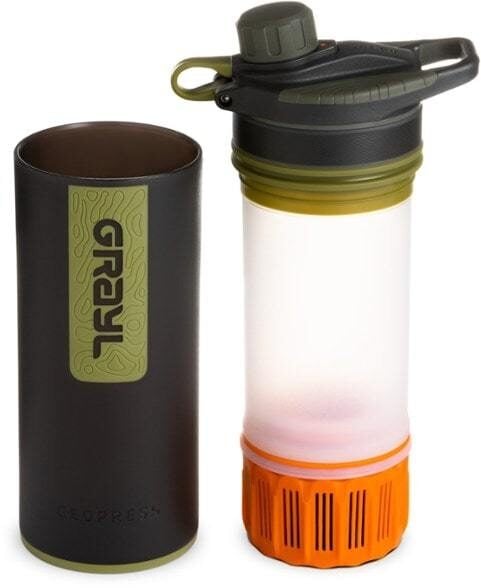 Drink water from ANYWHERE. The Grayl Geopress is the market's leading filtered water bottle protecting your tum from all the waterborne nasties. PLUS, you save money and the environment!
Single-use plastic bottles are a MASSIVE threat to marine life. Be a part of the solution and travel with a filter water bottle.
We've tested the Geopress rigorously from the icy heights of Pakistan to the tropical jungles of Cuba, and the results are in: it WORKS. Buy a Geopress: it's the last water bottle you'll ever buy.
Buy a Geopress!
Read the Review
#21 – Penang State Museum and Art Gallery
Discover local history, heritage, and culture
See impressive artworks
Home to a large collection of artefacts
Housed in a gorgeous building
Why it's awesome: Penang State Museum and Art Gallery is housed within a striking architectural gem that was once home to Penang Free School. It became a museum in the mid-1960s. It contains both an awesome art gallery and an informative museum with lots of artefacts and displays. Items include state and national treasures and there are constantly changing art exhibits in addition to the impressive permanent collections. It's a must-visit for anyone interested in delving deeper into the area's past and culture.
What to do there: Take time to appreciate the diverse collections in the museums, seeing items such as furnishings, traditional clothes, weapons, old transportation methods, tools, ceramics, silverware, and jewellery. The hand-written Quran is especially interesting.
There's good information as to the significance of the diverse exhibits and you can learn more about Penang's multi-ethnic, multi-racial, and multi-cultural community. In the art gallery you'll find eight treasured paintings by Captain Robert Smith as well as plenty of other works. Travel back in time as you see old black and white photographs of Penang in times gone by. You can buy a selection of merchandise too.
#22 – St. Anne's Church
Off-the-beaten-track religious building
Serene and spiritual ambience
Old and new places of worship side by side
Important pilgrimage site
Why it's awesome: Located in Bukit Mertajam on Penang's mainland peninsula, St. Anne's Church is a lesser-visited spot with a long history and steeped in religious significance. While the yearly ten-day Feast of St. Anne celebrations are lively, drawing devotees from around the nation and beyond, the church is quiet and tranquil at other times of the year.
The original chapel was built in 1846, with a later church (now known as the Shrine of St. Anne) constructed in 1888. The nearby 2002-built church is a modern juxtaposition. It's one of the country's biggest Christian churches and it features traditional Malay designs. There are ancient megaliths close by. An active place of worship, mass is held in several languages depending on the day of the week.
What to do there: Spend some quiet moments of reflection and contemplation at the old St. Anne's Shrine and appreciate the beautiful stained glass above the altar. See the large statue of St. Anne (Mary's mother) with the Virgin Mary as a child in front of the newer church, pray at the Catholic Stations of the Cross, and view the Cherok Tokun Relics. Within the sanctuary's grounds, the Cherok Tokun Relics are ancient rock inscriptions on a granite megalith. Enjoy the serene air and soak up the religious atmosphere.
#23 – Upper Penang Road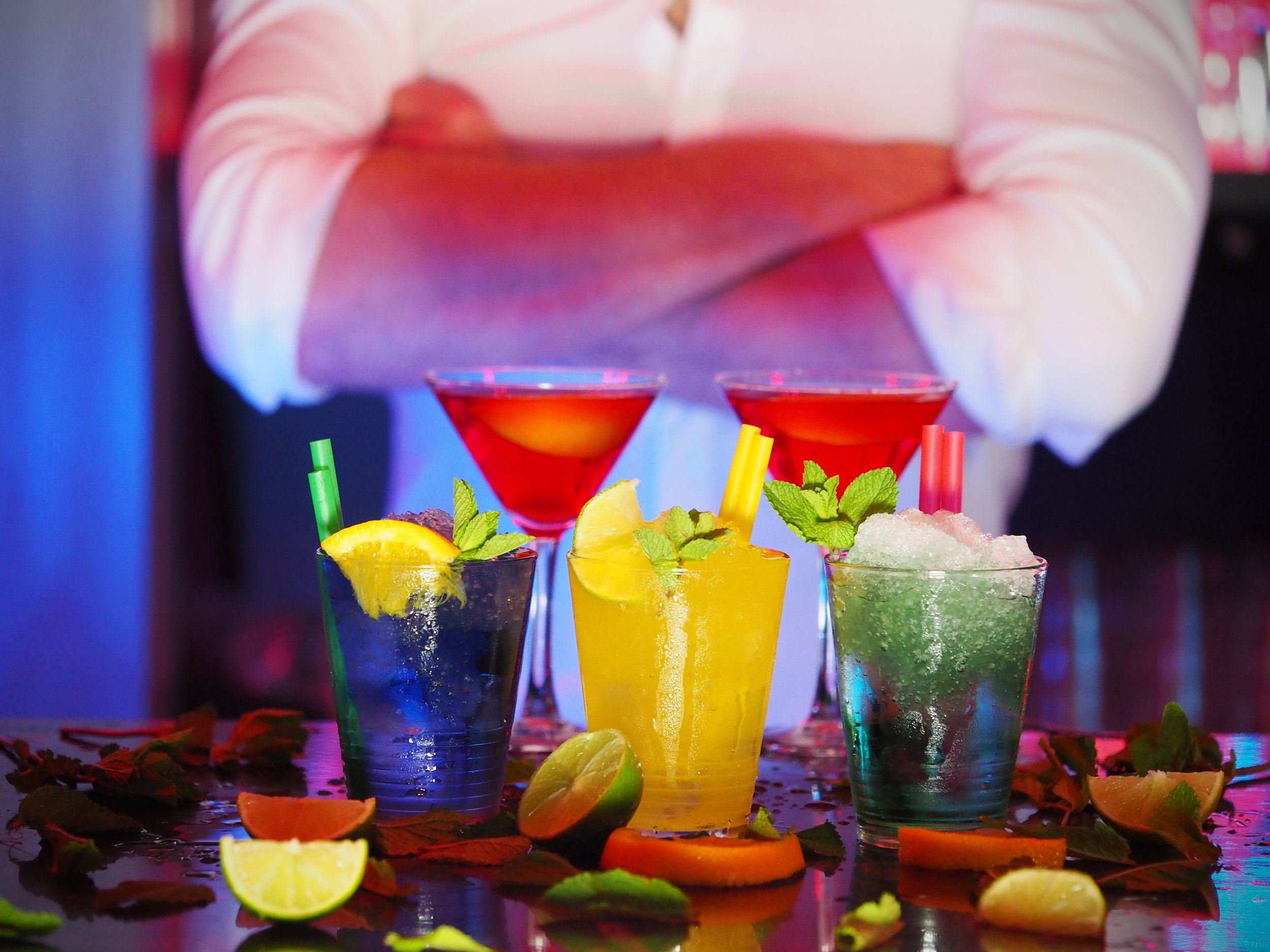 Various bars, karaoke spots, and nightclubs
Wide choice of places to eat
Energetic atmosphere
Blend of architectural styles
Why it's awesome: Upper Penang Road, located in George Town, is the epicentre of Penang's nightlife scene. During the day there are many shops to browse in and the street also hosts the monthly Little Penang Street Market. Held on the last Sunday of each month, stalls offer everything from crafts and clothing to souvenirs and food, and there is often live entertainment to add to the carnival-like air.
Heritage buildings are interspersed with modern day street art. At night time the street attracts many revellers, including both locals and tourists. There are plenty of places to enjoy dinner before starting your night out on the tiles, with street food stalls aplenty and sit-down restaurants. Bars and nightclubs keep people happy until the wee small hours. There are some of Penang's best hostels here if you decide to base yourself in this area!
What to do there: Walk along the historic street in the daytime to see the different architectural styles and peer into the shops and boutiques. Enjoy a romantic meal in the Three Sixty Revolving Restaurant, savouring delicious cuisine as you soak up the panoramic views, or feast on street food, visit another high-class eatery, and discover many local specialities.
Mingle with the party-loving crowds in the vibrant bars and maybe hit up a karaoke joint to warble your favourite songs. Visit a roadside bar to sit outside on the pavement and watch the world go by. Hop between the various bars and clubs and bust out your best moves on the dancefloor, accompanied by neon lighting and banging tunes.
#24 – Fort Cornwallis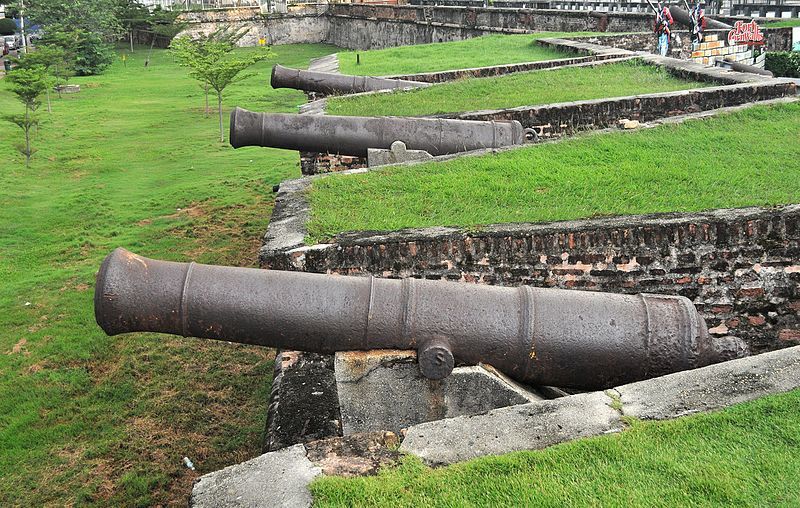 Malaysia's longest standing fortress
Unusual lighthouse
Interesting displays
Great views
Why it's awesome: The star-shaped Fort Cornwallis was built in the early 1800s on the site of an earlier wooden fort. It was constructed by the British East India Company to protect the island, though it never saw any attacks. Today listed as an Ancient Monument and Historic Site, the fort provides terrific views over the sea. Old cannons still stand to attention through the grounds and there are various displays and buildings throughout the large park within the walls.
What to do there: Walk around the fortress's outer walls and soak up the splendid vistas. Inside, see the proud statue of Captain Francis Light near the entrance and the many historic cannons that were intended to keep the island safe. Don't miss the cannon called Seri Rambai—locals see this piece of artillery as a symbol of fertility, and you'll likely notice offerings
Get insured for your trip to Penang!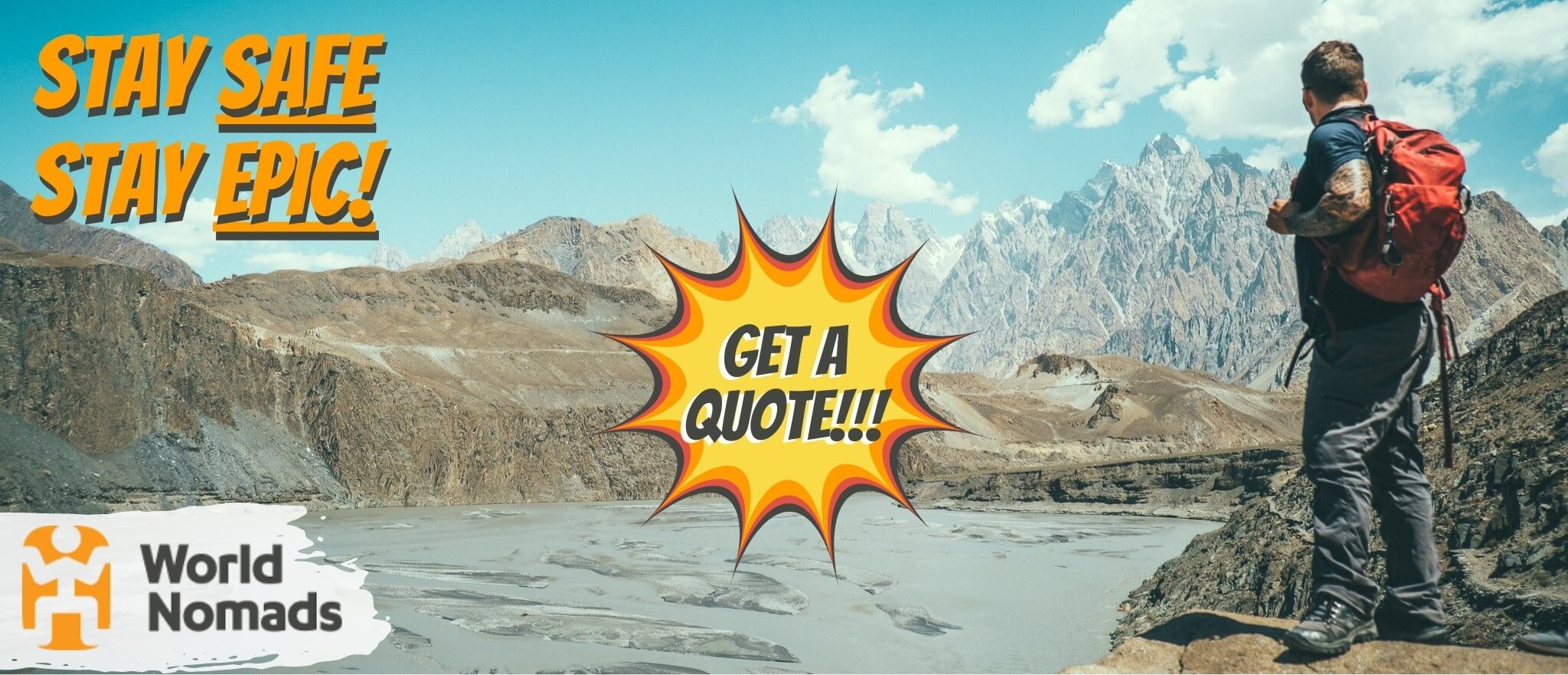 World Nomads' mission is to support and encourage travellers to explore their boundaries. They offer simple & flexible travel insurance, and safety advice to help you travel confidently.
They've been doing it since 2002 – protecting, connecting, and inspiring independent travellers just like you.
Get a quote below or read our in-depth review!
World Nomads provides travel insurance for travelers in over 100 countries. As an affiliate, we receive a fee when you get a quote from World Nomads using this link. We do not represent World Nomads. This is information only and not a recommendation to buy travel insurance.
FAQ on the Best Places to Visit in Penang
Find out what people want to know about Penang's attractions.
Final Thoughts on Penang's Best Places
Penang has myriad places of worship that reflect the area's multi-cultural and multi-ethnic make-up; the Goddess of Mercy Temple, St. George's Church, Admiral Zheng He Footprint Temple, and the Thai temple of Wat Chayamangkalaram are just a few more to add to your list. Other top museums to visit include the Toy Museum, War Museum, Wonderfood Museum, Chocolate Museum, Penang Tunnel Museum, and Sun Yat-Sen Museum. There's definitely lots of diversity!
Wander through the Tropical Spice Garden and take kids to Penang Butterfly Farm. Feast your eyes on the ornate Chinese clan building of Leong San Tong Khoo Kongsi. Feel a thrill as you walk across the towering Rainbow Skywalk, have an immersive experience at Penang 3D Trick Art Museum, climb Penang Hill (or take the impressive Penang Hill funicular), take a day trip to Jerejak Island, and discover the many species of flora in the Penang Botanical Gardens.
With lots of heritage buildings and places of worship, delectable street food, beaches, museums to suit all interests, family-friendly attractions, places of natural interest, and plenty of ways to find nocturnal fun, make sure to check off these best places to visit in Penang on your next visit to the Malaysian gem.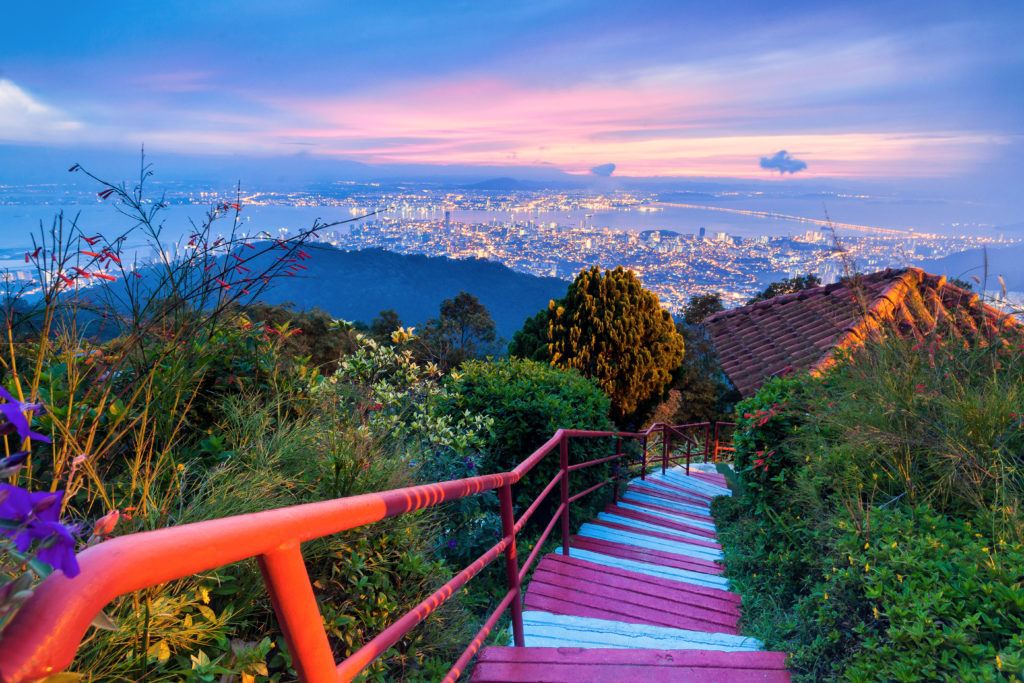 Updated April 2023
---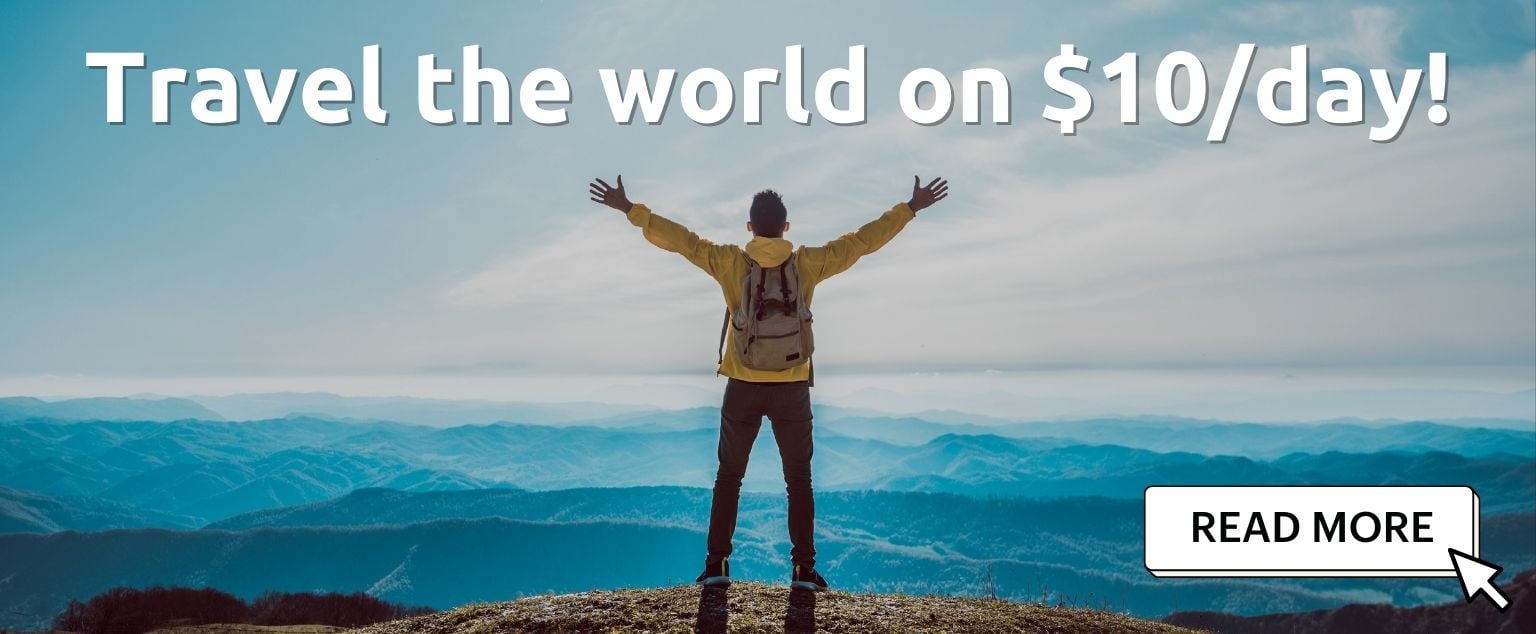 And for transparency's sake, please know that some of the links in our content are affiliate links. That means that if you book your accommodation, buy your gear, or sort your insurance through our link, we earn a small commission (at no extra cost to you). That said, we only link to the gear we trust and never recommend services we don't believe are up to scratch. Again, thank you!