If you're looking for a destination that combines some of the most fascinating culture in Asia with palm-lined beaches, you can't really do much better than Penang! Georgetown, the capital of this southwestern Malaysian island is the second-largest city in Malaysia.
It's a delightful concoction of dazzling skyscrapers, old shophouses, and even hiking if you head out to Penang Hill, which looms over the city.
If you want to stay somewhere with plenty of character and charm, then it might be best to consider rentals in Penang. Rather than hotels or hostels, you can really get something that perfectly suits you – whatever your travel style.
Some of the Airbnbs in Penang include chic studios with sea views, pleasant homestays which give an authentic experience, and even an Iron Man experience!
To help you out, I've put together a list of the 15 best Airbnbs in Penang. I've tailored these recommendations to different budgets, travel styles, and personalities. So, let me help you make the most of your holiday and take the stress out of planning with my extensive list!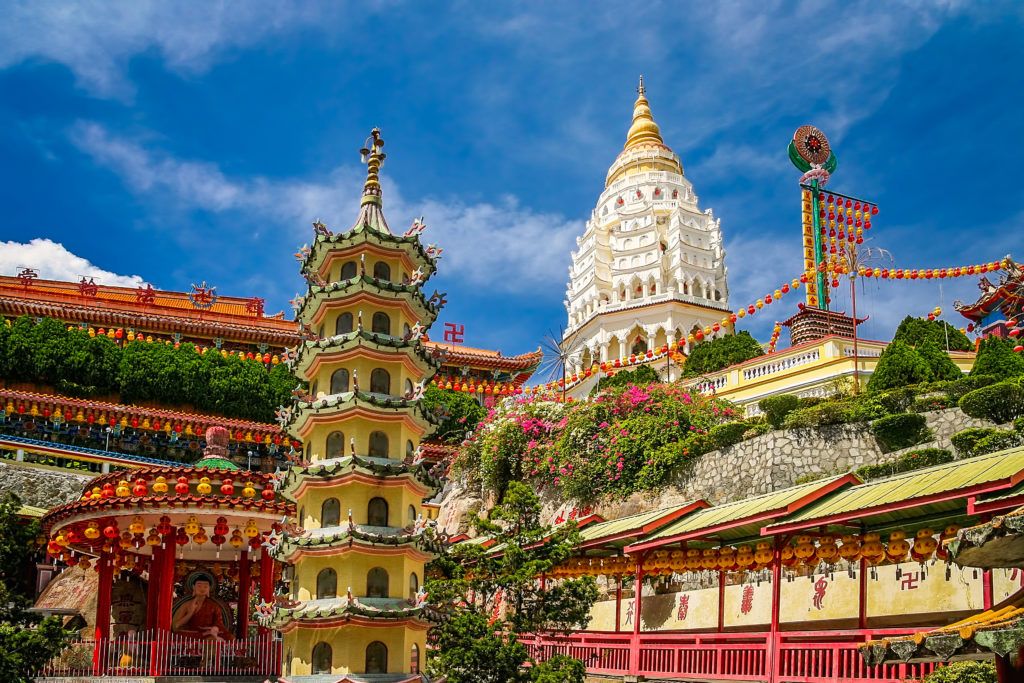 Quick Answer: These are the Top 5 Airbnbs in Penang
OVERALL BEST VALUE AIRBNB IN PENANG
OVERALL BEST VALUE AIRBNB IN PENANG
Chic Urban Studio Suite
> $
> 4 Guests
> Access to swimming pool and gym
> 24-hour Security
BEST HOMESTAY IN PENANG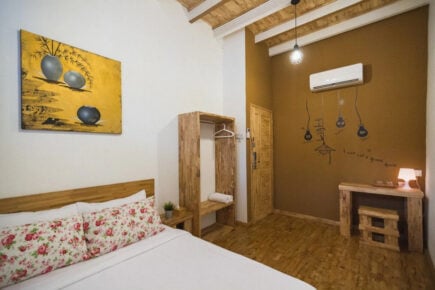 BEST HOMESTAY IN PENANG
Large Central Room with Nice Host
> $
> 2 Guests
> Access to communal areas
> Washing machine available
BEST AIRBNB FOR COUPLES IN PENANG
BEST AIRBNB FOR COUPLES IN PENANG
Romantic Scandinavian Style Suite
> $
> 2 Guests
> Balcony with views of Komtar
> 60 inch TV
BEST AIRBNB FOR FAMILIES IN PENANG
BEST AIRBNB FOR FAMILIES IN PENANG
Apartment w/ Ocean Views
> $$
> 6 Guests
> Fully equipped kitchen
> Swimming pool and gym in the building
BEST LUXURY AIRBNB IN PENANG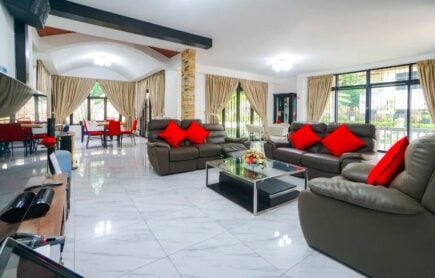 BEST LUXURY AIRBNB IN PENANG
Batu Ferringhi bungalow with pool
> $$$$$$$$
> 16 Guests
> Swimming pool with inflatable unicorn
> Basketball and badminton courts

Unlock Our GREATEST Travel Secrets!
Sign up for our newsletter and get the best travel tips delivered right to your inbox.
What to Expect from Airbnbs in Penang
Penang is a relaxed island off the West coast of Malaysia that is connected to the peninsula by a bridge. Its street art, delicious food and gorgeous beaches attract travelers from all over.
When it comes to where to stay, there are plenty of Airbnbs in Penang to choose from. The range of options is diverse, and each place has its charisma and charm. From simple, inviting studio apartments in central George Town to a lavish townhouse on the seafront promenade, you'll find it all here.
Penang island has several small towns and villages to stay in, but luckily it's not a big island so you can easily explore all of it from wherever you choose to stay. You can rent a scooter in most towns and you're away!
Most vacation rentals in Penang are in ideal locations, within walking distance of the best attractions, restaurants, and supermarkets. A cosy seaview is also common in Penang Airbnbs, as it's surrounded by lush water.
But if you're not sure what's on offer, here's a breakdown of some of the best kinds of rentals available on the island.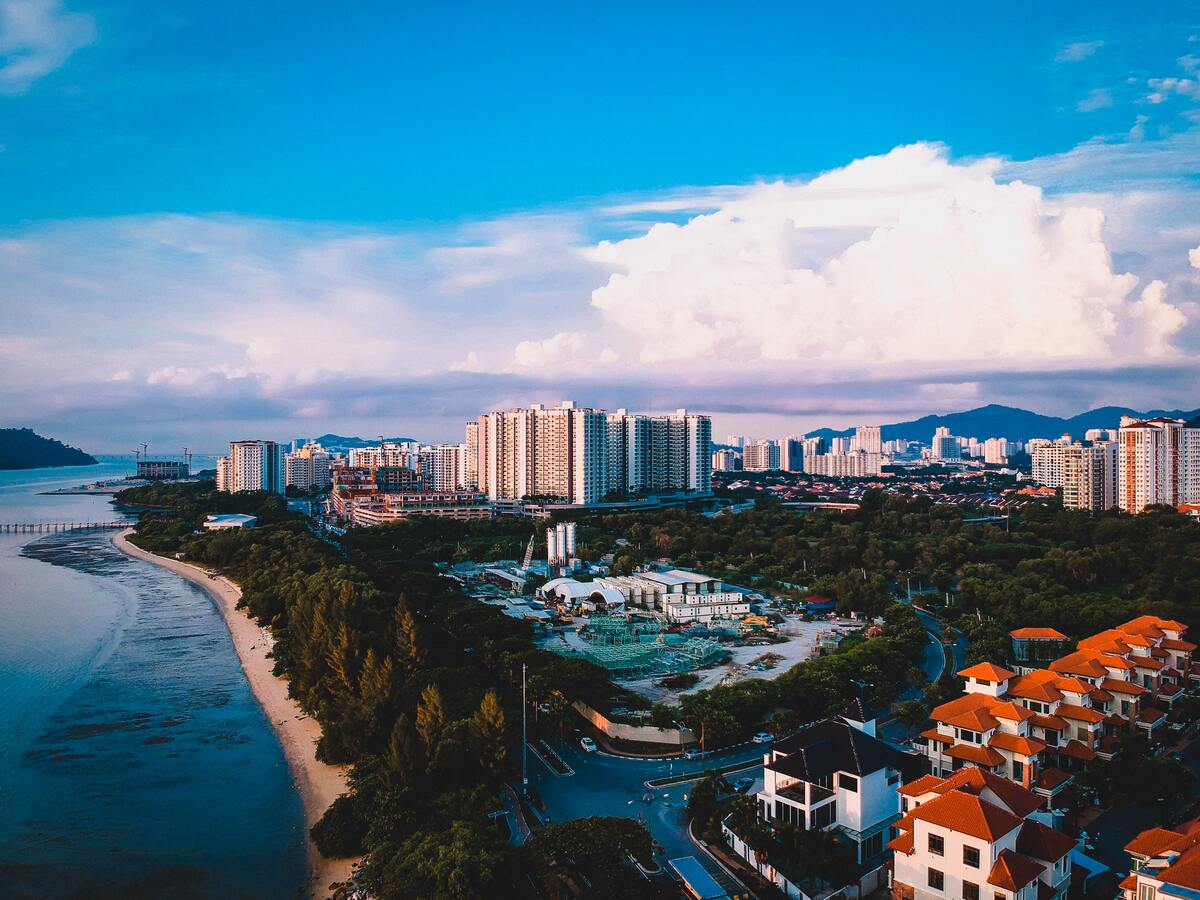 Homestays
Many of the Airbnbs in Penang offer a private room in homestays. This is because many of the locals enjoy meeting other travelers and sharing their country, but it also provides them with an income. The best reason to travel to Malaysia is to escape the tourist crowds and enjoy the local culture.
You'll be staying with the locals while enjoying your private space, which may or may not have a private bathroom. You'll get to enjoy communal areas such as a kitchen and maybe even a balcony or living area. The best part of a homestay is getting to stay with the locals and getting recommendations on what to do.
A room in a homestay is best for solo travelers, backpackers, and couples looking to keep the spending minimal and the experience as authentic as possible.
Apartments and Studios
When renting an apartment or studio, you get the entire apartment to yourself. They are usually one or two bedrooms, and have a private bathroom, small kitchen, and living area. You can find budget apartments to luxury penthouses.
Sometimes, entire serviced apartments come with shared facilities such as fitness centers and a swimming pool. Since apartments are smaller than houses, they are better suited for couples, solo travelers looking for more privacy, digital nomads, and small families.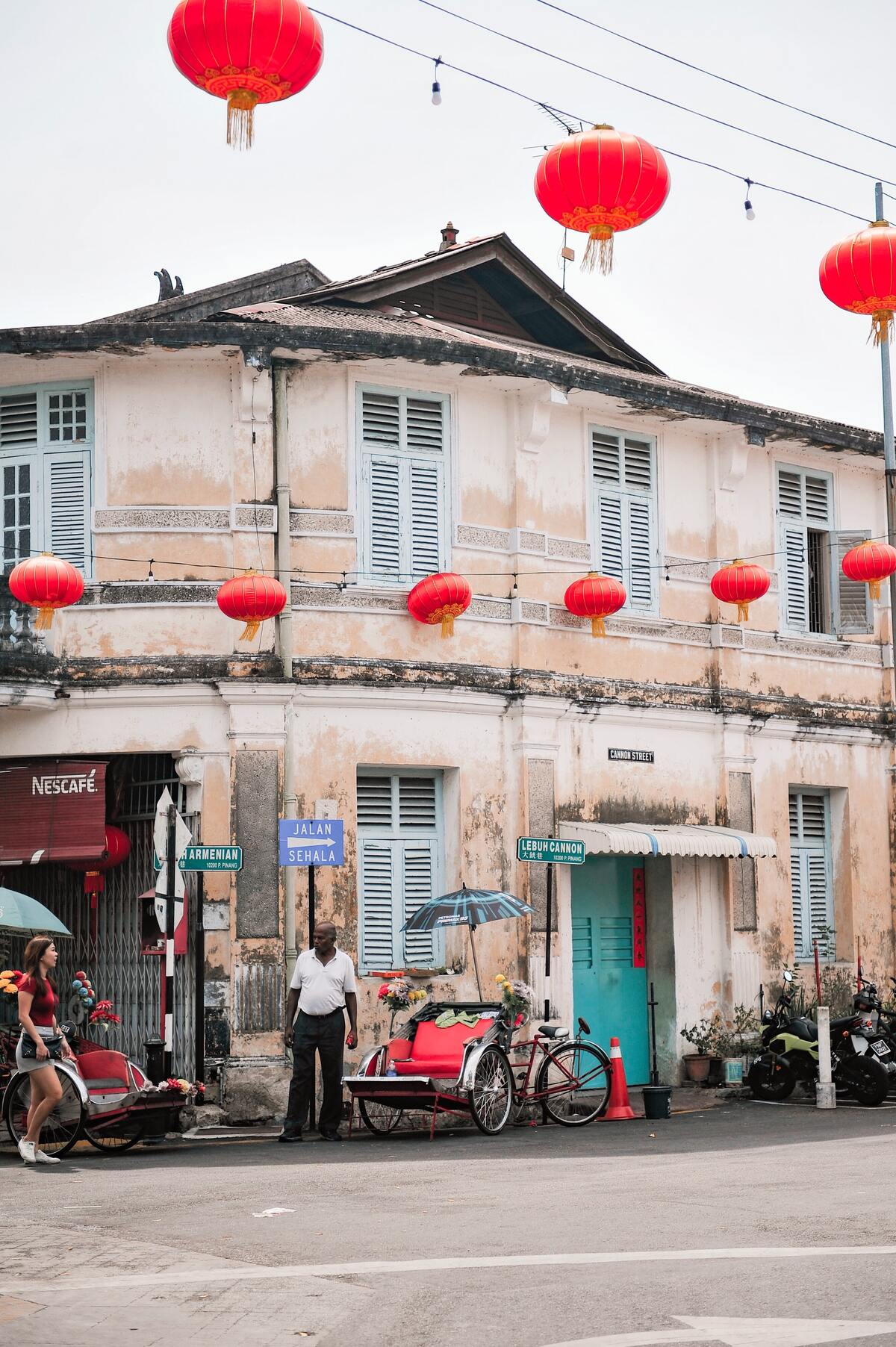 Townhouses
Townhouses are another entire rental unit that is great for families and large groups. They are multi-bedroom houses that are kitted out like your house at home.
You'll have a kitchen and living areas, as well as private bathrooms. But you might also find your townhouse has a garden, free parking, free Wifi, or a balcony with views of the ocean.
Townhouses are found all over Penang so you'll always be able to find one within walking distance to main attractions.
Why stay in an Airbnb?
I can think of many reasons why you would stay in an Airbnb over a hotel room, but here are just a few!
Local Experience: Whether your host is a private owner or a business, they'll be able to give you the top tips on what to do nearby. That doesn't just go for Penang, but for everywhere in Malaysia.
Unique properties: Airbnb has every kind of property you could think of. There's even a 'unique stays' search function, where you can find your dream property on the site.
Affordability: Airbnbs is considerably cheaper than an equivalent hotel – and you won't have any hidden charges from the minibar either! Airbnbs are possibly the best option for backpackers in Malaysia that need to keep the costs low.
Safety: It might seem a little weird staying in someone's house; however, both hosts and guests are vetted by Airbnb reviews to ensure their safety of both. Malaysia is overall safe, and the Airbnb booking security just adds a little extra to it.
Airbnb Experiences: It's not all about where to stay; looking for things to do in Penang? There's no better way to do that than with Airbnb Experiences.
The Top 15 Airbnbs in Penang
Ok, ready for the main course? There's no shortage of fantastic places to stay in Penang, so make sure you pay close attention to the descriptions when booking accommodation.
Or better yet, just keep reading – I already did the hard work for you. It's almost too easy!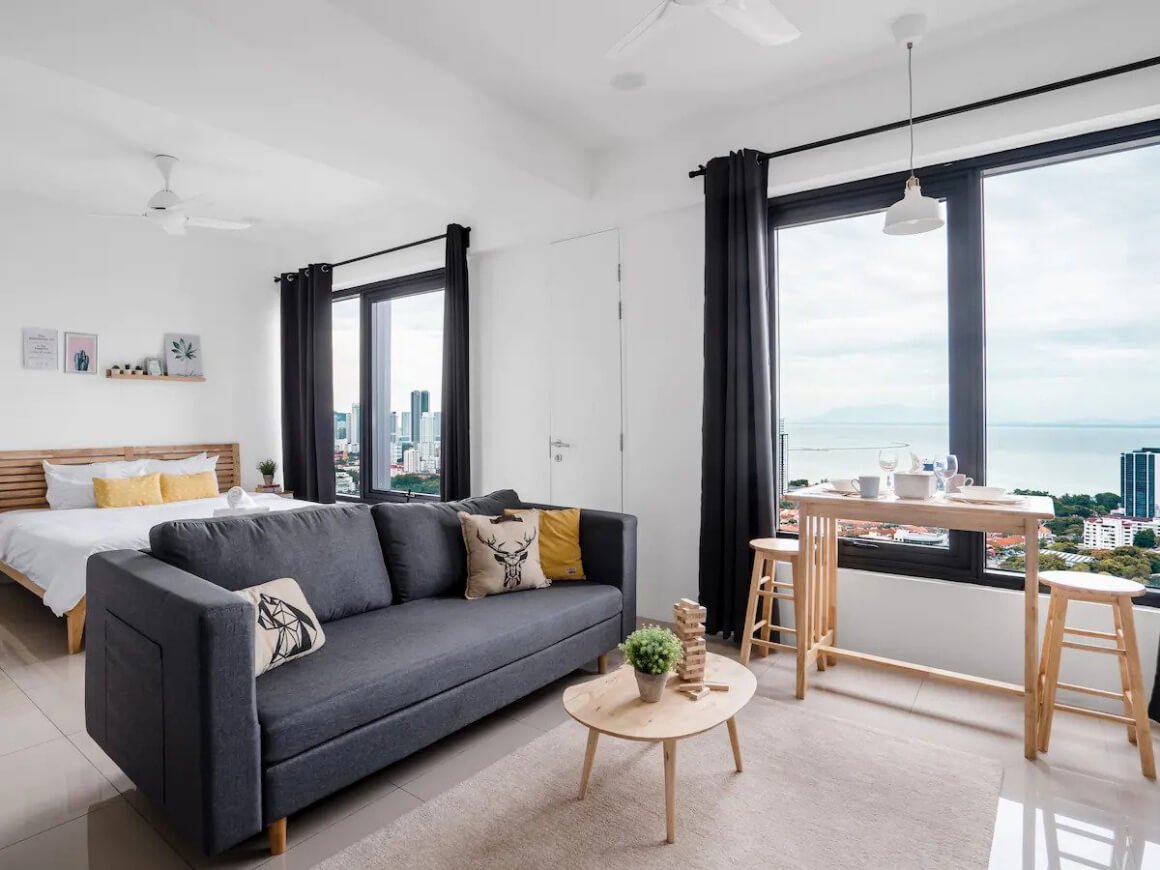 $
Access to swimming pool and gym
Let's begin my list of the best Airbnbs in Penang with somewhere that ticks several boxes – whatever your travel style! This cool and chic studio apartment is in one of the best locations in town – it's just 5 minutes walking distance from the UNESCO World Heritage central area of George Town.
Not only that, it's got incredible views of the sea, the city center, and at the right time of day, the sunset! In the building, you can also take advantage of a swimming pool, yoga room and gym, as well as a children's playground and climbing wall.
So you're fitness regime doesn't have to suffer. And, you can work off all the calories from the mouth-watering street food from the night market!
2 Guests
Homely atmosphere
The cost of travel in George Town is affordable for most travelers, and there is some great budget Penang Airbnbs. However, this one stands out above the rest.
This bright room is in the historic UNESCO-listed center of the city, so you won't have far to see all the cool shophouses and pick up souvenirs at the night market.
If you're a digital nomad trying to tighten your budget while travelling Malaysia, this is a great option as you've got a laptop-friendly workspace and quick free WiFi. It's also a good option for a couple, as there's one queen bed.
---
Psst…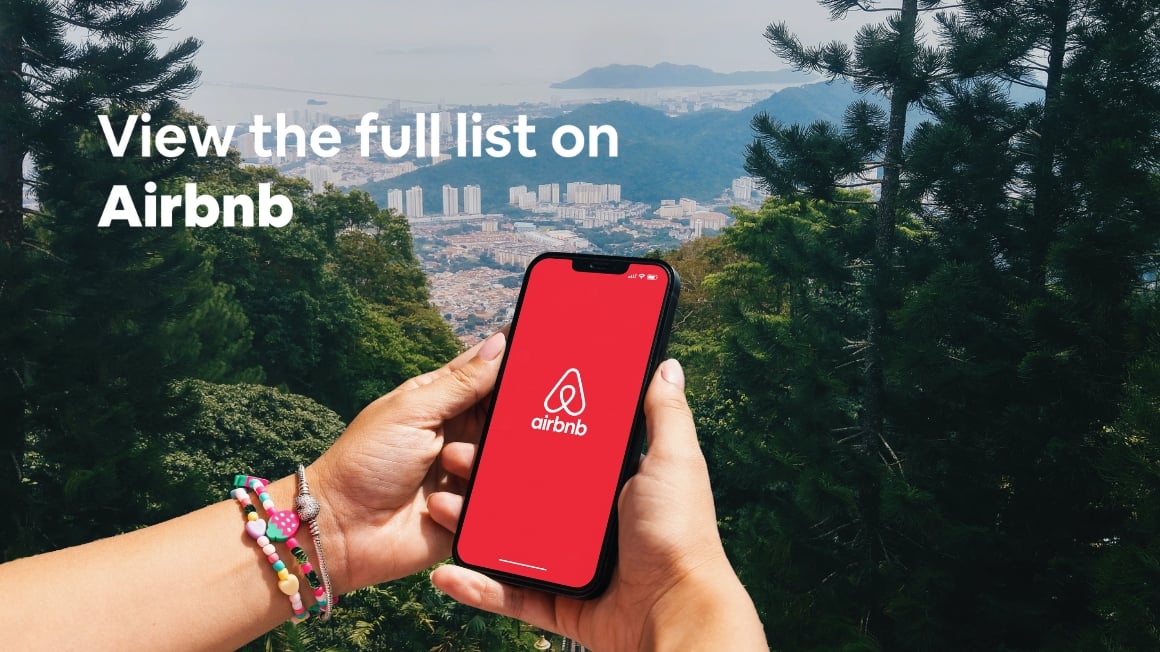 ---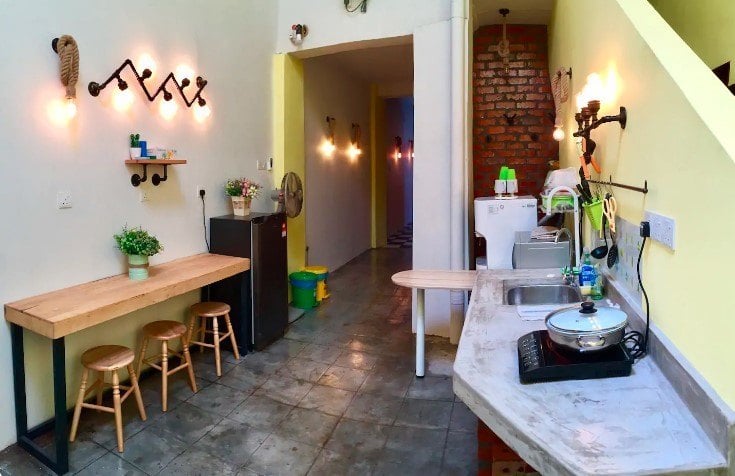 $
Laptop friendly workspace
3 Guests
House within a house
Welcome to one of the quirkiest Airbnbs in Penang! This house within a house is the perfect space for a digital nomad as it's got a laptop-friendly workspace and free WiFi.
Not only do you have your own private space, but there's also a fully equipped kitchen that you're welcome to use. Although, it's not always necessary with the number of places to eat and drink on your doorstep!
The only downside is because it's just 10 meters walking distance from Kimberley Night Market, it can be a bit noisy. However, that's nothing a good set of earplugs or noise-canceling headphones can't block out.
Is This the Best Backpack EVER???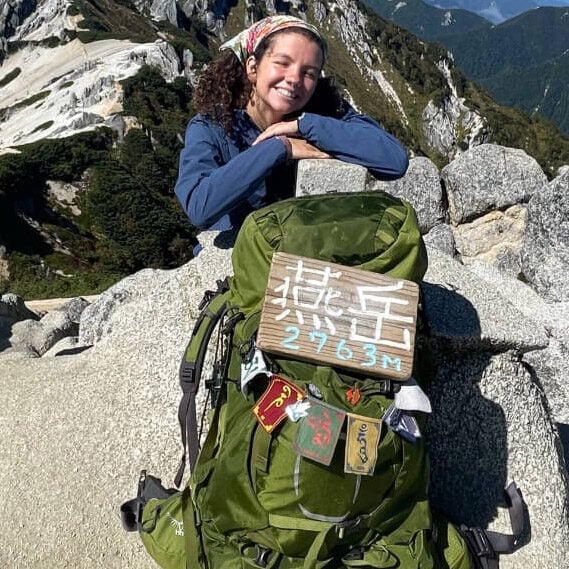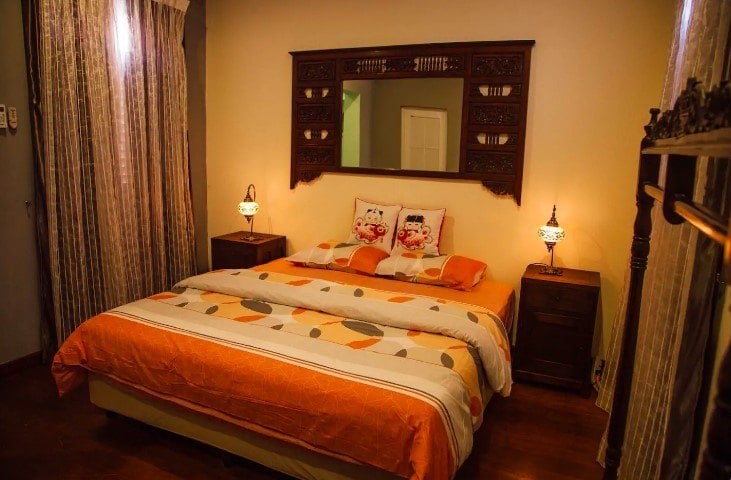 $
Laptop friendly workspace
2 Guests
Ground floor juice and smoothie bar
Plenty of people will tell you as a solo traveler that you should opt to stay in a hostel in Penang. But if you don't want to stay in a smelly, noisy dorm, I don't blame you!
A much better option is this homestay in Penang – a perfect option for solo travelers. The friendly hosts even have a juice and smoothie bar on the ground floor – the perfect place to pick up a tasty drink before exploring the historic city center of George Town!
Your room has useful amenities such as air conditioning, a mini-fridge, and a hairdryer.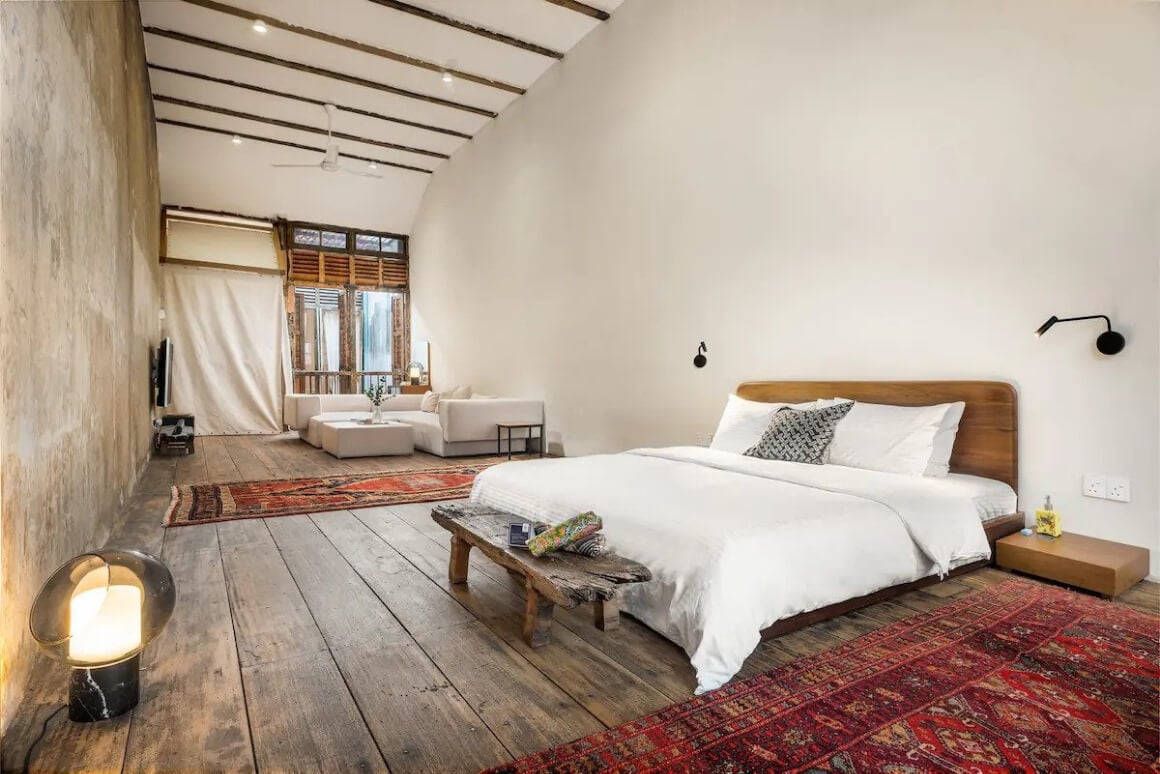 2 Guests
Hidden zen garden
North Eastern Georgetown is one of the best places on the island for nightlife, so it's only sensible that you pick your Penang Airbnb there.
And what a great place this is – a Straits Eclectic style shophouse that's been tastefully updated with modern fixtures and fittings – it's even got a hidden zen garden!
There's space for 2 guests but more can sleep on the sofa, so if you're a group of mates looking to hit the town, this is definitely one of the top options in town.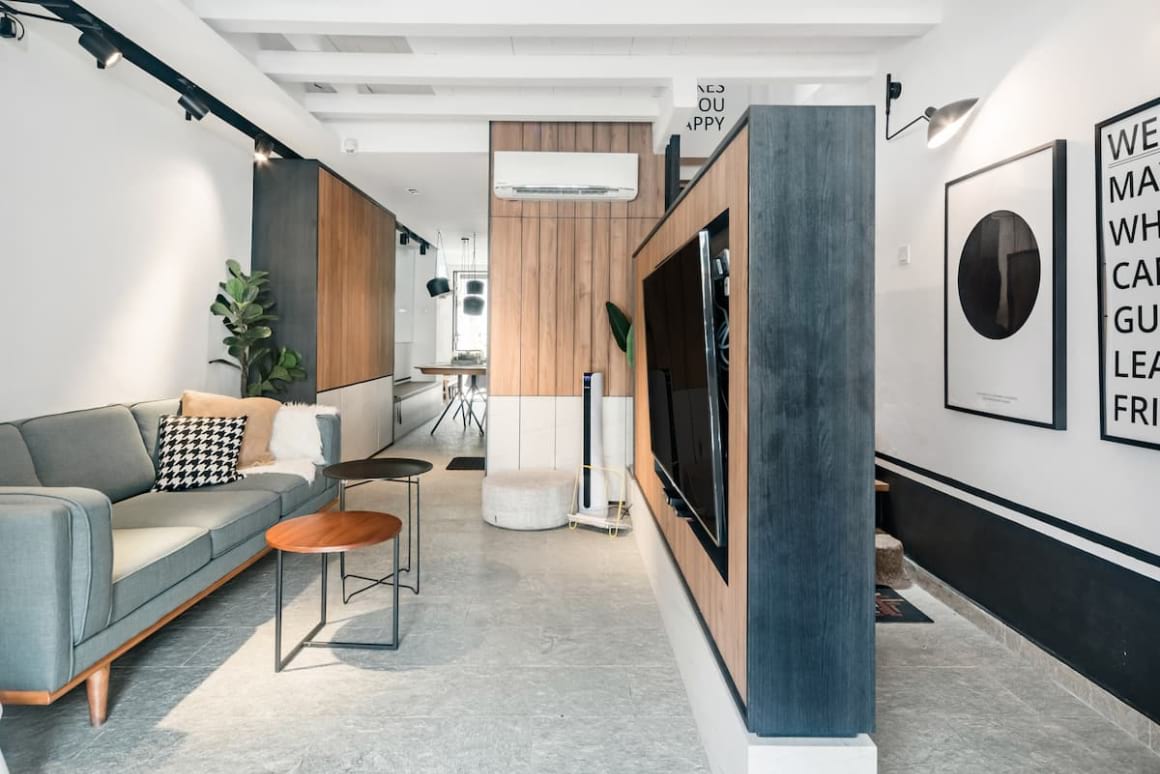 $
Balcony with views of Komtar
Usually, I'd recommend an entire rental unit for couples, but I'm willing to make an exception for somewhere this good.
This Penang Airbnb is a private room in someone else's home, but the romantic Scandinavian-style cozy suite gives you plenty of comfort and space to make your stay in George Town memorable.
As well as a super king bed, you've got a 60-inch smart TV where you can enjoy your favorite TV series or film together. If that's not on the cards, you can always enjoy the views of Komtar from the balcony!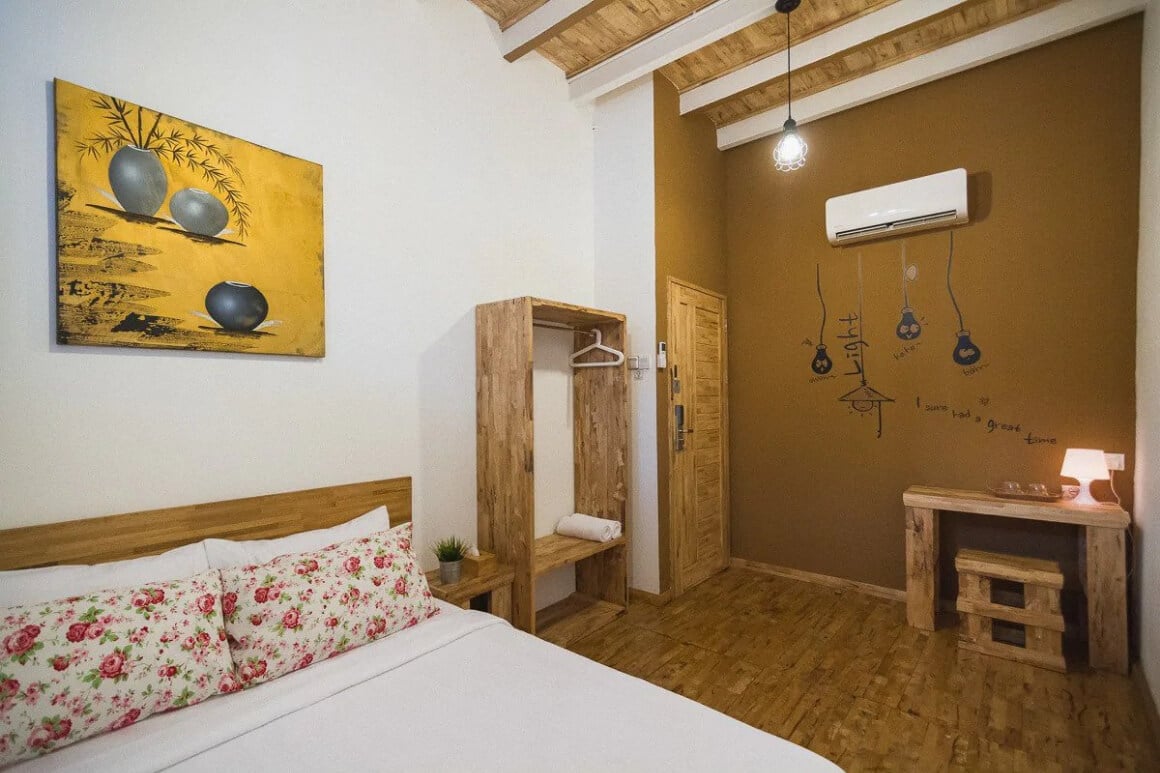 $
Access to communal areas
2 Guests
Washing machine available
Looking for an authentic experience that's kind to your wallet? Then why not stay with a local? Here's one of the best homestays in Penang – a room right in the center with a nice host!
In fact, your host is so nice that they'll happily give you access to their communal areas. If you're wondering, that includes the kitchen, living room, dining room, and balcony.
There's even a washing machine available. The host does have cats but they stay upstairs and your room is on the ground floor.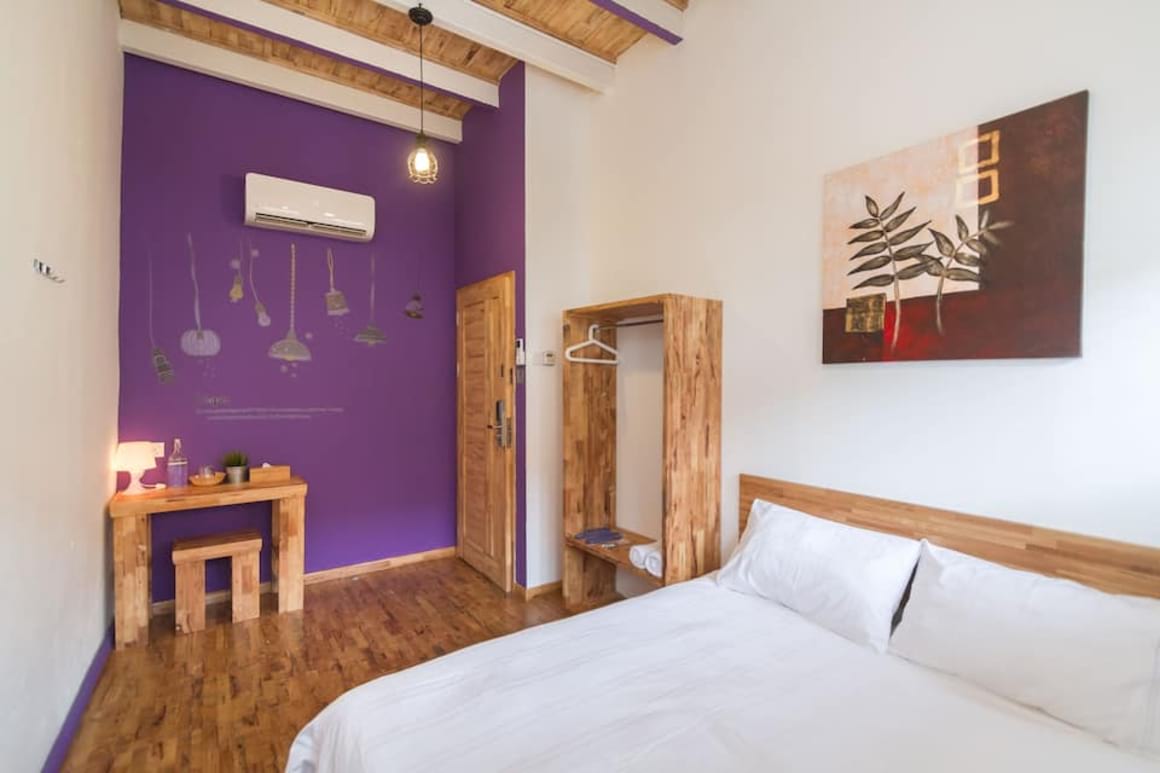 2 Guests
Complimentary toiletries
There are so many awesome homestays in Penang, I couldn't just give you one to pick from! This place is called out of the ordinary, and it's certainly a cut above your average apartment.
It's especially good if you're a cat lover, as the host has a couple that you'll have a chance to meet. Lovely and reassuring if you're a long-term traveler missing your kitty.
You won't find the cats in your room, but you will find complimentary toiletries, air conditioning, and free WiFi. Lovely!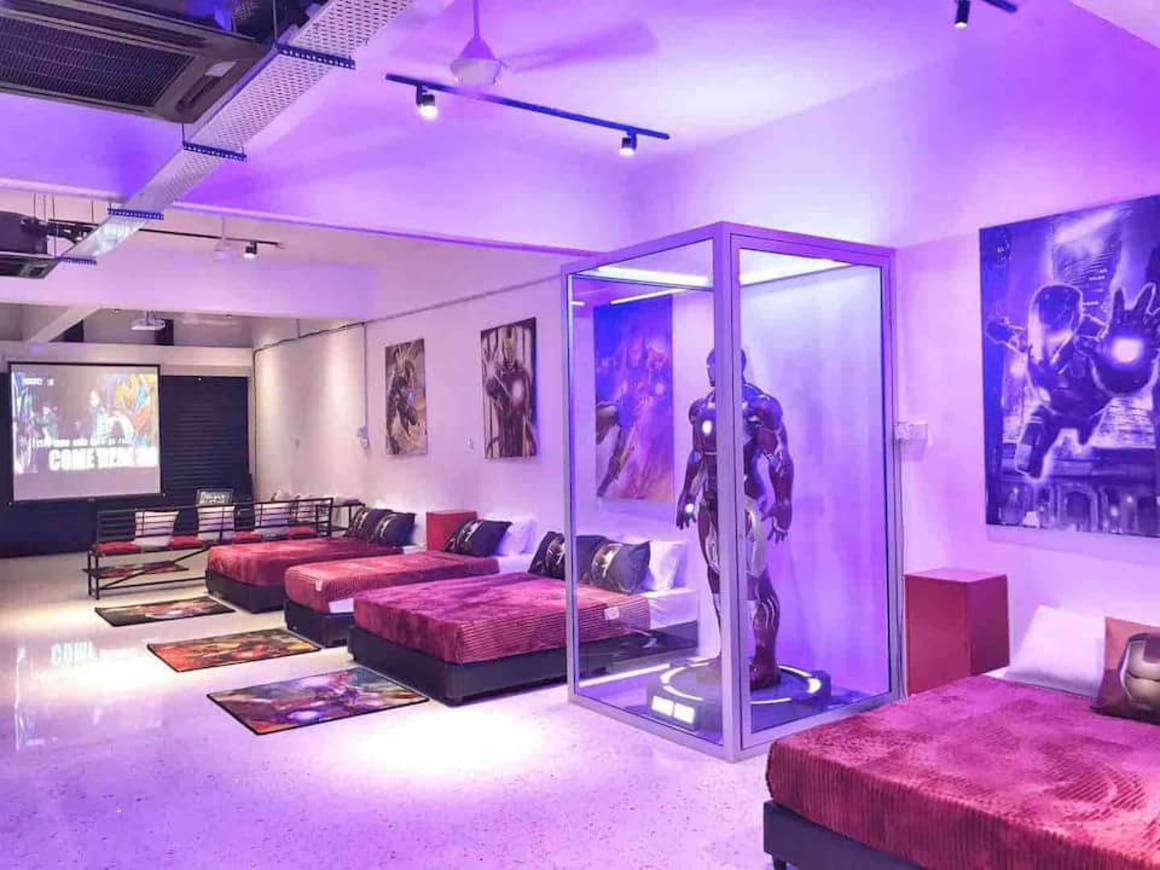 $$$$
Fully equipped kitchen
24 Guests
KTV Room with Projector
Listen up superhero movie fans! This totally awesome luxury Penang Airbnb is exactly why people use this site. Not only do you have a lifesize model of Iron Man in your room (because why wouldn't you want him watching over you as you sleep?), but you've got a KTV room with a projector.
So, lots of fun karaoke for you and an almost infinite number of friends. Well… 24! Although it's super fun being in the house, it's right on Batu Ferringhi beachfront and close to several others of Penang's top places to visit and beachside points of interest. So, start your day with a race down to those warm waters!
$$$$$$$$
Swimming pool with inflatable unicorn
16 Guests
Basketball and badminton courts
Believe it or not, the Iron Man Penang Airbnb isn't the most ridiculous or ostentatious property you can find. Another awesome Airbnb in Batu Ferringhi, you can race across the swimming pool on inflatable unicorns.
If you want to play sport but not get wet, there's a basketball court, a badminton court, and a pool table. So, there are no excuses for piling the weight on with delicious street food! If you're looking for a more chill time, you can enjoy the DVD home theatre system – which is linked to a 60 inch TV!
6 Guests
Swimming pool and gym in the building
Looking for a family-friendly apartment? This Penang Airbnb is suitable for all ages, but especially for those who are traveling with children.
There's a pool in the building for them to play in, and its modern design makes the most of the space. It's also in the business center of George Town, so you don't have to drag the kids too far to see the beach, or visit the nearby shopping mall Gurney Plaza.
If you want to explore the area, most attractions are accessible by car, so you can start checking off your itinerary while visiting Penang.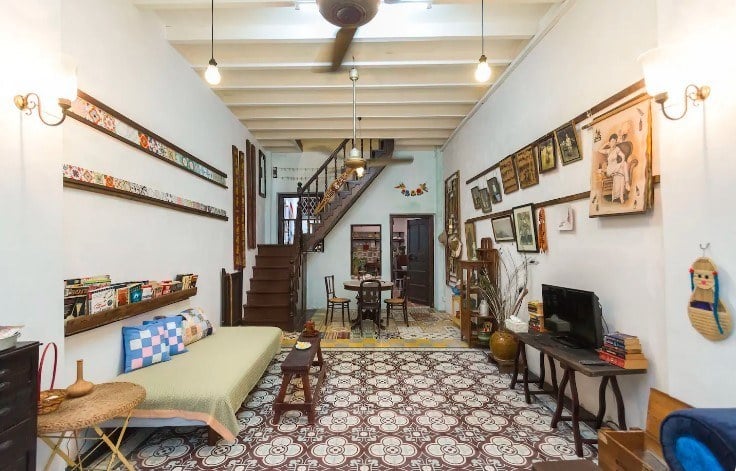 $$$$
Fabulous back courtyard
8 Guests
Mezzanine with awesome views
You've seen all those beautiful shophouses in Georgetown, you might have even bought some souvenirs from one of them.
However, have you stayed in one? Now's your chance with this awesome Penang apartment! Right in the center of the UNESCO zone, this is the perfect flash-packer pad, with space for you and 7 of your best pals.
The third-floor mezzanine gives you some really lovely views, while the courtyard is the perfect place to enjoy a cup of coffee or breakfast!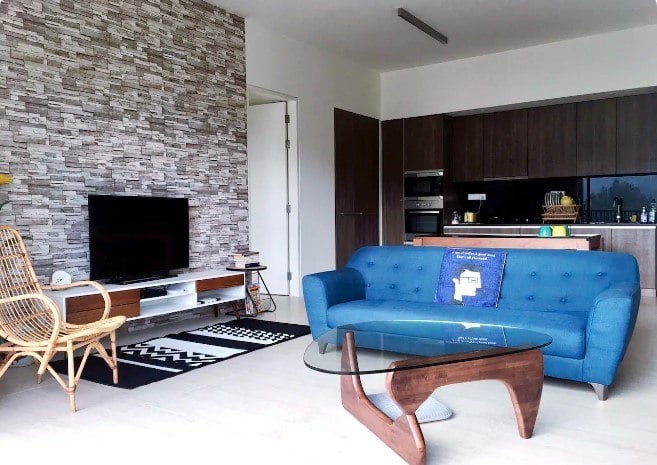 $$$
Direct access to beach
5 Guests
Access to gym, pool, and playground
So, you've already seen a couple of crazy Batu Ferringhi Airbnbs. Here's something a little less OTT, but still pretty damn cool. One of the major draws of this area of Malaysia is the stunning beaches with their turquoise waters, and this place gives you direct access!
If you'd prefer not to get sand between your toes, you can always jump in the swimming pool or go for a workout in the gym. If you're traveling with kids, they're sure to love the playground too! You're staying in a super host's property, so rest assured you'll be taken care of!
$$
Complimentary breakfast
2 Guests
Laptop friendly workspace
I promise this is the last place I'm going to show you in Batu Ferringhi! You've already seen places that can accommodate big groups, but here's something more suitable for a solo traveler or a couple.
This awesome suite has a minibar and a TV, not to mention a complimentary breakfast! Digital nomads will appreciate the laptop-friendly workspace, while those who have their own transport will be grateful for the free parking space!
$$
Close to hawker centres
2 Guests
Cosy and comfortable
Okay, I know you've seen an awful lot of George Town apartments, but I'm going to round off my list of the best Airbnbs in Penang with just one more.
This homestay offers an authentic experience of George Town, and provides easy access to the hawker centers where you'll find the best street food. It's cozy, and comfortable and you're actually living in a piece of history! It's one of the few 19th-century Straits Chinese houses left in town.
FAQ about Airbnbs in Penang
Here's what people usually ask me when they look for vacation homes in Penang.
Don't Forget Your Penang Travel Insurance
ALWAYS sort out your backpacker insurance before your trip. There's plenty to choose from in that department, but a good place to start is Safety Wing.
They offer month-to-month payments, no lock-in contracts, and require absolutely no itineraries: that's the exact kind of insurance long-term travellers and digital nomads need.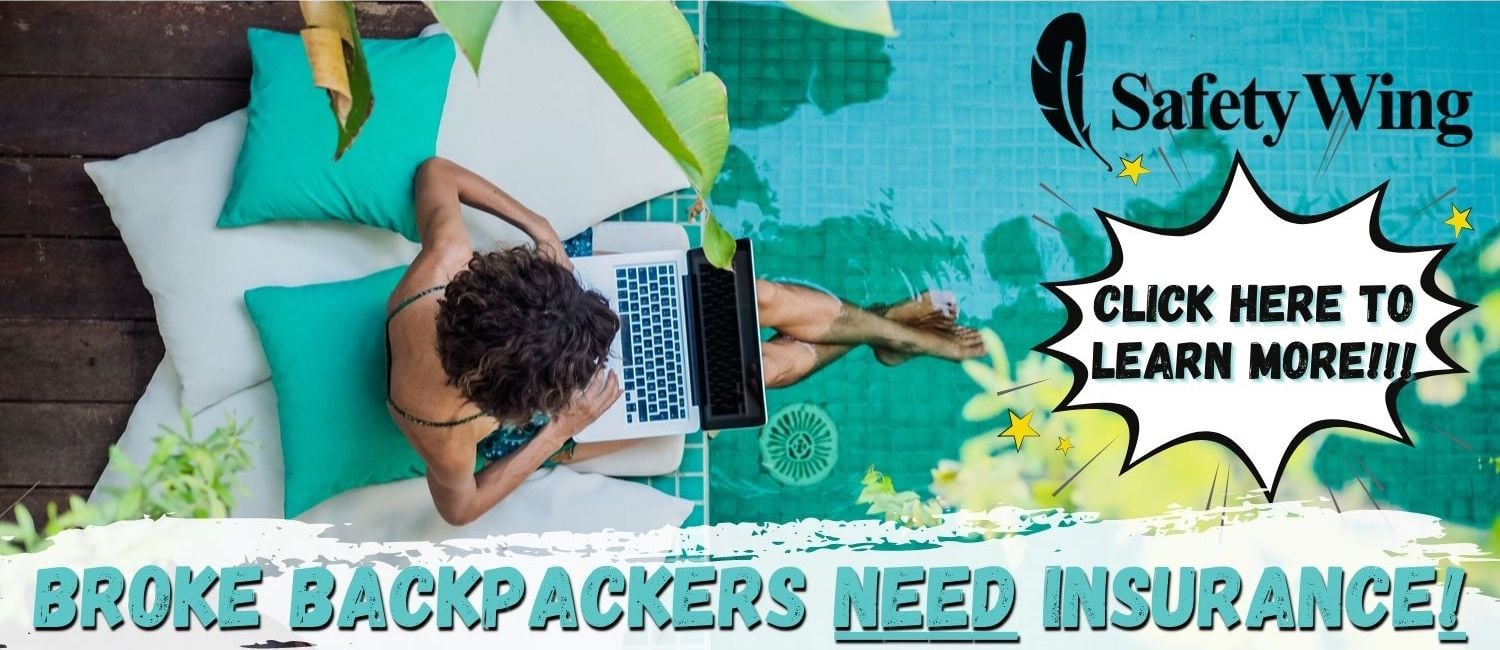 SafetyWing is cheap, easy, and admin-free: just sign up lickety-split so you can get back to it!
Click the button below to learn more about SafetyWing's setup or read our insider review for the full tasty scoop.
Final Thoughts on Penang Airbnbs
So, that concludes my list of the best Airbnbs in Penang. I'm sure you'll have found something that perfectly suits your travel needs – as there's an option whatever your budget, style, or personality is!
Whether you want an apartment right on Batu Ferringhi beach, a friendly and charming homestay, or a crash pad right among all the action of the night market, I've made sure to find something suitable for you! In fact, I might have overloaded you with awesome choices.
Now that I've hopefully made planning your trip to Penang a lot easier, all that's left is for us to wish you an awesome vacation. I hope you have a great time!
---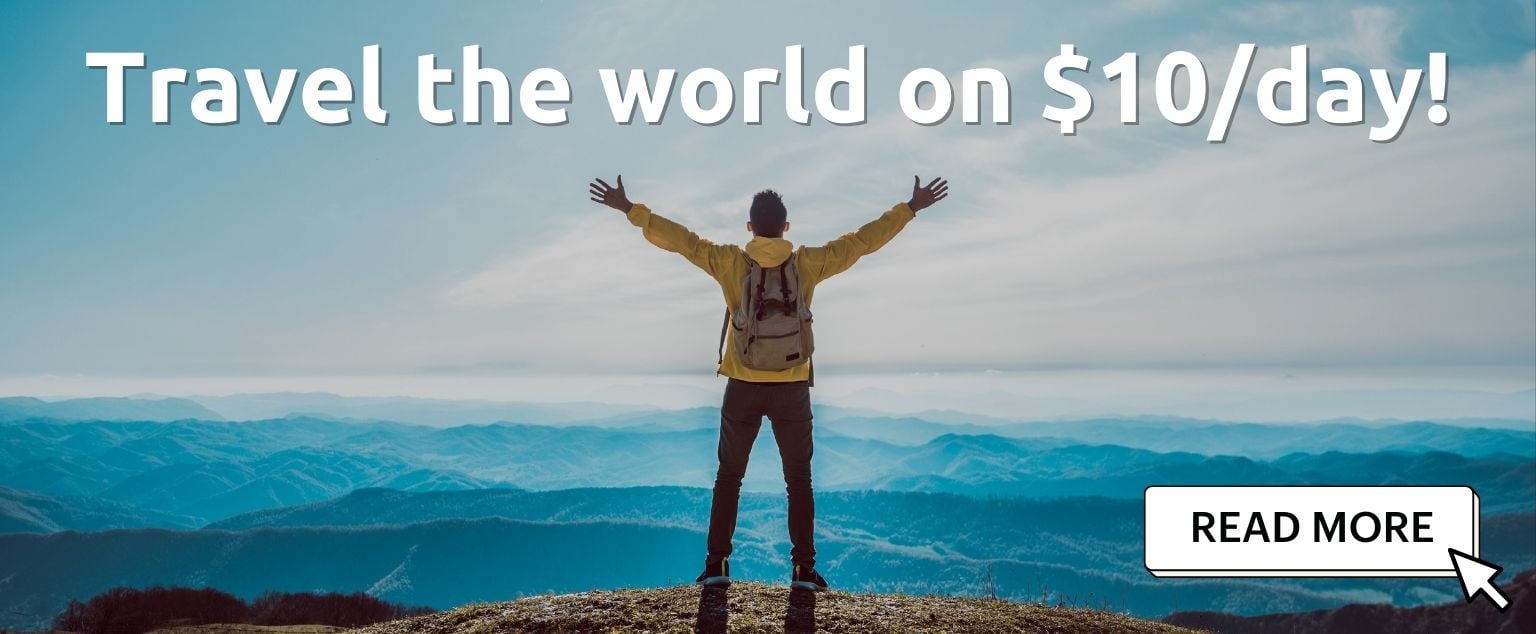 And for transparency's sake, please know that some of the links in our content are affiliate links. That means that if you book your accommodation, buy your gear, or sort your insurance through our link, we earn a small commission (at no extra cost to you). That said, we only link to the gear we trust and never recommend services we don't believe are up to scratch. Again, thank you!