Hidden waterfalls speckled through thick rainforests. Tiny islets fringed by crystalline waters. Ancient, 1000-year-old cave systems. That's Malaysia in a nutshell for you!
Offering a varied ecosystem that's just begging to be explored, the national parks in Malaysia seem to have something for everyone. Whether you're chasing adventure at the top of the mountains or simply want to enjoy a relaxing stroll on the beach, you'll definitely find something with your name on it!
Because there's just so much to see and do, knowing where to start is the hard bit. To help you plan the perfect itinerary, I've put together a list of the seven best parks that are totally worth a visit.
What are National Parks?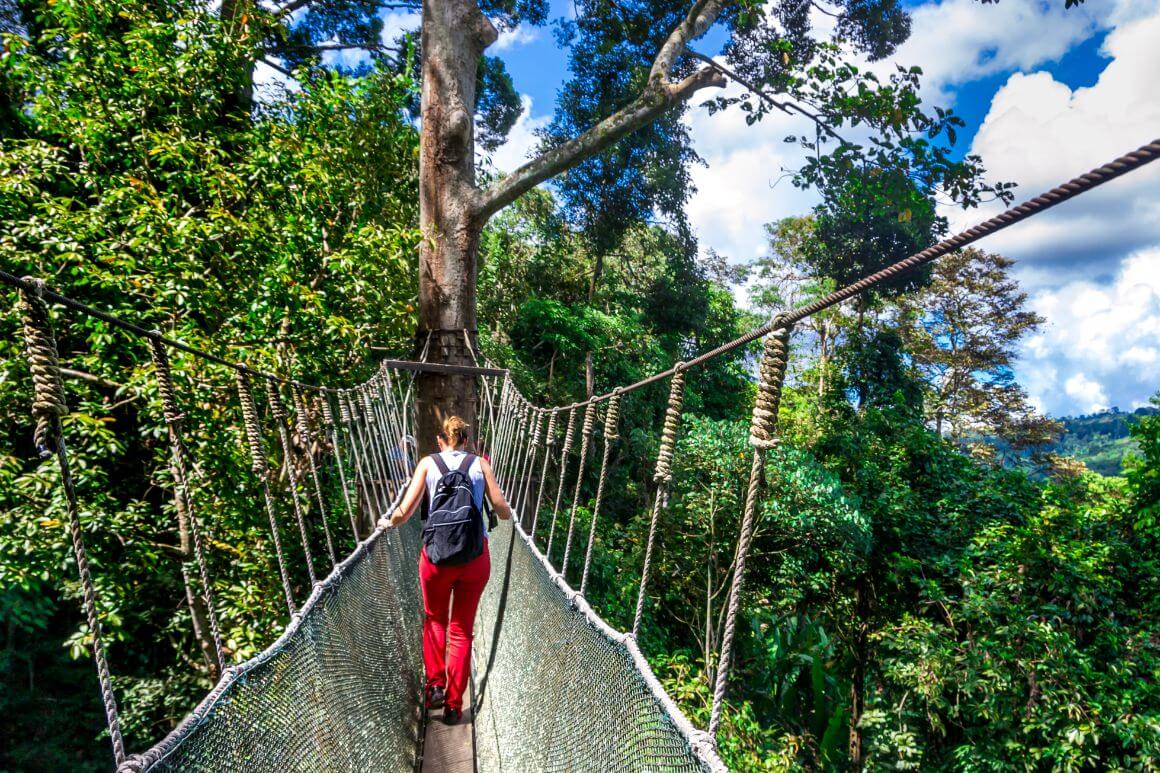 A national park refers to an area that's set aside by private or public bodies for preservation purposes. In some cases, national parks are also set aside for scientific or historical interest and public enjoyment – all while maintaining the park's accompanying fauna and flora in their natural state.
In Peninsular Malaysia, all the reserves and parks are managed by the local Department of Wildlife and National Parks.
The country is blessed with around 66 state parks, national parks, and nature reserves in Malaysia – so there's always going to be plenty to see! The wide majority of them feature thick forests with well-marked hiking trails leading to gently flowing streams, glistening waterfalls, and mountain peaks. Some parks even feature rare plants such as the impressive-looking Rafflesias.
The Malaysian parks also double as a safe haven for various indigenous species, with sun bears, Bornean orangutans, Sambar deer, and different types of monkeys.
Owing to the parks' diverse ecosystems, visitors are expected to abide by certain rules to protect the local fauna and flora. Hunting and fishing are prohibited in virtually all parks. Some sites do allow overnight parking without any special permission although you do need to register your camp at the park's headquarters.
National Parks in Malaysia
Got your sunscreen and insect repellent at the ready? Then let's check out seven of the most coveted national parks to visit in Malaysia!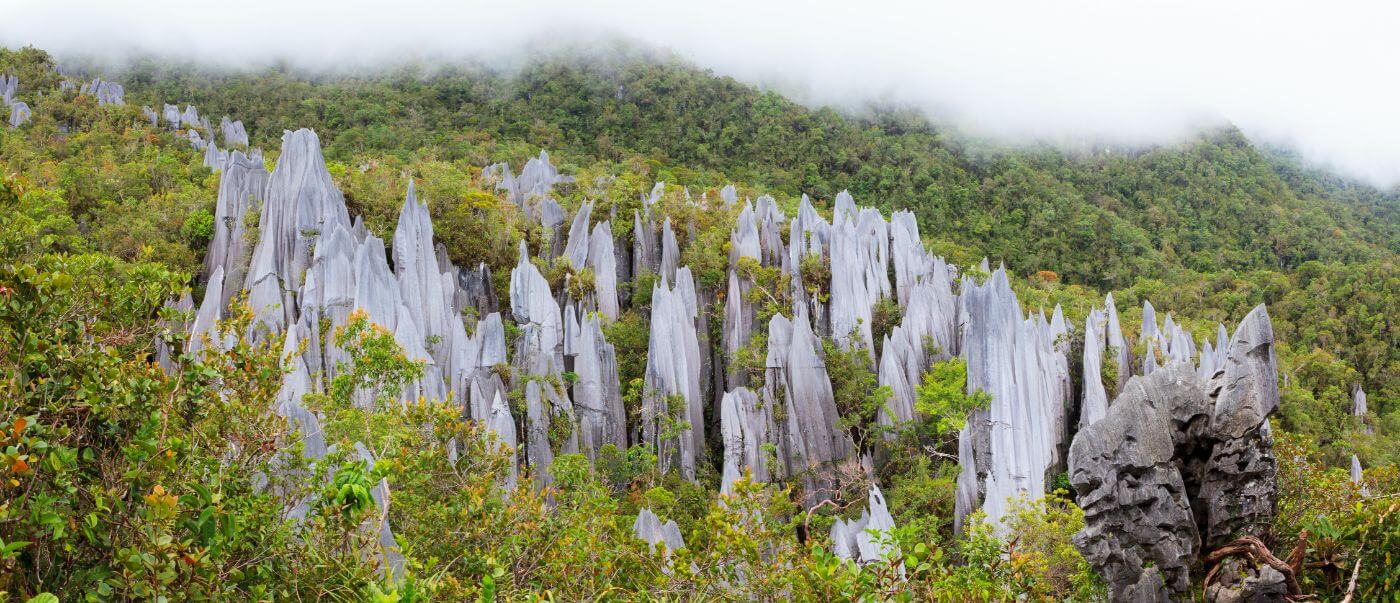 Size: 528.6 km²
Location: Sarawak
Cost of Entrance: $7.20 (adult), $2.40 (child)
Looking for family-friendly things to do in Malaysia national parks? How about a visit to Gunung Mulu, a gorgeous site known for its limestone karst formations?
Not only is this site the gateway to the second-highest mountain in Sarawak, but this park also houses an intricate network of ancient cave systems dating all the way back to a million years ago!
Hikers totally have it made, with plenty of excellent trails crisscrossing the park. By far the most popular hike is the Mulu Pinnacles trail which spans over 9km and requires around four kilometers to complete. This hike features a fairly flat terrain speckled with a couple of hanging bridges and rivers.
If you're in the mood for something more adrenaline-pumping, you can always attempt the Pinnacle Climb. I do have to point out that it's quite an extreme and risky activity though, so it should only be attempted by experienced climbers. You'll need to fork out around $105 for this three-day expedition that starts off with a boat ride on the Melinau River, followed by a tour of Clearwater Cave.
Afterward, you'll embark on the nine km hike from Kuala Litut to Camp 5 where you'll stop for the night before attempting the climb early the next morning. Stunning views of the limestone formations await at the end of this journey – provided that you manage to make it past the rope sections and steel ladders that await in the final leg of the climb.
Where to Stay Near Gunung Mulu National Park
Is there anything better than retreating to a comfortable, air-conditioned room after hiking all day? I think not! This is what you can expect at the Mulu Marriott Resort, located just two km from the park. With airport shuttles and bicycle rentals, this hotel also has an on-site wellness center.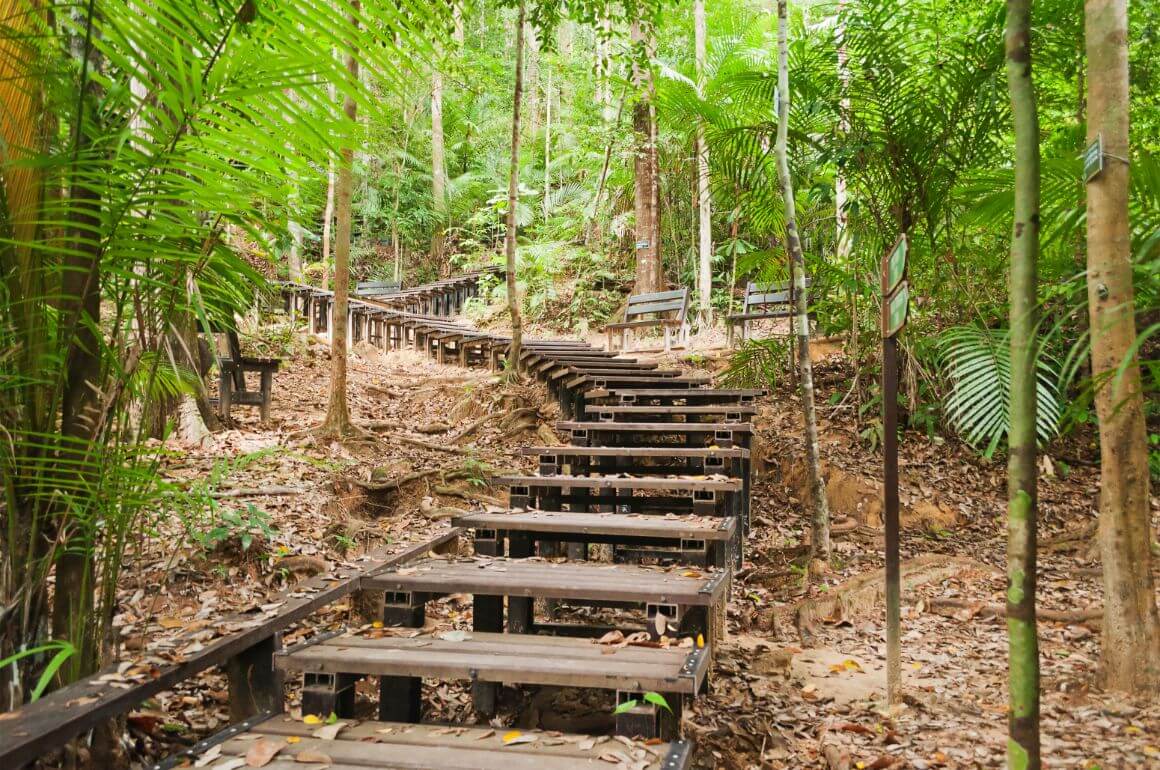 Size: 4,343 km²
Location: Pahang
Cost of Entrance: $7
One of the biggest national parks in Malaysia, Taman Negara is home to one of the oldest rainforests in the world. Indeed, this forest is estimated to be way over 100 million years old – so you'll definitely be in for a treat!
Owing to its size, this park stretches over the states of Terengganu, Kelantan, and Pahang.
Brimming with family-friendly activities, this park offers the ideal setting for enjoying a serene longboat ride down the Tembeling River. Kids and adults alike will both enjoy a visit to the Lata Berkoh waterfall from where it's possible to board another boat to the Kelah fish sanctuary.
If you're feeling particularly daring, you can even attempt the narrow, 1,738-foot-long canopy walk that towers high above the trees. From 130 feet in the air, you'll have a prime seat for spotting various types of wildlife, including bird species and monkeys.
Like most parks and reserves in Malaysia, Taman Negara is brimming with an assortment of hiking trails. Most of them start off near the park headquarters and shorter paths are available for less experienced hikers.
Now, if you do have plenty of experience under your belt, you can always tackle one of the longer hikes. Remember to register your walk at the visitor center before setting off. An activity that I can totally vouch for is the Night Safari during which you'll get to hike through the forest alongside a park ranger. You'll also get to observe nocturnal animals from a safe distance.
Where to Stay Near Taman Negara National Park
Set just a quick drive from the park's east entrance, this fabulous hotel offers various room configurations for one to four guests. You'll enjoy various on-site facilities, including an on-site mini-market for those late-night snacks!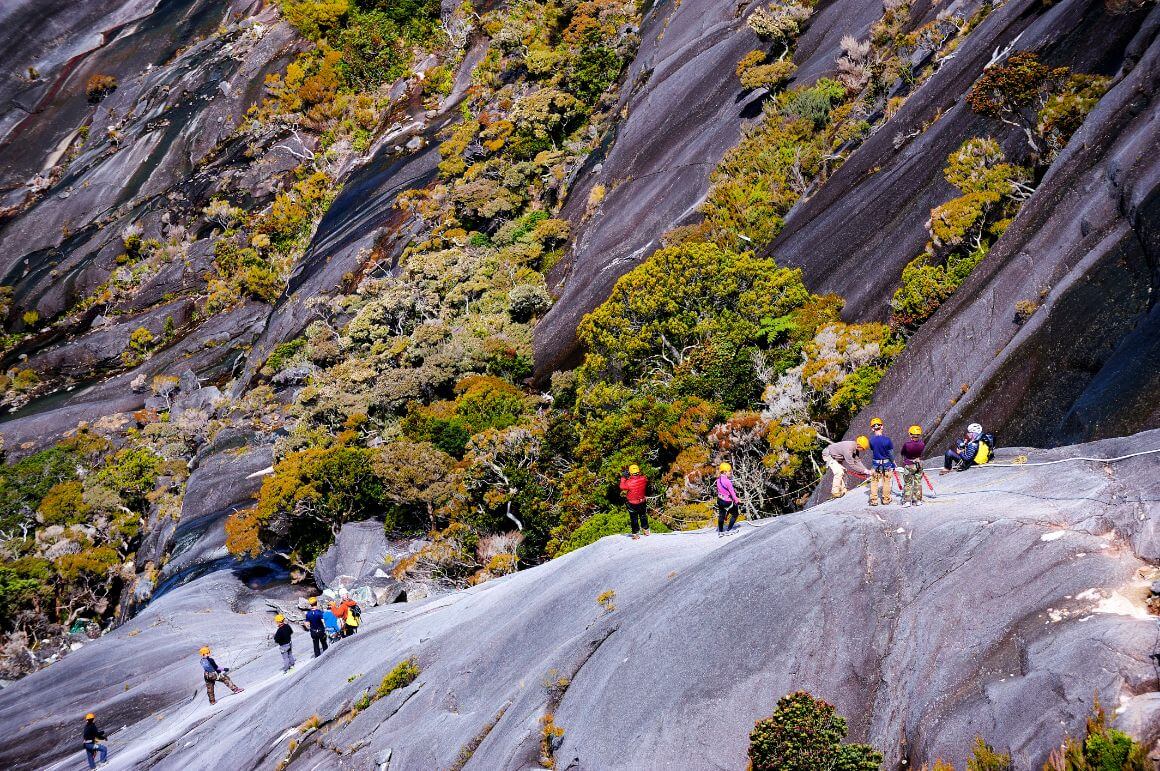 Size: 754 km²
Location: Sabah
Cost of Entrance: $3.50 (adult), $2.30 (child)
Not only is this one of the most gorgeous Malaysia national parks, but Kinabalu perfectly lends itself to travelers who would like to avoid crowds! Kinabalu also happens to be the very first World Heritage site in Malaysia.
At first glance, the landscape appears to be quite barren, with a jagged, mountainous terrain but this park is actually one of the most significant biodiversity hotspots in the world. In fact, it houses over 4500 types of fauna and flora, with plenty of greenery sheltering its many birds and animals.
There's no denying that the park's primary draw is Kinabalu mountain. Standing at over 13,000 feet tall, this mountain is the highest in Malaysia. I do have to point out that scaling this mountain isn't for amateur climbers because of the high altitude.
This mountain is so tall that you'll literally be walking through cloud forests – an experience that's second to none! There's a high refuge on the mountain where you can stop for the night and fuel up with a hot meal.
Don't be surprised if you run into researchers and scientists since the park's six different types of vegetation often attract experts from all over Southeast Asia.
Where to Stay Near Kinabalu National Park
Get away from the hustle and bustle of daily life and enjoy the peaceful environment of this charming Airbnb! With enough room beds for up to eight guests, this space lies close to Mount Kinabalu, making it an ideal home base for mountaineers. There's even a bbq put outside where you can relax with friends and family.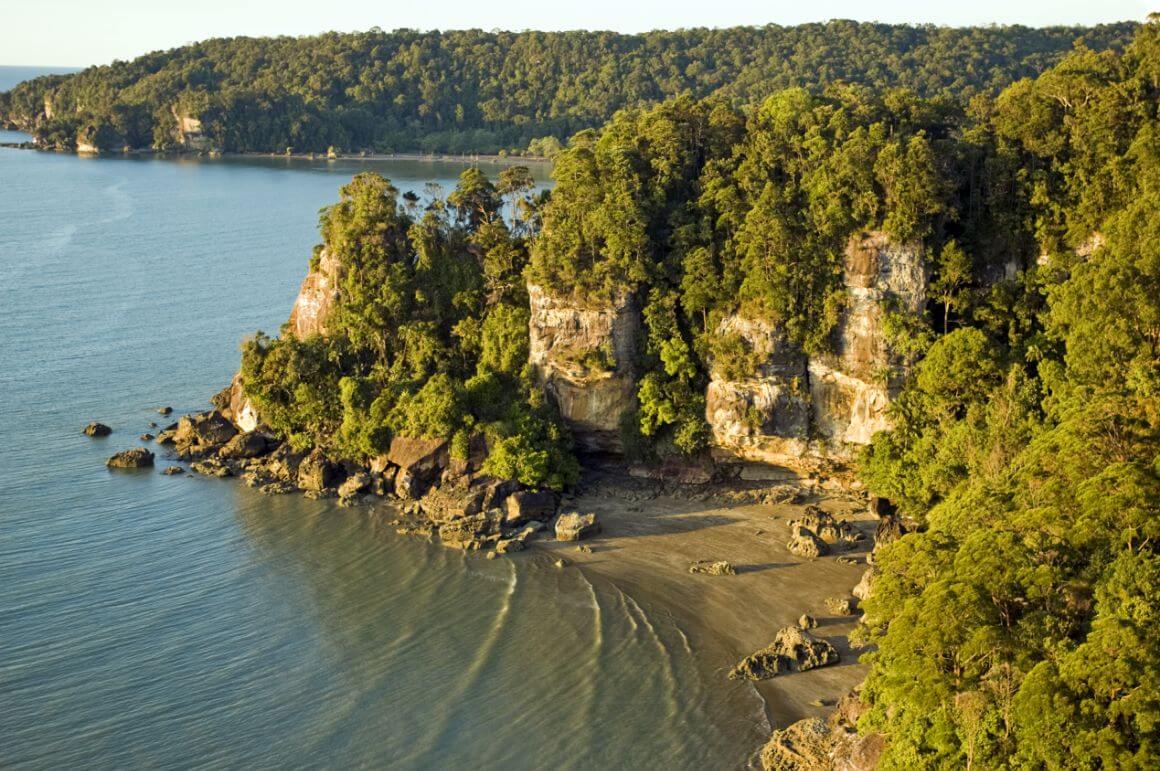 Size: 27 km²
Location: Sarawak
Cost of Entrance: $4.60 (adult), $1.60 (child)
If sea arches, towering rock formations, and well-marked trails are your thing, then you really don't want to miss a visit to Bako National Park!
In my opinion, the best time to visit national parks in Malaysia is from March to October so you can avoid the rains – something that can come in handy if you're planning on hiking through Bako's rugged landscape.
Here's something that you should know when visiting this park: one day is rarely enough to take everything in, so visitors usually spend at least one night in Bako. Every night, the park offers a two-and-a-half km evening walk where guests can inspect the grounds alongside park rangers to spot nocturnal animals, reptiles, and insects.
Teeming with wildlife, Bako contains various types of animals, including the elusive Proboscis Monkey, known for its unique call. One of the best places to spot these monkeys is near the park's headquarters very early in the morning- another reason why it's always a good idea to spend the night at Bako!
I do have to warn you that the park houses several green vipers, so remember to watch out for them.
If you're traveling with the kids, rest assured that the park boasts several short and easy family-friendly trails. You do need to register your hike at the headquarters and sign out after you're done. Don't forget to take plenty of water since the Malaysian weather is notoriously hot and humid!
The park's shortest hike takes you past the famous rock formations to end on a stretch of sandy beach. If you don't want to walk all the way back, you can always hop on a boat and admire Bako from the lagoon.
Where to Stay Near Bako National Park
Offering a great location less than 20 km from Bako, this beautiful hotel offers private rooms and a six-bed dormitory. After exploring the park, cool off with a swim in the hotel's outdoor pool, then treat yourself to a scrumptious meal at the on-site restaurant.
Have you sorted your accommodation yet?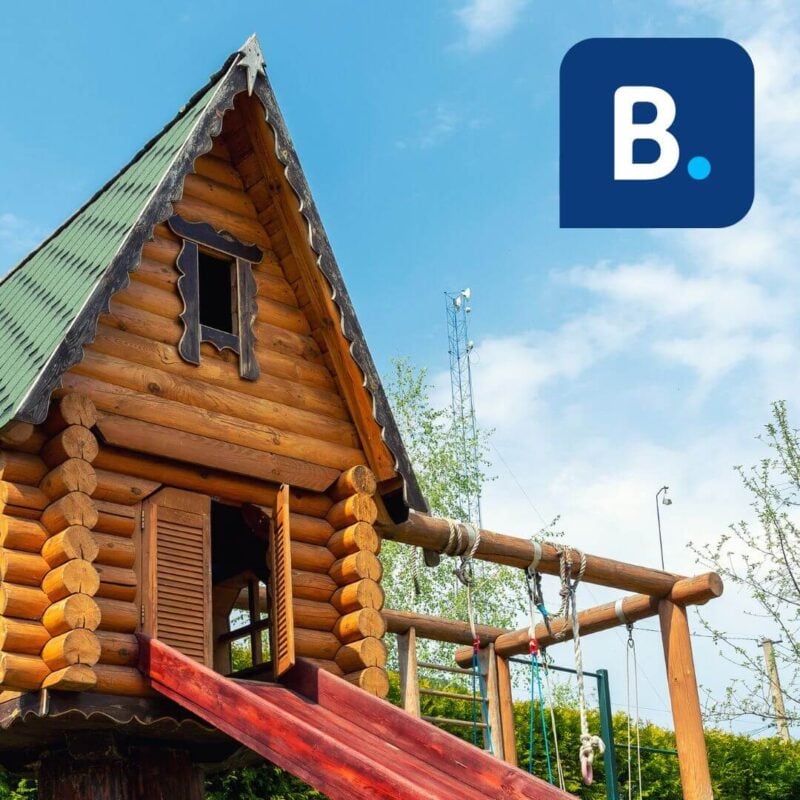 Get 15% OFF when you book through our link — and support the site you love so dearly 😉
Booking.com is quickly becoming our go-to for accommodation. From cheap hostels to stylish homestays and nice hotels, they've got it all!
View on Booking.com
Size: 43.6 km²
Location: Lundu
Cost of Entrance: $4.60 (adult), $1.60 (child)
Okay, there's no denying that, as far as Malaysia national parks go, Gunung Gading is on the smaller side – but what this park lacks in size, it absolutely makes up for in sights!
Shrouded in a thick forest with dominating peaks, this park is punctuated by plenty of streams and waterfalls. Most of them are hidden in the forest, amidst giant Rafflesias. Drawing visitors from all over the world, this rare plant is especially known for its pungent scent, tall stem, and enormous orangey-red flower.
What makes the Rafflesia special – other than its size, of course – is that it can take up to nine months to fully bloom. The good news is that there's no specific blooming period, so you'll have a chance of spotting it virtually all year long!
In addition to these endemic plants, Gunung Gading offers a scenic trail leading to the peak of Gunung Gading Mountain. You'll also find seven marked trails leading to different waterfalls and the shortest one can easily be completed in just around 30 minutes. Alternatively, you can always take the main trail along the Lundu River that'll take you past all seven waterfalls in just under two hours.
Do remember to bring a lot of water as well as insect repellents since the rainforest attracts plenty of pesky mosquitoes!
Where to Stay Near Gunung Gading National Park
Located just over 30 minutes from the national park, this beachfront hotel boasts spacious rooms for up to three guests. Larger groups can always opt for family rooms that comfortably sleep up to six. Each morning, you can fuel up with a buffet, American, or a la carte breakfast at the on-site restaurant.
Lambir Hills National Park
Size: 69.52 km²
Location: Sarawak
Cost of Entrance: $2.30 (adult), $1.15 (child)
I'm sure by now you've realized there are heaps of exciting things to do in Malaysia nation parks – and Lambir Hills is no exception!
Despite its small size, this park shelters an eclectic menagerie of bird and animal species, not to mention towering trees that can reach up to 200 feet. An absolute playground for nature enthusiasts, Lambir Hill is especially known for its heath and lowland dipterocarp forests. As far as wildlife is concerned, keep your eyes peeled for wild pigs, deer, and monkeys weaving between the trees.
Hikers will no doubt relish in the network of hiking trails for varying levels of fitness. In the mood for something easy? Then check out the Latak Waterfall Trail which leads to a forest pool fed by intermingling falls. Remember to bring your swimsuit along for a refreshing plunge since swimming is allowed! You can also check out the Pantu and the Nibong falls, both known for their stunning views.
For a slightly more challenging route, you can always embark on the 6.1 km-long Lambir Hills National Park North path which requires around 2.15 hours to complete. While this year-round trail is a popular jogging and walking spot in the afternoon, you can still enjoy a quiet moment of solitude if you visit earlier during the day.
Where to Stay Near Lambir Hills National Park
With three bedrooms for six guests, this modern condo offers easy access to Lambir Hills National Park. With sweeping sea views, this Airbnb also features proximity to plenty of excellent dining options. There's also a well-equipped kitchen for when you don't feel like eating out.
Size: 49 km²
Location: Sabah
Cost of Entrance: $4.60 (adult), $3.46 (child)
Here's one national park in Malaysia that'll no doubt please adventurers in search of sea, sand, and sun!
Offering a wide range of nautical activities, this park is actually made up of five islands: Mamutik, Sulug, Sapi, Manukan, and Gaya. In true island fashion, these sites offer different types of activities, including swimming, snorkeling- or simply lazing on the shore with your toes buried in the warm sand!
Since two-thirds of the park is entirely covered by the ocean, you can expect plenty of excellent diving opportunities. The site has over 40 dive sites and the divemaster will narrow it down to the current and weather conditions. If you've completed your PADI Advanced Course, you can even attempt the KM Kuraman Wreck Dive Site, home to a delightful assortment of underwater critters.
For hiking, head over to Gaya, the archipelago's largest island. Just a quick heads-up about this site though: while the trails are abundant, they're poorly marked. A guide is strongly recommended to avoid getting lost in the forests or ravines.
Where to Stay Near Tunku Abdul Rahman National Park
After exploring the national park, hop on a boat and head over to the Aru Hotel where you can wind down in studios or standard rooms with sea views. Groups can always opt for the two or three-bedroom suites that sleep up to 6.
Final Thoughts
A visit to Malaysia's parks will not only allow you to unplug from the daily grind, but you'll also be able to spot some of the rarest flora and fauna on the planet!
If you can only squeeze in one park, I can recommend Taman Negara, featuring ancient rainforests and ample activities for visitors of all ages. Best of all, you can always cap off your visit with a relaxing longboat ride down the Tembeling River.
---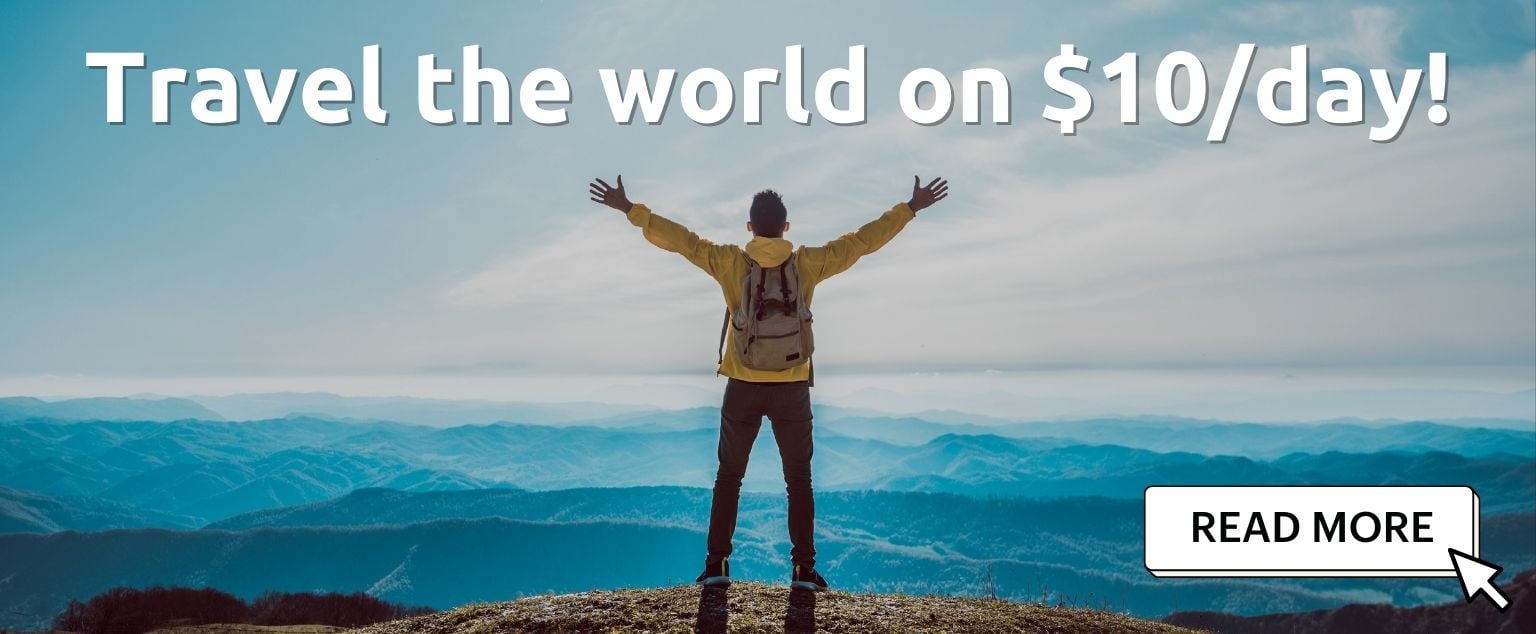 And for transparency's sake, please know that some of the links in our content are affiliate links. That means that if you book your accommodation, buy your gear, or sort your insurance through our link, we earn a small commission (at no extra cost to you). That said, we only link to the gear we trust and never recommend services we don't believe are up to scratch. Again, thank you!