Langkawi is a group of islands in the Andaman Sea. Part of Malaysia, more than 90 islands make up the beautiful archipelago. Only two of the islands are inhabited: Langkawi Island and Tuba Island. Langkawi Island is also the biggest island in the group and a major tourist destination. Blessed with stunning beaches and lush rainforests, the island also boasts myriad things to see and do. There's something for all ages and interests and it's almost impossible to have a dull moment when visiting Langkawi Island.
Langkawi is attracting more and more visitors each and every year. Previously overshadowed by its Thai island neighbours, business is currently booming in Langkawi. This can be a deterrent for travellers looking for a quieter island getaway and who don't want to spend their vacation surrounded by hordes of other tourists.
Don't be put off by Langkawi's soaring popularity! There are still quieter spots to be found around the island and several hidden gems that will help you to feel as though you've discovered somewhere new and exciting.
We've compiled the ultimate list of the best places to visit in Langkawi, with a terrific mixture of popular sites and offbeat treasures and with something for all interests. Planning your vacation couldn't get much easier!
It's tough not to get excited when you realise the extent of the best places to visit in Langkawi!
Need a place quick? Here's the best neighbourhood in Langkawi:
BEST AREA IN LANGKAWI
Kuah
Kuah is the modern heart of Langkawi, the biggest town on the island and, as a result, home to many shopping and dining options.
Places to visit:
Snap a selfie with the statue of the sea-eagle (Langkawi's emblem) at Dataran Lang – 'Eagle Square.'
Explore the night market on Wednesdays and Saturdays at Pusat Bandar Kuah.
Go to Langkawi Legend Park and learn about the island's local myths and folktales.
These are the BEST Places to Visit in Langkawi!
Before you scrolll any further, you're going to need to know which neighbourhoods have the best accomodation for your trip. Be sure to check out where to stay in Langkawi and get the full low-down on the BEST areas in this dazzing city. Now let's dive right into the good stuff … the best places to visit in Langkawi!

Unlock Our GREATEST Travel Secrets!
Sign up for our newsletter and get the best travel tips delivered right to your inbox.
#1 – Al Hana Mosque – A great place to see in Langkawi if you love architecture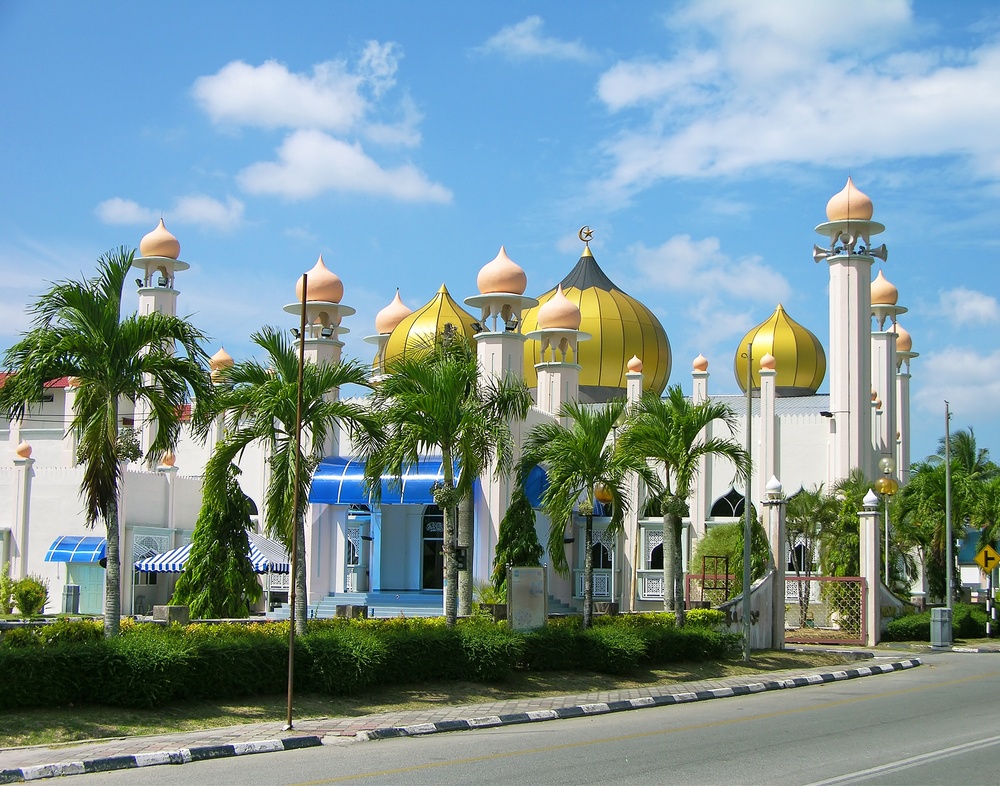 Biggest mosque in Langkawi
Traditional Moorish features
Beautiful building and interiors
Religious ambience
Why it's awesome: Located in Kuah and close to the waterfront, Al Hana Mosque is the biggest Islamic place of worship in Langkawi. It was built in the late 1950s. Open around the clock, the mosque features typical Moorish designs. The pale building is topped with golden domes and there are Uzbek designs blended with Malay styles. The insides are eye-catching too. It is an active place of worship, though visitors are welcome outside of prayer times.
What to do there: Be sure to dress appropriately to visit the mosque. Women especially should ensure that they adhere to the dress codes, with garments that cover to the wrists and ankles. Admire the striking building from the outside and walk through the courtyard before slipping off your shoes to look inside the main prayer hall. You'll see inscriptions from the Quran on the walls. Also, don't miss the beautifully carved wooden pulpit from where the Imam delivers his sermons. Liston out for the melodic call to prayer, issued five times per day.
#2 – Underwater World Langkawi – Certainly one of the most exotic places to see in Langkawi!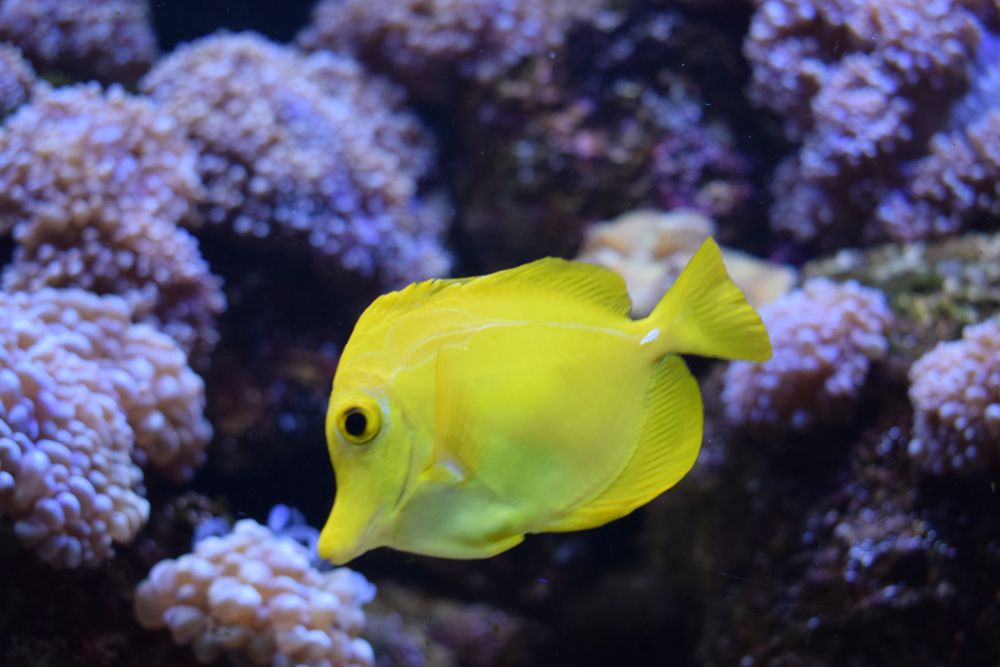 Home to many water creatures
Family-friendly attraction
See creatures being fed
Large walk-through aviary
Why it's awesome: The large Underwater World Langkawi covers around six acres (2.4 hectares) of land and is one of the best family-friendly hotspots in Langkawi. One of the biggest aquariums in Malaysia, it is home to 200-plus fascinating aquatic species. There are three different main sections to explore: Temperate, Tropical Rainforest, and Sub-Antarctic. Each offers a different experience for visitors along with the chance to learn more about creatures from the ocean deep and freshwater species. It is also possible to watch different animals being fed.
What to do there: Pass through the 15-metre-long (49-foot-long) glass tunnel and watch in awe as creatures like groupers, stingrays, turtles, and more swim all around you. Gaze at moray eels and lionfish, both known for their abilities to be able to cause harm to people. See species that inhabit coral reefs, including clownfish and wrasse, come face to face with penguins and fur seals, and watch fearsome sharks in the sunken ship-themed hexagonal tank.
Step outside to admire the large koi in the foliage-surrounded pond, see curious creatures like Chinese water dragons, African fat tailed geckos, and leopard geckos in the River Ecosystem section, and switch water-dwelling creatures for colourful avian species in the Tropical Rainforest's walk-through aviary.
#3 – Mahsuri Tomb and Museum – One of Langkawi's coolest historical sites!
Fascinating local legends relating to an island curse
Interesting museum
Serene tomb
Lovely gardens
Why it's awesome: Among the most fascinating attractions in Langkawi, Mahsuri Tomb and Museum is a must-visit for travellers in Malaysia enamoured with the culture. This place is steeped in legends and lore, and most locals believe the tales to be true and to have connections with the island's history. Stories tell of Mahsuri, a stunning woman born on Langkawi to Thai immigrant parents. Her beauty attracted many suitors and she eventually married a warrior. Her husband was sent to fight the Siamese in the early 1800s, leaving Mahsuri alone. She invited a travelling storyteller to stay in her home having been spellbound by his tales.
Rumours quickly started that she was having an affair and she was found guilty of adultery in a trial. Her punishment? To be tied to a pole and stabbed to death. After several failed attempts, Mahsuri was eventually killed, and it is said that her blood was white, thus proving her innocence. Before death took her, however, Mahsuri issued a curse on the island; the curse was to last for seven generations.
Interestingly, Langkawi Island only really started to come into its own after seven generations had passed. The complex has a simple tomb in honour of Mahsuri and there's an interesting museum with many cultural displays and objects.
What to do there: Wonder about the sad fate of the beautiful Mahsuri, pay your respects at her tomb, and ponder the curse that was said to have plagued Langkawi for many years in the past. The gardens are a pleasant spot to sit and relax for a while in nature. Enter the traditional wooden Malay home and see how locals lived in times gone by. There are various household objects from yesteryear within the charming house on stilts.
See the large dioramas that tell Mahsuri's mournful tale, view a variety of farming implements, everyday household items, and weapons, listen to traditional music, and, depending on the time of your visit, watch cultural displays. You can pick up gifts in the souvenir shop and grab refreshments in the café.
#4 – Telaga Tujah Waterfall – A beautiful and scenic place to check out in Langkawi
Gorgeous natural attraction
Opportunities to swim and bathe
Splendid scenery
Surrounded by wildlife
Why it's awesome: Also often referred to as Seven Wells, Telaga Tujah Waterfall is one of the most famous places in Langkawi for breath-taking natural splendour. There's no charge to enjoy the spectacular cascades. The water falls some 91 metres (299 feet) in total, tumbling over the rocks and creating seven natural shimmering pools. Wildlife surrounds the falls, adding to the scenic appeal. Trees tower around the waterfall and creatures such as birds (including the majestic hornbill), squirrels, small reptiles, butterflies, monkeys and mosquitos call the area home (which is why you should read up on how to keep mosquitoes at bay while traveling).
What to do there: Take a short walk from the parking area to reach the bottom of the falls and the lower pool. You can take a dip in the refreshingly cool water to cool down in the heat of the day and admire the natural beauty. Alternatively, if you're feeling more active and want even more impressive views, head to the top of the falls. The walk takes around one hour and includes more than 630 steps. The effort, though, is well worth it! Spot diverse flora and fauna, soak up the vistas and have fun on the smooth rocks that create natural water slides.
#5 – Mount Mat Cincang – One of the nicer places in Langkawi to sightsee!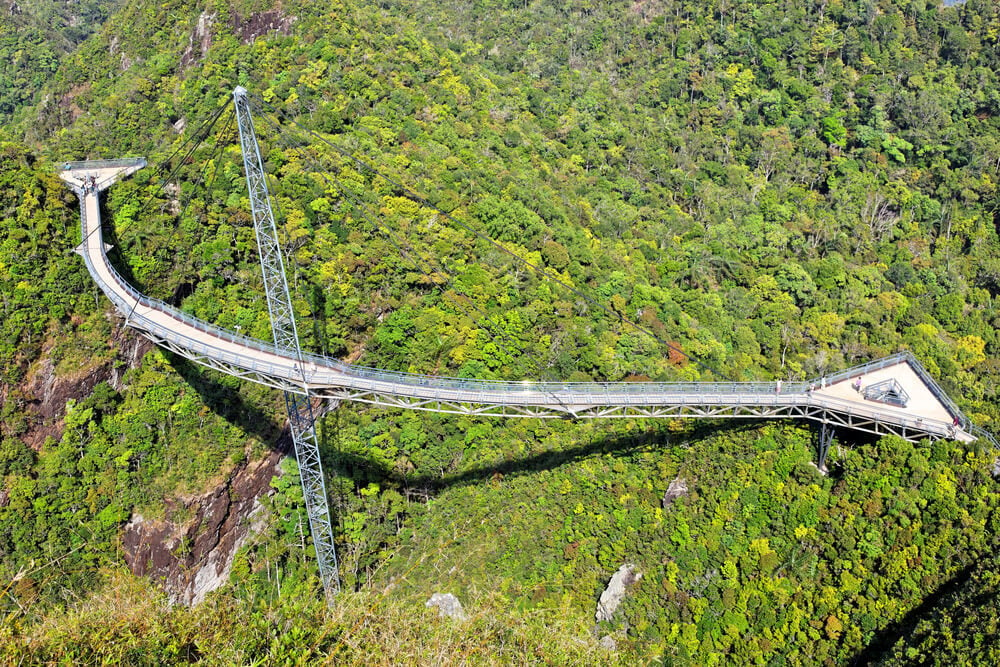 Second-tallest mountain in Langkawi
Amazing views
Challenging trek
Nature-spotting opportunities
Why it's awesome: Mount Mat Cincang stands 709 metres (2,326 feet) above sea level and is the second-tallest peak on Langkawi Island. The views from the top of the towering mountain are unbeatable, stretching far into the distance and encompassing jungles, the sea, islands, and towns. A scenic (but challenging) hiking trail leads to the summit and takes two to three hours to complete the trek.
What to do there: Bring your best hiking footwear and clothing and fill up your water bottles before setting out to hike to the top of Mount Mat Cincang. The trail starts near Telaga Tujah Waterfall, and it's easy to combine the two natural attractions in the same day. Scramble over rocky cliffs and use the guide ropes to haul yourself up the steep slopes. Be prepared for a fairly strenuous hike—if you don't feel physically fit, don't attempt the hike! You'll see lots of wildlife around you as you climb. Upon reaching the peak give yourself a round of applause and lap up the spectacular views.
#6 – Dataran Lang – A perfect place to visit in Langkawi if you are on a budget!
Free to enjoy
Brilliant photo opportunities
Major symbol of Langkawi
Gorgeous architecture
Why it's awesome: Located close to the ferry port, Dataran Lang is one of the major points of interest in Langkawi. Also known as Eagle Square, for obvious reasons, a gigantic 12-metre-tall (39-foot-tall) eagle stands at the heart of the square. With its wings powerfully spread and its gaze fixed on the sea, the large bird is one of the most iconic landmarks in Langkawi. Mini fountains, small bridges, waterways, terraces, and flowers surround the statue and the nearby architecture is elegant. There are also lovely ocean views.
What to do there: Snap lots of pictures of yourself and your friends/family in front of the impressive eagle and in front of the sea. Watch boats coming and going and the gaggle of people arriving at and departing from the Malaysian island. Enjoy a leisurely stroll around the square, admiring the lovely architectural designs. You'll find a selection of places to sit and enjoy a tasty meal if you're feeling peckish and there's an assortment of shops where you can browse (and buy!) a variety of goods.
#7 – Tengkorak Beach – A nice non-touristy place to visit in Langkawi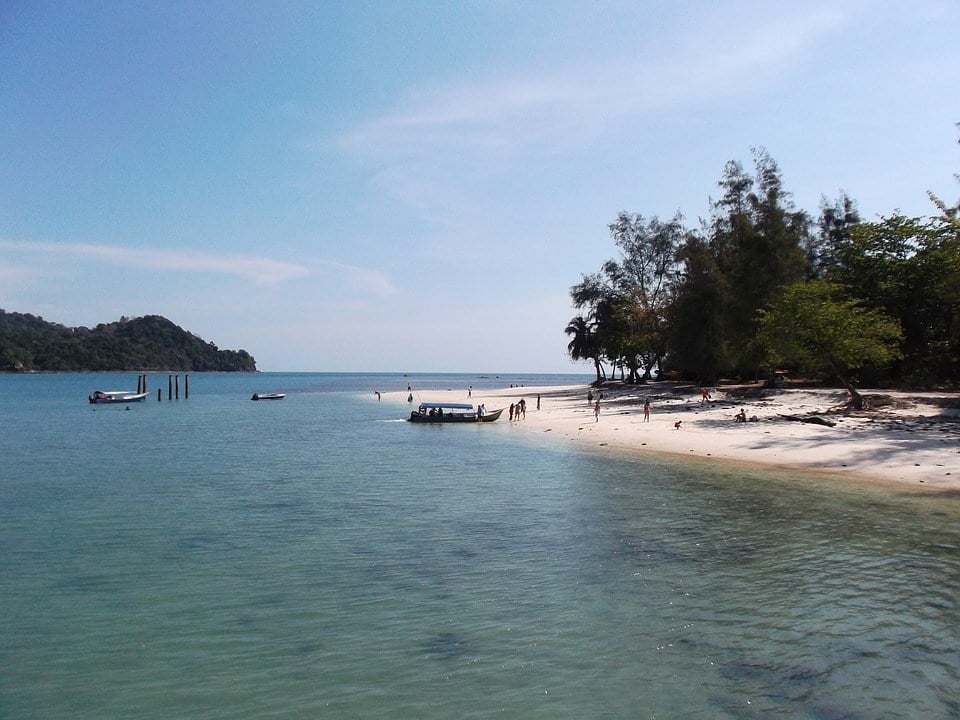 Relaxed ambience
Interesting legends
Why it's awesome: Tengkorak Beach is a scenic, secluded, sandy beach with lovely views, a tranquil vibe … and a rather morbid tale! The beach's name means "Sandy Skulls Beach", supposedly because, in times gone by, a shipwreck caused many skulls to wash up on the sandy shores! Don't let that put you off visiting, though—there are certainly no skulls there today! A popular hangout spot with locals, few foreign tourists stumble across the pretty beach. There are good facilities close to hand, including restrooms, shower blocks, and food vendors.
What to do there: Dedicate a day on your Langkawi itinerary for just hitting the beach! Spread out your towel to soak up some sun on the soft white sands, paddle in the sea, toss a Frisbee, build sand sculptures, and have fun at the seaside. Overhanging trees provide plenty of shade and there are small beachside shelters along with picnic tables where you can chill. This is a top place to perhaps spend an afternoon with that special someone or take the kids somewhere frequented by local families. Speaking of local families, why not spend your holiday in one of Langkawi's best homestays for a truly local-filled experience.
#8 – Langkawi Sky Bridge and Cable Car – One of the most amazing places in Langkawi!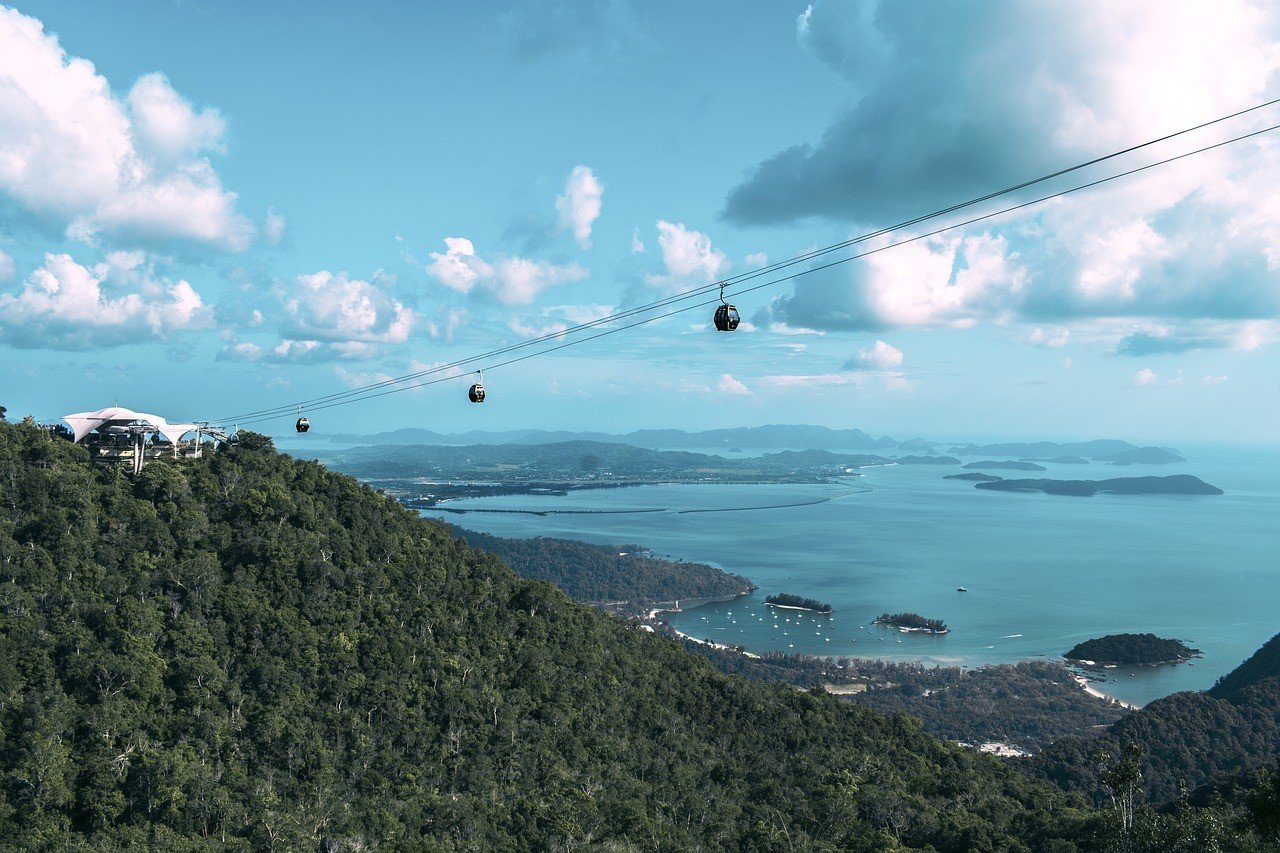 Incredible vistas
Thrills and excitement
Popular activity in Langkawi
Great for photography
Why it's awesome: Langkawi Sky Bridge and Cable Car is a Langkawi must do. Not only an exciting experience, but visitors will have some of the most incredible views of anywhere else on the island. The Cable Car carries people up through several viewing platforms before reaching the Sky Bridge. High above Mount Mat Cinchang, the walkway is 124 metres (410 feet) long. It's a great place for soaking up the vistas and taking plenty of awesome photographs.
What to do there: Climb into a cabin on the Cable Car and be wowed as your views increase the higher you climb. Look out for the Telaga Tujuh Waterfalls flowing through the trees in the distance as birds circle all around. Be dazzled by the glorious views of the verdant islands and islets that speckle the deep blues of the sea.
Pause to take photos at the lower viewing point before continuing skywards. You can then either ride in the SkyGlide to reach the walkway or take a short hike of around ten to fifteen minutes up a steep mountain track. Try not to feel dizzy as you walk along the Sky Bridge and lap up the gorgeous views and spot wildlife in the trees below.
#9 – Langkawi Thean Hou Temple – One of the most religious places to see in Langkawi
Colourful temple
Learn more about Chinese mythology
Serene atmosphere
No admission fee
Why it's awesome: One of the newest religious landmarks in Langkawi, Thean Hou Temple was constructed in the year 2017. The striking temple, although new, displays beautiful traditional designs and was built to honour the Chinese goddess of Mazu—a common deity worshipped by sea-faring folk, fishermen, and people who live close to the coast.
Mazu is often known as the Dragon's Daughter and she's an important deity in Chinese Taoist beliefs. Langkawi Thean Hou Temple is one of the biggest temples dedicated to Mazu in Southeast Asia. The large complex has a spiritual vibe and there are plenty of attractive features to admire. There is no charge to enter the temple.
What to do there: Gaze upon the ornate main building with its impressive dragon and phoenix statues, visible from some distance as you approach the site. Explore the large and colourful temple complex, complete with eye-catching statues, decorative pillars, bright paintings that depict mythological scenes and a variety of deities, and flower-filled courtyards.
Learn more about ancient Chinese beliefs as you survey the scenes. Feel the serenity at the three main shrines to Mazu, Guanyin (the Goddess of Mercy), and Lady Shui Wei (the Goddess of the Waterfront). See people preying and leaving offerings, inhale the sweet aroma of incense, and sample traditional Hainanese chicken and rice from one of the vendors.
Is This the Best Daypack EVER???
#10 – Ayer Hangat Market – A must-see for foodies!
Wide selection of street food stalls
Many tasty dishes to try
Foodie adventures
Lively atmosphere
Why it's awesome: The bustling Ayer Hangat Market (one of the most popular markets in Langkawi) is among the best places to eat in Langkawi for a delicious and authentic culinary experience. It sets up each Friday from late afternoon until nighttime. Street food stalls line the street, the sights, sounds, and smells tempting the hungry.
What to do there: Take your time and walk along the market to see the wide arrange of goodies on offer—don't just dive right in as there are sure to be many things that you wish to sample! The market is also a great place for photography and immersing yourself in local life.
Treat your stomach and sample a range of tasty Malaysian, Chinese, Indian, and Thai treats. Popular dishes include satay, nasi lemak, grilled fish, pad Thai, nasi kerabu, chilli and black pepper crab, calamari, and roti canai. Grab a bag of fresh fruit to finish and wash everything down with a fruit juice, iced coffee, or cold tea. As always, staying safe while traveling Malaysia involves being smart with street food choices as spending hours on a toilet is probably not part of your plan. If in doubt, don't eat it!
#11 – Anna and The King Gallery – An unknown (but awesome!) place to see in Langkawi!
Off the beaten track
Former movie filming site
Atmospheric ruins
Links to Thailand
Why it's awesome: Located at Pantai Kok, next to Perdana Quay, the Anna and The King Gallery is an old filming set. Parts of the controversial movie Anna and The King were shot here. The movie tells a story, said to be partly true, of a young girl who served with the Thai royal family. The movie (along with the book it was based on) is banned in neighbouring Thailand because of the way that it depicts the Thai King.
The set once had beautiful palaces, homes, and other structures, and was a tourist attraction after filming had finished. Today, however, the buildings now sat in ruins, a sad reminder of the ravages of the passing of time.
What to do there: Although there isn't really all that much to see today at the former filming set, it's still an interesting place for fans of urban explorations and of places that are different to the norm. Quiet and uncrowded, the ocean-front crumbling ruins are evocative and haunting. Take pictures of the once-elegant buildings from the outside.
#12 – Art in Paradise 3D Museum – Easily one of the most fun places to check out in Langkawi
Fun and funky
Striking 3D art
Family-friendly attraction
Great photographs
Why it's awesome: A Langkawi must-see for fans of art, the Art in Paradise 3D Museum is also one of the best Langkawi vacation ideas for families and groups of fun-loving friends. It's definitely a fantastic place to get loads of cool pictures to look back on later and remember your holiday. One of the largest 3D art museums on the planet, there are many wonderful scenes to immerse yourself in for the perfect shot. The paintings are created so that, from certain angles, the scenes pop and look life like. There are more than 200 cool paintings to have fun with.
What to do there: This is definitely something to pack a good-quality travel camera for as you'll be making your way around the museum, stopping to pose in the various settings. This definitely isn't a place to feel shy! There are nine different zones, including landscapes, castles, classics, safari, fantasy, aquatic, and optical illusions. You can also throw yourself right into Ancient Egypt and Malaysia from the past and present.
You're sure to be even more impressed when you consider the fact that each large and striking painting was hand painted! Look as though you're about to be eaten by a massive shark, pose next to wild elephants, balance precariously on a crumbling bridge, become a puppet on a string, sit inside a bottle, ride a flying carpet, and have heaps of fun!
Small Pack Problems? 😉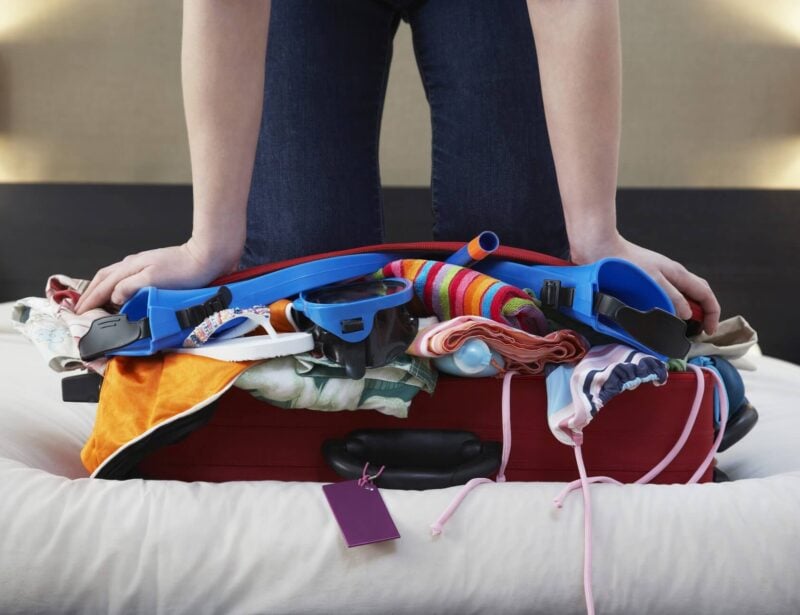 My missus travels with all her clothes in ziplock bags: don't be like my missus. UP YOUR PACKING GAME!
Packing cubes for the globetrotters and compression sacks for the real adventurers – these babies are a traveller's best kept secret. They organise yo' packing and minimise its volume too so you can pack MORE.
Or, y'know… you can stick to ziplock bags.
View Our Fave Cubes
Or Check Out the Sacks!
#13 – Wat Koh Wanararm – A nice quiet place to see in Langkawi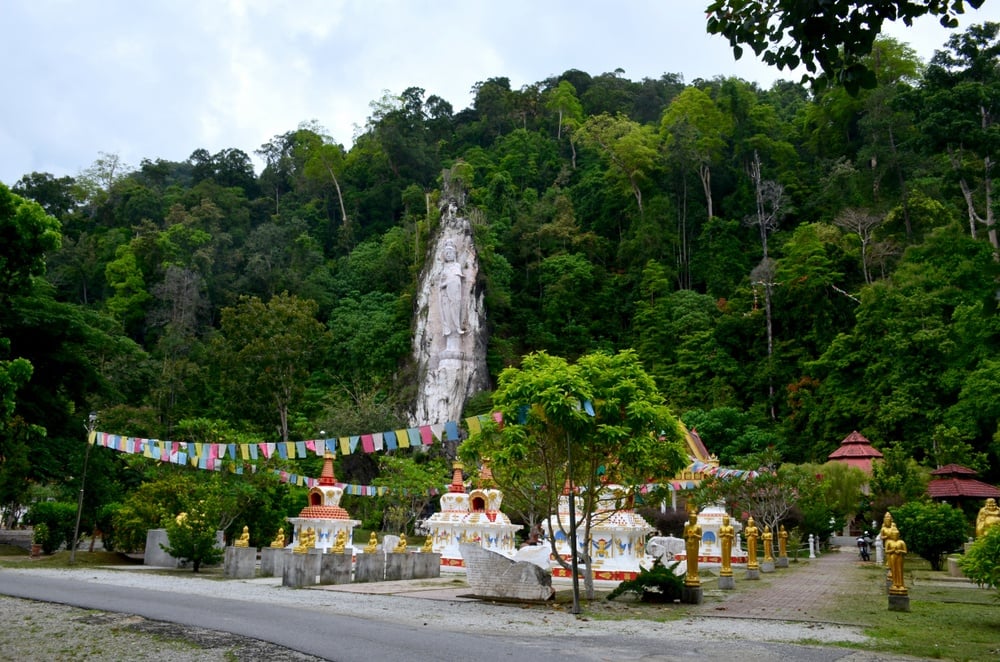 Tranquil air
Thai Buddhist temple
Gorgeous grounds
Active place of worship
Why it's awesome: Wat Koh Wanararm is one of the many charming religious places to visit when you explore Langkawi. Tucked away, the lesser-visited Buddhist temple is colourful and enchanting. It is built in a typical Thai style and was constructed on the wishes of a revered monk. An active place of worship, people come here to pray, seek blessings, and make merit.
What to do there: Admire the large Tibetan pagodas in front of the temple, painted in white and gold tone, and stroll through the outer courtyards, filled with flowers and statues. Inside, feast your eyes on the large golden statue of the Lord Buddha and the detailed mural of a sacred Bodhi tree. You can also learn more about religious ideologies at the onsite schools; it's especially interesting to learn about the differences between Chinese, Thai, and Himalayan practices of Buddhism.
Get insured for your trip to Langkawi!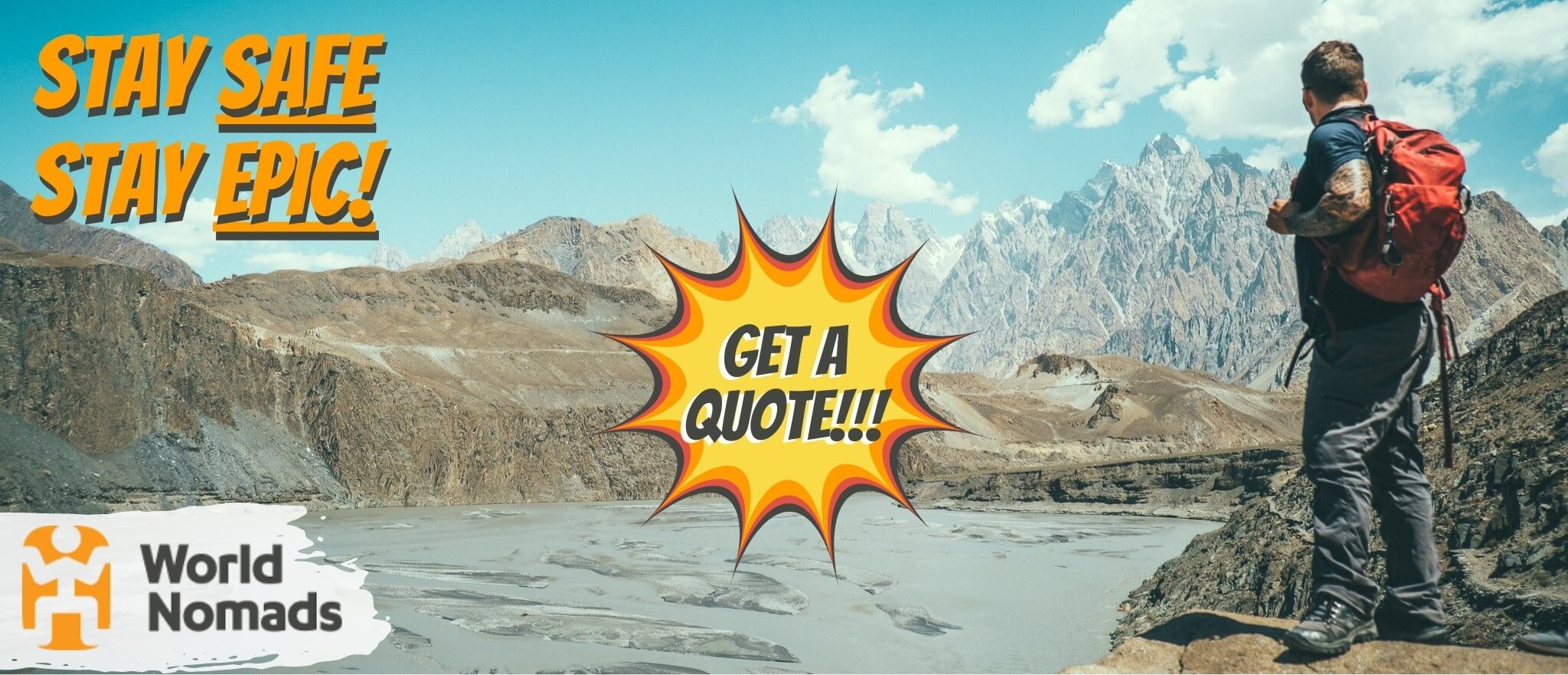 World Nomads' mission is to support and encourage travellers to explore their boundaries. They offer simple & flexible travel insurance, and safety advice to help you travel confidently.
They've been doing it since 2002 – protecting, connecting, and inspiring independent travellers just like you.
Get a quote below or read our in-depth review!
World Nomads provides travel insurance for travelers in over 100 countries. As an affiliate, we receive a fee when you get a quote from World Nomads using this link. We do not represent World Nomads. This is information only and not a recommendation to buy travel insurance.
FAQ on the Best Places to Visit in Langkawi
Find out what people want to know about the best places to visit in Langkawi
Other top places to visit in Langkawi
Take to the trees and have a thrilling time at the Skytrex Tree Top Adventure. As well as being a cool activity you will likely also spot wildlife in the surrounding trees. Although a busy tourist site, it's well worth paying a visit to the Oriental Village to learn more about local culture. The Field of Burnt Rice is one of the more unique places to visit in Langkawi, and the stunning Kilim Geopark is a Langkawi must do for those interested in nature and beautiful natural landscapes.
Ayer Hitam Village is an ideal spot for escaping the crowds and glimpsing the local way of life, and Lagenda Park offers fascinating insights into local mythology and folklore. There are several great family-friendly attractions in Langkawi where you can spend a fun few hours with the kids. These include Langkawi Wildlife Park and Bird Paradise and the quirky Upsidow Langkawi.
There are many attractive beaches where you can relax and enjoy water sports, with hotspots including Pantai Tengah, Datai Bay, Tanjung Rhu, Pantai Kok, Black Sand Beach, Tengkorak Beach, and Pantai Cenang. The area around Pantai Cenang is also one of the best places in Langkawi for a lively night scene. Island-hopping boat trips are also a popular activity in Langkawi.
Whatever you're looking for in the perfect vacation stay in Malaysia, Langkawi offers it all! Make your way around the best places to visit in Langkawi, create many magical memories, and have a wonderful time exploring one of Malaysia's hottest islands.
---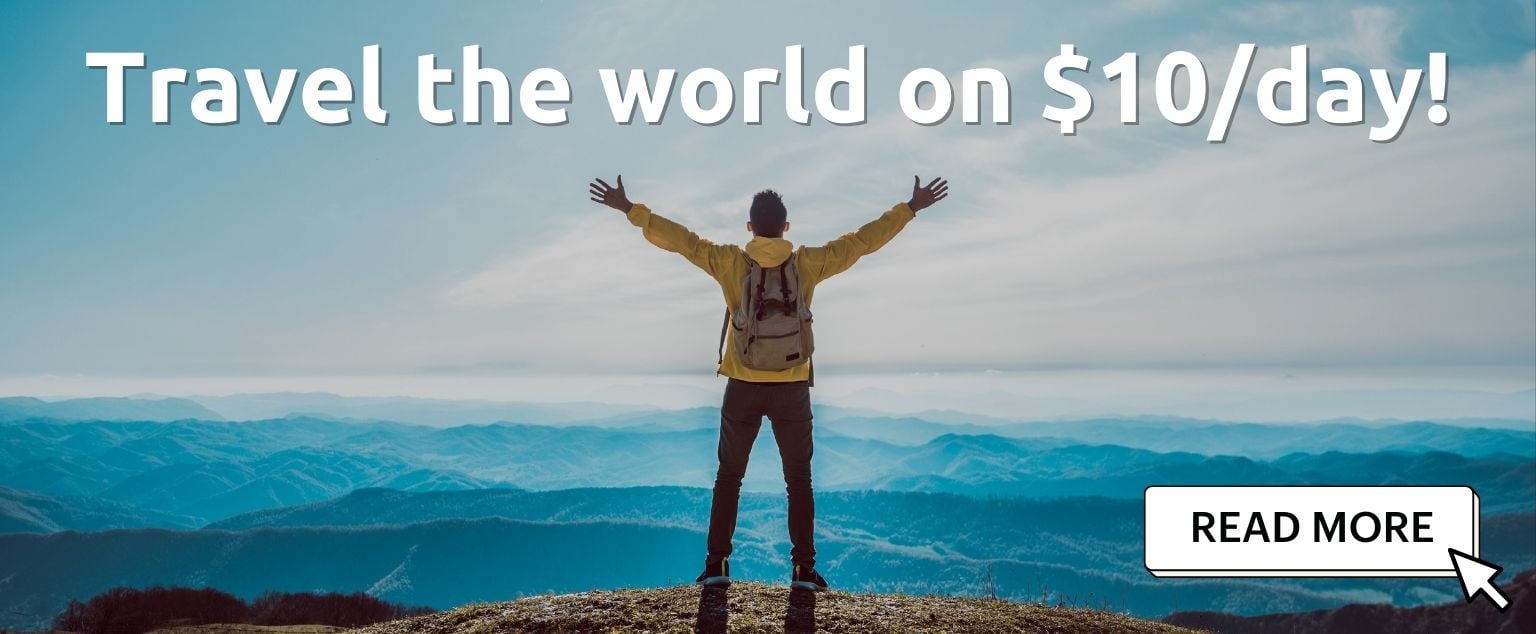 And for transparency's sake, please know that some of the links in our content are affiliate links. That means that if you book your accommodation, buy your gear, or sort your insurance through our link, we earn a small commission (at no extra cost to you). That said, we only link to the gear we trust and never recommend services we don't believe are up to scratch. Again, thank you!