Backpacking the Philippines is an experience very different from travelling around the rest of South East Asia. Seven thousand islands to explore, The Philippines is a vast country stretching across the North Pacific Ocean. A land of pirates and smugglers, of ancient tribes and mysterious jungles, epic parties and isolated islands, you simply cannot go wrong with backpacking in The Philippines.
Cheap beer, beautiful beaches, adrenaline pumping activities and some of the most friendly, genuine, people in all of Asia; The Philippines truly captured my heart. I made some incredible friends in The Philippines and I have to say; in general, it is one of the easiest countries in the world to travel around as the locals are so friendly. I was in The Philippines for just a month on my first trip and six weeks on my second trip. I am aiming to return for at least three months as part of my next adventure and I managed to see some truly stunning sites despite only being there for a short period of time.
So Amigos, here is an awesome guide to Backpacking the Philippines just for you. Enjoy!
Arriving Into The Philippines
Flying into the Philippines was incredible. Thousands of Islands surrounded by a beautiful blue ocean, it looked liked the paradise that was promised to me by the hype! Most backpackers travelling in The Philippines start off in Manila, the main flight hub, it's likely your flight will land here or at least, connect through to one of the many islands.
Flights to The Philippines are becoming more frequent. The cheapest airline to fly with is Philippine Airlines however, they don't come with the greatest reputation. But I guess you get what you pay for, right? I often find great international deals to The Philippines with China Southern (via Guangzhou) and Emirates (via Dubai). If you're flying within Asia, rejoice broke backpackers, it's so freaking cheap! You can get flights with the likes of Air Asia and Philippines Airlines for as little as fifty dollars!
Arriving into the Philippines the majority of nationalities will get a visa allowing a month of travel in The Philippines on arrival. If you know you are going to stay longer than a month, definitely organise your visa before you arrive.
Trust me, you'll want to extend your visa after visiting this beautiful country for a month!
Travelling Around The Philippines
Backpacking the Philippines is easy, even for those with the worst sense of direction! A spider web of bus links, friendly and helpful locals and all modes of travel offered at super cheap prices; Getting around the Philippines couldn't be easier! As long as you don't expect air con, are happy with loud music or movies playing and a lack of glass in the windows; your budget Philippines adventure will be a breeze.
Bus: Most backpackers opt to travel The Philippines through its intensive network of long bus distance links. Seriously, the country has a spider web of bus routes, making it so easy to get from A to B. Prices vary around P435 – P500 and tend to run every half an hour or so. You can just hop on a bus without a ticket but if you'd rather book in advance I'd recommend checking out 12Go. Rather than just rocking up at the bus stop in the hope they will have space to fit you on, you can book tickets in advance! Using 12go you can book cheap tickets for long and short journeys all over Asia! Seriously, this saves so much precious time and confusion!
Luckily, Uber has now come to the Philippines! Uber is hand's down the best way to get around cities, the price is locked in on the app so you can't get ripped off and it will always work out cheaper than travelling by taxi or rickshaw. Click here and your first three rides are discounted (plus my next ride will be too – cheers!).
While it may not be the quickest way to travel, you'll be taken off main highways and get a glimpse into the rural Philippines. Try and choose a comfy seat, the roads are relatively unkept and sleep may be difficult due to the loud music/movies often played. But you definitely won't starve, in fact, you'll probably be turning food down! The bus stops every few hours, the local foodie salesman will hop on and before you know it, you'll have a lap full of goodies.
Just remember, there's probably not going to be a toilet on any of the buses…
Ferry: Ferries, or Bangkas, are still one of the cheapest ways to get off the mainland and onto some of the incredible islands. These little wooden outrigger boats, Bangkas, are often pretty uncomfortable and packed full of people. But they are great for boozy island hopping trips! Bangkas are the cheapest option to sail to the islands, if you want to do it more comfort there are larger ferries. Prices for the ferries will range from P750 – P1150 (add an extra thousand for private cabins) and tickets can be bought at the pier right up to departure.
Just keep an eye on the weather, take it from me; being on one of these tiny boats, packed with people and seasickness is not worth it – pack suncream!
Flying: Backpacking the Philippines on a budget, well this is definitely the quickest way to travel around but it isn't the cheapest. There are a number of domestic, cheap airlines available including the national airline, Philippine Airlines. If you're one of the lucky fare hunters, you can pick up seats for one P1! But on average, regular fares will be around P499 – P999 depending on the flight route. The only downside of air travel? You will often have to backtrack to the main hubs of either Cebu or Manila.
Jeepney: The ultimate Philippine icon, these are not rare in the cities of Manila, Cebu City, Davao and Baguio and essentially are repurposed American Jeeps from WWII given a dash of paint. You will definitely end up travelling on one of these while backpacking The Philippines and likely you'll soon find yourself involved in jolly conversations with the rest of the passengers about your nationality, destination and marital status…
There are no fixed schedules, you simply hail Jeepneys down from the side of the road and learn their route from what is scribbled on the window that day. It's best to only use Jeepneys if you have an idea of where you're going, or manage to make friends with one of the locals. Not only will this keep you from getting lost, also less likely to get ripped off. Expect to pay around P7 for short journeys or if going between towns, up to P50. Definitely, try out top-loading (sitting on top of the jeepney) where possible. In Sagada and other rural parts of The Philippines, you can even chill out on the top of a jeepney with a cheeky smoke. 
FX taxis: Air-conditioned Toyota minivans, with signs in the window to indicate their destination. Routes are often not set, so have some local knowledge or a friend to know where to catch the right vehicle. Agree on a price before getting in, expect to pay around P2 per km which is an awesome rate! The vans are pretty claustrophobic – I can guarantee you won't get moving until there are about ten people on board, three more than the vehicle is designed for…
Tricycles: The cheapest form of shared transport when backpacking The Philippines are tricycles (habel-habel). These are basically small motorbikes with a sidecar attached for passengers. Honestly, the most fun (and scary) way to travel around the Philippines. They are everywhere in the rural areas racing around as fast as their little engines will allow. You'll have to get your haggle game on and agree on a price before you hop in, even though you'll likely share the cost with the friendly locals. Expect to pay around P7 for a short trip and P25 for a longer one…
Hitchhiking In the Philippines
Getting around The Philippines is relatively easy, with many different modes of transport for all budget levels it seems silly to even consider hitchhiking…. Wrong amigo! Hitchhiking the Philippines is easy if you are just hoping to travel a small distance and hitching is a great way to meet cool people on the road. Not only will locals pull over to curiously help you on your way but Jeepneys will often stop as well. Just make sure to let them know you're hitchhiking with no money before you hop in. Or you could find yourself in an awkward situation.
Travelling a longer distance? Hitchhiking becomes a little harder. Most locals with their own vehicles are only travelling short distances and those that are travelling longer distances will often look for a bit of cash to help with fuel. If you are planning to hitchhike the Philippines I recommend hitchhiking short distances. If you're going longer, hop in a Jeepney.
What to wear in The Philippines
The Philippines is less conservative than it's neighbouring countries of Malaysia, Indonesia and Taiwan when it comes to clothing. As tourism grows and island hopping, beach parties become more popular the dress sense is turning more towards the western style we are used to. However, venturing into the less tourist and rural areas it is best to dress more conservatively.
Avoid wearing all black, it's considered a mourning colour – but black in the heat of the sun wouldn't be my first choice… If you are going to visit churches and temples make sure your shoulders, cleavage and knees are covered. When backpacking The Philippines, for gals I recommend carrying a Pashmina with you. If you need to cover up to visit that random temple or just need a break from the sun, they are highly recommended by the women-folk.
Accommodation In The Philippines
Hostels: Cheap hostels or 'Guesthouses' are definitely the way to go whilst travelling in The Philippines. There are plenty popping up all over the mainland as well as the islands you'll be spoilt for choice. You can get a pretty decent dorm set up for around $7 per night! 
Mid-Range Hotels: Backpacking the Philippines can be a little luxurious even in the lower range hotels! These beautiful hotels may have basic private rooms, but for $30 a night you can get a private beachfront room. A pretty epic escape from hostel life!
Splurge Hotels: If you're a backpacker lucky enough to have money burning a hole in your pocket, then you're in for a treat! The Philippines have some insanely fancy pants resort hotels all over the mainland and islands. Starting from around $100 a night you can get some incredible rooms!
Air BnB:If you are backpacking Malaysia in peak season use AirBnb as an alternative. Often just as cheap, the added bonus is you may get a whole apartment! If not, you'll make some awesome local friends! Use this AirBnB coupon code for $35 off your first stay at a great property!
Manila

Z Hostel

This was my favourite hostel in Manila. It's got a rooftop bar with DJ & boasts incredible view's of the surrounding city.

Boracay Island

Mad Monkey Hostel

Super fun party resort style hostel! Massive pool & only a short walk to the beach. I love the Mad Monkey hostels throughout SE Asia

El Nido

Our Melting Pot

OMP is a great little hostel with awesome social vibes. It's in a good location just back from the beach.

Cebu

Noordzee Hostel

 

Loved the infinity pool & incredible views! Great location central to sites like Kawasan Falls & whale sharks in Oslob.

Siargio

Paglaom Hostel

Awesome chilled hostel with homey vibes. It's the ideal place for surfers & yogi's plus it's close to the beach!

Puerto Princessa

Sheebang Hostel

This hostel is wicked, really good social vibes & delicious food. They can organise airport transfers, buses & book your Underground River tour way cheaper than online.
Couchsurfing The Philippines
Filipino locals are well known for their hospitality and warmth towards travellers. So it's not surprising Couchsurfing is popular and well used, that is, if you aren't invited to stay with the locals anyway. Couchsurfing the Philippines not only saved me some pennies, but I got to experience The Philippines like a local with some wicked new friends. I highly recommend Couchsurfing to anyone backpacking the Philippines!
Currency in The Philippines
Asia is great for making us broke backpackers feel loaded! The Philippines certainly doesn't disappoint. $25 = 1,248 Philippine Peso, pretty awesome huh? Especially as the local beer is only forty pesos! 
You can exchange money in your home country before you begin backpacking the Philippines. However, there is a limit of around 10,000 pesos (around $200) in cash you can bring into the country at one time. I'd recommend exchanging your money once in The Philippines, you'll get a better exchange rate and not have to worry about restrictions.
ATMs in The Philippines are found in most places but it isn't uncommon for ATMs to run out of money – especially on weekends and holidays – and you will be charged for using most ATMS (around 200 pesos per transaction) so try to be smart about the amount you withdraw.
Heading off the beaten track? Take enough cash with you for the journey. So many of the rural villages and towns don't have a bank, ATMs or card services.  Carry cash with you, just enough for what you will be doing and a hidden backup stash in case of emergencies. 
Where to go in The Philippines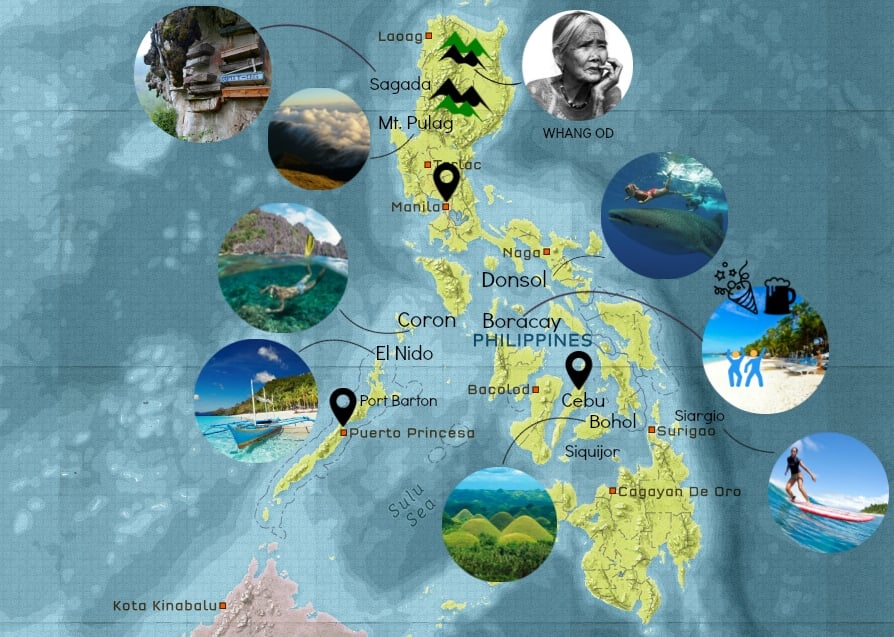 As you can see from looking at the map above, there are many great places to visit. If you can stay for more than a month, you should be able to visit at least most of them on your own. That said, it will require some careful planning and might prove to be quite intensive.
If you don't have much time to spare, you could always try looking at one of these affordable travel packages. This service allows you to plan your entire itinerary, and they'll help you with free advice and adapting everything to your budget. When your vacation is short, there's less room for mistakes – so someone to have your back could prove valuable and save you a lot of money
Backpacking Manila
Chances are, your Philippines backpacking route will begin in Manila. A bustling metropolis of fancy shopping malls, trendy bars, beautiful people and fancy restaurants. The wealthy and the poorest live next door to each other and it can be pretty shocking for first time travellers. I only spent a few days exploring Manila once landing, a few more when I had to pass through on my way to another island. There's plenty to do in Manila but ultimately get out as soon as possible and spend your time exploring the rural and island areas of The Philippines. I stayed in a couple of hostels in Manila, as I passed through three times, the best was without a doubt Z Hostel. 
If you do choose to spend some time exploring the bustling Manila check out Fort Santiago. Around seventy five pesos to get in, the Fort guards the entrance to the Pasig River with an oasis of gardens, plazas and fountains leading to its arched gate and lily pond. Explore the fort inside and even head down to the creepy cell blocks or relax in the museum, essentially a shrine to The Philippines national hero, José Rizal. You can easily kill a day here without getting bored, I highly recommend checking this out. Most domestic flights around the Philippines are via Manila, so if you have a stopover here check out these tips on how to make the most out of your layover!

Want more history about The Philippines and the people? Check out the National Museum of the Filipino in Manila. It costs around a hundred and fifty pesos to get into this museum and it's worth it. Since 1998, the National Museum has been restoring and safeguarding important cultural values, sites and reservations throughout the Philippines. Super interesting and chilled, perfect for those history nerds like me! If you want to party and meet lots of locals, Manila is a good place to start. It's also the perfect hub to fly anywhere you want domestically in the Philippines!

Backpacking Mt Pulag
A six hour bus journey from Manila is the legendary Mt Pulag and the truly stunning sea of clouds. Not quite a mountain, the trek to the summit is typically done over two days and is very, very easy. Marked by clear trails, signs you'd have to be really trying to get lost. Mount Pulag attracts hikers from all over the world. The third highest peak in the Philippines standing at 2,922 metres above sea level, you know it's going to offer some epic views at the top. You are technically 'not allowed' to hike this mountain without a guide, I booked my Mt Pulag trip through Travel Cafe the cheapest and best tour guides out there. You'll likely need to base yourself in nearby Baguio for at least one night or you're going to be knackered!
It's not just the beautiful sea of clouds that attracts people to Mount Pulag's summit… Have you ever seen the Milky Way Galaxy at dawn? I hadn't until waking up (super) early, hiking to the summit and being greeted with the most incredible sky I'd ever seen. No wonder they say to do this hike over two days… Hiking under the Milky Way Galaxy and eating breakfast as the sun pushes through the sea of clouds was one of the best things I experienced backpacking the Philippines.
Backpacking Sagada
Sagada is a four hour bus ride from Baguio or overnight from Manila welcome to the adventure capital of the Philippines! Hands down one of my favourite places I explored in all of The Philippines. I crashed in Olahbinan – an amazing place with warm vibes and an epic view from the balcony, it's opposite Kimchi Bar; which happens to be the best place to hang in the evenings for a beer or three…
Sagada has everything, from relaxed day hikes into the hills, advanced treks into the mountains and for the adventurous, caving. The Crystal Cave is a explorers paradise. Spend the day squeezing through tight black holes, climbing raging waterfalls, abseiling further into the darkness before being led into another chamber filled with mammoth crystal formations. Expect to pay around 2,500 Pesos to hire a guide to take you through not only Crystal Cave but also the cave link connection. If you are new to caving, I suggest starting the cave link connection, parts of the Crystal Cave are tough.
Want creepy and cool? Check out the Echo Valley and the Hanging Coffins. Paganism before the 20th Century was the prominent religion in The Philippines and Filipinos believed the dead had to be close to the gods to help reach their final resting place. So, instead of being buried in the ground, coffins were secured to the sides of mountains. You can hire a guide for 200 pesos to take you in or do the loop in reverse and you won't have to pay to enter… if you get lost though you are pretty fucked so be sure you know where you're going. Today, locals are sometimes still buried in the foetal position in these hanging coffins but it's very expensive – a sacrifice of twenty cows and forty chicken are required – so the practice is dying out.
One of my favourite things to do in Sagada was to simply take to the hills and hike for an afternoon. The trails are so quiet I could venture for a day and see no one, having the countryside all to myself! Stunning views, great weather and deserted trails was the only reason I needed to venture out to the wilderness. I spent a lot of time in Sagada and I recommend everyone backpacking The Philippines wanting to escape the tourist trap and looking for adventure to head here. Check out my Sagada guide for more things to do here….
Backpacking to find Whang Od
Whang Od is a person rather than a place; this lady is the last Kalinga tattoo artist to hold the title of Mamababatok. Tattoo lovers (like me) can't resist the opportunity to get a tribal tattoo from a living legend. Hop on a few Jeepneys (ride on top, the views are awesome) from Sagada and head towards the Kalinga Jungle. Trekking deep into the Jungle you'll come across the tribal village where Whang Od lives with her family and friends. Please treat this wonderful lady and her accommodating neighbours with the respect that they deserve. Don't expect to turn up, pay and get inked. Tattooing is serious business here and she will only tattoo some people!  Read up on all the details of how to visit Whang Od here.
[irp posts="5881″ name="Receiving a tribal tattoo from Whang Od"]
Backpacking Puerto Princesa
From the Kalinga Jungle I travelled to Manila to catch a cheap flight to Puerto Princesa; the gateway for Palawan and the underground river. I spent a few days here, visiting the underground river. Chilling at the awesome Sheebang Hostel was a great place to meet some more backpackers! It was beautiful, there's no denying that. Floating underground, blue water and waterfalls were just incredible but the amount of people that flock here didn't make me want to hang around for long….
Puerto Princesa itself is a bit of a concrete jungle. While backpacking in Palawan I used it as a base to get to the national park and islands nearby. Unless you are a massive foodie (good restaurant culture here) move on quickly…
Backpacking Port Barton
Does the idea of white beaches, crystal clear water, small seaside towns, fresh fish feasts and camping on the beach sound like heaven to you? Well, that is just what Port Barton is, seriously, it's one of my favourite Philippines backpacker spots. It is a little bit of a mission to get here from Puerto Princessa; I screwed it up and ended up paying through the nose to catch a boat after being dropped in the middle of nowhere by an unfriendly bus driver. You can catch a bus all the way to Port Barton from either Puerto Princesa or El Nido. Just beware the journey rather bumpy, however they're currently building a proper road which should be finished shortly. Your other option is to catch a ferry here from Sabang, where the Puerto Princesa Underground River is located.
Port Barton itself is well worth the effort though; a sleepy fishing village just a stone's throw away from uninhabited islands where you can snorkel and even stay overnight. Gaga, a local fisherman, can hire out tents and will arrange for you to crash on an island for a night, complete with a cooked fish dinner, for as little as $30 a person. You can reach him on (0949) 467 2204 – Tell him I sent you and he will reward you with one of his legendary smiles. What's better than this, seriously?
If you're not keen to camp there are lots of cheap places to crash in Port Barton but I  recommend blowing your backpacker budget one night and heading out to White Beach. A small resort, totally deserted with gorgeous beaches, crackling bonfires and swaying palm trees; making for a magical evening! It's possible to walk here from the main beach, it only takes around two hours. Sunshine House, on the main beach, has good food, fast internet and cheap rooms.
Backpacking El Nido
El Nido is one of the most popular spots for those backpacking the Philippines to visit. The beaches are known for their epic parties, white sand and blue waters; everybody ends up at El Nido one way or another…
Head out on one of the epic island hopping cruises, show off your backflip skills jumping from the boat into crystal clear waters below. Snorkel the reefs or if you dare, swim through the underwater caves found in the lagoon – ask the local lads
Fed up of Water sports; El Nido is one of the best places in The Philippines to climb. The cliffs overhanging the ocean offer so incredible views from the top which even the beginner climbers can enjoy. Check out Taraw Peak, one of the coolest climbs in El Nido.
I recommend staying in Our Melting Pot Hostel, you will HAVE to book in advance in high season as it's super popular. Be sure to go on a cruise of the nearby islands and, if you find it, to show your manliness by swimming through some underwater caves – ask the local lads to show you; it's in the lagoon and although dangerous is a lot of fun. There is plenty of epic climbing around El Nido and some stunning viewpoints that can be reached by hiking; check out Taraw Peak for some gorgeous views. El Nido is super easy to get to, you can get direct transport here from Puerto Princesa & Port Barton or a ferry from Coron.
Backpacking Coron
Named one of top dive spots in the world, Coron is popular for its World War II wreck diving. In September 1944, a fleet of Japanese ships hiding in the harbour were sunk in a daring raid by the US navy. The result is around ten well preserved underwater shipwrecks surrounded with coral reef. A divers paradise! Or for those not keen on exploring these wicked wrecks; a great place to kick back with a beer or two for the day.
You get to Coron from El Nido by ferry which takes around eight hours or fly directly here from Manila or Puerto Princesa. Cheap if you book in advance, otherwise get your haggling game on! I got the price down to a thousand pesos, way cheaper than advertised! Stay in Cool Enough B&B, and explore Coron by motorbike; there are heaps of things to do in Coron but diving was what attracted me here!
Backpacking Legazpi
Legazpi is home of the most perfect cone shaped volcano in the world, Mt Mayon & used as a gateway to dive with the Whale Sharks in Donsol. You can hike to the summit of Mt Mayon, but it's quite a difficult climb. Some companies offer an extremely expensive 2 day expedition,  however it does seem possible to climb it yourself too. If hiking isn't your thing hire an ATV & fang around the base of the volcano looking for wicked view points like at Sumlang Lake.
The most popular viewpoint of Mt Mayon is Lingnon Hill, however it's pretty touristy. To get here on public transport, catch a loop 2 Jeepney from the main road in town. It drops you near the top of the hill & will only set you back 10p. The Cagsawa Ruins are pretty cool to check our while you're here. It's what remains of a small 18th century church village, after the huge eruption of Mt Mayon. I stayed at
Mayon Backpackers Hostel
which has a cool view from the rooftop & even has a kitchen to cook your own food.
Pretty much all the flights here go via Manila, check out Cebu Pacific for cheap sale deals.

Backpacking Donsol
Donsol is famous for swimming with the Whale Sharks, as they pass through the bay during their migration. It's one of the few places in the world where you can dive with them in their natural environment, unlike in Cebu where they're hand fed & never migrate. Whale sharks are drawn to Donsol Bay from November to May, due to the high concentration of krill & plankton.
It's super cheap to free dive with the whale sharks, setting you back only $25 USD including boat hire, environmental fee & snorkeling hire. It was a magical experience swimming alongside the majestic whale shark which can grow as long as 18m! Diving in Donsol is also quite popular, in particular the Manta Bowl where you can see both manta rays & whale sharks. However it is a decent boat ride to get there & can be pricey if you're diving solo. Your best bet is rallying together a few divers & sharing the cost of the boat rental.
To get here from Legazpi is super easy, just go to the bus station & catch the Donsol Bus. It takes about 2 hours & costs only 75p. The cheapest way to get to Cebu from Donsol is by local ferry from the Pilar Port. This will take you to Masbate, where you change to a night ferry onwards to Cebu City, all up the ferry ride should cost just under 100p. If you prefer to fly you have to head back to Legazpi & fly via Manila as there are no direct flights to Cebu.
Backpacking Cebu
Cebu city is much like Manila, but it's smaller & the traffic isn't as bad. I'm not the biggest fan of big cities, so I didn't enjoy the city itself so much. The best part about Cebu is the south part, you'll probably need around 5 days to a week to travel & see everything. You can fly directly to Cebu from either Manila or Coron, however your best & cheapest bet is to catch a ferry from Donsol.
I'd definitely stop into Dalaguete, also known as "little Baguio" & is renowned for it's cool climate, vegetable crops & has a beautiful viewpoint at Osmena Peak. Head to the Cebu South bus terminal & catch a 2 hour bus to Dalaguete, it should cost about 100p.
If you're a conscious traveller & wish to balance travelling & the need for the environment, don't bother stopping in Oslob. Yes, it's famous for swimming with Whale Sharks, but no, it's not good for the animals or their environment. If you want to dive with Whale Sharks do it in Donsol or Bohol, read here why.
If you're in Cebu chances are, you came to see the incredible Kawasan Falls. Badian is located 98km southeast of Cebu & is well known for its thrilling canyoneering experience. Most backpackers do either a day trip, or canyoning tour finishing up in Kawasan Falls. You can catch a habal habal from Dalaguete to Kawasan Falls/Badian, for 200p per person, entry to the fall is only 30b
Moalboal is south of Badian & has some of the most incredible dive spots & coral reefs. It's a chilled laid back beach town 2.5 hours south of Cebu city. You can catch a bus directly from Badian or from the south bus terminal in Cebu city for 200p.
Backpacking Siquijor Island
Siquijor Island is absolutely beautiful & used to be known for its witch like healing practices, though today most healing is done with a relaxing beer on the beach & dip in the ocean. Siquijor has amazing snorkeling & is great for diving too. There are tranquil waterfalls, caves & forests to explore around the island. Just beware of the sea urchins, especially during low tide, if you get one in your foot they hurt for days!
To get here from either Cebu or Moalboal catch a bus to the Lilo-An Port in Santander then take a ferry across  to Siquijor. Siquijor is a really laid back chilled island, I absolutely loved the vibes here.
Backpacking Siargio
Siargio known as the surfing capital of the Philippines, is located about 800km southeast of Manila, also known as Cloud 9. But you don't have to be a surfer to enjoy the incredible white sand beaches, soothing lagoons, coral reefs & limestone formations. The town has a chilled, laid back island feel, with beautiful scenery & natural attractions all around the island.
Most backpackers stay in General Luna area, as it's a lively part of the island. I'd recommend finding a quiet spot around the island to camp for free, otherwise there's a few surf camping grounds & plenty of hostels around the area. To get here & away, you can either fly directly to the island or fly to Surigao city & take a ferry across to Siargio island.
Backpacking Boracay Island
Boracay Island is something that you see on a post card, beautiful powdered white sand beaches & crystal clear blue water as far as the eye can see. The sunset on white beach is absolutely breathtaking & the nightlife here is awesome! Boracay is pretty commericalised & can be rather expensive, but you can defiantly find cheap backpacking options if you know where to look. The cheapest drinks on the island are at Kurt & Mags on the beach in station 3, cocktails are 45p & beers are 35p!
Make sure you get to Ariels point! It's all you can drink & eat, while you spend the day cliff diving, kayaking, snorkeling & partying. My favourite place on the island is Spider house, spend the day here paddle boarding, jumping into the water & watching the sunset over the horizon. To get to Boracay you will either fly into Kalibo or Caticlan airport & get the ferry over to Boracay Island. You can snag cheap flight for around $40 USD & the ferry from Caticlan Pier is 200p.
Backpacking Batanes
Batanes is pure paradise & so much more accessible to backpackers these days. The increases in daily flights heading to Batnes have led to promo fares popping up with most budget airlines. If you get your flight on sale, it'll set you back around P500 from Manila, so it's not that expensive to get here anymore. You can explore the North & South of the island by tricycle for P200 an hour, or hire a bicycle or motorbike. Make sure you visit Sabtang Island, you'll probably have to get a tour so shop around & find the best deal. Its super beautiful in Batanes, the beaches have white sand, the viewpoints are incredible & blue turquoise water is so inviting.
Must try experiences in The Philippines
Snorkelling/Diving: One of the best places in the world for Scuba lovers! Take your pick from coral reef diving to wreck, open ocean to night dives. Your Philippines budget won't be blown either; The Philippines is one of the cheapest places in the world to get underwater for the day!
Island Hopping: Backpacking the Philippines just wouldn't be done right if you don't hop on a boat some stage. Most hostels will offer island hopping trips and you can choose from a chilled trip or take on one of The Philippines infamous, booze cruise island hopping trips! One of the best things to do in this amazing country is to simply go with the flow and head off on an island-hopping adventure. I hope to build a boat next year and try to sail all around The Philippines…
Ride on top of Jeepney: When in Asia, ride on the roof of a car, am I right? Not only are Jeepney's cheap, they are so much fun! The locals will laugh at you as you cling on for dear life on the roof, but it's better than being crammed inside with an armpit in your face…
Philippine local delicacies: So good, so cheap and so weird! The Philippines has the most 'interesting' selection of street food I've ever seen. It's the cheapest way to eat, the most delicious and surprising… watch out for hard boiled eggs called Balut.
If you only have two weeks to spend backpacking in The Philippines, consider checking out this itinerary.
The Best time to Travel The Philippines
The Philippines, like most Asian countries, has popular seasons and of course, the wet season. Thankfully Backpacking the Philippines is great all year round – even in the rain! Most travellers will flock to the Philippines around January and February when the weather is more reliable and cooler, perfect for travelling around!
Want more specifics? Let me break down the rest of the year for you amigos planning to go backpacking in The Philippines…
Dry Season (November – April): This is when the weather is at its warmest and the rains are less likely to hit. Expect comfortable warm temperatures of around 30 degrees reaching the mid thirties on the Islands. The hottest months and most humid are March to May, temperatures will reach up to 36 degrees.
Wet Season (May – October): 'Wet Season' normally put people off however, this is a great time to backpack The Philippines. The rains aren't constant, normally an hour or so of downpours before the sun drys everything up again. Expect temperatures of around 25 degrees.
Typhoon Season (June – August): Not the greatest time to backpack the Philippines, rains are much heavier at this time and typhoons are common. Many flights and ferries will be cancelled or face delays. Avoid some of the more rural islands at this time of year.
Food in The Philippines
The Philippines has an awesome selection of Street food; from the damn delicious to the slightly weird there is something for everyone. The food in the Philippines is influenced from Spanish, Chinese and Malay recipes so expect a good mix of East meets West.
So what to try when wandering the streets and spoiled for choice? Let me tell you my favourite delicacies I tried while backpacking the Philippines…
Chicken Adobo: Basically beautifully marinated Chicken or Pork in Soya Sauce and Vinegar. Seriously, delicious and so simple. Perfect on its own or with some noodles.
Kare Kare: Kare Kare is famous throughout the whole country because it is SO delicious. If you're missing the curries from Asia grab this dish! Basically, oxtail and ox tripes stew with lots of vegetables, flavoured with ground roasted peanuts or peanut butter, onions and garlic…. Mmmm.
Kinilaw: Sushi lovers, rejoice! I was sceptical trying raw food from the street but wow! The raw fish salad is served in an acidic juice, usually kalamansi and vinegar, which "cooks" the meat. 
Paksiw Na Lechon: Lechon means 'suckling pig' in Spanish and is literally a whole pig roasted over charcoal for many hours for special occasions… This is considered the national dish of the Philippines so basically, a must try when backpacking the Philippines. 
Tapsilog:  Missing your English cooked brekkies? This is the next best thing. Cured beef, fried rice and a fried egg, great to have after a boozy island hopping trip!
Fresh Lumpia: Ever wondered what a spring roll crossed with a burrito would taste like? Well wonder no more! Filled with meat, lettuce, carrots, peanuts and even some coconut in there. Have it fresh or try the deep fried version – even more awesome.
Chicharon: Deep fried pork skin or as I call them; The Doritos of The Philippines. Bags of these are opened and shared around when kicking back and relaxing, served with dips you now just need a good smoke or movie…
Hospitality in The Philippines
The Filipino people are some of the warmest, friendly and generous people I've met on my travels. Always keen to find out where you're from and going, offering to show you the way and helping you haggle the best price; all with a smile on their faces. It's not a surprise to be invited out for a beer, back for some local delicacies or even a place to stay! Embrace it, you'll meet some incredible friends, be taken to some wicked hidden spots and shown how to party local style!
Travel Costs when Backpacking The Philippines
The Philippines is a broke backpackers paradise. You can backpack the Philippines for as little as $20 a day, seriously it's cheap! Obviously, if you splurge for fancy beachfront resorts and classy island hopping tours your Philippines budget may stretch a little. Stick to hostels, street food and the local beer and you will be laughing…
Average room cost: $5.00 – $7.00
Average Meal Cost: $1 – $6.00
Long Distance Coach: $3.00 – $10.00
Entrance to a site cost: Most are free or donation only.
Local Beer: $0.50 – $2.00
Top Tips for Broke Backpackers in The Philippines
Haggle: Want to save money whilst backpacking the Philippines, well get your haggle game on or expect to be ripped off. Haggling is fun and totally normal in the Philippines, so try it! Every penny helps!
Eat the Street Delicacies: Not only is it delicious, weird and wonderful but it's damn cheap. Avoid the overpriced tourist restaurants and go where the locals go. If you're heading off trekking or on a real tight budget, it might be worth packing a backpacking stove. 
Sleep on the Couch: Couchsurfing is taking off in The Philippines and for good reason. It's freaking awesome! You'll meet a good bunch of locals who, more often than not, are happy to play tour guide and show you some secret spots! It's also well worth packing a tent – check out this post for a breakdown of the best tents to take backpacking.
Ride the Jeepneys: One of the cheapest ways to get around the Philippines, especially in the cities. It is also the most fun if you're on top. Avoid the tourist buses, save your cash and climb aboard!
Volunteer: If done properly, is an excellent way to cut down your costs on the road. I strongly recommend Workaway – you pay just $29 for the year and then have access to literally thousands of projects all around the world where you can help out in exchange for food and board. 
Pack your bible: Learn how to travel the world on $10 a day whilst you get your shit sorted, discover the secrets to longterm travel and build an online income. Check it out here.
Camp: Take advantage of the warm weather, give camping a go & hang your hammock for the night, cost free!
Sex, Drugs and Rock 'n' Roll in The Philippines
Partying in the Philippines is boats, booze, bikinis, crystal clear water and some wicked beats. The best parties are normally found outside of the main cities, off land and basically, whilst island hopping. It's an essential Philippines bucket list activity and honestly, there's a party to suit all of us. If you want crazy dance beats, sexy dancers and unlimited alcohol or just a chilled vibe on the beach with a smoke, you got it.
On that note; the situation with Drugs in the Philippines has changed big time in the last twelve months. Jail sentences and pretty steep fines are not uncommon punishments and foreigners are not exempt. Recently, the police have waged a war on drugs resulting in the deaths of hundreds. Be careful. Just testing positive to a drug reading could land you in jail for 6 months. You're better off just staying away from drugs all together in the Philippines. If you are going to dabble in illicit substances, at least read Blazed Backpackers 101 for tips on how to stay safe.
Sex tourism in the Philippines is big & leaves a bad taste in your mouth. Prostitution is illegal but it's definitely around, especially at Go-Go bars. I went to a wrestling match & these young girls were everywhere. Some of them looked well under the age of 18 & were hanging off 50-year-old men, it was confronting to see.
Tinder very much works in The Philippines and the locals are… erm, very friendly. Picking up chicks in The Philippines is relatively easy and Filipinas do love to have a good time.
Alcohol is widely drank and readily available, The Philippines has horrifically strong Red Horse beer and some tasty rums on offer.
Being a Responsible Backpacker in The Philippines
Writing your name in black marker on temples, chugging beer while shirtless, swearing loudly and visiting unethical animal attractions? You Sir, are a twat. Luckily, most backpackers don't fall into this category but, when you're out and about and have had a few too many drinks, it can be easy to embarrass yourself.  It's easy to get carried away in South East Asia, everything is so damn cheap and so much fun. I'm in no way the perfect traveller; I've been the drunken idiot on the street. I know first hand just how hard it is to be the one person in a group to say no when somebody comes up with a stupid idea that, for some reason, everybody is down for. 
By no means am I telling you not to drink, smoke and party. Do it and love it. Just don't get so drunk you turn into an imbecile your mum would be ashamed of. If you can't handle drinking buckets, then stick to beer. If you want to see Elephants, then go and see them but do your research first. Look up ethical animal sanctuaries such as The Elephant Jungle Sanctuary in Chiang Mai, who treat and care for animals properly. Don't ride elephants. If you're not into seeing the temples, no worries but don't be disrespectful, inappropriate or deface them – certainly, do not try to wander in shirtless.
Wear a helmet when you hop on a motorbike in Asia. Despite being an experienced driver, I've had a total of three crashes in South East Asia over the last ten years. On the one occasion, I wasn't wearing a helmet, I split my head open and had to go to the hospital. It was an expensive mistake. The local people are sick of scraping foreigners off the road and, trust me, you don't look cool for not wearing a helmet. 
Humans are humans; treat people you meet along the way with the same respect you would show your friends and family back home. You are not superior to anyone including the girls/guys walking the streets. Sex workers in South East Asia are people like you and me; they may enjoy what they do, or they may be on the darker side of it. Regardless of your beliefs and thoughts on prostitution, remember this is another person with thoughts, feelings and a life outside of the sex industry too. You are not superior to these people, you just happen to be from a more privileged background. 
Go to Asia and have the time of your life, do the things you've dreamed of but be respectful along the way. Travelling the world makes you an ambassador for your country, which is awesome. We can make a positive impact on people when we travel and get rid of any ugly stereotypes that may be associated with your country…
Learning Filipino while Backpacking The Philippines
Most Filipino's speak awesome English, but if like me, you like getting off the beaten track you may find a barrier. A language barrier. Filipino or Tagalog as it is commonly known, is very useful while backpacking the Philippines. It's so much faster to communicate with the locals in Filipino.
Download the app uTalk Go. It is a super magical language learning app. Great to get to grips with the language and learn a few phrases on the go. 
Handy Phrases when Backpacking The Philippines
Hello – Hi!
Goodbye – Paálam
How Are You? – Kumusta ka?
My Name Is.. – Ang pangalan ko ay …
How much is this? – Magkano to?
Where's the toilet? – Nasaan ang banyo?
Stop! – Para!
Do you speak English? – Paano mo sabihin ang … sa English?
I don't understand! – Hindi ko naiintindihan
Thank You – Salamat
Apps to Download Before Backpacking Philippines
Be warned, free wifi in the Philippines is hard to find and will probably be painfully slow. Don't use your precious moments downloading apps while backpacking Philippines, prepare before you go!
uTalk Go – The backpacker's secret weapon when it comes to learning languages, I cannot recommend uTalk enough; whilst backpacking Philippines, this is your secret weapon.
Maps.Me – Prone to getting lost or taking that 'shortcut' that adds another few hours onto a simple walk? This app is definitely for you. My favourite offline maps app, download your map and route before you venture out to keep you on track while backpacking the Philippines.
XE Currency – I used this a lot when backpacking the Philippines. It is a great help while calculating expenses.
HIDE.ME –  I always have a VPN ready to go on both my phone and laptop, I personally use Hide Me which is one of the fastest and most reliable options out there. This particular VPN allows for up to five connections which is handy for keeping all your devices connected without having to purchase multiple VPN packages.
Uber: Hand's down the best way to get around cities and always cheaper than a taxi. Use this link and your first three rides will be discounted!
Backpack The Philippines for free
Perhaps one of the best options for backpackers wanting to explore The Philippines long-term and experience living in this truly incredible country is to get a Teaching English as a Foreign Language course online. TEFL courses open up a huge range of opportunities and you can find teaching work all over the world. To find out more about TEFL courses and how you can teach English around the world, read my in-depth report on teaching English abroad. Alternatively, if you want to find a cheap way to stay in this incredible country for as long as possible, check out Workaway – for just $29 a year you get access to literally thousands of projects around the world where you can volunteer in exchange for food and accomodation.

Passionate about scuba diving? Get qualified as a Dive Master! With some of the best diving in the world, the Philippines offers a good opportunity to extend your stay with this skill, in return for accommodation, food or payment.
Books to Read Before Backpacking The Philippines
The Backpacker Bible – Learn how to ditch your desk and travel the world on just $10 a day whilst building a life of long-term travel with an online income.  Shameless bit of self promo here but this book is basically my dissertation on backpacking, nine years of tips and tricks and your purchase helps keep the site going. If you've found the content on this site useful, the book is the next level up and you will learn a ton – if you don't, I'll give you your money back. Check it out here.
Playing with Water: Passion and Solitude on a Philippine Island: Ever wondered what life on a deserted island would be like? Well, James experiments with this, spending months on uninhabited islands in the Philippines, going back to the basics of survival and diving into the 'real Philippines'. 
History of the Philippines: From Indios Bravos to Filipinos: For the history nerds, this is an awesome background of The Philippines, the culture and what went into making it the incredible country it is today. Seriously, well worth a read!
The Latinos of Asia: How Filipino Americans Break the Rules of Race: An interesting book exploring how social status will change people's perception of your race, the background into Filipino Culture and how Spanish Colonialism has influenced The Philippines. A real in-depth read but seriously worth it. 
Philippine Folk Tales: Want to hear real life stories before getting there and meeting the people behind them? Check this book out! Filled with stories and tales from local indigenous Filipinos and their lives. I love reading people's tales of a country, it makes me feel connected to the country before I even get there. It's fantastic. 
Lonely Planet Philippines: For those who love to organise the trip while they go, the lonely planet has everything and anything you need to do this. I am not normally one for guide books, I often find them a pain to lug around. But they do come in handy when you need a helping hand.
Lonely Planet Filipino (Tagalog) Phrasebook & Dictionary: If you are one of the minorities who prefer books to apps, then this is a must do. So helpful to know some Filipino – or at least having a way to find the phrase fast – when navigating the rural countryside where there is little English…
Philippines: Islands of Enchantment: Just hands down a beautiful 'coffee table' book. Wanting some more inspiration before heading on your trip to the Philippines, you'll just need to flip through this!
Staying safe when Backpacking The Philippines
Check out Backpacker Safety 101 for tips and tricks to stay safe whilst backpacking.
I strongly recommend travelling with a headlamp whilst in The Philippines; there are frequent power-outages on more remote islands plus lots of caves and fairly dark temples to explore – check out my post for a breakdown of the best value headlamps to take backpacking.
Whenever you hit the road and go travelling, you need insurance. I have been backpacking for years and have had to claim from time to time; if I didn't have insurance I would have been utterly screwed on all occasions. It's just not worth the risk to go without.
I recommend World Nomads Travel Insurance – they hands down have the best support and if you do need to claim they will help you get it sorted quickly.
Exclusive 5% discount with World Nomads – one month only.
For one month only, I can offer you guys an exclusive 5% discount with World Nomads Travel Insurance – these guys are hand's down the best travel insurance company out there! Simply visit World Nomads through this link and then use the discount code BROKE5 – This is a limited offer that is only running till September 3rd! *Please note – This coupon code will unfortunately not work for US or Canadian travellers due to financial service laws. This promotional code cannot be used with any other discount offer, including World Nomads Members*
Even if you don't get insurance with World Nomads, Please do get some sort of insurance from somewhere, there are lots of decent options online – check out this article for more info 
So there you have it amigos, everything you need to know to hit the road and begin backpacking The Philippines, So get out there already.
Got more to add to the guide? Let me know in the comments below!
Like this Post? PIN ME!!
Yay for transparency! Some of the links in this post are affiliate links. This means that if you book your accommodation, buy a book or sort your insurance, I'll earn a small commission at no extra cost to you. I only link to stuff I've actually used and never endorse crap. Your support helps me keep the site going.