Sagada is a world away from what most people would imagine when travelling the Philippines.
The Philippines is known for its stunning islands replete with white sand beaches and impossibly clear waters in shades of turquoise blue and emerald green.
But Sagada doesn't have any of that.
What it does have is lush green mountains, cool pine-scented air, first-class food, addictive local coffee, picturesque rice terraces, refreshing waterfalls, and more adventure activities than you can shake a stick at.
To only visit the beaches of the Philippines would mean not getting the full picture of what this incredible country has to offer the visitor. So why not escape the oppressive humidity that plagues the lower-lying regions of the country and go somewhere different?
Get your ass to Sagada…
Rich in indigenous culture, the Igorot people of Sagada are fiercely proud of their traditions and have fought hard to keep them intact, including their unusual method of burial which involves hanging coffins from the side of cliffs. That alone makes Sagada worth a visit.
Backpacking in Sagada is the perfect way to round out your Philippines adventure, whether you are looking for a relaxing break or an outdoor adventure extravaganza. There are so many things to do in Sagada and it is one of the cheapest places to travel to as well.
But don't take my word for it – come and find out for yourself. This Sagada Travel Guide will get you started…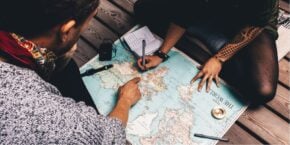 Heading Off-Grid? • Download This Guide as a PDF!
Sign up to The Broke Backpacker's EXCLUSIVE VIP AREA below and download our top backpacking guides as PDFs – go offline with peace of mind!
Being one of the most beautiful areas of the Philippines, there is a boatload of cool stuff to do in Sagada. And the fact that that includes intricate cultural oddities and paradisical nature is just a saucy bonus!
1. Marvel at unique hanging coffins
One of the main reasons a lot of people make the trek up to Sagada is to see the iconic hanging coffins. The Igorot people of Sagada have traditionally 'buried' their dead in colourfully painted coffins clinging to the sides of limestone cliffs, or piled up at the entrance of caves.
They believe these methods of burial provide an easier path for the spirits to reach the great beyond, as well as keeping wild animals from their remains. These days it is more common for locals to bury their dead in cemeteries – although there are still a few locals who choose to be buried in the traditional way.
You can reach some of the coffins independently or a visit can be included in an Echo Valley tour booked through the Tourist Information Centre. This is a must-see on any Sagada itinerary.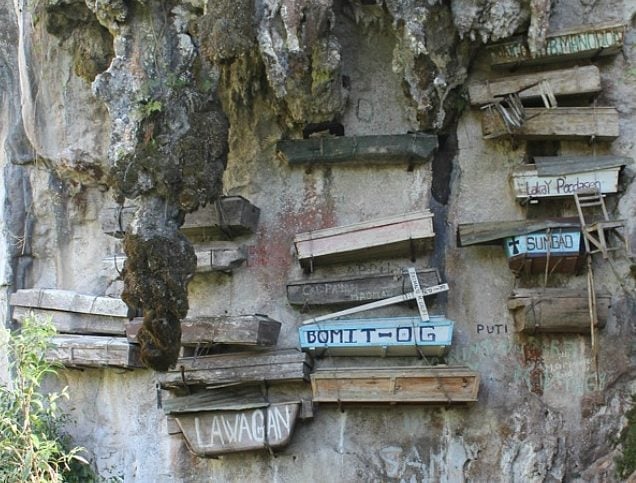 2. Spelunking in massive cave systems
If adventure is your middle name, and you're backpacking the Philippines, then spelunking may very well be the perfect activity for you. The most popular spelunking adventure is the Cave Connection tour, which takes you from Lumiang Cave through Sumaguing Cave.
Exploring the underground cave system involves wading through chilly rivers, rappelling down waterfalls, and squeezing yourself through tiny openings.
It is like being birthed again, except this time you are old enough to be aware of it. Definitely not for the claustrophobic! There are also stacks of wooden coffins located at the mouth of Lumiang Cave, which is always an interesting sight.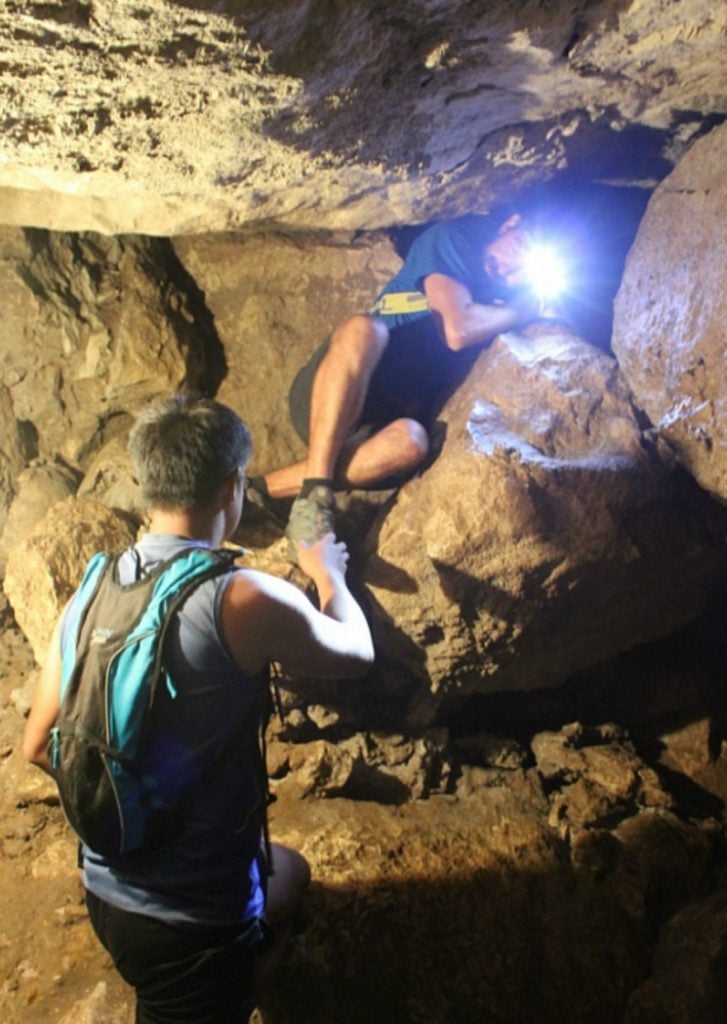 Tour Guides are required for this 3-4 hour adrenaline rush of an activity, and you can pick them up from the Tourist Information Centre. If this sounds too extreme, you can do a shorter caving course in Sumaguing Cave. There is also an option to explore Balangagan Cave which is a 4-hour adventure and has some of the most beautiful rock formations of all the caves.
3. Hike in the lush mountainous surroundings
There are many hikes on offer in the mountains around Sagada, some that can be done independently and a large number that requires a guide, which is very affordable. Echo Valley is one of the most popular hikes in a Sagada itinerary and on a half day hiking there you will see rice terraces, an underground river, hanging coffins, and a waterfall, along with lots of gorgeous scenery.
If you feel like a challenge, you could climb the highest peak in Sagada – Mt Ampacao – or hike to one of the waterfalls mentioned below. There are a large number of hikes available with local guides from the Tourist Information Centre, where you can pick up a free map and guide with hikes listed.
It would be well worth taking a lightweight backpacking tent to Sagada and finding a chill spot to camp out for a few days.
4. Swim under a waterfall
It can get pretty hot during the day up in the mountains and what better way to cool off than in a deep, cool pool under a cascading waterfall? I can't think of any!
There are numerous waterfalls around Sagada that can be visited independently or as part of a tour. Visit Bokong Falls for its deep, perfectly shaped rock pool close to town, Bomod-Ok Falls for its impressively high falls surrounded by rice terraces, and Pongas Falls for an adventure, with a challenging trek of slippery trails, and a sheer drop off to reach it.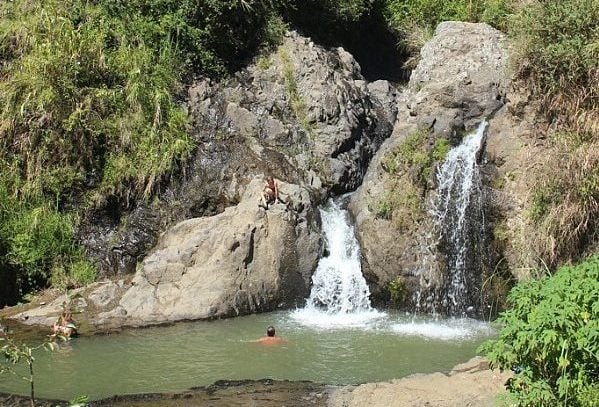 5. Try all the excellent eateries
The Philippines is not known for its cuisine but it doesn't mean there aren't delicious food destinations – Sagada is definitely one of them. For such a small town there is a ridiculously high number of eateries, and the crazy thing is – almost all of them serve incredible food.
Sagada is known for its lemon pie, but there are so many other delectable dishes that are done so well here – wood-fired pizza, Korean dishes, fried chicken that Colonel Sanders would be proud of, traditional Pinoy dishes such as chicken adobo, handmade Italian pasta dripping with cheese, and so much more.
You won't go hungry in Sagada, in fact, you may come away with a few joyfully earned extra pounds. Check out the restaurant list further down this guide to start planning your meals now and make sure to include at least some of them when planning your Sagada itinerary.
6. Try the local coffee
As with its cuisine, the Philippines is also not generally known for having great coffee, but Sagada is definitely an exception. Due to the higher altitude and cooler mountain temperatures, coffee grows exceptionally well in this mountainous corner of the Philippines and a lot of the local cafes not only serve the premium local stuff, some even roast the beans themselves onsite. They also grow tea in the area so try to pull yourself away from the glorious coffee to try the mountain tea as well. They also grow tea in the area so try to pull yourself away from the glorious coffee to try the mountain tea as well.
If you have ever wanted to try the infamous civet coffee, a.k.a. Kopi Luwak, the most expensive coffee in the world – then you can find it here. However, the method of harvesting this coffee bean requires the systematic abuse of the endangered civet. Civets are kept in cage-farms where they are fed are harvested for the half-digested coffee beans they excrete (yep – that's the source of Kopi Luwak).
Think hard before you spend your dollaridoos: The Broke Backpacker doesn't engage with animal tourism, and neither should you. (The other coffees is fine though.) 🙂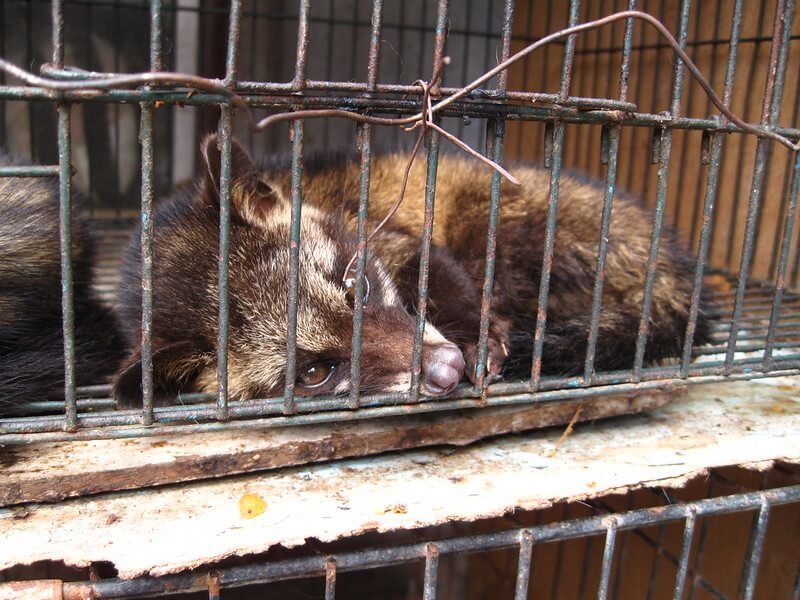 7. Go for a leisurely stroll around town
The surrounding mountains of Sagada offer gorgeous spots for hiking and adventure, but the town itself is beautiful and also definitely worth exploring. There are pine-covered mountains surrounding you everywhere you look, and once you head any direction from the main street of town, you will very quickly come across the lush and verdant countryside with mountain views, rice terraces, and a whole lot of peace and quiet.
There are a few destinations that are worth visiting on the outskirts including the Sagada Weaving Cooperative where you can buy quality woven items and clothing while also seeing the talented weavers at work, Gaia Cafe – a crazy looking hippie treehouse/vegetarian restaurant, and Misty Lodge – a painfully quaint wooden lodge with a restaurant serving the most amazing pizza. Make sure to add these to your Sagada itinerary.
8. Try your hand at rock climbing
If you have ever wanted to give rock climbing a try but have been put off by high prices, then now is your chance. Rock climbing in Sagada is relatively cheap and with a low difficulty level, it is the perfect place for beginners.
You can either just show up, it is located behind the cemetery in town and the attendant is usually there, or ask for more information at the Tourist Information Centre. All the gear is provided.
Is This the Best Daypack EVER???
Wondering where you should stay in Sagada? Sagada is the perfect destination for backpackers and it's home to some of the best accommodation in the Philippines! There are plenty of budget options in and surrounding the town but it's almost impossible to book anything in advance, so you need to just rock up and see.
If that isn't your style, you can book a hotel…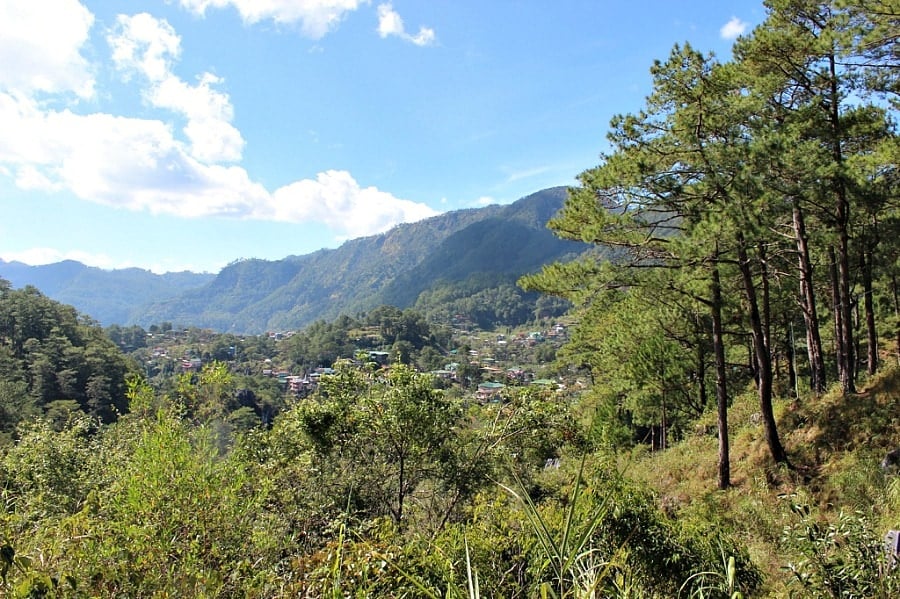 With 7 comfortable rooms, this is one of the best places to stay in Sagada if you want to be close to everything. There's an on-site restaurant so you can have a meal after a long day and local attractions are just a short car ride from the property.
Book a stay with Dad!
If you want some peace and quiet during your trip, this homestay is located in the best neighborhood to stay in Sagada. The furnishings are plain but modern and clean, and the atmosphere is welcoming. And you'll be staying in a local area, so you can enjoy a firsthand view of how the locals live!
There are also a few places you can camp near Sagada including Kiltepan Peak, which is also a beautiful place to catch the sunrise.
Found in the best area in Sagada to stay in if you want to be close to everything, this rustic cottage is a unique find. It offers comfortable, traditional spaces and enough room for up to 2 guests. There's a private bathroom and the cabin offers a country experience while allowing you to overlook the town.
Below I have listed a few key travel tips to visiting Sagada!
Sagada Travel Guide – Top Things to Know
Register with the Tourist Information Centre when you arrive and pay the environmental fee, you will need the receipt to book any tours and to do any hiking in the area.
You don't generally need to book accommodation in advance (unless it's a holiday period), just turn up and ask around until you find a place where the price is right. It is perfectly acceptable to haggle (if you know how).
The Internet is pretty spotty in Sagada and most cafes either don't offer it or it is so bad that it's not worth using. Try getting a guesthouse with internet or pay to use the internet at the internet cafe on the top floor of the shopping centre, next to the Tourist Information Centre.
There is an ATM in the Tourist Information Centre
If you want to travel during holidays such as over Christmas, New Years or Easter – make sure to book your buses in advance as they book up quick.
Most importantly: be respectful of the local people and their culture.
Travel Insurance for Sagada
Traveling without insurance would be risky so do consider getting good backpacker insurance sorted before you head off on an adventure.
I have been using World Nomads for some time now and made a few claims over the years. They're easy to use, professional and relatively affordable. They may also let you buy or extend a policy once you've started your trip and are already abroad which is super handy.
If there's one insurance company I trust, it's World Nomads.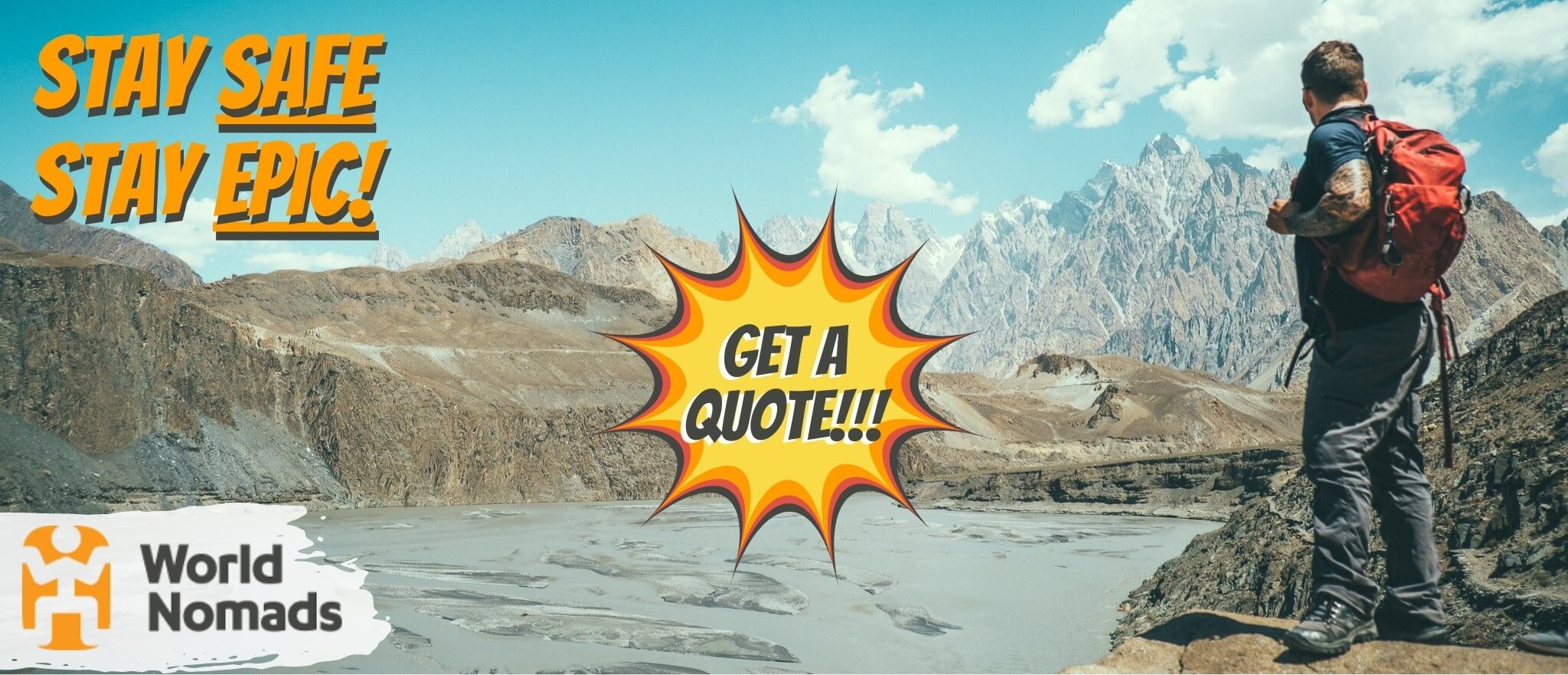 World Nomads' mission is to support and encourage travellers to explore their boundaries. They offer simple & flexible travel insurance, and safety advice to help you travel confidently.
They've been doing it since 2002 – protecting, connecting, and inspiring independent travellers just like you.
Get a quote below or read our in-depth review!
World Nomads provides travel insurance for travelers in over 100 countries. As an affiliate, we receive a fee when you get a quote from World Nomads using this link. We do not represent World Nomads. This is information only and not a recommendation to buy travel insurance.
Sagada Travel Guide to Getting Around
There are two ways to reach Sagada from Manila: via the mountain city of Baguio, or via the smaller town of Banaue, which is a popular destination in itself for its rice terraces.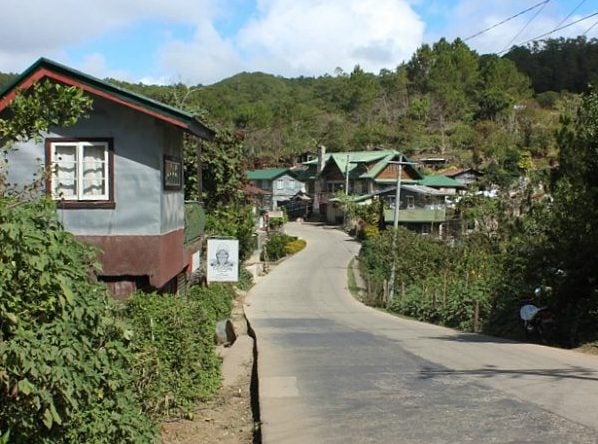 There are several bus companies that run regular buses, usually hourly, between Manila and Baguio. You can also catch buses overnight. Victory Liner is one of the main companies and they run buses from Cubao, Pasay and Monumental Main Terminal in Caloocan City. The trip takes between 4-6 hours and you can choose a basic or deluxe bus service.
On arrival in Baguio, you will need to get from the main bus station to Dangwa Station, a short taxi ride away, to catch the GL Trans bus to Sagada. You can also choose to stay in Baguio if you'd prefer to explore the town before heading to Sagada.
Buses leave on the hour from 6 am to 1 pm and take about 5-6 hours to reach Sagada. These buses are basic, with tiny seats and no air-conditioning. A word of warning: prepare for a hot and bumpy ride!
For buses to Sagada from Manila via Banaue, you can take Autobus and Dangwa Tranco which both leave their respective terminals in Sampaloc at 10 pm for the nine-hour journey.
On arrival in Banaue, there are jeepneys, and sometimes minibusses or vans that can take you the last 3-4 hours to Sagada. Just ask at the Information Centre although it is likely you will have drivers waiting where the bus drops you off. Alternatively, take the 9 am jeepney to Bontoc and transfer there to the bus to Sagada.
Both ways take about the same amount of time and also cost approximately the same amount. You could break up the long journey with time in either Baguio or Banaue if you don't want to bang it all out in one go.
Use Bookaway to find the best deals on transport – buses, planes, trains, and ferries. It'll save you a load of time when organising transport and you'll probably nab an EPIC DISCOUNT too!
Book your transport on Bookaway NOW. Get the best price for the best ride… then use those savings to buy the best feed in town!
Book Your Transport Here!
Top Tips for Broke Backpackers
To keep your spending to an absolute minimum and travel cheaply whilst backpacking in Sagada I recommend sticking to the three basic rules of budget backpacking…
Camp: With plenty of gorgeous natural places surrounding Sagada, why not carry a tent and camp to cut down on costs. If not camping then why not a local experience? Make sure to check out Airbnb or Couchsurfing for a local taste of Sagada.
Cook your own food: To save money on food, carry a pocket rocket stove on your backpacking trip so you can cook meals on the fly. Another option is to make simple salads and sandwiches – no cooking required. It will save you a ton of money.
Hitchhike: Thumb a ride! People in the Philippines are kind and generous so there's no harm in giving hitching a shot. Getting around by hitchhiking is a great way to keep your transport costs in Sagada down.
Pack a travel water bottle: Ditch plastic – save money AND the planet every day!
Why You Should Travel to Sagada with a Water Bottle
Plastic washes up on even the most pristine beaches… so do your part and keep the Big Blue beautiful
You aren't going to save the world overnight, but you might as well be part of the solution and not the problem. When you travel to some of the world's most remote places, you come to realise the full extent of the plastic problem. And I hope you become more inspired to continue being a responsible traveller.
Plus, now you won't be buying overpriced bottles of water from the supermarkets either! Travel with a filtered water bottle instead and never waste a cent nor a turtle's life again.
Save $$$ • Save the Planet • Save Your Stomach!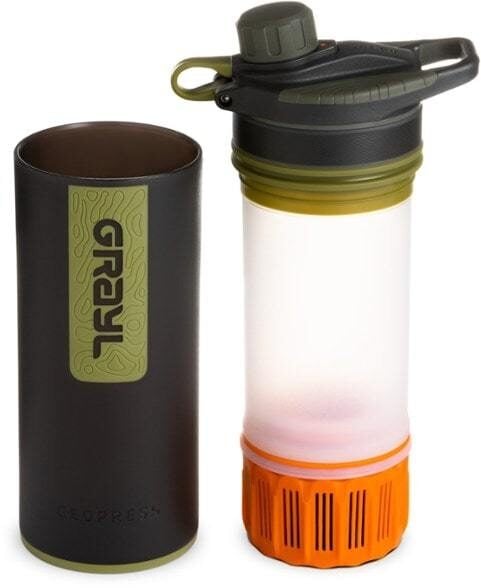 Drink water from ANYWHERE. The Grayl Geopress is the market's leading filtered water bottle protecting your tum from all the waterborne nasties. PLUS, you save money and the environment!
Single-use plastic bottles are a MASSIVE threat to marine life. Be a part of the solution and travel with a filter water bottle.
We've tested the Geopress rigorously from the icy heights of Pakistan to the tropical jungles of Cuba, and the results are in: it WORKS. Buy a Geopress: it's the last water bottle you'll ever buy.
Buy a Geopress!
Read the Review
Food in Sagada
As mentioned above, the options are almost endless for amazing food in Sagada. Sagada's street food is delicious, but don't take my word for it. Check out this awesome video guide to the best street food in Sagada.
Here are a few tried and tested favourites:
Bana's Cafe – One of my favourite spots, hanging over a leafy gorge. Bana's serves awesome local coffee which they brew themselves onsite, including civet coffee, as well as some of the best-tasting food in Sagada. The breakfasts here are the best in town, their chicken curry is the best I have eaten in the Philippines and the honey and broccoli chicken is to die for. Don't miss this place.
Yogurt House – A cosy two-storied log cabin, Yoghurt House is famous for – you guessed it: Yoghurt. They have some killer yoghurt and fruit lassis here but the mains are also pretty good – try the pasta and chicken with potato rosti.
Strawberry Cafe – Hidden away down an alley off the main street, Strawberry Cafe has simple but delicious breakfasts that are very budget-friendly, and their coffee is awesome.
Gaia Cafe and Crafts – Gaia Cafe is a hippie spot serving organic vegetarian and vegan dishes along with local crafts. The unusual treehouse structure has the best views in town, overlooking a scenic valley of rice terraces. It's about a ten-minute walk out of town and isn't always open when it says it will be but it's definitely worth trying your luck for.
Misty Lodge Cafe – On the outskirts of town, Misty Lodge Cafe is a peaceful spot to enjoy some of the most amazing pizza in the Philippines, which is made from scratch. Misty Lodge is also well-known for its great breakfasts at affordable prices.
Sagada Lemon Pie House – The best spot in town for the world-famous Sagada lemon pie. Seating is Japanese tea house style – on cushions on the floor around low tables. Make sure to try the iconic lemon pie or their equally as good egg (custard) pie, washed down with a steaming cup of mountain tea or local coffee.
Being a Responsible Backpacker in Sagada
Travelling is the best, however, travelling can be one of the most AMAZING opportunities for personal growth and development. Provided you travel well.
Backpacking in Sagada can be one hell of a crazy party at times. Take it from me, it can be easy to get carried away. It is important to keep in mind that you are an ambassador for your country, which is awesome. We can make a positive impact on people when we travel and get rid of any ugly stereotypes that may be associated with your country.
If you visit indigenous villages or small communities in the rural areas always ask before taking photos. The people who live in these villages are not exhibits in a museum. They are normal folks just living their lives. Always show them the complete respect that they deserve.
When buying a local craft, do not haggle so low that the price is unfair to the person who spent countless hours crafting it. Pay people what they are worth and contribute to the local economies as much as possible.
I know it can be hard, but do your best to use the least amount of plastic water bottles that you can. Refill the ones that you do buy! Use a Grayl Geopress. Refill at your hostel! There are plenty of ways to reduce plastic!!!
Backpacking India or any region for that matter often illuminates some of the great socio-economic inequalities of the world. Never take it for granted that you are healthy and financially able to go travelling.
Show the world around you some gratitude and help to make a positive impact on it. Be a good traveller, smile, laugh, and show the world your best side. Most of all have the time of your life and spread the love!
I hope that this Sagada Travel Guide has been helpful to assist in planning where to stay, how to get there, what to eat and, the top things to add to your Sagada itinerary.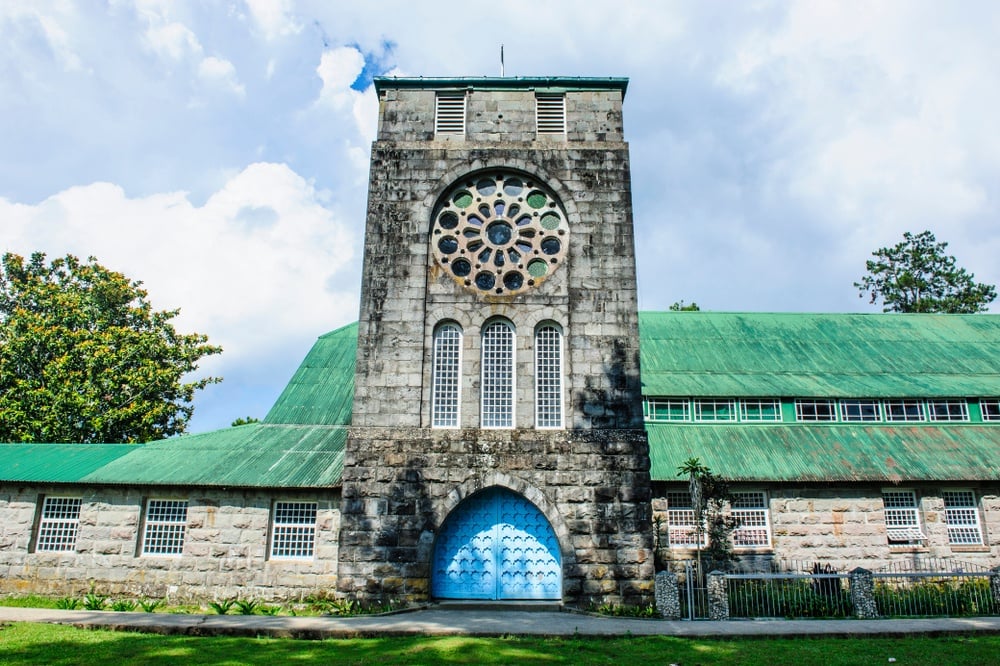 A self-professed crazy cat lady and world traveler, Katie is originally from New Zealand but has been living abroad and travelling the world for over 12 years. She is currently based between the US and New Zealand, where she is learning the ropes to this digital nomad thing and trying to see more of this wonderful world we live in.
---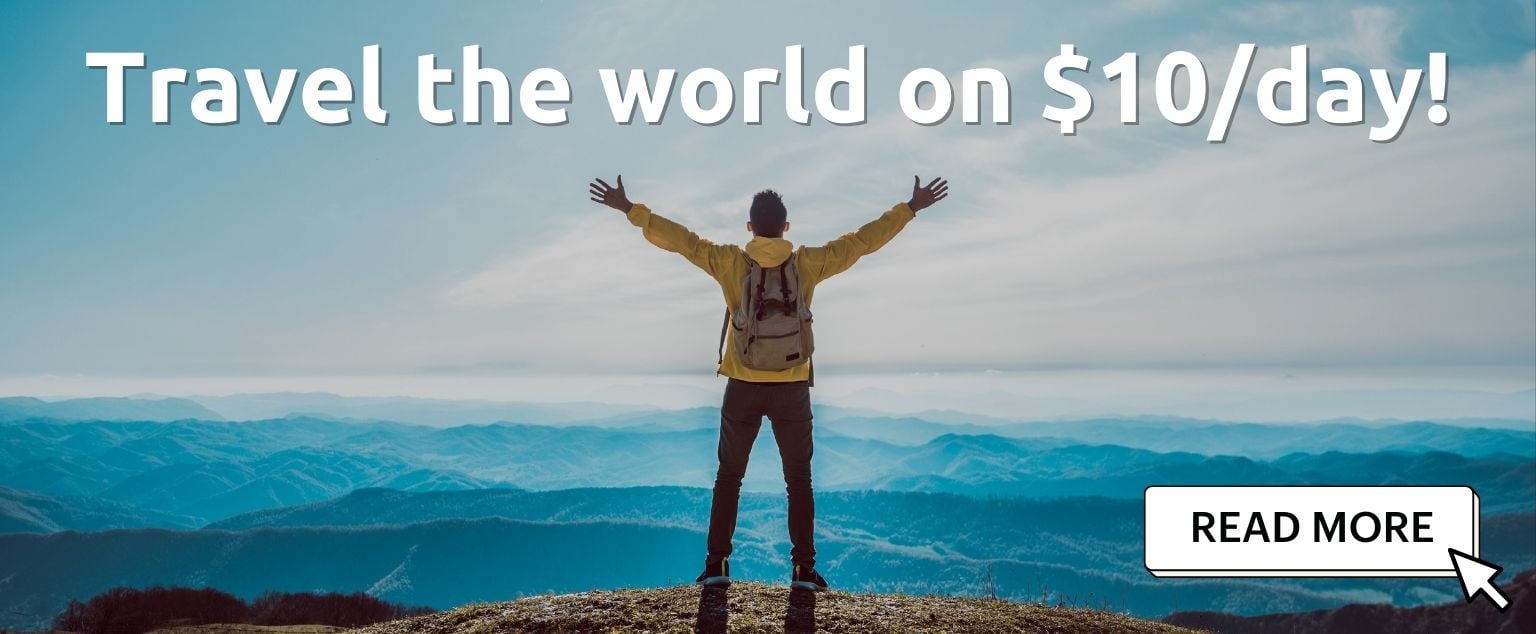 And for transparency's sake, please know that some of the links in our content are affiliate links. That means that if you book your accommodation, buy your gear, or sort your insurance through our link, we earn a small commission (at no extra cost to you). That said, we only link to the gear we trust and never recommend services we don't believe are up to scratch. Again, thank you!