Philippines is one of the most exciting destinations in the world. Made up of more than 7,000 tropical islands, you can easily find your very own slice of paradise. White sand beaches and turquoise waters are never far away, whether you want to surf or just sit back and relax. There is awesome hiking up mountains and through waterfalls, while the cities boast delicious street food and nightlife.
Thinking about where to stay in Philippines? hostels to luxury hotels, you won't have too much trouble finding somewhere to suit you. And since the cost of travel is so low, your budget won't suffer too much. The downside to that is making a choice can be quite overwhelming. And because there are so many incredible places to stay in the Philippines, it can be hard fitting all those you want to see into one trip.
Thankfully, there is hope out there. We've put this guide together so that you can find the best places to stay in the Philippines. We've grouped our favourite destinations in the country according to what they're known for – making it much easier for you to choose a place based on your travel style, personality, but above all – budget.
With our expert help, you'll find the perfect place to stay in the Philippines, meaning you can make the most of your vacation. So, let's jump straight in!
Quick Answers: Where is the Best Place to Stay in the Philippines?
Map of Where to Stay in the Philippines
If you're backpacking the Philippines you can be sure to find loads of hidden gems and breathtaking locations. Since there are so many islands and spots to visit, planning your trip ahead is highly recommended – especially when it comes to booking your accommodation. Luckily, there are quite a few awesome hostels in the Philippines, so the likeliness of ending up without a comfy bed is quite low!
Let's kick off our list of the best places to stay in the Philippines with Boracay. This tiny little island is so popular that it had to be temporarily closed a few years back. However, it's open again now and there's a spot for you among the 7km x 500 metre island. 4km of this is the stunning White Beach, where you can chill out, learn to dive, or sample some traditional Filipino food. When you're tired of getting sand between your toes, head up to Mount Luho the highest point on the island. Boracay is also home to some of the best hostels in the Philippines and you'll be spoiled for choice when finding a place to stay.
As Boracay is so small, you're never too far away from the action, hence it's actually not that hard to figure out where you want to stay in Boracay. There are a number of stations of White Beach – each one named after where the longtail boats take off. These are great for first time visitors. If you're looking for adventures, head to the east of Boracay. Bulabog is your best shot as there are several watersports shops. If you want to get away from it all and don't want to leave the island, maybe look at Diniwid Beach.
For a picture-perfect paradise introduction to Philippines, there's nowhere better than Boracay. It's got the beaches, the activities, and the food all walking (or scooting) distance. No Philippines itinerary is complete without a visit here. But what about when it comes to where to stay in Boracay?
The Best Places to Stay in Boracay
Now let's take a look at three of the best places to stay in Boracay. We've made sure that all three are affordable but still desirable. Since Boracay is so popular, it can get booked up pretty quickly so if you know your travel dates and like our choices, don't hesitate!
Whether a single traveller looking for a break from the hostel lifestyle or a couple wanting a romantic getaway, Hotel Lanterna is the best hotel in Boracay. There's a shared kitchen so you can keep your costs down but all rooms have their own private bathroom.
Best Airbnb in Boracay – Apartment one minute from beachfront
This Boracay Airbnb is just a minute's walk from White Beach's station one meaning that there's a whole load of restaurants and cafes on your doorstep as well as those turquoise waters. There's aircon and a TV and it's one of the cheapest apartments in the area.
Best Hostel in Boracay – Mad Monkey Boracay
Travelling solo in Boracay? The Mad Monkey will make you forget that pretty quickly. One of a chain of legendary Southeast Asian party hostels, you can expect a swimming pool, bar, DJ sets, and nightly activities, all with a generous side of shots. You're sure to have a great time here!
Known among locals as the 'Republic of Bohol', this beautiful part of the Philippines attempted independence at the turn of the 19th century but didn't quite manage it. It's perfect for families as there are lots of activities both on and off the beaten track. Head into the Chocolate Hills to find the Phillippine tarsier or even swim with whale sharks. And like most destinations in the Philippines, there are yet more beaches for lovely walks.
Bohol is quite a large island, so it's a good idea to see what you want from the island before travelling. Most of the top places to stay are around Tagbilaran City and Panglao Island in the Southwest. However, you can find places out in the Chocolate Hills too, and in the south-east corner of the island, the area of Anda has a lot to offer.
To put a smile on the whole family's place, there's nowhere better than Bohol. It's one of the easiest places in the Philippines to get up close and personal with the wildlife, sure to make a lasting memory for the kids. Here are some of our favourite places in Bohol for the whole family.
The Best Places to Stay in Bohol
Travelling as a family can make things more expensive and trickier when it comes to fitting everyone in. To help you skip that stress, we've found three places that offer comfortable family rooms which will be a comfy place to return to after a day of exploring the island.
Family bungalows can sleep up to six guests here with a mixture of double beds and bunks. On the island of Panglao, this family-friendly eco-resort has everything you could need. That includes a swimming pool, a supermarket, and the choice of a continental or a la carte breakfast.
Best Airbnb in Bohol – Cosy Bungalow near Virgin Beaches
Hidden away near the virgin beaches of San Vicente, this cosy bungalow is an opportunity to live like a local. There's space for 6 guests, and while it might be off the beaten track, you can still arrange tours to the Chocolate Hills and other natural wonders with a local guide.
Best Hostel in Bohol – Sea Breeze Hostel – Alona Beach Panglao
Near one of the most popular beaches on Panglao Island, Sea Breeze Hostel has family rooms which can sleep up to 6 guests. If that's not enough, it boasts free Wi-Fi throughout the hostel as well as a garden where you can enjoy the Filipino sunshine.
Yes, we've already seen Boracay as the best overall place to stay. But we also think it's one of the most romantic destinations in Philippines, making it perfect for honeymooners or loved up backpackers. Rather than going diving or watersports, you might be looking for something a little more memorable. And the island won't disappoint – sunset sea cruises, candlelit beach dinners, and secluded beaches will all be magical experiences shared with your other half.
You might want to get away from Boracay's more popular White Beach and try to find somewhere that little more secluded. For example, Diniwid Beach, Puka, and Ilig-Iligan Beach would all see you escape the throngs of tourists and have some all-important alone time. If you're willing to splash the cash, you could even consider staying in a spider house.
With the chance of having one of your first married dinners on the beach in the moonlight, or just sweeping someone you've met along the way up their feet with a sunset cruise, Boracay is a top romantic destination in Philippines. So, you best get it right when you choose where to stay!
The Best Places to Stay in Boracay
Here are three more great places to stay in Boracay. Our first section was for the more general traveller, but these are tailored exclusively to couples – don't worry you can thank us later! Here are three of the most romantic lodgings in Boracay that won't break the bank.
This loft apartment is a cute and cosy Boracay Airbnb which is perfect for beach lovers. Ideal if you're self-catering, there's a well-equipped kitchen where you can prepare meals. Then, enjoy them on the two-place dining table or out in the garden if the weather's good!
Frendz Hostel & Resort is a perfect spot for a backpacking couple. You still get the awesome hostel atmosphere during the day, but when it comes to bedtime you don't have to share your space with others. It's a great mix of time together and making new friends.
Best Hotel in Boracay – Kaiyana Boracay Beach Resort
One of the highest-rated hotels in Boracay, Kaiyana Beach Resort is a delight! You'll be able to enjoy a delicious free continental as the waves lap against the shore just metres away. Want to explore the island by bike? Rental is available here too.
Siargao has just enough infrastructure to be an awesome destination but is off the beaten track enough to retain an authentic and untouched feel. The biggest attraction here is the waves and the beaches of General Luna offer some of the best surfing in the Philippines. Cloud 9 Beach is probably the most famous spot. Just be careful, you might end up staying here a whole lot longer than you originally intended too. It's likely that wherever you stay, there'll be a hammock!
While Siargao is unquestionably a backpacker paradise, if you pick the wrong area, you won't feel that way – so choose wisely where you want to stay in Siargao. General Luna offers awesome nightlife on top of surfing, while families will like Pilar. Want to get off the beaten track? Head to San Isidro – an ideal base for exploring without the crowds.
For travellers who fancy a slice of the quiet life with a spot of surfing thrown in, there are few better destinations in the Philippines than Siargao. It's also got the usual excellent bars, restaurants, and cafes. The best thing about Siargao is that no matter where you stay, you'll never be too far away from those.
The Best Places to Stay in Siargao
We want you to have the best possible experience in Siargao, and that's only going to happen if you pick the best place to stay. Here are three more incredible options, each suited to different travel styles. A special mention goes to one of the most unique Airbnbs in the Philippines!
One of the most unique places to stay in Philippines, let alone Siargao, this triangular home in General Luna is great for the Gram. Set in tropical gardens, there are cute extras like indoor swings, wide windows that let in plenty of natural light, and a comfy queen bed.
Just 3 minutes away from Cloud 9, the most famous surfing spot in Siargao, you won't get a much better location than this. It's easy to meet new people as there's a bar and a common area. And if that 3-minute walk is too far to cool off, you can always use the property's on-site swimming pool.
Best Hotel in Siargao – Seasalt Siargao
Another spot within a stone's throw of General Luna, Seasalt Siargao is a comfortable budget hotel. Queen rooms come with a flat-screen TV and a kitchenette, so if you fancy a night in with dinner and a movie, then you're perfectly set up for that.
Just an hour away from Manila, Tagaytay is a perfect break from the Filipino capital. The high altitude and cool air is a perfect break from the humidity and traffic jams. It's also a lot cheaper than the capital. In fact, it's one of the cheapest places to stay in the Philippines. Just because it's cheap doesn't mean you won't get a lot of bang for your buck though. One of the most popular attractions here is the Taal Volcano, and if you're feeling brave you can trek on the still-active volcano!
Wherever you choose to stay in Tagaytay, you're sure to have a view of the volcano and crater lake. There are lots of high rise apartments, but you could also end up with a farm stay just out of the city centre. A lot of visitors only end up staying for one night in a short trip from Manila, so look for somewhere close to the centre of town – as it's where all the best restaurants and bars are located.
No matter where you go in Tagaytay, you'll be greeted by sublime views. Thanks to the city being constructed on a volcanic ridge, there are jaw-dropping photo ops in every direction. Even if you don't go trekking on Taal Volcano, make sure to head up to the Picnic Groves or the People's Park in the Sky.
The Best Places to Stay in Tagaytay
Whether you're planning just a quick overnight trip to Tagaytay or a longer visit, you'll need somewhere to stay regardless. And since it offers some of the best budget accommodation in Philippines, you might be spoiled with choice. Here are three places where you won't be disappointed.
In a friendly neighbourhood that will allow you get to know the real Tagaytay, this Philippines homestay has a terrace. So, you can enjoy the cool mountain breeze as you look out over the city! You've got access to a mini kitchen and toiletries in the private bathroom.
Best Hostel in Tagaytay – Country Living Hostel – Tagaytay Center
Tagaytay isn't blessed with a high number of hostels, however it's quality over quantity here. Country Living Hostel is right in the city centre, despite what the name suggests. It's a great budget base to explore the city's top attractions. There's a comfy common room too.
Best Hotel in Tagaytay – Casa de Miguelitos
The relaxing Casa de Miguelitos is the best budget hotel in Tagaytay. Especially if you're staying with kids! It has a choice of standalone houses or rooms in a larger building. Whichever you choose, you can make use of the pool, children's playpark (well, your kids can), and the pool table and dartboard!
If you want to get off the beaten track and explore one of the most unique destinations in the Philippines, there are a few options to choose from. However, we've gone for Abra Province. The most popular thing to do here is to visit Kaparkan Falls – a multi-tiered cascade with swimming pool and springs throughout. Just imagine relaxing under that cooling stream of water! There are several other natural attractions too.
It can be a bit tricky finding places to stay in Abra Province. The capital Bangued has the most choice, and if you're willing to do day trips and don't mind travelling, you could stay outside the province in the town of Vigan. It was the first Spanish colonial city in Asia, and its historic centre is still packed with examples of original architecture.
Heading to Abra Province means that you will get to see the very best of Philippines natural beauty without having to deal with huge numbers of crowds. It's ideal for backpackers who want to feel that they're discovering somewhere authentic, and the challenges of getting around are worth every effort. As long as you have a comfy bed to come back to!
The Best Places to Stay in Abra Province (Kaparkan Falls)
Here are three of the best places to stay in and around Abra Province. While outside the province, we've included some properties in Vigan City, as it's a good base for day trips into the province.
Staying at Escolta's Homey Lodge means you get the best of both worlds. Take a day trip to Kaparkan Falls during the day, and wander down Vigan's gorgeous Calle Crisologo in the evening. There's a shared kitchen so you can keep your costs down, while there are family rooms which will suit a group nicely.
Best Airbnb in Abra Province (Kaparkan Falls) – Cajigal Farm Bungalow
A chance to get up close and personal with nature! This Airbnb in Badoc is great if you want to stay on a working farm. Not only will you be able to interact with the animals, but your daily breakfast will come with fresh eggs. Tasty!
Best Hotel in Abra Province (Kaparkan Falls) – Hotel Felicidad (Vigan City)
It's back to Vigan City for the best hotel to visit Abra Province. Hotel Felicidad is set in a Spanish Colonial House just a block from Calle Crisologo. There's a tour desk so you can easily get around and find your way to the magical falls. Got your own transport? You'll be happy to know there's free parking.
Whether it's urban adventures in the capital of the Southern Philippines, Cebu City, or diving off the northern tip of the island at Malapascua to see whale sharks, Cebu is one of the most exciting destinations in the Philippines. While it's not one of the larger islands on the Philippines, it's the most densely populated. And that number grows with the number of travellers who come here looking for adventure! As well as adventures, Cebu also has its fair share of paradise beaches where you can relax and disconnect.
While Cebu City certainly has the biggest choice of accommodation on the island, you might not want to spend the whole of your stay there. It's best to get out and explore other parts of the island such as Malapascua, Moalboal, and Mactan. Since Cebu is one of the most popular tourist destinations in the Philippines, it can be more expensive than some other places on our list. However, you can get a bargain if you look in the right place.
So, for a break that includes diving, hiking to waterfalls, and chilling on the beach (all with the delights of a megacity on your doorstep should you wish to visit), Cebu has to be on your itinerary when staying in the Philippines. Here are some of the hostels and hotels on offer.
The Best Places to Stay in Cebu
Being one of the most popular tourist destinations in the Philippines, you're more likely to find something exactly suited to your needs on this island than anywhere else… Except perhaps the capital Manila. Our top tip: Find out where you want to stay in Cebu before you book your accommodation. Let's see three of our favourites.
Cebu City is surrounded by mountains, so you may as well stay somewhere with a view. That's exactly what you'll get at this place, and much more. There's a smart TV on the wall and a desk where you can set up your laptop. Perfect for a digital nomad.
In Talisay City, just south of the larger Cebu City, Ola! Hostel is the top hostel on the island. There's a 24-hour restaurant and bar which serves vegan and vegetarian food, so you'll never have to go hungry. Once your food is digested, take a refreshing dip in the pool!
Another great option in Cebu City, Montebello Villa Hotel is one of the best hotels in the Philippines for the price. It's got a huge outdoor pool and two restaurants. If you fancy a lazy day, take a stroll around the hotel's landscaped gardens.
You know if somewhere is compared to the Galapagos Islands it has to be pretty special. Tubbataha Reefs National Park has been and was declared a UNESCO World Heritage Site in 1993. The biodiversity here is incredible, with seabirds and fish as far as the eyes can see. It's a 10 – 15-hour boat ride of Puerto Princesa on Palawan, but it's well worth the journey. Just make sure you come between March and June.
For this section, we obviously can't give you recommendations for staying on the reefs themselves – the island of Palawan is your best bet. As well as a base for visiting the reefs, the jungle in the centre of the island is also well worth a visit. Puerto Princesa is the island capital and best place to stay for the reefs, but El Nido and Coron are excellent alternatives – especially if you want to see more of the island. Staying in El Nido is a popular spot for backpackers thanks to its vibrant nightlife.
For some of the best diving and most exciting underwater experiences in the Philippines, it simply has to be Palawan and Tubbataha Reefs Natural Park. The longboat journey to the reefs may not be for everyone, but if you're willing to brave it, you'll be rewarded.
The Best Places to Stay in Palawan
There are some truly special and memorable places to stay in Palawan. We've tried to keep as close to Puerto Princesa as possible, while still showing you places with plenty of individuality that give a unique experience. Let's check them out!
Best Airbnb in Tubbataha Reefs Natural Park (Palawan) – Coffee by the Trees
Now, this one is in Puerto Princesa… well on the outskirts anyway. It's far enough away for peace and quiet but near enough to use all the amenities. You'll be surrounded by nature and coffee trees in your traditional cottage. There's a shared pool too!
Best Hostel in Tubbataha Reefs Natural Park (Palawan) – B & R Hostel and Bar
40 minutes north of Puerto Princesa, you have the gorgeous Nagtabon Beach. That's where you'll find B&R Hostel, one of the most popular hostels on Palawan. There's no cash machine nearby, so make sure to withdraw enough for your trip in Puerto Princesa.
Best Hotel in Tubbataha Reefs Natural Park (Palawan) – Atremaru Jungle Retreat
For the best hotel in Puerto Princesa, check out the Atremaru Jungle Retreat. It's got its own private beach and breakfast included. On paper, you might think this would be way out of your budget, but we're sure you'd be surprised. The perfect place to treat yourself on Palawan!
Looking for a unique place to stay in the Philippines? That's what Airbnb is all about, and these houses in Camiguin are on the slopes of the Hibok-Hibok Volcano in the middle of the jungle. If the volcano doesn't take your breath away on one side, the views of the ocean on the other certainly will.
For one of the best hostels in Philippines, look no further than El Nido in Palawan. Outpost Beach Hostel is home to a social atmosphere with fun activities every night tailored to its backpacker crowd. However, one of the most stunning sunsets you'll ever see from the hostel bar should be enough to tempt you to make a reservation!
Even though we've already shown you two hotels in Boracay, we've saved the best for last. Yes, Astoria Current really is the best hotel in the Philippines… well at least one that's on a realistic budget. When you're not at the beach, which is literally on your doorstep, enjoy the infinity pool or have dinner in the restaurant.
Books to Read Before Backpacking Philippines
Don't Forget Travel Insurance for the Philippines
World Nomads' mission is to support and encourage travellers to explore their boundaries. They offer simple & flexible travel insurance, and safety advice to help you travel confidently.
They've been doing it since 2002 – protecting, connecting, and inspiring independent travellers just like you.
Get a quote below or read our in-depth review!
World Nomads provides travel insurance for travelers in over 100 countries. As an affiliate, we receive a fee when you get a quote from World Nomads using this link. We do not represent World Nomads. This is information only and not a recommendation to buy travel insurance.
So, that's everything from us on where to stay in the Philippines. This country is one of the highlights of Southeast Asia with so much to explore. Whether you want to relax on gorgeous beaches, go trekking on fearsome volcanoes, or just get a better idea of how friendly the locals are, you won't be disappointed on your visit to the Philippines.
Tiny paradise island Boracay will suit solo travellers and couples alike, while you can have some incredible adventures on land and at sea around Cebu. Scuba diver? Take another look at Palawan. Whatever you want from your vacation, you're sure to find it in the Philippines!
Now that we've helped you put together your Philippines itinerary, our work here is done. All that's left is for us to wish you an incredible vacation. Wherever you choose to stay in the Philippines, you're assured an unforgettable holiday and memories that will last a lifetime. Now go get packing!
Do you own or run a kick-ass hostel? Want to be featured on this list? Get in touch at [email protected]
---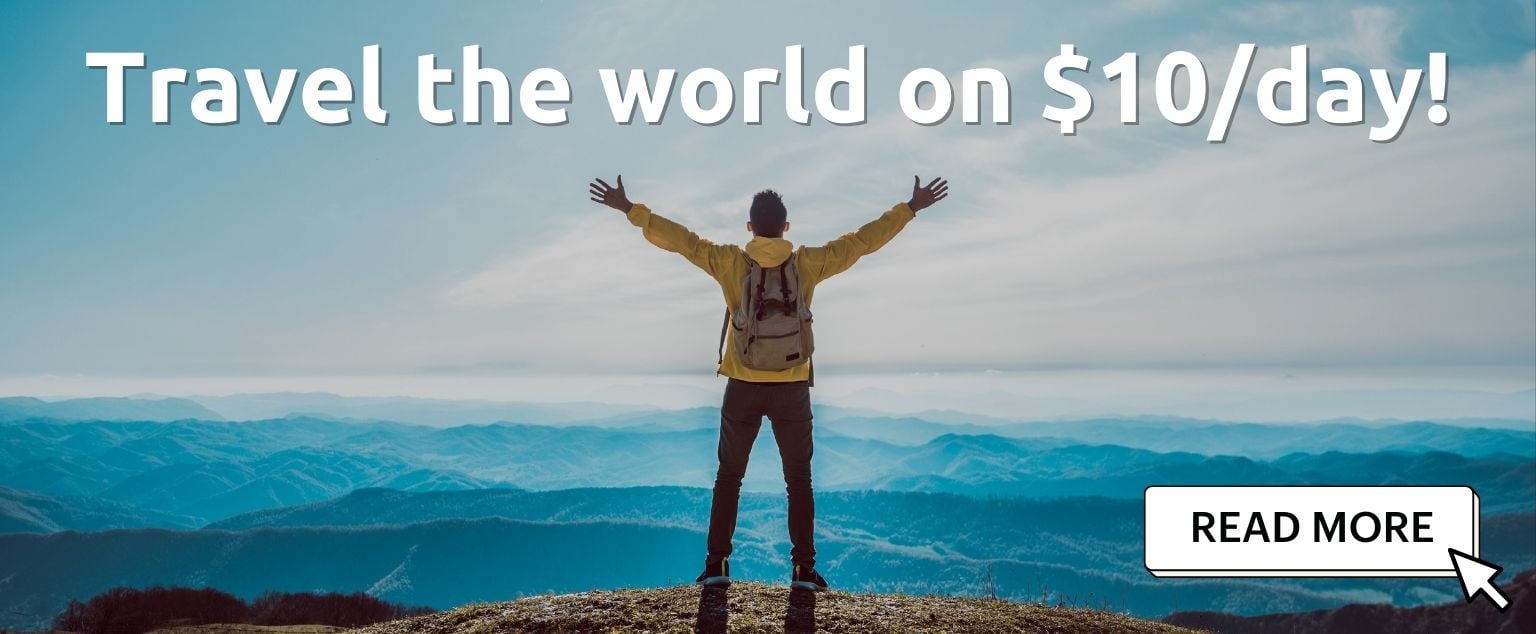 And for transparency's sake, please know that some of the links in our content are affiliate links. That means that if you book your accommodation, buy your gear, or sort your insurance through our link, we earn a small commission (at no extra cost to you). That said, we only link to the gear we trust and never recommend services we don't believe are up to scratch. Again, thank you!