In case it needs an introduction, Cebu is actually a large province in the Philippines consisting of the big, main island and 167 surrounding islands. Wow. Cebu is very popular with backpackers and tourists and well known for some epic diving spots, amazing waterfalls, pristine beaches, and delicious food!
Leave the hostel life behind and kiss your days in hotels goodbye. By staying in a Cebu Airbnb you're sure to have a much more memorable experience, and save a pretty penny too.
I have curated a list of the best short term rentals in Cebu for you, highlighting only the safest, cleanest, best, and brightest options out there!
Okay, maybe you're about to feel like your speed-dating my Cebu Airbnbs, but just scroll down further instead of swiping left or right. I'm sure that I found the right match for you!
Quick Answer: These are the Top 5 Airbnbs in Cebu
OVERALL BEST VALUE AIRBNB IN CEBU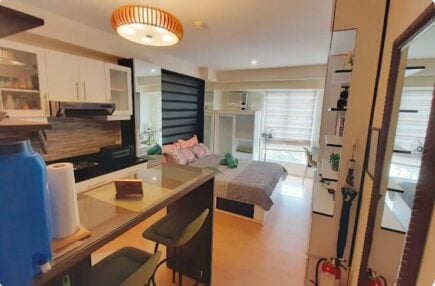 OVERALL BEST VALUE AIRBNB IN CEBU
Light & Bright Studio Apt
> $
> 2 Guests
> Hot Water & AC
> Free Use of Pool & Jogging Path
BEST HOMESTAY IN CEBU
BEST HOMESTAY IN CEBU
Tropical Cebu Stay
> $
> 2 Guests
> Swimming Pool Access
> High-Speed Wifi
BEST AIRBNB FOR COUPLES IN CEBU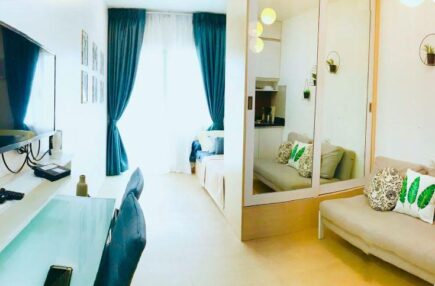 BEST AIRBNB FOR COUPLES IN CEBU
Charming & Chic Studio Apt
> $$
> 2 Guests
> Beautiful Balcony
> Access to Pool & Exercise Area
BEST AIRBNB FOR FAMILIES IN CEBU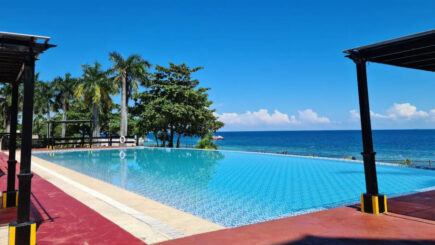 BEST AIRBNB FOR FAMILIES IN CEBU
2 Family-Friendly Luxury Condos
> $$$
> 12 Guests
> Top-Notch Facilities
> Pool Access
BEST LUXURY AIRBNB IN CEBU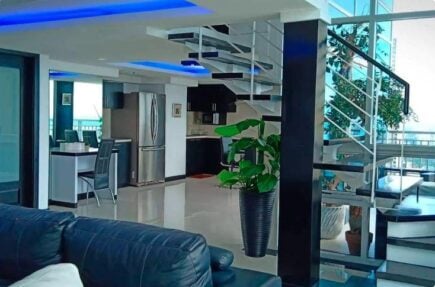 BEST LUXURY AIRBNB IN CEBU
On Top of the World Panorama Apt
> $$$$
> 16 Guests
> Jacuzzi in Master Bedroom
> Access to Swimming Pool

Unlock Our GREATEST Travel Secrets!
Sign up for our newsletter and get the best travel tips delivered right to your inbox.
What to Expect from Airbnbs in Cebu
What can you expect from vacation rentals in Cebu? The short answer is: a lot. As one of the cheapest islands in South East Asia, you can get an entire studio flat for the price you'd pay for a dorm bed in a hostel in major Asian cities like Singapore or Kuala Lumpur… if you know where to look, that is.
If you're backpacking The Philippines on a budget, you'll feel like you're in paradise. With loads of apartments, condos, homestays and houses in Cebu, whether in Cebu City or beachside towns like Moalboal, there's a ton of options to choose from.
Which rentals Cebu you choose should depend on what you want to do when you're there. The island is quite large and getting around it is no easy task. The roads are bumpy and not always in the best condition. This is why you should really consider where to stay in Cebu before booking your accommodation. If you're looking for beaches and a quick weekend away, staying in Cebu City or Mactan Island will be the best option because it's close to the airport.
If you're looking for diving opportunities, look to head South towards Oslob for whale shark snorkelling or Moalboal to check out the sardine run. If you want a cheap backpacker destination where you can party and enjoy some nice beaches, Malapascua Island is a great shout.
Many Cebu Airbnbs will see you dealing with a local host. However, in larger and pricier properties, you may go through a business instead.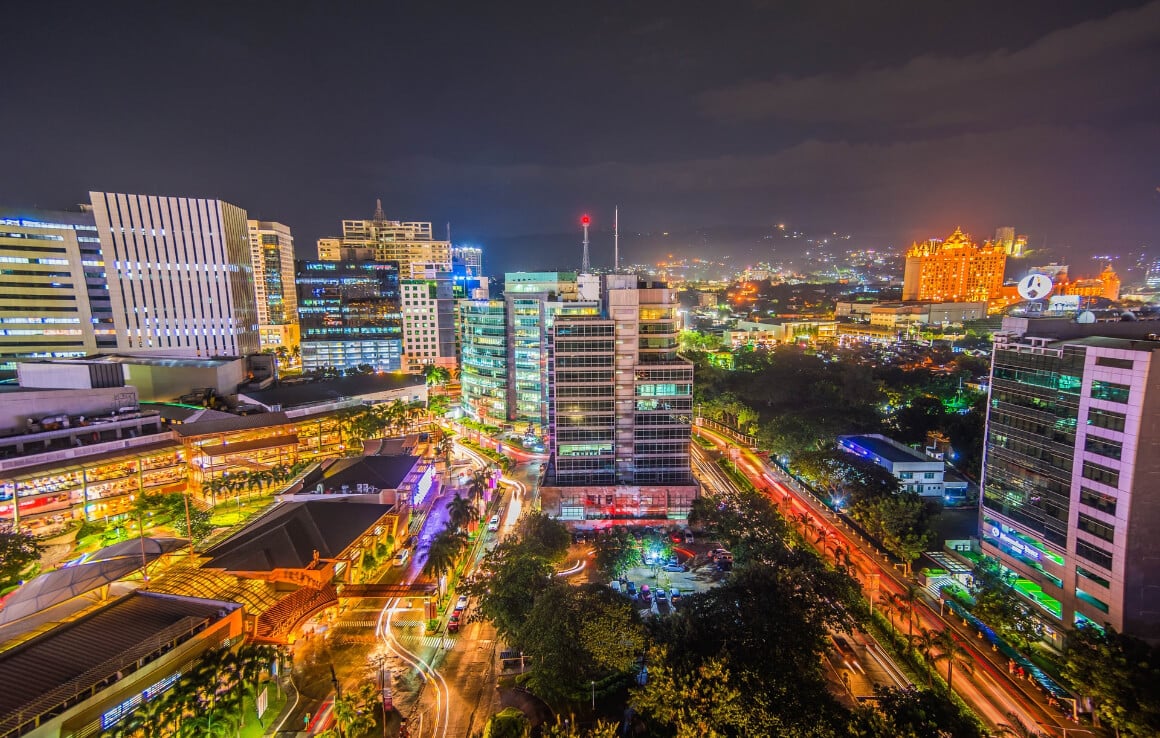 Apartments & Condos
Most Airbnbs in Cebu are an entire apartment or condo, especially if you choose to stay in Cebu City. Apartments are always found above the first floor of the building. However, more often than not, they'll be on the top floor.
Often studio-type apartments, they're best for small getaways. Couples will love them, and small groups of friends and family will too. Though they use space cleverly, anything more than six or eight guests in an apartment might feel like a bit of a squeeze.
With position, apartments are usually well lit and offer facilities like living spaces and fully equipped kitchens. Some may even have roof terraces or balconies – worth paying the extra money for if you want views with your morning coffee. Almost all of them will have air conditioning and free parking is common too.
Cebu isn't a very built-up island, so apartments tend to not be higher than a few floors, especially staying outside Cebu City. Because of this, elevators are not always available, so if you have reduced mobility, it's best to look at the listing carefully.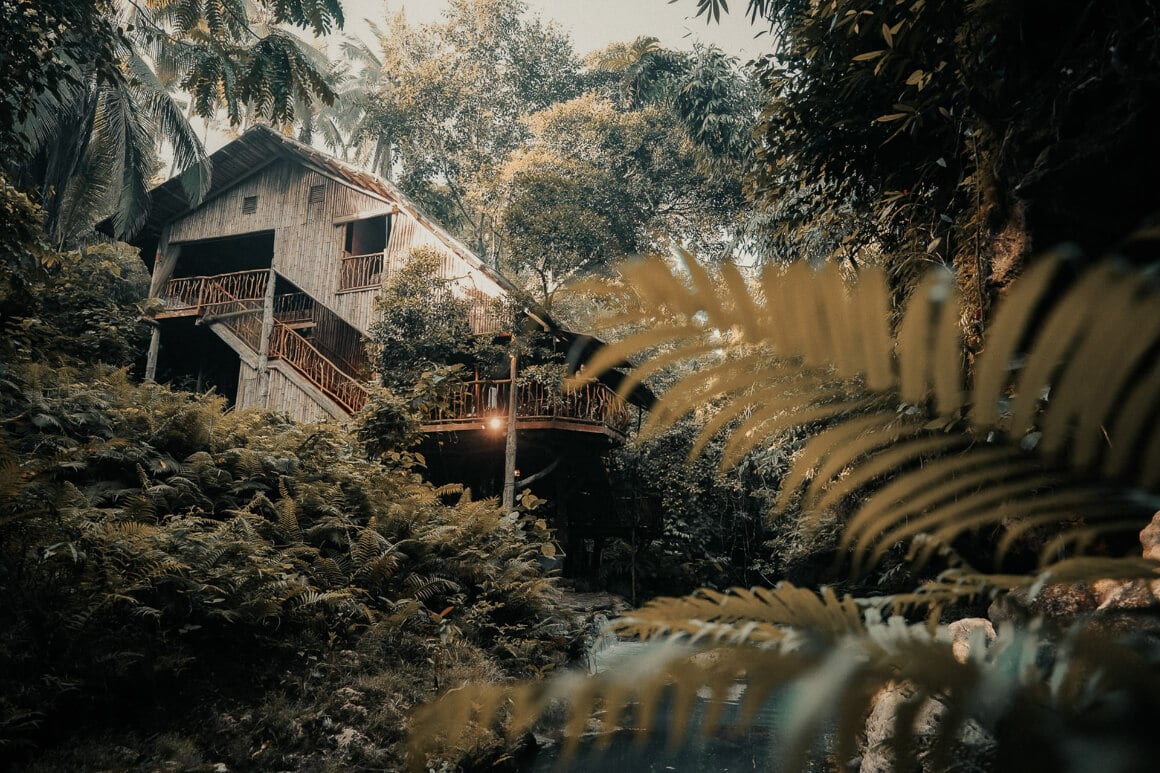 Homestays
Homestays are a really unique and amazing experience. The idea of a homestay is you stay in, well, a home.
You'll have your own private room, however, so don't think you need to sleep on a couch. The great thing about homestays is they allow you to immerse in the culture and learn more about what life in Cebu is like for the local community.
Your host may be really hands on and offer you loads of advice and tips, you might even get to help out in the kitchen. Sometimes, hosts just leave you to your own devices.
Either way, staying at a homestay really does immerse you in the authenticity of the place. And they are usually the most affordable Airbnbs in Cebu.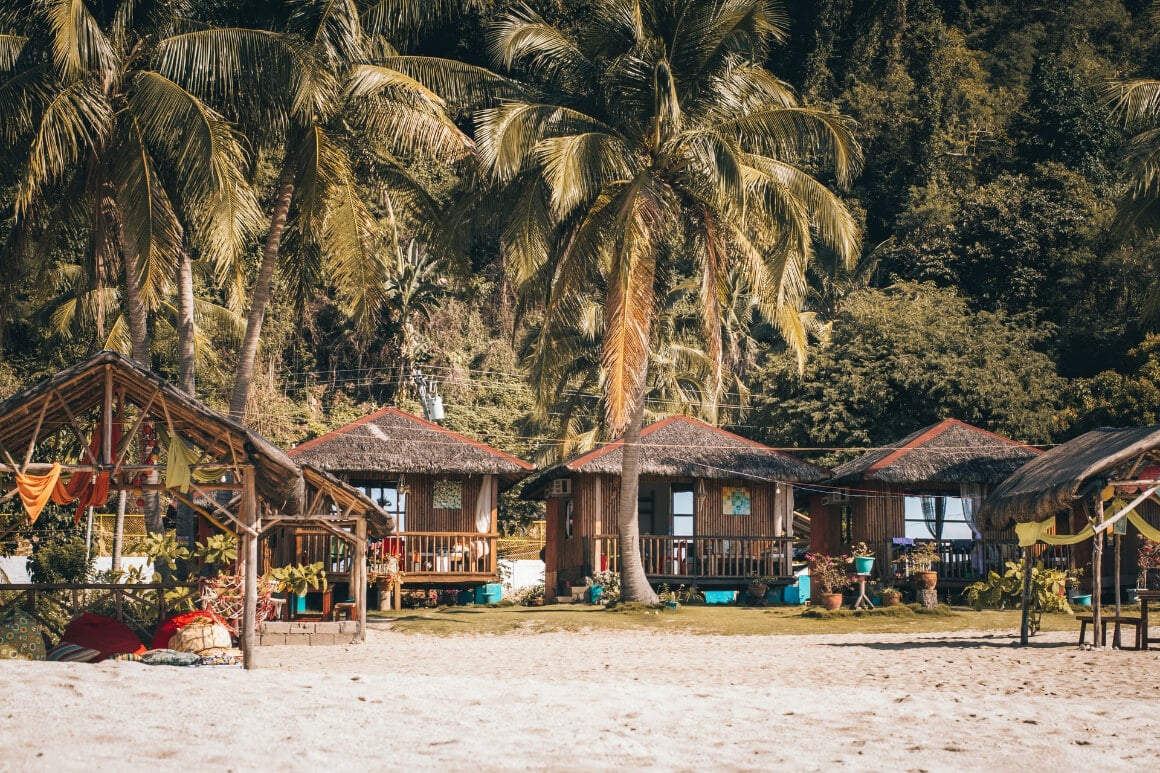 Houses
My third top type of accommodation in Cebu is a house. Though it's not the most common type of listing on Airbnb in general, because locals don't usually have the money to rent an entire house, however, there are some available and they are perfect for large groups.
Usually, houses come in the form of bungalows or huts and often have beachside locations and eco-friendly facilities.
Normally, budget travellers would be best off in a private room, but in Cebu, you can easily get a house for a decent price, especially if you're splitting the cost between a few people. The WiFi in Cebu is generally quite weak, but if someone can afford to offer a house in Cebu, you can bet it will have the best WiFi – ideal for digital nomads to work.
Why Stay in an Airbnb?
Local Experience: While many Cebu Airbnbs are managed by companies, they're still locally based. Get the best recommendations for your Cebu itinerary that you won't find in the guidebooks to make your trip truly special!
Unique properties: Airbnb has every kind of property you could think of. There's even a 'unique stays' search function, where you can find your dream property on the site.
Privacy: Another great filter – choose an entire place to ensure you won't be disturbed during your trip.
Affordability: When it comes to value for money, Airbnbs offer so much more than hotels at the same price.
Amenities: When staying in an Airbnb, you have access to all the amenities you would have at home including things like a washing machine, free parking or air conditioning. This means you have all the homely comforts while you're travelling.
Safety: It might seem a little weird staying in someone's house; however, both hosts and guests are vetted by Airbnb reviews to ensure the safety of both. Philippines is overall safe, and the Airbnb booking security just adds a little extra to it.
The 15 Top Airbnbs in Cebu
Now that you know what to expect from Airbnbs in Cebu, let's take a look at my favourite 15 vacation rentals in Cebu.
$
Free Use of Pool & Jogging Path
This one bedroom and one bathroom studio Cebu apartment gives great bang for your buck! With all the standard amenities included, you'll be staying in plenty of comforts.
From WiFi, air conditioning, to a working table and dining table for two, this is one of the best Airbnbs in Cebu in terms of value. There is even a well-equipped kitchen that has a rice cooker, oven, refrigerator, and kettle.
Moreover, guests are allowed to use the swimming pool, jogging path, and outdoor gym that is part of this apartment complex!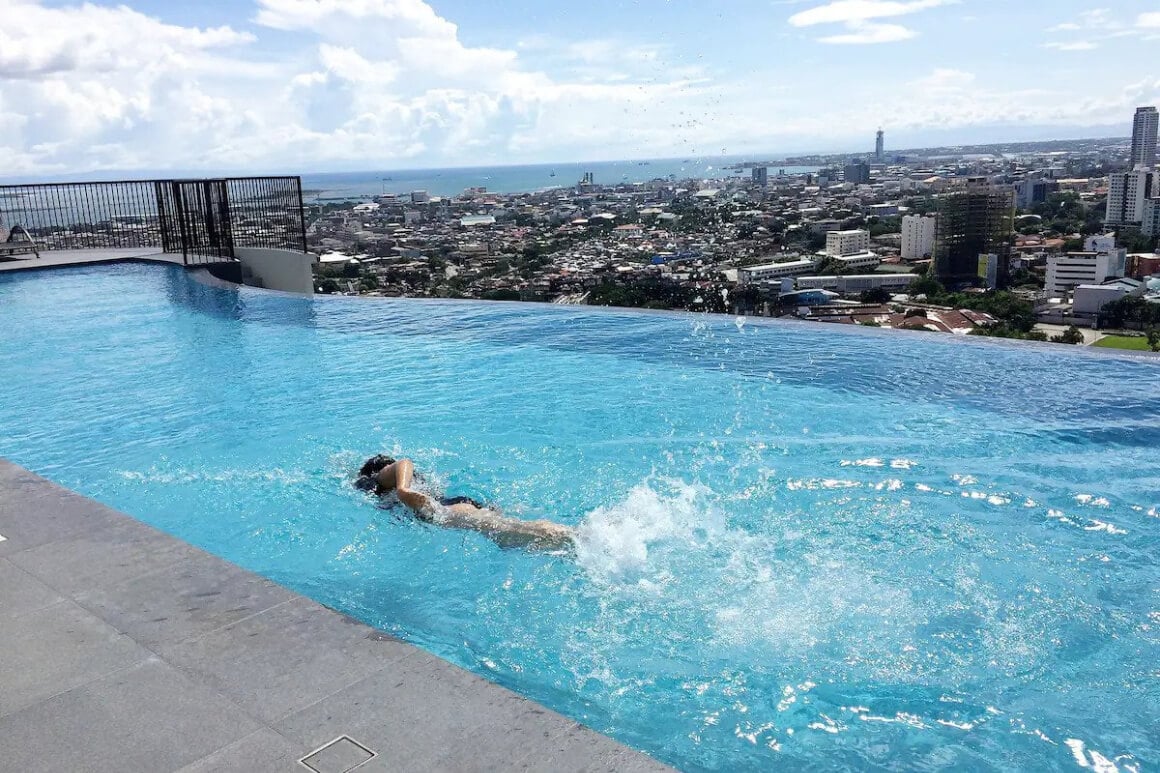 This one bedroom and one bathroom studio apartment is a great short-term rental in Cebu for those budget travelers out there!
With what you would pay for the price of lunch in the USA, you can stay in comfort and convenience in this Cebu Airbnb. Located in the Ayala area near the Cebu IT Park, you will love the safety of this Airbnb, complete with a 24/7 CCTV.
Plus, the rooftop swimming pool is also a dream come true! Moreover, there is a kitchen inside this apartment that includes a stove, refrigerator, kettle, and even purified drinking water. Of course, there is are conditioning and WiFi as well!
---
Psst…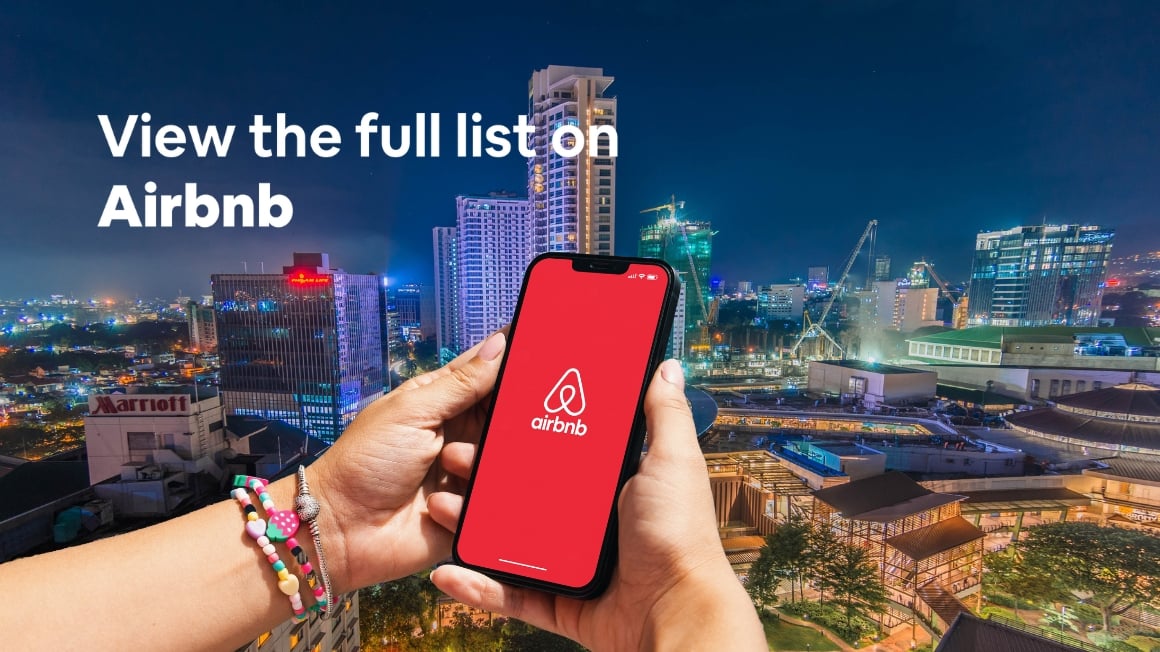 ---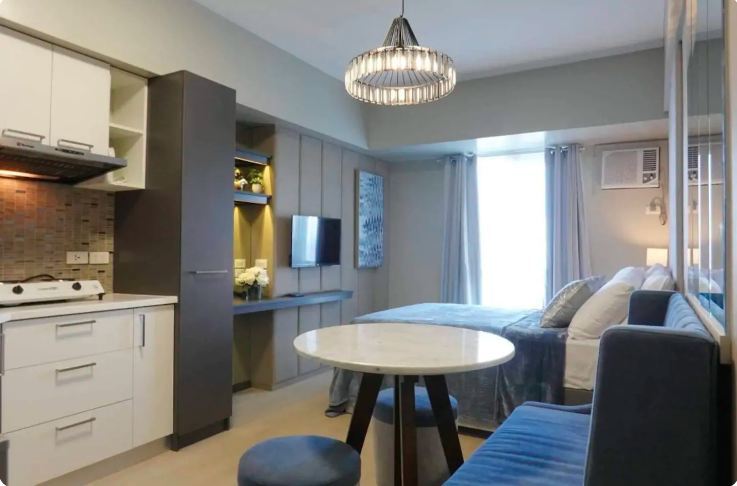 2 Guests
Well-equipped Kitchen
Ready to get cracking at your latest work to-do list? This one-bedroom and bathroom studio Cebu apartment is waiting for you, our digital nomad friends! It is fully furnished and part of a huge high-rise building in Cebu IT Park, near Cebu Business Park, which puts you close to plenty of restaurants, bars, and shops.
With a kitchen, a table and chairs, and a comfy bed you'll be getting great work done at this short-term rental in Cebu. The fiber internet with 20 mbps internet speed is nearly as good as it gets in Cebu, so get ready to get some good work done!
Is This the Best Travel Pack EVER???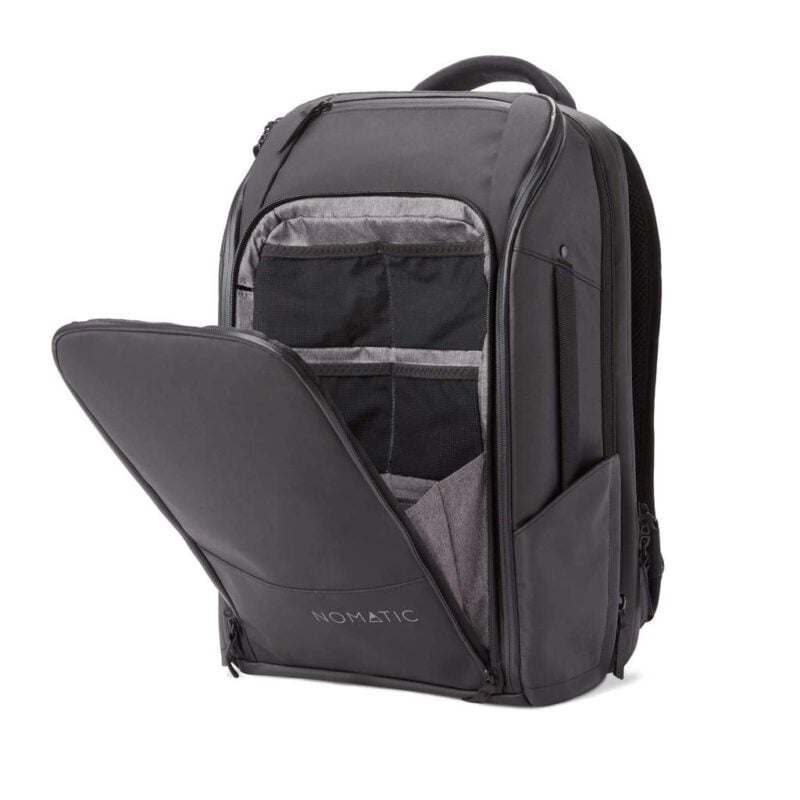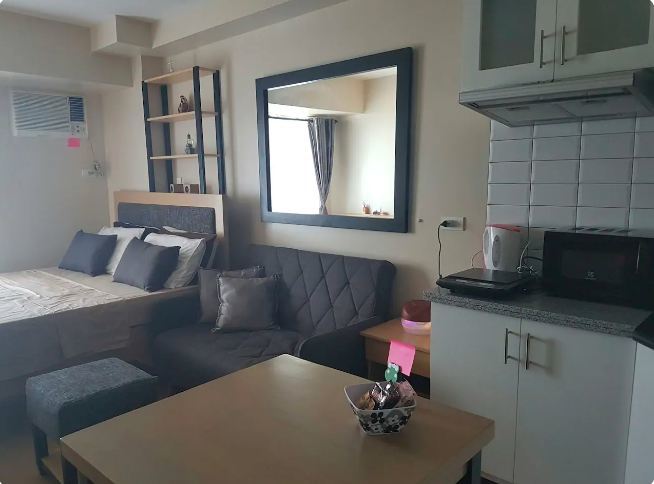 2 Guests
Fully Equipped Kitchen
This one-bedroom studio apartment is perfect for the solo travelers out there who are looking for the best Airbnb in Cebu. With all the western comforts you could hope for, from a hot shower to WiFi to air conditioning to a fully equipped kitchen, this Cebu Airbnb has it all.
Located in the center of the Cebu IT Park, this apartment is within walking distance of all that you could need. From restaurants to convenience stores to banks, you are well situated in this Cebu Airbnb!
Moreover, you can use the swimming pool for a small fee. Or, why not go for a jog around the outdoor gym. It may be hot and humid outside, but sometimes gym junkies just gotta run!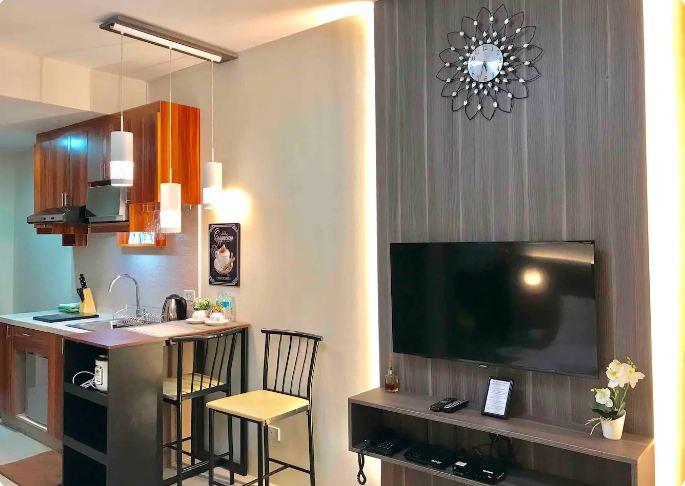 2 Guests
Fully Equipped Kitchen
From the fun bar games at All-Stars Sports Bar to the cozy and casual vibes at The Joker's Arms, to the snazzy Jazz Joint you're sure to find your favorite bar in this district of central Cebu City, just north of Samba II.
In fact, this short-term rental in Cebu puts you within walking distance of not just the best bars, but also to a Robinson's Mall. Also, there are plenty of cafes, bars, and 7-11's surrounding this Cebu Airbnb so it's super conveniently located. When you stay here, on the 43rd floor, you'll get to enjoy a breathtaking view of the city center below.
Moreover, there is 24/7 security so you won't have to worry about the bar scene following you home. Phew! This one bedroom and bathroom Cebu apartment has all the bells and whistles, from a hot shower to WiFi, to air conditioning. Lastly, there is also a pool to enjoy!
$$
Access to Pool & Exercise Area
2 Guests
Beautiful Balcony
Stay in comfort and style with your significant other at this Cebu apartment in the core of the Cebu IT Park. It's one of the best entire rental unit Airbnbs in Cebu for those traveling with their loved ones.
Tastefully designed, this sweet space comes with fast WiFi, air conditioning, hot water, and a smart TV that you'll love routing your Netflix account too!
Inside the apartment, there is also a fully functional kitchen as well as a comfy couch perfect for relaxing with a glass of wine or beer.
If not, just head outside to the balcony and soak up some great views. There is also a huge pool and outdoor exercise area to enjoy, which is shared with this apartment complex.
2 Guests
Swimming Pool Access
This short-term rental is for a private bedroom and bathroom in a condominium that makes for a lovely Cebu homestay. A bright, colorful room awaits you. It's filled with tropical vibes and is positively teeming with color!
Inside the luxury condo, you'll find high-speed wifi, air conditioning, and a double-sized bed. Guests are also welcome to use the kitchenette and the dining room. The 9th-floor pool is also open to all guests, and you'll love taking a dip in the cool blue waters on a hot Cebu day!
This Cebu homestay is located in the Horizon's 101 building, which is actually Cebu's tallest condominium located on Mango Avenue. Moreover, it is conveniently situated near everything you'll need during your Cebu trip!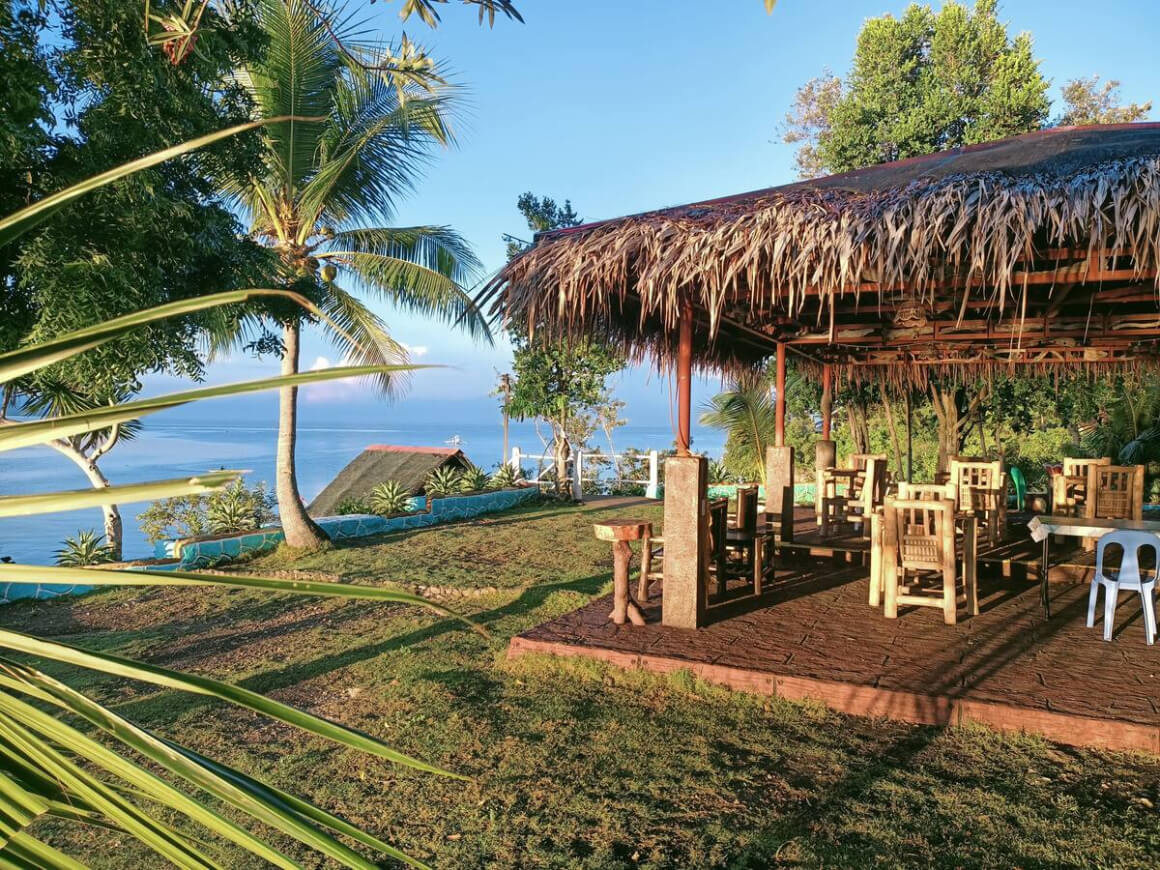 $
Hammocks overlooking the ocean
This lovely room offers travellers a great space to relax and rewind after a long day of exploring Cebu. The bed is super comfy and the room is bright and airy.
You can enjoy a beautiful ocean view and the building's amenities, such as a terrace with hammocks, outdoor BBQ and air conditioning. If you want to share some of your travel stories, just head to the common areas where you can meet like-minded travellers from all over the world.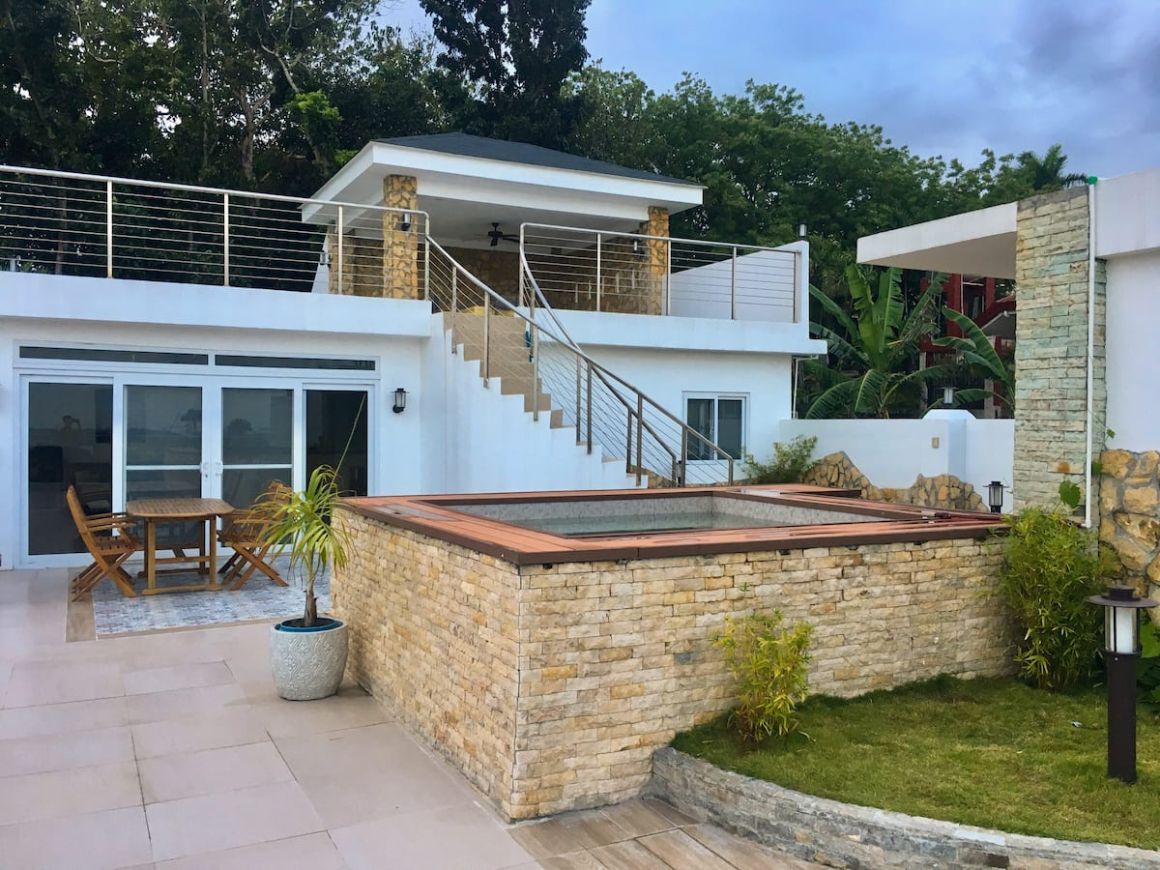 Not only will you get a stunning location with a beautiful view, but you can also enjoy all of that in your private jacuzzi – perfect to relax after a long day.
The 12-guest penthouse is located quite far from central Cebu City, but if you're looking for a calm getaway with all the amenities you need, including air conditioning, free parking and cable tv, it's the ideal place to stay. With lots of luxury amenities and some of the best reviews, you will definitely be in for a treat!
$$$$
Access to Swimming Pool
16 Guests
Jacuzzi in Master Bedroom
This luxury Airbnb in Cebu is tastefully decorated with a modern touch and has nearly every amenity you could possibly need. Situated near a Robinson's Mall at the Crown Regency Club Ultima Tower 3, you'll be in the very heart of Cebu City center.
Lastly, it is a highly secure and safe building with 24/7 reception, as well as security guards, and CCTV. Inside this three bedroom and three and a half bathroom home, there is a total of seven beds, which makes hosting a lot of people a breeze!
I love that this penthouse Cebu apartment has a 270-degree panorama view from the huge windows, and a large balcony to stand on and feel on top of the world!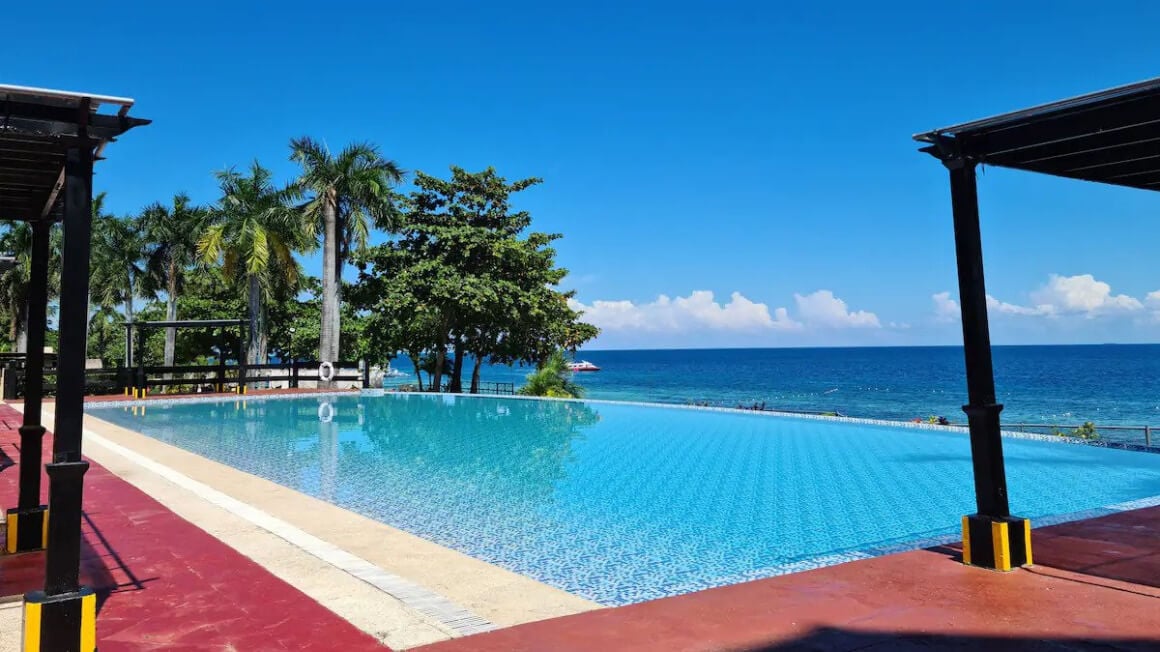 12 Guests
Top-Notch Facilities
If you have a large family, you can rent not one but two luxury condos with a pool. Capable of housing up to 12 guests, these two condos provide enough space for everyone to spread out.
Each condo has two-bedrooms and they are on the 12th floor, perfect for those travelling with teenagers and you want some space to yourself. It's situated in a great location in Lapu Lapu, within driving distance to Cebu City and the Ayala Center and Ayala Mall.
Highly safe and secure, this building has 24/7 CCTV. The best thing about this property though, are it's facilities. There's not one, but two pools, plus a children's pool, as well as a gym, Jacuzzi and sauna for mum and dad, and basketball-court, volleyball-court, billiard room and badminton court for the kids.
Enjoy luxury style and comforts at a bargain price that absolutely none of your friends could possibly argue about! With modern style and elegance, this Cebu Airbnb is quite the find. It is a two bedroom and two bathroom Cebu apartment that actually has a total of 8 beds.
There is a washer and dryer available, as well as free parking, all of which are rather special when it comes to the Cebu Airbnb scene. Also, the panoramic balcony is sure to be a crowd-pleaser and it's close to the many Cebu attractions. There is even a breakfast nook nestled on the balcony complete with a table and chairs.
Additionally, there is a fully equipped kitchen so if any of your friends happens to be a kitchen wizard, they will love whipping up meals in this modern kitchen space. Make sure you keep them company by leaning on the kitchen countertop while they craft their culinary masterpieces.
$
Snacks & Drinks Provided
This Cebu apartment comes with three beds and one bathroom, making squeezing more guests into this Cebu Airbnb possible.
It is a lovely contemporary designed apartment that is in a strategic location in the heart of Cebu's IT Park. Situated on the 27th floor, this apartment offers incredible sweeping views of Cebu. You'll love sipping a cup of tea and gazing out the windows at the beautiful view below.
Next up, WiFi is included, as well as cable TV, as is hot water in the shower! Though with temperatures in Cebu, you might not need it. Hooray for hot and cold showers! In the well-equipped kitchen, you'll also find all the cooking essentials you could need to whip up quick and easy meals.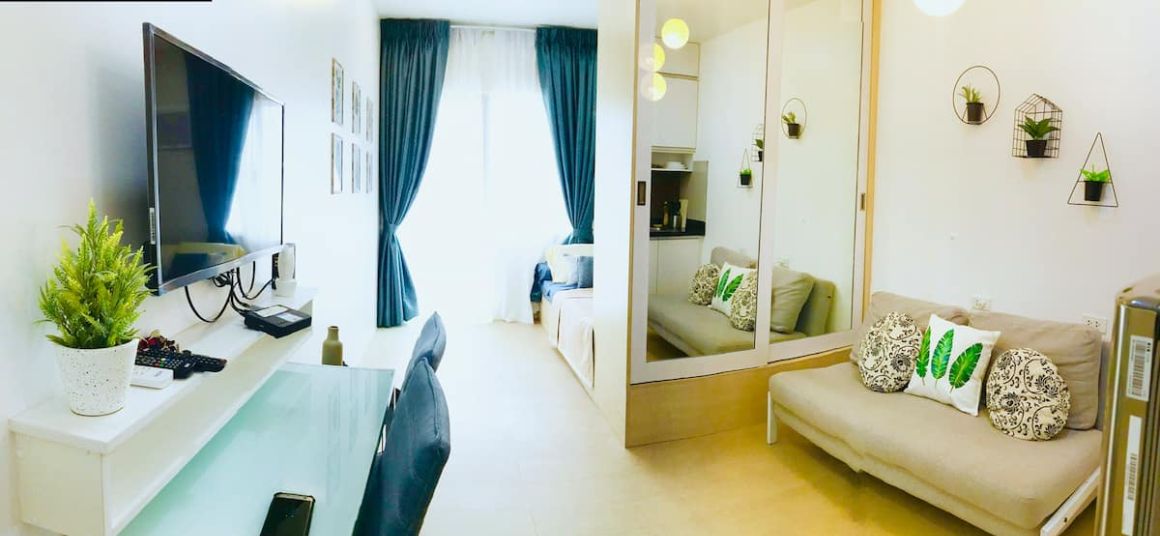 Cozy and stylishly designed, this Cebu IT Park apartment is sure to suit your fancy. It's definitely not the biggest place, but perfect for a solo traveller or a couple.
That being said, you're surely not sacrificing any amenities! There is hot water, air conditioning, and WiFi, as well as a fully equipped kitchen and a little workspace.
With this affordable price tag, you're sure to love this nice and tidy Cebu Airbnb that puts you close to all the malls, shopping centers, bars, and restaurants.
This stylish studio in a resort complex is the best stay on Mactan island, especially if you're looking for great value. Previous guests have rated this Airbnb as incredibly clean and comfortable.
The sea and pool are a short 2min walk from your front door, and you'll reach Maribago Town Centre within 5min. With the great location and a host that is known to take very good care of their guests, you can be sure to have a great time!
Don't Forget Your Cebu Travel Insurance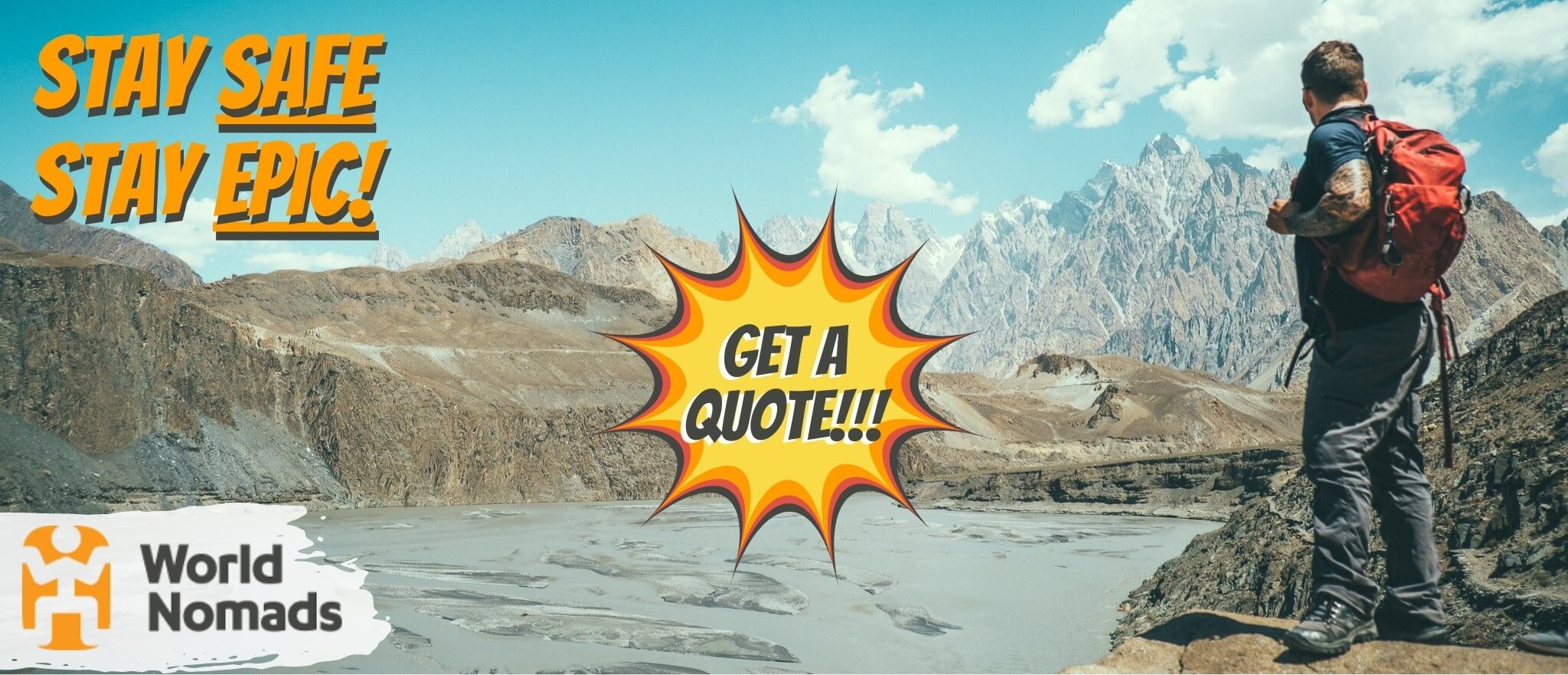 World Nomads' mission is to support and encourage travellers to explore their boundaries. They offer simple & flexible travel insurance, and safety advice to help you travel confidently.
They've been doing it since 2002 – protecting, connecting, and inspiring independent travellers just like you.
Get a quote below or read our in-depth review!
World Nomads provides travel insurance for travelers in over 100 countries. As an affiliate, we receive a fee when you get a quote from World Nomads using this link. We do not represent World Nomads. This is information only and not a recommendation to buy travel insurance.
Final Thoughts on Cebu Airbnbs
As one of the absolute most accessible and well-developed islands in the Philippines, Cebu is a great place to visit! No matter what kind of travel style and vibes you're looking for Cebu has it all!
From beaches to gastronomic delights, to diving— if you're heading off to Cebu, you sure won't be bored.
I hope that you found the best Airbnb in Cebu for you, right off my handy dandy curated list. From opulent luxury to basic apartments, these short-term rentals are all likely quite a bit affordable than you think!
When traveling, anything can happen. And I do mean anything. Why not snag the best travel insurance out there that comes at budget-friendly prices from my friends over at World Nomads. Trust us, it's worth it.
---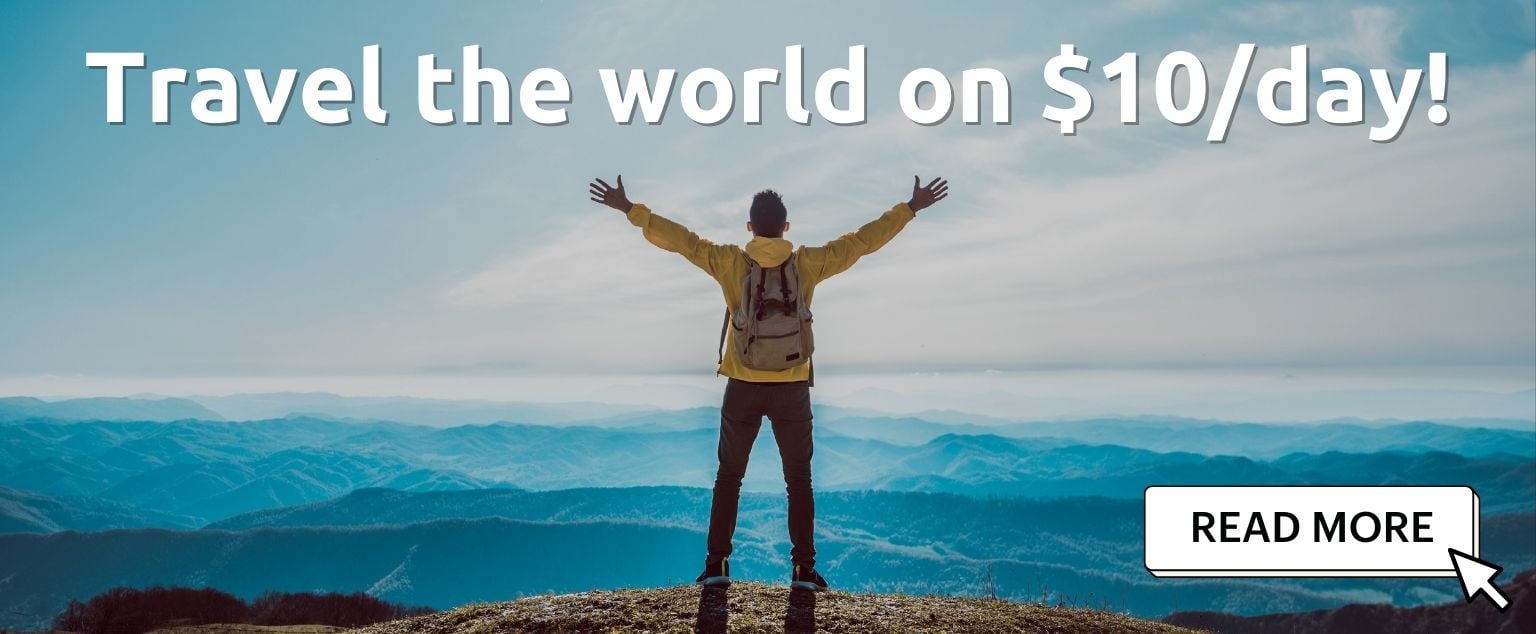 And for transparency's sake, please know that some of the links in our content are affiliate links. That means that if you book your accommodation, buy your gear, or sort your insurance through our link, we earn a small commission (at no extra cost to you). That said, we only link to the gear we trust and never recommend services we don't believe are up to scratch. Again, thank you!