The Filipino island of Cebu is the biggest island in the Visayas. Long and narrow, the island is 196 kilometres (122 miles) long and just 32 kilometres (20 miles) across at its widest area.
Fringed with sandy beaches and covered with undulating mountains and hills, much of the island is undeveloped. There are, however, interesting towns and villages with splendid remnants from the Spanish colonial period and a variety of Cebu attractions.
Plus, there are plenty of outdoor adventures and areas of natural beauty to enjoy in Cebu Island. One of the most ethnic-diverse islands in the Philippines, Cebu is vibrant and a popular place for tourism.
While Cebu's most touristy areas are well promoted, it can be difficult to feel as though you've experienced a more authentic side of day-to-day Filipino life on the island. What if you want to escape the crowds?
No problem! That's why I put together this terrific list of the best places to visit in Cebu to help you plan a fabulous and diverse trip. It includes both popular hotspots and hidden gems, letting you really dig beneath the surface of this Southeast Asian island jewel.
I'm sure that these best places to visit in Cebu will have you yearning to book your trip ASAP!
Need a place quick? Here's the best neighborhood in Cebu:
BEST AREA IN CEBU
Moalboal
Surrounded by coral reefs, Moalboal one of the best places to visit in Cebu for divers and snorkelers. Here you can explore colourful coral and swim with exotic fish in crystal clear turquoise waters.
Places to visit:
Bask in the sunshine at beautiful and quiet White Beach.
Don't miss the "sardine run," where you'll see thousands of fish take over the area.
Strap on your snorkel and discover what lives on Cebu's hard and soft coral reefs.
So with accommodation and safety tips covered, let's discover the best places to visit in Cebu!
These are the BEST Places to Visit in Cebu!
Before you begin your journey into the magic below, check out some of the best hostels in Cebu! You'll need a place ready to rest your feet after a long day exploring. Now, let's get going…

Unlock Our GREATEST Travel Secrets!
Sign up for our newsletter and get the best travel tips delivered right to your inbox.
#1 – Busay – Great place to visit in Cebu for couples!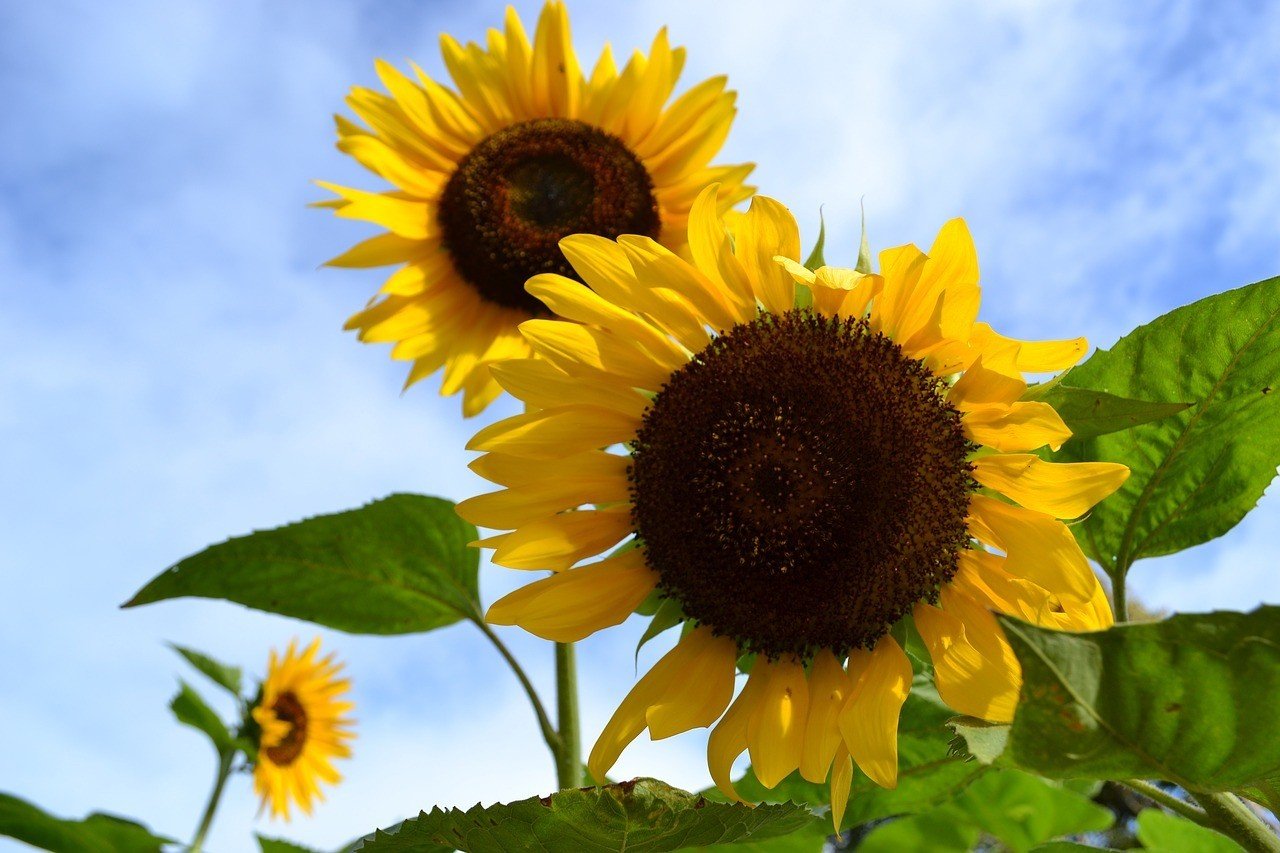 Unusual temple
Romantic vibe
Why it's awesome: Located a short distance from Cebu City, Busay is a charming town with plenty of ways for couples to find romance. With not just one but two gorgeous flower gardens to enjoy, there are beautiful photo opportunities too.
The mountainous setting adds further to the allure, and visitors will find delightful places to eat and drink that offer stunning views of the surroundings. A large temple complex (built to celebrate one man's love for his wife) and a cool lookout point add to the diversity. There are also lovely resorts where couples can spend a night or two.
What to do there: Take time to stroll at leisure through the stunning Sirao Flower Gardens and the Terrazas de Flores. The former is often nicknamed Little Amsterdam because of its Dutch-like appeal.
Admire the views from the elevated position, walk through the colourful flowers, snap pictures of the windmill, and grab refreshments in the café. Terrazas de Flores is said to the country's first-ever flower terraces, and you're sure to be suitably impressed as you feast your eyes on the steps of floral beauty.
Relax in a lakeside cabana and wander along the walkways. Soak up the vistas from Tops Lookout, a great place to appreciate Cebu City's skyline. The Temple of Leah was constructed to honour the wife of an entrepreneur (and brother of a famous actress) called Teodorico Adarna.
The monument of love has striking Greek and Roman influences and is one of the most eye-catching and major landmarks in Cebu. Visitors can explore the vast complex, complete with an art gallery, many statues (including a larger-than-life image of Leah herself), a library, and a museum housing a number of the late Leah's personal items.
#2 – Balamban – Easily one of the most fun places to check out in Cebu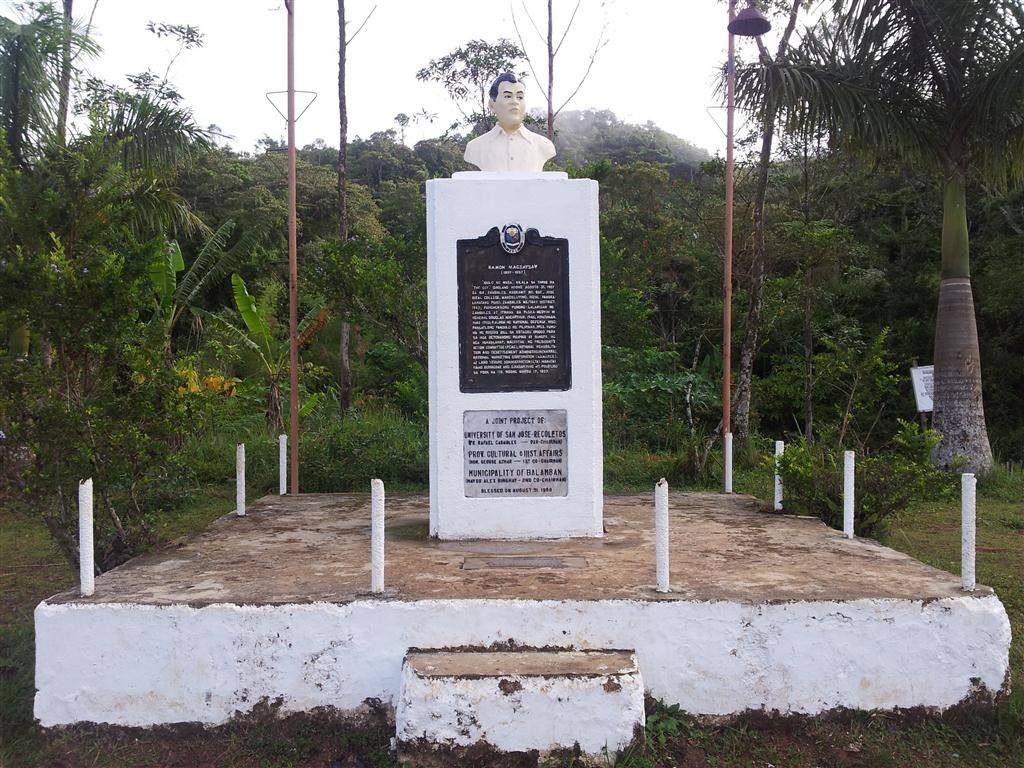 Adventure activities
Natural setting
Free camping
Mountain trails
Why it's awesome: Balamban is really coming into its own as one of the most popular tourist hotspots and one of the best places to visit in Cebu. The hilly town is around an hours' drive from Cebu City, making it a prime weekend getaway for locals looking to have fun in nature.
If time is limited it's day-trippable from the city, though it really is worth planning to spend at least a night to fully make the most of the town's attractions. There are adventures galore to suit any thrill-seeker, though those seeking a peaceful ambience or romantic air will also not leave disappointed.
What to do there: Spend a few hours getting your adrenaline pumping at Adventure Café, with caving, zip-lining, climbing, and repelling. Admire the waterfall too and call into the restaurant for a delicious meal.
At Baguio de Cebu Eco Mountain Adventures you can enjoy activities like horse riding, zip-lining, and hiking, and it's free to camp here if you have your own tent.
Get active in the great outdoors and go hiking and climbing at the scenic Mt. Mauyog, and follow the picturesque Foressa Trails, both by foot or by bike. Camping is also available.
Take a free tour of D' Village Antique House, a top budget attraction when visiting Cebu, and admire the interesting antiques housed within.
#3 – Badian – A beautiful outdoor place to visit in Cebu
Popular waterfall
Beautiful beaches
Outdoor adventures
Water sports
Why it's awesome: Sitting next to the Tanon Strait in Cebu southwest, the town of Badian provides easy access to a number of splendid natural gems.
There are beautiful beaches and interesting mangroves and Badian boasts one of the most famous places in Cebu: the stunning Kawasan Falls which is a must-do if you have 3 days in Cebu.
The nearby Badian Island is accessible from the town too and the small island falls under the town's administration. Various water sports and land activities are available in Badian and it is often considered a Cebu must-do for travellers.
What to do there: Follow the gentle 15-minute walk from the road to the sublime Kawasan Falls, a Cebu must-see. Swim in the refreshing aquamarine waters, marvel at the sights, and take plenty of pictures of the natural wonder.
You can climb up the different levels, with the higher levels offering fewer crowds. More adventurous travellers can also have a go at canyoning in the surroundings. Bask on the sandy shores of the free public beach of Lambug Beach and enjoy the clear, blue waters and soft white sands.
Explore the small coves and spot interesting rock formations. Take a trip to Badian Island for more lovely beaches and to enjoy activities like snorkelling and scuba diving.
See crabs scuttling across the mud in the mangroves and observe various marine birds. Go hiking in the Badian Mountains for terrific views. The Church of Santiago Apostle is also well worth a quick stop while in Badian.
#4 – Cebu City – A great place to see in Cebu if you love architecture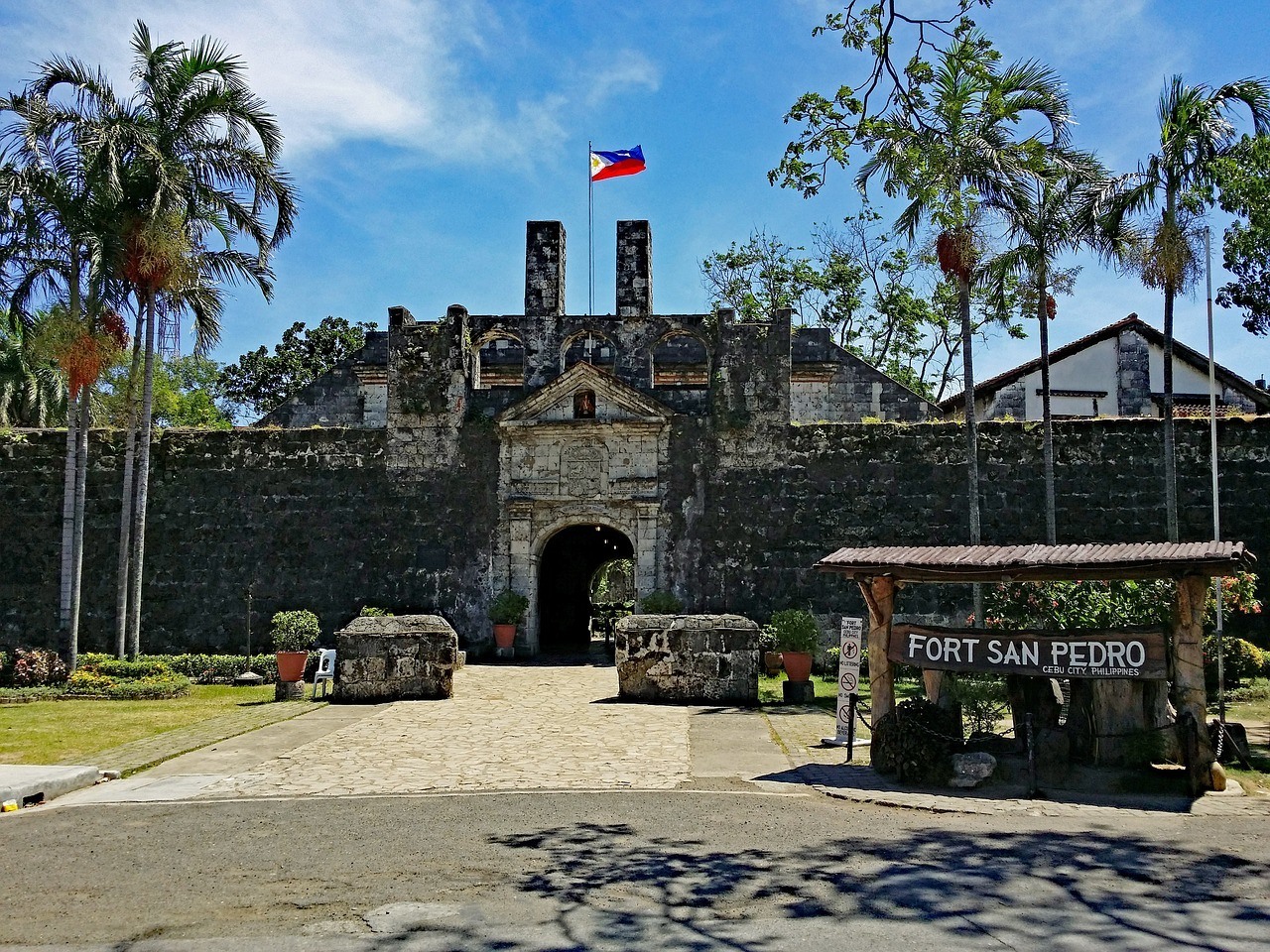 Island capital
Spanish colonial heritage
History and culture
Shopping and nightlife
Why it's awesome: Cebu City is the capital of Cebu Island and the main regional centre of the Central Visayas. The second-largest city in the Philippines (after Manilla), it has a long and colourful history and is one of the most popular areas to stay in Cebu.
It was once the capital city of the Philippines and is the oldest city in the country. It was also the first Spanish settlement in the Philippines and is often thought of as the place where Christianity was born in Southeast Asia.
Today, it has lots of interesting architecture from the Spanish colonial period, including gorgeous churches and interesting monuments such as Fort San Pedro.
The city hosts a number of significant festivals and celebrations throughout the year, including those that are religious in nature and those that celebrate music. The type of music known as BisRock was born in Cebu City.
Visitors will also find great opportunities for some retail therapy in the city's malls and markets. Although many travellers see Cebu City city simply as a transit point for reaching other parts of the island, it is well worth adding a few days in the city to any Cebu itinerary.
What to do there: Visit the Basilica del Santo Nino, which is the oldest Catholic place of worship in the Philippines. Established in the mid-1560s, the church is still an active place of worship today. It has a glorious façade, stunning stained glass, old artwork, and a spiritual vibe.
Don't miss the church's museum too, where you can see an interesting array of historic objects. The baby doll Jesus, brought to the island from Spain, is the island's oldest religious treasure, and seeing it is among the most unusual things to do in Cebu. The nearby Magellan's Cross is another fascinating historic religious site.
Learn more about Cebu Island's religious history at the lesser-visited Cebu Metropolitan Cathedral and get insights into Chinese religious practices and beliefs at the colourful Taoist Temple. Climb the steps to reach the serene temple and admire the brilliant views.
Another of the major landmarks in Cebu City, the Provincial Capitol was constructed during the American era and was modelled after the White House.
Travel back in time at Fort San Pedro, built by the Spanish in the 1730s to defend the city against Muslim attackers. You can see items salvaged from a shipwreck in the small museum in Fort San Pedro too.
Other great places where you can peer into the past and learn more about times gone by include Cebu Heritage Monument, Cebu Provincial Museum, Yap Sandiego Ancestral House, Casa Gorordo Museum, and the 1730 Jesuit House.
Discover the city's musical heritage at Jose R. Gullas Halad Museum. Experience local life with a stroll along the bustling Colon Street, complete with market stalls and food vendors, and the colourful Taboan Public Market.
Escape the heat and enjoy air-conditioned comfort in the large malls; Ayala Center Shopping Mall, SM Seaside, and SM City Cebu are among the biggest and best. You'll also find a quirky art gallery or two in this area showcasing the best of Philippeano art.
Top family-friendly Cebu attractions include Crocolandia (where you can spot crocodiles, deer, birds, and other creatures), the charming Jumalon Butterfly Sanctuary, and the action-packed Mountain View Nature Park.
For even more excitement, have a go on the Xtreme Rides at the top of the towering the Crown Regency Cebu. Sample the national dish of Lechon (suckling pig), ride in a horse-drawn carriage (known locally as a tartanilla) through the old streets of Cebu City, and have fun after dark at the bars and clubs around Mango Square.
#5 – Tuburan – A nice non-touristy place to visit in Cebu
Relaxed atmosphere
Lesser-visited town
Many cold springs
Natural attractions
Why it's awesome: The sleepy town of Tuburan sees relatively few tourists and is, therefore, a great place to escape the tourist masses and enjoy time exploring one of Cebu's more offbeat destinations.
Situated in northern Cebu, it was the hometown of Arcadio Maxilom, a beloved hero during the Philippine Revolution when the nation fought for its independence from Spanish rule.
A great destination today for fans of nature and adventure, it has scenic places aplenty, nice beaches, tranquil springs, and picturesque rivers. The town takes its name from the many cold springs found in the surroundings.
What to do there: Relax on sandy beaches and swim in the sea at places like Apalan, Little Baguio Beach of Barangay I Poblacion, and Lungsod Beaches, soak up the stunning vistas from Lantawan Lookout, and get a pick-me-up and caffeine hit at Tuburan Coffee Farm.
Snap a selfie standing next to the gigantic Heritage Tree of Jagbuaya, go kayaking along the Adela River, unwind in Rizal Park, and chill out in Arcadio Maxilom Park.
Trek to Lantawan Cliff and the Marmol Cliffs. The latter are exceptionally eye-catching, with an appearance that looks like marble. A small cut-through with a river passes between the two cliffs.
One of the best activities to enjoy in Tuburan is soaking in the cold springs. Molobolo Spring is a scenic spot with two pools, and Mantawihan Spring offers a less-developed setting.
#6 – Oslob – One of the nicer places in Cebu to sightsee!
Famous for spotting whale sharks
Historic architecture
Beaches and waterfalls
Family-friendly destination
Why it's awesome: Situated in the south of the island and next to the Cebu Strait, Oslob is known for being a terrific place to spot whale sharks in the wild.
It attracts many visitors keen to observe the gigantic creatures swimming in the sea. There are a number of other natural Cebu attractions in the vicinity too, including beaches and waterfalls, and visitors can try a variety of water sports and other activities.
Cultural and historic sites add to the diversity, and the town hosts the vibrant Toslob Festival every December (a great addition to and Cebu itinerary for people visiting close to the end of the year). Oslob appeals to families, couples, and friends alike.
What to do there: Watch in awe as gigantic whale sharks swim close to the shore and feed. Despite being the largest fish on the planet, whale sharks are completely harmless to people.
You can even dare to snorkel and swim with the graceful sea giants, though do be sure to follow ethical practices and comply with conservation advice, such as fully removing all sun cream before entering the waters and not touching the creatures.
The nearby coral island of Sumilon offers more underwater encounters, with snorkelling and diving. Spend time at the beautiful Tumalog Falls, where you can swim in the refreshing waters under the 91-metre-tall (300-foot-tall) cascades.
The Aguinid Falls has a greenish tinge, thanks to the high calcium content of the water, and are another great place to swim and admire the natural beauty.
Wander through Oslob town and see the diverse and historic architecture, including the 1848 coral-built Immaculate Concepcion Parish Church, the 1788 watchtower, and the ruins of unfinished barracks.
#7 – Medellin – An awesome place to visit in Cebu for half a day!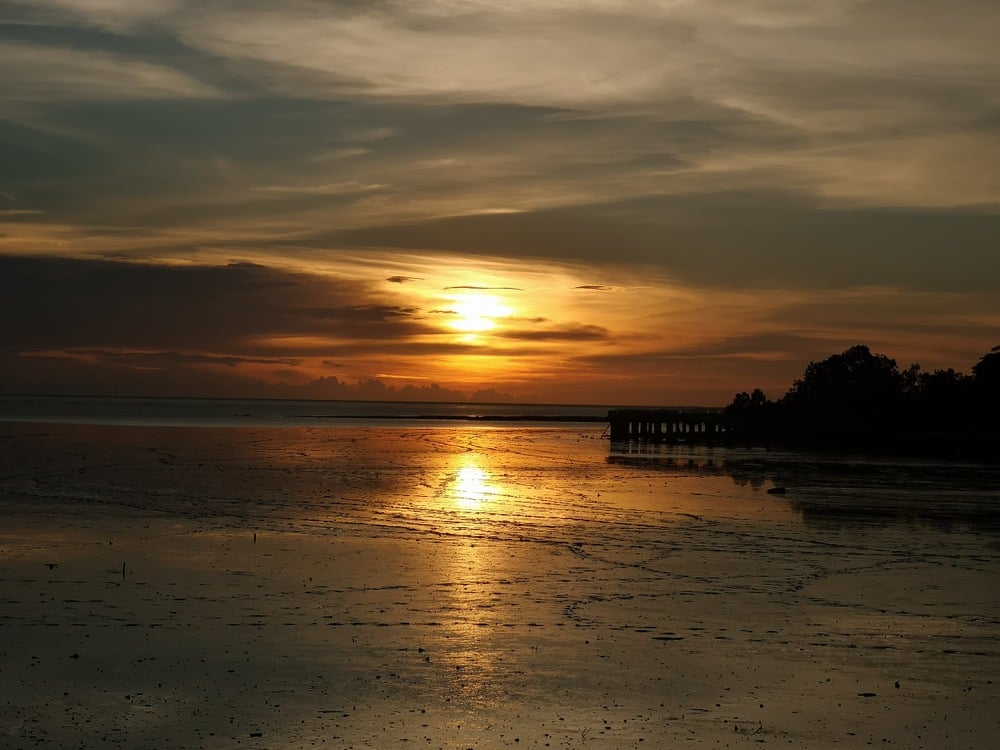 Exciting activities
Wildlife and nature
Eco-tourism
White sand beaches
Why it's awesome: You'll find exciting Medellin northern Cebu. Often referred to as the sugar bowl of Cebu because of a large sugar factory in the locale, Medellin is also a top place for adventure activities and eco-tourism.
There's a great selection of places to stay, many of which offer a peaceful ambiance in a natural setting. When it comes to cool things to do and heaps of fun, Medellin has something for everyone.
What to do there: Take long, relaxing strolls along the scenic seafronts at Kawit and Mahawak, pausing to enjoy the powdery white sands and soak up the views. Explore the underwater world at Discovery Reef.
Cross the series of bridges that connect Medellin with the rocks and islets of Gibitngil Island. Perched atop rock formations, you can also get a buzz with a go on the zip line. For even more thrills, head to Zipaway, an exhilarating eco-adventure park in the hills of Caputatan Norte.
The adventures are reasonably priced and you can soar through the skies on the long zip lines and brave the exciting Tarzan Swing. Ride the cable car for a more leisurely view of the surrounding sugar cane fields and coco plantations.
Perfect your swing and play a few rounds at Mercedes Plantation Golf Course and Country Club, kayak through the mangroves at the pretty Dagusungan River, and enjoy a trip along the scenic Spanish-era Dayhaganon Canal.
If you have more time to spend, you can take a boat trip to Bantayan island which is a beautiful island known for its fishing community. Bantayan island also has some of the most beautiful beaches in the Philippines.
#8 – Catmon – An unknown (but awesome!) place to see in Cebu!
Off the beaten track
Peaceful atmosphere
Family-friendly water park
Quiet beaches and waterfalls
Why it's awesome: Catmon is a blissfully under-visited town in northern Cebu. Despite relatively few visitors including Catmon when they explore Cebu, it's a great place for anyone seeking a fantastic combination of adventures and relaxation, gorgeous views, and a tranquil atmosphere.
Offering something for all kinds of traveller and people of all ages, Catmon boasts beautiful waterfalls, springs, and beaches, as well as a cool waterpark that's perfect for fun-filled family days out.
What to do there: Visit the splendid Ka-Tinggo Falls, a gorgeous hidden gem that will really bring a smile to your face when you travel to Cebu's quiet town of Catmon.
Known to just a few locals, the waterfall is a fantastic place for adventure lovers—you will need to swim, hike, climb, and crawl to reach the natural marvel. The journey may be a challenge but the endpoint is more than worth it!
Cross the suspended bridge and snap stunning pictures, swim in the deep waters, spot an array of nature and wildlife, jump from the jagged cliffs, and go fishing.
Soothe away any stresses and strains in the nearby Esoy Hot Spring, with mineral-rich waters and a calming ambiance. Take the kids to Imelda Aroma Waterpark, where you can enjoy a variety of pools, slides, and other water attractions in a lush, natural setting.
#9 – Moalboal – One of the most romantic places to visit in Cebu!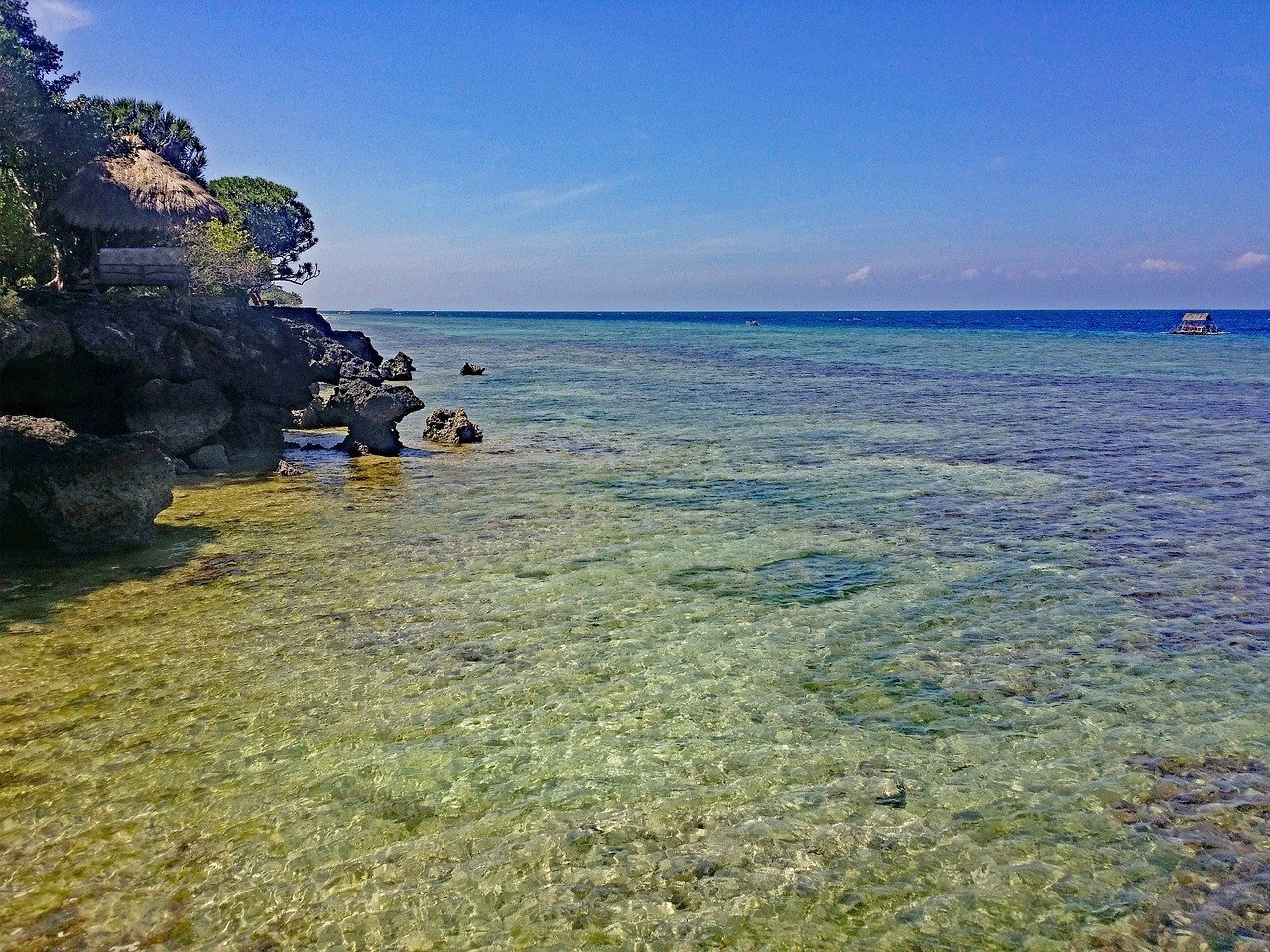 Popular tourist hotspot
Awesome beaches
Good nightlife
Underwater adventures
Why it's awesome: Moalboal is an enticing destination and is one of the best hotspots in Cebu for water lovers. The seaside area boasts splendid beaches and a great assortment of places to eat, drink, and sleep.
It's especially popular with couples looking for a romantic escape. Sitting alongside the Tanon Strait, there's also a diverse selection of water sports on offer.
The nearby Pescador Island (part of the municipality of Moalboal) offers even more underwater fun, and visitors can explore the charming fishing communities after which the island takes its name.
Oh, and did I mention? Moalboal accommodations are the best; rest assured, you're guaranteed the finest stay.
What to do there: Soak up the sunshine and views from Moalboal's terrific beaches. With some of the best beaches in all of Cebu, you can spend hours lazing on soft white sands and swimming in clear, blue waters.
The main beach, Basdaku White Beach, stretches for around a kilometre (0.6 miles), and you can enjoy activities such as surfing, kite surfing, fishing, snorkelling, and boating.
Check out Panagsama Beach to experience the unusual and exciting sardine run, when thousands of small fish frolic in the shallow waters each day, and to spot sea turtles.
Dive and snorkel around coral reefs that are teeming with marine life off the shores of Pescador Island. Dine on fresh and delicious seafood dishes and enjoy the area's beachfront bars in the evening, with both lively and laid-back joints to appeal to different tastes and moods.
Is This the Best Daypack EVER???
#10 – Argao – One of the most underrated places to see in Cebu
Interesting architecture
Local vibes
Huge cave
Scenic waterfall
Why it's awesome: Although easy to get to from Cebu City, Argao is something of an underrated gem in Cebu. It is a terrific place to take a break from the bustle of the city and explore somewhere a bit different to the norm.
Despite being a small and quiet town, Argao has a lot to offer to adventurous travellers who step away from the tried-and-trodden track. The simplicity and slow pace of life really adds to the untouched and undiscovered atmosphere.
There are natural splendours and historic and cultural sites, and visitors can immerse themselves in everyday Cebuano life. The town is somewhat famous for a particular type of cake, and there's a yearly festival to honour the cake's Spanish heritage.
What to do there: Absorb the relaxed air with a wander around the town, and visit the local architectural landmarks. St. Michael the Archangel Church is a Baroque beauty. Built in the 1780s, it has an impressive façade and glorious interiors.
Casa Real (or, Argao City Hall) is one of the oldest city halls in Cebu. Dating back to the colonial era, it's a great place to peer back into the past. You can also travel back in time at Argao Hall of Justice, previously used as a school and accommodation for soldiers.
Call into the quaint Alex Kafe to see a collection of historic memorabilia and enjoy a tasty meal.
Let your eyes adjust to the gloom as you enter the gigantic cave of Balay sa Agta and admire the various rock formations as you make your way along the 480- metre-long (1,574-foot-long) cavern.
Keep your eyes peeled for Macao, a mythical beast said to live in the live! Bats and insects are more run-of-the-mill cave dwellers you might also see.
Plunge into the cooling waters of the scenic Bugasok Falls and take time out to relax at Mahayahay Beach. If you visit in September, you can watch people skimboarding on the small waves. Try the local torta, made using coconut wine.
Get insured for your trip to Cebu!
ALWAYS sort out your backpacker insurance before your trip. There's plenty to choose from in that department, but a good place to start is Safety Wing.
They offer month-to-month payments, no lock-in contracts, and require absolutely no itineraries: that's the exact kind of insurance long-term travellers and digital nomads need.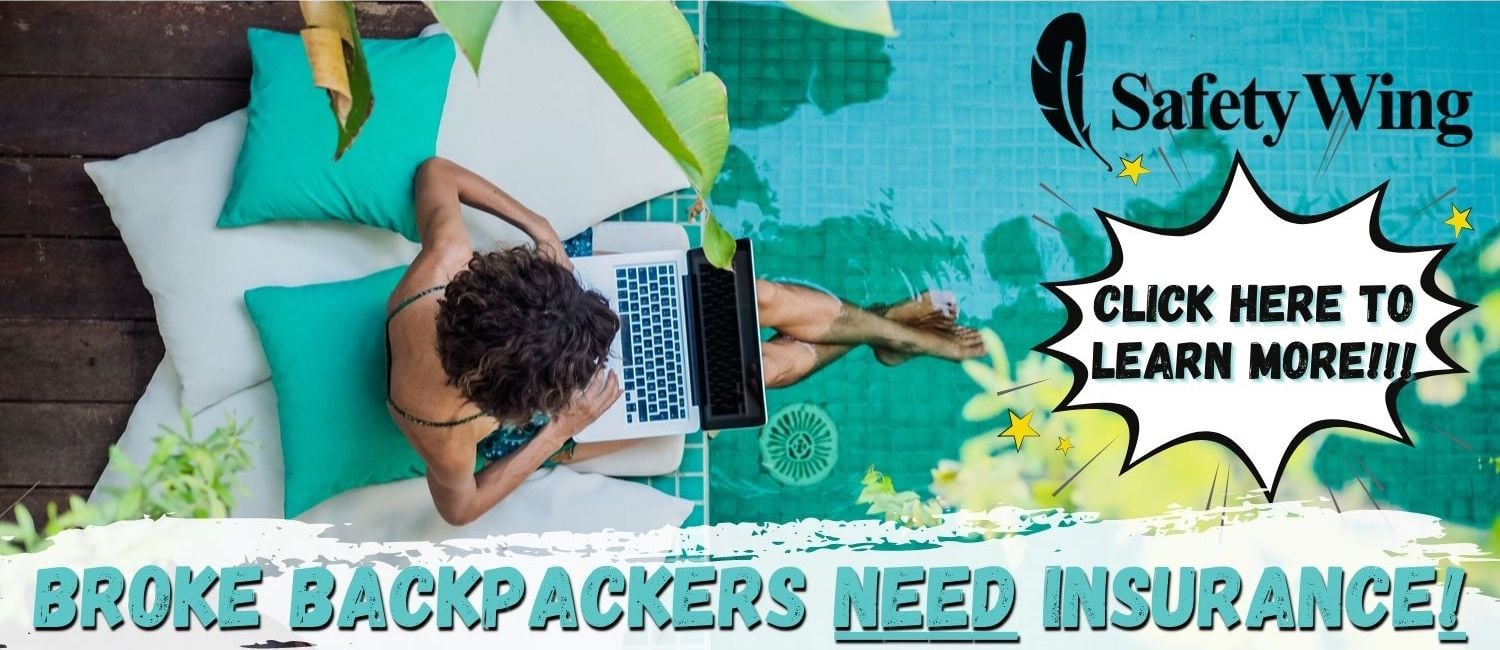 SafetyWing is cheap, easy, and admin-free: just sign up lickety-split so you can get back to it!
Click the button below to learn more about SafetyWing's setup or read our insider review for the full tasty scoop.
FAQ on the Best Places to Visit in Cebu
Find out what people want to know about the best places to visit in Cebu
A few more of the best places to visit in Cebu
Dalaguete is a beautiful and scenic place to check out in Cebu, with several stunning peaks (including the island's highest of Osmeña Peak).
Sibonga offers an olde-worlde vibe and Danao is one of the most religious places to see in Cebu.
Islands like Mactan and Malapascua are perfect places to enjoy water sports and discover the treasures of the ocean deep, while Olango Island is a great place for keen ornithologists.
Samboan has a number of hidden gems, including Binalayan Falls and Ponong Lake.
Whether visiting Cebu alone, with your family, with friends, or as part of a couple, there are many great experiences to be found. Refer to this list of the best places to visit in Cebu for an awesome vacation in the Philippines!
---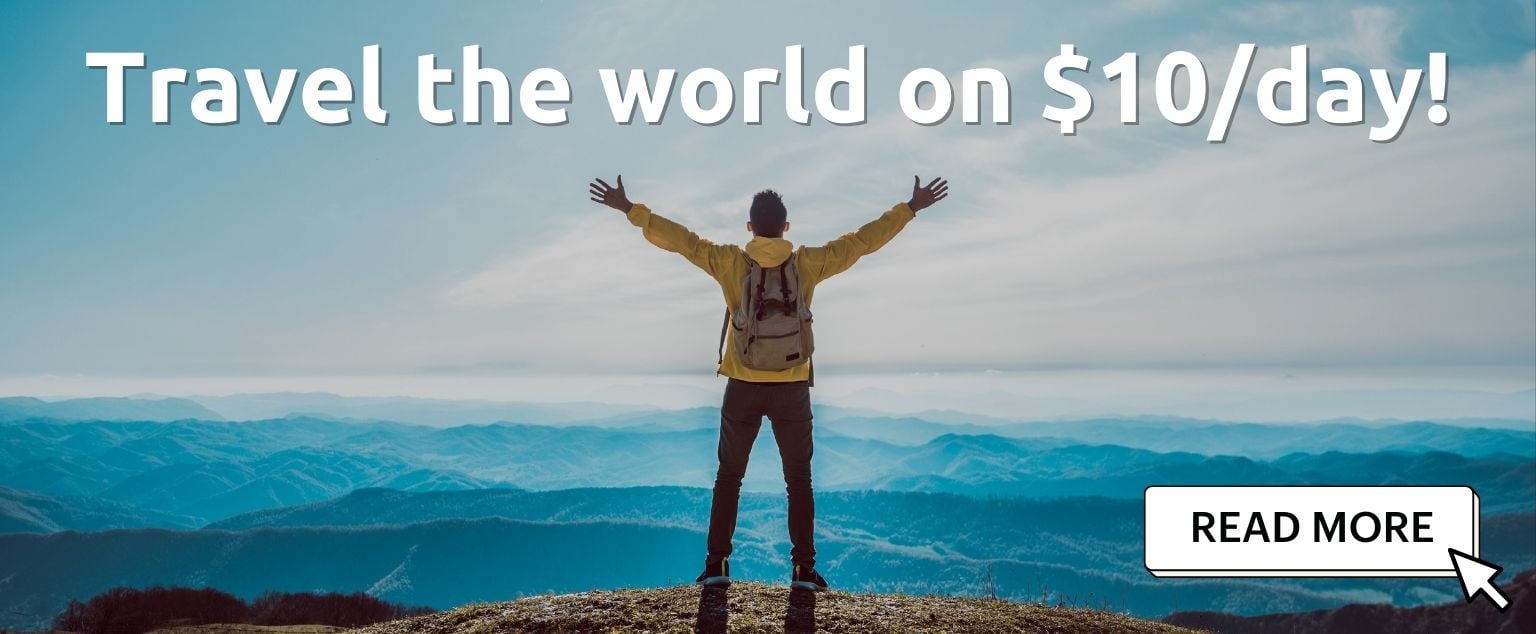 And for transparency's sake, please know that some of the links in our content are affiliate links. That means that if you book your accommodation, buy your gear, or sort your insurance through our link, we earn a small commission (at no extra cost to you). That said, we only link to the gear we trust and never recommend services we don't believe are up to scratch. Again, thank you!