Years of staring at attractive screensavers have left us all craving balmy shores and seawater clearer than Evian. Time to submit?!?
GREAT CHOICE.
The Filipino island of Cebu makes Microsoft so frickin' horny, and heading to this island paradise is an exceptional decision.
But what should you do? Where should you go? And why are you being stroked by a small squadron of genderless dwarfs?
I will be answering 2/3 of these questions in my sensational Cebu Itinerary,  written for the sole purpose of letting you get on with the most important holidaying aspect. Actually enjoying it. 
Let's dive in!
Are you a well-established person of means? A family on a mission to avoid each other? A scruffy tween intent on backpacking southeast Asia like it's the 80s?
Welcome! For I'm about to indulge you in a masterclass of itinerary post planning, filled with the top beaches, Island hopping and places to visit in the whole of the Cebu province…
This itinerary will take you through a sensational 3-days, exploring the very best that Cebu can offer. It's easy to spend a week or more in Cebu, so don't get caught up in the office politics of accidentally on purpose taking some extra holiday. Scuba diving session maybe?
Anyway, this itinerary is bristling, and comes with suggested routes, times and tips for each stop along the timeline. Feel free to swap stuff around, change the timings, whatever, but use what I've written! Just remember an awesome place to stay.
3-Day Cebu Itinerary Overview
So where should I be in Cebu? That is a top question, and one not easily answered, since there are so many gorgeous luxury hotels, relaxing resorts, and hedonistic hostels. Let's see what we can do!
Moalboal is a must-visit on the island. It's where you want to be as a tourist. You'll find picture-perfect beaches, and it's a great base for visits to Cebu tourist spots, like the Kawasan Falls. Most people will head here as soon as they can.
Cebu City is the oldest city in the Philippines. The city may not be as aesthetically pleasing as some of the other parts of Cebu Island, but it's a thriving metropolis in an unexpected region of the world. And while there are tourist attractions and things to see, you won't want to spend much more than a day here. Great Airbnbs though.
Mactan Island is a dream island for underwater enthusiasts. Located adjacent to Cebu City, and connected by bridges, you can find some amazing snorkelling and diving here. Also known as Lapu-Lapu, this island features white-sand beaches, enchanting marine life, and resorts that suit every type of budget, Mactan has everything!
Hostel Seven is definitely at the top of my list when it comes to the best hostels in Cebu! This space is fun and comfortable and suits every type of traveller whether you're alone or travelling with your whole family. There is a mixture of shared dorms and private rooms to choose from. There is a 24-hour Bar and Kitchen, with a casual rooftop lounge for you to chill and melt the afternoons away.
This absolutely stunning Airbnb is the perfect place for your first stay in Cebu. Located centrally, yet in a quiet location, you can walk to the main hot spots in no time, while also being able to enjoy a good nights sleep. The condo is modern and designed in a Japanese style, has an amazing view of the city and gives you access to the rooftop gym as well.
Free wifi? Desk? Hairdryer? Awesome. Yes, my best-budget hotel has the essentials, and more! In seriousness though, this is actually a top place. It's only 3 minutes from the Ayala Center Cebu, and a selection of great restaurants. If you want a comfortable, air-conditioned stay that comes at a budget price, then look no further than the Hop Inn Hotel in Cebu City!
Rooms are surprisingly bright, and guests are provided with fantastic front desk service if they're in need of anything!
Radisson Blu Cebu is located right in the heart of the thriving Cebu City near to SM City Cebu Mall. Sprawl out at the outdoor pool, treat yourself to the spa and enjoy professional cuisine at the 3 different restaurants offering authentic Filipino and international dining! The Historical attractions, Magellan's Cross and the Basilica Minore del Sto Niño, are only a 30-minute drive away. The Rooms feature panoramic views of the city as well as the charming Mactan Harbor. After a long day in Cebu's warm sun, you can enjoy cocktails at The Pool Bar and enjoy the company of other guests!
Fantastic, we've done the excessively long intro. It's time now to start munching the main course. My almost-perfect Cebu Itinerary…
The Sirao Garden | Mountain View Nature Park | The Temple of Leah | The Kabang Falls | Cebu Taoist Temple | The Carbon Market
To get you warmed up, I've collected the very best in and around Cebu City. There's a lot to explore, and it'll give you a great taste of the culture on offer here. Prepare for a top-tier Cebu City day!
You should make the journey to Moalboal in the evening, so book accommodation there!
8:00 am – The Sirao Garden
Okay, for this one we're going to need you to be a little spritely. Located around half an hour from Cebu City, this is the largest journey you'll make in the day, and slowly wind your way through an excellent array of attractions back to the city.
The Sirao Gardens are dubbed the 'little Amsterdam' of Cebu and are a fantastic insta-worthy spot on the island. It comes with amazing mountain views, pretty flowers, and some generally more questionable attractions (like windmills). If you love pretty places and snapping sensational photos, then this is a great first stop on your Cebu itinerary.
The road here is generally considered a little bit dodgy, but many people do it every year! If you're driving yourself, remember to take extra care. There's a viewing deck too.
Cost: 100 PHP for adults, 50 PHP for children under 10
How long should I spend there: Around 1 hour
Getting there: Taxi or hire car from Cebu City. It's about a 45-minute drive, so this is an early one!
9:30 am – Mountain View Nature Park
You must be hungry! Time to grab some breakfast at the Mountain View Nature Park Resort!
The epic landscape on Cebu Island has attracted people from around the world. Mountain View Nature Park is tucked in Cebu's mountainside and in a popular area called Busay. As the name suggests, you will see some of the very best views in the whole of Cebu from Mountain View Nature Park!
Busay has become renowned for its awe-inspiring natural beauty. It is enveloped with indigenous fauna and flora, waterfalls, natural pools and wildlife, encapsulating the magic that mother nature provides. From the mountaintops of Busay, you can see a panoramic view of Cebu City and the surrounding towns.
Cost: Entrance is 100 PHP ($1.80 USD) for adults and 75 PHP ($1.50 USD) for children
How long should I spend there: Around 2 hours should be enough to see it all and get some food.
Getting there: Car back through the hills. Organise with your original taxi driver if you can!
11:30 am – The Temple of Leah
Next up is the unbelievable Temple of Leah, only a 7-minute walk from the previous attraction! This is one of the top architectural constructions on the island. Very Cool!
The Temple of Leah was originally constructed in 2012. It's a new building that tells an ancient story! The temple has been built as a shrine to symbolize the undying love and ceaseless devotion that Teodorico Soriano Adarna has for his late wife of 53 years, Leah Villa Albino-Adarna.
The temple was designed to look timeless, channelling the Greek and Roman styles. It is intended to last the ages, hopefully, this beautiful structure does.
After you've seen the Temple of Leah, head up to "La Vie in the Sky restaurant" for some unreal views across Cebu city whilst you eat lunch. If you fancy something cheaper, there are loads of great options around!
Cost: Entrance is free
How long should I spend there: It shouldn't take more than an hour to see.
Getting there: Walk down the hill from the last stop! 7 minutes. I promise.
1:30 pm – The Kabang Falls
What does everyone need after lunch? A nice hike! Yes. Feel free to switch this out with the Terrazas de Flores Botanical Gardens for a much more relaxed post-lunch experience.
Kabang Falls is a must-see attraction that is found within Budlaan in Cebu City. One of the intriguing parts of this stunning waterfall is that it is only accessible from the city.
Reconnect with nature by hiking up to Kabang Falls. Once you arrive it's so much fun to just dive into the fresh water and laze on the rocks, soak in some sun and refresh yourself after a long day with the soothing surroundings of nature and the flowing energy of the waterfall.
Insider Tip: Pack water with you the weather is hot here and you will want to stay hydrated!
Cost: The habal-habal ride will cost around 70 – 75 PHP ($1.70 USD)
How long should I spend here? Around an hour and a half. Bring some snacks and a drink? Don't litter.
Getting there: It's a 13-minute drive from the Temple of Leah. Taxies are pretty easy to grab around there!
3:30 pm – Cebu Taoist Temple
Check out some amazing Chinese architecture at the Cebu Taoist Temple. A truly awesome place to hang out!
Many Chinese temples have beautiful gardens and placid streams, but the Cebu Taoist Temple will also greet you with an eye-catching giant dragon! The dragon is a famous symbol in China for its good luck, strength, and power. This important building was erected by Cebu's substantial Chinese community back in 1972, and is composed of two gorgeous temples!
The two temples here are the Phu Sian Temple (which unfortunately is not open to the public), and the Main Temple that is a little walk to get to, being 270 meters above sea level. There are 181 steps leading up to the temple. These steps were originally made to represent the 81 scriptures of Taoism.
The entrance to the temple is a replica of the Great Wall of China, and within the serene grounds you will also find a library, church, and souvenir shop. Inside the temple complex you will have a chance to watch a performance of rituals and learn more about this unique culture and religion found in this area of the Philippines.
Insider Tip: If you arrive on a Wednesday or Sunday, watch out for the step-climbing ritual that the devotees go on!
Cost: Entrance is free
How long should I spend there: 1 hour or less
Getting there: Take a taxi back towards town. It should be around a half-hour drive
4:45 pm – The Carbon Market
Join this uber-vibrant and happening market. The Carbon market is a massive conglomeration of all different types of friendly vendors all selling unique and fascinating goods. This market has become a major tourist destination because of the many choices offered and the extremely inexpensive and beautiful souvenirs provided.
The Carbon Market is over 100 years old and named after the nearby Coal depo. The current location of the market used to be the final station of the railway line, where the "coal mountains" once used to power the steam engines were stored.
Here you can enjoy a variety of products, services, and cuisine. It is a typical Filipino market, so the items offered range all the way from fresh fruit to handcrafted local artwork. Make sure to try out the Filipino food at this market, as you will not get a more traditional experience of Cebu's flavours. One of the most fun ways to travel around this market is to take a ride on the "karetela", which is a local horse carriage that tours around the market!
Make sure to grab some dinner, and then head over to Moalboal for tomorrow's adventures! It's a long drive, but if you leave at 7:30, you should arrive for 10:30 and have an hour to relax before a big next day!
Cost: Entrance to the market it free.
How long should I spend there: around 1 hour should be enough time.
Getting there: Taxi from the Cebu Taoist Temple. It's around a 20 minute car journey.
Osmeña Peak | Kawasan Falls Canyoneering | Kansanto Spring | Panagsama Beach | White Beach Moalboal
Moalboal is very special. Today is about swimming with tons of fish, jumping into stunning pools, and enjoying exactly what all great holiday islands should be known for…
I'm still going to exhaust you.
7 am – Osmeña Peak
This is one of the most beautiful places on the entire island, so it's no wonder that it's made it onto my list!
Excusing the early start, head up into the mountains and ascend to just over 1000 metres above sea level.
The trek takes between 20 and 30 minutes, so it's suitable for all ages, and the views are just sensational!
This is an early start, after a full day, so don't worry if you fancy lying in! However, this viewpoint is actually very special. Don't miss Osmeña Peak if you have the time! Sunrise is best. Packing breakfast could be a great way to refuel and enjoy breathtaking mountain scenery at the same time.
Cost: 30 PHP (~$0.80 per person)
How long should I spend there: Around 1.5 hours
Getting there: It's close to an hour's drive from Moalboal. Enjoy the early wake-up!
10:30 am – Kawasan Falls Canyoneering
What better way to spend a day than canyoneering in the Philippines? This half-day activity beats the heat and will show you some of the prettiest water features on the island.
The landscape has changed significantly following Typhoon Odette, but it is still possible to explore the crystal pools and stunning waterfalls of the area.
This activity usually starts in the morning and finishes with lunch. Make sure you've got enough energy before embarking upon this superb Cebu adventure! Definitely pack a chocolate bar or two. The Kawasan Falls are gorgeous, and interacting with the surrounding natural environment will get you even hotter for the Filipino scenery…
Cost: Around $30. If you just want to see the falls, the price is under a dollar.
How long should I spend there: 4 hours (half a day)
Getting there: It's another hour's drive from Osmeña Peak sadly. But that will give you time to relax, and maybe brekkie on the move?
3:30 pm – Kansanto Spring
Heading back up the coast, we have the amazing Kansanto Springs (In case you hadn't had enough of beautiful water features).
This pool is a great place to hang out and have a beer, then investigate the three other pools which are used for fish farming.
There is a bar and lots of tourist/ holiday accommodation around the pool, so it's very much a known spot. If you fancy staying here for the night then do! It's easy to be stunningly exhausted at this point…
The pools are simply a nice break on the return journey. If you want to get back to Moalboal and go for a dive or head to the beach, don't impede your journey with a stop here.
Cost: 40 PHP (under $1)
How long should I spend there: Around an hour
Getting there: It's a 20-minute drive from Kawasan Falls.
5 pm – Panagsama Beach
Arriving in the late afternoon, exploring the weirdness of Panagsama beach is a must-do from Moalboal, and should be part of every top Cebu itinerary.
Why is it weird? Because there is a distinct lack of sand…
But it is still awesome because the snorkelling here is next level. The Maolboal sardine run can be found here, which is a definite once-in-a-lifetime experience!
Panagsama Beach has a range of tasty restaurants, luxury hotels and bougie resorts (one of which you may be staying in), so if you want to grab dinner here I would not blame you! You can also join dive tours, so if you're a forward thinker, jump onto a Panagsama Beach scuba diving experience!
Cost: Free, unless you want to go diving.
How long should I spend there: Around 2 hours
Getting there: It's a half an hour's car journey from the Kansanto Spring.
7 pm – White Beach Moalboal
Just in time to catch an extraordinary sunset, head to White Beach Moalboal for some relaxation on the beach and a stunning evening meal.
Locals often flock to White Beach, since it is one of the only beaches in the area with an actual contingent of sand. this means it can get quite busy during the daytime.
Thankfully, I've picked a time when it should be a little less busy, and there is a range of great restaurants to choose from if you are hungry. The snorkelling on White Beach is pretty good too, but you will most likely miss the chance to do this. Relax, enjoy a beachside supper, and mentally prepare yourself for another super full day tomorrow…
Cost: Free! Dinner can range from pretty much free to hideously expensive
How long should I spend there: Around 2 hours
Getting there: It's a 15-minute drive from Panagsama Beach
Ferry to Tagbilaran City (Bohol Island) | Hinagdanan Cave | (The Kangcaramel Cave) | Bilar Man-Made Forest | Tarsier Conservation Area | The Chocolate Hills
The exquisite island of Bohol makes for an exceptional day trip! Home to the Kawasan Falls, the Kangcaramel Cave and, of course, the Mundong Sandbar, you can easily fill up a day…
9:00 am – Ferry to Tagbilaran City (Bohol Island)
The first order of the day is to make your way over to Bohol Island. Part of the Cebu province, this is another large island that contains a sensational collection of great things to do. A Cebu trip without Bohol is only half finished (sorry people).
You will have to make your way back to Cebu City, which will take around 3 hours from Moalboal. You can do this in the evening of the second day, or the morning of today, the third day. Ferries go regularly, and take between 1.5 to 2 hours. Booking is pretty simple, and the ferry isn't expensive (costs about $17 per person). You should be able to arrive on the Island before midday. It's a necessary evil to explore the brilliance of the Kebu region!
Cost: Around $17 per person
How long should I spend there: 2.5 hours
Getting there: Drive to the Cebu Port, and hop on a ferry! You can grab the intercity bus (MoalBoal to Cebu City) and then take a taxi to the port if you want to cut costs.
12:00 pm – Hinagdanan Cave
So you've arrived in Bohol. You've had breakfast on the boat, or presumably at some point during the morning. Now your cultural appetite needs attending to!
We start the day with the Hinagdanan Cave system, which is lit by holes in the cavern roof. There are great samples of stalagmites and stalactites, and there is an underground lagoon in which people used to bathe.
The pools are no longer fed from clean sources, and the water sadly often tests positive for a number of pollutants. This is the Phillippines though, so that doesn't mean you can't swim (for an extra 75PHP).
However, the cave themselves offer ample intrigue and interest to provide the morning's first sightseeing milestone! So despite the slightly dirty water, this is still a great place to visit.
Cost: Entry is 50 PHP (~$0.90)
How long should I spend there: 1 hour or less
Getting there: It's a 20-minute car journey (or less) from the ferry port. There are many restaurants, coffee shops etc. if you need to refuel too!
1:30 pm – (The Kangcaramel Cave)
If you're feeling the cave vibes, why not stop for lunch at the Kangcaramel Cave? (or substitute for the Hinagdanan Cave)
There is a fantastic cafe and garden, and it can nicely break up your Odyssey to the chocolate hills…
A significant bat population is at home in the cave, so if you're a budding wildlife connoisseur, this might interest you! Whilst the bats aren't too active in the daytime, it certainly adds a layer of interest to the cave system.
There is a flower farm on-site, and an aviary, which makes this much more than just a cave! Hang out and take some sensational photos in this super bizarre part of the island.
It's definitely worth having a beer and checking out the flower garden at this brilliant tourist attraction. it's also relatively unknown, so you won't have to worry about hoards of tourists!
Cost: 150 PHP (~$2.70) with bar freebies
How long should I spend there: Around an hour
Getting there: 30-minute drive from the Hinagdanan Cave.
3 pm – Bilar Man-Made Forest
As part of a reforestation project, the local government created the Bilar Man-Made Forest!
Whilst not superb for biodiversity, since nearly all the trees are mahogany, it is a stunning place to visit in Cebu and is a very wholesome visit.
The forest stretches for over 2km and is a tunnel of trees that surrounds the road. Because of the uniform nature of the tree line, it's a place that is constantly used in films, photographs and Instagrams! Watch out for other tourists who come here, as it can get pretty busy. This means the roads are usually slow, as people slow down to take it in.
Cost: Free
How long should I spend there: no more than an hour
Getting there: It's an hour's drive from the Hinagdanan cave or 45 minutes from the Kangcaramel cave.
4 pm – Tarsier Conservation Area
Tarsiers are incredibly cute, furry, and adorable. However, they are nocturnal, so don't expect them to be super active!
These adorable critters are the symbol of the Bohol province, and multiple sanctuaries have been erected throughout the isle in order to preserve their populations.
The Tarsier Conservation Area imposes rules in order to prevent animal disturbances, so turn off your flash, finish your conversations, and don't touch them! They're nocturnal, so it is super unhealthy for them to be woken up.
There are various souvenirs and treats to be had, so if you need some refreshments, don't hesitate! I know for a fact you can get fresh coconuts when you arrive.
Cost: 90 PHP (~$1.70)
How long should I spend there: Around 1.5 hours
Getting there: It's just up the road from the Bilar man-made forest! 5-minute drive
6 pm – The Chocolate Hills
This is what you really came for! Sunset at the famous Chocolate Hills!
There are at least 1,260 of these amazing formations, although the true number may be closer to 1,700! You'd have thought someone would have counted them by now, but I guess that's part of the mystique.
The name "Chocolate Hills" comes from the fact that they lose their colour during the dry season, leaving them a chocolatey brown colour. In the wet season, you won't get the full brown experience, but that doesn't mean that they aren't still strange to behold!
These truly amazing geological formations have often been dubbed "the eighth wonder of the world" because they are so incredible!
There is a viewing deck that is worth ascending for a proper view over the majority of the hills, and the site comes with a restaurant for a spectacular chocolate Hills sunset dinner. Nice
Cost: Free (viewing deck is 50 pesos or ~$0.90)
How long should I spend there: Around an hour, or 2 hours if you want to stay for dinner!
Getting there: It takes about 45 minutes to drive from the Tarsier conservation area
So you're sticking around? Our first piece of advice; chill out on the beach. Take it easy. Then check out these tasty extras!
Cebu Provincial Museum – The Museo Sugbo
The Museo Sugbo is an excellent sight as well as a truly exciting museum! You can venture the massive gallery that is full of both ancient and modern artworks, and admire the sturdy old coral-stone material that was used to create the building.
Originally, this eye-catching and beautiful structure was Cebu's provincial jail from 1870, and it was only recently transformed into a museum in 2004. Each of the rooms is now dedicated to the different eras in Cebu's long and captivating history.
This place that was once called "Carcel de Cebu", the provincial jail of Cebu, has now become a thriving and entertaining Cebu Provincial Museum.
Cost: The entrance fee is 75 PHP ($1.50 USD)
How long should I spend there: You could spend anywhere from 1 hour to 3 hours there, depending on how much you like history.
Getting there: Cebu City. There is a bus stop right outside called the Museo Segbo!
Jumalon Butterfly Sanctuary and Art Gallery
The Jumalon Butterfly Sanctuary was built in 1974 by a passionate Cebuano artist by the name of Julian Jumalon. Whilst he was still alive, he planted many varieties of plants food in his garden that now attract these rare beauties. This garden has now become one of the most gorgeous butterfly havens in the world, and boasts the oldest butterfly collection in the Philippines!
Whilst walking through the park, you'll experience a unique and vast garden that provides you with the chance to see all different types of butterflies in a natural spot where they are free to flutter about flaunting their vibrant and eye-catching colors!
Along with the magical experience of the butterfly haven itself, you can also indulge in modern art at the Jumalon Art Gallery or even browse the museum. Learn about each rare breed of butterfly, its story and its origin. These beautiful creatures are majestic and are sure to captivate you as you relax in this paradise.
Cost: Entrance fee is 50 ($1) for adults and 25 (50 cents) for children.
How long should I spend there: Around 2 hours
Getting there: Taxi, or the University of San Jose Recoletos bus stop is right outside.
The Crown Regency Sky Adventures
Fun in the sun has never been quite so exhilarating! Whether you go during the day, or even during the night whilst the stars are out, you will not be disappointed by this once-in-a-lifetime view and experience! This adventure will take you high up into Cebu's sky to see the city from a bird's eye view.
This experience will have your heart thudding as you will be 126.55 meters up! You can also brave the skies by going on the Tower Zip that takes you across two buildings – the country's first and only urban zip line! The views are outrageous, so it is well worth taking the leap.
For a more chilled and less gravity-defying experience, you can simply go to the 6D movie theatre. It is an in-your-face thrilled adventure complete with rain, wind, bubbles and motion seats to blow you away. After your movie, be sure to check out the Blacklight mini golf course.
Cost: Entrance fee is from 250 PHP ($4.80 USD) to 1150 PHP ($22 USD) per person.
How long should I spend there: Around 2 hours
Getting there: Taxi, or the University of San Jose Recoletos bus stop is right outside.
Fort San Pedro
Travel back in time to Fort San Pedro, built by the Spanish in the 1730s to defend the city against Muslim attackers. You can see items salvaged from a shipwreck in the small museum in Fort San Pedro too.
It is the oldest bastion fort in the Philippines and served as the heart of the first Spanish settlement in the country, before it was taken as a Filipino stronghold during the Philippines Revolution in the 19th century.
The fort is not huge, but it's one of the most important historical landmarks in the city.
Cost: The entrance fee is 30 PHP ($0.57 USD)
How long should I spend there: 1 hour should be enough to see it all.
Being a tropical destination, there is no real cold season as the temperatures are pretty much always high.
From December to February, the weather is at its most pleasant. The sun is consistently shining and the ocean waters are warm. May is the hottest month with the sun hitting its peak, so watch out for extremely hot temperatures, that even last into the night.
Typhoon season is between July and September, you might want to skip these months. If you are keen to watch some of Cebu's most beautiful big storms, then visit during October, which is Cebu's wettest month! After October the rain takes a break and it starts to get very dry during April.
Located in the central part of the Philippine archipelago, called the Visayas region, Cebu island consists of the main island and 167 other islands and islets. The island of Cebu itself is long and narrow with coastal plains, vast stretches of rolling and rugged mountain ranges!
In Cebu City you will find that the public transit is made up of taxis and motorbikes, prices are super cheap and it is an excellent way to easily get yourself from place to place! If you enjoy walking, that is easy to do here and you will get a chance to experience street stalls and local life.
If you want to venture further afield, you can take taxis or hire a car. I recommend hiring a car, as the island is quite big and it will make life a lot easier for you to get to the main Cebu tourist spots. You can also use Grab to hire cars and motorbikes. For long distances, it's best to book your transfer in advance.
If you're planning to visit the islands, ferries can take you across to Bohol, Pescador Island, Malapascua Island etc, but they are usually once or twice a day. It's best to check the ferry times in advance rather than rocking up and expecting a boat. Of course, you can book private boat tours too, which are usually not too expensive.
It's also worth noting that Mactan Cebu International Airport is on Mactan island, and not Cebu City. If you are arriving late at night, you should make sure to have transport to your hotel booked beforehand so you don't end up paying a big taxi bill.
Filipinos are by and large, very friendly and helpful and crime against tourists is rare.
Some taxi drivers in Cebu will try to rip you off by taking you the long way to your destinations, so I suggest that you get familiar with the map so you know if you might be going off track. Make sure that you discuss and agree on the cost of your trip before accepting the ride.
Snatch-and-grab happens in a lot of famous tourist destinations, and so it is a good idea to pack your things in a backpack that has a lock or to keep your handbag safely and firmly in your hands when walking down local streets.
The children in Cebu are often forced to beg, and sometimes it can get quite excessive. Although I know how heartbreaking it can be, I suggest that you do not give in. Politely say 'No.' If you're worried about safety, follow these helpful tips:
Don't travel in a taxi alone, always try to find someone to come with you. If you stay in a hostel, you'll be sure to make some friends.
If you're visiting the beach, keep an eye on your belongings when swimming and don't leave them too far away from the shore.
It is generally quite safe to walk around popular areas at night, but keep an eye out for dodgy characters.
Our guide to staying safe when traveling is full of basic good hints and tips and is well worth taking the time to read.
World Nomads' mission is to support and encourage travellers to explore their boundaries. They offer simple & flexible travel insurance, and safety advice to help you travel confidently.
They've been doing it since 2002 – protecting, connecting, and inspiring independent travellers just like you.
Get a quote below or read our in-depth review!
World Nomads provides travel insurance for travelers in over 100 countries. As an affiliate, we receive a fee when you get a quote from World Nomads using this link. We do not represent World Nomads. This is information only and not a recommendation to buy travel insurance.
Here's what we're usually asked by people planning their classy Cebu getaways…
Backpacking Cebu on a budget is an unforgettable ride. Cebu is a destination that can be enjoyed by tourists from all walks of life and all over the world! This Complete Cebu Travel Guide will make each and every day of your Cebu trip an eye-opening and exciting journey!!!!
Cebu has an unending array of scenic, tropical, and heart-stopping beautiful adventures just waiting to be had by you!
---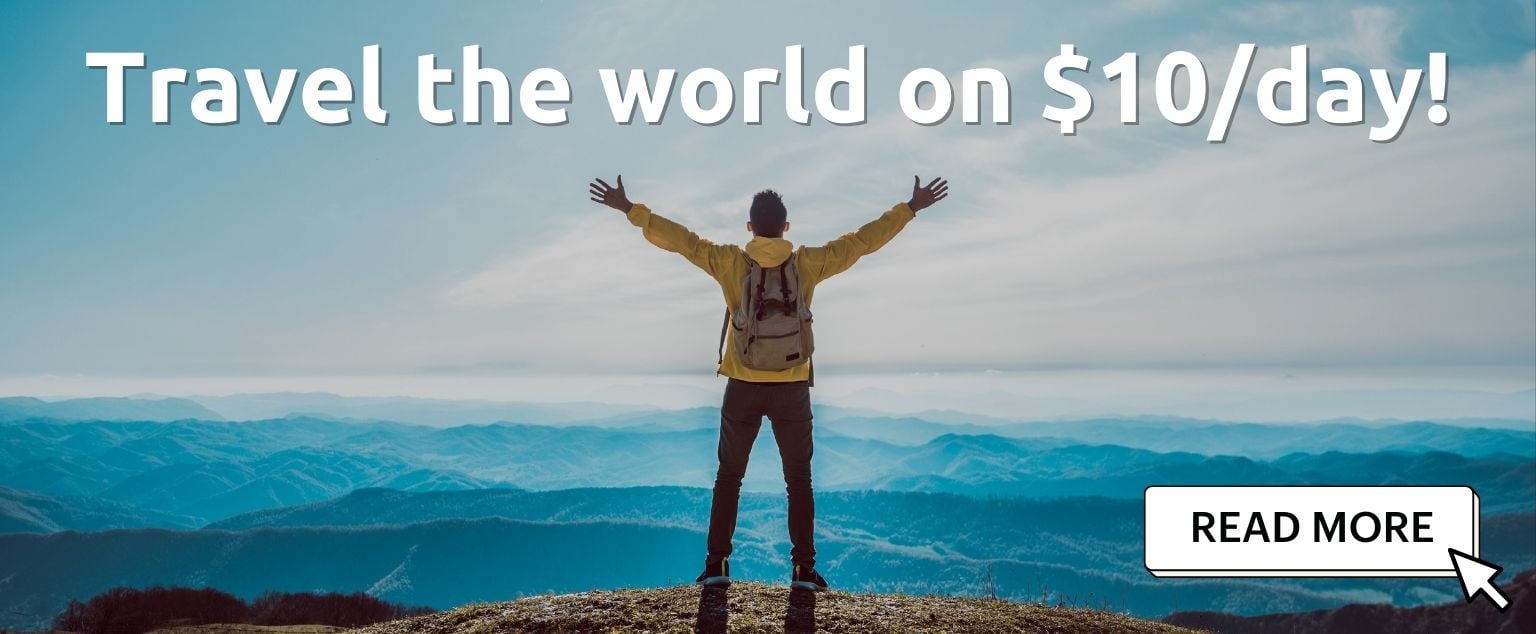 And for transparency's sake, please know that some of the links in our content are affiliate links. That means that if you book your accommodation, buy your gear, or sort your insurance through our link, we earn a small commission (at no extra cost to you). That said, we only link to the gear we trust and never recommend services we don't believe are up to scratch. Again, thank you!