The Philippines is a destination overflowing with once-in-a-lifetime kind of adventures just waiting for you! It has so much to offer every type of traveler and is bound to make your dreams for that perfect island-style holiday come true. One of the most unforgettable places to visit in the Philippines is Boracay!
Although the island is small, it is jam-packed with thrilling water sports, idyllic beach escapes, vibrant nightlife, and magnificent Filipino cuisine.
This central paradise within the Philippines pays tribute to the saying 'dynamite comes in small packages! Our epic Boracay itinerary will make sure you make the most of your time visiting this oasis of never-ending fun and exploration.
Be prepared for a Boracay trip full of sunshine, laughter, ultimate relaxation, exploration and more!
A Little Bit About This 3 Days in Boracay Itinerary
This Boracay itinerary is full to the brim with unforgettable experiences that will have you feeling on top of the world as you adventure around this famous paradise! You will come to understand how this small island has become such a big part of backpacking the Phillippines.
In terms of getting around and finding your way to each spot, you are in luck! There are plenty of options available to you, and we will discuss some options to consider when planning a trip to Boracay.
One of the best ways to get around Boracay is to walk! This gives you the chance to take in the little things and appreciate the laid-back atmosphere. Due to the size of the island, it is very easy to find each destination only a few minutes' walk away from the next!
If your next spot is further than walking distance, then you can always hop on a tricycle! These are motorized taxis that are used all around the island and are very affordable. As it is the most common form of transport on the island of Boracay, you will find them just about everywhere!
If you want to explore on your own time and get some exercise done, you can hire a bicycle and scale the most beautiful places the island has to offer on your own wheels. This is a fantastic option for groups or pairs of tourists, and you will then have the freedom to do your ow
3 Days in Boracay Overview
Day 1 in Boracay: Helmet Diving, Diniwid Beach, Bulabog Beach, White Beach
Day 2 in Boracay: Ilig Iligan Beach, Mermaid Swimming Academy, Puka Shell Beach, Bat Caves, Tirta Massage
Where To Stay In Boracay
Boracay is a mere 7kms long and 500m wide, but it is one of the Philippines ' top tourist destinations! Finding the best place to stay in Boracay in 3 days is a vital component of planning your adventure! Do you want to be further inland for the jungle and landscape opportunities, or are you looking to be smack bang on the island's famous beaches?
The most booming and popular place to stay in Boracay is White Beach! This area has everything you're looking for if you want to have an action-packed, true island escape! This part of the island has been broken up into 3 sections, White Beach Section 1, 2, and 3. The most prevalent area for those looking for luxury, with a twist of a happening nightlife, is Section 1.
If you're looking for more of an active space, then Section 2 is for you! This space is full of cheaper lodges, as well as the Island's D'Mall Shopping Center and a host of beautiful bars and restaurants! For those wanting a more secluded and peaceful island-style holiday, then look no further than Section 3.
Staying here is cheap, and you will be surrounded by tranquil natural surroundings with only a few beachside bar options available (if you're looking for some nightlife action)! This is also a fantastic spot for those sticking to a tighter Boracay budget.
The best place to stay in Boracay with your family is hands down Diniwid Beach! The waters are placid, clear and shallow – making them perfect for families with toddlers. The area is also framed by high, craggy cliffs that make for a very scenic backdrop!
Whether you simply love hostel accommodation, or if you're on a Boracay budget trip – you can get the best of the island lifestyle at Frendz Resort and Hostel! This magnificent spot is family-run and has won multiple awards. A happening spot for all types of travelers, offering free pasta nights with live music every Wednesday and Sunday.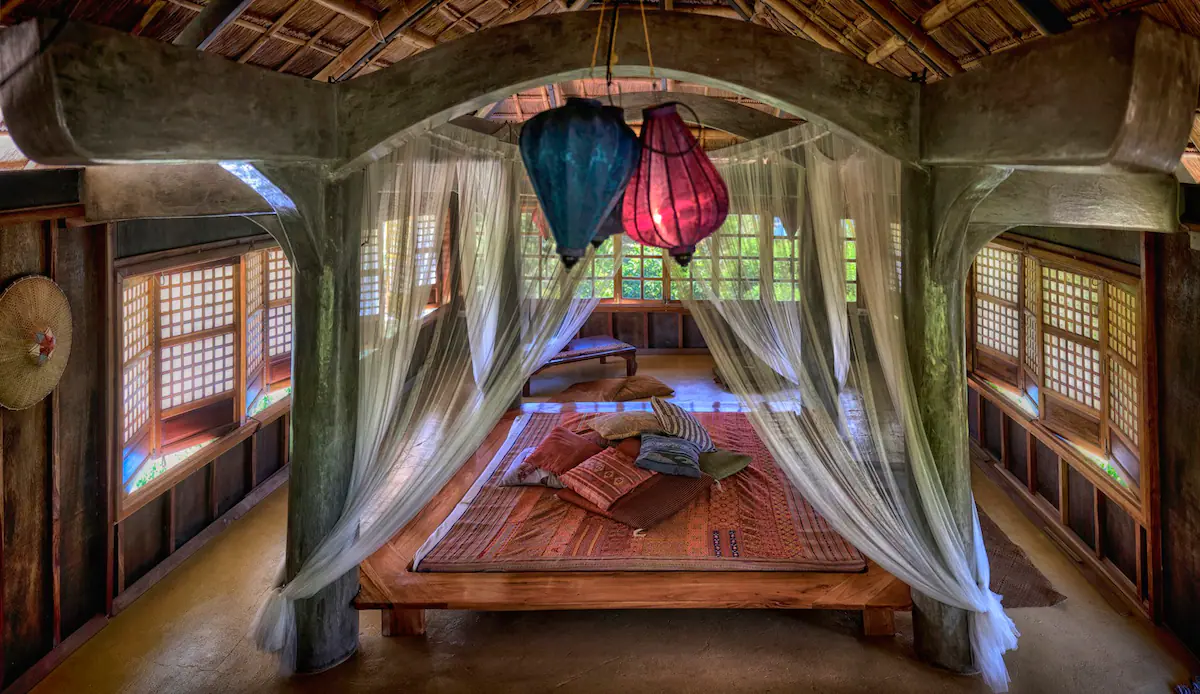 Located on Tablas Island, you can easily reach this jungle paradise from Caticlan Jetty Port.
Best Luxury Hotel in Boracay – Coast Boracay
Coast Boracay is an extravagant island-side hotel that rolls out the red carpet for their guests! With remarkable facilities, an outdoor pool, onsite bar and restaurant, this is the place to be for those looking to up the luxury accommodation on their Boracay itinerary. Enjoy a brilliant location, close to all major Boracay landmarks, and lap up those sun rays in the process!
Get ready for a day of beach exploration and sandy shoes! Your 3 day Boracay itinerary will ensure you live up the beach life that this island promises its visitors. Travel to the most beautiful and popular beaches, and spend your day soaking in those good vibrations that will melt your stress away like butter!
9:00 am- Go Helmet Diving
Helmet diving is one of THE most unique things to do in Boracay–it's not very often you have the opportunity to dive without really diving.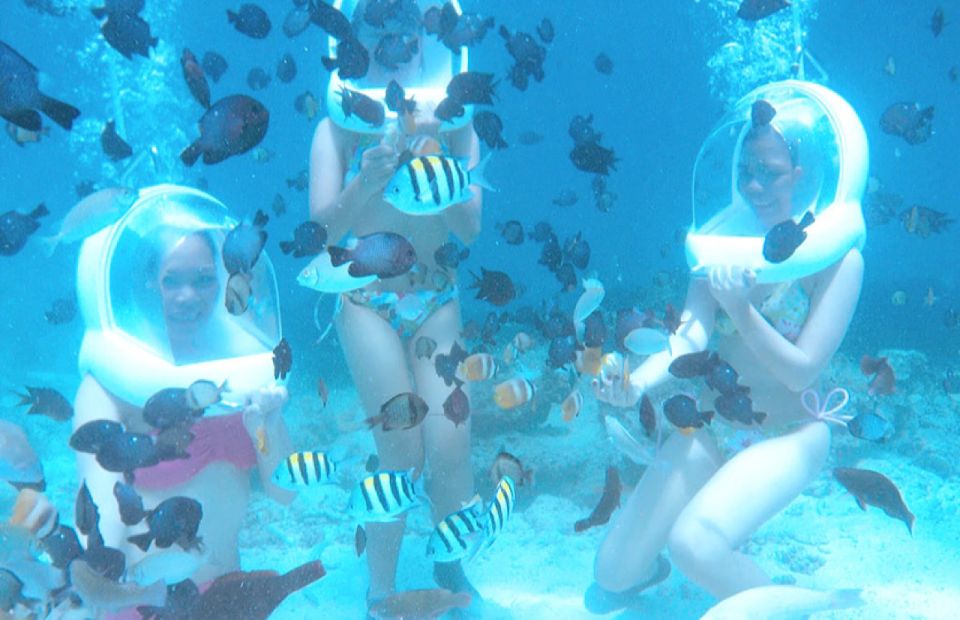 Somewhere in between snorkeling and diving, the 25 km helmet allows you to interact with sea life in a brand new way. Enjoy Boracay's epic marine life with a PADI certified local diver.
You can also book this experience from locals in and around Stations 1+2, but booking online guarantees a spot!
Cost: $24
How long should I stay here? The experience lasts 20 minutes
Getting there – You'll either select your meeting point or the local tour company will direct you where to go
11:30 am – Diniwid Beach
This beach is one of the most underestimated hidden gems of Boracay! The stunning atmosphere and scenery of this beach will absolutely astound first-timers, and for those of you returning to this spot for a second time, we know it will never lose its spark!
This beach stands out from all the other gorgeous beaches on the island, as it is truly a one-of-a-kind slice of heaven! It has one of the most admirable and beautiful natural landscapes and is surrounded by breathtaking hills, cliffs and rocks!
One of the other main features that Diniwid Beach boasts is it's clear, turquoise waters! This is something that the Philippines as a whole has gained recognition for, and it's one of the best places to experience the magic of these ocean waters is at Diniwid Beach!
The water is incredibly enticing, and there is even a little cove for you to enjoy the waters and do some snorkeling. If you have kids, this is also a popular spot for them to frolic and enjoy the calm sea waters!
This is the best beach to start your Boracay itinerary, as it will show you just how captivating and drop-dead gorgeous the island is! It's definitely one of the best places to visit during your one day in Boracay!
Cost: Free!
How long should I stay here? All day if you like!
Getting there – You can get to this beach through a beautiful walkway that leads through craggy cliff sides, and then find yourself on the sandy shores that welcome you with open arms!
1:00 pm – Bulabog Beach
Bulabog Beach is considered the watersports heart of Boracay and can offer you the most spellbinding adventures the ocean has to offer! Find yourself immersed in a hub overflowing with fun activities to choose from, with the most popular of the lot being windsurfing and kite surfing. This beach has earned the title of being the number one kitesurfing beach in the whole of Asia!
This thrilling white-sand beach stretches 2.5kms along the coast, and it also provides the perfect spot for those wanting to have a swim in Boracay! The waters are uniquely protected by a beautiful offshore reef, so you have no chance of encountering any kind of unfriendly sea creatures whilst enjoying this stop on your Boracay trip itinerary.
Bulabog Beach is one of the less-developed beaches on the island, so you are promised a serene and calm experience as you explore. Kick back and enjoy the charming features of this beach, and if you don't feel like partaking in any of the watersports, feel free to watch professional kite surfers from across the globe strut their stuff!
You can also enjoy a perfect afternoon out on the water thanks to Boracay paraw sailing, which involves small, traditional boats.
Insider Tip: Kite surfing is one of those must-dos here! It is perfect for all types of watersport, so enjoy and try something new if you have never done this before. The wind makes it ideal for this particular activity, so don't miss out!
Cost: Free!
How long should I stay here? However long you'd like!
Getting there –
2 pm- White Beach (Station 1)
White beach is undoubtedly one of the most stunning white-sand beaches you will ever come across! It will captivate your heart and soul, and rejuvenate your spirit!
Sound too good to be true? Well, in this case, you will have to see it to understand. It is one of those beaches that one dreams about, and a must-visit for all ocean lovers!
The beach is lined with remarkable luxury hotels, restaurants, bars and nightclubs! It is the place to be when the sun is up, and even when the sun is down it is transformed into a haven for party animals. Spend your evening visiting some of these exclusive joints, and enjoy the beach to its fullest!
Walk along the shoreline and let the crystal clear blue waters lightly brush your toes, and admire the breathtaking surrounds of tropical landscapes with swaying palm trees adorning the perimeter as the sun goes down!
You can also partake in every kind of water sport imaginable from this beach! It is every beach-goers paradise, and the most unbelievable spot to end the first day on your 2 day itinerary in Boracay.
Cost: Free!
How long should I stay here? However long you'd like!
Getting there White Beach is in the main tourist area of Station 1, you shouldn't have any trouble finding it no matter where you're staying on Boracay Island.
Get ready for another unforgettable day on your itinerary for Boracay! Spend the last of your 2 days in Boracay exploring some of the most glorious and natural sites this island provides! We will take you on a whirlwind adventure for you to remember before you leave.
9:00 am – Ilig Iligan Beach
Embrace the rugged, untamed landscapes of Boracay at Ilig Iligan Beach and enjoy the serenity that comes with an off-the-radar location! There is also a secret beach that neighbors this fascinating spot, which is ideal for confident swimmers to explore and meet underwater creatures.
This beach offers truly untouched landscapes for you to admire on your Boracay itinerary. Enjoy the calmness, and breathe in the fresh air as you bask in the ambiance of this tropical paradise.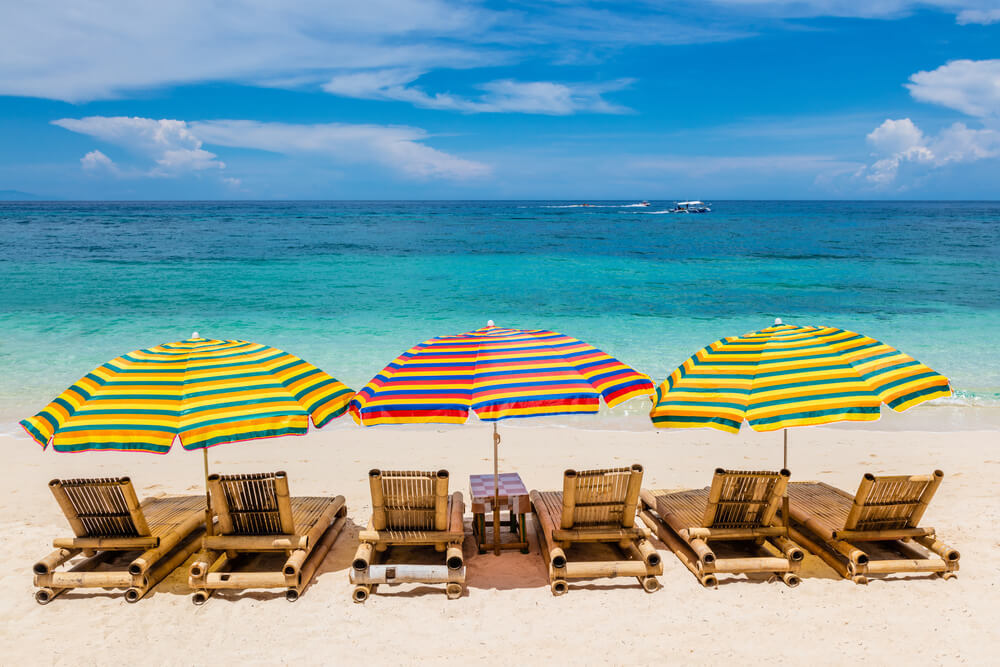 You can laze out on the beach, enjoy a drink and let the peacefulness of Ilig Iligan Beach settle into your bones before you continue on for your last day.
This is one of the only beaches on the island that offers such a quiet environment. Take this time to really observe the island from the less touristy perspective, and really let the magic take your breath away!
Swim in the calm waters, and then get excited for the next few stops on this all-encompassing itinerary in Boracay.
Cost: Free!
How long should I stay here? All day if you'd like!
Getting there – Located in the Northwest corner of the island, this is one of the most offbeat places in Boracay.
11:00 am – Mermaid Swimming Academy
Grab the chance to let your childhood dreams come true!
Suitable for all ages!
Confident swimmers can really make the most of this activity!
One of the most fun, funky and fantasy-orientated activities to do in the world is to partake in the Mermaid Swimming Academy – a one of a kind opportunity to become a merman or mermaid!
How do you do this? Well, you slip on a mermaid tail costume over both of your legs! You can customize your own tail, and choose which colors suit you the best. Don't miss out on the chance to see yourself as a mystical creature from some of your favorite childhood fairytales!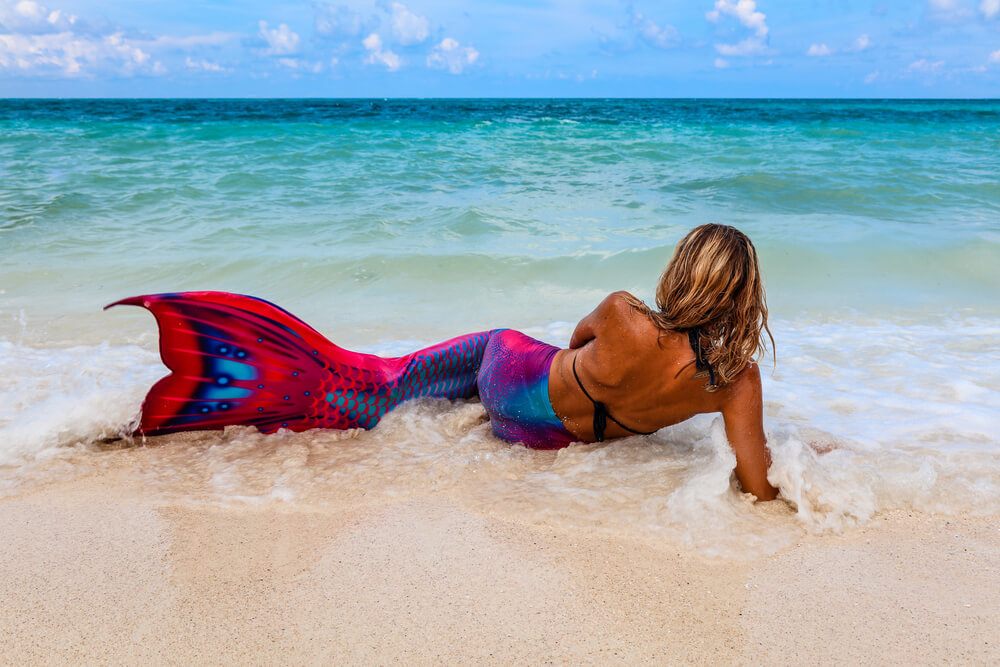 Not only is this a truly out-of-the-box activity, but it also introduces a new way for you to experience the blissfully clear ocean waters feeling like a fish yourself!
This activity opens the doors for you to get creative, and to express yourself in an artistic way. The whimsical adventure is suited for all ages, and can also be done in big groups!
You'll be guided by certified, International Mermaid Swimming Instructors who will show you all the tips and tricks needed to be the best mermaid there ever was! Embrace your inner child, and let your creativity blossom as you take to the oceans in your
12:00 pm – Puka Shell Beach (Yapak Beach)
Why it's awesome: One of the finest and most popular beaches in Boracay!
Cost: Free!
Food Recommendation: Puka Grande Restaurant is the best place to kick back and relax with your friends and family! Have a flavorsome meal and relax as you take in the lazy beach atmosphere.
Puka beach allows you the chance to see one of the most attractive and famous Boracay attractions, all whilst remaining with a sense of ease and relaxation that is essential for all going to Boracay! This beach provides plenty of shade and many places for you to grab refreshments during your visit.
This beach is not called Puka Shell Beach for nothing! You'll find an overwhelming abundance of mesmerizing puka shells on the ocean shores of this beach. Be sure to leave them where you found them. Beach shells are important to the ecosystem of the beach.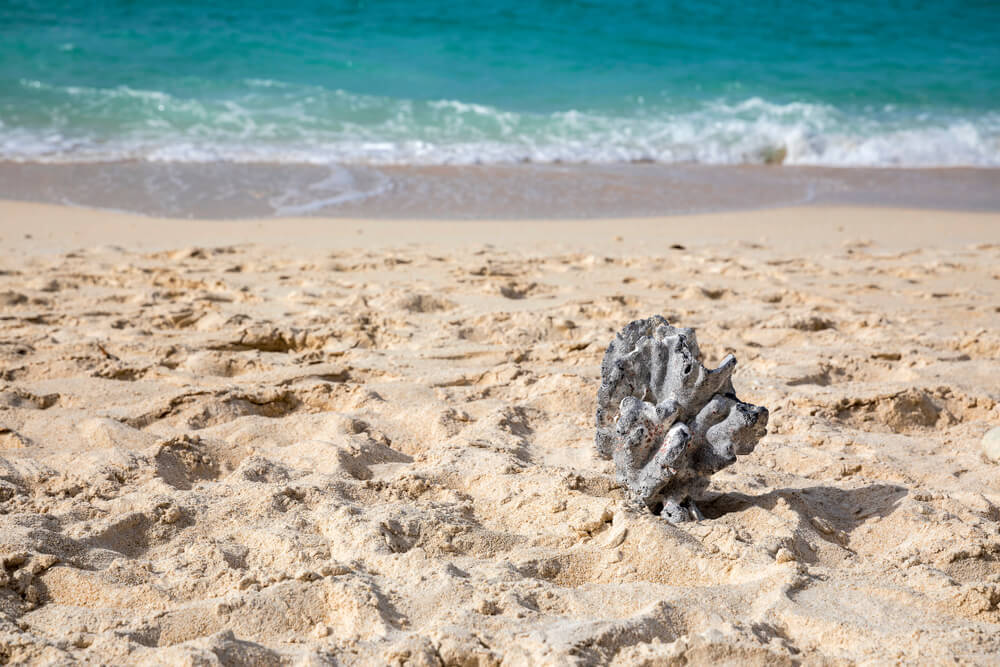 Keep your eyes out for rare species of Flying Foxes – a bat that has now become endangered on the island! If you're lucky, you may spot these mystifying creatures hanging out in the secluded caves along the shores of Puka Shell Beach.
Enjoy fun in the sun at this remarkable beach, and be sure to explore some of the jungle whilst you're here, as you never know what you may find! This is a must-see spot during your 2 day itinerary in Boracay!
Cost: Free!
How long should I stay here? All day if you'd like!
Getting there – It's in the Yapak area of the island and is perhaps the best beach for peace and quiet.
1:00 pm – Visit the Bat Caves
Why it's awesome: A once-in-a-lifetime opportunity to enjoy indigenous species of bats!
Cost: Free unless you choose to hire a guide!
Food Recommendation: Gerry's Grill provides some mean tasting meaty portions for those who feel like a hearty meal! There are also salad options , or you can get yourselves some refreshing drinks at this friendly restaurant!
One of the most fun and irresistible adventures on this Boracay itinerary is a visit to the famed bat caves of Boracay!
You can find these incredible, eerie habitats along the coastline of Puka Shell Beach, where they are just waiting for you to come on in to enjoy some of these creatures.
Bats are not everyone's cup of tea! However, it is not often that you will have the chance to see such a variety of rare bat species together.
Often, as you walk in, you will see a handful of these marvelous creatures simply hanging from the ceiling of their chosen cave! It is quite the sight, and is a must for animal-lovers and those wanting to enjoy some of the more characteristic features of Boracay.
You can hire a local guide to take you to some of the more inhabited caves if you choose. This is a fantastic option if you really want to admire these underestimated and beautiful mammals of the night.
Cost: 50 PHP
How long should I stay here? Tours typically begin in the morning
Getting there – Accessible by a dirt road through the jungle
3:00 pm – Tirta Signature Massage
One of the reasons we go on island travel adventures is to relax, recharge and add a level of complete renewal to our lives!
That is why we have included this signature massage onto our Boracay itinerary, to make sure that you do just that! Go into deep relaxation as you get one of the most internationally acclaimed holistic massages in Asia!
This massage incorporates the soothing tones of aromatherapy massage techniques, Swedish massage, lymphatic drainage and foot reflexology; making it one of the best massages you will ever get!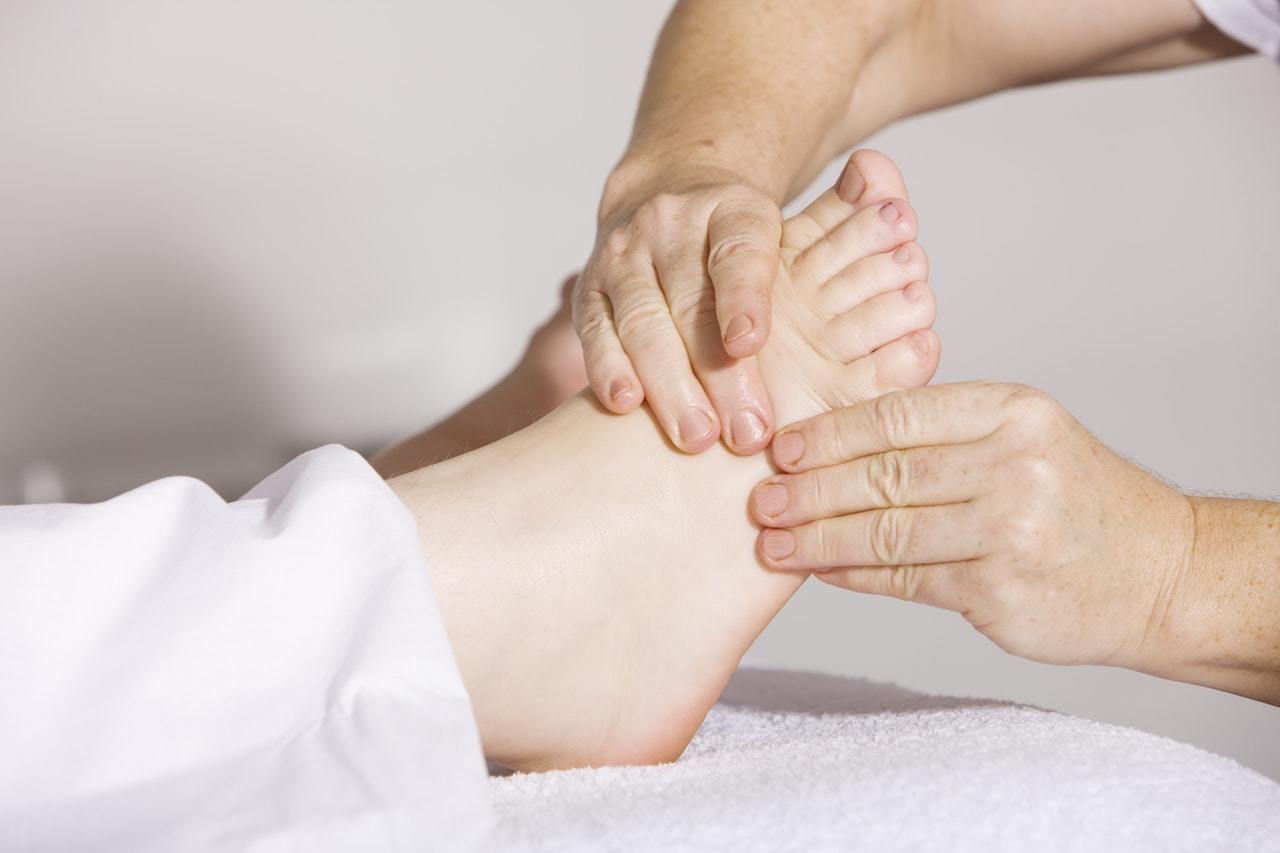 It is a light-touch experience that will never be hard but will relax every single muscle in your body, and especially your mind! What better place to let go of everything and melt into bliss than Boracay?
The massage focuses on using high-quality oils and massage therapy to bring you into an emotional balance, as well as an incredible place of feeling your own healing and well-being. This is a fantastic way to look after your own health and wellness during this fun, action-packed journey in Boracay!
Cost: $40+ USD
How long should I stay here? A typical massage is about an hour
Getting there: The Tirta Spa is located near Tambisaan Jetty Port.
For your last day on this beautiful island, enjoy some of the most stunning Boracay tourist attractions before you head out.
9:00 am – Willy's Rock
You might be wondering how a rock can be so intriguing, but let us be the ones to tell you, this really is an original rock that has become a favorite for tourists and locals alike!
This rock is a volcanic formation that has been on the island for thousands of years and is very easy to get to! Exploring this site is a must. You can climb up the stairs and ascend into this castle-like structure to really admire it in all of its glory.
This naturally formed rock is a mystery! You can climb a staircase up to the top of Willy's Rock to enter a scenic church where you can even encounter a serene statue of the graceful Virgin Mary perched for all to enjoy.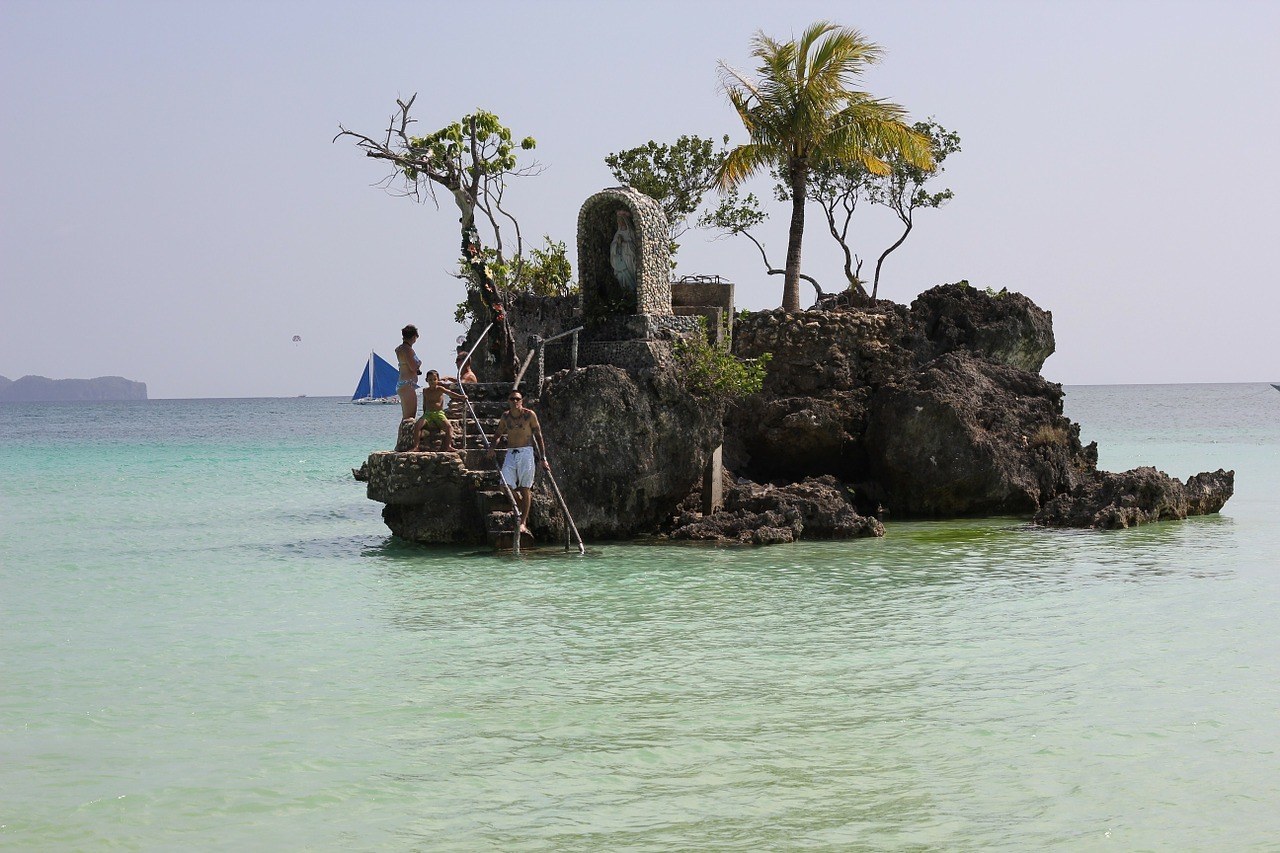 This beautiful rock shares a story of Boracay's unique past and is one of the most fascinating places to visit in Boracay in 3 days! You'll love every moment of this adventure, and once you arrive, you'll understand how a rock has become so loved amongst both the indigenous people of Boracay and its many visitors.
The rock is conveniently situated in shallow waters, so you can even swim there if you feel brave enough, or you can hire a boat to take you out! You'll see a bunch of fish and enjoy barnacles that have become attached to the rock over the years, adding to its appeal.
Cost: Free!
How long should I stay here? As long as you'd like
Getting there – By boat or foot in low tide, it's only 100 meters from shore
11:00 am – Crocodile Island
Your 3-day itinerary in Boracay would not be complete without an island hopping adventure! This stunning coastline is brimming with tropical islands that are all calling your name, each with their own unique draw cards and charming characteristics. Crocodile Island is one of these captivating islands
The island has earned its name because of its shape, which looks uncannily like a crocodile head from afar! When you visit this spellbinding island, you will be taken along the outskirts of the shoreline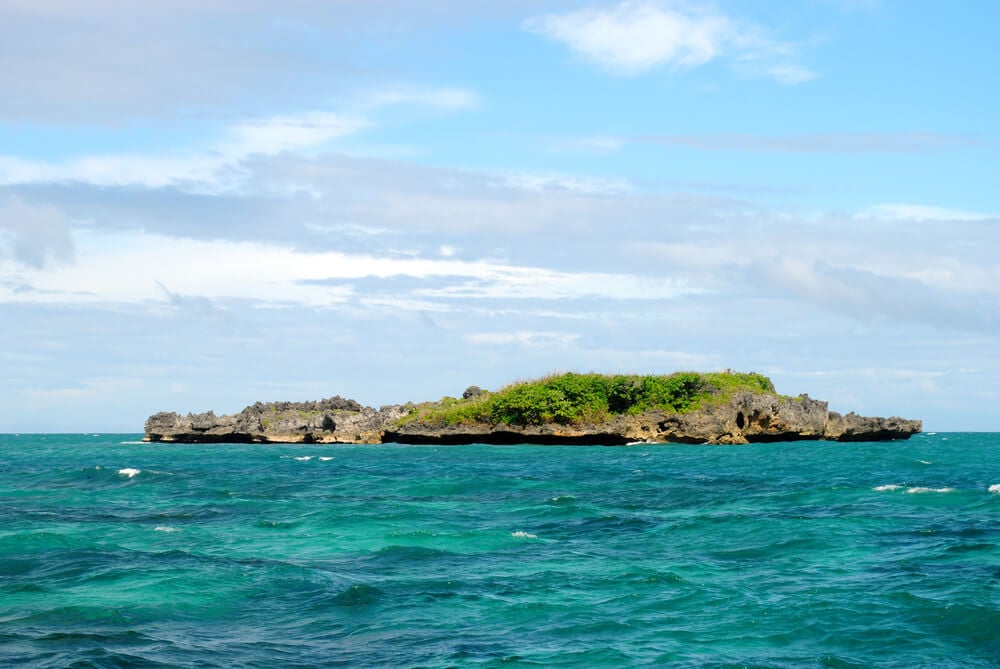 Here you can enjoy world-class snorkeling, diving, and swimming from your boat. As for the island, you will not be taken onto the land or be allowed to explore the jungle, as it is completely wild and uninhabited by humans.
Experience many different species of fish, such as parrotfish and other vibrant aquatic life, including rare sea snakes! If you have an underwater camera, this is the best place to snap a few shots and improve on your photography skills. You will have ample space to explore and find remarkable seascapes!
Cost: $25 USD
How long should I stay here? Tours typically begin in the morning
Getting there – Accessible by boat only
12:00 pm – Crystal Cove Island
If you're looking to kickstart your Boracay Island hopping tour, then look no further than Crystal Cove Island! This picturesque destination houses a top-notch resort that offers massages, spa treatments and so much more on your 3-day itinerary in Boracay!
You can also grab a bite to eat and relax under the brilliant sunshine on the private white-sand beach of this inviting island.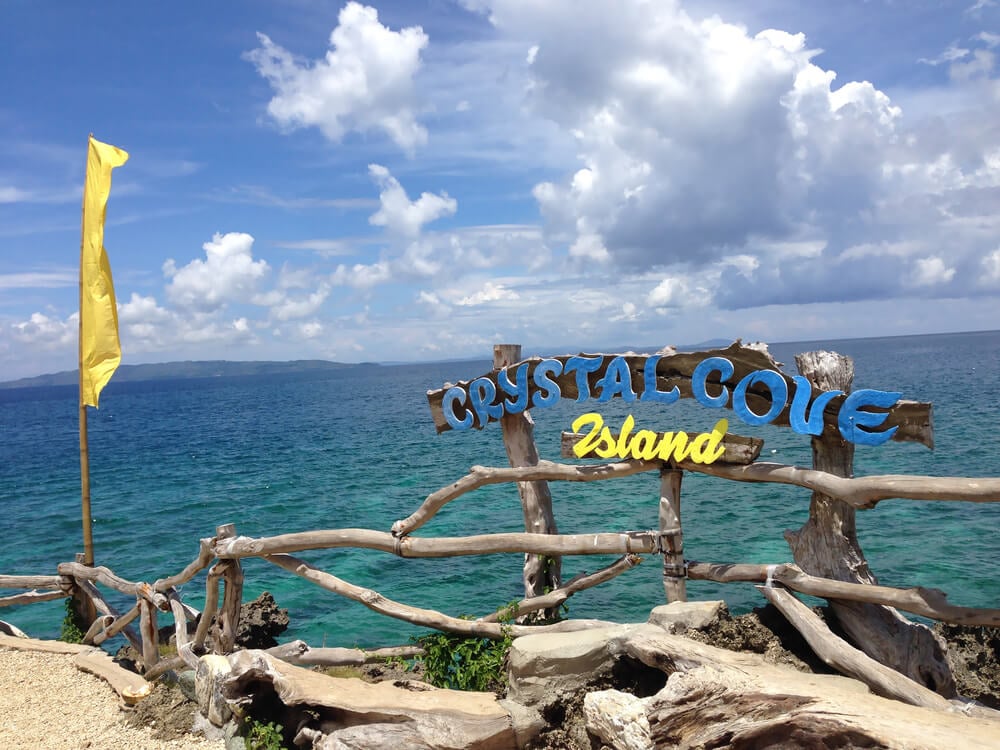 The island has been named Crystal Cove Island due to its two very popular and eye-catching coves! These are the ideal places for tourists to enjoy watersports, like snorkeling and swimming.
It is breathtakingly beautiful, and you will be surrounded by luscious tropical landscapes whilst you admire the scenic appeal of these magical spots.
The coves are especially child-friendly, making them perfect for families who want to spend the day together on a day trip from Boracay!
Cost: $25 USD
How long should I stay here? Tours typically begin in the morning
Getting there – Accessible by boat only
4:00 pm – Shop in the Lines Between White Beach and Bulabog Beach
This outdoor area is considered the island's only shopping mall, but it is very unlike what we envision to be a 'mall' in our western civilization. This mall is more like a market, but an incredibly big one at that!
Named 'D Mall', you will find a surprising amount of souvenirs, handicrafts, jewelry, paintings, swimming costumes, clothing and local food here!
This is the best place to shop as the locals do, and you'll find plenty of awesome trinkets available for tourists, such as yourselves! Not only is there a massive variety available, but you can truly experience what it's like to live in Boracay and imagine how it would be to live in a society where the only mall is an outdoor market.
You might be taken aback by the western food available here, like French fries, sandwiches, burgers and more! This mall is impressively organized, and you can find just about everything under the sun right here!
Cost: Free to browse!
How long should I stay here? However long you'd like!
Getting there: This outdoor mall is situated between White Beach and Bulabog Beach.
Boracay is beautiful, and one of the best ways to make sure you enjoy your trip to its fullest is to choose the right time of year for your trip to Boracay!
This small island is busy most of the year, as it has an inviting climate with plenty of sun and a tropical appeal. This is best experienced during the months between November to May! Expect a lot of crowds though, as this is also peak season.
Off-season in Boracay falls between mid-July to October, which also happens to be the typhoon season in the Philippines! Although the island of Boracay is naturally shielded from strong typhoons, it does get very gloomy and isn't the best time to visit for sun-lovers and beach loafers! One of the added bonuses of visiting during this time is that there will be off-peak prices and minimal crowds.
The most popular months to visit are all the way from December to May, so you have a wide window of opportunity for the best vacation in Boracay! Expect to be greeted by rays of sunshine, wafting ocean waves, smiling faces and so much more! This time is not only one of the most popular seasons for tourists, but locals themselves also particularly come alive during this time.
For snorkelers and divers, the best time to visit is undoubtedly during peak season, as this also falls in the hotter summer days. Due to the ideal weather, the crystal clear waters become much more pleasant and very clear for sightseeing colorful fish!
Ultimately, deciding When to visit Boracay is up to you and your own travel desires! Here is a breakdown of what you can expect each month!
| | Average Temperatures | Chance of Rain | Crowds | Overall Grade |
| --- | --- | --- | --- | --- |
| January | 26°C/79°F | Average | Busy | 🙂 |
| February | 27°C/81°F | Low | Busy | 🙂 |
| March | 27°C/81°F | Low | Busy | 🙂 |
| April | 25°C/77°F | Low | Busy | 😀 |
| May | 29°C/84°F | Average | Busy | 😀 |
| June | 28°C/82°F | High | Medium | 🙂 |
| July | 27°C/81°F | High | Calm | :/ |
| August | 28°C/82°F | High | Calm | 🙁 |
| September | 28°C/82°F | Average | Calm | :/ |
| October | 28°C/82°F | High | Calm | 🙁 |
| November | 27°C/81°F | High | Busy | 😀 |
| December | 26°C/79°F | Average | Busy | 😀 |
Planning a Trip to Boracay – What to Prepare
Staying safe during your travels is so important, and this is something we are all about! There are always safety tips available for every destination, and things that one needs to be aware of – no matter where you go in the world!
Boracay is a lazy beachscape that doesn't have any violent crime and is known for being exceptionally safe, but there are still some things to remain conscious of when you visit.
At some point during your Boracay itinerary, you will most likely hire a tricycle. This is a quick, fun and affordable way to get around – usually. Just be sure that your driver is licensed, and that he does not charge you exorbitant fees simply because you are a tourist!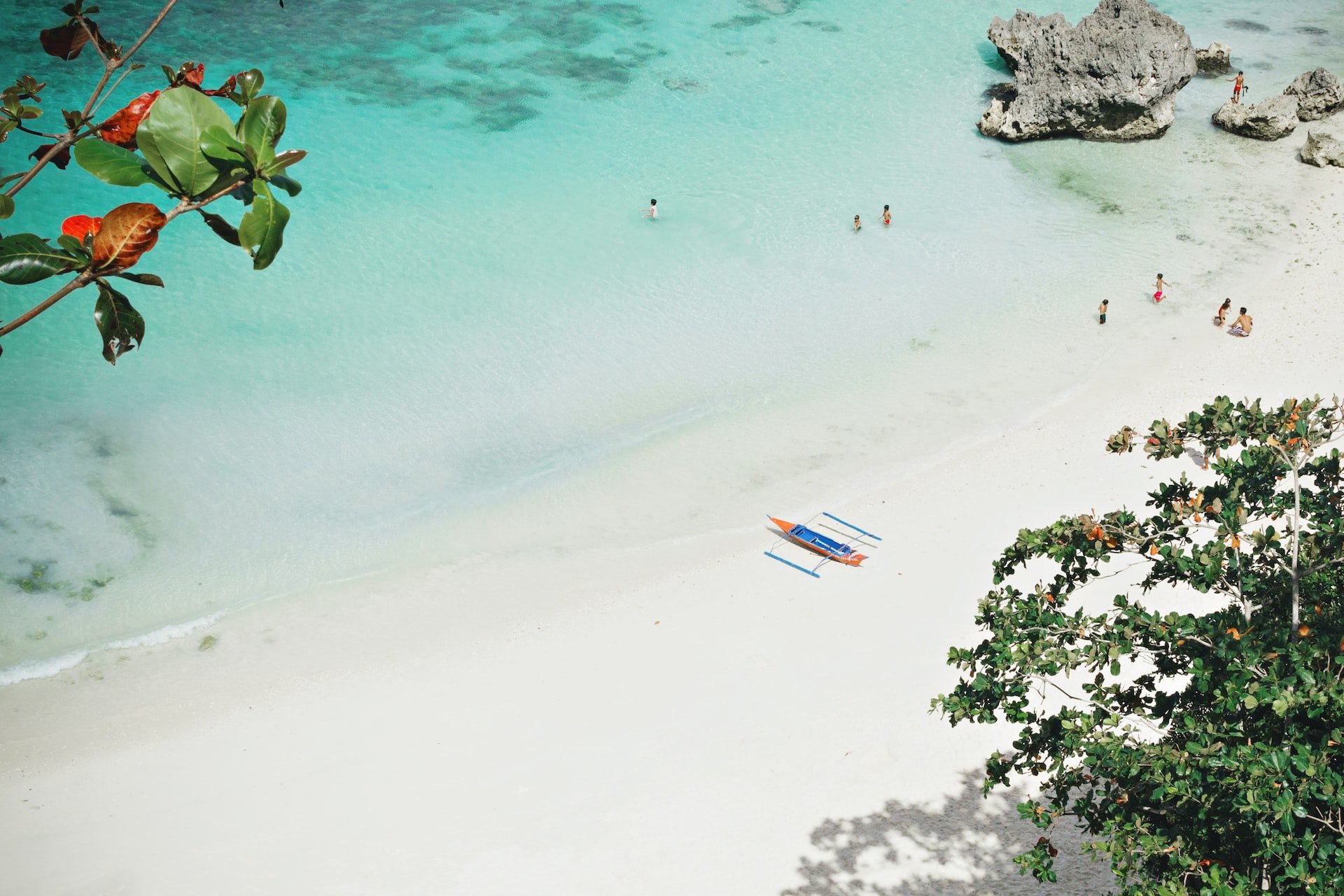 This happens all too often and can be avoided by being aware of it. It doesn't happen all the time, but it's common for drivers to charge 100 PHP per person, which is much more than you need to pay. Know your routes, and don't get taken for a ride, literally!
When swimming, beware of going too far out at sea, especially during high tide! The waves are strong, and the currents can pull you out before you even know it. It's best to avoid far-out swims from 12 pm – 3 pm. Stick to the shallow shoreline to keep safe during this time period! Remember that red flag beaches prohibit swimming, as there are no lifeguards on duty there.
Be prepared for an overwhelming amount of vendors along the beach! There are constantly people wanting to sell boat rides, trinkets, food, and everything else under the sun. Don't be shy, and state firmly that you are not interested, as they can be quite persistent with tourists! They are likely to leave you alone if you put a strong foot down.
Lastly, the sun beats down heavily. Add sunscreen to your Phillippines packing list or you will regret it. Remember to get frequent breaks in the shade, so you can avoid sunstroke!
Don't Forget Your Travel Insurance for Boracay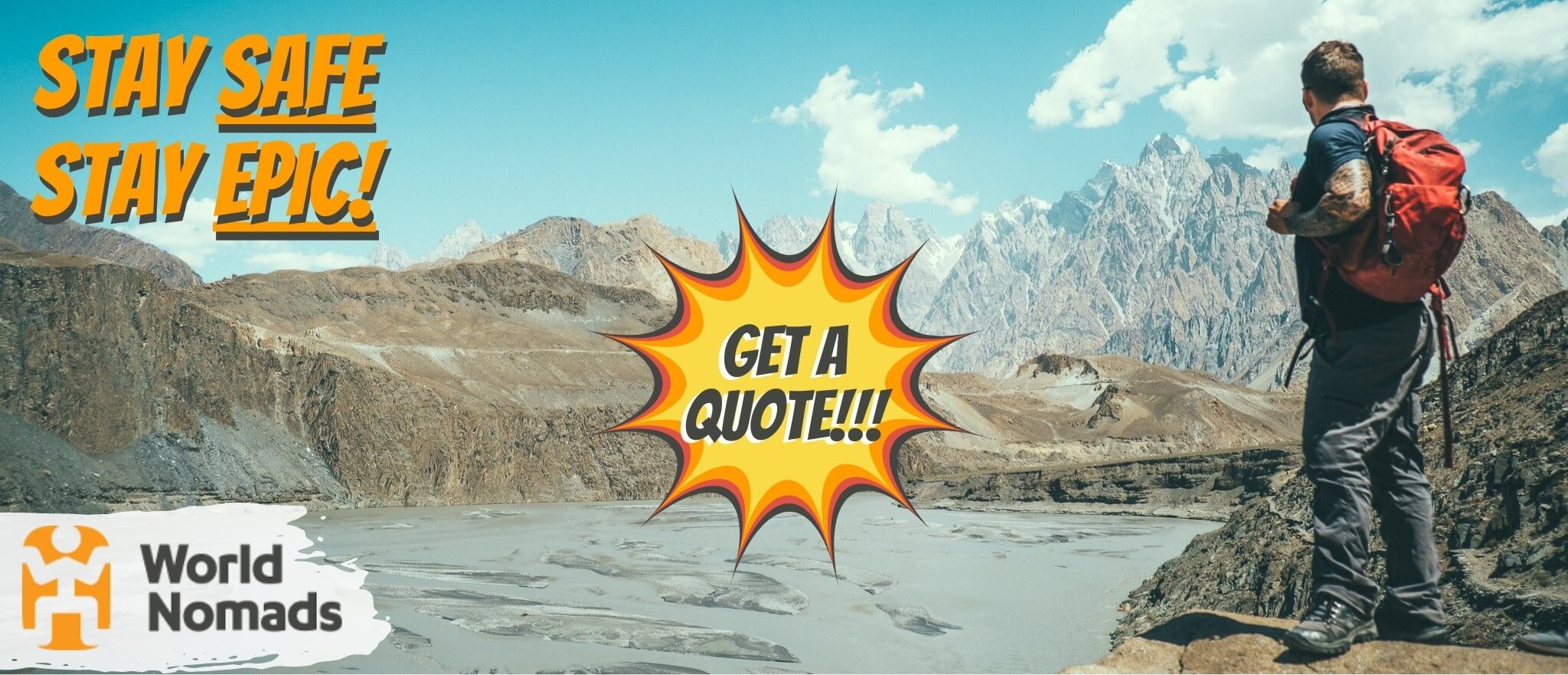 World Nomads' mission is to support and encourage travellers to explore their boundaries. They offer simple & flexible travel insurance, and safety advice to help you travel confidently.
They've been doing it since 2002 – protecting, connecting, and inspiring independent travellers just like you.
Get a quote below or read our in-depth review!
World Nomads provides travel insurance for travelers in over 100 countries. As an affiliate, we receive a fee when you get a quote from World Nomads using this link. We do not represent World Nomads. This is information only and not a recommendation to buy travel insurance.
FAQ on Boracay Itinerary
Find out what people want to know when planning their Boracay itinerary.
Final Thoughts on Boracay Itinerary
Boracay is famous for so many reasons! Its untouched landscapes, remarkable coral reefs, clear ocean waters, and brilliant tourist infrastructure are a few of the incredible features that add to its charm.
You'll love every moment spent on this island, and you'll return home with a part of the Boracay ocean forever staying in your heart!
Our Boracay itinerary will ensure that you make the most out of your trip by experiencing the very best this island has to offer.
We won't blame you if you never want to leave, and would rather set up a grass hut and live on the idyllic White Beach forever.
Updated March 2023
---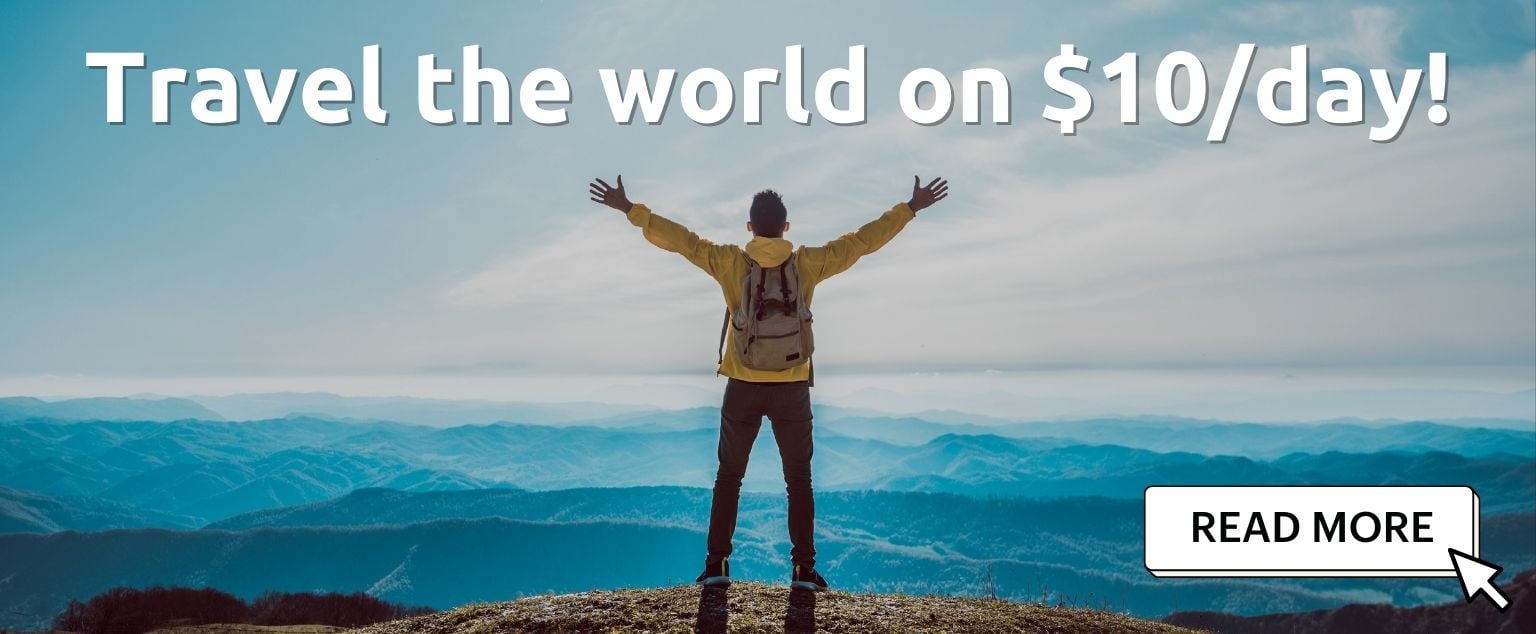 And for transparency's sake, please know that some of the links in our content are affiliate links. That means that if you book your accommodation, buy your gear, or sort your insurance through our link, we earn a small commission (at no extra cost to you). That said, we only link to the gear we trust and never recommend services we don't believe are up to scratch. Again, thank you!