We've all had that moment of 'what am I doing with my life?'. After finishing school, starting a career, and falling into the rat race, it's easy to lose sight of your childhood dreams of island living.
Pristine white beaches, luscious jungle, big city cafes, and the best part of all… the low cost of living – the Philippines is a phenomenal place to pack up and head to for the adventure of a lifetime.
I've made that sound easy.. We all know there's a lot of logistics that go into these sort of things. Luckily for you, I've done all the hard work. This guide will give you the answers of where to live, visas, schooling, and most importantly the cost of living in the Philippines.

Do You Want to Travel FOREVER??
Pop your email in below to get a FREE copy of 'How to Travel the World on $10 a Day!'.
Why Move to the Philippines?
The Philippines boasts 7,000 magical islands, blue skies, and incredibly friendly locals. It is a dream for those who love a tropical climate, and it has yet to be overrun with tourists. If you are a city lover, the Philippines has some major cities away from the water. Many digital nomads have found themselves settling in the city over the past few years due to the more reliable internet.
If you are looking for a country with a low cost of living but minimal language barriers, and a great work/life balance then this is the best place. Most Filipinos are fluent in English making it easy to move around and assimilate into the culture.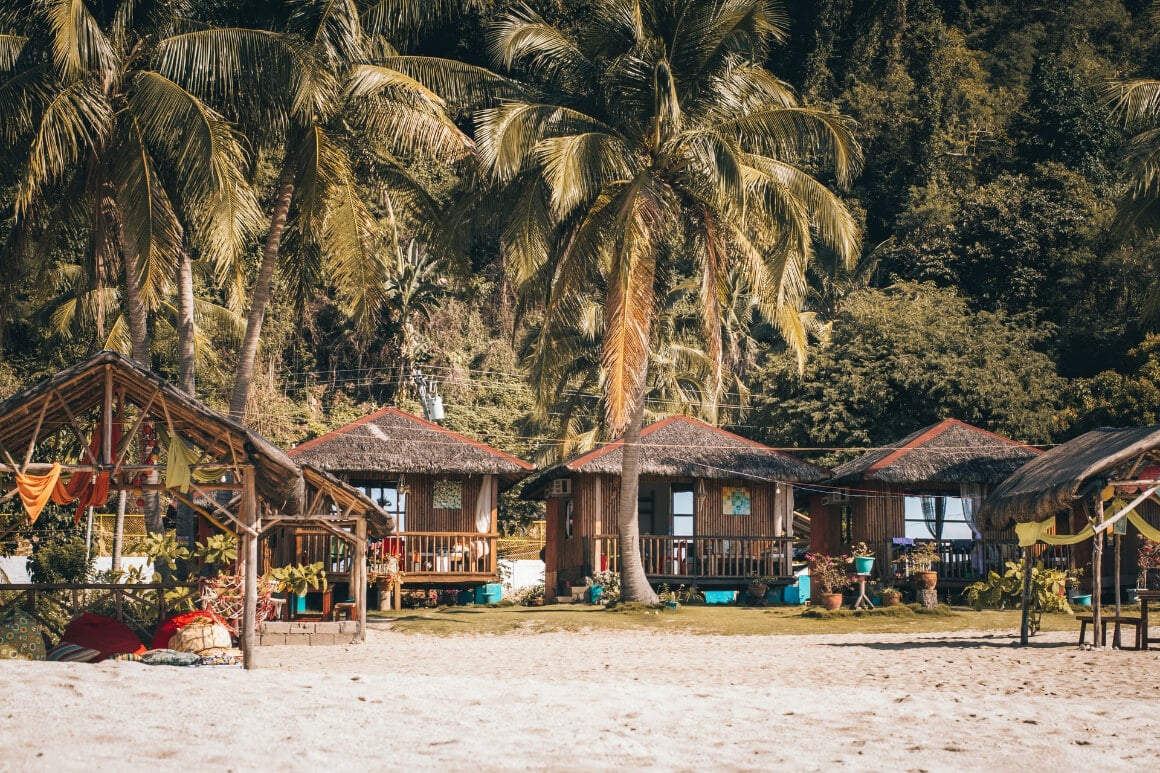 Not known for its booming economy or plethora of job opportunities, the Philippines is the perfect place for digital nomads to take their virtual offices. The country has a rather easy visa system making it a front runner when considering an off shore start up.
As a developing country the infrastructure is still very behind compared to what westerners are used to. We will discuss this in depth below, but it's good to be aware that the internet and electricity has the ability to play a huge role in your move, and determine if it's viable.
You are destined to live a life you love in the Philippines! Let's dive into the logistics of moving to this culturally rich country.
Cost of Living in the Philippines Summary
One of the best perks about heading to the Philippines is that it has an extremely low cost of living. It's easy to live a comfortable, or extravagant life, even on a small income. Living in the Philippines will give you quite a bit of freedom with your budget!
With the affordable prices you can eat out for every meal, head to an island for the weekend and take a yoga class every morning. Your cost of living will be based on how luxurious you like to live. It is essential to have a good idea of what you will need to budget for before making the move – think about where you want to stay in the Philippines, how you will get around, and what you will do day-to-day.
This table will help you develop an initial budget, and summarize the cost of living in the Philippines. The numbers will help you get familiar with your expenses, and create a realistic goal for you. They have been sourced from a variety of user data.
Cost of Living in the Philippines

| Expense | $ Cost |
| --- | --- |
| Rent | $150-$500 |
| Electricity | $50 |
| Water | $20 |
| Mobile Phone | $20 |
| Gas | $20 |
| Internet | $40 |
| Eating out | $75-$150 |
| Groceries | $100 |
| Housekeeper (3x per week) | $60 |
| Transportation | $10 |
| Gym | $35 |
| Total | $500+ |
What Does it Cost to Live in the Philippines – The Nitty Gritty
Now that you have an idea of numbers and what to expect, let's dive in further to give you the full scope of what it will cost to live in the Philippines.
Rent in the Philippines
Like anywhere in the world, your accommodation is going to the biggest hit to your budget. You will definitely be paying less than in your home country, but it can be more expensive than other Southeast Asia countries. Your accommodation is a great way to save money if you are on a tighter budget.
For example, if you choose to live in the up and coming area of Makati your rent will cost around 700 USD, while a shared house with a private room is more than 50% less! If living alone is an important factor for you, consider living in Cebu City where you will be in a smaller city and near some amazing beaches.
There are some other things to consider too. Firstly, do you want to live alone? Are you moving with a partner or children? Are you willing to live with people you don't know? This will give you a realistic look into what you are able to afford.
Staying in a few different cities when you first arrive will help you decide where to base yourself. Find a cheap Philippines hostel or b&b to get a feel for the city and what it has to offer. If you are unable to find options on Airbnb take a look on Facebook, Filippinos tend to use that platform for most businesses and rentals.
Private Room in Makati – $300
Private Apartment in Manila – $700
Private Villa in El Nido – $1000
Need a Crash Pad in the Philippines?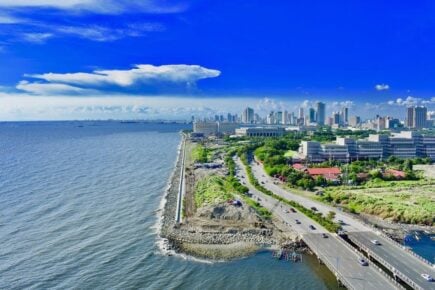 Need a Crash Pad in the Philippines?
Home Short Term Rental in the Philippines
This quaint beachfront loft is the perfect place to get a feel for the Philippines, and explore where you might like to live. With cozy furnishings and a magnificent location, you may never want to leave!
Transport in the Philippines
One of the downfalls of living in the Philippines is getting around. They have buses in and around the cities to reach almost any destination, but the traffic situation is horrendous. A 15 minute ride can take up to two hours if you aren't careful about your traveling times!
Many people will base their whole life in a very small area to avoid the traffic in the cities. If you have no option, there are a few ways to get around.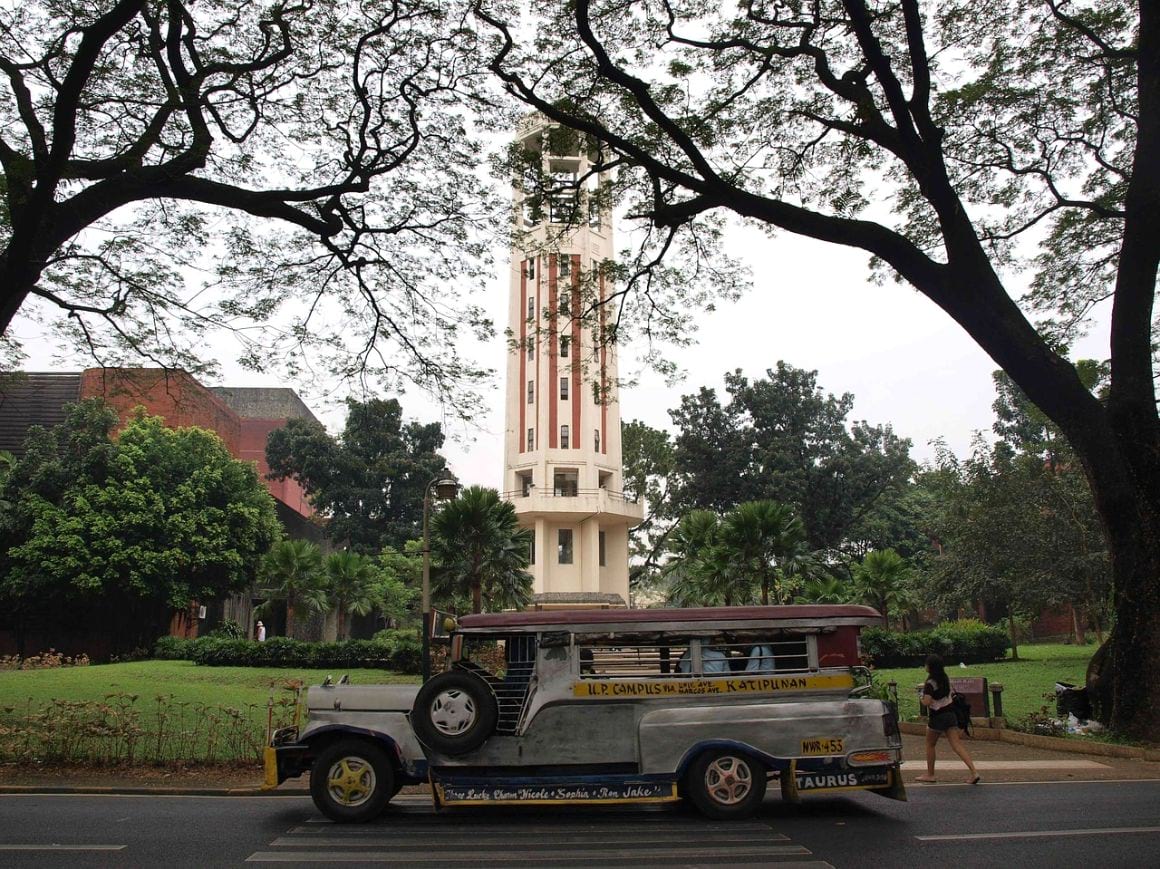 There are white taxi cabs in the cities that charge per kilometer – be sure they have turned on the meter to avoid being scammed.
The best way to weave in and out of traffic is to hail down a motorbike taxi, or one of the famous tricycles. You will get to your destination quicker, and pay much less than a taxi cab.
The Philippines has one railway with three lines that travels 77 km. This is a great way to avoid traffic if you are commuting in and out of Manila, but lines can get extremely long in peak hours.
Monthly Metro Pass – $40
Taxi Ride (Manila Airport to City Center) – $4.00
Scooter Rental – $6 per day
Food in the Philippines
As one of the cheapest places in the world for food, the Philippines is a foodie heaven! Like many asian countries, the main staple is rice. It is eaten with most meals, even for breakfast with eggs and cured meats!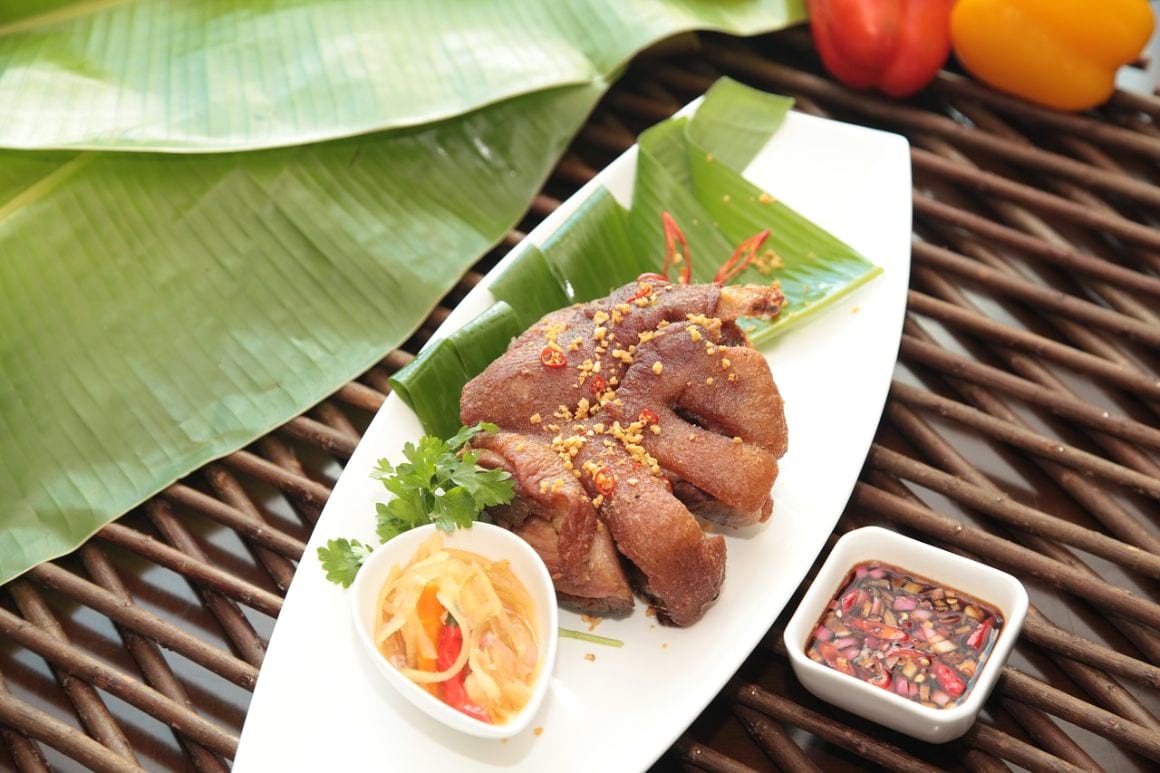 Filipino cuisine has a mixture of influences from Spain, Japan, China, the Western world, and Pacific Islands. Since the country is spread among thousands of islands, you will find similar meals throughout but all with their own little flair. Depending what spices are accessible, and what fish are being caught nearby, each island will create its own version of classic dishes.
The Filipino diet is meat heavy, specifically pork. This can cause a bit of concern if you are vegetarian or vegan. Your options will be extremely limited when it comes to eating out. However, with cheap local markets you will be able to cook all your favorite dishes at home while staying on budget.
Milk (1 gallon) – $1.70
Bread (loaf) – $1.20
Rice (1lb) – $1.00
Eggs (dozen) – $1.70
Local Cheese (p/kg) – $6.40
Tomatoes (1lb) – $1.40
Bananas (1lb) – $1.50
Drinking in the Philippines
Drinking tap water in the Philippines is not safe. While you may see locals sipping from the tap, do not do it! It is not clean, and will likely make you sick. Grab some bottled water, purchase a filter system or boil your water.
Alcohol is widely available in the Philippines. Whether you are celebrating a birthday, a promotion, or even just a day at the beach, alcohol will be involved, and often lots of it! As the biggest gin market in the world, Filipinos know how to drink!
Like all things in the Philippines, it is rather cheap to grab a drink. The most common beverage – beer – will cost you less than a dollar, and a crafty cocktail is around $5. With those prices, I don't mind buying the whole bar a round!
Why You Should Travel to the Philippines with a Water Bottle
Access to clean water in the Philippines isn't always easy to find and being a responsible traveler means taking care of the world around you. Traveling with a water bottle is your best option to stay hydrated and is keeping the country clean by not using single use plastic. Each year it is becoming harder and harder with plastic pollution. So fill up your water bottle before you leave the house to save money and the planet.
Plastic washes up on even the most pristine beaches… so do your part and keep the Big Blue beautiful
You aren't going to save the world overnight, but you might as well be part of the solution and not the problem. When you travel to some of the world's most remote places, you come to realise the full extent of the plastic problem. And I hope you become more inspired to continue being a responsible traveller.
Plus, now you won't be buying overpriced bottles of water from the supermarkets either! Travel with a filtered water bottle instead and never waste a cent nor a turtle's life again.
Keeping Busy and Active in the Philippines
With so much change coming your way, you want to make sure you make the time to enjoy yourself and step away from the hustle and bustle of moving to a new country.
Staying active is not a huge aspect of Filipino culture. The country is ranked as the most inactive population in Asia, making it a little more difficult to stay motivated. There are limited parks and gyms to use, but thankfully the Philippines offers a plethora of nature activities to keep you busy and active.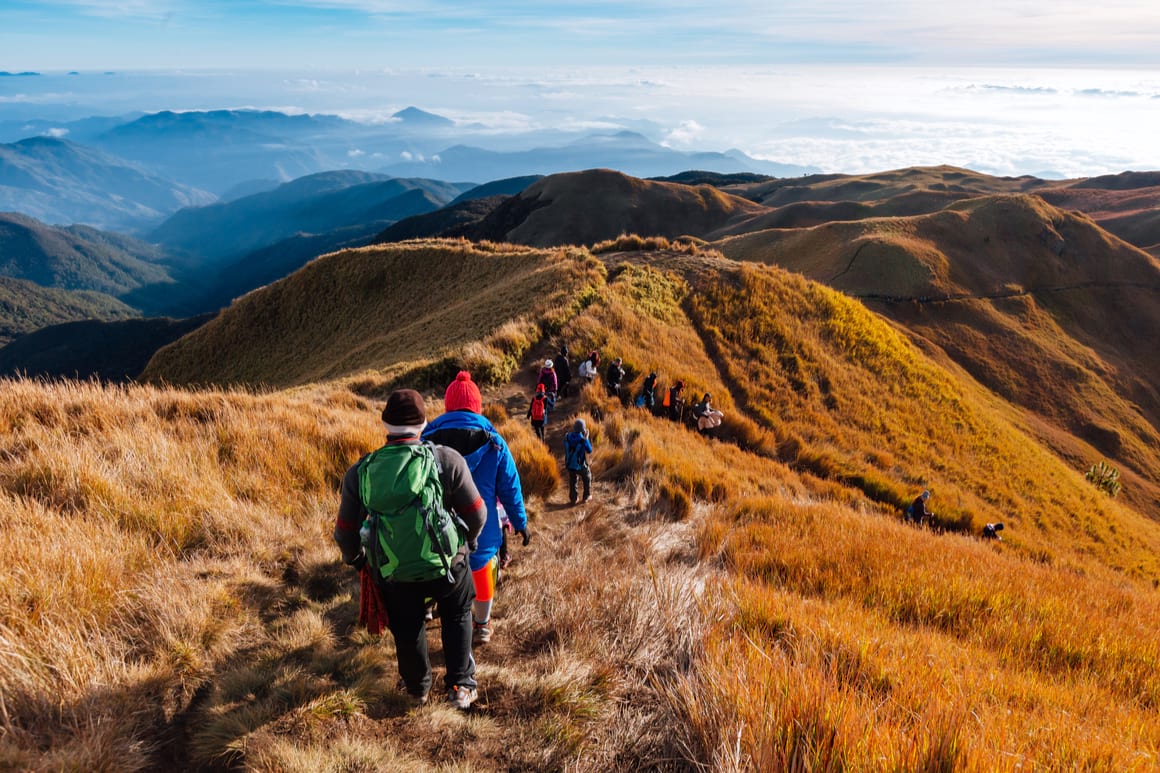 It is one of the cheapest places in the world to get padi certified! After 5 courses you will be able to jump on any dive boat, and head out into the deep blue sea. This is a great way to spend the weekends.
If water isn't your thing, you can try hiking the mountains, visiting a volcano, or exploring the rice terraces of Banaue.
With so many outdoor activities you will find plenty of ways to stay active, even if the locals don't.
Padi Certification – $500
Bike Rental (1 hour) – $1
Diving Trip – $50
Surfing Lesson (3 hours) – $25
Yoga Class – $8
Gym Membership (1 month) – From $35
School in the Philippines
Due to underfunding and lack of resources, the public school system in the Philippines is.. not good. They follow the US syllabus, and mainly speak English. But even without a language barrier, the standard of education will most likely be lower than what you are used to. Many expats opt to look at other options for their kids.
The country does have a few private schools, however the class sizes are usually smaller and harder to get into. They mainly cater to the local population that can afford to send their children to private school.
The most common option for expats is international school. There are a few different options in Manila, with American, British, or Chinese curriculum. The schools will follow the home country's schedule and syllabus, making it easy for your child to assimilate. International schools are going to be the most expensive option, and require an in-person interview. I recommend reaching out to schools as soon as possible.
If you are wanting to reside on a more off-the-beaten-track island, you can consider homeschooling. More and more expat families have gone this route in the past few years, and created homeschooling communities in popular beach towns.
If you are on the fence about your schooling options for your kids, many of the schools will give day tours. Take some time to let your kids get familiar with the school and choose the environment they will thrive best in.
Fees for international schools in the Philippines – $12,000 – $18,000
Is This the Best Travel Pack EVER???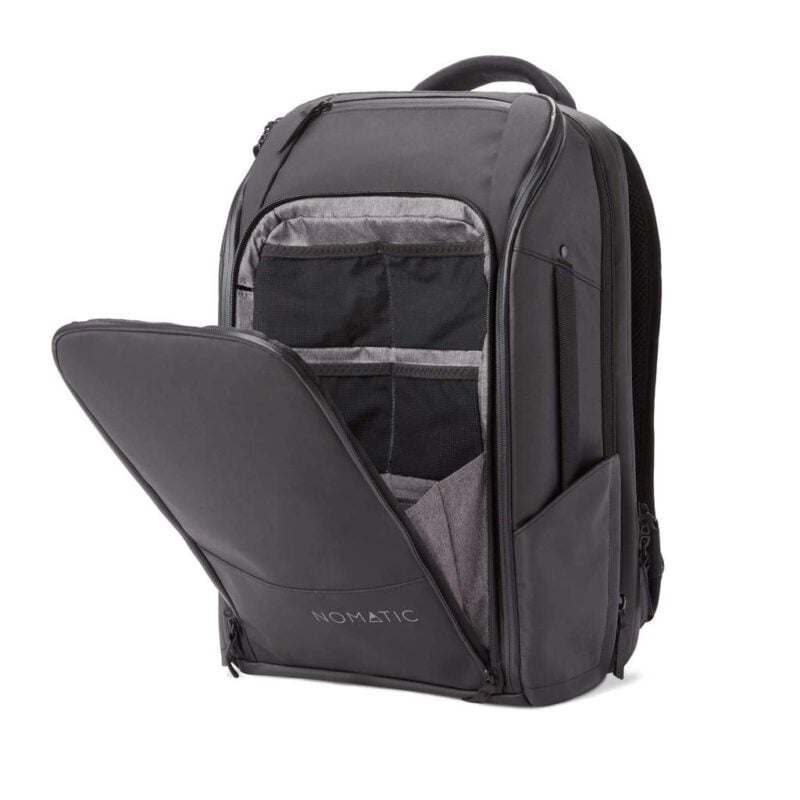 Medical Costs in the Philippines
The Philippines provides free healthcare to all its residents. Over the last 25 years, the medical standard has greatly increased. Depending on your location, getting to a hospital in a timely manner with a well trained staff should be relatively easy. Most of the doctors studied at prestigious institutes and speak English fluently.
However, the majority of the hospitals are privately owned and run, making it more expensive if you walk in without private insurance, and your wait time can be much longer. Luckily, private healthcare is much cheaper than in the Western world. Many plans will run you less than 50 dollars a year, and give you quick and easy access to any hospital.
The high quality healthcare at a low cost makes the Philippines incredibly appealing to those looking for a well run medical destination. If you are unsure of which Philippines insurance option is best for you, we recommend SafetyWing as an alternative until you feel more comfortable making a proper decision.
SafetyWing offers a monthly healthcare plan that covers Digital Nomads, expats, and long term travelers. We have been using it ourselves for a while now and find it great value.
Visas in the Philippines
Getting into the Philippines is quite easy. For visa exempt countries all you need is proof of exit and hotel reservations for a 30 day stay. This will give you time to figure out if the Philippines could be a long term option for you, and where you would like to stay. If you plan on staying longer, the Philippines have a few different visa options.
A popular visa for digital nomads who want to stay longer than 30 days, is to apply for a 29 day extension at airport immigration. This will cost you $60 and will need to be done immediately on arrival unless you want to make another trip to the airport.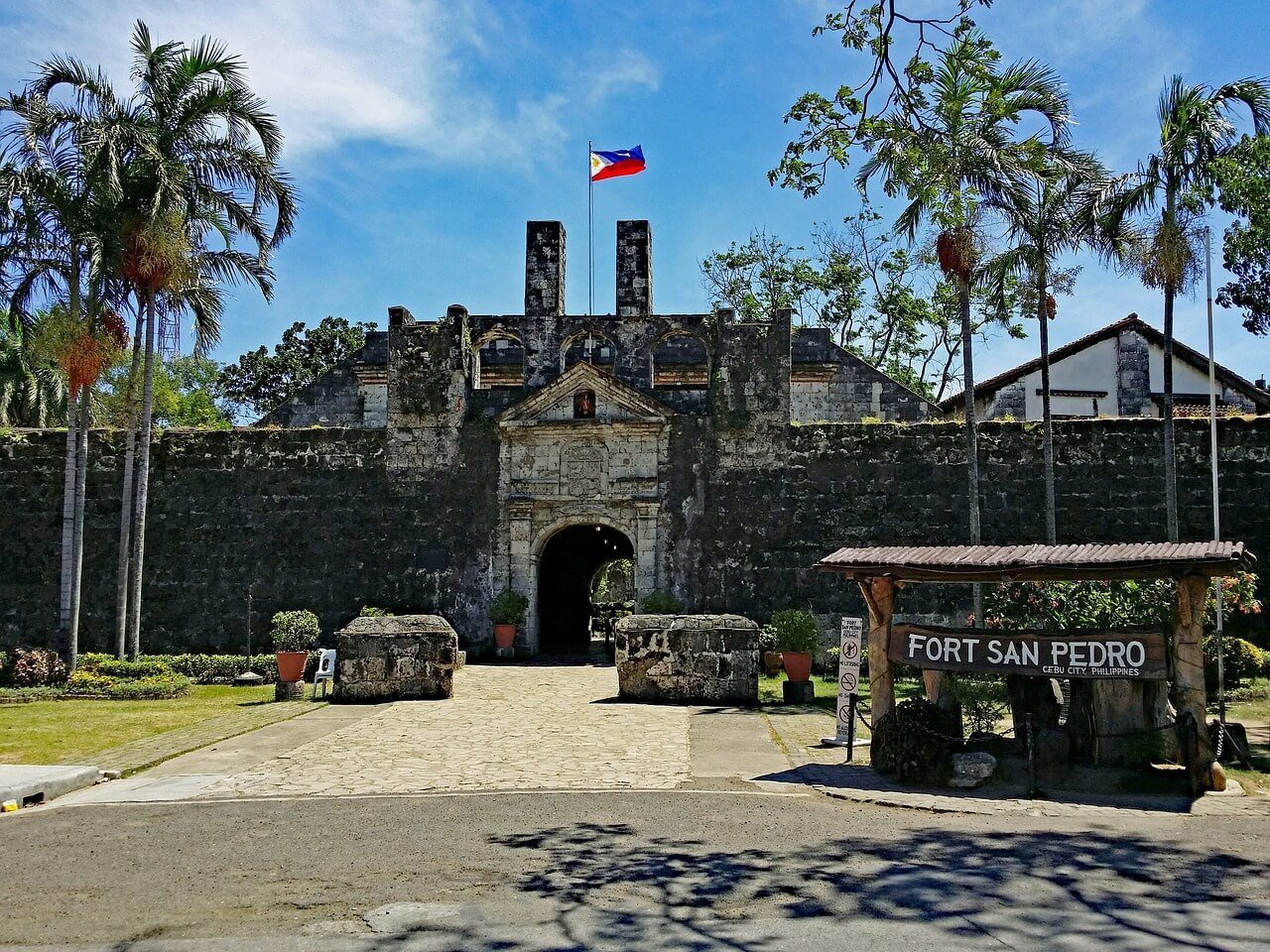 If you aren't quite sure how long you will be staying, and are on a budget, I recommend going ahead and applying for their long term stay visa. It will cost you $200, but in the long run will save you money on extensions as it allows you to stay for 6 months without exiting.
Pro tip: The fee for overstaying your visa in the Philippines is costly. Just one day over can cost you $100 – depending on how nice the immigrant officer is feeling. Make sure to know exactly how many days you have in the country, and mark it on your calendar!
Banking in the Philippines
There are a few different options for banking in the Philippines. The country has a good number of international banks like Citibank and HSBC. This makes it easy to deposit, withdraw, and transfer money, regardless of where it is being earned. You will also have the chance to open an account with the national banks such as Philippine National Bank, Metrobank and Bank of the Philippine Islands.
Opening an account has a few requirements – you will need to apply in person, have proof that you have been in the country for more than 59 days, proof of identification and a deposit. Each bank is different, and may require different information.
If you are unsure if you will really need a Filipino bank account, no worries! There are plenty of international banks and branches throughout the islands for you to use your home bank. The country is working towards becoming a cashless society in light of the pandemic, and is increasingly becoming easier to use debit and credit cards.
With this being said, to avoid spending heinous amounts of money on ATM fees, or foreign transaction fees, we recommended getting a few different travel banking cards as they all offer a certain level of fee-free ATM withdrawals. If you get yourself a Transferwise, Revolut and Monzo card, you'll be able to withdraw around $600/month, and have an unlimited card payment allowance.
For making and receiving international bank transfers without incurring any fees, we recommend using Payoneer.
Taxes in the Philippines
Taxes in the Philippines are on a sliding scale for all taxpayers. For those who are considered residents, which is if you have spent more than 180 days in the country, you will pay a percentage based on how much money you earned inside and outside of the Philippines.
If you are not considered a resident, you will adhere to the same sliding scale but only for the money you made in the Philippines.
I recommend working with a tax agent to ensure you are following their tax guidelines and paying the correct percentage. Also check in with your home country to know the rules and regulations of how to properly file your taxes in both places of residency.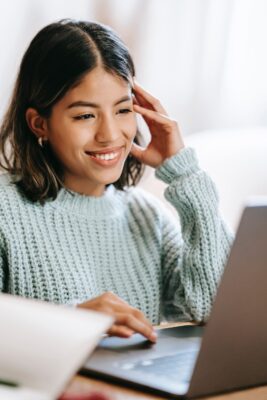 Earn $$$ ONLINE Whilst Travelling the World!
Keen to live the digital nomad dream while travelling the world? Who the hell isn't?
Teaching English online is a surefire method to earn a consistent income on the road. Work from anywhere, change some lives, and earn some dollaridoos while you do it!
Check out this detailed article for everything you need to know to start teaching English online.
No big life change comes without a few qualms. While we can prepare for our fixed expenses, we want to be prepared for any emergencies that may – heaven forbid – arise. Let's dive a little deeper into how to best prepare for when the unexpected happens.
Sometimes moving to a country with a lower cost of living allows you to relax on your budget. You are spending less on your rent so why should we count dollars for all of our extra curriculars. To make sure you are always in a good spot financially it is good to have an emergency fund for yourself.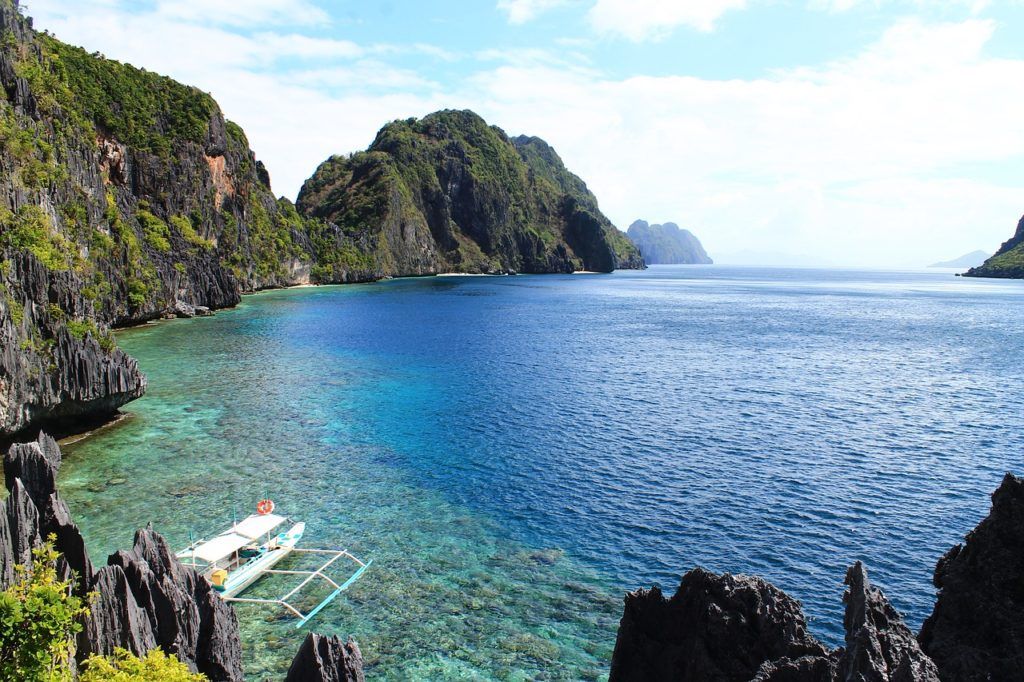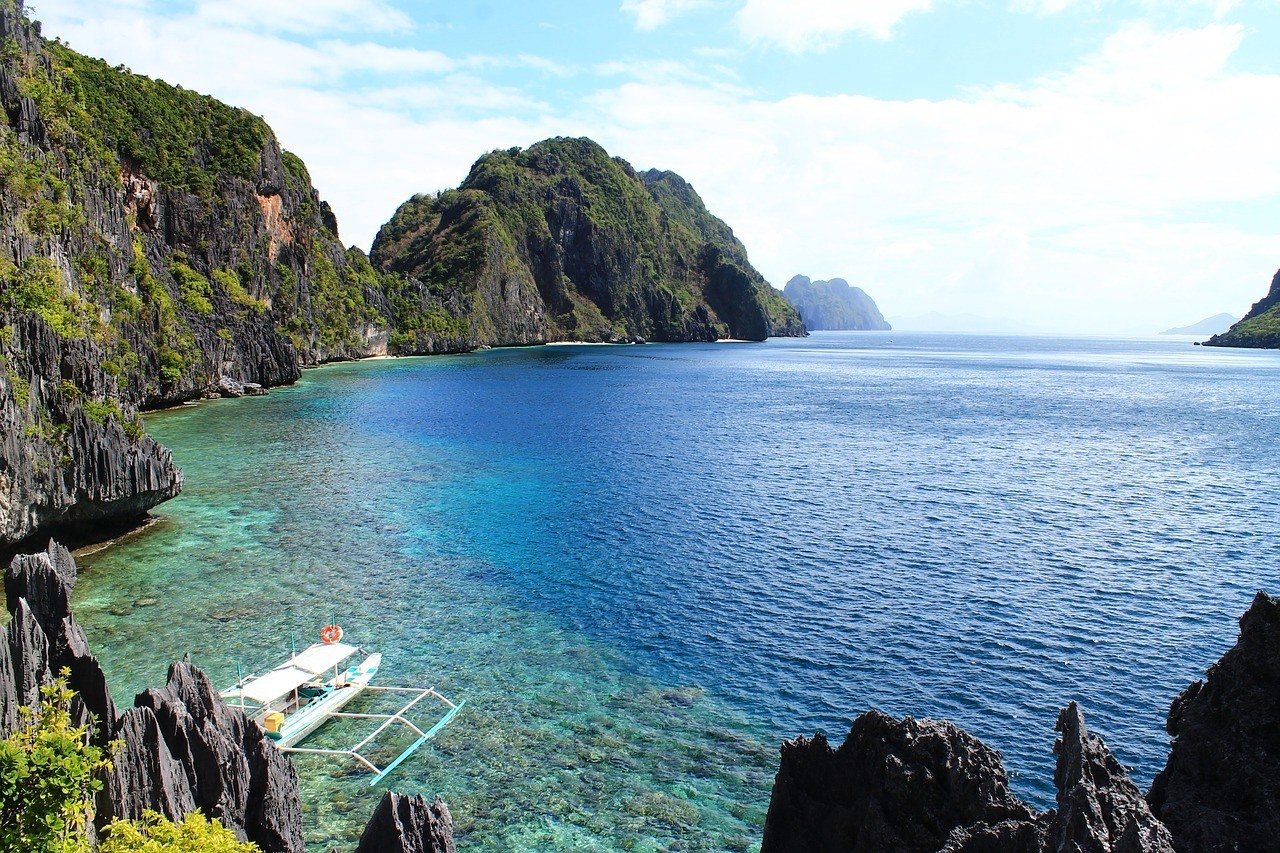 If you get a call from your family needing you back home immediately, flights can be expensive! Especially if your home country is on another continent. Having a little bit of savings on hand for a flight home will make the stressful situation a little less worrisome.
Make sure to maintain your savings account and give yourself a buffer during those more expensive months. Your future self will thank you. We recommend having at least two flights home in your savings at all times, and three months worth of rent.
Insurance for Living in the Philippines
The Philippines has had some political unrest going on for a few years. You may have some people warn you of remaining vigilant. However, you will not experience anything out of the ordinary of any other big city, for example, petty theft, and a taxi scamming you here and there. The way I see it is if you are looking for trouble you will find it, but if you are minding your business, you won't see or notice anything peculiar.
With that being said, it is best to be prepared should something happen. The best way to take care of yourself is to make sure you are insured. Whether that be a tricycle accident that lands you in the ER with a broken arm, or your BRAND NEW IPHONE 12 being stolen in the city center of Manila… Do either of these sound personal? Surely not me, a well seasoned traveler! We never think these things will happen to us but being prepared will help you to feel at ease – I know it did for me.
As mentioned before, a great option for digital nomads to stay prepared is by getting SafetyWings health insurance. They have affordable plans for nomads, travelers and expats. Click the button below to see which plan works best for you.
Month to month payments, no lock-in contracts, and no itineraries required: that's the exact kind of insurance digital nomads and long-term traveller types need. Cover yo' pretty little self while you live the DREAM!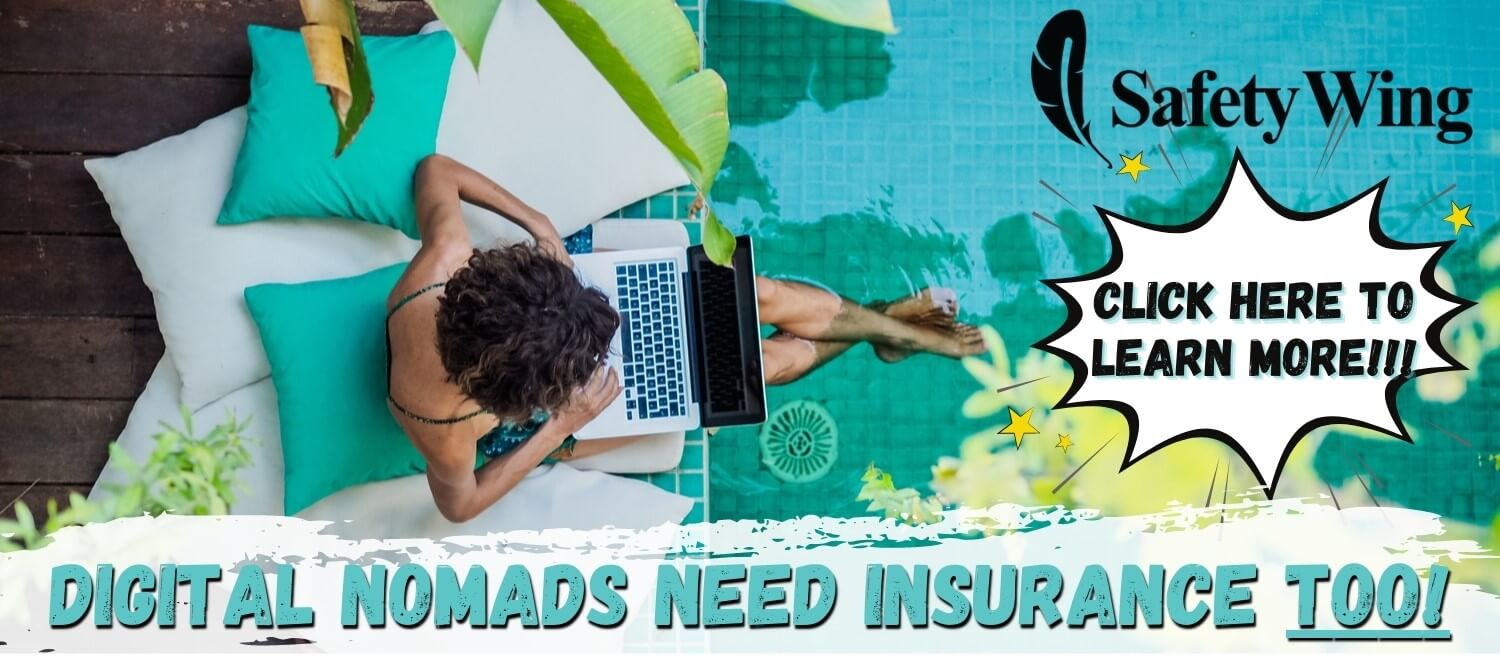 SafetyWing is cheap, easy, and admin-free: just sign up lickety-split so you can get back to work! Click the button below to learn more about SafetyWing's setup or read our insider review for the full tasty scoop.
Moving To the Philippines – What You Need To Know
Now that we have covered the nitty gritty of living in The Philippines, let's get to the culture, the city life, and all the best places to enjoy yourself! There are so many options when it comes to living in the Philippines, and hopefully by the end of this section you will have a much better idea of where you want to be calling home.
Finding a Job in the Philippines
Not many people are moving to the Philippines to find a job, and I wouldn't recommend moving without a set plan of how to create an income. You can try discussing with your current employer if working remote is an option, or look into companies that are adapting the 'work from home' scheme.
If neither of those are doable for you, and you are set on heading out of the country, there are plenty of teaching opportunities. As Filipino is the main language, and English is widely spoken, you will find many private and international schools looking for English teachers to engage and teach primary learners. You can get TFFL certified online and start applying!
The pay will be much less than a Western teaching job, but English teachers in the Philippines will still be earning enough to live a comfortable lifestyle and have summers off to explore the country!
Where to Live in the Philippines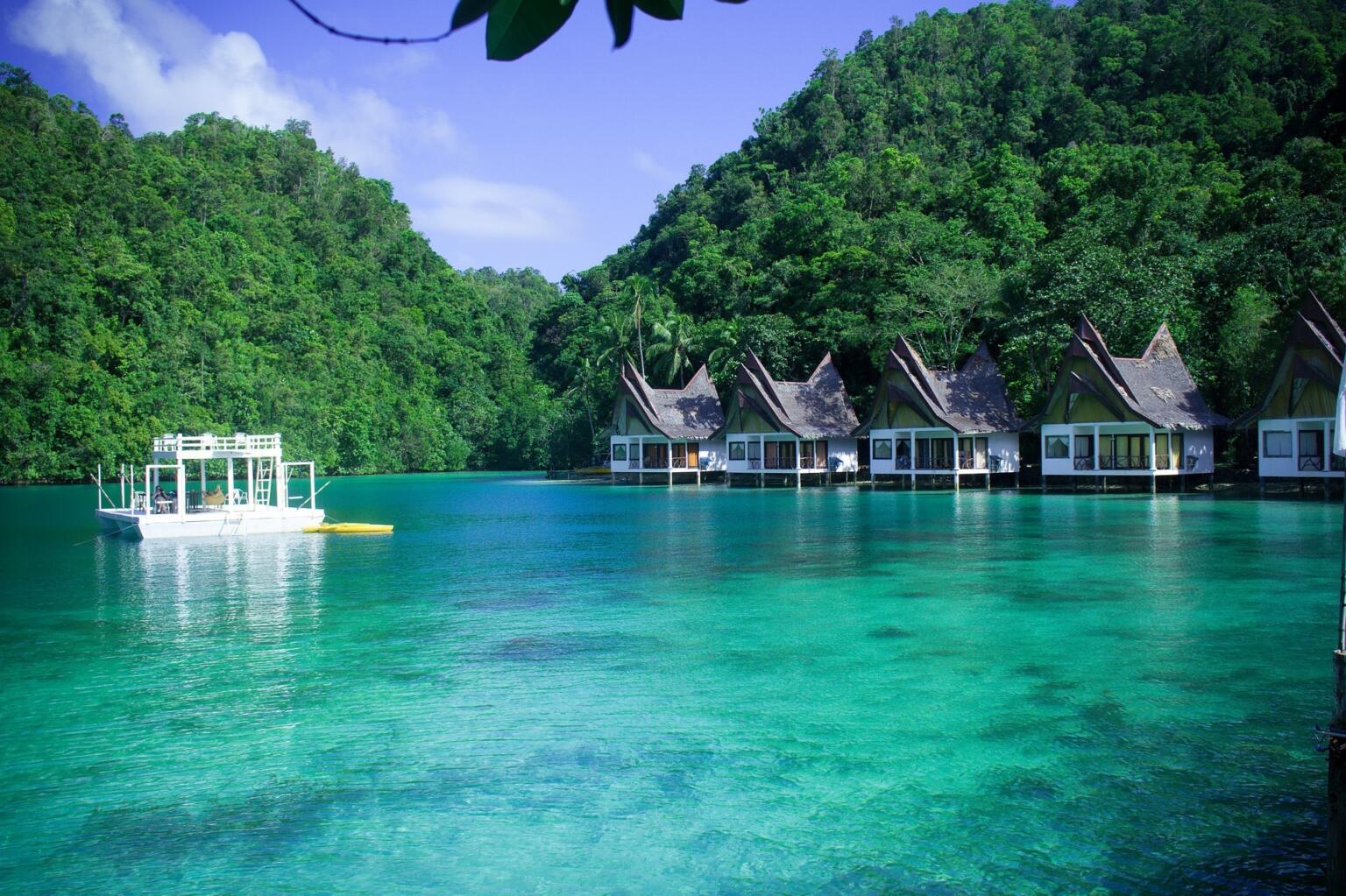 Manila
Manila is the capital of the Philippines, and comes with all the pros and cons of big city life. It is buzzing with nightlife, sights, and activities. Getting to them, however, can be quite the journey. Home to 13 million people, the traffic can be a nightmare. Try to plan your outings out of peak travel hours.
When staying in Manila, you can snag a nice apartment in the city center for $500, and be within walking distance of everything you need! This is a fantastic city if you're looking for all the convenience at a lower cost.
Thriving Capital City
Thriving Capital City
Manila
Manila is the place to be if you want to be among the action with everything you could need. Strong internet connections, lots of restaurants, a thriving nightlife and plenty of local life happening around you, it is perfect for a young digital nomad getting to grips with tropical life.
Lipa City
Lipa City is a great place to live if you want to be near the hustle and bustle of a big city, without all the major traffic. This small town in the countryside of Manila is becoming a hotspot for those that are over the long commutes and smog of the major city.
Lipa City has plenty of outdoor space, activities, and cafes for you to have a nice and easy daily routine. Living here will help you become immersed in the Filipino culture, and take part in the country's customs and traditions.
Outside the Big City
Outside the Big City
Lipa City
If you want the buzz of city life, without the traffic and smog, Lipa City is a perfect base. It has all the amenities of Manila without the hectic atmosphere. Just outside of the capital, you can easily reach the city – if you want to..
Subic, Zambales
Subic is a tourist hotspot, as it is right on the beach and is the largest duty free zone in Asia. If you are looking for outdoor adventures and other expats, you will find it all here! In recent years many expats have been retiring to Subic. It is more expensive than other beachfronts, but is still so much cheaper than the Western alternative.
The downside to choosing Subic as a homebase is the lack of internet connectivity. If you are dead set on this spot, you will have to purchase fiber optic internet or be at the mercy of common internet outages and slow speeds.
Perfect Retirement Town
Perfect Retirement Town
Subic
This beachfront haven is the ideal place to retire and escape the crowds. A popular spot for tourists and duty free shoppers, we wouldn't recommend staying here for nomads – but its a beautiful weekend getaway!
Makati City
Makati is one of the hippest areas in the Philippines. The richest suburb of Manila, this city has a great bar, cafe, and expat scene to make it the perfect homebase for your time in the Philippines.
The urban area has everything you need for city life, with easy access to the airport for those island weekend getaways. Your budget might be a bit more stretched here, with the luxury shopping malls and high rise apartments. There are plenty of coworking spaces and expat events to help you get familiar and create a community.
Best Area for Digital Nomads
Best Area for Digital Nomads
Makati City
Makati City in Manila is the best place in the Philippines for digital nomads. It has a thriving expat community, plenty of coworking spots and all the facilities you need for a comfortable work/life balance. It may be a little more expensive, but it's worth it!
Bacolod City
In the Northwest of the Philippines, Bacolod City sits right on the coast. Named the City of Smiles, this is the perfect place to really immerse yourself in the Filipino history and colorful culture. It is also known as the "sport city", making it a great option for those who like to be outdoors and joining in recreational activities.
The city is really pushing to become a "smart city", one that has the most up to date technology. This is great news for digital nomads, as their internet is becoming more stable by the day.
City of Smiles and Sports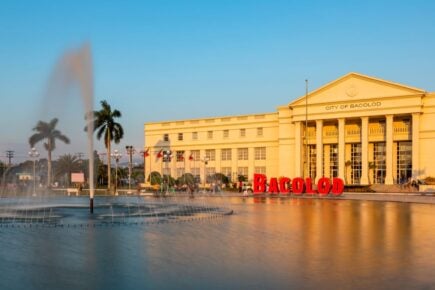 City of Smiles and Sports
Bacolod City
Bacolod City is the perfect base for nomads who love sports and technology. The City of Smiles is known for more than just being friendly, it also has a thriving activities community and is striving to be a 'smart city'. If you are looking for an epic work/life balance, this is where to be!
Philippine Culture
Filipino culture is a very interesting one, built from many different influences due to historical colonizations. You will see a flux of influence from Spanish and American customs, creating a very broad culture. Surprisingly, after many years under other countries' rules the Filipino culture has powered through in many ways, and is still standing strong today.
Filipinos value their family and time together a lot. Many children will stay at home until they are married. The people are very hospitable, and will likely invite you into their home for a meal with the family and treat you as if you are one of them. They bring such a warmth and togetherness in every room they walk in.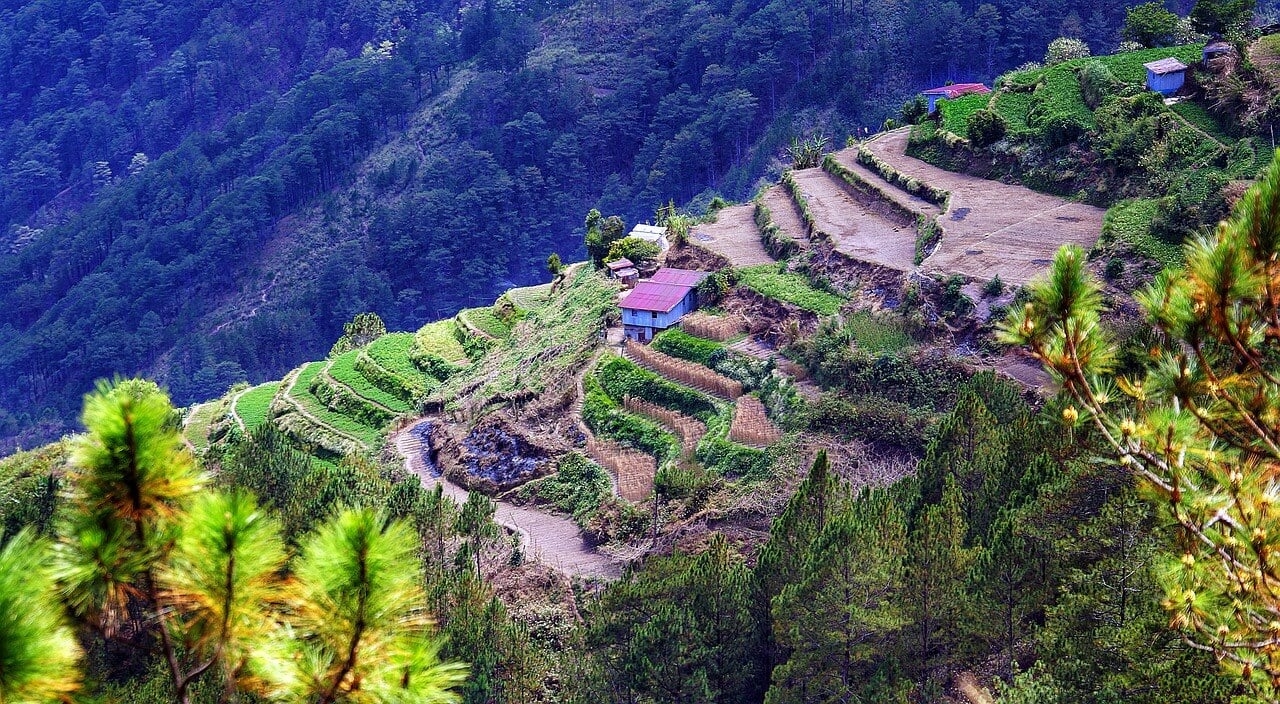 Due to the Spanish influence, they are very religious and 80% of the population still adheres to Catholic practices. You will see plenty of religious paraphernalia in many people's houses and businesses.
To experience the indigenous customs of Filipinos, try to get out of the larger cities and into the Northern territories where you can see indigenous practices and customs lived out on a day to day basis.
Pros and Cons of Moving to the Philippines
Nowhere is perfect all of the time, even with sun, lush jungles, and yummy street food! Here are a few pros and cons of living in the Philippines.
Pros:
No language barrier. English is widely spoken in the Philippines making it easy to communicate and get around
Work/life balance. Filipinos are extremely hard workers but they know how to celebrate.
Nature. 7,000 islands, incredible beaches, amazing diving, jungles and hiking trails – you will find a little bit of everything here.
Cost of living. On average it is 50% cheaper than most western societies.
Cons:
Low paying jobs. The Philippines is not a place you will be able to move to and find a job that will afford you a comfortable life.
Lack of infrastructure. Even though it has gotten much better in recent years, the lack of Wi-Fi and power outages still cause some difficulties when working remotely.
Typhoons. These catastrophic storms can cause extreme damage. They can occur at any time in the year.
Traffic. The traffic jams are atrocious, and can have you sitting in a car for hours. Not my idea of a good time!
Living as a Digital Nomad in the Philippines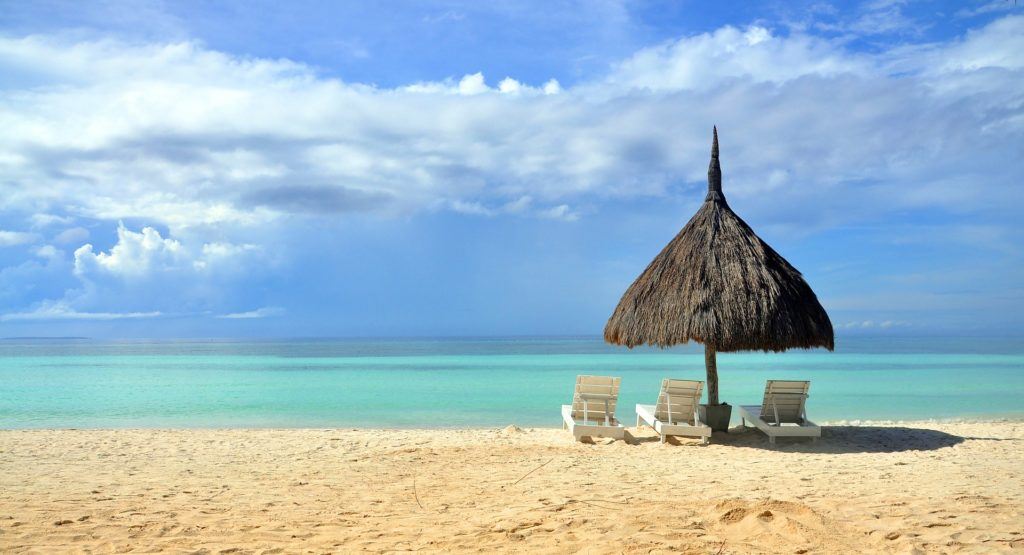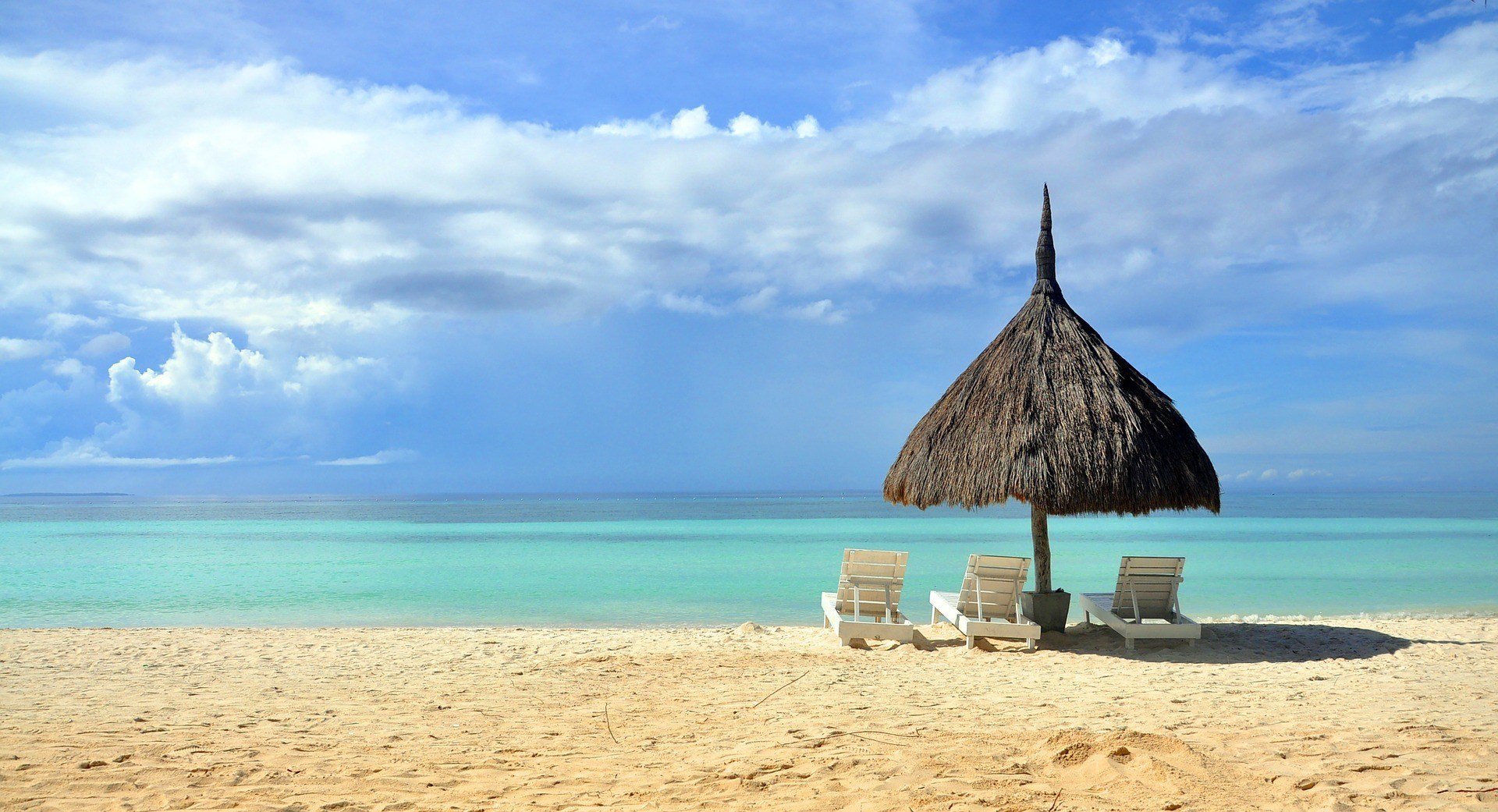 Internet in the Philippines
One of the main priorities of a digital nomad, the internet in the Philippines could be a huge influence over your move. The internet speed in major cities are average, allowing you to upload videos, search the web and participate in Zoom calls.
With that being said, if you are needing to upload large videos on a regular basis, or stay on video conferencing calls, your best bet at maintaining a steady connection is to purchase a fiber optic package.
The Future of the SIM Card is HERE!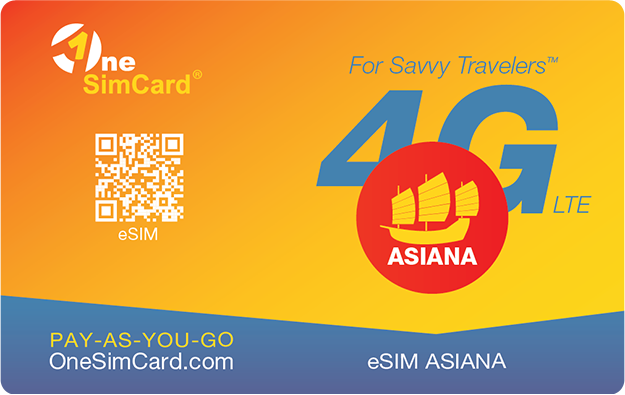 A new country, a new contract, a new piece of plastic – booooring. Instead, buy an eSIM!
An eSIM works just like an app: you buy it, you download it, and BOOM! You're connected. It's just that easy.
Is your phone eSIM ready? Read about how e-Sims work or click below to see one of the top eSIM providers on the market and ditch the plastic.
Buy an eSIM!
Digital Nomad Visas in the Philippines
A popular visa for digital nomads is the Philippines long term stay visa. It will give you a six-month extension on top of your 30 day visa free stay. It costs $200 and allows you to stay in the Philippines for six-months without any exits. You can apply for this on your arrival in the airport, or at an immigration office.
Co-Working Spaces in the Philippines
The best thing about working remotely is working wherever you want, but sometimes I miss that office camaraderie. Thankfully co-working spaces are becoming more accessible across the Philippines.
One thing that is not lacking for the digital nomad community is co-working spaces, with more than 100 spaces in Metro Manila alone, there is an office for every type of at worker. Whether you just want to pop in for a couple hours a day, or do a proper 9 to 5 routine, there are plenty of packages to choose from.
These typically range from $50 to $150 a month. Prices vary depending on how many days you will be in the office, 24/7 access, and location in the city. I recommend using a few day passes until you decide which space is best for you. A day pass can be as cheap at $10 a day.
Final Thoughts on Philippines Living Costs
The Philippines low cost of living, friendly locals, and minimal language barrier really make it a dream location for those looking for a new adventure.
Although the infrastructure is lacking compared to other southeast asian countries, you will still be able to work remotely and have access to connections throughout major cities and islands.
If you love pristine beaches, lush jungles, and a tasty food scene then I highly recommend jumping on the Filipino train before everyone else finds out about this up and coming digital nomad destination!
---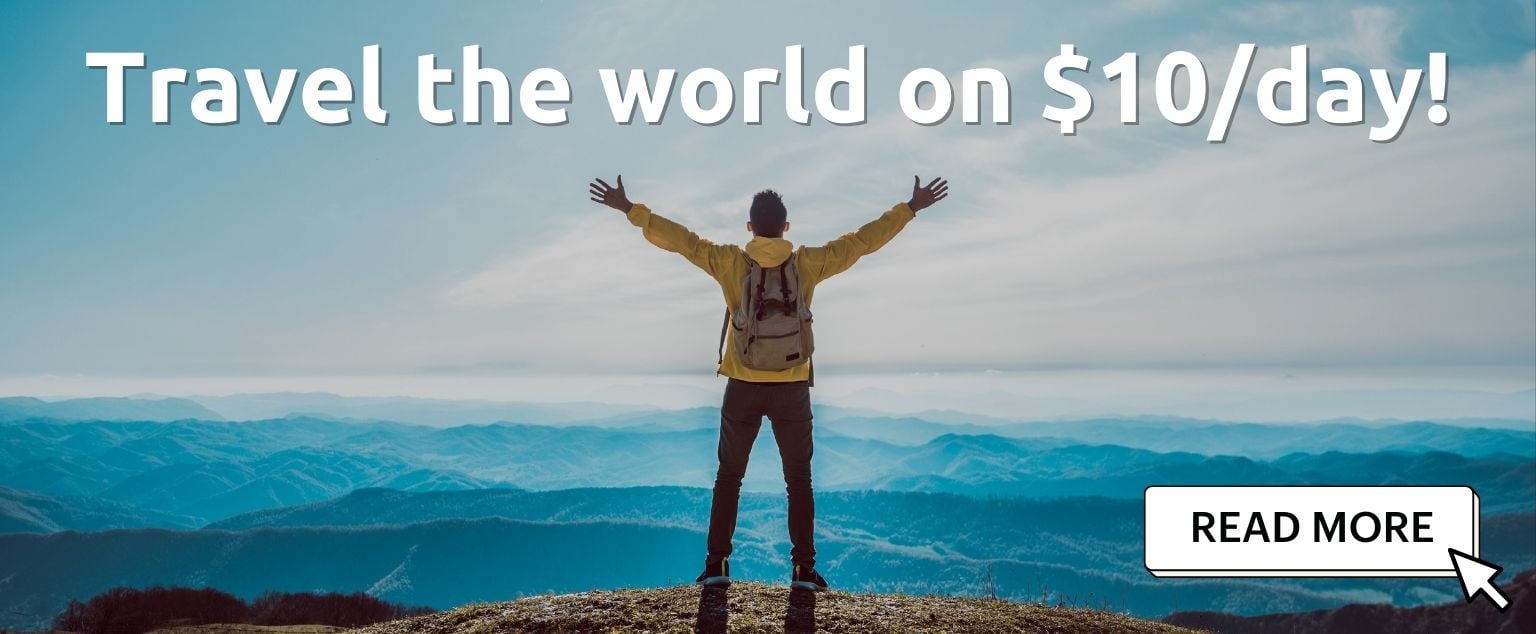 And for transparency's sake, please know that some of the links in our content are affiliate links. That means that if you book your accommodation, buy your gear, or sort your insurance through our link, we earn a small commission (at no extra cost to you). That said, we only link to the gear we trust and never recommend services we don't believe are up to scratch. Again, thank you!