Vibrant Manila is a tantalizing destination! It's a great mix of sophistication and chaos that will blow your mind! With fun activities, amazing landmarks and plenty of insider tips, our Manila itinerary will make sure that you have a holiday to remember!
Whether you're shopping up a storm at the bargain hunter's paradise of Divisoria Market or marveling at antique art in the National Museum of Fine Arts, there are so many awesome things to do in Manila, Philippines!
As the capital and financial center of the Philippines, Manila boasts many modern facilities to ensure you have a comfortable trip. However, it also has plenty of history and cultural attractions to make sure that you have fun on our Manila itinerary!
Knowing when to visit Manila is one of the most crucial aspects of your trip! That said, Manila enjoys a fairly consistent climate, so there are very few bad times to visit the city!
Peak season falls during spring, from March to May. On the plus side, many Manila attractions are open for visitors and the weather is warm but not too humid. However, you will have to share Manila with your fellow tourists and pay a steeper price!
The off-peak season is from June to August. Although this is summer, you can expect the most rainfall during this period, as well as humidity.
The best time to travel to Manila is during one of the shoulder seasons. November is a good month to visit since the rain slows down and the city is still uncrowded. There are more crowds in May but the weather is warm and you can still enjoy a wide range of attractions!
With a population of around 1.7 million people, Manila is a massive city, so choosing where to stay can be overwhelming! There are 16 districts that all have unique characters, but you'll probably only need to visit three or four of them.
The best place to stay in Manila in 3 days is Makati. This is a beautiful, clean and safe district in the center of the city. It's the city's business district, but it's also home to plenty of famous Manila points of interest, such as the Ayala Museum. There are also some gorgeous green spaces like Washington SyCip Park. It caters to visitors of all tastes!
Quezon City is another popular area to consider staying in due to its creativity and energy. It's located outside of the city center and has a vibrant, trendy atmosphere to enjoy! This is the best place to stay in Manila in 3 days if you're looking to experience the contemporary local culture. Foodies will also love this area, due to the host of fashionable cafes, busy bars, and various restaurants!
This hostel has the perfect location in the central district of Makati! It's consistently praised for its cleanliness and friendly staff. The hostel also has a very vibrant atmosphere, with plenty of social events taking place on its iconic rooftop bar. You're guaranteed to have a good time here!
If you prefer to stay in hostels, check out our guide to the BEST hostels in Manila.
Offering free Wifi, impeccable rooms, and helpful staff, OYO 179 Aguados Place is the ideal accommodation for budget travelers! It has a central location and a nearby metro station, making it easy to get around Manila.
For more budget accommodtion, consider staying at these cool Manila AirBnB's.
The amazing five-star hotel is in a quiet part of the city center, just 3,000 feet from the Manila Cathedral. The rooms and suites are opulently decorated with marble bathrooms and embossed textiles. You can also experience top-quality gourmet dishes and poolside cocktails at the Manila Hotel!
Knowing what to do in Manila is key to having a good time in the city! Luckily, you can make use of our awesome Manila itinerary to discover the city's key sites and best activities! All over the city, you'll find that things to see in Manila are often close together. However, you will need transport to reach these areas!
Manila has two railway systems, the Metro Rail Transit (MRT) and the Light Rail Transit (LRT). They're a great way of beating the traffic but they don't cover the entire city and overcrowding often leads to pickpocketing.
A quick way of getting around during your Manila itinerary is to use motorized tricycles. These are quite cheap, so long as you negotiate! There are also a number of eco-friendly electric tricycles.
The cheapest way of getting around Manila is to use buses and jeepneys (colorful buses with some features of a Jeep). These cover the entire city but are also difficult for first-timers to navigate. In the city center, however, if you use only the common routes you should be fine!
Of course, Manila also has a thriving taxi cab industry. It's important to negotiate and try to pay in exact change but the public buses will be easier on you pockets if you're backpacking the Philippines. You can also use the GrabTaxi app to hail a taxi but that costs more.
Ayala Museum | Greenbelt | Intramuros | Fort Santiago | The Rizal Shrine | San Agustin Church and Museum | Manila Cathedral
Today's Manila itinerary is all about orienting yourself with the city center and admiring some of the city's most gorgeous landmarks! It's amazing how much you can see in just one day in Manila!
Day 1/ Stop 1 – Ayala Museum
Why it's awesome: This museum will show you the best of Philippine history and art!
Cost: Free!
Food nearby: Find your early morning fix at Cafe Breton which is just a few minutes' walk from the museum. You can look forward to typical French cafe fare!
The Ayala Museum was founded by one of the Philippines' leading families who also developed Makati into the vibrant area it is today! This museum is now one of the best Manila attractions to explore!
The six-story building is currently undergoing renovation (until 2020) but it's still worth stopping by to admire the modern architecture. The museum's exhibits are being displayed in schools and shopping centers, so take a look at the museum website to find out if there's an exhibit planned during your vacation in Manila!
The stellar collection in the museum is the pre-Hispanic gold items, closely followed by delicate Ming porcelain! These precious artifacts pay tribute to the vibrant trading culture of the indigenous people!
Day 1 / Stop 2 – Greenbelt
Why it's awesome: Greenbelt is a huge green lifestyle complex that's perfect for relaxing!
Cost: Free!
Food nearby: What better way to stroll around the park than with a gelato in hand? Get one of the delicious flavors from Gelatissimo which is right in the park!
Next up on your Manila itinerary is one of the city's most famous green spaces which is known simply as Greenbelt. This massive park is a wonderful place to relax and refresh your body before carrying on with your Manila walking tour!
The shopping center was the original attraction of Greenbelt but it's quickly been overshadowed by 3 hectares of verdant gardens! In the midst of all this greenery, you'll find a number of cafes and bars, making this a very trendy area! The best thing to do is to take a stroll and then have a cold drink or ice cream!
Day 1 / Stop 3 – Intramuros
Why it's awesome: This charming area has many beautiful Manila landmarks from the Spanish colonial era!
Cost: Free!
Food nearby: The cozy interior of Bistro Marinero is the perfect setting for a variety of lunch dishes, accompanied by an excellent wine list!
No itinerary for Manila would be complete without a couple of hours spent exploring the historic district of Intramuros! Intramuros literally means 'inside the walls' in Spanish, referencing the district's cherished location inside the Spanish fortifications!
Since this was the city center during that period, there is history around every corner! Unfortunately, many of these Manila landmarks were destroyed by American troops during World War II. Thanks to restoration efforts, the surviving monuments have been restored!
Of course, you'll want to soak up the atmosphere of this neighborhood and experience some Manila things to do in the area! Visit the original Spanish walls, many parts of which are walkable. Also, wander around the Plaza de Roma and admire the statue of King Carlos IV!
Insider Tip: If you plan on bringing home souvenirs from your trip to Manila, Intramuros is the perfect place to shop! There are many trendy stores that have merged the best of Philippine tradition with modern design, resulting in unique items that your loved ones will truly appreciate! Manila Collectible Co. is a kind of one-stop-shop for souvenirs, selling local food ingredients and traditional handcrafts!
Day 1 / Stop 4 – Fort Santiago
Why it's awesome: This imposing fort has been around since the 16th century!
Cost: Entrance is $2 USD.
Food nearby: Patio de Conchita is the ideal place to grab an early afternoon snack! They serve ice creams and beers, as well as warm meals.
Fort Santiago was constructed in 1590 and spans an incredible 2,030 feet! Its history and sheer size mean its a Manila point of interest that you have to visit!
The fort is along the Pasig River and is surrounded by a moat. Visitors enter the fort through a fearsome gate which depicts St James, Spain's patron saint, squashing Muslims under his horse. This image is appropriate for the site since Spain had just defeated the indigenous Muslim people at the site of the fort.
There are a host of dungeons and plazas to explore inside the fort but be sure to stop by the Baluarte de Santa Barbara. This platform extends over the Pasig River and is a great spot to take beautiful pictures of Manila!
Day 1 / Stop 5 – The Rizal Shrine
Why it's awesome: This site was once the prison of a prominent leader of the struggle for Philippine independence!
Cost: $2 USD (included in the cost for Fort Santiago).
Food nearby: You'll find yummy local dishes at nearby Flower Stores!
Fort Santiago was once the prison of Jose Rizal, a nationalist leader of the struggle for independence from Spain. Rizal was executed for his work in 1896 and today his cell has become a kind of shrine to his beliefs!
Before entering Rizal's prison cell, you have to go through the Contemplation Room. Quotes by Rizal on patriotism cover the room. It's not possible to visit the actual cell where Rizal was held but there is a model of the room where you can see an artwork of Rizal sitting at his desk!
In the Chamber of Text and the Reliquary Room, you can learn more about Rizal's life and ideology. This room houses a first edition of one of his novels, as well as engravings of his poetry. You can also see some of his clothing. The most precious artifact is a bone from Rizal's body, in which you can still see a bullet!
Day 1 / Stop 6 – San Agustin Church and Museum
Why it's awesome: This stunning church is a UNESCO World Heritage Site!
Cost: Entrance is $2 USD.
Food nearby: Try Jollibee EAC for some Filipino-style fast food. If it's a taste of home you want, there's also a nearby McDonald's!
Built in 1607, San Agustin Church is the oldest church in the entire Philippines. It was one of the few buildings in Intramuros to survive World War II! It's also a beautiful building that captures the imaginations of those touring Manila!
San Agustin Church boasts some stunning architectural features. Be sure to admire the intricate frescoes on the vaulted ceiling which are very life-like!
The San Agustin Museum holds a number of precious treasures owned by the church. The highlight is the Immaculate Statue which is made of ivory and has traces of Chinese influences! There's also a giant bell that weighs 7495 pounds!
The staircase that ascends from the ground floor is also worth admiration as it was made of Cantonese granite back in the 18th century.
The museum is also home to a large collection of church vestments. The ornate robes are worn by priests and are works of art in their own right! You should definitely pop into the choir loft which boasts an amazing view of the church itself below! You can also be part of a tour.
Day 1 / Stop 7 – Manila Cathedral
Why it's awesome: This has been an iconic landmark in Manila since the 16th century!
Cost: Free (donations welcome)!
Food nearby: Barbara's Heritage Restaurant is the perfect place for a dinner celebrating the first day of your Manila trip itinerary! You can look forward to scrumptious Philippine and Asian cuisine!
The Manila Metropolitan Cathedral-Basilica was first built in 1581 but, due to a series of disasters, it has been rebuilt eight times! The current one only opened in 1958, but it maintains the striking Neo-Romanesque style of its predecessors.
As the seat of the Archbishop of the Philippines, Manila Cathedral is suitably grand! The cathedral even counts the incumbent Pope Francis as one of its esteemed visitors! Be sure to admire the stained glass windows and vaulted ceiling. Consider taking a bike tour to explore this place.
Insider Tip: To really feel in awe of this impressive cathedral, try to attend a mass. This will allow you to experience the Cathedral as it was meant to be enjoyed and is a great way of joining in the local culture! You'll find a schedule of mass services on the website or the cathedral's noticeboard.
Chinatown | Malacañang Palace | Rizal Park | National Museum of Fine Arts | Manila Baywalk
Wondering what to see in Manila on your second day? Well, there's a great combination of historical and natural landmarks on our 2-day itinerary in Manila!
Day 2 / Stop 1 – Chinatown
Why it's awesome: Full of history, food, culture and lots of energy, Chinatown is a place you have to visit when in Manila!
Cost: Free!
Food nearby: There's a huge variety of great food in Chinatown. Dong Bei Dumplings is a local favorite that serves fresh dumplings made right before your eyes!
Start your day with a trip to Binondo, the oldest Chinatown in the world! There have been Chinese traders in Manila since the 9th century, making a visit to Chinatown something you must do on your Manila vacation!
Binondo was originally its own town, home to Hokkien Chinese traders. It grew throughout the Spanish colonial period and experienced its heyday during the 1930s. During this period, the Americans transformed the quarter into a commercial center, complete with luxury stores and gorgeous Art Deco buildings!
Binondo has since lost a lot of its former glamor but none of its energy! The best way of exploring this neighborhood is to take a horse-drawn carriage tour or just walk along the bustling streets. That said, there are a number of incredible things to do in Manila in this part of the city!
One of the major Manila landmarks in Binondo is the Arch of Goodwill. It's one of the arches marking the boundary of Chinatown and was a gift to demonstrate the Chinese-Filipino friendship! Beyond the arch are Ongpin and Carvajal Streets. Here, expect to find traditional Chinese wares, such as traditional herbs. Go shopping in the colorful Feng Shui store near the arch. This is where local Chinese people buy Ying Yang charms and Feng Shui items!
It's also worth putting the Temple of Kuang Kong on your itinerary for Manila! This temple is dedicated to the God of War who is also patron of martial arts and scholars. It's a Buddhist temple where you can light incense, pray and have your fortunes told!
Day 2 / Stop 2 – Malacañang Palace
Why it's awesome: This has been the official residence of the leader of the Philippines since the Spanish era!
Cost: Free!
Food nearby: Inside the palace is Casa Roces. It's a 1930s family home that's been converted into a restaurant and cafe! Even if you're not hungry, it's worth stopping by to admire the stunning decor!
Admiring Malacañang Palace is one of the best things to do in Manila! Apart from its long history, the palace is also very beautiful.
You'll find Malacañang Palace perched alongside the Pasig River and taking in the view from across the bank alone is half the fun! The palace was first constructed in 1750 and became the official summer residence of the Spanish governor-general in 1825. Like many Manila landmarks, it's been damaged and restored several times throughout the centuries.
Malacañang Palace made headlines in 2016 when the newly elected president, Rodrigo Duterte, refused to move in, claiming that the palace was haunted! Even though he doesn't live there, the president still uses the palace as an office so most of the complex is off-limits to visitors.
The Malacañang Museum is the main building open to tourists. It houses an impressive collection of memorabilia from the 16 Filippino presidents that have been in office since 1899.
You should also put it on your Manila itinerary to get a taste of the fabulous architecture in the palace — lookout for crystal chandeliers, gleaming wooden floors and paneling, and capiz windows (a traditional window made with oyster shells instead of glass)!
Insider Tip: To get inside the Malacañang Museum, you need to book at least five business days in advance. All you need to do is email the museum with your contact details, the number of people visiting, and copies of your passports!
Day 2 / Stop 3 – Rizal Park
Why it's awesome: This gorgeous green space is also the burial place of national hero Jose Rizal!
Cost: Free!
Food nearby: Rizal Park is the perfect place to enjoy a picnic while touring Manila! If you want a sit-down meal, try Angel's Pizza and Pasta!
Spanning 58 hectares, Rizal Park is a refreshing public park in the heart of the urban Jungle! It's also one of the most important historical Manila attractions, as it is the burial place of Jose Rizal!
The iconic Rizal Monument is something that has to be on your Manila itinerary! You'll find this gigantic monument in the center of the park. A 150-foot flagpole marks the entrance and sentries in full military uniform guard the monument day and night by!
On one side of the monument is a plaque indicating the site of Rizal's execution and an engraving of his final poem My Last Farewell. There are eight bronze statues around the column that depict the final moments of the nationalist hero's life!
Nearby is the Central Lagoon. Busts of other Filipino heroes surround the pool and there is a dancing fountain that is illuminated with colorful lights at night!
On the eastern end of the park, outside the National Museum of Fine Arts is a statue of Lapu-Lapu, another Filippino hero. Lapu-Lapu was the ruler of Mactan and is seen as the first national hero since he was the first to resist Spanish colonization! Locals also celebrate him for killing Portuguese explorer Ferdinand Magellan when he attempted to invade Mactan after locals refused to convert to Catholicism!
Insider Tip: If your trip to Manila falls on a weekend, rather visit Rizal Park later in the evening. Then, you can attend one of the free rock concerts on a Saturday night or a classical music concert on a Sunday night!
Day 2 / Stop 4 – National Museum of Fine Arts
Why it's awesome: This incredible museum is bursting with magnificent pieces of local art!
Cost: Free!
Food nearby: Macau Imperial Tea is a great place for an afternoon snack and, of course, milk tea!
Next up on your Manila itinerary is the National Museum of Fine Arts, which is conveniently located on the edge of Rizal Park! With 2 days in Manila, you have to visit this museum to learn more about the Philippines' art and culture scene!
The museum is housed in a striking Art Deco building but the true highlight is still the artworks! The galleries are organized around period, media and themes, so it's easy to find art that interests you. There are, however, a number of absolute must-sees!
Portrait of a Lady by Juan Luna y Novicio is one of those pieces of art with a story! It's rumored to bring misfortune to all of its owners, including its last owner, First Lady Imelda Marcos!
Felix Resurreccion Hidalgo's La Barca de Aqueronte is another masterpiece to admire. The physicality of the painting won the artist plenty of awards and cemented his status as a great Filippino artist!
Painted during World War II, The Burning of Manila by Fernando Amorsolo y Cueto is a seminal work in the artist's portfolio. The picture depicts Manila in flames, with locals fleeing the scene and is very evocative!
Another World War II-era painting to see is the violent Rape and Massacre in Ermita which vividly shows the real harm war does to families.
Finally, be sure to find Noli Me Tangere by Leonardo Cruz. It's in a gallery dedicated to art inspired by Jose Rizal but even so, this piece stands out. It's a beautiful compilation of scenes from Rizal's work of the same name.
Day 2 / Stop 5 – Manila Baywalk
Why it's awesome: This seaside promenade is a wonderful spot to watch the sunset in Manila!
Cost: Free!
Food nearby: Manila Baywalk hosts many food vendors so it's the perfect place to try Filippino fast food, such as roast chicken followed by coconut cakes for dessert!
Watching the sunset over one of the great Manila landmarks is the perfect close to your 2-day itinerary in Manila! The best place to do this is at the Manila Baywalk, a promenade that runs along the seaside in the city!
Manila Baywalk overlooks the Bay of Manila. This enclave was the scene of a naval battle between America and Spain in 1898 that effectively ended 300 years of Spanish rule in the Philippines! Appropriately, the promenade starts at the American Embassy.
The promenade stretches for around a mile, alongside Roxas Boulevard. Palm trees provide shade and there are plenty of ornamental plants. As evening starts, live musicians set up, making this a charming place to stroll during your weekend in Manila! (If you're very sporty, it's also the perfect spot to go jogging).
Restaurants, cafes, bars, and dancing spots line the beach strip if you want to spend the night in the area. At the southern end of Manila Baywalk is the harbor, where you can take a sunset cruise around the bay. Even if you're not catching a boat, it's worth exploring the picturesque harbor. Finally, find a bench and get your camera ready for a spectacular sunset!
Cultural Center of the Philippines Complex | Manila Ocean Park | Divisoria Market | SM Mall of Asia | National Museum of the Filipino People
If you don't know what to do in Manila for 3 days, then stick close to our suggestions! Our 3-day itinerary in Manila will give the best ideas for how to entertain yourself in this gorgeous city!
Cultural Center of the Philippines Complex
This is Manila's premier theater and movie cinema!
The sprawling complex is home to six grand performance venues!
Whether it's ballet or film, there's something for everyone at the Cultural Center!
Since its opening to the public in 1969, the Cultural Center of the Philippines Complex has been the country's top arts performance venue! It's one of the loveliest places to visit in Manila and the best place to catch a show!
The Cultural Center was a pet project of President and First Lady Marcos and is considered emblematic of how Manila was at its best and most glamorous during the Marcos Era.
As well as being a performance venue, the complex is also home to a number of museums and galleries. You can explore the contemporary art museum, the ethnographic museum, as well as a number of exhibition galleries!
The architecture of the complex is also a great monument in itself. It was designed by esteemed Filippino architect Leandro Locsin. There are elements of the brutalist modern style (such as the heavy concrete and simple straight lines), as well as traditional Filipino features like the floating volume and a marble slab that has the appearance of floating in the air!
The best way to experience this venue is naturally to book a show! You can find classical music, theater, the National Ballet, and folk dance all at the Cultural Center. It's the perfect treat to put on a 3-day itinerary in Manila!
Manila Ocean Park
This huge aquarium is simply breathtaking!
The aquarium is home to over 14 000 creatures!
Ocean Park is one of the most fun things to do in Manila!
Manila's Ocean Park is even bigger than Singapore's and its size is echoed in the sheer diversity of creatures that call it home! It also runs lots of interactive public programs, making it the perfect place to visit with kids if you have 3 days in Manila!
The Oceanarium is one of the stellar Manila attractions you'll visit. This aquarium focuses on marine life that is indigenous to the waters of South-East Asia. The water in the facility comes directly from Manila Bay and is filtered to suit the animals perfectly! In the midst of the aquarium is a 220° curved walkway tunnel. From here, you can see the marine life swimming blissfully overhead!
If you'd like to get into the water, you can book an Aquanaut Voyage. This experience allows you to explore inside the tanks with minimum effort, thanks to a special diving helmet that lets you breathe normally! You could also go for the Sharks & Rays Encounter, which lets you swim with these special creatures!
Another fun activity is a session on training sea lions. During this encounter, you can swim and perform a few tricks with the sea lions!
Divisoria Market
Calling all shopaholics and bargain-hunters…you must put Divisoria on your Manila trip itinerary!
This is where you will find everything you could need or want at the cheapest prices imaginable!
The riot of color and noise inside the market make it an unforgettable experience from your Manila travels!
Divisoria Market dates back to the Spanish Era in Manila when people who weren't Christians were forbidden from trading in Intramuros. Undeterred, they set up shop in Divisoria. The market is now one of the most vibrant and exciting attractions on any Manila itinerary!
When the nearby railway station opened at the start of the 20th century, Divisoria got a huge boost from the wholesale goods that were now easily available! Wholesalers still sell their wares at Divisoria, meaning things are even cheaper if you buy in bulk or know how to bargain!
You can find everything imaginable at Divisoria — whether that's clothes, toys, crafts or electronics! The bustling atmosphere of buying and bargaining can be infectious, pushing you to buy things you don't need. Rather set a budget and take the exact cash with you so you're not tempted to overspend!
Divisoria Market is also a great place to try some local street food at really affordable prices. Just remember to bring some bottled water along!
SM Mall of Asia
This is the fourth largest mall in the Philippines and one of the largest in the world!
It's more than just a mall, with plenty of tourist attractions too!
The 2-story entertainment complex could occupy you for days!
SM Mall of Asia may seem like an unusual place to include on your Manila itinerary, but there are so many fun things to do there!
Of course, there is a huge range of shops and restaurants to discover but that's really just a sideshow! What you want to do here is visit the entertainment complex!
The entertainment complex is home to the first ice rink in the Philippines and IMAX movie theaters. There's also a small amusement park outside! The mall is located right beside the Bay of Manila and offers great views of the sea! If you're not up for the rides, it's also a good place to picnic or sit on a bench with ice cream and enjoy the seaside breeze!
SM Mall of Asia is a great place to come to watch the sunset. On weekends, there are even firework displays in the evenings! If that doesn't interest you, then avoid the weekend crowds and visit during the week.
National Museum of the Filipino People
This massive museum houses archaeological artifacts from across the country's history!
There's a large collection of stunning precious items like jewelry and porcelain!
All of this is free to visit!
Also known as the National Museum of Anthropology, this amazing museum is a stellar curation of the Philippines' history through fascinating objects! It's a must while you're in the Manila city center!
The ground floor is dedicated to the San Diego Exhibit which centers around a collection of 5,000 objects retrieved from the shipwreck of San Diego which sunk in 1,600 after a battle with the Dutch! There are common items like hazelnuts and chicken bones but also more valuable items. Tons of precious Chinese porcelain, rosaries and silver goblets are some of the highlights. You can also admire eleven canons!
The gallery of Five Centuries of Maritime Trade Before the Arrival of the West does exactly what its long name indicates! Items like gold and porcelain bring the South-East Asian trade routes to life!
The Filipinos and Their Rich Cultural Heritage and Archaeological Treasures galleries focus on indigenous cultures and artifacts. One of the fascinating highlights is the Ayub Cave jars which date from 5 BCE! People would rebury the bones of their ancestors in these jars.
The Origin Gallery is also an intriguing trip through history in the pre-historic era! Here you can come up close to the skullcap of the earliest known inhabitant of the Philippines, the Tabon Man, who lived in 24000 BCE!
It's always a good idea to learn more about safety when you're planning a trip to Manila. Manila may not be a particularly violent city but there are petty crimes and health hazards that you should be aware of! Manila is mostly safe to visit.
As a tourist, you tend to see the wealthier parts of Manila, but the city is also home to a large population of very poor citizens and theft is common. Keep your belongings close, avoid walking around at night, and try not to wear expensive jewelry which could make you an obvious target!
Be careful of where you draw money or change currency. Avoid making currency exchanges at facilities that aren't banks since you could be overcharged. It's also best to only make ATM withdrawals at ATMs in banks or hotels so that you avoid those that are rigged to read your card information!
If you're only in town for a short period, it isn't worth putting your body through the challenge of acclimatizing to local tap water. The tap water is generally safe but foreign bacteria could make you feel queasy at first so stick to bottled water.
Don't Forget Your Travel Insurance for Manila
ALWAYS sort out your backpacker insurance before your trip. There's plenty to choose from in that department, but a good place to start is Safety Wing.
They offer month-to-month payments, no lock-in contracts, and require absolutely no itineraries: that's the exact kind of insurance long-term travellers and digital nomads need.
SafetyWing is cheap, easy, and admin-free: just sign up lickety-split so you can get back to it!
Click the button below to learn more about SafetyWing's setup or read our insider review for the full tasty scoop.
Whether it's hiking, canoeing or relaxing in a resort, there are some incredible things to do near Manila! The most convenient way of exploring the surrounding areas is to go on one or two awesome day trips from Manila!
Taal Volcano Full-Day Adventure Tour from Manila
Taal Volcano is a such a popular attraction with those who visit Manila that it has to be on your Manila itinerary!
This is one of the greatest day trips from Manila, during which you can come up close to the Philippines' second most active volcano! The volcano is atop an island that you can reach via boat. After that, it's time to climb this terrific mountain! If you want more of a challenge, try taking a horse ride to the top! The panoramic views and crisp fresh air are the highlights of this epic trip!
Full-Day Tour Villa Escudero Plantation
Outside of Manila is countryside so peaceful you will find it hard to believe that there's a massive city just a few hours away! The area is home to plantations where you can experience rural life while on vacation in Manila!
Escudero Coconut Plantation is a tourist-friendly estate that teaches you about the history of coconut farming in the Philippines, as well as showing you how it's done! There's also a private museum that houses the family's collection of historical artifacts dating from pre-Hispanic times! As if that's not enough, you can enjoy a swim in one of the pools or lagoons on the estate!
From Manila: Majestic Pagsanjan Falls Adventure
Visiting Pagsanjan Falls is one of the most incredible things to do in the Philippines! It's located in the Pagsanjan Gorge National Park, a beautiful landscape of forests and waterfalls!
The best way to immerse yourself in the park's breathtaking environment is on a canoe trip! You can hire an indigenous dug-out canoe, steered by two boatmen and explore the stunning area.
Behind the 300-foot waterfall is a cave of water in which you can swim or explore on a bamboo raft. This is an exhilarating experience that will stay with you long after your Manila travel experience ends!
From Manila: Full Day Trip to Tagaytay Ridge
Just an hour and a half outside of Manila is the city of Tagaytay, which is surrounded by the majestic Tagaytay Ridge. Here you can enjoy breathtaking views of the encircling landscape, including Taal Volcano!
Along the way, you'll also stop by Las Pinas to explore the iconic San Jose Church. It's home to an organ made entirely out of bamboo! A Spanish priest created this unique instrument in the 19th century and it produces a special sound!
This trip also makes time to visit a jeepney assembly plant where you can learn more about this classic Filipino transport method!
Subic Bay Adventure
The 75-mile journey to Subic Bay is undoubtedly one of the best day trips from Manila! This gorgeous region is also full of military history!
Subic Bay was once the biggest American naval facility in the Asian-Pacific region until a volcano erupted in 1991. The government later redeveloped the area into a port and tourism zone.
The eruption of Mt. Pinatubo was the largest volcanic eruption of the 20th century. Learn more about the havoc it caused before relaxing in the gorgeous nature!
Find out what people want to know when planning their Manila itinerary.
Conclusion of Manila Itinerary
From museums to green spaces and churches to bars, there is something for everyone in Manila! With so many fabulous activities and attractions on our Manila itinerary, you'll never need to wonder what to do in Manila, Philippines next!
Manila is often overlooked as a holiday destination in favor of its glamorous neighbors, Singapore or Kuala Lumpur, but it has so much to offer that no-one will ever regret a Manila trip! Larger-than-life heroes and monumental battles fill the city's long history. Combine this with the many diverse cultures that have called Manila home over the centuries, and you have a truly cosmopolitan city!
Whether you're in and out of Manila in a day or staying longer, we can promise an awesome trip with our epic Manila itinerary!
---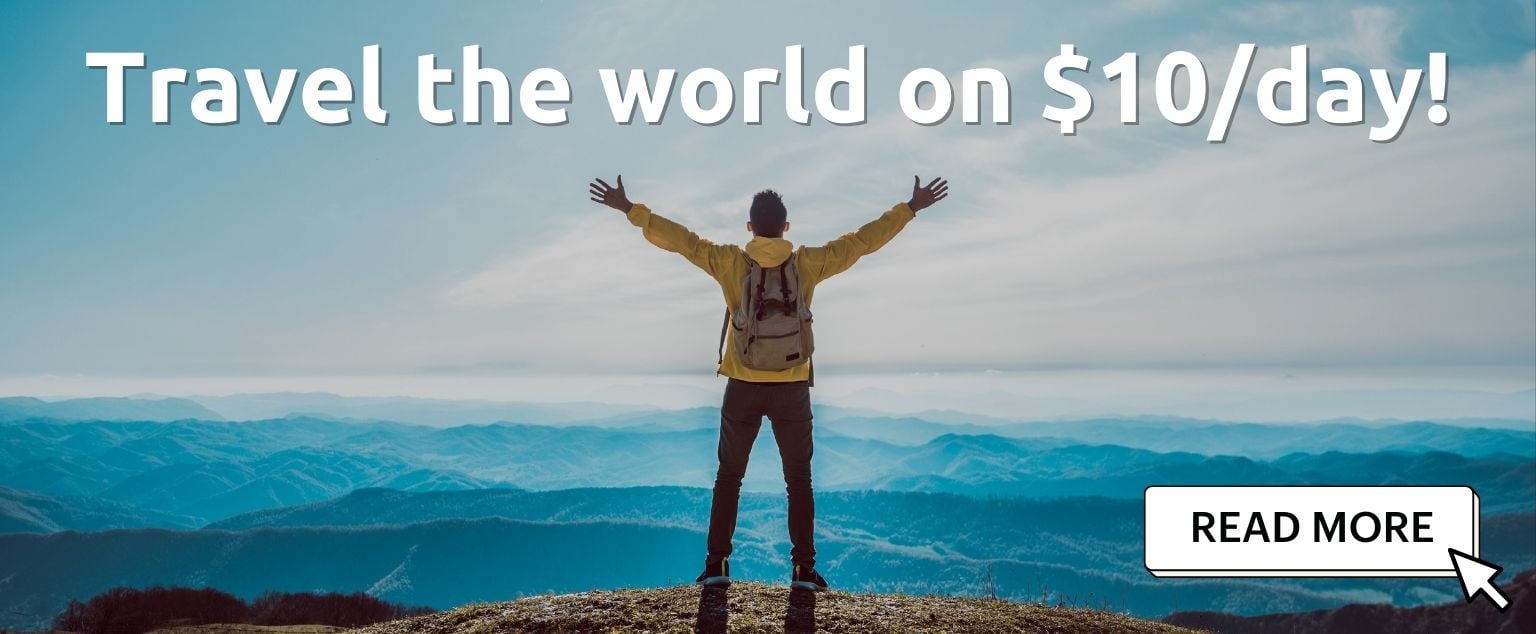 And for transparency's sake, please know that some of the links in our content are affiliate links. That means that if you book your accommodation, buy your gear, or sort your insurance through our link, we earn a small commission (at no extra cost to you). That said, we only link to the gear we trust and never recommend services we don't believe are up to scratch. Again, thank you!