Manila is a city consistently underrated by the travelling community.
Sure, you might be on your way to a beach so pretty that exes get jealous, but there are a ton of reasons to hang around this crazy city too.
Maybe you're fascinated with the Philippines' wild colonial history.
Maybe you're just stuck here.
Regardless of why, my top-tier guide to the best places to visit in Manila will take you through why this city is worth diverting your time away from the Philippines' "ex-pat maker" beaches. From remnants of the revolution to ultra-modern shopping centres, there are places here that will leave the whole crew satisfied culturally, materially, and culinarily…
…Let's get into it!
These are the BEST Places to Visit in Manila!
Manila is just WAITING to be discovered BY YOU! Travelling the Philippines is full of adventure, excitement and ladyboys. So go for it!

Unlock Our GREATEST Travel Secrets!
Sign up for our newsletter and get the best travel tips delivered right to your inbox.
1. Fort Santiago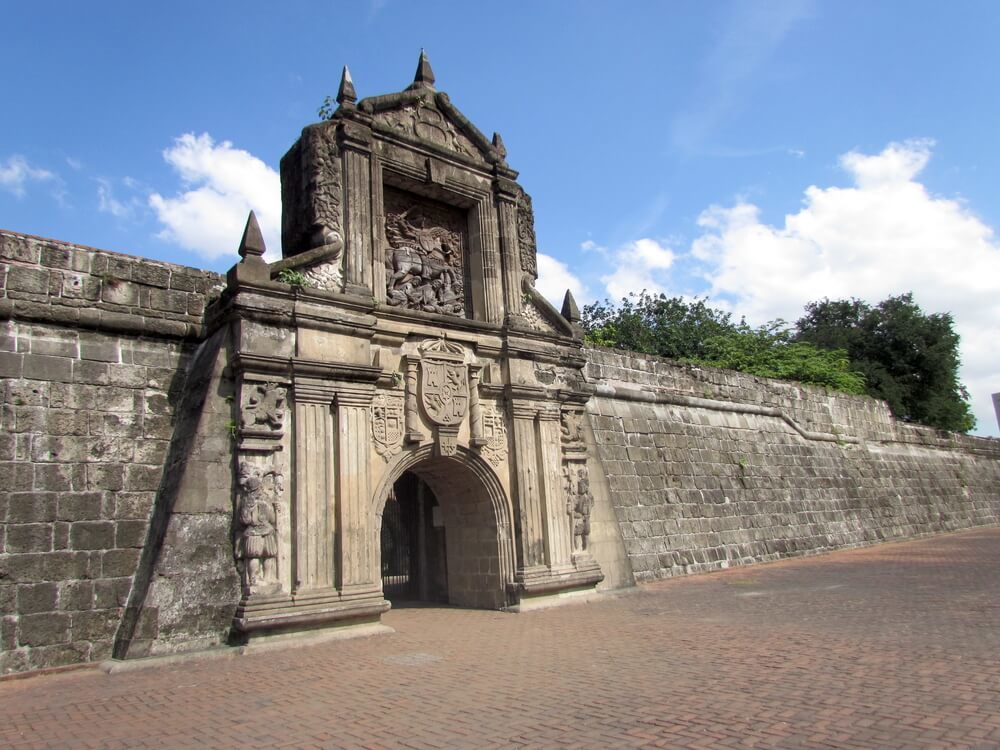 Architecture
Exciting stories!
Why it's awesome: Named after Spain's patron saint, Fort Santiago was constructed by Spanish conquerors when Manila was a newly established city. Home to an impressive collection of stories, history and culture, Fort Santiago is a must for any Manila itinerary!
What to do there: Gaze in awe at the mighty complex, complete with a defensive moat and dense 6.7-metre-high (22-foot-high) walls, and cross the garden of Plaza Moriones to reach the impressive gateway to the fort. The garden is filled with statues of historical, political, religious, and military figures, and makes for good catching up on local history.
2. Arroceros Forest Park
Break from the noise and traffic
Romantic 😉
Why it's awesome: Referred to affectionately as "Manila's last lung", the Arreceros Forest park is a breath of fresh air within a bustling city. Home to an increasing number of bird species, there is a real sense of wildness, even within the confines of the city. Finding an awesome place to stay nearby will give you the opportunity to step out of the city murk whenever you feel like it!
What to do there: Take a casual stroll through the carefully constructed pathways, soaking in the tranquility and peacefulness. It's a hotspot for Philippino couples, who are super quick to grab that insta-ready photo. Enjoy it, it's a nature park!
3. Rizal Park
Large urban park
Beautiful musical fountain
Wild history
A popular place for leisure and relaxation
Why it's awesome: The expansive Rizal Park (also sometimes referred to as Luneta Park) is a popular destination for both locals and tourists. It is named after the national hero José Rizal, who was executed here. The park has a history that dates back to the Spanish colonial period when it was commonly used as an execution spot.
What to do there: See the statue of José Rizal and the monument dedicated to the hero, gaze up at the soaring Independence Flagpole, and watch various events at the Open-Air Auditorium, parade grounds, and Quirino Grandstand. Wander through both the attractive Japanese and Chinese Gardens, then learn more about local wildlife at the Orchidarium and Butterfly Pavilion.
4. San Agustin Church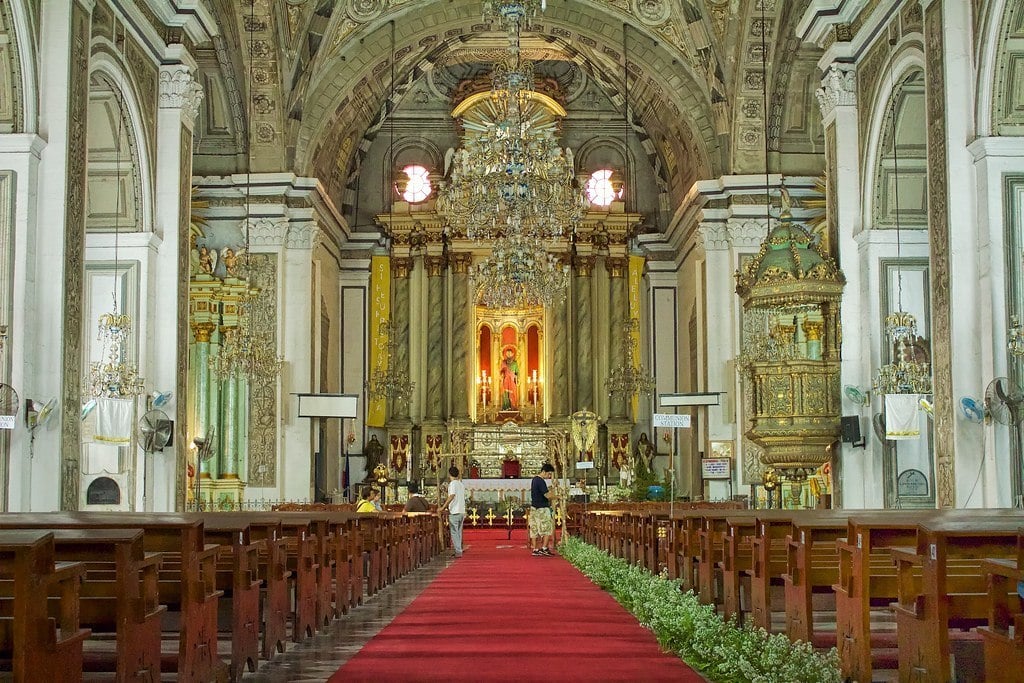 The oldest church in the Philippines
Glorious frescoes
Gorgeous architecture
An active place of worship
Why it's awesome: Built in the early 1600s, San Agustin Church is the oldest church in the Philippines. Today it is a UNESCO World Heritage Site and a National Historic Landmark. It stands on the site of older places of worship and is still an active church today.
What to do there: Admire the church's Renaissance façade and see the Chinese-style dog statues stand to attention in the courtyard before passing through the large carved wooden doors. The spectacular ceiling is sure to grab your eye, with its attractive appearance and seemingly graceful arches. The ceiling is, however, completely flat, with the curved effect caused by the intricate trompe l'oeil painting created by talented Italian artists.
5. Casa Manila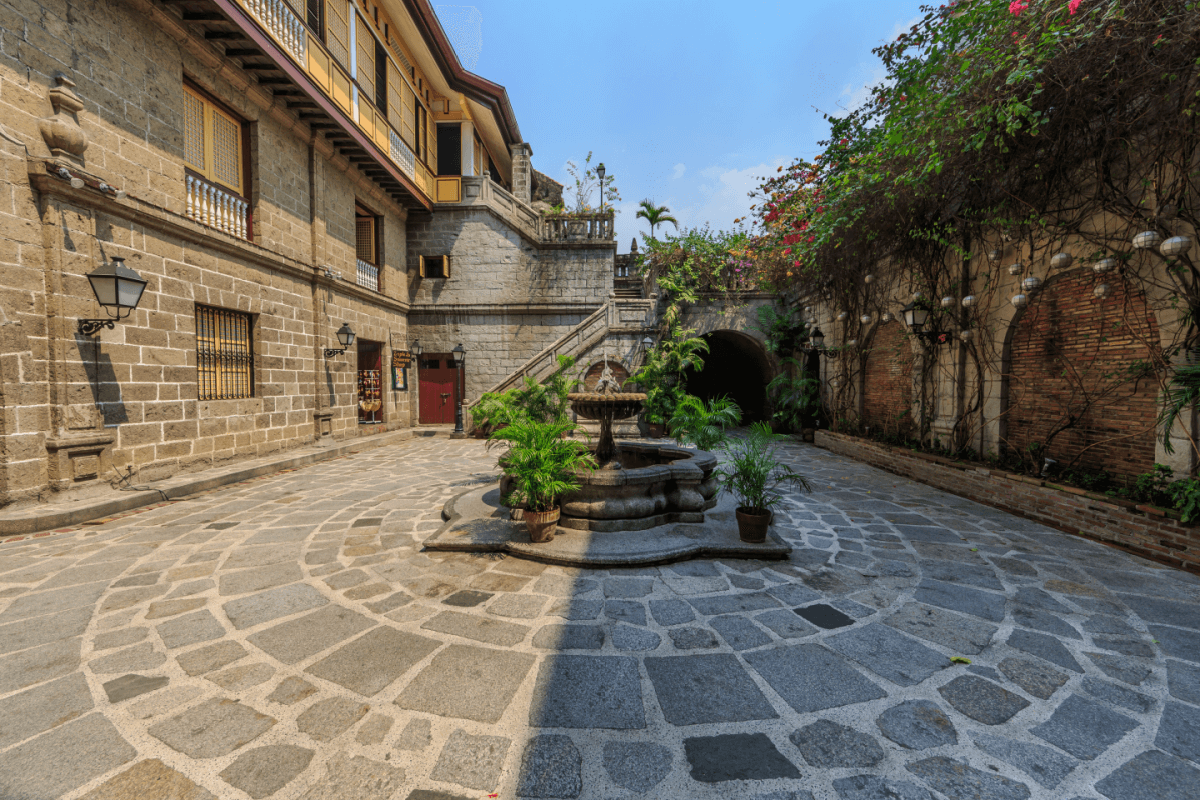 Spanish Colonial period vibes
Intramuros
Why it's awesome: This house is of particular historical significance, as part of the esteemed Intramuros complex. Basically a showcase house for rich people back in the day, it gives an insight into how life was lived 150 years ago. The classical Spanish architecture is super impressive, and it is one of Manila's favourite tourist spots.
What to do there: There are three floors of this house to explore, sporting a combination of Spanish, Chinese and Philippino furniture. The dormitorios were used specifically for siesta time, and there are more than a few examples of why there were revolutions (because this house is so nice). Enjoy the atmosphere, the ambience, and the cool fountain.
6. SM Mall of Asia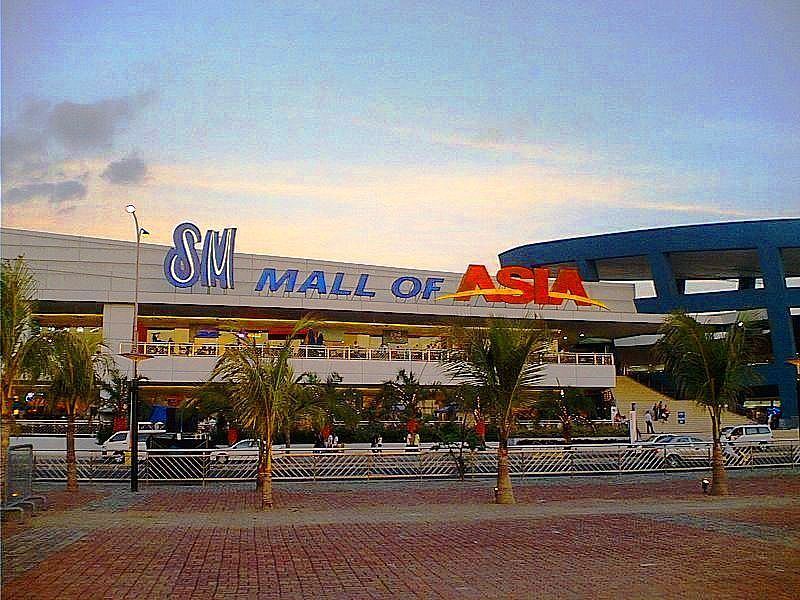 Huge shopping centre
Diverse leisure and entertainment options
Fun amusement park
Varied dining options
Why it's awesome: The huge SM Mall of Asia (often known as MoA) is one of the biggest shopping malls in the Philippines. Home to a large selection of shops that sell an even larger assortment of goods, the mall is much, much more than simply a place to shop. Spread across green and attractive grounds, there are several buildings.
What to do there: Browse a huge selection of items in the mall's many stores, with brands that include Crocs, Aldo, Dyson, JB Sports, Esprit, H&M, Lacoste, Lenovo, Nike, Watsons, Rolex, and Timberland. Grab a bite to eat in one of the restaurants, cafes, or fast-food joints, with local and international fare to tempt you.
7. Intramuros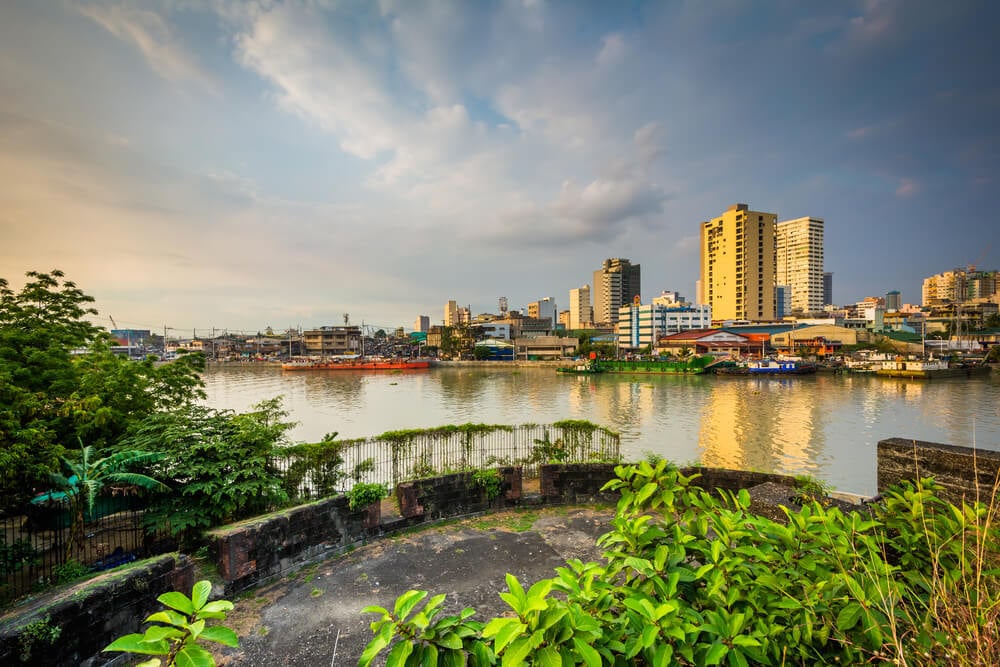 The oldest part of Manila
Historic walled area
Colonial past
Lots of old architecture
Why it's awesome: Built by Spanish colonial powers, Intramuros is the oldest district and one of the best places to stay in Manila. Founded in the late 1500s, in the past, the walled city was the only city—the rest of the sprawling capital has since sprung up outside the walls. Huge walls and fortifications stretch for some 4.8 kilometres (three miles) around the area. Grand gateways have been restored to their former glory and the neatly laid-out district has many historical buildings.
What to do there: Enter the walled city-within-a-city through one of the imposing gateways in the defensive walls and wander along the well-arranged streets. You can also hop in a calesa (a traditional horse-drawn carriage), ride in a tricycle, or rent a bicycle to explore the historic streets. Delve into the past at museums like Casa Manila, which is filled with period furnishings and objects from the Spanish colonial era, the lesser-visited Bahay Tsinoy, which tells the history of the Chinese-Filipino community, San Augustin Museum, and the Light and Sound Museum.
8. La Mesa Watershed Reservation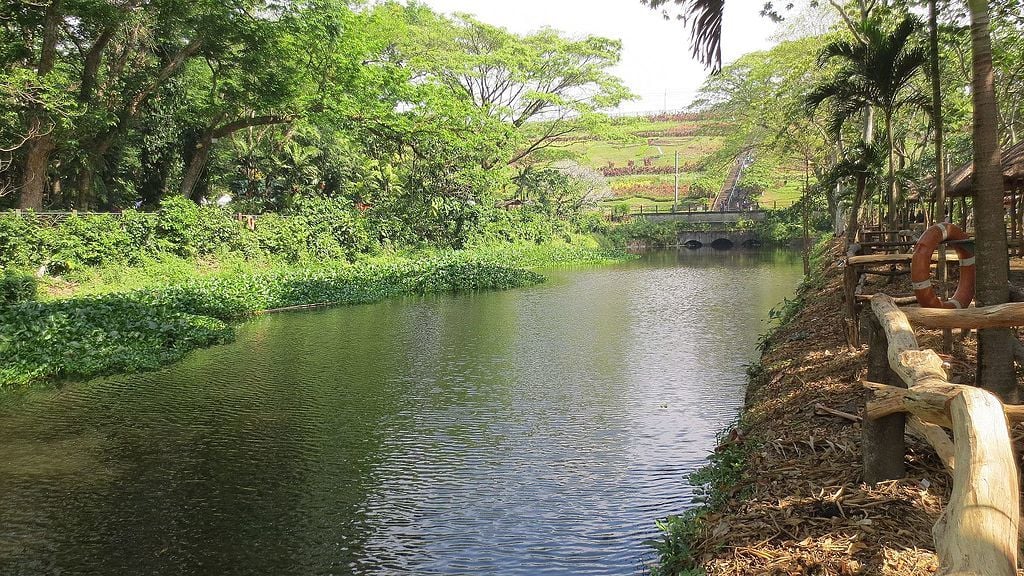 Rich biodiversity
Several nature trails
One of the last patches of rainforest in Metro Manila
Picturesque views
Why it's awesome: La Mesa Watershed Reservation has the biggest remaining areas of rainforest in Metro Manila and has the city's primary watershed, a reservoir, and a dam. It is often referred to as the Green Lungs of Manila. Long nature trails run through the 6,570-acre (2,659-hectare) area, letting people spot diverse flora and fauna. There are also excellent opportunities for cycling. The area has a rich biodiversity within its various ecosystems. There are great views too.
What to do there: Connect with a local guide (you need a guide to accompany you around the reservation) and set off along the narrow but well-maintained walking trails to spot various wildlife. Common trees in the area include acacia, teak, mahogany, and beechwood, and the diverse birdlife includes moorhens, herons, ospreys, woodpeckers, wagtails, robins, kingfishers, and sparrowhawks.
9. Quiapo Church
Home to a famous black statue of Jesus Christ
The scene of one of Manila's biggest religious festivals
Attractive baroque building
Spiritual ambience
Why it's awesome: The baroque beauty of Quiapo Church was built in the 1930s as a reconstruction of an older church that was damaged by fire, an earthquake, and invading forces. Featuring a large dome, two bell towers, twisted columns, carvings, and statues, it's a photogenic building from the outside. The interiors are fairly plain in comparison, but the highlight is the life-size statue of the Black Nazarene.
What to do there: Admire the beautiful church from the outside and immediately sense the tranquil and spiritual air when you step through the large doors. Take a seat on one of the wooden pews for some quiet moments of reflection and see the sacred statue of the Black Nazarene. Devout Catholics climb the steps to kiss the statue's foot. Dressed in a burgundy lace-edged tunic, the life-size statue carries a large wooden cross and a golden ball and chain.
10. Divisoria Market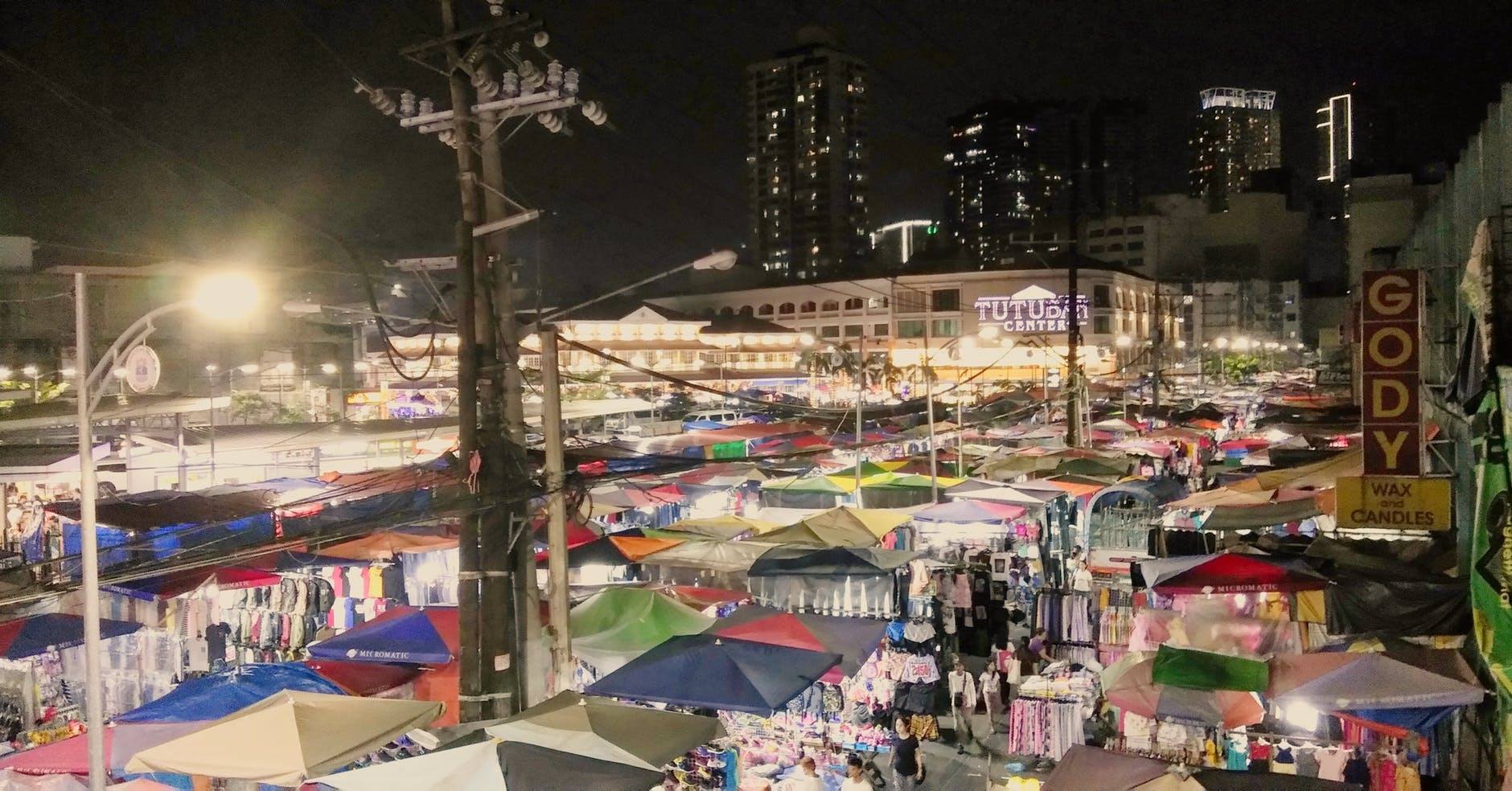 A lively market with a local vibe
Bargain prices
In the heart of Chinatown
Plentiful food options
Why it's awesome: Divisoria Market is a large and thronging market in the middle of Manila's bustling Chinatown. It's often said to be one of the best markets in the entire country. A top place for bargain hunters and those who want to fully immerse themselves in the local shopping experience, the market has a wide selection of goods, many of which are at discounted prices. It can trace its roots back to the Spanish colonial era when members of the Chinese community were not allowed to trade or shop in the markets within the walled city centre.
What to do there: Join the crowds and shop for a huge array of goods at great prices. You'll find almost anything you could ever need or want here, including clothing, electronics, fresh produce, homewares, crafts, textiles, toys, movies, souvenirs, and more. There's also a wide selection of religious memorabilia, including items typical to Catholicism, Buddhism, and Taoism. Perfect your negotiating skills to get the lowest prices. It's also a great place for photography. Stop into a nearby Chinese restaurant to take a break and refuel.
11. Tagaytay
Easy day-trip destination from Manila
Active volcano
Stunning scenery
Diverse things to see and do
Why it's awesome: Tagaytay is a charming, picturesque, and interesting city just 60 kilometres (37 miles) from Manila. A fabulous place for a day trip, a highlight is the spectacular Taal Volcano and Lake. Rather unusually, it's not just a volcano and lake—there's a small island in a lake, in a volcanic crater, in a lake! Taal Volcano is one of the most active volcanoes in the Philippines. Other attractions include fantastic shopping centres, pleasant parks, and religious buildings, and there are great options for romance, dining, and relaxation too.
What to do there: Admire the striking Taal Volcano and Lake, soaking up the glorious scenery and awesome views. Enjoy even more terrific vistas of the volcano and lake from the pretty Peoples Park in the Sky, a lovely hilltop city park. Visit the serene Our Lady of Manaoag Church, with a large statue of the Virgin Mary and a charming chapel.
12. APEC Sculpture Garden
Selection of interesting sculptures created by artists from the Asia-Pacific region
Peaceful and romantic ambience
Pretty grounds
Outside the Philippine International Convention Centre
Why it's awesome: The APEC Sculpture Garden can be found across the lawns outside of the Philippine International Convention Centre. Opened in 1996, the pretty garden features 20 unusual sculptures made by people from different APEC (Asia-Pacific Economic Cooperation) countries. Together, the eye-catching pieces show the collective ideals of the member nations. Great attention was given when deciding where to site the different statues in order to be in harmony with the natural surroundings.
What to do there: Walk around the attractive APEC Sculpture Garden with your love, admiring the various sculptures throughout the lovely grounds. You're sure to snap plenty of cool selfies! See the brown bear statue from Russia, the cassowary bird from Papua New Guinea, the lotus flower from Thailand, and the kimono-wearing girl from Japan.
13. National Museum Complex
Home to many splendid national works
Neoclassical architecture
National Historical Landmark
Free admission
Why it's awesome: The National Museum complex in Manila is contained within a beautiful historic neoclassical building. Built in the early 1920s, the building was originally home to legal branches of the local government. Paintings and sculptures kept here were all produced by Filipino artists, and many provide great insights into the country's past and culture. A top place for budget travellers, there's no charge to visit this excellent museum.
What to do there: Appreciate the historic building from the outside before entering the top-class art museum to admire the various works inside. Among the most famous pieces, you can see are works by renowned national artists like Guillermo Tolentino, Juan Luna, and Felix Resurreccion Hidalgo. Top pieces to add to your must-see list include Spoliarium, La Barca de Aqueronte, Portrait of a Lady, Planting of the First Cross, Rape and Massacre in Ermita, Doomed Family, and The Burning of Manila.
14. Manila Cathedral
Dedicated to the Virgin Mary
Long history
Beautiful architecture
Peaceful atmosphere
Why it's awesome: Located within the walled area of Intramuros, Manila Cathedral is a grand and elegant building with a long history and a strong sense of spirituality. The original place of worship was constructed in 1581, but it was destroyed several times over by fires, earthquakes, and bombing during World War Two.
What to do there: Admire the beautiful façade of the cathedral; the northwest part is a replica of the former cathedral and there are stone sculptures of saints. Go inside for some moments of reflection and to see the attractive details. Hear the bells ringing out—they are the biggest bells in active service in the country. Step into the baptistery and you'll find a reliquary calendar that contains relics of saints.
15. Star City Amusement Park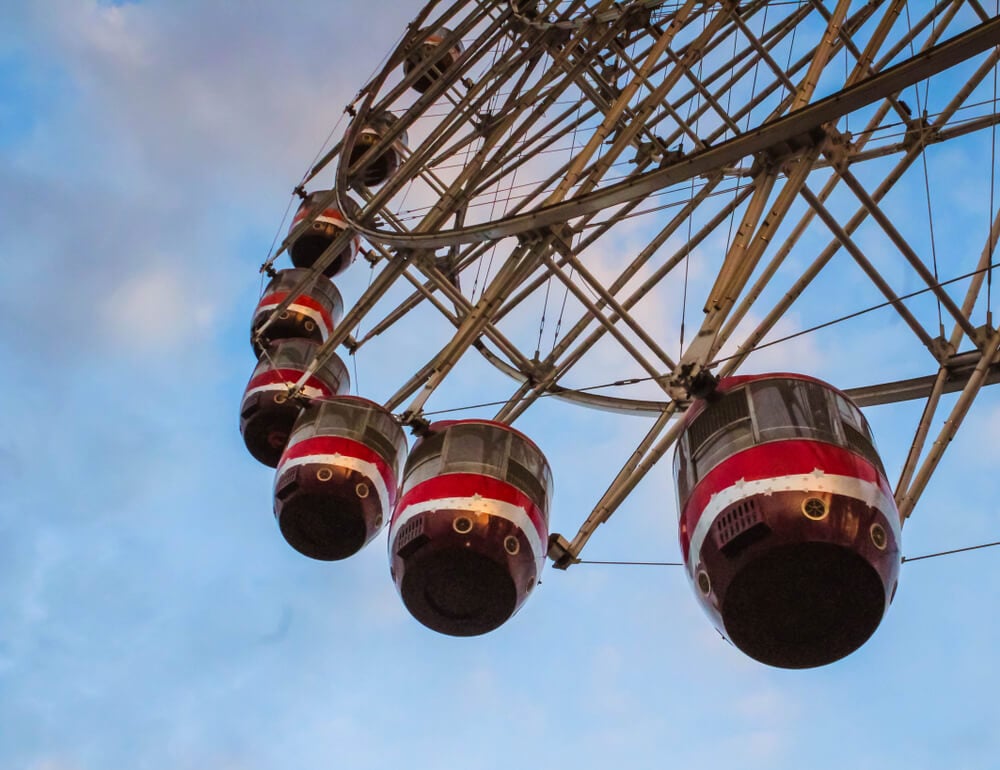 Cool amusement park
Family-friendly attraction
Ideal for any weather conditions
More than 30 rides and attractions
Why it's awesome: Star City is a large and popular amusement park with a great selection of rides and attractions to suit people of all ages. Many of the park's attractions are indoors, with air-conditioning and shade, making it a great place whatever the weather. The high Ferris wheel provides terrific views and is a must-do on your Manila itinerary. The winter wonderland of Snow World lets visitors experience icy and snowy fun and it's a top way to beat the heat. There are also two large theatres and cool water rides as well as a good choice of places to eat and drink.
What to do there: Feel a shiver down your spine in the Dungeon of Terror, experience life on the seven seas on Pirate Adventure, learn more about scary folklore at Gabi ng Lagim, and journey back through the ages at Time Tunnel. Cool off and experience winter in Snow World, watch as magical creatures come to life in the Star Dome, get great pictures in the interactive Art Alive Museum, and feel tiny as you're surrounded by super-sized objects in the Toy Chest.
Get insured for your trip to Manila!
ALWAYS sort out your backpacker insurance before your trip. There's plenty to choose from in that department, but a good place to start is Safety Wing.
They offer month-to-month payments, no lock-in contracts, and require absolutely no itineraries: that's the exact kind of insurance long-term travellers and digital nomads need.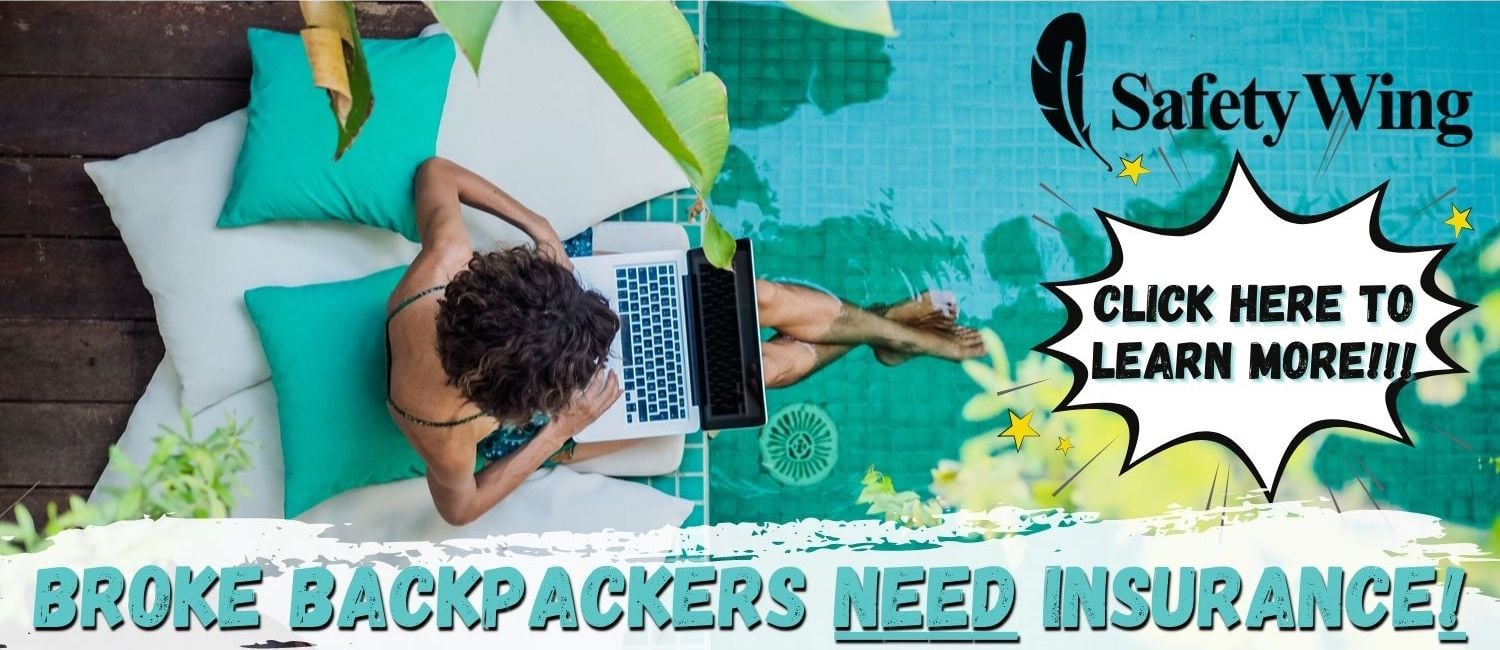 SafetyWing is cheap, easy, and admin-free: just sign up lickety-split so you can get back to it!
Click the button below to learn more about SafetyWing's setup or read our insider review for the full tasty scoop.
FAQ on the Best Places to Visit in Manila
Find out what people want to know about the best places to visit in Manila
Final Thoughts
Enjoy peace and quiet as you see the beautiful details in Manila North Cemetery, one of the city's oldest burial grounds. Learn more about Filipino culture, history, and art at the privately operated Ayala Museum, discover the history of Chinese immigration to the Philippines at Bahay Tsinoy, and admire art at the Metropolitan Museum of Manila and the Pinto Art Museum.
Stroll along Manila Baywalk and soak up the views, and explore the sprawling Chinatown of Manila. Admire various architectural gems, such as Malacañán Palace, the Coconut Palace, Manila Central Post Office, University of Santo Tomás, and Manila Hotel.
Call into historic churches peppered around the city, enjoy nature in Arroceros Forest Park, gaze up at the modern skyscrapers along Ayala Avenue, and see where revolutionaries used to meet at Bahay Nakpil-Bautista. Learn more about local liquor making at the interesting Destileria Limtuaco, the oldest distillery in the Philippines. In the evening, test your luck and have fun at the casino in City of Dreams.
Take day trips to the verdant Banaue Rice Terraces, the picturesque Pinatubo Crater, the old naval area of Subic Bay, and the delightful Hidden Valley Springs, and spend time exploring the energetic Bonifacio Global City.
Whether you're into history, culture, art, nature, relaxation, or offbeat attractions, you'll find many amazing places to visit in Manila.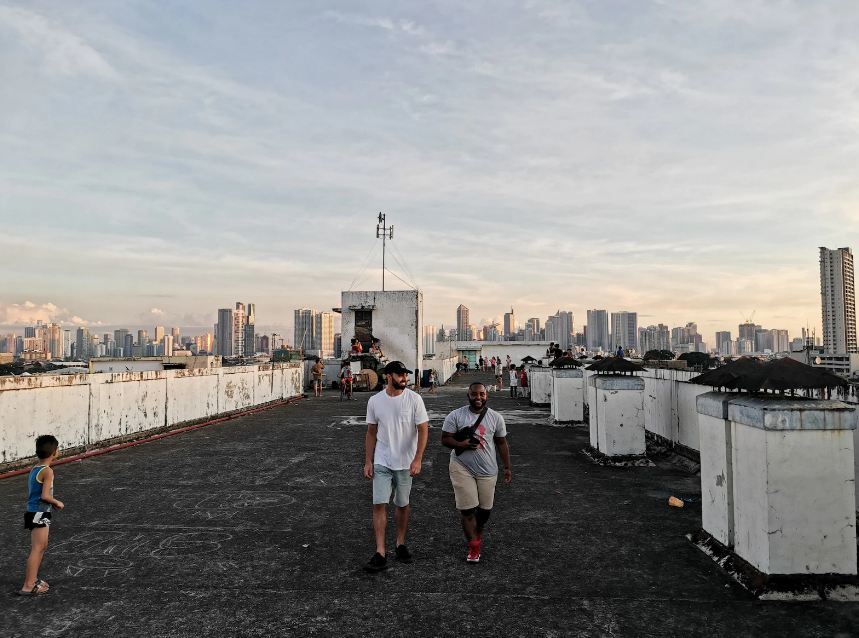 ---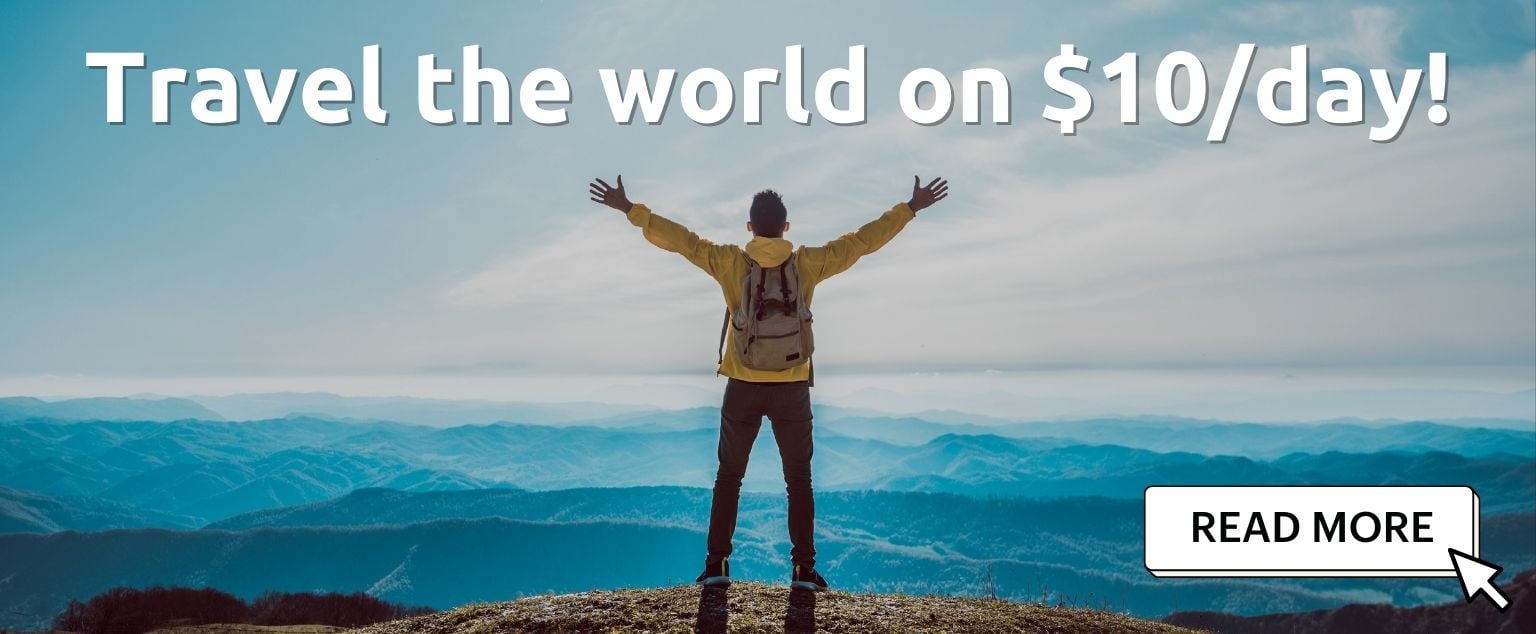 And for transparency's sake, please know that some of the links in our content are affiliate links. That means that if you book your accommodation, buy your gear, or sort your insurance through our link, we earn a small commission (at no extra cost to you). That said, we only link to the gear we trust and never recommend services we don't believe are up to scratch. Again, thank you!